Everton vs Arsenal
Sunday, 5 December, 2021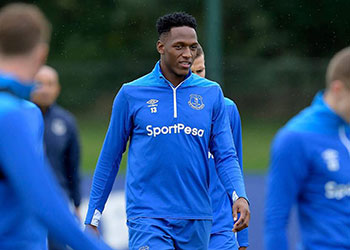 Yerry Mina took part in some of the sessions at Finch Farm on Friday but it would be a surprise if he made the starting XI to face the Gunners
Everton are at home for the second time in less than a week as they try to arrest their worst run of results since 1999 by beating much-improved Arsenal.
Manager Rafael Benitez is under mounting pressure just 4 months after assuming the Goodison Park hot-seat having overseen a sequence of six defeats in seven games that culminated in humiliation in the Merseyside derby on Wednesday evening.
If Leeds United don't lose at home to Brentford on Sunday, the Blues will start the day in 16th but, more alarmingly, an unlikely win for Norwich City at Tottenham would close the gap between Everton and the bottom three to just 2 points.
As a result, the Spaniard is not the only one facing stern criticism. Chants of "Sack the Board" were aimed at the Directors Box after the 4-1 derby defeat and owner Farhad Moshiri has been dressed down by supporters and local journalists alike for electing to send his only communication via TalkSport's Jim White.
Article continues below video content
Moshiri was in the United States in midweek but is expected to be in attendance at Goodison for the clash with the Gunners where an unknown number of fans will participate in a 27th-minute walk-out aimed at bringing awareness to the majority shareholder of their disaffection with the way the club is being run.
On the pitch, Benitez will still not be able to welcome back Dominic Calvert-Lewin, who probably won't be available until Boxing Day at the earliest, and his deputy, Salomon Rondon, is rated doubtful after tweaking a hamstring in the second half against Liverpool.
Defender Yerry Mina, another much-missed presence in central defence, has an outside chance of playing some part but is unlikely to be risked but, with the benefit of another few days' training with the first-team, André Gomes could see action this time around.
Regardless of Rondon's injury, the biggest question among fans has been around whether Benitez will address the porousness of his midfield by deviating from the 4-4-2 system he has been doggedly trying to stick with so far this season.
Having just two central midfielders left the Toffees wide open against the Reds in midweek and there is a danger that a mid-section of just Abdoulaye Doucouré and Allan could leave them vulnerable to Arsenal's passing game.
A 4-3-3 with either Gomes or Fabian Delph in the middle and Anthony Gordon, Demarai Gray and Richarlison up front would be one option but it's more likely that the manager will err on the side of his preferred formation and experience in the form of Cenk Tosun alongside Richarlison if he doesn't partner Gray with the Brazilian.
However Benitez lines up his side, the work done on the training ground at Finch Farm has to have been focused on tightening up the midfield and making Everton much harder to play through than has been the case recently, with the exception of the goalless draw against Tottenham.
That match against the other North London side should have been the platform from which Benitez could figure how to get his side to be more productive in attack but they were still too open at Manchester City and Brentford before being torn to shreds by Liverpool.
Arsenal, who began the season slowly but, after being hammered 5-0 by Manchester City in late August, went on a nine-match unbeaten run that included seven wins before they lost heavily at Anfield a fortnight ago.
They got back to winning ways against Newcastle before losing in an entertaining game at Old Trafford on Wednesday but, with Arteta's methods now starting to pay off, Pierre-Emerick Aubameyang back in goalscoring form, and Bukayo Saka growing into a routinely influential attacking presence, Arsenal will pose a significant threat.
Arteta has Sead Kolasinac ruled out with an ankle injury and goalkeeper Bernd Leno is rated as doubtful with a hip complaint but Granit Xhaka and Emile Smith-Rowe will undergo late fitness tests to see whether they can feature.
With, hopefully, a bear-pit like atmosphere under the lights and a determination on the part of the players to start putting things right, Everton can replicate what happened in this fixture almost five years ago under Ronald Koeman.
That night, the Toffees ended a run of just one win in 11 games, the same record as the one they will take into Monday night, with a stirring 2-1 win. With the team badly needing points to put some distance between them and the relegation zone, a win like that would serve as a massive shot in the arm.
Kick-off: 8pm, Monday 6 December 2021 on Sky Sports
Referee: MIke Dean
VAR: Stuart Atwell
Last Time: Everton 2 - 1 Arsenal
Predicted Line-up: Pickford, Coleman, Godfrey, Keane, Digne, Allan, Doucouré, Townsend, Gray, Richarlison, Tosun
---
Reader Comments (120)
Note: the following content is not moderated or vetted by the site owners at the time of submission. Comments are the responsibility of the poster. Disclaimer
Kieran Kinsella
1
Posted 05/12/2021 at 05:28:04
Kenwrights boy at The Echo Prentice is saying Tosun must play in place of Rondon in an attacking 442. He's about as much credibility as Chris Samuelson but we have few options. Maybe with Tosun up there we have someone to sweep in Grays crosses. On the other hand with two in midfield maybe we will get overrun as we did vs the RS. Rafa was the one who wanted this job so he can figure it out. I just hope our performance overshadows the 27th minute "walk out" when nine fans go and take a piss. If we lose we edge closer to the drop zone, if we win suddenly there is daylight beneath us and the scalp of buffoon boy traitor Teta. Not sure what'll happen but I'm hoping Gray, Rich, Duke and Pickford can get a result and allay fears of another Mike Walker era.
Jim Bennings
2
Posted 05/12/2021 at 07:41:17
Well isn't Tosun one of Moshiri's "Fab Four" as quoted in January 2018?
The mere fact that Tosun is still be mentioned at this football club as a potential problem solver underlines how abysmal it's been run and how truly negligent we were in trying to replace the goals of Romelu Lukaku.
Can't see anything but another defeat tomorrow and same at Palace and Chelsea for that matter.
Sacking Benitez won't solve anything, that's pretty obvious.
Bring in a new manager he's still left with the same blunt attacking options, the same problem at right back, the same lack of creativity in the midfield and lack of a goalscorer in that number 10 role.
It will be interesting to see what the hapless board will do, let's see if any lessons have been learned, but I won't hold my breath.

Frank Sheppard
3
Posted 05/12/2021 at 07:53:22
I saw Arsenal lose at Man U. I think they had more passes, and more possession than we have had in any game this season. They also have players that are recognised goal scorers. We need some big performers on Monday.
Joe McMahon
4
Posted 05/12/2021 at 08:14:40
Frank, recognised goalscorers, wouldn't it be nice if people said that about an Everton team.
Rob Dolby
5
Posted 05/12/2021 at 08:30:13
Jim 2 Agree totally. We need a reaction after the Derby. Another toothless performance and the rot will well and truly set in.
I don't understand the fixation with having to play an out and out striker of a poor standard. We have 1 good one in DCL who is injured. Richarleson is more of a modern mobile attacking midfielder. Why not try a different formation.
The top 2 teams don't even play a recognised striker and haven't done for a couple of seasons knowing that winning midfield generally wins the game. I know we don't have the same quality as them but at least try and change something.
Barry Hesketh
6
Posted 05/12/2021 at 08:31:55
When Ashley Williams scored the late winner in the 2-1 victory over Arsenal from the match that Lyndon refers to, the Everton side that day was as follows:
Stekelenburg; Coleman, Jagielka, Williams, Baines; Gueye, Valencia (Calvert-Lewin), McCarthy (Funes Mori), Barkley, Lennon (Mirallas), and Lukaku.
Seamus scored the equailiser just before half-time.
None of us could foresee then, that Everton would still be struggling for consistency five years later, and that the dreaded "R" word would be on many Everton fans minds.
How welcome would a victory be tomorrow ?
Mark Andersson
7
Posted 05/12/2021 at 08:39:03
Rafa unfortunately will loose this game and eventually his job..
His small club jibe has come back to bite him on the arse..
Neil Lawson
8
Posted 05/12/2021 at 08:47:53
Paper talk this morning suggests Mourinho to replace Benitez. Plainly I haven't woken up yet and the nightmare continues with pictures of Moshiri's head under a chicken's wing running manically around BMD.
Old school I know, but isn't the manager supposed to do just that and to manage what resources he has at his disposal to get the best possible outcome ? If so, then Benitez fails miserably and must go and Mourinho must remain in my nightmare.
Love him or hate him, I do remember a young manager from a lower league team taking over at a failing Goodison and restoring pride and performance with a meagre budget and workforce. He isn't coming back and the Hammers are smiling but he was a manager who managed.
Frank Sheppard
9
Posted 05/12/2021 at 08:56:07
Well said Neil. Moyes was a terrific manager for us. Too many on TW seem to hate him for not being perfect, being flattered by Fergie, and not having a good record against the top, top sides. Let's face it, with him we were normally top, or second in our section of the PL. There has only been 1 season of decent results since he left.
Tony Everan
10
Posted 05/12/2021 at 09:01:44
Frank , I watched the match Arsenal played well and were unlucky to lose, the MU winning penalty was initiated by Fred. The overall impression was that Arteta is trying to bring the Pep school of football to Arsenal and he is making progress.
Our full backs will be severely tested by Saka, who will be attacking them and trying to find Aubameyang in the box. They will have to step it up a level to keep them out.
Then we have to try to find a team which can score a couple of goals. The time has come we're we have to get points on the board so only brave, fully committed players can be chosen.
433
Pickford
Coleman Keane Mina Godfrey
Allan Doucoure Delph Gomes
Gray Tosun Richarlison
From set pieces Mina,Keane,Doucoure and Richarlison can be dangerous, hoping they can poach us a goal tomorrow from this route.
Danny Baily
11
Posted 05/12/2021 at 09:01:48
If only we could get Mourinho in! He'd never come to Everton though.
Anything other than a win on Monday and I can't see Rafa staying in post.
Bobby Mallon
12
Posted 05/12/2021 at 09:03:52
I just can't see us getting anything tomorrow. We are dismal and Cenk Tosun is not the answer to our goal scoring. But it's another game and I just can't keep away. I know the board the manager the players are all crap at the moment BUT it's our team and if they got relegated I would still tune in or watch live. I still watch my son play every Sunday and they haven't won a game all season. Chin up blues, soon be Xmas.

Tony Everan
13
Posted 05/12/2021 at 09:10:40
Post 10
Sorry, the edit timed out. Delete Gomes !
Kevin Prytherch
14
Posted 05/12/2021 at 09:13:40
Tony 10 - if they let us play your 4-4-3 team I think we might stand a chance of keeping it to a respectable score!!!
Mike Gwyer
15
Posted 05/12/2021 at 09:17:22
Jim Bennings #2.
"Sacking Benitez won't solve anything, that's pretty obvious."
Seriously.
Who decided to play only two midfielders against a 3 man midfield unit, who are probably the best midfield unit in club football. Who decided to play a high back line against the quickest attacking unit in club football. Our manager decided to gift that game to Liverpool. I mean there's a shed load of bad decisions he made in that game, fucking loads, but seriously it was absolutely appalling game management.
Look at the Brentford, Wolves and Watford games and again you will see many mistakes that were all put in place by our manager. Shocking decisions if I'm being honest.
That man should of been sacked weeks ago.
Jim Bennings
16
Posted 05/12/2021 at 09:26:58
Mike
Who do you think we will bring in as manager?
It's all well and good saying "anyone is better" but haven't we said that before sacking the last FIVE managers?
Wasn't Koeman meant to be better than Martinez?
Silva than Allardyce?
Ancelotti than Silva? Yet Silva finished higher than Carlo in one season?
Sacking managers isn't the answer when the squad is the worst it's been since 1997/98 when we nearly went down.
The club can't attract better managers with the plight it's in and the problems run far deeper than one man at the club.
Rob Halligan
17
Posted 05/12/2021 at 09:28:09
Mike, agree 100% with what you say. Can I also add in that game at Brentford last Sunday. We were chasing the game, we had three forwards on the bench, yet he decided not to throw any of them on to try and nick a point. I'm not saying any of them would have got us a goal, but at least give one of them a go instead of that useless Rondon. Likewise on Wednesday. We were 4-1 down and with about five minutes to go he threw Tosun on. To do what exactly, did he think Tosun would score a hat trick in the time he was on?
Mick O'Malley
18
Posted 05/12/2021 at 09:45:09
How the manager sets up his team! We already know what he'll do, concede possession and territory and try and pinch 1, his M.O. I watched Klopp yesterday with his passion, urging the players on,you get the impression they would run through a brick wall for him while ours look like they would sooner curl up and surrender than do anything for Benitez, I get the feeling they know he is dull, insipid and not very adventurous and the football suits his demeanour, this man is not suited for our club, he is causing division among fans and is a treacherous snake. Benitez out! COYBS, Jim I agree with Mike above Benitez is doing a terrible job and I Don't care who comes in caretaker or not I want someone who can inspire not cause divisions, he is absolutely useless and is an embarrassment to this club
Paul Smith
19
Posted 05/12/2021 at 09:45:34
I think we can win and I support the walk out and never want Moyes back.
Phillip Warrington
20
Posted 05/12/2021 at 09:47:45
After watching Arsenal's game against United we have no chance. They are skilled and have a pacy forward set up, which would mean if Leeds win we will be fourth to bottom, and five points of bottom. WOW!
Mike Doyle
21
Posted 05/12/2021 at 09:50:51
Rob #5 ] Fair point. In fact I recall Don Howe making the same point back in 1998 when discussing England's options for the World Cup.
I guess the difference is that teams like Man City and Liverpool tend to dominate possession and always have midfield players in attacking positions. The fact that so many of these players carry a goal threat reduces the need for a traditional centre forward.
In contrast Everton have played a counter-attacking game for years that places more of a reliance on having a goal scoring no 9.
On this note - Where I live & work I'm surrounded by Chelsea fans and a few reckon that Lukaku is not suited to Chelsea's playing style and that they really need an Aguero or Tevez type.
Graeme Beresford
22
Posted 05/12/2021 at 10:02:25
Mike @ 15.
Couldn't agree more. All people keep saying is he needs more time and that sacking him isn't the answer. There is no way we would of got beat against Brentford with Carlo in charge. Also the derby would of been more closely fought, certainly not a 4-1 thrashing.
I'm not even counting City and Liverpool. It's games like Watford where we were 2-1 ahead with 65 mins on the clock and we got beat 5-2. It's the tactics against Brentford. Even going back to games like Leeds away. It's not just about the results, it's the decisions, the formations and tactics and most frustrating it's the lack of subs.
I watched Guardiola bring on Mahrez and KDB last night at 70 mins. We seems to bring subs on within the final 10 mins when teams have already started to waste time against us. It's all around poor.
We don't scream about decisions like others do. We don't waste time like others do. We are quite simply tactically inept against these other teams. If it were me I would get rid of Rafa after we get stuffed by Arsenal tomorrow night and give it to big Dunc till the end of the season and go from there. Telling us what we would get from Dunc, is signing who want to play for the club and most importantly players who want to run. Would he raid Scotland for their best? Rather that then some of the signings we have made over the last few years.

John Keating
23
Posted 05/12/2021 at 10:07:21
Pointless playing Gray and/or Townsend unless you have one or two in the box. Pointless getting crosses in if there's nobody there.
If, for his own reasoning, Benitez will not play Simms then unfortunately I see no other option than playing Tosun up top and Richie alongside him.
We can't give Arsenal space in midfield
Pickford
Kenny, Keane, Branthwaite, Godfrey
Allan, Doucoure, Delph, Gray
Richarlison
Tosun
Mike Gwyer
24
Posted 05/12/2021 at 10:15:22
Jim
I'd probably say anyone, absolutely anyone and for me there's to much RED in our existing manager. Way too much.
That's my input on who I would want to replace our current manager, Moshiri and Brands can do the rest.
Jerome Shields
25
Posted 05/12/2021 at 10:16:41
Jim#2&16
Agree getting rid of Benitez will not get rid of the problem. As you say after six Managers who would want the job.
The problem is the Club itself : how it is being Managed ; the personnel still being promoted in Oct and probably plans to employ and promote more in the pipe line: no accountability throughout the Club and having the Manager as the only scapegoat. Though we get 'not his own man' Brands this time.
These are the obvious observations from outside. But what would the professional ( people who earn their corn out of football) view of Everton. It would probably be worse. No money for transfers and their analysis of the squad, the team and the players, which we can see ourselves on the pitch. There advice would be stick with Benitez, thats if he wants to stay.
We are now a the point of no return where these problems need addressing, with the start of the first signs of Accountability, Benitez '5-10% Improvement in All Departments' and the shifting out of underperforming Managers in the Everton hierarchy.
Steve Brown
26
Posted 05/12/2021 at 10:18:16
Jim @ 16, that's a bit weak.
This 'Who would you hire? Give us a Name' line doesn't cut it. Six Premier League clubs have replaced their manager this season and it didn't take consensus among the fans on the replacement's name for them to take action.
Nobody wants another managerial change, but the results are forcing it. I asked this question on another thread and I am asking it again. How many more defeats would be acceptable before the January window opens?
Equally; we all know the structural, operating norms and cultural issues at the club. Anyone who has been involved in business knows they can take several years to change. We don't have that long to act.
Robert Tressell
27
Posted 05/12/2021 at 10:20:46
Benitez has certainly made some infuriating decisions. The two in midfield, in particular.
But the thing that sticks out for me is the line up that Barry #6 refers to. The last time we beat Arsenal we had a decent team (albeit weak at CB and in goal).
If we were to sack Benitez, what then?
What are the realistic expectations for a club coming off the back of 12th and 10th place finishes with a deteriorating squad and no money?
And which superior manager would come to Everton as Benitez' replacement?
Unfortunately it is damage limitation till January window / return of injured players.
Jim Bennings
28
Posted 05/12/2021 at 10:31:59
Steve
If it's "a bit weak" then it's probably brought on by six years of bungling decisions made by the ineptitude at boardroom level.
If we sack Benitez next week and bring in another similar face, then where is the upturn?
If we bring in say Nuno what do we then get in January, same old "it's the start of a three year project".
That's all we are, a three year project that never gets past the first year or six months.
Any new manager will not be given time because the fans are too impatient now.
Duncan Ferguson is mooted all the time, but why at 50 has he not been out in the big bad managerial world and tried his hand somewhere?
Even Crease Head Gerrard cut his teeth at Rangers now he's got the Villa job yet Ferguson chooses to sit on our bench year in year out.
Any appointment from abroad would be filled with risk.
Someone tell me a solution?
Derek Knox
29
Posted 05/12/2021 at 10:42:01
I think any suggestions of Mourinho coming are fanciful, he would only come if he was guaranteed an open cheque-book, and as things stand with FFP that seems highly unlikely. When has Mourinho ever taken on a Club in turmoil with little or no funds available and built them into genuine Title contenders ?
Brian Harrison
30
Posted 05/12/2021 at 10:43:26
For those suggesting getting rid of Benitez is not the answer then what is the answer. We are currently in 15th place and only 3 clubs have a worse goal difference, and we are just 5 points ahead of 2nd bottom Newcastle who won their FIRST league game yesterday. We have been second best in the possession stats in most of our games, and at no point in any game this season did I think we looked comfortable. We never looked like unlocking a very poor Brentford team last week following our surrender of a lead to Watford with 12 minutes left, as bad as some of our managers have been I couldn't see any of them overseeing a 5-2 defeat in that game, what happened to this tactical genius to spot the danger in that game.
At the start of the season he had the new managers bounce but what your seeing now is the real Benitez dull uninspiring football, pretty much how Necastle played under his stewardship. So I would ask those who are suggesting sacking Benitez isn't the answer are you sticking by that mantra even if we drop into the bottom 3 by Xmas, or do you suggest that we just have to stick with him no matter how bad it gets.
Look I agree sacking managers on a regular basis is not the way forward but to not sack a manager whose team is greatly underperforming borders on madness. This man will never ever unite the fanbase and without that unity its impossible for him to carry on. Even Spurs realized after 7 games Santos wasnt right for them at some point this board will come to the same conclusion over Benitz.
David Hayes
31
Posted 05/12/2021 at 10:52:52
It's very clear that Benitez and those above him,have in effect written off the first half of the season months ago. The plan to get all players back and fit then go on an extended run of wins and draws, enough to land us firmly in the middle of the table. This is ludicrous and will certainly result in relegation. More injuries and future set backs are inevitable. It's now equally as clear that Benitez can not motivate and galvanise the players that are currently available. Only DCL and Mina absent and yet still not a indication of a competitive performance or positive result. The stubborn insistence of repeating obvious flawed tactics and selections, with no flexibility and insight into adapting the play or switching formations to counter oppositions means more of the same abject defeats. It's win, win for Benitez massive pay off and no real damage to his reputation. What was I supposed to do with that shit, I am not a magician you can hear it coming. The solution is harder to find, the only option is Duncan really, and yet he is the only constant in all the previous managers failures. So let's just pray that somehow we survive this season.


David Pearl
32
Posted 05/12/2021 at 11:01:40
Rob, 15
I think he gave Tosun some minutes as he is the next in line up top so he can continue his favoured system.
4141 could be played to pack the midfield and let him play his counter attacking style. Just what the idea of a 2 man midfield and high line against them lot was l can't get my head around.
Holgate is back for this game and perhaps time to give Coleman a rest. Or even Kenny, that's what he's there for. Isn't it?
The squad depth isn't his fault but the tactics, formations and subs have been. Is it Moshiri's plan to give him a transfer window, no matter what happens between now and January?
Will Arsenal loan us Maitland Niles in January or only sell him? They've done well off us.
We sold Lookman and got lwobi in for double the cost. Genius.
Derek Knox
33
Posted 05/12/2021 at 11:05:57
David P, Holgate, do me a favour, so you want to give Arsenal free kicks on the edge of our Box ? Then by all means play Holgate, he is one of the quicker defenders, but he is also the most rash, we need a bit of aggression with defenders, and we would all welcome that, but draw the line at stupidity !
Tim Kells
34
Posted 05/12/2021 at 11:07:34
Great post Brian (30). Our next few fixtures before January. Arsenal (H), Palace (A), Chelsea (A), Leicester (H), Burnley (A), Newcastle (H).
Personally can't see where the next three points are coming from unless we get rid. He said we ran more than the RS, did he seriously think we were ever in that game?
Jerome Shields
35
Posted 05/12/2021 at 11:10:14
Duncan is allegedly on half a million a year. Which quite frankly is absurd if true.
My advice would be to keep carrying the kit bag. He probably knows scapegoat is the other option at Everton and the loss of his salary.
The equivalent of being told to walk the plank.
Rob Dolby
36
Posted 05/12/2021 at 11:13:40
Jim 26.
Nuno, Potter, Ferguson, Lampard and even Rooney would be better than what we have.
Nuno was a victim of circumstance with Kane downing tools.
I have mentioned the rest on other threads.
The attitude of 'who would do better' will soon become 'get anyone in' If we are bottom 3 after Xmas.
Brian Murray
37
Posted 05/12/2021 at 11:16:39
If the bmd project is any way threatened ( bottom three by Xmas ) then Moshiri will all of a sudden grow a pair and sack him leaving the real problem standing next to him whispering that Baines also needs a job or any ex blue you care to mention. This corner shop club has to stop taking us for idiots. Il be as diplomatic as possible just fckin go kenright.
Robert Williams
38
Posted 05/12/2021 at 11:22:25
DK 29 - Spot on - why on earth should we take on another problem.
Mourinho is yesterday's man - what we need is fresh blood to nurture a fresh team. Boy, I think I can smell bacon, Danish Bacon hopefully!
Jim Bennings
39
Posted 05/12/2021 at 11:26:21
Rob 36
Why would they be better?
What hard evidence do you have?
So Nuno was a victim at Spurs because Kane downed tools???
Seriously mate the whole Everton side downs tools for managers that's why we have gone through so many, so you think Nuno would get better treatment at Everton?
Rooney, give me a break, the fella can't even manage his own marriage let alone a Premier League football club with a volatile surrounding.
I'm not advocating keeping Benitez out of favouritism, but I've seen young up and coming managers sacked at this club, I've seen elite managers like Carlo Ancelotti walk out because he knew what was coming and even he had fans starting to turn in the latter months.
So throwing a few names on a list and saying "they'd be better than what we have" is that typical myopic view many have.
It's like players that haven't played for ages all of a sudden being the answer to all our prayers.
In recent times I've heard people saying build a team around Gbamin, Gordon, one time not long ago it was Holgate and Davies, just because they hadn't played when a few bad results occured.
Bigger picture and not myopic nonsense is required, that's why this club is the way it is.
Dave Williams
40
Posted 05/12/2021 at 11:26:37
I think we need to freshen things up from the bunch of losers who's attitude is dragging everyone down with them.
John Keatings side above looks a decent shout to me with Mina in place of Keane my only change( if fit).
I see no point in Tosun who can't run, can't outmuscle defenders, can't jump, can't hold the ball up- can't do anything really well. Give Sims a go- ok he is raw but bring him on with twenty minutes or so to go if we need goals because what the lad can do is put away half chances.
I agree that Rafa has made a lot of mistakes lately and the football is pathetic but better football will only come when confidence is restored which won't happen until we win a game or two.
Mourinho must be a joke- if Carlo and Rafa can't sort it out then Jose won't be able to either. We need a young man with ambition, enthusiasm and energy ( I know, Silva and Roberto were supposed to be that) but the risk is that if someone like that is brought in would he have the experience to drag us out of trouble?
Who would be a football club owner/ manager? I guess the multi million pound contract explains why the manager does it!
Kim Vivian
41
Posted 05/12/2021 at 11:32:08
Jim does seem to have been taking the sensible pills.
I agree with every word this morning.
Andrew Bentley
42
Posted 05/12/2021 at 11:39:32
There are plenty of other options out there. This argument that Rafa is the best we can get and therefore sacking him wouldn't help, is not valid. Does anyone really think that tactically he has improved the team, or that the players are bought into his methods/are playing for him. Someone made the comment earlier about Klopps players running through a brick wall for him. Benitez doesn't inspire this in any one and his time is done. As is the likes of Jose Mourinho.
If we are to get rid of him then there are plenty of options out there. Now whether our board is capable of finding someone better - that's a different question! Their lack of capability to get someone in who can inspire and change things is probably the major issue.
For me, I wanted Graham Potter in before we got Rafa and I haven't changed my mind. He's a young progressive coach who gets the best out of his players. He would change our style, create an identity and get the fans back on side.
Adrian Evans
43
Posted 05/12/2021 at 11:42:13
Everyone is entitled to their opinion.Most who post are long suffering, loyal, been through many ringers. Lots remember good times in 80's.A lot satisfied with what Moyes achieved.
The constant, ever present in the conversation has been Mr Kenwright.
Out it all to oneside.
Lose Mon, Sun, a few results don't go our way we are in dire straights, if not there now.
I ll get slaughtered for saying it.
But the only manager I know of who has the methods, skill set and "Balls big enough to sort out the mess on the pitch is Sam Alladyce.Hes done it before for us.
He got his fee, but Martinez Koeman, Silva, Carlo, now Rafa have taken probably £60million out in pay offs, £250 million in wasted signings.
60 years watching, believing, enjoying, suffering.
Never suffered like this,Watford et al.
So get hold of Big Sam now.
I ll suffere mid table, not in bottom 3,then Championship.
Who thinks Pickford, Ritchy, other will go to the Championship with us.
It wont be pretty for a couple of months.But the players we can put out at the mo.Not the 3/4 quality lads, but the others6/7alongside them.
We got 11, 16 who can play the way Sam would want for a bit.
Who in their right mind things we can play the attacking, slick way, flanks, into the box we want a Goodison.
When we are bottom, or bottom 5, few points off the drop.
We need a manager who can deal with that pressure, deliver, set up right, with the squad we got.
4/5 injuries to our top players again and ????Jan, Feb,March.??
I don't want to go to.the championship and don't want to waste games, training time, transfers with Rafa, or another manager who will have NO IDEA of whats needed, the pressure of facing relegation.
Lets face the facts, reality.5 months to save ourselves from the drop.
Moshiri needs to act and it shoukdnt be a fancy pants, expansive, brilliant manager of world class players.We don't have that.
So Sam has to be seriously considered.
Would he come, of course he would.
Derek Knox
44
Posted 05/12/2021 at 11:42:57
Brian, @ 37, well he did start off in a Corner Shop in Corrie, as Gordon Clegg, who was adopted btw, ( there lies a tale ) so he was typecast, and continued it in real life, well aware his acting ability would never land him the part of 'James Bond'.
He wasn't even considered for a part in the 'Brooke Bond' Adverts, though he definitely had the looks. :-)
Andrew Bentley
45
Posted 05/12/2021 at 11:50:34
Adrian @43 won't slaughter you as everyone is entitled to their opinion. But he signed Tosun and Walcott if you remember and was part of the problem of saddling us with expensive mistakes (along with the others you mention).
He's also now been relegated with West Brom so his "special touch" has now gone.
Benitez is divisive for our fan base, but Big Sam is worse. I remember the last game of that season, Everton 1-1 with Southampton with nearly every person in the crowd chanting "F### off Sam Allardyce". Never experienced anything like that before at Goodison.
Allan Board
46
Posted 05/12/2021 at 11:51:44
Derek@44. You are right, no 007,but he fitted in perfectly with Russ Abbotts 'Basildon Bond '- that character was a complete scream and incapable! Bill even has is own' Miss Funny Fanny' as his CEO!
Barry Hesketh
47
Posted 05/12/2021 at 11:52:54
Derek @44
I've just been reading about Cornershop's hit song of the late 90s entitled 'Brimful of Asha' where Asha is the Hindi word for hope, which is in very short supply in L4 at the moment.
Adrian Evans
48
Posted 05/12/2021 at 11:55:39
Solutions please on a post card please to Mr Kenwright,Mr Moshiri.
I not hearing any serious solutions to a dire situation that could see us in the Championship.
Or leaving the opportunity to save ourselves to late.
Need coaching, tactics for players we have, (injury prone squad)
Manager, leader to steer the club to safety pronto.
Love it if we secure 12 points, even 10 from next 15.
Waste 5 games?? Waste Jan, give Norwich,Newcastle,Burnley,Leeds,Brentford a head start.??
They all winning points we winning none.
Cant wait longer than ????
18 games from Jan, 16 mid Jan??
David Pearl
49
Posted 05/12/2021 at 12:00:02
Derek, l meant to give Coleman a rest. We need either an extra body in defence in midfield too. Or has been suggested we play with 12 men.
Jerome Shields
50
Posted 05/12/2021 at 12:41:43
Adrian#48
Ancellotti followed the Big Sam Manuel last season to some extent. He declared that the players hadn't got the tactical and technical ability to play any other way and then had to publically declare a lack of work and effort, as destroying chances of getting into Europe.
The problem with this team is a tendency to play deep, with the proverbial error. Both are lethal in the Premiership.
Rafa on Sunday played s more offensive formation and with Rondon maintained a shape. But again the proverbial errors raised their head. I think he will go with the same formation again and hope that the players have learn't from that game. Against Arsenal especially these are the right tactics.
Everton need the crowd behind them and any walk out is a stupid idea.
Raymond Fox
51
Posted 05/12/2021 at 13:04:06
If you look at the League table the only team doing better than expected is arguably West Ham.
From 8th downwards there is little to choose between the rest of us ability wise.
The consensus at the start of the season was we would probably finish 10th to 12th, which where I still think we will finish.
Talk of sacking Benitez is madness, we will more of a laughing stock than we are now if we do.
We got off to a good start which glossed over the reality of the overall weakness of our squad.
The club has arrived in the present position due to incompetence thoughout the club for the last 10+ years.
Soren Moyer
52
Posted 05/12/2021 at 14:18:13
I believe both FS and CA were right. This squad is bloody terrible!
15th and dropping! PULL UP! PULL UP!
Dale Self
53
Posted 05/12/2021 at 14:27:50
I'm not a tactical specialist but with three in the middle and none of them possession MFs isn't that when we get pinned into our own third making stray passes to the midline?
We pay a price either way with the quality we lack. Make your choices take your chances.
John Kavanagh
54
Posted 05/12/2021 at 14:47:32
John K @23. Yes, that's the side I'd go with, except I'd give Simms or Dobbin an opportunity rather than Tosun who has proven useless even when fully fit. Very high risk, but both Coleman and Digne would get murdered by Arsenal's pace and movement.
As for two Sunday rags saying Moshiri will go for Mourinho, such a replacement would be deserving of a new padded office in the Liver Building and a DCL designer jacket with extra long sleeves and plenty of straps.
Roma will sack Mourinho in a few weeks anyway based on recent results and his tactic of publicly picking on individual players has backfired spectacularly at his recent clubs (even though he would have plenty to choose from here).
I'd give a caretaker job to Big Dunc while a permanent replacement is sought, but the most pressing need is to remove Kenwright from having any further influence at the club and for Moshiri to leave footballing decisions to those equipped to make them.
Ferguson didn't do badly last time he was called upon and transformed the atmosphere at Goodison, which is exactly what's needed now. Yes, he's been here under half a dozen managers, but hopefully he will have learned from them exactly how not to go about it! The big mistake was bringing in Allardyce and wasting another £50 million on Tosun and Wallcott.
Whatever the team is, everyone needs to get behind them and make Goodison a proper bear pit. Any venom should be saved for the opposition, officials and for a fully deserving of it Board at the end. COYB.
Kunal Desai
55
Posted 05/12/2021 at 15:00:25
It will be another loss tomorrow.
For me changing the manager does very little. Personally I want to see a shake up at board level and that HAS to be done now, otherwise it's the same circle of shite in decision making. Brands, Kenshite and DBB. Get them out. That has to be the priority for Moshiri.
Mick O'Malley
56
Posted 05/12/2021 at 15:09:11
I know we are low on numbers but Benitez has to find a solution at right back, Coleman has coughed up possession 52 times in the last 2 games ive just read! 24 against Brentford and a staggering 28 against the RS, id like to see Branthwaite given a go and move Godfrey to right back, Branthwaite has never let us down has a bit of pace and is composed on the ball, let's be honest Coleman has been shocking and Godfrey has done well at full back, he can't keep picking the same side over and over cos we are going nowhere
Tony Hill
57
Posted 05/12/2021 at 15:10:53
Has Brands gone?
Chris Leyland
58
Posted 05/12/2021 at 15:12:40
Looks like it Tony (57)
Danny O'Neill
59
Posted 05/12/2021 at 15:13:27
Allardyce? Just no thank you.
Are we overlooking the fact his fireman's hose ran dry last season?
Ray Roche
60
Posted 05/12/2021 at 15:13:42
He's agreed a severance package and leaves with 'immediate effect'
Jay Wood
[BRZ]
61
Posted 05/12/2021 at 15:15:48
'Coleman has coughed up possession 52 times in the last 2 games - 24 against Brentford and a staggering 28 against the RS.'
Heaven only knows how that was - ehrm - 'calculated'.
A totally faudulent claim I fancy.
Rob Halligan
62
Posted 05/12/2021 at 15:18:31
Mick O'Malley
63
Posted 05/12/2021 at 15:19:15
I'm only saying what I've read Jay, and let's be honest he has given up possession a lot,and has been fucking abysmal, it's in football insider I'm just quoting what I read
Barry Hesketh
64
Posted 05/12/2021 at 15:19:29
I think the fact that Brands has left Everton, strengthens Benitez's position as he should have full control of transfers in and out, the problem being how many games can we go without a victory, and are we prepared to see high-profile Everton players leave in January?
Jay Wood
[BRZ]
65
Posted 05/12/2021 at 15:24:04
It's funny, Rob.
The Echo is reporting the Mirror's allegation, adding they are 'checking it' to see if it is true.
How come their own well-connected local journalists haven't got the inside track to get this exclusive first, or be so well-informed to be able to deny it immediately?
What a hopeless rag.
Jay Wood
[BRZ]
66
Posted 05/12/2021 at 15:25:27
Mick, I'm not criticising you.
I totally disbelieve the stat. From both games.
It didn't happen.
Rob Halligan
67
Posted 05/12/2021 at 15:26:17
Don't think that link worked, Jay, so I removed it. Or have you googled it?
Barry Hesketh
68
Posted 05/12/2021 at 15:27:39
Jay @ 65
The owners of the Mirror also own the Liverpool Echo, which makes it even stranger that the local paper is behind the national title when it comes to news about Everton FC - having given it some thought, the Echo is probably obliged not to upset Bill and company - so they have to wait for permission to break the news.
Tony Everan
69
Posted 05/12/2021 at 15:28:30
Benitez won the power struggle then.
https://mobile.twitter.com/EvertonNewsFeed/status/1467509907041796097?ref_src=twsrc%5Egoogle%7Ctwcamp%5Eserp%7Ctwgr%5Etweet
Blue Bill still there?
Dale Self
70
Posted 05/12/2021 at 15:29:05
Thanks Ray. We were all waiting for that. So, there's a departure Will we all get behind the team or form a circular firing squad?
I'd still like to hear a general analysis of why this was necessary from the one who made the decision. Maybe I should be more specific, Moshiri Bill may be scripting it all.
George Cumiskey
71
Posted 05/12/2021 at 15:31:53
Kenshite dodged the bullet again !
Jay Wood
[BRZ]
72
Posted 05/12/2021 at 15:32:40
Your Twitter link worked for me Rob. Checked out the Echo on what they say.
Reporting the Mirror story and at the end saying they are 'checking it out'.
I thought the same Barry. A sister paper checking out the veracity of their big brother's paper.
Mick O'Malley
73
Posted 05/12/2021 at 15:34:04
Jay I suppose it's how they calculate giving up possession but there is still no doubt that he is flagging and needs dropping for a few games to get a blow
Ian Edwards
74
Posted 05/12/2021 at 15:35:30
Given we have no money it doesn't matter whether Brands stays or goes. The damage has already been done. The shit has been purchased and we can't take them back for a refund.
Kunal Desai
75
Posted 05/12/2021 at 15:35:51
Someone needs to throw Kenshite under the bus and get him gone to.
Danny O'Neill
76
Posted 05/12/2021 at 15:36:03
Back to the Arsenal game.
Now I'm usually the foolish optimist, but I'm also superstitious.
I'm currently in the US (yeah thanks UK Government for changing the rules!!).
When I watch Everton stateside, it rarely ends well. In fact, it's usually a disaster.
Early season in Florida, 2009 prior to deploying to Afghanistan. 6 - 1 thumping by Arsenal. Thanks Everton. Great send off.
November 2016, Texas, 2 months into my first civilian job. That 5 - 0 humiliation by Chelsea.
Two weeks ago, Texas. The City embarrassment. Last Wednesday, Florida, the obvious.
I don't fly back until Tuesday, so tomorrow concerns me. It's my fault. I apologise.
Danny O'Neill
77
Posted 05/12/2021 at 15:39:01
The wrong sacking. If I were him (Brands), I'd be glad to be gone.
Tony Hill
78
Posted 05/12/2021 at 15:43:25
Kunal @75, quite right. Make him Life-President or King of Vulgaria but remove him from any power. This is a necessary scouring process and he should be next.
Mick O'Malley
79
Posted 05/12/2021 at 15:44:39
I'm dreading the thought of Benitez and Moshiri being in charge of transfers
Dale Self
80
Posted 05/12/2021 at 15:45:03
I don't know Ian, with expectations completely reset some of these could recover some form. It would just take one unexpected result to buy some time to get a healthy first 11. Could struggle a bit for a couple of years but this may ultimately cause them to take more chances in the transfer market rather than wait for some chemistry that was never really there
We'll be selling. The only question is how aggressive ? Ok a second question, how young do we buy?
Jay Wood
[BRZ]
81
Posted 05/12/2021 at 15:46:56
Mick, this is a very good site to check out if you are interested - FOTMOB.
I've linked it to the data for the Brentford-Everton game.
If you scroll down to the graphic of the footy field showing the players, click on any player and it will open a window showing the individual data and a complete metric of every play they made.
For example, in Seamus' case that day he completed 59 passes with a passing success rate of 79% and had a total of 109 touches all game.
On the ranking they apply he was the second highest rated player for the Blues on the day.
For me personally, as I called it on the day, Seamus was our best player v Brentford.
He had a more torrid time of it v them, but methinks someone is being a maverick on Football Insider and distorting the numbers to make Seamus look bad.
Derek Knox
82
Posted 05/12/2021 at 15:57:10
Just imagine what sort of team we could have had with all the compensations, pay off's etc. Absolute travesty while that shithouse Kenwright still clings on, well like a Klingon !
Kieran Kinsella
83
Posted 05/12/2021 at 16:00:47
Derek
Just think Kenshite couldn't muster 30 million for Kings Dock and we've basically paid that out to fired managers on his watch.
Derek Knox
84
Posted 05/12/2021 at 16:00:52
Hopefully Brands will tell some Newspaper his version of events and point the real finger at the guilty, and reveal all.
Jay Wood
[BRZ]
85
Posted 05/12/2021 at 16:07:34
It would be nice Derek.
But if this is true, in all likelihood there will be a NDA - a non-disclosure agreement so the dirty laundry doesn't get aired.
More's the pity.
Allan Board
86
Posted 05/12/2021 at 16:21:41
Brands the fall guy then. Meanwhile, Basildon Bond and Miss Funny Fanny still in situ. Those two need outing now!
If you want change, let them have it again tomorrow night.
I hope Moshiri leaves it to Benitez to sort transfers and forget the DOF bollucks,it has ruined Everton.
Farhad,strike now and get your own people in to run Everton, quickly.
Get Kenwright/Baxendale out the door this week.
Keep up with the confrontations at the directors box because it will work and they will leave.
Let's hope it's an early Christmas present for all Bluenoses.
Basildon Bond/ Miss Funny Fanny OUT!!!!
Derek Knox
87
Posted 05/12/2021 at 17:27:42
Allan @ 86, totally agree by the way, but curious as to how you know she has a funny fanny ! :-)
Allan Board
88
Posted 05/12/2021 at 20:12:37
Derek @87
It's what Russ Abbott said all those years ago! Must be true, it would explain all the screwed-up faces in our Directors Box for the last few year's!!
You know what they say: 'a change is as good as a rest' and there's plenty who need "resting" at Everton.

Tom Harvey
89
Posted 05/12/2021 at 22:08:39
One thing is for sure, when Benitez addresses his troops tomorrow it will be with more confidence and authority, he now does the hiring and firing.
Jerome Shields
90
Posted 05/12/2021 at 23:46:52
Tom#89
I agree. The match tomorrow will see commitment and effort. I believe that some of these players where part of the resistance to Benitez as the comfortable life came under threat and their backroom pals and theur higher up mates feared the confidence and authority that Benitez seemed to have in his ' implementation of his Improvement in all department ' plans. There worse fears have been realised and accountability and appraisal of performance will continue as Benitez pushes on with his review.
Arsenal have alway been a barometer of Evertons season and it a good place to start a fightback, Benitez will be thinking.
Laurie Hartley
91
Posted 06/12/2021 at 01:31:18
John # 23 - I nearly agree with your team but I would swap out Kenny for Holgate. The last time we had a reliable back four was when Ancelloti played two conventional centre halves and had Holgate and Godfrey as full backs.
Jack Convery
92
Posted 06/12/2021 at 03:59:49
Now its Kenwright versus RB in the Power struggle - who needs Hamilton v Max ? when you've got EFC tearing itself to bits. If the players down tools tonight because they are in the BK camp and want rid of RB, we'll get a hiding. RB is trying to hang on as manager until January when he can bring in more of his players and get rid of of the dead wood and one / two of our decent players to bring in some dosh. I expect one if not to two of DCL / Pickford / Mina / Richy to go. Of the dead wood - Kenny, Holgate, Keane, Gomes,Tosun, Davies, Iwobi and Gbamin must surely be under threat. One or more could go in January.
In fact the only players safe in my eyes with RB in charge are Coleman, Godfrey, Digne, Branthwaite, Grey, Townsend, Rondon, Lonnergan, Begovic, Allan, Doucoure, Dobbin, Simms,Gordon and Delph ( RB seems to like Delph). Frightening isn't it !!!
Maybe RB should name this team to play Arsenal.
Begovic, Coleman, Branthwaite, Godfrey, Digne, Allan, Doucoure, Delph, Grey, Townsend and Simms. Come January it may be all he has left.
Bobby Mallon
93
Posted 06/12/2021 at 07:21:12
Danny O'Neil don't watch the game go to bed 😂
Eddie Dunn
94
Posted 06/12/2021 at 08:11:58
I do expect I big improvement in the team tonight and a point or even three.
The lads seem to have been sleepwalking through the last few games waking up too late to save the day.
As stated above by Tom, the players now know that Benitez is in charge. Brands has gone -it's a clear signal, a sacrifice, but a statement.
Comfy, earphone wearing, x-box playing, tatoo-picking, hair-cutting, fashion-following, car-buying, wag-playing, chest-shaving feckers need to pull their proverbial fingers out and give us a victory.
Gary Smith
95
Posted 06/12/2021 at 08:42:00
Would like to see something different tried today. Perhaps a 4-3-3 or 3-4-2-1 like West Ham are playing?
Pickford
Coleman Godfrey Keane Digne
Doucoure Allan Gomes
Grey Simms Richie
Pickford
Godfrey Keane Branthwaite
Coleman Allan Doucoure Digne
Grey Gordon
Richie
What we'll likely see is Rafa's toothless 4-4-2 again, with at least 2 of Tosun/Iwobi/Townsend in the starting 11 again, and then the master stroke of bringing on Delph for an attacker once we are chasing the game.
John Keating
96
Posted 06/12/2021 at 14:12:43
Well if our wasters do not now understand the importance of 3 points tonight then we may as well start waiting on the dates of Blackpool away next season - good day out !
They know the position we're in league wise, they've had a bit of grief after both Brentford and the RS games.
They will have heard of possible protests and the demise of Brands.
Rather than get upset on the possibility of getting a bit of stick from the supporters they should realise their incompetence has contributed to the present situation.
They need to get their fingers out and get it sorted on the pitch !!!
Raymond Fox
98
Posted 06/12/2021 at 16:23:21
Can we get something out of tonights game, well yes but we need lady luck on our side.
We have a squad of good but not brilliant players, who will huff and puff but will probably be second best once more.
Looking to the future the most disappointing aspect of being an Everton supporter is I cant see things getting better, we look like being a nearly club for a long time.
Tom Harvey
99
Posted 06/12/2021 at 16:48:45
I suspect this will be a cagey affair tonight, the Gooners may tighten up expecting some backlash from the derby, on the other side of the coin I can see Benitez playing a cagey game himself, he'll take the draw right now and not play the game if he could, he certainly can't afford the loss.
Matthew Williams
100
Posted 06/12/2021 at 17:12:36
The Gooner's seem to be getting their act together,a good balanced team that makes the ball do the work, decent pass and move team that can break quickly too.
They were a tad unlucky to lose to Manure too,sadly there'll prove too smart for us tonight,as our confidence is at rock bottom and the Atmosphere will be toxic amongst the let down faithful.
0-2...and the misery sadly continues further methinks!.
James Fletcher
101
Posted 06/12/2021 at 17:21:55
Anyone else slightly concerned that in-form, saleable asset DCL is only going to be available to play at the start of the transfer window ?
Mike Gaynes
102
Posted 06/12/2021 at 17:29:11
From Barry Glendenning in today's Fiver:
"It costs a lot of money to look this cheap," Dolly Parton once said, and it is a quotation that may resonate with Everton fans as they click through the Goodison Park turnstiles tonight before their team's match against Arsenal. Since Farhad Moshiri took control of the club five years ago, the thick end of £500m has been spent on players, who between them have somehow combined to make the grand old team demonstrably worse.
Despite the best attempts of five different managers, two of them highly decorated and among the best in the business, the seventh-place Premier League finish Everton once considered their birthright in the pre-Moshiri era is currently little more than a pipe dream. As for delusions of Big Cup or Euro Vase grandeur? Well, they've been quietly shelved as Rafa Benítez's side try to arrest their inexorable slide towards the drop. Yes siree, as Dolly might say, it has cost Everton an eye-watering sum of money to become the fifth-worst team in the league and last night the first lamb was sacrificed at the metaphorical altar as their director of football, Marcel Brands, left the club.
"The board and I agreed that there is a clear difference in the vision and direction for this beautiful club and, with that in mind, the decision was taken," said Brands, who had inked a new three-year deal just seven months ago. "I want to wish all of the squad every success, and I am convinced that there is enough quality to improve the current situation quickly."
Everton fans are unconvinced and some supporter groups are planning a protest at tonight's game, although it remains to be seen how many will take part or what exactly it is about their free-spending owners, proven trophy-winner of a manager and array of very expensive players they are protesting. Entitled #27minutesfor27years, the planned protest references the number of years Everton will have gone without a trophy come the end of this season and fans are encouraged to walk out of Goodison Park in the 27th minute, a full eight minutes later than it took many of them to abandon ship during their recent drubbing at the hands of Liverpool.
Tired of the chaotic behind-the-scenes activities they believe to be to blame for the current on-field shambles, those behind #27minutesfor27years want Moshiri to keep spending money but instigate a boardroom cull, stop communicating club business through favoured Scottish talk radio presenters and give them some face time so they can voice their concerns in the hope all concerned can get more bang for their emotional and financial buck. Fan reaction to the planned protest has been predictably mixed and if the current squabbling on various social media websites is anything to go by, those behind the #27minutesfor27years show of dissent may discover their fans are no better at singing from the same hymn sheet than the very people they are railing against.
Robert Tressell
103
Posted 06/12/2021 at 17:37:50
Like most, I'd rather have a central midfield trio instead of a front two.
Otherwise, Partey, Elneny and Odegaard will completely dominate the game (with Rowe-Smith dropping back in too).
Gray, Richarlison and Gordon can play on the break.
As an observation, Arsenal are now probably going to reap the rewards of sticking with Arteta (must have been close to the sack) and of investing (heavily) in player development. They now have a strong, improving side and a quality bench.
Tough ask tonight but if we compete in midfield we stand a chance.

Derek Moore
104
Posted 06/12/2021 at 17:39:26
Mike, the Fiver seems a proper rag.
Almost Murdoch quality. One to avoid, thanks for the heads up.
Mike Gaynes
105
Posted 06/12/2021 at 18:04:02
DM, on the contrary, I've found the Guardian to be a very good news source and The Fiver to be a consistent provider of informed and highly entertaining footy commentary. I recommend them highly.
And I can find no fault with Glendenning's commentary.
Derek Moore
106
Posted 06/12/2021 at 18:10:38
Fair enough Mike. The Grauniad is proper rubbish though.The primary attraction of it is without a doubt the lack of a paywall, but there's a good reason for that. They lose a fortune
giving
the crap they write away, put it behind a paywall and they'd be liquidated by January.
Glendenning is a frustrated Mackem fan. With that context, the snide subtext of the piece makes a lot more sense. We got Moshiri the clueless billionaire; they got Short the clueless tightfisted billionaire.
"If that was us we'd be building statues of w'or Moshiri"
He's a hack with a cob on Mike, but if you want to read disingenuous crap you're in luck. T'internet is literally full of it.
Mike Gaynes
107
Posted 06/12/2021 at 18:21:19
DM, whatever his background, Glendenning has two things right: We do have a clueless billionaire in charge, and the 27th minute walkout proposal is pure silliness IMO.
As to the Guardian, I find its reporting on the US to be vastly superior to the odious Murdock sludge here, particularly Fox News and the New York Post.
Michael Kenrick
108
Posted 06/12/2021 at 18:31:37
Dobbin in the team for the U23s in Southport tonight.
Simms and Branthwaite may therefore be on the bench at Goodison.
Howard Sykes
109
Posted 06/12/2021 at 18:31:59
Is forcing Brands out the next phase in Benitez plan to improve the performance of all departments in the club by 5% to 10%. Now might be a good time to apply that to the first team squad.
Clive Rogers
110
Posted 06/12/2021 at 18:32:17
Mike, 107, we do have a clueless billionaire in charge at present, but if he keeps backing Kenwright, this time next year he may just be clueless.
Dave Abrahams
111
Posted 06/12/2021 at 18:33:17
Mike (102) and Derek (106),is Barry Glendenning any relation to Raymond Glendenning famous radio commentator, on boxing, in the days of my youth, I think he did the Randolph Turpin v Sugar Ray Robinson fight in 1951 among many other famous fights?
Derek Moore
112
Posted 06/12/2021 at 18:37:16
I shan't comment on the American media Mike, except to say if the Guardian is the gold standard then the alternative must be only good for lining a cat litter tray. Or worse.
You could have just stated your opposition to the campaign Mike, and I'd have been happy to accept that.
Quoting a snidey Mackem writing tripe didn't really add any weight to your opinion though. In fact, if anything it rather did the opposite.
I respect your opinion Mike, because I've read enough of your stuff to know it's thought out and has the clubs best interests at heart. Even when I don't agree with it.
Some hack from the Grauniad with an ax to grind doesn't even qualify. We'll have to agree to disagree on the campaign, and I suppose agree to disagree in our respective choice of broadsheet as well. Hope we both enjoy the match.
PS - Not as far as I'm aware Dave, the younger Glendennings wikipedia gave me a laugh though.
Bobby Mallon
113
Posted 06/12/2021 at 18:43:44
Mike 107. What is silly about walking out in 27 mins. The whole point is to let the shite owner and board know that the whole fan base is pissed off. If I was there I'd walk also. Others like yourself won't walk but that does not make the 27 min walk out silly
Mike Gaynes
114
Posted 06/12/2021 at 18:52:40
Clive #110, I know it's a popular theory on TW, but for what it's worth, this remote Blue doesn't believe for a minute that Moshiri is being led around by the nose by anyone, let alone Kenwright. I'm convinced that he's making his own decisions. He's just not very good at it.
DM #112, I'm aware we have differing views on a lot of things, but it doesn't bother me a bit.
Dave #111, I assume not, since Barry is Irish.
Bobby #113, sorry, but I think it's a silly idea, and I stand by my opinion.
Dave Abrahams
115
Posted 06/12/2021 at 18:56:04
Mike (114), Mike, maybe he is just Irish on his mother's side!!
Mike Gaynes
116
Posted 06/12/2021 at 18:58:07
Could be, Dave. You never know what Raymond might have been doing in Ireland back then!
Jerome Shields
117
Posted 06/12/2021 at 19:01:31
Robert#103
Agree midfield will be critical.
Peter McEvoy
118
Posted 06/12/2021 at 19:07:38
Pickford
Mina
Keane
Godfrey
Digne
Allan
Doucouré
Delph
Gomes
Gray
Richarlison
I think that's best we can expect.
Danny O'Neill
120
Posted 06/12/2021 at 19:14:15
Just seen the starting 11. The best we can put out I'd say and no Rondon. But no Digne?
That stat on the BBC is unwelcome. We cod become the first team to lose 400 Premier League games.
Oh well, if not tonight, it's going to happen this season!!
Eddie Dunn
121
Posted 06/12/2021 at 19:31:44
Danny- he's been awful for two years.
Kieran Kinsella
122
Posted 06/12/2021 at 19:49:34
Danny
"We cod become the first team to lose 400 Premier League games."
sounds a bit fishy.
---
Add Your Comments
In order to post a comment, you need to be logged in as a registered user of the site.
Or Sign up as a ToffeeWeb Member — it's free, takes just a few minutes and will allow you to post your comments on articles and Talking Points submissions across the site.