Lampard lauds players' reaction and thanks fans after debut win
Saturday, 5 February, 2022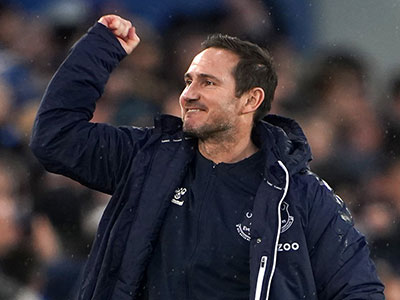 Frank Lampard has thanked Everton's fans, not only for the terrific reception they gave him today for his first match in charge but all week since he was appointed as the club's new manager.
The 43-year-old was named Rafael Benitez's successor last Monday and was charged with immediately changing the fortunes of a side that had won just twice in 15 games in all competitions before he arrived.
Lampard's new charges responded superbly and registered their biggest win of the season, sweeping Brentford aside in the FA Cup Fourth Round tie at Goodison Park.
Lampard was asked afterwards for his thoughts, both on how the team performed and what pleased him most after just a few days' training under the new regime.
Article continues below video content
"It was the things that we'd talked about in the week and worked on," he said. "The way we saw then come out on pitch. I know the players have been through a tough time results-wise and that knocks confidence.
"So when you ask certain things of them, like being brave on the ball and trying to play through the lines like they did for the second goal, that makes me really happy.
"And then the big thing today was the atmosphere. In this stadium — it's been spoken about a lot to me and I played against a lot and when it rises it's really difficult to play against.
"So the players had a responsibility to lift the fans and they did that. The fans lifted when we can do that then things can be bright.
"The players need to feel support from me and my staff. Through the week our job is to give every individual support, to give them a game plan, a style of how we want to play and to reinforce it, and that's what I did.
"I certainly won't be getting carried away with one win in the FA Cup. We've got big games coming again, particularly in the League as we know, so it's important that the players keep level-headed about it. But there's so many things from today that we can take as positives and take them forward."
Lampard's arrival has given an enormous lift to a fanbase that felt hugely let down by the hierarchy's decision to appoint Benitez and four months of dire football under the Spaniard once his initially good start badly fell away.
Goodison gave Lampard a rousing welcome and also applauded new signings Donny van de Beek and Dele Alli on the pitch at half-time and the manager expressed his gratitude.
"I can't think the fans enough for the support I've had before this," he said. "Today was something very special and something I'll never forget.
"Coming to this club last week in difficult times… they've given me messages, the feeling in the city for the last week since we've been here and then the reaction they showed [in the ground] today… that means a lot to me so I thank them for that.
"But what means even more is when they support the team. When we are trying to play, there'll be moments after today when we we're trying to do things and sometimes passes may go astray or people are trying to do some different things on the ball…
"But that's the way I want us to go and so we need their support and we absolutely got it today.
---
Reader Comments (62)
Note: the following content is not moderated or vetted by the site owners at the time of submission. Comments are the responsibility of the poster. Disclaimer
Olalekan Taofik
1
Posted 05/02/2022 at 20:12:33
Super Everton team today what a good game that.The highlights of the manager comments include: the team needs support from the fans and they got it. They will not be carried away with the victory, and the team played to instructions.

Sweet victory but sweeter victory should come on Tuesday against Newcastle.
As no one will remember an FA Cup winner that got relegated the same seasons.

I wish the team success upon success as the games comeby.

Kudos to the manager, the team and fans at the stadium and those of us watching at home.

Ray Mia
2
Posted 05/02/2022 at 20:22:02
Not getting carried away, still so much more to do, and so much more the team need to deliver... But to score 4, and to not collapse, to have the ground lifted – which is not easy with the cynicism and the difficulties for all to see with the disjointed squad, the injuries, the lack of belief... It was great to see Lampard on the touchline.
I wasn't impressed with the game, thought we were pedestrian, didn't move the ball wide, I don't think we crossed the ball once from the wings, and we didn't really play through the middle either... The quality doesn't seem to be there, or maybe its confidence?
I've read reports lauding Gomes... I thought he passed backwards and sideways too often. He gets into good positions and he just seems to lack the confidence or vision or ability to shoot. Gordon was great, fizzed around. Richarlison, got to score more? 1st touch poor. Gray the quiet one, his shooting is errant.
Mykolenko had a good game, doesn't get passed too – needs to be more vocal when in good positions, made two great tackles and kept it simple. I'm taking the win, I'm super happy we scored 4. It was a good day for me... Got to go to the Alex Young suite, which for a boy from Seaforth is a big deal. I'm sure the media will say this was a great start. And it is, fantastic to have won at home and for Frank, great job.

I just think Brentford were atrocious, and we are going to face harder teams. We should be beating the Brentford's all the time. And we need to get back to that mentality. Norwich, Newcastle, Burnley, Leeds, Southampton. We should not fear them, we need to comfortably beat them.

I'm not sure how we scored 4 today... But pleased we did, and hoping Frank and his staff can work on that more. I am pleased to have won without showing more panache. Great to hear the ground roar again. Great to be winning again... I can see how DVdB and Alli could easily fit into this team... I'm really looking forwards to seeing Alli given free reign to express himself... I think this team will afford him space and time to be the best he can be...

And a fully fit Alli in this team could thrive. It's what we needed today... more than the positive quick passing possession, someone to take the ball, drive forwards, take the game to the opposition, force openings, get Richarlison and Gordon and Gray running at pace wide and middle...

It's been a long while since I've been so cautiously optimistic.
Brian Williams
3
Posted 05/02/2022 at 20:22:19
He talks absolute sense. He knows what he wants the players to do and to try to do and he's quietly saying "Don't get on their backs when they try to be on the front foot and brave but it doesn't work."
Good results breed confidence and with confidence comes improved performance throughout the team. Not going to get carried away just yet but he seems to have a plan and also seems to have the smarts to know what's needed to make that plan work.
Heard and joined in with more chants and songs than I've heard in a long time, and it made a huge difference.
Brian Williams
4
Posted 05/02/2022 at 20:30:44
I wasn't impressed with the game, thought we were pedestrian, 
I take it the ale's free in the Alex Young suite because, if that's what you take from today's game, you must have watched it through alcohol-fuelled eyes, for fuck's sake.
Tony Abrahams
5
Posted 05/02/2022 at 20:35:35
I thought we worked it out wide a few times, Ray, but the final ball wasn't quite there, except when Gordon pressed high and cut a lovely little clever ball back to Gray, who's shot got blocked and behind for a corner.
I love width, but I also love the little forward ten yard passes, and I saw as many of them today, as I've seen off an Everton team in years, with Demarai Gray in particular coming short to find space.
That ref is supposed to be one of the better ones, I'm glad he let a few things go, but how he never booked the Brentford defender who came into the back of Richarlison's neck was atrocious, and play on against Gray, would surely have been a foul for Salah, Mane, Fernandez, Mahrez or Jota? I'm a crying fucker, I know!
Kieran Byrne
6
Posted 05/02/2022 at 20:52:30
Great to score 4 & our play with the ball was much much better, movement off the ball and wanting the ball to move forward makes for entertaining footy.
It was also good that the gap between the back line to the midfield was shorter and it was good to see us score a couple from corners.
Hopefully Godfrey's hamstring injury isn't too bad and he'll only miss a week or two.
Roll on Tuesday, it's a massive game COYB
Peter Neilson
7
Posted 05/02/2022 at 20:54:40
Fair play to Lampard and the team for an immediate improvement with passing the ball quickly being the most obvious. Got the sense the players knew they were being watched intently by the new boss.
Very early days but encouraging start. I timed the first "super Frank" chant at 65 minutes. A record for a new manager?
Mal van Schaick
8
Posted 05/02/2022 at 21:17:48
Early days, but great to start with resounding win. It looked coherent and set-pieces were much better.
Strange how virtually the same players couldn't play like that for other managers?
Kieran Kinsella
9
Posted 05/02/2022 at 22:18:08
Competition is good with the new arrivals and it might spur our in-form players like Gordon and Gray to do even better so they stay in the team.
I only saw the highlights but a couple of goals from corners — simple stuff Rafa never seemed capable of organizing. Allan and Richarlison both showing some flair for the third which was refreshing to see as opposed to high percentage predictable balls. Townsend's put a ribbon on it.
Frank smiling and being animated I think created a positive vibe that spread to the players and crowd. Much different than red-faced Rafa sat in the dugout looking like a ball of stress. You can't fix everything in a week so there's lots to do but just being positive and courageous gave us a huge lift.
Garry Martin
10
Posted 05/02/2022 at 22:22:19
Great result and start for Frank, good idea to give most of the bench a run out today.
Christine Foster
11
Posted 05/02/2022 at 23:01:02
I woke up at 4 am and spent the first half-hour trying to find a link, in the end, thanks to ToffeeWeb, a link to Hesgoal that worked well.
It was a great win; we still looked fragile in places, especially at the back where decision-making looked less commanding and a bit hesitant, but Gomes looked like someone had given him a performance-enhancing motivational chat, like the player before his injury. His best game for a long time, moving the ball well, turning and competing.
One wonders if it's a result of the new manager, a threat to his position in the team, or the different positional play of the rest of the team – or a combination of all three! Either way, it was good to see.
I would also add the little cameo of Cenk Tosun, written off by all and sundry, but his contribution to the final goal was just a little icing to the cake. But it shows that the manager hasn't written anyone off and, although it may be too late for Tosun, I was pleased that his attitude and contribution was still there.
It's the one thing I would say again, a manager has to make best use of his resources that he has. Not wield the axe without thought, aka Koeman and Benitez. At least Tosun still has a locker...
Today was a great win, not because of any great football, but because the players looked as though the shackles were off and 'football' was the name of the game. Winning was the first objective.
Pleased for the manager too, just might be too early to sing praises but it was a start he and the fans needed after the constraints of Benitez. Fingers crossed and a few Hail Marys!
John Boon
12
Posted 05/02/2022 at 23:08:28
Ray (@2)
Definitely not of sunshine. far too long in print and far too short in patience. High standards are always admirable but "Let's be realistic".
After what Evertonians have put up with for too long, today was a breath of fresh air. Give credit where it is due.
Brian Murray
13
Posted 05/02/2022 at 23:22:15
Nice home draw will do v Cardiff
Derek Thomas
14
Posted 05/02/2022 at 23:31:36
Well done all round, baby steps yes, but in the right direction. We looked tighter with a back 3 and 4 in front –who knew? eh rafa, you and your 2 will do.
Tosun moved more in 10 mins than Rondon did in 10 games. I'd like both to go but if we have to keep one - it won't or shouldn't be Rondon.
The Match Officials, seemingly given a day off from their usual Premier League – 'if in doubt, give it to the red side or the sky 6' – rules of engagement, and without the VAR tail wagging the football dog whispering in their earhole, gave a semi-decent display... See, not that hard, is it, Refs.
Everybody mostly did enough that vs Newcastle, to lose your place to a newbie would be a bit harsh. So it will be an interesting bench. I guess – for another cup-tie style game with knobs on – both the newbies will be on the bench – but what do I know? Well I know there won't be 2 keepers on it but that's all.
One game at a time – you're not as good as your last game, you're only as good as your next game.
Mike Gaynes
15
Posted 05/02/2022 at 23:40:16
Brian #3-4, haha, glad you had a good time, my friend! We are made for days like this.
Tony #5, there were a lot of great little passes, but the best by far was the Brazilian connection -- Allan over the top to Richarlison with his left foot. That was elegant.
Christine #11, I too was impressed with Gomes today. He does have a way of raising his game for special occasions like this, especially if his new manager gave him the keys to the car. He even cracked a shot on goal, his first of the season I believe.
And a nice little irony that Tosun and Iwobi combined so nicely for the cherry on top. I had Townsend pegged for a goal the moment he came on -- grinning from ear to ear.
Jamie Crowley
16
Posted 05/02/2022 at 23:56:48
Brian @ 3-
He knows what he wants the players to do and to try to do and he's quietly saying "Don't get on their backs when they try to be on the front foot and brave but it doesn't work."
This is exactly what I took away from his comments as well.
I sincerely hope the fans realize and understand this. We're going to start to play the ball forward, and often. When it doesn't come off, we're going to try again. Patience from the fans will be paramount in the coming weeks in my opinion.
Michael Lynch
18
Posted 06/02/2022 at 00:10:50
Rafa told the players they were shit and could only play on the counter, Frank told them the opposite. And today we won 4-1. As long as we can stay up, next season should be very interesting.
Don Alexander
19
Posted 06/02/2022 at 00:51:11
Ray (#2) yours is a pragmatic appraisal I hugely agree with. Others obviously differ, but hey-ho.
As you say, Brentford were bog-standard ordinary, but you praised the result and various other aspects of the performance, and expressed the hope that, from here on in, we can improve. What's not to like in that?
Or are some of us so ecstatic about today that we'll now throw overboard anyone who's deemed pragmatic rather than deliriously happy?
Being deliriously happy about a one-off performance and result such as today's is music to the ears of our ultra-inept complacent board and owner.
The sane among us welcome what we saw: baby steps for a top professional football team who undeniably have more than a few miles of tough terrain to deal with before we all get so easily ecstatic.
We all support them, but they have to earn it. Today, for once, they did.
And I was pleased to see the interaction from Frank to the coach of his own choice during the match. They were both visibly active and involved, and long may it continue.
Gavin Johnson
21
Posted 06/02/2022 at 01:13:01
While I'm not going to get carried away from one performance, that was the best I've seen us play in a long, long time.
We've bemoaned how terrible we've been in midfield all season but yesterday, Gomes, who isn't even in the first XI with a fully fit squad looked Xavi-esque and ran the show. Looks like it could have been Rafa's negative tactics all along?!
I had some worries that we won't be able to play Alli and Van de Beek together but going off how Gomes played. I could see Van de Beek sitting deeper alongside Allan and doing the kind of role Gomes played.
I would have liked to have seen Nathan Patterson come on at 3-1 but that was a small gripe. I think we'll get a better picture of where we are on Tuesday night, but yesterday's result certainly gives us all confidence going into that game now.
Steavey Buckley
22
Posted 06/02/2022 at 01:47:32
I would have preferred to have lost the match against Brentford than lose Godfrey for a month+ with a hamstring injury. Everton fans can have their cup run but I prefer to have as many fit Everton players possible to avoid relegation.

Mike Gaynes
23
Posted 06/02/2022 at 02:06:21
Steavey, you need to call mission control. Your orbit is deteriorating.
Steve Brown
24
Posted 06/02/2022 at 03:18:15
That was actually an exciting and enjoyable game to watch!
We had 59% possession and were trying to play forward balls between the line. The back three worked, the team was trying to press as a unit and it looked like we had actually practised set-pieces. Add in energy and motivation and it looked a lot better.
We are still as wobbly as a jelly when teams run at us with pace, but there was progress. Now the big one to allow us to look upwards rather than downwards – Newcastle away.
Jamie Crowley
25
Posted 06/02/2022 at 03:23:46
Don @ 19-
Being deliriously happy about a one-off performance/result such as today's is music to the ears
I'll finish that sentence for you, substituting this:
of Blues and joy for Blues all over the globe.
For how long have we waited for this type of showing? For how long have we waited to scrub that red taint off our skins from dour Rafa?
So forgive the hyperbole, but I'll wait to be critical while I lap up the feeling of a proper Blue performance.
Concerns be damned. We won 4-1. And without the Fat Red Spanish Waiter serving up his plate of shit.
Kieran Kinsella
26
Posted 06/02/2022 at 03:27:15
Don,
For fuck's sake, mate I usually agree with you but you're letting your Kenwright hatred put a negative spin on an excellent result. Don't go all Darren on us.
Steavey,
Seriously? You'd rather lose to Brentford than lose Godfrey for a month? We've got four other similarly capable centre-backs and, no matter how unlikely a cup win might be, we still have a chance to win. Don't get all Moyesy on us!
Ed Prytherch
27
Posted 06/02/2022 at 03:53:45
It is tough to lose Godfrey, probably at least 4 weeks with a hammy, but we have 5 competent centre-backs. Of the starting 11, it was the easiest hit to take.
Kieran Kinsella
28
Posted 06/02/2022 at 04:00:04
Interesting interview on the OS with Townsend saying Clement has been working on corners all week (defending and attacking). No wonder Frank was hugging him.
Rob Halligan
29
Posted 06/02/2022 at 07:47:33
Steavey #22. Should we make Wembley, even the semi-final, then I assume you won't be at the front of the queue when the tickets are dished out.
Danny O'Neill
30
Posted 06/02/2022 at 08:14:11
I'm going to Wembley, Rob, even if I end up in one of the pubs nearby. The atmosphere is electric when Everton take the town. I honestly believe we have more fans without tickets travel than those who don't!
Looking at Lampard's comments, a couple of things stick out. He talks about being brave with the ball. Despite idiots like me, he talks about not getting carried away with one FA Cup win. He talks about trying to play the way he wants and passes may go astray but that's what he's trying to instil.
Positive and upbeat. I think he can be the balance between those who want someone who "gets Everton" but is a winner with a club that has been dominant in European and English football.
He will get Everton because his roots are east London and West Ham despite his obvious Chelsea success.
Two Frank Lampards, there's only two Frank Lampards!!
John Keating
31
Posted 06/02/2022 at 08:27:34
Result was great; performance a definite plus. The big ones are still to come, though. The FA Cup is a very nice diversion but the Premier League is our priority.
I admit when I saw the team sheet we all said 3-4-3 and, although Godfrey is now out, I think Branthwaite is a shoo-in as his replacement.
I am also made up we got a British manager in rather than a foreign Johnny! Lampard has long known of our faults and player issues so nothing has come as a surprise.
Long may our play continue to improve and how great is it that a local-born Blue can now be first on the teamsheet every week?
Mike Hughes
32
Posted 06/02/2022 at 08:58:29
This time last week, I went out on a long walk while frequently checking my phone.
Thoughts in my head:
Why hasn't Lampard been confirmed? Or DvdB?
Something is up.
A week later,we've also signed DA on a free (initially) and stuck 4 past a PL side.
This time next week?
25 points hopefully.
And Cardiff in the next round at GP.
Colin Glassar
33
Posted 06/02/2022 at 08:59:23
Great result to take the immediate pressure off Lampard and the players. A loss could've been catastrophic if not unsurprising seeing how we've been this season.
Now the real work begins. Newcastle and Leeds. These are literally six pointers. Win them and we create some breathing space. Lose them and we really are in the shit.
Yesterday was a pleasant distraction but on Tuesday it's a must win game. COYB!!
Brian Williams
34
Posted 06/02/2022 at 09:52:46
Danny#30
I'm glad you've mentioned Lampard's character towards the end of your post mate as it gives me an "in" to post one of his quotes from yesterday which I find outstanding.
He said, when talking about Anthony Gordon.

"The tackle before the third goal was amazing, he's a talented boy but the attitude he shows and his love for this club is something for me to work on and harness and help him, and be of service to him.
"And be of service to him." Those six words speak volumes about the man, IMHO.
Paul Birmingham
35
Posted 06/02/2022 at 10:00:38
Beat the Barcodes, looking forward with genuine hope to this game.
Interesting to see where and if DVB and DA, will be in the squad and start the game.
It's a massive match, and hopefully the belief and spirit shown v Brentford can carry on.
Tony Abrahams
36
Posted 06/02/2022 at 10:14:49
Mike@15, I honestly thought Keane's initial pass to Allen, was the better of those two passes, but can understand why our Brazilian midfielder is going to get the plaudits!
It's a long time since I saw players passing the ball using sign language, but Keane's pass was screaming for Allen to turn.
It was also very refreshing to see our players beginning to look comfortable with each other, and although it's very early days, some of them even started to look like they were actually enjoying playing football.
John Keating
37
Posted 06/02/2022 at 10:16:06
Brian
Spot on.
It's great to hear a new manager with, as a manager, no ego, saying these things
Hopefully when he gets it wrong, which he will, he accepts his part and not out it all on the players
So nice to have a week hater free posts
No doubt they'll be out in force first set back.
Though somehow I doubt Lampard is here for his last final pay day
Mind you neither was Ancelotti, seems he's at Real for that
John Keating
38
Posted 06/02/2022 at 11:10:54
Tony
Fully agree.
First time in ages it looked like players actually wanted the ball!
I do think though that the poor man's Peter Reids ball to richie was sublime
It really was class
I was in line with it and it seemed to swerve and fade at the same time
Mind you Richie took it great and I don't think he looked at where the ball was actually going after connecting he just seemed to take off to the Bullens!!!!
Next 2 league games that count, yesterday was just a nice distraction
We'll have to be well up for a football and physical challenge

Ben King
39
Posted 06/02/2022 at 11:17:54
How lovely to win and feel upbeat!!
I wasn't sure about Frankie as manager when his name was first mentioned but given his intelligence, ability to attract player and the excellent team of coaches he's assembled I'm feeling so good about his appointment
He looks humble and honoured to be here. That speaks volumes. Rafa always looked like he was doing us a favour and we were beneath him. Arrogant pr-ck
I like Lampard. I think players Will want to play for him and he tolerates (maybe even encourages) mistakes because he knows it's towards a greater end product
We'll both hopefully grow together
Tony Abrahams
40
Posted 06/02/2022 at 11:28:27
I used to be able to pass like that in my sleep John, but only when someone gave me the ball in the first place, so I'm sticking with Michael Keane!
Seriously you are correct, because Allen also had that dreadful wind to contend with whilst hitting that inch perfect pass, and although I'd been cursing him to myself, just a minute before, when he passed the ball square instead of driving forward with it, his execution was brilliant but so was Richarlison's movement and finish.
A goal that took me back to the "history of Everton" video, and hearing John Motson saying, Everton always play football of the highest scientific order! Hahaha.
John Keating
41
Posted 06/02/2022 at 11:36:38
Tony
Took me back to playing in midfield for Cardinal Godfrey - well I think it was midfield those days?
What a pass I made!!!
In my dreams too!
Rob Halligan
42
Posted 06/02/2022 at 11:39:57
I'm sure many saw the training video's during the week, and one thing I picked up was Lampard shouting to the players "Enjoy the Ball". Obviously to me this means keep possession, a lot of which we saw yesterday, and don't treat it like "A Hot Potato", just getting rid, a lot of which we have seen recently, particularly down at Norwich. Many players have felt uncomfortable with the ball at their feet. Very very early days, but the signs look good.
I think I've also seen some reference to this somewhere as well, but this year marks SIX years since Moshiri took ownership, he has replaced six managers, and hired SIX managers. The numbers in the year 2022 all add up to SIX, so it's only natural that this season we are going to win FA Cup number SIX!!
Moshiri didn't hire Martinez or sack Ancelotti before someone corrects me!! 😁😁
Paul Tran
43
Posted 06/02/2022 at 11:44:49
A good start, plenty of early energy and purpose, kept the ball a little better, showed more interest in going forward, the players looked happier being footballers, rather than chained robots on mogodon.
A manager who speaks normally, who can and will attract better, younger players, who has the brains to hire top-quality coaches, who, like him, are winners.
This is a top ten squad that, when well-coached, may get higher. With reinforcements, who knows?
I'm inclined to judge after ten games. Let's see how they respond to setbacks. Frank is lucky in that a few contracts are up in the summer, so his odds of being thrown under the bus by some players will reduce.
A good start, nonetheless. Time to get some momentum rolling.
Brent Stephens
44
Posted 06/02/2022 at 11:46:35
Good 5th round draw!
Rob Halligan
45
Posted 06/02/2022 at 11:49:07
Can't argue with that Brent. Can't be looking too far ahead, but should we get through, there's going to be what looks like could be a very strong quarter final line up.
By the way, where is Boreham Wood?
George McKane
46
Posted 06/02/2022 at 11:50:27
Not sure where to post this - - but - - fascinating and interesting article in today's Sunday Times from Rooney - - his own comments about his difficult times and childhood - - as someone who works on a daily basis with excluded and damaged young people -- and as I mentioned in a post a few weeks ago - - with Rooney himself - - my work is with young people who society, the system, and other institutions have let down - - rather than call them names - - as one TW contributor did - - maybe we should wait until we know some facts - - I read it with sadness but also with admiration how someone so young could change his life and look after his family - - the comments about the ridiculing of his parent are/were disgraceful - - goldfish hey!!!
John Keating - nice to hear from Cardinal Godfrey Old Boys - - I was there - - and survived - - 61 -67.
Brent Stephens
47
Posted 06/02/2022 at 11:54:02
Rob, you're obviously anticipating a trip to Boreham Wood and not B/mouth!
Gary Jones
48
Posted 06/02/2022 at 11:55:06
I never thought I'd pick this side, but hoping that if they're all fit on Tuesday, I hope he starts the game with the same 3-4-3 that played most of this game.
Pickford
Mina Keane Holgate
Coleman Gomes Allan Mykolenko
Gordon Richie Gray
Keep a winning side. Not sure any one of them deserve a hook, and I don't want to see 'favourites'. That includes Alli and DCL.
If we're chasing the game, they're 3 players who can come on and get us back in it. If we can get 2 ahead, then VDB for one of Gray or Gordon in second half to create a 5 man middle would work too. Iwobi (ye ano!) for all his faults can also be good on the counter when winning.
Really not trying to get carried away, but what options we now have! COYBs!!
Rob Halligan
49
Posted 06/02/2022 at 11:58:37
Ha, Brent. No, I'm just curious as to where Boreham Wood is? Besides, isn't the fifth round games all settled on the day, so still no replays?
Paul Tran
50
Posted 06/02/2022 at 12:02:41
Borehamwood is in Hertfordshire
Danny O'Neill
51
Posted 06/02/2022 at 12:25:40
Brian, without sounding too naive as I understand at the highest levels, it's all about results, but I agree with your quotes from Lampard on Gordon. Coaching in it's purist sense should be about improving players and making them better. Then results will come.
As I said on Michael's match report, the team definitely looked to be more comfortable on the ball. They wanted to play and not throw the hand grenade to the next potential victim who's feet it was going to go off on.
Keane's pass summed up football being it's simplest best. With a 6 yard pass, he breaks the first line to find Allan in a pocket of space, who then turns to know a ball in with pinpoint accuracy that broke the second line. The beauty of it was the run from Richarlison. I doubt that Allan even looked other than a glance out of his eye. He just needed to hit the space.
Brent Stephens
52
Posted 06/02/2022 at 12:31:40
Danny #51 re your final para - that's why Richie's goal was a superb one for me. Not just Allan's pass, excellent though it was - but the sheer simplicity but beauty of breaking the first and second lines with those passes. Effortless but brilliant.
Anthony Hawkins
53
Posted 06/02/2022 at 13:06:14
I only saw the highlights so missed so much of the games natural ebb and flow. From what I could see there were glimpses of what could be. e.g. the balls over the top of the defence for the strikers to run onto, the interplay for some of the goals, a team who appeared to be trying to play for each other, not just themselves and actually putting up some fight - Anthony Gordon was it who kept going to steal the ball from the Brentford defender when he didn't have to, which lead to the 4th goal?
Regardless of overall quality, it's massive steps forward from where we were only a few weeks ago. If Lampard can get the team back and performing, as long as the goals go in, we should be ok.
Rob Hooton
54
Posted 06/02/2022 at 13:33:11
I'd take an FA Cup win and finishing one place above the relegation zone over getting knocked out and finishing 7th in the league, crazy not to want to get that winning feeling again. Would also guarantee European football next season, something that we won't get otherwise (at least not this year).
Feeling optimistic.
Tony Abrahams
55
Posted 06/02/2022 at 13:37:40
Seven years in Cardinal Godfrey, George, I bet you must have hit of those few beautiful passes yourself in your day, mate!
There's quite a few Godfrey old boys on here John K, and you've got me on a trip down memory lane now mate, after reading about your great passing ability, whilst playing for our school team!
George McKane
56
Posted 06/02/2022 at 13:41:16
For all its madness, I loved school – often call Cardinal Godfrey a "free circus" – great days... and lovely day yesterday in The Dark House and at Goodison Park.
Jon Harding
57
Posted 06/02/2022 at 20:31:36
Rob H @45
Boreham Wood the football team is in Borehamwood the place, strangely. Basically it's near Watford, mate.
There's a big TV studio there where I once went to watch Strictly Come Dancing. Don't ask – my wife won tickets. Longest day of my life and I can remember the trains home from Wembley after the 1985 Whiteside Cup Final…
Anyhow, they're coming to Goodison. I hope you don't need to get your roadmap out for a replay!
Eoin Cullen
58
Posted 06/02/2022 at 20:47:29
There's one or two miserable posters on this site. Everybody who was at the game will have witnessed the joy and hope that was felt on Saturday by the fans.
Yes, there are going to be setbacks along the way but I, for one, am very optimistic about the future and it's a long time since I've felt that!
I predict that, in time to come, Frank will be seen as one of our greatest managers.
Dave Abrahams
59
Posted 06/02/2022 at 21:12:05
Brian (34), you talking about Anthony Gordon and his tackling, he has amazed me with the effort he put into these tackles, I've watched him since he first broke into Everton's youth team and tackling wasn't one of his qualities, I don't know the lad but I'd say he isn't naturally aggressive in his nature but he definitely goes in to win these tackles with aggression, added to his natural talent he has improved significantly since the start of this season, deserves a good Pat on the back.
Reminds me of Graeme Sharp, he had a quiet nature, I remember him saying in a programme that he wasn't naturally aggressive like Stevie McMahon which was just part of Stevie's nature and the way he was brought up, I think that Sharp learned a lot of his aggression from watching Andy Gray and it became a big part of his game and Everton were all the better for it.
Carry on Anthony Gordon the way you are learning the game you can save Everton a lot of money in the future and make yourself a very rich man.
Neil Copeland
60
Posted 06/02/2022 at 21:22:16
Dave #59,
Anthony Gordon must be a manager's dream. Local lad, technically very gifted, not afraid to put in a challenge, not afraid to shoot or try different things and always gives 110%.
He even speaks well and has shown leadership skills when addressing a very upset support. A great career ahead.
Charles Brewer
61
Posted 07/02/2022 at 09:18:57
No one has mentioned the dog that didn't bark: Everton scored four goals… without Calvert-Lewin.
One of Lampard's most prominent aspects was the enormous number of goals hew scored, playing in midfield. He regularly scored more than most recognised strikers while playing a conventional (if very competent) role.
For years Everton have been defined by their 'Number 9' – either by having one – Calvert-Lewin or Lukaku – or not having one, eg, most of this season.
If Lampard can make this team into one where everyone is likely to score a few each season, we'll be much harder to play against.
ps: I was delighted to see "the garbage" come on at the end and to combine for a beautiful goal! I'd be ecstatic if we saw the contracts of Iwobi, Tosun, Holgate and others renewed because they were playing extremely well and contributing to what Benitez accurately predicted when he spoke of 'a much better second half to the season'.
Mike Doyle
62
Posted 07/02/2022 at 09:39:55
Charles #61,
Very good point. Neither Man City or Liverpool tend to operate with a traditional Number 9.
Whether you use/need one or not seems to depend on the style of play you adopt. Teams who play "on the front foot" tend to be less dependent and favour smaller/nippier forwards, eg, Aguero, Tevez, Salah etc...
In recent years, Everton have been very much a counter-attacking team – which suited a traditional No 9 like Lukaku (or Calvert-Lewin). In contrast, Lukaku isn't setting the world alight in a Chelsea shirt and you wonder if he is the right type of forward for their style of play.
Rob Halligan
63
Posted 07/02/2022 at 10:11:07
I see that Dan Ashworth, Brighton's technical director, and thought of by many on here as the real brains behind Brighton, has resigned his position to take up a similar post at another Premier League club. I wonder where he will end up?
Danny O'Neill
64
Posted 07/02/2022 at 10:15:43
Charles, Mike, sometimes I don't even know what formation Manchester City are playing. I don't even know if they play a formation. They just seemingly throw very talented players onto the pitch who do their thing.
Liverpool's tends to be one of missing out the midfield and getting it forward quickly to their unfortunately impressive forward line, usually by switching from full back to full back who both play high.
I mentioned that I saw much more intent from our midfielders to shoot from range on Saturday. Even Gomes; something he's not been renowned for. And Gordon was unlucky not to score a screamer too. I assume that's the new manager's trademark stamp on them even in these early days.
Remember the 1986-87 title winning team? The way they spread goals around the team was unbelievable. Don't quote me as I'm going off my fading memory without assistance from Google, but wasn't the leading scorer that season Trevor Steven with 14 goals? We all love a 20 + a season striker, but if you can spread the effort, it can be equally effective.
I'm trying to not get carried away with Anthony Gordon, but he goes from strength to strength every time I watch him. Along with Demarai Gray, both are already contenders for player of the season. Aged 20 and 25 respectively. Encouraging signs.
---
Add Your Comments
In order to post a comment, you need to be logged in as a registered user of the site.
Or Sign up as a ToffeeWeb Member — it's free, takes just a few minutes and will allow you to post your comments on articles and Talking Points submissions across the site.