Everton vs Boreham Wood
Wednesday, 2 March, 2022
FA Cup 5th Round Preview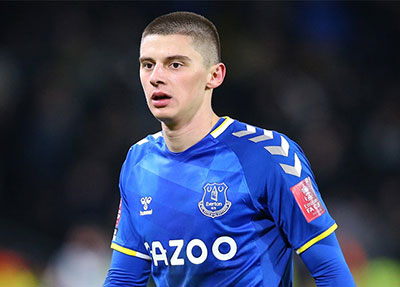 Vitalii Mykolenko will start his first game since featuring in the Fourth Round win over Brentford
Everton and Boreham Wood play the penultimate tie of the FA Cup Fifth Round on Thursday evening in front of a televised audience at Goodison Park.
The non-league club will make the journey north from Hertfordshire for the biggest game of their history to-date, a sell-out under the lights on Merseyside… but for Everton it will be a case of focusing on the job at hand and getting through to the last eight with the minimum of fuss.
Vitalii Mykolenko will be in the starting XI, Frank Lampard has confirmed. The young Ukrainian full-back will be one of a number of anticipated changes to the side that started against Manchester City last Saturday as the manager looks to negotiate his way past the non-league side.
Mykolenko hasn't started a match for the Toffees since the tie against Brentford in the last round due to a bout of Covid-19 and the form of Jonjoe Kenny who has excelled in two of the three games where he has been asked to deputise at left-back.
Article continues below video content
Mykolenko, an £18m signing from Dynamo Kyiv in the January transfer window, received an emotional show of support from Everton and its fans last weekend following Russia's unprovoked invasion of his homeland.
The 22-year-old was in the squad to face City but didn't play and he is now lined up to take the field for the first time since the conflict escalated with Vladimir Putin's decision to send troops into Ukraine last week.
"Mykolenko will play," Lampard said today. "That was a decision I made regardless of the outside situation — purely on a football decision.
"Of course, you have to be very aware of the life decision for him. We'll see about any kind of gesture but the fact is he's starting the game.
"It feels like the training and potential of playing is a relief. We're giving him all the support and I'm sure he feels that from our end.
"He's also a new player here. There are so many things that have happened to him — he's a young man coming over here, moving to a new country, different city, different football club and he's now having to contend with all of this.
"He has all of our support."
While Lampard felt moved to announce Mykolenko's starting role, he has only alluded to the fact that Everton's other new full-back, Nathan Patterson, "will get his chance" without being any more specific.
Patterson has yet to make his senior debut for the Toffees since joining from Rangers but has had one impressive outing for the Under-23s. He will be hoping to be involved tomorrow evening if his manager elects to give both Seamus Coleman and Jonjoe Kenny a rest.
In midfield, there could be opportunities for André Gomes, Andros Townsend and even Tyler Onyango at some point while up front Salomon Rondon could make a rare start. (Update: Onyango misses out with a hernia problem.)
For the visitors, it will be a very special occasion for Evertonian Kane Smith who celebrated his club's win in the last round at Bournemouth by revealing that he had been wearing a Tony Hibbert jersey underneath his Boreham Wood shirt.
While it's a dream tie for Smith, Lampard and his men will be hoping that Boreham Wood are despatched in the same fashion as the last two non-league clubs to visit Goodison, Woking and Tamworth, were in the past.
Kick-off: 8:15pm, Thursday, 3 March 2022

Predicted line-up: Begovic, Patterson, Holgate, Branthwaite, Mykolenko, Doucouré, Gomes, Gordon, Townsend, Iwobi, Rondon
---
Reader Comments (81)
Note: the following content is not moderated or vetted by the site owners at the time of submission. Comments are the responsibility of the poster. Disclaimer
Mike Gaynes
1
Posted 02/03/2022 at 18:42:16
Well in, young man. Go get 'em.
Brian Hennessy
2
Posted 02/03/2022 at 18:42:17
Best of luck, Vitalii, in the game tomorrow.
Reading between the lines in Frank's press conference, not sure if Patterson is going to start which is a pity.
Danny O'Neill
3
Posted 02/03/2022 at 18:45:13
Great platform for him to show us what he has.
The last Ukrainian we had wasn't too bad. I know he's feeling understandably emotional and had an outburst on social media, but I'm sure the manager can judge and channel that emotion in the right direction.
Get us one step closer to Wembley son!
Dale Self
4
Posted 02/03/2022 at 18:51:00
The other side of this devastating sequence of events, the chance to support this young man. Get out there and express yourself. It is a contact sport as Wilder reminded yesterday. UTFT!! UTFU!!!!
Stan Schofield
5
Posted 02/03/2022 at 18:52:04
Best of the luck to the lad. He'll be fired up for Everton after the Ukraine tributes at Goodison, plus today's distancing from USM.
Tony Everan
6
Posted 02/03/2022 at 18:56:02
Good luck to Mykolenko.
Brian, I picked that up about Patterson, sounds like he is not favoured ahead of Seamus yet. He said something along the lines of when the opportunity comes along he has to grab it and show what he can do. Hopefully we'll see him get some game time as a sub tomorrow.
Danny Baily
7
Posted 02/03/2022 at 18:59:23
Good opportunity for him. I wonder whether Frank rates him as a first team quality player.
Disappointed at the suggestion that Patterson won't play though. Seems like the perfect opportunity to give him a start (if not Boreham Wood then who is he up to playing against?).
Danny O'Neill
8
Posted 02/03/2022 at 19:01:56
It will be interesting to see how Patterson settles and hopefully establishes himself.
It is not too long ago and in living memory that we took an untried youngish right back from a lesser league. We were unsure at first as he was a bit raw and hadn't played at this level. We even toyed with the idea of playing him on the right of David Moyes's preferred 4-5-1 for a while if I recall.
I give you Seamus Coleman.
Okay, we've paid more than £60 grand for Patterson, but let's give him time to develop and see what he's got when he is ready and the manager thinks he's ready.
Neil Lawson
9
Posted 02/03/2022 at 19:21:05
Emotionally, it will be incredibly tough for Mykolenko. I hope he can feed off it and have a great game.
Kenny will start at right-back.
No other predictions other than a reasonably comfortable win.
Mike Gaynes
10
Posted 02/03/2022 at 19:21:48
Danny #8, agreed. And we sent Coleman out on loan to get him some experience in the promotion pressure cooker.
Patterson's entire top-level professional career is a dozen games for Rangers and 6 for Scotland.
18 games.
So the fact that he's been deemed not ready is less than shocking news.
Give him time.
(Oh, and Danny, your name is now in regular use in our household. We adopted that pup.)
Robert Tressell
11
Posted 02/03/2022 at 20:17:52
Mike, I've made similar points before but (a) I can't get my head around why it's taken so long for Kenny to get a chance and (b) the Patterson signing is looking a bit weird right now (could end up being brilliant / a bargain, mind you).
Good luck to Kenny tomorrow, he deserves his spot.
Jamie Crowley
12
Posted 02/03/2022 at 20:26:51
I was critical of this kid in his first two appearances.
I can't ever remember wanting an Everton player to succeed so badly now.
I hope this kid plays lights out.
He should get a standing ovation, and it wouldn't bother me at all if at 19 minutes Goodison stood in applause.
Good luck kid. There's one American who will be rooting for you.
If he scores, I will, just on principle, engage in a one man riot.
Andrea Jacobs
13
Posted 02/03/2022 at 22:04:25
What is all this 'time' bollocks' when it comes to Patterson? Every time he doesn't play makes him further away from being ready to play, surely?
Is it just a fitness thing? How does that get any better through not playing matches? Usually the best way to learn how to do something is to do it, and fail at it, and learn from those mistakes.
If he doesn't come on, let's say we're winning 3-0 with 20 minutes to go, against Boreham Wood, then I can't really see him becoming a top-flight player for us.
Derek Knox
14
Posted 02/03/2022 at 22:22:44
I think it is a nice gesture to play Vitalii tomorrow, for two reasons really: (1) that is the role he was brought in to do, and (2) it may help him to concentrate on the job in hand and show to the World (football) how proud he is to be a Ukrainian and play for Everton.
Be nice to have seen Nathan Patterson too, but I think Frank wants to get us into the next round and not underestimate the opposition. That is no reflection on the lad, but I think that, if the game seems to be going in our favour, he will be introduced to give Seamus a well-earned rest.
Mike G @ 10, " (Oh, and Danny, your name is now in regular use in our household. We adopted that pup.) "
Sounds like a shaggy dog story to me!
Mike Gaynes
15
Posted 03/03/2022 at 01:27:00
Alan J Thompson
16
Posted 03/03/2022 at 03:30:34
Too many team changes might work against us, after all, the important thing is winning despite the opposition.
There is that old football adage that greater skill only comes to the fore when you at least match the opposition's effort, and haven't we seen that quite recently. We can use all five subs when/if we are well in front.
Gary Jones
18
Posted 03/03/2022 at 07:32:53
Really frustrating if Patterson doesn't get a chance today. If he's not good enough for Boreham Wood, then that's a horrendous sign that we've once again wasted millions more than we should have.
Personally I don't want any major players risked unless it's to get their fitness back more (Doucoure / Gray), and if we see a front 3 of Townsend, Rondon and Iwobi my mood really will sour. As well as Patterson, I want to see Dobbin get another go, especially at home under the lights.
My preferred side:
Begovic
Patterson Holgate Branthwaite Mykolenko
Townsend Doucouré Gomes
Dobbin Rondon Gray

Lee Courtliff
19
Posted 03/03/2022 at 07:41:05
Like others have said, if Patterson isn't ready to play against Boreham Wood, then who is he capable of playing against?
We did this kind of thing with Jonjow Kenny and look how well he's done when finally given a chance!
Nathan should be getting at least a good 30 minutes tonight, hopefully when we're in a comfortable lead.
Danny Baily
20
Posted 03/03/2022 at 07:54:05
Patterson seems to be one for the future; just odd that, in our position, we paid so much for a prospect.
I'd expect an accelerated route to the first team in the Championship if we're relegated. Same for Branthwaite.
David Bromwell
21
Posted 03/03/2022 at 08:12:03
With all the loan players unavailable and key players still injured, our squad looks rather thin to me.
We need to win this game without too much drama, so I hope Frank is able to select a strong starting eleven and we do not suffer any further injuries.
It seems that supporting Everton is never easy and, from now until the end of the season, we will need to be at our best and hope that we have a fair share of luck.
Jay Evans
22
Posted 03/03/2022 at 08:15:02
Far, far too many changes in your predicted line up for me Lyndon. If that team starts we won't be as comfortable as we should be.
Sorry for repeating what many others have said on many occasions, but play your best team from the start and make changes once the game is won. Can't you make 5 subs in the FA Cup now anyway? We could be out of sight by 60 minutes then rest half our team that way.
Full support.
Onward Evertonians 💙
Robert Leigh
23
Posted 03/03/2022 at 08:56:34
I agree with Jay above, too many changes isn't a good idea when we need to build some momentum. Quarter-finals of the FA Cup shouldn't be sniffed at.
Pickford
Kenny - Holgate - Keane - Mykolenko
Gomes - Allan - Townsend
Gordon - Richarlison - Gray
Defense has incoming cover in Godfrey and Branthwaite. It shouldn't be as exhaustive as the past few games, so Allan should be okay. We now have cover in Doucouré and Van de Beek should he get a knock – as well as Alli of course.
Richy needs a goal.
COYB!!
Rob Halligan
24
Posted 03/03/2022 at 08:59:08
Hate to be pedantic, but the first line of the OP is in-correct, as our game is not the final tie of the fifth round. Nottm Forest play Huddersfield next Monday.
Ray Roche
25
Posted 03/03/2022 at 09:17:49
Play a very strong side, put the game to bed, then make your substitutions. No pity. Get the job done in the first half.
Jonathan Tasker
26
Posted 03/03/2022 at 09:33:39
Southampton made 9 changes last night and still won.
Pretty sure Lyndon is right and that Frank will make numerous changes to tonight's starting line-up.
Bill Griffiths
27
Posted 03/03/2022 at 09:56:48
I"m amazed at all the experts on this and other threads whinging and whining about Patterson not getting a game. I'm sure that, if he was ready, Frank would have played him before now and I trust Frank and his coaching team's judgement more than the keyboard experts on here.
I too am surprised that, given the fee and desire to sign him, it is surprising that he hasn't started but maybe he's one for the future.
If he has got what it takes, I am sure that Frank and Ashley Cole will bring it out in him and we will hopefully be seeing him start games in the not-too-distant future.
Brian Harrison
28
Posted 03/03/2022 at 09:56:51
I would say Lyndon has got his team selection about right, except I don't think Frank will start Doucouré.
For those who think we should play our strongest side to start the game, I would say in all honesty we should be able to play the entire U23 side, I mean if they can't beat a team from the National league, then our U23 system is not fit for purpose.
As some have commented, Southampton played fringe players against a side in the Top 6 in the Premier League and still won.
Would have been an ideal game for Dele Alli to start but, like Donny van de Beek, they are cup-tied, I see Lyndon didn't include El Ghazi so I guess he is also cup-tied.
I love being at Goodison for cup games and I think that will dispel any thoughts of players just going through the motions, something I am sure Frank and his coaches will have mentioned a lot.
Tony Everan
29
Posted 03/03/2022 at 10:07:24
We're allowed nine subs on the bench and are able to use five. The strategy has to be :
Start with a strongest team, get control of the game then make substitutions to all key players in the second half.
No need to give an inch of advantage. We can win the game, get some confidence and at the same time keep players fresh and ready for Monday's game.
Dave Williams
30
Posted 03/03/2022 at 10:15:30
Mike #10 and Billl #27 absolutely right.
Patterson has barely experienced a top-flight game before and has quite rightly been nursed along at Finch Farm. He has had to adjust to being away from his parents, living in a strange city, not having his mates around, possibly being away from his girlfriend – he's had an awful lot to get used to even ignoring the pressures concerning the change in manager and battle against relegation. Frank will play him when he thinks he is ready... which may well be tonight.
I am in the camp for fielding a strong side then using subs if we get a comfortable lead. I can see this being a really tough game (look at the table – we are not a very good side this season) and we need to go for them from the start.
Pickford
Welch Holgate Keane
Patterson Allan Doucouré Mykolenko
Gordon Richarlison Gray
Dave Lynch
31
Posted 03/03/2022 at 10:21:44
I'd have been worried about this tie under previous managers.
Not Frank though... easy win for me and, as has been said, put it to bed before half-time and make changes.
Danny O'Neill
32
Posted 03/03/2022 at 10:39:54
Mike @10. I won't flatter myself that the pup is named after an Evertonian who posts too much on ToffeeWeb, but really pleased you took him on. They enriched the family and know loyalty like we can only talk about.
I'll go with my standard early cup round plea. Start with a strong team, get the game won then rest. Don't underestimate, don't disrespect the foe; respect your enemy (sorry we've been talking a lot about Ukraine and war).
Take players off when we are in control, not end up chasing the game against a dogged resistance because we made too many changes.
Paul Hughes
33
Posted 03/03/2022 at 10:40:22
I worry about these games. Wasn't it against Tamworth that Bryan Oviedo had his leg snapped in half? I recall Telford kicking lumps out of us too, back in the '80s.
David Hallwood
34
Posted 03/03/2022 at 11:31:47
Will be good to see Vitalii tonight and hopefully Patterson. There's a general consensus about the back 4.
In midfield I'd play Doucouré (needs the minutes) Gomes and Tyler Onyango.
Upfront Gray(also needs minutes) Rondon and Townsend.
That should be enough to comfortably see off Boreham Wood.
Dennis Stevens
35
Posted 03/03/2022 at 11:33:40
Stevenage, Paul?
Pat Kelly
36
Posted 03/03/2022 at 11:45:53
Let's face it. A team of no hopers in the 5th round of the FA Cup. And then there's Boreham Wood.
Christopher Timmins
37
Posted 03/03/2022 at 12:11:15
Don't give them any encouragement, start with the following:
Begovic
Coleman
Branthwaite
Keane or Holgate
Mykolenko
Iwobi
Allan
Doucouré
Gray
Richarlison
Gordon
You just don't want a scenario where they are well in the game at half-time. I always think it's much more difficult when the first choice players are coming on to try and win the tie late on.
Tom Bowers
38
Posted 03/03/2022 at 12:31:06
We Evertonians know how, no matter what season, the team has always found a way to make things hard for themselves against lower opposition.
Today, a ''weakened'' side should take care of the non-leaguers but you can be sure it won't be that comfortable, especially when we are so compromised up front.
Derek Cowell
39
Posted 03/03/2022 at 12:45:48
Alan at 77.
It was a John Cooper Clarke poem that included the line 'you never see a nipple in the Daily Express'. It may even have been the poem's title.
Usmanov sanctions are a no brainer given the circumstances.
Derek Cowell
40
Posted 03/03/2022 at 12:47:20
Oops sorry wrong thread!
Rob Halligan
41
Posted 03/03/2022 at 12:47:35
Strongest possible team to start, and this game will be over after 30 minutes. 3- or 4-0 by half-time, and make three substitutions. Midway through the second half and a further two substitutions.
I watched their game against Bournemouth, and Bournemouth battered their goal and I was amazed they never scored.
The whole country, even world, will be watching this game, hoping for the shock of all shocks, so come on Frank, strongest possible team and game over after 30 minutes.
Danny O'Neill
42
Posted 03/03/2022 at 12:51:25
I hope Mykolenko starts.
But I hope the passion and desire burning inside is balanced, controlled and channeled.
The management team will make that call.
I want him to play and do well. But the caution is that he is too pumped up and loses his head.
@Rob; yes get this won so we can get one step closer to Wembley. And Europe.
Derek Cowell
43
Posted 03/03/2022 at 12:51:58
Paul at 33.
Oviedo did get his bad injury in the FA Cup but wasn't it away to Cardiff City?
I could be wrong but that's my recollection.
Danny O'Neill
44
Posted 03/03/2022 at 12:56:52
I think it was Stevenage. I haven't looked, but a team playing in red.
Derek Cowell
45
Posted 03/03/2022 at 12:57:14
I also remember John Connolly having his leg broken in a bad tackle v Altrincham in about 1975. It happened right in front of me and was horrible. He was never the same player after that after a promising start to his Everton career.
Rob Halligan
46
Posted 03/03/2022 at 12:58:09
Oviedo had his leg broken at Stevenage. It was on a terrible pitch and I think as he slid in for a ball his studs stuck in the turf.
https://www.youtube.com/watch?v=80I0U7jmdu0
Jeff Armstrong
47
Posted 03/03/2022 at 13:02:00
Sorry, Robert #23, but Gomes should be nowhere near the first team, not even against a non-league outfit, he is useless and has had enough chances IMO.
Danny O'Neill
49
Posted 03/03/2022 at 13:08:48
Have to admit the worst break I saw live was Gary Stevens on Jim Beglin at Goodison.
Worst ever has to be that Coventry player at Old Trafford. Schmeichel (senior) was visibly distraught.
Raymond Fox
50
Posted 03/03/2022 at 13:15:43
The cup is but a distraction and I would hate to put our Premier League survival at risk because of it. No important players would be selected if I had my way, it's a good opportunity to play a reserve team.
Yeah, we may lose but that's better than getting valuable players injured. We are moderate with all our best players fit; without 2 or 3 of our stand-out players, we will really struggle in the League.
On another note, do you think this club is cursed! It seems everything we come in contact with fails in one way or another. Talk about bad luck, we seem to be always on the wrong end of every situation.
Jeff Armstrong
51
Posted 03/03/2022 at 13:19:24
Yeah I remember Beglin's break looked pretty bad from the Main Stand, it was bent like a banana, deffo why he hates us.
Ray Roche
52
Posted 03/03/2022 at 13:41:08
Danny @49
The Coventry player's name was Busst and his tib and fib splintered, not just a break. A shocking injury.
Andrew Ellams
53
Posted 03/03/2022 at 13:43:40
That was horrible, Ray. I remember the groundsman coming on to put sawdust on David Busst's blood and Peter Schmeichel's vomit.
Robert Leigh
54
Posted 03/03/2022 at 13:51:59
Jeff #47
I tend to agree, but there aren't many other options with Donny and Dele cup-tied.
Derek Knox
55
Posted 03/03/2022 at 14:10:44
Ray @ 52, I remember that injury and the graphics made it even more painful to watch. I couldn't remember his name though, I thought it was Shit or Busst.
Oops ! :-)
Brian Wilkinson
56
Posted 03/03/2022 at 14:21:11
Geoff Nulty's was a tough one to watch, Danny. As soon as Case went in, we knew it was a bad one, ended Nulty's career.
Bill Watson
57
Posted 03/03/2022 at 14:21:32
Boreham Wood will really be up for it so we need to start with our strongest side possible side.
As many have already posted, we can use up to 5 subs so let's try to blow them away, early on, and then bring on some of the kids.
Maybe Patterson will be one of those because the word from Finch Farm appears to be that he's not yet ready to start. Onyango won't be involved as he's injured.
Steavey Buckley
58
Posted 03/03/2022 at 14:38:53
During the relegation battle Everton find themselves in, a cup run is not welcome because of potential injuries to key players.
Everton have already lost Ben Godfrey in the last match against Brentford. The hamstring injury he sustained will take time to heal from 6 weeks to 2 months.
During that period, Everton are being heavily penalised in defence without him, because he can play very well in every position in the defence.
Tony Abrahams
59
Posted 03/03/2022 at 15:04:49
All about opinions that Steavey.
Steavey Buckley
60
Posted 03/03/2022 at 15:16:19
Tony, I remember Wigan beating Manchester City in the FA Cup Final in 2013; in the same season, Wigan got relegated. They are now in League One.
With Everton's finances now being squeezed because of the Ukrainian - Russian war, next season's finances could be far worse without Everton being in the Premier League.
Matthew Williams
61
Posted 03/03/2022 at 15:18:28
So pleased that Mykolenko is starting the game... sadly there's three things which this game will produce.
1.We will make hard work of it.
2.There will be more back passes than shots on Boreham Wood's goal.
3.We will play with two defencive Midfielder's yet again.
John Chambers
62
Posted 03/03/2022 at 15:21:48
St eaves, #58. My concern is not so much about injuries but more to do with how many games behind we will be. Assuming we get through (I know I shouldn't) it would mean the Watford game will have to be rearranged as the 6th round is that weekend, it could also impact the Newcastle game as that is the Thursday. We could find ourselves in the position of being several points behind but with a few games in hand, we already have 3 in hand to Brentford and 2 to Leeds The pressure on those games would then be immense to make up the points
Mike Gaynes
63
Posted 03/03/2022 at 15:22:09
Agree, Tony. Heck, some of our worst injuries don't even happen in games. So I'd love a Cup run. But a bit of awareness tonight -- Boreham Wood had 15 fouls and three yellows against Bournemouth.
Rob #46, yes, sheer accident, no foul involved as with Seamus and Gomes. Still breaks my heart -- I always felt Oviedo could have been more than a squad player for us, but the injury really set him back.

Steve Shave
64
Posted 03/03/2022 at 15:54:45
Why wouldn't we give Patterson a run in this game? The boy needs a chance to show what he can do, I don't get it. If he doesn't play he will be surely disillusioned. I would also find give Dobbin and Brainthwaite a run tonight.
Kieran Kinsella
65
Posted 03/03/2022 at 15:55:04
Steavey
The cup run in 95 didn't do us much harm as we battled relegation. If anything it gave us confidence and galvanized a struggling team to turn the corner.
Stan Schofield
66
Posted 03/03/2022 at 15:58:51
Derek@45: I was also there that day, we were in the Paddock, happened right in front of us. Terrible. Connolly was a very tricky and elegany winger.
Also saw Jimmy Husband have his ankle broken by Dave Mackay against Derby. Like Connolly, he was never the same after that.
Brian Wilkinson
67
Posted 03/03/2022 at 16:01:20
What a nice touch, Everton having a special Black shirt made for the Boreham Wood team with the fixture printed on the shirt, and paying for the teams travelling and hotel costs as well.
Yet again leading the way for class.

Tony Abrahams
68
Posted 03/03/2022 at 16:10:42
Steavey, I remember Wigan beating Everton in the quarter final that year and being absolutely sickened by my team. I never setting foot inside Goodison again whilst Moyes was the manager of Everton, because I'd had enough of him and Kenwright, pissing in each other's pockets, whilst getting little old Everton to punch above their weight.
That regime had such a damaging affect on Everton football club imo, with regards to existing to win, and although I'm aware of what you're saying… that's just not for me mate because I want to witness some real joy🙏
Jay Harris
69
Posted 03/03/2022 at 16:13:16
I wonder how the Usmanov situation is affecting the club and the players. Chelsea have certainly looked more nervous against Luton.
I believe that we should not make major changes to our strongest 11 but feel the our achilles hell of Holgate and Keane should be given a rest and Brandthwaite and Reece should have an opportunity.
WE may need Seamus leadership on the pitch to start but I would plan for PAtterson to come on at some stage.
MF is a bit of a quandary with players cup tied or carrying knocks but the Duke needs some more match fitness and can anchor the MF till we get a grip on the game. This is Gomes level so he should be ok for this game although cup tie pace may be a bit much for him. Townshend may add some experience to MF with Gray Rondon and Dobbin up front. Well that my thinking anyway.
Steavey Buckley
70
Posted 03/03/2022 at 16:22:35
Kieran, Everton in the 1994/1995 season were doing far better then than Everton now in the league during Everton's cup run. Also, don't forget, big Dunc was playing centre-forward alongside a very capable Paul Rideout. Everton upfront at present have no one capable of matching big Dunc and Paul Rideout. Also, big Nev was in goal during the 1994/95 season.
Lyndon Lloyd
71
Posted 03/03/2022 at 16:25:15
Rob (24), not pedantic at all. Someone needs to highlight these glaring editorial errors of mine! My apologies to Forest and Huddersfield, of course, but it does serve to highlight how strange the scheduling of these ties has become!
Danny O'Neill
73
Posted 03/03/2022 at 16:26:10
Or in 1984 Kieran. If anything, the cup run(s) lifted the mood and helped us gain momentum in the league.
Luke Welch
74
Posted 03/03/2022 at 16:27:19
Looking forward to tonight's game. As I'm living in Latvia it's very welcome distraction!
Tony Abrahams
75
Posted 03/03/2022 at 16:39:45
Rideout and Ferguson got the goals when Everton beat Palace 3-1 at Goodison in January 1995, and then in the next 18 league games scored another four between them
It's all about opinions, I was at Ipswich when Rideout scored to preserve our premier league safety that season in game 41, and it was only because Everton improved under Joe Royle, that we got safe that season, whilst most of our best victories still came in FA Cup ties.
Are we good enough to repeat the feat. Highly unlikely, but who Knows?
David McMullen
76
Posted 03/03/2022 at 16:43:52
Can we think of BW as Russian and beat the effin sh*t out of them? Just destroy them.
Will Mabon
77
Posted 03/03/2022 at 16:52:13
I see a game from the
Unmentionables
list has reared its head again, the 2013 home cup tie against Wi... Wi... Wi... No, can't say it.
What a horrible game that was, a weird, flat atmosphere and feeling of inevitable doom even before the goal barrage. Then barely any fight for the rest of the match. Terrible day.
Watching Rob's link to Oviedo's leg break, another showed up at the side that I'd forgotten: Rondon (accidentally) on McCarthy.
Brian @ 67 - it's a nice gesture, but not too nice, I hope.
Steavey Buckley
78
Posted 03/03/2022 at 16:54:58
Tony, if the worst possible outcome happens and Everton do get relegated, it's because Everton are not scoring goals upfront. As for the defence without Yerry Mina and Ben Godfrey, Everton can get relegated with those who are in defence without a goal-keeper like big Nev.
Paul Hughes
79
Posted 03/03/2022 at 17:16:35
Thanks for all the corrections above. You are correct - Stevenage - memory playing tricks again.
Bill Gall
80
Posted 03/03/2022 at 17:58:50
No tv coverage in Canada even though we have had coverage for the FA.cup for the last 3 days.
Mike Gaynes
81
Posted 03/03/2022 at 18:11:01
Bill, if you're in Vancouver, hop in the car and head south. You can be at my house in two hours and I'll have the game on ESPN+. What kind of beer do you drink?
Jack Convery
82
Posted 03/03/2022 at 18:35:42
I am expecting at 7:30 we will likely be drawn away to the RS, MCFC or Chelsea ( as they are now known ). Then we must beat Borehamwood who will run their great big hearts out for 90 plus minutes. Given we could not beat the RS kids inder Don Carlo, I'm taking nothing for granted, especially as we are live on TV.
Jack Convery
83
Posted 03/03/2022 at 18:35:42
I am expecting at 7:30 we will likely be drawn away to the RS, MCFC or Chelsea ( as they are now known ). Then we must beat Borehamwood who will run their great big hearts out for 90 plus minutes. Given we could not beat the RS kids inder Don Carlo, I'm taking nothing for granted, especially as we are live on TV.
Dave Williams
84
Posted 03/03/2022 at 18:48:17
Jack- absolutely right- this will be a tough game especially with our poor approach to games against so called lesser opponents.
---
Add Your Comments
In order to post a comment, you need to be logged in as a registered user of the site.
Or Sign up as a ToffeeWeb Member — it's free, takes just a few minutes and will allow you to post your comments on articles and Talking Points submissions across the site.