Everton lose appeal against controversial Allan red card
Friday, 18 March, 2022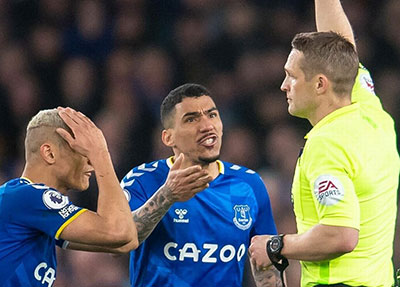 The red card awarded to Allan by referee Craig Pawson during last night's win over Newcastle United has been upheld, meaning the Brazilian will be suspended for the next three matches.
Allan was initially booked by Pawson for a rash tackle on Allan Saint-Maximin in the 81st minute of the 1-0 victory but, following two minutes of review and at the urging of Video Assistant Referee, Stuart Attwell, the yellow card was upgraded to red which left the Blues to play the remaining seven minutes plus another quarter of an hour's stoppage time with 10 men.
Everton pulled off a dramatic victory in the ninth minute of that added time, however, when Alex Iwobi swept the ball past Martin Dubravka but Frank Lampard will now be without a pivotal midfield presence against Crystal Palace in the FA Cup on Sunday and then important League games against West Ham and Burnley.
The club had been hoping to have the decision reversed or at least have Allan's suspension reduced from three to one match but an independent regulatory commission rejected both appeals and held firm on the decision made during the game.
Article continues below video content
Lampard made no secret of his annoyance at another poor decision by the officials so soon after the incredible lapse in judgement during Everton's home defeat to Manchester City last month where an obvious handball wasn't given against Rodri.
"It's not a red card," the Blues' boss said afterwards in his interview before the cameras in the tunnel last night. "We've had the most blatant decision go against us [against Manchester City] and we get apologies from the League.
"The referee didn't see that one and the VAR didn't give it which is incomprehensible but it was done.
"And then two or three weeks later you have one where the referee sees it, makes a clear decision on the yellow card, then you wait for two or three minutes while he goes to the monitor and changes it to a red card when it's absolutely not clear.
"There's no one that can tell me that's an obvious red card. It's not. To change the decision, you can to decide that it's clear and obvious.
"A couple of weeks ago you had one where the referee didn't see it and it went against us. Now the referee saw it and it still went against us so we are absolutely waiting for the one that might go in our favour.
"Because, at the minute, as many apologies as I'm going to get [it] doesn't make a difference. The red card means that we now lose Allan for three games if they stick to it.
"If the [refs] have got something about them where they say, 'you know what, we can make wrong decisions with the human part of the art,' then they'll rescind it. I won't hold my breath."
---
Reader Comments (121)
Note: the following content is not moderated or vetted by the site owners at the time of submission. Comments are the responsibility of the poster. Disclaimer
Chris Leyland
1
Posted 18/03/2022 at 18:46:20
My only shock in learning of this verdict was that they didn't decide to over-turn the result and give Newcastle a 3-0 win
Dave Ganley
2
Posted 18/03/2022 at 18:52:42
Fuckers – how was that tackle any different from Godfrey getting scythed down in a similar fashion in front of the barcode fans in the 2nd half?
Did we expect any different from those useless idiots though?
Dale Self
3
Posted 18/03/2022 at 18:55:02
Is there a second stage challenge where the sentence can be reduced to a one game ban?
Ron Marr
4
Posted 18/03/2022 at 19:00:30
The second appeal to downgrade the ban was also rejected
Chris Leyland
5
Posted 18/03/2022 at 19:02:31
I'm not one of those conspiracy "everyone's out to get Everton" types but it's got to be corruption, pure and simple, as some of these decisions can't be explained any other way.
Brian Wilkinson
6
Posted 18/03/2022 at 19:19:42
There was no malice or intent, to injure the player, just to stop the player.
Yet a few seasons ago, Son had steam coming out of his ears, hell bent on injuring Gomes, in a retaliation tackle, yet his Red card got rescinded.
Getting ridiculous now the times it is happening to us.
Robert Tressell
7
Posted 18/03/2022 at 19:21:23
Chris, I try to be measured and logical about things - but honestly last night (compounding other things recently) felt like corruption. Totally agree with you.
The referee was trying to find a way to penalise us.
The TV coverage too.
The push on Gordon was a clear penalty. Yet just one brief replay.
Same with the Coleman tackle in the box where he was screaming for a penalty.
And the off the ball shove on Richarlison?
Compared with all of that, how could the Allan thing be a clear and obvious error?
And add it to the Shelvey challenge at St James' that robbed us of 3 points and the Rodri handball that robbed us of a point.
It's much worse than swings and roundabouts. It's not right.
Colin Glassar
8
Posted 18/03/2022 at 19:27:15
Refs are bent and the game is corrupt. End of.
Michael Lynch
9
Posted 18/03/2022 at 19:28:34
It was a clear and obvious yellow. The kind of foul punished by a yellow card week in, week out. The ref, correctly, gave a yellow. And then VAR got it wrong.
But has a VAR decision ever been overturned on appeal?
It's quite possible that we could get relegated because of two dodgy decisions - one cost us a point, this one cost us our best midfielder for three games.
Brian Wilkinson
10
Posted 18/03/2022 at 19:28:55
They changed the rule so now any player receiving a 3 match ban, it will apply to all competitions, so at least he will only miss 2 premier league games, instead of three.
Dale Self
11
Posted 18/03/2022 at 19:31:38
Thanks Ron and ok ok I'll yield. You have to admit it was cynical as could be.
David Currie
12
Posted 18/03/2022 at 19:33:57
No surprise, corrupt and they will do their best to send us down. 2 shocking bent decisions plus the possible handball at Southampton. All these 3 big moments all against us.
Des Farren
13
Posted 18/03/2022 at 19:37:28
Is it possible that Allan's vociferous objection to the decision, his returning to again voice his objections to the ref, and subsequent appeals to the A R had, or could have been a bearing on this appeal?
Mike Allison
14
Posted 18/03/2022 at 19:39:20
Maybe I'm alone in this, but I feel no outrage whatsoever about the Allan red card. It was a shocking piece of anti-football and deserved the harshest punishment. If an opponent did that to an Everton player I would want them sent off. I would fine Allan rather than appeal. Saint-Maximin could have been seriously injured in the fall. I remember when Kanchelskis dislocated a shoulder in a similar fall.
We're fighting the wrong battle here. The outrage for me is the clear and obvious foul on Gordon that was immediately waved away and not given any time or thought whatsoever by VAR. It'd be hard to find a more obvious penalty and I'd bet a huge amount of money that the exact same incident, were it to involve Mr Salah, would be given as a penalty 100% of the time.
John Keating
15
Posted 18/03/2022 at 19:45:24
Who the hell makes up this independent panel? They surely can't be ex-footballers.
These tackles take place almost every game and it will be interesting to see what happens if a similar challenge takes place in tonights game.
VAR and the incompetents that operate it has been abysmal from day one. Ruining the game
Graham Holliday
16
Posted 18/03/2022 at 19:45:49
I'm trying to be objective about this. When the VAR check was displayed, it suggested the check for a red card was for 'serious foul play'.
We can have our own views about what that ought to mean, or there's the common interpretation. But what do the laws of the game say?
https://www.thefa.com/football-rules-governance/lawsandrules/laws/football-11-11/law-12---fouls-and-misconduct
'Serious foul play' is defined as when "Any player who lunges at an opponent in challenging for the ball from the front, from the side or from behind using one or both legs, with excessive force or endangers the safety of an opponent is guilty of serious foul play."
Allan lunged. Fine. The law says nothing about the second leg being in the air.
So the question is whether he used "excessive force" or "endagered the safety of an opponent". I really can't make an argument for either of these being the case.
How was this not overturned?!
Soren Moyer
17
Posted 18/03/2022 at 19:45:53
We should push on for getting foreign refs for our games as the current refereeing body and FA have obviously a grudge/ hatred toward us! With or without VAR.
Duncan McDine
18
Posted 18/03/2022 at 19:46:04
Don't have Amazon (for good reason), so couldn't watch the game, but even Snods and the commentator on Everton radio said there was 'something sinister going on' when the yellow card was turned into a red, and then when the possible Gordon penalty wasn't even looked at by VAR. The refs aren't even being sneaky about the cheating and obvious corruption these days - it's there for all to see. If I didn't love Everton as much as I do, it'd be time to give up watching top level footy completely.
Shane Corcoran
19
Posted 18/03/2022 at 19:51:48
When he gave the yellow I thought he's very lucky not to get a red so I've no complaints about the decision.
But as Lampard alludes to, the ref had a clear view and it wasn't a clear and obvious error so he shouldn't even have been asked to look at it.
I thought the ref was ok overall. Richarlison and Gordon need to cut out their diving. Gordon in particular is very disappointing. He finds himself in good positions in games and seems more concerned with winning a penalty than producing a chance.
Robert Tressell
20
Posted 18/03/2022 at 19:52:43
Graham # 16, obviously the wording of the rule is important. But more important is how it's enforced.
We've seen a much worse tackle by Shelvey at Newcastle when we were 1 nil up. Failure to give him the Red he deserved in the letter of the law probably robbed us of a win.
And so on and so on.
Henderson makes that tackle and gets a yellow.
Salah gets a push in the box (like Gordon did) it's a penalty.
Burn pushes over Firminho (like he did Richarlison) off the ball it's a red and the commentators will replay it endlessly and say well you just can't do that sort of thing so he can have no complaints with his red card.
The letter of the rule is the same for everyone. But in practice we're playing by a different set of rules to others.
Kieran Kinsella
21
Posted 18/03/2022 at 19:53:37
Craig Pawson isn't just anti-Everton he is known to be the worst referee. So why is he even still refereeing? Neil Warnock was fined for calling him the worst referee in football. Kevin Friend was briefly suspended last year after following Pawson's VAR advice to make several bad calls
Howard Webb says he should be fired as a ref 2016
Link
Keith Hackett criticism 2022
Link
Alan Shearer on Pawson bias against Palace 2016:
Link
anti Arsenal bias 2019
Link
anti Arsenal bias 2021
Link
anti Liverpool 2021
Link
Pawson accused of anti Liverpool and anti Spurs bias 2022:
Link
There was a change.org petition to get him fired by fans in general last year
Link
Tony Everan
22
Posted 18/03/2022 at 19:54:52
Another terrible decision by the appeal panel adds insult to injury.
A red card was bad enough but giving the full three match ban for that is ludicrous. If there was an ounce of fairness they would have made it a one match ban. Very disappointing (even a partisan Alan Shearer says the red was harsh), the panel's interpretation of this is extremely unfair and difficult to accept.
Kieran Kinsella
23
Posted 18/03/2022 at 19:58:40
Mike 14
I think your view is a bit OTT but from my view, in slow motion, with both his feet off the ground, he looked to be out of control and reckless so I wasn't surprised by the red card even if it was one of those that looks worse then it was in freeze frame. But it wasn't a "clear and obvious" error in my view. My bigger issue was the smug, obviously bias way he called the entire game with absolutely no attempt to make fair calls. The red card gets the most attention as it is the most damaging call but he had multiple more obviously bad calls specifically against Everton all night.
Peter Mills
24
Posted 18/03/2022 at 20:06:49
I'm pleased to see the Gordon non-penalty mentioned here. From my view, in the Main Stand on the Park End goal-line, the shove in the back could not have been more obvious.
And the Geordies opposite me knew it.
Paul Hewitt
25
Posted 18/03/2022 at 20:09:09
If the ref had give a red card straight away I don't think people would be moaning about it. But the fact he gave a yellow, but the VAR ref more or less told the ref to change it from yellow to red, stinks of corruption.
Kenny Smith
26
Posted 18/03/2022 at 20:16:21
At least Stuart Attwell isn't reffing the game on Sunday…… oh wait a minute he fuckin is !!!!!
Ray Roche
27
Posted 18/03/2022 at 20:20:16
Mike Allison @14
"... a shocking piece of anti-football and deserved the harshest punishment."
Yep, it was a shocking piece of anti football, like we see every week, fouls which the commentators refer to as "taking one for the team". Yet how many are red cards? Don't bother to answer, I will tell you. None.Always a yellow.
I saw The bloater Shaw, United full-back, hack someone down, forget who, running at full pelt and receive a yellow in what was described as a professional foul. No mate, the fact that these decisions are at the VAR's or referee's discretion make the likelihood of corruption a definite.
Kieran Kinsella
28
Posted 18/03/2022 at 20:23:38
Kenny Smith
Before last night's game Keith Hackett said Atwell should not be on VAR or refereeing for a while based on his recent form:
"Attwell was in the middle of controversial decisions in two games last weekend.

"He gave a penalty to Norwich City for what he considered, from a very good position, to be be a foul by [Luke] Ayling. But he guessed. He has to have guessed.

"You should not need VAR to see that the player has in face stood on Ayling's leg.

"Are we talking about a referee in form? He clanged decisions as the referee and as the VAR official last weekend. It was a poor performance. "He needs a rest. He needs time off.

"When you are dealing at Premier League level, you are supposed to be the best in the country. I think Attwell is a competent referee but like players, referees run out of form."
So naturally, they give him the Everton cup game after he proved Hackett's point.

Rob Halligan
29
Posted 18/03/2022 at 20:35:40
Absolute fucking joke that this red card has been upheld. Stuart Attwell, the fucking twat who advised Pawson to review the foul, you've been warned. Expect the most unmerciful abuse any referee can get during a game this coming Sunday.
Eddie Dunn
30
Posted 18/03/2022 at 20:53:04
I agree with Mike, it was a cynical shithouse trip and I would like all such play to receive a red card.
We have been given poor treatment by the refs but perhaps Richarlison and Gordon could stop the play-acting, it's fucking embarrassing and often costing us as teams counter while we have a man on the turf. Allan is bursting with dissent over each and every decision.
There is however no doubt that the refs are hell-bent on punishing us – especially after the apology.
As someone said on the match report... we probably wouldn't have won without the outrage – it certainly gave us impetus.

Rob Halligan
31
Posted 18/03/2022 at 21:10:02
Eddie,
It was the type of challenge we see every week, whereby a player "takes one for the team", knowing full well he's going to receive a yellow card, but has stopped a breakaway for the opposition, which could lead to a goal.
I could understand if this challenge had been made with Saint- Maximin having a clear run on goal, and therefore resulting in a "last man scenario", but FFS, it happened on the halfway line, with no danger whatsoever on our goal.
The referee was no more than 5 yards away from the incident, with a clear view, so how the fuck can it be a "Clear and obvious error" by the referee to warrant the VAR getting involved?
Des Farren
32
Posted 18/03/2022 at 21:18:41
Rob # 29. If this happens and he receives "the most unmerciful abuse any referee can get", will this help Everton's cause?
Mike Doyle
33
Posted 18/03/2022 at 21:32:09
Rob #35] out of interest. As I'm sure you were there, How would you assess the atmosphere in the ground last night? (It's difficult to get the full picture on TV.)
Most commentators said Goodison was up for it – but was it Bayern Munich'85 revisited?
Rob Halligan
34
Posted 18/03/2022 at 21:40:15
Mike, the atmosphere from start to finish was superb. As some have said, on other threads, if the fans dictated where a team lies in the league, then we would be right at the top. Comparing it to Bayern 85 is understandable.
Just give us five more like it this season, and we will be okay. Along with an FA Cup final.
Paul Kernot
35
Posted 18/03/2022 at 22:18:40
Mike #14. As you can see from several similar comments above, all we want is consistency & surely you have to agree that other similar challenges get a yellow pretty much every time. Therefore, as much as it was a cynical foul, we see it week in week out & there is no way players get straight reds for them consistently, so what's the only conclusion we can draw?
Peter Neilson
36
Posted 18/03/2022 at 22:29:02
He's either the most incompetent referee ever or there was/is something that stinks in the officiating of matches. Those around me last night were also amazed at some of the calls being made, well above and beyond the usual.
The upside was the justified sense of injustice fed the ground. As Eddie Howe said, the crowd won it. We need more quality as well as the commitment, of course we do, but last night reminded me why I love the game.
Eddie Dunn
37
Posted 18/03/2022 at 22:35:37
Rob, I know what you say is true, we do see guys "taking one for the team" every week and I do think if it was Henderson making that trip, it would never be ared but my point is that apart from detesting the whole ethos of cheating (as that is what it is), our man Allan couldn't even foul the guy cleanly.
The replay shows his foot off the ground and that is the detail that gave those twats the chance to impose the letter of the law.
Brian Wilkinson
38
Posted 18/03/2022 at 22:36:32
I think Dale is thinking like myself, Leeds right in the shite, 2 nil down and all over the place, only a win would put Leeds 4 points ahead of us, man sent off, Wolves crumble and Leeds win.
I think the conspiracy within the officials and the VAR is to do all they can to ensure Everton go down. Well, that's the way it seems to me, too many outrageous decisions going against us. But I did say after we demanded an apology, they would come after us big time – even as much as a fart down wind and they would have us.
Sunday choice of ref says it all, adding the VAR for the first time ever for the two quarter-final Championship games, against the elite darlings drawn away.
strap yourselves in folks, we are no longer fighting on a fair playing field, 11 v 11.
Jim Wilson
39
Posted 18/03/2022 at 22:40:53
Attwell to ref Palace game. The FA are sending a message to us.
I would play a reserve team against Palace in protest as we will lose game anyway.
It is time for the respectable teams to leave the FA and start their own honest league. Leave the corrupt six to it and any other club stupid enough to follow them.
Rob Halligan
40
Posted 18/03/2022 at 22:59:10
Eddie, I've looked at the foul by Allan several times, and for me, the only time Allan catches Saint Maximin is when his left foot, which is planted on the ground, catches Saint Maximin and trips him. A foul we see a million and one times throughout a season, and only a yellow card given.
Just as a side note, for the life of me I cannot understand the sending off for Raul Jiminez tonight. The Leeds keeper comes charging out of his area, I still can't see who wins the ball, yet Kevin Friend is so quick to produce a second yellow for Jiminez who had every right to challenge for a loose ball. Referees in this country are definitely the worst ones in world football.
Colin Malone
41
Posted 18/03/2022 at 23:06:23
Mike Riley. You where a pathetic weak man, when you where a referee.
Your still a pathetic weak man.
Kristian Boyce
42
Posted 18/03/2022 at 23:06:49
Looking back on it now, the 'apology' from the Ref's board was the nail in the coffin for us. I can't remember a time they've released an apology from their ivory tower for a mistake that one of their members may have committed.
It's been widely accepted by most in football that the Man City handball incident was one of the worst VAR mistakes since its inception, and looks really bad for the competence of English referees (which was already at an all-time low).
The club/manager basically questioned the integrity of the referring standards for all to see with their complaint. I'd imagine that apology was begrudgingly given as they've never really owned up for their many flaws in the past.
The club has basically embarrassed them as we've called them out in public on their standard. I expect we're on top of their shit list (if we weren't already) from now on, and would imagine we won't see anything to go in our favour for the rest of the season.
In the past when clubs including ourselves have had pretty poor decisions go against them, they'll have some fortunate ones go in their favour, to balance things out.
I think that the Allan red from last night proves that they are doing things deliberately not in our favour for the considerable future.
Andy Finigan
43
Posted 18/03/2022 at 23:12:16
If someone could organise a banner like the big one we have, saying the FA are out to get us, or something like that, I would help pay towards it. The world needs to know what these twats are up to.
Si Cooper
44
Posted 18/03/2022 at 23:15:56
Eddie (37),
I think the opposite of you. I think Allan did well to make it a 'clean' foul, avoiding the knee and ankle. This nonsense about being off the ground is only of significance if it's a two-footed challenge. Most tackles are performed by a leg well off the ground and the other foot is very rarely planted.
Complain about cynical fouls not getting reds all you like but I think it's ridiculously extreme to view Allan's challenge as really one of the dangerous ones.
Same goes for Jimenez's second yellow. He's got punished for flinching first in a game of chicken. Even if you think he deserves a yellow, how often do you see players on a yellow get let off with another clear yellow because refs don't seem to like to send players off unless there is obvious malice.
I think Jimenez only looks like the bad guy (to someone who thinks there is always someone to blame) because he opts to go defensive before Meslier who therefore comes off somewhat second best in the collision.
Jimenez clearly didn't maintain his challenge for the ball but had no way to avoid the collision without potentially ending up totally off balance – and therefore wholly out of control – at the point of impact.
To me it is a ref expecting players to be robots with some sort of collision avoidance set-up. Absolutely zero 'feel' for the game.
Ernie Baywood
45
Posted 18/03/2022 at 23:22:26
It's a yellow card challenge. That's my view. That's most people's view. That was the referee's view!
But if I can get past that. Maybe. Maybe I can get past that. I don't agree with a red but I can try to get past it.
How do we have an organisation dealing with billions at stake and disregarding their own rules?
The VAR was brought in to assist referees. Give them another look where they hadn't seen it. Or give them another look when they've simply made a mistake and got something clearly wrong.
That's not what happened here. He saw it, and he judged it. It's not coincidence that he saw it the way everybody else did.
Then they re-refereed it in slow motion and still images. Does someone want to tell me where that's in the rules?
The league was very clear about how it would use the VAR. They didn't want games to be re-refereed. So they established rules around it. On Thursday night they broke their own rules.
Whether you think that should be a red card or not actually doesn't matter in that context. The referee and the VAR had no grounds to change a decision fairly reached on the pitch.
There must be some means of taking this ban to arbitration. There's a contract between clubs and the league. The league keeps breaking that and refusing to backtrack.
Christy Ring
46
Posted 18/03/2022 at 23:28:52
Why am I not surprised Allan's appeal was turned down? Their arrogance is unbelievable, I think the embarrassment of Rodri's handball has come back to haunt us, and we're definitely being punished harshly.
And the Jimenez sending off tonight, another shocking decision. What pisses me off, the refs don't have to explain their decisions.
Look at how professionals the Rugby Union officials are, the players and spectators can see and hear every decision in the stadium, they don't talk down to players.
Jerome Shields
47
Posted 18/03/2022 at 23:30:41
Initially, I thought Allan took the Newcastle player out with a late tackle, in response to Colman's penalty appeals being ignored and deserved a yellow card. I objected to it being changed to a red. But, having looked at it again it was a late two-footed challenge a clear red card.
There are two many attempts by Everton players in forward positions trying to buy free-kicks and penalties. I would prefer they stay on their feet and use the ball. Both Richarlison (a serial offender) and Gordon give up threatening play to try and buy a penalty. Coleman was blocked off the ball, which looked like a genuine foul. He clear believed he was fouled as other Everton players did.
The problem with this all, is that genuine penalty claims may be lost to Everton forwards having dying-swan reputations.
Rob Halligan
48
Posted 18/03/2022 at 23:30:57
Craig Pawson is about 5 - 10 yards behind the challenge, and there is clearly no other player obstructing his view of the incident. He gives a foul and a yellow card, correct decision.
This is in no way a clear and obvious error by Pawson, so why on earth does the VAR have to get involved?
If this can be construed as a clear and obvious error, then quite simply Craig Pawson is not capable of refereeing a Premier League game, and should immediately be struck off the referees panel.
Si Cooper
49
Posted 18/03/2022 at 23:39:55
Ernie (45) are you sure of the rules as far as the VAR is concerned?
You often hear the commentators say the VAR is reviewing an incident for a possible red card offence so I don't have a problem with them checking that the referee hasn't missed something obvious.
My simple objection is there was nothing in the replays I could see that demonstrated that the referee had made a clear and obvious error. It was all evident from his original position. A cynical professional foul. A 'strong' yellow for the effort made to stretch to trip a player in full stride. But nothing that doesn't happen on a regular basis with only a yellow for punishment.
I'm getting fed up with some people trying to make out the challenge was worse than it was. It is never what anyone with sense would call two-footed. That term is for when the feet are together. None of the professionals, including Clattenburg, thought it was in the dangerous category.
Si Cooper
50
Posted 18/03/2022 at 00:08:41
I remember Richarlison throwing himself to the ground on one occasion when he received minimal arm snagging when chasing a ball he'd overhit and had no chance of retrieving. Other than that, he seems to try to stay on his feet / go to ground looking for a free-kick pretty much at the same frequency as most of his contemporaries. What is annoying is the exaggeration of the pain he is feeling.
Anthony Gordon does also crumple theatrically with minimal contact.
For the penalty claim, Gordon is certainly knocked over from behind. The issue according to the commentators was whether he had initiated the contact himself by moving across the defender's line. I"m sure that has often been described as clever play without anyone questioning the resultant penalty.
Seamus, however, had lost balance and was crumpling into Guimarães more than anything else. Guimarães was able to get a solid foot on the ball as well even though he was facing his own goal.
I agree that was no penalty, just a great shame that Seamus's fantastic effort to wriggle through came to nought.
Jay Harris
51
Posted 19/03/2022 at 00:13:29
The red card compounded by a ridiculous sending off at Molyneux. They're is definitely a conspiracy going on.
Wolves has the game won and there was a collision with Jimenez and Leeds goalie miles out of his area. Needless to as,y the bent officials sent Jimenez off and Leeds came back from 2-0 down to win 3-2.
Disgrace.
Kieran Kinsella
52
Posted 19/03/2022 at 00:19:40
Brian Wilkinson
I think Leeds will be safe. They're 7 points clear of Watford. Burnley need to win all three games in hand to get above them. The bottom three are on course to make no more than 30 points. Leeds already have 29. With 8 games left one win could be enough to save them.
Even if say Burnley up the ante, lose six and win two puts Leeds at 35 points. I think realistically we are the only side still in the mix with the bottom three. Yes, we have games in hand... but a bird in the hand is better than two in the bush.
Kieran Kinsella
53
Posted 19/03/2022 at 00:31:56
Jay
Is the conspiracy against Everton? Or is it pro Leeds? If the former, I can't see the logic. Why would the EPL want to lose one of the biggest and best supported clubs and retain lightweights like Watford or ugly football teams like Burnley?
If the EPL wanted to get rid of us all they have to do is nail us for FFP. I don't think there's a conspiracy. I think there are shit referees and I think there are individual refs who are biased. But I don't think there is a conspiracy to relegate us.
Ernie Baywood
54
Posted 19/03/2022 at 00:49:47
Si, I think we're saying the same things.
Here are the VAR protocols. https://www.premierleague.com/news/1297352
That's the basis on which the clubs voted it in. Remember that the clubs own the Premier League.
The process for this incident is to check whether he's made a clear and obvious error regarding a subjective decision. The VAR is supposed to ask the ref what he saw, and if it appears that he made a clear and obvious error then they can recommend an overturn.
What could Pawson possibly have said that would indicate he didn't really judge that situation correctly from 10 yards away? I'm assuming he said that Allan deliberately brought the player down to stop the attack, hence the yellow card.
At that point VAR has no remit to say that despite the ref deeming that to be a yellow, he might want to consider issuing a red instead. That's not how VAR works. Or at least not how it's supposed to work.
They're going to defend themselves using words like 'lunge', 'out of control', and 'studs showing'. That is true of every single tackle. No-one has their feet planted in the ground while challenging. Players of the game at any level understand what those things actually mean. Allan just brought him down to stop the attack. Cynical, yes. Dangerous, no. Those words get them out of every bit of incompetence they show.
Compare that to Son, who deliberately fouled Gomes out of frustration rather than cynicism. That act was subsequently deemed to be ok. Is cynicism worse than retribution?

Brian Wilkinson
55
Posted 19/03/2022 at 01:24:24
Kieran, forget Burnley Watford Norwich etc, Leeds we're just one point above us, that win now puts them in a much better position, a gifted win that puts a bit of Daylight between ourselves and Leeds.
That's one less team that is in the mix with us, unless we bag the games in hand.
When you are down there, you want as many teams as possible to be around you, rather than just 4 teams, if one of the lower teams get a run, Leeds losing would have at least had another team there with you, what you do not want is the teams just above your opening a gap.
Pete Clarke
56
Posted 19/03/2022 at 01:53:59
I personally thought Allan was in big trouble with that lunge and was happy with the yellow, as was Allan himself. It's when it goes upstairs that you know something is conspiring against us.
Frank Lampard is making himself heard in a good way but it's not him they dislike, it's us as a club the dislike. It seems these decisions are based along those lines.
Early in the game Doucouré had gone in on Joelinton and flicked his elbow at him as he came away from the challenge so I think we got away with one there for sure. He's actually playing a little bit uncontrolled right now Doucouré and needs to get some discipline back into his high energy game.
Richarlison does my head in with his theatrical behaviour and Anthony Gordon has been following suit so I think Lampard needs to address this. Having said that I now think that challenge on Gordon in the box was a penalty even though he initiated the shove by cleverly stepping in.
So it looks like we are going to be playing against 12 men every game or even 13 including the pricks back at the VAR HQ. Lampard has got to get the remnants of this squad organized and disciplined because we need all players on the park fighting in every game. Center forward is a must from here on in.
I feel that we got away with the best result possible because Newcastle are not much better than us. We were struggling again and showing real poor quality until the momentum shifted late on and we got a great winner from an unlikely hero in Iwobi.
He could actually have been taken off earlier such was his passive demeanor in taking players on and use of the ball. It's clear he needs constant reassurance and arms around him to gee him up. There's a player in there somewhere but high energy running alone won't do and he has to brave and just go for it. Hopefully this goal helps him.
I reckon Lampard will make a few changes for the FA Cup tie and just tell them to give it a go and enjoy it. His focus is on the Premier League.
Derek Thomas
57
Posted 18/03/2022 at 02:21:17
For me it's all about the lack of consistency.
But before that, VAR is there to support and/or confirm
Only
Why? Because the Referee is supposed to control the game...not some Berk in Stockley Park.
VAR should before the Referee to check His Own View - "did I see what I thought I saw? roll the tape, Yes, the ball was over the line (or whatever)"
"OK, thought so (or not)"
He then confirms or amends His decision - not some puppet master in Stockley Park.
Rodri; The Referee thinks No Penalty, waves Play On. Massive complaints.
Maybe I've got it wrong...No clear decision.
Stockely Park says No!
There was no clear and obvious error by you.
Play On.
Allan; Referee makes clear decision - Yellow Card.
This is were the lack of transparency and accountability come in
The Newcastle players...as is the fashion now...want a red card.
Does Stockley Park take a look and call a red before the protest, because of the protest or, off their own bat??
Again with the transparency, accountability and consistency
They overrule The Referee...who, as the supposed man in charge, made a clear and obvious decision - where's the problem?
The real problem is; Who actually Referees the game? The Referee? Stockley Park? Or should that be The Premier League.
Confused? It's probably part of the plan.
Either that or a giant rolling cock-up...I don't know which is worse.
Phil Smith
59
Posted 19/03/2022 at 03:29:37
I'm sorry, but anyone claiming that WAS a red card is a total idiot in my book. Never in a million yesrs and our game has gone to shit if that and Jiminez's is viewed as a send-offable.
Kenny's was also harsh the other day. He barely touched him for that second challenge. He lunged in but look at it again. Minimal contact, really. Ref couldn't wait to pull out the second yellow.
Jay Harris
60
Posted 19/03/2022 at 03:50:29
Kieran a Wolves win would have threatened Utd and Spurs and kept Leeds down there amongst the relegation set but a Leeds win thwarts Wolves and further undermines Everton.
There are reds all over the media why not the referees too?
Look at the Clattenburg derby. Have you ever seen such corrupt refereeing.
Kieran Kinsella
61
Posted 19/03/2022 at 04:02:31
Jay
On the face of it I agree but I know a guy who's good mates with Twatenburg who says he got intimidated by Gerard and co and admits he fucked up that game.
What I can't fathom is why the EPL would benefit from Everton being relegated. Surely the EPL want teams with big fan bases that are marketable?
Now with regard to winning titles, OK they may be corrupt and favor "big teams" but why in the fuck would it benefit the EPL to relegate a team attracting 40,000 per game with a rich history and fans all over the world?
It makes no sense financially. The EPLs loss would be the EFLs gain. Whether we were good or shit Everton would attract a lot of interest and money to the EFL that would not be offset by Fulham or Bournemouth.
Jack Convery
62
Posted 19/03/2022 at 05:07:34
Never a red. I said if it wasn't overturned as it should have been, its clear to me, EFC are being treated under different standards. This is detrimental to EFC.
Newcastle are now the richest club in the world. Not the best obviously but planning to become the No1 team in England. As my grandad always used to say - there's only one universal language in life - MONEY ! We have played Newcastle twice and twice been on the wrong side of potential game changing decisions. Shelvey should have been sent off on Tyneside because his tackle on Gordon was everything a red card calls for. Over aggressive, two footed scissor tackle and endangering an opponent. Not even booked. However Allans' was a trip. Taking one for the team. I hate the tackle and I hate the term for it. However it goes on all the time. The biggest culprits are City. Its a tactic Pep used at Barcelona. Busquets did it all the time. Now its been Fernandinho for several seasons who gets away with it.
Sons tackle on Gomes was a deliberate attempt to hurt Gomes after Son thought he had been fouled by Gomes. When he didn't get the foul he went after him. His tackle didn't actually cause the injury but it lead to it. He was out of control and trying to injure an opponent - red card over turned.
Shaw for United hacked down Lucas Moura, in a manner that was aggressive and dangerous - yellow card.
Luca Digne sent off at Southampton in Oct 2020 - accident but still a red card. It was reduced to a one match ban. It wasn't a red card offence !! Yet he still got a ban.
Niasse is still the only player to be banned in retrospect for a perceived dive against Crystal Palace. Mane and Salah are at it all the time. If you breath on them they go down. How many penalties have they won. I say won because that is what they do - con the ref. He touched me and I fell - its a pen !!!
Now my final argument that something is going on is this. No one blinked an eye when Abramovich bought CFC. No one complained when the arabs bought City. However when Newcastle were bought by the Saudis there was uproar - who by ? Well lets say the big 6 weren't happy. They have a nice little club and don't want anyone gatecrashing their little party. Newcastle are too big for the so called top 6 to do anything about now. The shortage of oil makes it a certainty the Saudis will be around for a while.
Stuart Attwell, who is incompetent is to ref the Cup match. You can't make this up !!
We are treated differently its that simple. Powerful teams get away with things that we never will. I won't mention the Dirk Kuyt tackle - oops I did.
Lynn Maher
63
Posted 19/03/2022 at 07:04:42
To be honest, I have absolutely no idea what is going on regarding the atrocious refereeing decisions. The one thing I am pleased about is the fact we as a club, are finally starting to challenge them in public.
Some may say it will backfire on us, but I think the reason they get away with it is because, in the past, we have said nothing, done nothing.
The Man City handball controversy is a case in point. It had all football fans questioning it. Okay an apology wasn't any use to us, but the fact they had to issue one says something. Don't let the buggers grind us down.
Pete Clarke
64
Posted 19/03/2022 at 07:25:31
Due to the live TV screening and constant replays of slowed-down footage on almost everything in football games, the general public have been brainwashed into thinking yellow card, red card, the VAR check and whatever else there is to say about certain incidents on the football pitch.
I was refereeing for my son's Under-11s 2 years ago and a lot of kids were calling for fouls, handballs and falling over for the slightest touch because of what they see on TV. I had to call all the players to the centre and tell them that I would not be giving any fouls or handballs at all – they needed to just play the game. There was no calling out after that and the game was great. All the parents agreed.
The players themselves are a disgrace and we have one of the worst ever in Richarlison. I'll be glad to see the back of him if I'm honest, the miserable-looking sod.
Cheating players make life hard for referees and I believe there needs to be action taken against cheating. I'd love Lampard to address this and put his foot down at the club about it.
Strangely enough, Saint-Maximin did not make anything big about the tackle we are all talking about. For me, it was a yellow but, if that had been against one of our players, then I may have called it red.
The ref was in the perfect position to see it, so he was clearly being told to overrule his own decision and that stinks of corruption between them bastards.
Eddie Dunn
65
Posted 19/03/2022 at 07:44:31
Just to clarify my opinion: I thought it was a yellow and for it to be overturned was wrong.
Looking for an explanation for some of the decisions, I expect that the refs have regular zoom calls. Imagine the chat. They will all have their own teams that they support. The current top five will, no doubt, have most of them as fans.
We are an easy target, and traditionally have been their teams' competitors. We are seen as a club who have wasted £500,000 and ended up in the relegation scrap.
We are also seen as potentially rivals for their favourites, whilst Burnley and Watford are not. Many plastic reds would like to see us relegated, you only have to look at social media to see that.
Mancs hate us, almost as much as our neighbours and with an ex-chelsea manager, we now will be despised by Spurs, Arsenal etc, etc. We are an easy target. So these refs have their chit-chat, they all support the top 5, so who can they all hit hard?
We do have a couple of Tom Daleys in the team. They will get nothing for their antics. Gordon did get his leg in front of the defender... but he is entitled to do that. The defender bumped him and over he went.
If it was Salah, it would have been given and the commentator would have said it was clever play. As it was Everton, the commentator and Shearer pronounced that Gordon was trying to buy a penalty.
Anthony didn't do himself any favours by earlier going over far too easily. They have earmarked him as a diver, and the TV people won't argue against it.
As for Allan, he has been earmarked too, as a slow, grumpy, cynical fouler. All these are true. He had already given the ref several mouthfulls and the official was only too pleased to give him his red card.
We are an easy target, and only Frank continuing his crusade can make these buffoons rethink. We have been far too compliant for far too long.
Neil Lawson
66
Posted 19/03/2022 at 07:55:52
The panel was David Blunkett, Rose from Strictly and Clive Thomas.
Paul Birmingham
67
Posted 19/03/2022 at 09:11:04
Neil, your spot it's a farce. The EPL Managers Association must get this sorted once and for all, in time for next season.
Take Shockley Park and the cretins that operate there who don't know the left wing from the right wing on a football pitch.
I've watch Rugby Union Six Nations and at least they get decisions made in a timely and ethical manner.
We live in hope.
Rob Halligan
68
Posted 19/03/2022 at 09:43:50
Pete # 56
"Having said that I now think that challenge on Gordon in the box was a penalty even though he initiated the shove by cleverly stepping in".
Do you, and everybody else remember the penalty awarded to the RS at palace a few weeks back, when Jota did exactly the same as Gordon did on Thursday? Jota had overrun the ball which had gone out for a goal kick, so Jota stepped in and leaned into the defender and down he went. At first the referee, Kevin Friend, gave a goal kick, but on the advise of the VAR, looked at the pitch side monitor and gave a penalty. Exactly the same as Anthony Gordon on Thursday, only the one on Gordon was far more blatant, it was a clear shove by the Newcastle defender, yet Pawson was not even advised to look at the pitch side monitor.
Chris Leyland
69
Posted 19/03/2022 at 09:54:30
After the Leeds result last night, our game against Burnley takes on added significance as I was banking on us being to overhaul Leeds if we couldn't shake off Burnley or Watford. We now have to go into that game without Allan which is a massive blow given the alternatives. There is no one else in our current crop of fit and available midfielders who can do what he does and in a battle like the Burnley a midfield three of VDB, Doucoure and Gomes isn't one that fills me with confidence.
James Newcombe
70
Posted 19/03/2022 at 10:06:32
We have games with the struggling teams. We just need to start beating them - for whatever reason we've struggled to do so for the last few seasons!
I keep flip-flopping between us being doomed, and staying up. After Thursday I'm thinking we'll be all right, but it is concerning seeing them all picking up wins… Lots of twists and turns to go!
Ian Bennett
71
Posted 19/03/2022 at 10:17:41
Gordon gets a free kick any where else on the pitch, but no penalty and no review.
Shelvey scissor tackle in the reverse fixture was only deemed a yellow. All pros came out and send it was a red. No review.
No handball against City. Allan's is a yellow card every day a week.
Football us corrupt.
Let's just call it out. Var was meant to end the bad decisions, the Premier league are making worst decisions with the benefit of video evidence. Only the Premier league could gp backwards with technology improvement.
Danny O'Neill
72
Posted 19/03/2022 at 10:30:34
I asked one of the harshet critics of Everton I know (wife) her opinion on the Allan red.
To my surprise, she said yellow.
That will do for me.
Brian Harrison
73
Posted 19/03/2022 at 10:31:28
Did anybody really believe the card for Allan would be overturned, this bunch of officials we have running the game are the most incompetent bunch we have ever had. Shearer ex player and manager of Newcastle said it was never a red card, Mark Clattenburg no fan of Everton said it wasnt a penalty, Keith Hackett former head of the referees said if this is a red then we have serious problems in our game. Why do we never hear who sits on these appeal committees let me guess ex referees?. Why arent ex players involved in VAR and in these appeals, even the refs who make the most blatant mistakes our given a one game removal from the following weeks game.
They are the only people who are involved in a game yet carry no accountability as to why they arrived at their decisions. The managers have to face the press within minutes of a game ending, yet no official is ever interviewed. They are now so incompetent that clubs survival is being threatened every week by their incompetence. Last night Jimenez was sent off when it was more Meslier who caught him rather than the other way round. This decision completely changed the game up to that point Leeds trailed by 2-0 and it could have been 5 but that appalling decision gave them a lifeline and they took it.
Alan J Thompson
74
Posted 19/03/2022 at 10:41:44
I think it's time Everton did a Moyes and put together a video of all the decisions made by VAR and similar incidents when decisions have been overturned, not reviewed or even not given and ask the relevant bodies to explain, and further, publicly release it to the media.
It is time "little old" Everton started standing up and crying, at least, foul! Apologies are all well and good but what is being done to improve the situation? Perhaps raising the possibility of bringing in to run VAR people not connected to the game in England and may be even UK.
Somebody, somewhere has to stop this, at best, inefficiency which seems already, out of control.
John Kavanagh
75
Posted 19/03/2022 at 10:41:55
The rotten and corrupt monopoly officiating the EPL has gone beyond manipulating individual matches and is now seeking to determine the outcome at both ends of the table.
Leeds, dead and buried, are gifted a very dodgy sending off courtesy of our 'Friend' Kevin to assist with their fight for survival. Everton are marked for elimination from the EPL under its covert one club per city diversification plan (excepting the ESL six in Mancland and Lahn Dahn of course). VAR is only there as insurance to help deliver the 'right' result.
Any manager who speaks out is not only fined, but knows these bastards will double down on their teams. Riley's Putinite organisation needs to be eliminated for the good of football.
Even state owned monopolies like the National Lottery are made to go through a tendering process every few years.
No such mechanism seems to exist for ensuring that EPL officialdom is of a high standard and is free of corruption, both individually and collectively. And those of you who still think there's no corruption should study what happened to Olympic boxing.

Rob Dolby
76
Posted 19/03/2022 at 10:48:11
Eddy and Mike I get where your coming from with the anti football nature of the foul but how on earth do you watch any game of football with those views.
The current game is more or less contact free compared to pre prem era.
Each game is littered with tactical fouls, applying your rules there would be at least 1 red per game.
The shite are the best at it, lots of minor fouls in the middle of the park to disrupt play and get organised. How you can be so offended by the one an Everton player does in the heat of a relegation battle is beyond me.
If he lets him run past everyone would be calling him fit to burn for not stopping him.
If you want contact free watch basketball. I actually want to see more contact cynical or otherwise. It's a sport and entertainment not a game of chess.
The lack of consistency is troubling with these refs. Last night Moutinho went studs up on Dallas around knee height. No red card no var. That's a lot more dangerous and career threatening than a trip but nothing happened.
The Jimenez red card, if he gets the ball first he scores. It's a 50/50 why does there have to be a booking for that?
The game has gone. The worst refs I can remember plus var is ruining the game not enhancing it. Oh and having the appeal rejected is also a joke. You watch this weekend how many cynical fouls there are and how many straight reds are given out. The whole thing is looking more corrupt year on year.
Brian Harrison
77
Posted 19/03/2022 at 10:58:13
John 75
I wholeheartedly agree with all you have said, the problem is that for to long we have allowed appeals of all differing types be judged by their peers. So its no wonder that politicians always refuse independent enquiries and instead allow other corrupt politicians to adjudicate, same as the police and the press who have all gotten away with appalling things.
Are refs really independent I ask because some of their decisions that are often questioned by ex refs ex players smack of having an agenda. I am sure Mike Riley having to phone Kenwright and Lampard to apologise for the decisions taken by both the on field and VAR refs decision against City will have probably irked some of their colleagues. So what better way of getting their reprisal by issuing a red card when the original decision to award a yellow was correct. Remember Ancelotti being sent off he is surely one of the mildest managers refs have had to deal with yet Klopp berates 4th officials and often comes onto the pitch after the game and argues with the ref, but no action is ever taken against him. Going back Alex Ferguson did exactly the same but rarely punished. So how can we believe there is no agenda from refs and officials.
Michael Lynch
78
Posted 19/03/2022 at 11:55:45
I don't think there is any big conspiracy, or corruption, but I do think refs are influenced by where they are, and who is playing.
Allan's foul at Anfield by a RS player would have been a yellow, no referral to VAR. The second yellow at Wolves last night would not even have been given as a foul if it was a Man City player. The refs simply feel much more comfortable about making borderline decisions at places like Goodison and against teams like Everton and Wolves.
Same with VAR, the scrutiny on the decision is much greater if it happens to the Shite, or to Citteh. The refs think there is so much more at stake for the top 2 who are worldwide brands, whereas us getting relegated won't worry anyone except our relatively small fanbase.
It's not like these are conscious thoughts by the refs, it's just so deeply ingrained in their psyche that they can't help themselves. They are, by nature, cowards.
Matthew Williams
79
Posted 19/03/2022 at 12:00:54
The ideal scenario would be to win our next two cup games and totally refuse to play the final...the bigger the game,the bigger the impact,my club making the ultimate stand,I personally would be so proud of my club while sending the ultimate message to the footballing world...you ain't going to cheat us no more...fuck yer,I mean how can the magic of the F.A Cup have some games with VAR and some without?..
utter madness!.
2022 F.A Cup Winners...no one!...sounds good to me!
Everton F.C...moral winners... another Everton first! and fans around the world would thank us... believe me,this shite needs to end NOW.
Brent Stephens
80
Posted 19/03/2022 at 12:21:09
I doubt there's any conspiracy between referees, much less between referees and the EPL and FA. At worst I suspect conscious individual bias in some cases; in other cases, unconscious individual bias.
Having said that - the bastards.
Mark Andrews
81
Posted 19/03/2022 at 13:02:56
Definitely not corrupt.
No.
Not corrupt at all.
Rob Halligan
82
Posted 19/03/2022 at 13:07:47
Why was Mings not sent off just then? He went into a tackle on Saka, studs showing and followed through and caught Saka on the ankle? Why was it not reviewed by VAR? Mings only receives a yellow card for a challenge, which according to Attwell and Pawson is a red card. Corrupt fucking bastards.
Eddie Dunn
83
Posted 19/03/2022 at 13:08:07
Rob- in answer to your question of how I could watch any football match with my views on fouls. Well I can honestly tell you that I watch all Everton games and only rarely watch other teams.
It might be my age(61) but I get pissed -off with everything, including players and refs.
I also can't stand anyone diving. I recall one of our managers previously having to ask Richie to pack it in. He seems to have reverted to type.
It could be that Richarlison is simply not a centre forward and does not possess the strength of say DCL to hold up play, hence the gravitational problem.
Let's hope for the team to show more confidence at Palace and beyond, so that these refereeing gaffes are just annoying, rather than life-changing.
Colin Malone
84
Posted 19/03/2022 at 13:10:45
It fucking stinks. The Jiminez red card was a joke against Leeds. As Frank said, Referee's shouldn't go near Stockley Park, Var referee's should be Var referee's full stop.
PS. You can get 14/1 for Brentford to get relegated. Got to be worth a tenner.
Tony Hill
85
Posted 19/03/2022 at 13:14:26
Yes, Michael, @78, they're football's version of traffic wardens and prison warders: creeping to "superiors" and strutting/bullying when they think they'll get away with it.
No conspiracy, just the mediocre behaving as they do when they are given a special uniform.
Tony Abrahams
86
Posted 19/03/2022 at 13:25:12
Another thing wrong with VAR, is that a ref will sit in the studio on a Thursday, but then be out on the pitch refereeing on a Sunday. I personally don't think you should have them doing two jobs, especially because they are getting away with murder and not being checked for their obvious inconsistencies.
Every time there is a foul like Allen's, Atwell can tell the ref to go to the screen. Every time there is a handball like Rhodrie's, the VAR ref, can say there wasn't a clear and obvious error. Make them do only one job and it probably wouldn't take us long to find out if they were actually cheating or just plain incompetent.
Pete Clarke
87
Posted 19/03/2022 at 13:56:10
The referees are poor and very inconsistent. Somebody mentioned it earlier that we should use foreign referees who have little or no reason to be biased towards any team.
VAR has ruined the game because it's being used for the wrong reasons.
I also bet if all Premiere league clubs were to vote on continuing or getting rid of VAR then you could guarantee the chosen few would choose to keep it.
Ian Bennett
88
Posted 19/03/2022 at 14:06:20
Michael 78 - if officials cannot make basic decisions, and look the other way it involves big teams, its corrupt.
It is clear they don't want to be kicked out the cosy club, so they play lip service to making fair, impartial decisions.
The beauty of sport is that fair play should win the day. Not fear of being threatened by the footballing elite.
Michael Connelly
89
Posted 19/03/2022 at 14:18:25
Allan deserved that red regardless how the decision was arrived it. It was a good deal more than a 'professional foul'. Dangerous, reckless, cynical. Take your punishment boy.
Brian Wilkinson
90
Posted 19/03/2022 at 14:19:50
Var is the biggest problem, sometimes refs may miss something, other times they are clear about what they have seen, no amount of players rushing to the ref are going to change the refs mind, however when you get something in your ear piece saying go and have a look at the monitor, that is then sending signals, we think you have made a mistake.
Even before the ref has got to the monitor, his whole way of thinking and mindset has changed, he starts doubting himself, then when he is not seeing it in real time, it looks worse than what he first saw, so in a way yes I do have a little pity for some refs, to be fair I thought The ref had a decent game until then, didn't fall for players from both sides going down in the middle of the pitch, oh yes each and everyone jumped back up, when play carried on.
However he had his mind changed by var, the very var system that saw the most blantent handball ever, in a var game, when Rodri controlled and clearly handled the ball, yet the ref that Day,was never advised to go and have a look at the Monitor by var.
They tried it at Anfield when we won two nil, the ref gave a penalty, var tried to do us out of it by asking the ref to go and look at the Monitor, that is the only ref I can think of, who had the balls to stick to his decision, but let's not forget, it was inside an empty stadium, would he have had the same balls, in front of a hostile crowd.
Gary Jones
91
Posted 19/03/2022 at 14:46:07
Michael @ 89, it was simply late. He was on the ground and sliding before he knew he'd missed. His foot is low, not above ankle height. If that's a red, every game would be lucky to finish with 7 a side boy.
Rob Halligan
92
Posted 19/03/2022 at 14:55:34
Kris Boyd and Michael Dawson on sky soccer Saturday saying Allan "jumped in with two feet". Well if they think he jumped in with two feet, they are as fucking useless as pundits as Pawson and Attwell are as referees and VAR officials. Yes, Allan had two feet off the ground, but his right foot is about as far away from Saint Maximin as he could possibly have it without pulling a groin muscle. It was like he was doing the splits a few inches off the ground. Yes, it was cynical, the intent was there to stop Saint Maximin in his tracks, a challenge we will no doubt see again this weekend, next weekend and every weekend until the end of the season. Allan's foot was on the ground when he tripped Saint Maximin, but his studs weren't showing, as it looks like it was the tip of his boot which brought Saint Maximin down. Definitely not a red card.
Kieran Kinsella
93
Posted 19/03/2022 at 15:03:01
Rob
Next they'll accuse him of using chemical weapons when he farts
Bill Gall
94
Posted 19/03/2022 at 15:10:13
Michael 89 Regardless of whether he deserved it or not I believe the argument is the discrepancies in VAR and different interpretations.
Today T.Mings went through the back of Saka he touched the ball but his follow through took out Saka after hitting his ankle that meant the Arsenal player needed treatment. This tackle could have broken his ankle yet VAR agreed with the ref it was just yellow. Allans tackle may have been any of what you say but the Newcastle player was not injured and carried on.
So to me who was on VAR is saying that the tackle could have caused an injury, were as today whoever was on VAR says the tackle caused an injury but it was not that bad, even though any one that seen it knows it could have broken his ankle. That is why the club put the request in, and I am not surprised that the committee protected the officials.
Brent Stephens
95
Posted 19/03/2022 at 15:11:09
Kieran "Next they'll accuse him of using chemical weapons when he farts".
I can imagine Russian scientists reading that and already thinking "Well, maybe. We should work on this".
Kieran Kinsella
96
Posted 19/03/2022 at 15:23:18
Tony Everan
97
Posted 19/03/2022 at 15:29:22
Transparency of logic in reaching decisions similar to rugby and cricket is what is needed, we need to hear the reasoning from these officials.
Absolutely nothing will improve until that happens. Such a move will be strongly resisted. Why ? What are such powerful, professional, top class referees frightened of ?
1 Because the licence for bias will be largely removed
2 Incompetence will be throughly exposed on a weekly basis
3 They don't like their power to be questioned or challenged. ( I expect more harsh VAR decisions before the end of the season as retribution for forcing an apology)
Will Mabon
98
Posted 19/03/2022 at 15:48:18
Tony, good post.
That Jimenez decision was awful. Another one.
Setting aside the details and reasons why, the implementation of the whole VAR system has left things overly worse than it was without it, at least in the area of disciplinary decisions. It needs addressing.
Mike Gaynes
99
Posted 19/03/2022 at 15:54:23
Will and Colin, no, the Jimenez red wasn't a straight red. It was a second yellow and completely deserved in my view. The keeper got the ball and Raul clobbered the keeper, knocked him out of the game injured. No ref would have kept his yellow card in his pocket on that one, especially with the keeper having to go off.
Alan J Thompson
100
Posted 19/03/2022 at 16:06:36
Eddie(#83); Players, possibly including some of ours, might go to ground easily because a lot of referees will give a free kick and it will continue in all teams until refereeing improves and shows a lot more consistency, a chicken and egg argument?
Some teams look as though they are coached in it as well as not retiring at free kicks in order to give their defence time to reorganize (thank heavens for shaving foam?) and I'd say it extends as far as deliberate barging into players backs, and we all know how corners have degenerated to shirt pulling, push and shove contests. I could go on about the last time a throw-in was taken at the right place and if I could change one rule (heaven knows some changes have been awful and cause even more confusion) it would be to double the size of the corner arc and if any player fails to put the ball inside the line (not on it) then it becomes a goal kick.
Eddie Dunn
101
Posted 19/03/2022 at 16:17:54
Alan, on the subject of free kicks, has anyone else watched the mickey mouse steps that the refs take when pacing it out. Most, I would say are only six yards from the wall. Am I wrong thinking it used to be ten bleedin' yards?
Ed Fitzgerald
102
Posted 19/03/2022 at 16:18:08
Mike @99
I watched that game as well and the Wolves forward didn't clobber the goalie as you state, it was a 50/50 and he caught him without any intent. A crazy decision, as was the decision to send Allan off the other evening The game is being ruined due to VAR and dreadful referring. Football is being turned into a non contact sport meanwhile divers who go to ground too easily and players who feign injury get away with murder.
It's a good job you didn't follow us in the 80's Mike otherwise you would winced at Everton overcoming Bayern in the CPWCSF of 85 or been traumatised by Andy Gray's header in 84 in the FA Cup final.
Will Mabon
103
Posted 19/03/2022 at 16:26:22
MIke, I knew it was a second yellow.
So many times we hear the bullshit around "Momentum" and such as an excuse for a collision that we all know could have been avoided or mitigated. I didn't see that last night. Or deliberate intent.
There have been times when it's patently accidental and no booking is made.
That looked 100% a fair attempt at an outfield-type tackle on the 'keeper to me. They both went for the ball with one foot at no more than ball height. Meslier just about got there first. Jimenez looked like he tried to put the brakes on and raised his arms. His body also went past Meslier to the side, not into him.
Will Mabon
104
Posted 19/03/2022 at 16:37:56
Eddie, here we are swamped with modern tech (not always to a benefit) but nothing to address the ten yards requirement...
Mike Gaynes
105
Posted 19/03/2022 at 16:39:27
Will, no argument on any of that. But in modern football when two players go full in, and one gets the ball and the other gets the opposing player hard enough to injure him, a yellow card is gonna be the result. Had Raul gotten the ball and the keeper nailed him hard enough to knock him out of the game, the keeper would have gotten the yellow.
Ed #102, no argument with you either, but the rules -- and their enforcement -- are very different than they were 40 years ago. Under today's conditions, Roy Keane would have a different career, and we might never have heard of Ruddock, Pearce or Vinnie Jones. I understand that you don't consider this evolution to be a good thing, but it's a fact of life.
Eddie #101, I don't remember where I saw it, but one of the TV networks did a video analysis on just that question a couple of years ago, and came up with an average figure of 8.6 yards. I see the same thing all the time. Drives me crazy.
Alan J Thompson
106
Posted 19/03/2022 at 16:42:19
Eddie(#101); Funny you should mention it as last night I counted at one free kick the number of paces the Ref took before using the foam, it was eleven and I thought that he used less than a full stride. In my more generous moods I have put it down to the Ref not knowing the difference between 10 yards and 9 metres.
Will Mabon
107
Posted 19/03/2022 at 16:48:33
Mike, I looked at this and viewed frame-by-frame.
Jimenez' right hand/ lower forearm possibly grazed the top of the 'keeper's nugget, and not deliberately. Other than that I don't know where any concussing impact could have come from.
You may be right in as far as the inevitability of a booking sometimes, for the sake of action being taken. Not justified here though IMO.
Andy Finigan
108
Posted 19/03/2022 at 16:52:17
So can anyone explain to me what the difference was when Cody clearly took out Richarlison with no intent to play the ball with a scything kick, never even got booked, and Allan's minimal contact on the Newcastle player.
Mick O'Malley
109
Posted 19/03/2022 at 16:53:31
Keira n@53, I completely agree, the idea there's a conspiracy to relegate Everton is for the birds. When we are building a new stadium, the referees and Premer League are conspiring to relegate us is Grassy Knoll nonsense. No wonder kopites are buzzing when we're coming out with garbage like this.
We definitely should have had a penalty against Man City, no question. I would just love the VAR to be jibbed completely cos it's an absolute joke, it totally ruins the game. It takes ages to come to decisions and the fans don't have a clue what's going on. It's the thing I despise the most about football today. It's not needed, as far as I'm concerned.
Danny O'Neill
110
Posted 19/03/2022 at 16:57:18
In danger of repeatedly repeating myself yet again, so Danny repeater warning.
But it comes down to:
1. Competency of the officials.
2. Confusion of the rules and subsequent confused interpretation of the rules. Football can and should be a simple game.
3. Accountability. No system will ever be 100%, but Rugby Union is in a far better place in terms of competency, application of the rules, accountability and use of VAR technology. They are audibly heard discussing and explaining their decisions. Of course they also know what they're talking about, but that public and global accountability makes them think hard about a decision and explain it.
The technology is not the problem in my opinion. It is the egotistic, star struck and biased officials and their application of it.
It was supposed to and can fix the many wrongs of the past - we've had many. Okay, teething problems in terms of implementation, but the underlying problem remains those charged with making the decisions both on the pitch and at Stockley Park.
I like the idea of being a Video Assistant or an on-the-pitch Referee, but never the twain should meet.
Will Mabon
111
Posted 19/03/2022 at 17:02:50
Andy:
Difference = Everton of course.
Rob Halligan
112
Posted 19/03/2022 at 17:09:43
Mike, two players going for the same ball at virtually the same time, then one of them is bound to touch the ball, whilst the other one is bound to not touch the ball, shouldn't result in a yellow card for the player who doesn't touch the ball. What was Jiminez meant to do, stop and let Meslier clear the ball, and then receive dogs abuse from his fans, calling him a coward for backing out of a challenge? The ball was there to be won for Jiminez, and he was well within his right to try and win it. There was always the possibility the collision of the two players would cause an injury for either of them. In my opinion, that was not a yellow card, and therefore a second yellow for Jiminez.
Mike Gaynes
113
Posted 19/03/2022 at 17:23:00
Will #107, that link didn't work for me. However, although the keeper took a rap to the head, that isn't what forced him off. Look again, down low. He takes Raul's knee to the top of his thigh. Limped off.
Again, that's the modern game. Go in hard, don't get the ball, injure the other player (especially the keeper, who gets extra protection), it's a card. Every time. Like it or not, that's just the way it's called today. Raul knew it. That's why he didn't really protest much.
Rob #112, we both remember a different game, but that's all changed. It's about money, of course. Players are highly paid assets and the clubs and leagues want them protected. That's why the true hard man is an extinct species.
Andy Finigan
114
Posted 19/03/2022 at 17:26:31
I will tell you the difference Will, Cody wanted to hurt Richarlison to let him no that's what to expect and that he did, whereas Allen knew with his limited pace he couldn't catch him so just wanted to stop him going past him and clearly no mallace intended. A sending of for one and nothing for the other.
This telling the ref to have a look at the screen doesn't work properly as it stands because soon as the var official tells the ref to have a look at it, he automatically thinks because var has had more time to see it that he the Ref needs to change his first decision.
Will Mabon
115
Posted 19/03/2022 at 19:35:20
"
...thinks because var has had more time to see it that he the Ref needs to change his first decision
."
Indeed - there's also the option for the VAR official of whether to ignore an error and not inform the ref at all.
Tony Everan
116
Posted 19/03/2022 at 19:37:52
Good point Andy.
I was thinking what would have happened if Allan had already been booked before that incident. Obviously we will never know. My best guess is that Allan would have been given a second yellow and sent off and no VAR review would have materialised.
Will Mabon
117
Posted 19/03/2022 at 20:14:48
It was just linked to a YouTube vid, Mike. Don't know why it failed but it did.
I see maybe a bit of left knee to high outer right thigh, hard to tell clearly. Some reports mentioned possible head injury even though keeper did hop/carry his leg a bit when going off.
Jimenez closed quickly to the ball same as Meslier, and missed out on it by a fraction of a second. He didn't follow through, didn't extend his leg through, didn't try to trip, didn't use his second leg and didn't push his arms out at him. He all but missed him altogether. It could just as easily be called going in fast, as called hard. He went for the ball. Accidental. He didn't need to book him.
Problem is, if officials try or default to interpreting accidental collision after a genuine and legal attempt to tackle as somehow foul or reckless, it's all over.
Terry McLavey
118
Posted 19/03/2022 at 20:56:38
I think they should make a Super League and take your tame bent refs with you and play yourselves to death and leave honest clubs not funded by dirty money to bring a bit of respect back to the game, but I'm not holding my breath.
If I didn't love this club so much I'd remove it from my life, but there again why should I?
The system is obviously corrupt, do these pricks study at the Kremlin?
James Flynn
119
Posted 19/03/2022 at 21:12:51
I'd never call the officiating corrupt or refs bent. They're just incompetent; same as its ever been my entire life going to or home watching 4-5 different professional sports leagues.
MLB, NBA, NHL, NFL, EPL, MLS, Boxing too. Every one has lousy refs/umpires. Its incompetence, not corruption or bent refs.
VAR:
Fix the offside rule to judging it by foot position only, no other part of the body.
Penalty calls to minimize diving's effect on a game.
Both of these have a major impact on goals and so the result and should be paramount.
VAR should not be used for maybe/maybe not red card fouls. That's what appeals are for. VAR has its importance. Just keep its usage to a minimum.
The game's been played since the 19th century in leagues with officiating teams. It's survived all these years based on eyeball real-time decisions by officials. There's no sudden need for "2nd opinion" officiating except in the instances I wrote above because of their direct effect on the whole object of the game; score goals.
And nothings going to stop poor officiating. Never has and never will.
Geoff Cadman
120
Posted 19/03/2022 at 22:24:24
Atwell being in charge tomorrow will be interesting, What if he is faced with a similar situation, which could result in a red card for a Palace player. Will he or won't he
Brian #90 I think the ref that day was Kris Kavanagh and the VAR was a check on a red card for T.A.A. not the penalty. So a wrong decision.
I find it amusing with the lengths Dermott Gallagher goes to justify the cock ups his former colleagues make. The City penalty the most outlandish.
After the Allan red card he claimed things where improving because Atwell, after his fuck up at the Brighton Liverpool game had learned from his mistake and made the right call with Allan.

Now the scary part When questioned regarding whether VAR specialists where required he replied. that as Referees retire they will move to Stockley park. Lee Mason is already there permanently No doubt Jon Moss and Rowan sorry Martin Atkinson to follow shortly
Chris Locke
121
Posted 20/03/2022 at 08:13:24
The way that the VAR is used is quote simply a joke. Somehow, despite the advantage of implementing later than many other sports, they have still managed to create a system that hinders rather than helps the officiating.
IMO the VAR should be advising the on-field referee throughout the whole game, making sure the correct decision is made wherever possible.
If we take the Newcastle game as the example, then I have no issue with Allan being sent off for what was cheating and could have injured his opponent. However, the VAR would have highlighted Burn catching Gordon on the Achilles from behind and recommended a yellow. It would have also suggested a yellow for his off-the-ball push on Richarlison.
It also would have told the ref that it was an obvious corner to Newcastle when it clearly came off Coleman.
There doesn't need to be an announcement every time these checks are made because players will know that the VAR is always watching. Much like they do in Rugby.
Instead of this, we've ended up with a situation where cheating can only be called out if it's deemed worthy of red or happens during the build-up to a goal.
This is obviously just my opinion.
COYB
Graham Coldron
122
Posted 20/03/2022 at 11:21:56
John @75 - a great post and sums up perfectly the toxic state of modern footie.When any organisation is awash with money you get corruption.Why should football be any different ?
---
Add Your Comments
In order to post a comment, you need to be logged in as a registered user of the site.
Or Sign up as a ToffeeWeb Member — it's free, takes just a few minutes and will allow you to post your comments on articles and Talking Points submissions across the site.