Allan expects to stay at Everton
Monday, 30 May, 2022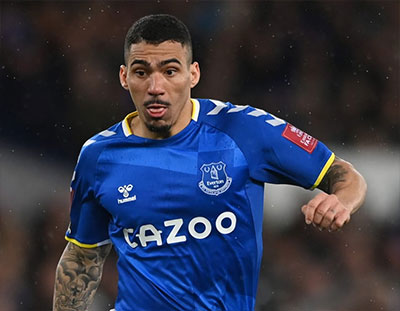 Allan says he is facing a six-week recovery from surgery before he can start preparing for the new season with Everton as he distances himself from speculation linking him with a move away.
The Brazilian struggled through the last few weeks of the season with pain in his adductors, putting off surgery in case he was needed in an emergency to help the club's bid to avoid relegation, but has now had an operation to correct the problem.
There has been talk of the 31-year-old returning to Italy this summer, with Lazio credited with interest in his services, but Allan says he is not aware of anything solid in that regard.
"They say that within six weeks I will be fine and can start running normally again," Allan told Corriere dello Sport. "I had to operate, because the pain in my adductors had become unbearable. As soon as we were safe with Everton, I went to the operating room.
Article continues below video content
"I respect what is written [in terms of transfer talk], but no sign has arrived to me. I think my professional destiny will remain unchanged.
"I will stay at Everton, as far as I know. I feel good in England, I have the respect of a club that I am proud of, with impressive facilities and to which I owe respect."
Quotes sourced via Sport Witness
---
Reader Comments (68)
Note: the following content is not moderated or vetted by the site owners at the time of submission. Comments are the responsibility of the poster. Disclaimer
Danny O'Neill
1
Posted 30/05/2022 at 15:33:41
I hope he stays. The captain without the armband.
Keith Slinger
2
Posted 30/05/2022 at 15:36:50
He is a great professional, also always cheering and gearing the team onwards and upwards whenever he has been used as a substitute?
His legs may have slightly gone and he is not as quick as a 21-year-old, yet his experience is invaluable, but his tactical nous could be more valuable next season?
Nicolas Piñon
3
Posted 30/05/2022 at 15:44:31
Hope he stays but Frank doesn't rely on him as a regular starter (because of his age, of course) and gets some younger backup.
Dale Rose
4
Posted 30/05/2022 at 15:50:30
I really like this guy. His love and respect for the club are there for all to see.
Jamie Crowley
5
Posted 30/05/2022 at 15:53:11
Inasmuch as I want to see us recruit young players with sell-on value, I'm completely fine if Allan stays while we retool our midfield over the coming years.
I think Allan got way too much stick from folks. The guy covers a ton of ground, he's defensively solid, he gives 100%, he's clearly on board with Everton, and I think he's played well this season under the circumstances.
He'll be the veteran anchoring the midfield in front of the back 4 hopefully for the next few years.
Gomes is the one we should be looking to move on. We need to replace him with a young prospect in central midfield.
Brian Williams
6
Posted 30/05/2022 at 15:55:02
Personally I'd rather he went, we got money for him, and replaced him with a young, quicker, more athletic player for his position.
Great footballing brain and great technique but just too slow!
Kim Vivian
7
Posted 30/05/2022 at 16:00:37
Would be nice to think the Brazilians have had a pow-wow – but if PSG come in with £50M or £60M for Richard Arlison, the coach driver, he'll be on his own.
Love to see them both stay though.

Iakovos Iasonidis
8
Posted 30/05/2022 at 16:26:11
I have to admit I really like him as a person but I expected more when we signed him. Now, 2 years later, I would keep him only as a sub.
We need more pace in midfield, Allan has the quality but not the pace. Davies has neither, Doucouré is declining is fast and big, Gomes plays as someone who is ready to retire... Our midfield is really bad!
Barry Rathbone
9
Posted 30/05/2022 at 16:34:33
Nice fella and good with words, like Seamus, but like Seamus he's not up to the cut and thrust of the Premier League. If serious about avoiding another season of disappointment, he's in the cabal who need replacing.
Fitter, robust models who can play possibly with an affinity to Karaoke (Suspicious Minds by Elvis would clinch it for me) should be the new mantra.
Robert Tressell
11
Posted 30/05/2022 at 16:35:52
I think this means Allan doesn't believe anyone will pay higher wages so he'll see out the last year of his contract.
For the circa £23M, he's been a poor signing, offering limited quality and deteriorating rapidly in value having already peaked at Napoli.
A good example of the sort of big name(ish) signing we should avoid.

Danny O'Neill
12
Posted 30/05/2022 at 16:40:06
Depends, Robert. Brought into the right team at the age of 28, he would have been a great signing. He was / is a good one.
Most good teams are a blend of youth, potential, average players who perform when surrounded by better and experience.
Our 80s team had all of that.
Peter Carpenter
13
Posted 30/05/2022 at 16:40:38
Upgrade.
Danny O'Neill
14
Posted 30/05/2022 at 16:44:04
Even though I was young, Peter, I remember wondering what Howard Kendall was doing in bringing in Trevor Steven from Burnley and Kevin Sheedy from Liverpool Reserves.
Upgrade? How? Who?
I think Allan is a leader and an influence on younger players such as Tom Davies.
Peter Carpenter
15
Posted 30/05/2022 at 16:46:33
A younger, more mobile version of Allan, who scores the odd goal?
Ajay Gopal
16
Posted 30/05/2022 at 16:49:42
We fans were unaware of the extent of Allan's injury and he came in for heavy criticism for his performance against Liverpool (I think), when he completed only 6 passes.
When you think about the injuries to our midfield players this season, it is a miracle that we stayed up. Davies, Gomes, Delph, Allan, Doucouré, Van de Beek, Gbamin were all injured for major parts of the season.
We are due a change of fortune – we need 2-3 decent quality midfielders. Players like Garner, Gilmour on loan and hopefully, a marquee signing like Ward-Prowse or McGinn will add some quality and steel to our midfield, and then our defence won't be under as much pressure as they were under last season.
On the subject of Allan, he turns 32 in about 6 months. Generally speaking, a central midfielder comes into his prime at about this age. Could Allan, if he stays fit, turn into a Lee Carsley or a Gareth Barry? He has the potential and, although on other threads I have recommended that we sell him, I can see Frank Lampard wanting to keep him.
Tony Everan
17
Posted 30/05/2022 at 16:51:01
Every team needs an 'Allan' – tough-tackling, no-nonsense battler. You can tell he is unfazed and willing to fight every time. His presence gives more confidence to the players around him. I get the impression that, for most of this season, he has been hampered by niggles and not been 100% fit. After his operation, he could come back better and raring to go.
I'd only sell him if there was a decent offer for him; otherwise, he keeps the midfield and squad stronger. Who else do we have who is a tenacious ball-winner? When we talk about offloading players, we have to also think about squad strength and replacements for inevitable injuries.
It is essential we get the new younger midfielder with that extra zip and sharpness. (Sam's named a few possibilities on his Summer Targets thread.) Then keep Allan as back-up and for rotation through busy periods.
Mal van Schaick
18
Posted 30/05/2022 at 16:52:52
For all his efforts and commitment, the difficult situation we found ourselves in later in the season got the better of him. He and Doucoure became 'headless chickens' running around with little creativity.
Surrounded by different players with more time on the ball Allan might be better, but I think we should move him on, the pace of the Premier League is too much for him.
Michael Burke
19
Posted 30/05/2022 at 16:59:23
Easy Ajay (17), many on here think anyone over the age of 29 are over the hill! Never mind they have potentially 6 or 7 years and 200+ games left in them.
Fran Mitchell
20
Posted 30/05/2022 at 17:04:29
Out of our current midfielders, he's the one I'd prefer would stay. I feel he could be a good influence for younger players, has leadership, and would most fit the style Lampard would like to implement.
I'd rather see Doucoure sold, and feel they'd attract similar fees. Doucoure's poor passing generally undoes much of his good work, and his style befits a team that plays counter attacking football, and I feel Lampard will attempt a more possession based style in the long run.
Allan staying, Dele and Iwobi plus 2 new midfielders, plus either signing a youngster, or promoting someone like Price or Warrington with Gomes, Doucoure, Delph, Davies (on loan) all leaving.
Tom Harvey
21
Posted 30/05/2022 at 17:07:26
Like one or two on here I wanted to move him on and make what we could while getting his wages off the spreadsheets.
Having said that, he only lacks a bit of pace, everything else is good, so I'm not too disappointed he's staying. Used as a sub and in the right games he can be an asset.
Brian Hennessy
22
Posted 30/05/2022 at 17:13:19
If we want to improve on last season, we need to improve our team and most importantly our midfield. Allan sounds like a nice guy and is not scared of a battle, but he is slow, not creative and doesn't score goals.
I'd sell for a half-decent offer and get someone more mobile, more creative and can actually shoot from around the 18-yard box and hit the target.
Robert Tressell
23
Posted 30/05/2022 at 17:28:37
Danny @ 12, the right team would have to compensate for the great many things Allan can't do.
He's a pressing (not holding) midfielder with no pace, limited passing range and no goals. I get that he's got a bit of bite and character but that's about it.
He wouldn't get in the first XI of any top 6 sides, or probably West Ham, Wolves, Brighton, Leicester etc.
I get that successful teams need a blend. It's not the experience I'm averse to, it's the fact that he's not that good.
So it was a big outlay on a player who has contributed fairly little and will go for a small amount this summer or nothing next summer.

Danny O'Neill
24
Posted 30/05/2022 at 17:44:07
I'll agree with you on the pace and the goals, Robert, but not the passing.
As a footballer, to be able to pass forward, you have to have options in front of you. When Allan has had that, he can do it. He most definitely has a forward pass in him. Often from a standing position, so pace doesn't come into it.
I think Andy Gray was close to 30 when he became what in retrospect was an iconic signing for us even though he came with a sick note?
Phil Neville too. Forget age, These types of players can influence a squad. And we are not blessed with leaders.
Bernard Dooley
25
Posted 30/05/2022 at 17:44:14
Danny #14,
Trevor Steven signed for Howard Kendall aged 20 and Sheedy was 23 when he joined. Essential pieces in that '80s jigsaw.
I wouldn't object to two similarly young players signing for Frank if we could guarantee they would be as good as the aforementioned!
Danny O'Neill
26
Posted 30/05/2022 at 17:47:25
Bernard, if we sign another Kevin Sheedy then I will remove the shrine from my bedroom.
My lifetime hero in a blue shirt. A player who was comfortable on the football. He liked to have the ball. He wanted the ball.
Roger Helm
27
Posted 30/05/2022 at 17:50:03
I thought he was older than that. Good player and a decent bloke but too slow for the Premier League. I think he would be better suited to a less demanding league overseas.
Lee Courtliff
28
Posted 30/05/2022 at 17:51:11
Can't say I've ever been too impressed by Allan, barring a couple of games around November and December 2020 – just before he was injured away at Leicester.
Given that he's lost his pace and has never been a goalscorer, maybe he can be retrained as a holding midfielder? Someone with his experience should be able to sit in front of the back 4 and offer protection along with some simple passing.
We can't change the entire squad in one summer, so maybe it's not the worst idea that he stays, especially as he'll bring in very little in terms of a transfer fee.
Danny O'Neill
29
Posted 30/05/2022 at 18:04:57
Sorry, you've started me off on Kevin Sheedy.
That moment when he slowed the game down against Bayern Munchen. Under pressure, he played the game in slow motion, dictating his own pace that created the 3rd goal.
Dumb-dee-do some would call it as they probably screamed at him.
Calm under pressure. Waited for the moment and picked the pass.
Pat Kelly
30
Posted 30/05/2022 at 18:35:22
He'll spend more time on the bench or treatment table if he stays. Might be hard to get rid of him though. Another gift from Ancelloti, who, I just read, offered himself to Real Madrid while he was still at Everton. Classy.
Mark Ryan
31
Posted 30/05/2022 at 18:40:39
Anyone who wants Allan to stay will therefore no doubt want Seamus to stay too, I suspect. Both smashing blokes, cracking professionals and appear to want to give their all for the club.
Only one problem with all of that sentimental guff, these guys, like Delph, are over the hill. Too slow, too slow, too slow.
How I would love to see Gordon's mobility in Seamus's legs. How I would love to see Allan run like a 25-year-old version of himself but they are both too slow.
Last time I'm going to say it because otherwise I'm in danger of repeating myself as I did all this past season. Delph, Seamus, Allan are all too slow for the Premier League. Not just for Everton but for any team in this league.
Too old, too slow, not agile enough. I would look forward to us playing against any team with those 3 players in their team because you know they are going to struggle against youth, against pace. Sell him if we can
Darren Hind
32
Posted 30/05/2022 at 18:45:38
Exposed.
No other club would be mug enough to pay his ridiculous wages.
He' staying.
Steve Shave
33
Posted 30/05/2022 at 19:01:15
I'm pleased to see there are a few voices on here hoping he stays. As per usual there are some really negative people on TW who jump on his back all the time.
Does he have limitations, yes! However, as others have said, if deployed as a pure No 6 with 2 others in midfield in front of him (such as Gallagher on loan and another) he could do a really good job for us next season. Let's stop getting on his back about being slow and just use him for what he's good at.
If a good offer came in then of course we should take it due to his age and there only being one more year left on his contract. My main reason for saying 'stick' is because there are just so many players leaving and we need to keep some leaders and some continuity.
Annika Herbert
34
Posted 30/05/2022 at 19:09:40
So once we have parted ways with all our too old, too slow players and brought in all this youth, who do we turn to for experience? Because all top clubs have as a stalwart one experienced head amongst the younger players.
I agree, we need to revamp our midfield with some younger, more mobile, players. But we also need some experience in the team. Allan is one of the players who can provide that. It's a keep for me.
Nick White
35
Posted 30/05/2022 at 19:25:45
I hope he stays, strong leader and after a summer of recuperation should be back to his best and add important experience to the team.
That said, I don't expect he will still be with us by the end of the summer and think he will be back in Italy.
Christy Ring
36
Posted 30/05/2022 at 19:27:51
I like Allan and he can still do a job for us, and you have to give him credit, even though he was carrying an injury, he refused to have an operation in case he was needed in an emergency, a true pro.
What does the future hold for Gbamin, having played 12 games for Moscow, his injuries are behind him, so maybe this summer he could be like a new signing, if not, Gilmour or Winks could be an option.
Clive Rogers
37
Posted 30/05/2022 at 19:38:40
He's been poor all last season and the second half of the previous season.
Robert Tressell
38
Posted 30/05/2022 at 19:50:42
Danny the issue we keep having is that the only experienced players we can attract / afford aren't very good.
We get 2 or 3 seasons out of them before they essentially lose all motivation, value and impact. The exception in recent years was Barry. A free transfer with relatively modest wage demands. Before that perhaps Distin, a fairly high price for his age but modest wage demands. Otherwise, it is just a story of high cost, high wage and average at best output (and much, much worse too).
Players (good ones) like Neville and Howard are a much better bet. They are younger (age 23 to 26) and are highly motivated to play for a club that can offer them games. You can build a team around such players over a 5-year period.
With a player like Allan, you cannot.
People talk of Reid and Gray and it all came together. That was over 30 years ago and the subs bench, squad depth, football finances and plenty more besides have changed things forever.
It is no coincidence that our best players, the players Rich 6 clubs would be interested in (Pickford, Mykolenko, Richarlison and Calvert-Lewin) were all bought young.
Chris Leyland
39
Posted 30/05/2022 at 20:16:13
With 5 subs next season, the likes of Allan are useful squad players with his experience. He will be needed in a few games.
Mike Gaynes
40
Posted 30/05/2022 at 20:51:53
Longshot prediction: Allan stays this summer but loses his job to the newly healthy Gbamin. Leaves in January.
Jason Li
41
Posted 30/05/2022 at 21:16:51
Sell.
I think defensively on a good day Allan is good patrolling in front of the back four. And a very good passer of the ball. But we need to change out within the next two years Allan, Doucoure and Gomes.
Next season we have Tom Davies, Doucoure, and Iwobi. Iwobi has played in lots of European competitions and played a lot of games in the Premier League - so has the experience. All three are well experienced in the league and domestic cups, and being realistic there's no need to consider European experience at the moment.
We need to bring in a ready-made central midfield player or two to bed in for a year ASAP. This puts less pressure on the young players coming through and can go out on loan to improve their game.
If Gbamin isn't that player, we need to move him on which helps him too as he needs to play in his prime years.
Tommy Carter
42
Posted 30/05/2022 at 21:24:15
I think we could sell him for £10M. And if somebody could achieve that then I absolutely think they should.
A rank average player. A bad age. Big wages. But potentially has some resale value. Move him on.
Paul Birmingham
43
Posted 30/05/2022 at 21:36:36
For me, I hope Allan stays as, until it's known what Everton can or can't spend, you must keep your experienced and reliable players.
It may explain Allan's omission from the starting line-ups in the last few games of last season, as he was injured.
Bernie Quinn
44
Posted 30/05/2022 at 21:39:45
To me, its a no-brainer. He stays! He is strong a good defensive player and always encourages his team-mate.
Depite some comments I have read, we are not a weak side. There are about 7 current international players in the first team and several others with that potential. With Frank as manager, and possibly 2 or 3 new strong players arriving, we are definitely a mid-table club.
But, as Annika pointed out, we do need to keep the experienced older players like Coleman and Allan. Who knows, we could even reach the dizzy heights of the Top 6! — eh, Danny?
Bernie Quinn
45
Posted 30/05/2022 at 22:40:59
Incidentally, I'm just curious – who actually pays the salaries of injured players? Is it the club, or are we covered by Insurance?
Paul Kernot
46
Posted 30/05/2022 at 23:07:07
Kim #7.
Who's this guy Richard Arlison who's worth $50M? Is he in our youth set up maybe!!
Re Allan, just watched a certain 36-year-old Croatian boss the midfield for 88 mins of a Champions League Final. Only a comment on midfielder's age, not quality BTW but surely, with our skinny little squad, Allan with his leadership qualities alone must be worth another year compared to what we'd realistically get for him.
I'm now going to read the Eskimo's article to see if we can afford the upgrade as well.

Mike Doyle
47
Posted 30/05/2022 at 23:22:27
Paul #46, spot-on. Modric still a class act and, with the exception of Courtois, the best player on the field.
That Carlo Ancelotti certainly knows a player when he sees one.
Bill Gienapp
48
Posted 30/05/2022 at 23:48:19
I think moving Allan on makes sense, given that I assume there's little chance we'd extend his contract beyond next season, and he was clearly an Ancelotti signing who no longer fits the current reality of the squad.
That being said, if he wants to stay, I wouldn't be upset. He does offer valuable experience, and his commitment has never been in question.
The other thing that intrigues me about him is that he seems like the sort of player who needs the right midfield balance to truly thrive... and he's almost never had the benefit of that since arriving here.
Mike Gaynes
49
Posted 31/05/2022 at 00:48:35
Bernie #45,
Any player under contract is paid by the club whether injured or healthy. It's the cost of doing business with a perishable asset. But the club will likely have an insurance policy to cover the costs of paying off a top player who suffers a career-ending injury.
Anthony Jones
50
Posted 31/05/2022 at 01:10:17
Midfield needs a revamp. If Allan was good enough, we wouldn't have been so close to relegation. Gomes belongs in Italy. He can leave as well.
Christopher Nicholls
51
Posted 31/05/2022 at 01:47:32
I'm sorry, for me it's best to swerve. We need to reduce the number of players at the club who aren't able to play the majority of games. It's just simple math. And yes, players over 29 have limited impact when you need a fairly wide-ranging rebuild.
We aren't wining the Premier League next season, time for long-term thinking. I'll settle for a youthful, energetic squad, playing decent football and not fighting relegation.
ps: Don't sell your best players. Richarlison, Pickford and Calvert-Lewin should be seen as assets – not as a source of funding.
The 80s were great, but the chances of an Andy Gray style savior happening today are slim and none.
Alan J Thompson
52
Posted 31/05/2022 at 03:41:17
Would I sell for any decent offer? Depends on who I see as his replacement as there needs to be not only a first-choice regular but also some sort of backup. These days it is a squad game, I don't recall anyone playing or just being available for every game this season.
The only way a move may be looked at in isolation is if it has more to do with balancing the books than improving the team.
Malcolm Kitchen
53
Posted 31/05/2022 at 04:59:49
Very good posts.
To pick out one, Fran (20) mentions Price and says sell Delph, Gomes and Davies – spot on! I'd keep Ab though, work on his passing! Warrington was the only midfield guy who got experience at a League club, Tranmere, and did well there, he should get minutes in pre-season, along with Price and Onyango!
The one big signing we've been linked with is Gallagher, he fits our remit perfectly – I'm sure Frank is going to ask about him. Transfermarkt value him at £21.5M – sell Gomes, Davies, Holgate and Rondon there's £40M!
Centre-back is the other position we need, Grillitch, the Austrian centre-back who plays in Germany, 26, is available on a free… that sort of signing, not Tarkowski on £120k a week that Villa have offered.
If Mina can't prove his fitness in summer, the club I've heard will sell, £25M would be great business!
Happy Bank Holiday everyone. My birthday on Friday, great timing that is with the Queen! 😀🏴󠁧󠁢󠁥󠁮󠁧󠁿
Danny O'Neill
54
Posted 31/05/2022 at 06:23:54
We're going on a European Tour 2023-24, Bernie!! After lifting a trophy. I'm full of pre-season optimism again.
I still believe in having experience in the squad, Robert, so I don't think there's any harm in retaining Allan as I don't think we'd get much for him anyway.
In the context of reselling and in hindsight, the club have done well with the likes of Pickford and Richarlison. It's going to be an interesting window as I can only assume we have to sell one of our prize assets to give us room to manoeuvre. I wouldn't want to, but we shouldn't be afraid of doing so providing we re-invest wisely.
I do quite like the prospect of the two young full-backs we have bought. Mykolenko really grew in confidence as the season ended and it can't have been easy for him for personal and footballing reasons. As well as having Godfrey and Branthwaite, we have a very young and promising defence. Although that is a double-edged sword because, if there is one area of the pitch you need experience, it's defence.
In that respect, we still have Seamus and I anticipate one of our two most experienced defenders going. I know who I'd rather it was, but suspect it will be Mina.
Gary Jones
55
Posted 31/05/2022 at 06:26:14
Replacing the entire midfield, in an age of FFP and 5 subs, simply isn't going to be viable in a single summer.
Whilst I'd have seen Allan go before Doucouré personally (both have limits, one athletic enough to help at both ends) I'd certainly not be upset seeing him as an option next year.
Right offer comes in (£10M+) then things change.
Paul Cherrington
56
Posted 31/05/2022 at 07:58:31
I like Allan as a person and he seems a true professional who gives his all when playing. Unfortunately, I just don't think he is up to it as a Premier League player anymore.
As others have mentioned, he is too slow to be truly effective. I also think he lacks a bit of size and strength and gets caught out of position too much as a defensive midfielder.
Would move him on if we get a decent offer tbh. If we want to improve and have a better season next year, he is the sort of player we cannot afford to rely on.
Same with Doucouré. I know a lot rate him but I don't see it. He can't pass, can't hang onto possession, doesn't score enough and is a bit of a headless chicken. Yes, he is athletic and has bags of energy – but that's not enough.
Christine Foster
57
Posted 31/05/2022 at 08:05:54
Rebuilding the team may not be done in one go, Lampard must make the call as to what is replaced in the 1st phase then 2nd and so on. That means some players will be still with us at the end of the window, just simple economics.
Talking of which, I wonder what would have happened had James been kept for the season? Like him or not, on song he was light years ahead of what we had. Ah well...
Danny O'Neill
58
Posted 31/05/2022 at 08:23:07
I understand the age and pace claims on Allan. But I don't agree with the perception of him being a defensive midfielder. He isn't. He's a hunter. He goes to get the ball back and then recycles it.
It's probably a season or two too late and we got him later in his career than when we would have seen the best in him. But I still think he can do a job and influence younger players.
To repeat, he isn't a defensive midfielder. He's a hunter. As is Doucouré. Personally, both are better suited to playing in a 3 with a true defensive midfielder or traditional sweeper sat behind them to let them do their thing.
Just throwing this one out there. I know he's young and we don't want to heap expectation on him, but I'd like to see young Lewis Warrington play behind those two (Allan & Doucoure).
Robert Tressell
59
Posted 31/05/2022 at 10:45:30
I agree with all of that, Danny.
It all gets complicated because Davies, Doucouré and Allan are all now in the final year of their contracts – and Delph leaves this summer. Only Gbamin and Gomes have longer on their contracts (the former being fragile and the latter truly awful). So we need to build the start of a long-term midfield this summer.
To me, it makes sense to retain Allan and Doucouré therefore for one final season as we bed in younger, more talented replacements.
One of them needs to be a proper holding midfielder, rather than a hunter.
Warrington might be the answer but he has miles to go yet. Tranmere went well but it's not a great standard.
Tony Everan
60
Posted 31/05/2022 at 11:22:14
I too have high hopes for Lewis Warrington but it's possibly too soon in his development to be a key first team player. Frank will have to make a judgement call on that.
A club like Derby County would be a good next stage after Tranmere could be a positive stepping stone for him? A bigger club and support with no money looking for quality loan players to get them back into the Championship. The experience could really bring him on, a Mount, Gallagher type of learning curve, the hard way through lower league loans at decent clubs where the competition is tough.
I agree about keeping Allan and Doucoure, at the very least they offer some proper strength in depth and stability whilst we are in transition. Still, the priority has to be getting two more centre-midfielders in to be first-team starters.
Frank as a top-class midfielder I am fully trusting to be all over this. He will know what it takes to have a proper midfield. The big question is can he get the players on his wanted list without making too many compromises?
I too think a proper holding midfielder, and then someone like Conor Gallagher with energy and goals. I'd seriously consider spending £40M of the Richarlison money (if he were to be sold) on Gallagher. Then the remainder on a left-sided attacking replacement like Keane Lewis-Potter or a few other possible options for Frank to develop.
Will Mabon
61
Posted 31/05/2022 at 16:09:49
Not as young as he was, and now has a post-op 6-week recovery to endure. But, as of right now, he is the best midfielder we have.
Derek Thomas
62
Posted 31/05/2022 at 22:32:51
I've just had surgury, that's 6 weeks or more, my agent has heard no whispers but its a long time until the end of August, anything can happen, I'm on Brewsters, I'll wait and see.
Will Mabon
63
Posted 31/05/2022 at 22:35:51
Derek - you can't play midfield though.
Tom Bowers
64
Posted 31/05/2022 at 23:16:31
This has to be the most appropriate time to move out all those players who did little or nothing during the last season for whatever the reason.
Yes, I know there are contracts involved and in the case of perpetually injured players, I sympathize but this club has to start a new era whereby they can compete every week and they have to have strength in depth like the top 6.
Whilst that may not happen next season, one thing for sure is that they not repeat the shenanigans of this last season.
Lamps. must now have a good perception of who he wants to keep and a reliable system of playing so that they don't concede games in the manner they were doing.
Assuming that the board can provide the backing and certain players commit themselves then we have a good chance of winning a lot more games.
We all have opinions about who will go and who will stay and it will be interesting to see what happens.
Already the rumors are rampant about so many players and we are realistic enough to realize that we cannot offer the kind of wages that gets the cream of the crop going to City, RS or Chelski and that won't change anytime soon.
Roger Helm
65
Posted 01/06/2022 at 09:18:07
Christine 57 - If James Rodriguez is so good, how come he is currently playing in Mongolia, or wherever it is he is?
Jerome Shields
66
Posted 03/06/2022 at 09:22:51
Allan is necessary in that defensive midfield role.
Jerome Shields
67
Posted 03/06/2022 at 09:23:06
Allan is necessary in that defensive midfield role.
Danny Baily
68
Posted 03/06/2022 at 09:41:02
I'm not convinced there's a role for Allan at Everton anymore. Given his age, I was hoping we'd be able to recoup whatever we could of his transfer fee.
Mike Price
69
Posted 03/06/2022 at 09:49:14
Mark Ryan #31
Nail on head. Any team would love to play Everton because we have so many slow players: Allan, Coleman, Delph, Rondon, Gomes, Keane, Davies, Mina… and now it looks like another 3 years of Kenny!
Surely The DoF and Frank can see this… I've been banging on about it for decades.
---
Add Your Comments
In order to post a comment, you need to be logged in as a registered user of the site.
Or Sign up as a ToffeeWeb Member — it's free, takes just a few minutes and will allow you to post your comments on articles and Talking Points submissions across the site.