Moshiri acknowledges mistakes in post-season letter to supporters
Wednesday, 8 June, 2022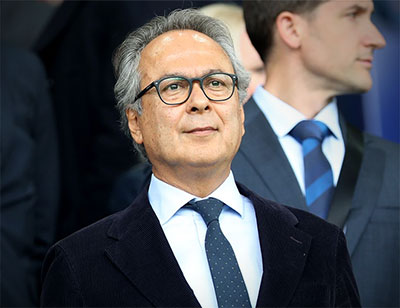 Everton's majority shareholder, Farhad Moshiri, has written to supporters to apologise for the mis-steps that culminated in a traumatic struggle against relegation in 2021-22 and to pledge that the club will do better moving forward.
The Iranian-born billionaire has been in de facto and now de jure control at Goodison Park since 2016 and has ploughed historic levels of funds into the club, chiefly on the recruitment of players, many of whom have failed to make the grade or improve the team's fortunes.
The massive expenditure, combined with compensation payments to sacked managers and the big hit to revenues that came from the Covid-19 pandemic, left Everton with historic losses and hamstrung by the Premier League's profitability and sustainability rules.
A mis-matched squad of players proved incapable of dealing with injuries to key players and struggled badly under the management of controversial hire Rafael Benitez which left the club in danger of being demoted from the top flight by the time the Spaniard was sacked in January.
Article continues below video content
His successor, Frank Lampard, was eventually able to steer the club to safety, thanks in huge part to unprecedented backing from Everton's fans, which has enabled the hierarchy to consider mistakes made and to plan for a more sustainable approach moving forward.
"Mistakes have been made and for that I want to apologise to all of you," Moshiri wrote. "It has not been good enough and we need to do better. You have given us incredible support that helped us over the line when we most needed it, and we must repay that support and show that lessons have been learnt.
"I am committed to securing the future success of the Club by delivering a fully funded stadium that will underpin our status as a leading Club. Of course, the stadium alone will not help us achieve our objectives and we are committed to not making the same mistakes again including how we have not always spent significant amounts of money wisely.
"During the 2021-22 season, the Board led a strategic review of our operations which included looking at working practices, our recruitment process and the whole structure of our footballing operation in order to clearly identify the causes of our under-delivery on the pitch.
"Many of the learnings have already been implemented," he continued, citing the appointments of manager Frank Lampard and Director of Football, Kevin Thelwell, as examples.
Moshiri concluded his letter by mentioning the tremendous response from club officials and the fans to Russia's invasion of Ukraine and the support shown to Vitalii Mykolenko, as well as a planned friendly against Dynamo Kyiv to raise funds for the war-torn country, before signing off with a note of thanks to Evertonians for their unwavering support:
"Thank you for everything you did to support your Club so brilliantly during such a challenging season. You did not deserve the frustration and fear that the season brought.
"Your incredible support is never taken for granted and together we move forward."
---
Reader Comments (94)
Note: the following content is not moderated or vetted by the site owners at the time of submission. Comments are the responsibility of the poster. Disclaimer
Peter Carpenter
1
Posted 08/06/2022 at 20:37:56
I wonder who wrote that for him?
Brian Williams
2
Posted 08/06/2022 at 20:43:11
Doesn't matter who wrote it, it's what's written that's important IMO and there's an admittance of mistakes made and an apology for making them.
That's what most of us wanted, I think?
I know some will pooh-pooh it but I think it's a major step forward.
Paul Kossoff
3
Posted 08/06/2022 at 20:49:44
It's a wonder Moshiri never went for slippy G for our manager. He really should stop interfering and doing favours for his agent friends.

Mike Hayes
4
Posted 08/06/2022 at 20:50:00
A fool and his money are soon parted. The penny has finally dropped –just get rid of Kenwright and Barrett-Baxendale and get people in with footballing brains. Clear out the dead wood and 'jobs for the boys' Yes-men and move on.
Brian Williams
5
Posted 08/06/2022 at 20:50:43
Well, I for one think this is a major step forward – and quite a brave one, to be honest.
I know it'll be met with a lot of cynicism and derision but openly admitting the mistakes and apologising for them is quite profound.
Maybe, just maybe, we'll make progress now.
Colin Metcalfe
6
Posted 08/06/2022 at 20:53:54
Well, that puts an end to rumours of Moshiri selling out and good to hear he is committed to delivering on the stadium.
John Otway
8
Posted 08/06/2022 at 20:59:25
Brian #2. Absolutely agree. The man who never made a mistake, never did anything.
Soren Moyer
9
Posted 08/06/2022 at 21:00:11
Where's my money, lol?
John Keating
10
Posted 08/06/2022 at 21:02:56
How do you lot know about Moshiris' letter?
It was a personal letter to me - surely?
Mind you it's not the first Dear John I've had
They were full of shit too!
Iakovos Iasonidis
11
Posted 08/06/2022 at 21:04:02
It was about time... communication between the board and the fans needs fixing. This is a nice first step.
Peter Mills
12
Posted 08/06/2022 at 21:19:11
Something needed to be said, to draw a line under the shambles of last season. It's been said.
Christy Ring
13
Posted 08/06/2022 at 21:23:14
He has admitted that mistakes were made, so leave team affairs to Lampard and Thelwell, and allow them to revamp the squad, and just give them the funds they need.
Keith Slinger
14
Posted 08/06/2022 at 21:29:31
At last, a bit of class from our owner? He did not have to send this message but he did and my feelings are that it was a touch of trying to connect with the loyal fans that we have.
I have not been loyal for a few years, mainly working abroad and not being able to support the team since I was working abroad.
Everton is in my blood, I hurt when we are beaten as well as cry. I despair when Liverpool win or sign someone who was supposedly coming to Everton.
My blood is Blue, my heart is Blue, my head is Blue… more importantly, my life is Blue!
NSNO, UTFB – We are gonna win summat with Frank!
Brian Murray
15
Posted 08/06/2022 at 21:36:02
One or two in the club will be squirming in their comfy seats with this admission. Better late than never he realises he left the club in totally the wrong hands, half a billion regrets later.
Go for it, Moshiri – start the cull and make us great again.
Derek Knox
16
Posted 08/06/2022 at 21:38:22
As Mike @ 4, says, we'll be very unlikely to achieve any sort of sustained success with Dork and Cindy on the Board; get shut as soon as – before the new season would be ideal. We have a young and ambitious manager, who admittedly is not the finished article, but going in the right direction.
His alleged targets seem to be well thought-out – if we can get them, that is, with a very healthy mixture of young ambitious yet talented players with the odd 'old head' thrown into the mix. The Future's Bright, the Future's Blue! 💙💙
Tommy Carter
17
Posted 08/06/2022 at 21:39:51
Unless I'm informed otherwise, then I believe it was his decision to appoint Benitez.
And as I've stated before, he needs to directly apologise to Everton fans for this fact.
Dale Self
18
Posted 08/06/2022 at 21:46:47
"Mistakes have been made..." coupled with "many learnings have already been implemented..." leave me with the impression of someone who just wants to get past it without any forensic examination of just how perilous our position was and what steps to take to repair the damage.
I'll gladly take his participation in the project given his funding position but the dude is not at all reassuring as an organizational leader. Moshiri is out of his league, I'm afraid.
Peter Carpenter
19
Posted 08/06/2022 at 21:51:55
Dear Fans,
You may have noticed over the past 6 years that I know fuck-all about football — and neither does Bill.
Craig Walker
21
Posted 08/06/2022 at 22:01:33
Signing Harry Winks would demonstrate that we haven't learned anything. I hope that rumour is untrue.
We need to sign young players with ability and the right attitude who can fit into Lampard's vision of the way we play. Not cast-offs from the so-called Big 6 who will be on Easy Street.
Kunal Desai
22
Posted 08/06/2022 at 22:03:20
Either not written by him and he got the PR department of the club to write this up or he is taking the piss.
What strategic review has been undertaken, Farhad? Have you stripped out the board and replaced them with competent folks who can actually perform those duties with a degree of success?
No, of course you haven't, and nothing is changing. This clown will continue to treat the fansbase with utter contempt.
Lee Courtliff
23
Posted 08/06/2022 at 22:03:58
Actions, not words, are needed. Let's hope he has learnt his lesson and we stop appointing staff that divide the fanbase and we stop squandering millions on players who deliver very little.

Tommy Carter
24
Posted 08/06/2022 at 22:11:02
He wanted Vitor Perreira as the Everton manager, he was the first choice of Moshiri, fed to him via Kia Joorabchian.
This is well known and established fact. Moshiri had to be convinced on Lampard.
Moshiri unfortunately is advised in many instances to do with football matters by agents who have established much influence within the game, and who seem to have established their influence upon him.
I do not feel that the motivation of such agents is to help Everton evolve, progress and ultimately achieve.
John Raftery
25
Posted 08/06/2022 at 22:11:11
One of the mistakes made, especially in 2017, was just giving the funds to the manager and director of football. As we all know, they were allowed to embark on a crazy scattergun round of signings from which we are still recovering.
Whoever is filling the roles of DoF and manager, there must be a line of accountability and assurance to the board that all recruitment decisions are soundly based from a footballing and financial standpoint. Without that, we risk repeating previous errors.
There is much to be done to turn the club around. An open acknowledgement that mistakes have been made is a positive first step and to be welcomed.
Brian Murray
26
Posted 08/06/2022 at 22:11:27
I'm not telling fellow Blues how to support the club or go about their business; however, I hope this thread has over 300 posts and some of our brilliant factions take the baton and demand change. They instigated and organised our survival in a way we will never forget, so I say to you all – one last push and demand change at Everton in whatever way you can.
You made me so proud to be an Evertonian. Moshiri has slightly opened the gates to this, whether he means to or not.
Ray Robinson
27
Posted 08/06/2022 at 22:15:56
So, we'll get our new stadium – but don't expect many more expensive signings. That's what I take from the apology.
Time for a different approach with young potential, free signings and loanees – and long overdue.
Mike Gaynes
28
Posted 08/06/2022 at 22:19:52
Well in, Mr Moshiri. As a corporate communications professional, I can tell you that a letter like this from an owner to his fans is an extreme rarity, and it demonstrates a humility you don't often see in the average billionaire owner. And for a guy who is clearly uncomfortable with public interaction, it speaks volumes. Best thing I have seen from him.
Everybody's entitled to their own interpretation, but to me the subtext says "I have now fucked up enough times to realize I don't know how to run a professional sports organization, and I have learned to hire people who do."
It's just what I would have hoped to hear.
Tommy #17, you mean something along the lines of "I want to apologise to all of you"? Done.
Mike Gaynes
29
Posted 08/06/2022 at 22:28:37
Dale #18,
Seems to me that "strategic review" equals what you call "forensic examination". Does it not seem that way to you?
Kevin Molloy
30
Posted 08/06/2022 at 22:30:24
You know what is the most worrying bit about this? Reference to 'a fully funded stadium'. Now for a billionaire, those words should be completely superfluous.
He was offered a rock-bottom loan from the Council about 10 years ago, yet he's now 'committed to securing funding'? It'll be a miracle if this thing goes ahead.
Tommy Carter
31
Posted 08/06/2022 at 22:35:12
Mike @28,
No. There's a lot of 'we' in 'his' apology.
I want him to say that it was his decision to appoint Rafael Benitez as Everton manager, despite enormous resistance both within his own board and from the Everton fanbase.
And that he was wrong to do this. And that this directly initiated the most disastrous of seasons in the history of the football club.
And ultimately, that he is truly sorry for introducing this indelible stain onto the proud institution that is Everton Football Club.
Mike Gaynes
32
Posted 08/06/2022 at 22:43:46
Tommy, the word "I" is displayed in his direct apology, not "we."
As for your hope of abject penitence and self-flagellation for one particular decision, good luck with that.
Excuse the verbal eye-roll, but that ain't remotely realistic.
Mal van Schaick
33
Posted 08/06/2022 at 22:51:20
It is what has been needed to be said. If Everton are to keep our record of being in the top flight of football, then the lessons of last season must be learned.
Moshiri has given his apology, but what will happen if we end up in a dogfight to stay up again next season?
"Many of the learnings have been implemented". So, what about the quality of players that have been recruited over the last 5 years? A handful have proved themselves good enough to play for Everton, but we are laden with poor quality players who got us into last season's predicament.
If you really have learned, clear out this bunch of players bar a few, and recruit quality players.
Tommy Carter
34
Posted 08/06/2022 at 22:57:46
Mike @32
It's almost the single worst decision in the history of the football club. And it was all his. And many people called it for the disaster it would be.
Brian Wilkinson
35
Posted 08/06/2022 at 22:57:47
Hard to top Peter's post @19; I'm not even going to try.
Michael McLoughlin
36
Posted 08/06/2022 at 22:58:06
I think, in his apology, he is saying the way he went about spending over £500 million was a stupid waste of money with an ill-thought-out recruitment policy – similar to the one which saw the demise of Leeds Utd and Portsmouth. Clearly, the strategic review should have taken place in 2016 when he came to the club.
But nevertheless, now that we have had the review, what has it brought? A new manager to replace the manager we sacked. A new director of football to replace the director of football we sacked. We have now got a new coach for the coaches. A recruitment policy which has been forced on us by profitability and sustainability restrictions. Fan input in the board (a good thing in my opinion.
I'm sure there are other changes, as he has stated; many of the proposed improvements have been implemented, so I imagine there are not many others in the pipeline.
I agree with many in these posts that big changes are needed at board level where we can recruit people who know how to run a successful football club. Until that happens, I think he will continue to shoot from the hip and lurch from one crisis to another.
Apologies are all well and good but real change with a real plan orchestrated by people who really know what they are doing is needed at this club. I do hope it is in the proverbial pipeline
Matthew Johnson
37
Posted 08/06/2022 at 23:14:49
Honest question: A lot of people really want Kenwright out, and that's fair enough, but how much influence do we think he actually has in anything, either football matters, financial, business decisions, transfers?
I'm assuming none to any of those, he's just the 'easy to leave' face of the club as a chairman that has supported the club for years. I can't see he really has any power other than being a mascot and getting a free ticket to every match?
Paul Kernot
38
Posted 08/06/2022 at 23:23:52
An apology is a start. Nothing more. He says changes have already been made and yes, we've seen the green shoots of change but I'd say a fair majority of us want board members replaced this side of the start of pre season. Then maybe we'll start believing again.
Mike Gaynes
39
Posted 08/06/2022 at 23:25:08
Not debating that, Tommy. Just saying that your desire for some verbal ritual hara-kiri over that specific decision is wildly unrealistic. Hell will freeze into an asteroid before you read anything like that.
Jay Harris
40
Posted 08/06/2022 at 23:48:35
I see this as just a platitude that is papering over the cracks.
As an absentee owner, why is he leaving the running of the club to a London-based part-time waster who hasn't got a clue?
For fuck's sake, Moshiri, the club needs a well-thought-out plan and a board, management team and squad to deliver it.
We're still waiting.
Pete Clarke
41
Posted 08/06/2022 at 23:53:59
The Chairman's role is massive and it is his role to make sure everybody else is doing their job properly. He has to bring unity and stability. He may well be doing that but only on a level with that of a Mcdonald's and certainly not for a professional football club whose outlay of money realistically should have brought some form of success.
Moshiri can apologise all he wants but, as long as the buffoon he left in place as Chairman stays put, then we will remain a poorly run club.
Then of course we have two of the worst managers in our history attached to the club under his ownership. How he allowed that to take place tells me he is totally disconnected from the club and football in general.
The stadium is his only saving grace and he knows quite well that, once built, he can reclaim all of his losses plus a lot more by selling the club.
The guy has simply made too many mistakes for me to put my trust in –especially with no signs of change happening at board level.
Ian Pilkington
42
Posted 08/06/2022 at 23:58:09
Mathew @37,
I have never heard of a successfully run business that employs a chairman without real power.
Add an absentee owner and a woefully under-qualified CEO and you have the disastrously run business for which Moshiri is belatedly apologising.
Don Alexander
43
Posted 08/06/2022 at 00:04:05
Has Moshiri been in a coma for 5 years?
He and the bloke he says he gave the reins to for 95% of the time have royally fucked us for seasons to come, never mind the years of his coma.
The fact that some of us applaud his apology disheartens me. His and Kenwright's so-called strategic review is meaningless because of the ineptitude inflicted on us since Moshiri bought in.
It's a bit like Trump apologising (as if!) for the years of his appalling presidency but then seeking to reassure everyone that a strategic review led by his trusted minion, Rudi Giuliani, still in post, would deliver much better next time up.
Totally unbelievable until immediate actions render any words unnecessary.
ps: For the avoidance of doubt, Trump and Giuliani are a pair of self-serving cunts!
Jerome Shields
44
Posted 08/06/2022 at 00:08:07
Michael #36
I couldn't have put it better myself.
You learn from your mistakes as long as they are not too costly. Moshiri's mistakes have cost him that much that he is not allowed to spend anymore money under FFP rules.
Surely there should be changes and accountability for the Everton Board? The Board with the second-highest remuneration, after Man Utd, in the Premier League. Mistakes in this case, are a fudge for outright incompetence, which Moshiri appears to be playing along with???
An acknowledgement of mistakes is an attempt to draw a line under fan protest, without substance. Ask Boris if he thinks it will work…
'Review of the Permanent Strategic Plan' and 'Smart thinking' are going to sort out everything. Lucky the stadium development appears to have unnamed managers (like Everton in the Community) who know what they are about.
Bill Gienapp
45
Posted 09/06/2022 at 00:44:12
It all sounds good. But actions will speak louder than words in this instance. And that's really all I have to say on the matter.
Andrew Keatley
46
Posted 09/06/2022 at 00:56:42
Mal (@33),
So if Moshiri were to "clear out this bunch of players bar a few, and recruit quality players" how much is that going to cost?
We cannot spend our way out of the problems we have, and I reckon what you are talking about doing would cost the club at least £100 million in bought-out contracts and transfer fees – and that's assuming we get great deals and target inexpensive players that hit the ground running.
I understand the frustration but what you're suggesting is an untenable solution right now, and we need to be sensible about the players we let leave and the ones we choose to sign. Any aspiration towards a quick fix is going to end in disappointment.
Hopefully change is coming, but it has to be gradual – and I am choosing to believe that process has begun.
Bill Watson
47
Posted 09/06/2022 at 01:01:29
As Mike points out, this sort of apology by a multi-millionaire owner is virtually unprecedented. A long time coming but better late than never.
No heads appear to have rolled but, hopefully, lessons will have been learned and steps taken to ensure those at the top are held accountable for their actions.
I'd really like see a copy of the 'strategic review' but I'm not holding my breath.

Mike Gaynes
48
Posted 09/06/2022 at 01:46:51
Some interesting responses.
I certainly wouldn't want my approval of Moshiri's apology to be "disheartening" to anyone, but does that mean he shouldn't have apologized? Personally I think we fans deserved it, but that's just my opinion.
The apology is "papering over the cracks"? Personally, I think it's a long-overdue acknowledgement that the cracks exist and he's ultimately responsible for them, but that's just my opinion.
The "so-called" strategic review is "meaningless" and "unbelievable" without immediate actions? Personally I think taking more actions without a strategic review of previous failures would simply guarantee more of the same failures, but that's just my opinion.
Moshiri's apology will fail because Boris's apology failed? I don't even have an opinion on that one.
Christine Foster
49
Posted 09/06/2022 at 04:26:58
Generally speaking, this is an acknowledgement of stuff-ups rather than an "l am truly sorry." For it to carry weight, the apology should have teeth to fix what went wrong.
In real life, the people responsible for losing these vast amounts of money would be unceremoniously sacked. If that's the board, then they should be replaced immediately. Failure to do so means either Moshiri believes the bullshit given as reasons by the board (hence the smokescreen of a 'strategic review'); or that he himself is taking full responsibility (unlikely).
So how does it change? He steps back and allows Thelwell and Lampard free rein? Sets a budget that requires a sell-before-you-buy criterion? Sets overall playing budget to achieve profitability? Separates himself from playing matters completely? Or all of the above?
Nice words but, in truth, actions to remedy are still absent.
What was missing was the findings of any strategic review, the consequences of it, the corrective action putting measures in place to prevent a repeat, and removal of the board who allowed it to happen.
Danny O'Neill
50
Posted 09/06/2022 at 05:54:40
I've deliberately not read everyone's comments. I will, but I guess many will all have strong and varied views on this.
Of course someone will have crafted this for him. That's how it works for senior leadership. They just sign it off. But he clearly wanted to put this out there, acknowledging the need and want to put this message out with his name against it.
Credit where due. If you make mistakes, the first step in recovering the situation is to acknowledge them. Only then can you move forward and correct them. Otherwise, you're living in denial and will continue on a downward spiral, making more of the same mistakes.
So, for me, this is a tentative step forward. Although a few years too late, as long as he has now captured those lessons (the strategic review?) and implements the necessary change, then maybe we can realise the vision and potential of moving forward with the new stadium and new beginnings to make a new history.
I don't have a problem if he wants to own the club but then have others run it for him. It's how a lot of businesses and football clubs are run.
But get the right competent people in to do that. Be ruthless. Change the culture from the one that has made our club stand still for 30 years. Not empower the cosy old guard with money that they have no idea what to do with.
And don't interfere. Let the football people look after the football side and give them time to build. Stop the managerial revolving door and give it time.
It sounds simple, but often football is.
So for me, he is expressing commitment to get us into the new stadium at Bramley-Moore Dock and correct the mistakes made. He gets a second chance for me.
Now take ownership, Mr Moshiri. Own it and surround yourself with competent people. Not those who have run Goodison into the ground par a facelift on the outside. Those who because we survived are probably sat there thinking all is good. Those who think the natives will quieten and be pleased with their lot.
No. We won't and we shouldn't. I'm not, I'm still waking up in the night thinking we're 2-0 down against Palace and facing Armageddon.
Everton expects success. Something should be done about it.
Derek Moore
51
Posted 09/06/2022 at 06:03:41
Nice words, but that's all they are right now.
Don't tell us, Moshiri. Show us.
Like quite a few posters in this thread, I'm very skeptical. My biggest fear was the "strategic review" would merely conclude something like "Benitez and Brands were the problem, they are no longer here, we now have no problem."
And nothing I've seen so far contradicts that.
So once again, Moshiri. Don't tell us... Show us.
ps: Good to be back on here after a long break from football. I picked a good day for it, it seems, I only originally came on to comment on the pointlessness of the Nations League or whatever it's called. The League Cup of international football.
Ian Hollingworth
52
Posted 09/06/2022 at 06:56:29
I must commend his apology and it needed to be said.
However the worry for me was around the strategic review carried out by the board. There's the problem as the board are hardly going to recommend replacing themselves are they?
Actions speak louder than words and we really need to see changes. There have been some already – but don't expect any at board level as that just ain't gonna happen, I am afraid.
Bill Griffiths
53
Posted 09/06/2022 at 07:19:55
Well said, Christine. How can you have a full and serious review when it is carried out by the Charlatans responsible for the mess in the first place?
It needed an outside body or panel to carry it out for it to have any meaning. I'm afraid it's more of the same...
Andy Riley
54
Posted 09/06/2022 at 07:55:11
The current board carrying out the supposed strategic review brings an old fashioned phrase to mind – turkeys voting for Christmas!
As others have said, these are nice words from Mr Moshiri but actions speak louder than words and re-instating the shareholders AGM would be a good start.
Andy Meighan
55
Posted 09/06/2022 at 08:00:39
I've been waiting for this apology. I never slept a wink from February until the night after the Palace game. No wonder I look as rough as I do.
I'll say one thing in his favour though – he's delivering on the new stadium at Bramley-Moore Dock.
Martin Mason
56
Posted 09/06/2022 at 08:00:45
Bill @53,
Is it not possible to learn from mistakes? Genuine question.
We have a new season coming up and one transfer window with no fresh cash to prepare for it. I'm positive, though; I believe that the current squad didn't perform as well as the sum of the parts and that it can form the basis of a good side if we can get a couple of good bargains, not necessarily superstars.
I believe that Frank Lampard knows exactly what is needed and that patience and support are needed from us as we make incremental improvement. The appointments of Lampard and Thelwell have hopefully marked the start of the changes needed to improve our fortunes.
I would be very happy to get the basis of the team and tactics sorted out and see some decent performances with a Top 10 position. A very decent side and success, if it ever comes, is almost certainly a minimum of 2-3 years away.
Mal van Schaick
57
Posted 09/06/2022 at 08:07:00
#46. Andrew, I fully understand our financial position and we have to work within our parameters to recruit better quality players. But, I believe this is possible.
We have a number of players out of contract and leaving the club. We have some fringe players that we can move on, maybe to Championship clubs, raising money and freeing the wages bill up. What we cannot do is reward players at Everton who got us into last season's predicament. They must be moved on and fresh players recruited.
Like other clubs in the Premier League, Everton will have forensic accountants who will analyse every option through critical path analysis, which I hope will provide the manager with options for regenerating our squad.
Kim Vivian
58
Posted 09/06/2022 at 08:10:28
"
During the 2021-22 season, the Board led a strategic review of our operations which included looking at working practices, our recruitment process and the whole structure of our footballing operation in order to clearly identify the causes of our under-delivery on the pitch. Many of the learnings have already been implemented
."
Forgive me if I'm wrong but isn't this what the board should be doing on a virtually day to day basis – looking at performance, identifying weaknesses, underpinning strengths and seeking to optimise prospects and performance?
For me the letter apologising for failures was broadly well-received, but sounded a bit hollow if I'm honest and verging on a PPB.
A metaphor for Everton since Moshiri took over is a little like comparing us to the guy who buys a pretty expensive classic car, enjoys using it for a while and, when it starts to squeak and stutter tries to keep it in top order by using "mates" and not-so-cheap second rate mechanics to keep it going, who duly persuade the owner to buy expensive, sometime unnecessary and sometime duplicated parts. The car gradually spends more time off the road until the guy thinks "Sod it, I've had enough of this – I'm getting rid".
But he's started to build a new state of the art storage and maintenance unit for his vehicle so he bites the bullet, gets a half-decent and yet unproven but respected mechanic who has worked with some prestigious marques in to slowly work on rebuilding his pride and joy, but tells the guy he has to use initiative rather than money to the benefit of the car.
The outcome remains to be seen... he either ends up with a classic which he is proud to own and show, or he ends up with an expensive pile of scrap, and a garage unit to sell to the highest bidder.
Summer and next season are going to be a mighty interesting watch. Make no mistake – the clubs around us are not standing still so we need to be quicker off the mark and maintain a stamina to get and remain competitive.
Returning to my original point that the board should, by definition, be carrying out some version of a strategic review virtually daily, they have clearly been slovenly in this regard, and should be taken to task for this.
Thank you for the platitudes, Farhad – much appreciated – but please grow a pair and start implementing the overdue review by rebuilding your project from the very top, down.

Martin Mason
59
Posted 09/06/2022 at 08:11:21
Andrew@46, spot on.
Mark Ryan
60
Posted 09/06/2022 at 08:15:08
Credit to him for saying it. I expected nothing. Credit to him
Paul Hewitt
61
Posted 09/06/2022 at 08:29:24
Actions speak louder than words.
Brian Murray
62
Posted 09/06/2022 at 08:34:32
Farhad. Stop avoiding the two elephants in the room and get proper professional people in. It's costing you a fortune mate.
Andy Walker
63
Posted 09/06/2022 at 08:45:17
Moshiri is the problem. He must go before his football incompetence relegates us.
Ray Roche
64
Posted 09/06/2022 at 09:02:15
So, he says nothing and gets a verbal pasting from some on TW. He apologises and gets a verbal pasting from some on TW.
Hmmmm.
That's about right, isn't it?
Pete Clarke
65
Posted 09/06/2022 at 09:44:06
I know I can be over-critical sometimes but he is obviously still putting his trust in Bill Kenwright to run the club whilst he ponces around in Monaco. In other words, why try and offer an apology when nothing is going to change?
He's actually become a bigger problem than Bill but just happens to have a bit more money. Have we not suffered enough of this absolute crap from these idiots who put the club's future into so much jeopardy?
We know the new ground is what keeps him here because it's going to be worth a fortune but It won't be if we are relegated next season due to past and continued incompetence by the owner and board.
Say something useful, you prick!
Lynn Maher
66
Posted 09/06/2022 at 09:51:36
Ray @64.
My thoughts exactly!
Pat Kelly
67
Posted 09/06/2022 at 09:55:02
As Ian #42, points out, the problem is with the management off the field. Scapegoating managers and DoFs doesn't address this.
Significant change, sufficient to achieve success, will not happen until a professional board and CEO with the requisite experience are appointed. There's no evidence that is going to happen.
Brian Harrison
68
Posted 09/06/2022 at 09:59:26
Like all season ticket holders, I received an email from Farhad Moshiri, the club's owner. I think these are just empty words and empty promises, and his only admission was that mistakes were made and for that he is sorry.
Maybe if he had admitted his own failures that might have been a start, no promise to let the footballing people he has employed being allowed to make the decisions without his interference.
No mention of him going against 90% of the fanbase in appointing Evertons most toxic manager, and sticking by him which almost proved a fatal mistake.
He talks about the part the fans played but fails to say why he wasn't there in the trenches with us while battling relegation, instead choosing to stay in his apartment in Monaco.
He goes on to say that he is committed to the financing and building of the new stadium, but we all know that he and his business partner would stand to lose millions if he tried to sell the club without a new stadium.
Talking of his boss and mentor, not one word about him, has he completely severed all ties with his boss now that he has been sanctioned?
No mention of negotiations with prospective shirt sponsors or how will he be able to bring in sponsors to replace Usmanov's money.
I have absolutely no confidence that Moshiri will change, and he will let his manager in conjunction with his DOF be in sole charge of player buys and sales.
No comment on how he viewed going forward with FFP restrictions, and how long it will be before FFP stops being a major factor in our spending.
Also, since the plans for the new stadium at Bramley-Moore Dock were produced, most fans wanted a 60,000 seater and with what we are told about a growing waiting list, why haven't they looked at increasing the capacity? This wouldn't take any radical change as many clubs next season have applied for standing areas which have been approved.
We were told even in the design of the new stadium, we had the ability if standing areas were approved to increase the capacity to 60,000.
Surely in these economic times, shouldn't a club in a deprived area like Liverpool be applying for a standing area to allow fans to use this area for cheaper seats?
As I said at the beginning, empty words and empty promises.
Dave Abrahams
69
Posted 09/06/2022 at 10:02:22
Ian (42), says it for me and I'd like Jerome (44) to explain the renumeration the Board members receive, not that I doubt what he says but some Everton fans believe that Kenwright has stood as chairman without any pay at all.
Brian Williams
70
Posted 09/06/2022 at 10:20:49
Ray#64.
Ray you beat me to it with your post mate.
He does something which a lot of "fans" have been crying out for and when he does they slate him for not saying it right, for not writing it himself, and not getting down on his knees and admitting to everything from hiring Benitez to being the cause of the monkeypox outbreak.
Towards the latter part of last season I took to visiting, online,
a lot of our upcoming opponents sites. Sometimes there was a thing called "the oppositions view" or something like that.
A fair number of clubs supporters viewed Everton fans as nasty, toxic, and believing they were privileged or self entitled.
There are a fair number of posts on this thread that would greatly support their views.
And to the poster who called Moshiri, the man who, despite the mistakes, has pumped the best part of three quarters of a billion pounds into the club (including the cost to buy it) and has actually secured the dream move we've all wanted for so long, a prick!
Well ask yourself where we might be without the "prick" and with good old Billy boy being the owner.
An old boss of mine once told me "If someone is man enough to admit a mistake to you, offer his hand, and apologise" be man enough to accept it.
Otherwise YOU might look like the prick! (He didn't actually say the last sentence but meh!)
Rob Dolby
71
Posted 09/06/2022 at 10:25:41
He needs to sell up and take bk with him. He has apologised which is at least some sort of acknowledgment. I fully expect another apology next season and every other season that he is in charge.
We aren't going to be competitive whilst those 2 are involved nevermind challenging for stuff.
I just hope he has done a half decent job with the new ground. I have no faith in them whatsoever.
If bk was half the blue he says he is he would have stepped aside years ago acknowledging his failures, instead he is clinging on whilst making himself wealthier year on year.
Michael Kenrick
72
Posted 09/06/2022 at 10:30:47
Matthew @37,
You're right in a sense that Kenwright is the 'face of the club' as Chairman – any game coverage will show you that when the cameras pan across to the Directors Box.
He's been in that role continuously for years (since 2004) and I think everyone accepted it was his role to be in full control of all football matters, financial, business decisions, transfers – even if they had grown to dislike him and his cacophony of lies over the many long years of his presence.
So my question to you would be "When did that change?"
It certainly didn't change when Moshiri came on board in 2016. I believe both men wanted the comfortable arrangement they agreed upon, which was that Kenwright would carry on as Chairman, while Moshiri would provide the much-needed funds – but crucially would spend "less than 5% of his time" looking after club matters.
You might think and expect that the CEO would have taken more responsibility for these things in the new regime but I don't think there's any evidence for that. Perhaps even the opposite if you suspect she was a rather odd appointment that still wreaks of virtue signalling for someone who may well be a very good Office Manager...
Certainly not either of the first two Directors of Football, which appear to have been given very restricted roles that were then persistently interfered with and countermanded from above – despite Brands being appointed to the Management Committee (aka 'Board of Directors'… headed by Kenwright. Still headed by Kenwright.
I suspect this is why many people seem to still see him as being far far more than just a mascot who gets a free ticket to every match.
Danny O'Neill
73
Posted 09/06/2022 at 10:33:28
Fair points Brian and understandable given the emotional turmoil we went through last season and it was us who reacted to help drag the players back from the cliff edge. I'm still having flashbacks.
I'm willing to give these words a chance. Providing he acts on them. I don't expect full disclosure of behind the scenes stuff, but if he is coming out with language like this, action is needed to back it up. And I think the popular vote knows what that action needs to be. So act on your eventual acknowledgement of failure and mistakes. Don't just talk about them, do something about it Mr Moshiri. I feel positive on the footballing and coaching side. But rid this club of it's rotten and out of date core.
Very interesting point on the standing area Brian. Sorry to bore everyone with my Schalke connections, but the Veltins capacity for international or European seated only is around 54,000. They have flexibility to introduce safe standing for league fixtures which gives them a capacity of 62,000. Same stadium, but you can increase the capacity if designed in the right way.
Mike Owen
74
Posted 09/06/2022 at 11:03:12
Dear Farhad,
Nice to hear from you. Hope all is well with you.
As for your email, you say:
"I am committed to securing the future success of the Club by delivering a fully funded stadium that will underpin our status as a leading Club."
Could you explain precisely what you mean by "I am committed to… delivering a fully funded stadium"?
We were told at the club AGM in January 2021 that "the latest guidance" on the cost of the stadium was "in excess of £500million", and "the majority of that, if not all, will be funded by the club… and that will be funded by a combination of debt and equity".
As I understand things, so much money (through equity) has been put up to start construction, to do a limited amount of construction. Everton FC still needs more funding in order to complete the stadium and that funding is not yet in place.
I guess it is because this funding will be borrowing and it isn't the best time to arrange loans. The bottom line for me is: What debt repayments will Everton FC be committed to for the next 25 years?
Also, you refer to "our status as a leading club". Sorry, Farhad, but I don't think we have been a leading club for 30 years. That is "museum" thinking.
I think the starting point for any re-evaluation should be that we were a 20th-Century great which is now a 21st-Century also-ran.
Regards,
Mike
David Bromwell
75
Posted 09/06/2022 at 11:45:13
Interesting morning, letter from Mr Moshiri and then news about the new sponsorship deal. Not really impressed by either although I can clearly understand the need for us to chase some extra easy money.
Whilst we have suffered as the team struggles on and off the pitch got to crisis point last season our problems pale into insignificance to those Mr Moshiri has inflicted on himself. We can only hope that he has learnt from his mistakes, and we see a noticeable change in the management of the Club.
Laurie Hartley
76
Posted 09/06/2022 at 12:02:01
Ray # 64 - you have wonderful way of getting to down to the nitty gritty.
Barry Rathbone
77
Posted 09/06/2022 at 12:06:17
Hope things turn around for him – he seems a decent enough fella – but lumping himself with the classic dilemma of trying to build a successful team whilst building a new stadium flies in the face of modern history. None have managed it!
Bill Griffiths
78
Posted 09/06/2022 at 12:08:30
Martin (#56), I know it's possible to learn from your mistakes but given this lots track record over the last 20 to 30 years that doesn't seem to be the case.
However maybe the penny has finally dropped and we will see changes for the better and I"m hoping that this moment that things are going to change for the better.
I also realise as you say that improvements are more likely to be of a gradual nature rather than a massive leap into the top six straight away.
Still a bit on the fence regarding Frank but am fully behind him and Thelwell.
Can't wait for next season.
John McFarlane Snr
79
Posted 09/06/2022 at 12:58:05
Hi Ray [64] I agree with your comment, the saying, "Damned if he does, and Damned if he doesn't''. springs to mind.
Nick Page
80
Posted 09/06/2022 at 13:59:33
Mistakes - ie washing money through the club - won't happen again now the Russian Roubles have all dried up. First we get the awful sponsorship deal and now this load of nonsense. Going to be a long summer.
Tony Abrahams
81
Posted 09/06/2022 at 15:10:05
This letter makes some people happy, but unless change comes, it's just like teaching a young child how to say sorry, even though you know, you are going to have to tell them again and again, until they really learn.
Our club must be getting ran by an absent owner, if Mr Kenwright is just a figure-head, and how come Denise still hasn't found alternative employment?
Phil Smith
82
Posted 09/06/2022 at 17:34:47
Paul (3), I think he was asked, mate.
Jason Hewly
83
Posted 09/06/2022 at 19:30:42
In related news, Usmanov has a hearing this week with the ECJ about unfreezing his assets. I think the asset freeze on these oligarchs is economically unsustainable in the long run. They own big multinational companies that employ thousands of people. This hearing might be a little early, but a positive judgement for Usmanov will probably come eventually.
Brian Murray
84
Posted 09/06/2022 at 21:03:48
Jason. Does that mean we may get our investment back or is it still an unethical no-no?
Bill Hawker
85
Posted 10/06/2022 at 01:56:16
Okay. He's admitted that the club has been poorly run. Good.
Now, it's time for action after those words. Make the necessary changes and let's move forward.
Danny O'Neill
86
Posted 11/06/2022 at 03:07:37
Wasn't sure where to put this. I'm not yet into my usual state of sat up scouring ToffeeWeb at ridiculous times before dog walking. I'm on US central time.
I always hate to ask Lyndon or Michael as they go above and beyond to join us together. But how about a preseason thread?
McNulty (like him or not), calling the board out already for silence and giving themselves pats on the back for us and the players getting over the line and the sheer emotion we went through.
I just don't want to get told off Michael!!!
James Hughes
87
Posted 11/06/2022 at 09:21:28
Danny,
Where can I find the McNulty article you mention, cheers.
Michael Kenrick
88
Posted 11/06/2022 at 09:32:46
Sorry, James, I moved your post on to this thread, where Danny would have posted his McNulty comment if he wasn't jet-lagged. ;)
At least, that is if he is referring to this Tweet from McNulty, which that atrocious 'Goodison News' website reports thusly:
Phil McNulty sends warning to Everton owner Farhad Moshiri
[Okay, maybe it's just me being jealous and irritated but they are flooding NewsNow with clickbait, getting loads of Ad revenue thanks to Evertonians desperate for any snippet of 'news', and laughing all the way to the internet bank. Grrrr....]
Michael Kenrick
89
Posted 11/06/2022 at 10:14:34
Looking at the time stamps, I think this McNulty tweet came perhaps a few hours before the Moshiri mea culpa apology, which may explain things a bit more…
The main story itself generates a lengthy retrospective today in The Mail (3 days later!), detailing Moshiri's missteps in gruesome detail:
Everton have blown £530MILLION on an underperforming team – including £130M on players who left for FREE... Under-fire owner Farhad Moshiri has overpaid on fees and signed injury-prone stars – it's no wonder he is apologising to fans
It reads (aside from the dreadfully poor typos) as an astounding litany of utter incompetence. Although that is mostly with the benefit of hindsight. The exception being input from data analysts at the Twenty First Group that the author references.
I did have a thought about searching out the transfer threads we had on here for each of the 31 players whose fees account for that £530M, and seeing what posters' projections were at the time... Pah! far too much effort for very little return. 'The proof of the pudding' and all that business.
But to make so many missteps, it can't just be an unhappy sequence of random unconnected events. It has to be utter incompetence.
And not all by Moshiri but mostly by the Chairman he left in place, the theatre and football man who has been the underlying constant underpinning 20+ years of almost terminal decline at Everton Football Club.
James Hughes
90
Posted 11/06/2022 at 10:27:12
Michael, many thanks for the update, it is appreciated
Brian Harrison
91
Posted 11/06/2022 at 10:36:17
I think Mike Owen in his post asks some of the questions that haven't yet been answered.
Moshiri claims he is committed to securing a fully funded stadium, but doesn't elaborate on where that funding is coming from, and considering the stadium build is making good progress, surely by now shouldn't the finances be in place?
Maybe the original plan was for Usmanov to fund the stadium and Everton would have to take out further loans to repay the debt. But that option looks very unlikely in the present climate.
Seeing Moshiri says very little, I guess we may have to wait a long time for those answers.
How much are we allowed to spend on player transactions in the next 2 seasons given our precarious position with FFP?
Will Lampard have to sell before he can buy and does that mean that no player is off-limits regarding sales?
Ian Bennett
92
Posted 11/06/2022 at 11:39:29
Michael, plenty said they were the wrong signings and that we were overpaying for players that had failed at the Top 6. So in our wisdom we paid top dollar expecting a different outcome...
The ones that said it's not our money, or who cares? Well, I hope they were happy with how it transpired.
We assembled a squad with no identity, no character, and no style. £500M to clear it out on top of the wages, and start again. I hope we learn from this.
Philip Bunting
93
Posted 11/06/2022 at 11:39:52
Swings and roundabouts, £530M looks on the face it staggering, but did we not recoup around £250M in sales?
Did we not buy some players worth value that are sitting in the squad now? Pickford, Calvert-Lewin, Richarlison – are they not worth £150M between them?
Yes, we wasted money and I think anyone one of us could have spent wiser but if accounting and reporting on money spent includes money recouped and value if you're reporting facts in newspapers.
Tommy Carter
94
Posted 11/06/2022 at 12:50:21
@93 Philip
Precisely.
Nearly £50M for Gueye and Lookman was good business. Despite Gueye being an outstanding player and one we have very much missed, £30M was a good price for a player of his age.
Likewise, £100M for Lukaku, Barkley and Deulofeu the previous year. Lukaku has obviously been a huge miss but Deulofeu and Barkley were replaceable.
Not to mention we have assets in Calvert-Lewin (£60M), Richarlison (£75M), Gordon (£20M), Pickford (£20M) on our books currently.
The above clearly illustrates however, that successful business can be achieved by bringing in talent at a certain price and moving them on at a profit. Lookman being a great example of this. He was given enough of an opportunity and never showed that he was going to be a top player for Everton.
Liverpool have done it remarkably well in the last few years with strong fees achieved for the likes of Jordon Ibe, Brewster, Brad Smith, Danny Ward, Solanke, Wilson, Hoever etc.
No hanging on for years waiting for these players to make their breakthrough – despite in some instances massive potential.
Clinical decisions. Opportunities given to most of those players and if they didn't seize it – sell. Big money. Lots of which has funded their club buying exactly who they want.
Tony Twist
95
Posted 11/06/2022 at 17:23:19
It is so sad but it is true – you can see how blue Bill persuaded him to buy Everton. Talk is cheap, Mr Moshiri, you need to make a statement with your actions now and work tirelessly to make this club the biggest in the Premier League.
We should have been almost there but you and the other people on the board have been clueless and totally out of touch. Everton are seen as clueless because of you and the actions passed by the board and by not learning from previous mistakes.
Things don't seem to have changed if the rumours about Richarlison going to Spurs for £51M are true. Clueless, yet again, clueless.
Tony Hill
96
Posted 11/06/2022 at 17:57:30
Luck, you know, luck is what matters a lot. The falling of events. We're due a bit of that after decades.
Liverpool, Tommy @94, after a strong start may, I think, have drawn a bad one in Diaz who was shut down completely by Carvajal, have certainly done so in Keita and may well be about to do so in Nunez. Jota looks like he's going off too. Every club fucks up, though I accept we have done so more than most.
Of course, it isn't about Moshiri, it's still about Usmanov. Those Russians, they bide their time and keep on and on and on for the long prize. He won't have given up on the Atlantic-facing fruits of BMD, Uncle Alisher and his sponsors.
Money, luck and toughness of mind count, in that order. Luck, though, that's the thing I want for us.
---
Add Your Comments
In order to post a comment, you need to be logged in as a registered user of the site.
Or Sign up as a ToffeeWeb Member — it's free, takes just a few minutes and will allow you to post your comments on articles and Talking Points submissions across the site.