Report: Peter Kenyon heading consortium to take over Everton
Monday, 13 June, 2022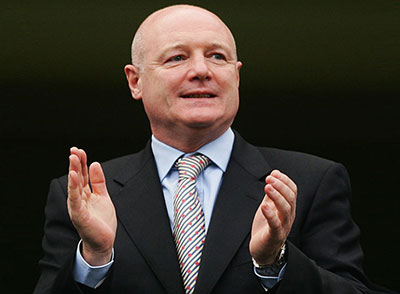 Updated The former CEO of Manchester United and Chelsea, Peter Kenyon, is reportedly spearheading a consortium intent on taking over Everton from Farhad Moshiri.
According to an exclusive claimed by The Telegraph, the group, which includes the chief executive of Minneapolis-based Talon Real Estate, Maciek Kaminski, and American businessman John Thornton and is being advised by investment specialist Michael Klein, along with the US law firm Weil, Gotshal and Manges, has already entered talks with the Blues' current majority shareholder.
Though talks, which initially centred around financing the stadium at Bramley-Moore Dock but evolved to a proposal to buy the entire club, are said to be in the preliminary stages, the report suggests that heads of terms are already in place, signalling the intent by both parties to progress.
Moshiri is said to value Everton in excess of £500m, a figure that includes the club's debts but Sportsmail say that Kenyon's consortium is offering £400m at this stage.
Article continues below video content
Kenyon and his partners may seek assurances that Everton will not be subject to any action from the Premier League, either by way of a heavy fine or points deduction in relation to Profit and Sustainability rules before entering into any formal agreement. The club have consistently maintained, however, that they remain compliant and have comfortable headroom regarding the League's financial regulations.
Meanwhile, The Mirror report that Everton have been the subject of interest from four different parties, with Kenyon's consortium the most advanced in terms of negotiations.
None of the club's hierarchy have, as yet, responded to the reports which come on the heels of speculation that Moshiri would be willing to listen to reasonable offers to either buy out his 94% stake-holding in Everton entirely or invest in a portion of the club.
The Iranian-born billionaire arrived at Goodison Park to much fanfare in February 2016 but despite pumping as much as £685m into Everton , much of it spent on ill-suited and expensive players, has struggled to progress the club on the pitch.
He has, however, initiated a successful solution to the Blues' long-standing stadium dilemma by securing a site for a new ground at Bramley-Moore Dock and funded the initial construction to date. In a letter to supporters last week, Moshiri reiterated his pledge to deliver a fully-funded stadium, with the remainder of the estimated £500m construction costs also expected to be funded privately. Those costs would have to be factored in by any buyer and will likely affect the price of any buy-out offer which would, as a consequence, be the biggest stumbling block to any takeover deal.
Moshiri's estimated net worth has reached as high as £2.9bn in recent years but has taken a hit following Russia's invasion of Ukraine, the resulting personal sanctions against his business partner Alisher Usmanov and the general impact of the war on USM Holdings.
Further updates from The Telegraph on 14 June suggested that Kenyon's group had been granted exclusivity as talks continue over a potential buyout and that while Kenyon is likely to take a role in the running of the club if the takeover is successful, it is Kaminski who is "providing the greatest financial weight behind the bid".
---
Reader Comments (394)
Note: the following content is not moderated or vetted by the site owners at the time of submission. Comments are the responsibility of the poster. Disclaimer
Marc Hints
1
Posted 13/06/2022 at 18:22:34
Wow! Moshiri looking to sell to a consortium headed up by Peter Kenyon… interesting!
Brian Murray
2
Posted 13/06/2022 at 18:23:27
Just been on Toffee TV. Peter Kenyon leading a consortium to buy Everton. They want assurances there will be no points deduction. Go 'ed, lads bring your A-game!
Brian Murray
5
Posted 13/06/2022 at 18:32:04
Danny, if this happens, your dream of title winners before the new stadium at Bramley-Moore Dock opens may happen ha ha coyb, I'll have a street party for one obvious reason.
Michael Lynch
7
Posted 13/06/2022 at 18:35:41
Roger Kenyon maybe… but Peter Kenyon is an utter slime ball who should be nowhere near our club.
Brian Murray
9
Posted 13/06/2022 at 18:37:58
Michael. A bit early for the lynch mob (if you pardon the pun). We need people who know football and business, don't you reckon?
Kevin Molloy
10
Posted 13/06/2022 at 18:47:02
Here we go. We may well have to say 'adios' to the new stadium at Bramley-Moore Dock.
Does anyone seriously think Farhad will give two flying ones if it's built? He wants his money and to scram.
It's in the lap of the gods now whether this consortium is the real deal or the new Burnley. Let's hope for the best. One unalloyed piece of good news is that that total fuckwit is selling up.
Peter Neilson
11
Posted 13/06/2022 at 18:49:15
Reported that heads of terms has been signed. If correct then there's some negotiation going on and the club's up for sale if the price is right — and they can agree to Bill's ongoing role.
Paul Hewitt
12
Posted 13/06/2022 at 18:51:16
Thornton is worth $31 billion.
Alan McGuffog
13
Posted 13/06/2022 at 18:57:03
Owners may come and owners may go but the world's greatest Evertonian will still be there, clinging on like a limpet.
Michael Lynch
14
Posted 13/06/2022 at 18:58:13
Brian, just Google him.
Anthony Murphy
15
Posted 13/06/2022 at 18:59:20
I wonder if Moshiri will try to keep an interest in the new stadium at Bramley-Moore Dock and lease it to us, should he sell up?
Tony Hill
16
Posted 13/06/2022 at 19:01:57
Interesting Chinese links involving John Thornton. Can our American people tell us more about him and Kaminski?
Brian Murray
17
Posted 13/06/2022 at 19:04:45
Tony Abrahams. Are you out there! The Milky Bars are on you if this comes off. 😆💙
Brian Harrison
18
Posted 13/06/2022 at 19:14:35
I have no idea if these rumours of a takeover are true, but even if true it won't matter how much money the consortium have while we are in serious financial FFP situation.
The positive is we wouldn't have Moshiri involved which for me is a massive plus.
Nick Page
19
Posted 13/06/2022 at 19:40:19
Hahahaha… a Peter Kenyon "consortium" — Including NTL, Fortress Sports Sports, Chris Samuelson, Trevor Birch, Keith Wyness and fucking Pinocchio.
I hope they understand the trainset model of mediocrity.
Gary Jones
20
Posted 13/06/2022 at 19:40:35
Woooah. Out of nowhere….
Dave Abrahams
21
Posted 13/06/2022 at 19:52:04
Paul,
"Thornton is worth £31 Billion" — Are you sure?
The company he works for is worth £31 Billion… I think Thornton is worth a lot less, over £30 Billion less!!
Shane Corcoran
22
Posted 13/06/2022 at 19:57:13
Bill will have to work even harder than 24/7 to make sure he's kept on…
Nick Page
23
Posted 13/06/2022 at 20:05:42
Chairman Bill of The Democratic Peoples Club of Everton ain't for movin'. Until he has at least an entire stand named after himself and/or a statue on the concourse depicting the moment he remortgaged his house to save the club. Brings a tear to my eye, and not the ones in my head.
Jay Evans
24
Posted 13/06/2022 at 20:17:42
Matt Law from The Telegraph now reporting on this alleged takeover.
Pat Kelly
25
Posted 13/06/2022 at 20:21:35
Forget all the deadbeats we've been linked with. We're getting new billionaire owners.
Soren Moyer
26
Posted 13/06/2022 at 20:27:27
Well, now that Saudis' take over of the Barcodes has been approved, how about accepting any incoming bid from the likes of Pol Pot of Cambodia or Kim Jong-un!?
Brian Murray
27
Posted 13/06/2022 at 20:31:19
So does this mean we will be known as Thornton's Toffees…!!!
Tony Graham
28
Posted 13/06/2022 at 20:31:38
Hope this comes true.
Say what you like, but Americans know how to run big businesses
Moshiri needs to sell and recoup his wasted cash.
Clive Rogers
29
Posted 13/06/2022 at 20:52:36
Thornton is not a billionaire. It appears he is worth about $4.5 million.
Tony Hill
30
Posted 13/06/2022 at 21:09:21
Not a pretty bunch by the sounds of it, though Kenyon's record
wasn't bad at all. As ever, who knows where the money may come from - I suspect this will prove a hollow rumour anyway.
If we're going to reject owners/funders on ethical grounds, we really ought to have started with Green and then Usmanov whose accountant is our current proprietor. The moral ship sailed long ago, possibly when we signed up along with everyone else to the Skybollox.
Tony Hill
31
Posted 13/06/2022 at 21:14:50
Given Thornton's connections could there be a Chinese angle here somewhere in the background? Total speculation, obviously.
Mark Ryan
32
Posted 13/06/2022 at 21:20:08
Exciting news if you can believe what The Guardian and The Telegraph are reporting. Kenyon will see the back of Kenwright for sure. Hope this has legs, sounds very, very promising.
Dale Self
34
Posted 13/06/2022 at 21:47:02
First the Saudis, now it's the Kenyons.
Danny O'Neill
35
Posted 13/06/2022 at 21:47:05
If to be believed, there are apparently some serious business heads involved in this.
John Pickles
36
Posted 13/06/2022 at 22:01:17
Another Man Utd cast-off... :)
Raymond Fox
37
Posted 13/06/2022 at 22:05:41
The FA have probably tipped Moshiri the wink and told him "Best if you and your mate bugger off!"
It's not football now though, it's a game of "We've got loads more money, okay!"
Kevin Molloy
38
Posted 13/06/2022 at 22:11:41
American 'investors' with no background in sports management raises a major alarm bell. The people involved don't seem to be particularly wealthy, and seem to be viewing Everton as an investment.
Early signs are worrying, if this turns out to be a leveraged buy out, then Kenwright needs to be front and centre raising the alarm whilst there may be an opportunity to 'scare them off'.
If we end up getting sold, and Kenwright says post the sale 'I wasn't able to find out how they were financing it' that won't wash.
Christine Foster
39
Posted 13/06/2022 at 22:20:01
I remember thinking after reading Moshiri's letter that the commitment to ensuring the new stadium could mean through selling, but I shook me head at my own cynicism… seems I should pay more attention to myself!
It's been doing the rounds since Richard Keys said we were being touted around for interest. It seems Moshiri has had enough and wants out, especially as his best mate is no longer behind him. I just think this story has legs...and any other bit..
I wonder if Moshiri will keep an interest but sell 75%?
Tony Twist
40
Posted 13/06/2022 at 22:21:27
Oh for stability for once. It is the only consistent thing of the Moshiri era and that is the club lurching from one disaster to the next.
John Chambers
41
Posted 13/06/2022 at 22:23:23
Can't see this as a big positive. Quick bit or digging on the internet looks like Kaminski is worth about $1Bn (say £800M) and Thornton maybe $5M. This combined is about half of what Moshiri is worth.
Bill Gall
42
Posted 13/06/2022 at 22:24:38
May be a case of the devil you know and the devil you don't.
Christine Foster
43
Posted 13/06/2022 at 22:25:35
Whether or not it's this consortium buys the club, the cat is out the bag, we are for sale.
Brian Ronson
44
Posted 13/06/2022 at 22:26:38
One of the alleged bidders has links to Donald Trump. If that is the case, then sorry, that's me done if it comes to pass. There are more important things in life than football and I am afraid Everton will not be Everton anymore. After a lifetime of following them, that would be it.
Joe McMahon
45
Posted 13/06/2022 at 22:28:11
Why can't we sell to mega-rich Saudis like everyone else? (Not opening the Human Rights debate…)
Gary Jones
46
Posted 13/06/2022 at 22:31:19
If you'd throw away your Everton support over "links to Donald Trump", you've got seriously weird 'orange man' phobia.
Bill Gall
47
Posted 13/06/2022 at 22:38:50
Christine,
I believe that most clubs are for sale at the right price.
To become owners of Everton you have to have the majority of shares and as Moshiri through his Blue Heaven Holdings Limited holds over 92% of shares he will have the benefit of selling his.
Bill Kenwright only holds 1.72% of shares so there is no need to even discuss a sale with him.
John Chambers
48
Posted 13/06/2022 at 22:39:57
I wondered a while ago about Tim Cahill's involvement with the club. He is heavily linked with the Aspire Academy in Qatar:
https://en.wikipedia.org/wiki/Aspire_Academy
Whilst there may be a number of moral issues this would seem a more logical route for a sale, with perhaps Cahill coming in as CEO.
Brian Ronson
49
Posted 13/06/2022 at 22:42:01
Gary Jones, you are totally immoral.
Neil Copeland
50
Posted 13/06/2022 at 22:42:49
I can't ever imagine "being done with Everton". How does that even work?
Even when they really piss me off which is obviously quite often and I really, truly hate them, I still absolutely love them. I would go to the end of the earth and die for them if I thought it would help.
Needless to say, I find comments like that completely alien but each to their own.
Kunal Desai
51
Posted 13/06/2022 at 22:46:48
If this is a Glazer or Gilette and Hicks style one where the intentions are to saddle the club with debt then no thankyou.
I'd certainly welcome this if there is an ambition to improve the club on and off the field, year-on-year, together with promoting a positive brand of football and we can be seen to be competitive whilst heading in an upwards trajectory.
Above all, I want those at the club that actually are interested in seeing this club progressing and looking for some level of success in the longer term, that clearly comes with a plan.
People with a vison and strategy will certainly be welcomed. Out with the old and in with the new.
Pat Kelly
53
Posted 13/06/2022 at 22:47:57
Links to Donald Trump? This could be MEGA! Make Everton Great Again.
Derek Thomas
54
Posted 13/06/2022 at 22:48:04
Bill,
The devil(s) you know? Trouble is while we 'know' him – we also know he doesn't have the first fucking clue about football, or, looking at the money wasted, business either.
If any new guys can get us running even remotely well, then let's give them a go. Even 'In a half arsed manner' would be a significant step up.
Like we have any actual say anyway.
Gary Jones
55
Posted 13/06/2022 at 22:48:38
No Brian, I just put the love of my club above my crusading political spasms. Can't stand the man, but "links to" would not stop me loving my club any less than Moshiri's links to Putin's mates.
Paul Birmingham
56
Posted 13/06/2022 at 22:54:30
I don't know enough about the credibility of this story, coming just a few days after Moshiri's statement of intent and admission of past mistakes at the EFC board level.
Where's the value of £500M come from, as the new ground at Bramley-Moore Dock, will be worth or in excess of this figure.
I hope this doesn't impact pre-season plans and any transfer activity, as next season must be a new starting point for Everton.
Joe McMahon
57
Posted 13/06/2022 at 22:55:02
What is the link to Trump? Let's not get too high and mighty – look at where the World Cup is. Big money is often not associated with run-of-the-mill regular people.
To quote a New Model Army song… "for every winner means a loser in the Western dream".
Soren Moyer
58
Posted 13/06/2022 at 23:05:17
Hell yeah! If you got the dosh, we've got "the" Mosh!
Dale Self
59
Posted 13/06/2022 at 23:11:23
Ooh, it is just a shame we can't get some of our loser crypto Bros in on this deal. I guess they've got a queue of withdrawals to deal with so they are unavailable.
Maybe if things go south for Trump there will be some PAC money available for some investments to keep Vanky and Jared flush.
Tom Bowers
60
Posted 13/06/2022 at 23:12:32
The Peter Kenyon rumour is just that, a rumour, one of many you will read about Everton this Summer.
Shane Corcoran
61
Posted 13/06/2022 at 23:13:30
Joe, surely the first time New Model Army made it on to ToffeeWeb.
Si Pulford
62
Posted 13/06/2022 at 23:22:40
Derek,
While I agree he doesn't have a clue about football, to say that multi-billionaire British Iranian businessman Farhad Moshiri doesn't have a clue about business is mental. I'd love to be that clueless, then I wouldn't be worried about inflation etc.
Si Pulford
63
Posted 13/06/2022 at 23:29:09
Being 'linked' with Trump getting people all hot under the collar.
Maybe we should all calm down about a link to someone until we know what that link is?
Seems to me like we love a bit of self-righteous fume and virtue signalling on TW.
Dale Self
64
Posted 13/06/2022 at 23:34:18
One person said he would bail and then there were a number of TW caring types letting him know that it's okay now that others are taking Saudi money.
The righteousness is coming from those who are criticizing his decision not to be associated with that kind of support. It's each fan's call and they don't need anyone else advising them on morals or standards.
Gavin Johnson
65
Posted 13/06/2022 at 23:47:45
While none of the individuals in this consortium have the personal wealth of Moshiri or Usmanov, they are involved in huge businesses and would probably have more vision and clout for attracting bigger sponsorships.
If this means that we are run better and we see the end of Kenwright, I'm behind it.
Michael McLoughlin
66
Posted 13/06/2022 at 23:53:36
The news comes as a surprise but, to me, it obviously has some merit. The Americans who have been named, Matthew Kaminski and John Thornton, are real people but don't have any experience of running a sports club or indeed a franchise.
While Thornton is a bigwig in Barrick Gold, a company that is worth $32Bn, I can't find his worth. Kaminski is connected to Talon Real Estate Property Holdings which has a worth of $5M+ and in 2019 was reported worryingly whether it was a going concern or not.
Again I can't find his worth either. But have looked on Forbes and they are not listed as billionaires.
This smacks as a leveraged buy as someone else has suggested and I do believe the stadium will be built then they will sell it again. When you have Chelsea being sold at £4Bn, that makes economic sense.
I suppose they would have to invest in the team to remain in the top flight but, for me, it's a risky experiment.
Laurie Hartley
67
Posted 13/06/2022 at 23:58:29
I don't think we need this speculation at the moment. Our squad are not world beaters but they certainly did under-perform last season.
My feeling is that part of the reason for that was the disruption caused by Carlo leaving, the appointment of Benitez, the sacking of Brands, the selling of Digne, and then the fight over the appointment of a new manager. Their heads must have been spinning.
I was hoping for a period of stability while our new manager rebuilds the squad and the owner delivers on his promise to build the new stadium.
Neil Tyrrell
68
Posted 13/06/2022 at 00:01:23
What Gavin said.
If they're proper businessmen who will hire proper football people to run the club, that would be a good start. Hard to imagine anyone doing worse than the current owner and chairman have.
Gavin Johnson
69
Posted 14/06/2022 at 00:04:12
Neil,
Peter Kenyon as chairman would be a huge upgrade on Bill and Barrett-Baxendale.
Bill Watson
70
Posted 14/06/2022 at 00:28:07
Kaminski is reckoned to be worth around $1Bn but Thornton's only worth around $8M. In the modern football world, they're paupers.
Talon Real Estate invest in industrial and commercial properties and they could be sniffing money to be made in the north end docks area.
Swerve.
Don Alexander
71
Posted 14/06/2022 at 00:29:02
Let's get real. Everyone in the worldwide world of football has long since easily identified us as a club whose fanbase will endure decades-long spread-eagling over a barrel whilst various alleged owners contrive to remunerate themselves as their top priority whilst fucking the fans senseless.
The current incumbents exemplify that strategy (except Moshiri has exposed himself to worldwide ridicule on account of his all too public buffoonery).
He's now placed his and our very own bollocks in the grasp of the very next shyster to buy into us as the next benefactor, regardless of the views of the fanbase. Meanwhile, the self-termed world's greatest Evertonian remains silent until he sees how he personally can best profit.
Suck it up, again, fellow Blues, and cheers Farhad but your apology doesn't begin to cover it.
Michael McGrath
72
Posted 14/06/2022 at 00:29:42
This to me in basic simple terms means that if Moshiri sells out for £400M, then he takes a loss of £200M on the chin to get out still alive.
More important, it seems it will change the financial blame as the new consortium can't be held to blame under FFP for the sins of the outgoing directors.
Thus, Everton should be back in transfer moolah… Bring it on!
Lyndon Lloyd
73
Posted 14/06/2022 at 00:32:13
Joe (57): "
What is the link to Trump?
"
Thornton is said to be a close associate of Steve Bannon, notorious extreme right-winger, uber-capitalist and reputed white supremacist (actual white supremacist, not the contorted and stretched definition of what is actually white predominance that is now all the rage) who was once Trump's right-hand man before the orange numpty turfed him out on his ear.
There's also a photograph doing the rounds on Twitter of Thornton lunching with Bannon and Nigel Farage in London and he was apparently a special Trump envoy to China during the trade negotiations a few years ago.
There's plenty you could say and many are saying it but I would argue that if Alisher Usmanov's involvement (which may have extended as far as shadow owner, depending on who you believe), wasn't a red line for you then having a Bannon/Trump acolyte involved in the financing of a consortium buying out Everton probably shouldn't be either.
Not that that makes it palatable, of course, but as we're seeing across the Premier League now, the kind of money needed to buy football clubs these days is dirty in ways you probably don't want to know about.
Elite-level football has become a very grubby arena indeed.
Joe Corgan
74
Posted 14/06/2022 at 00:40:26
Like most of us, I know nothing about these guys but I'm not sure they can't be any worse than our lad Farhad.
Moshiri has been an unmitigated disaster, in my opinion. Less than 2 years before he bought the majority shareholding, we finished 5th with our record Premier League points total. Since then, no European campaigns and one of the closest shaves with relegation in our history. Money has been spunked up the wall while vision and strategy have been non-existent.
Moshiri's only saving grace is securing a new stadium, assuming it continues apace. I believe it was always Moshiri's intention to build a new stadium and flip the club for a profit. His plans may now have been accelerated with the sanctioning of Usmanov.
It is not beyond the realms of possibility that Moshiri may even have put feelers out looking for potential new buyers. While this deal still seems a long way off, time will tell whether it could be a net positive.
Gavin Johnson
75
Posted 14/06/2022 at 01:04:24
Daily Mirror saying there are 4 interested parties.
The report doing the rounds this evening about the Peter Kenyon consortium states they want assurances about possible FFP ramifications, before it says Everton are confident of no wrongdoing.
Well, if the club is sold to new owners or investors, are they going to be culpable anyway... Or would it be a clean slate? Does anyone have a clear answer on this?
Don Alexander
76
Posted 14/06/2022 at 01:08:01
Lyndon (#73) am I right in assuming you are becoming as jaded as I am, with many other TWers, about the way football is, err, "developing"?
Mike Gaynes
77
Posted 14/06/2022 at 01:08:21
Lyndon #73, amen. John Thornton is, in fact, a devoted Trump/Bannon acolyte who represented Bleach Boy in the US/China trade deal and subsequent trade war. His primary contribution has been to help funnel US investment money to China to the advantage of Trump's business friends. He is a close neighbor of Trump and is cordially despised by most of his Palm Beach neighbors, several of whom have been involved in legal disputes with him.
Barrick Gold, of which he is chairman, is one of the most contemptible corporate entities on earth, undisputed perpetrator of human rights abominations in Tanzania and New Guinea:
Murder, rape and claims of contamination at a Tanzanian goldmine
Porgera United Human Rights Organizations Joint Statement
John Thornton makes Newcastle's new Saudi owners look like Nelson Mandela. If this scumbag is involved in this proposal in any way, it should be blown off the table with a water cannon.
Kristian Boyce
78
Posted 13/06/2022 at 01:29:46
Saw another report claiming that there are 3 more parties also interested in the club. Timing of this is interesting as if Morshiri is actively trying to offload, maybe him being only the figurehead to Usmanov's ownership might have some truth in it.
While Morshiri's finances have taken a huge hit from the current world situation, plus the money he's blown already on the club, Usmanov has taken a far greater blow.
Rumours of the club being for sale were being floated back in January and February time. This could explain the timing, as it's a bit odd that he'd be willing to sell now. You would've thought he would wait until the stadium was finished, which would add considerable value to the deal.
Without Usmanov's wallet, and the FFP mess his own reign has caused, we're in probably in a worse state than when he first got here. Instead of ploughing his own money into the project, he probably wants out before even more losses.
What will be interesting though will be if he sells up the rumoured interest he has in property and land around the city, especially close to the docks.
Darragh Farrell
79
Posted 14/06/2022 at 01:59:50
This Kenyon-led consortium of grifters could well be worse than Moshiri. While him and Usmanov might have been waiting on the stadium to flip the club, Usmanov, other oligarchs, the Emirati etc. use football to boost their prestige.
American owners, on the other hand, tend to focus purely on the profit, to hell with sentiment and tradition. This consortium sounds like the worst type of American owners. They will get their profit even if it means burning down the house.
They'd probably sell the new stadium to the red shite, pocket any profit, and move our "franchise" in with Tranmere. I just hope some of the other prospective buyers are a bit more credible.
Pete Clarke
80
Posted 14/06/2022 at 02:16:28
Could be that the penny has dropped with Moshiri and he knows being a part-time owner and leaving Kenwright in charge of things is just financial suicide and his gamble has backfired. Bill probably sold a plan to him that he could just take care of things as he had successfully done for years. Not!
Makes sense that he's had enough but, with his recent apology and backing of the stadium, it just adds to a more confusing and destabilizing future.
Danny O'Neill
82
Posted 14/06/2022 at 02:22:57
Not sure why we brought politics into it. Trump? Got nothing to do with Everton.
Anyway, why the American bashing? Every investment in a football club is, well, an investment. The investors put money in to get money out with the aim of trying to achieve success.
Sir John Moores was no different.
And sorry to risk being reprimanded by Michael for over mention, but that lot haven't done too bad being run as an effective business by US owners. Success followed on the pitch.
And if there is truth in this, we do have an individual who has been on the board of two of the most successful clubs in English football over the past few decades leading it, for those who want the sports club experience tick in the box.
If it's true. But clearly we appear to be for sale. Let's wait and see where this one goes before throwing dummies, spitting froth and getting overly emotional. We haven't sold to Donald Trump just yet.
Lyndon Lloyd
84
Posted 14/06/2022 at 03:09:20
Don: "
Lyndon (#73) am I right in assuming you are becoming as jaded as I am, with many other TWers, about the way football is, err, "developing"?
"
Yes. The endless rule-changes aside, I love the actual game — as it pertains to 11 v 11 on the pitch — as much as ever, obviously, but I'm thoroughly disillusioned with FIFA, UEFA, the obscene imbalances at the top end of the big five leagues, VAR, again, IFAB, dicking around with the rules, and, yes the ugly side of club ownership.
When you've got clubs owned by countries and sovereign wealth funds, something is very off.
Jerome Shields
86
Posted 14/06/2022 at 03:18:13
Everton up for sale. Moshiri recognising mistakes were made, but not confident having survived relegation that things will turn around for him. Obviously not convinced of so called 'smart thinking'.
Of course Everton in it's present condition will attract interest, which could be undesirable interest, such is the Premier League. I can see the latter giving assurances regarding status, if money is available. They will have no qualms about that, for sure.
Bernie Quinn
87
Posted 14/06/2022 at 03:30:17
Hey everyone,
This is just newspaper talk at present and yet this thread is full of pessimism. Why not calm down and just wait for some definite news? It's not as though we have any say in the matter anyway.
Michael McGrath
90
Posted 14/06/2022 at 03:37:14
Richarlison's transfer will now be off!
Everton can't buy and sell players while the club is being sold!

Mike Gaynes
91
Posted 14/06/2022 at 03:37:18
Bernie, please stop being calm and reasonable. It's really aggravating my meltdown.
Danny O'Neill
92
Posted 14/06/2022 at 03:48:25
Exactly Bernie.
Let's see where this takes us.
August and the first match. That's my current focus. What will be will be. All we can do is follow like we always have and will do. In person or in spirit from afar.
Christopher Nicholls
97
Posted 14/06/2022 at 04:20:15
I'm with Mike. These scumbags are truly scumbags of the highest order.
I'm sorry but for me winning does not come at any price.

Gerry Killen
100
Posted 14/06/2022 at 04:38:30
Let's wait before we all jump to conclusions. As I have stated on another link, we have got a great opportunity to showcase our club with the upcoming tour of the USA and there will be plenty of rich shrewed businessmen and cartels looking out to buy into the money train that is the Premier League.
We as fans need to be actively involved in any takeover of our club, we will need assurance that Frank and his staff remain in charge.
Have you ever wondered why the likes of Kenyon would be operating from Jersey? He's just another tax dodger and knows the Inland Revenue can't touch him while he lives there.
Derek Moore
102
Posted 14/06/2022 at 05:03:07
So much for Moshiri not wanting out.
Seems as if this getting into the press might be or is a way of forcing other parties' hands. Smoking out those who are interested in essence.
With interest rates across the world rising rapidly, one fears an Everton takeover financed on debt would ruin us.
I'm watching with interest. And no little alarm.
Alan J Thompson
103
Posted 14/06/2022 at 06:24:19
Have no fear, my friends, Bill is still here to make sure that only the "right" people will ever take over at Everton and that this will never happen again...
Oh, hell, now it's Man Utd's cast-off executives.
"We shall not, we shall not be moved..."
Terry Hughes
104
Posted 14/06/2022 at 06:37:27
I'd stick with Moshiri. I don't trust American 'consortiums'. And so what if they are connected to Trump anyway? Better than being connected to demented sleepy Joe Biden.
Mike Gaynes
105
Posted 14/06/2022 at 06:45:21
Mazel tov, Bernie! That's quite an achievement. Very few wives are willing to put up with us for that long.
Philip Bunting
106
Posted 14/06/2022 at 06:49:19
So, two of these potential 'investors' want to buy the club, £500M plus they will have to fund the stadium to the tune of at least £400M, approx £900M total – never mind £100M to sort out the Goodison legacy.
Reading up on these guys, their combined worth is around £1.5Bn or something... sounds like a Glazier takeover funded with bank dept. For all Moshiri's mistakes, I feel more comfortable with him than the sound of this.
Mike Gaynes
107
Posted 14/06/2022 at 07:03:31
Terry, which one's demented?
"Barr: Trump became 'detached from reality' after 2020 election loss"
"Twice in the final months of the Trump administration, the country's top military officer was so fearful that the president's actions might spark a war with China that he moved urgently to avert armed conflict. In a pair of secret phone calls, General Mark A Milley, the chairman of the Joint Chiefs of Staff, assured his Chinese counterpart, General Li Zuocheng of the People's Liberation Army, that the United States would not strike."
"James Mattis, the esteemed Marine general who resigned as secretary of defense in December 2018 to protest Donald Trump's Syria policy, has now broken his silence, writing an extraordinary broadside in which he denounces the president for dividing the nation, and accuses him of ordering the US military to violate the constitutional rights of American citizens."
"More than 200 retired generals and admirals endorsed Joe Biden for president in a letter published Thursday, saying he had the character and judgment to serve as commander-in-chief instead of President Donald Trump, who 'has demonstrated he is not equal to the enormous responsibilities of his office; he cannot rise to meet challenges large or small. Thanks to his disdainful attitude and his failures, our allies no longer trust or respect us, and our enemies no longer fear us,' the letter says."
Colin Glassar
108
Posted 14/06/2022 at 07:07:59
Seeing as we've become an empty, soulless club under the Moshiri & Kenwright regime, we may as well sell ourselves to another soulless consortium.
As long as the two above mentioned morons depart in haste, I don't care if even Old Nick buys us.
What a disgrace we've become.
Robert Tressell
109
Posted 14/06/2022 at 07:19:40
Moshiri is good at running construction projects but bad at running a football club. Obviously Kenwright is part of that bad management.
Like you, Colin, I'd be pleased to see the back of both Kenwright and Moshiri – but I do want that stadium built. It's a necessary part of our modernisation.
As for the future on the pitch, hard to say. Without Saudi-level money, it's very hard but not impossible to compete.
Neil Cremin
110
Posted 14/06/2022 at 07:50:38
Danny,
As for this being a good deal, I have no idea. As a long-time Everton supporter, I live in hope of at least a whiff of our former glory. Even a Moyes era Champions League qualification would be nice.
However, it is not the money (we saw that with Moshri), it is people who know football and who have a vision and long-term strategy that we need.
Eddie Dunn
111
Posted 14/06/2022 at 08:02:58
It is clear that, whatever happens in the near future, we will end up "owned" by someone or something that stinks.
These entities are either looking to make easy money on real estate or to place debt onto clubs. The only other options are the washing of dirty money or the "cleansing" of monstrous murdering regimes. What a world we live in.
It makes our neighbours' US sports franchise look positively angelic.
David Bromwell
112
Posted 14/06/2022 at 08:07:06
Not really good news for Frank and Co as they look to rebuild the playing squad. It does not appear to me that Mr Moshiri has any real passion or interest in running the club, and the loss of his Russian backer is a cause for real concern.
Sadly this sorry saga is likely to run and run, just when I was beginning to look forward to the new season.
Mal van Schaick
113
Posted 14/06/2022 at 08:08:11
I don't know enough of the detail to reach an opinion as to whether this would be good or bad for Everton. I can only express an opinion on the Moshiri era so far, which appears to be a 'rollercoaster ride', on and off the pitch.
I think my overriding memories will be the number of sub-standard managers and players that Everton have recruited, that have led somewhat to our demise on the pitch.
From what should have been a golden era for Everton, it has turned most of us into quivering wrecks, because of mismanagement.
Moshiri has the vision of a future Everton at a new stadium, with what appears to be a business plan to put this in place. It is the actual footballing side of his era that is concerning.
We have a few good players that, in my opinion, we should keep and add to, if we are to show any ambition on the footballing side. If we sell our best players, to raise money and balance the books for FFP reasons, then we are back on the merry-go-round of uncertainty, buying players in the hope that they will improve the team, and our Premier League status.
As a long-term Everton supporter, who has seen the highs and the lows, I want to see us in the Top 4, in the Champions League, winning domestic and European trophies, as we used to do. Is that too much to ask?
Andy Meighan
115
Posted 14/06/2022 at 08:25:56
Brian 44. I couldn't care less if he has got links to Pol Pot, Gadaffi, Idi Amin or whoever. If it means getting rid of the limpet that is a certain Billy Boy, well, I'm all for it.
Let's be fair, the club couldn't be more Amateur Hour if it tried, could it? We need to move forward with strong leadership upstairs. The day Moshiri, Kenwright, and Barrett-Baxendale start clearing their lockers won't be a day too soon.
Even if it's not this consortium, we can safely say it's going to be someone else. It's out there now. UTFT.
John Keating
116
Posted 14/06/2022 at 08:27:27
This will no doubt be the opening gambit in the evolving process of a sale. I seem to remember an American guy/organisation involved in buying Bill out just before Moshiri came out of nowhere?
Whoever finally buys Moshiri out, there will be dissension from the fanbase. Personally, it doesn't bother me who owns the club as long as they leave the running of the club to knowledgeable professional business people who in turn bring in football people on the playing and recruiting side.
Oh yes, and get rid of the present incompetents.
Danny Baily
117
Posted 14/06/2022 at 08:32:55
This has 'decline' written all over it. Having said that, there's no more room at the top for big money clubs, so who cares?
Marc Hints
118
Posted 14/06/2022 at 08:44:14
The positive for me is that Kenyon knows how to run a football business.
I don't care who owns it as long as there is money for a squad rebuild.
Mark Ryan
119
Posted 14/06/2022 at 08:48:19
Moshiri stopped coming to games. Wasn't even there to see us survive. Has now made an apology.
Telegraph reporting sales negotiations are taking place. Stadium still rising out of the ground. Perhaps the stadium will be a gift? He strolls off into the sunset with Usmanov.
Perhaps it's the end game for Moshiri. Had enough. Doesn't need the aggravation. I hope he shuffles off with Bill. You can but dream.
Doesn't look like a huge Saudi type takeover but the new stadium is clearly the attraction, isn't it.
Will we miss Moshiri? No, in a word…
Paul Hewitt
120
Posted 14/06/2022 at 08:48:28
It ain't happening, they don't have the money.
Jim Potter
121
Posted 14/06/2022 at 09:19:09
I worked for the aforementioned gold company in Tanzania and resigned due to their questionable human rights record.
As much as I am infuriated by Moshiri's wasteful reign, I would not want this consortium to replace him.
At least Moshiri likes football. This smacks of making money at any cost (to us) by hard-nosed, morally questionable football philistines.
There are other big fish in the polluted sea.
Clive Rogers
122
Posted 14/06/2022 at 09:28:11
There is no way these people will pay the idiot Moshiri £500M for Everton. The club is running with heavy losses. We are in a shocking mess.
Clive Rogers
123
Posted 14/06/2022 at 09:31:49
Kenwright is ten times richer than Thornton and Kenyon put together with what he got for his shares. The scumbag ripped Moshiri off. He will struggle to get back what he paid and that leaves us in the mire.
Brian Murray
124
Posted 14/06/2022 at 09:31:55
Moshiri was not too fussed over football and probably hates the game now. As an accountant, it's still amazing he lost a lot of his fortune but he entrusted his trainset with you-know-who so deserves all he got.
If this goes through (or if not), I hope he has learned to get proper people in if he insists on being an absentee owner. We as fans just want to be relevant again… well me personally. The ethics of the owners are well down the pecking order as long as they have experience as a CEO and Chairman at the top end of the scale.
James Newcombe
125
Posted 14/06/2022 at 09:32:59
Would it be too late for them to, in theory, halt the construction and perform some kind of 'value engineering' process?
Sam Hoare
126
Posted 14/06/2022 at 09:37:36
Be careful what you wish for.
Most here were delighted to have the Moshiri take over and look at the backwards steps we have endured since.
I love Everton Football Club dearly and would really love to have some capable minds running the club in a modern and professional way; I think this consortium would probably do that given their history.
But personally I do care who the club gets into bed with and John Thornton especially seems a nasty piece of work. Admittedly, it's hard to find many (any?) billionaires with clean consciences but I think white supremacist and multiple human rights violations feels a step too far for me. But, as Lyndon says, I guess that's the way the game is going.
Wonder if Red Bull fancy buying their first Premier League club?! I would love us to become part of that network – and they already have their man Kevin Thelwell in place.
Mike Doyle
127
Posted 14/06/2022 at 09:45:52
Clive #122, I sort of agree.
Then again, Chelsea have just been sold for over 8 times that figure – and there were other unsuccessful bidders (including Sir Jim Ratcliffe) interested in investing at that sort of price.
Ultimately, a football club is worth what someone is prepared to pay.
Clive Rogers
128
Posted 14/06/2022 at 09:47:25
Moshiri must have had lessons on lying from Kenwright when he released the statement only a few days ago saying "it has not been good enough" with the implication he would do better. He was obviously trying to sell the club at the same time.
Michael Lynch
129
Posted 14/06/2022 at 09:47:51
It seems to be nothing but chaos at our club right now. Sadly, there's little on the horizon to suggest that will change in the immediate future, as we lurch from one manager to another, from one owner to another, from one crisis to another.
It's a crying shame, not just for us but for the whole of football. We may not be the most successful club around these days, but we are something of a throwback to the pre-Sky era, with our scruffy old stadium, local fan base, community outreach, and – yes – even our ridiculous Chairman who has been a fan all his life.
Of course, a club is really just its fans. And we are a family club more than most others. The RS might be the dominant force in our city, but the vast majority of their fans have little or no connection to Liverpool. We're the opposite – if you see an Everton shirt on your travels, it's a delight, a rarity, the sign of a free-thinking maverick, not a glory-hunting knob.
And that's the important thing. I fear there are some turbulent times ahead, but what we need to do is ensure that the spirit of the Blues remains intact – whoever owns us, whoever plays for us, whoever manages us.
Brian Harrison
130
Posted 14/06/2022 at 09:49:41
I think its been obvious for a long time that Usmanov was the real driving force and Moshiri was just his hired hand carrying out his boss's wishes.
We know that, before becoming Everton manager, Ancelotti had a 3-hour meeting with Usmanov, who isn't even a shareholder. Also Benitez spent a couple of days on Usmanov's Yacht before agreeing to become the manager.
So when both the European Union and the British Government sanctioned him, then it probably meant that whatever ambitions he had for the club were finished. So rumours of the sale of the club now circulating shouldn't surprise anybody.
I would think within hours of us avoiding relegation, then things would have been put in motion for a transition of ownership. The fact that Moshiri didn't bother to attend any games when we were fighting relegation says everything about his long-term ambitions.
I did say when he sent his letter last week it lacked a lot of detail, especially as to how the new stadium was to be funded and how we could compete without the Usmanov money.
Well, now we know why he didn't address those problems – because he was in the process of selling his shares.
But even more worrying is Mike Gaynes's assessment of the possible new owners, both in financial and ethical terms as well. Also this was rubber stamped by the post by Jim Potter who actually worked for one of the potential new owners.
Whichever way you look at it, it doesn't look an appetising prospect having these people involved in our club. But we have very little input and an owner who just wants to get back some of his losses.
Clive Rogers
131
Posted 14/06/2022 at 10:04:24
Brian @130,
All very true and it now looks like Usmanov has had to jump ship and has left Moshiri to it. Now he can see his fortune diminishing and is panicking and wants out.
The whole situation is a shocking mess and the blame lies with Kenwright who has got us into it with bad decisions which only favoured himself.
He turned down good owners and found one who let him remain chairman. That was his sole concern, not the future of the club.
Brian Harrison
132
Posted 14/06/2022 at 10:06:10
Also, should these rumours be true, I wonder how Lampard and his coaches are feeling, as well as our new DOF? The last thing they would have wanted was any uncertainty about their positions under new ownership.
Jimmy I'Anson
133
Posted 14/06/2022 at 10:14:11
Clive 131,
He actually turned down Sheikh Mansour to remain in control. We would have been competing for our 16th title next year with our new striker, Haaland. We would have been in the new stadium years ago.
The man makes me sick, and the sooner he's gone, the better.
Kevin Molloy
134
Posted 14/06/2022 at 10:14:11
The worry for us is that there is a clear model out there for investors with not much money, who want to piggy back on football clubs. Just load the debt onto the club.
And this is a model followed predominantly by American investors. See Arsenal, Man Utd, Burnley to name but three.
To hear then that our prospective new owners are Americans with not much cash is very concerning. To people saying 'let's just see what happens' – well, it might be too late then. Once these 'investors' have bought the club, we are stuffed.
This is the key time. We need to find out how they are financing the purchase. The club need to publicly commit not to sell on to people with no real money or experience of their own.
Kenwright is key to this. he's the fucking chairman and he needs to spell out asap that the club won't be sold to sharks.
Stu Darlington
135
Posted 14/06/2022 at 10:28:11
Not surprised Moshiri is looking to sell after the real money-man and string-puller, Usmanov, was sanctioned.
My concern is that, whoever buys the club should put the best interests of Everton FC first, rather than it becomes a pawn in some murky financial dealings, saddling the club with even more debt.
This so-called consortium look a pretty shifty bunch to me and I wouldn't touch them with a bargepole.
Why is this group getting all the publicity? Is it because of Kenyon's CV? Who are the others, anyone know anything about them?
Michael Lynch
136
Posted 14/06/2022 at 10:30:18
Kenwright is now a (very) minority shareholder. I'm not sure he has much say in who owns us.
I can feel fan protests in the air if this goes any further. I'm particularly concerned by Mike Gaynes's and Jim Potter's contributions above.
Kevin Turner
137
Posted 14/06/2022 at 10:32:14
The people who want Kenwright and Moshiri out are all of a sudden getting choosy who they want coming in. The financially ignorant or naive comments on here about how financial transactions are structured is breathtaking.
To those saying it'll be kissing goodbye to the new stadium at Bramley-Moore Dock – have they wondered why there's a flurry of interest from potential buyers now it's nearing a reality and boots on the pitch?
Brian Murray
138
Posted 14/06/2022 at 10:41:43
Kevin @137.
Trust me, we are not choosy as anything will be an upgrade. One of many examples: when Carlo went, our CEO was verbally paralysed and there wasn't one statement or any explanation or vision. We just closed shop, as usual.
Please name me one business or football club who would do this after a walkout like that? Unless it's an email thanking fans or a stadium update, obviously.
Michael McLoughlin
139
Posted 14/06/2022 at 10:47:02
I wonder who the other bidders are and who is in the consortium already mentioned. Does anyone have any idea?

Tony McNulty
140
Posted 14/06/2022 at 11:02:14
With "Neighbours" coming to an end, we seem to have become the main candidate for the replacement soap opera.
Andrew Ellams
141
Posted 14/06/2022 at 11:27:09
I'm with Mike Gaynes @ 77.
Steve Bannon described Thornton as a friend and mentor. These are bad people and we really don't want them or their very dirty money near our club. A lot of it is dripping with blood.
Neil Thomas
142
Posted 14/06/2022 at 11:30:22
Struggling to understand the negativity about Kenyon being involved, 90% of you on here have been slating Bill Kenwright for years.
One thing about Kenyon is that he's a very savvy football businessman, reminds me of a Daniel Levy-type chairman, and who can argue that he's done wonders at Spurs. He might be hated by other clubs and supporters, but he certainly wouldn't let the club be walked over when it comes to transfers, whether it's incomings or outgoings.
You don't work at two of the biggest clubs in the world without knowing your stuff. So to me having someone who knows his football, and a shrewd businessman means maybe we will no longer be screwed over when it comes to transfer dealings.
Neil Thomas
143
Posted 14/06/2022 at 11:32:56
And it's not always about how much money they have to spend, as we've proven over the last 6 years, it's about how wisely the money is spent, not how much.
Kevin Molloy
144
Posted 14/06/2022 at 11:32:58
Neil,
I'm not sure what Kenyon's role would be. I've read that he just advises on takeovers (rather than getting involved in the nitty gritty afterwards)?
Mike Hayes
145
Posted 14/06/2022 at 11:35:43
If it's the right move and it gets rid of Kenwright and the rest of his yes-men, then it's a goer – we need footballing brains in to run the club, not ruin it, like that luvvy shite has. 😡🤷
Neil Thomas
146
Posted 14/06/2022 at 11:36:03
Kevin
Yes maybe that's true, but at the moment, nobody knows what his involvement will be. He was certainly involved with Chelsea and Man Utd, so right now it's all guesswork.
I'm just saying that personally I would be happy having someone with his experience involved in some capacity.
Raymond Fox
147
Posted 14/06/2022 at 12:14:12
If true, it's another complication for us staying in the Premier League next season.
Will our squad be weaker than the one that survived by the skin of its teeth? It could well be if there is too much uncertainty at the top.
It's par for the course, though, isn't it? We have been in tangle for years now.
I can't say I am a fan of consortiums, too many cooks and all that.
Howard Sykes
148
Posted 14/06/2022 at 12:27:24
Brian #44,
You can check out any time you like, but you can never leave.
Gavin Johnson
149
Posted 14/06/2022 at 12:40:58
This might work if this consortium bought a stake in the club with Moshiri remaining with less of a majority, which is something Simon Jordan has alluded to.
Realistically, it's going to cost a buyer a billion to buy the club and finish the new stadium at Bramley-Moore Dock.
Tony Everan
150
Posted 14/06/2022 at 13:01:03
There's been four separate bids, but this one is more advanced. Who are the others? Hopefully some intrepid journalist is on the scent. I'd like to see some long-term commitment and passion to take the club forward from whoever buys it.
If Mr Moshiri cares as much as he alluded to in his letter of apology, he will not sell to unscrupulous investors.
I don't want the club to become a house of cards, debt ridden investment vehicle. It needs to be sold to the right person or people, even if that involves a slightly reduced selling fee. The future stability of the club is at stake.
Steve Brown
151
Posted 14/06/2022 at 13:03:18
Woke up this morning screaming after dreaming of Trump wearing a blue MEGA hat in the new stadium at Bramley-Moore Dock!
He'll be on TV denying we lost the Premier League despite us finishing 10th.
Ian Hollingworth
152
Posted 14/06/2022 at 13:15:41
This thread is hilarious! Much moral outpouring over potential investors and who they may be connected to in some way or another. Yet no-one seemed too perturbed to be linked with one of Putin's pals?
Football is now a money game and big money attracts grubby people and very dodgy deals etc.< Biggest shock for everyone will be that none of them give a rat's arse to what we think either way.
I just want Everton to win football matches and enjoy going to the game, will any of the above stop that?
If 'Yes", then I might have something more to say.
Mark Ryan
153
Posted 14/06/2022 at 13:32:42
Perhaps his plan is to stay and is simply looking for new investors?
Is that what we are actually seeing here?
Charles Barrow
154
Posted 14/06/2022 at 13:36:54
The only reasons people buy football clubs is to make money (eg, predominantly the American owners) or to enhance a reputation or gain social orpolitical benefit (eg, Abramovich, the Saudi regime etc).
These owners couldn't give a shit about the club they're buying, so long it provides the economic or social benefit. But the 'sportswashing guys' are happy to make a loss and pick up the tab as they're not focused on making money.
The Kenyon consortium looks like the worst of the former type – want to make dosh but don't have much to start off with.
What worries me is that they may go down the Glazer route – enormous debt put onto the club while they enjoy the dividends. When they've had enough, they pull out and the club collapses.
People want professional people at the club - but their number one concern is themselves, not us.
Ian Hollingworth
155
Posted 14/06/2022 at 13:43:42
Mike@107 just for clarity I assume you are referring to the pre-election letter in 2020?
I wonder how many of them would endorse Biden now especially after the Afghanistan withdrawal?
Difficult to point to letters written by career motivated individuals as evidence of anything, I mean look at the security chiefs who signed the letter stating Hunter Bidens laptop was not genuine.
Personally I think they are all self serving nutters who don't care about any of us.
Who are we signing?
When are the fixtures out?
What does the new kit look like?
Now these are the things that really interest me.
Robert Williams
156
Posted 14/06/2022 at 13:57:43
Michael Lynch @ 7 - Football the world over is full of slime balls. About time we got our own bigger slime ball than the present incumbent.
Robert Williams
157
Posted 14/06/2022 at 14:33:28
Welcome to the real world. 'This is Everton'
The relief from winning the 'get out of jail' card has long-suffering fans with far more difficult matters to contend with. Uncle Bill is in a precarious position - his solution to his lack of funds - (he was only a millionaire) has back fired big time with the club in danger of having points deducted for the actions of an Iranian accountant and his belief that a Russian oligarch was the answer to all our prayers.
Everton FC, where Dixie Dean, the Golden Vision, Alan Ball, Tommy Jones, Southall, Kendall and a myriad of others entertained us is now UP FOR SALE.
Perhaps the actions of a certain Vladimir put paid to our Iranian/Russian relationship, but it will most certainly give us all room for speculation as to who will be the next owners of the People's Club.
Have a guess and/or perm any two from the following prospective buyers - Saudis, Chinese, Americanos, Qataris - sorry no Ruskies allowed. Those are matters that will keep us all involved until the new season starts and after we have sorted out whether our mighty club should sport gay rights, betting of cat kicking sponsorship on our shirts.
Wow there is a lot to consider and then someone has thrown a past US president into the equation - who knows with a bit of luck Boris Johnson may yet nationalise Everton FC and send our dead beat foreign players to Rwanda for some special training.
Ed Prytherch
158
Posted 14/06/2022 at 14:46:23
I had never heard of John Thornton so I checked him out on Wikipedia. His resume is pretty impressive.
https://en.wikipedia.org/wiki/John_L._Thornton

Bill Gall
159
Posted 14/06/2022 at 15:04:42
I think like Mark @ 153. Moshiri may be just looking for someone to invest in Everton and not sell outright. The comments are from the actions of a consortium wishing to buy him out.
Despite comments from some people that he is loosing money, as of today according to Forbes, his real time earnings are still $2.7 billion.
There may be at least 12 clubs ahead of him in rich owners, and he may be looking for investors to improve Everton's standing.
It's all speculation at the moment and it may be just to bring out richer consortiums as the Premier League seems to attract rich people.
As Everton is owned by the largest shareholder (Moshiri) with 92.16% of shares, he will be the one who decides who the new owners will be. Those who think Kenwright will make money from this, as he only holds 1.72% of shares, there will be no need for anyone to have to buy his remaining shares to become owners.

Andrew Ellams
160
Posted 14/06/2022 at 15:26:24
Ian @ 152. People were and got exactly the same reaction you just gave.
The level of hypocrisy creeping into this fanbase is quite poor. If the other lot got into bed with people linked to white supremacists and massive human rights issues, the comments would be very different.
Trump is a crook who's made a career out of surrounding himself with other crooks. When you come across somebody this close to him, the alarm bells ring.
Minik Hansen
161
Posted 14/06/2022 at 15:36:36
As long as it's serious football business for Everton FC, whether it's Farhad Moshiri or other owners.
Jason Hewly
162
Posted 14/06/2022 at 15:39:10
Takeover in the offing?
If his first name isn't "Sheikh", we're not interested.
Ray Roche
163
Posted 14/06/2022 at 15:44:58
The more I read and think about this the more unsettling it becomes. I'm now of the opinion that if Moshiri has 'learned his 'lesson' and let's football people sort things out the more I'd prefer him to stay.
Kieran Kinsella
164
Posted 14/06/2022 at 15:51:51
Consortiums don't work. You have several owners but who calls the shot? Name a consortium that's worked out well? QPR had the richest owners in the league but they couldn't agree or get along. Bill himself had a consortium and how did that work out? A mess.
That apart, Bannon is a wannabe Joseph Goebels trying to turn the USA into the third reich. His acolytes are not people I want associated with the club. There are different levels of scum. A gangster who whacks a few other gangsters in post Soviet Russia is one thing, Bannon types are on a whole other level in terms of potential evil and destruction. I wouldn't say worse that the Crown Prince but at his level which in my view is already the lowest level of scum there is
Clive Rogers
165
Posted 14/06/2022 at 15:52:18
He is not looking for investment, he wants out and is selling. Otherwise Kenyon would not be involved.
Jamie Crowley
166
Posted 14/06/2022 at 16:06:23
Ignoring the politics - admittedly tough to do because they are frankly a bit ugly, even for this righty - something about this is sounding alarm bells in my ears.
This isn't a sports-based consortium. This seems to be the type of predatory capitalist Americans that frankly give us a bad name.
I don't know why, but I'm just not a fan of this. Even if the money dudes just inject the dough, and let Kenyon control the footballing side, I think these dudes could just be ruthless capitalists, and not give two shits about Everton. They smell a profit, but not the way a good businessman with morals and a heart smells a profit.
We'll see. Hopefully there's another consortium behind this initial one, because I believe without his Russian "mate", Farhad is out the door quick-like!
Jamie Crowley
167
Posted 14/06/2022 at 16:10:13
Mike Gaynes -
Those 200 Generals who signed that petition stating Biden was worthy and Trump was a loon?
Firstly, good on them!
Secondly, did they take a second poll of the 200 Generals and ask them their opinion on the Afghan withdrawal? 😜
Great work, that. [sarc]
"How we getting out?"
"Just load up the planes and make it quick!"
"What about all that equipment?"
"Fuck it. Leave it."
"What about that dude hanging from the wheel of the plane?"
Pete Clarke
168
Posted 14/06/2022 at 16:22:04
Maybe Moshiri read ToffeeWeb the other day after the announcement of Stake as our new sponsors, saw the backlash from us and thought " that's it, I'm outta here "
Either way I just can't see Moshiri getting it right because he hasn't got a clue about football, kept that horrible lying bastard Kenwright on as our chairman, brought in Rafa the red and Allardyce plus a load of shite players so I for one will be glad to see the back of him ( them ).
Mark Ryan
169
Posted 14/06/2022 at 16:26:52
Pete Clarke, you've said it all, bravo, I'll second that and I expect that we could get 300 more on here agreeing to your comment. Well put
Brent Stephens
170
Posted 14/06/2022 at 16:27:14
There might be some dubious side to most club owners but that doesn't mean to say ypou can't / shouldn't draw a line somewhere. This smells like one of those lines.
Kieran #164 "Name a consortium that's worked out well?"
The Mr and Mrs Stephens consortium work nicely - she says jump and, well, you know the rest. Happy to know my place.
Brian Wilkinson
171
Posted 14/06/2022 at 16:28:58
Reading between the lines and I guess what a lot of us already thought was Usmanov was the one pulling the strings, with Moshiri being his wingman as a front.
Due to ffp, Usmanov as long as he was not connected to Everton, could make funding through sponsorships etc, to generate extra income, which was a way of trying to get round ffp with more money available for the squad.
All that went through the window when Usmanov was sanctioned.
Since the sanctions, Moshiri has been nowhere near our club, I now fully expect Moshiri to sell up, if not now then certainly when the stadium is completed.
If new owners come in, which to be fair most of us have been wanting someone who knows how to run a football club to come in, and bring people on the board who are not second rate like the dross we have at the moment.
In that instance a clean out at the very top could be the best thing in a long time to happen to our club.
On the flip side, the people coming in like others have said could be in it just for the money, and running debts up through the banks, for all the fault of our owner and chairman, one thing they have done is kept the season tickets and younger supporters affordable, for the new owners to claw in revenue, I can see the average fan being hit hard on future ticket sales.
At the moment I am stuck in the middle.
Bill Gall
172
Posted 14/06/2022 at 16:39:16
I wonder who the other 3 people alleged to want to buy Everton are. They said who all the people who wanted to buy Chelsea were.
In the cutthroat world of billionaires I think with most of them ethics goes out the window. What I would like to see at Everton is a buyer who is ambitious in the football world and not just in it for more profit on their expenditure, and has a few more billion's than Moshiri.
Mike Gaynes
173
Posted 14/06/2022 at 16:50:53
Jamie... you think we should have stayed?
Kevin Molloy
174
Posted 14/06/2022 at 16:53:35
One thing I could never figure out with Moshiri. Why didn't Usmanov sponsor Goodison, and just stick the money straight in our sky rocket when the waters got choppy?
I think we now have our answer. Moshiri is looking to recover every stupid penny he blew and a nice little profit, When he took us over, we had a great squad, with rich potential. He's leaving us a bit of a wreck (to put it mildly) but still wants his money back. Asking price £500m for a club he bought for what, eighty? Thanks Farhad.
Robert Tressell
175
Posted 14/06/2022 at 17:03:44
Is it conceivable new owners would tolerate Kenwright? Why did Moshiri?
Brian Williams
176
Posted 14/06/2022 at 17:06:30
Robert#175.
Robert, IMO, because first and foremost they were/are friends.
Secondly, IMO, Moshiri fell for Billy Bullshit's bullshit.
Robert Tressell
177
Posted 14/06/2022 at 17:11:38
I didn't realise that Brian. So they were friends before the acquisition?
Danny O'Neill
178
Posted 14/06/2022 at 17:13:51
I just read that Kenyon and his consortium have been give exclusivity for Everton talks.
Dale Self
179
Posted 14/06/2022 at 17:18:12
Decent summary Brian 171, a leveraged buyout in an increasing interest rate environment is not a prime choice.
Bill Gall
180
Posted 14/06/2022 at 17:20:03
on another subject I see that Nathen Patterson is playing for Scotland against Armenia
Paul Kossoff
181
Posted 14/06/2022 at 17:25:39
Brian 44, Would you be ok if Biden and his crackhead son and links to China bought the club? Nothing wrong with Trump other than he couldn't be bought, unlike our club!
Peter Neilson
182
Posted 14/06/2022 at 17:27:54
Leveraged buyout or not the next and main phase of BMD was always going to be a loan of around £350m via a private placement. Moshiri wasn't personally paying for it. It's still debt on the club that will need to be serviced. The question will be whether Moshiri checks/cares on how this will be funded or just wants to cut and run with the most he can get towards his and Usmanov's £450m investment.
Clive Rogers
183
Posted 14/06/2022 at 17:28:10
Robert, 175, Kenwright remaining chairman was a condition of sale with a legally binding document.
Robert Tressell
184
Posted 14/06/2022 at 17:33:56
Yes, I knew that, Clive. Presumably any new purchaser coming in now would simply not agree to that condition.

Clive Rogers
185
Posted 14/06/2022 at 17:34:31
Kevin, 174, Moshiri paid a lot more than that. Kenwright's shares became worth £60M and I think he had about 20%. So that would make the total value £300M. I'm sure someone will correct me if I'm wrong. Billy boy did sell 3/4 of his shares to Moshiri for £44M though I am sure. He still has shares left.
Danny O'Neill
186
Posted 14/06/2022 at 17:37:08
That's a very good and balanced point Brian.
Probably to our detriment in terms of financial standing, but the club has kept ticket prices affordable in comparison to other big clubs. And it has been visibly notable to me how young our match going fan base is.
Obviously there are many other factors as to why we have lost ground in revenue terms and on the pitch, but give the club credit there even though it's a double edged sword.
Dale Self
187
Posted 14/06/2022 at 17:37:57
And Jamie 166 nicely done, I thought for sure you would be pumpin' fist over the gringos but I am very pleased to have made an ass of myself by assuming that.
Still catching up on some of the back and forth. Not to get weird about it but ToffeeWeb attracts a fascinating mix of supporters, no sarcasm.
It does look like Kenyon setting up to manage the football facade while the biz boyz do their vulture capitalist thing. Capitalism is a crazy ass vampire if you think about it.
Nick White
188
Posted 14/06/2022 at 17:38:58
Colin #108 - if I could afford us I'd definitely buy😂
Andrew Keatley
189
Posted 14/06/2022 at 17:40:57
Truly wealthy people almost always have some sort of trail of destruction in their wake. Wealth enables people to put their fingers in a lot of pies. All manner of cross-pollination and cross-contamination takes place. There is no Mary Poppins out there who is ready, willing and able to buy this club.
Paul Kossoff
190
Posted 14/06/2022 at 17:45:50
Howard 148, Last thing Moshiri remembered
he was running for the door
he had to find the passage back to the place he was before
"Relax," said Mr Kenwright
I am programmed to deceive
You can check-out any time you like
But I will never leave!"
Tony Everan
192
Posted 14/06/2022 at 17:54:56
Andrew,
Sheik NStevens would drive us crazy but Sheik NVack would be a good buyer and freshen up the club.
Peter Neilson
193
Posted 14/06/2022 at 17:55:21
Dale (187) nice reference to vampires as Thornton was a president of Goldman Sachs. A bank described by Rolling Stone as a "great vampire squid wrapped around the face of humanity, relentlessly jamming its blood funnel into anything that smells like money."
Mark Ryan
195
Posted 14/06/2022 at 18:26:55
Kenyon if you're reading Toffee Web, Kenwright out !!!
Dale Self
196
Posted 14/06/2022 at 18:31:13
Nice to have not offended you Peter. I think I can remember reading that phrase in the Financial Times of London. This is a tough one to go through after last season but I suppose that gets us to the razor's edge tradeoff between character and capital given many believe you have to be dirty to have accumulated enough to compete in this environment.
Christy Ring
197
Posted 14/06/2022 at 18:35:34
Listening to Mike Gaynes, Thornton/Trump = Usmanov/Putin, so it's a no from me. The one thing you get from American owners, (and this consortium don't have much money behind them), is that they won't spend there own money, so I would prefer to stay with Moshiri, who doesn't know much about football, but definitely spent his own money.
Robert Williams
198
Posted 14/06/2022 at 18:36:17
Here is one for you to think about. I believe his attempt to buy Chelski was turned down.
Quote Wikipedia. Sir James Arthur Ratcliffe FIChemE (born 18 October 1952) is a British billionaire chemical engineer and businessman.[1] Ratcliffe is the chairman and chief executive officer (CEO) of the Ineos chemicals group, which he founded in 1998 and of which he still owns two-thirds, and which has been estimated to have a turnover of $15 billion in 2019. He does not have a high public profile, and has been described by The Sunday Times as "publicity shy".[2][3] As of May 2018, he was the richest person in the UK, with a net worth of £21.05 billion.[4] As of April 2020, Bloomberg Billionaires Index estimated his net worth at $28.2 billion, 55th richest in the world and second in the UK.[5] In September 2020, Ratcliffe officially changed his tax residence from Hampshire to Monaco, a move that it is estimated will save him £4 billion in tax.[6]
Mike Gaynes
199
Posted 14/06/2022 at 18:38:18
Paul #181, you must be joking. Trump was bought and paid for by China. Ivanka was gifted Chinese business trademarks worth tens of millions of dollars, after which Bleach Boy publicly reversed himself on China being a currency manipulator (he campaigned that they were, then decided they weren't). And Jarod bagged a $500 million construction loan from a Chinese bank for a Trump Org project in Indonesia, and Trump then proclaimed that he and Chairman Xi "loved each other" and praised Xi repeatedly over a period of years until the virus crisis got ugly. Any Biden comparison to all that is true lunacy.
How deeply Thornton was involved in these shady Trump/China deals is a matter of speculation, but he was Trump's lead trade negotiator with China.
Ron Sear
200
Posted 14/06/2022 at 18:54:20
Must admit I'm a little puzzled as to why anybody would fork out a fortune to buy a club that just scraped past a drop out of the Premier League. If they are very clever they must know something we don't.
On the other hand, as the old joke goes – the fastest way to become a millionaire is to be a billionaire that buys a football club.
Peter Neilson
201
Posted 14/06/2022 at 19:09:27
Robert (198) I think his bid for Chelsea was two weeks after the closure date. A bit of a strange one as he'd looked into both Chelsea and Newcastle a couple of years previously before saying he could get success cheaper in France and buying Nice. His brother referred to buying teams outside the top six as buying "the Everton Cup". Certainly rich enough though but wouldn't count on it.
Tony Hill
202
Posted 14/06/2022 at 19:11:11
None of this is good, none of it. These feel like the death throes of a once mighty beast.
Sold by a fool to knaves. If it's not these knaves there'll be others along shortly.
I think this is maybe just as well. I've had enough of holding my nose.
Ed Prytherch
203
Posted 14/06/2022 at 19:13:02
It may have finally dawned on Moshiri that he is in over his head and it is time to cut his losses. I presume that any takeover must be approved by the Premiership or FA and I hope that they have seen enough of leveraged takeovers. If that is the case then I have no concerns about what I have read in the press about the Peter Kenyon led takeover. If they are smart they will clear out the current board and maybe have a club president who is one of their own, a chairman with football nous who is in good standing like Joe Royal, a CEO who has successfully managed a football club or similar sports organisation, and at least one board member like Peter Reid with a strong connection to the Everton fans. This could be a great opportunity.
Bill Gall
204
Posted 14/06/2022 at 19:56:23
Clive,
At the time Moshiri was buying shares in Everton, Earl had 24%, Kenwright 26% and Woods 19%.
Moshiri bought his shares from Earl, Woods and all but 5% of Kenwright's. He then went on to buy from Arthur Abercrombie and the bulk of Lord Granchester's.
Also, it is listed that at a shareholders meeting in 2020, 100,000 new shares were raised and, in February 2021, 66,667was issued to him. He now has 92.16% of shares through his company. Blue Heaven Holding Limited.
John Keating
205
Posted 14/06/2022 at 20:00:38
I hear they've been given a period of exclusivity to carry out due diligence.
I would really like to see who these other parties are.
It appears Kenyon's mob appear to be individually skint in modern takeover terms and more likely to do a "Bill" and saddle the Club with debt in an attempt to improve.
Clive Rogers
206
Posted 14/06/2022 at 20:04:19
Cheers Bill. As Kenwright's shares became worth almost £60M, that would make it about £230M for all the shares at the time Moshiri bought in.
Clive Rogers
207
Posted 14/06/2022 at 20:06:09
Ed, 203, it could also be a massive disaster which I think is more likely.
Barry Rathbone
208
Posted 14/06/2022 at 20:08:58
The only way to guarantee what we want is a big money takeover. This crew sound like the usual well-intentioned paupers who think turning water into wine via marketing and other business bollocks is in their gift.
Hicks and Gilette, Randy Lerner, Moshiri et al revisited – what a hapless enterprise this club is.
Joseph Walsh
209
Posted 14/06/2022 at 20:30:39
A few years back, the firm I used to work for did some legal work for Everton. I used to enjoy listening to the inside dealings of the club I loved.
The former CEO (who I used to like) was very candid when asked if the club was for sale – "Yes," was his answer, "but only if any new owner let Bill Kenwright remain in charge."
It bemused me as I used to think "What idiot would buy a business to let the previous (unsuccessful) guy retain control?" Well we found our idiot in Farhad Moshiri.
Fast forward years later with rumours Kenwright turned down Sheikh Mansour and every interview I heard or read from Mr Moshiri smacked of a man out of his depth and his ramblings on TalkSport were legendary and cringeworthy.
You don't become a billionaire without being a bright individual but he has trusted the likes of Joorabchian and Kenwright when he needed a strong team around him and should have left football matters to the experts.
We run this club like a charity – not a professional organisation. We have a CEO more focused on our outreach programme in the community, and we have a chairman who sees himself as a Patron Saint of Lost Causes by employing down and out ex-players and a board working without a strategy, planning, focus or direction.
I'm not getting involved in the politics here but Peter Kenyon has a track record in running a successful football club. It needs a root and branch review and clear-out. We need a strong commercial and marketing team, a powerhouse medical team, an excellent scouting network and footballing experts.
If not Peter Kenyon, then somebody else or another of the three consortiums as, quite frankly, they can't be worse than the way this great club has been run for the past 30 years!
I long to see the day Kenwright walks away for reasons we have exhausted on this site (although I doubt that is how it plays out where he actually walks away), so I welcome the opportunity for new owners providing it doesn't saddle us with debt and we can compete on the football pitch in a new stadium!!
Joe McMahon
211
Posted 14/06/2022 at 20:34:16
Reading the above, I think I'd prefer Moshiri to stay until a more suitable buyer appears.
Dave Lynch
212
Posted 14/06/2022 at 20:37:03
Let's face facts.
Nobody and I mean...nobody... makes billions in this world by being honest and upstanding. Kenyon is a slimeball of the highest order of that there is no doubt.
I know nothing of the Americans, but you can bet your bottom dollar they aren't in it for the love of the game or the club for that matter.
These type of people have got what they've got by looking after their own interests and trampling on all and anyone who get in their way. They align with anyone who can make them more money and more powerful, they change their overcoats to suit their allegiances.
To quote Joe Strummer... "Taking off his turban they say is this man a jew, working for the clampdown."
I'm pissed and rambling on, stormy waters ahead again for fuck's sake.
Marc Hints
213
Posted 14/06/2022 at 21:02:41
Not sure about anybody else but what I'm worried about is how long this goes on for and we won't have time to get players in.
We have lost 4 or 5 players already.
If we don't get anyone in then we are certain for relegation.
Ian Hollingworth
216
Posted 14/06/2022 at 22:49:05
Thornton was Trump's lead trade negotiator with China… really Mike?
I believe he has not had an official govt role, more likely used for his extensive contacts providing a back channel for negotiations etc between the 2 countries.
By the way, this includes a 6-week visit to China during the Biden administration.
I stick with what I said earlier, that they are all self-serving nutters. There ain't no really clean big money out there.
Who are we signing? COYB
John Raftery
217
Posted 14/06/2022 at 22:57:43
People who think things cannot be worse than they have been over the past 30 years may discover otherwise. There is no evidence from his track record that Peter Kenyon is capable of turning round a failing enterprise.
His main achievement at Manchester United was to persuade Alex Ferguson to change his mind on retirement; hardly something which required great insight or grasp. At Chelsea he had the benefit of Abramovich's limitless funding and a hire and fire approach to managers.
Paul Birmingham
218
Posted 14/06/2022 at 23:04:41
After the efforts made to keep Everton up, you'd like to think that the club would be going for stability.
Typical kick in the nuts, and more stormy waters ahead, perhaps but who knows.
If there's any credibility in this proposal based on what's in the media this doesn't strike myself as having any genuine concern for EFC, but more of a front to cover up existing enterprises, associated with the consortium.
But is it a consortium of a front to attract further interest?
For me Id stick with the Devil, we know and get BMD, built..
As ever interesting times within the Everton board room.
Kevin Molloy
219
Posted 14/06/2022 at 23:08:57
The Telegraph are now saying this consortium is mainly being led by a yank called Kaminski. There is no record of him having any real money, he has a background in real estate.
So a chap no-one has heard of, with no visible source of dosh… what's not to like?
Dale Self
220
Posted 14/06/2022 at 23:09:49
It could be the golden dawn of a new era.
Shane Corcoran
221
Posted 14/06/2022 at 23:20:25
Never has the term "the beautiful game" been less accurate.
I feel dirty just reading these rumours.
I'm going to bask in the relative purity of my national sport for the next month.
Dale Self
222
Posted 14/06/2022 at 23:29:20
Actually, the Hotel California references from Howard 148 and Paul 190 were what caused me to take a shower. If we can swerve the consortium and Winks I'll be relieved.
Colin Malone
223
Posted 14/06/2022 at 23:41:48
Usmanov was the daddy after all.
Chris Hockenhull
224
Posted 15/06/2022 at 00:09:56
Kevin (219) So yeah… hands up everyone who had heard of Moshiri???
Ed Prytherch
225
Posted 15/06/2022 at 00:17:30
He has a background in real estate.
Do a bit more reading, Kevin. He is an investment banker.
Kevin Molloy
226
Posted 15/06/2022 at 00:22:04
Chris,
I don't mean nobody 'on here' has ever heard of him. I mean if you Google him, it's pretty much a blank. Not the same as Moshiri, Google him 5 years ago, he had a significant backstory.
Ed, well why don't you tell us a little about his investment banking career. I'm all ears.
Lester Yip
227
Posted 15/06/2022 at 00:33:51
Ron (200). I think one of the reason is that even if you have money, you can't easily buy one of the EPL club without paying a hefty premium especially those that runs well. We just survived the fall. Owner clearly has no idea how to run a club and wants out. The potential buyers see a lot of potential, a lot of low hanging fruits. Knowing the owner wants out, the premium will be a lot less.
Honestly, the difficult part is to get the stadium plan approved. Now it's just find the right finance structure to follow it through and keep us in the PL. After the stadium is finished, a hefty profit already if the consortium decides to then sell.
I'd be surprised if there's only one interested party to buy Everton.
Gavin Johnson
228
Posted 15/06/2022 at 00:35:04
Thornton himself isn't rich in owners terms but I've seen some reports saying that it's his group (worth $31billion) and other investors who want to buy us. Newcastle are owned by a group and not a specific individual. So in those terms. Everton would become the 3rd richest club in the world should the deal go through.
I don't like the guy's politics but at the end of the day, every billionaire is ruthless and makes dirty money. Usmanov is apparently Putin's favourite oligarch. So I will judge any new owners on what they do for Everton Football Club.
Pete Clarke
229
Posted 15/06/2022 at 00:36:11
It is indeed worrying that any takeover could plummet the club into new depths of uncertainty, especially with the ground under construction, a new manager in place, and lots of playing staff on the move.
As much as I believe that Moshiri is clueless, it is also hard to believe that all he really had to do was get rid of Kenwright and appoint a professional board to look after the club. Even now if he made that decision it would give us all a lift.

Soren Moyer
230
Posted 15/06/2022 at 01:04:12
Mike Gaynes
231
Posted 15/06/2022 at 01:48:39
Ed #225, you're mistaken. Kaminsky is a real estate investor, not a banker. His company is a REIT.
However, both Kaminsky and his company are as close to ciphers as you can get in the modern world. There is no news posted, virtually no online information. The company's website is ONE page. It reads:
Talon is an integrated real estate firm specializing in office, industrial & retail properties.

There are tremendous value opportunities in real estate today. Our focus is in markets of the central United States that have strong economies and fundamentals but are overlooked by many buyers. Talon seeks to acquire properties that meet our cash flow or total return objectives in these markets.

Our board and management team bring years of valuable knowledge and experience in the real estate field and investment industry to navigate the financing, strategic planning, investing and risk management critical for emerging growth public companies.

The CEO brings 26 years of real estate experience, including capital raising, acquisitions, dispositions, brokerage and management.
That's it. Their entire website. The company's Bloomberg listing is even shorter.
Ed Prytherch
232
Posted 15/06/2022 at 02:28:31
Maciek Kaminski is the President and Founder of Kaminski Asset Management, Inc. He is also the Portfolio Manager for the Kaminski Poland Fund, where he provides investment advice through private account management in Central European markets.
What Is Asset Management? Asset management is the practice of increasing total wealth over time by acquiring, maintaining, and trading investments that have the potential to grow in value.
Asset management professionals perform this service for others. They may also be called portfolio managers or financial advisors. Many work independently while others work for an investment bank or other financial institution.
Mike – no mention of real estate.
Barry Jones
233
Posted 15/06/2022 at 03:03:49
Mike #199,
Thornton was not Trump's lead negotiator with China. It was Robert Lighthizer who headed up the USTR at the time. Thornton was heading up Barrick Gold Corp at the time (previously president with Goldman Sachs) and acted more as a go-between.
I had the pleasure of meeting Lighthizer while I was negotiating NAFTA 2.0 (Intellectual Property Chapter) for Canada at the USTR in Washington.
David Hayes
234
Posted 15/06/2022 at 07:19:45
Apparently, allegedly, guesswork and poor research is now fact. Rumour is never exaggerated in the telling and reports suggest wild differences in reality. Loyalty is transferrable and blame fixed.
I'd really rather wait and see what actually happens. Whatever it is, l hope it's for the good, unlikely as that is, in this corrupt, money-is-all business.
Why Everton struggle is because, honesty and fair play and morality that this club tries to uphold, haven't existed in this competition for a long time.

Marc Hints
235
Posted 15/06/2022 at 07:23:07
Well, at least with Peter Kenyon, we won't be giving Tom Davies another 4-year contract out of sentiment and that he is 'one of us', as Bill Kenwright would put it.
Justin Doone
236
Posted 15/06/2022 at 07:35:01
Moshiri's reign has been littered with mistakes and this sound's like another.
Profit, profit, profit, sell, sell, sell. The beginning of the end.
Our new stadium will not be Everton's for long.
John Kavanagh
237
Posted 15/06/2022 at 07:54:37
As the USA lurches inexorably towards becoming a neo-fascist state and a potential second civil war, the last thing I'd want is anyone linked to the Trump lie factory running our club. No doubt their first act would be to declare that we won the Premier League and finishing 16th was fake news.
I'll believe this when I see it headlining Fox News. Oh wait...
Gary Jones
238
Posted 15/06/2022 at 08:15:56
Guess there's simply no good time to go through this process. Certainly would have been impossible over the last 3-6 months given the very clearly perilous position we were in.
However. with the likes of Leeds already strengthening their squad, I'd have hoped we could have at least sorted central midfield stuff out before this got this far along… or that whilst it's going on, we hurry up and do so anyway.
The biggest danger in all of this right now is inactivity in those positions. Gbamin, Onyango and Warrington may well step in, but that would be a monster risk. We need what we've needed for years, another Barry and another McCarthy, or at least another Gueye.
Marc Hints
239
Posted 15/06/2022 at 08:20:29
Gary #238
I couldn't agree more Gary, it's a bit worrying as I would think any transfer business would not be happening whilst this is going on. But we are desperate for players and time is getting on.

Brian Murray
240
Posted 15/06/2022 at 08:44:20
Sounds like Moshiri is not interested in investment and wants out completely. Anything and anyone will be an upgrade on his trusted idiots he left in charge.
This will shake this club to the foundations. Let the good times roll (and the heads)!
Brian Harrison
241
Posted 15/06/2022 at 08:59:23
Now that Kenyon's consortium have exclusivity, the question is: How long does that exclusivity last?
This obviously precludes any other interested parties being allowed to see what this consortium now have access to and without that information, it is very difficult for any new bidders to see exactly what the financial status of the club is.
I wonder how this will impact Lampard in the transfer market? Will he still be allowed to pursue his targets or will that have to be put on hold till the negotiations are complete? Quite often with potential new owners comes them wanting to make changes, so would Lampard be a casualty if that happens?
Usually new owners like to spend money on players and change the manager, but in our case, because of FFP, the spending will have to be somewhat curtailed. Although maybe the new owners will use the FFP as the reason they can't spend money and have to sell some prized assets.
Rob Halligan
242
Posted 15/06/2022 at 09:07:46
Soren #230.
I read that link yesterday, as I didn't have a scooby doo about Kaminski, and he's only worth about $1Bn, which is roughly about £800M. When I say 'only', I mean it's nothing when in terms of buying a football club, as I'm sure none of us would turn our noses up at $1Bn.
There simply has to be something else behind all this or, as Gavin # 228 says, is it the company and not the individual who's buying?
Tony Shelby
243
Posted 15/06/2022 at 09:18:24
Brian (241) - Exclusivity is usually 90 days.
It should also be subject to a non-disclosure agreement, although in the world of football I'm not sure they're worth the paper they're written on, as nobody seems to be able to keep their fat gob shut.
Tony Everan
244
Posted 15/06/2022 at 09:32:55
Brian,
An exclusivity period is a length of time (usually 30 to 60 days) during which a seller is prohibited from carrying out or furthering activities that relate to the sale of a firm with parties other than the prospective buyer with whom they have signed a letter of intent.
Sam Hoare
245
Posted 15/06/2022 at 09:58:22
I'd be very surprised if this takeover has any significant effect on imminent transfer activity. Others will know more than me but no new owners want to interrupt or halt business that is essential for the successful running of the club.
The last thing any new owner wants is us starting the season with only Gbamin, Gomes and Davies in midfield.
Christopher Timmins
246
Posted 15/06/2022 at 09:58:39
A long way to go in the process before there is a change in ownership; however, it's proceeded far enough to be able to judge that our current owner wants out.
Kenwright hunted high and low to find Moshiri, it will be his legacy!
Ron Sear
247
Posted 15/06/2022 at 10:26:51
After reading some of the horrendous stuff about the godawful bunch who want to buy Everton, I realised it would probably not be before long, given the Americans' repulsive taste for litigation, that ToffeeWeb and Everton fans might well be the target of the greed-ridden lawyers they employ, so I will keep my mouth shut and record that 2022 will justifiably remain in my memory as the year my pessimism was vindicated.
Steve Shave
248
Posted 15/06/2022 at 10:41:37
I feel conflicted about this; they sound a pretty odious bunch but, as others have said, how many clubs are owned by good, well-intentioned people who only do it for the love of the great game? Not many, I'd imagine.
Despite Moshiri making an utter pigs ear of his tenure, I kind of feel sorry for him, like, he may be an idiot but he is our idiot. I'm sure I'll get over it when he's gone and hopefully the new ground will stay on track.
Derek Thomas
249
Posted 15/06/2022 at 10:42:10
Christopher @ 246: Some might say a somewhat tarnished and divisive one.
Brian Murray
250
Posted 15/06/2022 at 10:45:41
Ron @247.
The godawful bunch already here need to go before the next ones come in, who I'm sure at least will be competent.
David Israel
251
Posted 15/06/2022 at 10:51:31
I'm amazed that Peter has left his buddy Roman out of his consortium.
Larry O'Hara
252
Posted 15/06/2022 at 11:20:45
David Israel: are you sure?
Ron Sear
253
Posted 15/06/2022 at 11:31:08
Brian re 250, Next bunch will be competent? Possibly… but the truly scary thing is competent at what?
Joe McMahon
254
Posted 15/06/2022 at 11:35:23
Sam, that's the last thing any of us want. Not sure even someone like Peterborough would want them 3.
We cannot realistically improve that much with any of them in team.
Brian Murray
255
Posted 15/06/2022 at 11:37:40
Ron. Well i'm sure they will have a better sponsorship lined up which in itself smashes FFP and gives us breathing space as it's all about what your club generates in income apparently.
That alone is totally beyond the dynamic CEO we have at the moment who's remit is to have a vision and world wide contacts.
That's a terrifying and totally alien statement down at L4 so I say bring it on. I don't care if it's Pol Pot's nephew.
Craig Walker
256
Posted 15/06/2022 at 11:49:46
It's the old adage on how to earn a small fortune: start with a large fortune and buy a football club.
Only Everton could yearn for a billionaire for years and then get a truly incompetent one when it comes to running a football club.
New owners or not, if we can get the new stadium at Bramley-Moore Dock built and build a team around young players who want to play for us, then I'm optimistic (again). Let's not aim for the likes of Harry Winks and repeat the same mistakes all over again.
Last season needs to be a massive wake-up call.
Tony Shelby
257
Posted 15/06/2022 at 11:58:38
Maybe Kenwright can raise funds by launching
'Everton: The Musical'
in the West End.
At the very least, it would give 'The Mousetrap' a run for its money as the longest running farce in history.
David Israel
258
Posted 15/06/2022 at 12:01:27
The Times is also now reporting on this.
Marc Hints
259
Posted 15/06/2022 at 12:35:23
Moshiri wants to stay part of the ownership and wants to keep 10%, according to The Athletic.
Allen Rodgers
260
Posted 15/06/2022 at 12:47:11
Do people like Richard Keyes and Simon Jordan think anyone is interested in their views? Not to mention Alan Hutton chiming in.
Brian Murray
261
Posted 15/06/2022 at 13:10:06
Allan. They have to be at least a bit controversial or cause irritation otherwise they wouldn't even be asked on the radio / tv. Same with red bias of Murphy Carragher etc.
We have no-one in our media corner or very little. We list that right when we made a call to just make up the numbers especially the Sky era, to this day, sadly.
Let's hope new owners and new stadium may see the blue tide rise again eh.
Brian Murray
262
Posted 15/06/2022 at 13:25:02
i kid you not.
On Bill's instagram is a plug for his play, Dreamboats and Petticoats, bringing on back the "good times".
Yes you guessed it – I left a comment of mine on it.… ha ha.
Mark Ryan
264
Posted 15/06/2022 at 13:30:41
Is this the right time for the bedsheets to come out?
To simply demonstrate to the new prospective owners that we don't want Kenwright kept on in any sort of Chairman, Executive or Board capacity.
George McKane
265
Posted 15/06/2022 at 13:31:40
Just did an interview for tonight's Granada Reports, outside Goodison, on "the takeover".
Clive Rogers
266
Posted 15/06/2022 at 13:42:44
Kaminski has flown to England, says The Times.
Tony Shelby
267
Posted 15/06/2022 at 13:43:36
Presumably, if someone sprays "Moshiri Out, Kenyon Consortium In" on the side of Goodison, the deal will go ahead?
Danny O'Neill
268
Posted 15/06/2022 at 13:48:40
Is there an online link George.
George McKane
269
Posted 15/06/2022 at 14:12:34
Not on 'till 6.00pm this evening - - as always when not live they will edit - - will see and let you know - - hope you and the family and the dog are all well.
Brian Murray
270
Posted 15/06/2022 at 14:27:15
Let's make it clear, there is no witch-hunt or nothing personal on the people Moshiri left in charge. In fact, I haven't the hunger anymore to demand better.
Me as a blue, I'd just like to see those mostly under 30 who were awesome getting us over the line as fans last season. They deserve a new Everton, my lads included. I have seen and witnessed us as kings, like most on here.
Go get 'em, Mr Kenyon (or whoever)>
Mike Gaynes
272
Posted 15/06/2022 at 14:49:04
Barry #233,
Highest respects for your background and your association with Mr. Lighthizer, but as you say, he was representing the United States. Thornton was not. He had no official government capacity on Lighthizer's team.
He was there, as I said, representing Trump's interests. He arranged business meetings for Bannon with top Chinese officials shortly after Bannon lost his job at the White House.
Kieran Kinsella
273
Posted 15/06/2022 at 16:02:32
Finn Taylor
274
Posted 15/06/2022 at 16:07:27
Rumors of Saudi consortium now entering the process...?
Paul Hewitt
275
Posted 15/06/2022 at 16:10:16
Don't want the Saudis.
Terry Downes
276
Posted 15/06/2022 at 16:27:35
I don't mind the Saudis coming in – they seem as though they know how to run things going by the way Newcastle are going?
Don't worry, though, if they've buckets full of money, the FA won't allow it cos it's Everton – they don't want us having a second go at it.
Tony Everan
277
Posted 15/06/2022 at 16:41:24
What Saudis? The State PIF owns Newcastle, who's bidding for us? Some geezers who own a few stalls down Riyadh market?
Barry Jones
278
Posted 15/06/2022 at 16:56:17
Mike #272,
For sure, Mike, Thornton was involved as he had those connections with China that you noted.
Dale Rose
279
Posted 15/06/2022 at 17:13:13
This load of shite was the last thing we need. After a turgid season when we should be concentrating on the future, the fucking circus comes to town.
Bill Gall
280
Posted 15/06/2022 at 17:28:50
I am more interested in who the other bidders are. Are they better or worse than the present consortium?
And surely Moshiri is not going to take the first offer that made an approach.
John Skelly
281
Posted 15/06/2022 at 17:31:52
So now the bidding war starts. I said it before on other sites, Everton are the most attractive club to buy in Europe.
New stadium, massive dedicated fanbase... if I had the money, I would buy it! 😜
Danny O'Neill
282
Posted 15/06/2022 at 17:33:18
I just read The Athletic's take.
Apparently there are some of Moshiri's advisors suggesting he should hang tight as he could double the £500m once the stadium is completed.
Personally, although initially engaging in talks to secure stadium funding, I think he's had his head turned when mention of a buyout was tabled during those talks.
Also the suggestion that, even if he sells, he may retain a 10% stake although significant board changes are likely.
That Saudi rumour is also gaining traction.
Gary Jones
283
Posted 15/06/2022 at 17:35:15
Yes Dale, Moshiri should just sit on his hands and pretend he has money still after Usmanov got banned…..at least you'd save getting frustrated. The ostrich strategy sounds at least on a par with Bill's recent ones.
Ian Bennett
284
Posted 15/06/2022 at 17:46:58
If Moshiri wasn't building a new stadium, he would have been run out of the club for the appalling decisions made. It is hard to think we will get worse, but being Everton, not impossible.
Our business dealings seem more Cantina in nature from Star Wars, than top-end business...
Allardyce, Benitez, Silva, poor signings. His involvement over the last 6 years is the go-to guide of how not to run a Premier League club.
Brian Williams
285
Posted 15/06/2022 at 17:49:57
I don't think you can run the owner out of a club, Ian.
Mike Gaynes
289
Posted 15/06/2022 at 18:05:45
Echo reporting that Moshiri intends to finish the stadium regardless of any ownership change.
Brian Wilkinson
291
Posted 15/06/2022 at 18:21:32
George@269,
I will tune in to watch it on ITV+1, I will watch out for you, give me a clue what you are wearing, in case they do not put your name up.
Try to narrow it down by not saying "I am wearing an Everton top"! :-)
Philip Bunting
292
Posted 15/06/2022 at 18:25:00
Kieran 286,
No doubt Mike Ashley will pop up next and rename the stadium to the Bramley-Moore Sports Direct Superbowl...
Brent Stephens
293
Posted 15/06/2022 at 18:39:13
Brendan #287 - he'd no doubt introduce "just ordinary shooting parties".
Robert Williams
294
Posted 15/06/2022 at 18:48:49
JS @281
'New stadium, massive dedicated fanbase – if I had the money, I would buy it'
And don't forget the Stake sponsorship deal... how much? Eh.
John Skelly
295
Posted 15/06/2022 at 18:56:25
Sorry but this site is becoming an old boys club in its views, apart from Christine.
Had I known how much of a Tory you are, Mister O'Neill… well!
Danny O'Neill
296
Posted 15/06/2022 at 19:04:41
Look forward to it, George. Family are good thank you. I trust you and yours are well. The poor dogs thought last summer was bad. Now this.
I think they're pretending there are foxes so they can blame hunting instinct on running away from me.
Can we just have the fixture list so we can start planning?
On a serious note, having secured survival, I'd agree with John @281. Everton are a very good investment with massive potential at the moment.
If you buy Everton and run it properly, both on the football and business side, your room for growth and potential return of investment is arguably more than say Chelsea. They are already pretty much there and subsequently come at a higher premium with less room to improve on where they are now.
Mal van Schaick
297
Posted 15/06/2022 at 19:13:23
If we are going to have new owners, then we must not let our better players go. Keep them and build around them.
Richarlison, Calvert-Lewin and Pickford must stay, but we must also get the takeover done quickly in order to be in the market for our targets, also moving on some dross.
Danny O'Neill
298
Posted 15/06/2022 at 19:20:34
Erm John???
I come on here 99% to talk Everton and football.
My political persuasion is not relevant or known to you so I don't know where that came from.
Disappointed in that comment to be honest.
Doesn't stop me agreeing with you. As I just have.
But as I say, irrelevant and not known to you. I could vote Liberal, Labour or Green. You simply don't know.
Brian Wilkinson
299
Posted 15/06/2022 at 19:26:06
Well, George, that's another face I can put to a name, after seeing you on Granada reports.
Stephen Williams
300
Posted 15/06/2022 at 19:28:38
I've read the vast majority of comments and have kept my powder dry until now.
The depth of naivety from some (many) posters in rushing to welcome the unknown that this consortium represents is truly and disturbingly worrying and embarrassing.
None of us (myself included) know for sure how much money these people have behind them. However, if the consensus of those who believe that they have very little (and certainly not enough to buy the Club, let alone finance player acquisitions out of their own funds) are correct, then these people are just not right for us. In fact, they shouldn't even have a seat at the negotiating table. That also goes for any other groups without the necessary to invest.
Whilst we all agree that massive mistakes have been made over the last 6 or so years, one of them wasn't not to saddle the club with debt. We must at least acknowledge that Moshiri has had the decency to spend his own money (introduced via equity) and not any that the club has borrowed. Whilst this hasn't even remotely produced the outcome any of us wanted (Moshiri included, no doubt) at least the club is financially stable. If we think the club is a mess now, can you imagine the hopeless position we'd be in if debt had been piled on?
And to think that people want the club sold to people with no money who will merely leverage the buy-in funds and further infrastructure and player investment against the club!!!!! Total madness. If unsuccessful (and I can't see how the club would suddenly become sufficiently profitable to service such debt), Administration would surely follow.
Whilst regrettably we as fans will have no input into this process, people need to have a stern word with themselves. We must be and be seen to be vocally against anything that isn't a fully funded buy-in that also provides non-leveraged funds for infrastructure and player investment.
Tony Everan
301
Posted 15/06/2022 at 19:47:26
Well said Stephen @300 . Also, we will get the savvy PR and hard sell treatment. We need to be able to see through that and discern what is really on the table.
David Israel
302
Posted 15/06/2022 at 19:47:38
Mr O'Hara (somewdere above).
No, I can't be absolutely certain.
Danny O'Neill
303
Posted 15/06/2022 at 19:47:57
Quality summary, Stephen, that put things into perspective. And coming from someone who knows more than I or most on how these things work.
Brent Stephens
305
Posted 15/06/2022 at 19:57:50
Stephen #300,
Wasn't the Man Utd sale a leveraged buyout by the yanks? Who have creamed off profits for themselves while the debt they have occurred is on the club's shoulders?
Or do I misunderstand the Man Utd situation?
John Skelly
306
Posted 15/06/2022 at 20:13:26
My apologies, Danny @298.
Ed Prytherch
307
Posted 15/06/2022 at 20:16:25
I agree with everyone who is opposed to a leveraged buyout but I do not share the obsession with individual wealth.
The Fenway Sports Group certainly has some wealthy shareholders but it is the wealth of the company that has brought stability to the teams that they own. Who is to say that Kenyon does not have a similar plan for us?
Stephen Williams
308
Posted 15/06/2022 at 20:26:21
Hi Brent,
The Man Utd acquisition has been reported as having been leveraged. So much so that even after (how many years?) they are still saddled with debt.
The difference between us and them is that they were hugely successful and profitable before the acquisition whereas we are the complete opposite.
They have twice the match-paying fan base with a multiple more of expensive corporate facilities. In short, they continue to be profitable to service their continuing debt.
To start such a project at this time would be folly of the highest order (imho).
Brent Stephens
309
Posted 15/06/2022 at 20:28:52
Yes, Stephen, it would be worrying, to say the least. The new stadium at Bramley-Moore Dock as a cash cow for cowboys.
Danny O'Neill
310
Posted 15/06/2022 at 20:29:42
No requirement for an apology, John. Genuinely it's okay. I've been called worse!! Best wishes in this turbulent time (again).
There's going to be a range of emotions this summer that we're all going to go through. It's Everton. It's the variety of views and opinions that causes agreement, debate and locking of horns.
But ultimately, we all want the same thing. So keep them coming, and keep shouting. It's what makes this site what it is. It was that passion that got us through last season and we're going to need it again next season.
All the best, mate.
Will Mabon
311
Posted 15/06/2022 at 20:32:40
Up next - Michael Knighton.
Robert Tressell
312
Posted 15/06/2022 at 20:35:11
Ed # 307,
Even with leveraged buyouts there are examples of it working out. Admittedly, they saddle a business with debt (like a mortgage) to be repaid over a given period. However, a good management team will develop the business and service the debt at the same time. The key, really, whatever financial model you follow, is a good management team.
We have a poor club management team in Moshiri and Kenwright. That has got us going backwards with the threat of relegation in three of the Moshiri years. They managed to stuff things up without a leveraged buyout. We might be better with a leveraged position but without Kenwright and Moshiri.
But what about Man Utd? I'd argue it's lack of strategy, lack of identity following a long-term manager, terrible aimless recruitment, poor managerial decisions and complacency that has been the problem (sound familiar?) – rather than the financial model. And even then, they're not short of commercial revenue. That side of things makes them very capable of competing.
That does not mean a leveraged buyout will work out for us. I'm just saying for balance that these things have been used to successfully turn around ailing businesses – and the key in each case is the quality of the incoming management team.
Joe McMahon
313
Posted 15/06/2022 at 20:53:10
Will@311, Carson Yeung will prob be out of prison now, I'm hoping things will never get that desperate.
Kevin Molloy
314
Posted 15/06/2022 at 20:55:38
I think we are right to be alarmed. The very scenario we would all wish to avoid seems to be the one presenting itself. A group with no visible wealth commensurate with running Everton and no experience of running a sports franchise. Grafting Kenyon onto the front of their caravan doesn't really cut it.
As long as they can convince a lender to commit, they stand to be quids in with very little risk. The model is the one followed by Bill Kenwright. Appoint well, hang in there, and collect after a few years. Job done.
And if the worst happens, the club drops like a stone, the company goes into administration, and back to Minnesota we go… older, wiser and no poorer.
I hope everyone realises how unlikely the new stadium at Bramley-Moore Dock is to go ahead. The idea that Moshiri is going to walk away if they don't commit to build is fanciful. As soon as they get to the number in his head, he will be gone. And a leveraged buyout ain't gonna get the new stadium built. They will already be loaded up with debit, there just won't be the room.
I think as a fanbase we need to start communicating formally with our chairman, in a way he can't ignore. Perhaps with a letter to the Echo, addressed to him? We need an undertaking from him that he won't support a Burnley situation.
Dale Self
315
Posted 15/06/2022 at 21:07:44
Is Nick Leeson out yet? Seems he might have stashed a few in some accounts before he was rolled up.
Clive Rogers
316
Posted 15/06/2022 at 21:11:21
Kevin, 314,
There's no point in communicating with our chairman. If this deal goes ahead he will be booted out.
Besides, I don't think he really gives a shit about Everton, it's all about himself.
Mark Ryan
319
Posted 15/06/2022 at 21:22:41
Nobody is going to invest in an EFC playing at Goodison. The attraction to any investor has to be a state-of-the-art stadium stood on the Mersey.
The stadium will get built, simple as that.
Tony Abrahams
320
Posted 15/06/2022 at 21:23:12
Stephen's post @300 is exactly why I can't rejoice, even at the thought of Bill Kenwright finally being told to move on.
I also agree with Ed @307, and would love for us to have real hungry, genuinely professional people, spending real time and effort, trying to get Everton back to where I feel they truly belong.
Other than spending money, Moshiri simply hasn't had the inclination to put in this required time.
Andy Finigan
321
Posted 15/06/2022 at 21:23:42
Kevin 314,
That's exactly how I've been feeling and all those on here saying good riddance to our owner and get rid of Bill and Babs, be very careful what you wish for.
Tony Abrahams
322
Posted 15/06/2022 at 21:31:21
Liverpudlians produce a banner on the kop, with the words "27 years" (it becomes 28 in August) and we are still having to be careful what we wish for.
This tells me everything about the Kenwright era, and makes me feel sick to the stomach just thinking about it.
Clive Rogers
323
Posted 15/06/2022 at 21:34:52
Andy @321,
We have been in decline for 25 years under Kenwright and the decline has accelerated since Moshiri took over.
Jerome Shields
324
Posted 15/06/2022 at 21:50:53
Tony#322
Understand how you feel.
I think Stephen's post #300 is the closest to reality on this thread.
I could see a situation where Kenwright and Moshiri are still shareholder and with new shareholders providing funds through access to finance. It could be Moshiri source of funds has been cut off , ie. Usmanov Sanctions. So alternative sources funds are being sourced, with equity interest as part of the deal.
Robert Tressell
325
Posted 15/06/2022 at 21:53:04
Sam, just spotted your comment at 245 about transfer kitty and it sort of links to my comments to Ed about the leveraged buy out.
Basically, whoever takes over is very unlikely to splash any cash on transfers.
That would be futile because 7 clubs can comfortably outspend us (6 of which have far superior squads already) - maybe 8 because Villa have also started spending.
What I would expect this management team to be fixated with is cost & value. That is how to service debt and develop at the same time.
In the short term it probably means selling at least one of Calvert-Lewin or Richarlison and reinvesting about 2/3rds maximum of the proceeds. That was always likely anyway, regardless of the sale.
From a transfer perspective, it would be a return to the Moyes years in many respects but, I'd hope, better use of loans (like Martinez) and low-cost foreign markets (which we persistently ignore).
This refocus on cost and value are not necessarily a bad thing for us in stabilising / improving the playing staff and bringing in the right sort of profile player to help us develop over time – maintaining top-flight status while the stadium is built (which must be a key part of this), pushing into the top half, competing for cups and Europa League qualification.
This is not very NSNO but it's a lot better than we have now.
Clive Rogers
326
Posted 15/06/2022 at 21:54:39
Whatever happens, Moshiri and Kenwright have to go. Neither of them has a clue how to run a football club as results have clearly shown.
Paul Burns
327
Posted 15/06/2022 at 21:58:30
Whoever is in charge needs to run the club professionally from top to bottom and not allow any of the buffoons running it into the ground presently to remain and finish their pathetic demolition job.
Philip Bunting
328
Posted 15/06/2022 at 22:03:59
Clive @323,
Correction: the decline is on the pitch; off the pitch, he has put his money where his mouth is and done very very well, more than any other Chairman or Owner has done in that regard.
Unfortunately, our Chairman and CEO have failed the owner misserably, unless of course he is meddling in the background.
Andy Finigan
329
Posted 15/06/2022 at 22:11:05
Clive 323,
My daughter's partner has supported Crewe Alexander all his life with nothing to show for it and he accepts that his club will have ups and downs and doesn't moan too much about the reality. Maybe us Evertonian need a reality check and perhaps more patience.
Do I want more expertise in our boardroom? Of course.
Do people make mistakes at the top? Of course.
Can you honestly say our new owners who pay £500M for the club will pay another £400M and finish the new stadium at Bramley-Moore Dock?
Can you also expect them to love the club and feel the pain like we do?
How would you feel if they take a loan out to buy us and have to service that debt every year so there is even less money to spend?
As you say our club may have won nowt for 27 years but there is no guarantees. So I say again, be careful what you wish for.
Oliver Molloy
330
Posted 15/06/2022 at 22:13:25
Agree with those who say the new ground will definitely be completed. Without it, Everton is not a very attractive business.
However, from what I have read to date about Kenyon and his backers, it could be even more tough times ahead if Moshiri sells up to these guys – I don't think it will happen.
I have always said Moshiri was in it for the money, but it could be that he has totally fucked it up for himself and the club will be at the mercy of packs of wolves, interested in only one thing – Money!
Michael Kenrick
331
Posted 15/06/2022 at 22:13:59
Foreign markets (which we persistently ignore):
Tosun from Turkey
Vlasic from Croatia
Nkounkou from France
Mykolenko from Ukraine
Besic from Hungary
Mirallas from Greece
Gbamin from Germany
Klaassen from Holland
I think there are loads more. Are these markets not foreign enough? Or are most of them just crap?? Or just the ones we seem to pick???
Robert Tressell
332
Posted 15/06/2022 at 22:51:04
Low-cost foreign markets, Michael. Not just foreign.
Look at the current squad and where we've been really spending money. 9 players with big fees / wages acquired from the Premier League - with Gomes and Mina from Spain, Allan from Italy and Gbamin from Germany. It's been neither imaginative nor cost effective.
This year's best of the rest, West Ham, by contrast have just one such signing in their squad - Kurt Zouma. Maybe two if you count Issa Diop.
I would say that indicates we've been fruitlessly shopping in M&S and persistently overlooking the low cost / value offered by Aldi (with a few exceptions).
Pete Clarke
333
Posted 15/06/2022 at 23:18:23
Given that there are other parties supposedly interested in buying Everton, what are the chances that Bullshit Bill is one of them and is currently scrambling around his associates in London looking to gather enough backing to buy the club back?
He has, after all, made a fortune from ripping off Moshiri and he does have a history of getting his way by means of deceit.

Joe Corgan
334
Posted 15/06/2022 at 23:22:17
Philip 328: Moshiri has loaned a lot of money to Everton. Loans which will be repaid when he sells the club, or decides to have Everton pay them off. He is not a philanthropist and those particular pigeons will absolutely come home to roost one day.
It's ridiculous to suggest that Kenwright and our recent CEOs, Barrett-Baxendale and Elstone have failed the club, while giving the majority shareholder a free pass. Moshiri is every bit as culpable, if not moreso, for our failings. It is he who holds the power to reappoint those positions and therefore the buck stops with him. Any mistake Kenwright or Barrett-Baxendale makes is equally the fault of Moshiri.
Will Mabon
335
Posted 15/06/2022 at 23:34:04
Joe M, Dale - that's three identified, couple more we'll be rolling.
Ed Prytherch
336
Posted 15/06/2022 at 23:56:41
Robert 312 - thanks for your comments on my post.
I suppose that the risk from a leveraged buyout depends upon how the loans are structured. If they are long-term, like corporate bonds, then the risk is not great.
It appears that clubs like Wigan, Bolton, Derby, Bury, and possibly now Burnley, are in trouble because the debt was short-term, the creditor got cold feet and called in the loan which resulted in bankruptcy.
Moshiri has done the right thing up to now by issuing stock to himself rather than loans which I think means that he cannot cut and run but that might change with stadium financing. Borrowing for the stadium against expected income and getting relegated is not a nice scenario.
Will Mabon
337
Posted 15/06/2022 at 00:00:14
The stadium will be completed (not for £500M though) - it's at the point in construction where it's brakes on
now
or full ahead to the end.
One possibility is that it ends with Everton not owning it but occupying under a long-term or permanent lease... and forced to do so by use of safety and other regulations being brought to bear on any idea of staying at Goodison, if this should rear its head as an option in the myriad permutations ahead. Nothing is off the table now, I fear.
Buckle up for the inevitable wild ride.
Ed Prytherch
338
Posted 16/06/2022 at 00:12:59
Joe 334, I believe that Moshiri has converted most of his loans into equity. That is a good thing for the club. If the club has increased in value when he sells his shares then he makes money. That is the way it should be.
Pete 333 - True Blue Holdings 2.0 is definitely scary. I wouldn't put it past the bastard,
Mike Gaynes
339
Posted 16/06/2022 at 00:27:34
Ed #338, you are absolutely correct in your response to Joe #334. From Moshiri's open letter to the supporters on January 21:
"The club has announced today the conversion of a £100 million loan to the club into equity which is a clear demonstration of my commitment and greatly strengthens the balance sheet."
So the club owes zero debt to Moshiri.
Paul O'Neill
340
Posted 16/06/2022 at 00:39:28
Will @337,
What leads you to believe that the stadium won't be completed for £500 million? Or it won't be owned by the club?
Do you think it'll now be done on the cheap? Is there evidence to suggest that?
The design has been agreed and I think the cost locked in with Laing O'Rourke, hasn't it?
Mike Gaynes
341
Posted 16/06/2022 at 00:40:37
Pete #333,
Kenwright turns 77 this summer and has apparently retired (hasn't produced anything in 4 years). He has reportedly experienced poor health and, as we all know, has no great wealth of his own.
I would be absolutely astonished if he's one of Moshiri's suitors.
Pete Clarke
342
Posted 16/06/2022 at 00:52:27
Mike.
He's been saying that he's ill for years but he's still there and with that – why didn't he just retire then, just to give us all some hope?
I went to see Bob Dylan a few years ago in Perth. He was about 74 I think (although actually looked about 174) but he was still singing (if you call it 'singing' ). He actually clung to the big speaker all through his show which I assume was helping him stay on his feet.
I could never compare these two because Dylan is a legend and I love him but Bill clings to Everton like Dylan did to that speaker.

Will Mabon
343
Posted 16/06/2022 at 01:09:53
Paul @ 340, I didn't explain that very clearly: same design – not a cheapened version of the stadium.
Past history means I'll be surprised if it comes in at £500M (which was optimistic to begin with, I believe). "Locked in" it may be (and I haven't studied the details of that), but if it came to the threat of not being finished, then more would be needed, and it would have to be found by someone.
Ownership of the stadium by other parties is a possibility down the road, it depends how any potential takeover proceeds and develops. Unlikely should big bucks and stability be available (and useable), but I don't know that's the case with this consortium. I'm just speculating really.
Mike – I know you're talking relatively but I wouldn't mind being at the same no great wealth level as Kenwright.
Danny O'Neill
344
Posted 16/06/2022 at 02:36:36
And lets not forget that Steaua Bucharest banner Tony. Talk about shameless gloating of a tragedy that they caused. Always outraged, never embarrassed.
I got distracted, but that really winds me up.
Everyone on here and everyone who knows me also knows how much I love Goodison. But the fact there is suddenly so much interest in us now that building has started tells me how much of a millstone the Grand Old Lady and the board has been around our neck for decades and held us back.
Now the opportunities are there. Or the vultures are circling. Take your pick. Personally, I just want the season to start.
And we have a pre-season in Baltimore prior to that.
Andrew Keatley
345
Posted 16/06/2022 at 03:12:52
Mike (341) - Sorry but what?
Bill Kenwright has not retired as a theatre producer, and as far as I understand (my girlfriend is an actor's agent) he and his company have various projects in development and in production right now.
And what makes you think he hadn't produced anything in 4 years? He produced pretty successful runs of Hamlet and The Cherry Orchard – both starring Sir Ian McKellen – this time last year (and which got a lot of media attention) as well as various other touring shows since then.
I'm genuinely curious what led you to post such ill-informed "facts"?
Don Alexander
346
Posted 16/06/2022 at 03:41:38
Jesus H, there's still folk on here seeking to applaud Kenwright for benefitting Ian McKellen and whomever else in the thespian world, whilst his tenure in our boardroom has been by miles and miles the most barren in our proud, until he got stuck in, history.
He's the football equivalent of the arch bastard Prime Minister we now have to endure – full of shit, lies and evasion as our club, like our country, plumbs new depths of despair.
Trebles all round in the West fucking End? … Fuck Rright Off!!
Christine Foster
347
Posted 16/06/2022 at 03:44:13
I've had chance to review my initial thoughts on this proposed buyout. The more I look into it, the more I am filled with trepidation.
We have on one hand a board that borders on incompetent and an owner with more money than sense. It was always going to be a financial disaster for him.
Then a "strategic review" to put right the ills – caused by the very same people undertaking the review – beyond a joke.
Moshiri carries the can, his money, but the board are culpable. They carry the blame; Moshiri was taken for a ride.
Fast-forward… I still believe Moshiri is looking at the same model Kenwright adopted, not "selling" the club, but looking for inward investment. So selling equity, a portion of shares.
For any new buyer, they need to have 75% of shares for full control of the club to change constitutions and like, which means Moshiri would still have a stake of 20% in the pot or thereabouts.
So why is this lot interested? Money… property and investment. Money makes money. The iconic piece of real estate, once built, will vastly increase the value of the club; how much? Probably at least double or more… speculation?
These guys want to buy low, sell high. No interest in the club other than financial profit, it would appear, no experience other than real estate, asset management and investment. Unless you count in the front guy Kenyon… but that's not running a club.
No, I would have been happy with the board replaced, inward investment for Moshiri… but these guys have a short-term, asset-stripping feel… no love for sports, Everton, the club etc – just money.
If we are up for sale, Moshiri really needs to play this out for genuine interested parties rather than a fire sale to recover losses.
Make no mistake, though, the reason we are in this mess has never changed, and until the board and Chairman is replaced, we are at the mercy of opportunists of Kenyon-esque consortiums.
One last point, I am fed up to the back teeth of listening to fans saying "be careful what you wish for.. " – We have to move on; hindsight will always finds issue and fault, but we need to get out from under the bus driven by this board and find a way forward, looking forward rather than back.
Standing still is not an option anymore. Opportunities need to be balanced against risk but fear of failure causes inertia and bigger failures down the road.
Kieran Kinsella
348
Posted 16/06/2022 at 05:49:59
Christine,
Yes, I feel this is swapping well-meaning idiots for sharks. Hopefully it will flush out some bigger rich idiots who have enough self-awareness of their ineptitude to appoint a David Dein type.
As far as Kenyon (sounds a lot like Kenwright) is concerned, he's just the frontman as he was with Wolves so there's no guarantee he will stick around to give us the benefit of his "expertise".
Aside from all that, with interest rates skyrocketing, why was it we turned down the bond scheme from the jailed ex-mayor? Looks silly now if you overlook his plight and the investigation into the bidding process.
From my own industry, when that deal was floated, you could get a US mortgage at 2% APR. Now the average is close to 6% and expected to rise tomorrow. That bond deal seems an opportunity lost.
Alan J Thompson
349
Posted 16/06/2022 at 06:17:01
I don't see why anybody is worried that those involved with this possible take over don't have multi-billion personal wealth when in the past all that has been needed is next week's rent on a one bedroom flat and Government backing, well, signed on as the case was, not Sheik Mansour.
"He shall not, he shall not be moved..."
Mike Gaynes
350
Posted 16/06/2022 at 06:38:07
Andrew #345, apologies, my understanding (from a friend) was that he had assembled the theater company but was no longer actively involved in producing the shows. Obviously you have better information.
Pete #342, whether he is ready to retire from Everton (and why would he want to, since he obviously loves his job) has nothing to do with whether he has the energy, connections and wherewithal to assemble a £500 million buyout bid.
Will #343, me neither, but he's not quite as well off as, say, Qatar or Saudi Arabia.
Jerome Shields
351
Posted 16/06/2022 at 06:51:55
I suppose Moshiri, who has lost a lot of money and is reluctant to spend anymore, has been looking for a successful model to redress his fortunes.
Alas he has discovered a formula right under his nose, the Kenwright model. Get parties with access to finance, maintain a minority shareholding (reportedly 10%), sell your original discounted shares and converted loan stock financed with questionable fund sources at a huge profit, through a shareholders agreement, maintain Board representation (the second-highest paid, not performance-based, in the Premier League) and then piss about looking for DNA to run the Club.
It all has happened before. Only at Everton. By the way, there is no mention of Bill selling his shares, and he does have this thing with Man Utd that nearly got us Marcus Rojo twice.
This saga has been going on that long, it's like being in a treadmill that one can't get off.
Jerome Shields
352
Posted 16/06/2022 at 07:15:42
All bets are off that it was Kenyon that told Bill that other clubs look to how Everton do it before making decisions.
Brian Murray
353
Posted 16/06/2022 at 07:26:47
Jerome. I think that was just a figment of his imagination as he's always been economical with the truth.
Eddie Dunn
354
Posted 16/06/2022 at 07:36:49
Danny @344.
I wonder if it was the amazing coming together of our fans that has excited interest from parties that have now realised or remembered that we have potential, passion and determination?
I am as cynical as the next man but perhaps our great escape has given us a better future.
Andy Meighan
355
Posted 16/06/2022 at 08:11:20
Tony @322.
Well said, I feel exactly the same. The sooner that reptile has cleared his desk, the better. He's a jonah, a leech, and a pariah. Oh and also an embarrassment.
The other part of me says though that self-titled greatest Evertonian isn't going anywhere soon. Great blue, yeah sure, never paid to get in a game in his life. Unlike us poor suffering fools.
Michael Kenrick
356
Posted 16/06/2022 at 08:29:04
Andy @355,
Never paid to get in a game in his life.
How can you possibly know that to be true?
Andrew Keatley
357
Posted 16/06/2022 at 08:45:11
Don (346) - Jesus H and the rest!
If it's not misinformation on this site it is miscomprehension.
My post was just an attempt to add a bit of fact to some misguided fancy, and yet apparently I am defending Kenwright and applauding him. See me after class for some basic reading comprehension pointers.
Jeez…
Mike (350) - Thanks for responding. Your friend was leading you a merry dance about the lack of productions in the last 4 years.
Tony Waring
358
Posted 16/06/2022 at 09:06:04
Was Kenyon "in charge" at Old Trafford when the Glazers were invited to take over?
Dave Williams
359
Posted 16/06/2022 at 09:41:14
Christine #347,
What a sensible and well-reasoned post. Sums it up perfectly – this lot are after a big profit on the stadium development and won't be interested in the football.
Dave Abrahams
360
Posted 16/06/2022 at 09:58:43
Another very good post, Christine, and your fourth paragraph cannot be stressed enough. Mr Moshiri was definitely taken for a ride by a "Friend"; he should have been advised and looked after far better than he was. Despicable by Billy Boy.
Dave Abrahams
361
Posted 16/06/2022 at 10:09:03
Mike (341),
It's very strange that Kenwright always suffers from poor health, close to death's door one time, when Everton are performing very poorly (no pun intended). But when we are doing okay, he's out in front with a big smile for everyone, not that he fools some of us.
I don't wish him any harm but I do wish that he'd just "Fuckin' do one!"
Brian Harrison
362
Posted 16/06/2022 at 10:10:34
Yet more uncertainty to deal with, the club listening to offers only days after our owner pledging that he would learn the lessons from our mistakes, when he already knew he was in talks to sell the club.
You would think that having a new manager and a new DoF and having just avoided relegation by the skin of our teeth, what was really needed was stability. But it seems the club will be thrown into turmoil as Moshiri – despite his diatribe that he sent out – is looking to get out and doesn't much care who he sells to. Again, looking at those involved, another group who know nothing about football or running sporting clubs.
The loyal fans who, like me, paid our season ticket money months ago, not even sure what division we would be in, or what players may be left after a fire sale. So all that anguish and heartache we put ourselves through was for nothing as we are now searching even deeper depths for new owners.
This uncertainty will make players uncertain and even those who may have stayed will be looking for a way out. We have no idea if Lampard and his coaches will be here next season, maybe they will feel as cheated as the fans who went through so much last season.
So typically Everton, when the fanbase has never been more united, they now throw us into more uncertainty which may impact on the solidarity of the fanbase, I really hope not.
Brian Murray
363
Posted 16/06/2022 at 10:49:35
Brian. Why should it split the fans' unity? Anyone with half a brain has surely rumbled all this "He's one of our own" bollox. He's done more damage than the Heysel tragedy to us.
Danny O'Neill
364
Posted 16/06/2022 at 10:52:18
I think it's vital we maintain that unity, Brian. We can't let the club divide and conquer the fanbase. It's happened too much over the years. When we are united, there is no support that is comparable.
So yes, Eddie, I'm sure that raised a few eyebrows towards the end of last season and attracted attention. Newcastle? Who are they? Take their tops off and proclaim to be as big as Manchester United and have the Sky luvvies drool over them. On the basis of what? That is beyond me.
When we get going, no-one can match us. You could visibly see the near shock on the Sky generation media pundits after each match as it wasn't Newcastle or those loveable (despicable) reds. They didn't know how to react so resorted to practically calling us hooligans because of the relief-based outpouring of sheer emotion after the Palace match.
We took ownership and that had such an impact on the team and I'm not getting overly emotional or going over the top. It cannot and should not be underestimated. The real owners of Everton are us. We are the constant. We will be here as long as we all have a breath to breathe. I'm still going to be there after that.
Great post, Christine, and I agree with both you and Dave. I've said before, I don't necessarily have an issue with Moshiri. I don't have an issue if he wants to own but let others run it for him.
But put competent people in place to do that, not those who saw him coming and went on a wild spending spree with his money and no strategy.
That's where he's at fault though. If you own, you must set the strategy and give direction. Then you can step back. Step in when you need to steer the ship but leave the people you trust to deliver on the strategy and plan.
Stadium aside, he failed to have a strategy, presumably trusting the wrong person(s) who have failed for decades on the football and business side.
It's just a personal view, but I would rather he stuck around to see the stadium out; he deserves that as his legacy.
Just get rid of this incompetent board and get people in who can run a business and a football club on your behalf. Despite being on the fence initially, I'm quite optimistic on the coaching side. I don't know why, but I have a gut feeling about the DoF appointment.
I know I'm being overly simplistic and I fear, worry, have optimism & hope (I know that's contradictory), but it seems Moshiri is scarred by the whole experience and is ready to walk.
Whose hands we end up in is anyone's guess. Let's stay together. That's the only thing we can control.
Brian Harrison
365
Posted 16/06/2022 at 11:09:52
Brian @363,
I did say I hope having new owners wouldn't split the fanbase, because the unity of the fans home and away which I have been lucky to witness has been the best thing that's happened to this club in a long time.
But the appointments of Allardyce and Benitez nearly destroyed any unity, and there have been several questions raised by Mike Gaynes over the new prospective owners.
That's why I worry if they are seen as asset strippers like Hicks and Gillette were, then that will certainly impact on the unity of the fans.
Brian Murray
367
Posted 16/06/2022 at 11:23:10
There's a school of thought (Gavin Buckland from the Echo) that Moshiri is spooked by the close call we had with relegation and the risk of losing 80 per cent of his investment. Doesn't want to go through that again apparently and that's why he is all of a sudden receptive to offers.
Albeit, he still wants to cut the ribbon for the new stadium at Bramley-Moore Dock as his legacy, which is fair enough, plus keep 10% stake.
Gary Jones
368
Posted 16/06/2022 at 11:47:49
Brian #365,
What assets would they strip if they pay £500m for the club, then an extra £500M to build and finish the new stadium at Bramley-Moore Dock??? Particularly if Moshiri keeps his word about contractually obliging the stadium build (I doubt LCC would ever allow a repurpose after losing Unesco Workd Heritage Site status over it, and Liverpool ain't buying it after pouring all that money into their lopsided new stands).
Don't think there is any logic in people stating that new investors would neglect or strip the football side… what use would the stadium be if we end in the Championship or below?
How would a £1Bn business plan work with a loss of the £75M+ per annum in Premier League revenue??
It just wouldn't and doesn't make sense.
Real questions like "Can they run us sustainably?" and "Can they develop and bring in new revenue streams or invest personally?" are entirely valid questions, of course, but I don't think it's right to suggest an asset strip motivation without logic or evidence for it (Hicks & Gilette were very different as Liverpool had much bigger annual and profitable revenue).
I also think that taking Mike Gaynes's "But they are mates with Trump" as any more of a barometer for feeling than "but Usmanov is Putin's mate".
Simple fact is, most of us really don't give a shit, we just want them to get us at the right end of the table and competing. As long as they're not chopping off heads and hanging gay folk of course (hey, Toon!) then most will be good.
Key question is, can they run us correctly? If Kenyon is going to take over and do it, I'd be pretty certain the answer is yes… but the devil is in this level of detail of course.
Clive Rogers
369
Posted 16/06/2022 at 12:05:02
Mike, 341, Andrew, 345,
Kenwright has definitely not retired. In fact, he has just bought a major theatre from Andrew Lloyd Webber which includes a restaurant and bars. It is named The Other Palace.
By the way, Mike, you can have your grain of salt back – everything I said has been proved correct, lol.
Christine Foster
370
Posted 16/06/2022 at 12:16:27
Gary #68,
When a consortium with no experience of the business it makes a bid for, then common sense would dictate they have a reason for buying it. Given their background in real estate, asset management and finance, it's reasonable to believe these are the main drivers behind their interest.
Are they even interested in football? Or even in sports management, or anything sports related? Because l couldn't find a thing.
I am not talking about the front man, Kenyon, his job is the introductions, the background, but I doubt he would have any involvement other than sitting on the board as their representative. That's his skin in the game, to add credibility.
Where does that leave us as supporters? Frankly, wondering why the heck they are involved, except for short-term profit made from the potential increase in value, especially if it's a leveraged buyout, which, given their background, is a distinct possibility!
Profit in real estate is made when you buy, not when you sell, getting the club at a fire sale for a quick turnover spells trouble. That's the concern, justified or not.
Mark Ryan
371
Posted 16/06/2022 at 12:26:46
I guess we need to be thankful that the invasion of Ukraine didn't happen a year earlier because I suspect the new stadium at Bramley-Moore Dock would have died on its arse.
Thank God it is underway or we'd be well and truly hamstrung at Goodison for the foreseeable and not an attractive club to any potential investors.
Somebody earlier described Moshiri as an idiot but our idiot. If he hadn't been with us, the new stadium at Bramley-Moore Dock would never have happened. We have to thank him for getting it moving and so I agree, he is ours and deserves some credit.
Christine Foster
372
Posted 16/06/2022 at 12:39:32
Mark, he does deserve a lot of credit, but he learnt the hard way that trusting incompetent people with your money leaves you open to ridicule.
Moshiri, like our current suitors, saw potential profit in the real estate at Bramley-Moore Dock, leaving the footballing side to his new friend, Bill. Now, seeing the error of his ways, he wants to get his money out or limit his risk, especially as his mate has been sanctioned by governments.
Luvvy Bill has no doubt advised him to seek investment rather than an outright sale, his very own approach… but is it a step too far???
Michael Lynch
373
Posted 16/06/2022 at 12:47:00
There are only two models of desirable owners in football: The mega-rich plaything (Man City) and the American sports management (the Shite).
We had the former in Moshiri, but the combination of timing (ladder pulled up by FFP rules), and poor judgement (Farhad and Bill = Laurel and Hardy) meant we blew it.
Kenyon's consortium is most definitely not the latter. No experience whatsoever in sports management, lots of dodgy background, no interest in football – if it quacks, it's probably a duck. And this duck really does look undesirable.
Still, not much we can do about it for now. Moshiri owns us, if he wants to sell us, them – unless it's to Putin himself – the authorities are not going to step in to stop him.
My gut feeling is that it won't happen. Moshiri wants to keep a percentage, and anyway the American investors just look way too flakey to pull this off.
My only concern is whether it muddies the waters over the transfer window. We need certainty, we need professionalism, we need a clear plan.
Laurie Hartley
374
Posted 16/06/2022 at 12:51:41
If we end up with 50,000+ fans a week attending Premier League matches at Bramley-Moore Dock, we will be worth quite a packet and there will be plenty of punters with bottomless pockets who will want to own us.
Maybe if Farhad Moshiri wants to retain the 20% suggested by Christine @ 347, gets £400million for the shares he sells, and the above scenario plays out, then he will be quids in again.
We just have to stay in the Premier League – that's the risk.

Gary Jones
375
Posted 16/06/2022 at 12:52:05
Christine # 370
1) Your "let's pretend Kenyon is not involved so we can pretend they know nothing about football" stance is one of the most bizarre I've ever seen on any subject on the web.
2) Moshiri knows nothing about football – it's why he uses advisors like Kia Joorabchian. Let's face it, they couldn't do any worse, even if Kenyon is just a front!
3) What's in it for them?
a) Grow us to a value closer to Chelsea?
b) Door to further development opportunities on the North Docks……
I suspect that's really what Moshiri and Usmanov wanted, and if they achieve either, then good luck to them.
4) Leveraged buy-out?
a) Moshiri has saddled us with debt
b) FFP means all debt must be serviceable… or we get points deducted and end up losing £75M a year.
Even if they could "loan the lot", why would they then deliberately default and what evidence is there they would???
Finally, expecting a billionaire "Jack Walker" to just come in and throw us £1Bn is not only naive, but impossible today. Very much doubt whether there's another Abu Dhabi or Saudi state that fancies competing with them.
Be careful what you wish for? Stagnation and default under an Usmanov-less Moshiri, or role the dice on a new and fresh vision? The latter for me, please
(All being said… I'd still want more detail on the money bits and plans, of course.)
Pat Kelly
376
Posted 16/06/2022 at 13:16:08
Haven't read all the posts and maybe this has already been covered. It's possible in any future takeover that the new stadium at Bramley-Moore Dock will be hived off as a separate entity and leased to Everton with the income from the ground going god knows where. Ultimately, the stadium may be the prize with the Club being expendable.
Jerome Shields
377
Posted 16/06/2022 at 13:38:29
Christine is right, the priority for parties involved in owning Everton or potential owning Everton is the long-terms gains of having a front seat on a profitable docklands development and the value it will add to the club. The actual performance on the pitch is secondary to this, as long as Premier League status is maintained.
The problem is that performance on the pitch is also necessary to maintain a healthy and viable football business, which all the parties involved appear to have no plan for, being very much financial manipulation orientated. I think Moshiri had this same problem. He would not be talking to this consortium if they didn't think the same as himself.
Gary #375,
Moshiri did not saddle Everton with debt, but this consortium could. Moshiri actually paid off Everton's debt on taking Everton over and gave loans, which were later converted into shares. Selling these shares would be the way for Moshiri to get his money back.
Gary Jones
378
Posted 16/06/2022 at 13:40:39
Pat #376 - It's an interesting angle and consideration!
Personally, I believe that, if Kenwright had been prepared to lease King's Dock, we'd be sat where Man City are now, and I have no doubt we would have offered Paul Gregg more than enough for him to profit, and us to re-own it, and still be good enough commercially for getting players like Haaland.
However, I agree we'd need to be careful we didn't end up in the situation you describe. I'd hope that buying both together would make it very difficult for the new owners to sell off just the team, as any new buyer would surely then at least want long-term fixed rent agreeing!
Sure, they could do some clever sub-company scheme but, if they don't invest in the football side, there would be no club to rent the shiny stadium off them anyway.
Mike Gaynes
379
Posted 16/06/2022 at 14:06:48
Dave #361,
I get the impression he will never voluntarily "do one" until or unless it is dictated by the new ownership.
Tony Abrahams
380
Posted 16/06/2022 at 14:16:18
Although Kenwright comes across as a Hyman Roth type of character to me, I wouldn't be surprised if he's thought about Harry Catterick and Dixie Dean, and how dying at Goodison, might actually put him in the school of some proper genuine Everton legends?
I'm sure I read that the new owners of Chelsea have said they want to be using their new stadium (when they build) all year round for different events, so that might be plausible, Pat?
I remember listening to Rick Parry explaining that, as long as the football club take all their revenue, why do they really have to own the stadium? And it did make a lot of sense to me...
Ed Prytherch
381
Posted 16/06/2022 at 14:16:36
Gary 375, your analysis makes sense to me.
Kaminski stays out of the public eye and there is little information about him on the internet. His asset management company information talks about diversification and it is likely that having money in a profitable team fits the bill.
If you ignore the way that Everton has been run for the past 25 years and focus on the size of the market and the passion of the fans, then Everton probably looks like a good investment, similar to Newcastle.
The London and Manchester teams would command high prices and may be seen as having less growth potential.
Tony Abrahams
382
Posted 16/06/2022 at 14:31:41
All ifs, buts and maybes, but I think the city of Liverpool has got so much scope for regeneration, and this is going to be ably kickstarted by the new stadium at Bramley-Moore Dock, stretching right along the northern waterfront, so I'd also go along with Everton having massive potential for growth, Ed.
Stephen Williams
383
Posted 16/06/2022 at 15:02:45
A little context following my initial post at 300:
Leveraged Buy-ins are so frowned upon as being a really poor mode of acquisition. So much so that until the Companies Act 2006 was fully enacted, provision of Financial Assistance by a company to enable purchase of its own shares was illegal. There was a get out for Private companies however commonly known as a 'whitewash'. This is where the directors swore a Statutory Declaration that the company was solvent (ie could pay its debts as they fell due) both at the date the Financial Assistance was given and also for a year afterwards. Get this wrong and the directors were personally liable and could even go to jail.
The CA 2006 removed the necessity for a whitewash for private companies - a really bad move in my book. However the illegality still remains for Public companies.
It is interesting to consider why the difference between Public and Private companies. In essence Private companies are typically controlled by a small group of shareholders who are often very well known to each other and more often than not part of the same family. Therefore they are closer to the action and can better understand and influence such matters as Financial Assistance. Whereas Public companies have a myriad of investors (stakeholders) who often have limited or no knowledge of such matters and are not therefore in a position to influence.
And this is the point: whilst football clubs are often Private companies and could therefore offer Financial Assistance, I would argue that purely by virtue of the often many (tens or hundreds of) thousands of non-shareholding stakeholders (ie the fans), football clubs should be treated as a special case - as if they were Public companies. Of course this would need legislation to be effective but this should be the primary objective of a government-backed Football Regulator.
In conclusion, leveraged acquisitions should be avoided like the plague.
Clive Rogers
384
Posted 16/06/2022 at 15:05:14
Gary, 378, agree with you. Gregg was a man who cared about the club whereas Kenwright has always put his own interests first.
Pat Kelly
385
Posted 16/06/2022 at 15:20:04
Tony, #380, exactly.
A state-of-the-art stadium like at Bramley-Moore Dock would have many uses such as different sports (eg, American football), concerts, conventions, etc, with EFC being one user.
If the club doesn't retain ownership of the stadium, it risks being hollowed out and becoming a tenant with BMD effectively becoming a cost centre rather than a profit centre.
Maybe this is the future model investors want but I have serious concerns about EFC becoming an expendable tenant without its own permanent home.
Joe McMahon
386
Posted 16/06/2022 at 15:57:30
Pat, absolutely. Etihad has had constant days of gigs (mainly pop) for weeks. Emirates a few also. We could have had income for several years with Kings Dock, but (you know the rest).
Mike Gaynes
387
Posted 16/06/2022 at 15:58:30
Stephen #383, quick question... is the definition of a public company in the UK the same as in the US? Meaning its shares are traded on a stock exchange and anyone can buy them?
(The only sports team I know of in that category is Manchester United, currently trading at an all-time low on Nasdaq.)
Stephen Williams
388
Posted 16/06/2022 at 16:06:38
Hi Mike,
I'm not familiar with the precise definition of US Public company but your description fits the UK definition pretty well. Also the Financial Assistance prohibition in the (UK) Companies Act only applies to UK companies.
I guess the Glazers aren't really bothered about the Manchester United share price at the moment because when the debt will have been paid down (via profits from the trading company), they will have obtained the company for free.
Mike Gaynes
389
Posted 16/06/2022 at 16:26:27
Stephen, no, of course the Glazers are delighted with the tsunami of cash generated by their investment, but any United fan who bought the stock ten years ago at its $14 IPO has found it to be a worse investment than Paul Pogba. MANU hit $10.60 this morning.
Jim Lloyd
390
Posted 16/06/2022 at 16:36:35
Well, I'm not so sure that Moshiri is the major problem that Everton Football Club have. I don't see him as an architect of our near downfall. I see him as being the perfect patsy that Kenwright found after many years of trying. Namely, someone with lots of money but who made the fatal mistake of leaving Kenwright in charge of running the club!
Some people have already mentioned Paul Gregg, and unless Martin Mason can come on and prove otherwise, Kenwright lost us the chance of being the residents of a great stadium in the Kings Dock for getting on to a couple of decades.
Gregg also was keen (it would appear) to take over the club and it was Kenwright who suddenly found a True Blue in Thailand or somewhere, by the name of Samuelson I think, who had lots of funds (allegedly) and – believe it or not – the cheque was in the post!
I think Mr Moshiri has made mistakes (some major) but, to me, his biggest one was leaving the world's greatest Evertonian in charge!
I hope, if there is any further development in the proposed investment, fronted by Peter Kenyon, it is as Partners, not a takeover. What Mr Moshiri has seen is Kenwright hardly uttering a word in public when we had all the bad times this last season; but it was Mr Moshiri who wrote to us all and apologised for what had happened during his ownership.
The letter seemed, to me, to show that he is fully intending to see the new stadium built, and ensuring that the funds will be in place to build our stadium.
Naive, I suppose… but I don't see the group involved as a bunch of shysters; but at least two very hard-nosed businessmen who have held the most senior posts. One in the world's biggest mining company and the other in one of the biggest investment banks in the world. I would make a guess to say that they have close contact with some extremely rich men and will be active in getting our club investment in the stadium and the team.
So, my hope is that Mr Moshiri stays and brings in partners who know all about investment and business opportunities that are going to mushroom once the stadium is ready. I also think that our Chief Executive Officer could be replaced by Peter Kenyon and our Chairman be booted out on his arse and replaced by a professional businessman as Chairman.

Ray Roche
391
Posted 16/06/2022 at 16:44:47
Joe@386
I always thought that one problem with Gregg and Kings Dock deal was that Gregg wanted the future income from any concerts at Kings Dock for himself in return for financing the stadium build, and buying the club. Something like that.
I'm happy to be corrected if that's inaccurate.
Danny O'Neill
392
Posted 16/06/2022 at 17:02:54
Not too long ago, Everton had more potential than Manchester City.
The city of Liverpool back in the day had more potential than the city of Manchester.
Sadly, I say that in the past tense, with regret and in hindsight. Somewhere along the way, both Everton and the city lost their way to allow local rivals who were arguably lesser take over and bypass them. We stood still, which is akin to walking backwards.
Some of that can be apportioned to neglect by the various regional and national authorities, but I'm not afraid to look in the mirror. Some of it has to be apportioned to an inward-looking mentality and rest-on-our-laurels attitude. Not all, but collectively over the years and particularly those in control. Our leaders, if you can call them that.
It's hardly as though Manchester City and the city of Manchester are hugely different in terms of roots and background. But they reinvented themselves. City are now consistently Champions of England and one of the biggest names in football with the best manager in Europe (the world) playing in a modern stadium.
Manchester is the de-facto second city of the UK, regardless of what Birmingham says. It has a truly international airport, the largest in terms of traffic volume outside of London in the UK. Not just a budget airline hub.
Liverpool (the city) still has massive potential. Everton are part of that with the new stadium at Bramley-Moore Dock. Imagine what that waterfront will look like from Otterspool Promenade to the Albert Dock to the 3 (now 4) Graces and then the regenerated northern docklands with the new stadium looking out to greet the world as they enter the Mersey Estuary. And that monorail I keep going on about as a tribute to the old Docker's Umbrella.
The spin-offs will be fantastic to the city and the local region, which is why Everton is a great investment opportunity. And that is notwithstanding our support base, heritage and stature as a big football club with huge potential on the football pitch.
Robert Tressell
393
Posted 16/06/2022 at 17:24:41
Danny # 392, is that another way of saying Everton provides access to great non-footballing investment opportunities?
I think that's how Moshiri saw it, although it was all muddled together with a football vanity project.
Since there are now 7 much richer clubs, I don't think anyone will come in with a view to a transfer spending spree.
All buyers / investors will be looking at other things – maybe non-football related things.

Dave Lynch
394
Posted 16/06/2022 at 17:34:11
Jim Lloyd hit the nail on the head.
Moshiri may be culpable of entrusting the club to Billy Bullshit but not much more. I've a feeling he saw the bullshitter was out of his depth and appointed Benitez because he was fed up with the shite he was being fed.
Let's hope Billy Bullshit is kicked out asap.
Bill Gall
395
Posted 16/06/2022 at 17:39:09
Ray @391
From what I have read about that, it was the people backing Gregg that were the ones who promoted large concerts and wanted the money from any put on at the Kings Dock.
What was one of Kenwright's arguments was that Everton would only have 49% of shares and Gregg and his backers had 51% and that would enable them to do it. I don't believe that was the major problem that it was never built.
Ray Roche
396
Posted 16/06/2022 at 17:51:57
Bill, @395
Thanks for the response, Bill. I think Kenwright's 'argument' may have been him seeing his trainset (and wedge) disappearing if the Greggs etc were in a position to outvote him. A missed opportunity though, just the same.
Andy Crooks
397
Posted 16/06/2022 at 18:10:03
Good post, Jim Lloyd. It seems to me that Farhad Moshiri has been naive, misled, out of his depth and actually unlucky, but, ultimately well-intentioned and non-malevolent.
Ian Pilkington
398
Posted 16/06/2022 at 18:29:52
Jim Lloyd @390
Totally agree with your comments.
The one thing certain to emerge from this proposed takeover is the long, long overdue termination of Kenwright's disastrous chairmanship.
Ken Kneale
400
Posted 16/06/2022 at 18:59:17
Jim Lloyd – very well put.
I think history will judge both Farhad Moshiri and Bill Kenwright as you outline but don't bet against Kenwright pulling some of his media friends out of the woodwork to smear that storyline in his favour and secure his naming rights to a stand in the new stadium at Bramley-Moore Dock.
Danny O'Neill
401
Posted 16/06/2022 at 19:09:07
I'd say so and agree with that Robert.
But Everton front and centre of it.
I don't know about not breaking the mould. I know you don't say that. But in my lifetime, there has been a big 5 (Everton being a member of that firm), then a top 4, a top 6 and now a 7 presuming we are placing Newcastle in that category.
But, looking back, if you'd have told me Chelsea, Manchester City and Newcastle were going to be in that club, I'd have laughed you out of town.
Never say never. Anything is possible if you keep believing.
Will Mabon
402
Posted 16/06/2022 at 19:21:12
Danny, it's all quite predictable, it's just money – belief not necessary.
Danny O'Neill
403
Posted 16/06/2022 at 19:28:44
Will, did you have to burst my blue balloon? I'm off to get another one!
One day they fly and that time is coming.
Robert Tressell
404
Posted 16/06/2022 at 19:32:48
Danny #401, I don't give up hope at all because I am convinced that, with good management on and off the pitch, you can exceed the richer competition.
But part of that means taking time to develop a poor squad and, I desperately hope, a massive emphasis on the academy and youth development.
As you say, football fortunes ebb and flow. We just need to get our shit together so we can capitalise when others start to decline.

Will Mabon
405
Posted 16/06/2022 at 19:41:23
Danny, there is that one balloon remaining – doing a Leicester.
Derek Taylor
406
Posted 16/06/2022 at 19:41:58
I've always felt sorry for Moshiri. Tasked with spending money even he probably knew not its source, he turned to a variety of media 'experts' for whom to appoint as manager. To date the only one who delivered exactly what he promised was Big Sam – and look where that got him – 8th spot and the push!
It's been said a dozen times, I know, but I am totally convinced that Moshiri (and his ex-gaffer) have followed the Randy Lerner School of Football Management to the full and that, after a relegation near miss, his final season before selling up will be the one that brings relegation.
I believe Kenyon ('the tyre kicker') went in for Villa but nothing came of it and only when Chinese money showed interest, was the Credit Card magnate able to forge a deal. And by then, Villa were in the Championship!
So patience is required whilst the final scenes of our club's demise are enacted – although what the hell will happen over the new stadium at Bramley-Moore Dock, god only knows. But, like the Midlanders, we will rise from the ashes, I'm sure.
Joe McMahon
407
Posted 16/06/2022 at 20:08:50
Derek. I've always thought of him to be the billionaire Mr Bean. I actually quite like him, just feel he took advice from the wrong people, and was naive.
Dale Self
408
Posted 16/06/2022 at 20:19:16
Never felt sorry for that guy. Treats the fanbase with contempt. No redemption possible, he's a creep.
Mike Hayes
409
Posted 16/06/2022 at 22:05:12
Dale Self – fits right in with Kenwright (if you mean Kenyon). 🤷
Jim Lloyd
410
Posted 16/06/2022 at 22:10:24
Dale, which feller are do you mean? If it's Kenwright, he's done more damage to this club than any other individual. And he's done more in a quarter of a century to bring Everton down to the floor, than our club has ever, in all it's history, since that split that lead us to leave Anfield.
I think that, without Mr Moshiri, our club would have been well and truly flattened.
Jim Lloyd
411
Posted 16/06/2022 at 22:28:15
Dave Lynch (#394),
I think you're right.
Dale Self
412
Posted 16/06/2022 at 22:39:39
Sorry, Jim and Mike, I'm referring to 'M' there but you are both right in your comments. Kenwright is the enabler and should be first in line but I still loathe 'M' for his conscious participation in an unraveling of this club's reputation. We've always been mugged for being a people's club but never fully ridiculed for being outright retarded at the top. That day is here.
While I give consideration to your point of him being a saviour, Jim, he was here only as the sideman to Usmanov and has shown no character to be thought of as anything but self-interested. That his motives aligned with an opportunity at Everton allowing us to possibly get to a new stadium at BMD was fortuitous and not in any way magnanimous.
Tony Abrahams
413
Posted 16/06/2022 at 22:44:45
This was the main reason I stood behind Benitez, Jim & Dave, because I heard that Usmanov told Kenwright to be quiet during one zoom call. I bet that's what Kenwright wishes he would have done outside Goodison instead of telling some supporters that we had seen some good times.
This statement alone should have seen the Chairman removed, but unfortunately he's still standing, but hopefully he hasn't got long left!🤞
Jim Lloyd
414
Posted 16/06/2022 at 22:56:20
Thanks, Tony, for that. It makes sense to me that Benitez was a man with vast football club knowledge and was brought here to investigae what was going on.
I supported Benitez while he was here. You don't win the European Cup twice amongst other trophies, by being a duff manager. But he's gone and I think Frank is a young manager with a good team, so I'm happy with him.
I just hope that Moshiri does bring in the partners rather than sell the club, then Kenwright will definitely be on his way – and half the bloody Board with him!
Jim Lloyd
415
Posted 16/06/2022 at 23:17:50
Well, you say that, Dale, but it is Mr Moshiri who has the shares, so I can only think it was him who was wanting to buy Everton FC. I'm sure you remember that Kenwright spoke in glowing terms of his "friend" who gradually got the desire to back our club through Chairman Bill's enthusiasm at the time.
I'm sure you'll remember, we didn't have a pot to piss in, nor the remotest chance of building a stadium, even if we could have found a ground other than Kirkby's "Free World Class stadium" or possibly Cronton Colliery!
So I respect your view but, to me, Mr Moshiri wanted to get involved with our club. Don't forget – there were others.
I'll be happy if he stays as owner but even happier that we get new investors as well. And I'm havin' a street party when Kenwright is booted out of EFC,

Mike Gaynes
416
Posted 16/06/2022 at 23:58:01
Dale #412, sorry, buddy, but I'm with Jim on that one. I have never seen even the slightest indication that Moshiri "was here only as the sideman to Usmanov"... or that his motive for buying the club, and then converting his loans to equity to get to 95%, was anything but his own sincere desire to own the club.
Obviously there's self-interest involved, because he also thought it was a good investment, but he's certainly not a Glazer who's in it for the skim rather than the winning.
Furthermore, I've never seen anything odious or untrustworthy in his blunders -- merely overconfidence and incompetence.
Moshiri hasn't been much of an owner, but nobody can convince me that he has ever had subversive motives. And I think his public apology -- unique for a billionaire sports team owner -- showed character.
He may be bad at his job, but I consider him good people. And at least one of those trying to buy the club from him is most definitely not good people.

Jerome Shields
417
Posted 17/06/2022 at 10:43:27
Tony #413,
You were right. But the internal politics of Everton supersedes achievement on the pitch. Even this suggested takeover reeks of internal politics.
Moshiri did act in good faith and did not saddle Everton with debt, but he also has been the victim of internal politics. It seems that he is about to become more arm's length than before. He saw Everton as an investment and only became involved when his money went South.
Kenwright will have a say in how the Club is run, takeover or no takeover. He will be working overtime to get parties interested that he wants and to suppress any protests.
Everton's ambitions will be Premier League survival only, as they have been for years.
Mark Rankin
418
Posted 17/06/2022 at 10:56:58
If it's Moshiri's money, why is he so desperate to sell up all of a sudden?
Jerome Shields
419
Posted 17/06/2022 at 14:19:24
To cash in profits on part of his existing shares and to find parties that have access to finance to complete ongoing projects. The latter being prepared to do so rather than him.
Derek Taylor
420
Posted 17/06/2022 at 14:28:59
Very surprised Mike Ashley's name has not yet been mentioned as a prospective bidder, partner, funder or just interested party. Just think what a triumvirate of Ashley, Kenyon and Kenwright could achieve!
Derek Taylor
421
Posted 17/06/2022 at 14:40:41
Given how long it is taking to sort out Derby County and other take-overs, it seems unlikely that Everton will be in different hands by the start of the 22-23 season. Considering our recent difficulties regarding FFP, I suspect an unusual amount of interest will be taken by the game's authorities, making an early deal impossible.
That being the case, manager Lampard will be under massive pressure to get the season off to a good start in order to keep his job under the ridiculously impatient Moshiri – with the World Cup break likely to be the limit of his tolerance. I wonder how long us ToffeeWebbers will give him?

Joe Corgan
422
Posted 17/06/2022 at 14:49:10
Derek 421: Without any real evidence to actually base an opinion on, it feels to me like these kinds of things happen surprisingly rapidly or not at all. There doesn't seem to be much middle ground, where things drag on before eventually being completed.
David Israel
423
Posted 17/06/2022 at 18:47:16
Jerome @409,
Yes, the mind boggles!
Michael McLoughlin
424
Posted 21/06/2022 at 19:37:53
Dale Self
425
Posted 21/06/2022 at 21:07:39
Hey Mike, I was going to take a pass on that but then realized you called me 'buddy'. Could do without that or 'champ' or 'bro' in the future, no biggie.
As for our favorite owner, I'm not sure I would go as far as to say that he is ill-motivated since it is more a case of how he works himself into jams and then fails in the most basic of communication responsibilities.
This is where I think he is a bit of a creep, he looks too quickly to turn a position over rather than build up steadily. He really never had a football plan, he simply thought he could keep us up while he pursued his preferred plans.
Dale Self
426
Posted 21/06/2022 at 21:18:10
I think you've said you did some time in Chicago and East of there where that phrase is common. I get that so don't make too much of that. I've just got some loud types who've run that into the ground over time. Rock on, I know you didn't mean anything by that.
Danny O'Neill
427
Posted 23/06/2022 at 16:58:15
I see that Peter Kenyon's consortium toured the new stadium at Bramley-Moore Dock, the Liver Building offices and Goodison Park, as well as holding talks with Moshiri in Monaco and Kenwright in London.
From a report in The Athletic (Greg O'Keefe) yesterday.
Brian Wilkinson
428
Posted 24/06/2022 at 01:37:58
I want to be the first on your list Jim Lloyd, when that Day comes for the Street Party, normally a shandy man myself but I will make an exception on this occasion.
You and many others know my feelings on the guy, cannot wait for the Day he departs from our club, I will certainly show him the good times when he does go.
A couple of jd and coke in and I will throw a moon walk in, when that great Day comes.
---
Add Your Comments
In order to post a comment, you need to be logged in as a registered user of the site.
Or Sign up as a ToffeeWeb Member — it's free, takes just a few minutes and will allow you to post your comments on articles and Talking Points submissions across the site.