Everton Books - What's Our Name? Everton
What's Our Name? Everton!
Mark O'Brien, 2004.
The Parrs Wood Press; (256 pages) ISBN: 1903158540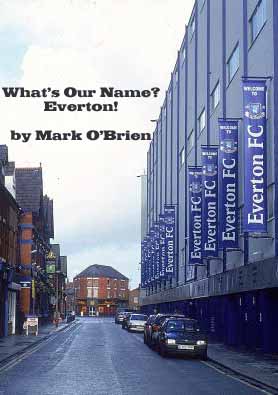 Mark O'Brien is the leading light behind Everton's foremost and longest-running fanzine, When Skies Are Grey. In this excellent tome, Mark has collected his own special memento of the dismally bad 2003-04 season. Follow the deteriorating team spirit as the players become progressively more rebellious, with Moyes increasingly unable to inspire to anything much beyond going through the motions. And it all ends in tears with Everton losing the last four games of the season, crashing at Manchester City by an embarrassing 5-1 scoreline, and accruing their lowest points total ever at Goodison Park. Here is an extract.
Price: £8.95 Published: 1 August 2004
---