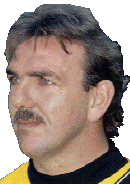 The greatest Evertonian of all time? Well, maybe. The truth is, it's impossible to say. He probably has as good a claim as any, though, having made more appearances for the club than anybody else. He passed Ted Sagar's tally of 432 League games in a match at home to Coventry City in October 1994. It wasn't the occasion it should have been, as Everton lost 2-0 during one of the club's most depressed periods. Not that it was anything Southall hadn't seen before – he'd already been through more or less everything in thirteen years at Goodison.

His first three years at Goodison did not begin to hint at the sheer enormity of the career that was to follow. After his £150,000 signing from Bury in July 1981, he and Jim Arnold contested the goalkeeper's jersey with neither man wearing it consistently. Then, after a 5-0 battering by Liverpool, Southall was dropped and loaned out to Port Vale, leaving Arnold alone as first-choice. However, Southall came back a refreshed player and by the end of 1983 the jersey was his for good, almost literally. Almost immediately Everton began to reap the benefits of having a top-class goalkeeper: a confidence spreads from him throughout the team, as the defence feel secure knowing that a striker through on their goal still has work to do if he is to score, which in turn reassures the midfield who can shift more emphasis onto their attacking responsibilities.

In the case of Neville Southall that striker has plenty to do: one-on-one situations are a speciality of his. Any number of forwards over the years have been intimidated into missing by the advancing Southall, his speed off his line and astonishing reflexes foiling even the best finishers. In fact, most areas of goalkeeping seem to be Southall specialities: virtually all modern keepers excel at stopping shots – it's what they are paid to do, after all – but he has taken this excellence to another level, a startling ability to change direction in mid-dive preventing innumerable wickedly-curling and deflected efforts finding the net. Many of his contemporaries have been found wanting when dealing with high balls, but, despite being at 6'1" short by modern goalkeeping standards, it is perhaps in this area where Southall is most noticeably superior. The key is decisiveness – many fail to decide whether to catch or punch, or even whether to go for the ball at all. Not Southall, even when the studs are flailing. There probably isn't a weakness in his game, which is probably down to the phenomenal amount of work he puts in. Not only does he study the game in minute detail, but he voluntarily does extra training on Saturday mornings before a game, and even works with the exact type of ball to be used.

Such greatness deserves to play in World Cups, but sadly he will probably never manage that. Were he English, Scottish or Irish he would have done so by now, but it is his misfortune (for want of a better word) to be Welsh. He is unquestionably the greatest goalkeeper Wales has ever produced and as such is deservedly their (and Everton's) most-capped player of all time, with 91 appearances for his country, and it is hardly his fault that they have consistently failed to qualify during his international career. But what of after it? What price Neville Southall as the next Welsh national team manager?

Sadly that is not likely to happen, with Mark Hughes assuming the mantle. Meanwhile, Southall winds down his incredible professional career at Torquay United.