Victor Anichebe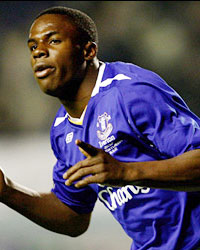 Squad number
28
Position
Striker
Joined
31 August 2005
Joined from
Youth Academy
Signed by
David Moyes
Transfer fee
None
Debut
(sub)
v Chelsea (H)
28 January 2006
Debut
(full)
v Peterborough (A)
19 September 2006
Contract duration
1 + 2 + 4 years
Left Everton
2 September 2013
Left For
West Brom
Sold by
Roberto Martinez
Transfer fee
£6m
Born
Lagos, Nigeria
Date of birth
23 April 1988
Height
6 ft 1 in (1.85 m)
Nickname(s)
Big Vic
Honours
Nigeria International
STRENGTHS
Big and strong
Holds the ball up well
Determination
WEAKNESSES
Petulance and complaining
Inexperience
In 2005, Victor Anichebe was the latest in a line of promising striking prospects from the Everton youth system, following James Vaughan from the Academy to the first team and the scoresheet at senior level.
The young striker was born in Lagos, Nigeria, and stated at an early stage that he would play only for the African nation as an international.
Anichebe points out that he forged a good understanding with Vaughan during their time together at Academy and Reserves level. "Vaughan is out injured at the moment but we have played a lot together and I think we work well as a partnership," the striker said in an interview in the spring of 2006. "He's quick and sharp, while I'm a powerful striker who holds up the ball."
Anichebe got his debut as a sub late on in the FA Cup 4th Round tie with Chelsea at Goodison Park in January 2006. But, despite being named as a sub on numerous occasions, he didn't get to play again until he was given a couple more cameos at the end of the season. In the last game against West Brom, he turned smartly and fired home after 15 minutes on the field to notch his first Everton goal and offer a glimpse of potential things to come.
Having signed a new two-year deal in April 2007, and having been a regular attendee at Bellefield throughout the summer break, Victor was raring to go for the 2007-08 season – as he demonstrated with an excellent performance in a pre-season friendly at Bury, capped with a goal in each half, to win all the plaudits. He continued to impress through pre-season, outscoring Beattie and Johnson, and was rewarded with a starting berth in the first three games of the season.
He had to be patient for further chances, though, after Yakubu arrived at Goodison later that August, but his season – and his Everton career – really came to life at the end of a tense and tightly-contested Uefa Cup First Round tie with Metalist Kharkiv.
Having held the Blues to a draw at Goodison in the first leg, the hitherto unknown Ukrainian side twice had the lead in the second match and were on the verge of condemning Moyes's Everton to another early exit from European competition. But, after James McFadden's equaliser had put the Blues into the driving seat on away goals, Anichebe, on as a substitute, with a broken hand no less, burst clear to score a decisive third goal and book the team's place in the group stages.
Victor started the next two Premier League games, both defeats in which he failed to score, but two more superb late goals against Larissa and Nurnberg in the Uefa Cup helped him earn "super-sub" status.
While his fellow Academy graduate, James Vaughan was perhaps regarded as the more complete striker, Anichebe had certainly grabbed the opportunity – afforded by Vaughan's succession of injuries – to stake his claim for a regular presence in Moyes's starting XI.
His power, bullish build and precocious unwillingness to give up any situation as beyond him provide a superb foundation on which he could have matured into a top-class striker. But he failed to really develop much more in 2008, although he did fulfil a dream of going to the Olympics with Nigeria, where he finished up with a silver medal. He scored one excellent goal but missed a slew of others as the African nation were edged out by Argentina.
Victor's chance to shine came midway through 2008-09 season when first Yakubu, then James Vaughan, and finally Louis Saha were all ruled out with medium- to long-term injuries, leaving Anichebe as the only recognised striker on Everton's books with any first-team exposure. True to form, Moyes opted instead for the experience of Tim Cahill and deployed the Aussie as a makeshift striker; when Anichebe did get time on the field, his ability to make an impact was hampered by a general lack of service in dangerous areas, being played out of position wide right, and, perhaps not surprisingly, his own immaturity as a player.
Victor rather threw his toys out the pram when he was sent home after a training ground bust-up with Moyes in February 2009, when a move to Hull City in the January transfer window was blocked. He needed to be pulled back into line by Moyes after showing rare dissent among the otherwise lock-solid team spirit of the Everton dressing room.
But a much more calamitous event was to end Anichebe's season with sickening effect when Kevin Nolan poleaxed him with a disgusting two-footed tackle at Newcastle in early March. Cartilage damage, knee surgery, and out until next season was the diagnosis, further compounding Moyes's injury crisis. Meanwhile, Nolan got red and a three-match ban. Anichebe would later take the unusual but fully justified step of suing for lost earnings as a result of the horrendous tackle that would arguably destroy his promising career. In March 2011, he would settle out of court for a six-figure sum paid by Newcastle Utd.
Victor Anichebe eventually returned a year after that shocking event but was oddly played on the right wing by David Moyes, and his participation in the rest of the season was further limited by additional injuries. However, he started to show some effort, determination and guile at the end of it, which suggested better things to come, if only he could get games and build back his match skills.
Strangely, he was cut from the final Nigeria squad for the 2010 World Cup in South Africa, Nigerian officials claiming he had sustained a "fractured chin" — much to the bemusement of the Everton hierarchy, who thought the problem, if anything was a bruised shin!
In December 2010, just as Anichebe was returning to full fitness, someone leaked the fact that he (or his "advisers") had rejected a new Everton contract — worth somewhere between £20k and £30k a week depending on appaearances. Evertonians were shocked at the sheer arrogance and roundly booed him when Moyes put him on as a substitute against Wigan. From the subsequent press, it seems only Moyes and player had no idea why he was being booed!
The contract was eventually signed — an incredible four years for a stiker who hadn't scored in over a year... and whose football skill, nouse and above all desire for the fight had tajken a severe hit as a result of Nolan's criminal intervention. Still... Moyes knew best — or so we were told.
Some thought that the new contract was merely a ploy to raise the valuation on a player whose future at the club seemed destined for brevity... but oh how wrong can you be? That little joke was underlined by a laughable £3M bid rumoured from Leicester City. Meanwhile, the bizarre career of a striker who now really struggled to score goals continued unabated.
Anichebe looked set for a starring role as David Moyes allowed both Beckford and Yakubu to leave on Deadline Day at the end of August 2011. But just days later, he suffered a groin injury while on International duty with Nigeria that would keep him sidelined for the next three months. He would return mid-way through the season, though, and weighed in with some important goals for Everton, finishing the campaign as second-highest goalscorer with six behind new fan favourite, Nikica Jelavic.
Jelavic's form collapsed in his second season at Goodison which coincided with a run of fitness for Anichebe that allowed him to assume the first-choice striker role in Moyes's team and he finished the season as second-top scorer with 9 goals in all competitions.
It wasn't enough to maintain the Blues' top-five position, though, one they slipped out of in February 2012 and weren't able to reclaim as they struggled for form in the final weeks of the campaign. It would be Anichebe's and Moyes's final season at Everton; the manager departing for Manchester United in May to be replaced by Roberto Martinez.
Though he played a significant role in the Spaniard's first pre-season, Anichebe did not start the 2013-14 campaign in the first team making just one sub appearnace, Jelavic's pre-season form and then minor injury kept him out of the reckoning before he was sold to West Bromwich Albion on the final day of the transfer window.
Everton Career
Season
Squad
Number
League
Apps (sub)
League
Goals
Cup
Apps (sub)
Cup
Goals
Total
Apps (sub)
Total
Goals
2005-06

38

0 (2)

1

0 (1)

0

0 (3)

1

2006-07

28

5 (14)

3

2 (2)

1

7 (16)

4

2007-08

28

10 (16)

1

2 (12)

4

12 (28)

5

2008-09

28

5 (12)

1

4 (1)

0

9 (13)

1

2009-10
28
6 (5)
2
0 (0)
0
6 (5)
2
2010-11
28
8 (8)
0
0 (3)
0
8 (11)
0
2011-12
28
5 (6)
5
2 (2)
1
7 (8)
6
2012-13
28
19 (7)
6
5 (1)
3
24 (8)
9
2013-14

28

0 (1)

0

0 (0)

0

0 (1)

0

Totals
58 (73)
18
16 (21)
9
74 (94)
27
Everton Academy and Reserves Record
Season
Team
Appearances (sub)
Goals
2003-04

U-17s, U-19s
& Res
1 (8), 0 (1)


& 0 (1)

2, 0
& 0
2004-05

U-18s, YC
& Res
18 (6), 2 (1)
& 12 (7)
7, 1
& 3
2005-06
U-18s & Res
1 (0) & 22 (0)
1 & 9