Shani Tarashaj
24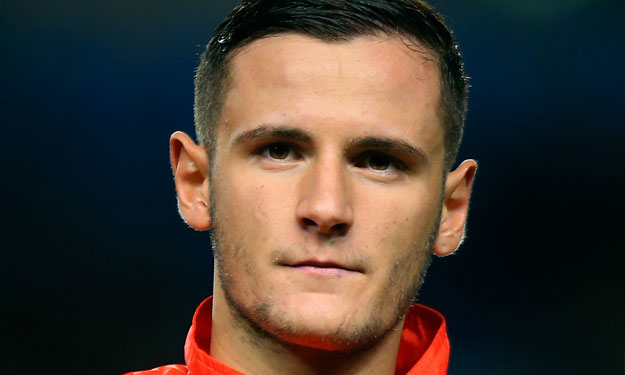 Everton moved swiftly and quietly to wrap up the acquisition of Shani Tarashaj in January 2016, a 20-year-old forward who was largely unknown in England but highly regarded in his native Switzerland where some commentators felt he was a better prospect than Xherdan Shaqiri at the same age.
The Blues signed him for a reported £3m fee and secured him on a 4½-year contract before loaning him back to Grasshopper Zurich for the remainder of the 2015-16 season, a condition of the deal that would allow Tarashaj to complete his national service.
Tarashaj made his debut for Grasshopper in 2014 but his career in their first team didn't ignite until earlier this season when he scored five goals in four starts. That earned him a new four-year contract in September and attracted the attention of Everton's chief scout, Kevin Reeves, as well as the likes of Juventus and Inter Milan.
"I first found out Everton were interested two or three months ago and now I am here," Tarashaj told evertontv after penning his new deal with the Toffees. "For me that is the the best thing about Mr Martinez wanting me – his belief in young players.
"I heard that he was a good manager and works well with young players individually – this is what I want to make me a better player."
And the mutual appreciation was reflected by manager Roberto Martinez:
"I feel he is going to bring something very, very special to us. He is probably the best young talent in Swiss football.
"There are a couple of young players with a good reputation but I think he could have really good future… I feel that he's going to get fans off their feet. He's that type of young talent that we like to attract to Goodison.
"Shani is an enormous young talent in Swiss football who, without a doubt, will have a great future. We are delighted to have found a young player who believes that our club is the perfect step for him to enhance his quality and to grow his career."
Tarashaj would go to Euro2016 with the Swiss national side, ending Albania's hopes that he might elect to represent them, but only got one minute on the pitch at the end of a group game before Switzerland were eliminated in the Round of 16.
Tarashaj featured in Everton's 2016 pre-season preparations before he picked up a minor injury and was not a part of new manager Ronald Koeman's first-team plans as the season kicked off. On transfer deadline day, he joined Eintracht Frankfurt on a season-long loan.
Tarashaj made 15 appearances for the German club but had to wait until the middle of September 2016 to even start training with them after suffering with benign angina. His Bundesliga debut in October was followed by his first goal later that month in the 3-0 win over Hamburg but he would miss another five games after having to have his tonsils removed.
Shani returned to the Frankfurt side as a sub against Wolfsburg and Mainz in December and was looking for an injury-free run in 2017 in the hope of impressing his parent club but was struck down by injury again in the summer. A serious knee problem required surgery and it would sideline him for the remainder of the year.
Head of Sport Mathias Walther said: "We will do our utmost to bring him back to his usual level of performance after two difficult years." His recovery would take up most of the 2016-17 season, spent behind the scenes at Finch Farm.
More than two years after signing for Everton, he finally got to play in a competitive game, appearing as a surprise second striker for David Unsworth's Under-23s near the end of an increasingly poor season for the young Blues, who were unable to reprise their championship achievement of wining the Premier League 2 trophy in 2016-17. And Tarashaj was not much help, getting pulled at half-time after a very unimpressive performance in a shocking 0-4 home loss to West Ham United.
Clearly not considered good enough by the new management team of Marcel Brands and Marco Silva in the summer of 2018, Everton offloaded Shani back to his old club in Zurich at the beginning of the 2018-19 season, for another season-long loan. He made three early-season sub appearances for Grasshoppers, and then injured his foot in August and was out for a significant period.
Things would not improve in what would become the worst season in Grasshopper's history, getting relegated for the first time in 68 years, coming bottom of the Swiss Super League. Near the end, two games ended early due to rioting of their fans who saw Shani Tarashaj only nine times throughout the whole season – all appearances from the bench.
Now 24, Tarashaj was effectively offloaded in 2019 when he signed what was supposed to be a 2-year loan deal with FC Emmen in the Dutch Eredivisie. The deal involved him adding an extra year to his contract with Everton to enable him to receive his full wages but spread over 2 years, with him becoming a free agent in the summer of 2021. However, Emmen cancelled the loan in October 2020 as the player struggled with injuries and failed to make a first-team appearance for them. As a result, Everton terminated his contract early. He never made a single appearance for the Everton senor team.
FactFile
| | |
| --- | --- |
| Squad number | 24 |
| Position | Forward |
| Nationality | Switzerland |
| Born | Hausen am Albis |
| Date of birth | 7 February 1995 |
| Height | 5'-9" (1.74 m) |
Joined
7 January 2016
Joined from
Grasshopper Zurich
Signed under
Roberto Martinez
Transfer fee
£3m
Contract duration
4½ + 1 years
Left Everton
13 October 2020
(Released)
Full debut
Under-23s Only
| | |
| --- | --- |
| Previous Clubs | Grasshopper Zurich |
Everton Career
Season
Squad No.
League Apps (sub)
League Goals
Cup Apps (sub)
Cup Goals
Total Apps (sub)
Total Goals
2020-21

†

0 (0)

0

0 (0)

0

0 (0)

0

2019-20

†

0 (0)

0

0 (0)

0

0 (0)

0

2018-19
24 ¤
0 (0)
0
0 (0)
0
0 (0)
0
2017-18
24
0 (0)
0
0 (0)
0
0 (0)
0
2016-17

*

0 (0)

0

0 (0)

0

0 (0)

0

2015-16

--

0 (0)

0

0 (0)

0

0 (0)

0

Totals

0 (0)

0

0 (0)

0

0 (0)

0

Season-long loans at: * Eintracht Frankfurt; ¤ Grasshopper Zurich; † FC Emmen
Loan Spells
| Season | Team | League Apps | Cup Apps | League Goals | Cup Goals |
| --- | --- | --- | --- | --- | --- |
| 2019-20 | FC Emmen | 0 (0) | 0 (0) | 0 | 0 |
| 2018-19 | Grasshopper Zurich | 0 (9) | 0 (0) | 0 | 0 |
| 2016-17 | Eintracht Frankfurt | 1 (12) | 1 (1) | 1 | 0 |
| 2015-16 | Grasshopper Zurich | 10 (5) | 0 (0) | 3 | 0 |
Everton U23s Career
| Season | Team | League Apps | Cup Apps | League Goals | Cup Goals |
| --- | --- | --- | --- | --- | --- |
| 2018-19 | Under-23s | 0 (0) | 0 (0) | 0 | 0 |
| 2017-18 | Under-23s | 1 (1) | 0 (0) | 0 | 0 |
| 2016-17 | Under-23s | 0 (0) | 0 (0) | 0 | 0 |
Previous Career
| Season | Team | Appearances (sub) | Goals |
| --- | --- | --- | --- |
| 2014-16 | Grasshopper Zurich | 37 & 6 | 19 & 1 |
| | | | |