"I am delighted to have signed him," said Smith, who has been looking to fill the void vacated by Olivier Dacourt's summer switch back to France in 1999.

"Xavier came to us highly recommended and it has only taken a few days of his trial here to show that he is a good player and has the ability to do well here. "He is quick, strong and a good lad, who also speaks English.

"The good thing is that he is also versatile and can play in central defence and also at right-back. He is a little short of match fitness, but that won't be a problem." The Mozambique-born ace flew back to Lisbon last night and will then head to Eindhoven before arriving back on Merseyside next week.

He spent the start of the season at Premiership rivals West Ham, who were also interested in a permanent deal. Xavier, who was signed for PSV by new Newcastle United boss Bobby Robson, has also had spells with Sporting Lisbon and Benfica in Portugal, Spanish outfit Ovideo and Italian side Bari.

Xavier is a defender who can play at different positions. In Eindhoven he played as back (right and sometimes even left) and as guard. He is not PSV's best defender but he can be useful for Everton.

Abel Xavier is a Portuguese international and is fairly good at heading. He is determined and powerful. However, the Dutch way of defending (without a sweeper, playing on one line) has created some difficulties for a lot of players (Nikiforov of PSV, Picun of Feyenoord). Abel Xavier is one of them, unfortunately.

In the English Premiership he can be of value due to his size, his heading ability, and his skill on the ball.

Oct 99: After his first 5 games for Everton, the general verdict is that Abel Xavier has been a good signing. Okay, he may not be the best but he does generally work hard and plays with some pride – at least before the second-half debacle v Arsenal, where he just gave up. But to see the celebrations after the derby win shows that he is getting a feel for the club and its traditions attached. He needs to be given time and he will become a very good player to have around the club – he does play in a lot of positions and could be useful to cover injuries.

He may not have fully adjusted to the pace of the game yet. His passing is OK but seems to fade out of the game for long periods. The most disappointing aspect of him so far is that for a big bloke he's not very good in the air.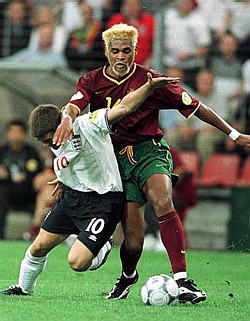 May 2000: Although he sustained a thigh injury that put him out of the last two Everton matches, Xavier continued to press at international level, and was rewarded with a place in Portugal's final squad of 22 for Euro2000, where he displayed yet another weird hair-do: blond all over!
His performance in the first match – against England – was solid, confident and involved as he played a roving right-back role to perfection. Unfortunately, he sustained a leg injury in training, and missed Portugal's next three matches.
He reappeared for the semifinal against France, and a moment of high controversy towards the end of extra time, when he was seen to make a brilliant near-post save – with his hand – as Wiltord powered in. Despite mass and aggressive protests, Zinedine Zidane stepped up to score the Golden-Goal penalty that put France into the Final.
Xavier was later fined £8,000 and banned from all Uefa matches for an incredible 9 months! And the whole business left a sour taste with Evertonians when he stated the main reason for appealing was that he would otherwise be a poor prospect on the transfer market! Excuse me? Walter Smith's response was to stick him out at number 28 in the Premiership squad, but the horrendous injury crisis of the early season forced Smith to call on the enigmatic defender. Xavier claimed he had been mis-quoted and, after regaining full fitness, he was back in the first team for crucial wins against Boro, Newcastle, and Bradford before falling victim to the same knee injury again.
He was back by January 2001 for a few games – including our humiliating cup exit thanks to Tranmere Rovers – but suffered another set back which would keep him out until Easter. He returned in time for the Merseyside derby and the Arsenal game, in which he was sent off.
When he has played, he has made an impact; more comfortable at centre back than right back or midfield, Xavier will need to stay fully fit next season for us to see the best out of him – something we have only seen flashes of to date.
And it was that poor performance record which ultimately led to Everton allowing him to leave, and save a few more pennies on his wages, while he moved over the park to what will surely be a bright future with the Reds. And at what price? Holding his registration, and with an open opportunity to negotiate a contract extension any time during 2001, Everton left it to the last minute. And then the ultimate insult was their reluctance to offer him anything more than a desultory pay-as-you-play deal.
Everton's loss; Liverpool's gain, as we continue to allow our best players to leave.