Dismal performance angers Goodison faithful
By Michael Kenrick
03/12/2014

Comments (144)
jump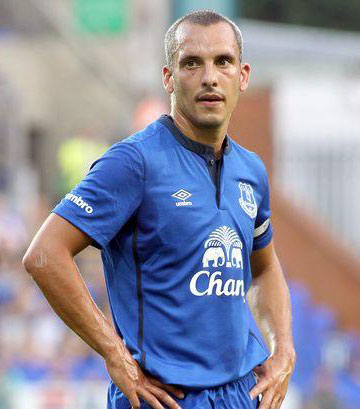 Leon Osman was the one change from the team that started against Tottenham on Sunday
Everton 1 - 1 Hull City
It was a low-key start to the game as Everton kicked off but played the ball ominously back forth and side to side in their own half before Distin decide to hoof it forward. Rosenior was the first to really run with the ball. Hull were first to put in a decent ball, from Elmohamady, and decided to press high as the crab-passing nonsense from Everton resumed, Distin losing possession to Jelavic.
Hull had a good spell, winning their first corner, while Everton looked utterly abysmal, needing a defensive header from Lukaku. Another Hull corner, and Howard had to punch it away. Everton finally spent some time in the Hull half, passing the ball around with limited end product until Lukaku turned and fired in low and hard, straight at McGregor.
Besic suddenly dodged his marker and moved forward and played a great pass for Coleman tot cross in earnest... but no-one there on the receiving end. An poorly underhit pass from Barkley drew the first Everton corner when perhaps the youngster should have shot on goal.
Barry played a beautiful, perfectly weighted ball for Lukaku but, as ever, his first touch was woeful and a big opportunity was gone in an instant. But Everton were playing up better, and starting to move the ball with intent. A really nice passing move started by Barry set up Lukaku in front of goal but on his right foot and the shot was hopeless, leading to silly claims for a handball. Barkley then swung in a really tasty cross, just too high for Distin on the far post.
Besic needed to be neat and tidy at the back after Barry sold him a horrible hospital pass. Mirallas then drew Dawson into a foul that earned him yellow and Mirallas a glorious set-piece opportunity left of the dee that he placed comfortably for McGregor to gather. At the other end, another cross from Elmohamady was headed well wide by Jelavic.
Barkley was being very closely marked and the Hull pressing game was limiting Everton's forward movement. A stragnge wayward shot by Mirallas from the right side was almost flicked home by Osman before Lukaku rammed home in the next move after heading on to Mirallas who did a a tremendous amount of work. breaking forward to the byeline then pulling it back nicely fro that big outstretched leg to power and unstoppable shot into the Park End net.
Baines won a free kick left of the Hull area that Baines drove in low and it came pout to Besic who curled in a nice shot but it was a couple of feet wide. Everton were not sitting back, attacking with pace finally and pinning Hull back, Lukaku almost got off another shot from close range before a corner was swung in dangerously. From the next corner, Jagielka headed wide.
Hull were bright at the restart, attacking Everton and winning a corner, then Barry almost giving a goal away. But Barry then came up with a very neat pass forward to Lukaku running forward who played it nicely inside for Mirallas to attempt an audacious chip that went wide of the goal. Baines went down with a smack to the face, a bloody nose needing off-field attention.
Besic produced some wonderful touches in the middle of the field and, drawing a foul, the ball forward found Lukaku but his shot from wide left was very poor. With Hull probing and pressing, The Blues needed the second goal to make sure of this one, but they were lacking much conviction going forward and the sub Aluko showed what's what, pulling out a brilliant shot after bedazzling Distin to fire in beating Spoonfeet Howard at the near post with a tremendous shot to tie the game.
Aluko then befuddled Distin aon the other side and crossed for Jelavic, whose header had Howard well beaten, but it bounced just outside the post. Wake up, Everton! The unexpected response: Mirallas replaced by Pienaar.
Everton were struggling, with the crowd baying for blood as they witnessed the game slipping away with every poor touch, negative play, and cheap giveaway. It was not pretty to watch... or hear!
Finally, after what seemed an age, Everton won a corner but Baines's delivery was shockingly poor and the ball was quickly back with Howard in a cameo of what was degenerating into a dreadful Everton performance.
Baines was booked for a rash challenge on Elmohamady as McGeady came on to replace Besic with 10 minutes left. McGeady inspired a little better pressure but no real chance came of it. Coleman won a free-kick off Rosenior that Barkley drove in from the right, a great delivery, but only a defender in the sweet spot to repel the danger.
The clock ticked on, and it became less and less likely Matrinez's men would pull this one out of the fire, another two points dropped as the season fails to really spring to life in any sustainable manner. Everton were given 6 minutes of added time to get the winning goal but it was never going to happen after a dismal second half.
Scorers: Lukaku (34'); Aluko (59').
Everton: Howard; Coleman, Jagielka, Distin, Baines [Y:78]; Barry, Besic (79' McGeady); Osman, Barkley, Mirallas (64' Pienaar); Lukaku.
Subs: Robles, Hibbert, Garbutt, Atsu, Eto'o.
Hull City: McGregor, Elmohamady, Rosenior, Chester, Dawson [Y:24'], Livermore, Huddlestone, Meyler (86' Brady), Diame (53' Aluko), Quinn (89' Robertson), Jelavic.
Subs: Jakupovic, Bruce, Davies, Sagbo.
Referee: Robert Madley
Attendance: 34,645
---
Reader Comments (144)
Note: the following content is not moderated or vetted by the site owners at the time of submission. Comments are the responsibility of the poster. Disclaimer
Peter Z Jones
1
Posted 03/12/2014 at 18:59:06
Play Barkley down the middle and win please.
Denis Richardson
2
Posted 03/12/2014 at 19:07:12
Osman a bit wasted out wide but I guess that team was pretty much to be expected. Barkley has to play down the middle.
Wonder why Pienaar isn't starting given he's been on the bench for the last couple of games but not go onto the pitch
Andrew Hawes
3
Posted 03/12/2014 at 19:15:50
Win or bust tonight – I don't care what stage of the season we are at!
We aren't turning over an 8 point deficit to Man Utd if we don't start taking maximum points from the smaller clubs.
Intensity and imagination is needed in the style of play we adopt or we just resemble a 5-a-side kickabout.
James Marshall
4
Posted 03/12/2014 at 19:20:52
Barkley will play from the right again, almost guaranteed.
Harold Matthews
5
Posted 03/12/2014 at 19:13:27
Don't understand people always moaning about Barkley on the wing. When the whistle blows he comes inside. Okay, he did take a corner the other day but let's face it. Well built and 6'-2", he should be heading them in, not knocking the ball across to a bunch of little fellas.
We know he has a bag of fancy tricks including his latest heel of the boot party piece, but the time has arrived where he must grow up and become a serious player.
Bill Gall
6
Posted 03/12/2014 at 19:38:04
My goodness I actually picked the starting 11 in my last comments under Everton v Hull preview .
Bob Heyward
7
Posted 03/12/2014 at 21:15:48
Distin seems as though he's on a one man mission to undermine my fantasy football team. Grrrrr.
Spragg Johnson
8
Posted 03/12/2014 at 21:39:31
I only watched the second half ... and it was dire. Barkley's corner to finish summed him up tonight ... inaccurate and wasteful. Pienaar was worse. No wonder Chelsea are annoyed at Atsu not getting game time if Pienaar and McGeady come on and do nothing other than give the ball away. Mid table mediocrity this season I fear. Europa League is the 'lipstick on the pig' at the moment.
Mike Powell
9
Posted 03/12/2014 at 21:39:59
Absolutely piss poor... I've had enough off this crap, no excuses; we are shite. It's a relegation battle for us.
John Audsley
11
Posted 03/12/2014 at 21:40:53
Fucking woeful, I said at half time we could throw this away and that feels like a defeat. Not one single positive and Mirallas stupid effort on 50 minutes tells me how arrogant this lot are.
If we had played till midnight we wouldn't have scored
Martinez had no idea tonight and has no plan b
Play chess all you want Roberto but tonight was horrible
Joe McMahon
12
Posted 03/12/2014 at 21:42:09
NO CL Footie next year guys. I honestly think we will end up even as low as 16th. Too many old players out of form being picked.
Mike Price
13
Posted 03/12/2014 at 21:39:11
I know there was lots to criticize tonight but Howard is undermining everything we do. Massive off night but without that clown we would have probably nicked it.
Osman should never play 90 minutes, he's an impact sub now, at best. Can't believe how much we miss McCarthy, it's actually disturbing.
Phil Rodgers
14
Posted 03/12/2014 at 21:39:34
Truly disgraceful performance, I am getting very tired of Martinez's "philosophy". These players are much better than this and I honestly don't believe Mr Nice Guy has the balls to lay into them.
Last season is a memory, the problems started with a lackadaisical pre-season and now we are picking up the pieces. Scandalous result.
Shaun Kinnair
15
Posted 03/12/2014 at 21:45:01
FUCKING SHIT WE'VE BECOME!!!
Bill Gall
16
Posted 03/12/2014 at 21:39:03
Might have picked the starting 11 but could not believe they would put up a shite performance. I was always in favour of giving Martinez a chance but after these last 2 games I think the players are fed up with him and are not putting in the performances that the blue shirt not only demands but deserves.
I have stated before that the manager does not seem to have a Plan B but, after this showing, I do not think he has a Plan A. He is getting out-thought by all the managers he comes up against in the Premier League.
Chris Leyland
17
Posted 03/12/2014 at 21:45:00
John, Martinez doesn't appear to have a Plan A, let alone a Plan B
Stephen Brown
18
Posted 03/12/2014 at 21:42:14
It's the hope that kills you! So much expectation this season but, every time we threaten to get a run going, we get a result like this. So disappointing as I'm sure we have a decent team but it feels worse than the late 90s! At least then we knew we were crap so any result was a bonus!
Oh dear... if we get a crap FA Cup draw and Europa League draw, the season could be a effectively finished in January! As I said, it's the hope that kills you!
I'm normally quite upbeat honest!
Dave Duggan
19
Posted 03/12/2014 at 21:44:05
That was an absolutely fucking embarrassing performance!!!
Mads Kamp
20
Posted 03/12/2014 at 21:38:51
Pienaar is fucking shite! All he does is walk around and point at his teammates where to position themselves at throw-ins.
Ossie, Distin, Howie: Time to hang up your boots.
God damned! What a fucking disgraceful performance and result.
Phil Head
21
Posted 03/12/2014 at 21:40:23
Have we actually put in a decent performance, this season? A couple of lucky results have papered over the cracks, we've been hopeless the hole season.
As soon as a side presses us, we get to see how technically inept this squad is. As for the subs made by Martinez tonight, they should be docking his wages. Why bring Pienaar on when we need a goal, the guy hasn't scored for six years. We had a total of one player in the team capable of getting a goal for the last half-an-hour with Eto'o sat on the bench.
William Tone
22
Posted 03/12/2014 at 21:47:49
Worst performance of the season. I can't believe how angry that's made me. How are we going to get through December with slow, tired old men all over the pitch? Barry looks exhausted and clearly doesn't trust Besic. Just absolutely awful.
Shaun Kinnair
23
Posted 03/12/2014 at 21:47:33
Let's hear what Martinez has for an excuse this time!!! Distin can go, he's always getting skinned, he's too slow and a liability!!!
Tony Marsh
24
Posted 03/12/2014 at 21:47:09
Dire, absolute fucking shite. Cash in on Barkley now. Too may players are passengers, Howard, Distin well finished years ago. Players being selected when not fully fit. It's a huge mess.
We can't play the system Martinez wants. The players are not skillfull enough. This reeks, and Everton just cost me 8 ton... nice one lads..
Bob Heyward
25
Posted 03/12/2014 at 21:40:05
Totally unacceptable. I looked at the fixture list after Man Utd away. The next seven games all looked like nailed on 3-pointers. So, seven games later, what do we have? Well, of the available 21-points, we have 12. 12-points against the dross of the league.
Tonight was, make no doubt, a disgrace. Roberto's 'jam tomorrow' words are failing to deliver. On this form, forget Champions League, and expect maximum quarter final finishes in the Europa/FA Cup.
Time for changes. Time for a manager with a bit of steel to go with the guile.
James Byrne
26
Posted 03/12/2014 at 21:44:52
I only saw a few minutes online due to being overseas but what I did see was fucking crap. This is not what I buy a season ticket for each season.
With the players we have we should be getting three points, no question, against this type of opposition. Stop being so arrogant, Martinez, and start playing to our strengths.
Keith Meakin
27
Posted 03/12/2014 at 21:53:18
Feel for you there Tony, I was feeling pissed because Everton ruined my Double. Cost me ١.70
Jay Harris
28
Posted 03/12/2014 at 21:48:10
We are just not playing like a team at all.
Too slow to get on the end of a pass, no movement off the ball, no purpose and no pressure on opposing teams.
It hasn't taken long for us to become Wigan Mk 2.
David Cornmell
29
Posted 03/12/2014 at 21:44:03
I turned it on at the restart for 1-1. What can I say? We didn't create a single chance; didn't look like creating one. Not good.
Brian Burns
30
Posted 03/12/2014 at 21:50:05
Centre mids on wing again and we have 3 wide men on the bench. Hes now begining to get to me. Get rid of that joke in goal and the 86-year-old centre half. I thought Sunday was bad. If he comes out and says (as he did Sunday) we played well, I'm gunning for him - literally. Shocking show all round.
Andy Walker
31
Posted 03/12/2014 at 21:49:45
Yet another poor display. If we repeat that form for the rest of the season we will be relegated. But no-one should know that better than Martinez.
Same old problems, set up with 2 defensive midfielders, slow ponderous build up, too much passing around at the back. No surprise to Hull who were clearly planning for Martinez to ask his team to play in exactly the same way he has done for ever match. So they pushed on to our defence, closed us down and Martinez had no answer to it.
Truly appalling, poor management not deserving of a man put in charge of our team. Worst showing in more than 10 years.
Dave Lynch
32
Posted 03/12/2014 at 21:50:05
The real Martinez has arrived!
Really sorry to say that but I had my fears when he was appointed, last season gave me hope that he had learnt from his Wigan experience but that does not seem to be the case.
The football has been turgid and predictable and the intensity has been replaced with a sterile, ineffective, boring passing game with no end product.
Cup competitions are all well and good but they are what they are in the knockout stages, a lottery.
So fucking disappointed it has come to this, I really am.
Michael Polley
33
Posted 03/12/2014 at 21:45:57
Disgusted ! I'll keep the faith, but it is difficult. Howard & Distin both shite again. Feels like a defeat. I'm working on Saturday, so I'll be spared the farce that will take place at Man City on Saturday.
We're destined for mid-table I'm afraid. The crowd at Goodison now seem to be getting restless and the boos were very noticeable. What will RM do? God knows we have serious problems with under performing players,inept tactics,and just general shiteness!!!
Maybe I'll eat my words on Saturday evening, but I doubt it.
Declan Martin
34
Posted 03/12/2014 at 21:54:43
I learned on Sky this evening that if Everton had preserved half time positions, they would be second in the Premier League. The amount of leads given up in the second half of games is criminal. How can we realistically think of winning the Europa League trophy if we can't win games like tonight's?
The defence is abysmal. What is going on?
This is how Wigan got relegated.

Chris Lawlor
35
Posted 03/12/2014 at 21:51:39
That was poor, no doubt as was the Spurs game but some of the knee jerk comments here are simply childish. Hull are no pushover nor are any club in this division and to think we are guaranteed points against any side just smacks of arrogance and a base understanding of the game.
We'll turn this round I have no doubt. We generally always come good in the 2nd half of the season. Macca and Naisy are big losses for us and it shows. Regardless of the bile spouted above, we have one of the best managers in English football. Finish well at the season's end and his name will be sung from the rooftops.
My only concern with us right now is the status given to Barkley, he's not shown much of the superb talent he's supposed to have, I'd have a fit Naismith over him at the moment. Onwards Blues.
Pete Ellingham
36
Posted 03/12/2014 at 21:52:20
Really fed up! Terrible. We should beat these teams at home!
Shaun Kinnair
37
Posted 03/12/2014 at 21:53:39
Get rid of Howard, Distan and Ossie..... 1 shot on goal, 1 goal.... Howard lack of positioning, Distan lack of speed and Ossie is just a passenger and has been for years!!!
Where's the urgency, pass, pass, pass, pass after pass that gets nowhere!!
Stones and Mcarthy we need back because this is hopeless!!!
Peter Z Jones
38
Posted 03/12/2014 at 21:57:10
We're the most frustrating team by a mile aren't we? Lukaku and Besic were good. That's about it.
William Tone
39
Posted 03/12/2014 at 21:55:27
What I don't understand is why for the last few weeks we have looked completely scared and confused when the other team presses us. If we want to play the Ajax/Barcelona brand of football, shouldn't that be something we're comfortable with by now?
This is the worst possible time to be missing McCarthy and Stones.
Ingi Eyjolfz
40
Posted 03/12/2014 at 21:58:09
Awful performance! We need more DIRECTNESS! It seems our strategy is to put the opposition to sleep so we can score. If anyone shows a bit off directness he's taken off (Mirallas). I'm too angry to type anything more........
Joe Clitherow
41
Posted 03/12/2014 at 21:58:18
Heading back home from the game now.
Turgid. Dire. Shite.
Jay Harris
42
Posted 03/12/2014 at 21:59:07
Chris, they are not knee-jerk comments.
We have only won 3 of the last 9 games at Goodison.
That is disgraceful.
Derek Thomas
43
Posted 03/12/2014 at 21:52:11
Besic and Mirallas get 7/10, the rest were around 5/10, including the manager.
I used to say this about OFM... I don't think he knows his best 11, nor how to play them to the greatest advantage. There's no Intensity, no drive, nobody seems too arsed about it either.
But who will be replaced and by whom...how many kids would you throw in Vs City.
Going to be a long season and the early bid flight and hotel I booked to Warsaw is looking a very rash decision.
As always with Everton, more questions than answers.
Andy Walker
44
Posted 03/12/2014 at 21:59:39
35 - 'we have one of the best managers in English football'.
Possibly the most ludicrous statement ever made on this site. Are you Martinez's agent?

Alan McGuffog
45
Posted 03/12/2014 at 21:54:11
Lots of negativity here... let's look at the facts. We are on 18 points so, only another 22 to the magical 40. We can avoid the drop, I'm sure of it. Look how we battled gamely against a mighty Hull side for that point. OK we didn't have a shot in the second half but we defended a hard earned point.
Some of our possession play in our own area was spell binding and if we could reproduce it on ice we could be a wow during the festive season in Blackpool.
It won't always be as good as this though. It's odds on that Barca are looking closely to our genius Catalan coach, it can only be a matter of time. Likewise there will be a host of clubs with 㿨 million burning a hole in their pockets waiting the go ahead to sign Branch sorry, er Cadamateri... no not him... er Rodwell no no hang on ... yes Barkley the great hope of English football.
So get used to being without Roberto and Ross guys... but you know what, I think right now I'd be made up with Rodgers and Gerrard.
Onwards Evertonians ... soon be 30 years since we had a decent side. We are going nowhere fast!
Chris Leyland
46
Posted 03/12/2014 at 22:01:15
Chris Lawlor - you sound like some happy clapping born-again.
The basic fact is that 2 points at home from games against Palace, Swansea and Hull is wholly unacceptable. Whilst we have no god-given right to win, we should be winning these games but we show a complete lack of ideas, creativity, urgency or, most unforgivably, passion.
Patrick Murphy
47
Posted 03/12/2014 at 22:00:13
We can't get rid of all of those players that some would like to remove from the first-team; however, they should be royally chastised after a performance that lacked nous and energy. It is ultimately down to the manager to ensure that they go out on the pitch willing to run until they can't run any more and it is up to the players to perform to a level that they are capable of.
Leading at half-time, the team should have come out and gone for the jugular but, as has been the case far too often this season, they retreated and allowed Hull a foot-hold in the game. Too casual in their passing, too lightweight in the tackle and showing little or no desire to make runs anywhere on the pitch and especially in the last third.
I hope Naismith's back and fit soon and that tells you a lot about the team's work ethic when he is missed so much, he should be a bonus to decent side, but because of the lack of effort and form he has become a necessity.

James Stewart
48
Posted 03/12/2014 at 22:02:53
Utter shambles. The Worst performance I've seen under RM. His subs were also terrible and nearly lost us the game. Taking Besic off lost us the midfield. Martinez was only a master of chaos tonight. A million times worse than Moyes. This season is fast becoming a write-off.
Brian Waring
50
Posted 03/12/2014 at 22:03:24
Strange sub taking Mirallas off for Pienaar who is just coming back from injury.
Trevor Lynes
51
Posted 03/12/2014 at 22:00:35
One comment I have is Kone and Oviedo looked good enough for the bench at least unless they broke down again since the Under-21 match. Both should have been available after playing almost the full match the other evening. Kone and Oviedo were both on the scoresheet.
We played poorly and scraped a draw against Hull who were soundly whipped by a pretty average Man Utd side a few days ago. Why Atsu is taking up bench room I do not know. If he is not good enough to give us half an hour then why is he here? We had a similar issue with Traore who vanished without trace.
I do not wholly blame Martinez for the team playing badly but he needs to get them passing much quicker and crisper. Barkley has virtually disappeared from the player who showed so much potential last season. When is this so called boy wonder going to score a goal?
Chris Lawlor
52
Posted 03/12/2014 at 22:06:52
Chris - I'll take happy clappy over the constant litany of moaning on here even when things are going well mate. It could be the Virginia air over here. I'm not saying I'm happy with what's gone on but I've got faith that we've enough about us to get it right and kick on. I can't start thinking we've lost the season now.... That's unthinkable fella.
Kunal Desai
53
Posted 03/12/2014 at 22:10:24
Not doing anything this year, mediocre and falling into mid table obscurity.
Brian Waring
54
Posted 03/12/2014 at 22:08:19
That's what I couldn't understand Patrick, we had Hull on the back foot at the end of the first half, and instead of coming out for the second half and pushing forward we just sat back and let them back into it.
The worst thing for me is whoever we play just seem to want it more than us, just no fight in us of late.
Andy Codling
55
Posted 03/12/2014 at 22:07:36
No pace and to many attempts at passing again and again. Why when we go forward why do we always have our backs to goal? Why can we not take a corner that beats the first man?
Barrry obviously not fit, Barkley quickly becoming another Jack Rodwell, Howard still in the team?
William Tone
56
Posted 03/12/2014 at 22:01:48
I was absolutely disgusted with this performance, but I don't really get people saying it's because we passed the ball around too much. If anything, we showed that we don't have the patience to keep moving the ball around until we pull the defence out of balance, a la Pep, and reverted to some ugly kick and rush longball way too soon.
I'm glad Rom is working with Dunc to improve his holdup play, but I sure as hell don't want that to be our first option. We didn't pay 28 mil to get a new Anichebe.
Sometimes it seems people on here wish we could play with 4 Shawcrosses in the back, 4 Lee Cattermoles in the midfield and 2 Andy Carrolls up top.
Robert Elliott
57
Posted 03/12/2014 at 22:07:08
Absolutely frustrating. As usual with Everton, it's the hope that kills you! This season has been a wash out ever since we threw away leads late on in both of our first two games. Should have had 6 points, only had 2 and then got torn apart by the outstanding team in the league. We've never really recovered and our hopes of top six, let alone top four, look doomed. I don't think Southampton, Swansea or West Ham are as good as us, but they keep winning and we keep drawing. We've recovered from these sort of positions before under Moyes but it looks unlikely at the moment.
As for tonight, cannot for the life of me understand Eto'o sitting on the bench all night. Can't be a fitness issue or he wouldn't have been there in the first place. Baffling.
Ian Hollingworth
58
Posted 03/12/2014 at 22:11:15
So are we now seeing the real Martinez
Our tactics are so predictable and everyone has us sussed
We need to be more varied and you need to attack with pace like all the top teams do
We are a long long way from champs league and I fear we are going backwards
I loved what Roberto did for the whole club last season but rapidly losing confidence in his ability and constant drivel about how brilliant we are when we clearly are not
Andy Walker
59
Posted 03/12/2014 at 22:05:44
35 - As for 'We generally always come good in the 2nd half of the season.' Well that was down to the previous manager, not some supernatural power that descends onto Everton and will get us out of the shit this season. The only way we will stop the rot is if our manager starts to earn his money and becomes more than one dimensional, stops praising his players all the time, stops setting his team up the same every game, stops giving positive press conferences all the time.
Did you actually see the match Chris? It was a truly appalling performance, tactics non existent (same as every match), players were frequently miss controlling the ball and making simple passes straight to the opposition. We deserved to loose and got away with a point.
Stephen Brown
60
Posted 03/12/2014 at 22:10:03
Chris (46) I agree that it's criminal to show a lack of passion and there seems to be a bit of that – all teams need it!
It's all a bit stale for me, all teams need a shake up occasionally. Desperate for Stones to return. Also need a couple of gems in January. The talk of Delboy on a different thread was interesting!
Depressing stuff!
Alan McGuffog
61
Posted 03/12/2014 at 22:18:19
What a night.....that utter bilge followed by the news of the tragic death of Ian McLagan. Where's that bottle of Irish?
Daniel A Johnson
62
Posted 03/12/2014 at 22:19:07
Genuinely concerned
Martinez relegated Wigan by sticking to his "principles".
Teams have figured us out. Even when we change our line-up, the roles remain the same.
Something is badly wrong at Everton at the moment. I can't put my finger on it but something is wrong.
It's almost as if the players just don't believe in Martinez. They all look flat, bored, confused and disinterested.
Joe Clitherow
63
Posted 03/12/2014 at 22:08:27
Earlier in the season I posted that I thought the players were overcoached and were confused for a split second in possession. Watching very closely tonight I think it is actually a worse situation because I now think any attacking intent has been coached out at the expense of 'holding' the ball. Every time an opposing player came near ours the instinct was to shield and turn back. Eventually when opponents press the ball gets lost anyway and because we don't get out of our half it is lost possession in a dangerous area. It's why we keep conceding 'mistake' goals
At one point I counted 8 passes starting at the half way line which went back to Howard who ended up lumping it cos he had nowhere else to go . I will never ever understand that 'philosophy' of playing back so the goalie can twat it but I can see now in exact detail why I said 'Sin defendo' when Martinez was appointed. Surely he gets paid to see exactly these things and rectify them? I don't think he does see them nor does he appear able to change anything.
Brian Waring
64
Posted 03/12/2014 at 22:28:31
Andy, we didn't deserve to lose. Hull had one shot on target all game and scored with it, and that was because Howard fucked up getting beat from that angle and on his near post.
Anthony Barnett
65
Posted 03/12/2014 at 21:48:54
It's painfully obvious Howard, Jags and Distin aren't up to passing it out from the back but Martinez has persisted with this tactic when it puts us under pressure all the time; we should mix it up more.
Howard and Distin have had their day and both were poor for the goal. Ironically this followed on from one of the only times in the game Jags didn't play a safe sideways pass and attempted a forward pass on the deck all game. We only started to look better playing the Bobby way last season with Stones in the defence, who had the composure to carry the ball, take it past people and pick a forward pass.
Without McCarthy, Barry doesn't have the legs or get the time on the ball to get us ticking forward like he was in his good performances last season and he's looking to have slowed further even more, especially after his recent knock.
Lukaku's touch looked better at times tonight and he timed some flick-ons better than I've seen before but he wasn't involved as much as he should be. Coleman and Baines are completely off the boil at the moment, keep them quiet and that's 70% of our threat sussed.
Pienaar was woeful when he came on and obviously rusty; time is catching up with him. Ossie faded big time as the game wore on, as ever when he is on from the start in the Premier League.
Barkley dithers at times when he gets the ball and doesn't seem to spot a quick pass. He only looks good when he has bought a yard and drives but his final pass / decision-making is letting him down, I reckon this will get better though with a bit of confidence and hopefully a good injury-free run in the side.
We were far too pedestrian again on and off the ball... the quicker McCarthy, Naismith and Stones come back to inject a bit of urgency in the play, the better as they (and maybe help from Oviedo and Eto'o). These are the only players who can come in and improve us.
Besic did pretty well again for most of it I thought but I'm getting really alarmed again at this dicking about at the back which is tedious, infuriating and terrifying to watch in equal measure. When teams sit back, we lose the the incisive counter attacks with Lukaku running onto it on the break and it's so slow and predictable.
A lot of our wins have been flattering this season and our goals seem to come from the one or two rare moments a game where we do string it together and we've got that bit of quality to be clinical but without many other chances and without being well on top (Burnley for example) which is worrying.
We'll have to pin everything on our good form in the Europa (albeit we've rode our luck a bit) and hope we don't bottle it at the first sign of pressure in a big knock-out match. The effect of the new manager and the arrogance we displayed during our good run before and after Christmas last season has well and truly gone. Let's hope when a few more are back and match fit we'll get back there.
Dick Fearon
66
Posted 03/12/2014 at 22:17:13
Judging by the crowd reaction, a growing number have come to the same conclusion I have held for months.
Possession simply for the sake of it is slow, boring and frustrating and far too often pointless.
As with many other sides, Hull showed that strikes on goal do not require a dozen or more intricately contrived passing movements.

Ian Riley
67
Posted 03/12/2014 at 22:06:12
It's getting worse! Steve Bruce must feel disappointed not taking all three points. The style of football the manager is implementing will never work, why? The team has no pace and playing from the back allows teams to get into position, have a cup of tea waiting for us to arrive in their box. It's slow and predictable and sadly its going to continue.
Under Moyes, we expected a slow start to the season. Let's hope the manager has a Plan B or we can write this season off by Boxing Day. This squad for quality is the best we have had for 20 years, fans should be expecting more!
If the manager comes out and says we were unlucky and we played well, call him a taxi!
Did the manager get an improved contract this summer?
Sue Brown
68
Posted 03/12/2014 at 22:04:07
Well, after that it hopefully can only get better. Maybe such a dire performance and the booing will spur Roberto into dropping some of his "big names".
I just don't understand the mentality of his subs. Besic did a great job tonight, Mirallas worked hard... so he takes them off!
Pienaar is finished, Distin looked done in from the off, and Howard again let us down.
I was upset with Sunday's result but tonight I'm so fecking angry at that joke of a performance.
Barry McNally
69
Posted 03/12/2014 at 22:34:42
6 points from the first 7 matches, 12 points from the last 7, we're getting better! COYB
Faisal Bhayat
70
Posted 03/12/2014 at 22:38:22
Not good enough! Worrying times for Everton FC! Our senior players let us down again! Howard, Distin, Osman! Really frustrating! What's gone wrong??
Harold Matthews
71
Posted 03/12/2014 at 22:07:46
They wanted it more than us. No doubt about it. Too many of our lads didn't look bothered, especially the captain, who kindly provided the pass to start the move for their equalizer. His two mates, Howard and Distin, did their best to help out.
We did well last season but teams have strengthened while we have regressed. All rivals know our system and Steve Bruce put Baines and Coleman out of normal business by keeping them occupied in their own half.
Something is clearly not working properly and I don't how we go about fixing it. Hopefully Martinez does.
Bill Gall
72
Posted 03/12/2014 at 22:38:38
Listened to the commentry at the end of the game as I was getting too mad watching it as my wife was yelling at me to stop watching as my blood pressure was going up.
The commentors summed up the game perfectly when they said that they did not know what Bruce was complaining about with the time the referee was adding on – that Everton could have played till midnight and not scored.
Tony Hill
73
Posted 03/12/2014 at 22:40:54
We were very poor apart from 20 minutes at the end of the first half.
I am starting to wonder if the players are disgruntled with the manager and are not trying properly for him. The two full backs are woeful at the moment and Baines has been weak now for a long time. I thought Lukaku and Besic were reasonably good, the rest awful.
Distin cannot be allowed to play against Aguero on Saturday, the mind shudders at the thought. Howard must be dropped.
John Voigt
74
Posted 03/12/2014 at 22:39:48
I would have liked to seen Eto'o come on after 60-70 minutes. Everton need to bring on goal-scores after the 60 minute mark and Eto'o was the only proven goal scorer on the bench.
Lukaku is looking better. Mirallas looked lively while he was on and Besic played with positive energy.
We keep playing Ross Barkley now that he's healthy enough to play and so far this season he has ZERO goals and ZERO assists.
I'm a Yank and I've always been a Tim Howard fan, but I have to admit he's not playing at a high level right now. He didn't move on the header that almost went in and even worse was easily beaten to the near post on a shot where he should be protecting the near post.
This is two games running where Everton scored first on a well taken goal and the lads have one point from the 2 games.
In today's game, Hull had ONE shot on goal and it was from a tight angle and of course, the way this season is going, it's worth a point for Hull and keeps Everton from claiming 3 points in a game they should have won.
Mike Childs
75
Posted 03/12/2014 at 22:23:47
Sounds like I should be happy that I was busy this afternoon and missed the snooze fest. Howard again beaten at the near post surprise. I knew Jimmy Mac was our MVP but this is a bit much.
Should have never put up that mural. It's a hex. I have been fooled. At this point I think I'd rather have Alan Irvine pulling the strings. At least he tries to mix it up and his players play 100% for him.
Dave Abrahams
76
Posted 03/12/2014 at 22:30:07
Mr Martinez, those thousands of fans booing at the end of the game were your wake-up call; heed it or things will become a lot worse for you.
Patrick Murphy
77
Posted 03/12/2014 at 22:35:07
What is to be done? I must admit I watched tonight's game without my usual blue-tinted glasses on and deliberately tried to assess what I was watching, mostly because we were so found out by Spurs... and let's be honest, if Wolfsburg had have taken half of their chances last Thursday, that too could have ended very differently.
What I saw tonight did not fill me with much confidence as it took a wee while for the team to get going and, even when we took the lead, I was never really confident that we could go on and score a couple more goals. Whilst there is only one goal between the teams there is always a chance you might concede a daft one — which we duly did.
That isn't what concerned me the most, though; it was the reaction to conceding the goal... there wasn't one. It was carry on regardless and Hull might count themselves slightly unfortunate not to have gone on and grabbed all three points.
I'm not sure that the players have fully bought into the Martinez Wazy and I'm pretty sure the vast majority of Evertonians are at best unsure of his style of play and at worst downright hostile to the whole approach.
The fact that the crowd aren't fully behind the team, in the way that was usual even during last season says a great deal, and to be honest for the most part, Evertonians have shown great patience so far this season, but more performances at Goodison like tonight's will see that patience disappear pretty quickly and Roberto could find himself in a very difficult position. He will learn that sometimes you have to play to your players strengths and that the Goodison gallery are no mugs – they understand the game and demand to be entertained – yes of course they want to win every game but fail to entertain and you are on a very sticky wicket, particularly if the fans aren't really sure about your methods.
The very worst thing any Everton manager can do is to explain away a poor performance with sugar-coated soundbites; we are all grown up, we expect the manager to set the standards and if he is happy with the current standard then he isn't on the same wavelength as the supporters and that is very dangerous territory for him and the team.
I know there were times under the previous manager when entertainment wasn't on view, but he got away with it because he didn't have that many talented players available to him for most of his tenure but his teams did show urgency and a desire to work hard. Roberto has plenty of talent available to him but so far this season that talent hasn't shown itself too many times and getting out-muscled by Spurs and Hull is not what we expect from our team.
I'm hoping the last couple of games are just a blip, but deep-down there is a nagging feeling that we may be on the wrong road; we'll find out more as the season progresses.
David Barks
78
Posted 03/12/2014 at 22:51:42
Absolute garbage. Martinez has us playing the most pathetic, pointless football I can remember seeing. Everything is just pass sideways and backwards, no intent whatsoever.
It makes me laugh when I hear people saying Roberto's "attacking style" or "slick passing styling". It's a joke. There is nothing slick nor attacking about how we play. It's boring, no passion, no skill, no attacking intent. You don't even see Baines and Coleman getting into the opponent's box anymore. They hover halfway into the opponents area, get played the ball right up next to the touch line, and have nowhere to go.
And that's not even getting to the fact that we don't close down our opponents anymore. When not in possession we just let opponents send in crosses.
And Roberto wasn't joking when he joined us and said he doesn't like set piece goals. He's made that clear. Baines has gone from being a master from corners and set pieces to just atrocious. I'll say it: I want this manager gone. The football is so boring it's just not enjoyable.
Bill Gall
79
Posted 03/12/2014 at 22:51:34
Harold, that is what Spurs did on Sunday by using Lennon to mark Baines. The problem with our manager seems to be: he underestimates what the opposition's manager is doing – what he is paid to do and that is to study your opponents strengths and format a plan to stop it.
Martinez's philosophy on how he thinks the game should be played is ideal if you have a squad that has the skill and mindset to perform at the premier level; unfortunately we do not seem to have that at this time.
One of the other qualities that a manager must have is the ability to recognize that your game plan is not working and use your substitutes to change the game plan; again, unfortunately, Mr Martinez does not seem to achieve this with his substitutes.
Please in future do not offer these miserable excuses in your after-game interviews as you are demeaning the proud club that you are representing.
James McPherson
80
Posted 03/12/2014 at 23:18:35
There was a healthy debate 4 or 5 games in around Everton's sharpness and general conditioning (not lasting 90 and conceding late goals from leading positions) and the potential link to the dismally disorganised pre-season. Amidst howls of derision, people were accused of knee-jerk panic. Most especially I remember the gospel according to Eugene Ruane.
Well, it's December and my view is even more adamant that this 'rot' set in in the summer. Martinez showed unbelievable complacency in the job ahead and chickens are coming home to roost. I urge people to give Martinez time – last season's efforts deserve that – but please let's take the blinkers off and say it as it is: he loused up big time. I for one will be keeping an eye on next summer.
Chris Leyland
81
Posted 03/12/2014 at 23:26:59
For me Martinez the cult is rapidly turning into Martinez the cunt.
Christopher Kelly
82
Posted 03/12/2014 at 23:17:06
How in God's name do we have so many old players?
How in God's name do they actually get playing time or even START?
How in God's name are we relying on players in their mid-30s? Howard, Distin, Hibbert, Barry, Osman, Pienaar? (I won't include Eto'o in this.)
And How in God's name do these guys get contract EXTENSIONS?? It is laughable.
Howard shouldn't be here anymore.
Distin lost it this year
Hibbert – still waiting for the goal to come. He has actually played well but the fact that he's still on the team is disturbing
Osman – in my eyes has sucked for the past 7 years (granted had 2 good games recently). People have short memories.
Pienaar – finished last year. Looked 2 steps too slow tonight. Rusty but the worst he's played that I've seen
Barry – solid but how can we be so reliant on a guy his age. Looks absolutely knackered.
And they get extensions.... You can't even make it up.
James Stewart
83
Posted 03/12/2014 at 23:36:28
Martinez's comments post match are puzzling to say the least.
Thanks Roberto, I take zero comfort from that.
Brent Stephens
85
Posted 03/12/2014 at 23:39:34
That one hurts and as an Evertonian I'm embarrassed. But/and even a win would have left me feeling pretty much the same as the performance was woeful.
Was it the players or manager? Well again a goal comes (indirectly) from a mistake (Jags giving it away) but Distin was skinned and Howard left wanting at the near post. That's the players – except that Jags trying to play football where he did is down to what the manager wants. So... the manager plus players.
A nicely crafted goal and one of a few nice movements. But they were rare. We have shown in other games that we can play pass / possession football AND with pace / passion – but, again tonight, the latter were lacking. Why, I JUST DON'T KNOW. I'll suggest the manager again. I cannot understand why we rarely try the quick ball over the top to keep them guessing and stop them keeping a high line.
One gem was Besic again (great signing for ٢M, Mr Manager). And thank goodness in all the misery on the Live Forum and the threads so far that many recognise that. I felt sorry for him being subbed – subbed not for being poor but being sacrificed to allow 3 at the back and FBs to push forward. But that didn't work.
And why Mirallas taken off? Roberto has some questions to answer, I think, but not in the post-match interview style, please.
Barkley was an embarrassment. Late on he lost possession for us and stood and watched as a Hull man moved past him on the left threatening our penalty area. Unforgivable.
And why Eto'o not used at all? We've seen what a footballing brain he still has, which in the absence of pace might have been our saviour. Mr Manager again?
James Martin
86
Posted 04/12/2014 at 00:04:15
Let's face it, last season we covered over a lot of cracks. How many games did we win by a single goal in the second half from someone on the bench? How many games were won by goals from direct free kicks or wonder goals or pure luck goals?
The tactic was simple: Have a good defense with two holding mids, keep hold of the ball and at some point you'll score or wear down the opposition and then win the game with the subs. With Stones imperious at the back and Mirallas Pienaar and Barkley all fit and in form it worked enough times last season.
If your bedrock is the Jags - Distin partnership, then you're going nowhere. It's a disgrace Distin is getting one game a week, let alone three, he should have retired after the Suarez backpass and him keeping Browning or Galloway out the team is far worse than anything Moyes did. He is 37 and is playing 3 games a week – ridiculous.
Howard is a clown and has cost us more points than any other player except perhaps Distin. There's not many keepers in the league I wouldn't swap him for. He doesn't make saves simple as. The first Tottenham goal is a keeping error, the second one actually crosses the line in the middle of the goal, and the one against Hull is on the near post. If we have Nigel Martyn in goal we've got 6 points; as it is we've got 1.
Scandalous that both are still first team fixtures after all this time. The rest of the squad are either too old or mentally weak to recover the damage of playing with 9 men every game after these two clowns have set you a few goals back.
Brent Stephens
87
Posted 04/12/2014 at 00:17:54
They fuck you up, your managers.
They may not mean to but they do.
(Apologies to Larkin)
Colin Gee
88
Posted 04/12/2014 at 00:10:52
A poor performance against a poor Hull side, only Lukaku and Besic can hold their heads up.
Build up is too slow, with a slow build up you need people to run into space but that wasn't happening, so it was pass, pass, pass, pass back to where we started the pass, pass, pass, pass, back to where we started again. No momentum means you have to go back or three yards sideways all the time.
It should be easy to find space, especially as every time Barkley received the ball, he had two or three Hull defenders onto him straight away.
I couldn't understand why with 10 minutes to go and still 1-1 Martinez didn't throw Eto'o on to try and liven things up.
The players and the Manager need a kick up the arse. If we play like that against Man City on Saturday we'll get battered.
Andy Crooks
89
Posted 04/12/2014 at 00:15:55
David Barks, spot on about set pieces. Under Sammy Mcilroy, Northern Ireland went about a thousand games without a goal; at each corner the taker would raise both arms in the air and then thump the ball to the defender on the near post.
The tactic never worked but the belief in it never waned. Everton corners are worse and believe me I never thought that could be possible.
Paul Dark
90
Posted 04/12/2014 at 00:54:37
Besic (MotM) was very good tonight, almost excellent. Jags was solid at the back and Kevin did well in the first half. Rom is growing by the day as a player.
We have a second tier of players in our squad that needs to be replaced. The third classers (four of them) should never play again for us.
What surprises me is that, if Martinez is an avid student of the game, how come we make the same mistakes time and again and how come he plays favoured players? (Bringing on McGeady was the last straw for me tonight, and I nearly walked out of the stadium.)
If Pienaar is fit, he should take precedence over Osman for the left-midfield/wing spot... always. Osman is shite enough without being played out of position.
It is worrying that we haven't passed a single stern test this season so far (except in the Europa League). And we could lose by three or four at Man City.
It's so us to flatter to deceive... Feeling sad at the moment.
COYB!
ps: I really cannot bear to see McGeady in an Everton shirt. I'm even beginning to dislike his name intensely. :-)
Martinez has some questions to answer.
Harold Matthews
91
Posted 04/12/2014 at 00:43:56
Even Uncle Bill looked angry.
Andy Crooks
92
Posted 04/12/2014 at 01:24:28
Paul, McGeady really is not what is wrong. It seems to me to be players devoid of confidence.
Christopher Kelly
93
Posted 04/12/2014 at 02:18:40
Uncle Bill doesn't care. Trust me. If he did we would actually try to win the league one day under his stewardship. If he were a winner he wouldn't settle for a "Magnificent Seventh" place... This 5th-12th malaise that has got the club by the short hairs is frankly just sad and boring.
Christopher Kelly
94
Posted 04/12/2014 at 02:33:04
Love that pic of Osman as well up top. Half a head of grays, absolutely knackered, and looks like his man beat him and scored the game winner. What do we do?? Sign him up on an extension of course!!
David Barks
95
Posted 04/12/2014 at 03:28:14
Beyond the absolutely horrible and boring football that we now play, the complete lack of passion and effort on display is the worst part. In the past, the one thing we knew we could expect at the very least was for the team to work hard. The players might not have been the most skillful, but at least they worked hard on defense.
But now, there's no effort out there. And because this is how every player defends, standing off their man and allowing crosses to be sent in, you can't blame the players. It's clearly a tactic the manager has implemented and for the life of me I can't understand why this is.
The funny thing is that in the last 10 minutes of today's match you could see a few of the players had had enough. Lukaku took the ball and did what he has apparently been told to do, look for someone to play the ball backwards toward. But then he just said to hell with it and starting dribbling at his man, and he went through about 3 or 4 Hull players. He almost got a cross into the box but it went for a corner.
Besic tried to do the same thing a few times as well and every time he looked for a player ahead of him to try to make a run, everyone was just standing still or running backwards toward him. All this does is bring more defenders toward the player with the ball, making space tighter, and taking pressure away from the defense. Of course it also means that when the defender is successful at dispossessing our player, they already have midfielders or defenders running toward our goal.
Guardiola came out a couple months ago and said his style of football isn't just passing to hold possession. Every pass should be made with a purpose of getting into the box and attacking the opponents goal. Our passing is so heavily weighted toward passing the ball backward that the opponents can just sit in their defensive formation, waiting for a ball played toward the middle of the park, close that player down, ball goes back to Jagielka or the keeper, and repeat. Eventually Howard just has to boot it up field and we lose possession.
It's just pathetic football and it's not going to change. This is his style. Wingers sending crosses in? No. Hell, he doesn't even want to play wingers. He plays two defensive midfielders who never come close to scoring a goal, every match. Even Moyes only played one defensive midfielder.
Jackie Barry
96
Posted 04/12/2014 at 04:06:24
Regarding the Baines corners, while I agree he has gone downhill, I do not agree with it being since Martinez came in. I remember his corners getting bad towards the end of Moyes reign; seems the player himself is doing something wrong.
We provide absolutely no service to our forwards and the ageing part of our team needs replacing quick.
Darren Hind
97
Posted 04/12/2014 at 06:30:15
Surely you guys are not suggesting The Emperor isn't wearing any clothes ?
Neil Gribbin
98
Posted 04/12/2014 at 06:52:57
Utter, utter garbage performance. I was too depressed to comment last night.
I genuinely fear about the result on Saturday if we turn up and put that shower of useless, pathetic, mind numbing, pitty-patty crap football on display.
Tony Hill
99
Posted 04/12/2014 at 06:54:41
I confess, Darren, that I am getting seriously concerned. This is not the team of last season but nor is it the manager of last season. The whole setup looks frozen with fear. We all see that something is wrong but what can it be?
I suggested above that the players may not be trying for the manager, or perhaps some aren't, but Mirallas's reaction to his goal at Spurs and the general camaraderie look fine – so do our Europa League efforts. There needs to be some frankness behind closed doors at the club before it's too late – serial underperformers have to be dropped.
What we continue to lack is leadership on the pitch and it is clear that Jagielka can never provide that. We are becoming a soft touch in the Premier League.
Paul Ward
100
Posted 04/12/2014 at 08:44:43
(Christopher Kelly 82) You are absolutely spot on. For the last year some of the listers on here have used the words 'Out of form". the truth is these decrepid old men are well finished and have nothing left to give.
Martinez was forced to manage bargain buys and has-beens at Wigan and his mentality has not changed. Hibbert, Osman and Pienaar should have gone last season and Howard should have gone 2 years ago at least.
Phil Walling
101
Posted 04/12/2014 at 10:30:14
Well, it took until 2:18 am for somebody to put the blame on Uncle Bill. Many more performances like this and those long forgotten protest movements will re-appear from the shadows and another manager will be viewed as 'lacking support'.
The truth is, of course, that last night had little or nothing to do with BK and everything about the manager's failure to send his men out fit and fighting for the cause.
More than one or two of those players should be looking at their professionalism too!
Joe Foster
103
Posted 04/12/2014 at 11:01:45
What a boring style of football we now play. Every game I feel as if we are not going to win and when we do go one goal up I almost expect the opposition to come back. Losing my rag with this now.
Dave Williams
105
Posted 04/12/2014 at 11:08:52
Desperately poor stuff!
Someone said something about the more the team reflects Roberto, the worse we play – and certainly we are lacking passion and tempo. The slow build-up play is not helped by the absence of McCarthy and Naismith (don't we miss Naismith!!) but we seem to lack any passion and of course slow play allows teams to organize themselves so that we then have trouble finding a way through.
Last season, the spine of the Moyes team was still strong and Roberto added Lukaku, Barry and Deulofeu. This season, we certainly miss Gerard (and hopefully he will return if Colin Glassar is right) but what has gone wrong this season?
Howard has lost his consistency from last season and Distin now looks too shaky. Baines has gone backwards and Seamus doesn't seem fit, added to which, he needs a decent wide player in front of him to allow him to attack the flank. Jags is okay again now but will only go backwards at his age and we badly miss Stones.
In midfield, Barry has dropped a level – how we need a big performance from him at Man City. Mirallas and McCarthy are great when fit but the big disappointment is Ross who has not kicked on and is not contributing to the team. A few flashy moments do not make up for a lack of real involvement in the team play and the lad doesn't tackle which may not matter if he is playing well but he isn't!!
Pienaar sadly looks a shell of the dashing little player of a couple of years ago and his workrate and passing have dropped alarmingly.
McGeady is a bit like Ross – some flashy moments of skill but they both lose the ball too often and cannot be carried by the team in it's current state.
We need Stones at the back, Oviedo wide left midfield, and move Kev to wide right and Naismith fit again in place of Ross. Possibly Mo in place of Barry and McCarthy fit again to go alongside. Tim, Sylvain and Pienaar to be replaced asap; send back Atsu who is hopeless and bring back Gerard.
Simple!!
Jamie Barlow
106
Posted 04/12/2014 at 11:38:17
What about the other ten players and the manager, David? You can't blame the shite football we have to watch every week on a shit goalkeeper.
It's boring watching Everton these days. Far from what we expected when Roberto joined us. No pace and no passion at all.
Sin miedo, my arse!!!!
Peter Cummings
107
Posted 04/12/2014 at 12:27:14
This performance ranks amongst the worst have seen from an Everton team in over 60 years I have been an Evertonian.
To say that so called professional athletes are 'tired' after less than half the season has been played, by a manager who has seemingly lost the plot as far as tactics go, is an insult to the intelligence.
The reaction of the faithful at the end was not pleasant to hear, in fact the most ugly I have ever heard in at Goodison; unfortunately, on this occasion, it was merited from fans who are amongst the most knowledgeable, and the best in the game.
As for the game itself, no further comment is needed.
John Voigt
108
Posted 04/12/2014 at 12:34:07
Everton were more fun to watch at the beginning of the season. The Arsenal game is a good example. Everton took the game to the gunners and were the better side for 75-80 minutes. Of course Everton blew the game allowing 2 late goals. As it turns out, the Arsenal game was a preview of how to find ways to drop points.
Everton are still well behind the big clubs when it comes to closing out games and pushing for goals if they are needed past the 70 minute mark. Injuries are an issue, but right now clubs are figuring out how to play against Everton (press a bit when Everton are slowly working the ball from the back and wait for a mistake that comes far to often). Jags and Distin hardly ever pass or move the ball quickly forward. In this regard, the player Everton are really missing is John Stones. Stones is much more comfortable driving forward with the ball and also is willing to play forward balls to runners. I hope when he's fit he's put right back in the starting 11.
The most disappointing part of yesterday's game was the final 20 minutes. Everton created nothing quality-wise in the final 20 minutes. I kept waiting for the home side to really go for the win and drive forward, but Hull were the team that played with more effort and energy in the 2nd half.

David Hallwood
109
Posted 04/12/2014 at 12:57:00
Jamie (#106), I disagree in part: winning games breeds confidence, and I'll compare us with Man Utd yet again; early in the season they looked like us, ready to implode at any minute and even now they look vulnerable in defence.
But IMHO the difference has been the goalie because he has stepped up to the plate and won games single-handed; whereas Howard has LOST 3-4 games and its been impossible to put a consistent run together when you've got a keeper who is consistently making mistake after mistake.
I will agree that when we take the lead we need players with mental strength to build on it, but the players seem to be low on confidence at present, now if I was one of the players and had battled to gain the upperhand, and then the opposition have one shot and beats the goalie at the near post (Hull) or he spills a routine shot and they score from it(Spurs), or he flaps at a food-and-drink of a cross (Palace) etc etc, my confidence would be shot.
January window Martinez must break the bank for a first class keeper-and Howard, Miami awaits.
David Holroyd
110
Posted 04/12/2014 at 13:39:36
Is Barkley worried about that prick of an England manager, who is always criticising him. You know the one... Woy, Master Tactitian. Barkley is not the same player since he came back.

Colin Malone
111
Posted 04/12/2014 at 14:00:22
One word: Clueless.
Lukaku has been getting a bit of stick lately and rightly so. Last night, on numerous occasions, he was asking for the ball to be put into a space were he could run onto. Where did the ball go? Square.
This is why Ross should be central, the lad has class. Someone compared him to Rodwell. Rodwell could not lace Barkley's boots. Why did we replace Mirallas and Besic? Especially for the frustrating Pienaar and river dance McGeady?
Let's hope it was a bad day at the office. COYBB
Jay Harris
112
Posted 04/12/2014 at 15:30:21
Colin, it was not just a bad day at the office. It's not just about last night. It's about the latter end of last season when we blew a CL place that was gift wrapped.
It's about the most disorganized and disinterested pre-season I have ever know in 55 years of watching Everton.
The team selection and motivation has been an issue since day one of the season. Our midfield (the heartbeat of any side) is woefully light in almost every team selection.
Apart from Barkley there were no injury concerns in the early part of the campaign so that should not be an excuse.
In short I think RM is totally out of his depth. He has a small club mentality and is too laissez-faire for a club the size of Everton.
Dave Williams
113
Posted 04/12/2014 at 16:21:51
Christopher Kelly – of course he cares. Can you stump up the money needed to buy the players to get us CL football?
No?
Well neither can Bill Kenwright as has been well documented.
This is not the board's fault – it is the players or the management or the coaching but on paper it is the best squad for many years and should be playing far better than they are.
Phil Walling
114
Posted 04/12/2014 at 16:20:15
Jay, no doubt you were one those giving me dog's abuse when I doubted Roberto's suitability to manage Everton last season.
On the basis of my intel from his previous club, I warned that he was a philosopher who talked a good game but, in terms of planning, tactics and team selection was entirely one dimensional and as big a ditherer as his predecessor had been. I also questioned the mass importation of staff and players from his previous, relegated club.
Last season he proved me very wrong with a splendid 5th-place finish and a brand of football hailed as of the best quality we had seen in the Premier League era.
So what has gone wrong?
In my view, Bobby got totally carried away with the success he achieved and all the plaudits coming his way. The summer jaunt to Brasil, wrongly prioritised over planning for pre-season, only prefaced what was to come. No friendlies of any quality and a laisez- faire attitude to players returning to duty and putting in much of a shift when they did. Then an uninspiring use of the transfer window when the only game-changers signed were a striker who blew his entire budget and a talented but fading star.
No recognition that he had not one but two dodgy keepers, insufficient quality cover in central defence and......and..... (see posts above)
In short then, good old-fashioned complacency had set in – a disease which any company gaffer will tell you will spread like wildfire through the ranks as soon as it is recognised as present at the top.
So, in brief (laugh if you dare !), Martinez is not a duff manager – far from it – but one who like many before him has come to believe his own and his worshippers' bullshit. Let's just hope that he has the capacity to see where he has erred and the ability to put things right.
Dave Williams
115
Posted 04/12/2014 at 17:06:35
Have to agree with Phil - the amazingly lacklustre pre-season set the tone for what has followed and I cannot for the life of me figure out what was going on with that. Moyes has his detractors (not me) but no way would he have allowed that to happen.
Colin Malone
116
Posted 04/12/2014 at 17:31:57
It's way, way too soon to have a go at the manager. We could easily go and buy a big centre forward and pump the ball up top instead of building from the back, but those teams end up on the wrong end of the Prem League, eg. Stoke, Palace.
Everton FC are trying to build a Ferrari, Chelsea and Man City went out and bought one, I could say the same for the Redshite and Spurs but the wheels have come off theirs. I know it's frustrating but give Roberto Martinez time.
Jay Harris
117
Posted 04/12/2014 at 17:38:57
Phil, let me correct you. I, like you, was often castigated for not getting behind the manager.
I was always totally against recruiting a manager who had a side relegated but was heartened by the way he gave the whole club and fans a real feeling of togetherness following the divisive reign of Uncle Bill.
However, as we both know, being a nice guy with good intentions does not qualify you to manage one of the largest clubs in top division history. His complacency about fitness, results and football basics leaves me with real concern.
Jay Harris
118
Posted 04/12/2014 at 18:52:30
Colin,
I think the frustration is the amateur way the club is being run with a farcical close season, highly dubious signings, and no purpose about the players or the team.
Despite a huge warchest (ask Bill about his new larger sofa), the players signed have been average to poor apart from McCarthy.
The GK (Robles), CB (Alcatraz), and CF (Kone) have all been a total waste of signing costs and salary. If Atsu is not capable of replacing Mirallas for the last 30 minutes, he shouldn't be at the club.
These positions are the backbone of any club and the manager had them at Wigan so should have known their unsuitability for a top Premier League club.
Jay Harris
119
Posted 04/12/2014 at 19:01:07
Just to correct myself, I know Atsu was not at Wigan.
Colin Glassar
120
Posted 04/12/2014 at 19:07:55
I'm with you, Colin. I'm not happy about our last two performances, far from it, but I'll give Roberto the benefit of the doubt. It only takes a few positive results to turn things around and I'm fairly confident they will.
This is a good team and we need to get behind them. Roberto is no fool and I fully expect him to turn things around.
Colin Gee
121
Posted 04/12/2014 at 19:13:51
Third Colin, in agreement with the other two.
I don't expect us to get anything at Man City on Saturday evening, but I'll still be there cheering us on.
Paul Andrews
122
Posted 04/12/2014 at 19:16:57
Phil,
The basis of your intel?
The mother in law gossiping over the fence?
John Keating
123
Posted 04/12/2014 at 19:16:43
Colin, everyone wants to see the team doing well.
If it were only the Spurs and Hull games which were shite then fair enough but truthfully, has there been one game in any competition this season, where we have dominated, played well and won?
Barry Thompson
124
Posted 04/12/2014 at 19:13:39
We're trying to build a Ferrari with 2nd-hand parts and a gearbox that can't get out of 3rd.
Colin Glassar
125
Posted 04/12/2014 at 19:28:37
In one word, John? No. But I want to see more of that team that played Arsenal off the pitch for 80 mins. That showed me that the real Everton is somewhere in them still. It's just a matter of coaxing it out of them and that is the manager's job. I expect, and demand, that he will do it.
Ian Bennett
126
Posted 04/12/2014 at 20:08:45
12 dropped points from winning positions. 18 turns to 30 points. Jesus wept.
John Voigt
127
Posted 04/12/2014 at 19:57:00
I just want Martinez to switch how Everton play out of the back. This slow it down, past it sideways, or back to Howard, is not only ineffective, but turnovers in our own end are killing us.
Either have Howard boot it long or have another player back besides Jags or Distin to help them out.
It's also so predictable that it makes it easy for teams to play against us.

James Martin
128
Posted 04/12/2014 at 20:00:14
Colin, the Everton you saw against Arsenal is the real Everton. Got itself into a good position – but not good enough – when the pressure was completely off against a listless injury-depleted Arsenal side who were away from home but then flapped it as soon as it came to the crunch and showed their true nature: fear-ridden, choking, unable to keep in mind the basics of defense and attack.
Any decent team would have put the game away 3- or 4-0 but we messed around when we had our foot on their throat and then allowed them to score with their only 2 real chances of the match – just like we did with the 3-3 with Liverpool at home. When the big moments come in games or seasons you can bank on Everton becoming crippled with fear and shying away from it, far safer to lose or draw and go again another day rather than actually have the stones to win anything. These players are comfortable in this space, the small club, underdog "look how well we did to come 7th" mentality.
There's only one winner at this club and he is on the treatment table with a hamstring injury. McCarthy turns up home and away against the worst and against the best. The rest are all just fair weather players hoping someone else will make something happen for them and they'll just turn up when its sunny and we're at home against Fulham swanning around.
This mentality is what sets players like McCarthy apart from Barkley. There's not much difference in age and arguably Barkley is more talented but which player has the mentality to get up and impose their will on the game? To actually trust enough in their own ability to alter the outcome of the match?
Last night, at the end, Barkley was so nervous he couldn't even trap a ball. There's precocious talent all over this team but Martinez has done nothing to shake off the mindset that dogged us throughout the Moyes years.
That is the difference between us and what we would consider competitors like Liverpool and Arsenal. Home and away they expect to win, that's why the inquest is so deep when they don't. We just 'hope to win', 'try to win', with a point being good on the road.
We're always 'building a season', 'going on a little run' 'waiting for the tide to turn'. It's always the same culprits Neville, Distin, Jags, Howard wheeling out this dross to the media after every bad result: 'top 4 is still within reach' – they are never going to grasp it, they don't want to grasp it, they'll lose enough games to be out of it, then win loads when the pressure is off, then choke when its back on. That is the Everton pattern.
Maybe when we finally get rid of the choking generation of the likes of Distin, Baines and Howard we'll see a different attitude and different results. It is absolutely no coincidence to my mind that our best runs of form last season came when either Stones or Oviedo were in the side. Two players who trust in their own ability and aren't afraid to show that they're better than the opposition. Sadly just not enough of them at Everton. Too many cowards happy with another season of Best of the Rest.
Mark Griffiths
129
Posted 04/12/2014 at 21:21:44
James, that is spot on mate! And to be honest we need 11 players and a manager in the Shankly mould to get there!
Stephen Brown
130
Posted 04/12/2014 at 21:29:26
James – an utterly depressing post but I'm so sad to say I can't argue with anything you've said.
You do start to think what is the point? Chelsea and Man City with ridiculous backers have made clubs like Everton pretty pointless. God it's depressing – I wish I didn't care so much!!
James McPherson
131
Posted 04/12/2014 at 22:01:54
Or Catterick, Mark (#129)... he did secure more top flight points than any other manager in the 60s... including Shankly.
Rather than look at managers, look at chairmen. How about having a John Moores back... now he was Nil Satis... Magnificent 7 to him was a Yul Brynner western.
The club is stale from top to bottom... and sadly I sense that Martinez has donned the slippers and is settling in nicely.
Michael Penley
132
Posted 04/12/2014 at 21:53:37
But James (#128) those other clubs you speak of have higher ambitions because the players are fearful 0 they know if they perform badly they'll be out of a job, so they are fighting for their lives.
This is exact opposite of the Martinez philosophy, which is to let players express themselves, be themselves, and play creative football. He thinks if you do that then games will be won. And I'm no manager but last season I was beginning to believe it worked.
But only time will tell, and I can't help but think the trophy winning managers – Fergie, Mourinho, encourage a different kind of "arrogance" – a total ruthlessness aimed at winning at all costs. Do we really think when Osman goes out there he's thinking "Ok this is my one chance – I must not fuck this up. One bad pass could mean the end of my career", or is he going over the manager told him about being himself and creative football. I'd love for us to win trophies while taking the "nice guy" approach but maybe it just isn't possible.
James McPherson
133
Posted 04/12/2014 at 22:12:49
I remember the WBA home game last year... thinking this will never work for us... the players looked out of sorts. But then it clicked and what a season it proved to be.
Here we are, though, back to Square One (being kind). That tells me that teams have sussed it... and there's no Plan B... that's the worry.
It does look more Wigan than Everton at the moment. I just hope he gets his mojo back and fires the team up with ideas and imagination. Being fair, that's exactly what he did last season.
Colin Glassar
134
Posted 04/12/2014 at 22:32:53
I can't argue with you James. I've also said on other threads, I think some of our players don't have that winning mentality, especially the ones moulded by OFM. The likes of Chelsea, Man Utd, Man City, Arsenal and the RS go out to win every game. It's not a case of, a point here will be ok, no. It's we can win this one. That's why they never give up until the last second and that's why they win more often than not.
We, on the other hand, seem to accept a draw as a decent result and a win as a bonus. That small-minded mentality is something Roberto might be trying to change but that might well involve moving out a couple of the old guard who looked on a draw at OT or the Emirates as a victory.
Besic, McCarthy, Lukaku etc don't come with that baggage but for the likes of Howard, Baines, Jags, Ossie etc... running the big boys close might be an achievement in itself.
Ron Sear
135
Posted 04/12/2014 at 22:50:25
If anybody starts singing the School of Science again, I think I'll just go outside and find the nearest pub.
The moment that summed up the whole match for me was 20 minutes before the final whistle: Howard gets the ball and wanders around with it wasting time as though we were 6-0 up, either that or not knowing where to kick it. Meanwhile everybody around me is screaming abuse at him.
Badly done, Mr Martinez, badly done.

Chris Leyland
136
Posted 04/12/2014 at 23:13:16
Colin, I have to give you admire your blind loyalty as a Martinez disciple for blaming our current malaise on our previous manager.
Martinez has been manager for 17 months and 3 transfer windows during which time he could have changed things and moved on those who are 'losers'.
He is currently using the same back 5 as the previous manager. During these 3 windows, he has signed one defender and one goalkeeper. The defender he signed is a crock and, despite Howard's persistent errors, the keeper he signed is not good enough to replace him.
Our current problems don't stem from out former manager's gang of losers but our current manager's tactics. His one-paced possession football at all-costs mentality clearly isn't working but he does not seem willing or able to try a different approach. Unless and until he does, be prepared for more frustrating home draws where the into thing we win is the possession stats.
John Voigt
137
Posted 04/12/2014 at 22:58:43
Tim Howard I assume when he was time wasting was doing exactly what he's been asked to do! Waste time and have everyone get into their place on the field where the slow pass the ball out of the back process begins. I'm starting to think some opposition teams allow Everton to setup the way they want so they can wait a bit, put on some pressure and get a turnover leading to a quality goal scoring oppurtunity.
The US National team doesn't play this way and as soon as Howard gets the ball for the US team he looks forward and tries to pick out a US player on the run moving forward. Howard at least for the US National team is pretty good at throwing overhead passes 30 yards on a diagonal to start a break.
Tim Howard isn't great at spraying the ball around like a Neuer at Bayern Munich (using his feet). Howard is pretty good at throwing long balls and I haven't seen him throw many this season. Martinez needs to figure out what the strengths of his players are and play to them rather than having players like Distin and Howard do things they aren't very good at.
It really does annoy me that Everton try to play out of the back in the same slow manner virtually every time they win the ball back in their own end. This means nobody from Everton are running when the ball is won back. They just jog into the same starting spot which has become predictable and totally inefective (in fact with the turnovers we're actually helping our opponents score goals on us).
Everton should scrap this slow out of the back play until they get Stones back and have a goalkeeper that can do something other than pass the ball 15-20 yards sideways.
Colin Glassar
138
Posted 04/12/2014 at 23:28:54
Chris, it's not blind loyalty. I've admired Martinez since his Swansea days and have followed his career since. Not only do I admire Martinez but so do many of his peers in the game and they might see something that you and the rest of the doubters don't.
Every manager goes through a bad spell, and his judgement is called into question, but the very best come out of these mini-crises stronger and better. I believe Roberto will be one of these and will learn from his mistakes.
Paul Andrews
140
Posted 05/12/2014 at 06:33:25
Hear, hear, Colin.
He has built the level of expectancy to such a height with our performances last season that panic sets in very quickly amongst our fans.
Very poor show on Wednesday, I trust him to improve us in the long run.
Daniel A Johnson
141
Posted 05/12/2014 at 07:34:53
Terrible performance. But an energised Hull did arrive and caught us after tiring trips to Germany and London. The Europa League is killing us. Our squad is not talented or big enough or has the winning mentality to carry on through.
Another fact is we never strengthened our squad compared to last season (retaining Lukaku doesn't count). A terrible half-cooked start to the season coupled with exertions in the Europa League has killed us off. 10th this year on current form. Too average teams teams with no distractions in good form (West Ham, Southampton, Swansea).
Anto Byrne
142
Posted 05/12/2014 at 15:26:19
Injuries and form have blighted this campaign. Don't forget this is not his team – it's one he inherited from OFM. Another season of rebuilding with our kids coming through and a couple of astute signings to effect some change. Keep the faith.

---
Add Your Comments
In order to post a comment, you need to be logged in as a registered user of the site.
Or Sign up as a ToffeeWeb Member — it's free, takes just a few minutes and will allow you to post your comments on articles and Talking Points submissions across the site.
© ToffeeWeb