Blues domination but no penetration
By Michael Kenrick
01/03/2015

Comments (357)
jump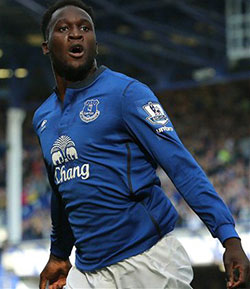 Romelu Lukaku was fit to start after fears he had injured a hamstring on Thursday against Young Boys.
Arsenal 2 - 0 Everton
Roberto Martinez named three defensive midfielders (McCarthy, Besic and Barry) with Barkley, Mirallas and Lukaku all starting ahead of them. Would this be a 4-3-3 formation or would we see three at the back, with Barry allowing the full-backs to get forward more?
Darron Gibson started on the bench, despite his excellent performance in the Europa League win over Young Boys; Baines, Oviedo, Pienaar, McGeady & Atsu were all out, as were Wilshere, Ramsey and Flamini for the home side.
Arsenal kicked off but most of the early stuff was played in their half, Everton looking to impose some control the game, winning a couple of early free-kicks, one sent in deep to the far post by Garbutt, Stones and Jagielka going down and needing treatment. Arsenal's only move in this dominant spell saw Ozil stray offside.
Everton continued to play like the home side, but it descended into too much passing across the back when a more direct approach was called for against a nervous Arsenal side. But Arsenal won the first corner on 10 mins and Cazorla put in a good ball that Sanchez could only scoop over.
Everton were trying to find Lukaku with forward balls but he'd been well marshalled and hardly had a kick, as possession play and protection of defensive shape were the clear priorities. Lukaku finally saw a bit of ball and his shot was blocked out to Besic who had all the time in the world to line up the most dreadful of distant shots, skied high, wide, and definitely not at all handsome.
Lukaku dispossessed Gabriel well but was not determined enough to beat Ospina, who came out with a great full-back tackle to steal the ball off the big man. Giroud dispossessed Barry a little too easily. With Arsenal forced to play very deep, the possession numbers in the first quarter of the game must have been so embarrassing for Arsenal, the media judiciously avoided any mention of them.
However, despite Everton's excellent possession play, Arsenal had hardly been put to the sword, and the danger of a rare but pacey attack by the home side was always a risk. Giroud came so very close with a diving header after he evaded Jagielka. Barkley was too easily dispossessed and Arsenal were able to come forward again.
Garbutt wasted a distant free-kick, straight into the arms of Ospina, and the Gunners attacked quickly but Giroud was flagged offside. Everton were not much better, delaying the early ball to their cost and failing to create anything meaningful as Arsenal started to get more involved, Bellerin teeing up a shot that Jagielka was quick to smother.
Lukaku finally got a good ball and ran in on the Arsenal goal for surely the first decent shot of the game but Gabriel was with him all the way and easily stole the ball before a shot was made. Another Arsenal corner and it was too easy for Giroud to slot home off a low ball in front of Stones.
More purposeless passing ensued before Arsenal were again on the attack, a Cazorla shot tipped over by Howard. Coleman was given acres of space to run into and his ball found Lukaku but nothing came of it at the end of a mssively frustrating half for Evertonians, watching possessive dominance in a creative vacuum that saw not one single goal attempt by the hapless Blues.
Giroud fouled Coleman for a yellow and Garbutt swung in a good ball that no-one could get to except Ospina, giving away Everton their first corner that Lukaku should have powered in but he was a vital foot behind the ball. Another set piece for Garbutt after a foul on Mirallas saw the ball curled in well again for the second Everton corner and once again Garbutt driving it in, this time too deep, but a third corner ensued, this time to the near post. Everton showed more intent in the first 5 mins of the second half... but with the same result as in the whole of the first half: nothing to show for it.
Giroud came close at the other end, Jagielka stopping the shot with his arm while on the ground and disguising it well. The game remained competitive without Everton really threatening and Martinez decided it was time for a change, bringing Lennon on for Mirallas, who had done nothing of note.
But if anything, the removal of a potential goal threat only inspired Arsenal, although Barkley finally put in a good ball for Lukaku to attack, Ospina getting a finger to send it fizzing over the bar. More Garbutt corners looked promising but failed to result in a further strike on goal. Coquelin needed a lot of treatment on a bloody nose after colliding with Giroud in the air.
Coleman did well to get to the byline and pull a great ball back for Lennon whose poke was too close to Ospina. Barkley and Coleman looked to combine but Gabriel read it well and was in far too quickly for Barkley who thought he had lots of time. Everton were not really getting any closer to scoring, while Arsenal threatened to increase their lead.
Besic was taken off, with Naismith on as the new saviour, Lennon was caught by Koscielny. Another good ball in from Garbutt was met with... nothing, while a bizarre mixup and a poor Stones backpass almost put Jagielka in trouble.
Gibson came on to replace Barry for the last 5 mins, and picked out Garbutt on the wing, his brilliant ball in perfect for Lukaku to attack but he was as ever a foot behind the ball.
Rosicky came on and it seemed all too easy for him to score off Jagielka to tie up a hugely disappointing game for Everton, that showed no intent of scoring despite masses of possession, Giroud almost made it three with a header just wide as the game drifted into 7 minutes of added time.
Arsenal: Ospina; Bellerin, Gabriel, Koscielny [Y:79'], Gibbs; Coquelin (88' Chambers), Cazorla; Oxlade-Chamberlain (82' Rosicky), Ozil, Alexis (87' Welbeck), Giroud [Y:46'].
Subs not Used: Szczesny, Mertesacker, Monreal Walcott.
Everton: Howard; Coleman, Stones, Jagielka, Garbutt; McCarthy, Besic (72' Naismith) , Barry (84' Gibson); Barkley, Mirallas (62' Lennon), Lukaku.
Subs not Used: Robles, Alcaraz, Osman, Kone.
Referee: Andre Marriner

Attendance: 59,925
---
Reader Comments (357)
Note: the following content is not moderated or vetted by the site owners at the time of submission. Comments are the responsibility of the poster. Disclaimer
Joe Foster
1
Posted 01/03/2015 at 12:49:12
I am kinda looking forward to this (it must be the sado masochist in me)...
Michael Winstanley
2
Posted 01/03/2015 at 13:05:21
Garbutt starts.
Jeff Armstrong
3
Posted 01/03/2015 at 13:08:15
No Gibson, unbelievable.
Mike Allison
4
Posted 01/03/2015 at 13:18:53
Naismith finally gets a rest, would love him to come on with 20 to go and grab a winner.
Barry is the disappointment for me, Gibson or Lennon should play ahead of him. If it was Lennon then Barkley could play in the middle. Gibson may not be ready for a full 90 away at the Emirates and may be a planned substitution in the second half, which makes it fairly believable and a reasonable idea.
Jay Harris
5
Posted 01/03/2015 at 13:17:29
No Naismith either?
I do like McCarthy, Besic and Barry though.
Brent Stephens
6
Posted 01/03/2015 at 13:21:24
Good team. Barry playing better lately and we need a strong midfield, to stop Arsenal and to allow Garbutt to get forward and hit his crosses in for Rom. Barry to cover when Garbutt goes. Gibson later if we're still in with a chance.
Ralph Basnett
7
Posted 01/03/2015 at 13:24:28
Howard plays, we lose, end of!!!!
Jay Wood
8
Posted 01/03/2015 at 13:19:28
Garbutt starts only because Baines and Oviedo are absent. Here's hoping he continues his good form.
As much as I would prefer Gibson in the side after his last 2 performances, I expected him to be benched today.
I imagine with so little game time in the last 2 years he needs to be carefully managed and with the glut of fixtures we now have I don't expect him to start every game, as much as we need the crispness and vision of his passing.
Dave Abrahams
9
Posted 01/03/2015 at 13:23:02
The strongest bench for a long time.
Jon Ferguson
10
Posted 01/03/2015 at 13:21:50
I'm happy with the front three of Lukaku, Mirallas, and Barkley and also the three in midfield.
I appreciate Naismith scores some important goals, but his limited creativity that high up the pitch holds us back, in my opinion. When Gibson is fully fit he should blatantly be one of the first names down, he is the only one in the squad with the ability to hit pin point accurate first touch passes, it helps speed up our play.
It's also a big confidence boost for Garbutt. I hope he takes his chance.
Andy Walker
11
Posted 01/03/2015 at 13:25:14
We're playing Arsenal so 4-5-1 to pack out midfield.
Mark Frere
13
Posted 01/03/2015 at 13:26:42
A great looking team and surely it has to be 4-3-3. Not too sure Barkley is suited to playing as one of the front 3. Would've liked Kone to play there instead. Still, a good looking line-up and am delighted to see Garbutt start.
Jon Bentley
14
Posted 01/03/2015 at 13:31:47
Dave (9), agreed about our bench. Theirs aint too shoddy either to be fair!!
If we're still in it at about 60 mins, would like to see Gibson on for a couple of rapier like passes through to Rom, or Mirallas for the winner!!!!

Tim Greeley
15
Posted 01/03/2015 at 13:37:53
Cazorla thru Giroud are all world class but their back six is not anything to fear. I prefer ours to be honest even with Flappy Howard. Get at them and score some goals today!!
Steve Guy
16
Posted 01/03/2015 at 13:43:18
4-3-3 or 4-5-1 or any other permutation on paper isn't any use if when you go out on the pitch you appear clueless and lethargic. Howard in goal virtually guarantees Arsenal (or any other team) a goal or two start. Oh.... and we've never won at the Emirates......
Mark Fitzgerald
17
Posted 01/03/2015 at 13:50:43
Yeah, can't complain about the starting eleven. No idea why I'm fancying us to win today but I just think we're overdue a big performance/result. Media/bookies/public are writing us off but away from home and coming off a good win . . . . I just wonder. To put my money where my mouth is; backed Rom to score first & a 1-0 win @100/1.
Victor Jones
18
Posted 01/03/2015 at 14:09:50
So far, so good. Everton have started on the front foot. I have no problem with Martinez rotating the squad. But only if Everton get a result. Not much point in resting the few players who are on form, and then getting beat. And not much point in throwing Naismith and Gibson on to chase the match from a losing position. Let's hope that is not the case today.
I am a firm believer in playing your best team at all times. Take your points, and move on to the next match. But our resident genius has other ideas on everything. Hence the reason we are in 14th position. How bloody phenomenal is that?
Baines will be back in the team as soon as he is fit. It doesn't matter how well Garbutt plays. Ask Robles. Martinez is so predictable in his clueless team selections and tactics. Anyhow, despite all that, I'm ever the optimist. I expect that we might concede a goal. We always do with Tim Howard in goal. But Arsenal are at this present time "a little shaky". We could, barring mistakes, get a result here today. Time for Lukaku, Barkley or Mirallas to step up... COYBs.
John Crossley
19
Posted 01/03/2015 at 14:35:46
Playing well so far... Chances will come... They have to take them.
Victor Jones
20
Posted 01/03/2015 at 14:29:40
Just another comment for now. Here's hoping that this game does not go the same way as the Chelsea game. Everton playing okay, and at least deserving a point, but losing in the final minutes. We need to see games out.
Of course I want Everton to win at all times. But I would take a draw in this match. Move on to Stoke City. That is a game if approached positively. I would expect Everton to win. No more sloppy performances. No more mistakes.
No more false dawns. Let's make this a good week for all Evertonians.
Rahul Sreekumar
21
Posted 01/03/2015 at 14:49:18
If your footballing philosophy doesn't respect corners and free-kicks enough to practice defending them, then your philosophy is a piece of shit.
Christopher Dover
22
Posted 01/03/2015 at 14:54:52
Same old RM pass pass at the back and err pass at the back again. This keeps on we will have had a phenomenal game given everything and been so unlucky to lose .
Unless he changes something at half time, hears hoping.
Si Mar
23
Posted 01/03/2015 at 14:53:42
Everton dominant!! I'd say it was pointless possession with no attacking intent or quality being played at a testimonial pace!
Arsenal are here for the taking and were 1.0 down through a lack of concentration, I hope we can turn it round in the second half but it's got 2 or 3.0 written all over it:(
Tony Hill
24
Posted 01/03/2015 at 14:51:35
It's horribly familiar, pointless possession and a badly defended set piece. Stones lost Giroud far too easily. What makes it frustrating again is that Arsenal hardly look up for it, they scored almost by accident.
We need something from this game, let's up the pace and incisiveness and bring on Gibson for Barry (though presumably it'll be Besic) sooner rather than later. I'd also be looking to get Lennon on for Mirallas unless Kevin ups his game pronto. Still think we've got a real chance here if only we go for it.

Victor Jones
25
Posted 01/03/2015 at 14:44:17
There we go. Same old Everton. Now chasing the game. Will Martinez make changes at half-time. Of course he won't. Expect changes (if any), after the game has completely bypassed Everton. About 70 minutes.
Would someone please point out to Martinez that WBA and C.Palace both won yesterday. We are now in 14th position. This clown needs to realise that we will not be playing a Swiss team every week.
Yet another false dawn. I like everyone else thought that after the YBs game, that maybe, just maybe we might start showing some consistency. Forty-five minutes to turn this around. I will be keeping everything crossed. It might help.
Have Barkley or Mirallas touched the ball. Get Naismith and Gibson on now. It isn't rocked science. COYBs.
Anto Byrne
26
Posted 01/03/2015 at 14:53:36
There goes another clean sheet. Howard flatfooted for the goal. Slow build up allow everyone back to defend. Crab football from Everton and still to get a corner kick. Plan B?
Andy Meighan
27
Posted 01/03/2015 at 14:54:04
Another half were we've virtually created nothing. Barry, McCarthy and Besic offer nothing at all going forward. To drop Gibson who's the only likely one to pick out a pass, was folly... and no doubt he'll be on when we go two down.
This season has been a shambles and it's down to one man: Martinez. I'm not holding my breath for a comeback.
Mark Fitzgerald
28
Posted 01/03/2015 at 14:52:45
Well, Plan A just went out the door.
I thought we started well and kept them quiet. But gradually all the short passing in our own half (including the keeper) was starting to annoy me. The mounting possession stats in our favour is surely becoming an omen of doom.
Not sure if anyone was really to blame for the goal, though Stones will be disappointed. Our issue now is creating chances to score. Lukaku continues to frustrate. Can excite and frustrate in equal measure.
The three-man defensive midfield needs to be dumped, surely Gibson to come in. We can still get something here but we need to show some resilience, which has been plenty lacking this season.
Steven Telford
29
Posted 01/03/2015 at 15:03:47
Could be worth taking a shot from time to time.
Matt Hickey
30
Posted 01/03/2015 at 15:02:02
Did anyone notice Luakaku when Giroud kicked the ball to score their goal? Make an effort to stop the ball, ffs!

Trevor Lynes
31
Posted 01/03/2015 at 15:05:37
Lukaku is the only one that Arsenal have to stop up front. No-one else is willing to run with the ball and shoot. The game is all about goals and if no one shoots we cannot score.
It is about time that the likes of Barkley and one of the other midfielders took it upon themselves to shoot, we are so punchless it is embarrassing.
Rahul Sreekumar
32
Posted 01/03/2015 at 15:14:10
I'd mentioned this during the Leicester game as well: if one picture could summarise Lukaku's season, it would be one where he's covering his mouth with his hands after having missed a sitter...
Jamie Barlow
33
Posted 01/03/2015 at 15:54:11
I'd sack Martinez now for leaving the boy wonder on for 100 minutes. It's too hard playing with 10 men for that long.
Christopher Dover
34
Posted 01/03/2015 at 15:51:52
What a phenomenal unlucky side we are, we have battled and are so unlucky get no run of the ball and and O what the heck they are rubbish and look spot on for relegation.
RM will say we still have the last quarter of the season to come good and 40 points was always our priority.
Good night all the lights are going out.
Drew O'Neall
35
Posted 01/03/2015 at 15:55:18
How badly does Lukaku have to play for Kone to get on the pitch?
Chris Fisher
36
Posted 01/03/2015 at 15:55:53
Predictable, depressing, pointless.
Nev Renshaw
37
Posted 01/03/2015 at 16:00:28
It's horrible being an Everton fan.:(
Gavin Johnson
38
Posted 01/03/2015 at 15:58:48
The 2-0 result flattered Arsenal. I actually enjoyed watching the game for the most part, especially the 2nd half where we should have scored, if not for some good goalkeeping.
I don't enjoy us losing though, and if we don't get anything from the Britannia in midweek there is no question that we're in a relegation battle.
Mark Evans
39
Posted 01/03/2015 at 15:57:43
Why wasn't Gibson playing after his form in the last couple of games? Why are we playing 3 defensive midfielders against a team that's wobbly and there for the taking? Lots of possession and passing but no goal threat. Completely predictable, but that's what we've become.

Vinny Garstrokes
41
Posted 01/03/2015 at 16:04:01
If we are still on 28 points after the home match against Newcastle then with much regret he has to go!
Michael Kenrick
42
Posted 01/03/2015 at 16:03:58
Chris Fisher, spot on. A much more succinct summary of a dismal performance that I wasted a few thousand words on...
What a pile of absolute garbage Martinez is producing. He's destroyed the entire side, and can only get them up for the frigging Europa pot.
Seething.
James Carlisle
43
Posted 01/03/2015 at 16:05:39
Worst weekend of the season. We are defenitely relegation contenders now.
Gavin Johnson
44
Posted 01/03/2015 at 16:04:59
Mark, I'd guess it's because Gibson's still a sicknote, irrespective of form and 3 games in a week would be a bit too much at this stage. I was glad it was Barry who came off for him.
Tony Hill
45
Posted 01/03/2015 at 15:57:27
It's not the defeat, it's the pitiful lack of quality and courage. That result and the manner of it came right out of the Everton script that we've been following more or less for 30 years (and in truth for longer than that). It's shameful, utterly shameful.
Gibson on at 83 minutes? Ludicrous. I've defended Barkley more than most but he was shocking today. I'm afraid it's also time that people stopped regarding Stones as the next Bobby Moore, he really isn't.
We're still in the shit, oh yes we are.
Andy Walker
46
Posted 01/03/2015 at 16:07:31
Gibson didn't play as 3 games in a week after being out for so long is too much.
Mark Fitzgerald
47
Posted 01/03/2015 at 15:59:32
Our PL form guide (last ten) LLLDDWDLDL
Make as many varied comments as you'd like . . . . . . . . . but that's a damning statistic!
Anto Byrne
48
Posted 01/03/2015 at 16:00:27
Sorry, Roberto, when Phil Neville says it's not good enough and the football is being played without passion or a desire to win, then something has to give.
The football is pretty dire and, although it looks pretty, it's totally ineffective. Lose at Stoke and we can call a taxi.
Our position in the Premier League is under threat. Neville might just be the man for the job.
Karl Jones
49
Posted 01/03/2015 at 16:06:19
Really poor effort against a below par Arsenal side. Ironically, since Howard has returned so too has not only the lack of solidity in defence, but more alarmingly the lack of fight and determination.
I can't see us reaching 40 points this season. Just got to hope the teams below us don't pick up.
Surely he's got to go now at the end of the season. Don't see how anybody can now defend Martinez.
Paul Thompson
50
Posted 01/03/2015 at 16:06:41
Not terrible, but none of the existing problems solved either. We need battlers and we need some creativity to stay up. Barkley, Mirallas and one of defensive three have to make way for Gibson, Naismith and Lennon/Atsu. Garbutt to stay in too, perhaps with Baines going to left mid.
Andrew Clare
51
Posted 01/03/2015 at 16:10:44
Just not good enough. So predictable. We are a real soft touch.
Andy Walker
52
Posted 01/03/2015 at 16:10:56
Repeat that over the next 10 and it's the Championship.
Sean Patton
53
Posted 01/03/2015 at 16:09:03
Clutching at straws here but did anyone see if it was a corner for the opener as I was convinced it was a goal kick. Oh a word on Muhamed "Backwards" Besic who was especially useless I think his legs are the wrong way round as whenever he gets the ball he always passes it back.
Terry McLavey
54
Posted 01/03/2015 at 16:05:14
Trevor (#31) — Barkley did shoot, but as usual into Row Z! How can people that spend all week doing nothing else but kick a ball be so fuckin' inaccurate!
So much possession, so little to show for it. The score line flattered them, two Arsenal supporters at work, looking forward to next week! Roll on next season, where ever we are?!
Susong Hermawan
55
Posted 01/03/2015 at 16:05:53
Just get out, Roberto, plus your Wigan's officials too!!
Clive Lewis
56
Posted 01/03/2015 at 16:10:51
Well, if we go down, maybe Bill Kenwright will be forced to sell due to the debt. Look positive: unless Bill decides to get rid, he might just save his investment and team. Interesting times ahead....<
Bill Gall
57
Posted 01/03/2015 at 16:07:37
Sorry to say, sacking the manager is too late: he should have gone 2 months ago. Watching on NBC, their commentator in the studio saying that Everton players playing like it was okay to loose with no determination or effort. Phil Neville agreeing with him.
Neville saying that Martinez wants to play a certain way of playing but the players do not. So are we as supporters wrong? We have been complaining about this for months.
Dave Pritchard
58
Posted 01/03/2015 at 16:13:07
Sean's (53) comment about Besic applies equally to McCarthy. Thought both were poor today. As for Barkley he just runs with the ball until he loses it. It is the apparent lack of effort and concern that the team shows that worries me most.
Andy Walker
59
Posted 01/03/2015 at 16:17:03
Clive what would force BK to sell if we were relegated?
Terry McLavey
60
Posted 01/03/2015 at 16:16:33
Is Martinez emulating a World War One general? ............ Discuss!
Steven Telford
61
Posted 01/03/2015 at 16:14:50
It used to be the hope that kills you. Alas, this season, in it's absence, there is just "nothingness".
And to see this with this great squad, it adds to the overall pity.
James Byrne
62
Posted 01/03/2015 at 16:13:50
Garbutt the only positive.
Besides that, we are relegation material waiting to happen. This manager and his tactics have to go now or we're fucked.
Tony Hill
63
Posted 01/03/2015 at 16:13:12
The worst game I've seen Besic have and I'm afraid McCarthy was poor too. Barry was himself, as always.
God, we're depressing. I wanted Martinez to go after WBA but it's too late now and we're stuck with him for the season. May God help us because Roberto surely won't. We are very fortunate that Villa, Hull and Burnley lost yesterday.
David Flanagan
64
Posted 01/03/2015 at 16:16:05
Too late to sack him now. Whatever happens this season, he should go in the summer... he inspires no confidence in the players or the fans.
Sean Patton
65
Posted 01/03/2015 at 16:18:49
I agree, Dave. Both were poor but McCarthy is better than today but I don't think Besic is, the whole attitude of the team is complacent.
Derek Knox
66
Posted 01/03/2015 at 16:13:35
I haven't seen 'Fifty Shades of Grey' (nor do I intend to) but after watching that match, I have just seen 'Fifty Shades of Shite'!
I thought again, team selection could have been more appropriate for this game, although there were a couple who did give some hope, Garbutt being one.
I didn't think Arsenal were that great either, but then again, they didn't have to be. I have always thought Roberto would eventually become a good Manager, but on the recent performances in the Prem, I am reviewing the situation.
I don't like to single players out, but thought Barkley was very poor, and has been for the past few games.
Anthony Fielding
67
Posted 01/03/2015 at 16:22:49
We're shit and we're going down. Pointless possession gets us nowhere.
Dave Abrahams
68
Posted 01/03/2015 at 16:08:58
Can't say anything that hasn't been said a thousand times by others on here all season and yet they still persist in playing the same way, or Martinez has them playing that way.
The lack of energy and desire by Barkley was beyond belief and the fact he remained on the field was even more remarkable. Not many of us thought they could win today but the way we lost defies logic, and Martinez will remain in charge until this season reaches it's conclusion.
I've never felt more depressed following Everton in my life.
James Hughes
69
Posted 01/03/2015 at 16:21:19
Lots of posts on other sites and they all say the same thing: We are a poor team, predictable, passing for no reason and like us can't understand why.
Never in my 40 years a blue have I called for a manager to be dismissed; this one needs to be sent packing. We are in the shit.
Bill Gall
71
Posted 01/03/2015 at 16:22:01
Martinez is now in his element as he has been fighting relegation battles for 5 out of his 6 Premier League experiences.
Ray Roche
72
Posted 01/03/2015 at 16:20:35
What kind of a manager leaves the only player capable of a forward pass standing on the touchline, waiting to come on, for a good five minutes when we NEEDED someone with his ability in the starting 11?
What kind of manager spunks our entire budget on a black Brett Angell, who's middle name must be "Offside"? And first name should be "Fucking"?
Who brings on Lennon with no-one in the team with the vision to find him with a pass.
Who couldn't see that Barkley was struggling? Or Howard is past it?
It must be time for that Catalan Clown to get in the taxi.
Tony Draper
73
Posted 01/03/2015 at 16:12:17
2-0 overall flatters Arsenal.
But tough shit, 'cos two goals shipped in an away defeat is the final result.
The EPL has only 38 games and today a real "bore draw" would have been more productive, but it didn't happen.......and the clock ticks.
Everton FC are now in the "Points are Priority Zone", style is entirely unimportant.
Scrappy shitty 3 points grabbed at pistol point, like "Dycke Turnippe", crabby bore draw points gained as stadia snooze close to death are essential, but "stylish well meant performances" which yield pundits approval but fuckall else............sadly the time for style has DIED.
Get wise, get dirty and get a dozen points !
Lee Brian
74
Posted 01/03/2015 at 16:30:31
Speechless:
WE ARE DOOMED!!!!!!!!!!!!!!!!
Kevin Tully
75
Posted 01/03/2015 at 16:24:13
There is no urgency in our play, or in thought. How many times could we have knocked first time balls wide, with a player in acres of space? Coleman only decided to take a player on once we went behind. Why must we always wait until we go behind before showing some fucking aggression in our play?
It's fine to keep the ball as we did if we were two up, but not at 0-0. The whole attitude is wrong from the first minute, and it can't go on.
It's all down to the manager to instil some urgency into our play and motivate the players. Clearly, he is failing on both counts.
Dave Pritchard
76
Posted 01/03/2015 at 16:27:21
We are deep in it. Just looked at our fixtures and on current form, ours and opposition's I can see no more than 10 points coming our way. Draws against Newcastle, Southampton, Villa, QPR and wins against Sunderland and Burnley. That gives us 38 points and probable safety. Europa League progress may mean I am being optimistic with the 10 points. Very depressing.
Gavin Johnson
77
Posted 01/03/2015 at 16:17:25
Roberto won't be going anywhere while we're still in Europe. If we played teams that allow us to play every week we'd have won most of the draws we've had against teams that we playing off the park last season.
The crux of the problem is that teams know how to nullify us now. That won't change, and Roberto won't change, so unless we win the Europa and are playing Champions league next season. I can't see how Roberto will be managing us next season.
I still think Roberto is a really good manager but I think he'll have a lot more success coaching a team in Spain, France or Italy, where his style of play will be more conducive. I'm still not worried about relegation based on today's performance but this will change in midweek if we don't get anything from Stoke.
Btw, I was very impressed with Garbutt. The sooner we see him and Baines in the same side, the better.
Alan McGuffog
78
Posted 01/03/2015 at 16:25:01
What concerns me is that there seems to be an acceptance of, and resignation to, being a totally mediocre outfit. The club appears to have no plan for improvement and we as supporters have been battered by years of shite into accepting this state of affairs. How many of us thought we would get anything today?
My best years are behind me and I feel so sorry for our young support. We are plumbing the depths and that lot across the park look, well, a bloody good side. I can see the state of affairs that existed from the mid-70s to the mid-80s resurfacing where we become the laughing stock in the city. And no-one at the club seems to give a monkey's!
Brent Stephens
79
Posted 01/03/2015 at 16:34:03
The unbearable heaviness of being. Game after game.
Alan Bodell
80
Posted 01/03/2015 at 16:32:41
The 㿈m Belgian lump will sleep well tonight knowing he put in one effort to trouble their GK and he was only offside 6 times in the whole game.
Tony Abrahams
81
Posted 01/03/2015 at 16:19:21
I stopped going away when the game is live on tele, it saves me money, and also a lot of despair. Too slow, too slow, too slow, it's just not the way to go.
I normally like to watch every minute when Everton are playing, but that was more predictable than the Titanic movie.
I read an article today where Martinez, was talking about defensive managers being parasites, and he might have a point. But today's game was too slow, which is equally as boring, and even worse to watch.
Confidence might be an issue, but when we have played in Europe, we look like we are trying to score, when we attack. I'm not always sure this has been the case in the League, and this is the main reason it is so frustrating watching Everton play this season.
Stoke is massive now, and even if we win, those last ten fixtures make really worrying reading.
Brent Stephens
82
Posted 01/03/2015 at 16:40:10
Gavin (#77), "I still think Roberto is a really good manager but I think he'll have a lot more success coaching a team in Spain, France or Italy, where his style of play will be more conducive."
That accepts by implication that his style is not conducive to the EPL. In which case he should know that and be able and willing to change it. But he can't see it, or can't change or won't change. Take your pick – but whatever it is means he ain't a really good manager.
Patrick Murphy
83
Posted 01/03/2015 at 16:34:45
If Martinez is still in charge for the Newcastle home game, he will be here for the remainder of this campaign. In my humble opinion, he shouldn't be as we are – like it or not – in grave danger of falling into the bottom three.
Villa will get points under the new manager and we have tricky games away to QPR and Villa with home games against Burnley and Sunderland from the relegation pack. Our PL form is abysmal and if it continues we will be relying on the failings of others to keep our top-flight place.
Make the change, Billy, because we can not afford to gamble with our future by being loyal to one person, however pleasant he may be.

Steve Guy
84
Posted 01/03/2015 at 16:24:07
We are in a relegation fight now and every game a must win, but can you see where the wins will come from? Every team in the division is more direct and works harder that we do.
We are not good enough and haven't been all season. Even when we have actually taken the lead we have thrown points away. Martinez has lost the dressing room and is losing the crowd. I never want us to go out of any competition but I think Europa is not only a distraction but is keeping the manager in his job.
The Dear Leader needs to sort this. "He had me at Champions League" looks pretty sick at the moment and for the foreseeable future.
Between Kenwright and Martinez they are taking this Club down and out. Of all seasons, the prize for staying in the EPL next season is the greatest and we will miss out. That alone should have Kenwright reaching for the hotline to the taxi firm.
Mike Hughes
85
Posted 01/03/2015 at 16:42:20
The only thing that might keep us up this season is the poor quality of sides beneath us. I doubt we can save ourselves as the team selection / tactics are incompetent and that positive psychology was a one-hit wonder that ended about this time last year.
Even if we are lucky enough to survive, it's time up for RM at the end of the season. We need to start again with a manager who has a clue. And before anyone asks, "Like who?", I have no idea – but it ain't RM so move on.
The 2014-15 season will go down in history as a complete and utter shambles.
Clive Mitchell
86
Posted 01/03/2015 at 16:45:12
Played quite well. No belief. Beat again. Deep trouble.
Keith Glazzard
87
Posted 01/03/2015 at 16:49:01
Gibson did more in 10 minutes than Barkley did all game. It must have been obvious by at least half-time.
When Mirallas was taken off, a player with the potential to turn a game, I realised we were fucked.
Jim Bennings
88
Posted 01/03/2015 at 16:47:17
Same old predictable shite, can't really even be arsed commenting on it anymore.
How many games have we failed to score in since the start of December?
I don't think I can put up with another season of Martinez and his mind numbing football clogging the midfield with the most negative players I have seen, that's not a slight on Barry, Besic and McCarthy but there should never be more than one of these guys starting a match, one not two or three together, it gives our midfield absolutely nothing at all.
I don't think I will be purchasing my season ticket for next season unless there is a dramatic change here.
Darryl Ritchie
90
Posted 01/03/2015 at 16:46:51
Martinez = stubborn, arrogant, and blind. There is a real disconnect between the manager and the players, cause this can't be how RM wants us to play, can it? It doesn't make any sense. It's pointless.... in so many ways!
Kevin Tully
91
Posted 01/03/2015 at 16:56:59
Well, Jim # 88, that may well see the back of Martinez. Some real long serving season-ticket holders telling me they are seriously thinking of giving it a miss next season. Can't say as I blame them. We can take getting beat, but the football has been dire this season.
Oliver Molloy
92
Posted 01/03/2015 at 16:51:28
Steve @ 84.
We will go out of Europa as soon as we meet a decent team.
Stoke up next on Wednesday night and most likely another depressing result!
Ross Edwards
93
Posted 01/03/2015 at 16:58:19
Either the approach changes or he goes. We're so boring to watch and so predictable. There's no Plan B because he's too stubborn to part from his philosophy.
Colin Glassar
94
Posted 01/03/2015 at 17:01:16
That's the first time I have ever, ever stopped watching an Everton game before the final whistle.
John Keating
95
Posted 01/03/2015 at 16:48:06
To be honest I don't think many of us gave us much of a chance at the Emirates. What upset me was the performance. The performance from chiefly the manager. Nothing changed, nothing at all. The same tactics that have failed us throughout the season stayed in place.
OK, we started with 3 defensive midfielders and set up similar to the Chelsea game, hoping to snatch a point. Once Arsenal scored, that was it. That was the time to go for it big time. In our position whether we get beat 1-0 or 5-0 is immaterial, we need points!
Arsenal never broke sweat, if needed they could have gone up a few gears. We were devoid of ideas and apart from a few moments that performance could have been against 20 odd other teams this season.
Martinez's after match comments were as delusional as every other after match comment he's given. He just does not realise the position he and he alone has put us in. His tactics are shite to put it mildly. Not only does Martinez refuse to believe how precarious our position is but so do some supporters:
"We will NOT be relegated"... well not from where I'm standing.
"There's 8 worse teams than us".... well not this weekend! And believe me, next weekend there could be less and those below us a lot closer!!
This clown should have been shown the door after New Year. There is no signs of anyone or anything changing. Where are the goals coming from to win us games? We area laughing stock and I fear for us.

Guy Hastings
96
Posted 01/03/2015 at 17:00:36
Does BK want to be the chairman who took Everton down? The more this goes on, the more BK will be looking like an idiot with all the 'He got me at Champions League' crap. His bruised ego will be what ends RM's time. And at the moment I suspect it's pretty damaged.
Paul Smith
97
Posted 01/03/2015 at 16:55:25
On the train on the way back from the Emirates, thoughts:
We've played a lot worse this season.
Gibbo should have played from the off.
Lennon did OK when he came on.
Get Garbutt signed up - he's got balance (whatever that means).
Felt like Arsenal were in 2nd gear for a lot of that game.
It's not the defeats to teams like Arsenal that will kill us off.

Oliver Molloy
98
Posted 01/03/2015 at 17:01:01
Ross Barkley really gets me mad. The guy is such lazy football player. He loses the ball time and time again and does NOTHING. He doesn't want to know if it's a 50-50 challenge. I wouldn't have him in the team again unless absolutely necessary.
Gavin Johnson
99
Posted 01/03/2015 at 16:45:03
Brent, the way we thrashed Wolfsburg and Young Boys in the Europa, shows he's not an idiot and people too easily forget that he superseded OFM in his first season.
I said in my last post he won't change his views on the game, and that will be to the detriment of us in the league. So, barring a victory in the Europa, it will be untenable for him to continue next season.
That said, based on the way we perform against teams who let us play, particularly in Europe, is enough for me to suggest he'd have more success in a continental league where the majority of teams don't play the percentage game. In that sense he's similar to Wenger (except Wenger's transfer budget is the 4th biggest in the league) but I don't think you could say is a shit manager, but who too has stayed an idealist in a league that has changed since Arsenal's Invincible days. I'm sure Wenger would still be winning trophies if he managed a top team in the leagues I mentioned with his style of play.
So we're on the same page Brent. I think we'll continue to struggle in the league while he's manager. We'll just have to disagree on whether he'd be a success managing a team in Europe because I think he would.
Christopher Dover
100
Posted 01/03/2015 at 16:21:15
RM says carry on playing in that manner and results will come. Yes... Championship, here we come, passing our way into it in a phenomenal way.
When will the penny drop? Everton are not winning, results and points do not lie, we are well past (excuse the pun) the unlucky result the bad backpass, the phenomenal effort. Unless points are won, we are on our way down.
Alan Bodell
101
Posted 01/03/2015 at 17:04:30
More bad news is that the dire Gareth Barry (automatic 1st. pick) never got the yellow which would have excluded him even more than the inevitable to come.
This guy and Lukaku are driving me into alcoholism and gathering round a table I will admit to being a shareholder.
Teddy Bertin
102
Posted 01/03/2015 at 16:31:22
I'm afraid I disagree with people who think that Besic, Barry and McCarthy were poor today. Their work rate was excellent, they completely stopped a possession-based team and world class players like Ozil, Cazorla and Sanchez from playing at their home ground.
If you're talking about Besic not making his usual tidy passes or crossfield balls, then you're misunderstanding the role he was sent out to do today. Regardless of what you think of Martinez, he set Everton up very well to contain a very dangerous side away from home.
Did anyone notice that once Gibson came on Arsenal suddenly looked much better on the ball and that there was more space? He's not in the right shape to be able to put in a shift against top clubs like McCarthy does and then also find the energy and space to have enough time on the ball to pick out a pass.
The biggest issue is with Lukaku's lack of first touch, desire to win long balls, and sharpness when reading the offside trap. Notice how he always gets his head to the ball if it's a goal scoring opportunity but is never anywhere near winning headers with his back to goal? That's worrying. That's about desire. Naismith, despite his size, always contends for every high ball.
Then there's Barkley and Mirallas. At the moment, both are lacking a spark in their first touch, unable to move the ball around quickly and both making poor decisions. Jageilka and Stones, despite playing well defensively, are both also to blame for not playing first time/one touch balls out to Garbutt and Coleman. They have so many opportunities to do it but after the goals conceded early in the season they seem scared to do it. They both have to take one or two touches by which point the opposition step up to ensure that our wingers will have to resort to sideways or backwards balls.
I'm not saying that the manager is free from responsibility but these players were performing to a different level last season, particularly Barkley. It does take confidence verging on arrogance to pass the ball around the way Barcelona do but we did it in spells last season and at the start of this season.
I think the main worry about the manager is his inability to fire the players up and get the tempo of our football moving. He seems to work by giving the players a lot of respect and being their friends. Sometimes people need a rocket up their arse.
Colin Glassar
103
Posted 01/03/2015 at 17:09:24
Bainsey out for a while by the sound of it. Garbutt is a more than able replacement IMO.
John, I wasn't expecting anything out of this game but Arsenal were poor today and we really didn't have a go at them until we went behind. That's the most disappointing thing for me: no desire to win games.
Allan Board
104
Posted 01/03/2015 at 16:39:06
My oh my! And still people will say "give him time" "who else is there" "whats the point in sacking him now?"
Stop being in DENIAL!
How many more gutless, limp, frightened and shameful attempts at representing this club is Mr Moment, his staff and these-brain washed players going to be allowed?
This is the last time from me, THIS MAN IS BIG TROUBLE FOR EFC.
Carl Taylor
105
Posted 01/03/2015 at 17:08:52
Hate to post this, but contrast our manager to that of the shite? Our manager has failed to see his "tactics" have been sussed and adapt the squad he has to offer a different threat to the opposition. The Redshite have Brenda, who realised last season relied solely on Count Dracula and counter attacking. He sees it's not working without him and adapts to the strengths of his squad to offer a different threat that gets results.
RM: adapt or go?!!!
Colin Glassar
106
Posted 01/03/2015 at 17:12:44
Coleman, Barkley and Mirallas need dropping for the Stoke game.
Andy Walker
107
Posted 01/03/2015 at 17:10:02
Will people stop going on about Gibson being on from the start. He's been out for over a year since last week and this would have been 3 games in a week. I am no defender of RM but there's no way he should have started today.
We need him available for the rest of the season.
Mick Wrende
109
Posted 01/03/2015 at 17:15:52
That's it. I have had it with Lukaku. I have been saying it all season but he is a lazy lump of lard. They were all saying on tele his effort is so poor and he is never there for crosses. He doesn't boss anyone and continually stands offside. 28 million quid down the drain.
Tony Twist
111
Posted 01/03/2015 at 17:10:22
Where the hell is that taxi! Martinez should have gone a long time ago and will continue to not change his ways. That's what he did with Wigan, so let's just hope the teams below don't have a purple patch of form and put us under real pressure.
As I have said before, if he doesn't take us down this year he will next year. The only problem is I am not sure who is available to take over. Someone who can force these footballing super stars (yeah right!) playing like they give a damn.
Bill Gall
112
Posted 01/03/2015 at 17:09:44
As they do not show the Championship on TV in North America, or any where else in the world, I am afraid there are going to be an awful lot of ex pats very mad at both BK and Martinez if we do go down.
I can not believe that Martineze has lasted this long with such a disgraceful record this season and to cling to the theory that he can change it around because of his European exploits is just being negative in our thinking.
Brent Stephens
113
Posted 01/03/2015 at 17:10:19
Gavin, he might be better at managing a side in continental Europe, I don't know. Just that he can't cut the mustard in EPL, as we both agree. I was thinking of renewing my season ticket but getting a mistress - season ticket will be the excuse for being out of the house.
But she'd only say "cameras showed the 20 people in the crowd and I didn't see you". She wouldn't believe I was downstairs having a Chang (and anyway would think that was a metaphor for something else). What am I going to do on Saturdays next season?
John Keating
114
Posted 01/03/2015 at 17:13:09
Teddy, the players have been shite this season but apart from Man City they have played EXACTLY the same since Leicester on Day One! If the manager was not happy with this, he would have changed it by now.
It is not the players who have decided to play this shite slow cross-field build-up play, it's Martinez's tactics and the arsehole refuses to change it regardless where it leads us. Even today, he was happy with it??!!
He's had 20 odd games to change the tactics, change the players but has steadfastly refused. Yes, the players haven't been performing but obviously the clown managing the team does.
Colin Glassar
115
Posted 01/03/2015 at 17:18:09
Great post, Teddy. I can't understand why people are having a go at Besic and Macca either. They are sent out to do a job, defend, and they do it really well. They aren't creative players but they don't pick themselves or the tactics so why blame them?
Paul Smith
116
Posted 01/03/2015 at 17:19:11
Did anyone see the lack of movement at the end of the first half when Seamus was looking to find someone with a throw in by the Arsenal corner flag ?
Case in point – lack of guile and spirit.
Steve Barr
117
Posted 01/03/2015 at 17:12:51
To me the team does not believe in whatever Martinez is selling as far as the style of play he wants them to persevere with.
That reflects in the total apathy on display from the players, resulting in this inevitable slide down the league and into the relegation battle.
What should happen is that the senior players/leaders in the team have a "come to Jesus meeting" with Martinez on how it has to be. The previous one seems to have lasted about one game!
If Martinez does not see the light then the leaders lead and implement on the pitch.
Only problem is we do not have a single leader on the pitch or in the sidelines waiting to lead us out of this mire.
Another depressing weekend watching Everton.
I thought this was meant to be entertaining?
Anthony Hughes
118
Posted 01/03/2015 at 17:25:27
That's right, any team with aspirations of winning a football match doesn't take to the field with three non-scoring, non-creative defensive midfielders.
Colin Glassar
119
Posted 01/03/2015 at 17:27:53
Paul, don't get me started on Seamus. He was crap today and he's been crap all season. If he thinks he's going to get his dream move to Man Utd, he's got another think coming. Right now, he'd struggle to get into Salford FC...
Terence Tipler
120
Posted 01/03/2015 at 17:23:38
I believe the players will take matters into their own hands soon, and results will start to pick up. Bill will be aware of the situation, and will make the change at the end of the season. Or as soon as we go out of Europe.
Paul Thompson
121
Posted 01/03/2015 at 17:25:06
Ok Teddy, you have a point. But we have to create chances as well and with that set-up we don't. As a number of commentators have noted, our transitions from defence to attack are persistently poor. Barkley should be the focal point, but he isn't either playing well enough or not that kind of player. Gibson and Osman must be given more game time alongside 2 out of the 3 defensive mids.
Gavin Johnson
122
Posted 01/03/2015 at 17:24:42
Colin, I thought that Coleman had a pretty good game myself. I think you're right about the other two though.
Where's McGeady? Is he injured, or just been banished from the squad? We certainly haven't missed him.
Paul Dark
123
Posted 01/03/2015 at 17:32:44
Martinez needs to be replaced. Our chairman is as gutless as our manager, though.
These are worrying times. The threat of relegation is very real. Martinez has previous – and is doing it again.
Andy Crooks
124
Posted 01/03/2015 at 17:21:18
It don't understand why some think it's too late to sack Martinez. He should have gone long ago but there is still time to let proper Evertonians save us.
Martinez is a poison at the club; he and the nonentities he brought with him will relegate us. He is spineless, arrogant, inept and devoid of guile and tactical acumen. He is, in my view, the worst man in any capacity that has ever been employed at Goodison Park.
To those who think a defeat at Arsenal is no more than expected and he will not relegate us, I would point to every single Premier Leagiue performance this season. We are soft, demoralized and spiritless, this entirely the work of one man. He must go now.
Mark Rimmer
125
Posted 01/03/2015 at 17:25:42
The only reason we're still in Europe is because we're considered such a minor threat that these Europa League clubs haven't been arsed doing their homework on us. A simple phone call to any Premier League manager will spill the beans on how simple it is to beat us, and "Don't worry their manager is such a stubborn twat he won't change his tactics so no need for a Plan B."
I have a terrible feeling that a semi final or final appearance (we won't win it) in the Europa League may keep Martinez in a job. I really want to do well in Europe but I want Martinez out more, so unfortunately I hope we bow out of Europe pretty soon, concentrate totally on Premier League survival, get rid of Martinez and hopefully get a solid manager in place.
Phil Walling
126
Posted 01/03/2015 at 17:18:38
Colin, to carry on the Forum debate, we will (almost certainly) require no more than 36 points to survive. That's 8 from 11 games and I'm sure we will manage that and it may be more than enough.
On the fate of Martinez, he is unlikely to get fired unless we drop 'into the zone' (most unlikely AND whilst BK still has visions of Europa glory). But things might change if we suffered a real hammering -say 0-4, in one of our remaining home games. Again most unlikely.
Tim Kells
127
Posted 01/03/2015 at 17:23:18
Oliver-98. Totally agree. Barkley's a liability. Can't head the ball, can't keep the ball, can't tackle. Show's no desire to get it back when he loses it. Very frustrating.
Same can be said of Lukaku. How many times does the ball go up to him and he shows no desire or easily loses it.
As for Lennon. I couldn't understand where he was meant to be playing. He seemed to be up the top most of the time but what point is there doing that when height is his biggest weakness.
Lee Brian
129
Posted 01/03/2015 at 17:28:05
This "Conman" is leading us down a path to disaster.
The only way Bill will get shut is if crowds are down and season ticket sales are down.
The ball is in our court guys !!!!!!!
Dont give them your hard earned money any longer
Colin Glassar
130
Posted 01/03/2015 at 17:34:26
McGeady's injured (I think), Gavin. Seamus improved, slightly, in the 2nd half but, is he under orders not to cross the halfway line? Not to run into open space? Not to overlap? Not to cross? Not to shoot? Not to go into the box? Etc, etc, etc.....,
I don't think he's under orders to do any of these things. I think that he might think that he's too good for us nowadays. Those two throw-ins just typified his season. No-one made the runs so he just threw the ball anywhere. Plus his arseing around for their 1st goal is unforgivable.
James Stewart
131
Posted 01/03/2015 at 17:30:31
Playing 3 defensive midfielders completely killed any chance we had of taking something from the game. You also give Arsenal far too much credit. They just got spanked by Monaco and were there for the taking. Monaco seemed to manage without 3 defensive mids.
Gibson came on at 82 mins. The game was already open at that point. He should have started. Arsenal were rubbish which made our meek surrender look even worse. Besic and McCarthy who seems to get a free pass on here offered absolutely nothing.
Playing both of them is already overkill without adding Barry into the mix. Committed players yes but their distribution and eye for a forward pass is consistently poor. 1 crab is fine, 2 crabs, overkill, 3 crabs is utterly counter productive.
Once again, another totally flaccid tactical performance from a manager way out of his depth.
Linda Morrison
132
Posted 01/03/2015 at 17:31:39
Folks we won't go down as there are a few teams actually worse than us!
My thoughts are;
Gibson is not being rushed back, he's been out for 18 months so to expect him to play 3 games in a week is a bit much. He'll be back for Stoke and if he stays fit Barkley will be lucky to get a game. Last year Barkley was the Bees Knees now he us a shadow of that player. Take note, Mr Kane.
Coleman please sell him to anyone who will pay his wages.
Lukaku got no service today so don't expect miracles.
This reminds me of some years ago when Spurs got back into Europe after some time out. Their next season they also finished very low, and did well the next time in Europe.
Please, Roberto, drop Howard he is a liability at present.
Shaun Gillespie
133
Posted 01/03/2015 at 17:27:31
Where do you start after yet another poor performance. For me I don't go along with "other teams have us sussed now" argument. Last season it was apparent how we played from about 6 games in, and other teams managers/coaches etc are not thick, and would have worked on how to approach playing a game against a team with flying full backs and that played from the back, kept possession etc. They struggled though for many reasons that have disappeared this season.
The main ones I think relate to the lack hunger of hunting in packs to win the ball back, the complete lack of urgency when we are on the ball, slow passing in possession even if only 10% slower makes a vast difference, other things...Barry was excellent last season, not this, Baines has not linked as well on the left with anyone as good as he did with Pienaar and looks a yard slower (Garbutt is showing him up for pace), Howard has been poor after a great world cup, etc etc...plus Martinez has lost his spark totally, chucking on forwards away at United last season at 0-0 was fantastic....today away at Arsenal...3 defensive midfielders...and his stubbornness re not dropping his favourites...Howard Barry and Baines....(Garbutt only got a game today because he is frightened of him not signing a contract even tho he should have been in purely on merit.....)

This season has been the most disappointing for me since the early 80's , just hope we limp thru the season and survive..which I think we will thanks to some teams even worse than us.
John Keating
134
Posted 01/03/2015 at 17:34:11
If we were 1-0 down in the EL Final this clown would still persist with 1 up top and leave Kone on the bench! Every game for us is a cup final and that is exactly how we should approach it.
The big problem for me is where are the goals coming from??? The odd few from defenders or midfield. Forwards few and far between. We can't score, hold a lead – when we've had one – and can't come back.
We have to get points on the board and if only Osman and Gibson can create anything in the team then give them a half each against Stoke. Play one defensive midfielder – McCarthy – and play Kone. If we don't start scoring, we are in even deeper shit!
Colin Glassar
135
Posted 01/03/2015 at 17:45:06
Great post Linda. God, if Man Utd offer us 㿀m plus that's been mentioned for Coleman, I'd carry him there myself. Mirallas can go for free as far as I'm concerned.
Paul Tran
136
Posted 01/03/2015 at 17:33:04
I'd like him to bring in Bilic in the summer. Knows the club and league, good record, won't take any shite off anyone and looks like a good motivator.
I'd ignore his time here as a player. Bought by Big Joe who then departed soon after. I always thought that like Gary Speed, Bilic was less than impressed with Howard's convivial, liquid management style.
Good managers make mistakes, recognise them, then put them right. Martinez does the first, not the second or third. Too many obvious errors are being made and repeated for him to keep his job beyond the summer.
I love the idea of him turning things around next season, but I just can't see it.
Phil Walling
137
Posted 01/03/2015 at 17:43:10
I fail to see the purpose of picking off our players one by one to be described as useless. Virtually no-one escapes this nonsense but, surely, it is obvious that the reason they are not performing is that all faith in their manager and his fucking philosophy has disappeared.
As is pointed out above, some day soon, the team will say 'fuck him' and just do what needs to be done to win a couple of matches!
Brent Stephens
138
Posted 01/03/2015 at 17:46:16
Roberto's post-match comment "it is disappointing to then concede from a dead ball situation. That is something you should avoid at all costs when you come to a place like this."
But, hey, dead ball situations don't occur very often so it's not worth practising defending them. Now who was it said that?
Paul Smith
139
Posted 01/03/2015 at 17:44:32
James Stewart – you're a star! Nailed it for me with that fine and succinct overview of our midfield issues.
Phil Walling
140
Posted 01/03/2015 at 17:49:34
Brent, today must have been one of those 'goals occur on only 1 in 38 occasions' !
Steve Hogan
141
Posted 01/03/2015 at 17:35:55
Colin Glassar...I actually thought Coleman was our best player, continually made great runs,and had a real go at the Arsenal defence, when the others merely went through the motions.
Certainly wasn't crap as you say.
Brent Stephens
143
Posted 01/03/2015 at 17:53:43
So we can relax now re dead ball, set piece situations, Phil!
Jamie Barlow
144
Posted 01/03/2015 at 17:46:33
Colemans problems have to be tactics. Definitely not the same player as last season but then neither is our other full back. Martinez to blame I think.
I'm with you Oliver@98 I wouldn't let Barkley put on an Everton shirt again until he sorts his attitude out. He's a complete liability and a lazy fucker. A complete waste of talent.
Colin Glassar
145
Posted 01/03/2015 at 17:54:12
Steve, like I said, first half invisible, second half slightly better. He's been rubbish all season IMO compared to his last few seasons with us. But it's all about opinions and I respect yours.
Phil, I know it's not nice to pick on certain players but we had three out there who simply didn't function.
Mike Oates
146
Posted 01/03/2015 at 17:53:01
How anyone can have a go at Coleman today completely baffles me, he was our best player by a country mile. So here we go again, slagging off players one by one. If there's one fault today it was playing 3 defensive midfield players from the start.
Carry on with slagging and you might as well say bye bye to most of the youngsters, suppose next in line will be Garbutt when he makes a mistake.
Phil Walling
147
Posted 01/03/2015 at 17:56:30
Brent, perhaps that stat only relates to OUR free kicks and corners !!
Sid Logan
148
Posted 01/03/2015 at 16:59:58
It's a rare achievement for a Manager to turn an Everton team TV appearance in to something I almost couldn't care less about. The result was absolutely predicable.
The team appear to have morphed in to one that reflects Marinez own personality. Whatever else they are about - winning at all cost doesn't seem to be on the agenda.
There is so much I could and have criticised about Martinez but for me his biggest fault is his lack of ruthlessness. That kind of emotion is probably not in the way he sees the way the game should be played. Jose Mourinho could teach him so much about the importance of the desire to win.
When will he realise that you are not controlling the game unless you win. Possession means nothing unless you win.
One of our problems in trying to turn a game is that (leaving aside Gibson) our midfielders - the otherwise excellent Besic and McCarthy can't shoot to save their lives.
Gibson and Naismith should have been on much earlier. Martinez is clearly not the tactical genius people think he is.
I think and pray we will survive but I don't want the naive Martinez to be here next season.

John Keating
149
Posted 01/03/2015 at 17:51:14
Linda
A few days ago Colin and a few others were saying we won't go down as there were 8 teams worse than us.
Well tonight it's 6 !!
Come this time next week there could be even less and those below us a lot closer.
Our form does not bode well for those saying oh well 11 games to go 3 wins and 2 draws will see us OK.
Unless you accept there's a risk we might go down then you're deluding yourself.
Until the management accept we might go down we will continue to meander into the mire.
This clown is putting us into a position we might not get out of.
The Spanish Neville Chamberlain.
Teddy Bertin
150
Posted 01/03/2015 at 17:41:57
John Keating #114 that's really unfair John. We played some great football, reminiscent of last season, against Arsenal and Chelsea, scored some great goals against West Brom and then battered a very good team in Wolfsburg. We then started to lose confidence game by game as individual mistakes started to cost us points. That lead to the players passing sideways and not wanting the ball. On top of that Jags, Baines and Barkley came back from the World Cup with no confidence and only Jags seems to have recovered. Martinez has said over and over that we need to pass the ball faster he's not sending the team out to play the ball around slowly. As we've seen one touch passes out from the back can lead directly to conceding goals but until we start taking risks then we won't beat teams playing the football that Martinez wants to play. He's going to have to change things and be more direct to get us out of this relegation battle. Sadly we lack players who can turn aggression, fight and frustration into quality passes, killer finishes and game changing moments. Chelsea have two of them in Ivanović and Costa at the moment so no surprise that they've just won another trophy comfortably.
Will Firstbrook
151
Posted 01/03/2015 at 17:48:03
Certainly appears as if some players have completely quit on the season and/or possibly the manager. Get rid in the summer at highest possible value (though that will get increasingly more difficult with the poor display of footy week in and out).
Our team wage bill is completely out of whack in relation to our standing so expect some major sales this summer to be replaced with loans and bosuns (sound familiar?)
It's a shame as I do believe the current squad could have achieved something with the right manager.

Back to square one this summer.
Brent Stephens
152
Posted 01/03/2015 at 18:03:52
Phil, now I see it!
Sid Logan
153
Posted 01/03/2015 at 18:03:42
Teddy #150
We are now in the area of it now mattering how good our football is we need 3 points. You sound like Martinez!
Patrick Murphy
154
Posted 01/03/2015 at 18:00:35
Teddy if the current Everton side have fight and passion I must be watching a different team, they appear to me to be passive, non-aggressive people out for a Sunday afternoon stroll. I saw Osman laughing on the bench during the second-half when we were a goal down, I hope it was a funny joke Ossie but to me it sort of summed up the mood among the present group of players they don't seem capable of winning and aren't too bothered if they lose. Roberto won't be able to sort this out now or next season and he should be removed and replaced and not by anybody who has played for Everton during the last 20 years we need a brand new broom to sweep out the losing mentality that has crippled our club for far too long.

Victor Jones
156
Posted 01/03/2015 at 17:33:42
These posts and comments on here are the exact same comments that were made around that disaster of a run at Christmas time. And at various other times this season and also at times last season. Ok, we had a relatively good league season last term. But do you all remember the start. It was awful. Hence all the same comments about players and tactics.
My point is, Martinez should never have been Everton's manager. A manager with a relegation on his CV should never have been given the job. We will always be bemoaning this appointment. I will stake that Martinez will do nothing of note with Everton. He has found his level. We will survive. But expect nothing else. He has nothing else in his locker.
I actually believe in this group of players. But I also believe that they need new leadership. New direction. Then watch them go. Martinez is not for me. He never was. I know that Everton cannot win every game of football. But we can also not keep squandering points. Most other PL teams would have put it up to Arsenal today. But (so predictably) We did not.
The Europa League could be Martinez's saving grace. But does anyone really want to go through this nonsense in the league next season. I see nothing to suggest that anything will be any different. In fact we are lucky that we have a few points on a few teams.
This actually to me seems worse that other relegation threatened seasons. Because I never for one moment thought that it would happen with a squad crammed with internationals. And there was me thinking that the school of science was back at Goodson. Martinez has put a stop to that. He is a one trick pony. Why else would he plod on with tactics that are just not working? The mind boggles.
Sid Logan
157
Posted 01/03/2015 at 18:07:25
Victor #156
You are dead right and I couldn't agree more.
Phil Walling
158
Posted 01/03/2015 at 18:05:40
Redknapp just said that Maurinho 'doesn't believe in beautiful football but winning football'. I hope our chairman was listening !
John Keating
159
Posted 01/03/2015 at 18:00:51
Teddy
No interest in the EL at all.
I'm only concerned with the league.
you mentioned TWO games out of 27 !!!!!!
One game we were 2 up and completely stopped playing after 70 minutes because we were knackered and it finished 2-2.
The other game we lost 6-3 and if you were there you'll know Chelsea just went into second gear each time we scored. We lost 6-3 !
Not 2 games to actually prove anything.
Can you name one game at all where we have played like last season, dominated, scored goals and played one touch direct football ?? I can't
We are playing the football Martinez wants us to play. We've been playing it all season. How do I know ? Easy. We continue playing it and more important he has said so every week INCLUDING today !!
More telling Martinez has said he will not change.
His team, his tactics, his fuck ups but our embarrassment when it goes pear shaped.
Dave Williams
160
Posted 01/03/2015 at 17:57:29
I didn't see the game but get the basic drift from the comments.
The post above giving the form over the last ten league games is alarming. Most seasons there is one club which looks ok until December and then sinks like a stone(I'm sure Patrick M can provide the stats)and we look like we are that team this season as we are in free-fall at an alarming rate.
I have always been one to advocate patience as most managers have a bad patch but we are now at a point where crucial decisions have to be taken. We need at least 12 points from 11 games and have won just one out of the last 10 so form has to improve or we are down! Do the players as a unit look up for a fight? - not in my opinion. Barkley is so far away from a first team player this season he should not play again this season. Whatever it is that is affecting him he is not one who is going to scrap his way out of trouble. Coleman, Baines, Mirallas, Barry are all playing way below their potential - I exclude Lukaku because he is at least scoring goals and needs help - Kone has to be worth a try alongside him.
I remember only too well a new manager arriving who galvanised a losing and spineless team to such an extent that the midfield became known as "dogs of war" and he transformed them into cup winners and title challengers until things went wrong again. Joe Royle is there now and whilst too old to take over on his own he could yet have a part to play if Roberto departs. The players are good enough but don't seem willing to scrap and unfortunately it is easier and cheaper to ditch the manager rather than the players. A defeat at Arsenal on it's own is not a disaster but we now desperately need to win a league game. If this hasn't happened by the time we have played Newcastle I think the panic button must be hit to give us a chance of getting the points we need.
At 59 I have seen this a few times before and e are so nearly there again - we cannot afford to give this regime much more time and that is painful for me to say it but the club comes first and we are in trouble.
Colin Glassar
161
Posted 01/03/2015 at 18:05:52
John, you can't quote me without my permission. Behave!!
John, fortunately, and even you'd have to admit it, there are weaker, poorer teams than ourselves at the bottom of the league. The likes of Hull, Burnley, QPR, even Villa will not catch us. That's our only saving grace this season.
Will Firstbrook
162
Posted 01/03/2015 at 18:14:05
True Colin - and I am sure many take no comfort in that.
Paul Tran
163
Posted 01/03/2015 at 18:11:09
There was a good interview with Mourinho in last week's Sunday Times. He was criticising Hodgson for substituting like for like players, rather than making real changes. Could have been talking about Martinez, couldn't he?
Andrew Clare
164
Posted 01/03/2015 at 18:09:04
What saddens me is that the media don't even mention that Martinez 's job is in danger. It just shows what our standing is.
Most people in the business just think that we are one of the also rans who will never be in the running for any trophies. That's why we hardly got a mention last week when we became the only surviving English team in the Europa league. They know that only Spurs and our neighbours were the only teams with a chance if winning it.
With these owners we are going nowhere.
Ray Roche
165
Posted 01/03/2015 at 17:56:47
Teddy Bertin, good post.
I agree with some posters, Coleman had a more than decent game, if we had a player with the nous to help out on the right side when he needed it the game may have ended better. For the first 20+ minutes Arsenal were second best and couldn't get the ball off us, and the midfield being slagged off on here, McCarthy and Besic, were responsible for that. However, Gibson would have made a positive difference, and I am aware that he's been out for months, but why not start him, give him an hour and THEN take him off? He only played 30mins versus Leicester, not the full game.
Brent, good shout, Martinez and his coaching staff have shown their stupidity with the comments regarding the defending against free kicks. Not necessary? Bollocks!
Gavin Johnson
166
Posted 01/03/2015 at 18:08:03
I could be wrong but I'm sure we've still not scored from a corner since the home derby last season. That must be some kind of record and is at the heart of my biggest gripe with Martinez. Yes, you can be an idealist and try to make the team the model of your vision, but I don't know what the problem is with working on corners and set pieces. It's not abandoning a philosophy and going direct and playing long ball is it?!
Sid Logan
167
Posted 01/03/2015 at 18:11:34
If Martinez didn't have the ability to sooth talk the call for his head would be universal.
Likewise if we were being managed by Pulis or Hughes (or any of the also rans) everyone based on our results would demand his sacking.
What amazes me is the number of people who hold our hope that he can turn things around. It's one thing to sound good in analysing a game but it's another to find a solution to what's going wrong.
How long under Martinez before we can 'properly be ourselves' and what version of ourselves will that be - the team that played Arsenal last year or the team that turned up pretty much for most of this season.
Ian Riley
168
Posted 01/03/2015 at 17:57:46
Severn defenders and three attackers, what can we expect? If we stay up, it will be down to others not us. Our form in the past 9 months, we should be long gone. Chairman must make the decision in the summer. We have the players but not the manager.
Jay Harris
169
Posted 01/03/2015 at 17:27:52
Whoever said Martinez is a good manager needs sectioning.
Throughout his managerial career he has averaged 28% wins and has always performed worse than other managers at the same clubs.
Failure to plan and prepare.
Poor team selection.
Poor or no substitutions
Poor player recruitment
Substandard choice of backroom staff
Poor tactics
Poor man management and motivation
Stubborn inflexibility
Stupid comments to the media
Is there any box he ticks other than he is a nice guy?
Brent Stephens
170
Posted 01/03/2015 at 18:17:49
Correct to say there are 6 teams below us. But only 4 of them need to jump above us, not all 6 (and QPR have a game in hand on us - watch them do Arsenal Wednesday!).
Will Firstbrook
171
Posted 01/03/2015 at 18:17:04
On paper, there is no comparison between us and those around us in the table. The worrying problem is that alone will not keep us out of the scrap. I've seen more desire, effort and urgency from those other teams over the past few weeks than I've seen from us. Logic would dictate quality will win out in the end, yet somehow this current squad and manager have me questioning that now.
David Barks
172
Posted 01/03/2015 at 18:25:51
We now start every match with 8 defenders. 1 keepe, 4 in defense and 3 defensive midfielders. How simple that must be for the opposing team to defend. And how frustrating it must be for the 3 attacking players we put on the pitch. Completely isolated. This is the most negative football we have seen in decades.
Look at liverpool's goals today. Midfielders getting forward and shooting from outside the box. We don't even attempt to shoot, and we don't attempt to get players in position to take a shot. Opposing teams get the ball and pass it forward, always looking for the forward pass first. Our first instinct, every player, is get the ball and go backward. This is so unacceptable I don't know how our supporters have become so apathetic. I can't name another club where this would be accepted.
John Keating
173
Posted 01/03/2015 at 18:19:09
Colin
your list is definitely getting shorter !!
Thing is I just cannot see where a win is coming from, however, I can see the likes of the teams you've mentioned getting something even from pure determination !
A couple of wins for those teams who are used to being in that position will be scary !
Hopefully you are right and we won't finish in the bottom 3.
However, I can see some celebrating the fact that Martinez "saved" us, and that "told" you there was nothing to worry about.
Just the fact we are talking about this is not only embarrassing but a disgrace and a shame on our Club
Gavin Johnson
174
Posted 01/03/2015 at 18:31:12
Jay, you're right, except you've totally forgotten last season. Up until October time Martinez had the best win record in Everton history, only equalled by Harry Cattrick.
Steve Guy
175
Posted 01/03/2015 at 18:22:20
Sack him now, let Duncan and Sheeds get us through to end of season and re group
Colin Glassar
176
Posted 01/03/2015 at 18:41:02
John, I forgot Leicester. But you're right about everything else. This has been an embarrassing, disgraceful and shameful season. No trying to get out of that.
Patrick Murphy
177
Posted 01/03/2015 at 18:33:30
There are thirteen clubs outside of the usual monied clubs who accept sub-standard football and happily witness their teams getting half of the points on offer to them season in and season out, that is what the Premier League is and always has been.
However, Evertonians of a certain vintage have seen the club's ambitions lowered for the last fifteen years and that is mostly down to the board's lack of drive and plans to do anything else but remain in the Premier League.
But we have seldom seen such a talented group of players produce so little so often and it would seem without any qualms from the manager or the board. Very few clubs spend £28m on a striker and see their fortunes take such a turn for the worse, but we are Everton that's what we do.
Seven points from a possible thirty is a terrible return no matter how badly we have played - Stoke have taken 20 points during the same period and they are hardly blessed with world class players are they?
Fortunately the teams around us haven't taken too many more points than we have in the same period, Aston Villa have only garnered two points from ten games which must be some sort of record for a club of their size.
Charles Brewer
179
Posted 01/03/2015 at 18:24:56
Over at the Telegraph, the Babbello index has Tim Howard as the worst goalkeeper in the Premiership. It seems he saves just 58% of shots which effectively means that any striker having a shot has a 50-50 chance of scoring!
Also, of the last 8 away matches, Everton has actually managed to be the worst team in the prem. Worse than Hull, Newcastle, Villa,and QPR with 3 points from 8 games and a goal difference of -10. This genuinely is relegation form.
Danny Broderick
180
Posted 01/03/2015 at 18:47:10
Why don't we have men on the posts when we defend a corner? Such a simple step, which would have stopped us going behind in the first half.
We ended up losing a game we should never have lost because of a fine little detail like this. We were going for an equaliser when they got their second, so I can accept we had become stretched trying to get back into the game. But that first goal was piss poor.
Joe Foster
181
Posted 01/03/2015 at 18:46:05
Hear hear victor 156
Sid Logan
182
Posted 01/03/2015 at 18:44:45
Gavin
It's been said man times. That was a Moyes team percentage of Martinez's influence.
We now have a team where his influence is 100%.
It's the failure to recognise this basic fact that causes so many to hold out hope that this personable fool can turn things around!
Tony Draper
183
Posted 01/03/2015 at 18:08:05
a Stoke
H Newcastle
a QPR
H Southampton
A Swansea
H Burnley
H Man Utd
a Villa
H Sunderland
a West Ham
H Spurs
Eleven games remaining, 33 points available.
With our current squad, we really could go unbeaten from here to the finish. Seriously.
We won't.
I just heard Thierry Henry saying about "Loving to defend", the man was talking football poetry. Draw them in to kill them with skill.
Everton have plenty of solidity to keep clean sheets, and our attacking stars would adore the acres of free space available.
Glenn Hoddle deeply impresses me every time he appears with his sheer cool headed common sense approach to Premier League Football. look at how much in awe the people around him are.
Hoddle is my choice. Step up Glenda, win us the UEL, keep us up.
Andy Meighan
184
Posted 01/03/2015 at 18:42:28
I echo what Mike (#85) said and I've been saying it myself for a couple of weeks now: we won't save ourselves, it'll be the teams below not picking up wins that'll help us.
I actually didn't think we were that bad today, especially 2nd half... but, if I'm totally honest, I didn't think we'd score although one plus is we have created a few chances and have the last few games. But it's taking them that's the worry.
That said, we are so pedestrian in midfield it's untrue. Lukaku worked hard today but his touch at times is awful and the amount of times he gets caught offside is so frustrating. I honestly can't see us getting anything at Stoke so the Newcastle game is massive. My god, what a shit season this has been. And I hope no-one mentions the Europa League... because we won't win it.
Brian Harrison
185
Posted 01/03/2015 at 18:40:58
I now spend most weekends hoping that Burnley, QPR, Leicester, Sunderland, Villa don't win. I go to Goodison now more in hope than expectation, that's what this charlatan has reduced us too.
I know some will point to the Europa League and I have been to all the home games and yes the results have been good. Whether the European teams haven't cottoned onto us like the rest of the Premier League, I don't know.
My worry is that I fear if we drop into the bottom 3 at some stage, then we won't get out. You have to win some games to guarantee safety; playing the way we do, I don't see us winning any games.
Scott Jones
186
Posted 01/03/2015 at 18:42:29
Teddy Bertin 150 is spot on in my opinion.
I hope RM is at the helm of our club for a long time. We just need patience,get through the season unscathed, then regroup.
BVB have been in the bottom 3 all season;is Klopp a bad manager? No he isn't... these things do sometimes happen.
Colin Glassar
187
Posted 01/03/2015 at 18:56:55
Tony, I can see us getting 15 points from those games.
Gavin Johnson
188
Posted 01/03/2015 at 18:53:46
Sid, I know some have said that but at the end of the day that's an opinion.
I just wanted to counter Jays factual argument with some other facts. I'm not playing devils advocate, I just think that people shouldn't totally write Martinez off. We've got a great chance to progress in the Europa and I'd love him to make some on here eat their words.
Joe Foster
189
Posted 01/03/2015 at 18:53:23
I think Coleman is peeved off. I think he is being instructed badly by RM.
Also another thing I noticed today did you see the guy behind RM (staffer from Wigan) did not look interested in the game, just looking at his phone and picking his nose.
Chris Sillett
190
Posted 01/03/2015 at 18:29:37
It seems like every game we play now I say is a 'must win' but the next three matches are all absolutely must win for me now or the fan pressue may just get too big on Martinez to go.
I actually don't think we played too badly today but it was just the same old story of not taking our chances and not winning a game that we were capable of doing. But it's not about the performances against Stoke, Kiev or Newcastle - it is all about the results.
If things do fail to improve then Martinez's only saving grace could be the fact Kenwright doesn't like sacking managers; it took things to be a lot worse than they are now for him to sack Walter Smith and he also gave Moyes another chance after finishing 17th in his second season in charge....
David Greenwood
191
Posted 01/03/2015 at 19:01:45
Stoke at their place midweek, how many of our team can you see making a fight of it. At the moment it seems as though the players have downed tools for Roberto and have just lost faith/confidence/stopped trying (take your pick) in RM.
Dave Lynch
193
Posted 01/03/2015 at 18:52:06
The galling thing is he turned the red shite down.
Those sanctimonious bastards got Uncle Woy the sack for not being in the top 6!
God knows how they would have reacted to this fella, words fail me at present.
Bill Gall
194
Posted 01/03/2015 at 18:50:59
Why do we have to wait until the end of the season to get rid of a manager who has proved he is not capable of managing Everton FC? He is not going to change, our performances keep getting worse every league game and to top it all he will not admit what he is doing is wrong.
We might as well get rid now and put one of the club coaches in charge and see if the players will put some effort in for him and then get a manager in after the end of the season. Martinez now has brought this club as low as is possible with the luxury of having a really good squad of players that he is unable to get to perform for him.
Paul Graney
195
Posted 01/03/2015 at 19:07:27
Typical predictable defeat against an Arsenal side who probably gave one of there worst performances of the season and appeared to be in second gear for most of the match.
First goal again poor defensively, Stones slow to react at a corner. Giroud first to the ball and no man on the post to stop the ball hitting the back of the net; another soft goal conceded.
Possibly part of the problem was that Arsenal were so poor and we had set up with a trio of defensive midfielders, we got a lot more possession than we expected and, because of our set-up, lacked the guile and know-how to create anything worthwhile. Normally at Arsenal you would expect them to have more possession than the away side and so be more reliant on the odd breakaway where we could possibly have created a bit more than we did – it was 65 minutes for our first shot on a target; I believe we had two all match.
All-in-all, another slow ponderous performance: no pace, no power, too many back and sidewards passes again... but we won't go down: there are worse sides than us. Having said that, if Martinez isn't sacked at the end of the season, I believe that he would take us down eventually.

Colin Glassar
196
Posted 01/03/2015 at 19:06:30
You've cracked it, Joe. This is peg leg Whelan's grand plan to ruin Everton. He's filled us with nose picking fifth columnists lead by the dastardly fiendish, super agent El Bob. We need to let BK (poor, unknowing git) know about this ASAP.
Joe Foster
197
Posted 01/03/2015 at 19:07:08
Also see all this "the players need to take some blame" is bullshit. Usually one player may down tools and not bother but what is happening here is all bad tactics. All the players have not turned to shite at the same time. It's all down to RM; this is as plain as the sky is blue.
The only way we can influence anything is by showing our disapproval. Fuck all this "supporters need to support"... Supporters need to see the trouble ahead for the club and do whatever is within our power to do.
Brian Harrison
198
Posted 01/03/2015 at 19:05:24
Colin 187
I don't know whether you have got your head buried so far in the sand that you won't except the reality or if you are on the same course of tablets as RM. We have taken 11 points from our last 15 games that's the reality.
I have just watched RM being interviewed for MotD and Jonathon Pierce said the points tally would suggest that Everton are in a relegation fight, and he asked what did RM think was needed to turn it round. RM said we need momentum of 2 or 3 wins in a row, well when did we last achieve that?
I would imagine any one of us could have said we need to win a few games quickly. Talk is cheap and unfortunately that's all RM does is talk and talk and talk but never seems to say anything relevant. Time for the talking to stop and start winning matches and you don't do that by playing your negative brand of football.
Chris Sillett
199
Posted 01/03/2015 at 19:03:27
What a huge game Aston Villa v Everton could be on 2nd May!!
Kase Chow
200
Posted 01/03/2015 at 19:15:25
Why does anyone think we'll sack RM?
He signed a new contract which Billy won't want to pay up on.
Unless we're certainties to go down, we'll not be sacking RM so make peace with that.
Paul Rimmer
201
Posted 01/03/2015 at 19:13:22
Playing 3 defensive mids is asking for defeat. Indeed from the Starting X1 there are only 2 real goalscorers and little creativity. It didn't work vs Liverpool and it didn't work today.
I'd sacrifice less of the ball for an extra goalscorer. In fact just don't play Barry.
Tony Draper
202
Posted 01/03/2015 at 19:08:17
Colin @187
15 would be bloody encouraging.
Hope to hell that you're right.
But even with 15, we have a mess to sort out.
I wanted improvement after DM departed (I'd been hankering after it for bloody ages TBH), now I'm looking at "Long Term Plans" again.
FFS, all we needed was some "Additional Thinking", "Will to Win" and the right signings to carry it through.
Now we have "Devils in the Brainbox".
Dave Abrahams
203
Posted 01/03/2015 at 19:08:08
Gavin Johnson, winning the Europa League trophy would in no way compensate for losing our place in the Premier League and I, now have already ate my words for praising Martinez as a good manager in the past, he really had me fooled.
Patrick Murphy
204
Posted 01/03/2015 at 19:13:50
Chris (190) You say "it took things to be a lot worse than they are now for him to sack Walter Smith" It actually didn't Walter's team had more points (29) from 27 games we currently have 28 from 27 played. Unless Everton take at least two points from the next 2 matches this current Everton team will have less points than Walter's team.
The team for the Anfield derby near the end of his reign – Simonsen; Clarke, Pistone; Stubbs, Weir, Linderoth; Gemmill, Ginola, Campbell, Naysmith, Carsley
I also don't believe that Walter's squad was as good as this team or had so many rank bad sides below them as are currently occupying the bottom six. The team he sent out to face Middlesboro in the FA Cup: Simonsen; Clarke, Pistone; Stubbs, Weir, Unsworth; Linderoth, Radzinski, Moore, Gascoigne, Gemmill.
I still can't believe that Roberto isn't under pressure from many more Blues; the results this season only underline the breathtaking lack of football we have witnessed.
Si Mar
205
Posted 01/03/2015 at 19:19:28
I thought we had seen the last of the relegation battles a long time ago, times which sent my blood pressure through the roof and frayed my nerves beyond belief!
I do believe its a reality and wouldn't it just be like us in the season following our best points total for a long time!
Just a point which I thought I'd make and it breaks my heart to even say it but would anyone agree that playing a severely weakened side against Kiev be a good thing if it give us a chance of us not losing or drawing after every Euro game?!!!
I was disgusted by Villa and Stoke's attitude towards this competition in the past but these are really desperate times for us.
Joe Foster
206
Posted 01/03/2015 at 19:25:30
Imagine being in the Championship... just think about it for a minute.
Colin Glassar
207
Posted 01/03/2015 at 19:23:34
Brian, the players, the manager and even the fans (at Goodison) all need to take a deep breath, recognise that we are in the shit and start doing something about it, at least at home. At least 3 of our last 5 home games are winnable (9 points) and at least 3-4 of our away games can also be won.
I know right now it looks tough but we all need to hold our nerve and get to the magical 40 point mark.
Patrick Murphy
208
Posted 01/03/2015 at 19:29:53
Joe - It's a thought that scares me to death. If we were to go down, we would find it extremely difficult to bounce back; if we didn't do it at the first time of asking, we could easily suffer a fate similar to Leeds and Sheffield Wednesday and spend the next decade in it.
We cannot afford to gamble on that happening, we must have a change and it must come before we play Newcastle at home.

Phil Walling
209
Posted 01/03/2015 at 19:15:20
Brian, you visit these columns often enough to know that Colin has been steadfast in his belief that Roberto is the second coming. Only today did he waver a bit but he's now back on message and confident that no less than 15 more points are in the bag.
Now I have said on this thread that I'm confident of avoiding the drop but not because the manager will turn it around but more that the teams below us are positively useless.
As for BK, I bet he hasn't even given relegation a thought!
Gavin Johnson
210
Posted 01/03/2015 at 19:26:26
We won't go down, Dave. We've only in fact lost something like 2 (Chelsea & today) in the last 10 games. We've just drawn far too many against sides we should be beating.
Which goes to my next point that while Martinez might be the most frustrating Manager we've ever had, he is in no way the worst. I can think of at least 2 (Walker & Smith) even Kendall in his third stint was hopeless.
If Martinez won the Europa, he will be forever a hero to me.
Brian Harrison
212
Posted 01/03/2015 at 19:32:37
Colin just have a look at the post from Patrick about Water Smith's record in his final season. Then look at the players he had to pick from: old men and no-hopers.
Now look at the talented group of players RM has at his disposal and that will give you a clue as to where the blame lies.
Mike Hughes
213
Posted 01/03/2015 at 19:26:10
Why oh why did I listen to RM's post-match interview?
Apparently we were "terrific" in the second half and the "performance deserved better".
Fast-forward 3 months to EFC's relegation and RM's post-match interview.
"We were terrific. Our performances deserved better than relegation."
Shrugs, smiles at camera, further waffle interspersed with the odd "phenomenal", "amazing" ......
Trevor Peers
214
Posted 01/03/2015 at 19:33:12
Back in the dark days of December, I remember saying under this manager we might never win another league game. Since then we have won 1 game; now, I am seriously worried we might only win 1 more league game this season. Crazy as this may sound it could be enough to keep us up, but this is the level of expectation we now have at Everton.
Sid Logan
215
Posted 01/03/2015 at 19:22:49
Colin, you could be the last man standing. I suppose somebody has to be. I hope at the end of the season we can say you were right. I think and hope you may be but possibly more by good fortune than anything Martinez conjures up.
Unlike you I have no wish to see Martinez here next season. In fact with apologies to those who don't know their Second World War history I quote Leo Amery in a speech in 1940 to Neville Chamberlaine (a man with many of the characteristics of Roberto - namely a lack of fight and bottle):- "You have sat here too long for any good you have been doing. Depart, I say, and let us have done with you. In the name of God go!"

Paul Dark
216
Posted 01/03/2015 at 19:37:55
Just been listening to the interview myself: it's appalling wordsmithery of the worst kind.
We did very well last season, but we have done very badly this season. This cannot be allowed to recur. On that basis alone, he must go.
The list of his shortcomings is very long and apparent on all threads on this website.
Colin Glassar
217
Posted 01/03/2015 at 19:37:55
Spot on Gavin.
Brian, I know where the blame lies but like you said the difference is in the players we have today. These are good players and it's up to them to start producing the results we need.
Phil, yes I wavered a bit today, and I have wavered in the past as well, but, like you, I firmly believe we will not be relegated this season. I also truly believe Roberto will take us into he promised land next season but we'll leave that one for another day.
Dave Abrahams
218
Posted 01/03/2015 at 19:41:27
Gavin (211), Gavin we might be drawing too many matches, we just don't look like winning any of them.
Tim Michael
219
Posted 01/03/2015 at 19:19:28
I'm looking at a post match quote from RM which he talks about dropped points from our first two matches!!! Totally irrelevant to the predicament that we find ourselves in now. Makes no sense at all to go back to that.
Jags said last week were WEREN'T in a relegation battle. Well, we are!! One win in eleven games is relegation form. It was clear that we really did need to win at either Arsenal or Stoke so now it's Stoke. Another defeat on Wednesday night and by the time we play again in the PL all of the weekend's fixture list will be completed; if surrounding results go against us, the pressure on the players will have gone up a notch. Thus we really need a win at Stoke –not go for these containment attempts at a draw.
For those of you who need an ugly comparison to EFC's current position – Real Betis. Having played some great football in season ending 2013 they qualified for the Europa League. The club made good progress in the EL but meanwhile their La Liga form continued to fail. Like EFC, they had suffered from continued injuries pretty much from Day 1. Like EFC, they reached the last 16 of the EL but finally went out at that very stage. Although potentially there were teams in La Liga that were inferior to Real Betis the Seville side never recovered and were relegated to the Segunda Division.
Well Mr Martinez if you feel that you have too much quality to go down, talk to your compatriots in Spain and they will tell you otherwise...
Brian Harrison
220
Posted 01/03/2015 at 19:45:26
Colin, just for a bit of fun can you tell me where you think we will get the 15 points from?
I have seen every manager from Carey right through to the present charlatan and the only promised land he will eventually lead us to is relegation. Now it might not be this season but if he is here next season then we could indeed be heading for the promised land.
Alan Bodell
221
Posted 01/03/2015 at 19:37:53
Hope you all sleep well tonight; I know for sure Romalu and Gareth Barry will – knowing full well they fucked another massive wage out of us for basically just turning up.
Brett Angell at least had the decency to appear like he knew he was shite. A mfucking disgrace week-in and week-out from the Belgian with a body like Mike Tyson that will be pushed off the ball by Lily Savage.
Please give Kone his shirt before the 㿈m. disintegrates to ٣m.
Will Firstbrook
222
Posted 01/03/2015 at 19:39:16
We would likely have to sell a player in order to fund Martinez's sacking – there's a thought.
I wonder whether Martinez's position would be under greater scrutiny if we were not still in Europe? If that is indeed the main reason for the apparent slack he's been given over league form, then that is complete folly.
Chris Sillett
223
Posted 01/03/2015 at 19:27:43
Patrick (204) we had put up with some of the most depressing football we'd ever seen for 3 or 4 years before Smith finally got his P45!
Sid Logan
224
Posted 01/03/2015 at 19:47:25
Martinez is a man who has so many followers without any justification. He is a sort of Sevengali figure whose words count more than his actions and results. It may be beguiling to listen to him but it never gets us 3 points.
I just hope Kenwright wakes up before the pro-Martinez fans do... otherwise, we are all deep in the doo-dah!
Joe Foster
225
Posted 01/03/2015 at 19:49:09
CG... CG... His promised land? I don't know how you see things that are not there? You baffle me. I love this club and would try to find anything that I thought was a positive if it was there, but it's just not. You are being so illogical it borders on crazy.
Phil Walling
226
Posted 01/03/2015 at 19:45:38
Just caught up on the RM post-match interview and enraged the missus by throwing all the cushions at the screen!
He blames all our woes on the team's failure to cling onto three points in each of the opening games against Leicester and Arsenal. "They were unhappy about it and it's been hard to shake the feeling off," he said.
Now, if in the days I was a sales manager and had dared to say, SEVEN MONTHS after my lads had lost a couple of orders, that returns were down because my lads were still unhappy, his response (before firing me) would have been, "Well, what the fuck have you been doing about it, then?"
Football managers, I've shat 'em!
Will Firstbrook
227
Posted 01/03/2015 at 19:56:22
In his interviews he comes across more like a manager of a team sitting 5th or 6th bemoaning missed chances for a CL spot. Not like a manager of a team grossly underperforming and sitting just above the drop.
Who tore a hole in the time space continuum?!?
Andy Walker
228
Posted 01/03/2015 at 19:50:50
Gavin (#210), ifs, buts and maybes. Fact: 28 points.
What will Martinez be to you if he relegates us?
Patrick Murphy
229
Posted 01/03/2015 at 19:52:54
Chris (223) I hated Walter's methods as much as any other Evertonian, but he was operating under many restrictions with board-room battles for control of the club and probably in hindsight he did a better job than many of us gave him credit for at the time.
Roberto has spent money, he has a good group of players and there has been little or no pressure put on him from outside or inside the club, but somehow he has managed to put our top-flight status in some doubt.
The players seem to be playing at well below 100%, there is no leader on the pitch, there is no desire to take games by the scruff of the neck and, worst of all, we are too easily beaten.
I said earlier in the season that his personality reminded me of Mike Walker and I have seen or heard nothing from him to change my mind. If he doesn't have the necessary leadership qualities he shouldn't be at the club, many of the fans know it, many of the players probably know it and it is for that reason he must go.

Joe Foster
230
Posted 01/03/2015 at 19:59:55
His vision of tika-taka football – he could not do it for the years he was at Wigan; why does he think he can do it now?
Brian Harrison
231
Posted 01/03/2015 at 19:56:00
I watched the other lot play Man City, what a difference in how they play the game. Rodgers has them playing at pace and when they attack they have at least 3 or 4 men running into the box. Yes, they have 3 talented footballers in Courtinho, Sturridge and Sterling but they play with belief and always look to want to impose themselves on the opposition. I suggest RM takes a look at how they set up, and look how often they shoot from outside the box.
Colin Glassar
232
Posted 01/03/2015 at 20:00:57
Stoke (D) Newcastle (w) QPR (w) Southampton (d) Swansea (d) Burnley (w) man utd (d) Villa (d) Sunderland (d) WHU (w) spurs (L).
That's 18 points, if my maths are right. So being slightly over optimistic my target of 15 points is highly attainable IMO.
Joe Foster
233
Posted 01/03/2015 at 20:09:39
CG – let's go with the logic that seems to be prevalent with RM supporters..the old but they are top teams so we can not expect to win.so taking that logic to its next level Southampton would be L,WHU L, Man Utd L there's 9 points deducted from your total as these teams are now top teams compared to us.
Colin Glassar
234
Posted 01/03/2015 at 20:17:07
WHU are in free fall, if you haven't noticed, Joe. Man Utd I don't get. They continue to win despite being crap this season. Sooner or later, someone is going to batter them, so it could be us. Southampton are starting to come off the rails and will disappear next season once they lose their manager and players, again.
Tonight our players and manager must realise the plight we are in. Surely, that will cause a reaction as I'm sure none of them want to be relegated.
Gavin Johnson
235
Posted 01/03/2015 at 20:15:51
Andy, you're also talking about ifs and buts. Yes, we're on 28 points, but I'm going on form over the last 10 games and we've not been losing many. Even if we continued our current form we would still avoid relegation by several points just on our habit of drawing.
Trevor Peers
236
Posted 01/03/2015 at 20:10:04
Colin (#232), You're being over-optimistic again, Colin. Since mid-December, we have won 1 game in 11 EPL games. We have 11 EPL games left so your forecast of 4 wins in the next 11 will mean we're over-achieving on current form!
Paul Hewitt
237
Posted 01/03/2015 at 20:19:07
Colin love your optimism but we will be lucky to get 9 points from that lot.
Joe Foster
238
Posted 01/03/2015 at 20:21:49
We are in free fall.
Andy Walker
239
Posted 01/03/2015 at 20:30:38
I know Gavin, it was ironic.
How will you feel if he relegates us?

Colin Glassar
240
Posted 01/03/2015 at 20:27:58
As Gavin said, we are slowly, very slowly improving. At least three of our home games are definitely winnable as are a few of our away games.
I know things look bleak right now but we will survive this if we hold our nerve. That's why I said we need the Goodison crowd to back the team (hate the manager all you want) and suck those goals into the net. We need to stand together right now.
Drew O'Neall
241
Posted 01/03/2015 at 20:26:51
We were a match for arsenal today but given that was the case the tactical changes were inscrutable.
Lukaku and Barkley were poor but one of our best players, McCarthy, was irrelevant. Not that he had a bad game, he was just unnecessary and the least useful of our three holding players in the context of this match.
He should have been removed at half time, in my opinion for Kone.
We dominated possession but Lukaku couldn't trap a thing. Having said that, I want my goalscorers on the pitch when we are dominating.
We could have taken the initiative when it was presented then changed again after taking the lead if necessary. As it was we allowed arsenal to adapt and eventually gain a foothold in the match.
What a waste.
Mike Hughes
242
Posted 01/03/2015 at 20:29:23
Colin #232
Your maths may be right; it's your logic (based on current form) that's wrong.
Colin #234
The three teams you reference are all in the top half - i.e. have room to breathe. We don't.
I'm not sure we're so much as free-falling as sinking further into the mire.
Regarding 'optimism', I only see delusion from those who accept that this is anywhere near good enough for EFC and that we're too good to go down.
The very fact that we're even debating scraping 40 points when we're now in March is why RM should be bundled into a taxi as quickly as possible.
Kevin Elliott
243
Posted 01/03/2015 at 20:27:13
So despondent now.
I am starting to think that every game we play that there is a good chance that we could easily lose, regardless of the opposition.

Surely it's time for Martinez to get the boot.
Matt Butlin
244
Posted 01/03/2015 at 20:39:43
I used to to think that teams had sussed us out. Now it's fairly obvious that we're just terrible going forwards.
Tony Hill
245
Posted 01/03/2015 at 20:44:21
Colin you are absolutely right that the Goodison crowd has to try and get fully behind the team starting with Newcastle. God knows it's hard given how uninspiring we are but our plight is now so bad that the atmosphere at home games could make a serious difference.
Gavin Johnson
246
Posted 01/03/2015 at 20:36:02
He won't relegate us Andy. We'll get enough points from the remaining 11 fixtures that are an easier bunch than the previous 11 by the way.
The juries still out for me. I've been livid by some of the tactics and decisions this season, especially an in form Joel being dropped for Howard recently. I said earlier in the thread that I can't see how our league form will improve next season, lesser teams know know how to nullify us and Martinez will stick to his philosophy. So something has to give this summer. That said, if he wins us the Europa, he's got a bye from me to be Everton manager next season.
Jay Woods
247
Posted 01/03/2015 at 20:45:20
@ Colin Glassar: We are "slowly improving"? Do you work for the club as a spin doctor, perchance?
Here's how to back the team: stay away from the ground and make your displeasure abundantly clear until the board has no choice but to fire the incompetent manager.
The patient is ill and cannot feast on its standard dainties of love and adulation; rather, the malaise needs to be starved out. You could call it tough love, but fans of other clubs have done it with success, so why can't we?
John Keating
248
Posted 01/03/2015 at 20:40:47
OK Colin.
Your posts regarding how many points you think we might get is hypothetical. I hope you're right but you might not be.
Let's continue to be hypothetical.
Let's just say you're wrong, let's say we go even more into freefall and find ourselves in the shit.
Down we go.
Next season is the big money season and we're not there. The rich clubs get richer and the poorer... well.
By all accounts the Championship is the hardest league, especially, to get out of, and every Club will be after our scalp.
My point is it's already a nightmare going around town getting the piss taken by the RS, who either don't go the match or haven't for years.
Can you imagine for just one minute how bad it would be if the "hypothetical" happened ? Can you imagine what life would be like every single day ?
Is it really worth the risk of keeping this clown in situ in the hope we escape the drop ?

Chris Leyland
249
Posted 01/03/2015 at 20:50:52
Colin, I think you might have morphed into Martinez. By your reckoning we are suddenly going on a 10 game unbeaten league run.
A transformation that would completely go against all the evidence and logic before us this season and would somehow transform a bunch of under-achieving, dis-organised, demotivated, unfit, turgid, plodding players into a side capable of putting such a run together. Meanwhile, in the real world...
Dave Abrahams
250
Posted 01/03/2015 at 21:03:19
On another thread in a poll of just over 300 fans, 55% want Martinez out. That vote was taken after today's game, so people are now turning against him quite rapidly.
Drew O'Neall
251
Posted 01/03/2015 at 20:54:08
Let's just get a bit of a grip here, IF he wins us the Europa League, he's the most successful Everton manager for 30 years.
He has taken over a team/club 'punching above it's weight' and removed that tag with the way we've played football – I don't hear that crap that Moyes used to revel in anymore because of the way we play football and the attitude of the manager.
Rather than spout off 'knife to a gunfight' resignation about inability to compete in the transfer market to get a 20 goals a season striker while at the same time failing to identify the dead wood in his squad; he got 㿌m for Fellini and signed what at the time looked like the most promising centre-forward available in the English game.
I would be the first to criticise some of his decision-making today and in the past but let's get a little bit of perspective here. We are disappointed because Martinez sets expectations high – not lowers them. I would rather have his innovation and fall short of his high standards than see a return to someone telling me I'm lucky we're finishing above the half way mark.
Drew O'Neall
252
Posted 01/03/2015 at 21:08:08
Dave 250
I disagree that represents fans rapidly turning against him and would be interested to see the results after Thursday night.
Football fans are' fickle' , being generous.

Mike Hughes
253
Posted 01/03/2015 at 21:11:00
Drew (#251),
Anyone can set high expectations. It's delivering on them that matters. Otherwise, it's called 'bullshit'.
Regarding perspective, I love the big 'IF' at the beginning of your post.
Trevor Peers
254
Posted 01/03/2015 at 21:12:18
Drew, that's a mighty big 'IF'. I think it would take an act of god for us to win the EL. Judge the man on his EPL record; that is the benchmark it has been for the last 20+ years.
Clive Lewis
255
Posted 01/03/2015 at 21:16:34
You are right, Drew: we should be in the Championship.
Drew O'Neall
256
Posted 01/03/2015 at 21:16:16
Mike - that was in response to posts about giving Martinez 'a bye' if he won the Europa League trophy, which is laughable.
You can wallow in self pity and be negative if you want but I'd rather take the long view.
What are we really in danger of?
Andy Crooks
257
Posted 01/03/2015 at 21:06:02
I am not sure that there are three worse teams in the Premier League than Everton. I am, however, convinced that there is not a worse coach. I would trust any coach of the teams below us ahead of Martinez. This man will relegate us. It is, in my view, imperative that he goes immediately.
Gavin Johnson
258
Posted 01/03/2015 at 21:10:12
Drew, you're spot on, a really well thought-out post that isn't jumping onto the relegation hysteria prevalent on TW at the moment. I will do a Werner Herzog and eat my own shoe if we get relegated this season.
Drew O'Neall
259
Posted 01/03/2015 at 21:18:51
Oh no!! We might finish 12th not 7th – so what?
Mike Hughes
260
Posted 01/03/2015 at 21:19:06
Drew #256
You can wallow in self pity and be negative if you want but I'd rather take the long view.
Er......where did that come from?
Completely illogical response to what I posted.
The long view? Is that through beer glasses?
Or some hallucinogenic haze?
Paul Hewitt
261
Posted 01/03/2015 at 21:10:56
Drew @251 your defence of Martinez is admirable but totally out of place. We currently find ourselves 6 points out the bottom 3 with just 1 win in 11 or 6 wins all season. I can't see where the next win is coming from.
Yes, he did get 㿌 million for our deadwood (as you put it) but spent most of that on a striker who can't even control a football.
This is the worst football I've seen since going to my first game in the 80s; no shape to the team; no leadership; no fight. I really fear for us as long as Martinez is manager.
Bob Heyward
262
Posted 01/03/2015 at 21:18:05
Colin, after months of defending the indefensible, are you finally getting with the programme? – ie, he has to go!
Chris Leyland
263
Posted 01/03/2015 at 21:22:07
Gavin, you are going to eat your own shoe if we get relegated. Thank God for that then, no need for me to be disconsolate if se do go down as I can be assured that you will be eating a shoe, which will make those games in the Championship next season much the more enjoyable.
Patrick Murphy
264
Posted 01/03/2015 at 21:09:02
Drew – I was arguing the same thing as you in the early part of this season, but I always maintain that the game is all about results. Our poor results have put the manager in the frame and a large section of the support had doubts about him, even during last season.
I would also argue that he has strayed from his natural style and become even more pragmatic than David Moyes but without achieving the same results and he has also sacrificed his principles which makes me think that he is weak and no matter how much he says in the dressing room, the players will have latched on to this weakness and their displays thus far would seem to bear this out.
Winning the EL will of course be most welcome, although a tad unlikely, but it is the League table that shows the real strength of the team and we will probably finish in the lower half of the table which will mean the club will recoup significantly less in earnings this season – even if we did win the EL – than it did last season.
I also think that Evertonians expectations are always pretty high but not unrealistic and there is little doubt Roberto has managed to underwhelm most of us for most of this season.
Victor Jones
266
Posted 01/03/2015 at 20:51:58
I tend to ramble on a bit whenever we lose. Especially when I think that we could have got something out of the game. Should we be winning, then all you get from me is "well done" or "great play". Or something similar. I don't bemoan any player or the manager's tactics when we win. No reason to. Right now I would take a few scrappy 1-0 wins.
There will be no more stupid talk from me about this Everton team actually managing to go on a little run of results. That was more wishful thinking than anything else. Martinez does not have it in his itinerary, to string a few results together. Last season caught a few teams off guard. But that won't happen again. Martinez does not know how to make it happen.
We will most likely survive. But only by scrapping for every point. We should just about scrape by, but only just. Says something about this season, when draws are welcome and acceptable results. And what will Martinez change for next season? I really don't want to know. I'd rather let someone else lead this Everton team. Could any other manager be any worse?
As for the Europa League. I don't want to see Everton go out. The further they go, the more I want them to succeed. But please don't make Martinez into some sort of hero because of this years EL run. Keep in mind how cheaply we exited both domestic cups. And look at the PL position. Martinez deserves no plaudits.
Martinez went all out to win the FA Cup with Wigan. Look at them now. This joker will be in Spain in a few years time. Plying his trade and selling his philosophy to a mid table team. That is until they also suss him out. His relegation battles will not be talked about... his cup win will. Watch this space.
Anyhow, ever the optimist, that's me. Let's beat Stoke City in a few days time. Even with or without our resident hindrance. Sorry I meant "manager". COYBs.
Andy Crooks
267
Posted 01/03/2015 at 21:20:47
So what, Drew? Millions of pounds to a cash-strapped club is what. What was innovative about his abysmal performance at Southampton? What high standards are you referring to? Moyes would have been proud of the bus parking job he attempted at Chelsea. This season, Martinez has been responsible for some of the dullest, insipid, uninspiring shit I have ever seen from an Everton team.
Mike Hughes
268
Posted 01/03/2015 at 21:28:02
Drew #265 - engage brain before typing.
Night, night.
:)

Chris Leyland
269
Posted 01/03/2015 at 21:25:57
Drew, we will be lucky to finish 12th. That is wishful thinking with our current form. Your posts are like a pass ead that the boat is unsinkable asthe freezing ocean waves crash all around tem.
Clive Lewis
270
Posted 01/03/2015 at 21:25:11
Let's not panic we are 2 thirds through the season and we have won 6. We only need to win 4 more, the maths don't add up but then again we have a genius whom has the ability to inspire confidence and determination. Just look at Wigan he managed to win the fa cup with his style. Yes they were relugated but the glass is still half full.
Drew O'Neall
271
Posted 01/03/2015 at 21:31:07
I was at the game today, we played well. Minor changes would have seen us take something from the game and in that sense RM's decision making was lacking.
Chris - there is no need to start slapping your fellow passengers reassuringly around the face just yet unless they are displaying similar signs of neurosis.
Andy - two or three million versus 㿞m for a champions league berth plus our Europa prize and gate money.
If I thought we were under threat of relegation this would be a different conversation but we aren't.
Good night Mike.

Brent Stephens
272
Posted 01/03/2015 at 21:37:26
Opposite poles attract each other. Colin Glassar and Phil Walling in a room together would be fascinating! (Sorry, Colin, Phil).
Brent Stephens
273
Posted 01/03/2015 at 21:47:52
Drew "Oh no!! We might finish 12th not 7th - so what?"
Lost dosh in finishing lower down the league, fewer season ticket sales, even less TV coverage next season, potential sponsors not arsed, current players wanting to leave, potential signings wouldn't touch us with a barge pole. Have I missed anything?
Callum McNab
274
Posted 01/03/2015 at 21:21:02
You know when things are bad when not even Ronnie Goodlass can even bring himself to listen to the idiot's interview.
Martinez only cares about possession football, not defending or attacking. How many of us knew as soon as we gave that first goal away that was it, game over.
This was the first time I switched off at half time as I knew it was only going to get worse. The players know that they can play the way they do and face no consequences and for that they should hold there heads in shame. Yes Martinez tells them what he wants but the lack of effort or commitment from many of them I find appalling.

Victor Jones
275
Posted 01/03/2015 at 21:36:21
Martinez's glass at Everton is about half full. I'd prefer if it was full. Even overflowing. That would be my analogy. As for poor old Wigan. There glass is now empty. Thanks to Mr Martinez. That club will never be back in the Premier League. And yes there were other factors. But the biggest factor was the negligence show by Señor Martinez and the rest of the clowns that he now has with him at Everton.
I also do not give any credence to Martinez for the rise of Swansea City. His time at that club was in the lower divisions. They were a big club. And with the right guidance, were always going to climb the leagues.
Why not praise Moyes for our reasonably good season last year. Why not. It was half his team. My point is that people have built Martinez up to something that he is not. And in my opinion, he never will be.
Sit tight folks. The remainder of the season is going to get bumpy.
Colin Glassar
276
Posted 01/03/2015 at 21:49:38
Only if Phil provides the pies, Brent. I hear his missus (Wiganite) makes a mean steak and kidney pie.
I know I'm in an ever-dwindling minority on here but I remain hopeful that in 12 months time this will all seem like a bad, distant dream.
John Malone
277
Posted 01/03/2015 at 21:58:05
It's took me all day to muster the will to post this comment, soul destroying!
Terence Tipler
278
Posted 01/03/2015 at 22:02:55
Once again, Match of the Day is about to start, and I cannot bring myself to watch it.
Colin Glassar
279
Posted 01/03/2015 at 22:00:34
That's not exactly the case, is it, Victor? Wigan got to the PL through the sheer willpower, and investment, of one Dave Whelan. Wigan were never, ever going to maintain their prem status due to the fact that it's not a football town, it's got a tiny, passionless fan base. No history, no future. You could've put Mourinho in charge of Wigan and eventually they would've gone down. And not only will they continue to decline, they will eventually fold once Whelan has gone. Remember Gretna?
As for your dig about Swansea. Well, ask the Swansea fans who turned their club around. Who laid the foundations etc... You can dislike Martinez all you want but what next? Accuse him of some dark and shady past? As for Swansea being a 'big club destined to climb the leagues' well, that made laugh.
Brent Stephens
280
Posted 01/03/2015 at 22:03:13
Colin, my hope as well. But fear trumps hope at the moment. God, this is terrible. It's the waiting. I can't wait for each next game to come, building up more expectation than is reasonable. Only to be dashed. But I keep going back for more...
I keep seeing the positives from each game, clutching at straws (Gibson! a couple of cameos and we're going to be saved!; Garbutt, a few great crosses and we're going to be saved; Lukaku, facing goal, decent crosses, goals, and we're going to be saved; etc etc ad nauseum). I'm deluded.

James Martin
281
Posted 01/03/2015 at 22:07:43
We won't go down this season (hopefully) but if we start next season with Martinez in charge then you are pretty much guaranteeing that we will be in a relegation fight and why would anyone take that chance with Everton?
Any manager or team can have periods of bad form, you only have to look at Klopp with Dortmund, but now they have won 4 on the spin whereas we have gone through an entire season looking like we're not going to win a game.
What makes it worse is it's not even down to bad luck, injuries, or unlucky finishing, it's down to complete apathy, tactical ineptness and lack of any footballing idea offensively or defensively. Martinez has to go in the summer.
Paul Jeronovich
282
Posted 01/03/2015 at 21:59:47
We need two things to get us through to the summer as a Premier League club where then even bigger decisions need to be made on who will lead us into the 2015-16 season:
1) More atmosphere at home games. Worst I've experienced for years. We need to try and do our bit despite what we think of the players and manager. Get Goodison back to its vile best.
2) The players need to get it back in to their heads what a fucking privilege it is to wear that royal blue jersey.
COYB

Patrick Murphy
283
Posted 01/03/2015 at 22:15:41
James, It is the apparent apathy that is the most concerning aspect of the whole state of affairs – I wouldn't wait until the Summer, I would do it now and bring somebody in to steady the ship, gives him time to have a look what players are at his disposal and for him to lay down plans for the beginning of next season.
Keeping RM on board will only mean that most of the players who want to jump ship will go before a new guy is installed and a disruptive summer will ensue. Bite the bullet now get the fans onside with the new manager and start afresh next season.
Ross Edwards
284
Posted 01/03/2015 at 22:18:33
Colin, I'm sorry but I cannot see us getting 15 points from the next 11.
I can't even see us getting 10 in this current form.
Declan Brown
285
Posted 01/03/2015 at 22:38:36
Not even going to go into a full reasoning for the following suggestion, it's been done to death.
Kenwright, sack Roberto, go get Mark Hughes or another tough gritty one like him who'll get this team fit, organised, good at set pieces, tough to beat, competitive and a bit of fire back in their bellies.
We're in big trouble, forget the Europa League. We ain't going to win it. This is brutal. Watching Everton now is so brutal despite the talent we have in the squad.
Surely has to be at least one manager that can do the above.
Peter Barry
286
Posted 01/03/2015 at 22:51:36
Now we know that Roberto meant what he said in the Daily Mail on Saturday. The Arsenal match was a perfect example of his stubborn insistence of play my way or it's the highway. A typical boring Roberto game with absolutely no desire, Plan B or penetration shown at all.
Mike Hayes
287
Posted 01/03/2015 at 22:55:45
Colin - last year was a dream; this year is a friggin nightmare and God knows when it'll be over.
Gavin Johnson
288
Posted 01/03/2015 at 22:53:05
I'm surprised that Mark Hughes gets mentioned by anyone. He's a manager who will jump ship as soon as he gets a whiff of a bigger job. Stoke fans were protesting when he got the job last season. He has rebuilt his reputation and got some credibility back but if he's the kind of manager people want, then we may as well take a step back and get Moysie back and have another 11 years without a trophy.
As I write this I know there's going to be a load of posters that would welcome that scenario and have the Moysiah back – lol.
Trevor Peers
289
Posted 01/03/2015 at 23:03:48
Well, Gavin, at least he kept us in the EPL,, surely that's to his credit. Who would be your choice as it seems inevitable the manager will be removed in the summer?
Gavin Johnson
290
Posted 01/03/2015 at 23:22:08
Not the middle of the road type managers like Hughes and Moyes who just play the percentage game. Managers who will lull us into believing that everything is okay and anything over 40 points is a bonus. Everything is peachy and then we wake up one day and realise another 10 years have gone by without winning a trophy.
Jim Hardin
291
Posted 01/03/2015 at 23:33:52
Arsenal, seeing the line-up, had to be rubbing their hands in glee. RM conceded the game penciling in the names. With Backwards Besic in, no worries about Barry getting forward to play in Lukaku or Mirallas. Neither McCarthy or Besic could link up to Barkley. I'm beginning to wonder what game Besic supporteers see with his "tidy" passes? His stats are still the worst of the four viable midfielders.
I can't understand the posters criticising Lukaku who once again was isolated and working his butt off facing away from goal. Loved the poster who criticised him for not winning more headers with his back turned to goal. What? try it and see how easy it is, especially finding a player to head it to. Barry had to play too far back and no Gibbo in to put a pass through for him.
What happened to Pienaar and Osman? One has to wonder if RM is not playing them so he doesn't have to admit his system doesn't work in the EPL.
.
Gavin Johnson
292
Posted 01/03/2015 at 23:43:35
Trevor, I'd go for a manager I can't abide as a person but has won trophies – Ronald Koeman. That said, I don't think Koeman would leave Saints for us, so a more realistic option would be Frank de Boar from Ajax.
Outside of that, I'd welcome any forward thinking manager from the continent who has good scouting links to the European leagues. So that would mean someone who can basically emulate what Koeman is doing with Saints.
Trevor Peers
293
Posted 01/03/2015 at 23:58:32
Gavin were in agreement I don't see why an approach can't be made in the summer. It would depend on how Koeman feels about the job of course. He has the right approach for sure.
Andy Crooks
294
Posted 02/03/2015 at 00:11:32
Gavin, right now I'd happily have a middle-of-the-road manager. Instead we have the worst manager in the Premier League.
Phil Walling
295
Posted 02/03/2015 at 00:16:48
Hey, Andy, we don't want any of them parasites at Everton!
Patrick Murphy
296
Posted 02/03/2015 at 00:21:36
I know Middle of the Road sold over 5M records in the early 70s but what does their manager know about organising a football team?
I just read on Grand Old Team that Bill Kenwright has had some family issues to address in the recent past and that his focus hasn't been totally on Everton FC for this reason – anybody know anything about this? I hope it isn't serious for him or his family even though he isn't my favourite Chairman / Owner.

Drew O'Neall
297
Posted 01/03/2015 at 22:49:48
Brent 273 - I think I covered that when someone said the same thing.
'Get Mark Hughes' feels like the right note on which to bid you all a good evening.
Drew O'Neall
298
Posted 02/03/2015 at 00:24:56
Sorry...
Jim 291 - I can't let you away with that, Lukaku was absolutely dire today mate. He completed something like one pass. Even under no pressure he couldn't pass it to a blue shirt. His hold up play and ball control is the worst of I think any striker in the EPL... That said, if he can't do it why keep persevering with it, I would have dropped him out wide and brought Kone on - he must be completely finished if he wasn't fit to be brought on today.
Mike Galley
299
Posted 02/03/2015 at 00:44:25
Hate doing this, but I'm pessimistic by nature where the Toffees are concerned. I've gone through our remaining fixtures and I have us finishing on 41 points. Hope to God I'm right, as I feel that will see us safe.
Next year is my concern. I hate calling for an EFC mangers head as that means he is not doing well. I hope I'm wrong on this, but I believe leaving Roberto in charge will just lead us on a downward spiral.....

Gavin Johnson
300
Posted 02/03/2015 at 00:30:30
"Worst manager in EPL history" so the fact we got our highest points total last season was all down to the tactical mastermind David Moyes. That's the only assertion I can come to if Roberto Martinez is the worst manager in EPL history. Moysie, who bottled it whenever it mattered. The self publicist who helped to perpetuate the 'plucky little Everton tag' by always making himself look better by spouting 'anything over 40 points will do, and 'knives to a gunfight'.
Moyes and Hughes are your middle of the road managers, if they were a colour they would be beige. If they were a band they would be Coldplay. If they were political they would be in the centre. All this is well and good, 'safe', but it will never win us a trophy.
We still have a very good chance of winning a trophy this season. Comparing our form in Europe to the league is like comparing night and day. You may as well put all the talk of new managers to one side until the summer because we won't go down..so why keep working yourselves up lads. Let's just wait and see what happens in the Europa before we fuck him off. Because if we do win it, Roberto Martinez will be the most successful manager since the 80s.
Bill Gall
301
Posted 02/03/2015 at 01:18:08
Martinez will not improve between now till the end of the season and we will still be criticizing him after every game so why wait till the end of the season to fire the man if we believe he needs firing.
Why not use one of the Everton coaches as a temp manager till the end of season and use the rest of the season to advertise for a new manager and find out who will apply so he can start at the end of this season. We write up on here about who we would like as a new manager but with the Chairman and Board we have who will apply with them in charge.
I do not want Everton to be a club who just fires the manager because we do not perform great every week, but in Mr Martinez's case I am sorry, but with his lack, to be able to change a game with a plan (B) and refusing to alter his tactics that are not working imo, he will fire himself.
BK, you may be the major shareholder that gives you control of the club but it is the 35,000 -40,000 spectators and their fathers and grandfathers and their fathers and grandfathers before them that built Everton football club not you, so get your head out of the sand speak to the man you appointed and tell him to either turn this club around starting Wednesday or to pack his bags and leave.
Bill Gall
302
Posted 02/03/2015 at 01:50:37
Gavin, I hope they do win the trophy but it will not make him into a Premier League manager. I just hope we do not go out on an away goal counting double in a tie or a penalty shoot-out. We are now getting into the teams from the Champions League and they will play a lot tougher than some of the other teams.
Ernie Baywood
303
Posted 02/03/2015 at 01:52:50
In isolation, it wasn't too bad. We had possession deep and tried to hit a dodgy defence with quick balls forward.
No shame in that. We probably created the better chances too. Rom had two good chances, Lennon one. In contrast Arsenal did struggle to create clear chances, one for Giroud plus he scored a half chance.
The reality is that we can't look at this in isolation. This wasn't a tactic for Arsenal. It was how we play every single week. We have as much possession as we can meaning we never get twatted, but offer precious little attacking threat.
So, no it wasn't good enough. Because it was the same old tripe we're being served whether it's West Brom or Chelsea.
We'll do exactly the same at Stoke. We already know. If we pinch the first goal we'll have a chance but it's just hoping for good luck rather than taking our future in our own hands and seeing if we can beat teams.
Victor Jones
304
Posted 02/03/2015 at 01:45:30
Re. Colin. This is a football forum. Nobody is accusing Martinez of having a dark and shady past. You are not exactly reading what I am trying to say. I understand that you want Martinez to succeed. That's good. That would mean that Everton are doing well. But it just isn't happening. Is it? How many games or seasons are you prepared to watch this crap? Because I have had enough.
We will most likely be safe this season. But only because there are a few worse teams than us. Lets all applaud Martinez for that. And we are a long way from winning the Europa League. A few good results in that competition means nothing. When we cannot transfer that form into the league.
I will agree to disagree with you about Wigan and Swansea. The fact is Martinez took Wigan down. And as for Swansea, other managers played a huge part in their resurgence. Martinez's input was minimal. Okay, maybe Swansea are not a big team in the true sense. But they were big for the leagues that they found themselves in. Remember them in the old first division. And a certain Bob Latchford playing for them. Not exactly a bad pedigree or history for the non entities that you made them out to be. By the way, Colin, take a look at my name. I know plenty of Swansea supporters. They credit the manager of the RS with their rise to the premier league. Not Martinez.
I do not want Martinez as our manager. I appreciate that some people do. As for people saying that he will be our most successful manager since the 80s, should he win the Europa League. That really is wishful thinking. But time will tell. I don't want Everton FC to lose football matches. But Martinez seems to have other ideas on that.
Breandan Clarke
305
Posted 02/03/2015 at 01:56:29
I've always been a Martinez supporter and today we dominated Arsenal away. They scored from a corner, a horrible individual mistake, and we should've been up by 2 if Lukaku was more clinical. This season has been about fine margins, both defensively and in attack. We almost played the perfect away game. Almost.
I used to like reading ToffeeWeb comments quite a lot, I always thought there was a good variation of opinion. It's been harder and harder the past couple of months. I remember 2 months ago when people were calling for Tony Pulis to be our manager – Tony fucking throw into the box from as far away as possible Pulis. That's when I stopped respecting most on here's opinion, I thought Blues were more intelligent. The fact someone above was talking about a fucking temp manager and advertising the manager's job. This is Everton for Christ's sake.
Anyway, I think I will try leave here for a while, if I can! Hopefully this time next year well be back to our old selves, where Leon and Tony were ripped to shreds for being decent yet loyal, while Baines is suddenly all of a sudden shite because he's had a potential career ending injury and still hasn't got back to full fitness. Oh and hopefully Tim's playing up front.
Goodnight folks.
Derek Thomas
306
Posted 02/03/2015 at 02:47:13
I stopped reading at around the 150th reply as I hadn't seen much to disagree with and it didn't seem much worth taking the time to read another dose of the same (sorry to you all, though I'm sure you all made excellent points).
Victor Jones
307
Posted 02/03/2015 at 02:49:08
Sorry, Colin, but I need to make one more point. I was not as you seem to think, having a dig at Wigan or Swansea. Just pointing out my thoughts on Martinez's time at these clubs. Just not good enough to be even mentioned for the Everton job. BK should hang his head in shame at that appointment, and for falling for the hype of a promise of Champions League football. Utter bullshit.
But I was in fact having a dig at Roberto Martinez. And will continue to do so until he proves that he is fit to manage this great club. Or until he is sacked. He might have broken records for the right reasons last season, so that makes it even more unforgivable for the rubbish he is serving up this season.
Derek Thomas
308
Posted 02/03/2015 at 02:52:14
WTF happened then?
It was a bit 'meh' though, we never looked likely to score and they only looked marginally more likely to score.
The co-presenter on my feed, think it was Danny Murphy, but not sure kept on about us giving the ball away and most of our goals conceded coming from individual mistakes; how right he was.
The 2nd half it was much more of the same you'd think we were winning and running down the clock, so much so I fast-fowarded x 6, when they scored again it went to x12.
This season is effectively over as I think we will maintain or average of 1 point per game and coast over the required minimum (36-37?) with a game or 3 to spare, but that could change if we lose too many. Stating the obvious I know, but that's how I see it.
The only thing (I hope) is the chance that the Europa can rescue the season.
If that keeps Martinez in a job I'm torn either way.
The overall tone seems resigned and apathetic and roll on June.
I can't even be arsed ending with the obligatory 4 letter word starting with ' T ' and ending in ' I '
Doug Fitzgerald
309
Posted 02/03/2015 at 04:55:29
I love Everton, but this is the worst year I can remember since mike walker, even Walter smiths sides had fight. The players don't care, twice in the last two games I have seen players laughing on the bench while we are getting beat. We were one nil down today and Osman is pissing himself on the bench.
The players obviously don't give a toss, they still get paid. Pretty much all of them are stealing a living, except for Stones and McCarthy. Lukaku looks great against shitty Swiss sides but today and most of this season he was invisible.
Kenwright will not sack Martinez unless we get relegated, which is a serious possibility (66/1 worth a punt). We missed a trick not getting Tony Pulis, who would bring what we need discipline, directness and fucking grit.
I feel sorry for all our great fans who travel all over the country to watch these knob-heads.$50 a ticket plus travel.

Kieran Fitzgerald
310
Posted 02/03/2015 at 06:36:53
Nothing will change between now and the summer. Martinez will be the manager and his tactics won't change.
I think that this season he has gambled everything on one thing, winning the EL. If he gets to the semi-final or final and doesn't get us relegated, he will be safe in his job for the start of next season. Everton and BK won't sack him. We e depressingly predictable that way and anyway, we are too cheap to pay the guy off.
Last season it was getting a CL place and nothing else mattered. He didn't achieve it but a record PL finish saw him safe for the start of this season. Last season, while in no small part his doing, was still a freak of a season in the league given his overall record. I think it fooled a lot of people and bought the guy a lot of time.
The season before it was the F.A. cup. Winning it may have bought him time at Wigan, even with the relegation.
Martinez may finally have been found out this season and/or his luck may have finally run out. Unfortunately, it may take a relegation for us to get rid of him. Right now, I can't see him changing his approach and learning anything from this season in the league. If we stay up, we will be stuck with him.
James Marshall
311
Posted 02/03/2015 at 08:10:09
I've been through the fixtures as well and I have us hitting the heights of 39 points which should see us safe. That's only two wins though which is a big ask! I have us beating QPR and Burnley with a few draws and losses.
We really are woeful to watch.
Terence Tipler
312
Posted 02/03/2015 at 08:28:14
Kieran. Paying of Martinez will be self financing, as it will ensure a higher league position in the future.
Ian Brandes
313
Posted 02/03/2015 at 09:45:48
Thought that yesterday was like a knock about training session with no passion, endeavour or determination, a disgrace really.
Cannot come to terms with RM and his selection methods. I like Ros, but why was he in the team against Arsenal. His performances have not been good lately, and he was listless and disinterested as well as careless, during the match
Douglas McClenaghan
314
Posted 02/03/2015 at 10:08:34
Paul (282) your second point is particularly good. How many in our current squad are looking elsewhere for next season and couldn't give a rat's arse where we finish?
Colin Malone
315
Posted 02/03/2015 at 11:23:52
When was the last time we won headers from set pieces or from our wingers pumping the ball n the box? I have said it a number of times here. We need a proper centre-forward who can ruffle some feathers, i.e. big Dunc style. We have no one at the club who can do that job.
Bobby, until you can get the laws changed to no head height, it's a major part of our game that we are missing out on.
Jay Woods
316
Posted 02/03/2015 at 12:04:09
Every day I visit ToffeeWeb, hoping to see Martinez has been sacked. Still no progress for EFC then...
Oscar Huglin
317
Posted 02/03/2015 at 12:20:05
Phwoar, this comment thread is a scary read. It feels like every single comment on here is calling for Martinez's head, and it makes me sick.
This time last season, every single comment on post-match threads was criticising Kenwright for not getting Martinez signed on for the long term, worrying that bigger clubs with vacancies would swoop for him. So many people were worried that Arsenal, Manchester United, even Barcelona (!) would take him up, and the press rumours only added fuel to the fire. There were no Everton fans calling for any kind of change in management.
We've had a shitty season, but I still think I see spirit in the players and I feel like we just need things to start rolling for us again. If you look back at our league results since the turn of the year (excluding Hull, which was simply awful), there are so many cases where a little bit of fortune or a slightly different decision would have put us all in a much better frame of mind.
1-1 Man City – A great result. Can't knock this. Could have won it as well.
0-0 West Brom – What if Baines had taken that penalty? What if Mirallas had scored it? We would have beaten a team who have now kept clean sheets in 6 of their last 8 games.
1-0 Palace – Looking like a better and better result with each week that Palace climb the table.
0-0 Liverpool – A good result, whichever way you look at it.
0-1 Chelsea – We played them off the park at times and deserved at least a point against the team running away with the league. Their winner was ridiculous.
2-2 Leicester – Leicester were very, very lucky to get 2 goals out of that game, and if Lukaku had put away any one of the 3 excellent chances he had, we would have seen that as a moralising win against a battling, stubbornly defensive team.
2-0 Arsenal – The scoreline massively flattered Arsenal. We were unlucky to go down at the end of the first half, and in the second half we came out and looked by far the better team. They scored with a huge deflection through what was their second chance of the half just before going into 7 minutes of injury time that would have put huge pressure on them. And from our point of view, we were denied by their keeper brilliantly on 3 occasions in the second half. As well as that, Lukaku, through on goal at 1-0, was incorrectly flagged offside. Again, this could have been a very different story.
I understand the frustration with our league position. I'm frustrated too. But I will not put it all on Martinez, who did a fantastic job last season and has made real, positive changes to this side. We have a fantastic spine for the future in Robles -> Stones and Garbutt -> McCarthy and Besic -> Barkley -> Lukaku and I honestly believe Martinez is the man to develop those players. Apart from anything, he brought in 4 out of those 7.
Someone remind me of what happened the season after we came 17th under Moyes... If someone had offered me the choice between 'mid table with a genuine chance in the Europa League' and 'pushing for European qualification with no other prospects', I would have taken the Europa League every time. What an adventure we're having in Europe.
Sacking Martinez would be the knee-jerk decision that we've watched so many clubs make over the years, and it rarely leads to improvement. Besides, who would we hire? I hear Redknapp's available...
Get behind the team and there is a very real chance we could see royal blue shirts in the Europa League final this year.
Bring on Stoke.
Brent Stephens
318
Posted 02/03/2015 at 13:02:07
Gavin #300 "Let's just wait and see what happens in the Europa before we fuck him off. Because if we do win it, Roberto Martinez will be the most successful manager since the 80s."
I don't think so, as success is based on how you perform over the season, all comps. What happened in Capital One? In FA Cup? Is happening in league? Even if he wins said tin pot, and we go down, he won't be the most successful blah blah in my eyes.
As you say, let's just wait - before saying with so much certainty that "we won't go down"!
Phil Walling
319
Posted 02/03/2015 at 13:13:04
Colin, all that stuff is old hat. Even Dixie wouldn't merit a place in our phenomenal team of today. Corners, centres, headers? Get with it mate !
Terry McLavey
320
Posted 02/03/2015 at 13:15:10
Joe (#206), Well we might win a few more games! The only problem is an exodus of players, hopefully the upside-down head goalie!
Tony J Williams
321
Posted 02/03/2015 at 13:20:03
We may as well just copy and paste our comments from our last 20+ games.
I see Bobby has started dusting down his Wigan, "I will not alter my approach" speech
Anyone who says, "They were there for the taking" should be kicked senseless for three hours. Why do we believe that the league's poorest team, form wise, should walk over the team that is fighting for a Champions League place?
Pointless, boring footy that has caused me to pack in my season ticket. I was wavering with the birth of my daughter but I am not even considering renewing now.
Patrick Murphy
322
Posted 02/03/2015 at 13:36:08
Tony J - Congratulation on your new arrival but if your sentiments are replicated by a large section of the support even Bill will have to re-assess the Managers situation. If a mostly muted Goodison is replaced with thousands of empty seats the bean counters will be very very nervous.

Brian Hennessy
323
Posted 02/03/2015 at 13:25:28
It's pretty simple really, managers are there to decide on how to set-up their team and to pick players accordingly and based on the evidence so far Roberto Martinez is not a very good manager.
Playing McCarthy, Besic and Barry in the one team was never going to work.
Give RM his p45 and lets try again with someone else, this is just too damn depressing.
Bill Gall
324
Posted 02/03/2015 at 13:40:46
Brendan #305-- I guess you are talking about my comment about advertising for a manager. For a start I wrote " if we think he should be fired " not he should be fired. .Then "if" he was fired instead of just jumping in and see if any of the names mentioned i.e.Mark Hughes wanted the position, do what other clubs do and let it be known that we need a new manager.and do a thorough background check on his experience in a managerial role.
I will ask you to google Martinez's name go to Wikipedia's write up about Martinez's career and ask yourself " should he have been hired as a manager of Everton who were looking for a premier manager for an established premier club".
As has been said before on this site the belief was a soon as Moyes said he was leaving Martinez was informed he had the job, and despite B.K. saying he spent 24/7 speaking and talking to football people all over Europe the only people he spoke to were Martinez and some of the coaches at the club.
I.M.O. "if " we replace Martinez we do not just hire some one who has beaten Everton on the way to winning a cup but has a winning background, and attitude, to move us forward and has plenty of time in the off season to prepare.
.
Phil Walling
325
Posted 02/03/2015 at 13:38:01
I've just had it on very good authority that the received wisdom within the Club is that we are just a couple of victories away from turning the tide.
Relegation is ' just not on,' I was told, 'and we are all excited about the Europa success. Some times these runs just happen. A couple of wins will see us right back in the groove.'
Of course, in mentioning the 'r' word, I had forgotten it's only March and we've got six wins in the bag already. Silly me.
Denis Richardson
326
Posted 02/03/2015 at 14:06:07
Phil - whoever came up with that can you tell them to read the March script as they seem to still have the December one!
Lose to Stoke and we'll have 10 days to gnash our teeth till the next game.
Hull play Sunderland so at at least one will pick up points and I fancy Aston Villa to get a result at home to w.brom. That 6 point cushion's not going to last long at this rate.
Patrick Murphy
327
Posted 02/03/2015 at 14:04:28
Phil - If the people you have spoken to can't see that the current malaise is not only based on results then they must see something that most genuine supporters cannot.
The fact that Everton have just four points more than Wigan had at the same stage of their relegation season suggests to me that there is a major flaw in Roberto's methods and ideas about how the game should be played.
Six victories is a poor return and those wins have been against relatively poorer teams i.e. QPR, Aston Villa and West Ham at home, WBA, Burnley and Palace away from home. That means that we have only beaten one team (West Ham) who were in a better league position when we played them.

Brian Hill
328
Posted 02/03/2015 at 14:30:35
Tony J, many congratulations on their birth of your daughter. She will bring far more pleasure than Everton until, of course, she is a teenager when you will be well and truly stuffed! (The second of our three girls turned 13 last month so I speak from Daddy is an idiot experience).
Gavin Johnson
329
Posted 02/03/2015 at 14:37:29
Brent, if we win the Europa, of course Roberto will be the most successful manager since our 80's heyday. We've only won one trophy in the last 20 years. Winning the Europa and qualifying for the champions league supersedes big Joe's achievement of winning the FA Cup when there was a more level playing field in terms of transfer budgets. Our highest league finish under him was 6th.
And don't even start going on about Moysie who finished 17th in his second season. It's all conjecture Brent, so as I say..lets wait and see. We've got Roberto until the end of the season, so you may as well get behind him and the team.
Brian Hill
330
Posted 02/03/2015 at 14:43:19
Isn't "there are three teams worse than us" turning into the new "definition of insanity" mantra?
Which are those teams, why are they worse than us at the moment, other than the obvious league position argument, and would you bet anything worth losing that we would beat any of them?
Gavin Johnson
331
Posted 02/03/2015 at 14:48:44
I don't understand the hysteria on here. Yes, there are some fundamental flaws with the current regime. But we've not been losing many games. We've just been drawing games. We've got an easier remaining set of fixtures than the previous 11. So for us to get relegated our form has got to get worse and teams like Villa who can't buy a goal are suddenly going to have an upturn. You've got to be really cynical if you believe that's going to happen.
I'm not happy with the results and I'm not particularly in favour of Roberto staying on as manager beyond the summer. The way I see it, we won't go down and we've got a manager who has got us a fighting chance of winning a competition we've not been in since 2009/10. Europe is the best stage for Martinez to put his philosophy into fruition. So why would anyone want the likes of big Dunc to take over when we'll easily stay up based on our form since Christmas.
Steve Brown
332
Posted 02/03/2015 at 14:50:57
Colin @ 276, I'm with you in backing the manager and the squad to get us out of this mess. I didnt support RM as manager when we hired him - when does a top 8 club hire a relegated manager? But his record premiership points haul last season and the quality of football we delivered means he should get a chance to fix this. Especially given the quality of our performances in the Europa League.
He was not a hero then, nor is he a zero now, so let's get a bit more balance in the views expressed. But I tell you what Roberto, you start next season like the last 3 months and you will rightly be gone by Xmas. As for the players, I have lost all respect for some of them and there needs to be a summer clear out.
Patrick Murphy
333
Posted 02/03/2015 at 14:50:11
The results of these 20 Premier League encounters will undoubtedly influence the bottom positions to a large degree and there will also probably be some crazy results in other fixtures along the way.
Hull v Sunderland
Hull V Burnley
Villa V WBA
Villa V QPR
Villa V Everton
Villa V Burnley
Palace V QPR
Palace v WBA
Palace v Hull
Leicester V Hull
Leicester V QPR
WBA V QPR
WBA V Leicester
QPR v Everton
Sunderland v Villa
Sunderland v Palace
Sunderland v Leicester
Everton V Burnley
Everton V Sunderland
Burnley v Leicester
Steve Brown
334
Posted 02/03/2015 at 15:15:42
Today's disappointing result summed up our frustrating season in the Premier League. Arsenal offered zero threat prior to us gifting them a goal from a set play and the second would have been gobbled up by Tim Howard had it not been deflected in off the outstanding Phil Jagielka.
Romelu Lukaku and Aaron Lennon both had chances to draw the Blues level but we didn't take our opportunities and were ultimately punished. Everton controlled the game for large parts but simply didn't have the cutting edge to hurt Arsenal where it mattered.
As ever, the wild and wonderful world of Twitter went into meltdown post-match, with hundreds of Blues frothing at the mouth and demanding Martinez be sacked for another unacceptable performance and result. Losing at Arsenal appears to have become unforgivable to a certain section of the Evertonian fan base, particularly when we consider our impeccable record at both Highbury and the Emirates stadium under the previous Everton manager.
We here at SOS1878 will never 'accept' losing, but you can't suspend reality. The squad needs an overhaul in the summer and Roberto Martinez deserves the time to put things right. Part of the reason why we are not going berserk is because we are not stupid. We expected bumps in the road. Last season, on reflection, was too easy.
Given the situation we find ourselves in, it is important that the fans stay calm and get behind the team. We would never advocate backing any manager unequivocally, but we are three quarters of a season on from finishing 5th, with the chance to progress deep into the Europa League latter stages.
Sky fans cry after 27 games and call for manager's heads. It is the same sort of creatures who boo Ross Barkley and Romelu Lukaku every other week at Goodison, destroying their confidence. Europa League aside, we must accept that this season is now a write off.
Instead of calling for the manager's head and making Goodison a hostile place to play for our own players, all efforts now need to be placed into roaring the team to safety instead of feeding hysteria. There are plenty of winnable games left that will see us over the line, but the players will require the vocal support for which Goodison is synonymous.
Our timeframes in regard to the manager are clear. We give him the remainder of this season, the summer, and at least until Christmas. Make no mistake, if the summer doesn't bring changes we'll be more critic... but you have to allow some time and breathing space for the manager.
In Martinez We Trust.
School of Science
Steve Brown
335
Posted 02/03/2015 at 15:19:21
Interesting article, don't agree with slagging off the fans who complained about what's been served up though.
Patrick Murphy
336
Posted 02/03/2015 at 15:20:15
I read that Steve as reported in the Echo, but why did so many Blues both at the Emirates and watching on TV know full well that the game was over as soon as Arsenal took the lead?

Andrew Clare
337
Posted 02/03/2015 at 14:41:16
I think we are rapidly reaching the point of no return.
Dave Abrahams
338
Posted 02/03/2015 at 15:14:54
Gavin (331) you seem nice and relaxed about Everton's situation in the league, are you under a lot of sedation, I think you have been hypnotised by Robbie, he has a nice relaxing way about him as well, except the bags under his eyes seem to getting bigger, I hope you are right about us staying up, I'm getting more nervous by the hour.
Nick Page
339
Posted 02/03/2015 at 15:11:27
Stoke are the third highest point scoring fucking team in the division since Jan 1 (the next year nobheads are top). So this will be a bloody tough game. No let up
Gavin Johnson
340
Posted 02/03/2015 at 15:37:11
If we don't get any points from Stoke on Weds I might need some sedation, Dave.
Bill Griffiths
341
Posted 02/03/2015 at 15:36:12
Steve Brown, in my heart I agree with everything you say but my head, eyes and ears say otherwise.
I expected some regression this season as Roberto's plans were being put into place and realise that it would take a couple of seasons (maybe more) for his plans to come to fruition. What I didn't expect was regression to the scale of what it has been.
Also, I would expect to have seen some evidence of what he is aiming for; unfortunately, I have seen nothing to indicate any progress in his aims for the club. He his rigid in his ideals, can't see the obvious, and as this disastrous season goes on, the rubbish he speaks appears to get more ridiculous.
You must see something that I can't but from what I can see there's nothing within him to change things round unless he does the most massive U-turn in history and throws all his old ideas/philosophy out of the window.
Paul Thompson
342
Posted 02/03/2015 at 15:58:36
'Domination but no penetration'. Reminds me of the reviews of '50 Shades of Grey'.
Nick Page
343
Posted 02/03/2015 at 16:04:31
Paul, more like frotting. lol
Patrick Murphy
344
Posted 02/03/2015 at 16:08:29
More like 50 shades of the Brown Stuff.

Eoin Cullen
345
Posted 02/03/2015 at 16:09:54
Some of the fans on here seem to think the EL is the one bright hope for this season. Anybody who watched the whole of the game against Young Boys will have seen that in the first 20 minutes we were back to Premier League form (i.e complete rubbish).
The team looked totally demoralised and that translates to the fans losing all confidence in them. We expect things to go wrong. It was only with the penalty that things changed and by half time the game was over.
The truth is that, the way YB played on Thursday, they wouldn't stand a chance in the PL.
Kevin Tully
346
Posted 02/03/2015 at 16:19:56
After 345 comments, I believe there is an extremely simple explanation behind our woeful form and dire football.
That is, some of the players don't like his methods. How can Baines, Coleman, Jagielka, Distin etc.all turn into such mediocre players overnight? You don't go from the 3rd best defence in the league last season, to complete dog-shit in 3 months.
Baines & Coleman have been a shadow of the players they were last season. They both don't want to run at their opposite numbers anymore, what's that about? They stop at the half-way line and give a square pass.
It's Hodgson / Villas-Boas syndrome all over again. Some don't want to do it for the manager, because they have no faith in him. You only need two or three senior pro's to disagree with a manager's methods, and it's curtains I'm afraid.
You can blame the manager, or you can blame the players – it makes no difference. It's over for Martinez because the players are not 100% behind him. Simple.
Will Firstbrook
347
Posted 02/03/2015 at 16:16:02
I recall months ago, the most irritating thing for me about BBS was is incoherent post-match ramblings. Oh, how I long for those days.
Going to be very difficult getting a result at Stoke who will be, as always, very direct pumping loads of crosses into the box. We all know how well we manage that style of play this season.
If we sit back inviting them on to us Wednesday, I am not holding out much hope for anything better than a draw. I actually had a twitch in my eye typing that last line.
Andrew Clare
348
Posted 02/03/2015 at 17:13:47
If or when we lose against Stoke on Wednesday what will happen?
Absolutely nothing- say it again!

Tony Hill
349
Posted 02/03/2015 at 19:16:33
Kevin (346), correct, though I suggest there are rather more players who are not committed to RM. This has been the underlying problem for at least 3 months.
Concern about relegation is not hysterical or the reaction of "Sky fans". Have some respect for opinions different from your own.
Ross Edwards
350
Posted 02/03/2015 at 19:52:56
So, Kevin, doesn't that tell you that the manager is to blame if the players don't like his methods?
Kevin Tully
352
Posted 02/03/2015 at 20:21:35
Tony # 349. Sorry, have I missed something?
Tony Hill
353
Posted 02/03/2015 at 21:15:19
Sorry Kevin, my fault. I was referring to earlier posters in my second paragraph and should have made that clear. I agreed with your post.
Gavin Johnson
354
Posted 02/03/2015 at 21:18:31
On a side note, it looks like we were lucky swerving Adam Johnson a player Martinez was rumoured to be interested in signing.
Mike Hughes
355
Posted 02/03/2015 at 21:22:46
Well, well, well ......
Lawro's predictions have us getting stuffed 2-1 at Stoke - resulting in us teetering on the brink of an abyss darker than a car full of arse-holes.
However, Lawro's opponent for the midweek Premier League fixtures is Kieran Shudall, singer and guitarist in indie-rock band Circa Waves and also an Everton fan.
He has us winning 1-0.
Which means it'll be a 2-2 draw and not much use.
Dark times.
Ian Linn
356
Posted 02/03/2015 at 22:20:15
Kevin T, agree whole heartedly.
I addition, when the manager plays England's No.1 left back in centre midfield, you know he is getting desperate.
Brian Wilkinson
357
Posted 03/03/2015 at 17:34:46
No Osman, no Mcgeedy, you can even take Barry or Howard out of the team, players who have been crucified, nothing will change as long as we keep playing the same tactics.
Whoever comes in will only play the same style as the manager instructs.
The Europa league has worked well, teams have played to our strengths in attacking and leaving themselves exposed when we have counter attacked.
Make no mistake, we will meet teams less generous and more defensive in the latter rounds.
Premiership teams have worked us out and sat back allowing us nothing but sideways football.
All Evertonians can see that its not working, Martinez needs to change and try and come up with a plan b, speak to the players, if the team as a whole come up with a plan b then at least give it a go.
Games are running out, at the moment we are very fortunate the bottom three clubs are not putting pressure on us, all that could change in the matter of a couple of results.
Add Your Comments
In order to post a comment, you need to be logged in as a registered user of the site.
Or Sign up as a ToffeeWeb Member — it's free, takes just a few minutes and will allow you to post your comments on articles and Talking Points submissions across the site.
© ToffeeWeb