Silly penalty squanders a fourth win
By Michael Kenrick
11/04/2015

Comments (232)
jump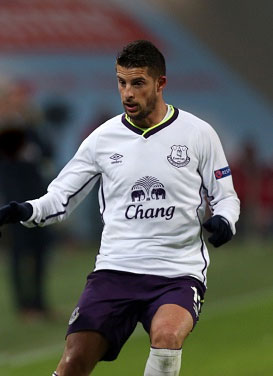 Kevin Mirallas got a few minutes at the death after recovering from a dead leg
Everton were unchanged from the side that beat Southampton last weekend, and therefore still without Romelu Lukaku. Naismith and Mirallas started on the bench.
Both sides started by playing fairly neat possession football in the first couple of mins, Everton soon gaining momentum, with Lennon winning the first corner that Baines delivered to the far post, where Fabianski gathered.
Jagielka clashed heads with Routledge who went down for the count. Sigurdsson scooped in the free-kick but Jagielka cleared the danger. Gomis then turned on a very inviting ball that he fired in to the top corner but Howard pulled off an excellent save to deflect it around. But Swansea tested the Blues defence on the following corners, Williams heading behind and Fernandez applying pressure. However, the shot from Gomis strained his hamstring and Mendez replaced him with barely 15 mins gone.
It took quite a while for Everton to mount their second attack, nothing coming of a cross in from Coleman, except a free-kick in the forward third. Again, the delivery looked good but Fabianski gathered it easily at the far post. Osman then fouled Ki and Everton were under pressure again. Kone was booked for jumping with a leading arm that caught Fernandez.
Osman was withdrawn with a groin problem, Pienaar replacing him after less than half-an hour, to team up with Baines. Barkley tried a low shot from distance that was easy for Fabianski. Routledge fouled Baines just before Shelvey fired home; no goal.
Everton were still struggling to make much impression until Coleman struck a great shot in low that Fabianski turned behind but nothing came of the corner. Coleman won a corner on the other side that came to nothing. A more promising move saw Pienaar drive forward and Barkley play in Coleman wide right, winning a throw, then Pienaar winning another corner, gathered by Fabianski at the far post.
A good move down the left finally saw something happen, started by Pienaar, with McCarthy getting to the byeline and cutting the ball back really well to Lennon who steadied himself and picked out the bottom corner to finish very nicely. 1-0 to Everton.
Kone turned well and stung Fabianski's gloves after a very nice ball in from Pienaar, who had made a tremendous difference since coming on for Osman. Everton looked to get forward again but shocking hesitation and lack of awareness from Barkley saw the whole move grind to a painful halt.
A sequence of rather adventurous Barcelona-like tika-taka interchange passing saw Kone (who should have shot himself) set up a strike for Pienaar in the 3 mins added before the break, as Everton finished the first half very strongly.
The second half took a while to get going, Lennon making a great run down the right wing but his ball in to Kone was poor. Taylor came through the back of Lennon and saw yellow and the game opened up a little, Everton crossing for Jagielka(!) at the far post but again Fabianski gathered.
Some excellent possession play down the left won the first corner of the second half, Barry getting his head on Baines's delivery but Fabianski gathered the ball as it was going wide. Everton were trying to be a little too intricate through the middle, Barkley getting involved but not really imposing himself on the game as he should be doing.
Everton were controlling the game as the hour-mark approached, but Gomis did make a good run and shot wide. Kone went in rather heavily on Cork and could have been booked. Ki then tried to score from a tight angle and fired over as Swansea saw a little more of the ball.
Swansea had their best spell, Everton unable to get the ball as Coleman and Baines had to defend strongly, deflected two penalty claims. But then, on a later attack, a bizarre penalty given away, handball by Coleman in the far corner of the area. Howard then played silly buggers, cleaning his boots on the post, and getting booked by Oliver before Shelvey sent Mr USA the wrong way and Everton had very cheaply surrendered their hard-won advantage. Criminal.
Shelvey tried to strongarm Jagielka and got a lecture off Michael Oliver but no booking as Everton tried to reassert their superiority. Barkley got a shot off but it was poor.
Lots of physical clashes finally saw Williams clumsily take out McCarthy with an awful challenge and get yellow. McCarthy got a glorious chance, running in on goal, but choosing completely the wrong option.
Lennon fouled Sigurdsson, who saw Howard push his free-kick over the bar. Barkley was replaced by Mirallas for the last 5 mins. Everton tried to push for the winner with 4 mins of added time but the two points had been well and truly squandered from a position of strong superiority.
Scorers: Shelvey (pen: 69'); Lennon (41')
Swansea City: Fabianski, Rangel, Fernandez, Williams [Y:80'], Taylor [Y:52'], Cork, Ki, Shelvey (83' Dyer), Sigurdsson, Routledge, Gomis (17' Emnes [Y:56']).
Subs: Tremmel, Amat, Britton, Grkmes, Fulton
Everton: Howard [Y:68'], Coleman, Baines, Jagielka, Stones, Barry, McCarthy, Lennon [Y:84'], Barkley (86' Mirallas), Osman (25' Pienaar), Kone [Y:25'] (76' Naismith).
Subs not Used: Robles, Alcaraz, Garbutt, Besic.
Referee: Michael Oliver
Attendance: 20,468
---
Reader Comments (232)
Note: the following content is not moderated or vetted by the site owners at the time of submission. Comments are the responsibility of the poster. Disclaimer
Karl Jones
1
Posted 11/04/2015 at 14:04:45
Kone is so off the pace of the game he's going to bebe sent off
Patrick Murphy
3
Posted 11/04/2015 at 14:11:47
If the manager can't see that Kone is useless and shouldn't be on the pitch he doesn't know anything about the game, he's useful as nuisance value for Swansea he's a constant thorn in Everton's side.

Ian McDowell
4
Posted 11/04/2015 at 14:16:16
Stupid penalty to give away. Should of just got it back to Howard or cleared the ball.
Gavin McGarvey
5
Posted 11/04/2015 at 14:26:08
Really soft penalty given away. Was Coleman trying to make the referee's decision for him? If so it didn't work. Anyway might still nick this. COYB.

Colin Glassar
6
Posted 11/04/2015 at 14:31:51
Should've won this one but the ref has been a complete homer.
Eugene Ruane
7
Posted 11/04/2015 at 14:32:09
Wonder how many corners Baines would need to shove right down the keepers fucking neck, before it occurred to him 'maybe I should vary things or let someone else take one' (I'm guessing it's about 35)
Chris James
8
Posted 11/04/2015 at 14:33:44
A point won't be terrible, but we should've taken 3 here, Swansea were open and we persisted with Kone who has been terrible.
Barkley has also been poor (again).
Colin Glassar
9
Posted 11/04/2015 at 14:37:36
Disappointing result but the ref was a disgrace. Gave them every dodgy decision possible.
Kevin Tully
10
Posted 11/04/2015 at 14:38:09
Another stupid individual mistake sees us lose another two points. What was Seamus thinking? Should have walked home with the three points. Decent performance.
Patrick Murphy
11
Posted 11/04/2015 at 14:38:19
Two points dropped they were there for the taking and our forward players don't have a scooby how to create good chances often enough, not a bad performance overall but not as good as it should have been. Why are we the only team that sees the outline of the opposition Penalty Area and then the players minds and legs turn to jelly? The referee was terrible again!
Eugene Ruane
12
Posted 11/04/2015 at 14:35:03
Well, disappointing but it stretches the..ahem..'unbeaten run' and we've got to be looking for a win next week with Burnley at home.
(Who knows, had we played some sort of striker today, we might have been three up with the possession we had before their penalty.)
Better luck with the National gents. (Come on Ballycasey!)
Robin Cannon
13
Posted 11/04/2015 at 14:40:23
More wasteful crap.
Oh well, at least we got the chance to blood some youngsters at the end of the season, now that we have that opportunity...oh...wait...
David Sheen
14
Posted 11/04/2015 at 14:46:18
Too many corners wasted in the game, plus Kone's constant fouling contributed to the ref giving the pen.
He played on when Kone fouled seconds before, so not surprising he played on when coleman got fouled. Kone should have been sent off.
Mark Frere
15
Posted 11/04/2015 at 14:38:13
A fair result and enjoyable contest. I thought Coleman was being fouled before he gave away the penalty but he should've played to the whistle and not grabbed the ball – what was he thinking of!?!?
We were lucky with the Shelvey disallowed goal and Kone was lucky not to be sent off. So all-in-all, a draw was a fair result.
The performance was so much better than last week's victory against Southampton. Just a shame we didn't get all 3 points.
Jags MotM again for me, Stones not too far behind him. Pienaar looked useful on his return and Barry's best performance of the season by far. Coleman played well apart from giving away a silly penalty which ultimately cost us 2 points.
Chris Feeley
16
Posted 11/04/2015 at 14:38:42
All-in-all, another boring game which resulted in another point on the board. A dopey penalty given away by Coleman; trying to be too clever when he should've just cleared his lines before literally taking the game into his own hand.
I thought the ref was pretty fair with no real contentious decisions either way. Kone was ineffective again; I can't see how he'll ever score goals in this team. Stones and Jagielka were pretty solid. Much more balanced when Pienaar came on.
A lack of quality from both sides. One more game down and closer to the end of this dreadful season.
Ross Edwards
17
Posted 11/04/2015 at 14:49:24
2 points dropped. Should be beating these.
Colin Glassar
18
Posted 11/04/2015 at 14:49:30
Barry, Jags and Lennon were all very good today. Howard is coming back into form as well.
Bill Gall
19
Posted 11/04/2015 at 14:39:14
I said at the start there were good players in the Everton side and the manager just needed a good system for it to work as a team, and it did in the first period.
The second half to me was typical of Everton's performances this season,where they started to fade and let the other team back into the game (lack of fitness?). The manager to me should have replaced Kone with Mirallas early on and held back with his third substitute for around the 80th min.
Mark Frere
20
Posted 11/04/2015 at 14:52:12
A fair result and enjoyable contest. I thought Coleman was being fouled before he gave away the penalty but he should've played to the whistle and not grabbed the ball - what was he thinking of!?!?
We were lucky with the Shelvey disallowed goal and Kone was lucky not to be sent off. So all-in-all, a draw was a fair result.
The performance was so much better than last weeks victory against Southampton. Just a shame we didn't get all 3 points.
Jags MOTM again for me, Stones not too far behind him. Pienaar looked useful on his return and Barry's best performance of the season by far. Coleman played well apart from giving away a silly penalty which ultimately cost us 3 points.

Anto Byrne
21
Posted 11/04/2015 at 14:42:39
Yes, nice to see those youngsters Osman, Pienaar, Kone, Barry and Howard alongside those other youngsters Baines and Jagielka. The other young kid Lennon (28) – was he playing? Oh yeah, he scored. Another headless chicken (28) Naisy and then KM (28) got injury time.
As for Coleman, words fail me... as to why he just didn't boot the thing out of the ground.
Pretty dismal end-of-season shite from a shite team with a shite manager. I would like to see Robles, Garbutt, Browning, McAleny, Long, Ledson Henen and why the fuck Green is at Tranmere is beyond imagination. Utter bollox, Martinez.
Colin Glassar
22
Posted 11/04/2015 at 14:59:27
We actually finished stronger than them, Bill ,so it's not about stamina, rather players starting to relax and not keep their concentration. Their goal was down to everyone switching off.
Dave Abrahams
23
Posted 11/04/2015 at 15:00:34
Could have won another boring game, in my opinion,why didn't Baines vary his corners, might as well have picked the ball up and throw it to the goalie, Coleman's stupid penalty,McCarthy refusing to shoot when in a great position, Martinez using Mirallis with five minutes to go, there are some brain dead people on and off the pitch at Everton, still another point towards safety.
Rob Pryor
24
Posted 11/04/2015 at 15:07:31
'...Kone (who should have shot himself)...'
Slightly harsh there, Michael ;-)
Andrew Clare
25
Posted 11/04/2015 at 15:07:37
Dave #23,
You have summed it up very well.
Every game our corners are terrible. Straight to the goalkeeper everytime. Why not vary the corners everytime. Short corners, long corners, corners to the edge of the box. Corners driven hard and low into the box, just do it differently everytime.
Never a penalty but why did Coleman handle the ball? Play to the whistle.
Mirallas should have had 20 minutes.
Really it was two mediocre mid table teams playing an end of season match.
Just like Newcastle we are a Zombie club led by a board with zero ambition apart from 5th to mid table status every year.
Phil Gardner
27
Posted 11/04/2015 at 15:17:45
If Kone needs game time put the useless one-paced buffoon in the reserves. If Martinez really is wanting max points from the next 6 games he should be starting with a viable threat up front. Thats one thing Kone is not. 75 mins? He should have been off after 50 before fatigued challenges had him sent off. Dreadful sub decision making....
Ross Edwards
28
Posted 11/04/2015 at 15:16:47
Another poor performance. A 1-1 draw with Swansea is not good enough and I'm sorry, being unbeaten in 4 doesn't mean that Martinez is great again. He's still as stubborn as ever and tactically inept.
People were saying how great his decision was putting Pienaar on. No it wasn't. He should be playing two wingers anyway. No manager in the league or even in Europe would try and successfully implement a 4-2-3-1 with just one winger.
He's clueless and it's not good enough.
Jim Hardin
29
Posted 11/04/2015 at 15:07:00
Michael, stop being such a tool when referencing Howard. Why not actually give him credit instead of referring to him negatively as Mr USA but then calling him Howard when he makes a good save? Just wondering if maybe he didn't sign an autograph for you in the past or maybe didn't wave at you or clap directly at you in a game?
Sam Hoare
30
Posted 11/04/2015 at 15:24:34
Ross, I think to say 1-1 at Swansea is not good enough is pretty harsh. Not like we're title contenders. It's a decent result that could have been better. Performance was better and if Lukaku was playing we'd have probably won.
Not much to play for of course but can't complain with 10 points from the last 12. Too little too late.
Ross Edwards
31
Posted 11/04/2015 at 15:28:59
Or is it Jim because for the majority of the season he has been useless? 2 good performances against average sides doesn't change that.
Bill Gall
32
Posted 11/04/2015 at 15:22:01
Sorry Colin I do not agree, you do not relax when you are on top with only a 1 goal advantage. Look at the game when they started to get on top there is never any outlet beside a long ball from our area. with no one running into space. Everton got themselves in to a good position controlling the game in the first half and if they just relaxed in the second half then the manager should have been yelling on the side line to get them moving instead of standing with his arms folded .
Ross Edwards
33
Posted 11/04/2015 at 15:30:39
We should be beating Swansea.
Brian Hennessy
34
Posted 11/04/2015 at 15:29:58
Jim @29 - Ever think maybe it's because he has been pretty terrible for most of this season?
Colin Glassar
35
Posted 11/04/2015 at 15:25:57
We dominated that game and deserved all 3 points. Despite the dislike (to put it mildly) of the manager and the determination too see him sacked you have to face up to it.... He will be our manager next season and deserves another chance. Things have gradually improved over the last few months and that is undeniable.
Colin Glassar
36
Posted 11/04/2015 at 15:35:33
Bill, Lennon lost the ball in our half and no one made an attempt to get the ball until Seamus handled it. Who's fault is that? The players for not doing their job or the manager for having his arms folded?
Honestly, diss him when he messes up but don't blame him for the schoolboy errors the players commit. These are professionals and should know better.
Mark Dunford
37
Posted 11/04/2015 at 15:27:47
Really stupid penalty to give away.
We're playing better than earlier in the year when we had that dreadful run but we still fail to turn possession into chances and then goals. It all feels fragile when we take a single goal lead.
I quite like Lennon – thought he took his goal well and generally contributed – his pace is an asset and he may yet be a good signing. Pienaar looked better than he has done during much of this woeful season and Howard made one great save early on. Shame Osman left.
Not a bad point in the context of the season as the slow crawl up the table continues, but that isn't saying anything really positive as the season falls away. The 19 points supposedly given away from winning positions says more about the team and tactics.
Ross Edwards
38
Posted 11/04/2015 at 15:35:39
Performances haven't. He's still taken a side that finished 5th last season to mid table for half the season with some shocking results against very poor sides like Hull and Newcastle.
He doesn't deserve another season. If Moyes was in charge now, Colin, you'd be saying that he should be sacked.
Martinez should be sacked if we finish in the bottom half. All the arguments for him are always very vague and hopeful. 'He deserves another chance' 'He'll come good, Moyes did, etc'
Based on what I've seen this season, he doesn't deserve another season. 3 lucky wins and a draw against an average side won't change that.
Mick Wrende
39
Posted 11/04/2015 at 15:39:28
Totally agree with Dave Abrahams @23 there are so many brain dead folk on and off the pitch at Everton. So much wrong with the club, the manager and the players. Most of the players are far too old and can't last 90 minutes.
Okay, we finished stronger but most of them took a breather for 25 minutes in the second half. You just can't play at this level if you are so old. It doesn't take more than one synapse to realise that.

Jamie Barlow
40
Posted 11/04/2015 at 15:43:12
So he's shit when we lose and lucky when we win?
Mark Dunford
41
Posted 11/04/2015 at 15:41:58
I don't think Martinez will be sacked at the end of the season but he is on very thin ice and a poor start next season may easily do for him. It is a shame as last season was so good.
Having said this, he could pick where he finished last season but we need quite a few players to add to the squad – and that assumes we hold on to our prize assets. Losing Lukaku and Mirallas would take a lot of goals out of the squad.
Stephen Brown
42
Posted 11/04/2015 at 15:44:35
Despite his age it was pleasing to see Pienaar play well. He was comfortable on the ball, was incisive and brought balance to the team. He was on my summer cull list but the glimpse today of what he used to regularly bring to the table has made me reconsider!
Jim Bennings
43
Posted 11/04/2015 at 15:41:28
A nothing result from a nothing game, just waiting for the season to end.
Our midfielder, take Lennon out the equation who has been a breath of fresh air, is totally shite.
Barkley again outshone by opposite numbers, this lad just does not take control of matches.
Nothing game really, 9 wins all season going to the end of April and hardly put in a truly swashbuckling performance all season either.
Be glad to see the back of this season, it won't live long in the memory let's put it that way.
Ernie Baywood
44
Posted 11/04/2015 at 15:36:32
We desperately need a solution to this narrow left side problem. Of all the things Martinez could try he opts for the one that is certain to fail. He got lucky with Leon's injury and finally balanced the team after 10 months of trying.
Then why did it take so long to get Kone off when he was clearly a belch away from a red card?
Other than the manager, I thought we did well. Pienaar made a huge difference both with his own play and simply by balancing the midfield. Ross wasn't as bad as some are making out and even Kone did his job in a "he's shit but he's our only centre forward" kind of way. Round pegs in round holes please, even if it means playing Kone until Lukaku is fit.
Not the bore fest of most of this season. Great to see Pienaar back... love how he plays the game. A really smart footballer.
John Daley
45
Posted 11/04/2015 at 15:52:05
"We dominated that game"
Come on Colin, it was an improved performance but we hardly dominated. We were creaking and under the cosh for large parts of the first half and were very lucky not to fall behind when Baines went weak into the challenge preceding Shelvey's shot. After recovering and taking the lead, the team looked to run out of steam in the second half and had very little to offer in an attacking sense.
I've said before, I fancy us to go on a little run and see individual performances improve from here on in, simply because there's fuck all left to play for and such no pressure situations suit our squad of big game bottlers down to the ground.
Andy Crooks
46
Posted 11/04/2015 at 15:49:22
Colin, I once again admire your support for the coach. However, in my view he deserves no credit for improving a situation created by his utter ineptitude. He is, I believe, the worst coach in our history and his sacking is vital. He has wasted the best squad we have had for years and every asinine utterance embarrasses our club.
Ross Edwards
47
Posted 11/04/2015 at 16:02:49
Colin, I fear you are becoming brainwashed by Martinez. We didn't totally dominate the game at all. Or ever this season.
Andrew Presly
48
Posted 11/04/2015 at 15:59:01
Frustrating but unsurprising. We didn't have the mental and physical toughness to see that out as there's still scope to scrape top 10 respectability.
I can't handle Martinez's interviews anymore but he'll be happy with what he saw out there today, I bet.
A Zombie Club. What a depressingly succinct way to sum up Everton in 2014-15.
Alex Carry
49
Posted 11/04/2015 at 16:02:37
Kone isn't on the same wave length as the rest of the team most of the time. Substitutions should have been made a lot earlier.
Pienaar played well considering he's only back recently. If it wasn't for Lennon we would have been well and truly fecked. I would like to see Baines moved onto the wing and Garbutt in at left-back but that won't happen...
David Sheen
50
Posted 11/04/2015 at 15:56:30
It wasn't a bad team performance today at all. I think there is a lot of negative opinion on here, not surprising with it being TW. Prime example is Anto Byrne. #21
There was nothing wrong with Howards peformance, Coleman was excllent throughout the game and was let down really by the ref not giving him a foul. Garbut is a decent player, but he is not as good as Baines or Oviedo.
Swansea are a good team and beat Arsenal and Man Utd at home this season. Whereas Everton were the better team let down by Kone who led the front line very badly.
Michael Kenrick
Editorial Team
51
Posted 11/04/2015 at 16:01:16
Sorry to upset you so much, Jim (#29). Touched a nerve?
I think it was more poetic alliteration – "Shelvey sent Mr USA the wrong way" – but admittedly there was an element of annoyance at the boot-cleaning nonsense earning a card right on top of the astounding stupidity of the penalty itself.
Must try harder to keep it bland and "positive" for you next time...
Pete Edwards
52
Posted 11/04/2015 at 15:57:20
Ross, I think you'll find Moyes did finish mid table, don't remember him being sacked though!
Unlucky today... Coleman was fouled twice before handling – although stupid to do it!
Tony Twist
53
Posted 11/04/2015 at 16:09:19
How much more of this manager do we have to suffer as we limp over the line of premier league safety. Best squad for many a year and even with no pressure on us we flop.
David Sheen
54
Posted 11/04/2015 at 16:11:17
Ross #38 – "He's still taken a side that finished 5th last season to mid table for half the season."
Not forgetting that everyone was expecting us to finish mid table before Martinez took over. Not forgetting that Martinez was actually the manager who took us to 5th place and highest ever Prem points tally to begin with.


Colin Glassar
55
Posted 11/04/2015 at 16:13:39
I feel like a salmon on here. I must go to spec savers as I seemed to be watching a different game. We weren't great but we weren't terrible either. We had the lions share or the game, apart from a 20 minute spell in the 1st half and 5-10 mins in the 2nd.
I admit that the enforced change helped balance the team and that Kone should've been taken off earlier but we are a vastly improved team since the December shambles. Surely the manager has had something, however tiny, to do with that?
Patrick Murphy
56
Posted 11/04/2015 at 16:18:02
Not forgetting that he paid ٤m for Kone, not forgetting we have yet to reach 40 points with six fixtures remaining, not forgetting that he insists on playing six defensive players against any team anywhere.
Today was an improvement on what we have seen for most of the season but we are still lacking quite a bit and still have that brittle look. The real test will come when or if we go behind in a game; have the team got the wherewithal to retrieve that situation?
At least we're not Sunderland!

Oscar Huglin
57
Posted 11/04/2015 at 16:20:10
I completely agree with you, Colin. People on here overreact constantly. A point away at the Liberty is nothing to take for granted, especially when we probably deserved to nick 3 points.
And, as you said, Martinez will most likely still be our manager next season, so we need to start getting behind him rather than looking for ways to bring him down. Loyalty and giving managers time is so underrated in the modern game.
If someone had offered anyone on this forum 10 points from our last 4 games, we would have laughed and bitten their hand off. There's been massive improvement. Get behind it.
Colin Malone
58
Posted 11/04/2015 at 16:22:01
Where would we be without Jags? Player of the season.
Mike Childs
59
Posted 11/04/2015 at 15:53:49
C'mon, Bill, have some pride in the team and fire the guy. He doesn't deserve another game never mind a season.
Stevie Pienaar – if you're reading, I apologize.
Jim Bennings
60
Posted 11/04/2015 at 16:29:53
Palace 4-0 up in an away game... imagine us doing that??
Have we scored 4 goals in any game this season? When's the last time we scored 4 goals in a football match?
What a boring season for Everton it has been.
Oscar Huglin
61
Posted 11/04/2015 at 16:31:38
I also agree with the other Colin! Jags has been excellent this season, shame about his injuries.
BT's stat that this was only the 6th time this season we've played with our best back 5 (which, yes, includes Howard for all those against him) was particularly telling. Definitely explains our iffy (at best) defending.
Just to clarify, my first comment was addressing Colin Glassar, and this one Colin Malone...
Oscar Huglin
62
Posted 11/04/2015 at 16:34:01
Jim Bennings #60...
"Have we scored 4 goals in any game this season? When's the last time we scored 4 goals in a football match?"
Did you watch us in Europe this season?
Honestly, I think some fans on this page have short term memory loss.
Mark Frere
63
Posted 11/04/2015 at 16:35:56
Colin 55, there's no need to go to spec savers, you just need to take off the Martinez tinted glasses you are currently wearing. Correct me if I'm wrong, but wasn't Martinez the manager responsible for taking us to the 'December shambles' in the first place?
Things have improved of late but we are still a million miles away from where we were last season - points wise and performance wise.
I enjoyed the game today (unlike others) but we did not dominate the game. It was very evenly contested.
Paul Thompson
64
Posted 11/04/2015 at 16:31:12
'We should be beating Swansea'. (Ross #33). Why? They were 8th at the start of the match and beat us 3-0 earlier in the season.
It wasn't a bad performance and we lost because of another individual error.
My biggest gripe is Kone. A liability in every sense. I'm convinced we could have won with Mirallas or Naismith on earlier or even better, from the start.
Phil Walling
65
Posted 11/04/2015 at 16:27:35
Just come in to see we picked up a point – an achievement that has Mr Glassar in Dodd-like raptures.
Get behind this manager ? Yes, certainly – with the toe of my shoe!
Michael Kenrick
66
Posted 11/04/2015 at 16:33:58
It's strange how we view the same thing so differently...
Oscar says a point at the Liberty is good, but others focus (quite rightly, methinks) on the two points so stupidly squandered. To call it an 'overreaction' is an overstatement, don't you think?
Colin believes we dominated the game (despite a dreadful lapse when we let them back into it) and tries yet again to convince us that Martinez somehow 'deserves' another chance next season, while Andy cuts to the core of why he shouldn't even be here anymore.
T'was ever thus on the forum...
Patrick Murphy
67
Posted 11/04/2015 at 16:36:56
Last time we scored 4 in the Premier League was December 2013 against Fulham a feat we also achieved at home to Stoke in November 2013. The last time we scored 4 goals away from home was against United three years ago in the 4-4 game.

Joe McMahon
68
Posted 11/04/2015 at 16:37:42
Oscar (62) I think Jim's referring to Premier League matches, and he's correct. As for 4 away from home, I seriously cannot remember that happening for years.
Joe Foster
69
Posted 11/04/2015 at 16:39:40
I see this as 2 points dropped. Does he deserve another season? Not from what I am seeing. I would rather get behind a new manager.
Robert Workman
70
Posted 11/04/2015 at 16:46:00
Kone did not have a great game, but the match report is rather harsh to suggest that "he should have shot himself". Suicide on a football pitch – maybe a first?
Frank Crewe
71
Posted 11/04/2015 at 16:29:46
A game we should have won. Again the doubts crept in when we were in front and under no pressure. Started falling back and trying to hold out.
Kone was rubbish. Should have been hooked well before he finally was. Soon as the season is finished so is he. Thanks for nothing.
McCarthy should have shot instead he chose a sideways pass and blew it. The guy is so defensively minded he won't shoot even when he's right in front of the goal.
Barkley did nothing again. Ridiculously puny efforts from outside the box. So what if he hardly ever scores, makes a decent pass or puts in a good tackle. But after all he's only a six foot tall, fifteen stone, 21 year old baby. So lets go easy on him.
Lennon was good. took his goal well and if we had Lukaku up front instead of "what the team needs" Kone to pass to maybe we would have had more goals.
Jags and Stones looked solid but Coleman needs to buck his ideas up.
All in all a disappointing result considering with a little more belief and a better striker on the park we could have won.
Michael Kenrick
72
Posted 11/04/2015 at 16:48:50
Good catch, Robert!
It was a clever backheel/flick to set up Pienaar but the move by that point had been overplayed. Kone was in a great position to leather it goalward instead of making yet another pass.
Ernie Baywood
73
Posted 11/04/2015 at 16:47:24
Michael, it is possible to view this both as a good point in the cold light of day and two lost points considering the pretty good performance.
What I am struggling with is those who saw it as two lost points and a bad performance. How exactly does that work?
I think some will see the negatives in anything when we're in a lowly position, just as many took positives from anything last year.
Today's performance would have been considered a positive last season. In a similar sense, Phil Walling didn't even need to see the game to take the negatives out of today's match.
Ross Edwards
74
Posted 11/04/2015 at 16:54:34
Martinez will be here next season. If you want to support him you can. I won't. I can't see what certain people are still optimistic about next season. He's clurless and our decline this season is poor management and down to him. But now we've won 3 games everything's OK now isn't it?
He kept a squad that finished 5th last season up in the league. Well done Roberto. We might even finish 11th. What a brilliant manager he is.
We play shit football, but now we're up in the heady heights of 11th. Proof that Martinez deserves a 3rd season.
This is Everton. Not some newly promoted side that's here for the ride.
Andy Crooks
75
Posted 11/04/2015 at 16:56:55
Oscar# 57, give me one reason why we should get behind Martinez? This squad which have got three wins and a draw is the same as the squad that have been useless all season. Might It be down to the coach? Could you consider that?
Could getting someone better at least be considered? Would it be disloyal to think he is poor? Do his post match musings not make your toes curl?
Most importantly, would you consider that a different coach with our current squad not have done better?
Patrick Murphy
76
Posted 11/04/2015 at 17:01:46
Ernie - We have had our fair share of good fortune in the last four games which has offset the bad fortune we have suffered in the previous 28 games. However, we still look like a team struggling for an identity and there is little cohesion between the midfield and the forwards.
It doesn't seem to matter which players are chosen or in what formation, we still suffer some of the same problems week after week. Some of it is down to the players being out of form for a large part of the campaign; some of it is down to the manager's decisions and the way he sets the team up to play.
Confidence should have been at a high-point at the start of today's game and even higher when we took the lead, but we fell back into the familiar trap of taking our foot off the gas and dropping deeper until the inevitable equaliser arrived.
This is the most frustrating issue about this Everton team, we can see it so you would hope that the manager and coaching staff would also recognise it and address it but everyone seems to be quite relaxed about it as we drift from game to game. The results in themselves are not the most serous issue, although they obviously matter and are reflected by the position of the club in the table, but I can't hand on heart say that we have made much progress on the field in the past 12-18 months. If this manager doesn't change things, we need to find somebody who can.
Chris Butler
77
Posted 11/04/2015 at 17:07:59
We were playing a Swansea side without any recognised striker, a Swansea without Bone and Gomis. The truth is it was a typical Martinez performance: play well, take control of the match and then concede a stupid goal and lose points.
Kone was lucky not to get sent off and it was the fact he was on a yellow card that led to the goal. If Naismith was on, he could've chased the defender, pushed him over and perhaps got away without getting a booking.
We sold Jelavic who was far better than Kone, who makes Anichebe look like a decent striker. McCarthy was useless yet again, his decision not to shoot in the last few minutes was ludicrous.
Personally I won't be renewing my season ticket because I've never seen an Everton side in recent years who are so content on giving the opposition goals. Swansea were there for the taking, yet instead we did what we did last week and just messed about with it – this time, it cost us.
Trevor Peers
78
Posted 11/04/2015 at 17:03:09
Deserved the draw but RM's signings have come back to haunt him. Kone with only 1 goal all season has been a huge mistake, a decent striker would've added at least 10 goals that would've taken us into the top eight at least.
Bill Gall
79
Posted 11/04/2015 at 17:05:55
Colin (#36) until Seamus handled it, whose fault is that? Have a look – it is quite obvious whose fault it is. Coleman was ahead of the player with the ball and when he went to ground he deliberately handled it .
And my comment was that if they "relaxed" (as you stated), then the manager should have been yelling at them – not standing with his arms folded. I never said it was his fault that players committed schoolboy mistakes.
Ross Edwards
80
Posted 11/04/2015 at 17:23:58
Colin if a team 'relaxes' at 1-0 clearly that's a sign of poor management and failure to motivate them sufficiently.
James Byrne
81
Posted 11/04/2015 at 17:21:11
Total shit game of football and I felt the same today as I did last week when I walked home from the Southampton game.
Similar to a few posts on here I won't be renewing my 3 season tickets that I've had in the family for several years; Martinez is a fucking phoney and I'll consider renewing once this man has been shown the door.
John Keating
82
Posted 11/04/2015 at 17:23:05
Colin,
I give you that results have improved over the last month or so (not since Christmas), but could they have been any worse? If you think performances have got better, then I have to totally disagree.
We have been dead lucky over the last month, Palace and QPR, culminating in a performance with ONE shot on target last week against Southampton.
Our football has been woeful. If you believe otherwise, obviously it's your opinion; however, your support of Martinez, regardless, is as bad as his post-match garbage. You are now fixated in supporting him regardless of what everyone else actually sees.
Colin Glassar
83
Posted 11/04/2015 at 17:21:13
He was yelling Bill, he was. Ross, and sorry to pick you out amongst so many, but are you really saying if we start well next season you will still continue your Martinez out campaign?
This is an honest question not only for you but for the rest of the anti-Martinez camp, ie, will you ever give the man a chance if in fact he does turn our fortunes around?
By the way, I stick by my prediction last week that we will go on an unbeaten run until the end of the season finishing on 50+ points and top 10.
Ross Edwards
84
Posted 11/04/2015 at 17:38:25
No problem Colin, and to answer your question, if we start well yes I'll credit him for turning it around and learning from his mistakes.
If we don't and we're still playing badly with no evidence of him learning from past mistakes, then he has to go.
Andy Crooks
85
Posted 11/04/2015 at 17:30:25
Patrick, I honestly don't believe we have suffered misfortune this season. We have, in my view, for the first time in many years, won more games we should have lost.
I think we have been lucky to avoid relegation and Martinez has turned a good squad into the worst team in the division. This is, considering investment, expectation and aspiration, the worst season I have ever experienced in 50 years as an Evertonian. I actually cannot bear listening to or even looking at our coach, and that is just crap.
Mick Wrende
86
Posted 11/04/2015 at 17:46:02
It is fantasy land to suggest we will start next season well – take a look at the present shambles and tell me how we could possibly do well with these pensioners who can't last the 90 minutes? It is no use hoping for something that can't possibly happen.
I know Billy Liar won't sack him but that doesn't mean it isn't the right thing to do. If we are near the bottom after 10 games, he will have to go... so why not do it now and spare us further pain?
Trevor Peers
87
Posted 11/04/2015 at 17:41:44
Looks like were stuck with him, Colin. If he signed 2 or 3 creative combative CM players and a decent striker, maybe we could see some light at the end of a very dark tunnel. However, signing Cleverley is just a step back into the abyss – truly uninspiring.
Andy Crooks
88
Posted 11/04/2015 at 17:43:23
Colin, what do you mean by turning our fortunes round? I have heard a few Evertonians saying he already has. In my view, he has earned the sack by his utter ineptitude this season and the idea of him being in charge fills me with dismay.
I would take almost any eligible coach ahead of him, that's how totally shit I think he is. He will relegate us and desert us, like he did at Wigan.
Alan Bodell
89
Posted 11/04/2015 at 17:45:38
I have wanted to give Kone his chance for a while now – well he's had it and blown it; 'useless' doesn't describe accurately what he gave us today and deserved to get red carded long before our astute manager finally decided to get him hooked.
Thankfully our central defence got us this point today because going forward we are what we have been all season – lacking.
Jim Bennings
90
Posted 11/04/2015 at 17:44:24
The frustrating thing about Everton is that, even though we have had a tiny little mini-revival we never ever play with any confidence or fluency, we always play like we are stuck in treacle. There is never a performance packed with energy and in no match all season have we truly battered a team with shots on goal.
I know people will say we need to give Martinez time next season, but if we start badly then he needs shipping out before Halloween otherwise it could turn out to be one long horror story yet again.
In my opinion I just can't see this team, the way Martinez wants to play, and the way he sets his team up to produce any better end results or performances next season. Optimism can be very positive if there are concrete grounds for it but it will take something special that we haven't seen all season to convince me again.
Jay Harris
91
Posted 11/04/2015 at 17:31:39
Once again, Martinez started the game with an unbalanced side. Ossie is never a left winger and nor is Ross. Once the substitution was forced on us, even a half-fit Pienaar showed the difference in having a balanced side.
Then we did what we do best: dominate the game, get the lead, and sit back on it – instead of going for the jugular.
I have now seen enough of Kone – and I mean 'enough'. No wonder Naismith is talking of going back to Rangers if he can't get in ahead of him.
Special mention for the much maligned Gareth Barry who I thought had a great game.
On the subject of our corners only Jags shows any interest in the ball so it is no wonder that 8+ corners did not produce a goalworthy effort. Must be another one of the Manager's footballing philosophies.
Frank de Boer could be available at the end of the season. We can only hope and pray.

Colin Glassar
92
Posted 11/04/2015 at 17:52:27
Well, I'm glad you are prepared to give him another chance Ross. As a manager myself, albeit not a football manager, I have hired and fired a few people in my time. A few have started brilliantly and ended up shit and a few have started slowly and ended up brilliantly. What I've always given them is a chance to either sink or swim but I've never taken either decision lightly.
This season has been awful but I saw enough last season (and recently) to give him another go. If we are crap by say November then yes, by all means he will have to go.
Gavin Johnson
93
Posted 11/04/2015 at 17:48:11
I didn't get to see the game today, but a draw is a decent enough result at Swansea considering where we've been for most of the season. We should extend the run with another home win next week against Burnley.
I'm not in the anti-Martinez brigade. I've been disillusioned at times but he's not going anywhere so I don't see the point in keep slagging the guy off when we're now on a run and showing the green shoots of recovery.
Terence Tipler
94
Posted 11/04/2015 at 17:51:20
Lots of fans saying they are not going to renew their season tickets next season. I am one of them. In fact, I have already gone one step further than most already. After the disgraceful New Years Day performance against Hull, I listed all my remaining home games on Stubhub.
James Hughes
95
Posted 11/04/2015 at 17:59:43
Colin G (#92), I will say you always come across as a reasonable and rational person but leaving RM in situ until November is hedging your bets. We can't afford another bad start or summer of inactivity.
Manure had 1 bad season and had to spend 𧴜m to compete again. We have neither the luxury of time or the funds to put it right next Xmas.
I am well aware OFM suffered a terrible second season and my question to all Toffee-webbers is:- How does the football in that season compare to what we have endured this season? That may be a good place to vouch yay or nay for a 3rd season for Roberto...
Jamie Crowley
96
Posted 11/04/2015 at 18:06:43
I think it was a shit PK call by the ref.
Seamus was fouled prior. Crap PK call 17 yards away from goal. You don't give a PK. It was a foul on Seamus in my opinion.
Brian Hill
97
Posted 11/04/2015 at 18:12:47
Jamie, it doesn't matter whether you or I or anyone else thinks Coleman was fouled or not; no foul was awarded, thus making his decision to scoop the ball away with his hand inexcusable.
Colin Glassar
98
Posted 11/04/2015 at 18:15:21
James, the football for the first five or six seasons under OFM was dire and I don't think anyone can deny that. The last couple of seasons the quality improved substantially but we were always brittle mentally I.e. losing almost every must-win game (those that would've taken us to the next level). He was a bottler IMO and started to hold us back.
Last season we had the best of both worlds; Ginger's fitness levels and defensive organisation combined with Martinez's quick tempo passing game and exuberant style of play. Hopefully, we can get that combo back in the next few games and starting next season. As Gavin J said, there are green shoots appearing.
Ross Edwards
99
Posted 11/04/2015 at 18:20:50
Colin, I've more or less accepted that he will be here next season although I still think that he should have been sacked months ago.
Getting bottom half is a sackable offence in my view but as BK is in charge and RM has done the minimum requirement of maintaining our Premier League status, he won't be going any time soon.
Colin Glassar
100
Posted 11/04/2015 at 18:25:12
Four bloody pens against us this season. Two at least, today and against City, were an absolute joke.
Andy Crooks
101
Posted 11/04/2015 at 18:14:46
Gavin, "considering where we been for most of the season",
Was that by some bizarre twist of fate? Something that Martinez had nothing to do with? An act of God?
Now that we are safe from relegation I see every point in slagging the guy off. In my opinion we are incredibly lucky not to have been relegated and talking of "green shoots" in mid April is an indictment of the limp dick we have in charge. I do not normally use pejorative terms to describe any Everton player or coach but it's the way I feel right now.
Dave Abrahams
102
Posted 11/04/2015 at 18:13:28
Colin, most of us on here were not anti Martinez at the start of the season; HE has made a lot of us change our minds.
Colin, if I'm not mistaken, you were wavering not so long ago; these last four games have made you get back on Bobby's side, but they have not altered a lot of fans' opinion that he should go.
I am in a quandary about renewing my season ticket, I wouldn't know what to do on a Saturday if I didn't go to see Everton at Goodison, but there is just no fun or, at the moment, any incentive to watch them. I like your standing by him but you are a lot more easily pleased than a lot of us on here. I wish you well, and our team.
Tom Bowers
103
Posted 11/04/2015 at 18:19:30
The penalty call was just ineptitude by a poor referee who should have called the foul for the push on Coleman. Sadly, it reflects on many poor refereeing performances in the Premier League this season and in fact this clown should have called a foul on Coleman when he was flying in the first few minutes and didn't...
When some fans say Ossie is not a left winger then I ask what is he? As far as I can see he contributes very little no matter where he plays. Five yard passes sideways and no tackling. End of story.
Patrick Murphy
104
Posted 11/04/2015 at 18:28:19
I know that DM was our last manager but why do we always have to use his second season as a reference point? It would be just as valid to use Howard Kendall's second season as a comparison, by the end of that campaign you can albeit with hindsight see what pattern of play he was developing and how the team would hone that pattern of play until they became Champions in 1985.
Have a look for the highlights on YouTube of a match at Roker Park in March 1983, a match we lost but you can clearly see how the team was beginning to shape up, that's the thing that all of our managers in the Premier League era have failed to reproduce – a group of players who have a planned way of playing and the discipline and ability to carry out that play.
Some of the blame lies at the door of the managers and some of it lies with the players but most of the blame lies with the ownership for accepting mediocrity regardless of Everton's finishing position in the League.
Eddie Dunn
105
Posted 11/04/2015 at 18:25:25
I watched Kone in the warm-up and he even put two out of his three shots wide, and I said to the lad next to me "If he is this bad with no opposition, what's he going to be like in the game?" He tried hard, but he isn't quick enough, so can't get away, and he is low on confidence (hardly surprising with his lay-off) but he is not winning headers.
The trouble is... we have no-one else; Naismith came on to relief from the Everton end, but was ineffective and get Swansea started with a real centre-forward in Gomis, he is quick, strong and good in the air. Then they brought on a lad who was also a lot better than Kone. So in the summer, we need another proper striker.
On the positive note, it was a fantastic save from Howard to deny Gomis, and I thought that Barkley was good as was Barry and Stones. It was a good performance but a shame that Coleman did his panto act. I do hate the modern penchant for defenders obstructing strikers in this way, and I don't know why it isn't called obstruction anymore. Did the rules change?

James Hughes
106
Posted 11/04/2015 at 18:25:07
Colin, yes, last season was a joy to watch with football I didn't believe was being played by us. I thought we had got lucky with Roberto but now firmly believe it was him who got lucky with us.
Also, watching that twat Savage on BT this morning slagging us off as a step backward for anyone playing at Swansea has not improved my opinion of him (even if it was the twat Savage).
We have a good squad, that they haven't perform this year IMO is the manager's fault, we have taken a massive step backwards this season and taking survival as a KPI is not good enough. As I said, you are a rational man and hard to argue with any of that post. Cheers.
Trevor Peers
107
Posted 11/04/2015 at 18:34:09
It's a bit naive to think BK will give RM until December then if it's still awful he'll sack him. No way will that happen. He will stick by his man, I think, unless we drop into the bottom three. On that basis, he could see out his 5-year contract with mid-table dross... that's a definite possibility.
Colin Glassar
108
Posted 11/04/2015 at 18:47:59
Dave, don't give up on us. Remember the summer of 2004 when all we got was Marcus Bent and some unknown Aussie called Tim Cahill? I was convinced we were going down that season, as we're many Evertonians, but Everton have a habit of surprising you. I'm actually starting to look forward to next season with renewed confidence. I'm also considering a career change. Agony Aunt has been mentioned. So if anyone's interested send me a SAE to......
James, ignore Savage. He's a moron that gobshyte and he despises us because OFM refused to go back for him after he turned us down. He's also a self-confessed Redshite.
Trevor Peers
109
Posted 11/04/2015 at 18:56:46
I'd like to add the ground will be half empty by that stage, but with all the Sky money who needs a crowd?
Ray Roche
110
Posted 11/04/2015 at 18:49:03
Just a couple of comments. For those who think Coleman was to blame for the penalty, and I think it was harsh in the extreme, had that push been the other way round, and Coleman had pushed Emnes, the penalty would have been given because, as that tool Owen said on the commentary, he felt his hand on his back and went down, i.e., there was the "contact" that those pricks always claim is enough to warrant a penalty.
Kone is not, and never will be, good enough for Everton. He is possibly the worst signing ever if you factor in the amount we paid for him. A black Brett Angell, but without the skill level.
Baines has finally found out how to beat the first man. But the second man is the keeper who just plucks it out of the air. Why is there no variation with free kicks and corners? Maybe we should practice them...
Dave Nelson
111
Posted 11/04/2015 at 18:51:06
Ross @74, with that attitude, Goodison Park would have been empty for most of the 70s and 4 years into the 80s. Yes, we're stuck with Martinez but, for the first time in a long long while, I was encouraged by the way we played today. The aimless passing and the back 4 in a line just outside our penalty area has hopefully been sacked. I watched good link-up play at times with crisp first-time passing. I swear I even witnessed our two de... defensive midfielders most of the time. I was encouraged.
David Greenwood
112
Posted 11/04/2015 at 19:09:42
That penalty would never have been given in a million years if Swansea had been playing Man Utd, Chelsea or Man City. Never. I know it, you know it, Michael Oliver knows it. Never. Football is rotten to the core sadly.
Dean Adams
113
Posted 11/04/2015 at 19:07:48
A bit dissapointing all things considered. Some positives, Pienaar made a difference, if not for his ability then for the balance he brought.
Please Roberto, no more lop-sided formations.
Colin Glassar
114
Posted 11/04/2015 at 19:13:03
Seamus should've played to the whistle but most players would've expected to get a free kick after being pushed in the back. The ref was a complete shithouse as they were kicking lumps out of our lads but he didn't give us a thing all afternoon. Complete bottler.
Aman Kanji
115
Posted 11/04/2015 at 19:13:08
Kone shouldn't be starting these games. He's the one who should be coming on with 15 mins remaining.
McCarthy should have buried his chance.
Kevin or Naisy MUST start against Burnley.
David Greenwood
116
Posted 11/04/2015 at 19:16:24
And if you don't think it's corrupt, look at the 'foul' that Oliver gives against Naismith for a challenge on the goalkeeper a short while later. Less contact between Naismith and Fabianski than there was between Coleman and Swans player (whose name escapes me); if that penalty was given against Man Utd, Chelsea or Man City, we would never hear the end of it.
Mike Hughes
117
Posted 11/04/2015 at 19:14:28
Ray #110,
Kone might well be the worst signing ever. But it's a close run race. Per Krøldrup (for similar money) must come close for that accolade. And Richard Wright, James Beattie, Danny Williamson ...
I could go on but it would get depressing.

Richard Lyons
118
Posted 11/04/2015 at 18:45:46
Lots of people saying Martinez has turned a great set of players into a crap team... Well, I'm afraid I don't think we actually have many great players.
Stones does have the potential to be a great player, and Jags is about as good a centre half as any – although I think he would struggle to get into any other national team (or any top 4 Premier League club)... Coleman is quite good... and well, I think that's about it.
Garbutt and Browning may make the grade, but probably won't be allowed to do so as Everton players. Baines is slowly beginning to lose it (we had 6 corners today and not one of them posed a threat); Mirallas blows hot and cold (more cold than hot though) and his loyalty is now in question; Lukaku will rarely get the opportunity to shine; Barkley is all hype – a player of his fabled skill should have scored way more than a pathetic 2 goals this season; Kone is a true liability; Pienaar was brilliant today, but I think that's because after so long out, he has forgotten the Don't Pass The Ball Forwards mantra – he won't be able to/allowed to maintain that form for long.
Lennon shows the odd flash, but is apt to lose possession, like Naismith. I like McCarthy, but, like most of the team, he lacks composure on the ball; Barry is past it...
All-in-all, we're just not that good, and I won't be having high expectations any time soon, unless a sheikh comes along and buys the club. I think that's our only hope of repeating or improving on last season's flash in the pan.
Anyway, enough negativity! COYB and prove me wrong by thrashing Burnley next Saturday!
Plato Stavrinos
119
Posted 11/04/2015 at 19:33:34
Worst Ref in the league.
Jamie Barlow
120
Posted 11/04/2015 at 19:26:06
David, the penalty wasn't given for contact. It was for a blatant handball from Seamus.
Reverse it. Had a striker gone down like Coleman did for a little nudge in the back, we'd all be going apeshit on here about a blatant dive. Coleman went down far to easily and then stupidly tried to scoop the ball away blatantly. An easy decision for Oliver.
I thought we played well in patches today. We just lacked a decent striker. Probably would have been a different game had Lukaku played instead of Kone.
MotM – Barry for the second week running.
Peter Mills
121
Posted 11/04/2015 at 19:03:16
I really did try to watch the match objectively today. I had a chat with Graeme Sharp before kick off, then saw Bob Latchford presented to the crowd. Then watched Kone wearing an Everton number 9 jersey, and my objectivity went out of the window. He is poor.
As for the match, it was there for the taking but we came out for the second half thinking we could stroll it. But all that was needed was a mistake, a mix up, and sure enough it happened. Poor again.
Andy Crooks
122
Posted 11/04/2015 at 19:46:03
Richard (#118), I don't think we have a "great" set of players but I do think they are much more capable than what Martinez has got from them.

David Greenwood
123
Posted 11/04/2015 at 19:54:00
Jamie, yep, but look at the foul he gave against Naismith for a foul on Fabianski. There was less contact between them than there was between Seamus and their player for the penalty. If that game had been against Utd, do you honestly think Oliver would have given the penalty against Utd? Never would have happened. Never.
Jamie Barlow
124
Posted 11/04/2015 at 20:02:18
Maybe, maybe not. You can't slate Oliver for getting the decision right though. It was a penalty. Naismith's was different. It was against a goalkeeper and you see fouls like that given in every game. One of my football hates.
David Greenwood
125
Posted 11/04/2015 at 20:09:40
Agreed Jamie. Goalkeepers are overprotected. But, if there was less contact between Naismith and Fabianski than there was between Coleman and the Swansea player, why is one a foul and one is not. And why do both decisions go in favour of one team over the other?
And again, I can't avoid it, would Oliver have given that decision against say Phil Jones for instance? I know he wouldn't, you know it, Michael Oliver knows it, Scudamore knows it.
Mick Wrende
126
Posted 11/04/2015 at 20:51:00
Is Coleman totally brain-dead, poor lad, because he acts like it.
Eddie Dunn
127
Posted 11/04/2015 at 20:49:05
Now I've seen the Coleman Pen, I think that the ref got it right. Coleman should have cleared it, not back-up waiting for a push and the expected free kick. It was dumb play from a guy who makes too many defensive errors.
When Fabianski got the foul after Naismith's challenge I saw a Swansea player blatantly push one of ours in the back, stopping him leaping, and sending him sprawling face first. When I heard the whistle, I honestly thought we had a pen.
And Aman 115, you are spot-on, mate: McCarthy really should be putting that chance in the onion bag.
We need more shots from the midfield, especially as we have no strikers.
Patrick Murphy
128
Posted 11/04/2015 at 20:59:08
I wonder if three Aarons have scored for three different clubs in the Premier League before today?
Our own Aaron Lennon,
West Ham's Aaron Cresswell, and, of course,
Arsenal's Aaron Ramsey
They all found the net. I bet the odds were good for those three to open the scoring in their respective matches.

Phil Gardner
129
Posted 11/04/2015 at 20:49:51
Colin @108. 'Green shoots of recovery' with 6 games left, just safe from relegation and piss poor for an hour against Swansea and longer against Southampton, whose players have all got their fuckin flipflops on? Really?
'Everton have a habit of surprising you?' Again, really? They do not mate. The day they stop imploding and just plain letting you down is day I'm gonna be surprised by Everton.
Last time I was fuckin surprised by us was the '95 Cup Final and then I spent 75 minutes watching the game from behind the sofa... waiting for the inevitable.
'Surprised'? – seldom; 'Wound-the-fuck-up'? – regularly.
Phil Gardner
130
Posted 11/04/2015 at 21:04:03
Michael Oliver should never be forgotten for single-handedly preventing a win at Anfield. Books Anichebe for dissent then 5 minutes later stands motionless while the DJ Beater subjects him to 15 seconds of foul mouthed abuse, calling him a 'fucking shitehawk' twice, to his face and does nothing. The slimey clueless cub scout clown was itching for the chance to nail us again, sadly Lobotomy Coleman, who was otherwise playing well, gave it to him...
Jon Withey
131
Posted 11/04/2015 at 20:49:39
If we are competitive for the rest of the season then there is no way Martinez will go in the summer, so there's no point fretting about it until next season.
The squad is pretty concerning though, even trying to be generous about it. Distin will be off and Alcaraz should be. Mirallas will be off and Kone should be.
Barry, Osman, Pienaar, Hibbert and Howard are coming to the end of their careers.
Atsu will go back and maybe Lennon will stay.
That's about 10 roles to be considering and Martinez is talking about 2 or 3.
That's likely to be Cleverley, Lennon and Januzaj (loan), isn't it?
We can't survive without another Centre-Back, surely?
Danny Broderick
132
Posted 11/04/2015 at 21:16:36
I thought we were ok in the first 30 minutes.
I then thought we played well once Pienaar came on for the next 30 minutes or so – the balance was much better with Pienaar on one side, and Lennon on the other.
I then thought we were just about okay for the last 30 minutes. A point away at Swansea is not a bad result these days.
I thought we defended well generally. Coleman needs to learn from that today though. Play to the whistle is one of the basic rules of football. The ref didn't give a foul, so just kick the ball out.
I thought Barry had a good game in midfield. The other two, McCarthy & Barkley, struggled to get involved though. McCarthy seems to be playing slightly further forward, but it doesn't suit his qualities. As for Barkley, I'm scratching my head. I don't think he has got the athleticism to play in midfield. I honestly think he needs reinventing as a striker who can come deep, because he struggles to join in from midfield currently. His goals & assists record show that he is not producing, yet he has all the talent in the world. I really want him to succeed, but I think he needs to become more of a Teddy Sheringham than a Yaya Toure.
I thought Pienaar and Lennon did well. Koné is not up to scratch though. We need another striker. There might be some good strikers going down this year – Danny Ings, Charlie Austin. We might be able to get one of them in. It was obvious that we had very little in the final 3rd. Story of our season.
Kunal Desai
133
Posted 11/04/2015 at 21:20:12
I have to disagree with those that say we have the best squad in years. No we don't – not when a significant number of our first team squad are the wrong side of 30. The best squad we had was probably under Moyes with the likes of Jagielka, Lescott, Arteta, Cahill and Yakubu.
Look at the midfield of today – it's awful, totally bereft of creativity... I'm surprised Lukaku has managed to knock in nearly 20 goals this season. Sorry this is not the best squad. The plus side has been both Stones and Barkley in the first team, but there is way too much expectation on both players at such a young age.
As for going forward, I wouldn't get too excited by the summer, I highly doubt we will bring in the type of players to push for the Champions League births so better not to get hopes up from now. That said, if we are in the bottom half with 10-12 games played next season then Martinez's position as manager cannot be accepted any longer.

Andy Meighan
134
Posted 11/04/2015 at 21:17:00
A draw was a fair result and it had 'end of season' stamped right through it. But watching Everton under this... ahem... fella is so tedious it's untrue, and I can only echo what Jim (#90) said. He's pretty much nailed it for me.
I actually found myself nodding off at one point, it was that boring, and I see someone in a earlier post mentioned my old mate Tom Cleverley. If he and Januzaj are actually realistic targets, you've got to fear for the future of our club.
None and I mean none of his signings have been any good – and I include McCarthy in that – who, last season, I thought was going to turn out like some sort of Graeme Sourness type figure. He's gone so far backwards, it's untrue.
I see a couple on here said Barry was outstanding today. Sorry but I just didn't think so. Howard with a couple of decent saves and Coleman who had a good game and that was it.
It's so predictable watching Martinez's team this season. Obviously I'm one of the ones who wants him gone ASAP but know it's never going to happen. These last few weeks have bought him some time and Kenwright must be rubbing his hands.
Unfortunately, come next October or November, he won't be so lucky because we will be well and truly up a certain creek...
Ross Edwards
136
Posted 11/04/2015 at 21:52:48
Richard Lyons,
You say we don't have great players yet this squad (bar Besic, Atsu and Deulofeu, who left) is the same squad that finished 5th last season.
You'd think judging by the defence for RM that he'd got us promoted and kept us up or took over à la Pulis and worked miracles.
Gavin says that 'considering where we've been for most of the season' Martinez has done well to get us out of it.
Unless I'm mistaken, Martinez was the one who led a top 6 squad last season to this situation, no-one else.
Steve Guy
137
Posted 11/04/2015 at 22:00:33
19 points lost from winning positions is a disgrace. Shelvy scores in to the exact same place as his previous penalty this season... does Taliban Tim not do any homework?
Kone was an embarrassment.
Martinez is just not getting it. Tactics poor as was defending. We got away with it. Not two points dropped bit one point gained.
Phil Rodgers
138
Posted 11/04/2015 at 22:01:45
Please just end this season now. It's fucking tedious in the extreme. This must be the biggest test to a supporter. If you are rock bottom or struggling you have that unity and a vested interest in every game. This is the perjury equivalent for a football fan.
I feel guilty but it's just so boring.
Gavin Johnson
139
Posted 11/04/2015 at 22:12:11
Ross #136 I said a draw at Swansea is a decent result, bearing in mind where we've been for most of the season, meaning - meandering around mid table to flirting with relegation. Yes, it's Martinez who's managed us from Champions league contenders to where we are. So I think three straight wins and an away draw might be the turn in form that may have happened earlier in the season had we not been playing all those games in the Europa.
I think that the squad was ill-equipped for the Europa campaign. Martinez said we needed 7 players in the summer then back-tracked. So to me, that looks as though BK didn't come up with the necessary funds.
This is a very similar situation to the season Newcastle played in the Europa after finishing 5th and then sank like a stone the following season - they spent their money in the January window they finished 5th and then got Remy on loan as their only summer signing. We in turn only bought the players that got us to 5th (for continuity) and lost Deulofeu and added only Besic and Atsu. Added to that the old Moyes brigade - Howard, Distin and Pienaar got another year older. So in footballing terms we stood still so why did we kid delude ourselves that wed be contending for Champions League again?!?
For me the failings lie a lot with the board for the reasons above. I know some will say that we all know BK's failings with significant financial backing, so why did Martinez spend nearly all the budget on Lukaku, if there wasn't the money to make 7 signings and point to Moyes having bigger transfer restrictions.
I would say that the gulf is bigger than ever between the 'have's and have nots', Martinez wanted continuity from the team that finished 5th. I was made up we signed Rom, and we've got a player we'll make money on. We can all criticise Martinez because we all bought into his dream, but if you break it down into the post mortem of the season it's not that surprising if you only look at history (Newcastle as the example) if you don't build on the team that got you there.
I think we will continue to win games until the end of the season and Martinez should have his chance to build his own team and replace the ageing players of the previous regime, up until Xmas, at least.

Patrick Murphy
140
Posted 11/04/2015 at 22:51:39
Gavin - RM didn't spend all of his wad on Lukaku, it's been well documented that we bought the Belgian on HP, so that reinforces your point regarding the board's lack of financial backing. Having said all of that the wage bill is still pretty high in relation to our turnover so why on earth did the CLUB allow improved terms and contract extensions to players who aren't contributing or who won't contribute a great deal to the cause in the coming years?
BK and his cohorts can continue in the same vein for as long as they wish but we all know one season it will bite them on the bum, fortunately for the supporters it wasn't this season more by luck than by design. BK sits back in silence and lets the manager take the flak it is also the reason why Roberto will continue in his position and why he will more than likely be here for the full term of his contract, unless we find ourselves truly threatened with relegation.

Jim Bennings
141
Posted 11/04/2015 at 22:55:16
I recall saying 12 months ago that a player we could gave spent a large portion of the 㿈 million on last summer would have made a major difference to the dimensions of our attack and I'm convinced even more by this player now.
That player is Yannick Bolasie.
I first thought this when I saw Crystal Palace destroy us at Goodison last April, Seamus Coleman has a "phenomenal" season last year but he couldn't get near Bolasie that night.
Bolasie is everything I'd love to see in an Everton player, pace, power, direct. Contrast that to the man we paid the 㿈 million on who has essentially flopped on terms of Premier League goals and performances.
Once Aaron Lennon leaves back to Spurs and Mirallas goes we haven't a single direct attack minded player in my opinion, I'm sorry but Barkley needs to START DOING IT. I'm seeing too many players who are not getting the hype that Barkley gets but they are quite simply performing better than him.
Gavin Johnson
142
Posted 11/04/2015 at 23:02:42
Patrick, I think a lot has been made of us buying Rom on the drip, but it's the norm for deals to be paid like this. The Rom deal just got scrutinised because it was 'plucky little Everton' spending the cash. I very much doubt we got the Fellaini cash in one go.
I think some of the transfer extensions have been questionable. We did well tying up Barkley and Coleman on long term deals but there's been other more questionable deals. We have Howard on easy street, place seemingly assured in the team up until the age of 40 and there's talk today of Gibson getting another deal. The only way that makes sense is if he'll be on lower terms because at the age of 27 the lads not going to become a fit regular starter.
Gavin Johnson
143
Posted 11/04/2015 at 23:23:38
Jim, I was just thinking about you and your mate Bolasie when Murphy was waxing lyrical about him. I was half expecting you to post something and you have lol.
He's looking a very good player, Jim. I still think a large contingent of our support would have had a good moan at us signing such an unknown quantity, who is approaching is mid-20s and played lower league until recently if he'd have been one of last summers main signings. Perhaps this is the route we need to go down and look at unpolished lower league diamonds, rather than relying on loans.
Joe Clitherow
144
Posted 11/04/2015 at 23:34:04
Ross (#136),
Well said. The ridiculous defence of this fraud from some is unbelievable especially in the context of the vitriol dished out on this site to OFM for finishing seventhish without a fraction of the funds made available to this deluded clown we now have.
Ross Edwards
145
Posted 11/04/2015 at 23:36:39
Exactly. If Moyes was in charge right now there would be universal calls for him to go.
Dick Fearon
146
Posted 11/04/2015 at 23:03:30
There is no doubt in my mind that we are witnessing the unmistakable signs of the inexorable decline of a once great club. (Henry Rose, Sports writer 1960s.) Prior to his death in the Munich air disaster, Henry was speaking in the 1960s about the RS at that time languishing in Division Two. They had used a number of poor managers but then hit the jackpot with Shankly and the rest is history.
Blue Bill, who claims to have been a fellow denizen of the Boys Pen, must surely remember those days and the wonderful affect of having a good manager. Sadly I reckon that our current one could not lead a pack of hungry wolves to dinner making the words of Henry Rose even more desperate where we are concerned. Please, Please Bill learn from history by seeking a decent manager asap.
Patrick Murphy
147
Posted 11/04/2015 at 23:42:14
Ross - And quite rightly too... given some of the performances we have witnessed and the results achieved, but as with Moyes, there are some mitigating circumstances but that doesn't mean we should just sit back and say, "Oh well, every thing will be OK next season." – I personally can't see it... although obviously I hope things do improve.
Jon Withey
148
Posted 11/04/2015 at 23:30:21
There's plenty of reasons to moan about Martinez but signing Lukaku and McCarthy shouldn't be amongst them.
The price he paid for them is worth a moan though – hardly bargains!
Ross Edwards
149
Posted 11/04/2015 at 23:56:36
Quote from Martinez post match: "Trying to get the second goal was our mistake today."
I don't think even Moyes sunk to such negative depths. We're 1-0 up, and our manager says that going forward trying to score a 2nd goal is a mistake?
Come on. I don't need to say anymore. No-one does. Look at that.
Patrick Murphy
150
Posted 12/04/2015 at 00:01:06
Ross - Are you sure that's what he said, I'm no fan of the Spaniard but attributing quotes that are incorrectly reported or misheard is not the best way to make a point. I think he actually said failing to get the second goal was the mistake – but if you have evidence I apologise in advance.

Ross Edwards
151
Posted 12/04/2015 at 00:03:44
It's on the Everton twitter page.
https://mobile.twitter.com/Everton/status/586895976415264768

Ross Edwards
152
Posted 12/04/2015 at 00:09:22
Sorry, forgot to link that.
Patrick Murphy
153
Posted 12/04/2015 at 00:10:57
I have read it but it's a report of a quote by somebody overseas I would think as the time of posting is 07:17 am dated 11 April although it claims to be from Goldbourne England so perhaps he has his clocks set incorrectly or is psychic.
Ross Edwards
154
Posted 12/04/2015 at 00:18:58
I must have linked the wrong thing then.
Ross Edwards
155
Posted 12/04/2015 at 00:20:58
https://twitter.com/Everton/status/586895976415264768
This should be it.
Ross Edwards
156
Posted 12/04/2015 at 00:22:40
Hmm, don't know why it's saying that time and location but that was definitely on the official twitter account.
Ross Edwards
157
Posted 12/04/2015 at 00:29:23
http://www.walesonline.co.uk/sport/football/football-news/swansea-city-v-Everton-Roberto-9025591
The quote in full is 'Trying to get the second goal was our mistake because something can happen at 1-0 and unfortunately it did'.
Now, I'm sorry, but surely if you're 1-0 up, correct me if I'm wrong, the 2nd goal is the most important because it wraps the game up and provides a suitable buffer to defend in case something goes wrong, like a stupid handball.
Colin Glassar
158
Posted 12/04/2015 at 00:34:20
"Trying NOT to get the second goal was our mistake". C'mon Ross, you can do better than that. Liverpool Echo mate. Martinez said they stopped playing for 20 minutes in the 2nd half which allowed Swansea back into the game.
Ross Edwards
159
Posted 12/04/2015 at 00:41:27
That said 'Trying to score the second goal was our mistake'. The official Twitter account said the same quote.
I did not make that up.
Alex Fox
160
Posted 12/04/2015 at 00:26:25
A few thoughts on today...
Don't understand how people can blame the referee. Blatant penalty. Whether you think it's a foul or not, you can't just scoop up the ball with your hands. Footballers taking the rules into their own hands is never right, and it got what it deserved. Really foolish from Coleman, who had played well up until then.
McCarthy failing to shoot when clean through on goal and into the penalty area had me pulling my hair out. Astounding negativity. Hate to say it, but Jonjo Shelvey looked twice the player today.
Stones will very soon be the best centre-back in the league.
Pienaar is still a very good little player, and should start when fit. He sees things that our other wingers don't, and brings balance to the side.
Ross Edwards
161
Posted 12/04/2015 at 00:43:48
If the official account made a typo, they'd have deleted it.
Colin Glassar
162
Posted 12/04/2015 at 00:45:09
Nothing surprises me about the Everton communications department, Ross. I'm still waiting for Riquelme to sign.
Andrew Grey
163
Posted 12/04/2015 at 00:50:45
5th is going to be difficult now. We need Southampton to lose every game and make up a 25 GD deficit. One or two other results need to go our way too.
Ross Edwards
164
Posted 12/04/2015 at 00:51:04
Just shows what Everton are doing to me. Raging over a misquote. Bloody hell.
Patrick Murphy
165
Posted 12/04/2015 at 00:49:07
I apologise, Ross, this is indeed what they wrote on Wales Online:-
"But we were disciplined, scored a very good goal but in the first 25 minutes of the second-half it was almost too easy with the way we moved the ball and we never carried the threat we should have. Trying to get the second goal was our mistake because something can happen at 1-0 and unfortunately it did."
It still could have been mistakenly reported because I can't believe that Roberto could make such an utterance.
Ross Edwards
166
Posted 12/04/2015 at 00:55:45
I think it is a misquote, Patrick. Must be surely. The Echo have him saying 'Not trying...' etc.
I must have got into a rage over nothing.
Dick Fearon
167
Posted 12/04/2015 at 01:00:35
Patrick, nothing this buffoon of a manager ever says would surprise me.
Phil Sammon
168
Posted 12/04/2015 at 05:16:01
Steve Guy 137
'Shelvy scores in to the exact same place as his previous penalty this season... does Taliban Tim not do any homework?'
I've heard plenty of completely justified criticism of Howard but that, Steve, is ridiculous.
Brian Porter
169
Posted 12/04/2015 at 05:55:44
Definitely two points thrown away. Seamus, oh Seamus, play to the whistle young man. It should have been a free kick to us, but never, ever, try to anticipate a ref's decision, especially a pillock like the homer out there today.
Kone, as I said last week, should never wear an Everton shirt again. He's worse than useless. Naismith should have been sent on to replace him much earlier... maybe just after the warm up? And, just what did Martinez expect Mirallas to do in five minutes? Inept and ill-thought out substitutions yet again from our 'phenomenal' coach.
So pleased to see a fit Stevie Pienaar back though. What a difference he made to the team, which for a while, looked like a balanced unit again. Perhaps his long lay-off has helped return him to full fitness and also renewed his hunger for the game, it looked like it.
Aaron was another positive. It looks like he and Everton could be good for each other, let's hope we can sign him at the end of the season, but knowing how our manager thinks, he may be considered too much of a forward playing player for his style... haha.
All-in-all, a not bad team performance, but why, oh why, didn't McCarthy shoot when it was easier to score than to pass? We really lost a golden opportunity to close the gap on the top ten, and results around us didn't help either.
Oh yes, and Roberto, going for a second goal didn't do Palace any harm did it?
Joe Foster
170
Posted 12/04/2015 at 08:33:54
He deserves another season? If RM gets what he really deserves then he will be let go by the club because if we have another season of this (probably the most boring and ineffective football ever) we will be perennial relegation fodder.
David Holroyd
172
Posted 12/04/2015 at 08:52:06
No cutting edge up front. Kone was shite and always will be, a youngster would have been a better bet. We dropped two points away today, 19 dropped from winning positions this season. Martinez says he is adaptable – rubbish! Otherwise he wouldn't have played Kone.
No creativity in midfield and not enough pace. We have missed Pienaar this season as he keeps the ball, but can he play more than 60 mins? I doubt it.
Lennon – has he shown enough to buy? Not in my opinion – his final ball is the same as McGeady's and he will cost around ٤ mill.
Martinez still coming out after the game with drivel, should we get rid? YES! YES!! YES!!!
Tony J Williams
173
Posted 12/04/2015 at 09:15:10
You see Ivanovic "earn" those free kicks every single week. Not our Seamus though... oh no it's not a foul, it's a penalty.
Trevor Peers
174
Posted 12/04/2015 at 08:58:49
As it seems certain Roberto will be our manager for the foreseeable future, indeed I'm expecting a statement from BK anytime now saying how courageous the Spaniard has been under the unjustified abuse he has been receiving.
Is it too much to hope for that Roberto will come to his senses and abandon his plans to sign Cleverley and show Kone and Alcaraz the exit door? If he did this and signed three quality replacements, it might just buy him some much-needed credibility. I can't see it happening.
Pete Edwards
175
Posted 12/04/2015 at 09:59:53
Jamie,
Of course he got the handball decision right but he shouldn't have had to make that call as it was a clear push on Coleman. Going down easy or not, in this day and age, hands on the back is a foul all day long.
Eddie Dunn
176
Posted 12/04/2015 at 10:04:59
Matinez had Naismith ready to come on for the bungling Kone when we conceded the penalty. Then he told him to sit back down! We needed something to happen more than earlier, and he delayed the sub for about 10 minutes. Ridiculous!
Also Brian Porter (#169). Exactly, what is Mirallas going to produce in 5 mins?
We should have gone 4-4-2 as soon as they scored. Kept Kone on (even though he wasn't very effective solo) and pushed either Mirallas or Naismith up with him. He is no lone striker, that's for sure. Or he could have amazed us by taking off Barry or Mac and gone 4-3-3 for 15 mins.
Steve Guy
177
Posted 12/04/2015 at 11:38:03
Phil #168.....I don't think it's unjustified at all. BT Sport showed the stats and if they know, we should have known. What do they do all week in training? I thought homework on the opposition was a prerequisite? For a goalkeeper, studying the penalty takers and their preferences is surely an essential part of that pre-match research?
Trevor Peers
178
Posted 12/04/2015 at 11:42:35
Howard has taken some unbelievable stick this season, some of it justified as the whole team were bemused by Roberto s tactics up until Christmas and beyond. Since then, I think Howard has been back to his best and that means world class. The save he made from Gomis yesterday proved that.
However, he is coming to the end of his career in the Premier League and will need replacing, he has been a great servant and deserves some respect. Unlike a few of Roberto's signings whom he looks like giving extended contracts to.
Phil Sammon
179
Posted 12/04/2015 at 12:02:28
Steve
Just because Shelvey put his last penalty to the keeper's left, doesn't mean he's going to put the next one in the same spot. If he'd stuck the last seven there then you may have had a point.
Ray Said
180
Posted 12/04/2015 at 12:09:17
The one thing that gets me fuming most is that Martinez sticks to his 4-2-3-1 regardless of what players are available. He crowbars them in even if they are less than competent in those positions.
Oh for a manager that looks at what players he has available then lines up accordingly. That's management – look at the resources and have a strategy that gets the best out of those resources.
Ross Edwards
181
Posted 12/04/2015 at 12:26:52
4-2-3-1 with 1 winger Ray. Martinez must be the only manager in Europe who thinks that 4-2-3-1 can be used effectively with 1 winger.
Derek Thomas
182
Posted 12/04/2015 at 11:53:14
Phil@168; Of course it's totally justified. Keepers are there for their reflexes and experience. The experience is the 'homework' you deride.
The six 'P's apply: proper preparation prevents piss poor performance.
Relexes: Well, at his age, they are slowing a bit, but if he'd been as slow as a glacier, he would not have got as far up the tree as he did.
Proper Preparation; All the research has been done, by some RS as it happens, who (sad bastard) sat and watched 1500 penno's and in 95% of then the non-kicking foot pointed where the ball went... it's simple anatomy, your legs are separated by the hips.
Try this, say for argument you are right-footed (the middle of the goal is 12 o'clock.) Try aiming / planting your non-kicking left foot at '9:30am' – as if you are putting the ball inside that post... the left hand post as you see it (keeper's right)... then try and put the imaginary ball inside the other (right hand post as you see it).
So we have Shelvey who takes a right-footed penalty, running in from left to right, who plants his none kicking left foot right at the right hand (2:30pm on the imaginary clock, as Shelvey looks at it)... where is the ball going as Shelvey looks at it??? All together now, children: "TOO THE KEEPER'S LEFT"... Oh yes it is.
Which way does Taliban - Terrible nice but dim - Tim go??? To his 'kin right.
"Yeah, but it all happens in a split second" and such shite.
Experience – Proper preparation – Reflexes
Goalkeepers, Goalkeeping coaches, the out-field coaches, the head coach... Uncle Tom Cobbley and 'kin all.
As my old Granny would say... "I wouldn't pay them in washers."
Taxi!
Ben Jones
183
Posted 12/04/2015 at 12:41:44
Funny that, I met some Swedish lads who watched the game and they said a draw was a fair result.
Does anyone know of any links online to watch extended highlights of the match, like a Football First style?
Ray Roche
184
Posted 12/04/2015 at 13:58:40
Ben, you can watch 20 mins highlights of the game on the Official Site.
Harold Matthews
185
Posted 12/04/2015 at 13:50:53
Jim. Bolasie moved to Palace because he wanted to live in London.
Bill Gall
186
Posted 12/04/2015 at 14:05:34
Howard at times deserves the criticism he gets but regarding the penalty being critical of not saving it is a little over the top. Was it not Gordon Banks who said that saving a penalty was 80% luck and 20% skill. The 80% was just guessing the right way. How many has Slippy G scored and the majority of his go to the keeper's right, and most keepers know it.
Sid Logan
187
Posted 12/04/2015 at 14:23:26
I thought we played some good stuff in between the first awful 20 or so minutes when we didn't seem to have a clue and the first 10 minutes or so in the second half.
Pienaar made a difference when he came on; whether he can stay fit for the foreseeable and rekindle some kind of his partnership with Baines is doubtful but he showed what we've been missing in terms of creativity going forward.
Coleman was definitely fouled but it was unprofessional to handball.
It feels like 2 points thrown away rather than a good draw. But the most annoying thing was to waste good forward positions in sight of goal by making an extra pass. Interesting to hear Martinez say the same thing but I'm afraid he must take some responsibility for that. Players don't just develop this desire to always pass instead shooting.
This is not a new phenomenon. He should be drilling it in to players that, when you can see the whites of the goalies eyes, it's time to smack the bloody thing. The worst example of this was McCarthy but there were and have been plenty of other examples. I wish I had a quid for everytime the crowd shout "Shoot!" only to see players make another pass.
Is the joy in passing or scoring? Answers on a postcard please.
Derek Thomas
188
Posted 12/04/2015 at 14:39:45
Sid @187; They can't help themselves – they are what they are. Under pressure, they will always revert to what they are deep down... they can't do anything else, It's hard wired in.
Passers will always try to pass, Shooters will always try a shot, Dribblers will always dribble, guys with their head down will never look up.
If they could break this conditioning and do more (better?) – we couldn't afford them.
Sid Logan
189
Posted 12/04/2015 at 16:20:19
Derek,
You may well be right. But a Manager worth his salt should be more than capable of teaching players new tricks – always supposing that he knows them himself, of course!
Jamie Barlow
190
Posted 12/04/2015 at 18:34:56
Pete Edwards, if you think it's a foul, fair enough.
It wasn't though.
Terry White
191
Posted 12/04/2015 at 19:17:03
Any discussion on whether Coleman was fouled would be nebulous if he had done what he should have done in the first place. Stop playing for the foul and put the ball in the crowd. Schoolboy defending.
Eddie Dunn
193
Posted 12/04/2015 at 19:29:15
Derek, we could afford them. Bobby (RowZ) Zamora, and Charlie Austin. (I don't really know if we can afford him!) QPR go forward with real drive, and (Shock-Horror) shoot at goal!
I watched MotD last night and was amazed at just how many players were actually shooting at goal. I'm just not used to this strange reaction to being within 25 yards of the goal.
Stoke City were shooting for fun at West Ham. Imagine if we had Arnautovic, who had to score three goals before the ref would let him have one of them. I wonder what he would cost?
Eddie Dunn
194
Posted 12/04/2015 at 19:38:43
Jamie 190 is right, it wasn't a foul. Coleman should man-up and hold him off, and get rid, end of. The tit cost us the win.
Patrick Murphy
195
Posted 12/04/2015 at 19:40:53
Eddie - The shooting on sight policy seems to be an anathema to some managers, Chelsea, City and Arsenal to a lesser extent all seem to want to create the perfect goal as if there is some special prize available. Chelsea are nearly as bad as Everton going forward at times but they have the defensive means to keep clean sheets on a regular basis but in my view they will be the poorest quality team to win the PL for some considerable time.

Eddie Dunn
196
Posted 12/04/2015 at 19:59:08
Patrick.Indeed, I watched a fair bit of their game at Rangers, and they scored at the death with their only shot on goal. Without Costa, like us without Lukaku, they expect to walk it in,and Drogba was almost as bad as Kone!
Graham Mockford
197
Posted 12/04/2015 at 19:56:41
Derek #182
Just a pile of shite I'm afraid. Are you seriously suggesting a goalkeeper waits until he sees where the penalty takers foot is planted before he makes a decision.
By the time he's done that he ain't going to save it anyway. A well taken penalty more often than not beats a keeper.
Just feels like another desperate attempt to get on the anti Howard bandwagon when in fact he has been excellent in the last four games.
And as for that fucking beard.........

Ray Said
198
Posted 12/04/2015 at 20:16:22
Cheers Ross (181). Using one wing only... so that's why he is going in circles and disappearing up his own arse.
Patrick Murphy
199
Posted 12/04/2015 at 20:23:27
Ross (#192) To think that Tony Cottee was the last Everton forward to score 10 or more league goals in 3 consecutive seasons, appalling for a club of our heritage and who had the likes of Dean, Latchford, Sharp, Royle et al on their books.

Ross Edwards
200
Posted 12/04/2015 at 20:26:40
Not good enough is it? Let's hope Lukaku can repay the 㿈m and bang the goals in. If he does stay that is.
Colin Glassar
201
Posted 12/04/2015 at 20:29:56
Eddie, it was sad to see Droghba today. He's lost his pace and strength. Today he was pushed off the ball like Ossie in his hey day.
Pete Edwards
202
Posted 12/04/2015 at 20:24:37
Jamie, is a push in the back not a foul now then? I agree Coleman goes down too easily and is daft in handling the ball but come on its a clear foul and should have been blown up for.
It's been mentioned further up the thread, look at the freekick given to their goalie about 5 mins later, no contact but because he goes down its deemed a foul... oh for some consistency in decisions no matter what position the player plays or where on the pitch it happens!
Eddie Dunn
203
Posted 12/04/2015 at 20:32:47
Colin, yes just 18 months ago he was still a monster. Austin was ruffling feathers right across the Chelski back line, and he plays with a smile on his face too.
He certainly fits the bill for me....can Everton ruin another centre-forward?
Seriously, I would love to see him playing for us.
Ross Edwards
204
Posted 12/04/2015 at 20:29:12
I don't know why he only plays one winger. It's bizarre. When Pienaar came on that's what we were missing. I know that was in hindsight a good change and at least he did it. But why didn't he start with two in the first place instead of stumbling into a solution?
Eddie Dunn
205
Posted 12/04/2015 at 20:47:30
Kendall always had his team balanced, it makes all the difference.
I thought Roberto had immersed himself in our history?
We are knee-deep in wingers, but he won't play 'em, he'd rather play a midfielder or a centre-forward out of position.
Eddie Dunn
206
Posted 12/04/2015 at 20:51:24
Colin, come to think of it, 18 months ago wasn't Ossie playing for England, or was it longer ago?
Colin Glassar
207
Posted 12/04/2015 at 21:00:32
It was about that time. Ossie tbh has beefed up a lot since then.
Derek Thomas
208
Posted 13/04/2015 at 00:50:24
Graham@197; check again in the video if you have it. Tim dived the wrong way exactly as the none kicking foot was about to be planted...and it was pointing where it was going...why not wait that infinitesimal amount of time and at least go the right way.
If you go the wrong way ON PURPOSE, the taker can slip ala Beckham, shank it, be out with his placement, under hit the pace of it...and it sill goes in.
Give yourself a chance any chance however small, by going the right way and you are at least in the right half of the goal and have some chance of taking advantage, which you can't do sprawled on your beard at the bottom of the other post. That Sir, is NOT shite, It's knowing your trade.
Brian Wilkinson
209
Posted 13/04/2015 at 02:43:29
Forget playing on the wing, give Naismith half a chance in front of goal and he will score more than he misses
Lukaku has missed loads of easy chances but also scored some important goals.
If a half-chance fell in the box, give me Naismith any day for it to fall to.
Stick Kone back in the stiffs and for Christ's sake stick Naismith in attack and not out wide.
Ernie Baywood
210
Posted 13/04/2015 at 04:08:03
Derek, are you suggesting that you alone have uncovered the secret to diving the right way for every penalty?
Derek Thomas
211
Posted 13/04/2015 at 06:28:30
No, just passing on what I read on the Interweb. I did apply it to a team I coached, we won 3 penalty shoot outs that season. The keeper made a save in each one and never once dived left or right on 'pot luck'. This allowed me to work the head on my kickers... "No pressure here, lads, you know Dave is going to save one of these..." The truth is out there.

James Marshall
212
Posted 13/04/2015 at 06:57:50
Derek@208
Knowing your trade as a goalkeeper and always diving the right way? Have you ever played in goal? Sorry, but that's a complete nonsense – when facing a penalty, your chances of saving it even when you guess the right way are only around 25%-30%.
Your statement that Tim Howard should be diving the right way when facing a penalty makes no sense at all and appears to be based on the fact he should work it our from the direction Shelvey's standing foot is pointing? Where have you got this miraculous revelation regarding the art of penalty saving from? Maybe you're a sports scientist about to publish a paper to improve goalkeeping standards the world over?
Seriously though – it does make me wonder when fans come out with this stuff, and claim them as facts.
As an ex-keeper myself, I can assure you that staring at a players standing foot at the moment they take a penalty at you does not give you an indication of where the ball will end up. Also, it's worth noting that the average ball speed is 70 mph when it goes past you as a keeper. I think that's worth noting.
When a keeper dives, he covers about 1/9th of the goal at best. The odds are not stacked in the keeper's favour as you can tell....
Still, any excuse to lay into one of the Premier League's best goalkeepers in recent years, eh? He may not be as good as he once was, and yes he's made errors this season – all keepers make errors, all players make errors – goalkeeping errors are highlighted hugely, and the art of keeping goal is not an easy existence as a footballer, I can tell you. It's a lonely place when things go wrong, and as supporters we should back him up, not call him out all the time.
If you want him out, take a pop at the guy who picks the team, not the team he picks. Think about it.
Andrew Ellams
213
Posted 13/04/2015 at 08:46:10
Re the Swansea penalty. No way would that bellend of a referee have given it the other way.
Derek Thomas
214
Posted 13/04/2015 at 09:06:52
James@212; Sorry to upset you so much. It's a good job they don't kill the bearers of bad news nowadays. I'd hate to bring you really bad news. This is just my opinion based on the study of 1,500 penalties and the relationship of the non-kicking foot re the final direction.
It's all about opinions after all. Tell you what, just to humour me or prove yourself right, next time there is a penalty on TV, pause it at the moment of contact, apply the theory and either you buy me a virtual pint or I buy you one.
And this season's stats also show that Howard is NOT one of the league's top keepers.

Jimmy Kelly
215
Posted 13/04/2015 at 09:31:25
Are we seriously suggesting the ref had it in for us?!
Honestly, that is just embarrassing. Kone could very very easily have been sent off 10 minutes before the pen was given, and Swansea would then have been claiming the ref had cost them the game. They also had a goal disallowed for a borderline foul.
I think it was a push on Coleman but it was also borderline, you see plenty of them not given. I'm not sure why people are talking about playing to the whistle either. It's not like he awarded himself a free kick and picked the ball up, he realised the man had got past him and panicked, making a desperate attempt to stop him getting away. It was a stupid thing to do but nothing to do with playing to the whistle.
Finally, Derek, the idea that your Sunday league team won 3 penalty shoot outs in a season due to your incredible knowledge of penalty saving is fantastic. Not much can make me laugh on a Monday morning but that did the trick. They should make a film out of it.
Phil Sammon
216
Posted 13/04/2015 at 10:09:27
Derek,
The standing foot thing may be true... but you're completely missing the point. If the 'keeper leaves it that late, the ball will be in the back of the net before he's even moved.
I don't know what standard of football you played/managed. Your theory may be of some use if you were facing a penalty taken by a kid who couldn't generate much power, thus giving the 'keeper more time. But in professional football you simply cannot wait that length of time before shifting your bodyweight in a chosen direction.
But hey, maybe you know more than every professional 'keeper ever to have played the game.
Andrew Ellams
217
Posted 13/04/2015 at 10:20:01
Jimmy, not sure you can call it a disallowed goal when the opposition team has stopped due to the whistle. All Shelvey did was basically lash it into an empty goal.
Oliver's intentions were clear in the first 15 minutes when he failed to penalsie for a blatant push on Coleman when we were in a very good position in their half and then gave them a foul for every fifty-fifty. And for the red that Kone didn't get, I'll raise you Williams's studs first challenge into McCarthy's midriff.
Jimmy Kelly
218
Posted 13/04/2015 at 10:25:53
Andrew, you're missing the point completely.
I'm not saying Oliver had a fantastic game or that we were lucky with the decisions in the main, just that thinking 'his intentions were clear' is plain ridiculous. He made poor decisions for both sides, like all referees do. He allowed us to play in while they had players injured, didn't send Kone off for a blatant bookable offence, didn't even give a foul for another after that which many refs would have, and ignored a couple of penalty shouts from the Swansea players and fans (they weren't pens but, if he was just looking for an excuse to screw us over, he could have).
Regarding the goal, maybe calling it 'disallowed' is a bit much, but no outfield player could have prevented that shot going in. Only Howard could have influenced whether it went in or not, and I'm not entirely convinced he'd have saved it.
Ray Roche
219
Posted 13/04/2015 at 11:41:37
Jimmy, you're right in most of your comments about Oliver the ref, but I still maintain that, had Coleman pushed the forward instead of the other way round, and the forward had gone down, too easily or not, then the ref would have deemed it "contact" and awarded a penalty. (Or the forward would have "won" a penalty as those gobshites on MotD would have it.)

Derek Thomas
220
Posted 13/04/2015 at 11:34:02
Jeez, Phil, talk about damning me with faint praise [puts tongue in cheek]. Most of us seem to think we know more than Martinez and Moyes so why not?
Looks like I'm in a minority of one... No change there, so will retire bloodied but unrepentant.
Ernie Baywood
221
Posted 13/04/2015 at 12:08:13
Not convinced, Ray. Defenders usually get away with a bit more in the box. Such as the challenge on Routledge. Now I'll argue that wasn't a foul but it probably gets given in midfield.
For the Coleman challenge, I agree he wasn't fouled but you see that same scenario every week and they're always given. It's a serious pet hate of mine how defenders can obstruct and then dive once the ball is rolling towards the line. For years I've been complaining about it and saying I'd like to see a statement that it won't be tolerated anymore.
So you can imagine how thrilled I am that someone finally upheld the rules of the game. Just as I was when a ref decided to suddenly penalise shirt pulling in the box (was it away to City last year?).
James Marshall
222
Posted 13/04/2015 at 12:18:48
Derek,
I've read plenty of the studies and stats on penalties in the professional game, and I'm not convinced by the argument about the standing foot. As someone else mentioned above, if you wait till the foot is planted, the ball will be in the onion bag before you've even moved.
You can plant your foot any way you like, and still change the direction of the ball when you strike it, simply by using the striking foot and angling your hips a little bit in the other direction. The standing foot does not dictate the angle or direction of the striker's other foot, and therefore the ball.
Anyway, I'll happily buy you a pint, virtual or otherwise. :)
The main point about penalties, is they're heavily loaded in favour of the taker, and goalkeepers cannot, and should not ever be criticised for not saving them.
Ernie Baywood
223
Posted 13/04/2015 at 12:25:56
I'm not convinced any right footer would point their standing foot noticeably left either.
Tony J Williams
224
Posted 13/04/2015 at 12:31:47
So if the standing foot points to the right hand corner and the striking foot, the in step, taps the ball to the left.
What happens when the keeper dives to his left/penalty takers right and it is rolled in?
Do we start calling Howard the biggest tosser in the world because he went the wrong way again?
Derek Thomas
225
Posted 13/04/2015 at 12:52:00
I'm not winning this am I.
Tom Bowers
226
Posted 13/04/2015 at 13:42:10
The goalie has little or no chance unless he gets lucky. Some goalies who guess right and make the save usually have to get a flying start which many dumb-ass officials miss.
Ray Roche
227
Posted 13/04/2015 at 14:32:01
Ernie@221
For Heaven's sake, don't get me started on some of the STUPID things that have infiltrated the game over recent years!
● The "shepherding" of the ball out for a goal kick is blatant obstruction but refs allow it.
● Goalies wandering from one side to the other to waste time when taking a goal kick. Who's bright idea was that?
● The WWF wrestling that goes on at corners, usually by some retard like Skirtl. Or any one from Stoke. (Even the tea lady)
● Linesmen with the eyesight of Stevie Wonder, who are incapable of giving a decision without the consent of Ray Charles (the ref) first. (Some younger readers might need to ask their dad...)
● Injured players having to go off the pitch after the trainer has come on. OK, I can see how and why that came in at first but when a defender gets floored and has to go off while a corner is taken but the perpetrator stays on...
● Not having a "bounce up" these days when play has been stopped.
● And WTF is this all about, a player pretends to get hurt, rolls around holding his head, so one team is obliged to put the ball out and cease an attacking move, at which point the injured player gets up and runs around like a young stag? Take the twat out and shoot him against the Park End stand!
Or maybe we could start that business.
Derek@225.
Correct. You're not.
I need to lie down..
Colin Gee
228
Posted 13/04/2015 at 15:30:49
Ray #227 Agree with everything. The way to stop the last one is to do what they do in Rugby, player goes down injured, play carries on and the Fourth Official waves the Trainer on.
The only time you would need to stop the game would be if the Referee has given a penalty and the 'injured' player is in the 18-yard area.
Michael Polley
229
Posted 13/04/2015 at 20:39:40
Couldn't really argue over the penalty.
Kone was totally shite! A waste of space. Naismith should've started.
Another below-par performance from Barkley.
Ah well... at least we are are unbeaten in 4 games.

Michael Polley
230
Posted 13/04/2015 at 20:49:16
Agree with you Jamie I think if we had Lukaku playing we would've bagged all 3 pts
Ernie Baywood
231
Posted 13/04/2015 at 21:19:17
Colin and Ray. Aussie Rules goes one step further. Play continues but if it needs to stop so the player can be stretched off, then that player cannot return for 30 mins.
Realistically, how many of these players actually require treatment?
Actually, now I think of it, do we see the stretcher as much as we did a few years ago?
James Marshall
232
Posted 14/04/2015 at 12:01:30
Players definitely do turn it on when it's to their advantage, but also there is a difference in games like rugby vs football and impact type injuries. Get someone to kick you really hard in the shin and it really hurts but not for very long – so I can see (to a degree) why players get 'hurt' then get up almost unscathed as the pain tends to decrease quite quickly from an impact injury such as being kicked.
Rugby players tend not to kick each other very much, and are all hard bastards. Footballers are mostly a bunch of big girl's blouses.
---
Add Your Comments
In order to post a comment, you need to be logged in as a registered user of the site.
Or Sign up as a ToffeeWeb Member — it's free, takes just a few minutes and will allow you to post your comments on articles and Talking Points submissions across the site.
© ToffeeWeb