Swansea knock back Everton bid for Williams

115 Comments [Jump to last]
2 August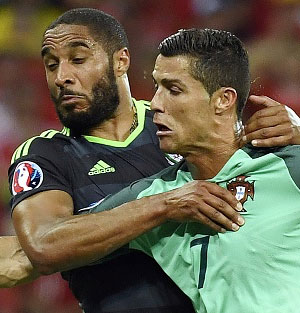 Ashley Williams's proposed move to Goodison Park could be scuppered by Swansea City's rejection of Everton's £10m offer for the defender, according to fresh reports.
Williams appeared to be destined for Merseyside after an initial report by WalesOnline suggested the Swans would be prepared to sell him and both the South Wales Evening Post and The Guardian claimed terms had been agreed between the two clubs.
Chris Wathan, the WalesOnline journalist who broke the original story, BBC Wales and Sky Sports News all now say that Swansea have turned the Blues' bid down, with the former suggesting the 31-year-old's transfer is now on the brink of collapse.
Much could depend on the player's own desire to see the move go through and to secure a fresh challenge after eight years at the Liberty Stadium.
A Swansea spokesman quoted by The Mirror said this evening: "Ashley Williams is an important part of our squad and club and we are not looking to sell him, and therefore we have turned down the offer currently on the table."
---
Reader Comments (115)
Note: the following content is not moderated or vetted by the site owners at the time of submission. Comments are the responsibility of the poster. Disclaimer
Colin Glassar
1
Posted 02/08/2016 at 21:24:56
Go stuff yerselves with a gigantic leek!! Didn't want him anyway.
Barry McNally
2
Posted 02/08/2016 at 21:26:55
We'll still get him.
Terence Tyler
3
Posted 02/08/2016 at 21:28:50
Taken them long enough, needs the player to push for a move now.
Mike McLoughlin
4
Posted 02/08/2016 at 21:29:29
Need to look elsewhere. They are only doing what we are doing in relation to Lukaku and Stones, can't blame them. He is a fabulous player and I hope we get him.
Alexander O'Brien
5
Posted 02/08/2016 at 21:32:07
I nearly choked on my Welsh rarebit boyo!
Kevin Elliott
6
Posted 02/08/2016 at 21:32:10
Agreed Barry.
He'll be wearing a blue shirt next week.
James Morgan
7
Posted 02/08/2016 at 21:33:17
If Jagielka was as good and as influential as Williams has been and the same age, we would probably reject a bid.
If we can't get him then move on.
Gavin Johnson
8
Posted 02/08/2016 at 21:34:32
Wanted us to sign him, but lets be honest 㾶m is more than a fair price for a soon to be 32-year-old CB. If they don't want to sell, lets move on.
I would have preferred Williams over Fonte and Lamine Kone from Sunderland. I'm really not excited by the prospect of either of those signings.
Brent Stephens
9
Posted 02/08/2016 at 21:36:09
They're holding out for more?
Trevor Lynes
10
Posted 02/08/2016 at 21:40:50
Fonte is still a good bet as he is taller than Williams and could cure our aerial liabilities at set pieces.
Actually I would have both as we need centre back cover if Stones leaves.
Brian Williams
11
Posted 02/08/2016 at 21:45:40
Oh well lets get Koulibaly instead :-)
Ed Fitzgerald
12
Posted 02/08/2016 at 21:46:49
Fair play to them; they want him to stay and honour his contract, and are showing ambition for their club. 㾶M is a fair bid but we have to move on.
Oliver Molloy
13
Posted 02/08/2016 at 21:47:12
No one can be surprised at Swansea saying "We want more money".
John Keating
14
Posted 02/08/2016 at 21:50:38
More important than all this nonsense.
2026 Liverpool bid for Commonwealth Games...
Just nice for our new stadium at the docks!
Eddie Dunn
15
Posted 02/08/2016 at 21:56:13
Swansea are entitled to their stance, as we would be if someone came in for a contracted player. He needs to ask for the move or we have to improve the offer. It is only speculation that it is 㾶m – it could be tied up with all sorts of provisos. Let's see what happens next.
Bobby Thomas
16
Posted 02/08/2016 at 22:03:05
Distin cost £5/6m a good few years back, at the same age.
Try £12m and if they don't like that they can fuck off. Although we do badly need at least one center back in.
Daniel Lawrence
17
Posted 02/08/2016 at 22:05:50
Has he signed a new contract with them yet?
Malcolm Stout
18
Posted 02/08/2016 at 22:07:38
John (14), after all these years waiting for a new stadium we surely can't have one with a running track, God and everything else forbid.
Sam Hoare
19
Posted 02/08/2016 at 22:10:33
I'd have been surprised if they let him go without a fight. Crucial player for them.
Matt Garen
20
Posted 02/08/2016 at 22:11:52
Williams has more than 1000 clearances in 3 seasons, more than any other defender in the league. £12m would be a snip when Stones goes for £50m.
James Watts
21
Posted 02/08/2016 at 22:20:03
Guess they didn't fancy the pack of peanuts up front and £10mill over 20 years after all.
Michael Polley
22
Posted 02/08/2016 at 22:20:28
Hopefully he'll put in a transfer request and force Swansea's hand....

Jay Harris
23
Posted 02/08/2016 at 22:24:51
Let's hope we get this one over the line.He would bring leadership and a steely quality to the backline.
They cant be hoping for much more given his age and service to them. If he really wants the move a figure needs to be agreed promptly.
Eugene Ruane
24
Posted 02/08/2016 at 22:26:25
I really hope we get him – don't give a shit about his age, don't give a shit how much he costs (not my money or yours).
He's physically big/strong, looks like (on the park) he has a big mouth, seems switched on, looks like a real leader – imo exactly what we have been lacking – presence, leadership.
No guarantees of course, but I really believe a couple of players like this are priority and could make a big (positive) difference to our entire squad.
Former players like Graeme Sharp and Adrian Heath have (in the past) publicly stated that the presence, leadership and attitude of Reid and Gray (two 'oul crocks) was the spark that ignited us in 84.
Having watched us in 83 and seen the transformation in that side, I can tell you, the effect of a couple of real/natural leaders can be immense.
㿅m - 㿊m spent on two real winners could give our squad a lot more than 㿔m - 㿞m spent on one eye-catching, headline-grabbing, skilful 'star.'
There are some good players in our squad, many of them just need leadership and example.
Mark Ryan
25
Posted 02/08/2016 at 22:28:43
If Stones is valued at £50M, then Williams ought to be worth at least half cos he's a better player, forget the age.
Garry Corgan
26
Posted 02/08/2016 at 22:29:31
Don't care. I thought with Koeman on board and a supposed 𧴜m war chest, we'd be going after the likes of Koulibaly and Hamsik this summer – not bargain basement signings from bottom-8 and Championship sides, like Swansea and Villa.
Until we land a Mata, Witsel or Carvalho, I'll just continue to worry that this new Moshiri era will be more of the same.
Patrick Murphy
27
Posted 02/08/2016 at 22:31:54
I don't know how reliable this particular cyber source is but Futbol Agent reckons that "Everton set to match Swansea's asking price for Williams. Everything else regarding the transfer is done. Just fee to be agreed soon."
If Swansea really wanted to keep the player who is contracted until 2018, surely they wouldn't have allowed him to talk to another club?
Alex Mullan
28
Posted 02/08/2016 at 22:35:00
Once more we see another speed-bump-filled transfer saga begin to unfold.
John Austin
29
Posted 02/08/2016 at 22:40:46
As an earlier post said, they are only replicating what we are doing with Stones and Lukaku. Can't really blame them. Let's see how badly we want him and how much he wants to come. Both will determine how this pans out.
Ron Marr
30
Posted 02/08/2016 at 22:44:08
Pay the extra and put it on the Man City tab.
John Austin
31
Posted 02/08/2016 at 22:51:44
Interesting quote from Swansea. "We are not looking to sell. We have turned down the offer currently on the table". I may be reading too much into the word 'currently' but that seems to invite increased bids from Everton or elsewhere. We need to react quickly before others get their act together.

Brian Williams
32
Posted 02/08/2016 at 22:57:14
Just shows how quick the media are to report, and how quick some are to believe what they report, when Swansea hadn't even accepted our so-called offer.
Mike Hughes
33
Posted 02/08/2016 at 23:01:12
We need to act quickly and give them an ultimatum. That'll do the trick ...

Declan Martin
34
Posted 02/08/2016 at 23:05:01
Not a game changer. If we don't get him, we look elsewhere... that said, Distin turned out to be a good signing at that age.
Anthony Dwyer
35
Posted 02/08/2016 at 23:05:59
I was against paying 㾶m for a player of his age anyways, but warmed to the idea.
That said, we can't go no higher.
Chris Gould
36
Posted 02/08/2016 at 23:08:49
Maybe they initially suggested they would accept but had a change of heart after the backlash from their fans. If he wants to go then he probably will. He can't afford to wait as time isn't on his side. £10 million is a lot for a centre-back regardless of age but the markets gone mad and we'll probably end up paying at least £15 mill.
But like Eugene says: who cares, it isn't my money. We need him, so let's bloody well make it happen.
Ron Marr
37
Posted 02/08/2016 at 23:12:44
Offer them £10 mill and McGeady. That seems to be the MO these days offer money and a shite player to, er... sweeten the pot.
All kidding aside – get it done already!
Eugene Ruane
38
Posted 02/08/2016 at 23:18:33
Gary (26) –
'I thought with Koeman on board and a supposed 𧴜m war chest, we'd be going after the likes of Koulibaly and Hamsik this summer – not bargain basement signings from bottom-8 and Championship sides, like Swansea and Villa.'
Jesus – all that glitters (or 'glisters' for you Shakespeareans) etc.
Currently, the main talent of the third most expensive signing in our history, appears to be that when he receives the ball, he can instantly do a boss impression of Norman Wisdom walking on a highly polished floor, after having his shandy spiked.
Anyone at the moment not prepared to give time to Moshiri/Koeman is going to 1) drive themselves fucking nuts and 2) drive the rest of us fucking nuts.
If we lash money at it immediately (to satisfy the Viv Nicholson types) and we're 5th from bottom by the end of November, prepare to hear angry rants at the match along the lines "He just spunked the money lad and hoped for the best lad, there was no plan lad" etc blah.
Tom Bowers
39
Posted 02/08/2016 at 23:20:15
I think Everton should now deep six this enquiry. £10 million for a 32-year-old was way over the odds anyway and Swansea are just being greedy.
There are many other better, younger central defenders out there worth paying decent money for.
John Pierce
40
Posted 02/08/2016 at 23:39:13
For get the price, forget his age. Walsh & Koeman rate him. Most on here rate both, therefore lets be back them bt be decisive.
Either cough up for the money they want, clearly he's available and open to a move or walk away. Messing around makes us no better than City or Chelski.
Laurie Hartley
41
Posted 02/08/2016 at 23:40:59
We are in urgent need of an "accomplished" centre half. Williams meets the brief and that is one of the reasons why I hope we pull this signing off.
I like the look of Koulibaly on YouTube but I know what we will get with Williams. Tried and tested in the Premier League and a natural leader.
John Pierce
42
Posted 02/08/2016 at 23:46:41
#39 – intrigued if you warmed to the idea at £10m, why not spend £15m? If he's the player we want and money isn't the issue, just pay it... right?
Let's face it, we can pick holes in any transfer and its 'value'. I happen to think the player has good experience, both as a defender first and as a captain
Those qualities are missing from the current squad and would be worth the the fee. Clearly the prime reason to buy him not just the other CBs out there for more or less money
Unlike Jags, his game is not affected being captain. Thoughts?
Ciarán McGlone
43
Posted 03/08/2016 at 00:02:58
Maybe we don't have £15 million.
An ultimatum is the only way forward... or perhaps a mass.
Eugene Ruane
44
Posted 03/08/2016 at 00:36:49
Tom (39) -
'㾶 million for a 32-year-old was way over the odds anyway and Swansea are just being greedy.'
Huth and Morgan, same age, champions.
As for 'greedy', subjective of course, but some might think many Evertonians expecting/demanding 𧴵m for 2 players (that many Evertonians can't find a good word for) no less greedy.
As for - 'There are many other better, younger central defenders out there worth paying decent money for.' – I'm not disputing this out of hand, but it would be good to have the names of a few you consider fit the bill (and who could make a real difference, who could provide leadership, who want and are willing to move and who aren't signed to long-term contracts with other clubs etc).
Gordon Crawford
45
Posted 03/08/2016 at 00:36:56
Don't blame them for wanting more money. We are doing the exact same thing. Offer them £12 million and if that doesn't work, then we should walk away.
Daniel Joseph
46
Posted 03/08/2016 at 00:39:42
We could use the Arteta money to bolster the bid and put Joe Andersons legal fees against his wages?
Drew O'Neall
47
Posted 03/08/2016 at 00:55:42
Wouldn't this be a good opportunity to offload some of our deadwood OR gain some valuable experience for one of our young fringe centre backs?
Letting them have Galloway or Holgate on loan as a makeweight might soften the blow, especially if they have other positions targeted with the profits from the sale.
BTW - does anyone think we might be in for Berahino? There seems to be a lot of cloak and dagger about the announcement tomorrow of his sale to 'either Crystal Palace or Stoke' and Koeman does appear to like a 'quick' up front.
Nicholas Ryan
48
Posted 03/08/2016 at 01:03:03
The language is interesting: 'We are not minded to accept the current proposal etc. ...' is quite some way from 'Fuck Off'!
Garry Corgan
49
Posted 03/08/2016 at 01:09:34
Eugene (38) It is true that spending huge amounts doesn't guarantee success for the individual or the team but I'm sick of hearing Everton compared to Stoke and even Sunderland, yesterday on Talksport.
The much-vaunted "marquee" signing would be a statement of intent that may well change the perception of how we're viewed by sponsors, agents and players alike. Bring in one 㿊m-㿔m signing and other players of a similar ilk will surely want to follow.
I don't disagree that bringing in Williams would improve the side (I'm less sold on Gueye) but a summer that promised so much is threatening to turn into a massive disappointment – and if Lukaku and Stones go I do believe that this squad will struggle to get into the top half.
Sure, building a team is a slow, iterative process and we're not going to be transformed in one transfer window or one season but if Moshiri is truly willing to give us the much-needed cash injection which has been expected then there are plenty of big name, proven players out there for us to go and get right now. Gueye, Williams and Stekelenburg don't guarantee us European football and that should be our aim as a minimum!
Barry Jones
50
Posted 03/08/2016 at 01:22:20
John #31. I read into that comment the same thing as you. They want a higher bid.
Derek Thomas
51
Posted 03/08/2016 at 01:22:59
We must watch out as we tip toe through a potential minefield of hypocrisy here, with on the one hand, our attitude to City & Chelsea and a potential biter bitten situation with Swansea.
You can't say (true financial) might makes doesn't make it right on the one hand then get all up in the air when Swansea have the temerity, the audacity, to say No... even if it 'No' might only = more money please.
Steven Higgott
52
Posted 03/08/2016 at 01:57:00
Ashley would have been good all round even at 32 but he is a Welsh hero and the Swansea fans love him, so why wouldn't he want to stay there? I didn't think this transfer would go ahead, even if we did get to his asking price.
We do need to get a leader in, whether it's a CB or a CM, even in the Euros, I found it hard to see a player that had real leadership apart from the likes of Ashley Williams with a fighting heart .
I think we have to look towards an Italian or a German for a CB and a Spaniard for a CM to give us some craft.
Ryan Snyder
53
Posted 03/08/2016 at 02:06:18
I think a lot of people are overthinking his age and price. We have the money now. Three years ago, different story. Now, even if we don't sell Stones and Rom, I'd look at this as a good move.
Williams is a leader that we desperately need. If Walsh and Koeman rate him, I want him.
Sandra Bowen
54
Posted 03/08/2016 at 03:39:03
Spot on Eugene. Pay the money, get it over the line as quickly as possible. There aren't many better out there, especially with everything else he brings in terms of leadership , experience and a real desire to not concede goals. We desperately need his type to start this new era. The other big names, marque signings will come in time but foundations are being laid for that next stage.
Always baffled me too with how supporters getting fixated on the actual transfer fee of players. It doesn't matter, it's all funny money and footballs gone mad but don't let it worry you.
Andy Meighan
55
Posted 03/08/2016 at 05:38:15
Fuck me, the Niasse deal gone belly up and now this. This is the one deal of the.summer for us I'd love to see come off and is exactly what we need. Hope we resurrect this...
Tony Draper
56
Posted 03/08/2016 at 06:02:44
This situation feels complicated (to me) by factors which appear conflicting, namely:
1) Ashley is 32 soon.
2) John is only 23.
3) 㾶M in old school thinking seems steep.
4) 㿞M seem like us making City dance to our tune.
5) Ashley is a respected leader domestically and internationally.
6) John is stylish but still naive quite often.
7) Our defence has been a real cause for concern for two consecutive seasons, that has to be entirely reversed.
In conclusion, because the comparison is far from "like for like", I have real misgivings. Keeping Stones and adding Williams would however seem ideal to me. Could transform Stones into a defender of true World Class, for us. If that was the outcome, then coughing up 㾻M for Williams would be good money well spent.
However:
John sold to City for below expected fee.
Ashley purchased over the odds
Then:
Three weeks into the season Stones scores his first EPL goal for City
Same day
Williams does his cruciate ligaments and is out for the remainder of the season, or approximately 50% of his contract
Of course, the goal/cruciate could always happen in reverse.
Paul Conway
57
Posted 03/08/2016 at 07:12:12
If Swansea are keeping him, then IMO they rate him higher than 㾶 million. I personally thought it too good to be true us being linked to a player of this stature.
At 㾶 million it was a snip... Even at his age. he looks like he has another few seasons in reserve. Some players are like that...in the John Terry mould.
Amit Vithlani
58
Posted 03/08/2016 at 07:24:54
I was astounded when I first read the story that the Swans would let him go.
I wonder if this will result in a bumper new contract for Williams.
Swansea would be mad to let him go.
Denver Daniels
59
Posted 03/08/2016 at 07:56:01
Good call, Amit. I reckon he's just stalling till he get's offered a fat last contract and he ends up seeing out his playing days with the Swans.
I think £10m is a decent price for both parties but fair play to them for sticking to their guns.
Eric Myles
60
Posted 03/08/2016 at 07:59:08
Give them an ultimatum!!
Mike Green
61
Posted 03/08/2016 at 08:01:42
Moshiri and Koeman want him because they want results quick so his age, to an extent, is immaterial as I think they want to see qualified success within 2-3 years.
Williams will probably be tempted to move (transfer fee, wage increase, bigger stage, new challenge etc) as has been at Swansea for 8 years, signing for 𧷤k and this could be his best chance of a last hurrah.
Swansea will naturally want to keep him but ultimately will cash in if the money is good enough for a player at the end of his career, especially if he asks to leave. They've got to be seen to be fighting to keep him and get the best deal for the club.
I think the stars will come into line on this one, we might have to go up to at least 㾻m to get him though. Then there's something in it for everyone.
Brin Williams
62
Posted 03/08/2016 at 08:08:30
'We are not minded to accept the current proposal etc. ...'
Sounds like legal jargon, that 'not minded' bit – seen it before.
Paul Tran
63
Posted 03/08/2016 at 08:10:45
'The offer currently on the table'. They're playing hardball with us, just like we are with Chelsea and City. Expect more of this now we're playing with the big boys.
Stuff the pious moral high ground. Get Williams and every last penny out of Chelsea and City.
He's a leader and two or three of those are more important than a marquee signing.
Steve Guy
64
Posted 03/08/2016 at 08:14:21
Totally agree, Paul T. Pay what they want within reason. When this was a "done deal" most pundits were saying what a great bit of business this would be. We need leaders and he is one. Plus he can defend... there's a novelty.
Eddie Dunn
65
Posted 03/08/2016 at 08:39:56
I see that the Swans haven't said "he is not for sale"; they have rejected the offer on the table. They therefore want more money... pay it, get him in. If he does well, who will bother if he cost 㾶 mil or 㾻 mil?
He is proven in our league, is a captain and a great example to our young lads. It's a no-brainer for me. As Eugene says, it's not my money or your money, just spend it.
Dave Abrahams
66
Posted 03/08/2016 at 09:16:10
John Stones and Lukaku both want to leave Everton and they will once the fee is sorted out, if Ashley Williams wants to come to Everton, he will once the fee is sorted out. Then we can look forward to some more signings.
I don't care about the money involved, quality counts for more, and if we sign Williams, we will be getting quality.
Steven Jones
67
Posted 03/08/2016 at 10:00:18
Guys, Stones is gone -– though I would love him to stay. Jags and Funes Mori don't guarantee a good defence this season.
The two guys we should not underestimate are Holgate and Galloway. They both have more winner mentality than John and are more athletic – in turning and reacting than John in defence. I could see their winner athleticism dominating Europe in 3-5 years with Koeman behind them. They can also play a ball – not as good as John but they can and are developing that in our system.
That omits to mention Pennington and Mr Browning who could both be 㿀m type CBs. Williams in to cover for their development would be great.
Declan Campbell
68
Posted 03/08/2016 at 10:13:27
Steven Jones, you are a lot of nonsense. How do you know Holgate and Galloway have a winner's mentality? More fantasyland rubbish.
Sam Hoare
69
Posted 03/08/2016 at 10:32:24
Lamine Kone's stat were actually better than Williams last season for the time they were both playing. Both in the top 10 CBs statistically (along with Funes Mori at 5 and Jags at 8 incidentally).
if Swansea want more than 㾸-13M then I'd be tempted to switch to Kone who is supposedly available for 㾼-17M and is only 27, so has his best years ahead of him and is a similar type player with possibly a yard more pace.
Phil Bellis
70
Posted 03/08/2016 at 10:37:50
Problem is, Sam, there's a dour, defensive-minded manager at Sunderland now who will "resist all overtures"...
Bill Griffiths
71
Posted 03/08/2016 at 10:39:17
I see where you're coming from, Sam, but Williams is far more of a leader than Kone.
Eivind Nyhus
72
Posted 03/08/2016 at 10:56:53
I highly doubt Pennington will be worth anywhere close to £20mill, Steven. He seems like a Championship or League One player to me.
Terence Tyler
73
Posted 03/08/2016 at 11:19:05
Still think this will happen, Swansea will want him to push for a move so they can save face with the fans.
Colin Malone
74
Posted 03/08/2016 at 12:08:21
James (#7),
Jags has been rock solid. Best in the Premier League.
Ian Riley
75
Posted 03/08/2016 at 13:02:30
Up to £10 million. Just pay the money!!
Craig Walker
76
Posted 03/08/2016 at 13:16:49
I'm hopeful that Everton can still sign Williams. As others have said, I think he is just what we need. Reminds me a bit of when we signed Richard Gough. At lot of Evertonians, me included, questioned his age but he turned out to be one of Walter Smith's better signings. He played in the Anfield derby in 1999 which was the last time we won there.
It's getting annoying all of the players that we've been linked with which haven't materialised. I thought Mata and Sigurdsson would have done well at Everton; I wasn't convinced by Arnautovic.
Rob Halligan
77
Posted 03/08/2016 at 13:24:59
Sam (#69), do you think Moyes will not stand in the way of Kone and let him join us, to better his career and all that?
Matthew Williams
78
Posted 03/08/2016 at 13:30:05
We need him, so up the offer and see what happens next. We gotta get some real leaders in this squad starting with Williams.

None of us want another collapse at Anfield getting laughed at by the red shite and the rest of the footballing world!
Paul Ellam
79
Posted 03/08/2016 at 13:32:45
Just pay them what they want and get him! He would be a massive positive influence on our squad and is the type of leader we have been crying out for.
I would rather have him than Koulibaly, Martins-Indi or Kone, that's for sure. Proven Premier League experience – and he is not afraid to do the dirty side of the job.
Peter Cummings
80
Posted 03/08/2016 at 13:39:15
Steven Jones (#67),
Your comments regarding players we already have in 'reserve' like Holgate, Garbutt, Galloway, etc echo my own views of why we are apparently busting a gut and preparing to spend millions when we already have young experienced players who can do a job just as well, or even better, than the so called 'elite'.
We have constantly been told by the hierarchy that certain players are more than ready to step up into the first team and it must be disheartening for them to be overlooked in the pursuit of foreigners, these lads deserve their promotion and their loyalty to the Blue shirt would never be in question – unlike Stones and Lukaku.
Dave Pritchard
81
Posted 03/08/2016 at 13:44:26
Peter, I have no problem with youngsters being played if good enough. Koeman obviously doesn't think Garbutt is good enough as he hasn't been given a squad number.
Carl Sanderson
82
Posted 03/08/2016 at 14:11:38
I'll be very surprised if this deal doesn't go through. The only problem would be if Wenger came in for him to cover for that giant plank Mertesacker.
John Austin
83
Posted 03/08/2016 at 14:29:38
Dave @ 81. I watched Garbutt play 45 mins for the Under-23s at Southport on Sunday. I'm no expert but he didn't look a first team player on that performance. I was expecting more when he came on at half time.
Jay Harris
84
Posted 03/08/2016 at 15:04:39
I think there are two major problems for the younger players.
One it is a massive leap in level to the Prem from what they have been used to.
Two there is so much going on in a youngsters head and life at this period of their development.
The amount of money and instant fame can be hard for some kids.
I also think players like Garbutt must be full of self doubt after playing some great games for the first team then finding himself loaned out, getting injured etc meanwhile Galloway gets into pole position and Oviedo recovers from injury.
Clive Lewis
86
Posted 03/08/2016 at 15:49:29
Offer them 10 million and a packet of crisps or Mcready.
Really think we should have got other defensive options lined up? Just shows Martinez was out of his depth.
Its not exactly caught us by suprise, everyone knew he was going to go in January.
Phil Walling
87
Posted 03/08/2016 at 16:19:24
I doubt if any of the young players getting an outing in the pre-season frolics will ever become first team regulars -they simply won't be given the chance to do so.
Villa and Sunderland failures will walk into the team just because they cost £millions but only Davies will get anywhere near PL football this season and even that will be rarely.
Brentford will be drawing their list of loan players they fancy as I write.
Jay Harris
88
Posted 03/08/2016 at 16:23:39
Phil
Have some faith.
We've got rid of the amateur now lets give the professional a chance to do their work.
Mads Kamp
89
Posted 03/08/2016 at 16:27:07
Pay Palace £30m for Scott Dann.
Jeff Armstrong
90
Posted 03/08/2016 at 16:35:38
㿊m for Dann, you've got to be kidding, he's about 29 himself so I'd rather stump up the extra couple of mill for Williams who's a bit older but by far the better player.

In fact I'd rather pay 30 mill for Williams with the extra years on the clock!
Fraser Auld
92
Posted 03/08/2016 at 16:55:52
Surprised and very dubious about this story when it first surfaced. He's their most important defender and sends a terrible message just before he start of the season to their fans. We were also linked to him heavily a couple of seasons ago only for him to sign a new deal...
Seemed like it was going to get done though and was delighted, just the type of player we need.
If they want another few million do it and get it done. If not, shame but move on to other targets whoever they may be!
Hugh Jenkins
93
Posted 03/08/2016 at 16:58:39
Colin (1) - For someone whose comments and opinions I follow closely and generally admire, I am astonished by this somewhat xenophobic utterance. I am Welsh, and proud of that fact, but, as I have stated elsewhere, I am also extremely proud to be British.

Having traced my family tree over twenty generations, I am also proud to say, that (like most "Brits"), I have a liberal smattering of English, Irish and Scots in my bloodline / DNA.

Therefore, in any international, I cheer on all home sides, but do reserve the right to support Wales (Cymru), exclusively, if they are playing against any of the other "Home" nations. I am sure that Ashley Williams will become an Everton player and that, in keeping with modern trends and values, his club will not release him at the first time of asking, for the price first offered.

After all - I suppose we could tell Chelsea and Man City to stick a "Thorny Rose" up their rectums, in the cases of Lukaku and Stones, except of course, neither of the clubs is English owned, so we will probably have to settle for a "Hammer and Sickle" (or whatever passes for the Russian equivalent nowadays) and a "Camel", respectively.

Otherwise, I would respectively suggest that you refrain from making denigrating remarks such as the one made in your opening post, as it doesn't become you and is not in keeping with the online persona image I have created of you , in my mind's eye.
Steve Jenkins
96
Posted 03/08/2016 at 17:39:22
Garbutt is the one player I'm really surprised about not getting a number.
I was really impressed with him in the games he played for us and looked to have huge potential.
He's got a beautiful left peg and his deliveries dead ball or otherwise were fantastic.
I think he must be really demotivated atm - after the way Martinez treated him, he was then unlucky last season to pick up a bad injury, which takes time to get back into form from.
It now appears that Koeman doesn't fancy him, even to develop behind Baines.
Either that, or he's looking to loan him out again for his development for this season.
He's one of those players I think will go elsewhere and in time go to another PL club and become a top class player, we turn around and say - I can't believe we let him go.

Rob Esteva
97
Posted 03/08/2016 at 17:44:02
Unless Oviedo is sold, then the best thing to do is loan Garbutt out. His injury didn't help him last season and neither did a shocking Fulham defence. However, the right club that will give him matches, have a structured defence but let him do his thing (I'm thinking a Brentford or a Middlesbrough) would be ideal for him.
Dave Pritchard
98
Posted 03/08/2016 at 18:00:34
Well said Hugh from another Welshman. The general vitriol towards other clubs always seems unnecessary to me anyway irrespective of nationality, location etc.
Stephen Coles
99
Posted 03/08/2016 at 18:03:46
If we want to be serious contenders for a top 4 or even top 6 finish, then we need better players. The kids ain't good enough! if they were they would already be starters, especially if they had the potential to be world beaters like some of you think they have.

World beaters are first team players by the time they are 18. If we want to be a top 4 club then we need world beaters!
Ian McDowell
100
Posted 03/08/2016 at 18:31:34
The key phrase for me is "therefore we have turned down the offer currently on the table."
I'm always amazed at how touchy we are regarding comments on the internet. I'm sure Colin was just having a bit of a laugh.
Lyndon Lloyd
Editorial Team
101
Posted 03/08/2016 at 18:33:28
Just to address Hugh's and Dave's comments (93, 98) and a complaint we received via email, I don't think Colin intended anything xenophobic.
While I'm not truly Welsh, I have a deep affection for Wales and its people – my surname suggests some distant lineage, of course, and I spent five years at university in Swansea – and I'm not sure referring to leeks, despite them being stereotypically synonymous with Wales, is all that offensive.
I don't know Mr Glassar personally but having seen his comments on the site for years, I don't believe there was anything malicious intended; on the contrary, I took it as a tongue-in-cheek cultural reference but that's hard to convey in text.

Graham Mockford
104
Posted 03/08/2016 at 18:45:09
Lyndon
It's a pretty sad state of affairs that someone would actually go to the effort of writing an email to complain about a leek related post.
It seems the Internet has for many people just become a way of being offended.
Xenophobic my arse!
Ray Robinson
105
Posted 03/08/2016 at 18:50:00
If it were a leaked email, I might get annoyed. Surely just an innocent attempt to introduce a bit of humour? Why get upset about it?
Dean Adams
106
Posted 03/08/2016 at 19:44:21
I have to say Colin Glassar and his leek comment never even registered as any kind of xenophobic comment. As a Welshman and a proud toffee I see no problem with a bit of "width" being used to broaden the threads. No offence taken here Colin, but what have you done with your legendary "crystal ball".
As for Ashley Williams, he would be a great acquisition for the Mighty EFC.
Peter Howard
107
Posted 03/08/2016 at 19:53:29
Lyndon
Believe me, Colin knows his onions.
Barry McNally
108
Posted 03/08/2016 at 20:19:30
I see Peanuts (hope nobody offended by that!) is training with Sunderland.
Daniel A Johnson
109
Posted 03/08/2016 at 20:26:36
As leeks are a touchy subject...
I guess caravans, sheep and Tom Jones are fair game?
Hugh Jenkins
110
Posted 03/08/2016 at 20:42:03
Lyndon (#101),
I never, for a moment, truly thought that Colin was Xenophobic. As you said, I too have been following him on ToffeeWeb for many years and thoroughly enjoy his comments and insights.
I just thought that this outburst was out of character for Colin and wondered what, if anything, in particular, had prompted it.
Graham Mockford
111
Posted 03/08/2016 at 20:49:01
Hugh Jenkins
#93 "Colin(1)- For someone whose comments and opinions I follow closely and generally admire, I am astonished by this somewhat xenophobic utterance."
#110 "I never, for a moment, truly thought that Colin was Xenophobic."
Almost as good as one of Trump's...
Hugh Jenkins
112
Posted 03/08/2016 at 20:51:22
Graham (104).
To begin, let me say that it was not me that e-mailed a complaint. I am a great admirer of Colin and his posts and read them avidly.
Also, I never seriously thought of him as being Xenophobic - but was surprised by his sudden outburst and wondered what may have prompted it.
I am saddened to learn that your "arse" is xenophobic - but what about the rest of you?
Hugh Jenkins
113
Posted 03/08/2016 at 20:59:06
Graham (111) - my reply at 112 was posted before I saw your response at 111. The key here is the word "somewhat", in my original post.
The dictionary definition of "somewhat" is "to a moderate extent or by a moderate amount; rather".
As indicated, it implies a moderate tendency towards, not an outright accusation.
Consequently, my second post upheld this view, rather than being a total volte face, as per Mr Trump.
Graham Mockford
114
Posted 03/08/2016 at 21:27:01
Thanks Hugh
I like the use of 'somewhat' to change the meaning of a word. It nice to know you only thought Colin was moderately xenophobic.
I think Jeremy Clarkson is somewhat annoying and Nigel Farage is somewhat of a racist fucknugget. No, forget that... Farage is a racist fucknugget.
Hugh Jenkins
115
Posted 04/08/2016 at 07:51:28
Graham (114),
LOL - your opinion of the two gentlemen mentioned is interesting, but irrelevant in relation to my view of Colin's post.
You didn't answer my question however.
We now know that your "arse" is xenophobic, but what about the rest of you?
Given your comments on J. Clarkson and N. Farage, would it be fair to say "intolerant" was an apt description?
As is oft credited to Voltaire, but was actually uttered by Evelyn Beatrice Hall: "I do not agree with what you have to say, but I'll defend to the death your right to say it".
I have subscribed to this view for all of my adult life.
Consequently, I do not question what Colin said, merely what drove him to say it?

Similarly, I do not question your right to say what you did about J. Clarkson and N. Farage - I am merely enquiring into what has driven you to say that?
Is it, xenophobia, intolerance, or mere pique?
Dave Pritchard
116
Posted 04/08/2016 at 10:22:26
Hugh, 112. As the other Welshman who commented yesterday I can also say it wasn't me who emailed the complaint. Hugh has said it all really with respect to Colin.
I may well be in a minority on this but the slagging off of other clubs, when not tongue-in-cheek, and particularly when it is particularly vitriolic and full of profanities always strikes me as being unnecessary. Yes, support your club but in a positive way rather than indirectly by having a go at others.
Phil Bellis
117
Posted 04/08/2016 at 18:09:21
On a slow news day, guess which word in the following, shouted in the Lower Gwladys during a derby game,
caused a fairly unseemly altercation among fellow Blues
"Fuck off Rush, yer big-nosed, ugly, Welsh, turncoat kopite!"
Brin Williams
119
Posted 04/08/2016 at 20:39:36
BG (#71) – "...but Williams is far more of a leader than Kone."
Having said that, I see that we have been linked with another Kone – soon, we will have enough to form our own contra-flow system!!
John Audsley
120
Posted 04/08/2016 at 23:12:21
PB
I'm going to have a guess its "Welsh"
Eric Holland
121
Posted 04/08/2016 at 23:32:09
There are some old women on here! Twitching curtains if you park outside there house me thinks!!!! FFS get over it.
Christine Foster
122
Posted 09/08/2016 at 13:07:40
Stones gone for £47.5 and Williams signed for £12m on the BBC...
---
Add Your Comments
In order to post a comment, you need to be logged in as a registered user of the site.
Or Sign up as a ToffeeWeb Member — it's free, takes just a few minutes and will allow you to post your comments on articles and Talking Points submissions across the site.
© ToffeeWeb