Kanchelskis: I'd have stayed with Everton if I could

51 Comments [Jump to last]
Monday 21 November 2016
Goodison favourite Andrei Kanchelskis has revealed that he would have liked to have stayed at Everton to build on his thrilling first season in the royal Blue but he accepted the business case for the club raising funds by selling him for a £3m profit in 1997.
A £5m capture from Manchester United in 1995, Kanchelskis was Joe Royle's marquee signing that summer and, though it would take him a while to notch his first goal because of his protracted transfer from Old Trafford and an early lay-off with a dislocated shoulder, his Goodison career ignited with a precious brace in the Anfield derby.
He would go on to score 16 goals that season, including the last winner scored by an Everton player away at Arsenal in the Premier League and a memorable hat-trick at Sheffield Wednesday in a 5-2 victory.
His form fell off a proverbial cliff in tandem with that of the team the following season, however, and he was offloaded to Fiorentina for £8m in March 1997 shortly before Royle left his post following a dispute with then-Chairman Peter Johnson over transfer funds and targets.
"I remember the good times here and in that first season I scored 16 goals and was top scorer at the club," the Ukrainian-born winger, now 47, told the Liverpool Echo. "We were a little bit unlucky, if Arsenal hadn't won on the last day of the season we'd have qualified for Europe.
"In the second season there were financial problems and we couldn't buy the players that we wanted. Joe said to the chairman and the newspapers that we needed more players if we were to challenge for the top four.
"The chairman told him that he had no money and they sold me to Italy. The directors told me that they needed the funds to buy new players. It was a good investment for the club to buy me for £5 million and sell me for £8 million.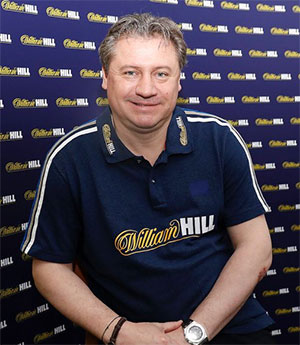 Kanchelskis today, pictured at William Hill's revamped shop opposite Goodison Park
(Liverpool Echo)
"I'd have liked to stay here because this is where my family was, living in Manchester, and my kids were born here.
"But this is football, this is life. Today we are here, tomorrow we could be in another country."
Asked about the current Everton side prior to the home draw with Swansea this past weekend, Kanchelskis cautioned that it was still a little early to judge the impact Ronald Koeman can have on the team.
He wasn't ruling out a top-four finish and qualification for the Champions League, regular participation in which he sees as the main goal for the club.
"It's only three months into the season so we'll have to wait what happens because it's too early to talk about improving the team," he said. "It's difficult.
"There's potential to challenge for a Champions League spot, it's not a bad squad.
"I hope that they can also buy some new players in January but this is a decision for the chairman and the manager.
---
Reader Comments (51)
Note: the following content is not moderated or vetted by the site owners at the time of submission. Comments are the responsibility of the poster. Disclaimer
Dean Williams
2
Posted 21/11/2016 at 07:52:11
Great player and great season for us, shame he had to move on because of his gambling problems and debts.
Matt Traynor
3
Posted 21/11/2016 at 07:54:53
Not sure about his recollections – his form did drop off a cliff to the point many of us suspected he was forcing a move. Rumours of dodgy underworld connections controlling this guy dogged him for years. But during that all-too-brief Goodison spell, what a cameo.
Oh how we thought we were about to enter another golden age... sounds familiar!
Eugene Ruane
4
Posted 21/11/2016 at 08:56:58
Went into Hills before the game (as I usually) do, was given a ٠ free bet voucher and got my pic taken with Kanchelskis.
Sweaty, bored, stunk of drink, overweight and bad tempered... is what I think I heard him say as I walked off.
(My Russian is a little rusty.)
Rob Williamson
5
Posted 21/11/2016 at 10:17:12
Eugene. Nice one – made me spit out my cornflakes.

Martin Nicholls
6
Posted 21/11/2016 at 10:21:52
Matt (#3),
My recollections same as yours! Giving the ball to Waddle in the Bradford FA Cup tie was what convinced me he was trying to force a move. Some (but should have been more) great memories of him though!
Gavin Johnson
7
Posted 21/11/2016 at 11:42:19
Sounds like he's rewritten history a bit there. He stopped playing for us in the 2nd season. He was abysmal in some of his final games, especially the FA Cup shocker against Bradford.
As for it being good financial business, Foirentina still hadn't paid us the full fee years later.
Post of the day for Eugene.
Jack Convery
8
Posted 21/11/2016 at 11:54:35
I remember he came out during that 2nd season and said he'd been told EFC would buy 2 Italian Internationals when he signed. We didn't of course and he said we needed better players. As you can imagine, that went down like a lead balloon in the dressing room.
I also remember him scoring a cracker at the Street End and not one player went over to celebrate with him. It's typical EFC that the best player is sold to keep the finances okay and perhaps the dressing room happy too.
As regards his dislocated shoulder, it was Lee Sharpe who did him when Man Utd came to town. He's the only player to wear the blue since Howard Kendall's '80s team, that would have had a chance of getting into it. No-one else has come close.
Great player. I had a shirt signed by him, which I've passed on to my nephew.
Liam Reilly
9
Posted 21/11/2016 at 11:57:25
If I recall correctly, there were rumors that he owed some very unsavory characters a sizable sum of cash so he manipulated the move himself.
Shame, a real quality player and we didn't see enough of him.
Declan Brown
10
Posted 21/11/2016 at 12:19:10
Wasn't there rumours of him being a big gambler and he needed the money too from the transfer? Again, could only be rumours.
I will never forget this guy for giving me my best football birthday present ever, 2 goals at the Kop on that dark rainy November Saturday afternoon in 1995, I remember that day like yesterday. Limpar dancing through 4 Liverpool players in midfield before laying Kanchelskis off with an absolute peach of a pass then Kanchelskis buried it. Brilliant memories.
Surprised by this sudden attitude that pressing is the new way forward in the Premier League, if my memory serves me right, the Big Joe's Dogs of War of 20 years ago were very good at it (Big Joe said if AC Milan could do it, then so could Everton). It's nothing new.
Marc Carran
11
Posted 21/11/2016 at 12:23:42
Is it right to refer to him as "Ukrainian"? Regardless of politics, it's clear by his actions that he refers himself to be Russian.
Peter Gorman
12
Posted 21/11/2016 at 12:49:20
Not how I remember things.
Tony Waring
13
Posted 21/11/2016 at 13:01:10
I wouldn't have recognised him from the current photo! He was great in that first season. Oh for some of that power and determination now!
Ste Traverse
14
Posted 21/11/2016 at 13:32:34
Probably the last genuine world-class player to have played for us. Amazingly good in the 95-96 season. Shame he was only here for 18 months.
I do remember his form dropping off in his last few months at the club as rumours went around that other clubs were interested in him, and other rumours circulated that he wasn't that popular in the dressing room. (I remember him scoring against Sheffield Wednesday at Goodison and not one player went to congratulate him.)
Davie Turner
15
Posted 21/11/2016 at 14:10:08
Kanchelskis... Limpar... it probably rose-tinted specs to an awful period of history but I would take both of them today over our current wide players. It would have been nice to get them for longer and in their prime but they both provided entertainment and memories.
Brian Wilkinson
16
Posted 21/11/2016 at 14:29:41
Jack @8 I have to disagree, I would have had Beardsley as well.
Rob Sawyer
17
Posted 21/11/2016 at 14:31:20
My live sightings of Andrei in a Blue shirt were fleeting due to his shoulder injury and me living abroad at the time. However, I can safely say that, in over 30 years of watching EFC regularly, he is one of the few players to reach "World Class" performance levels in a royal blue shirt.
The others? Lineker, Southall and, on a good day, perhaps Beardsley and Limpar. Rooney and Stones have reached/will reach those levels but not in an Everton shirt.
My recollection from press reports at the time was that Andrei had his head turned in his second season and his performances dipped so EFC cashed-in. At his best he was a devastating wide-striker (not a winger) with electric pace and great shooting power.
Ray Roche
18
Posted 21/11/2016 at 14:38:54
Anyone who thinks his head was turned to go to a "bigger" club or to move for anything other than money, just type in "Kanchelskis gambling debts" or "Kanchelskis mafia" on Google... even Alex Ferguson mentions bribery etc in his book.
Eugene Ruane
19
Posted 21/11/2016 at 14:47:22
Any one who thinks his head was turned to go to a "bigger" club or to move for anything other than money, just type in "Kanchelskis gambling debts"
Well I'm sure that's all in the past and it was good to see him IN WILLIAM HILLS steering clear of that sort of thing...
James Ford
20
Posted 21/11/2016 at 14:54:59
Rooney tearing Campo apart and Kanchelskis doing the same to Sheffield Wednesday remain two of my favourite games.
Ste Blundell
21
Posted 21/11/2016 at 15:00:53
Just been reading this about Kanchelskis on The Republik of Manchuria site... very enlightening.
Bombs and bungs: The story of Andrei Kanchelskis's United exit.
Andrei Kanchelskis is a Manchester United cult hero. The Ukrainian winger played a huge part in United's marvellous mid nineties team – Ferguson's first great United side. Alongside Giggs, Cantona, Hughes, Ince and the rest, Kanchelskis's lightening quick, direct performances down the right flank ensured his place in United folklore. He even scored a derby hattrick against rivals City.
Kanchelskis's acrimonious Old Trafford departure in 1995 is one of football's most intriguing and mysterious tales. Rumoured reasons for his exit are still discussed on Manchester streets to this day 20 years on, with hearsay and gossip spun wildly into webs of urban myths that wouldn't sound out of place in a Bourne Identity sequel.
Before we talk about the shady end, it is important to discuss the equally shady beginnings. Kanchelskis was recommended to Ferguson by agent Rune Hauge – the same unlicensed agent who was involved in George Graham's "bung" scandal of 1995. With the help of Hauge and Kanchelskis's agent Grigori Yesaulenko, United signed the winger for ٟm in 1991 from Shakhtar Donetsk.
In Ferguson's 1999 book "Managing My Life" he revealed that three years later in 1994, Yesaulenko handed him an unsolicited gift at Manchester airport — 㿔,000 in banknotes in a shoe box.
"I thought it contained a samovar, or some other typical Russian gift" Ferguson said. But when he opened the parcel at home, he saw that it was packed with cash. Ferguson decided to put the box in a club safe in the presence of lawyers. The cash sat there for almost a year, before Yesaulenko turned up again and was almost forcibly given back the gift.
Yesaulenko had arrived to talk business though and demanded that United accept an offer from Everton for Kanchelskis. United had earlier rejected an offer, which they felt wasn't worth enough to the club after the fee had been split according to clauses in Kanchelskis's contract. The Independent newspaper obtained a copy of those contract clauses in 1999 which detailed that Shakhtar were to be given 30% of any profit made from any future sale. 30% of any fee was also to go to the player himself.
United's boardroom wanted to make ٣m from the sale and so they pulled the plug on the deal. Yesaulenko, who wanted to make a cut of his own from the transfer, was apoplectic.
In a meeting with United chairman Martin Edwards, Yesaulenko told him ""IF YOU don't sell him now, you will not be around much longer." He also told Edwards he would sort out the Shakhtar "problem", allowing United to keep more of the fee.
A month later, Kanchelskis was sold. Two months after that, Aleksandr Bragin the Shakhtar president and five bodyguards were blown up at Shakhtar's ground four minutes into a match against Crimean team Tavria. (Bragin was known as "Alik the Greek" in the Ukrainian criminal underworld.)
The events which led to his death began after Yesaulenko threatened Mr Edwards and said he would "sort out" the Ukrainians. While the Kanchelskis talks were stalled, Mr Yesaulenko sent a fax in English to Shakhtar asking one of the club's board members, name Kolotsei to forward the fax on club notepaper to Manchester United. The fax, dated 13 July 1995, waived Shakhtar's rights to their 30% cut of transfer profits and United happily moved Kanchelskis on to Everton.

Aleksandr Bragin and his colleague, Ravil Safioullin, claimed Mr Kolotsei wasn't aware of what he was forwarding in the fax. In a letter sent to United (dated 19 September 1995) they wrote:
"Mr Kolotsei signed … text in the English language prepared by Mr Yesaulenko… only because Mr Yesaulenko requested and explained that this fax was necessary exclusively for helping Andrei Kanchelskis to solve private problems…"
The controversy surrounding Kanchelskis caused the Shakhtar board to re-examine the original contract for the 1991 move to United. Clause 3 stipulated they were entitled to even more money: 𧵎,000 after Kanchelskis had played 40 games for United, 𧶲,000 after he had played 80 games, and another 𧵎,000 should Kanchelskis pen a new deal. But a check on their accounts showed the money had not ever arrived from United, despite all the stipulations being met.
Initially the board thought that United were involved in dodgy dealings with Bragin. It emerged that Bragin had sent United a fax, asking them to deposit money in an account in the name of Euro Football Ltd at Coutts & Co in Zurich and not Shakhtar's usual club accounts based in New York.
Shakhtar maintained that the Euro Football Ltd account had nothing to do with their club. It appeared that Bragin had been attempting to siphon money away.
After Aleksandr Bragin's death, United and Shakhtar continued to argue over the profits from Kanchelskis's Everton transfer. Shakhtar also needed reassurance that United had made the 𧻞,000 payment relating to the appearance clauses in the 1991 contract – money that had "disappeared" thanks to Bragin's underhanded workings.
In Munich on 23 and 24 January 1996, Maurice Watkins, United's solicitor, proved to Ravil Safioullin (Bragin's successor) that United had been asked to pay the money into a numbered Swiss bank account. The arguments continued until March of the same year, when United made a settlement of 𧾺,000 to bring the chapter to a close. Safioullin claims he was made to sign a confidentially clause after the dispute was eventually resolved. United declined to make a statement about Bragin's death and the subsequent contractual controversies.
In 1998 Grigori Yesaulenko was arrested and charged with tax evasion following the sale of Russia midfielder Dmitry Alenichev to Italian Serie A club Roma. Yesaulenko was vice president of selling club Spartak Moscow at the time and was charged with hiding $7m in Swiss banks after the transfer.
It's easy to see why the Kanchelskis transfer, Bragin's death and Yesaulenko's behaviour were strongly linked to involvement with the Ukrainian mafia and criminal underworld from the outset. You get the feeling that we are only scratching the surface of what was one of football's most unusual set of circumstances.
Sean Patton
22
Posted 21/11/2016 at 15:08:33
As Ste says, the last genuinely world class player to play for us but crucially at his peak – not on the downgrade like Gascoigne or Eto'o, and that as much as anything is why the club has done nothing in the 20 years since his departure.
Dave Pritchard
23
Posted 21/11/2016 at 15:38:00
Eugene @19,
I am guessing that Kanchelskis's fee from Hills was a more substantial free bet than your ٠. I wonder how much Andrei won? If he did win, I'm sure he will have just err... reinvested until it disappeared.
Ray Roche
24
Posted 21/11/2016 at 15:38:32
Eugene Ruane (#19),
When I saw his photograph in William Hills, I was thinking that he looks just a step or two above the tragic figure of Kenny Sansom, a sorry sight wrecked by alcohol.
In Kanchelskis's case it's apparently gambling and mixing with the wrong company. Me Mam was right all along, then...
Richard Reeves
25
Posted 21/11/2016 at 17:50:11
He was unstoppable the day he scored a hat-trick at Hillsborough. I remember us away fans were in the corner of the stadium where there wasn't a roof and it hammered it down for about half-an-hour on a sunny day. It was horrible, like being in a rainforest. A great performance by Kanchelskis though and, at that time, he was at his peak IMO.
Ray Robinson
26
Posted 21/11/2016 at 18:13:30
He
was
a great player undoubtedly but also one of the few who I can remember patently did not give his best when donning the blue shirt. He sullied his reputation in that match against Bradford with his obvious lack of effort.
I've forgiven many a player for a crap performance but not trying in a game is an unforgiveable offence. Sorry, the guy is trying to re-write history.
Peter Mills
27
Posted 21/11/2016 at 18:16:48
Agent Rune Hague – surely some kind of anagramatical pseudonym for Eugene Ruane? This is looking increasingly mysterious.
Paul Conway
28
Posted 21/11/2016 at 18:22:37
There is a match tonight West Brom vs Burnley. A match that could interest only the participating teams' fans.
That's exactly the same for the neutral fans these days, when they see a fixture like Everton v Swansea or whatever. We have become uninteresting and painful to watch.
Drew O'Neall
29
Posted 21/11/2016 at 19:10:21
I humbly suggest Everton could do with breaking the bank for another mercenary, world class player because spunking 㿀m here and there for Eredivisie and Ligue 1 graduates isn't going to give our squad the kick up the ass it needs.
Paul Burns
31
Posted 21/11/2016 at 19:53:03
You don't need rose-coloured specs to take Limpar and Kanchelskis over the crap we have now. That period wasn't as awful as what we are going through now, we won the FA Cup and played some great stuff the season after in the league.
The Dogs of War, these wingers, Paul Rideout... it was a magical period. How could anyone forget that?
Paul Burns
32
Posted 21/11/2016 at 20:02:02
The last 30 years takes in Peter Reid, Kevin Sheedy, Graeme Sharp, Trevor Steven, Kevin Ratcliffe and many others better than Beardsley etc. These players wiped the floor with everyone and Everton were voted the World's best team in 1985.
It comes to something when people claiming to be Everton fans underestimate the quality of these legends, some of the best players ever to come from this country and their records prove it.
And if you know your history? The mind boggles at some of the comments here.
Harry Wallace
33
Posted 21/11/2016 at 20:08:08
His son is a huge Everton fan and is on Twitter. Wasn't too bothered by Russia taking over Crimea and Eastern Ukraine with tanks, BUKs and Troops mind so might side with these dodgy Russians...
Harry Wallace
34
Posted 21/11/2016 at 20:09:37
I remember his goal too against Leeds at Goodison Park. What a strike and it made the Main Stand wobble I am sure. Top player. Wish he had stayed longer!
James Doran
35
Posted 21/11/2016 at 20:13:52
Paul @ 32, Who above has underestimated the players from the Halcyon Days?
Jack Convery
36
Posted 21/11/2016 at 21:28:24
Another thing about how good Kanchelskis was he had Earl Barrett behind him as fullback, probably the worst right back ever to appear in a blue shirt. This meant whatever Kanchelskis did on the right he did on his own.
Neil Madden
37
Posted 21/11/2016 at 21:38:34
Great player. I'm sure it's been mentioned already but that performance against Sheff Wed away was one of the best individual performances I have ever seen by a player in an Everton shirt. Funny enough, Southall's at Sheff Wed a few years earlier is also up there.
Don't know if it has been mentioned already but the rumours after the Bradford game in the cup was the Big Nev chinned him in the changies. It was a very odd performance from him that day. Either he wanted away or there was something even more sinister afoot.
Trevor Lynes
38
Posted 21/11/2016 at 21:45:28
His comments just reinforce my opinion that we have always been a selling club. Every manager down to Martinez has struggled for transfer funds. Let's hope that Mr Moshiri is more generous.
Moyes was Mrs Hubbard throughout his tenure and in retrospect did marvels on a shoe string.Martinez stated the obvious when he said that we needed at least 6 or 7 new squad additions when we reached Europe. But we lost two players and signed two and he was gagged afterwards.
We will remain where we are at best, unless a major overhaul is made over the next couple of seasons.
Jack Convery
39
Posted 21/11/2016 at 21:45:46
If you want to know how good he was, check out YouTube, it's all there: the Sheff Wed hat-trick, the Anfield goals etc.
As for the pass to Waddle against Bradford, he was pressed back and no Everton defender made an angle for him.
I know he should have given it to Big Nev but that wasn't in his make up. He had lost the players and they hung him out to dry.
Mark Morrissey
40
Posted 22/11/2016 at 16:50:11
Kevin Sheedy is on Fantasy Football Club on Friday at 6pm Sky Sports 1HD.
As for Kanchelskis, we got him just past his very best IMO but when he came to us he still had plenty to offer, he was not past it. A terrific player with the ball at his feet.
Chris Williams
41
Posted 22/11/2016 at 17:11:39
He would be in my all time Everton team. He was the difference between a team that finished top six and one fighting relegation.
I was at the Bradford cup tie with my son. An absolutely disgraceful display from him in the context of an appalling team performance . He definitely threw it away that day.
Richard Leeming-McHale
42
Posted 22/11/2016 at 17:42:58
The days of Cream on a Saturday night after another Everton win. I feel so old.
Clive Rogers
43
Posted 22/11/2016 at 18:41:14
He was on ٥ a week in Russia when United signed him and was on 㿔 grand per week when he fell out with Ferguson and joined us on presumably more than that. He was probably on more still at Fiorentina then not quite as much at Rangers, City and Southampton.
A dozen years on an unbelievable wage. He joins the lengthy list of footballers who have thrown it all away if the stories are to be believed.
Paul Olsen
44
Posted 22/11/2016 at 19:12:30
Jack (#36). So that must mean you have forgotten Marc Hottiger?
Sadly, I can't.
Ste Traverse
45
Posted 22/11/2016 at 19:23:38
Clive #43.
No way am I having Kanchelskis was on £40k a week at United in 1995. I recall Stan Collymore costing Liverpool a British record transfer fee in the same year and even he, nor the likes of Alan Shearer, was commanding anywhere near those kind of wages at that time.
John Audsley
46
Posted 22/11/2016 at 19:31:24
He wasn't on £40k a week, no way near that.
Brilliant player on his day but sadly his day lasted for a very short time.
God we need a player like him now, no one comes close to him in this current squad.
Ian Bennett
47
Posted 22/11/2016 at 19:55:39
"On the break – with Andrei Kanchelskis". He was my favourite non Everton player at the time, so I was made up when he signed. Blistering pace, and great goals.
Kanchelskis Kans Kop – I remember it like it was yesterday.
Dave Abrahams
48
Posted 22/11/2016 at 20:07:06
Paul (#44), Joe Royle signed Earl Barrett and Claus Thomson, please tell me he didn't sign Marc Hottiger as well, what a hat trick that would be.
Ian McDowell
49
Posted 22/11/2016 at 20:09:23
Dave 48. I'm sure it was Joe Royle that signed Hottiger.
Patrick Murphy
50
Posted 22/11/2016 at 20:19:26
I think I've copied and pasted the right ones which equal Joe Royle's purchases during his reign as manager. He also shifted a lot of players out too, probably due to lack of finance.

16 Jan 1997 ClausThomsen Ipswich Town £900,000
30 Dec 1996 Terry Phelan Chelsea £850,000
29 Oct 1996 Nick Barmby Middlesbrough £5.75M
1 Jul 1996 Gary Speed Leeds United £3.5M
1 Jul 1996 Paul Gerrard Oldham Athletic £1M
9 Mar 1996 Marc Hottiger Newcastle United £750,000
25 Aug 1995 Andrei Kanchelskis Manchester Utd £5.5M
30 Jul 1995 Craig Short Derby County £2.4M
1 Jan 1995 Earl Barrett Aston Villa £1.7M
1 Nov 1994 Duncan Ferguson Rangers £4.4M
Jack Convery
51
Posted 22/11/2016 at 21:43:00
Paul @44,
I had forgotten Hottiger but still think Barrett was worse as he couldn't pass wind or trap a the proverbial bag of sand.
If you ask me who is the worst ever signing, I have to go back to Bernie Wright who makes Niasse look like Ronaldo. Claus Thomsen comes a very close second though.
We have had some rubbish... in fact, a lot of rubbish. It's a good job the bin men aren't required to collect our rubbish as, with one grey bin once a fortnight, it would take decades.
Andrew James
52
Posted 22/11/2016 at 22:14:10
The problem with the Royle era was that he was allowed to make marquee signings when we couldn't sustain it long term. Not his fault.
So Royle would splash out on Kanchelskis, Speed and Barmby which made for a fearsome attack but we'd go cheap or he'd choose the wrong players in defensive roles like Short, Hottiger and Thomsen. We ended up with a squad that eventually got asset stripped - Kanchelskis, Speed, Ferguson, Barmby – and what was left was threadbare. It was a malaise that took half a decade or more to resolve before Moyes finally moved us up the table and levelled out the squad.
Under Royle there were some great memories but between him and Moyes, I can only really think of Anfield in 1999 or maybe the demolition of West Ham the previous spring under Smith.
Clive Rogers
53
Posted 23/11/2016 at 11:28:59
Ste, John,
I remember Phelan complaining in the press that they had took him from ٥ a week to 㿔 grand and he had fallen out with them.
---
Add Your Comments
In order to post a comment, you need to be logged in as a registered user of the site.
Or Sign up as a ToffeeWeb Member — it's free, takes just a few minutes and will allow you to post your comments on articles and Talking Points submissions across the site.