Kone and McAleny leave Everton

43 Comments [Jump to last]
Friday 9 June 2017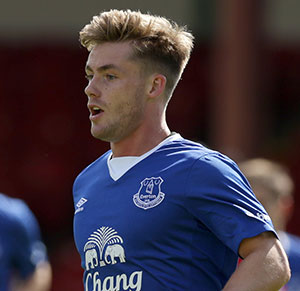 Conor McAleny ultimately failed to make the grade at Everton
Strikers Arouna Koné and Conor McAleny head the list of names on the list of released players submitted by Everton to the Premier League today.
Both players' contracts are up this summer and will be looking for new clubs, as will Delial Brewster and Russell Griffiths, two of the more familiar names from the Academy setup that also aren't being retained.
Jack Bainbridge, Michael Donohue, Tyrone Duffus, Connor Hunt, Josef Yarney and James Yates have also all been released.
Signed by Roberto Martinez in 2013, Koné's Goodison career was disrupted severely by a serious knee injury just weeks into his first season, one which almost ended his career.
He battled back to fitness was unable to cement a place in the first team under either Martinez or his successor, Ronald Koeman.
Local-born McAleny, meanwhile, has spent years trying to make the breakthrough into the first team under successive managers but ultimately failed to convince that he has what it takes to make it in the Premier League.
The now-24-year-old forward has had a string of loan spells either side of a broken leg suffered during a spell at Brentford, with his last spell at Oxford United in League One suggesting he could have a successful career in the Football League.
McAleny scored 10 goals in 18 appearances in the same team as another former Blue, Ryan Ledson, this season as the Us finished 8th.
---
Reader Comments (43)
Note: the following content is not moderated or vetted by the site owners at the time of submission. Comments are the responsibility of the poster. Disclaimer
Liam Reilly
1
Posted 09/06/2017 at 15:29:54
No real surprise.
Kone, as you would expect,departs and McAleny must have known the writing was on the wall; but hopefully he can cement a place in the lower leagues and make a career for himself because he has talent.
Might see him in the Premier League in the future.

Eugene Kearney
2
Posted 09/06/2017 at 15:36:05
These releases are what we expected and there should be a few bob made from the sales of Cleverly, Gibson, Niasse... maybe gather up 㾻 or 16 million???
Trevor Lynes
3
Posted 09/06/2017 at 15:38:10
The first two of many. They should be followed by Barkley, McGeady and McCarthy who will all fetch transfer fees.
Then we should be grabbing for Ziyech! He would create chances and get the best out of whoever we have up front.
Ian Burns
4
Posted 09/06/2017 at 15:44:26
Shattered dreams. I feel for the youngsters and pray they make it elsewhere.
Daniel Lawrence
5
Posted 09/06/2017 at 15:59:21
We should retire the #9 shirt in recognition of Kone's contribution.
Terence Tyler
6
Posted 09/06/2017 at 16:25:00
We got a few mill for Gibson in January, Eugene, also agreed ٦ mill for Cleverly which is due to be paid about now. I think we will struggle to get much for Niasse, probably about half the 㾹 mill we paid for him. So your total is about right.
Peter Gorman
7
Posted 09/06/2017 at 16:32:17
McAleny had a great season with Oxford and I'd be surprised if they don't go for him. I saw him a bit and his standout quality is his finishing, he is a great striker at that level and could probably get a good share of goals in the Championship.
Of the youngsters released, the surprising names would be Jack Bainbridge and Delial Brewster (weirdly best mates from Southport apparently). Brewster in particular was a prolific forward at a younger age but he fell way behind in the pecking order and I think we might not even have Anthony Evans around for long. Best of luck to them all.
Kenny Smith
8
Posted 09/06/2017 at 16:32:19
It's sad for the kids to have their dreams smashed by being released but, if they're truly good enough, they'll get there in the end with someone else.
As for Kone, I wish him well; seems like a decent lad but decent isn't what we need anymore.
Derek Knox
9
Posted 09/06/2017 at 16:34:49
Ian @4
Did that include Eric Dier and Shkodran Mustafi? :-)
Jay Wood
10
Posted 09/06/2017 at 16:36:23
No surprises on the culled list. Mainly some young 'uns most of us have never heard of.
And that is not intended as a slight to them. Hopefully one or two can still carve out a career for themselves somewhere. Quite a number from the Everton academy do.
Conor is possibly one of the 'what if' stories. What if he hadn't broken his leg early in his loan at Brentford. Showed glimpses of his ability in (mainly) friendly games and has shown he can find the net in lower leagues?
Someone will pick him up, I'm sure. Good luck to the lad (and t'others).
Brian Wilkinson
11
Posted 09/06/2017 at 16:40:07
We all knew Kone would be leaving, just baffling why Ronnie still selected him in the last few games, instead of giving Lookman or even Sambou a run-out.
Thomas Surgenor
12
Posted 09/06/2017 at 16:55:39
Surprised at Duffus and Brewster. I haven't seen any of them live but there's been a bit of buzz on here about them in the past. Hopefully they rebuild and have a future in football. Good luck, lads!
Derek (#9) – both of those were never released. One was a loan and the other was allowed to leave on a free transfer with IIRC a year left on his contract.
Incidentally, who is the last player we released that managed to build their way back to the Premier League? Danny Fox and Adam Forshaw are the two most recent in my memory.
Sam Hoare
14
Posted 09/06/2017 at 17:00:38
Brewster scored quite a few goals and looked a decent prospect a year or two back but never broke through into the U23s.
I thought he might get another year.
Ian Burns
15
Posted 09/06/2017 at 17:25:22
Derek (#9),
I take your point but Dier and Mustafi are the exceptions rather than the rule. It's a tough world out there!
John Graham
16
Posted 09/06/2017 at 18:19:57
Expected.
Sad about McAleny and a couple of the youngsters as they looked good prospects early on. Let's hope they find clubs where they can try to develop again and maybe get back to the Premier League.
Always a case of impressing as much as possible or having to make way for new players or others coming through. Let's hope quite a few of the U23s develop into great players.
Ian Jones
17
Posted 09/06/2017 at 18:34:42
Thomas, I thought the same about Duffus. However, it seems the player who has had some good reviews is Courtney Duffus who is his brother.
Joe Foster
18
Posted 09/06/2017 at 18:39:22
Aww... for flip's sake! I just got my new top with Kone on the back as well.
Jeff Armstrong
19
Posted 09/06/2017 at 19:27:47
Joe, you mean "new" to you!... Surely it was a Wigan top from 4 years ago. I mean, who has ever seen an Everton top with Kone on the back of a supporter? Anyone who got one early doors would have binned it after his first couple of performances.
I still cringe at that miss versus Hull. He got injured later in the same game, and that was almost it really. Apart from a hat-trick against Sunderland...10 goals in 60, for a Number 9... FFS.
Mike Berry
20
Posted 09/06/2017 at 19:32:43
McAleny is going to score a lot of goals albeit at a lower level. They loved him at Oxford, and will certainly help a team in their promotion challenge, I hope he has a really good career.
As for Kone, I wish him the best as I always thought he gave us his best, despite his terrible injury; maybe he will get one big last hoorah in China ? he could still knock a few in at the right level.
As for the youngsters released, I hope they have a future in the game and prove to be stronger and better with time. Good luck to them all.
Mike Allen
21
Posted 09/06/2017 at 19:44:44
I feel sorry for McAleny. I always thought he should have been given a run. Busy little player; I don't think he was given a fair chance.
Peter Roberts
22
Posted 09/06/2017 at 19:58:58
Thomas (#13),
Hope Akpan played for Reading last time they were up as well as the two you've mentioned.
James Morgan
23
Posted 09/06/2017 at 20:28:39
Now for McGeady, Rodriguez (f4-year contract!) and Tarashaj (4½-year deal!). The legacy of Martinez.
Mark Morrissey
24
Posted 09/06/2017 at 20:44:38
And how much, ٣ million? Jesus H Christ. They could have paid me a ٟ million each year for the past 5 years and I could have simply stood at the gates and prevented Kone ever arriving for the same money and same result (obviously with less shirt sales).
Bill Gienapp
25
Posted 09/06/2017 at 20:59:30
Brian (#11) – Lookman, Calvert-Lewin, Dowell, etc... had all left for the World Cup, otherwise I doubt we would have even seen Kone on the bench. Agree though, I'm sure there were others in the youth ranks who could have been blooded, it's not like Kone required a Goodison farewell.
James (#23) – I'd still like to see what Tarashaj can do, though I doubt he did himself any favors in Koeman's eyes with that nondescript loan spell in the Bundesliga.
Mike Gaynes
26
Posted 09/06/2017 at 21:55:12
Tough for McAleny... I thought he had the pace and the skills, but the injury really set him back. Agree with Mike Berry that he is going to find happiness for sure at a lower level. Quality young man.
Brian Wilkinson
27
Posted 09/06/2017 at 22:00:53
Does his mean Niasse will get the Number 9 shirt and the spare locker?
[Thought I would lighten the mood a little.]
Jim Hardin
28
Posted 09/06/2017 at 23:10:00
Good luck to Kone. I didn't want him here initially, but he was a positive influence and gave what he had when on the pitch. Maybe he didn't put up the stats on the pitch but he made contributions to the squad in other ways by being a professional. Hope he has a season somewhere free of injury, just to close out his career on a positive note to offset the injuries.
As for McAleny, good luck to him too. I only was able to see snippets of him but he didn't impress me as possessing anything near the quality to displace any of the senior players. Hope he proves me wrong and just needed a long spell of starting and some self-confidence.
Hugh Jenkins
29
Posted 10/06/2017 at 06:13:08
I am normally a "glass more than half-full" optimist as far as Everton is concerned.
However, history has prepared me for the paradoxical inevitability that McAleny / Kone / A N Other ex-Everton player, will score the goal that knocks us out of the FA Cup or League Cup, at home, sometime in the next few seasons.
Maktub! ("It is written"), as the Arabs say.

Andrew McLean
30
Posted 10/06/2017 at 06:38:29
Hugh, shame on you for your low expectations, you forgot Europa and Champions Leagues.
Steve Harris
31
Posted 10/06/2017 at 12:11:43
Exactly, Brian (#11).
I've said on another link what was the point of constantly bringing on Kone instead of the likes of Lookman when it was obvious that he was gonna be out the door in a few weeks?
Having secured 7th, without realistically being able to get higher, surely it was the ideal time to give the youngsters more game time?
David Israel
32
Posted 10/06/2017 at 14:02:25
I'm disappointed that Conor McAleny didn't make it with us in the end. He always looked like a promising striker to me.
Still, to judge by his record at Oxford Utd, and what people have been saying about his performances there, I think we might hear a bit about him in the future. I wish him the best of luck.
Peter Gorman
33
Posted 10/06/2017 at 14:05:48
Steve, I might be wrong but, by the time Kone made the first of his late season cameos, Lookman was already in Japan with the other promising kids preparing for the world cup. Don't think it was ever a case of either or.
That said, I'd rather have seen any young player than Kone; nothing personal but, if he was not in the plans, why give him minutes as you say?
Andrew Grey
34
Posted 10/06/2017 at 21:50:12
I wonder how many of the English players released would have been if we still had the 3 foreigners rule? Mind you, we only had one sub then so maybe all of them! :)
Dave Abrahams
35
Posted 10/06/2017 at 21:56:56
Sam Byrne, the lad who came from Man. United has been retained. That seems strange to me, he has been here at least two seasons, has been injured a lot but doesn't seem to have made much progress. Maybe someone sees something in the lad?
Brent Stephens
36
Posted 10/06/2017 at 22:19:49
Dave, lI ast saw Sam Byrne at a game at Southport last season. Couldn't decide if he looked like a well-built old-fashioned center forward or was carrying too much weight!
Phil (Kelsall) Roberts
37
Posted 10/06/2017 at 23:53:02
I wish we could nail the Dier one once and for all. He was here on loan and went back to his club in Portugal. He was never our player who we released.
Kone had 2195 minutes on the pitch – which equates to 24½ matches – and scored 6 goals, one goal every 366 minutes. It is the rate of 9 goals a season. That would have put him top goal scorer in some seasons!
However, take away the 3 against Sunderland and it really is a very poor return from a striker.
Phil Walling
38
Posted 11/06/2017 at 09:53:04
When I lived in Parbold, my binman wore a Kone Wigan jersey to work. He would only say he was "making a statement!"
Gwilym Jones
40
Posted 12/06/2017 at 08:23:43
What has happened to Shani Tarashaj who went out on loan last season?
Vinny Walsh
41
Posted 13/06/2017 at 21:24:02
I know everyone has gone off on their hols but what is the decision on Valencia does anyone actually know? Personally happy to send him back as I didn't think he was ever going to be more than an emergency impact sub.
And surely there must be a statement on Ross?
Brian Williams
42
Posted 13/06/2017 at 21:25:38
He's gone back to West Ham, Vinny.
Michael Kenrick
43
Posted 13/06/2017 at 21:32:50
Yea, by default, loan players return to their clubs at the end of the season, and then probably go off on their jollies.
Everton apparently had the option to keep him but this story back in April suggested it was unlikely. If it were to happen, it would have to occur within the transfer window (like with Lukaku, and others previously).
Ross Barkley has, according to yesterday's Mirror, given a final rejection of his 𧴜k-per-week contract offer from the club. The club are unlikely to comment officially or make any statement unless something changes.
Brian Williams
44
Posted 13/06/2017 at 22:04:51
Saw that, Michael, but doubt the statement about him turning down the chance to become Everton's highest ever paid player @𧴜k per week, when Schneiderlin's allegedly on 𧴰k.
John Smith
45
Posted 04/07/2017 at 15:18:37
Arouna Kone joined Turkish club Sivasspor on a two-year deal. Sivasspor got promoted to the Turkish top flight.
Add Your Comments
In order to post a comment, you need to be logged in as a registered user of the site.
Or Sign up as a ToffeeWeb Member — it's free, takes just a few minutes and will allow you to post your comments on articles and Talking Points submissions across the site.