Fan Comment
Assessing the squad and our options
Now the transfer window has shut and the dust has settled, somewhat, it is time to focus on things as they are and look at the season ahead. We are 3 games in, with 35 to play in terms of the Premier League, and whilst the cup competitions have yet to start. We have also qualified for Europa League and so have 6 guaranteed games there and should really progress from that group.
The Squad
Goalkeepers: Jordan Pickford, Martin Stekelenburg, Joel Robles.
This is one area of the side where we can be very satisfied. Everyone has been impressed with Pickford so far, he's conceded only 3 goals and he has played 7 games. He looks commanding, he is communicating, he is pulling off saves even in games where he has nothing to do until late, and his distribution has been just as we all dreamed.
As for the other two, no one thought Joel would stay and in doing so, we now have good back-up. Pickford missed England, and so if he is not fit to play against Spurs on Saturday, at least we know we can call on Joel, although Stek has been the sub so far. I think this was because everyone expected Joel to leave but now that he hasn't, id prefer to see Joel move to backup.
VERDICT: quality in depth.
Right-fullback: Seamus Coleman, Mason Holgate, Cuco Martina, Jonjo Kenny.
At right fullback, we are pretty well stocked. However, everything hinges on Coleman recovering to his best. If so, we have back up from Martina and top excellent youngsters.
Martina has not been the nightmare we all thought (especially myself!), and perhaps we should have trusted the Koeman's judgement (he played for both brothers before).
Kenny looks a star in the making. Personally, I am desperate for him to come good, and perhaps that clouded my judgement on Martina.
VERDICT: providing Coleman recovers, we have quality in depth.
Left-fullback: Leighton Baines, Cuco Martina, Ramiro Funes Mori, ?
Leighton Baines is pretty much it. I don't think he is finished. He might be lacking a yard of speed, but over the course of a game he still gets up and down as anyone. He is smarter with his running now, and you will see him conserve energy at times, which gives the appearance of not running back at times, as there is no need for him to sprint back if he can't get there or someone else is covering.
There is no real backup to Baines, as we all know. Funes is injured, and is not really a fullback, although he can cover there during a game, but he's not good enough for an extended period there. Cuco Martina is said to be able to play here, but no one can confirm this until he does play there. It was surprising that the young lads were loaned out (Connolly, Galloway and Robinson) as I thought Galloway in particular could get games. It would be surprising to see Garbutt called upon as he hasn't played for us for three years or so, and his recent loan spells have had disappointing reviews and game time.
VERDICT: Baines cannot get injured as we have no back up, and he cannot be rested meaning loss of form through tiredness is inevitable.
Central-Defence: Michael Keane, Phil Jagielka, Ashley Williams, Ramiro Funes Mori, Mason Holgate
I know Koeman believes that we are light in defence, as does the majority on here.
If we play a back 4, then I think we are comfortable in this position. If the preferred pairing is said to be Keane and Williams or Jagielka, then the other of that can come in on rotation and Keane can be rested in favour of Funes. I always like to have an older experienced central defender alongside a younger hungrier model. Think back to how an old Dave Watson seemed to be ageless with younger partners alongside him. We saw Davie Weir age before our eyes and even as an older player, he was in the Watson mould able to utilise younger legs with his organisational skills. Both of Jags and Williams have those leadership and organisational skills and can help Keane, and more particularly young Holgate.
With Funes injured, I would like to see Holgate get a few games. I would focus on games against lesser opposition, and give him the experience he needs to play centre back. Holgate also needs to spend a little more time in the gym as he is a bit lightweight for centre back. I also question his aerial ability and perhaps Jagielka can help him there, as Jags is not the biggest centre back, but he is great in the air.
In terms of a back five, then we are a player light. Still, I would not have spent any money here, I would instead be looking to shuffle what we have and to dip into the under 23s and Matty Foulds in particular could provide cover from the bench and play the odd game. Not sure how much truth there is to this, but apparently Martina can also cover central defence.
VERDICT: lacking top quality but sufficient cover for a back 4 for the season. Needed another to quality left sided centre back to balance a consistently used back 5.
Right-wing back: Seamus Coleman, Mason Holgate, Cuco Martina, Jonjo Kenny
This is slightly different from fullback. With a back five there is more cover from the right sided central defender and so the right wing back can really attack the opposition. See Chelsea and Man city's use of actual wingers to see the skill set used to play this position. It is far removed from the days we employed Andy Hinchcliffe on the left.
Coleman is superb in this position. But for me, he can play the position from right fullback. We don't actually gain that much from playing him as a right wing back. His stamina and speed was such that he was able to get up and down the right all day long, playing like two men. I hope to god he can recover that.
As for cover, Martina surprised me that he actually seems better as a wing-back than a full back, when everything I read and saw pointed to the reverse. I don't think he's good enough to be the number 2 (ie starter) in a top 6 side, but he's good enough as cover.
Kenny seems made for this position. He seems to be a clone of Coleman. I just want him to get games and start developing into the top-class player we all expect. As a wing back, rather than full back, he is able to get forward more, and we have the security of Keane covering him and perhaps that can help his confidence.
Holgate — quite simply, it's a position too far forward. At fullback, he can defend and show his skills. He has got pace, he can get forward, his touch is not at all bad, but his crossing is woeful. But we really shouldn't be talking about that, no one criticises Jags for his inability to whip the ball in from the touchline. Holgate is a good right back, and potentially a top-class centre back, play him there.
Aaron Lennon — my wildcard is Lennon. I think if we do utilise this position, then Lennon could do a job in a similar way to Moses and Sane, providing the opposition is of the quality that will see him attack more than defend.
VERDICT: all depends on Coleman's recovery, playing a back five we have a little less depth in this position unless we utilise Lennon.
Left Wing-back: Leighton Baines
Leighton Baines is it if we play a back five. There is no one else who can get up and down the left and provide width. Should Martina play there, he seems far too right footed to provide the width.
As for finding a left sided Lennon, I'm afraid that there isn't one. No one else can even whip in crosses from the left wing, never mind cover defensive duties.
I even doubt Baines's ability to play the position. At fullback he gets forward less and so when he does get forward, he can hang back for a bit to recover. As a wing back, there's no hiding. We need a cross-country runner, and Baines doesn't have the lung power anymore.
VERDICT: We don't have anyone but Baines, and he's too old to play the position consistently.
Defensive Midfield: Morgan Schneiderlin, Idrissa Gueye, James McCarthy, Mo Besic, Tom Davies.
We have a ton of players to play this position, but we actually play two positions here. Whether we play 3-4-3, 4-5-1 (4-2-3-1) or 4-3-3, we always use a "double pivot". The double pivot means two central midfielders and the duties are divided between them. One will sit in front of the defence (more) whilst the other will press (more). Schneiderlin has the better range of passing, and you will see he's far more static than Gueye, and gets forward less. Gueye presses more, covers more ground and gets forward. Schneiderlin plays the deep playmaker role, similar to that of Xabi Alonso for Liverpool. Gueye plays the Mascherano role.
The issue is Schneiderlin cannot be replaced. He took Barry's place, and Barry was his cover, but now Barry has left, there is no one who can do this job. I can think of one player, but he just went out on loan — Liam Walsh. Klaassen cannot play this role as his range of passing is limited to short incisive passes rather than long 40-60 yard diagonal balls.
Gueye can be covered by Davies or Besic. Both are capable stand-ins and whilst neither could match Gueye's statistics (interceptions and tackles) I doubt we'd see a substantial drop in quality.
I'll explain why I think we cannot just play one defensive midfielder below in tactics.
VERDICT: Well stocked on the face of it, but too reliant on Schneiderlin.
Central Midfield: as above plus Davy Klaassen and Gylfi Sigurdsson
Here we are talking old fashioned box to box midfielders. These guys play in a 442 or ahead of the defensive midfielders in a 433.
If we played a 442, then I think we need to go for energy and mobility. Of these players, we are talking Gueye, Davies and McCarthy. Those three can go up and down, box to box, all game long. Schniederlin could play alongside 1 of those 3 against a lesser side, but against a top side, he lacks the legs.
If we are talking ahead of two defensive midfielders, then we are talking a central midfielder who's emphasis is more on attack than box to box, not quite an attacking midfielder, as he is operating a bit deeper. So, we are talking Klaassen or Sigurdsson.
VERDICT: Davy Klaassen's position really, but Sigurdsson or Davies can do a job here.
Attacking Midfielder: Gylfi Sigurdsson, Davy Klaassen, Ross Barkley, Wayne Rooney, Kevin Mirallas
This is a number of positions, the number 10, the number 8, the false 10 and so on.
The number 10, the playmaker, the guy whose job it is to deliver killer passes that put players through on goal. The best man we have for this position is of course Wayne Rooney. The archetypal number 10 strolls around, hand on hips like Riquelmhe. We won't be doing that but Rooney can combine those attributes with his all action game.
Sigurdsson can operate in this role as a mobile player looking less for the killer pass and more to play in and off the striker and to pull a defence apart by quick movement than a pass no one could see being played.
Klaassen is similar to Sigurdsson in this role. If he is playing here then he is likely to be doing to from a more withdrawn position, with more than one player ahead of him. Unlike Sigurdsson, Klaassen will not be looking just for the assist, but he will also be looking for the finish, ie the return ball, the one two, or just a decoy run to pull defenders away. With Klaassen here it is speed of movement of the ball that wrong foots the defence, rather than a pass through the eye of a needle.
Mirallas is more selfish, his passing is limited in tight spaces and he either gives it too safe, or he just takes on the shot.
Barkley is the only other one we have who can find those impossible passes like Rooney. However, whilst Rooney can see the space open up before it does and slip a pass into a crowd that parts like the red sea to find it's man, Barkley (at his best), creates the space for the pass by running at defences and drawing men to him, and allowing others to run into space. It's more simplistic but all comes his pace, power, and dribbling ability.
VERDICT: this is the position that wins you games, and as you can see above we clearly have options here, where changing one player can change the whole dynamic of the team.
Left Wing: Ademola Lookman, Yannick Bolasie, Nikola Vlasic
I would say that we don't actually have a left winger. A proper left winger is someone who will attack that byline and whip in a cross with the left foot. All our cross from the left comes from Baines. You will see for that very reason I have omitted Mirallas who is listed below.
The best we have is the right footed Bolasie, who will get wide and who will whip crosses in with his left. But as I said, he's really a right sided player.
Lookman likes to hug the touchline on the left and loves to run at the fullback, but he will often come inside.
Vlasic is an unknown quantity at this stage.
VERDICT: we don't really have old fashioned left wingers, but Bolasie can do a job here, and Lookman can cover.
Left Inside Forward: Kevin Mirallas, Ademola Lookman, Wayne Rooney, Nikola Vlasic
This is the predecessor of the number 10. The old WM formation had a forward line that read like this: 11 10 9 8 7. A front five. The wingers were 11 and 7, left and right. 9 was the centre forward, Dixie Dean. 10 and 8 were the left and right inside forwards. They were slightly deeper than the centre forward, and inside of the winger. The position died with the advent of the 4-4-2. However, it has been resurrected in recent years to describe what you might call a left winger, but one who operates 10 yards further inside, in what we call the channel.
The channel is the space in a back four between the fullback and the centre back. The winger moving into this space causes confusion. Who picks him up? The full back? The centre back? Confusion allows the inside forward to find space or create space. If he is supported by a marauding full back then the old front 5 can be evidence, and so a back four can be outnumbered.
Kevin Mirallas has played this position for a number of years now. He's good at it because he can do the basics very well, that is come inside and dribble at the defence at speed, create the confusion as listed above, and shoot on his right. He's scored a load of goals. You're waiting for the "but" right? Well here it is, he's too well known, too easily predicted, I mean I fancy my chances in tackling him or forcing him to give the ball up. The takes the ball and runs inside, and he's looking for the shot. Defences just need to ensure the shot is not on. He then either runs into a wall or passes it safely and we lose momentum.
Lookman is my man for this position. He is similar to Mirallas in what he wants to do, but whilst Mirallas will only come inside, Lookman will go wide. He dribbles left and right. The only thing is we've seen little evidence that he has a shot to rival Mirallas (at his best), but the couple he has scored has shown that he can develop it.
Rooney offers something completely different. Remember the old inside forward is the number 10. Well that's what Rooney can do. He can play the number 10 position in a 4-3-3 without an actual central attacking midfielder. Think of Koeman's Southampton, he can be the Tadic. He steps inside off the left and gets on the ball and looks to make things happen.
VERDICT: we have lots of options in this position.
Right Wing: Yannick Bolasie, Ademola Lookman, Aaron Lennon
We have two proper right wingers in Arron Lennon and Yannick Bolasie. Bolasie really does get the crosses in, as his last season at Palace shows.
Lennon also loves to hug the touchline, take on the fullback and whip in a ball, although he is equally as good at beating his man and attacking the box and looking for a killer pass.
Lookman is still raw, but he's shown enough to show that he likes to pull the defence wide and isolate a fullback and take them on.
VERDICT: we have some good width and pace on the right, but one of them is injured and the other is only just getting back into the side.
Right Inside Forward: Ademola Lookman, Yannick Bolasie, Dominic Calvert-Lewin, Wayne Rooney, Gylfi Sigurdsson.
So far we have seen Calvert-Lewin play here most, but we have also seen Rooney and we may be seeing a lot of Sigurdsson.
Calvert-Lewin is played just to get him on the pitch he lacks the qualities of a proper inside forward. His instructions are to be a wide target man, to head it inside to Rooney or Sandro, or to hold it up. Or to even use his pace to provide width. He's not done badly to be fair to the lad.
Rooney and Sigurdsson — see description for Rooney as an inside left. Again it is as a wide playmaker. Perhaps is we played DCL or Sandro central, we could have Rooney and Sigurdsson as inside forwards or two wide attacking midfielders looking to both play as a number 10, off the flank rather than on it. Meantime, Klaassen could be running from deep to get on the end of things as either of them drops deep with the ball.
For me though, you need to invert the left inside forward. It's easier to find left inside forwards as lots of them are old fashioned right wingers, inverted so they can come inside on their right and smash it into the top right corner, like Mirallas. So the right inside forward needs to be able to shoot with his left and that is the problem. We don't have many left footers. Now the guy also needs to be able to use his right. So we need a guy who can dribble with his right, go left, go right, pick a pass, come inside and smash a shot with his left. If only we had someone like that? Perhaps he could even wear the number 8 shirt of the old fashioned inside right.
VERDICT: we don't really have someone who can (or wants) to play this position so it is more likely to be where we stick someone, such as Sigurdsson, Rooney or Calvert-Lewin, rather than a specialist.
Strikers: Calvert-Lewin, Sandro Ramirez, Wayne Rooney, Kevin Mirallas, Ademola Lookman, Oumar Niasse.
I was going to break this up into types. But perhaps I will list each and the roles that they can play.
Calvert-Lewin — I would like to see us go all in with Dominic now. He has scored a lot of goals at youth level. He will always be able to say he scored the winner in a world cup final, and he showed against man city that he can be a proper number 9. He's not bad as a target man. He showed that against city. Okay he is no Duncan Ferguson, but remember he made a fool out of Otamendi, an Argentinian international of 45 caps and who cost £30m. He can do a job as both a target man and as the main striker leading the line. He gets his head on things well, his hold up play gets better with every game, and I can foresee a scenario whereby I'd be prepared to have faith in him rather than blow £40m on someone like Deeney, Jiminez, or more on Benteke.
Sandro — There have been some grumblings about the Spaniard, but patience please. It is early days. He doesn't speak English, he's had a few knocks, he's not used to getting kicked like this, but more importantly he's not used to the way we play. Watch his highlight reel. You will see him score the majority of the goals he scored from open play by racing onto a ball in acres of space. You don't see much of him receiving the ball to feet, tightly marked. You don't see much of him operating from still in tight spaces.
He played for a relegation threatened side who played counter attacking football that involved launching it long to Sandro. We don't play that way. He has to adapt. I would actually play him on the left of a front three as an inside forward, in a best Everton XI. However, in assessing the squad to play for the course of a season, as I am doing now, I would instead place him in direct competition for the number 9 position with Calvert-Lewin.
Rooney — the boy wonder is still a genius on the pitch and as I said before, he has the ability to thread passes through tight defences that no one else can. He can also score from anywhere outside the box and in the box, with either foot. The guy is dangerous and poses a threat even if he gets on the ball in his own home (eg his goal against the Slovakians). I see him as either a wide playmaker or a number 10 behind Calvert-Lewin or Sandro.
Naisse — if I am not mistaken, there's not a major footballing country in the world with a window open who can take him (and cover the wages), and clearly, we're low on numbers. So, we have to use him. Get him a few games for the u23s and then get him in the first team. How do we use him? Well similar to Sandro, his highlight reel and his cameos for Hull show a player who is great at attacking space, running with the ball at his feet. This is not us, but he's an option from the bench, as a Valencia, to come on when there is space and we can hit long passes in behind as the game becomes stretched. Surely Rooney can hit a 60 yarder over the top for Niasse to chase after?
VERDICT: there's a big gap where a big name number 9 should be, with Calvert-Lewin his deputy. However, we do have variety and as result options.
Style of Play
Koeman wants us to play with energy, that is lots of running, closing down and pressing. We also need to break at pace, and to play with a high tempo when in possession too. In order to do this, we need to play a high defensive line, to condense the play. A high press only works if you have a short gap from attack to defence. Also, the team needs to be narrow. This means the side is able to hunt in packs and not in isolation, which would mean easily passed around. Speed is not essential for an energetic press, you just need to be switched on, alert, and to close down as a team.
In possession we need to play with tempo. We need to win the ball and snap passes. So if Gueye wins it, it's okay to find Schneiderlin, if Schneiderlin receives the ball quickly, with it hit hard to his feet, rather than him waiting for it to trickle to him. Then he needs to look up and pass it first time. He needs to be, as he often is, what's left, right, and where's Klaassen? Short fast passes are what creates a high tempo. If you can pass through a midfield in one, two or three passes in a couple of seconds, so that the opposition need to turn around whilst our boys are running past them and so have a yard on them, then we've suddenly got as major chance. This is what Koeman preaches, but it's not quite how we are playing and this is what he needs to sort out.
Formation
4-4-2
The dinosaur formation. 4-4-2 is a rigid formation with two banks of 4. That is two straight lines. The problem with 4-4-2 is best summed up by attack and defence.
Attack: let's assume the wingers have got forward and the ball is with one of the centre mids, he's got four attackers, the two strikers and the two wingers, but the wingers are wide and so there's arguably only two attacking.
Defence — you've got a bank of four. The back four. So, four defenders.
Suggested side: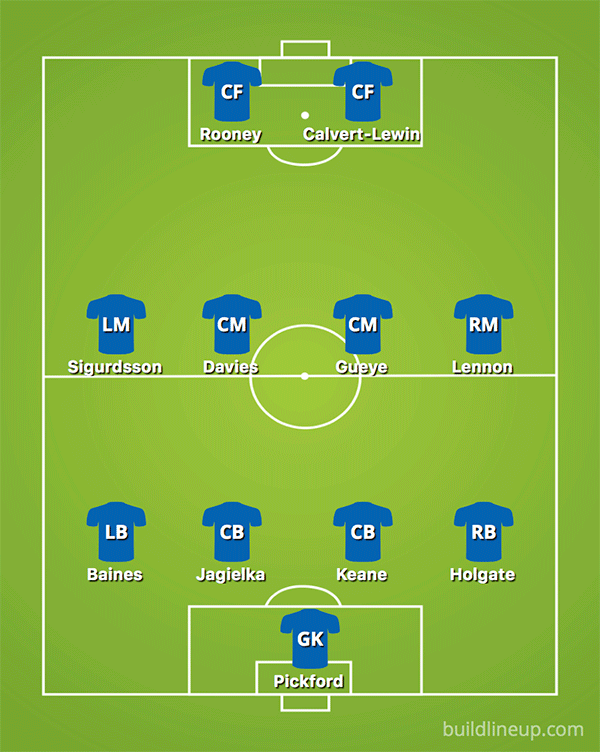 4-5-1
Some on here advocate for one holding midfielder. This is the formation. Let's go with Gueye over Schneiderlin as he covers more ground and is essentially being asked to do the job of two men.
Then we have two central midfielders. Klaassen must be one, so for the other, let's go with the energy of Davies.
The two wide men will be just that, wingers. But if Calvert-Lewin is to be the striker, then we are left looking to select Sigurdsson, Sandro, or Rooney and trying to balance out the formation by playing wingers like Lookman or Lennon. So do we do a Koeman and push Calvert-Lewin onto one wing, to crowbar Sigurdsson and Rooney into the side.
If Rooney plays here as the 9, he can play as a deep-lying forward, rather than a false 9. This means he effectively plays as a 10, looking to be the guy who leads the line, receives passes from the back, but then holds the ball up by coming deep and letting people run past him. But doing this effectively ruins the balance of the side, and what the formation is meant to be. So I'd play him on the wing, coming inside, Calvert-Lewin up top and Lookman on the other wing to run at them. I'd then replace Davies with Sigurdsson to crowbar him into the side.
Attack — there's only one in the box and the two wingers are meant to get there so a total of 3.
Defence — including the defensive midfielder, there's 5.
Suggested team: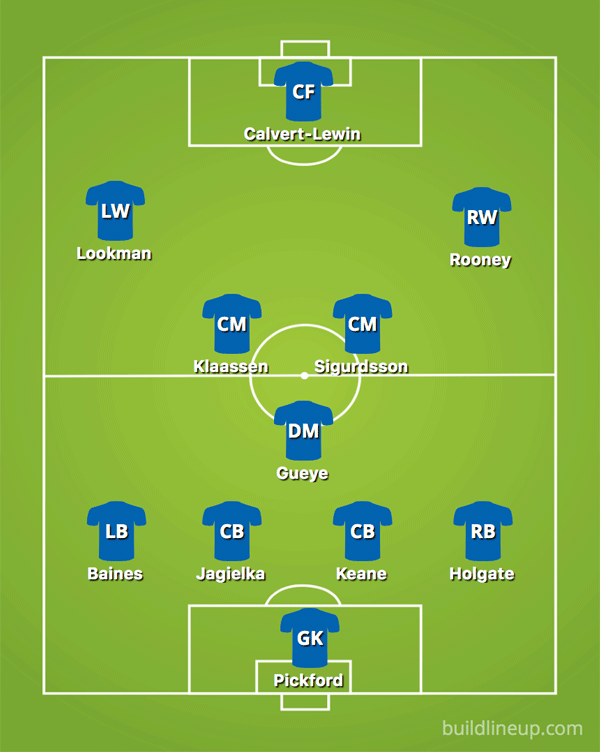 4-2-3-1
The current formation, much derided as too defensive, due to its use of two defensive midfielders in the double pivot as explained above.
Here we can utilise Sigurdsson or Rooney in the preferred position as the number 10.
I'll go for Calvert-Lewin as the number 9 again.
This then leaves two wingers, so we'll stick as above giving as this is just examples.
Attackers — 4
Defenders — 6
This is where this formation destroys a 4-4-2 when properly executed. The full backs have to watch two out and out wingers with no defensive duties due to the two defensive midfielders. The one striker is occupied by the two centre backs, and the attacking midfielder is then free between the line of midfield and attack to cause havoc. Cantona is not as respected on the continent as he is England, they effectively think that it didn't take a genius to work out that if you stood half way between the defence and attack, then the English didn't know what to do and you could destroy them. To properly defend against a 4-2-3-1 you need a double pivot of your own, giving a spare defender after marking the striker and a spare defensive mid after marking the attacking mid.
Suggested team: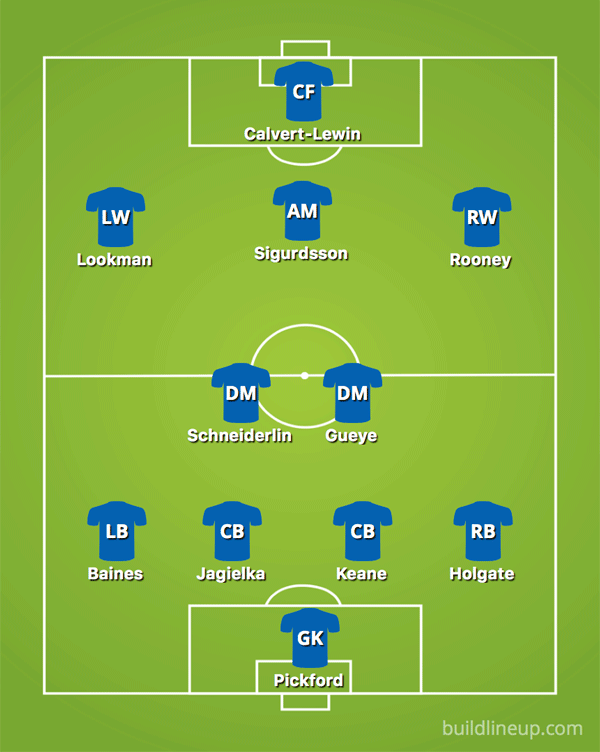 4-2-3-1 (narrow)
As above, but instead of wingers we play two inside forwards and go narrow, encouraging the fullbacks to get forwards.
Attackers — 4
Defenders — 6
The difference now, is that the fullbacks can really get forward, like under Martinez in that first season. This means you can have an attacking six, and actually outnumber the opposition defence.
Suggested team: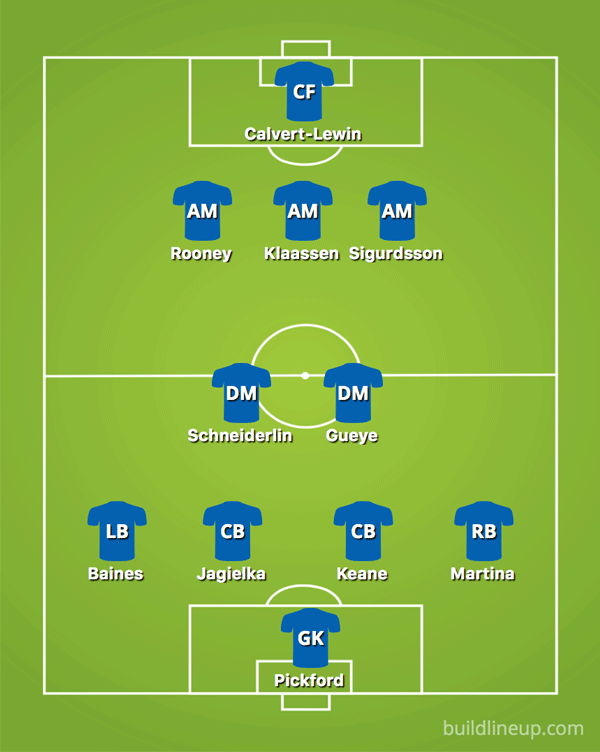 4-3-3 V
Called a V because the three line up in a V shape, which is very similar to a 4-4-2 diamond
The midfield needs to be energetic, lining up against a 4-2-3-1. The sole defensive midfielder will mark the opposition attacking midfielder, the two central midfielders will tend to stay very central and will not go wide, they operate just in front of the defensive mid, and need to be very disciplined and not maraud forward neglecting defensive duties.
In attack, you would have two strikers, with a number 10 behind. So, Sigurdsson, behind Rooney and Calvert-Lewin.
- Attackers 3
- Defenders 4
Suggested team:
4-3-3 inverted V
This has the two Vs flipped (excuse the pun).
Here Calvert-Lewin as the number 9 plays up top on his own, with two forwards either side and narrow.
The double defensive pivot allows a more adventurous selection of Klaassen in centre mid, and allows him to get forwad. Therefore it is not a million miles away from the 4-2-3-1 narrow.
Attackers 3, but Klaassen can make it 4, and the double defensive pivot allows the fullbacks to get forwards and provide width.
Defenders 4
Suggested team: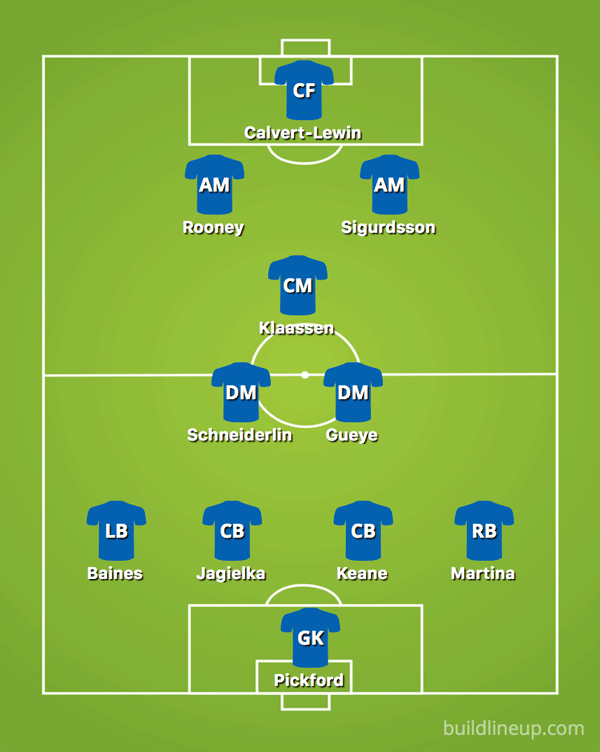 Conclusion
I'm not trying to suggest our best side or best team here, I intended to highlight the systems we can use with the players at our disposal. We do have options, particularly once long term injuries return. But clearly Koeman has assembled a side to play narrowly. And in trying to pick the best XI you can see why he ends up doing silly things like shoving Calvert-Lewin out onto the wing just show he can crowbar in his expensive signings.
Regardless of the formation, it all comes down to the energy of the team, the tone that is set, and the tempo they play at. I feel though, playing the side, I selected for the 4-2-3-1 narrow or the similar 4-3-3 (inverted V) we have the players in the right positions. Here, with this side, it's essential that we do move the ball quickly once we win it. It has to get forward to the feet of the midfield trio of Rooney, Sigurdsson, or Klaassen quickly. With such a narrow formation, we invite the opposition to be narrow in defence and we can easily end up with 10 players in a congested space. This is not a problem. Klaassen, Rooney and Sigurdsson all operate well in tight congested spaces. They have quick feet and can move the ball quickly. If you do this in a congested space, then you can suddenly bypass the opposition midfield in a split second and get through on goal.
We can be positive Blues, but Koeman must select players to play narrowly and no send strikers to the wings to make up for his lack of wingers and pace.
---
---
Reader Comments (23)
Note: the following content is not moderated or vetted by the site owners at the time of submission. Comments are the responsibility of the poster. Disclaimer
Notice
: Undefined variable: commentStatus in
/var/www/vhosts/toffeeweb.com/httpdocs/includes/reader-comments.php
on line
47
Mike Gaynes
1
Posted 06/09/2017 at 23:33:50
Steve, I think if you submit this somewhere as a PhD dissertation, you'll earn yourself a distinguished-looking sheepskin for the wall, and we'll all have to address you as Dr Ferns.
On the other hand, I really do think you need to get out a bit more.
Notice
: Undefined variable: commentStatus in
/var/www/vhosts/toffeeweb.com/httpdocs/includes/reader-comments.php
on line
47
William Cartwright
2
Posted 06/09/2017 at 23:50:35
Excellent post, Steve. Very enlightening.
I have always had a simpler view of things, being brought up on the 2-3-5 system in my schoolboy playing days. Also the developed system of Ramsey's wingless wonders that took us by surprise which then morphed into a 4-4-2 (defensive option) and the 4-2-4 (attacking option) were a sophisticated an option and all I could comprehend!
Formations will come and go, and frequently change during the game. I would like to think there is still a place for a consistent formation (attacking mode) and a consistent formation (defending mode) and for two team selections to be routinely selected, from the basic 'pool' of the best players for each. here the 'best' players' can occupy a place in both systems if / as appropriate. There is a tendency to over complicate things at times. If two systems were adopted, the players would become more used to the playing method?
A simplistic approach perhaps, but it has some benefits. It builds confidence in the players playing within a familiar structure of which they become very
well practiced as well as fostering a team spirit in all senses. Chopping and changing doesn't work for me.
The model of Leicester, practically the same first team sheet every Saturday, based around high fitness levels and luck with injuries (there is a link between the two I believe) was wonderful to watch.
Notice
: Undefined variable: commentStatus in
/var/www/vhosts/toffeeweb.com/httpdocs/includes/reader-comments.php
on line
47
James Watts
3
Posted 07/09/2017 at 00:08:55
I noticed you didn't have Calvert-Lewin as a right-wingback option. Surely a mistake? ;)
Notice
: Undefined variable: commentStatus in
/var/www/vhosts/toffeeweb.com/httpdocs/includes/reader-comments.php
on line
47
Dennis Ng
4
Posted 07/09/2017 at 00:21:36
Wait, you're not going to entertain my 1-2-3-4?
I think a lot of formation and how well players perform will depend on what Koeman plays. He has been very defensive, granted against top 5 teams, but still sat far too deep to cause trouble. A bit more adventure and we can possibly use the full extent of all our creative attacking players.
In fact, based on the players we have, I am confused why Koeman has not been more adventurous.
Notice
: Undefined variable: commentStatus in
/var/www/vhosts/toffeeweb.com/httpdocs/includes/reader-comments.php
on line
47
Victor Yu
5
Posted 07/09/2017 at 08:20:38
Sadly I believe we strengthen the squad one year too late.
If we have this kind of quality last year with Lukaku as the target man, I think we would have made it to the top 4.
Notice
: Undefined variable: commentStatus in
/var/www/vhosts/toffeeweb.com/httpdocs/includes/reader-comments.php
on line
47
James Kirrane
6
Posted 07/09/2017 at 08:50:20
Great read Steve. Thoughtful, insightful and analytical. Maybe there is a position for you at EFC as team consultant?
Notice
: Undefined variable: commentStatus in
/var/www/vhosts/toffeeweb.com/httpdocs/includes/reader-comments.php
on line
47
Stan Schofield
7
Posted 07/09/2017 at 09:16:29
Steve, great analysis.
Notice
: Undefined variable: commentStatus in
/var/www/vhosts/toffeeweb.com/httpdocs/includes/reader-comments.php
on line
47
Rob Dolby
8
Posted 07/09/2017 at 10:08:05
I would love to be a fly on the wall during a Koeman tactical session.12 months in and I am still non the wiser. I am not bashing Koeman here I just don't have a clue most of the time with what he is trying to do.
He has come out and said that we need a striker which nobody can argue with but the stuff about a left-back and left centre-half I just don't get. We have loaned out 3 centre halves one of which is left footed and can play left back.
We have a World Cup winning U20 defender loaned out to Ipswich a very promising left back at Bolton and an ex U21 International in Garbutt still at the club. We haven't got a genuine left midfielder in the whole squad, am I missing something? We seem to have a very strong squad on paper and possibly a lot more square pegs to fit into round holes.
Winning matches papers over many cracks and If we start winning by playing 6 centre mids or Number 10s on the pitch I would not moan, I just cant see a system or pattern of play.
Notice
: Undefined variable: commentStatus in
/var/www/vhosts/toffeeweb.com/httpdocs/includes/reader-comments.php
on line
47
Sam Hoare
9
Posted 07/09/2017 at 10:19:51
The team I'm looking forward to is the one where hopefully the likes of Calvert-Lewin, Holgate and Lookman have developed a bit more and Klaassen and Sandro have adjusted. A team where Coleman and Bolasie are back to their best and everyone is fit. This is my team not for now but the end of the season:
Pickford
Coleman Keane Holgate Baines
Gueye Klaassen (or Schneiderlin)
Bolasie Lookman (or Siggurdsson) Sandro
Calvert-Lewin
Fair to say that we'll never see that team as unlike Koeman I favour width, pace and energy. But I live in hope.

Notice
: Undefined variable: commentStatus in
/var/www/vhosts/toffeeweb.com/httpdocs/includes/reader-comments.php
on line
47
David Ellis
10
Posted 07/09/2017 at 10:31:09
Steve – wow that is a fabulous OP. I don't have any more comments - you've covered every possible angle.
The WM formation (so called because it looked like a W on top of an M if you put the players out on the pitch like one of Steve's diagrams) as I am sure you know emerged in the 1930s with the great Arsenal side. Previous to that teams played 2-3-5. The five forwards (and their numbers 11-7 left to right) continued in the WM formation (albeit with the inside forward dropping deeper than before).
However the WM had three at the back which messed up the old numbering system from 2-3-5 days. In the 2-3-5 formation the full backs were Nos 2 and 3. And the 3 midfielders (or half backs) wore 4, 5 and 6. Which is why in a flat back four you hear commentators talking about "centre halves" who are wearing a 4 or 5 (or would do pre-squad numbers). They used to be half backs but are now really just backs.
I guess in the WM there was one centre half who played as a centre back and wore No 5 – with No 4 and No 6 being the two midfielders.
Notice
: Undefined variable: commentStatus in
/var/www/vhosts/toffeeweb.com/httpdocs/includes/reader-comments.php
on line
47
Chris Williams
11
Posted 07/09/2017 at 11:56:25
Great post Steve. Must have taken a good time to put that together.
I reckon Schneiderlin is one of the first names on the team sheet . I don't have a problem with that as I think he brings a lot to the team, and arguably was our best player in the second half of last season, though he hasn't shown much this season so far. We need his nouse, experience and calmness, which can be missed when it's not there. I think it's easy to underrate players like him but most teams have one.
The window in Turkey is still open and both Niasse and Mirallas are being linked with moves there.
It will be interesting to see how this team and squad develops because we none of us know yet. I just hope Koeman does!
Notice
: Undefined variable: commentStatus in
/var/www/vhosts/toffeeweb.com/httpdocs/includes/reader-comments.php
on line
47
Mark Frere
12
Posted 07/09/2017 at 12:03:47
I think 4-3-3 will be by far, our best formation. We lack natural wide players so let our full-backs bomb forward and provide plenty of width. I think Kenny (in the absence of Coleman) is by far our best attacking Right-back. I wish Koeman would give him a chance.
Pickford
Kenny Keane Williams Baines
Davis Schneiderlin Gana
Sigurdsson Sandro Rooney
Notice
: Undefined variable: commentStatus in
/var/www/vhosts/toffeeweb.com/httpdocs/includes/reader-comments.php
on line
47
Steve Ferns
13
Posted 07/09/2017 at 12:51:08
Thanks for the kind words guys.
I missed off the 3-4-3 bit! I also didn't stress enough that we have only one left footed player at the club in Baines. We have Barkley is all but natural with his left, and Bolasie who is proficient, but both are injured and neither can be expected to play for us before Christmas. This was not something Koeman appears to be considering.
Mark #11, I assume you would play Sigurdsson and Rooney as wide playmakers, with Sandro taking up and advanced position? My fear with that front three is they all seem to naturally wish to drop deep. This allows the opposition defence to push forwards. When that happens you end up with Rooney in front of our defence trying to find space to get a pass. We just end up too defensive. In terms of the central midfield three, would Schneiderlin sit deeper than the other two?
It seems to me that we need to play Calvert-Lewin, because he will go and stand up top and be marked by two centre backs without trying to drop deep and get the ball. He will keep making runs to try to find space and a pass. Basically he will single-handedly keep the opposition defence pushed back. He offers reasonable height, he does get his head to a lot of long balls, and he has more than enough pace to get every defence to drop deep to prevent him getting in behind.
This then creates space for Sigurdsson and Rooney to operate in your side. If you also swapped Davies or Gueye out and put Klaassen in, then he still presses as much, without making tackles, but offers a bit more going forwards, in terms of passing ability and speed of movement of the ball.
With a narrow side, it is important to get the ball up the pitch quickly, so we need some height, and Calvert-Lewin is the best we have.
Notice
: Undefined variable: commentStatus in
/var/www/vhosts/toffeeweb.com/httpdocs/includes/reader-comments.php
on line
47
Mark Frere
14
Posted 07/09/2017 at 13:26:07
Steve
Sandro can be instructed not to drop deep and he does have terrific work-rate that would but the opposition's defence under pressure. I think he could do a great job at the centre of our attack supported by Rooney and Siggy. He is a proven goal scorer in La Liga and therefore, I would at least like to see him start as the focal point of our attack. I have seen him play for Malaga a few times and was very impressed. I was excited when we signed him.
Maybe you're correct about sacrificing one one of Davies or Gana for Klaassen; I just haven't seen enough of him and I'm a big fan of all three central midfielders I listed. Klaassen is more attack minded and from what I've read, he has played a deeper role for Ajax in the past.
Notice
: Undefined variable: commentStatus in
/var/www/vhosts/toffeeweb.com/httpdocs/includes/reader-comments.php
on line
47
Mark Frere
15
Posted 07/09/2017 at 13:30:56
Oh and by the way, Steve, yes Schneiderlin would sit deeper than the other two. He'd be like our quarter back: making plays from deep and mopping up. I think he's very good at that.
Notice
: Undefined variable: commentStatus in
/var/www/vhosts/toffeeweb.com/httpdocs/includes/reader-comments.php
on line
47
Raymond Fox
16
Posted 07/09/2017 at 14:06:55
Steve, you deserve a medal, old boy, for this effort, well done.
Stuck for time at the moment but I'll comment on your conclusions tonight when I get home.
Notice
: Undefined variable: commentStatus in
/var/www/vhosts/toffeeweb.com/httpdocs/includes/reader-comments.php
on line
47
Paul Tran
17
Posted 07/09/2017 at 14:31:13
Super stuff, Steve, that will merit and 2nd & 3rd read. Shows that we have options and flexibility.
The critical issue, as you mentioned, is that we need to press properly from the back and move the ball quickly. Williams's tendency to stay deep is an issue here.
This is where we are for three months. The players are there. I can see what Koeman's trying to do. Can he get it through to the players?
Notice
: Undefined variable: commentStatus in
/var/www/vhosts/toffeeweb.com/httpdocs/includes/reader-comments.php
on line
47
Victor Yu
18
Posted 07/09/2017 at 15:49:33
We are one Lukaku away from breaking into the top 4.
Notice
: Undefined variable: commentStatus in
/var/www/vhosts/toffeeweb.com/httpdocs/includes/reader-comments.php
on line
47
Jay Harris
19
Posted 07/09/2017 at 16:48:26
Good post Steve covering all the angles and in an unbiased way.
I think we left ourselves badly exposed by not getting a proper experienced CF before letting Lukaku go and that will be our achilles heel until January.
Notice
: Undefined variable: commentStatus in
/var/www/vhosts/toffeeweb.com/httpdocs/includes/reader-comments.php
on line
47
Raymond Fox
20
Posted 07/09/2017 at 19:22:52
Nice one, Steve.
The obvious weak spots are as you highlighted the left back position and the lack of a experienced quality striker.
I would have liked to see Galloway in the squad as back up to Baines, as I was impressed with him when Roberto gave him his chance.
Also I would give Niasse some outings as sub, the lad knows where the goal is and puts himself about too. I cant see this happening though because Koeman wont like to back down now.
All the other positions are pretty well covered, but we are still not showing much creativity from the midfield positions which is a must if we are to do well.
I would like to see Lennon used more as he puts life into our attack when he gets on the park.
Overall we have a solid squad of good players, who will keep us in the top half of the table. I'm not expecting any fireworks though, as we are still one notch down quality wise when compared to the 'big six' for want of a better description.
Notice
: Undefined variable: commentStatus in
/var/www/vhosts/toffeeweb.com/httpdocs/includes/reader-comments.php
on line
47
Steve Ferns
21
Posted 07/09/2017 at 20:12:19
Thanks guys, I tried to be as unbiased as possible, even with my subtle Barkley reference!
Notice
: Undefined variable: commentStatus in
/var/www/vhosts/toffeeweb.com/httpdocs/includes/reader-comments.php
on line
47
Alan Bodell
22
Posted 07/09/2017 at 21:06:48
Nice one, mate, for putting so much into that and it was a good read; I agreed with most of it.
Notice
: Undefined variable: commentStatus in
/var/www/vhosts/toffeeweb.com/httpdocs/includes/reader-comments.php
on line
47
Frank Wade
23
Posted 09/09/2017 at 00:12:52
Thanks Steve. Plenty to digest there. Agree we have to play Dominic up front. We have looked very pedestrian at times with central midfield passing backwards as a default option rather than looking to get the ball forward. I am not suggesting a return to hoof ball. Our forward 4 (or 5) plus the full backs have to be on the move when we have possession to give options going forward quickly. I am also hoping for some game time for JonJoe Kenny. With so many new faces in the team since last season, plus the uncertainty around the various 'attitudes' at the moment, it may take some time to gel as a team. 3 points tomorrow could go a long way to restoring confidence.
---
Add Your Comments
In order to post a comment, you need to be logged in as a registered user of the site.
Or Sign up as a ToffeeWeb Member — it's free, takes just a few minutes and will allow you to post your comments on articles and Talking Points submissions across the site.
© ToffeeWeb