Unsworth: I feel ready to manage Everton

403 Comments [Jump to last]
Tuesday 24 October 2017
Updated
David Unsworth has declared his desire to prove he is worthy of managing Everton on a permanent basis following the sacking of Ronald Koeman this week.
The Dutchman was dismissed as the Blues' manager yesterday on the back of a run of results that had left the club in 18th place in the Premier League and bottom of the Europa League.
Just two wins in the last 13 games in all competitions prompted Everton's major shareholder Farhad Moshiri to fire Koeman just 16 months into a three-year contract and while the search for a viable successor gets underway, Unsworth will act as caretaker manager, most likely until the upcoming international break next month.
Unsworth, the current head coach of the Under-23s, will be joined by his assistant John Ebbrell in charge of first-team affairs for tomorrow's League Cup tie at Chelsea and he's hopeful of getting a run of games to showcase his ability to perhaps succeed Koeman himself. Goalkeeping coach Alan Kelly has also been brought on board.
The 44-year-old, who has earned plaudits within the club for stellar work with the U23s, has acted as stand-in for the first team once before, overseeing Everton's 3-0 win over Norwich City in May last year after Roberto Martinez had parted company with the Blues.
And he was back in the media centre at USM Finch Farm this afternoon to take questions from television reporters ahead of the Chelsea game and he admitted that he felt ready to make the step up to management of the Toffees' first team.
"I'm a very proud man to be asked by the Chairman and the owner to take the team," Unsworth began. "At the same time, it's always a tough time whenever any manager lose his job because I've been in football forever and when any manager or coach loses his job, you know that one day that could be you.
"So, it's tough but it's the business we're in. From a personal point of view, I'm a very proud man sat here, fit and able to lead Everton out for.. it doesn't matter how many games. I'll stand there and give it everything I've got.
"It was a very easy decision to make. I sat down with the Chairman yesterday, we spoke everything Everton — from home many games to individual players to plans for the short term, long term.
"But it's not a difficult decision at all to stand as Everton manager. If you're an Evertonian, it makes you very proud.
"Who wouldn't want this job?" he continued when asked if the full-time role was something he was interested in. "It's a wonderful club with amazing fans and it is a top job for absolutely any manager, myself included.
"The Chairman, Farhad (Moshiri) [and the Board have] given me the opportunity to hopefully get a run of games where performances levels go up and we produce some wins as well.
"From that, performances and results will dictate any future for me as Everton manager. I want to manage and this is an amazing club to be manager of. The time has to come to say that [I feel ready to make the step up from the Under-23s]; I've made no secret of it at all.
"However, I do have a wonderful job that is a challenge and it's something I really enjoy. What will be will be; I'll just do my best on the training ground everyday and within the games with the staff I've got, with the players we've got and we'll try and win a few football matches."
Unsworth was asked for his take on Koeman's dismissal which brought to an end a tenure that many had anticipated could be transformative for the club.
He was matter-of-fact about the out-going boss's situation, highlighting that it's a results-based business and Everton's have not been good enough so far this season.
"Everybody will have their opinions and quite rightly so," he said. "The bottom line for any manager when they lose their job is, did you win enough games and, unfortunately, we're in a position where you're going to say, no we haven't.
"But at any football club, if you don't win enough games your position is always be the subject of much debate.
"The club needs a winning manager. That's simple. Whoever gets the honour of having this role has to win. We want a winning manager, someone who knows this club and can win trophies because that's what we need."
---
Reader Comments (403)
Note: the following content is not moderated or vetted by the site owners at the time of submission. Comments are the responsibility of the poster. Disclaimer
Clive Mitchell
1
Posted 24/10/2017 at 01:02:27
Our very best wishes are with you David, and you deserve to be assured a return to your under 23 duties should the first team thing come to an end.
Paul Kossoff
2
Posted 24/10/2017 at 01:05:34
Bring Peter Reid in as general manager with Unsworth as coach, Royle as Director of Football. All true blues, all hands on deck for a fight, anyone not up for it, fuck off!
Steve Ferns
3
Posted 24/10/2017 at 01:07:53
I see he's got Ebbrell with him. David staking a claim for the job on his terms? Surely a sign of his strength and determination and not the big softy he's made out to be.
Eric Myles
4
Posted 24/10/2017 at 01:12:20
If any of the first team are not up for the fight to get out of the relegation zone he surely knows which U23s he can count on to take their place.
Colin Glassar
5
Posted 24/10/2017 at 01:14:33
Good luck Unsy. Like Paul, I hope he's helped by a few experienced blues. Organisation and a bit of pride and passion is what is needed right now.
Zaid Omar
6
Posted 24/10/2017 at 01:16:29
Sensible move for now . they should take their time before making a permanent replacement
Bob Hannigan
7
Posted 24/10/2017 at 01:37:38
Great point, Eric (#4).
Derek Knox
8
Posted 24/10/2017 at 01:40:19
Well said Zaid, my sentiments entirely, who knows, if he can make a decent impression over the next few games.
I doubt whether he has gained enough experience yet to sustain the job on a permanent basis. I can't think of any offhand who have made the transition successfully. There have been quite a few who have appeared to have seemingly cracked it ie, Garry Monk, Aidy Boothroyd to mention two, came in like lions, got a few results, then faded rather rapidly.
I hope Unsy does well, and if nothing else, gets us back on an even keel.
James Flynn
9
Posted 24/10/2017 at 01:42:06
Unless Unsworth knows how to develop a cohesive unit out of the sad passel of players we have for defenders, we remain fucked.
Dennis Ng
10
Posted 24/10/2017 at 01:47:05
James, I feel OK with him getting the unit together, just perhaps the tactical nuances as the game changes. Getting back to basics might be a good thing.
Sur Jo
11
Posted 24/10/2017 at 01:48:07
Let us be very clear about what we need in the next manager. For sure, we need all the good qualities, but that manager does not exist yet. We would settle for some of the most desirable qualities we need for now.
We have tried and tested the most brilliant intelligent mind of up and coming continental Europe managers in Roberto and Ronald. We have fallen flat on our face.
Please let us ditch this brainy type of manager. Unfortunately, I will put Thomas in that category.
I personally would settle for someone who loves Everton, who understands the club, the fans, the city, the owners and the people working at the club. Someone who would skip walking the Manchester broadway with Missus following a drubbing. Someone who can motivate players. Someone who can bring the best out of our £200 million squad and young talents. In other words, it is time we go with an Evertonian in the immediate term.
I am all behind Unsy
Don't tell me about Carlo. He has been sacked in all of his latest appointments. Why would he care about Everton? He will get a job at PSG and the likes. Good for him.
John Pierce
12
Posted 24/10/2017 at 02:01:52
I think too many on these pages either have no faith in Unsworth or are being disrespectful to his ability.
The man has personal ambition and views Everton above all other jobs as the pinnacle. This could be his only chance at the job he covets more than any other.
If he's given a chance I expect him to go at it with a bravura, a cold eyed reality and enthusiasm not see in a blue manager for years.
I'm not for putting the lad in storage until a better time for him and Everton coincide. If he is truly good enough to manage this great club it will show regardless of the state of the team when addresses it.
He will have many of the same hurdles Koeman had and I'd unlike the Dutchman expect him to find a solution to it.
If it doesn't work out then I'm not going to ditch him, I hope the club would help him back into the academy.
It is odd that our past glories are with former players. Thats nice.
But I think underneath it all Rhino is anything but sentimental.
Paul Hay
14
Posted 24/10/2017 at 02:11:33
All the very best David Unsworth.
I hope the players can step up and show more pride in the shirt.
Clive Thomas
15
Posted 24/10/2017 at 02:12:01
At last... a true Blue!
Dennis Ng
16
Posted 24/10/2017 at 02:15:17
John, seems to me Moshiri didn't have a backup before firing Koeman so now it will be Unsworth's chance. I hope he does well, same as any manager who manages our team.
I don't think anyone doubts his ability as a coach with his work with the youths but let's be clear, we have not seen him against actual EPL opponents. This will be his audition. I am willing to say his time while waiting for RK after RM is fluff as it was end of a season with nothing to play for.
If we do get anyone by Nov 4, he would have managed 4 games against fairly strong opponents, and if he can win them all, you can call me impressed and convinced he is ready. Even if he loses all of them, it would be fine by me and would be good experience for him.
Paul Holmes
17
Posted 24/10/2017 at 02:16:47
FFS! it's a game of football, kicking a ball he's not trying to run the fucking country!
All he needs to do is to motivate the players to give their all, the ones that don't then leave them out. Sport is 80% psychology, 20% skill, just watch teams like Huddersfield and Brighton who can beat the big teams with determination and effort.
It's up to the players now; we have got rid of the so-called problem in Koeman... let's see if the problems run a lot deeper with the players.
Phil Sammon
18
Posted 24/10/2017 at 02:18:18
John 12
I don't think too many are being disrespectful to Unsworth's abilities. In my own case, I'm worried any failure on his part could be detrimental to the wonderful progress he's making as a manager. Three straight losses and people will be on his back. That would be hard to take, particularly as he's doing us a favour by stepping up to a hugely difficult job.
Good luck to the guy. It'll be great to have a Blue in the dugout...and someone who isn't afraid to player a winger!
Larry Casey
19
Posted 24/10/2017 at 02:30:20
Finally a true blue in charge again! Even if it is temporary. Please note: Every trophy won by Everton since league football recommenced after WW2 was managed by a former Blues player!
Good luck, Unsy!
Jamie Sweet
20
Posted 24/10/2017 at 02:33:39
Makes total sense to install him as caretaker manager. Give us time to find the very best person for the job.
If, during that period, Rhino proves himself to be the very best person for the job, then give it to him.
If not, give it to the person who is the best person for the job and allow Rhino to continue doing an absolutely stellar job of running the U23s.
I don't want anyone who won't see it as their number one priority in life to make Everton great again.
Unsworth certainly ticks that box which is why I see him as a genuine candidate.
Peter Anthony
21
Posted 24/10/2017 at 02:48:00
Come on Rhino! A man of real quality and substance from the way he conducts himself I believe. He is driven to win. He hurts like us when we lose, because he is one of us. More than that, I believe he has the know-how, drive and commitment to succeed.
I do not question him, my only question is the attitude and application of the obscenely rich, bling and social media darlings of many of today's money obsessed career footballers.
If Unsy can get them to demonstrate passion and commitment as strong as his to Everton, in the way they apply themselves and have pride in themselves in wearing the Everton shirt, the only way is up.
Good Luck, Rhino.
Ian Linn
22
Posted 24/10/2017 at 03:01:22
Has Rhino asked his missus if it's OK to take the job?
Laurie Hartley
23
Posted 24/10/2017 at 03:04:39
Good luck to David Unsworth. A huge challenge in front of him but I am sure every Evertonian on the planet will be behind him.
I will be interested to see his team selection for the Chelsea game.
Up the Blues!!!!
William Cartwright
24
Posted 24/10/2017 at 03:05:48
Team for Chelsea? 4-2-1-3:-
Pickford,
Kenny, Jagielka, Keane, Baines
Davies McCarthy
Rooney
Lookman Calvert-Lewin Vlasic
Could recall Barkley?
John Pierce
25
Posted 24/10/2017 at 03:13:20
Phil & Dennis,
I maybe broached the piece a bit sideways!
With more clarity I think whilst we might have reservations I think Rhino knows the club inside out and if he didn't match up to the standard required then he wouldn't be damaged or derailed. He would know what Everton need, the very best and would accept that.
I see a very hungry, very ambitious guy. UTFT!
David Tennant
26
Posted 24/10/2017 at 03:14:00
William 24,
I see the team the way you do. Agree with that except I'd try and see if Sigurdsson could fit in.
I still maintain he is a good player
Laurie Hartley
27
Posted 24/10/2017 at 03:35:39
William # 24 - I think Ross Barkley is still recovering from his injury but who knows our new gaffer might put him on the coach for the trip to Stamford Bridge.
Daniel Lim
28
Posted 24/10/2017 at 03:39:54
In hindsight Moshiri has proven that he is really a smart one.
The timing of the sacking makes perfect sense. Our next game is the Mickey Mouse cup instead of an important league game or the Europa League(has to be more important than Mickey Mouse).
Imagine what kind of pressure Unsworth would have if it's the Leicester game next. Now he still can lose to Chelsea and everyone would still relax and he has the luxury to experiment although it's only one game.
Todd Watkins
29
Posted 24/10/2017 at 03:58:42
I think we will do Chelsea.
Bob Parrington
30
Posted 24/10/2017 at 04:24:48
I hope Unsy can pull rabbits out of the hat. Not an easy game to start with but let's hope he's not judged harshly if he doesn't get the bunny immediately, The way the team has been working together ( or should I say "not" working together) might require some major surgery.
Good Luck Unsy and Ebbsy!
David Pearl
31
Posted 24/10/2017 at 05:05:32
I remember Phillip Carter saying giving the job to Colin Harvey after Howard was the easiest and most natural decision. Well this appointment feels right. Barca have a history of appointing from within. He knows the club, he has the respect of everyone, he has the passion and desire. He has also shaped the youngsters into a team... and some of them know him well and are probably grateful for his input so far. I'd rather Unsy get his chance.
We have a disjointed squad. I think Davies is our best fit right back. It's a hard job. Koeman got rid of RM dead wood. Unsy will have to do the same. I wonder if Robles will resurface... where is he? Walsh has got to go. Unless he was bullied or pandering to Koeman. I'd say only Pickford has shown promise. Rooney has done well but not counting him. Can we please have our money back for Klaassen, Sandro and Sigurdsson. That's close to £80 million. Goes out and spends £140 mil on players no better than we already had. Fantastic. What an absolute shambles the pair of them. Sells Barry because Koeman got his man in (Schneiderlin) and how shit is he ? How long is it going to take to sort out this mess!!
John Boon
32
Posted 24/10/2017 at 05:16:11
AS upset as I was with the display against Arsenal, it was actually a blessing. If we had won it would have given Koeman another ten or more games to screw up the team. Unsworth is the ideal choice if he can gain the respect of the players. He really has earned his new position. He was always a gung ho player full of passion and commitment. A major part of management is communication. Koeman was as boring as sour milk to listen to. If he came over to the team as badly as he did when talking to the public then I am not the least bit surprised at his lack of success. He is the one to blame for the complete lack of confidence shown by the players. Unsy has a clean sheet and many of the players must have breathed a sigh of relief to see Koeman go. I wish him all the best when he takes over at Barcelona. He will probably play Messi at left back or even goalie. If not the worst he is easily the most boring manager we have ever had, and I have been watching Everton since 1948. Best result this year Arsenal 5 Everton 2 for all the wrong , no right reasons. Thank you Arsenal helping us to bid farewell to our Dutch clog master.
Will Mabon
33
Posted 24/10/2017 at 06:07:05
Impressive, John, that might be the long service award there, 1948 (or long suffering).
I agree about Koeman. I never took to his persona from way back, long before his time here. Spare us from everyone being over-loud with that forced optimistic extrovert bearing that seems to be considered ideal today, but... Koeman gives off a terrible vibe, and I better many at the club are glad he's gone.
It simply can't be conducive to anything constructive to be that way. I'm not sure it's all his natural self because the disgruntled, impatient face of his press conferences started to soften recently, as he realized things were turning against him. A pity; he was a fantastic player. I watched highlights of his play recently, and it seems hard to equate that player with the man as he is now.
Ron Marr
34
Posted 24/10/2017 at 06:30:13
What I'll remember about Koeman is his appalling treatment of Niasse and Barkley, and starting two DMs for a home game against the team from Cyprus.
Christopher Timmins
35
Posted 24/10/2017 at 06:36:39
Best of luck to the lad, let's hope everyone gets behind him and he wins his first 25 games in charge!
Will Mabon
36
Posted 24/10/2017 at 06:40:26
There'd be a big list if it was all written down, Ron. I think things went wrong as early as the 0-2 Norwich game a year ago, following the wide team changes.
Kev Johnson
37
Posted 24/10/2017 at 06:52:45
Get Peter Reid in to support him. Now he's a guy who will spill blood for the cause. Remember '85 vs Bayern Munich? He will remind the players what it's like to wear the jersey .
John Keating
38
Posted 24/10/2017 at 07:08:44
I truly wish David well and all the luck in the world, he'll need it with this squad.
It would be good for him to be given a run and good for the Club not to rush getting the new guy in.
Hopefully supporters appreciate that it will take time with Unsworth and the priority is the league not this shitty and difficult game at Chelsea.
Once the dust has settled and possibly during the next break the Club should have a bloody good look at both the playing staff and our Director of Football.
Even in these days of player power anyone not fully committed to the cause and the shirt should be binned in January. Better a youngster giving 100% than an overpaid waster strolling through his contract.
I'm not so sure about another foreign manager especially if he has no experience of the PL. Even Guardiola has had to rethink his "philosophy" but he had time and a decent squad, we have neither.
Thomas Lennon
39
Posted 24/10/2017 at 07:10:52
Well that was unpleasant while it lasted and quite possibly the last Dutch manager in PL to be seen for a while. Did I hear a passing comment that the team weren't good enough to play the game Koeman wanted to play? I would have had greater sympathy for the Koeman game if constantly playing backwards prevented goals against.
For future candidates it must be said the list of successful English managers is restricted to those that finish outside the top 6 at least. Good luck Rhino, the list of talented alternates will be very short until the summer as few will want to inherit half a squad. At least success this time will be finishing in the top half again.
There is a lot of quality in this squad and they are very fit. Temporarily switching back to playing the sort of football that our players can play should lift us up the league though certainly not anywhere near the top 5. Mind you, despite our dreadful start I did notice Liverpool only 5 points ahead so all is not lost.
2002 all over again. A string of 0-0 will do !

Ron Marr
40
Posted 24/10/2017 at 07:23:56
Wish all the best for a Rhino but it's going to be tough for a while with the Dad's Army back four and no striker
Anthony Flack
41
Posted 24/10/2017 at 07:31:47
I am not sure your modern footballer responds well for any length of time to a blood and thunder style.
It needs someone with a wide range of tactical and motivational skills and flexibility as the players are not all the same
I don't know if Unswortj has it, no one does, but we will get behind him.
Koeman didn't have it and seemed lost when things went wrong
Martinez wanted to be everyone's friend and still believed in Father Christmas and that doesn't work either .
I think Benitez is the best bet
Mark Jensen
42
Posted 24/10/2017 at 08:00:14
Unsy, pick your best 11. Put them in their correct positions. Give them a plan they know and are used to. Let them get on with it. Simples!
Simon Bradley
43
Posted 24/10/2017 at 08:00:54
Unsworth, as much as I like him is not the long term answer for us, He is one for the future. The PL is a completely different beast compared to the U23's.

Mark Dunford
44
Posted 24/10/2017 at 08:03:18
Don't understand where the Unsworth is soft line comes from. He always struck me as a determined, steely player - recall those ruthlessly dispatched penalties, his performance against Wimbledon in 1994 as one of the youngest members of the side (if not the youngest) that contrasted so sharply with the massively nervy displays of more senior players and how he scored the first goal of the Moyes era. He also won with Everton. A relief to have someone who is not only associated with the club but seems to be steeped in its recent history. We've no idea whether he will be a success, but - before he even starts - can be assured that he cares deeply about Everton, will work hard to achieve and isn't daydreaming of another job.
Johnny Rainford
45
Posted 24/10/2017 at 08:26:35
A team with no balance or confidence and in the relegation zone. Unsy... -everybody- is behind you mate. Coyb.
Ian Hollingworth
46
Posted 24/10/2017 at 08:28:34
I think we are at a cross roads.
If we really have the backing to push for the top 4 and title then we should be making a big name statement. Someone who will bring much needed change to the losing mentality in the club.
If we do not have those resources then maybe going all Everton maybe the answer via Unsworth. He would need good back up and a Peter Reid and Joe Royle combination might just provide that back up to him.
For me, Kenwright still being at the club signals that option 2 might be best as without changes at the top the club mentality will not change.
If option 1 is real then great, time to show us Mr Moshiri but you really do need to take positive actions right through the club.
Steve Pugh
47
Posted 24/10/2017 at 08:36:54
People talk about Unsworth as though he is too young to take the job and should stay with the under 23's a bit longer.
He is 44. Only 2 years younger than Dyche, the bookies favourite. Same age as Tuchel (favourite of many on TW) and four years older than Marco Silva.
Unsworth is running out of time to be Everton manager, give him the job, accept that he will make mistakes and trust in him to learn from them.
Martin Reppion
48
Posted 24/10/2017 at 08:38:46
Its all been said before, but that never stopped anyone on here.
Unsworth has to be given time to succeed or fail. 4 mathces is not enough.
His first team sheet will be interesting. I was at the Lyon game and saw a formation that worked with players in the wrong places being the problem. I believe this would work: A solid back four, Kenny, Keane, Jagielka and Baines, with one man in front that could be Gueye, Schneiderling, McCarthy or Besic. Two central midfielders, ideally Davies and Sygurdssen, supporting a centre forward, who at this point would be Rooney. With two hard working wide men, take your pick from Mirallas, Vlassic, Lookman and anyone else with pace and desire.
When the treatment room clears we have 2 new signings for the season in Coleman and Bolasie. and with the rest of the squad to fit into that team in their proper places we have cover.
All it then needs is for the players to put in a shift to get the fans on side. We don't expect miracles. We DO expect a team to be coherent and show desire. With the right attitude we can prove that the form is temporary and there is no need to panic. And having watched Unsworth as a player , from his debut goal to veteran stage , I can't see the wrong attitude from anyone lasting long.
Dean Johnson
49
Posted 24/10/2017 at 08:42:33
It has to be Rhino until the new year.
If he does well, give him the job full-time, bring the kids through, then if it doesn't work out, then get an experienced manager in and our team will have transitioned into a youth-filled unit
Of the options seemingly available to us, I am not inspired by any of them tbh
Victor Yu
50
Posted 24/10/2017 at 08:45:23
I believe he will put more faith in young players. Also, he is going to appreciate pace and creativity more.
It won't surprise me if Kenny, Lookman, Mirallas, and Davies are starting vs Chelsea. And I believe we have a really good shot at beating them.
Peter Murray
51
Posted 24/10/2017 at 08:46:14
A potential disaster which smacks of panic and the influence of a nepotistic set-up at Everton akin to an Anfield-type boot room.
Moyes had 11 years, Martinez 3, Koeman 16 months. What will the post-interim manager get? 6 months? A fortnight?

Tony Marsh
52
Posted 24/10/2017 at 08:47:39
I have to shake my head at the Unsworth knockers I really do. This no PL experience is pathetic. What experience of the PL did Potchechino have before he got the job at Southampton? Same applies to Howe and Dyche before they got their clubs promoted. De Silva at Hull? Jesus some of you loved Moyes he came straight from Preston N E in the championship.
Unsworths under 23s won the PL last season and have been beating all the so called big teams this year. Englands kids won the world cup last season with a side full of Unsworths Everton players.
Unsworth has more experience in the PL than a lot of managers who come from the continent. Let's have it right Guardiola had never managed in England untill last season. Conte at Chelsea anyone? They all learn on the job.
Give Rhino a break give the lad a chance. David Unsworth is a far better option than the last Muppet we just let go from a £6 million a year debacle or the other Ginger fool some are calling for.Things can only get better now surely.
Phil Walling
53
Posted 24/10/2017 at 09:05:56
Just like everybody else, Unsy will be judged on results.If he wins a few ,give him a contract until end of season when proper judgement can be made.
Of course what they will do is to present some no-mark with a three year deal and pay him off half-way through it. I wouldn't trust Kenwright and Moshy to pick their noses !
Chris Watts
54
Posted 24/10/2017 at 09:10:37
Tony, I've always enjoyed your posts right back to the Moyes days and find myself nodding in agreement.
However do you really not see any risk in unsy taking over full time? I don't think what happens in the next 4 or 5 games count, even Southgate earned the England role that way - new managers always get a bounce.
Unsy has done exceptionally well with the u23's however this is totally different to the first team of a club which has all the pressures of managing multi million pound budgets with the expectations we have. All the others you mentioned there might not have had premier league experience but clearly there are differences. Conte has managed juventus and Italy. Guadilola has won everything in the game. Even dyche had experience of bringing a team up from the championship. Unsy is a complete novice. He may be exceptional but u23 is no barometer of that. In my opinion it would be a very large risk indeed
James Newcombe
55
Posted 24/10/2017 at 09:11:26
Daniel #28, you know what mate, we've never won this Mickey Mouse League Cup in our history, it's about time we ticked it off. Forget the Europa League, we're out of that, and it's far too disruptive to the domestic season.
James Lauwervine
56
Posted 24/10/2017 at 09:13:59
Good luck Unsie lad, we're all behind ya!
Simon Hermansen
57
Posted 24/10/2017 at 09:14:30
We could have the answer to our problem sat in the club already but if we don't try we'll never know. I've got a lot of faith in Unsy, if you read interviews with him he's wanted to coach and manage from his early playing days and talks about the importance of detail as well as inspiring players, often citing the impact Moyes had when taking over from Smith (where of course it was Rhino who scored in his first game v Fulham after a few seconds if memory serves). Let's get right behind him however, in case it doesn't improve, the club should be exploring all the other options from today onwards which I'm sure Unsy will understand
Ray Robinson
58
Posted 24/10/2017 at 09:15:02
Tony, what happens to your argument when you drop the "Premier League" description? All those managers you mentioned had had top flight experience at other clubs, Pochettino was at Espanyol. The fact is Unsworth has had one game managing at the highest level. What do you want to happen? Appoint him straight away and then hang him out to dry if (Heaven forbid) results don't improve?
Peter Mills
59
Posted 24/10/2017 at 09:20:13
Martin#48, I absolutely agree with your post. One of the most essential points about your team and formation would be to ensure Rooney stays in his position at centre forward, not dropping back to take the ball away from Sigurdsson and Davies.
I'm pleased David Unsworth is being given this opportunity, he's going to be fully committed to the task and that is a great starting point.
Tony Marsh
60
Posted 24/10/2017 at 09:20:21
Ray 58
No mate what I am saying is give Unsworth a go until we find some one suitable.I don't want Moyes,Dyche,Howe or any of the other names being mentioned at the moment.I have no worries that Rhino will get us up the table and improve moral.I just don't get the knockers. It's irrelevant who we really want next as a manager because of our current position.I don't want another that coming just for the money.
Like I said plenty of managers do well in the PL without ever managing here before.The Espanyol shout is lame Ray.
John Graham
61
Posted 24/10/2017 at 09:21:14
Forget the sentiment. We need a manager fast who will get these players working together.
Yes great that Unsworth gets a bit of recognition for what he's done with the kids, but it's totally different in the premiership, and if we don't start winning games fast it could be a tough and nervous end to the season.
Ancelotti hasn't done well in his last few jobs even with top players so I wouldn't want him.
For me it's either Dyche, Tuchel, Silva or the guy now managing Hoffenheim.
Let's get someone in fast and start winning.
Kim Vivian
62
Posted 24/10/2017 at 09:21:23
Good luck to D Unsworth.
Hopefully Rhino can steady the ship and get us producing short term so we do not rush into this, and do the thorough background work on any potential target which was evidently not the case with RK. It would be fantastic if Rhino could get the results hold onto the job longer term though.
Apart from how he seemed to be doing with Soton, I believe we rushed into the appointment of RK because he was being connected with Arsenal in order to nip in front and beat them to 'the prize'. We do not ant to fall into that trap with Leicester or potentially WHam, or even Them if Klopp falls.
But they dodged one there 18 months ago, didn't they, the Arse.
Peter Laing
63
Posted 24/10/2017 at 09:22:34
Any word on Duncan Ferguson ? Does he remain or has he also been relieved of his duties with RK, EK and JK ?
Ian Burns
64
Posted 24/10/2017 at 09:22:57
I would like to add the very best of good wishes to Unsy and pray he makes a fist of it. Only time will tell but for sure he will have the backing of the majority of supporters. I can't wait to see the team for Chelsea and Leicester.
It is quite interesting that John Ebbrell (and rightly so) has been given the number 2 post. I wonder where that leaves Duncan Ferguson?
Andy Meighan
66
Posted 24/10/2017 at 09:27:54
People are missing the point here. Any manager coming here is going to find it hard trying to get a tune out of this sorry squad of players. It'll need hard graft on the training pitch and even harder graft on match days. Make no mistake, Koeman has left an almighty mess and it's going take some doing just to get away from the foot of the table.
All this having spent a fortune – it beggars belief. it really does. Bandy about all the names you want. There is no magic wand.
Phil Walling
67
Posted 24/10/2017 at 09:28:27
Big Dunc was a charity project of Kenwright's. If he's kept on, I hope it's for his talent not just to fill his pockets !
Fakey Vawn
68
Posted 24/10/2017 at 09:31:25
Unsy deserves a shot till the end of the season. We need passion at the club right now (not just from the fans) no new manager is going to bring this with him.
Steve Bird
69
Posted 24/10/2017 at 09:42:07
Even though I'm glad to see Koeman go, I still feel the club is under a huge cloud.
The massive failure of some of our summer signings must lay in some way at the door of Steve Walsh, I've never taken to him, he is much too keen on himself in my opinion, always got a self-satisfied smug look on his face – he needs to go
Moshiri's desire to move us on will always be diluted by Old Billy Bollocks and his pathetic teary sentimentality – Kenwright needs to go.
Then maybe I might see a ray of sunshine breaking through.

Rick Tarleton
70
Posted 24/10/2017 at 09:48:43
Good luck to David Unsworth, a part of me wants him to be the next manager, ex-Everton player, whole hearted, seems likeable, done a great job with the U23s and bringing on some really good young players. He obviously has Everton in his DNA.
Yet I'd prefer someone with some experience. In a post above someone mentions the way Brighton and Huddersfield are well-organised. I'd go further both managers seem to have that gift of seeming to have their teams wanting to play for them. David Wagner at Huddersfield at first glance, in particular, looks like someone we ought to be considering. Perhaps with Unsworth as his number two. I'm afraid Ferguson, for me, is part of Koeman's regime.
Geoff Evans
71
Posted 24/10/2017 at 09:52:09
Good lick Rhino, go for it.
David Milner
72
Posted 24/10/2017 at 09:56:03
I for one am happy that Unsy & Ebrell are to be given a chance. I have watched a few u23 games over the past 2 seasons & they are no soft touch.
Remember they lost 8 players from last years u23 & had to start again. They made a better job of it than Koeman did with the 1st team. His excuse that players need more time to blend doesn't wash with me. He bought them & then tried to make them play positions that did not suit them. Absolute craziness.
Unsy has to tell the players that they start afresh & he will pick a team on the abilities they show, no favourites.
The old guard must be given warning, Jags was awful against Arsenal, had not a clue on positioning. He did not seem to know who he was marking & was quick to look at others for fault. It was nice to see Pickford have a go at him for his mistakes. Make Pickford the new Captain.
My team v Chelsea would be.
Stek (Why not)
Kenny Keane Holgate Baines
Davies McCarthy
Vlassic (no 10 role)
Lookman Mirallas
DCL
Baines will have to soldier on till January till we can register Garbutt as cover.
No panic buys needed at present (January). Let's take it we are not going to win the league this season, so let's make sure we avoid relegation & climb to the highest position possible.
We have to start planning for the summer transfer window NOW. Players & manager (whether Unsy or not). We need to assess our loan players that will be returning very carefully, will they be good enough.
Let's get it right this time.
Dave Evans
73
Posted 24/10/2017 at 09:59:46
Wish Unsworth well but he will know that improvement in performance will be about coaching and player management sustained by regular investment. Improvement is not necessarily about getting as many true blues on staff as possible.
Clive Rogers
74
Posted 24/10/2017 at 10:02:53
I can see Rhino recalling a couple of the youngsters who are out on loan. Dowell for one.
Daniel Lim
76
Posted 24/10/2017 at 10:13:03
I thought the rule has changed now that no recall is allowed? I might be dreaming or misunderstood the rule though.
Oliver Brunel
77
Posted 24/10/2017 at 10:14:06
Has it been revealed whats happening with the backroom staff, Ferguson et al?
Daniel Lim
78
Posted 24/10/2017 at 10:14:16
Geoff @ 71.
Who rhino did lick? LOL.

Oliver Brunel
79
Posted 24/10/2017 at 10:15:46
I honestly believe Dowell and Jose Baxter are better than Sigurdsson in that no10 role.
Colin Glassar
80
Posted 24/10/2017 at 10:17:58
I'd love Unsy to be a success but how many caretaker managers have actually succeeded in the long term? None that I can think of.
John Harrop
81
Posted 24/10/2017 at 10:18:33
I really can't understand the clamour to get Sean Dyche into the Everton job, apart from the fact that he appears to be flavour of the month after a few impressive away wins. His overall win percentage over two management jobs is lower than Moyes and Martinez, and only fractionally better than Koeman. Many of his wins came in the Championship, and I just can't see his playing style suiting us.
We're actually only five points behind the Reds, so there's no need to enter siege mentality just yet. Let Dyche's big step up be into the Leicester job - we should be aiming higher!
John Smith
82
Posted 24/10/2017 at 10:21:17
All of Koeman's backroom staff were sacked, except for Big Dunc. Steve Walsh will probably get to stay (just my opinion).
Jerome Shields
83
Posted 24/10/2017 at 10:22:22
I think that Unsworth should be given a chance. Koeman has damaged the club and it will take someone who understands the club to get Everton back on course, bringing back the Everton style we all know and bringing on the younger players.
After that, it depends on how strong Unsworth is. He will have to be strong in man-management, to be honest, with some of the players who are not performing. Whether it's because they are past their sell-by date or not up to the standard required. This includes Everton players who have been in the first team this past two years and new signings. His selection against Chelsea will be interesting,
Some of the managers being touted will not be up to this job. I would prefer to steady the ship with Unsworth and keep Walsh in place. Please, Mr Kenwright, don't lumber him with a management team he doesn't want. Good Luck, Mr Owner and may your god be with you.
Brent Stephens
84
Posted 24/10/2017 at 10:22:54
Having watched quite a few of the U23 games, I've never once thought that the set-up, shape, tactics were wrong under Unsy, even when we lost. And his substitutions have always made sense. While we've had an excellent group of players at that level, their results testify in no small way to Unsy's footballing intelligence, in my view.
I'm very relaxed about this temporary (or otherwise) appointment. Dare I say excited?
Paul Kennedy
85
Posted 24/10/2017 at 10:23:47
What is more frightening is some other paper and the BBC name Phil Nevile and Giggs. I used to manage a superstore and was judged on results, performance and morale of the 500 staff – is it worth me throwing my hat into the ring?
Paul Welsby
86
Posted 24/10/2017 at 10:24:20
Good luck David Unsworth and John Ebbrell! I hope it goes well lads for all of us, it could be a win win situation, have true blues steering this great club forward and save a few quid paying overrated managers 6 million a year.
This is my blue tinted dream scenario but in reality I would go for a manager that has won trophies and knows how to handle the pressure of leading a big club back to were we want to be. Lets not forget we have always hired managers with potential and it just hasn't worked. I just want to see if we hired a manager who has won league titles, cup competitions and experience in the champions league, dare I say it even won it. For me Ancelotti if we had the ambition to go for him and then if he would except the challenge.
One more thing whoever we get we have to back them in the transfer market with top quality players and no dithering or penny pinching that has to stop or we will be back here saying the same old shite.
Oliver Brunel
87
Posted 24/10/2017 at 10:26:14
I would say give Unsy a go and keep the cash for player investment. By christ we will need it...
Ray Smith
88
Posted 24/10/2017 at 10:35:19
David 72
Why haven't you got Pickford in goal?
Regardless of the result last Sunday, he showed why we bought him.
Be interesting to hear your rationale on that?
David Graves
89
Posted 24/10/2017 at 10:36:04
Chance meeting with a Mirror journalist this morning (I did Google him afterwards and he was legitimate!) and he "reliably" informed me that the preferred option is Tuchel.
Len Hawkins
90
Posted 24/10/2017 at 10:38:45
Well unlike all you Football Manager 2017 experts I hope Unsy gets to grip with the job by the throat and makes it impossible for the board to look any further. Reading the BBC text this morning and seeing Neville (pip) Giggs and god knows who else being touted for the job I feel sick.
It also mentioned that Koeman was NOT speaking to any of the players, unbelievable no wonder they showed no interest.
On Sunday Sky showed Tony Bellew with Unsy that should be his first job put him in charge of discipline and fitness anyone not pulling their tripes out goes in the ring with him for 3 rounds.
All this it's a massive difference from U23's to First Team might be a problem for a cringing wreck who is way out of his comfort zone but give Rhino credit for having grit and determination and a good dollop of will to win. I hope and pray (in an atheist way) that Unsy makes it impossible to take the job away from him.
Brent Stephens
91
Posted 24/10/2017 at 10:39:06
Some suggestions already about the side against Chelsea. The main question for me, though, is one of shape and tactics. I know you are limited by the players you've got, but I think shape and tactics are the starting point for each game. I wonder how Unsy will approach this game in that respect; and then who will play given that first decision.
A back 4? A midfield of 4? Pressing. Width going forward? Quick transition and support for DCL on the break?
Steve Ferns - any views?
Steve Solomon
92
Posted 24/10/2017 at 10:39:41
I'd like to think that the players in our squad, most of whom are highly paid and very skillful, haven't forgotten how to play the game.
They seemed stifled and muddled by Koeman's 'system' or lack thereof.
I say keep it simple, play with joy and freedom and start having fun again. Yes there are some gaps in the squad, but there is certainly enough quality to cover the holes temporarily.
For me there only 3 or 4 players that have shown real commitment and ability to work through this tough time and that is Rooney, Davies, Gana and ummm. The rest seem to have been playing under a dark cloud of despair in a system that made no sense. Who can blame them? There is no joy playing under Koeman.
COYB lift your heads and play the game you love and have some fun. We support you all the way, win or lose we will still be here.
Bring back Barkley and Mirallas please.
Sam Hoare
93
Posted 24/10/2017 at 10:44:18
I could not think of a plausible interim manager that I would have more faith in. Everything he does with the U23 from the way he sets up the team, the changes he makes, the football they play and the interviews he gives post-match make me think that he's got alot of the right stuff.
Whether he can hack it at the highest level is anyone's guess but I very much hope he can.
Colin Glassar
94
Posted 24/10/2017 at 10:45:23
As it's now been confirmed, by the Echo, that Kenwright is in charge of appointing the next manager (and is still in charge of all transfer dealings) I have lost all hope.
If he can't get his beloved David back then he'll go for the nearest thing - Dyche.
Len Hawkins
95
Posted 24/10/2017 at 10:49:21
Thanks Colin just when blue chinks were appearing in the clouds.
Tony Marsh
96
Posted 24/10/2017 at 10:49:41
It was in the Sunday papers that Colleen is going on Holiday again and leaving as our Wayne home alone for his birthday. Apparently Wazza and his pals go to a Drag Queen night every year in Manchester. The missus is worried about what might go onwhile she is away. Dont go away then Mrs R!!!
Fucking great isn't it? You would think the club would put a stop to this Clown Rooney and his nights out. Why not go the whole way and get Ryan Giggs in as manager so Wayne has got a wingman for when he goes out Goosing.
First job for the new guy is to restore discipline and make these players respect the badge and the fans.
Do all the partying with Drag queens when the season is over Wayne. Barkley stay out of the all night drinking dens if you stay. Whole place needs a massive shake up.. How about Lilly Savage for the managers job ??
Roy Noon
97
Posted 24/10/2017 at 10:54:03
It was only a matter of time before Unsy tried his hand at full management elsewhere, so it will be interesting to see how he gets on at first-team management at EFC – albeit, it will be difficult to judge on only a handful of games. But, you never know, he may make his stint as caretaker a success and perhaps they'll extend that period in charge until the end of the season. I really don't think he can do any worse than Koeman.
Good luck Unsy, hope you can rebuild our season and restore some pride. By the way, anyone know what's gonna happen with Duncan Ferguson?
Paul Smith
98
Posted 24/10/2017 at 10:54:48
Jim White tweeting aboit Douche in a complementary manner sweet!
Brian Williams
99
Posted 24/10/2017 at 10:55:27
Tony. Lilly's retired, she's now Paul O'grady a good Birkenhead lad(y).
Colin Glassar
100
Posted 24/10/2017 at 10:56:11
Tony, there are rumours that Colleen might take Wayne back (even tho she's not wearing the ring). A big indicator is that she tweeted something about her Louis Vuitton bag while on holiday in Barbados.
Now I'm no handbag expert but apparently it's significant, according to the daily mirror, and it could mean Wazza moving from the couch back into the boudoir which can only be good for us, can't it?
Tom Harding
101
Posted 24/10/2017 at 10:58:00
Just heard that Phil Neville has put himself forward for the Everton Job. Bet that will get a reaction here on TW! Nice guy and not a bad player for us but definitely not a good idea
David Hallwood
102
Posted 24/10/2017 at 10:58:30
Didn't guadiola cut his teeth as manager of Barca 'B'? What we need is a motivator and an organiser. Yes we're in a mess but is the squad the 18th worse in the Prem. Does anyone look at Swansea or West Brom etc and say I wish they had blue shirts on.
I'm still convinced that Klassen, Siggy et al are good even great players they just need direction and confidence. Has there ever been a better example than Chelsea; champions one year then looked like relegation contenders, despite having better players than us the next year because of a divisive, moody manager, to champions again.
Stopping goals against must be the priority, people bang on about the loss of Lukaku, does anyone seriously believe that the results would have been different if he had still been there.
I know we're all like corporal Fraser at the minute but let's not forget the performance v Citteh, which IMHO it was only Koeman not reacting to Pep bringing on Sterling that lost us the points (and of course Holgate's horendous header). Or even Man U; went behind to a worldy but we look the most likely til Williams horendous suicide pass then we fell apart. Since then it's been downhill all the way, but Sunderland we ain't.
Give Rhino a go and give him time to get it right who knows where it'll end up. I thought Koeman was the start of us competing for trophies; and how wrong we all where.
Tony Abrahams
103
Posted 24/10/2017 at 11:01:23
Going to Stamford Bridge, you have got to keep it tight Brent. (I know I'm not Steve mate).
I think the best way to do this is play 4-5-1, especially since its not the widest pitch in the world. Hard workers who can protect our fullbacks, and also help to form effective partnerships out wide?
Three in midfield, and the physicality of Niasse upfront, to try and chase everything down. A fresh start, should always begin with the basics, and once we get those right, then the confidence and belief should return.
Denis Richardson
105
Posted 24/10/2017 at 11:06:02
Phil Neville interested in Everton job.
Hahaahhhahahahhaha - that is one of the funniest things I've read on the bbc for a long long time.
Jesus H Christ!
Franny Porter
106
Posted 24/10/2017 at 11:07:41
I'm made up with this appointment, short term or not.
Its a win win I feel, if he does well we have an Evertonian in place who seems to be universally liked, if it doesn't, we have at least tried this route and can go elsewhere in Jan.
Another good thing is, he wont have any loyalties to any players unlike Koeman. Surely, him like us, can see Martina and Klassen are not good enough for example.
I would like to see a combination of 442 home 4411 away and stick to the same time for a few games when possible.
Pickford (shoe in)
Kenny (doesnt look ready, but prefer him to the others, may just need time)
Jagielka (better than Williams, but not by much)
Keane (out of form, but best of the four)
Baines (out of form, but no other option)
Gueye (sitting in)
Davies (needs a consistent run with no shackles)
Lookman (Right Wing, need his pace)
Mirrales (Left Wing, best option)
Rooney and DCL up front (best of the three)
If we go one up top, put Gylfi or Vlasic in for Rooney and keep DCL up front.
Fucking easy this business.

James Hughes
107
Posted 24/10/2017 at 11:11:12
Tom- If Pip even gets close to being interviewed I will lead the mob myself, pitchfork in hand.
We should go for his brother as he knows everything about football, oh wait I forgot, he is a shit coach as well.
I hope Unsy throws the kitchen sink at the Chavs tomorrow, With Dunc 'n' disorderly waiting at the changing room door. Instructed to slap any player who can't be arsed to put in a shift, maybe that will motivate them.
Matthew Williams
108
Posted 24/10/2017 at 11:13:07
Good luck Rhino... an away win would be most welcome & staying in this competition could really kick us on, if we get a kinder draw for the next round... who knows!
Can we finally end our League Cup hoodoo???
Daniel Lim
109
Posted 24/10/2017 at 11:13:25
What's the bookies price for an Everton win tomorrow?
Hugh Jenkins
110
Posted 24/10/2017 at 11:14:35
I find some of the arguments, against the appointment of Unsworth, do not appear to have any rationale.
Surely the matter boils down to a few basic facts:-
1) Has the candidate proven he can manage a football team?
2) Does he have a proven track record, of success, at any level?
3) Is he also an experienced player at the level at which he is going to manage and in the league in which he is going to manage?
Frankly, I don't think managing in the PL is going to be hugely different for Unsy than what he has done at U23 level.
One of the biggest criticisms of RK was that he was a poor man manager and that he was tactically inept.
Unsy has proven he is good at both so points 1) an 2) above are ticks in the box.
As for EPL experience, well Rhino has played there successfully, and knows what it is all about, which is again more that RK had done.
I don't believe there is any greater pressure managing the first team than there is managing the U23's.
After all, the aim, is the same - pick your best side and tactics to go out against the current opposition, and play to win.
That surely is no different to what he is doing now with the U23's?
The pressure comes if you don't win and you don't know how to alter your set up to combat that.
That is what RK has been sacked for.
Terry Underwood
111
Posted 24/10/2017 at 11:19:58
IMO, we need a league cup run like a kick in the goolies, write it off and concentrate on Premiership survival. Settled team, settled formation, then...
"Cry havoc, and let slip the dogs of war" ( MkII )
Paul Welsby
112
Posted 24/10/2017 at 11:26:16
Colin @94 can't see anywhere in the echo that states Kenwright has been put in charge of hiring the next manager. A bit of scare mongering I think Colin. Moshiri seems to me he is in charge so until I see a statement from him or the club saying Bill is responsible for hiring the next manager I won't worry.
I did read Bill and some of the senior players wants Unsworth but its all rumours none of us really know otherwise we could go and make a few quid in the bookies.
Ed Fitzgerald
113
Posted 24/10/2017 at 11:28:13
I'm delighted that Unsworth is going to get his chance, he deserves it. It will nice to see a bit of passion from our manager with no talk of us being a fucking project.
We could do worse than play all of the youngsters that Unsworth has coached. At least they know how to play as a team and five of them also played in the successful England U20s World Cup team in the summer. Allowing Dowell to go to Forest was a joke, get him back ASAP.
Good Luck Rhino, everyone will be behind you

George Cumiskey
114
Posted 24/10/2017 at 11:29:30
I like the thought of Tony Bellew being involved, because he's the only one to talk sense when asked about the Koeman sacking.
He said that being a great player didn't equate to being a great manager.
He didn't fall for the rubbish about it's only nine games into the season and conviently forgetting about the crap performances in Europe.
I can't believe these ex footballers saying it's too early and to give him more time, it's a bit like the old boys club.
Derek Knox
115
Posted 24/10/2017 at 11:36:14
Colin @ 100, 're the Colleen situation, you may be able to help me out here. I read an article via another site saying that Laura Simpson had come out and said that Wayne was hung like an ogre.
We were previously led to believe that a Bill Clinton, Monica Lewinsky situation was a parallel, in that he only, and extremely foolishly, under the influence of alcohol by the way, was giving her a lift in her car.
How could she possibly know the size of his genitalia, from that silly but seemingly tame liaison?
Paul Rimmer
116
Posted 24/10/2017 at 11:39:07
Good luck Rhino but I reckon Moshiri will want a big name in charge before Christmas. More than happy with Rhino in the interim. I hope he goes with a team like this:
Pickford, Kenny, Jags, Keane Baines
Mirallas, Davies, Sigurdsson, Vlasic
Rooney
Niasse
Ie as many goalscorers as possible and a bit of pace. Get a goal up and bring defensive mid on then maybe someone like Mccarthy. For me a centre mid has to do more than run around and play a ten yard pass.
Ray Smith
119
Posted 24/10/2017 at 11:50:32
Hugh 110
Good post.
Your rationale is simple.
Simple is best.
End of.
Good luck Think.
James Byrne
120
Posted 24/10/2017 at 11:50:52
It's hilarious to think that both P Neville and Giggs have shown an interest in the Everton managers' job! What a cheeky pair of twats. It just goes to show the poor (little club) perception some ex players have of this club.
Everton and the likes of Moshiri need to send a serious statement out there by recruiting a decent, world class manager who has all of the people and football skills to get the best out of the players and the international transfer markets for future development.
By getting rid of Koeman the club have been smart to drop a manager from the Premier League before at least 2 more managers get the bullet (Bilic & Kloppe). This puts us in a better position earlier to recruit a candidate.
COYB's.
Simon Bates
121
Posted 24/10/2017 at 11:57:58
David@102, you took the words out of my mouth.
Pep did start as Barcelona b manager, Maureen started at Porto, I don't know about Klopp but they have to start somewhere.
There's no magic manager tree where we can just pluck a Tuchel and say mmm that's ready.
Unsworth simply cannot be any more ready .
He's learnt his trade with the same passion, desire and will to win, with which he played, winning all the way.
Do any one of us think he WON'T approach the top job in the same manner?
Good luck Rhino, but I don't think you'll need it,just bring that steely determination.

Andy Walker
122
Posted 24/10/2017 at 11:58:19
Remember one of the the commonly accepted criticisms of Moyes, namely he's never won anything so we needed a manager that knew how to win a trophy? We got Martinez in and then Koeman, both have won trophies.
As a minimum the new manager must have proved he can lead a team to win a major trophy in a decent league.
Of course having won something in the past is no guarantee of them doing it again with us, but it improves the chances of them doing it. Appointing a manager that's never won anything on the other hand, is a much much bigger gamble.
Listening to Jim White this morning and it sounds like Moshiri has asked White to get some feedback from fans by pushing the idea of Sean Dyche managing us. So they must be seriously looking at approaching Dyche. Just no.
Eddie Dunn
123
Posted 24/10/2017 at 12:02:16
Phil Neville is as dull as dishwater. Imagine the faces of our demoralised crew at the sight of happy Phil waltzing through the door at Funny Farm.
Yeah everythings going to be alright with that cretin on board.
Colin Malone
124
Posted 24/10/2017 at 12:03:41
Those of you who believe in the hype called David Unsworth, take a step back. David inherited the Under-23s from the coaching of Kevin Sheedy. Sheeds has left now... why? Maybe someone can enlighten me on why he left.
I believe Big Joe has a lot of input at Under-23 level, which is why I believe Big Joe, one of the best motivators ever, should be in that dressing room.
David Hallwood
125
Posted 24/10/2017 at 12:06:50
Paul (#116) you may have a point. But say under Unsy we go on a decent run and we end up in January in the top half, what will he do?
Remember there's only 8pts between us and 4th placed Chelsea, I know at the moment it looks like we can't buy a win, but if Unsy changes that, Moshiri will have a huge decision to make.
Brent Stephens
126
Posted 24/10/2017 at 12:08:32
Tony #103 - that would do me.
Tony Marsh
127
Posted 24/10/2017 at 12:10:15
Andy @ 12
Take no notice of Jim Whites agenda. The whole of the English media think we are only worthy of of a Dyche or a Howe. Yesterday every twat on Sky Sports news was pushing for Moyes to come back.
It's all about how we are perceived and what these media Bellend think we can attract. Don't give it you're energy.
Paul Rimmer
128
Posted 24/10/2017 at 12:12:47
Yes David. It's up to Unsy to make it difficult for them to appoint anyone else but they will be putting the feelers out for others in the meantime.
Andy Walker
129
Posted 24/10/2017 at 12:14:41
Tony, no way do I think it's White's agenda, it's Moshiri using White to test the fans reaction to the idea of Dyche. Moshiri uses White as his mouthpiece.
Andy Walker
131
Posted 24/10/2017 at 12:21:03
Paul 128. This is exactly my fear with Unsworth. He does well for half a dozen games then pressure builds to appoint him full time, but based on what, 6-10 games?That would be a long term disaster in my opinion, and we'd end up looking for another manager within the year. Doing well for a few games is simply not enough experience to be promoted as our manager. We'd have no idea how he copes when things are difficult for example and inevitably that will happen at some point.
Alternatively Unsworth does badly, then we really will be relegation favourites with little time to sort it. Unsworths expectations should be managed, in other words you are in until we get a new manager which will be within the month.
Derek Knox
132
Posted 24/10/2017 at 12:21:44
Terry @ 111, I get where you are coming from regarding the Cup game, but tend to disagree there.
Winning breeds confidence, regardless of what competition we are in, and let's face it Unsy's record is 100% up to now.
Also being his first game at the helm, would not make him feel in a good place if we got turned over.
I would go all out, just imagine his second game in charge and getting a result in Chelsea's own ground.
I know it was the league, but last year I think it was, Crystal Palace were on a really poor run, and went to Stamford Bridge and won.
Chelsea hadn't lost at home for about eighteen months, so it is possible!
John Raftery
133
Posted 24/10/2017 at 12:24:14
Unsworth brings knowledge of the younger players, an understanding of what they can and can't do and has shown he can manage a team to play entertaining, successful football. He is better qualified than any other manager at under 23 level and brings more experience of team management than some of the daft names which have been bandied around such as Phil Neville, Ryan Giggs and Duncan Ferguson. He may or may not be able to cut it at Premier League level but until we find a suitable long term candidate he deserves the chance.
The last 16 months remind me of Manchester City during the Peter Swales/ Malcolm Allison reign around 1979/80. They spent huge money on average or below players such as Steve Daley and found themselves struggling at the wrong end of the table. It was the start of a downward spiral from which City did not recover for 25 years. It is crucial the Board get the next appointment right and to do so they need to take their time to assess all the candidates.
I wonder if Koeman left a note on his desk to his successor as the outgoing Labour minister, Liam Byrne did in 2010. It said 'I'm afraid to tell you there's no money left'.
Or perhaps he left one similar to the one left by Reginald Maudling to his successor Jim Callaghan in 1964: 'Good luck old cock...sorry to leave it in such a mess'.
Oliver Brunel
134
Posted 24/10/2017 at 12:25:12
We need to remove the Ancien Regime at Everton. By that I mean Jags, Baines, Mirallas, the incompetent back room staff (Ferguson et al) anyone with an attitude that thinks I don't need to perform today because I don't like x, y. z Manager. We should never have gone anywhere near Rooney. I reckon we need a thinker, not a name. It doesnt matter about the big name (we have been there with the Dutchie. I think Fonseca is a thinker, I don't know enough about Tuchel tbh. But I have heard that he is the no1 choice.
George Cumiskey
135
Posted 24/10/2017 at 12:34:19
Get Rafa the Gaffer in before Liverpool do !.
Colin Glassar
136
Posted 24/10/2017 at 12:36:15
First thing Unsy has to do is call a few players into his office and tell 'em straight.
1) Ross, sign that contract kid and I'll build the team around you.
2) Wayne, you are the captain from now on.
3) Sandro, Davey and Morgan, you three are going to play with the U-23 to get you up to speed.
4) Siggy, you will play in your preferred position. Wayne will play up front with DCL or Niasse.
5) Vlasic, Kevin, Lookman, Lennon etc... you'll all be given the chance to make the wide positions your.
6) Keane, you will team up with jags. Williams, you can fuck off.
7) Mason, the RB position is yours until Coleman is back.
8) Leighton, mate, you'd better pull your socks up or it's the knackers yard for you in January.
9) Send a memo to Moshiri telling him if he wants to move the club forward he needs to get rid of Kenwright, Wood and probably Walsh and Elstone as well. Joe Royle as honorary chairman with the likes of Reidy and Sharpey in charge of transfers.
Do this Unsy and you will be on a winner.
Dale Rose
137
Posted 24/10/2017 at 12:37:51
Good luck Rhino, if it was about heart and integrity, you'd be permanent. Lets keep away from all these foreign tossers who just have pound note sign's in their eyes. The fact Koeman and Bobby Brownshoes walked away with buckets of money for being total f*cking failures just grinds with me.
David Milner
138
Posted 24/10/2017 at 12:39:25
Ray @88
I thought that there was an agreement in place for Stek to play the cup matches, maybe I am wrong there.
Pickford could do with a midweek rest though, he has been working too hard. Needs to be our next Captain. Our best purchase by far.
I still think Keane will come good. Does not help your confidence when you cease playing alongside Ben Mee & play alongside nightmares like Williams & Jags.
Ste Traverse
139
Posted 24/10/2017 at 12:41:57
Unsworth certainly isn't my choice to be in charge on a short-term basis. So what if we won 3-0 in his previous one game? It was against an already relegated side.
I'd rather have seen Joe Royle as top man with the others helping out. At least Royle has a lot of experience at managing at this level.
That said, the decision has been made and best of luck to Unsworth.
Michael Lynch
140
Posted 24/10/2017 at 12:43:34
Looking into my crystal bollock, Unsworth will have a couple of decent wins, get appointed til the end of the season, just about avoid relegation, get sacked and we'll appoint a European manager in May who will take us to new heights. It's the Spurs model: Bale = Lukaku, money blown by AVB = Koeman, Sherwood = Unsworth.
Colin Glassar
141
Posted 24/10/2017 at 12:49:05
Michael, he will be given, minimum, 4 games until the international break. If it's still a mess he'll return to the kids, if not he might be given a six month contract.
I said earlier today, I can't think of one caretaker manager who has gone on to manage long term. They are usually sacked in their first full season.
I hope Unsy could buck this trend but he's very much one of the lads, apparently, and you know what they say about familiarity
Ian Hollingworth
142
Posted 24/10/2017 at 12:49:58
We need to borrow Sheik Mansour's Lamborghini and go and pick up Manuel Pellegrini.
In the meantime good luck to Unsy.
Oliver Brunel
143
Posted 24/10/2017 at 12:54:39
Dale (137) exactly. There are also a lot of mediocrity hangers on in the back room staff who are incompetent beyond belief. Part of the problem is the way contracts are constructed at the club- if you are paying 6million a year it is you who are calling the tune not the manager. Contracts should have failure clauses written in, targets should be clearly stated i.e 'Champions League Qualification', if not met no severance payments. Elstone etc need to be fired immediately they are incompetent.
Kim Vivian
144
Posted 24/10/2017 at 13:07:02
Trouble I heard with Rhino is would he fit in the dugout?
Oliver Brunel
145
Posted 24/10/2017 at 13:14:29
Kim (144) yes he would if I had my way because all the clowns sitting in the background there will have been forcibly removed from Goodison Park and marched down County Rd and out of the city limits...
Steve Ferns
146
Posted 24/10/2017 at 13:16:24
@Brent #91
If I was Unsworth, I would surprise everyone and go for an u23 side. Not a total u23 side, I'd select 1st teamers who he knows like Davies, Kenny, Holgate, and Calvert-Lewin.
I would say to the first team that they all need to watch carefully, and prove in training that they are worthy of a place. If the side gets tonked, then at least we are out of the competition and have a few less games. I bet they won't get hammered and will hold their own.
It will give the first team a rest, they are clearly tired, physically and mentally. Losing regularly takes it's toll mentally for sure. Let's then see who from the first team responds.
As for tactics, Unsworth likes a 4231, with width and pace. Let him play it his way.
As for Leicester - I'd go with:
Pickford
Kenny Keane Holgate Baines
Vlasic Davies Sigurdsson Mirallas
Calvert-Lewin Rooney
I'd play for 0-0, in an old 442. But it won't really be a 442 because Rooney is incapable of holding position and he'll soon make it a 451. I'd tell Sigurdsson to sit deep though, and to keep out of Rooney's way. His job would be to do what Schneiderlin should be doing and taking the ball off the back 4 and hitting it long. Holgate would need to impress against Chelsea at CB otherwise I'd go with Jags. If any of the kids showed they could step up I would keep faith with them.
We need a clean sheet on Saturday, almost as much as a win, and that's what I'd play to get. Keep it tight and pinch one!
Stewart Lowe
147
Posted 24/10/2017 at 13:19:26
For me, I would only offer an interview to the following:
Thomas Tucel
Sean Dyche
Paulo Fonseca
Carlo Ancelotti
Forget Giggs, Neville, Moyes, Allardyce, Unswirth. Not interested
Steve Ferns
148
Posted 24/10/2017 at 13:19:45
@ Michael Lynch #140
Would you not say that now, with the benefit of hindsight, that Tim Sherwood played a crucial role in bringing through a lot of the young players that Pochettino has built his team upon, and so Sherwood played a crucial role in Spurs' development, not just for his work with the youth team.
If Unsworth fails to do enough to keep the job beyond the end of the season, but leaves a team with a lot of promising young players who now have experience, then that's not a bad thing, as long as we are still in the Prem of course.
Kim Vivian
149
Posted 24/10/2017 at 13:26:17
Steve (148) making good sense there.
Chad Schofield
150
Posted 24/10/2017 at 13:26:19
Really hope it works out for Unsworth and I'd rather have him long term too. As others have said, he's not some whippersnapper!
Yes he's going to loose games, but what better opportunity is he going to have to gain experience?
Managers' stock can go down very quickly (as we've seen with Moyes and Ronald), so even if he were to go and ply his trade in a lower division, even if he were successful, it might not happen if he came back.
Football's about taking opportunities, I hope Rhino takes his.
Ian Burns
151
Posted 24/10/2017 at 13:41:38
Just watched to Unsy's press conference on Sky Sports. Excellent appearance; said all of the right things but for me the thing that stood out was an underlying determination to take this opportunity by the throat and get the job on a full time basis.
It appears he has the support of the players and Chairman, just needs to get Moshiri on board now and he can do that by getting the results we so desperately need.
Paul Kennedy
152
Posted 24/10/2017 at 13:43:43
Unsworth's presser the difference... positive, cheerful, engaging personality instead of dour lifeless no interest from our ex-manager.
Ian Riley
153
Posted 24/10/2017 at 13:44:13
Funny how Dave and Phil couldn't wait to get to united. Bright lights of champions league. Phil Neville, interested in the Everton job. Take relagation first. Unsworth deserves a chance for what he has done with the under 23s. Remember coaching young players and winning a league is a great achievement.
Until we start believing in young British coaches with top jobs. How will they achieve? I wish him all the luck in the world.
James Morgan
154
Posted 24/10/2017 at 13:44:25
The best thing about Unsy is he gets the club, the fans. He won't accept slackers and wants us to WIN games and WIN trophies.
I've been lauding Dyche but if he won't don't get him and Rhino proves himself I will be delighted.
All our best managers since the war have been former players. Maybe it can work again.
Richard Reeves
156
Posted 24/10/2017 at 13:54:20
Good luck to Unsworth. Although I doubt he'll be considered for the job on a permanent basis because he isn't a big enough name, I'm hoping he has a big impact on performance's and makes the board favour him.
Ernie Baywood
157
Posted 24/10/2017 at 13:55:02
Now I pretty much ignore press conferences and media comments nowadays but...
Unsworth said all the right things there. Kind of reminds me of the smile Joe Royle put on my face when he first started speaking about his pride at being our manager.
For just a moment, I've got some hope. I know the odds are against him but just imagine if an ex player again delivered us success. It would feel amazing.
From his comments it sounds like the club are serious about him being an option if he can get us winning games.
Good luck Rhino.
Eddie Dunn
158
Posted 24/10/2017 at 13:55:21
Unsie's just said all the right things, when asked about the atmsphere under Koeman he sensibly said that the under 23's train on a different pitch and use a seperate building as if they didn't know!
He also said that training was buzzing! That says it all - Ron had pissed -off too many off them.
Paul Holmes
159
Posted 24/10/2017 at 13:55:30
Its a good job Unsworth is picking the team rather than people on here,do people really watch the matches and see what is going on.Keane,Holgate ffs !,these two should be rested until they improve to premier league standard !.The midfield and the attack should be similar to what Ian Wright and Martin Keown picked on motd 2.Gueye and Davis (energy) in midfield.Mirallas on the left (pace and can shoot).DCL on the right (has pace).Sigurdsson as the number 10.Rooney and Niasse to both play their part as centre forward (60 min,then 30 min).
This team will at least give us something to shout about when we go forward !.
Colin Glassar
161
Posted 24/10/2017 at 13:59:32
Oliver 143, I agree. I'd get rid of not only the deadwood at the top but some of the back room staff as well, starting with Jimmy 'The Kit Man' Martin.
He's been with us for donkeys now and has handled some of the worst kits in living memory. And he's never had a title winning kit to show off.
Taxi for Jimmy and BPB.
Gordon Roberts
162
Posted 24/10/2017 at 14:03:11
We need someone with a proven track record of working at the highest level, an excellent tactician who has managed at Champions League level. A respected coach with the ability and reputation to attract high calibre players to our club.
We will see over the next few weeks if the Board have ambition. I have no doubt that some Board members will not aspire to the above, I truly hope that the ambitious members win the argument.
Phil Smith
163
Posted 24/10/2017 at 14:03:41
I wouldn't put Keane or Holgate at the back at the moment. Both looked awful recently. I actually thought Ashley Williams had one of his best games for us the other day until he came off. Maybe I'd play 5 across the back with Kenny and Garbutt (yes, I'd actually give Baines a rest and Unsy knows all about the lad - he's been playing pretty well in an attacking sense in the U23s, so why not?).
Rick Pattinson
164
Posted 24/10/2017 at 14:04:20
Good luck unsy he will be ok after all rhinos are normally surrounded by shit.
Tony Marsh
165
Posted 24/10/2017 at 14:06:46
Wow what a dugout for tomorrow night. Unsworth, Royle, Ferguson, Ebbrell..
That's more like it.Im taking the 12/1 Everton to win both teams to score.
David Milner
166
Posted 24/10/2017 at 14:06:54
Phil @163
I too would use Garbutt but there are 2 problems
1. He is not registered on our Premier list (cannot be changed till January)
2. He is not under 21.
So he cannot be used.
Stan Schofield
167
Posted 24/10/2017 at 14:08:19
Unsworth has passion for the club, and apparently the support of players. This is surely important at the moment, to instil some morale and fight. This is additional to his organisational and tactical abilities, which have been demonstrated by the success of the under-23s.
As Hugh@110 says, it boils down to the ability to organise and motivate a team of footballers, whether under-23s or first team. He seems to have those abilities.
There's a lot of hype surrounding managers, whether it be Klopp, Tuchel, Mourinho, or any of the other high-profile Prima donnas. At the end of the day, getting to the top of the heap, like City or Chelsea, requires large injections of money. Then you can attract the best players. Until we get to that point, which will happen only if someone like Usmanov gets on board, we're very much like Liverpool, not really looking at getting to the top of the heap.
In terms of the ambition to improve from where we are, and to progress to near the top (top-6 or thereabouts), it's difficult to see clearly any outside candidate who we're likely to attract doing much better (if at all) than Unsworth. Just recall the hype that surrounded Koeman and Klopp.
Brian Williams
168
Posted 24/10/2017 at 14:17:46
Unsy deserves the chance to step in and he certainly can't do any worse than Koeman.
I find it a bit worrying though, the number of people clambering for ex-players to be brought in. It's almost ANY ex-players without a thought to what they've done elsewhere and what their suitability is other than being an ex-player.
It smacks a little bit of the small club mentality again. As a club, we've suffered from being a little too parochial and not being hard-nosed and professional enough.I want to see us throw off "The People's Club" label and ditch forever the "plucky little Everton" handle and become more ruthless, professional and business-like.
Don't get me wrong I'm not suggesting we drop EitC or the other great things the club do.And I don't mean for us to ditch any ex-player from employment but I think we have to start looking to the future and not always harping back to the past.
Things that worked in the 80's don't always work now and a staunch, outspoken support from an ex-player (Reidy) doesn't mean he'll turn things round and take us forward.
We're in a bind at the moment in that I believe we almost need TWO managers. One to steady the ship and get us away from the dreaded area of the league I'm not going to mention, and then a manager to take us forward and improve us to where we were and beyond. If there's a single manager that can do that so much the better.
I must say I've felt totally depressed the last coupe of months but yesterday's announcement lifted my spirits and I felt like a great weight had been removed from my shoulders. Like a lot of others I just couldn't see how Koeman was ever going to turn things around and I suspect neither did he.
His removal will tell us lots of things about the team, the squad and the club as a whole, not least of all the fact of whether those that reckoned Barkley wouldn't sign a new contract because of Koeman were right. Personally after watching our new midfield over the last few months I hope they were.
The road ahead will be a rocky one for sure, but I, like a lot of other Blues am really glad we're on it.
Ernie Baywood
169
Posted 24/10/2017 at 14:26:03
Pickford
Kenny Jags Keane Baines
Mirallas Gana Davies Lookman
Sig
DCL
Leaves a bit on the bench but it's at least balanced.
Alan J Thompson
170
Posted 24/10/2017 at 14:26:44
Word out of Finch Farm, apparently, is that Unsy has told Ross Barkley that straight after kick off he is to whip off the trackie and spend the next ten minutes asking Conte if his phone's working yet.
As for Rigsby, sorry, Giggsy, the first day he didn't turn up for training nothing would get done while they all phone the missus.
My preference as Manager will have to remain confidential until after the phone call, anytime now, I would think. How are Athletico doing at the moment anyway?
Peter Cummings
171
Posted 24/10/2017 at 14:29:27
Realistically I doubt if any of us expect a win,or even a draw, against Chelsea tomorrow, having watched their last two games, one in Europe the other v Watford they are still a force to be reckoned with big time, but if Unsy can at least instill a morale and belief with a team selection that will fight for at least 90 plus minutes his appointment will be welcomed, temporary or not,
However as I have posted before, only the criminally ineptitude of those up in their 'ivory tower' have been responsible for this dire situation for at least the last five years led by one William Kenwright.
Paul Holmes
172
Posted 24/10/2017 at 14:36:04
Unsworth press conference was spot on.If the team is WINNING matches,any manager will look good.Ancelloti,Dyche,Unsworth,the Everton cleaner could be the manager,nobody cares as long as the team is winning football matches !.
Brent Stephens
173
Posted 24/10/2017 at 14:42:12
Steve #146 brave selection for Chelsea. Team for Leicester, and reasoning, I like.
Steve Brown
174
Posted 24/10/2017 at 14:43:06
Good lucky Unsy, I must admit my preference is still a top rank manager but all Evertonians will be rooting for him. Inspired idea from Kev Johnson to support him as we need some winners in that team apart from Joe Royle.
Neville and Giggs? I'd rather appoint Carragher and Fowler!
Steve Brown
175
Posted 24/10/2017 at 14:44:59
For all lovers of Neville, a great anecdote from Alan Myers doing the rounds today if you haven't seen it...
"I don't think anybody, including Neville himself, was aware of how close he came to becoming Everton manager.
I was outside Bellefield with Peter Johnson the morning after Joe [Royle] had left and we were discussing who should take over as caretaker boss.
'I have a shortlist of two' said the chairman. 'Dave Watson and Neville, but I'm leaning towards Neville because a goalkeeper has less responsibility on the pitch.'
At this point Neville pulls up in the carpark – it was early and he was always first in for training – gets out his car and heads to the Bellefield entrance.
Seeing me he yells, 'Alright Alan, you fat c*nt!' As he headed in through the doors, Peter says, very dryly, 'I think the shortlist is down to one.'"
Dave Abrahams
176
Posted 24/10/2017 at 14:47:24
I don't know who will eventually get the managers job at Everton but in the meantime the best of luck to David Unsworth in the caretakers role, especially on Saturday versus Leicester City.
Phil Walling
177
Posted 24/10/2017 at 14:48:24
I'm delighted that Unsy is to 'hold the fort.' He's earned his chance of an audition although unlike the other candidates he has to perform a miracle before earning even an interview, it seems.
What nobody on here has mentioned is the possibility that too many of the squad really are shite. Most of us could list at least a half-dozen on the roster whose legs have gone or are nowhere near Premier standard to start with.
Made up of long servers, recent joiners and even young kids, this group will see us relegated. Some of them failed Martinez, all did for Koeman and have every likelihood of doing the same for whoever is next.
Nobody's dared to say it but it really could be the players who are the problem - whatever their background and however much they cost. It happened at Leeds and the .Villa. Could it be our turn next ?
John Otway
179
Posted 24/10/2017 at 14:58:18
Christ Phil Walling; you're a little ray of fucking sunshine aren't you.
James Marshall
180
Posted 24/10/2017 at 15:04:06
Personally I don't feel as though we're in a relegation battle yet. The table is still young and the positions are separated by only a point here or there at this stage.
If you're going to say that we're in a relegation fight, you could say the same about every club from Southampton (10th place) down.
Tony Marsh
181
Posted 24/10/2017 at 15:07:02
Phil Walling is clueless John. EFC have the best up and coming players in the country all home bred.
Unsworth has them playing great stuff.They won the world cup FPS. A bit of tinkering and blendingnin the younger lads and I think we will be flying soon.
Anthony Newell
182
Posted 24/10/2017 at 15:09:59
Unsworth has said more in 5 minutes than Koeman said in 16 months.
Buzzing, yes exactly, that's what it's all about, not buggering off from training at 4pm on the dot
Ian Burns
183
Posted 24/10/2017 at 15:10:20
Phil Walling - I think you have forgotten to take you happy pills!
We don't know if the players are not up to it - time will tell and Unsy will give us a pointer in the next few games or so.
Lawrence Green
184
Posted 24/10/2017 at 15:12:25
The project has been de-railed and it has been left to a group of former Everton players and Steve Walsh, to inject some life back into it, in the short term the players may react positively and we may get a few more points this side of Christmas.
But as Phil @ 177 and a few others on other threads observe, the squad is unbalanced and the defence is severly lacking the youth and quality to be able to keep clean-sheets very often. The lack of a reliable defence is exacerbated by the paucity of chances that the team has created thus far this season and therefore there is still a long way to go before we may see the green shoots of recovery. However, if the current squad are enthused and play to their full potential when chosen to play, we have a better chance of improving our position than this time last week.
I'm aggrieved that Moshiri and Kenwright still seem to have differing views on who should be Everton's next manager. Unsworth would probably satisfy the Chairman for the rest of this season, results notwithstanding whereas Moshiri appears to prefer a big name in the hot-seat at Goodison, regardless of any success that Unsworth may have. When are the board and the owner going to set a course that they both agree on?
We have seen over the course of last summer how quickly things can degenerate if all the parties involved are not in complete harmony.
Paul Kossoff
185
Posted 24/10/2017 at 15:15:04
Anyone want a poll to see who we want as a manager? Then we can send it to Bill, just incase he's lining up someone we don't want, you know the likes of Koeman. Phil Neville has thrown his hat in the ring, I was wondering why on the radio a few days ago he was saying he's an Evertonian, and on TV saying he wants to come back to Everton in some capacity. So let's have a poll, (unless we've already had one.)
Just to make sure Bill can see who we want.
Oh and scum bag Giggs, no thanks, we have standards to maintain.
Lenny Kingman
186
Posted 24/10/2017 at 15:17:19
#175
Just to add that Nev got out of the passengers seat of the car as he had never bothered learning to drive.
Not back in the 80's anyway which was the last time l picked him up at Bellefield.
Paul Kossoff
187
Posted 24/10/2017 at 15:25:08
Phil 177, well said. This bunch really need shaping up or shipping out. It shouldn't matter who the manager is, the wage they are on, being a pro footballer, having 40,000 fans supporting you, that's all the motivation one would need. This squad downed tools and got Martinez the sack, they same bunch has done it again regardless of what Koeman was doing, the players should be doing their job, they weren't. How can they point the finger at the manager for not doing his? I hope Unsworth or who ever comes in does some arse kicking, because that's what these premadonas need!
Colin Glassar
188
Posted 24/10/2017 at 15:27:24
I think Phil should put his name forward. He'd put a smile on everyone's gob.
P.S. I wonder if Ross is in the squad tomorrow?
Ray Smith
189
Posted 24/10/2017 at 15:27:26
Clear the deadwood by all means.
CEO: one
Director of Football: two
Jimmy Martin????? What's he done wrong, the choice of kit is not his fault. His payoff would definitely be nothing like the fat cats I think you are referring too!
Tea ladies next? Come on guys. There have been support staff there for donkeys year working for a fraction of what the top earners get, but they are part of the team. Without them it doesn't work.
At least the canteen staff can serve the lunch etc without having to wait for RK and his team to be served first. I know what Unsy would say, something along the lines of, ill join the queue and eat wherever there's a spare seat, regardless of who is sitting at the table.
Brian Williams
190
Posted 24/10/2017 at 15:28:48
Colin, Ross is still recovering from injury/surgery.
Colin Glassar
191
Posted 24/10/2017 at 15:28:56
Ray, it was a joke ffs. Bad taste perhaps but still only a joke.
Derek Knox
192
Posted 24/10/2017 at 15:38:20
Slightly off topic, but can anyone enlighten those of us who don't know.
We all know Koeman has gone, but who goes with him?
Last time on TV, I was looking and apart from Koeman and his brother Erwin, Big Dunc and Jimmy, I didn't know who any of the other hangers on were at all.
Which beggars the question again do they all go too as part of Koeman's Brigade?
James Hughes
193
Posted 24/10/2017 at 15:39:09
Colin , I Think Ray got it and responded in kind, and you weren't in bad taste either. relax pal.
Phil Smith
194
Posted 24/10/2017 at 15:53:23
David Milner, I thought he could play in the League Cup though. Am I wrong there?
Joe O'Brien
195
Posted 24/10/2017 at 15:58:48
Paul (#185), yeah I would love a poll also besides having the only one in The Echo. It would be great if it worked out for Unsy but I reckon Moshiri will go for a high-profile name such as Tuchel. Having Rhino as his number two would be a good call.
Lyndon, Michael poll please.
James Macdonald
196
Posted 24/10/2017 at 16:03:39
Unsworth's appeal to Barkley to sign a contract is great news. I could still understand if Ross went given the clear benefits of working with Potchettino against not knowing who the next Manager will be but I think there must be genuine hope to retain him.
The name of game must be short term to survive and then for the long-term build on Barkley, Davies, Kenny, Lookman, Vlasic, Calvert-Lewin and Keane and then sprinkle in top quality signings each window and perhaps one or two in where we are short.
Although we have money now, still on that front we are going to struggle to compete with the top 6 for the top names but we should look at Barcelona for inspiration in terms of them consistently fielding teams where the majority of players are homegrown. We must keep giving the youngsters chances as ultimately this will win the day when trying to pull in the top young talent.
My fingers are crossed that we do not go for a manager with only a short-/mid-term vision, which in fairness the majority necessarily need to have for their own security. I believe it is the clubs that can circumnavigate this contradiction that will ultimately succeed in the long run.
Michael Kenrick
197
Posted 24/10/2017 at 16:07:28
Who was the training team member who ran onto the pitch and was very strong in restraining Williams after his dickhead antics against Lyon? Looked a little, er... 'Mediterranean' but I have no idea who that was.
Tony Hill
198
Posted 24/10/2017 at 16:08:42
I think Koeman's parting words are gracious. I suppose I would be gracious with the cash he's taking for fuck all, but welcome nonetheless.
Brian Wilkinson
199
Posted 24/10/2017 at 16:10:18
Chris@54, you said you normally nod in agreement at Tony's posts, I have to say Tony is bang on, every manager has to start somewhere and be given that chance, you can only manage what is put in front of you, we all know it's a big step up, no more than a step up from the under 18s to the first team spot, I think Tom Davies has answered that question.
We brought Koeman in, a high profile manager, you look at De Boar, Moriniho, Ancolotti, Mancini, list is endless, all have come and gone at clubs.
Look at Dyche, two seasons ago people would say Sam who, he got his chance and now everyone champing for him to be at a their club, he took his chance and through games gained experiance.
Just because Unsworth has only managed one premiership game, which we won 3 nil by the way is not a reason to dismiss the guy.
The only difference this time is he has come into a team that has so much more talent then when he last took charge, Unsworth will do two things right away, one will be bringing the team together and getting every single player singing from the same hymn sheet, the second one will be to convince Barkley he is wanted at Everton and loved.
Give Unsworth a chance before we go charging in again for a high profile manager, let's not forget how young Howard Kendall was when Blackburn gave him a chance as manager when he had no managerial experiance.
Time will tell but I have a good feeling about Unsworth.
Steve Powell
200
Posted 24/10/2017 at 16:12:11
Best wishes to Rhino.
I'm happy to see him in charge until the right person for the next stage is identified. It my be him if he does OK. Some of the names mentioned really worry me. Other not so much.
Whilst not complete, I do think that there is the making of a team in the players we have, as long as they are given a consistent message. They won't get us into Europe, but they should be better than sending us down.
But will someone please shut Carragher up. I fed up with he s**te coming out of his mouth.
Ray Roche
201
Posted 24/10/2017 at 16:13:22
Michael (#197).
Can't think of his name but didn't they refer to him as the goalkeeping coach?
Julian Exshaw
202
Posted 24/10/2017 at 16:21:32
I can't wait for tomorrow. I didn't imagine I would say that 48 hours ago. Can't wait to see the team he picks, the style, the players' attitude. Good luck to them all and why can't we beat Chelsea!!??
Michael Kenrick
203
Posted 24/10/2017 at 16:27:35
Ah... thank you, Ray – Iñaki Bergara:
Ignacio 'Iñaki' Bergara Iríbar (born 26 January 1962) is a Spanish retired footballer who played as a goalkeeper, and a current goalkeeper coach with Belgium.
Wiki makes no mention of Everton tho...
Michael Kenrick
204
Posted 24/10/2017 at 16:30:10
No, wait a minute... I think it was this guy: Patrick Lodewijks: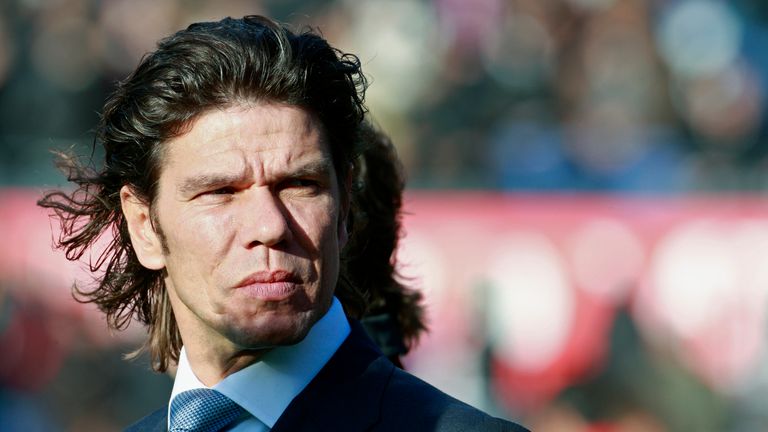 Patrick Lodewijks joins Everton as new goalkeeping coach
I'm no beauty but what a face!
Phil Parker
205
Posted 24/10/2017 at 16:31:44
Don't think Ron saw the sack coming so soon. It's only Everton after all. Just didn't get it or what we expect. Unsy does. All the luck in the world to one of our own. This chance will probably not come again, and he will give it everything. That's all we can ask.

David Milner
206
Posted 24/10/2017 at 16:38:50
Derek @192
Erwin Koeman, the dutch goalkeeping coach & the fitness coach are all negotiating their severance at the moment & will be given the boot.
Unsy takes the place of Ronald, John Ebbrell takes the place of Erwin, Alan Kelly takes the place of the dutch goalkeeping coach, but as we are Everton the new fitness coach will probably be the tea lady. Duncan also fits in somewhere.
Phil @194
Not sure how the rules work regarding the league cup. Last season we could recall loan players for this. Callum Connolly is allowed to be recalled for Euro league matches. I would have thought that as it is the league cup the Premier list stands plus any u21.
Brian Wilkinson
207
Posted 24/10/2017 at 16:39:53
The Chelsea game has sadly come to quick for Unsworth, he will still set a team up to win, but I think come Sunday, when he has worked with the players, we will see a much improved performance so on this note, I would not judge Unsworth tomorrow.
Mike Berry
208
Posted 24/10/2017 at 16:39:54
I love Rhino and I hope he stays with us and continues his successful accession, whether at present he is too close to some of the players to manage but to also rollick if necessary I don't know.
I would certainly love him to work as 1st team assistant but new managers normally bring in a lot of baggage which would be a shame.
I am sure the hierachy will give him chances.
Good luck to him, a top top blue.
Derek Knox
209
Posted 24/10/2017 at 16:41:31
Michael, looks like a villain in The Planet of the Apes series.
Derek Knox
210
Posted 24/10/2017 at 16:42:46
Thanks David.
Greg Hasbrouck
211
Posted 24/10/2017 at 16:43:59
I wish Unsworth well, as we all do. I think it's an obvious plus that he's very familiar with our roster and the youth it contains. At the same time I think we need someone with no emotional connection to the roster, as some unpopular decisions need to be made. We need a coach with the clout to tell players who aren't cutting it that their days here are numbered, while not losing the locker room. I'm not sure a coach who has never coached at this level can manage that. Further, I think we need a coach who outside players want to play for. To that end, I think someone like Tuchel would be ideal. That said, hard to know if he generally wants us or is using for leverage with Bayern,
Jer Kiernan
212
Posted 24/10/2017 at 16:44:26
@Steve 175
Just read that myself on Big Nev and lmao what a fckn legend the man was , My idol as a kid and as down to earth a guy you could not encounter no heirs or graces as summed up by that story
Best of luck to Unsy I am hoping he gets a run of results good enough to convince Fahrad to give him the job , The guy was a rare breed as a player 100% commitment , ferocious competitor but also a cool head (as signal by his penalties)
Hopefully he can bring those attributes into his management and get some of these players to earn their crust and also push through some of the talent we have at this great club
Brian Wilkinson
213
Posted 24/10/2017 at 16:46:41
On a final note, all these managers, Mourinho, Ancolotti, know whatever happens, they can walk into another top job, Ronnie saw us as a step up onthe ladder, when you get someone like Unsworth who breathes and dreams of Everton, you have someone who will do everything possible to win, knows the players inside out, knows what it means to the Evertonians, we have a manager who will get 110% out of every single player, in Unsworth eyes we are Everton, we expect to win, losing is not an option.
Tom Magill
215
Posted 24/10/2017 at 16:54:11
All the best Unsy, it's great to have a true blue at the helm again!

COYB
Ray Said
216
Posted 24/10/2017 at 16:54:23
Glad to hear its Unsworth. I always admired him as a player because of his attitude and the fact he never hid even if he was having a bad game.
I am actually looking forward to seeing us play some Everton style footy for once-hard work, playing for the team, supporting your team mate, getting at the oppo early , not standing off and making our presence felt-all things I associated with Unsworths game as a player.
Brian Wilkinson
217
Posted 24/10/2017 at 16:56:04
Greg@211, did we not have that in Ronnie, who told Niasse he has no future, who told Barkley he would be sold, who had no connection with our under 23s and said it was like a Sunday league training session, who had no connection with the supporters, left the likes of Kenny and Lookman with the under 23s instead playing a free transfer who was not even 3rd choice for Southampton, who brought in Stek and put as second choice instead of Robles, Pickford, Keane Vlassic look decent additions, but Sandro in front of Lookman or Niasse.
That's what you get when you bring in a no nonsense manager at a club.
Not saying a different option will not work, I am sure there are talented managers out there, but first let's learn our lesson from our previous two and at least give Unsworth a go,
Mark Morrissey
218
Posted 24/10/2017 at 16:57:01
I can't share the optimism about David Unsworth. Before you spit out your beer or tea I just want to explain myself.
Unsy is doing a great job where he is but I think that he is damned if he does and damned if he doesn't if he takes the reins.
If he was given to the end of the season, the first game he loses he will have the full weight of the English press, Sky TV etc on his back. Unsworth loses a game, does he have the know-how ? is it all too soon ? etc etc. I think he would suffer the same fate as Craig Shakespeare and remember Shakespeare was actually a number 2 with Leicester for some time.
Would I love him to be a success, of course. Do I think it could happen. No. If he wants management he needs to go and manage in the Championship and if he proves himself and Everton come knocking, brilliant.
Eddie Howe is an Evertonian. He has gone and plied his trade and done exceptionally well at Bournemouth. He has been exceptional. Nobody on here is asking for him and yet he has worked miracles at Bournemouth. They have been a tin pot club for so long and he has given them stability on a very small budget.
He's not even my choice but I'd be happier with him because he's done more at this level. Let Unsy take the reins for the short term but let him continue to work miracles with our U23's. If he wants to be a manager he needs to go and earn his spurs elsewhere. It would be tragic if he became a failed Everton manager and the U23 job would then be gone for him too. If Eddie Howe came to us would Bournemouth consider Rhino ? no chance and why not, because he has no experience of managing at a decent level.
Only my opinion. If Phil Neville becomes involved in some capacity we're truly doomed.
Perhaps Eddie Howe would take Rhino as his number 2
Hugh Jenkins
219
Posted 24/10/2017 at 16:58:40
Steve (200).
The way to shut up Carragher, is for Unsey to take a team to (dare I mention it), and win.
Joe (Royle) did it - and I was there, what a wonderful experience.
If Unsey does, I do, honestly believe, the hex will be broken.
Bring it on.
Tom Harding
221
Posted 24/10/2017 at 17:03:19
Nice post Hugh, I agree about Phil Neville
Paul Mackie
222
Posted 24/10/2017 at 17:09:40
This is win-win for Unsy and Everton. If he's a success then he gets the job he's wanted all along (I think I read that he interviewed when we signed Martinez?). If he fails then he goes back to the sterling work he's doing the the U23s and people will just write it off as him not being quite ready yet.
I think Chelsea tomorrow might be too much too soon, but I expect a good showing at the weekend. Even playing the U23 team would be better than the dross we've had to watch this season.
David Milner
223
Posted 24/10/2017 at 17:14:34
See that David Henen & Beni Bangime were added to the 1st team training today.
Steve Ferns
224
Posted 24/10/2017 at 17:21:07
Henen adds pace and width, he's looked like Henry for the u23s recently. Beni Bangemin is cover for the suspended Gueye, and the injured Schneiderlin.
Rudi Coote
225
Posted 24/10/2017 at 17:21:39
I'm not expecting anything at Chelsea tomorrow. But I'm glad Unsy is finally in charge. Expect to see some improvement very soon.
Hugh Jenkins
226
Posted 24/10/2017 at 17:22:52
Mark (218). Surely, nowadays, Everton managers no longer have to consider getting by on a "small budget"?
Brent Stephens
227
Posted 24/10/2017 at 17:23:56
I like what I've seen of Beni to date. Cameo appearance late on tomoz??
Brent Stephens
229
Posted 24/10/2017 at 17:30:01
I see Walsh was with Unsy at training today. So he's staying?
Eddie Dunn
230
Posted 24/10/2017 at 17:32:06
Steve- Schneids trained today and is fit.
Raymond Fox
231
Posted 24/10/2017 at 17:38:54
I mentioned on another thread that David and my son Gary played in the local school and youth teams and were best mates till David signed for us.
He spent many a happy hour at our abode.
I cant take any credit in him signing for the club though, I think he was into Man Utd as a kid.
I wish him all the luck in the world I think he's going to need it.
What he does not need if in the next 3 or 4 games the results are poor, people start getting on his back.
He should be judged on how the team perform, we all know the best side does not always win, that's why I mentioned luck.
I'm sure though that us fans will be getting behind him, wishing him well and he will get a fair crack of the whip.
He's lacking experience obviously, but with a little help I cant see why he cant make as good a job as many of the other managers mentioned who may be in the running for the position of manager.

Frank Crewe
232
Posted 24/10/2017 at 17:39:32
I like the idea of Unsworth as manager as much as the next fan. He's blue to the bone and he's done a good job with the U23's. But the PL is not the U23's. Also big name players will only sign for managers they've heard of. Guys with a reputation behind them. Now with all due respect to Unsworth outside of Everton he has no great CV he can point to when trying to temp a big name player to come to Everton whereas the likes of Ancelotti, Pellegrino, Tuchel, etc. do. So if we want Unsworth as manager we should also be prepared to lower our sights when it comes to the level of player we can realistically sign.
Stephen Williams
233
Posted 24/10/2017 at 17:40:31
To those that are interested, this is a really good read:
http://www.telegraph.co.uk/sport/football/teams/england/10293645/FA-chairman-Greg-Dyke-should-speak-to-former-players-such-as-David-Unsworth-to-realise-his-England-vision.html
Paul Mackie
234
Posted 24/10/2017 at 17:43:02
I disagree Frank. We had one of the most famous ex-players and we couldn't even fecking attract Giroud. Most players, except perhaps those at the very top, will go wherever the biggest pay check is.
Steve Ferns
235
Posted 24/10/2017 at 17:43:23
Frank, which players did Koeman attract that did not come to moneybags Everton who were willing to pay top dollar? The only one in the last 18 months was Klaassen. Pickford, Keane, Sigurdsson, Rooney and Schneiderlin would have come regardless. We were the only ones in for them. Then who did Martinez get that Unsworth couldn't have? Dunno about Lukaku, Deulofeu was a Martinez only signing, but only because of his Barca connections.
I honestly think it will make no difference.
Steve Ferns
236
Posted 24/10/2017 at 17:45:08
Eddie, yes, I saw the pics hanging round with the other French speaking lads. But being able to train doesn't mean he is 100% or will definitely play. Maybe Beni was there to be able to make up the numbers in training. We will find out tomorrow.
David Pearl
237
Posted 24/10/2017 at 17:47:54
Unsy is getting few games. His success depends on the shape and formation and whether he tries to shoe horn players into the team, considering he has such an unbalanced squad. He might now bring the best out of DCL, Davies and Kenny (who has looked way out of his league).
Those saying Unsy doesnt deserve this chance Pep started his managerial career in charge of Barca B before taking over the first team. We won't know until he tries. I'm expecting a lot more energy and pace.
I'm still pretty sure all Koeman did was pick a team and send them out with little or no instruction. I've always had a soft spot for Pellegrini after watching his Villarreal team... Ofher than that I don't have a preference. I just don't want Howe or Dyke etc. We are supposed to have ambition and some financial clout so let's get it done. How many windows will it take now to undo this mess: And ffs put Sandro and Klaassen in the under 23s, where they belong.
Jason Broome
238
Posted 24/10/2017 at 17:57:21
'Spoilers'
Just like 'The Alchemist' could the treasure we are looking for be home all along!?
We need a manager right NOW who has passion and commitment, won't cost £6M a year, knows the club, won't need £100M to get us winning, has already won things at the club as a player and manager, has already managed at senior level and won every game, can work with the players at his disposal, and will bring a fighting spirit to a team bereft of both fight and spirit.
If he brings the defensive know how of David Moyes and the attacking ability of Martinez, coupled with the fire of dogs of war football, I can't see us getting relegated.
Some of the greatest managers were not the greatest of players. Their playing career was simply a prelude to management.
Give him the chance.
Ken Buckley
239
Posted 24/10/2017 at 18:01:26
In my view, given what has been served up this season so far, we have the right man at the right time with the right club to set us up as a confident swashbuckling easy on the eye sock it to them team to be reconed with. His byword is win his head and his heart is Everton.
I reckon the faithful will love this so go-ed Unsy make the job yours we will all be behind you.
He is one of our own you know.
Steve Ferns
240
Posted 24/10/2017 at 18:02:14
Stephen #233, thanks for that. It's yet another example that Unsworth is more than an ex-player, like Ferguson. He is a thinker, a student of the game. He is processing what he has learnt and looking to apply it. And this is back in 2013. We can all see just how he has done that. Unsworth will no doubt be able to talk tactics with all the football nerds like myself. He's friendly, he's approachable, he's also a winner.
I really, really want to see him just win every game (and never stop! haha). It'd be a dream for everyone if he could do something unexpected and win tomorrow, then follow it up with a couple of wins in the league and suddenly we'll be all thinking, here we go. Of course Shakespeare did that, but when you see articles like this, you listen to him talk, and you hear how he processes everything, I think he's got more than enough mentally to succeed. I'd love it if he did.
He's also got that infectious personality, a bit like Martinez. Watch his press conference, I bet you smiled. Imagine being at training, I bet the players smiled. I bet they really were "buzzing". And I bet they haven't felt that way for some time. I bet they also worked harder than they have done for a long long time. Note Unsworth's references to Moyes and fitness coaches. I bet he'd introduce something similar.
Come on Unsworth, Everton are due a lot of luck, and if you're lucky you should get the job at least until the summer.
Colin Glassar
241
Posted 24/10/2017 at 18:02:48
Brent 229, big powwow yesterday between Unsy, Kenwright and Walsh. Talked football all afternoon. Bill left looking confused.
Liam Reilly
242
Posted 24/10/2017 at 18:03:49
Thankfully Giggs and Neville are both outsiders according to the bookies who are rarely wrong and Moyes is moving out which can only be good.
Fat Sam and Dyche are far too close to the top for my liking though.
Tuchel or Ancelotti for me.
Derek Knox
243
Posted 24/10/2017 at 18:04:26
Maybe it's the exit of Koeman, that the expectation for tomorrow night is gathering apace, I just hope the optimism we have, is shared by the players taking part tomorrow.
I have checked and no broadcasters are even showing the game, so I suppose it will be radio coverage at best.
It would have been good to see how the players responded to be unshackled from Koeman, and how they applied themselves.
Michael Mcloughlin
244
Posted 24/10/2017 at 18:07:50
For me, the most telling statement in this whole show was when Rhino said, 'I have no idea what went on in the first team training, because we wasn't allowed to be there. I got this statement from a very senior Everton figure when asked what the team was for Sunderland
who said. 'We are not allowed into Stalag 6' so I have no idea. Apparently he never spoke to anyone at The club, which is not what the blues are all about. Well he has gone Rhino is in I really really hope he is a success. The blus need that.
Ian Burns
245
Posted 24/10/2017 at 18:11:30
Colin - 241 - very funny
Kim Vivian
246
Posted 24/10/2017 at 18:27:09
I think it is quite fortunate that Rhino gets his first game in this Caracocacolacopacabano cup albeit against Chelsea who will be strong even though they are mooted to be putting out a young team. It will be interesting to see if Conte actually strengthens his team up mindful of our likely reaction to change and the Rhino effect.
The league games are going to be higher pressure and this gives him a good opportunity to try some stuff out, and then get a couple more days before Leicester. I do believe we have a perfectly good chance of winning tomorrow, and what a start for Rhino and the team that would be if we can pull it off.
Changing the subject slightly, has anyone got any idea if this is likely to be getting any tv streaming anywhere. It is not showing on normal TV I think so grasping at straws.
Good luck tomorrow, Rhino and you Blue boys.
Mike Kehoe
247
Posted 24/10/2017 at 18:31:31
Everyone starts as an underling to someone, mourinho, wenger, Ferguson all served their time before stepping up. I don't fancy another European master tactician who doesn't know how to either defend or attack. I've long advocated for Unsworth as I feel he is right. Tactics don't mean anything without drive and the ability to unite the players behind the cause. Forget the likes of ancellotti and tuchel: it isn't going to happen and they are not what we need. Get back to basics and see where that takes us. If we look like a team we will attract players.
Dave Abrahams
248
Posted 24/10/2017 at 18:36:48
David (237), David if Koeman just picked a team and sent them out with little or no instruction it doesn't say much for the players, have none of them got a mouth on them, mind you none do much talking on the field, maybe they do even less off it.
David Chait
249
Posted 24/10/2017 at 18:39:00
It was a couple years ago now when I first punted Unsy for Manager. 2 things stuck out for me, firstly, the team had really struggled for a few months, but somehow he turned it and turned it brilliantly showing an ability to change and find a way. Secondly the way he spoke at the press conferences. He speaks with authority, knowledge, humour, positivity based on realism.
He is clearly very very astute and has a real vision for how the game should be played. He isn't burdened by hyperbole or being overly doer. He seems to have a balance that makes him very listenable.
My concern is this is the worst circumstance he could take over in, but in that is great opportunity. I hope he is given till the New year and if we have improved then extend to May. Then take it from there... but he deserves a shot.
Colin Glassar
250
Posted 24/10/2017 at 18:46:00
Kim, the media are saying Chelsea are looking very sharp in training so I think they will take the game very seriously.

I see Onyekuru isn't denying being linked with Atletico Madrid and Juventus. As I initially suspected, he was bought to be sold. Anderlecht are just fattening him up to be someone else's feast.
Eugene Kearney
251
Posted 24/10/2017 at 18:58:21
David Unsworth is the man of the moment. I hope it works for him and for EFC. Good luck starting tomorrow evening.
Andy Crooks
252
Posted 24/10/2017 at 18:58:44
I wish him the best of luck. Caretaker managers often have a bright start, run into trouble, are eventually taken for granted by their players, get fired, career over.Can anyone predict a bright future for the sacked Shakespeare? I expect, though David Unsworth will be inspired by the goodwill that is with him.
What, by the way, is Duncan Ferguson still doing blagging a living from our club? He is a common denominator in the recent failures. " Big Dunc," offers what? .He is like some kind of, mascot, lucky charm that doesn't work.
The only reason he shouldn't be shown the door is if both Martinez and Koeman have steadfastly ignored his advice. If his tactical nous and man management has been wrongly dismissed by the last two coaches.
This " Everton Legend", is as symptomatic of what ails Everton as his sponsor Bill Kenwright.
Oliver Molloy
253
Posted 24/10/2017 at 18:58:59
Nothing would please Evertonians more than an Evertonian taking the reigns and building a successful side , however I'm assuming Moshiri & co will be weighing up the pros and cons of appointing from within along with bringing in an experienced established manager.
As someone who lives in Ireland and having only watched the odd game with the under 23's on telly etc I would like to be educated by those who know better !
I have heard from numerous people that David is very highly thought of by both the kids he manages and people within the club in general, personality wise he is the complete opposite from Koeman which is a good start , but it's a different pressure managing the first team , has he got in him to be ruthless ?
This is what I want to know , would he get rid of Ferguson for instance ?
What type of football could we expect if Unsworth got the job full time.
Any thoughts from those of you who watched his progress this last few seasons?
Jay Wood
255
Posted 24/10/2017 at 19:06:27
The U-23s play Lincoln tonight. Worth keeping an eye on the line up on who DOESN'T play and who, as a result, may have made the trip to London with the first team.
I recall reading the article on Rhino Stephen Williams shared @233 when it first came out 4 years ago. It impressed me then, as did his demeanour, selection and tactics for his single previous game as 1st team manager when Roberto got the bullet.
He is an avid learner and I wonder if David whilst watching Everton this season indulged in a similar mental exercise as the now manager of Leeds, Thomas Christiansen whose job interview impressed the club's board so much he landed the job after Gary Monk left.
Apparently, Christiansen showed the Leeds' board a lengthy presentation, analysing the individual players at Elland Road and identifying areas of their squad which required improvement. He also dissected a number of United's fixtures under Monk and outlined the changes he planned to make to the club's style of play.
This I believe is a model we should be following. Someone capable of deep analysis of individuals and the team and the wherewithal to get it right on the training ground and in the white heat of battle.
Like many others, I would love it if Unsworth could shine in the role and earn the job full time on merit.
Tony Everan
256
Posted 24/10/2017 at 19:06:47
I would have more confidence if Unsy had actually managed a club and had some success.
It is a completely different ballgame being in the spotlight. Massive pressure and every move picked over by all and sundry.
Pressure and stress does strange things to people.Not everybody can operate as normal when in the middle of the maelstrom. He's untested.
Regardless of all that I would rather him being given a chance than Dyche,Allardyce,etc etc god forbid.
Tuchel and Silva are young and hungry . The only managers that interest me.They would be hands on. If it's not given to the Rhinoceros ,Tuchel will get it.
If so I hope Unsy is embraced as his assistant.
Kevin Moorcroft
257
Posted 24/10/2017 at 19:15:50
Not an enviable task for anyone is this. Mr Koeman has left us in the mire big time with a very poor team attitude wise no pace no goalscoring ability and a dreadful defence. Pickfords saved some severe routs and so did Robles last season. Strange how these very good players before they arrived here have virtually all become just average. Anyway if Unsy plays his under 23s they cant do any worse than Koemans choices.

It's all a mystery how weve performed and its time to stand up and be counted Id have no doubt in Unsys ability to galvanise and motivate

Don't expect much at Chelsea. Get the points in the league and give him some time.
Des Farren
258
Posted 24/10/2017 at 19:16:19
...Beasts of every land and clime
Hearken to my joyful tiding
of the golden future time.
These threads remind me so much of the false dawn following Martinez' departure. Everything was perfect..Moshiri and Koeman!! What a combo!
Four legs good, two legs bad. Here we go again..
John Otway
259
Posted 24/10/2017 at 19:20:08
#258. Pretentious, moi?

Tony Marsh
260
Posted 24/10/2017 at 19:23:30
Football is a simple game.If you do the basics right you won't go far wrong. The last two Everton managers didn't get the basics right and hence we struggled. Unsworth knows his craft and has spent enough time in an around the Premier League to know what's required.
I don't see how managing Everton's reserves is any difference to being a coach for a Mickey mouse outfit on the continent. At least Unsworths sides have been smashing all before them and playing great football.
Give Unsworth a shot at the job.We will know by Xmas if he will make a go if it or not.Lets face it Ronald Koeman came with great credentials and stunk the place out .Ex Barca Ex Ajax etc etc. Unsworth will not do a worse job than Rigid Ron. You can bank on that much.
Derek Knox
261
Posted 24/10/2017 at 19:24:53
Colin with reference to the powwow between Unsy, Walsh and BPB, did anyone speak with forked tongue?
Peter Warren
262
Posted 24/10/2017 at 19:25:28
100% agree with Tony.
Mike Hughes
263
Posted 24/10/2017 at 19:41:25
Frank #232
Big name players usually come with big price tags and don't always perform. Take some of our own 'stars' to begin with. But also look at (off the top of my head) Pogba, Ozil, Stones none of whom have pulled-up any trees. We've splashed the cash and look where we are.
I wouldn't assume that just because David Unsworth does not have a decorated career that he won't be successful. On paper our squad doesn't look too bad (striker aside) and if Unsworth can get the system right and the players clicking, he could surprise a few.
He's got a tough task given what he's starting with but he can't do any worse than Koeman.
Let's see if, in the next 9 games, he can better RK's last 9 game record in recouping 8 points (at who knows how many million per point). If he doesn't then God help us.
But I have a suspicion he will do pretty well.
And as well as any 'star' manager inheriting this shambles - at least in the short term.
Phil Walling
264
Posted 24/10/2017 at 19:42:17
Tony @ 256, how can you possibly know anything about Tuchell apart from what you've read on Wiki ? And like every big-name manager, he'll come with his own panzer troops, so goodbye, Unsy !
As for Silva, he's already relegated Hull so seems a little too Martinesque for me.
I don't rate many in our squad at present and expect little improvement whoever is in charge. Don't expect too many silk purses from these cows ears whoever gets the gig !
Danny Broderick
265
Posted 24/10/2017 at 19:42:18
I can't help drawing parallels with when Joe Royle joined us in 94. Watson and Southall, among others, were rubbish and past their best, apparently. Royle came in and built his team around them. The rest is history. He got everyone onside, got everyone enjoying their football again, and we never looked back.
Lots of our players have been struggling - Schneiderlin, Williams, Keane, Sigurdsson etc. But these players have not become bad players overnight. I believe a fresh approach, and getting everyone onside, will give everyone a lift.
Welcome to the manager's chair Rhino. He couldn't have done more with the under 23s. He will know every up and coming young player in the land.
Get us organised and motivated, and inject a bit of pace and youth, and we will be ok. The first few games aren't easy, but the fans will be back onside also now. COYB!
Phil (Kelsall) Roberts
266
Posted 24/10/2017 at 19:46:05
I have enjoyed reading this read but perhaps 50% was the person who read Neville and thought Neville Southall had out his get in the ring rather than Phil Neville.
As confused as a OFM team selection

Mike Price
267
Posted 24/10/2017 at 19:46:19
No matter who we get it's hold your breath and hope. As much as he seems a popular choice on here DU is low profile and on a hiding to nothing, I can't see Moshiri sanctioning that. The way Jim White was banging on about Dyche on Talksport makes me think that may be the inside track.
But on all that is holy, please get someone that reveres pace and power, especially pace allied to a bit of skill. Surely that's not too much to ask for, especially with the resources this club can supposedly command.
Steve Ferns
268
Posted 24/10/2017 at 19:47:12
Exactly Danny, there will be 100% backing, there will be patience and Unsworth will get time off the fans. More so than any of the other candidates.
Andy Crooks
269
Posted 24/10/2017 at 19:53:18
Phil, Hull were doomed before Silva took charge. To say he relegated them is twisting facts to suit your agenda. Had Koeman remained he might have relegated Everton, not the man brought in late on to save the day.
Who do you want?
Mark Tanton
270
Posted 24/10/2017 at 19:57:00
It's utterly ridiculous to say Silva relegated Hull. He transformed everything about the club in a short space of time, from how they travelled to home games to what they ate. He took a team that was unbelievably useless and got them winning, beating Liverpool along the way. If he'd have had another 6 games they'd have stayed up.
Paul Holmes
271
Posted 24/10/2017 at 19:57:49
You don't need science degree or have been a world class player to be the manager of a football team.All you need is a skill to motivate the players to give their best when they play for you.Unsworth looks to have the right balance of personality because the u23 won the league last year,beating off the top prospects of City,Utd,Chelsea and Arsenal.It looks like the players liked him and played for him,which is a good sign.The likes of the u20 world cup winning players from Everton will shine under Unsworth.Kenny,DCL,Lookman and Tom Davis.Niasse also played well for Unsworth when he did not have his locker.These young players mixed in with the older ones could start a revival.
Paul Kossoff
272
Posted 24/10/2017 at 19:58:12
Beloved leader Unsworth
fearless faithful guardian!
Proud and strong,
protect us from the wrong,
you will defend us
with your lofty knowledge.
Our team our team
there is no beast that's braver!
They will not ever waver!
They face the fight,
for right with might.
Glorious, great and triumphant,
gallant hero resilient!
Here's hoping.
Phil Walling
273
Posted 24/10/2017 at 19:58:38
Andy, if I'm pushed, the devil I know and that's Unsy. Because I know he'll work his guts out for us. Trouble is, I think the squad is crap and tend to believe we're in the spot we deserve !
Let's hope I've got it all wrong. Again.
Neil Copeland
274
Posted 24/10/2017 at 19:58:56
What a great of fresh air Rhino's press conference was. Beaming with pride, spoke well sensibly and passionately, he was also extremely professional. His comments about Ross show what a good man manager he is also and whether or not he can convince Ross to stay, it bodes very well when managing the other players.
Confidence breeds confidence, he said the players are buzzing already, the change in short-term mood is very welcome and great to see.
After listening to Rhino I suddenly feel more positive than I have since the summer. Hopefully it's not all front (I don't think it is as he is a naturally positive character) and we will see a happier group of players realising what a great club they represent.
I am not expecting miracles but I am quietly confident of big improvements (given time).
We are all behind you Rhino, come on mate give it everything and show us what Everton is really about.
COYB
Andrew Clare
275
Posted 24/10/2017 at 19:59:30
I really hope it works out for David. He is a good guy and real Evertonian. Hopefully by December we will start to see the fruits of his work. I know it's not long but at this level in our situation time is at a premium.
Mark Tanton
276
Posted 24/10/2017 at 20:00:21
Two things are certain -
1, this is good as it gets
Mark Tanton
277
Posted 24/10/2017 at 20:02:22
Two things are for sure -
1, this right now is as good as it gets. We can speculate and be excited. Whoever gets the job will disappoint eventually, in some way.
2, if it's Unsworth then Niasse will be the main man!
Steve Ferns
278
Posted 24/10/2017 at 20:05:44
Doubt it mark. Unsworth was the driving force behind the Calvert-Lewin transfer. He signed him after playing sheff Utd. I'm sure there's a good relationship there and I'm sure Calvert-Lewin will be his no9.
Derek Knox
279
Posted 24/10/2017 at 20:14:17
Paul Kossoff @ 272 send that little ditty to Chelski, they won't even come out of the tunnel. :-)
Terry Underwood
281
Posted 24/10/2017 at 20:16:02
Just had a fantastic idea Why don't we pinch Southampton's manager?
Or, Rhino and Big Dunc walk into the dressing room, Dunc starts slapping players in the chops, anyone with the bollocks to square up, THAT'S our captain. Assuming, that is, he survives.
Lewis Barclay
282
Posted 24/10/2017 at 20:17:04
Turning point. I hope.
Jack Convery
283
Posted 24/10/2017 at 20:20:46
I respect everything Unsy has done with the under 23s - a brillaint job. However if say, we got Dyche or Leicester took him, would Burnley look to appoint Unsy - No of course they wouldn't and they are in far better shape than us. We need a respected coach who the squad will all look up to and the rest of the Prem teams would say bloody hell - they got him. Ancellotti is the one who fits the bill for me. By all means promote Unsworth to work with him. I am afraid Unsy will end up like Shakespeare at Leicster, Out of a job and out of a place he really loves. My outside choice would be Silva at Watford, who may well be the next Pochettino. Good Luck Unsy !
Mark Tanton
284
Posted 24/10/2017 at 20:21:03
Oh I know he loves DLC and he's 'his signing' but Niasse will have a big role surely, as he was banging them in for Unsworth in the U23s wasn't he?
Tony Hill
285
Posted 24/10/2017 at 20:26:32
Unsworth will get time only if we get results. We do not have the luxury of waiting for him to bed in for very long at all.
Much damage has been done and we are not suddenly going to become a free-scoring side - because we have no free scorers.
I wish David well and I think we do indeed have the makings of a very decent side in due course. But it isn't being miserable to say that I remain worried about our situation and I suspect that our managerial selection is going to have to reflect our limitations pretty quickly.
Oliver Brunel
286
Posted 24/10/2017 at 20:42:20
Interesting Unsworths comments about fitness coaches. I always thought the players were not fit. Scandalous at this level.
Paul Thompson
287
Posted 24/10/2017 at 20:42:33
I doubt if there's an Evertonian who doesn't like Unswoth and wish him well in the caretaker role. But his short term room for manoeuvre, particularly in defence and attack personnel is very limited. It's an uphill struggle and I'm afraid that the view that 'there will be patience and Unsworth will get time off the fans' (Steve #268) may prove optimistic. More defeats and the clamour for a 'proven' manager will be loud(er). I sincerely hope he (and the team) prove me wrong.
Alan Brown
288
Posted 24/10/2017 at 20:48:26
If Unsworth and Ebbrell have the first team and Francis Jeffers has the under 23s, who else left with Koeman? I expect his brother went too but is Duncan still there ?
Tom Bowers
289
Posted 24/10/2017 at 20:49:45
The defending side of things has gradually suffered because of the struggling offence.
That, obviously may not improve overnight as Unsy just has the same personnel to work with.
They will need some luck to win a few games between now and January but perhaps Unsy , Royle and Ebrell can at least boost the confidence levels throughout and get them believing they can compete.
Paul Tran
290
Posted 24/10/2017 at 20:50:51
Just watched the presser on Twitter. Impressive, positive, normal. Curious about team selection and formation. Would be great to see an Everton team having a go for a change.
The next man who can play these guys in the right position, give them a clear tactical message they can understand and grab us a top notch striker will be our next hero.
It would be a great story if it was Rhino.
Brendan Fox
291
Posted 24/10/2017 at 20:51:19
Good luck Rhino and Ebsy! Hope you both get given a fair chance to prove yourselves upto the job.
All those wishing for Anceloti, Silva, Tuchel and any other manager you wish to name please remember that the most successful managers of Everton have been former players or Evertonians.
We all say we are truly a different club to all others well perhaps this is one of the reasons why someone who truly understands the club is successful as a manager.
Tony Hill
292
Posted 24/10/2017 at 20:55:35
I agree, Oliver (#286), I think it's been a big factor. We always somehow look less athletic than the opposition. You do see it in the warm-ups.
Mike Allen
293
Posted 24/10/2017 at 20:57:06
Need a manager to manage all aspects of the club "I'd love it just love it" if David could do it, we don't want any of the continental set ups the manager manages. win lose or drew just getting us to compete for the whole of the game would be a good start.
Derek Williams
294
Posted 24/10/2017 at 21:03:14
It would be so great if this works out long term.
A manager whom we all like who loves the club and doesn't see us as a stepping stone to something bigger and better. Because in Rhino's mind it's already the biggest and best job.
He talks about us as "us" and "we" like we fans do which is a refreshing change too.
It would be a crying shame if, in ten years' time, we're still referring to him as the best under 23 manager around if he never had a shot at the big job. All the best to you Unsy, a proper Evertonian!
Andy Crooks
295
Posted 24/10/2017 at 21:12:36
David Unsworth will get patience, tolerance and support. Let' s see what he can do.
Also, however matey it sounds and however pompous my thoughts on it sound, how about not calling our new manager fucking Rhino. Rhino was the under 23 coach.

Eric Paul
296
Posted 24/10/2017 at 21:17:10
Jack
Good job Philip Carter didn't think like you we'd never have given Howard Kendal the chance to manage at the top level it's about time young English coaches were given a chance instead of second rate foreign coaches like our last 2 who have cost the best part of 20 million to get rid of
Dave Kelly
297
Posted 24/10/2017 at 21:21:25
ONly a few weeks to go before we can bring in a striker, plus I think David will bring the younger players in the team such as DCL and Lookman on in leaps and bounds. Let's not underestimate the abilities of John Ebbrell with the young players either.I 'm totally confident of a huge improvement in 2017. I haven't given up on RKs signings either, they have bags of improvement in them now that they'll get proper encouragement.
Paul Tran
298
Posted 24/10/2017 at 21:23:01
Interesting piece by Paul Joyce in The Times. Koeman was apparently barely speaking with the players in the last week and they were amazed when he was talking about using long balls in the last training session.
Could be a happier camp now methinks. We may see what these players can really do!
Jay Wood
299
Posted 24/10/2017 at 21:25:37
As I wondered earlier, the U-23 side playing Lincoln tonight might inform us who Unsworth has taken to London with him for the game against Chelsea.
Most notable absentees are Jonjo Kenny, Benni Baningime and David Henen.
I wonder...
Tony Hill
300
Posted 24/10/2017 at 21:27:32
I agree, Dave (#297), Lookman in particular could give us some proper attacking threat if he responds to Unsworth. I still think he could be a superb player.
I also agree with you about some other signings, especially Klaassen who I think could yet be a big part of the future despite his general awfulness since arriving.
Phil Malone Jnr
301
Posted 24/10/2017 at 21:28:43
Heading down to London tomorrow as I'm flying back to Canada the following morning. Does anyone have a spare ticket for sale lads?? Cheers, Phil
Neil Copeland
302
Posted 24/10/2017 at 21:28:50
Andy 295, ok, David or Unsworth it is!
Colin Glassar
303
Posted 24/10/2017 at 21:30:32
Whoever the manager is in January we are still in desperate need of a left back and a striker.
If money's short (after severance pay) Luke Shaw on loan and Kevin Gameiro up front would be two easy(ish) targets as they are both surplus to their clubs.
Looks like Paul Clement might be out of a job soon which could open the door to
Jack Convery
305
Posted 24/10/2017 at 21:34:17
Eric - I was saying if the choice was Ancelloti, Silva or Unsworth for every other team in the Prem, who would they take. If it was a choice between Dyche, Ancellotti and Silva, I could understand Dyche having an opportunity, but Unsworth no chance - so why would we take the chance. The position we find ourselves in needs experience. If Unsworth works out like Kendall did I would be absolutely made up like every other Evertonian but its a risky thing to do. Every appointment has its risks but some less then others.
Dennis Stevens
306
Posted 24/10/2017 at 21:37:20
Jack, we're not looking for a Manager for any other club - we're looking for a manager for Everton. A good fit for one club isn't necessarily a good fit for another. Whatever you do, you're taking a risk &, as we've just experienced, some of them come at great cost.
Tony Sullivan
307
Posted 24/10/2017 at 21:44:45
Colin Glassar (80)
I think Bob Paisley could be counted as a successful caretaker manager.
Possibly Rhino has similar attributes.
We are about to start finding out.
Good luck to Unsy and the team.
Kunal Desai
308
Posted 24/10/2017 at 21:56:03
Dunno about anyone else but seen Unsworths press conference. That gave me goose pimples. Have not heard an honest, straight forward and frank response for about three seasons. So used to having to listen to drivel and rabble filled with bullshit and blame.
I wish Unsy all the best and if it doesn't work out for him this time then I hope there is an opportunity for him to learn from a winner of a manger that we appoint so that he is even better equipped to takeover as manager at the next opportunity.
Colin 136. Thats brilliant. Very true as well. Remove the deadwood at the top.
Christy Ring
309
Posted 24/10/2017 at 21:56:18
I thought David's press conference was a breath of fresh air. He deserves a chance, and I hope it works out for him. Listening to his playing style, it will be completely different to Koeman, playing as a team, with players in their proper positions. I know we're lacking in certain areas, but he has a very positive, true blue attitude.
I thought his comments about Barkley, being a great player, and an Evertonian, and wanting him to stay, very passionate and respectful. Koeman's treatment of Ross was a disgrace. Hopefully he'll stay now, as Sigurdsson / Klaassen wouldn't lace his boots. NSNO
Paul A Smith
310
Posted 24/10/2017 at 22:03:22
I just hope whoever gets it, Steve Walsh isn't allowed to buy him his squad.
Eric Paul
311
Posted 24/10/2017 at 22:06:29
Jack
I don't think silva is so special just another Martinez and Ancelloti has never coached a struggling side he has always worked with top players so he could be a massive gamble and why was he sacked,David Unsworth knows how to win games so in my opinion he has earned the chance
James McPherson
312
Posted 24/10/2017 at 22:16:34
Paul (310) - could not agree more. How on earth has Walsh not been held to account too? The brassiest of brass necks.
John Graham
313
Posted 24/10/2017 at 22:28:55
Yes great to reward him for doing well with the U23's.
Give him a couple of games while we sort a new manager.
But we need someone with a great reputation who will attract top players.
Yes he's a great Evertonian, and yes he has done well for the past two seasons with the U23's. but let's face it he is 44 has never managed in any senior league and won't attract top players from any league.
Let's get away from having an Evertonian as a manager and look for someone who will at least get the other managers and teams a bit scared about having to play us.
Paul A Smith
314
Posted 24/10/2017 at 22:32:13
James 312 I haven't a clue mate but I remember Koeman wanting Depay Giroud Witsel and a couple of others.
He was let down there. This can't keep happening whether its wages or fees.
The club either wants success or it doesn't?
Koeman did seem to go along with a lot of praise for the new players (maybe any manager would?) so I wouldn't rule out he brought some duds in but them signings are not all Koeman players I don't care what anyone says.
Christy Ring
315
Posted 24/10/2017 at 22:33:28
Paul 310# It wasn't Walsh who bought Sigurdsson and Klaassen, for £71m.
Ray Smith
316
Posted 24/10/2017 at 22:34:42
Colin Glassar
I took the bait.
I'm so p . off with what's been going on behind the scenes, that I couldn't see the wood from the trees (deadwood ha ha).
How about Ibrahimovic on loan in January as a stopgap for the rest of the season, until we sort the current mess out? Don't ask, don't get!
Give Lookman and Niasse a run in the meantime, they might just come good. Henen training with 1st team, would never have happened under Koeman.
Phil Bellis
317
Posted 24/10/2017 at 22:36:26
FFS John... Who will come to Everton with a reputation to attract top players? How much would they want?
John Daley
318
Posted 24/10/2017 at 22:39:09
"
We need a respected coach who the squad will all look up to and the rest of the Prem teams would say bloody hell - they got him. Ancellotti is the one who fits the bill for me."
Isn't that what the guy we just got rid off was supposed to be?
The problem with the likes of Koeman and Ancellotti is their ultimate aim is embellishment of their own reputation and standing through successful steering of 'a project' (*hock pttt*), whilst simultaneously filling their pockets. Failure is a personal blow to their ego and legacy that they'll simply look to shake off by getting back in the saddle somewhere else. For them, Everton will only ever amount to a short-term assignment and one that would be some way back on their list of preferred destinations.
Koeman clambered aboard half-blind in the mistaken belief that the Everton job was one commensurate in standing to being coach of Southampton, except with more coin to spend on players and a sweeter salary. I honestly believe he was caught unawares by the passion, expectations and demands of Everton fans and thought he could simply sail through his contract in a half-arsed manner, while receiving pats on the back for replicating similar streaky results to those he achieved on the south coast. He had no notion of the fervour football whips up on Merseyside. Everton was a stepping stone the soft twat realised too late was scolding hot when he tried to stomp all over it.
For Ancelotti it would be nothing more than convenient arse cushioning while he waited for a chance to climb back up the ladder.
It's been far too long since we've had someone at the top whose ultimate ambition was to achieve success for Everton, not for themselves first with Everton benefiting almost as a by-product. Someone who views being Everton manager as their dream job, not just a park bench (with an excellent benefits package) on which they can park their arse and get their breath back while on the path to a more plum role.
Unsworth has run the full gamut at Goodison. He knows what it's like to come up through the ranks, to battle and stand up against more experienced and recognisable names, has experienced the pressure of having to perform in one of the worst Everton sides ever, along with seeing how that same side can be rejuvenated by sound coaching, canny man-management and sheer force of personality, resulting in the elation of landing a long awaited trophy. He knows both what it feels like to be shipped out of the club and to be brought into the club. As his spot-kick record shows, he knows what it feels like to stand up at Goodison, shoulder pressure and regularly deliver. He's demonstrated an admirable desire for self-improvement and furthering his own education, along with a talent for engendering the same in a younger generation. He's risen to every challenge he's been handed since returning to the club in a coaching capacity and has earnt respect from all those under his charge.
The values, history and expectations of the club, along with the knowledge of what's required to meet them are ingrained in his bones. Unity and passion for the cause were sorely lacking under Koeman, Unsworth would inspire both straightaway.
Having looked at the names who are out there and deemed realistic...the 'failed elsewhere but still good enough to be employed at fucking Goodison' floatabouts, the 'sub par but safe pair of hands' squad, the 'done decent at a dog rough club, so richly deserves the step up' Dyche's of the world... I genuinely see no other who would excite, while getting me off the fence and firmly in their corner from the get go.
Stan Schofield
319
Posted 24/10/2017 at 22:50:01
John@318: Great post.
Marcus Leigh
320
Posted 24/10/2017 at 22:50:36
John Daley (#318). Post of the day.
Andy Crooks
321
Posted 24/10/2017 at 22:50:54
John Daley, a fine post. Really top stuff.
Ray Said
322
Posted 24/10/2017 at 22:52:10
John Daley 318-cracking post
Seamus McCrudden
323
Posted 24/10/2017 at 23:07:06
When I listened to Unsworths interview today I thought this is it. He has my vote.
Alasdair Mackay
324
Posted 24/10/2017 at 23:18:51
I wanted him last time. I want him this time.
Unsworth is the answer. He gets Everton.
Those that don't understand don't matter.
Denis Richardson
325
Posted 24/10/2017 at 23:20:14
Unsworth isn't my first choice but the guys there and knows the club so let's see what he can do.
Go back to basics, play people in their positions and make sure we have some pace and width. It really isn't a complicated game.
I'll be at the match tomorrow and I've got a feeling we'll beat Chelsea's reserves which will give us a massive boost for 3 points on the weekend.
There'll be a honeymoon period, just hope it lasts for a while. Let's get some decent footy back to GP.
Andy Williams
326
Posted 24/10/2017 at 23:26:36
Excellent post John. My thoughts exactly - but expressed far more eloquently than mine would have been.
Paul Kossoff
327
Posted 24/10/2017 at 23:28:09
Derek@279 will do,😋
Dennis Stevens
328
Posted 24/10/2017 at 23:42:25
Absotively, John #318!
Dan Davies
329
Posted 24/10/2017 at 23:49:17
Klopp, Mourinho, Guardiola. Benitez? The so called Hollywood of English football.
Wasn't something like that mentioned by Moshiri?
Let's add Unsworth to that list ay?
Sorry I haven't read the above posts so don't take offence if I've gone against the grain. I don't care anyway.
Good luck David your gonna need it. My best wishes.
Colin Glassar
330
Posted 24/10/2017 at 23:53:35
John Daley, take a bow. It would be great if Unsy got the gig and was a resounding success. My only fear is that will we, the fans, give him a chance?
You know as well as I do how fans can turn on managers and players in the blink of an eye. A few bad results and the the euphoria turns to anger and the "get the fat, useless fucker out of my club" starts
People say owners have no patience these days but deary me, us fans have even less. If he does get the job I hope he's given more than 2-3 games before he's accused, judged and sentenced.
Jonathan Miller
331
Posted 24/10/2017 at 23:54:27
So Unsworth has already won the premier league with the youngsters surely that makes him a young up and coming manager. Give him chance to prove himself. I've got a feeling a really good one about Unsworth and already he is like a breath of fresh air.
Dan Davies
332
Posted 25/10/2017 at 00:17:37
Insular bollocks. The chairman and a number of senior players want Unsworth as manager.
I wonder why? So their comfortable Evertonian lifestyle can continue unchallenged?
Koeman met a brick wall at Everton. We need to appoint someone to smash through it.
Institutionalised mediocre bullshit. This club needs to appoint a manager with balls. Nothing personal against Unsworth.
He has my full backing from here out.
Dan Davies
333
Posted 25/10/2017 at 00:33:50
Kenwright out.
Stan Schofield
334
Posted 25/10/2017 at 00:35:04
Dan, he probably did meet a brick wall, but he was also shite as a manager. Getting rid of him won't solve our deeper problems, but it was necessary. Arguably any manager will struggle with Everton's issues, but some will do fine despite that struggle. Koeman didn't do fine, but perhaps Unsworth will.
Neil Copeland
335
Posted 25/10/2017 at 00:44:50
John 318, spot on
Dan Davies
336
Posted 25/10/2017 at 00:45:11
Unsworth must be the saviour of EFC then. I've heard it all now. Dream on. Prem hear we come. Champions league here we come. F A Cup? I'd fucking love it. Is it going to happen?
Guardiola must be shitting his boxers as we speak.
Stan Schofield
337
Posted 25/10/2017 at 00:55:53
Dan, is it going to happen? Probably not, and I wouldn't bet money on it. Not unless we have a massive influx of money, someone like Usmanov, who can finance us getting to the top. To replicate what John Moores financed in the 60s, when we were the 'Merseyside millionaires', the 'cheque book team'.
So the ambitions of Moshiri & Co are probably far less than being top dog, much like our neighbours across the park. Near the top, but not the top, contenders rather than trophy winners.
Given those limited ambitions, the trick surely is to find a manager who can get the best out of what he has available. Koeman wasn't good at that, but perhaps Unsworth can be. Or if he can't, someone else.
Dennis Ng
338
Posted 25/10/2017 at 01:00:13
Go rhino. Show them our best!
John Pierce
339
Posted 25/10/2017 at 01:07:11
Colin, 330.
I would wager despite your concerns I think the fanbase will give Unsworth time & patience should he need it.
The man himself knows what it is to be part of the club, and also knows what we won't put up with.
If he aint up to it he'd say so himself. All the other options, the well worn obvious will still be there if Unsy doesn't make it so absolutely give him a go.
I for one a vocal critic of the previous manager will say if the football is not up to scratch but not in a way that's demeaning to Unsworth. He'd expect no less.
I suspect, and hope it won't ever get close to that. Nice to be excited and have a sense of anticipation about Everton again.
Don Alexander
340
Posted 25/10/2017 at 01:17:30
If David Unsworth is the answer we really don't have much of a problem do we?
Seriously??!!
We have mega problems. We have too many shyster players still in the squad even after a major disposal of more than a few of them under Koeman. They just don't deserve to playing for a club intent on Champions League qualification, and that is the current criteria apparently. Put simply I suspect that we have players whose worst fears would be CL qualification because they believe that it would signal their personal relegation from the squad, to a lesser club, at a lesser wage, and they'd be right.
Unsworth has won sod all in football, just like Duncan Ferguson, John Ebbrell, and Alan Irvine. For the many nostalgic "promote from within" fans everyone of those guys seems to be the answer. I disagree. Kendall Mk.1 was a winner. He did with us in 1970. He then learnt his trade as a manager with Blackburn for two years before joining us and even then it took three years for the success to arrive.
In comparison Moshiri wants it now, comparatively immediately. He therefore has to look elsewhere in my opinion, not that I have a clue about the ideal candidate. It'll cost him way more than Koeman cost too.
And then there's the stadium to pay for.
I'm depressed!
Jim Harrison
341
Posted 25/10/2017 at 01:48:58
Stan, 337, I don't get your logic?
Mosh's ambition is to get near the top, no higher. last time around he hired probably the highest profile manager likely to come to Everton at that point. We know now that it didn't pan out as desired but OK, that's football. . . . . .
So rather than try again, go for what he believes to be a quality manager able of improving the clubs standing over a period of time we should just bring in someone who can just get us a bit better and be happy with that?
Mate, just because he hasn't gone berserk in the transfer market and brought in pep doesn't make him un ambitious, it makes him pragmatic. Can't do the city/Chelsea splurge then build over a period of time. It makes no sense to throw all the money you have at a team if you can't sustain the investment. That will only result in Boom/bust
Koeman didn't work out, dramatically so as it happens. That does not equate to a lack of ambition. It just means that we try a different approach. City went through Erickson and Hughes before Mancini achieved anything of note, Utd took 4 seasons and 3 managers to get back on track, Spurs I can't even remember how many!
The debt is now managed, a stadium is a real possibility, the squad, whilst unbalanced is capable of better things especially when back to full strength. A new coach taking over doesn't have to cull a great amount of dead wood. The crying shame of the end of Ron's tenure is that even without a striker he couldnt get the players he had to create chances or even string passes together. Plenty of teams in the Pl are doing just fine without a striker as good as Calvert Lewin or a playmaker as good as siggy
We should be looking for another quality manager capable of big things, but one who also gets the best out of what he has. If Rhino can do that, all the better, but really our ambition should be set on higher
Ernie Baywood
342
Posted 25/10/2017 at 02:30:16
Don. Unsworth has won
one
trophy... it may be less significant than the
one
Kendall won but it's still a trophy.
Just like Kendall, he has served a managerial apprenticeship. Ok it was PL2 rather than lower divisions but he won the thing! At our club! With some of the players that we want to see in our first team!
Ok, he wasn't the player that Kendall was and the likelihood of him being the manager that Kendall was it's fairly low. But is there enough in his background to rule him out? Absolutely not!
Will Mabon
343
Posted 25/10/2017 at 02:33:59
"
In comparison Moshiri wants it now, comparatively immediately.
"
Don, the "It" that Moshiri wants now is stability of the club in around 6th, 7th place, with a possible tilt at the odd cup or EL. Same as he wanted with Koeman. Anything more requires 400 million plus, not 200... and keeping the best players, not flogging them off to balance the spend.
Ain't no top four planned for this team, not in the foreseeable, so enjoy the rescue act, enjoy the football, and live in hope that we pull off an occasional Leicester.
Don Alexander
344
Posted 25/10/2017 at 02:39:40
Jim (#341), which teams are "doing just fine without a striker as good as DCL" please?
I'm fed up of saying it, never mind watching it, but somebody sabotaged our season before it began by failing to sign a proper striker. Like Martinez Koeman's now got the lottery-winning chop and deservedly so (in terms of the chop that is) if the failure was his, but was it his?
And even if it was, whoever the new guy will be still has the problem of trying to identify a player able to obtain a realistic modicum of "ball purchase / scoring threat" in and around the opposition's penalty area.
Derek Thomas
345
Posted 25/10/2017 at 02:41:42
Unsworth is a Temp, but as we all know temporary measures sometimes stick like stuff on a blanket.
'The Board' which according to the r.s. echo, has been and when it comes to Footy matters, still is, BPB; are looking at...fill in one of 10 here... to make Permanent.
The Unsworth remit; as I see it, is to (try to) convert losses into draws and draws into wins...but more importantly, generally improve the whole vibe.
The only one of his probable, up to now 4 games that might come under Moshiri's 'Expected Wins' is Watford.
Under Koeman those 4 games might've been seen as L, L, L, D. We would like to see W, W, W, W. from Unsworth...I can see Koemans only half decent legacy being that quote...'But OK, that's football'
used mostly in an Ironic sense.
We want Unsworth to succeed, and BPB won't be too upset either, because it gives him a bit of Leverage in negotiations with the Permanent guy.
Up to a point the actual results won't matter, more the manner in which we go about them.
I would like Unsworth to put Bill in a quandary come 5th Nov...a sort of do we really need to fork out 'X million for whoever.
We don't know what the terms are for Unsworth, is it we'll suck it and see or is it until the new guy signs on the line.
I vote for the Fairy Tale Option...and I suspect quite a lot more than will admit it do as well. Which is why Kenwright has lasted so long, we're all, or most of us to some degree, as daft and sentimental as he is...Or else we wouldn't be Evertonians, the bitterness is just the other side of that coin.
John Daley @318; top post mate, up there with Darren's the other week.

Don Alexander
346
Posted 25/10/2017 at 02:48:07
Will (#343), I think your point of view is now sadly realistic but Moshiri set the bar at CL qualification within three seasons so as far as I'm concerned he has to really deliver a proper centre forward in January regardless of the exorbitant cost and the unknown re "gelling" etc.
Failure to do so exposes him as a silly dreamer.
John Pierce
347
Posted 25/10/2017 at 02:54:20
Don, if you inspect season one under Koeman even with Lukaku in train, the signs were there.
I argued strenuously several times if things had been handled well Lukaku would have scored 35 not 25. Everton should have finished higher. The last 10 games were beyond awful.
One place higher would have avoided the qualifying rounds and maybe given him more time to shape the team?
The absence of a recognised centre forward was far from his biggest problem, which was himself.
Will Mabon
348
Posted 25/10/2017 at 03:26:11
"
but Moshiri set the bar at CL qualification within three seasons
"
Well he would, wouldn't he. Imagine if he'd said "We hope to emulate Southampton's last two seasons". Of course, the centre forward issue, from Rom to none, just confirms the scope and reach of the project.
Football is still the mix of hope and reality it's probably always been, except now, the money has kind of redefined the reality.
Laurie Hartley
350
Posted 25/10/2017 at 05:21:20
Michael Kenrick (#204) - got down to your post and had to respond. I wouldn't mind his hair.
Jamie Crowley
351
Posted 25/10/2017 at 06:15:48
I desperately wanted Martinez as manager. Yes, that went due south...
But my sons and I were talking about Everton this evening and we came to a conclusion.
In our 10 years of support from barstools across the pond, the single best team we have seen play is Martinez' first year's side. They were wonderful to watch.
Why do I mention this?
I have a stronger feeling of hope with Unsy. I think this man is a winner, and I've never wanted someone to succeed so badly.
I believe, with the utmost conviction, that this man has what it takes.
I'm more excited than I've ever been as a fan of Everton Football Club. I believe this man can surpass that "Martinez first year euphoria."
Time will tell, but I've got a really good feeling about Unsworth and his ability.
Give him time. I truly believe we've got a winner at the helm.
It's strike gold or bust, and I think we are about to strike gold.
Jamie Crowley
352
Posted 25/10/2017 at 06:31:07
And I just read 318
Jesus, Mary and Joseph John Daley that was brilliant.
You have summed up everything my feeble brain could not.
Fantastic post.
Let's fucking get behind this man through thick an thin.
I thought of a parallel. Living in America I've seen a dick of a President polarize this nation massively. I've told my wife I don't give a shit about party affiliation next election, I want a man or woman who can unify my country.
In a microcosmic way, surely Unsy is the unifier for Everton? He's one of yours - I don't have the gumption to say, "one of ours" because I wasn't around for most of his career and frankly I don't feel worthy enough to utter that statement. But surely this is the man YOU all respect and can get behind?
God I hope this man succeeds.
Brian Foley
353
Posted 25/10/2017 at 07:28:53
Deadwood? yeh Colin Glassar (161) yeh you, Colin Glassar, you horrible get, Jimmy Martin? ' He's HANDLED SOME OF THE WORST KITS IN LIVING MEMORY'. I suppose he's responsiblr for hiring RM & RK amongst others unless you are joking of course, unlikely, fuck in hell.
Daniel Lim
354
Posted 25/10/2017 at 07:35:10
Ernie 342,
you are missing an "s" after your second "
one
".
Regarding patience, if this is middle of August, I can see fans being patient with Unsy. But if, say, he managed another 4 points out of the next 4 league games (on average better than the current 8 from 9 games), I don't think anyone can be patient. Does this lead to the conclusion that Moshiri acted a bit too late? Unsy has a very hot potato in his hand now.
Daniel Lim
355
Posted 25/10/2017 at 07:43:13
Colin 161,
I supposed sometimes best to keep joke to yourself and people that know you well. Some people can't see a joke as a joke.

Paul A Smith
356
Posted 25/10/2017 at 08:01:41
Daniel 355 this is what happens when time is wasted with a post intended to be hilarious.
Never seen so much big bang theory banter in my whole life.
Surely this poor effort for humour only amuses the poster?

Oliver Brunel
357
Posted 25/10/2017 at 08:15:44
As Unsworth has said he will work with fitness coaches to get them fit and we will see an improvement merely due to this. Unsworth should be given the rest of the season and the funds 100M+ to get a quality striker in (not Giroud) , a left back, centre half etc. That is why I keep harping on about back room staf- if they cant even get the basics right (fitness) then they should be hung , drawn and quartered.
Raymond Fox
358
Posted 25/10/2017 at 08:22:07
David has a very difficult few weeks ahead, I'm not expecting miracles just hoping.
While managers are of all abilities their still at the mercy of the quality of the players.
Ours as a squad are not good enough, we are 7th place quality and from where we are now top 10 probably.
The Premiership results at the top especially, except from the Leicester blip have proved to be a money race.
Unless we can join the party and splash the cash on the right players like they do, I'm afraid we are stuck in the same limbo we have been for a long time.
Oliver Brunel
359
Posted 25/10/2017 at 08:27:38
Btw Colin my reference to culling backroom staff meant 'Coaching' staff, not the tea ladies or the toffee woman although I know your post was tongue in cheek...just sayin.
Rick Tarleton
360
Posted 25/10/2017 at 09:01:29
I really want Unsworth to be a success, he was a committed, whole-hearted player and I'm sure that he 'gets Everton'. However, he is not a young manager or coach, but a man in his mid-forties whose experience is with the youngsters with whom he has done an excellent job.
Whether the qualities he has are sufficient to make him a manager of a Premier League team is unproven. I agree that managers like Koeman and Ancelotti do not bring an emotional commitment, but again I'm not sure that is a pre-requisite.
Dyche, Wagner and Hughton have all done good jobs with very limited resources, because of good man-management and tactical organisation. I'd like to see one of them given a chance at Goodison.
Charlie Lloyd
361
Posted 25/10/2017 at 09:09:31
John @ 313
Why this preoccupation with employing a manager who will attract "top players". We've just had a summer with quite an amount of cash laid out on transfers led by a manager who was legend in the game as a player (not a coach!). He couldn't attract the top players. We managed to get the likes of Pickford, Keane and Sigurdsson. The top players go to the clubs who have CL football. Let's be realistic we need to get those very decent players who we can improve and fit together perfectly as a team. That's how we will progress.
Peter Mills
362
Posted 25/10/2017 at 09:13:42
I have just spent a few minutes sending an email to TW friend Mike Gaynes with my thoughts on the appointment of David Unsworth.
Mike - forget my email. Read John Daley's post #318 instead please!
Trevor Peers
363
Posted 25/10/2017 at 09:17:12
Glad to see the back of stupid Ron, he's history now. Unsworth is now in the unenviable position of having to lift a team that's in deep relegation form, before the international break.
Only positive results will impress Moshiri, starting with tonight he has to alter the mindset and tactics of the team to somehow turn them into a bunch of winners.
It's a tall order and we wish him all the luck in the world.
Adam Scott
364
Posted 25/10/2017 at 09:26:18
I am with Rick 360 on this one.
I get the freshness of Unsworth, I do. I also get what people like John Daley (318) have posted with regards to knowing the club. My only issue is that it is all too dewey eyed and romantic for me. In the cold light of day we have to be methodical and impassioned (at least the board do) about this:
1) Koeman hasn't worked. That doesn't mean another foreign coach won't. Most teams aren't managed by 'one of their own' It shouldn't be a pre-requisite, knee jerk reaction.
2) By all means, if by the end of these games, Unsworth earns it until the end of the season, go for it. But he has to earn it. Given his lack of experience I feel he has to do more than others.
3) At 44 Tuchel has already managed three teams, two in a top division with a reasonable degree of success. Dyche at 46 has been at two, with two promotions and games managed in three figures. Silva is four years younger and has experience now in 3 nations. Unsworth isn't a young manager. I do question why he has never taken the plunge.
4) I don't feel that the U23s is really preparation for senior football. It is of limited importance. Chelsea would rather loan out their team after all. It involves coaching, but not the media scrutiny and impact of senior football.
5) It does concern me that this is the guy the players want. Leicester said the same thing. I wonder whether they sense 'comfort zone'.
Overall, he has my total support. But long term, I want the best man for the job. We are a massive job and it needs the right man. For me, I would like a serious interview of Tuchel, Fonseca, Dyche, Unsworth and Silva. To be honest, my preference would probably be Silva. Gives the aura of the next Potch for me.
James Marshall
365
Posted 25/10/2017 at 09:38:09
Can anyone remember any caretaker manager being promoted from within a Premier League club ever being successful and keeping the job long term?
I can't remember one, but happy to be proved wrong. In all for Rhino having a pop at it, but I'm also one of those that can't help but feel it's a typically Blue Bill, typically Everton, typically romantic notion of it working out. Even more do with Ebrell, Duncan, Big Joe and even Franny Jeffers stepping up to the under 23's. It's all pure Everton to appease the supporters.
You can't polish a turd but you can roll it in Evertonians.
Jim Lloyd
366
Posted 25/10/2017 at 10:07:31
My optimism in the Summer, like so many others, drained rapidly away as the season began to take shape. Yep, we had a hard four matches but it was the manner of our defeats (and draws) that brought on the grim reality.
The reality is that we were in a terrible situation with every chance of the nightmare of relegation and the club imploding, if Koeman hadn't been sacked.
We're still in a mess as I see it, because the players that have been recruited don't appear to fit into any pattern that has been tried by Koeman.
My view of Farhad Moshiri, is that he will stick with this club, he wants success for this club and he took decisive action by dismiising RK. I think he realises (well I hope he does!) that the situation now is not likely to be helped by bringing in a new "top Class" manager.
We cannot bring in any players until January, so the talk of a new centre forward is pointless for now. We have to make do with what we have on the playing staff and the dire need now is for the moral of the players we have now (and us!) lifted immediately. A need for all of our players to feel wanted and respected by the club and for each and every one of them to pull their tripes out for every minute of every match that they are selected for.
We need a team that goes out on the pitch for every match where every player feels he is playing in an organised team. That every player buys in to what is expected of him and that he relishes being in a postion he feels comfortable in.
No matter what the result (certainly in the Karaoke Cup) it is more important that our players give themselves, and us, their pride back. They come off that pitch with their heads up after giving there all, on it.
For now, we want stability, enthusiasm and sheer honest effort, guts and determination of all of our players.
That is what I think Unsworth, more than any manager who came in now, will give our players. I think he, along with Joe Royle, John Ebbrell and Duncan Ferguson, know each and every players strengths and weaknesses and will be able to make the best of what we have.
If Oumar Niasse has been treated in such a manner has he has just related, if a born Evertonian with other Premiership clubs wanting his services, would rather leave than play again for the club he loves, then something has been drastically putrid in our club.
For now, the best remedy possible for the malaise that has infected our club and our players, is for someone to get a real grip of the situation and change it it to a much more positive and supportive one.
My view is that a new manager now, no matter how fine a tactician, no matter "big" he is in terms of who he has managed, can not do the job required as well as our ex players can.
Joe Royle is an man that Unsy can (and certainly will) turn to for good advice on all aspects of managing a great club, so in the mire that we are in, I don't think we could have a better team to get us out of that mire and begin the process of seeing our players WANt to come out on that pitch and get stuck right in to the opposition (in a football sense, not a Williams sense) in every match.
As for the players we have, well, I think we have players who are better than what results we have had and what they have shown so far.
I think we have not used our players anywhere near as effectively as their abilities warrant.
Hopefully, James and Ross are not too far away from full fitness, and the sooner the better. I think Mirallas, Lookman, Vlasic and even Bainsey, can provide speed down the wings. I think Bainsey is feeling the pace to be playing wing back but to me, he'd make a great little winger with someone behind him. We've also got Aaron Lennon, who always comes back to help his full back and hopefully John Kenny will be there until Seamus comes back.
Ig Siggy is given the role that he played in Swansea and for Iceland, with players around him who support him, we might just start seeing him being more effective.
As for C/F well for whatever reason, we didn't buy one but Dom is learning with every game and, again, there needs to be the support around him to give him chances. Klaason? well I think he needs time (that maybe we haven't got right now, but he may wel fit in higher up the field as a second attacker, as he's got a good goal scoring record. There's Oumar (is he our second leading goalscorer?) he's willing; and deserves a chance to be part of the squad.
So, in my view, for now, we have enough talent (and now hopefully, the bollocks) to start getting us out of the mire and away from the threat we face.
I reckon that if Unsy and co have done that by the time of early December, then my view would be that Mr Moshiri would not have to make a rushed job of picking a Manager.
Once January comes and the window opens, there's no guarantee that a centre forward who is top class, would become available anyway. so perhaps we look at loan deals until the Summer.
We are far and away from being in a position of picking a manager who will get us into the top six, let alone the top four. We need stability and steady, even if slow, progress.
The number one target is to steady the ship and get us up that league. I don't hink we could have anyone better than Unsy and co to do that.
Damien McKay
367
Posted 25/10/2017 at 10:12:30
Good Luck Rhino!! he's been their and done it, gets Everton and knows what it means to us all, he's even sat in the Street End with the Fans! He wont accept playing for a point away to the big four that's for sure.
I hope it works out and we start to turn the corner, if not Unsworth can hopefully continue the great work at the Academy.
I would also like to see other former blues involved in some capacity, such as Reid, Mountfield and Southall. That is our "DNA" and they could add value to our "Fabric"
Lets start aiming for the Sky because we are EVERTON. No more rolling over to the so called "Top Sides" and coming out with excuses. Onwards and upwards blues.
My team for the Chelsea game would be the following:
GK: Pickford
LB: Baines
CB: Jagielka
CB: Holgate
RB: Kenny
CM: Davies
CM: Rooney
Atkm: Lookman
Atkm: Vlasic
Atkm: Mirales
Strk: Calvert-Lewin

Adam Scott
368
Posted 25/10/2017 at 10:13:00
Excellent post Jim.
Agree with your assessment about the short/medium term. I think given the paucity of options I would be considering giving it to the internal team until the end of the season and re-evaluate then.
I am not convinced that Unsworth is the long term solution though.
I would also like to see other former blues involved in some capacity, such as Reid, Mountfield and Southall. That is our "DNA" and they could add value to our "Fabric"

Lets start aiming for the Sky because we are EVERTON.
I think the two are contradictory statements. If you aim for the sky, realistically employing a failed manager, and two who have had fleeting involvement in football since retiring isn't the answer despite them being Evertonians.
Paul A Smith
369
Posted 25/10/2017 at 10:17:42
James thats the best ending to a post I have ever seen. True aswell.
Soppy love will be the death of us.
Tony Abrahams
370
Posted 25/10/2017 at 10:23:47
Phil Walling has called it right regarding Unsworth, and although John's brilliant post sums up a lot of Evertonians feelings, has Phillip Walling, ever gave such a ringing endorsement before?
Jamie C, I wish you well mate, and although we are lucky to get rid of our trump lookalike, you poor fuckers have got the real thing. I'd hate him to be running a kids footy team, never mind the most powerfully armed nation in the world. The internet hackers are definitely more powerful than the sword!
Jim Lloyd
371
Posted 25/10/2017 at 10:26:50
Adam, I agree. I think we need the stability now. I also agree with the vision of Mr Moshiri, as that is what I believe he wants for this club.
I don't know who wrote what you have italicised but I think the first sentence of it was meant for the interim, not permanent, as there's always a danger of too many cooks...
I think the last sentence was an aspiration that we all want to see; but for now, it's feet on the ground and steadily reaching set targets.
Like you, I'm not sure that Unsy and co would be the permanent answer; but that is a question for Mr Moshiri. For now, we need to buy time...and immediately (after tonight that is!)
Damien McKay
372
Posted 25/10/2017 at 10:30:24
Adam: 368 I did not mean employ the former players in a coaching capacity. I would simply like to see them involved in an ambassador type role and to just support the staff by being around/involved at the club.
As for "employing a failed manager" Unsworth has not had a fair crack at the Job at Everton yet and could do better than anyone could have ever imagined. He might not be the Glamour name that we all crave but who knows because great ex players do not make great coaches/managers that's for sure.
We should look to produce our own world class coaches and managers from within moving forward and establish a wealth of young talent moving them out on loan to develop at senior level like all the Top Sides do now. If they end up not being up to the standard we can sell/move them on.
Football is not rocket science but you need to believe in winning and not have the inferiority complex that has been hampering us for well over 20 years now. If your main goal every season as a top pro footballer is to not win the Premier League then why even bother playing???
Chad Schofield
373
Posted 25/10/2017 at 10:31:10
I also have to say that post John Daley
318, is brilliant.
I just don't see a "top class" manager arriving and sorting this out.
While I see what people are saying about the insular bit, if it doesn't work out after he's really been given a chance, then there will be a thorough clear out.
Laurie Hartley
374
Posted 25/10/2017 at 10:51:28
Well I personally have found this quite a roller coaster ride waivering between a big name, safe pair of hands, and one of our own.
Fortunately both Darren Hind and John Daley have both contributed what I regard as compelling arguments for David Unsworth.
I have to say though Jamie Crowley's posts at 351 & 352 have done it for me. Well said Jamie. One small point - you wrote:
But surely this is the man YOU all respect and can get behind?
Should read WE all. You are undoubtedly one of us.
The thought occurred to me that if David Unsworth can get so many of us fired up after one press conference surely he can lift the spirits of the team. I keep harping back to this - men follow men.
I would have liked to have been a fly on the wall when he had his "private" talk with the players.
One thing is for sure - we are now in a better place than we were a week ago. One major hurdle has been negotiated.
It is early days but I can see a way out of our current position now.
I understand the concerns of fans like Dan Davies # 336
Guardiola must be shitting his boxers as we speak.
Probably not just now Dan but he will be if David Unsworth gets Us playing the "Everton Way".
Good luck to Unsworth and the team tonight.
Up the Blues!!!!
Frank Wade
375
Posted 25/10/2017 at 10:54:36
Good luck Dave. Deserves his chance. I'd much prefer him than the myriad of others listed.
Adam Scott
376
Posted 25/10/2017 at 10:54:54
I meant Peter Reid as the failed manager, not Unsworth. My foremost concern with him is the fact that he has never given himself the chance to fail and learn from it.
To be honest, we have Sharp, Stuart, Snodin already involved in the club. I think a link with the past is good, too many though and you are simply harking back to times gone. We know Moshiri wants to get away from that. Lukaku made the same point.
Looking at Neville's twitter account, I am not sure he is really cut out for ambassadorial roles, either.

Colin Glassar
377
Posted 25/10/2017 at 10:55:49
Daniel - 355, water off a ducks back mate. Anyway, let's get behind Unsy and the team and hope for a miracle tonight.
I'd go 4-4-2 and go down fighting.
Pickford
Kenny
Keane
Jags
Baines
Vlasic
Schneiderlin
Siggurdsson
Mirallas
Rooney
DCL
Subs: Stek, Holgate, Martina, Lookman, Sandro, Besic, Beni
Rick Tarleton
378
Posted 25/10/2017 at 11:00:10
John Daley's cri de coeur is powerful stuff, brilliantly emotive and persuasive. However, his basic premise is flawed, Unsworth job is not to "get the fans off the fence and firmly in their corner from the word go", the fans already are. It's to get a bunch of employees motivated and performing effectively. If enthusiasm and love of Everton were what this is about I suggest there are at least a hundred of us writing to ToffeeWeb who are qualified for the job.
The thing needed is the man-management and tactical acumen that can get Sigurdsson, Klassen, Keane etc playing to their full potential.
If Unsworth can do that I'm all for him, but it is a conditional, not a given simply because he played for us and has sat in the Gwladys Street.

Lawrence Green
379
Posted 25/10/2017 at 11:09:05
John Daley @ 318 certainly captures the mood of many Evertonians and rightly questions the need for a 'high-profile' person to take over the managers position at Goodison Park.
I would concur with having Unsworth or similar at the head of team affairs, particularly at this moment in time, but is that the correct path to take in the long-run?
Moshiri hasn't got the wealth of Abromovich and therefore can't make the changes to the club that he might like to, whilst Bill has retained control or at least has a major influence on team affairs and is that apparent tension between the two parties at the root of the clubs ills?
Ronald Koeman failed to make the best of it at Goodison and that is his fault, but how much did others within the club undermine him? We'll likely never know the answer to that question but it would be a question that any high profile manager may ask himself before considering taking up the reins at Goodison Park.
Unsworth or similar would be the right choice going forward if the club wanted to remain in its all too familiar seventh is heaven mode, but if it wants to try and break into the higher echelons it may need the high profile type that Moshiri seems keen on attracting.
Whatever the leaders of the club decide, it would look as if another season and plenty of cash has been wasted and the club is no further on the road to success than they were five years ago. Until the owner and the board agree on how to steer the club in an agreed direction, we may waste many more millions and suffer many more setbacks in our pursuit of success.
News on the proposed stadium would be most welcome at this time, but is that project, suffering from similar issues to the choice of manager, among those who lead the club?
I tend to agree with those who say we need a wealthier person than Moshiri to oversee real change at the club, but that isn't likely to happen in the near future, therefore we should tailor our expectations to fit i.e. top six and decent runs in the cup competitions. Unsworth or similar are more than capable of achieving that given a fair wind and full support from the owner, board and fans.
Kevin Tully
380
Posted 25/10/2017 at 11:13:30
Don't forget, it's usually the first team coach that steps into a sacked manager's shoes, but it looks more and more like Duncan Ferguson is more of a mascot, rather than a coach to be taken seriously.
Unsworth hasn't been near the first team, so that in itself is a concern. Jeffers has now taken over the U23's, so you wouldn't say this was exactly a pivotal role at the club, would you?I know we all love to think Unsworth could walk into that dressing room kissing the badge, and letting all these players know what the club is about, but wouldn't Rooney, Ferguson, Jagielka & Baines all have had something to say on that score?
The U23's is used for players getting back to full fitness and giving trials out to new players, as well as the like of Niasse being told to train with the stiffs, so I wouldn't put too much faith in the fact we have won the U23's title.
Unsworth is probably on about £80K a year, imagine being offered £2-3m without having to prove to anyone you have the credentials? Of course he's going to dive in with both feet. It's a win-win for any manager. Would he even be considered if he wasn't an ex-player? No chance!
Sorry lads, not having it. We need someone who has proven themselves elsewhere, and a manger like Tuchel, or even Dyche would be more suitable given the choice. We may get a little bounce now Koeman has gone, but there is no evidence to say Unsworth will be the man to take us where we want to go.
It's all a bit 'Kenwright' in the cold light of day. No other big side would be considering giving their U23 coach the main job who hadn't been training the first team on a permanent basis, so why are we any different?
Please don't mention Barca and Guardiola. There is no comparison with their players and budget. I could win something with the players they have had over the years, and I'm only an arl welder!
Paul Livesey
382
Posted 25/10/2017 at 11:25:24
🎼He's one of our own,
He's one of our own,
David Unsworth,
He's one of our own!🎶
Rhin-o! Rhin-o! Rhin-o!🦏
Colin Glassar
383
Posted 25/10/2017 at 11:40:45
Kevin, sadly, I have to agree with you. Like Mike Whelan just said, "knowing a club inside out and managing them are two completely different things".
I really want Unsy to succeed and I'm sure he'll give us an initial bump in performances but will he be able to keep it up? He'll be coming up against experienced managers who will be trying to psyche him out and pick his teams apart. These are different animals from what he's used to with the kids.
It's going to be a massive test for him and could make or break him. I'll be praying for him.
Stan Schofield
384
Posted 25/10/2017 at 11:54:01
Jim@341: Fair point. I'm not saying that Moshiri is not ambitious, I just don't know. All I'm saying is that it's possible his ambition is to get us into the 'top-6' or thereabouts, playing in the CL (not necessarily every season), with the raised profile and profitability that comes with that.
It's possible that, from a business perspective, the cost of trying to reach the very top might be considered too high in relation to the benefit when account is taken of the risk of not actually achieving it. Historically, and this includes us in the 60s and Chelsea and City these days, sustaining the top requires a massive input of money. Without that financial clout, trophy success can occur only sporadically.
Liverpool seem to have settled into this category, near the top but not top, without the investment to reach the top. Such a position can keep a lot of supporters happy. We might be similar. I'm not saying we are, only that we might be. Explicitly considering that possibility enables me to check my expectations, rather than my hopes, thereby minimising disappointment.
When Moshiri took over, I was quite excited. But my dad, who first took me to the match, said to me, don't get too excited, Everton have a habit of raising us up then letting us down.
Adam Scott
385
Posted 25/10/2017 at 11:56:00
I agree with you too, Kevin. Words are simple; I really, really wish him well and hope he does it. What a story that would be!
Totally concur with Rick 372- Long term this job needs someone with tactical acumen who can find a way of fitting our expensive signings into a team. That requires more than some tubthumping speech.
If he manages it, I am behind him. For now, he needs to prove to everyone- more for me considering he doesn't have the qualifications or experience to justify having such a top footballing job- that he can do this. The Evertonian element is comforting for now, but won't suffice alone.
Despite all the love in with him being an Evertonian, I do have an issue with him hanging around in a comfy job instead of doing a Stubbsy and going and testing himself. Anyone can never fail if they never take a risk. A penny for Alan's thoughts at the moment. Maybe it should be him?
Kevin Tully
386
Posted 25/10/2017 at 12:03:53
That's a good point about Stubbs, Adam. You would have to say even he is more qualified for the permanent role than Unsworth, but for obvious reasons, he isn't even in the frame.
Soppy bollocks did interview Stubbs when Moyes left though. It's all a bit scary!
Dave Abrahams
387
Posted 25/10/2017 at 12:17:26
Alan Stubbs brought Unsworth to Everton as his U23 's second in command, ahead of Duncan Ferguson, Stubbs not liked by quite a few on here, has a good football brain, was one of the few to argue the toss with Moyes while he managed the U23's, so he must have recognised the capabilities of Dave Unsworth to bring him here.
No disrespect to Dave, but I also think the job is too big for him at this time in his career but would be absolutely delighted if he made a fool of me and proved me wrong.
Paul A Smith
388
Posted 25/10/2017 at 12:20:14
Some of these comments about big Dunc being a mascot are pathetic. (I didn't him as a player so I need to keep it up).
Can you prove he is doing any wrong at the club? Do players fall out with him?
People are talking about Everton values in relation to Unsworth and Koeman so whats the problem with another Everton man who the players seem to like and knows the values of the club.
Concentrate on the 11 you get to watch rather than trying to be a cheap journalist.
Brian Williams
389
Posted 25/10/2017 at 12:26:47
I see that, although the knives aren't exactly out for Unsworth, they're being sharpened with some IMO ridiculous comments about him before he's even started.
Having him, certainly in the interim, is a complete no brainer. He knows the club inside out, and to have anyone else come in at such short notice is ridiculous.
John Graham
390
Posted 25/10/2017 at 12:32:23
What about Paul Tait too.
Doing a great job with the U18's
Maybe try him after Unsworth, then maybe Stubbs, Ebbrell or Jeffers.
Give them all a go.
Or maybe we should be a club with a bit of ambition.
If we don't get the right manager in soon, with the right tactics then we could be fighting relegation
Ernie Baywood
391
Posted 25/10/2017 at 12:47:09
Unsworth will do fine.
I'm still hoping that Mosh is revisiting the idea of a Director of Football. Managers come and go - we can't afford them to be changing the team's identity every single time someone is appointed.
We need one plan. Let it evolve and let the manager provide input, but you come in to manage to a long term plan.
In that environment, I'd be out looking for the right manager but no problem right now with Unsworth doing the job. If he can get results, he can stay there.
The Walsh appointment was ridiculous. Call him what he is - head scout.
Brent Stephens
392
Posted 25/10/2017 at 12:53:26
Until there's anybody else in the frame, then it has to be Unsworth. We can argue the toss after x number of games. I'm happy to wait before passing judgement.
Colin Glassar
393
Posted 25/10/2017 at 12:54:28
Brian, I don't think anyone's bringing out the knives for Unsy. On the contrary, seems to me that almost everyone wants him to succeed.
After so many false dawns fake prophets, and dud messiahs (or Moyesiahs) people are naturally wary of building up our hopes again only to fail once again.
I, for one, want Unsy to be a smash hit but I know it won't be easy for him unless he has great people around him and the support of all of us. Viva Unsy!!
James Marshall
394
Posted 25/10/2017 at 12:57:19
So many romantic blue-specs posts on here it's amazing.
When will Evertonians let go of the misty eyed past and become a modern football club?
I'm so bored of being plucky, stuffy old Everton with our romantic 'istory and byegone glories. I spoke to a group of Norwich fans in a pub the other night, and for a man they regarded us as a relic of years long since past. We're a footnote in football history, partly perpetuated by our very own support.
Sick to death of it here.
I hope Rhino does well, but history (don't we just love it?) tells us caretakers promoted from within go nowhere.
A LOT of posts on here could easily have been written by Kenwright himself.
Colin Glassar
395
Posted 25/10/2017 at 13:00:14
James, comparing us to Bill Kenwright is a bit below the belt mate.
James Marshall
396
Posted 25/10/2017 at 13:04:49
My apologies Colin, and you're right...but you know what I mean!
James McPherson
397
Posted 25/10/2017 at 13:09:50
James (394) - I could not agree more. My view is that this club will not move forward until Kenwright (especially) and Elstone go. Having once loved it, I now can't stand "if you know your history", such is its wilful misuse. Kenwright is man that can only pedal history - he has zero capability of making it. That's all he has. Worse still the glory years has zero to do with him.
Colin Glassar
398
Posted 25/10/2017 at 13:16:44
I do James, no worries. I also agree that Chairman Bill is a weight around our neck who is not the man to take the club forward. I don't doubt he's an Evertonian but he's useless and out of his depth.
I can't understand why Moshiri hasn't pushed him aside (or out) yet. Make him honorary president but without any say in how the club is run. I am really worried if he's in charge of finding the next manager.
Peter Larkin
399
Posted 25/10/2017 at 13:17:49
James. I'm sick of hearing these fancy names like Koeman, Tuchel and some other foreign nobodies. Nowadays, it's all about man management for me. You try and force a bunch of 20-year-old multi-million-pound superstars to do something they are not buying into!
Players are a bunch of sploit brats, if everything is going well there will be no complaints, but soon as they see an excuse they down tools. For me Unsworth is perfect for the job. A mate that's firm but fair (from the reports I hear) who wants success. The players will respond to this guy.
Gordon Roberts
400
Posted 25/10/2017 at 13:20:14
https://theesk.org/2017/10/23/the-enormity-of-the-next-everton-managerial-appointment/
Some posters may be aware of the above article, but it captures the current situation at our club. Well worth a read, and some reflection, especially when the emotion of the last couple of days recede.
Peter Larkin
401
Posted 25/10/2017 at 13:22:59
Colin. From what ive heard from Moshiri utterings via Jim white, I don't think he has a clue how to operate a football club.
Jay Wood
402
Posted 25/10/2017 at 13:28:27
Everton sack sitting manager Monday.
Everton need SOMEONE to prepare the team for a game on Wedesday. And Sunday. And next Thursday. And once again the following Sunday.
The obvious choice for that SOMEONE in a caretaker role is David Unsworth. EVERY club does it - promote someone from within the club after sacking the manager.
What true Evertonian in our current situation would not wish David Unsworth well?
It's a win-win situation for the club, IMO.
The necessary managerial change has been made.
We have a talented coach within our ranks who will know better than ANYONE ELSE IN THE WORLD right now the ability and potential of both senior and junior players who could step up and do a job for the first team in the situation we find ourselves in.
This side of the international break he has four difficult fixtures to negotiate. He will learn a lot about himself. We will learn a lot about him.
It may be an audition that works out. It may reinforce the belief of some that only a seasoned manager should be appointed.
Throwing around labels like 'small time mentality' over this still, as yet, temporary appointment is way too premature.
Let's see what David has to offer before binning him off completely.
Christy Ring
403
Posted 25/10/2017 at 13:33:08
Kevin 380# Disagree completely, what's wrong with giving him a chance, it's going to take 2/3 weeks to draw up a list of contenders. I know Tuchel had been very impressive with Mainz and Dortmund, but why is he unemployed? David sounded very impressive in his press conference, don't knock him before he's even started.
Paul A Smith
404
Posted 25/10/2017 at 13:35:56
Peter 401. Spot on. When you need a clueless bad actor to guide you through the system, you are struggling. One cloud head is enough but Moshiri has 2 cloud head puppets. Kenwright is a joke but to suggest Moshiri knows more about football is wrong and obsessive.
Kenwright is guiding Moshiri because that's what Moshiri wants and it works well because everybody knows Kenwright isn't a billionaire. As if a top accountant hasn't chosen the strategy of how the club works. He''s got the first plan wrong now they all need to fix it.
Jim Harrison
405
Posted 25/10/2017 at 13:48:22
Don, 344, Tell me, who outside of Chelsea, Spurs, City or Utd have a real top class striker? Arsenal have a couple of decent ones, I would say Liverpool don't really even play with a striker as such. Probably the best striker out side of those clubs is at Palace, and they aint no shakes
All the other teams make do. Now, the point I was trying to make was not that we shouldnt have a better striker, but that we should be able to create chances given the players we have, and that we were unable to do so is the most damning aspect of Koemans game plans this season. There should be enough in the team, unbalanced as it is, to create chances, and DCL is a perfectly capable lad
I am not trying to say we shouldnt have a better striker. But that we could still win games with the players we have.
Damien McKay
406
Posted 25/10/2017 at 13:48:27
I too want us to hire a world class coach in the long run but who is going to want to join us at the moment who is at that Level? They also need to get the Club/Fan base and know that we expect to win, especially at the likes of Liverpool, Chelsea and Arsenal where we have this negative streak or we will keep going through the same process time and time again. The next manager must not see us as just a stepping stone to something bigger but buy into what we want to be and achieve it.
I think Unsworth has a good chance to get us a few wins and sort out the confidence issue with the current squad and reach a certain level. Who knows he may even surpass all expectations and be tactically astute, he may also be able to handle the pressure/mind games/media etc. Time will tell and it is the unknown at the moment.
Of course its not just about being an Evertonian to be given the top job it comes down to a lot more criteria than that. I hope everyone at the club does support him and share the expectations/workload however because its going to be one tough ride.
I then expect our Board to take their time and find the right man which will be a very difficult task. I just hope the next manager takes games to the so called "Elite" and does not except mediocre performances from talented professionals.
My pick would be Diego Simone who has now been at Athletico Madrid for around 7-8 years and could possibly fancy an new challenge by now? hopefully we show some ambition and at least approach him. He would demand success and would expect to compete and deliver titles not be happy/content with 6/7th place finishes.
James Marshall
407
Posted 25/10/2017 at 13:48:46
Jay@402
Don't get me wrong, I agree with you that Unsworth is the right man for the job as things stand - I'm just not totally on-board with the notion that it should be him long term, and that everything Everton has to always be entirely 'Everton'.
I want progress, not history and this devotion to everything always being in-house as a way of somehow reflecting how 'special' we are as a club.
Every fan has a 'special' bond with their football team, and it doesn't mean shit if you won things years ago. It's meaningless, and the fact that Unsworth 'gets' Everton is all well & good, but doesn't mean we're going to win anything or fix everything just because he's an Evertonian.
Dave Smith
408
Posted 25/10/2017 at 13:49:33
Love reading the posts on here, but just signed up for an account to show appreciation to John Daley of post 318. Summed my thoughts up exactly and probably won't be written better anywhere on earth.
I wish Unsworth the absolute finest... Good times ahead!
James Marshall
409
Posted 25/10/2017 at 13:52:09
A red shite mate of mine just sent me this
Link
Paul A Smith
410
Posted 25/10/2017 at 14:01:10
James that has been made up written by the most unfunny kopite on earth mate.
James Marshall
411
Posted 25/10/2017 at 14:15:28
Paul, it's the Daily Mash - I'm entirely aware it's not a reliable news source!
Stan Schofield
412
Posted 25/10/2017 at 14:51:26
James, Paul, it can work the other way. There's some good stuff taking the piss out of Klopp. Going back some way, I remember a true story, dating back when we and the RS were starting to get big around 1960. The RS equivalent of John Moores, called Tom Williams, approached Bill Shankley at Huddersfield, and said to him, how would you like to manage the best club in the country? Shankley replied, why, has Matt Busby resigned?
David Midgley
413
Posted 25/10/2017 at 14:53:19
Jay #402 --Correct.
Any manager , world class or not will not know our players. What they can do or not do ,in both the first and second team squads . Unsy will.
He will have a plan ( hopefully a cunning one)
He will know all the players and will have told them
what is expected. The players themselves will know
that they are under scrutiny and not just from the supporters. Was it them or the system ?
He has stepped up , as often happens when the manager is sacked. What was he supposed to say ?
" Sorry , I don't think I can do it. It's too much for me ." No. He has belief in himself and his ability.
Had he not stepped up who would be in charge ,
Jimmy the Kit Man ? (sorry Jim)
I think to-night we will see a different Everton, a team.
Maybe not firing smoothly on six cylinders but more of a team than a bunch of fellers who are having a kick round at Butlins' .
No more mention of Ronald. That's over.
Kites don't fly with yesterday's wind.
As for his ability, who knows ?
If you've been driving a Ford Fiesta quite well for a couple of years can't you handle a Merc. ?
We'll all have an inkling to-night.
Ash Moore
414
Posted 25/10/2017 at 15:28:51
Cometh the hour cometh the man.
Immediately struck by his passion. None of this third person shit, something I disliked intensely about Rotten Ron. Instead he's saying things like "We want a winning manager, someone who knows this club and can win trophies because that's what we need."
Note the the word we. RK used to talk about the team as if he was an observer - which in hindsight he sort of was - which used to confuse me,. Of course this was explained away by English not being his first language.
It's a hell of a job he's got on. I think the squad is totally divided, and we're in deep shit. But the darkest hour is right before the dawn.And in Moshiri we finally have someone who will get rid when it's obvious we need to get rid. A daffodil in a dung pile I know. But what else have we got.


Jamie Evans
415
Posted 25/10/2017 at 15:43:32
The rhinos on the run . he's a dirty son of a gun . Good Luck Uns and good luck whatever team he selects at Chelsea. Forever in our hearts blue boys. Remember that
Rick Tarleton
416
Posted 25/10/2017 at 15:46:27
Unsworth's passion and commitment is there for all to see. He "Gets Everton"," It's in his DNA" , He's been on Gwladys Street". Great! He can join all us passionate ,committed people on ToffeeWeb.

Can he get the best out of Sigurdsson, Klaassen, Keane et alia? Can he make this group of individuals into a team?

Forget the sentimental claptrap and think. He's not a young coach (late thirties), he's not an experienced manager who's done this before, so would we rather have him or someone like Wagner, Dyche, Howe or Hughton who have experience of making a silk purse out of a sow's ear?

Make an appointment based on logic, not sentimentality.
John Pierce
417
Posted 25/10/2017 at 16:12:16
The list apart from a couple of eyebrow raisers is not studded with standout candidates.
Of course thats down, in part, to a change of management in mid season.
I think Unsworth regardless of credibility has a strong chance. Ancelotti and Tuchel are without roles so can be considered viable options.
The others are under contract and makes a smooth transition almost impossible. It rules many of the more likely runners out; Dyche & Silva.
The rest are the usual gamut of guess who regulars who appear when any vacancy arises.
So when you remove all the white noise I think realistically its between Tuchel and Unsworth. Media outlets are suggesting contact with the German and in part I think the axe was wielded knowing he maybe open to an approach.
Many say he was for taking Bayern, but Nagelsman is rumoured to have that agreed for next summer, hence Jupp Heynckes in the interim.
I just can't see another premier league club handing over their manager unless they resign. Or Everton giving Unsworth a contract until the seasons end.
I think despite my heart, its Tuchels to refuse.
Pete Clarke
418
Posted 25/10/2017 at 16:59:50
Not sure if anyone is watching the under 17 semi between Spain and Mali but I'll have any of the managers and any of the players from both teams as it's the best footy I've seen in years.
Paul A Smith
419
Posted 25/10/2017 at 18:05:49
Stan 412 and James. I get the sarcasm lads I just think now is serious time sorry to be a miz.
Their banter lasts years as its really a good slur against us under their vile skin.
I remember me dad telling me my grandad (his in law) and his red mates took this the piss out of him when we got the NEC sponsor.
No european cup they said it meant.
I know now it sounds humourous and not so deep but at that time we were punished through no fault of our own.
I hated them all after that. Including the idiots my dad had to put up with at that family do.
Their vile crying spoilt bitches as a whole.
Stan Schofield
420
Posted 25/10/2017 at 22:27:13
Paul, you're right, but these days they're pathetic. They're no longer at the top, they started becoming more 'Evertonesque' years ago. I've mentioned this before, but while I was watching the Burnley game, a young red remarked that I'd picked the wrong team to support, implying it should have been Liverpool. He's 17, and started supporting Liverpool when he was 8. I asked him how many major trophies he'd seen Liverpool win during those 9 years. He didn't really answer, just looked at me. I said, when I was his age I'd seen two titles and an FA Cup, plus the best footballing side in Britain. I mentioned that Liverpool have never won the PL, and that over the last 15 years they've averaged 10 points more than us, and we're supposed to be shite. Also that their points average is about 15 less than the average for the PL winners. In other words, also-rans rather than a 'top team'. Also that Klopp has failed to better his predecessor. We watched the rest of the Burnley game quietly.
David Gill
422
Posted 27/10/2017 at 02:38:45
Listen, we all want the fairy tale and we no doubt all love Unsy and hope he'll grab the attention of the players and get them to perform. I personally don't know the guy but he's a big beast of a man who we hope will slap some sense into our underperforming superstars.
My hope is he gets us through the next few games whilst we find our next manager. My fear is he gets the job, fails as most do who are given this opportunity, and then we lose him and the great work he's doing with the kids.
From a business perspective, who in their right mind would give their multi-million pound investment/business to an inexperienced manager on a hope it might work? Kenwright would and that's why he's not a billionaire... would Apple give an iPhone user their top job because they like and know how to use the iPhone!
We need to search far and wide and get real with the view that we need a 3-year manager who spends well then moves on to allow the next one in.
We've moved on from having no money and allowing time to get it right. I have though, absolutely no idea who we should appoint... it's a worrying prospect with the names being bandied about.
Add Your Comments
In order to post a comment, you need to be logged in as a registered user of the site.
Or Sign up as a ToffeeWeb Member — it's free, takes just a few minutes and will allow you to post your comments on articles and Talking Points submissions across the site.