Unsworth: 'I would love Ross to stay'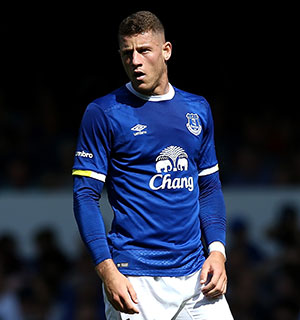 David Unsworth says that he will sit down with Ross Barkley in the near future and make every effort to keep the midfielder at Everton.
The 24-year-old is in the final few months of his contract at Goodison Park after he turned down offers to stay with his boyhood club, a decision that has generated plenty of speculation, with some suggesting it was a matter of money while others pointed to his diminished relationship with Ronald Koeman.
Koeman was dismissed as Everton boss yesterday following an unsustainably poor start to the season and Unsworth has been placed in temporary charge of first-team affairs while the Board weigh up candidates to replace the Dutchman.
That could well be Unsworth who made his intention to use the next few games as his interview for the role on a permanent basis when he took the pre-match press conference this morning ahead of the League Cup tie against Chelsea.
The 44-year-old former Everton player was asked about Barkley's future and while Unsworth said he hadn't discussed it with the player yet, he was clear in his desire to see "one of our own" remain at the club.
"I spoke to him this morning and I saw him in the gym yesterday and he's working really hard," Unsworth said of Barkley. "He's coming along nicely [in terms of his recovery].
"My opinion of Ross is I would love him to stay. I would absolutely love him to stay. He's a top talent.
"Everton has done great for him and he's done great for Everton but he could be one of the all-time greats here and I'd love it for him to be persuaded by myself, by the Chairman, by Farhad [Moshiri] to stay and sign a contract because we shouldn't be losing players of his quality.
"He's a great player who has come through our ranks as well and I feel very strongly we shouldn't be losing our own players.
"I've not spoken to him [about his future] since I spoke with the Chairman yesterday. I will be doing [so]; I'll be sitting down with him to discuss the possibility of signing and staying here because we love him and I know he loves Everton as well.
"So, I want everybody to come together and hopefully we can press something out with Ross."
---
---