Unsworth: 'I would love Ross to stay'

74 Comments [Jump to last]
Tuesday 24 October 2017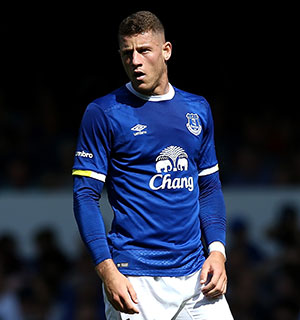 David Unsworth says that he will sit down with Ross Barkley in the near future and make every effort to keep the midfielder at Everton.
The 24-year-old is in the final few months of his contract at Goodison Park after he turned down offers to stay with his boyhood club, a decision that has generated plenty of speculation, with some suggesting it was a matter of money while others pointed to his diminished relationship with Ronald Koeman.
Koeman was dismissed as Everton boss yesterday following an unsustainably poor start to the season and Unsworth has been placed in temporary charge of first-team affairs while the Board weigh up candidates to replace the Dutchman.
That could well be Unsworth who made his intention to use the next few games as his interview for the role on a permanent basis when he took the pre-match press conference this morning ahead of the League Cup tie against Chelsea.
The 44-year-old former Everton player was asked about Barkley's future and while Unsworth said he hadn't discussed it with the player yet, he was clear in his desire to see "one of our own" remain at the club.
"I spoke to him this morning and I saw him in the gym yesterday and he's working really hard," Unsworth said of Barkley. "He's coming along nicely [in terms of his recovery].
"My opinion of Ross is I would love him to stay. I would absolutely love him to stay. He's a top talent.
"Everton has done great for him and he's done great for Everton but he could be one of the all-time greats here and I'd love it for him to be persuaded by myself, by the Chairman, by Farhad [Moshiri] to stay and sign a contract because we shouldn't be losing players of his quality.
"He's a great player who has come through our ranks as well and I feel very strongly we shouldn't be losing our own players.
"I've not spoken to him [about his future] since I spoke with the Chairman yesterday. I will be doing [so]; I'll be sitting down with him to discuss the possibility of signing and staying here because we love him and I know he loves Everton as well.
"So, I want everybody to come together and hopefully we can press something out with Ross."
---
Reader Comments (74)
Note: the following content is not moderated or vetted by the site owners at the time of submission. Comments are the responsibility of the poster. Disclaimer
Brian Wilkinson
1
Posted 24/10/2017 at 17:12:00
All the right words nicely put Rhino.
Steve Ferns
2
Posted 24/10/2017 at 17:13:11
Amen
Brent Stephens
3
Posted 24/10/2017 at 17:22:03
I'll say now that towards the end of last season I thought Ross was not going to make it at top level and best for him to move on - sadly, as I've always loved his skill if not his decision-making and perception. I really hope now he gets another chance with us and proves me wrong. I'm actually excited by the prospect of his return.
Stephen Scofield
4
Posted 24/10/2017 at 17:22:10
If Barkley stays now, this will be a massive coup. And will really underline a lack of player management from Koeman, which would really start to make sense as to why most of the players do not know how to play joined up football anymore.
I can't remember a manager fall out with so many players: Barkley, Mirallas, Niasse, supposedly Baines too, Lookman probably. And these are the ones that are public.
Ian Burns
5
Posted 24/10/2017 at 17:23:17
Right behind you in that Unsy!! Come on Ross you know it is the right thing to do!
Brian Williams
6
Posted 24/10/2017 at 17:36:42
If Barkley does sign a contract and stay it would be very telling indeed, and I'd expect a big positive difference "generally" because if he's signing because Koeman's gone he won't be the only one who feels/felt alienated and treated poorly.
Be very interesting to see what happens!
David Booth
7
Posted 24/10/2017 at 17:48:17
Another creative player stifled and ostracised by the defensive Dutchman.
I don't think he ever wanted to leave and am confident he'll sign a new contract now Koeman has been dispensed with.
I also suspect we'll see a revitalised player when he shakes this mysteriously lengthy 'hamstring' injury off...
Damian Wilde
8
Posted 24/10/2017 at 17:48:35
A lot were happy he was going to leave, now suddenly want him to stay, ptobably 'cause we're utter dogshit at the moment. I'm not too bothered if he goes.
Brent Stephens
9
Posted 24/10/2017 at 17:50:41
Or maybe, Damian, some want Ross to now stay because there's a chance Unsy can turn him round.
Robert Leigh
10
Posted 24/10/2017 at 18:06:59
Always wanted him to stay, he's one of us; and Unsworth would be my choice to persuade him.
He knows what it's like to leave and then want to come back, just see the Villa debacle all those years ago when he was on the way out of West Ham.
Come on Ross, get it signed!!
Colin Glassar
11
Posted 24/10/2017 at 18:11:41
I'm sure Unsy and Kenwright will persuade Ross to stay now. The lad loves the club but was getting pushed out by our former (how nice to say that) manager and a few vocal idiots.
Unsy is just the type who'd get the best out of Ross. And, wouldn't it be great to see Kenny, Ross, Rooney, Davies, Baines etc all on the pitch together?
Dennis Stevens
12
Posted 24/10/2017 at 18:16:47
Unsworth strikes me as a man who has a very clear vision & is intent on bringing it to fruition - I reckon we've got a good un there!
Liam Reilly
13
Posted 24/10/2017 at 18:18:58
Will be a tough one for the lad. Who wouldn't want to play in that Tottenham side?
Gonna have to be a big sell from Unsworth and co.
John Pierce
14
Posted 24/10/2017 at 18:20:39
Still on the fence about Ross, actually thought he was one player who improved under Koeman. He looked more disciplined.
If he signs we have protected our investment, warded off would be suitors and given ourselves another no10! 😂
But how well did Unsworth speak in the interview? Confidence personified, sure the right words but said with the convinction of a fan. Instantly relatable.
You can see the lad wants it.
In other news my phone now recognises 'Unsworth' in the predictive text section!

Nitesh Kanchan
16
Posted 24/10/2017 at 18:29:09
Robert, don't forget Niasse monster who will be unleashed now and will be given bigger locker to keep game balls after scoring hattricks every week.
Ian Jones
17
Posted 24/10/2017 at 18:37:44
So, ideally, I would like Ross to sign a new contract, give it until the end of the season to get playing again and confidence back. May help him get into the World Cup. If he still wants to leave the club then, presumably both Chelsea and Spurs may still want him..he can go but his price will have gone up..
Stan Schofield
18
Posted 24/10/2017 at 18:46:39
Ian, if he signs a new contract and plays well, even playing in the World Cup, you say he can then leave if he wants to, at the right price? To Chelsea or Spurs if they want him?
We'll never be top dog if we continue to be willing to sell our best players like that! How about 'Not For Sale' as an expression of real ambition?
Kim Vivian
19
Posted 24/10/2017 at 18:47:56
Liam - who do you think he will displace in that Tottenham side? He's likely to get far more game time staying with us and being a key part of our resurgence.
Colin Glassar
20
Posted 24/10/2017 at 18:54:23
What if Unsy convinces Ross to stay (signs his contract) but is then replaced by some guy (after the international break say) who doesn't want Ross?
Jackie Barry
21
Posted 24/10/2017 at 18:57:21
Well then Ross will have signed a new contract and we will have more control over what teams who want him will have to pay.
Stan Schofield
22
Posted 24/10/2017 at 19:00:10
Colin, just get Ross to do the interviews and make the decision on the new manager.
Steve Ferns
23
Posted 24/10/2017 at 19:04:11
I remember Christine, myself and a few others fiercely arguing for Barkley to be retained in the summer and being happy when the Chelsea deal fell through. I know I said time and time again, why are we signing Sigurdsson when we haven't got the striker in. Little did I know how the season would unfold.
It'd be like Christmas come early if Ross signs a new deal. We've not been the same team without him (or Rom) and I think he can be the one to get us back up the table where we belong.
As for Ross, what are his options:
- Spurs - gamble he would get a game but seems Pochettino is making the right noises to him.
- Chelsea - would be a sub
- Man Utd - outsiders - would certainly not start him
- Us - Unsworth would built the team around him and play him week in week out. It'd then be down to him, and if he plays well, he'd be a certainty for Russia, if that really is his main focus.
Dave Evans
24
Posted 24/10/2017 at 19:04:59
Ross running at defences with runners and options in front of him would be something to experience. Very much hope it is in an Everton shirt and not Spurs, Chelsea or another.
Will Mabon
25
Posted 24/10/2017 at 19:15:17
Cue "He wants to leave" post... anyone?
Peter Warren
26
Posted 24/10/2017 at 19:22:09
I'd be shocked if he signs a new contract. Struck me that no love lost with Koeman but he wants to go onto better things. Time will tell.
Paul Doyle
27
Posted 24/10/2017 at 19:23:34
After what we have bought this year, a one legged Barkley would be an improvement.
Peter Laing
28
Posted 24/10/2017 at 19:27:40
Let Everton be Everton - how good does that feel !! Unsworth as the permanent replacement for Koeman and a new contract for Barkley. Going forward I would love Everton to adopt a new blueprint and do things differently. Let's get back to being parochial, in your face and a bit more of the dogs of war / peoples club mentality. Authentic working class English football built on a bedrock of homegrown players. Carry this forward into Bramley Moore should it ever happen and put two fingers up to the nouveau rich
Raymond Fox
29
Posted 24/10/2017 at 19:30:45
He'll stay, I don't think he ever wanted to leave.
The club will now have to offer him a better contract though than last time, brought about through
Koemans shenanigans.
Denny Kerr
30
Posted 24/10/2017 at 19:34:29
I've never been convinced Ross was the player to build our team around.Although talented,he just didn't seem to have the intelligence to make the right decisions on the field.
Having said that, I believe if he had the right players around him,and Unsy motivating him,and managing him in the correct manner,there may be a chance that he can fulfill his potential.
I think it is certainly worth taking a chance with him,at this point.
This is a pivotal point in our history, and as an Evertonian,wouldn't it be fantastic if Unsy could turn all this around, get the squad playing as a team, intigrate some of the youngsters,and make Everton a force in the top flight ,once again.

Will Mabon
31
Posted 24/10/2017 at 19:39:09
Well Peter, even back when Ross and the team were playing better, and there was interest in him from bigger clubs quoted, I don't remember hearing a hint that he actively wanted to move on. This all started following Koeman's actions, there's been no evidence that he wants to go due to ambition or change of scenery.
Those of us that want him to stay will have to hope that Koeman hasn't permanently distanced him from Everton.
Steve Ferns
32
Posted 24/10/2017 at 19:42:03
Ok Denny, maybe you are right. But what if you played a 433 like we did last season. I can see Davies becoming the midfield general, the new peter reid. In the 433 Ross was out on the right. He can be fed the ball and then try to either go wide and cross, or come inside and run through the middle or let rip with that thunderous left foot shot he has. There's few right sided forwards who have two feet, it really keeps a defender guessing, buys Ross half a second, and more importantly, backs them up so he can charge at them.
Maybe he will never be a no10 as he would need to dominate. But on the right of a front 3 he is given the ball and makes things happen, so someone like Davies would dominate. In the short term, he could learn so much off Rooney. Imagine Ross as an outlet for a Rooney pass. Ross could make Calvert-Lewin look like a real number 9 if we can get him back in the side.
Ciarán McGlone
35
Posted 24/10/2017 at 21:33:25
Antithesis of our previous manager.
I'm not Ross' biggest fan, but I think he's head a shoulders above Sigurdsson and Klassen and could learn a lot from Rooney.
Paul A Smith
36
Posted 24/10/2017 at 21:46:14
Love it Peter Laing. That would be my ideal.

Jamie Sweet
37
Posted 24/10/2017 at 21:51:26
One of the most talented players I've seen, with one of the least impressive "footballing brains" to go with it. I do however remember thinking his decision seemed to have improved at some point last season.
He can still bring that drive from midfield that we have rarely seen this season, and Rhino could just prove to be the type of coach Ross could thrive under.
Koeman was a bully (and if you don't believe this I urge you to find the video interview of Niasse about the way he was treated), and I think Ross also felt bullied by him. No one likes a bully, so why would anyone want to play for a bully?
I'd be happy to see Ross given one more chance to prove he's worth a new contract... if he's up for the fight that is.
Paul A Smith
38
Posted 24/10/2017 at 21:55:00
Have a look at Ross Barkleys attributes. The lad needs to play deeper where he can see more of the pitch and some serious movement around him.
A top manager would never make him a number 10. 10s are lay it off players or quick touch and spin. Quick release.
When has Barkley ever shown that type of game as a whole?
There may be instances where that happens but he is consistantly looking to suck players in and create space with runs on the ball.
Lets not forget the lack of movement ahead of Barkley too.
As so many said "Lukaku was lazy" which I don't believe but he wasn't the type Barkley could play give and goes to either. Add that to the lack of width under Koeman and no wonder the talent looked less a big deal.
The only game Martinez played Barkley deep, he ran the game. Had Neville purring over him and his partner that day was non other than the erratic Besic.
Martinez wouldn't go against his dead set vision but I hope whoever replaces Koeman tells Barkley he can still get better and has everybodys support.
Unlike before.
Also like to say the notion Ross has no brains is brainless.
He has been respected at every level and even when hes getting stick was still the most creative Englishman.
Anton Walsh
40
Posted 24/10/2017 at 22:55:16
Sign Ross for 5 years then flog him in the next window. Done nowt but flatter to deceive in 6 years.
Keith Monaghan
41
Posted 24/10/2017 at 22:56:11
Seems strange that all Ross's managers have been the cause of him not getting near to fulfilling his potential - Moyes, Warnock, Martinez, Koeman, Hodgson?
Some of you need to realise that perhaps it's Ross himself that's the problem?
Andrew James
42
Posted 24/10/2017 at 22:56:14
@ Paul 38
I have noticed in recent weeks - now United's form has been bumpy - that their fans are coming out and criticising Lukaku. Same old remarks we used to make - lazy, poor first touch, needs lots of chances to score, doesn't get the important goals, wants ball gift wrapped.
Whether or not this is true or reflective of their fan base in general, I don't know. But that was one thing that struck me about Lukaku and Barkley. Barkley had to do everything - draw players to him, beat them, come up with a trick - to then eventually deliver the ball to Lukaku on a plate. Lukaku would either get the ball, score, shin it into touch or shoot off target or he'd not get the ball or move towards it and then shrug at Barkley.
I'd like to see Barkley in a side where a striker makes runs and pulls defenders away so that Barkley has more to aim at or can go through himself to shoot.
Keith Monaghan
43
Posted 24/10/2017 at 23:11:29
Andrew at 42.
Living in South Manchester, I can confirm that some of those criticisms have been made by some Man Utd fans. However, of those that I know most are of the opinion that he's what they needed and made a big difference to them in a positive sense - their big problem last season was failing to beat the lesser teams.
Also, most of them are delighted we took Rooney off their hands - he was too slow, gave the ball away a lot and wasn't fit enough!
By the way, did you see the Rom's assist for Rashford at Huddersfield? I never saw as good a one from Barkley last season - one of the problems with Ross was he spent too much time looking at his feet. I would be very surprised if he becomes a first-choice in a top 6 team.

Andy Williams
44
Posted 24/10/2017 at 23:20:16
Ross is an instinctive player. Martinez tried to stop all the players being instinctive - look at how the defence was asked to play. That was what shattered Ross' confidence. The crowd got on his back and he was criticised far more harshly than any other player whilst still being our (and one of the country's) most creative.
Imagine how it must feel when the crowd that you feel so much connection to turn on you. Koeman compounded the issue with his overt criticisms. I believe that under the right manager he can be a great player. Chelsea and Spurs wouldn't be trying to sign him if they believed what many on here say about him. I really do hope that he stays.
Clive Mitchell
45
Posted 25/10/2017 at 00:02:43
Anyone who's been watching our games knows that a fit Barkley, McCarthy, Coleman and Funes Mori walk into the team. Koeman's spell in charge was disastrous.
James Lauwervine
46
Posted 24/10/2017 at 00:07:55
Just imagine for a moment that Ross comes back as the shit-hot player we would all love him to be. Thing is, he really could be. Fuck me, I'm in some kind of post-Koeman euphoria at the moment.
Bill Gienapp
47
Posted 25/10/2017 at 00:42:25
I've grown a bit weary of the Three Little Bears crap with Barkley, i.e. Koeman was too hard on him, Martinez was too soft on him, he needs a manager who knows how to handle him juuuuuuuust right.
That being said, Unsworth might very well prove to be the manager who knows how to handle him juuuuuuust right.
Don Alexander
48
Posted 25/10/2017 at 00:52:41
Ross Barkley has spent year after year after year after year after year always failing to make a good enough impression on any manager, except Koeman, to demand selection. Under Koeman he was given more games than by any other Everton manager, with a prolific goal-scoring (but otherwise useless) centre-forward in front of him, but his only achievement on the back of it was making himself unselectable for the England squad, which is pretty sad given the fact that even Jake Livermore made that grade in his deserved absence.
Compare that with Gylfi Sigurdsson. Sigurdsson has played for years for bog standard teams in Swansea and Iceland but his performances, goals and threat, for years, have been their leading light. There's no comparison.
Put it another way; if you have to decide on Barkley or Sigurdsson to play well enough to save your child's life you'd be certifiable to choose our perennially promising one against the guy who's done it despite the comparative dross around him.
Jim Harrison
49
Posted 25/10/2017 at 01:01:03
I have to say, I am a tad confused.
Much as I would like unsworth to be a success (as indeed I do any Everton manager) it seems to me that a few are championing him as already turning things around? He's an evertoian, great, but as of yet he hasn't actually taken charge of a game at top level bar a meaningless end of season game 18 months ago. I hope it works out, but I am going to give him the same approach as Koeman, bobby and Moyes, judged on performance over a period of time
And I also think we have managed to revise our view of Ross. For all the debate as to the reason behind his desire to leave he still, for me at least, remains a player who has yet to deliver on a consistent basis. I was happy for him to stay and siggy come in as I thought he needed competition for his place in the side. But wasn't fussed if he left as he wanted to go, and I don't think it's ever a good idea to hold on to a player who's had their head turned
Basically, Koemans been sacked and rightly so. But he and bobby before him were given the chance to prove they could turn the situation around before the axe fell. Rhino hasn't done anything yet and in some ways already being heralded as some sort of saviour for saying something (koeman actually said he wanted Barkley to stay, but that they would sell if the player refused to sign), but as of yet has done nothing. Let's keep it real
I also hope, if it doesn't work out for him over the next few games, that he is afforded respect by the fans. It's a big step up, and many assistants have tried to make the move up and not managed to translate their success as a coach working under a manager to being a successful manager in their own right (see Irvine, Kidd, quiros, meulsteen, for a few examples)
Stan Schofield
50
Posted 25/10/2017 at 01:03:04
Bill@46: I we can get a Goldilocks manager who can be juuuuuuuust right for Barkley, and be juuuuuuust right for the rest of the squad, that would be great surely? The aim, after all, is to get Everton to win games, which is more likely if the manager is a Goldilocks.
Paul Holmes
51
Posted 25/10/2017 at 01:19:12
After watching Rooney,Sigurdsson and Klassen this season,i will eat humble pie and never moan about Ross again.He is better than them three and would walk back into our present team.Changed my tune,hope he stays.
Daniel Lim
52
Posted 25/10/2017 at 01:29:28
Colin, for the very reason you mentioned, I guess RB won't sign until the new guy is appointed. Even then he wouldn't know the personality of the new manager and if the new guy values him. So we are back to square one.
But if he really has so much love for Everton, he should sign with the OFM gone now.
Will Mabon
53
Posted 25/10/2017 at 01:44:14
Jim, Koeman never once said anything naturally and positively about Barkley, it was all reluctant and through gritted teeth. Easy for him to half-heartedly say he wanted Ross to stay
after
behaviour designed to engineer him out. He mostly said he'd been offered a contract.
The way Unsworth spoke about Barkley was how you communicate that you appreciate a player and want them at the club; simple, obvious, unmistakeable words and delivery. Compare with how Koeman operated.
The guy was a manipulative bullying idiot that thought he could big-stick a team to success, and he thought pushing players around was a way to stamp his authority.
It's been revealing to see his hard-man front and attitude soften in pre- and post- match conferences and interviews this last week or two, because it reveals he was aware of being on dodgy ground, and that he knew to cut it out.
His treatment or opinion of any players here has zero validity. The proof is in the performances and the table.
Jim Harrison
54
Posted 25/10/2017 at 02:09:49
Will, 53
So, a comment on Unsworth not actually having achieved anything yet is responded to with a rant about the last manager? riiight.
For the record, I don't think RK was a good man manager, just pointing out he did say he wanted Ross to stay. He actually did praise him on occasion too, but went too far in his criticism (public ally at least, I don't disagree with too many things he said about Ross but that's my opinion and others are entitled to theirs)
Now, here's the thing, and my point, Unsy May very well have been more genuine in his desire for Barkley to stay, he may very well turn out to be the manager we need. In fact, this could be a pivotal moment in the clubs history.
BUT, he has yet to actually achieve anything at the top level of the club to warrant his newly found status as saviour. His comments on Barkley are just that, comments. So he loves the club, that is awesome and refreshing. So did Kendall Mk 2and 3.
My quibble is not with the content or passion of what he has said, but in the lauding of these comments as some sort of indication of how things will develop, and also that just because Koeman has gone Barkley has become a better player. To my memory his most consistent spell of form came after being criticised last season.
As for the former manager, we can bang on all day about his flaws, but he has been sacked because of them. But as regards his man management, bobby was always full of praise for his players, earnest and supportive. That panned our well didn't it?
Bill Gienapp
55
Posted 25/10/2017 at 02:55:42
Stan (50) - Absolutely. I fully understand the case against Unsworth and why many are preaching caution, but maybe - just maybe - he can be our Goldilocks. And even unlock Ross's potential to boot.
Ernie Baywood
56
Posted 25/10/2017 at 02:58:26
Jim, but was Roberto's praise of his players the
reason
that he failed?
Unless it was it's akin to suggesting we should avoid blonde managers. We had one and he failed; never again.
Will Mabon
57
Posted 25/10/2017 at 03:08:18
Jim, my response was to your isolated line that Koeman wanted Barkley to stay. Posters other than yourself made it a mission to leap in with "
He wants to leave
" whenever Ross was mentioned, in whatever context, as if to imply he just simply and decisively decided to go, out of the blue.
The bigger picture strongly indicates anything but, and I expanded upon why I think that. I believe what I posted reflects the observed reality. Call it a rant if you will!
I agree, nothing is guaranteed from now onwards, and you won't find me mathematically distilling words into points or projected success. How refreshing though to see a positive outlook, and someone that can sit and talk about his job without scowling at his questioners and grimacing dismissively. Six million a year for Koeman, and he looked like he was sat on a hedgehog in those press conferences.
Positivity may ensure nothing, but negativity almost guarantees failure. I'm surprised Koeman's got as far as he has in management. So, the likelihood of improvement has hopefully risen, as a negative influence has been excised.
William Cartwright
58
Posted 25/10/2017 at 03:29:42
Jim @ 54; You may be right, or perhaps not. the reality check we are in for may be good, or not so good. Who knows.
All I know is that confidence is a key, with luck and hard work and passion. Who can blame us for looking at what the club has had to put up with for the past year and a half.
I am in the positive expectant camp, and after we beat Chelski (or possibly draw, or even lose) I will look forward to the next game and hope for the best.
If you have a positive outlook then it makes your life a lot better. But hey, it doesn't work for everyone and thankfully we are all different.
Best of luck to you and COYB!
Paul A Smith
59
Posted 25/10/2017 at 06:35:15
Andrew 42. I think thats just what Barkley needs too mate.
Terry Underwood
60
Posted 25/10/2017 at 09:53:43
Going against the grain here.. Do we really need another midfielder? And, one who never quite seemed to make it. TW was full of complaints about his losing the ball, poor passes etc. IMO, we have players that, if handled properly, would do the job just as well. That being said. If he did sign, he would certainly have my support, just like anyone else who wears the sacred blue.
Jim Brien
61
Posted 25/10/2017 at 11:19:59
I support Unsy's sentiment and the thought behind these comments but I'm not sure it's in the clubs best interest long term.
More importantly I'm amazed how many are so quick to say 'yeh, get him to stay'?! Don (48) is bang on for mine AND the biggest issue is we've all be screaming about an unbalanced squad with too many central midfield/attack options, and now we want to add one more to the mix?
The debate surely has to be which one we keep rather than just add yet another in RB?
Dave Abrahams
62
Posted 25/10/2017 at 12:05:22
A few fans said Barkley wanted to go because of Koeman's carping at him... Well, the bogeyman has gone; let's see Ross's reaction.
Lee Brownlie
63
Posted 25/10/2017 at 12:49:29
Bill Gienapp (#47).. Very apt with the Goldilocks analogy! But we all need our porridge, right? Question is, will it be Unsworth to give him the right mix.. or will that have to be left to Big Dunc, what with his prior experience of said?
Raymond Fox
64
Posted 25/10/2017 at 13:59:16
Andy 44, I think your talking nonsense.
'Martinez tried to stop all the players being instinctive- look how the defence was asked to play'.
Where did you get that from? Look how the defence was asked to play, please enlighten me on that.
Martinez was accused of all sorts of unsubstantiated stuff, that's a new one on me though.
Martinez brought Ross through into the first team and he had his best spell with us for 18 months.
His form gained him an England call up.
Jim Harrison
65
Posted 25/10/2017 at 14:07:11
William, 58
Of course, I agree, confidence is key. And positive messages and language can have an effect. I want whoever manages Everton to be a success.
What baffles me though is how we have elevated both Unsy and Ross to higher levels. In Rhinos case, he has made a couple of good positive statements, which should be expected from an incoming manager be they temporary or otherwise.
James Macdonald
66
Posted 25/10/2017 at 14:22:29
I am very much in the wanting Ross to stay camp but if he is going this statement from Unsy may have raised his sale value for January as Spurs and Chelsea will be concerned he may still sign a contract extension while under Koeman they would have known he was never staying and Everton would be getting nothing come the summer. Great piece (perhaps inadvertent) of man management!
Damien McKay
67
Posted 25/10/2017 at 14:23:36
Let's not kid ourselves. Ross like many others has not been up to standard and has fallen way behind. Having said that, if he wants to improve, develop and work hard he can still play a huge role in this season's campaign against possible relegation as a 5th Number 10.
I think if our new signings had hit the ground running most of us would admit to still wanting him to be moved on. Hopefully he proves his worth he signs a new deal, otherwise, I still think it would be best to cash in and get that Striker or two that we've missed since Lukaku left.

James Stewart
68
Posted 25/10/2017 at 14:26:58
Barkley isn't a number 10. Pochettino sees him as a Dembele replacement and if he thinks he's suited to that role it's good enough for me.
Barkley can get his team up the pitch then play a simple ball to the likes of Sigurdsson to make the magic happen. With the right coaching he could be a top player, but not a 10.
Damien McKay
69
Posted 25/10/2017 at 14:36:09
James: 68 I'd rather have Dembele as he is a better footballer and is more physical imo. Players struggle to get the ball of him, Barkley gives the ball away all too often but that can be coached out of him hopefully. I think Barkley wants out anyway but I guess we will see after the Unsworth chat.

Roy Steel
70
Posted 25/10/2017 at 14:54:12
I was one of the ones who wanted Ross out, I had run out of excuses for him, thought he was overrated overhyped as one of our own and just not good enough. I just want the lad to prove me and a whole lot of others wrong, most of all Koeman, who treated him disgracefully.

Nobody has doubted his ability or his skill, now we've a guy at the helm who will guide him, tell him he's the best and hopefully get out of him what we all know he's got.

The boy is a winner. Come on son, sign on the dotted line.
Jamie Evans
71
Posted 25/10/2017 at 15:52:45
Well let's see exactly how much of a blue you actually are Ross. A boyhood blue I'm told. One of us, etc, etc. Just didn't get on with the manager . once Koeman's gone he'll sign. Just you watch, just you watch ! Looks like we'll find out. I hope he does and then almost every fan will be able to say ' told ya didn't I !' If he does I hope those same fans don't crucify him should he misplace a pass from time to time. Not that Ross would do that. Would he ?
Vinny Garstrokes
72
Posted 25/10/2017 at 18:37:02
Just heard a fella on Talksport who said
If Davey Klassen is a Premiership player then I am a porn star! - and I've only got little feet!!
Quality
Mark Morrissey
73
Posted 25/10/2017 at 18:49:27
His treatment of Ross has been the itch that couldn't get scratched. I am convinced that his mis-management of Ross is what has irked the other blues at the club and this has then spread like a canker through the dressing room, along with his ineptitude, his refusal to change to a Plan B but that is my opinion.
It's the treatment of Ross( which I have seen as two fingers up to all Evertonians ) that I have found the most irksome trait of Koemans reign. I know many on here don't like him or rate him. I find some of the diatribe quite brutal but I think he's a top player who has not yet peaked and I don't want him gone. He would be first on my team sheet. It's only my opinion but I want him to stay more than I want Unsy to manage us. Ancelotti or Tuchel with Unsy alongside either of them and Ross behind the striker for me all day long
Will Mabon
74
Posted 25/10/2017 at 19:29:20
Mark, we don't know the extent but I agree with the basis of what you say. How can there be any circumstance in which openly mistreating people would have a positive effect.
Andy Williams
75
Posted 26/10/2017 at 23:30:09
Raymond #64 it was obvious that Martinez told the defence to try and play out slowly from the edge of their own box. That is why we conceded so many goals from mistakes in that area. Instead of hitting Row Z, players like Jags were trying to pass it around going against everything that they had ever learned. I thought that was common knowledge. We had the highest number of goals conceded from such mistakes in the league.
Ross flourished in Martinez's first year but, as Moyes's influence waned and Roberto's 'philosophy' became dominant, he suddenly stopped running so much at defences and started trying to hold the ball up. His decision-making was then called into question by all and sundry including the crowd to the point where he thought the crowd were booing him at Wembley.
Jay Harris
76
Posted 27/10/2017 at 19:32:07
The worrying thing for me is Unsy saying he speaks to Bill at least 3 or 4 times a day.
This suggests to me that Kenwright has far too much influence on team matters and expalins a lot about KOemans demeanour this season and the split in the camp.
I just hope Unsy ccan pull it all togesther and resist the long arm of Kenwright.
My view on Barkley has not changed.He is one of the most technically gifted players to come through the academy but id mentally weak and does not put himself about enough to be a MF player.
its nice to see homegrown players do well but if we're ambitious for CL we need better quality players and a ruthless experienced manager who has won things.
I hope Unsy succeeds but I would like to see Kenwrights influence diminish.
Tony Hill
77
Posted 27/10/2017 at 21:52:20
Great news that Barkley is about 3 weeks away from getting in the frame though match fitness is another thing. The most naturally gifted member of the squad still in the flush of his talent ( thus excluding the Rooney of 2017), but Ross is attacked by demons. Get this man's mind and soul right and we have a wonderful, landscape-changing player whom a lot of us had written off.
Worrying, very worrying, that Bolasie and Coleman are said to be "months" off. Last I heard they were expected back in some way in November. Bolasie, given the manner of his getting injured, worries me especially. Let's keep praying.
Alastair Kelly
78
Posted 28/10/2017 at 06:57:52
Great points Paul #38. Agree Ross should be given a run in deeper centre mid role alongside Gueye or McCarthy. As for lack of England opportunities he plays for wrong club. So much as get a few minutes for Man U and it gets you in England squad. Look at Cleverly, regular England pick at Man U even though clearly not good enough. Think he had one more selection whilst with Everton but form was similar. Ross is most talented english player of his generation. Remember he is still a young player. Hold onto him if we can. Ironically Rooney dropping deep from forward/no 10 position could dovetail perfectly with Ross getting forward from deeper positions.
Add Your Comments
In order to post a comment, you need to be logged in as a registered user of the site.
Or Sign up as a ToffeeWeb Member — it's free, takes just a few minutes and will allow you to post your comments on articles and Talking Points submissions across the site.