Tosun focused on training and fitness
Tuesday, 13 February, 2018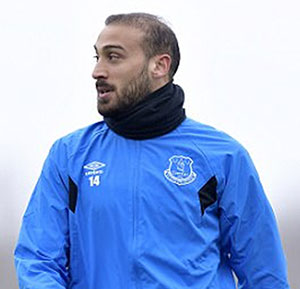 Cenk Tosun is hoping to use Everton's warm-weather training camp to increase his fitness as he bids to finally launch his Goodison career.
Billed by Sam Allardyce as the best striker in Europe in his valuation bracket when he signed last month, the striker has made just two starts and one substitute's appearance and failed to make it off the bench in either of the last two home games since arriving from Besiktas.
Allardyce elected not to bring him on with the Blues 3-0 up on Crystal Palace last Saturday, a decision that was met with boos from the home faithful, with the manager insisting that Tosun is struggling with the pace of the English game.
Tosun appears relaxed about what he needs to do to earn his chance, however, and has an opportunity over the current break from action to gel with his team-mates and further improve his physical conditioning with the team in the Middle East.
"I am in a completely different league," Tosun explained to turkish-football.com, "[but] I'm doing everything to settle in and bond with my new teammates.
"I did not play in the last game but it does not bother me. I am just focused on my game and training hard.
"I am going to be a lot fitter in a fortnight's time and then return to the starting 11."
---
Reader Comments (73)
Note: the following content is not moderated or vetted by the site owners at the time of submission. Comments are the responsibility of the poster. Disclaimer
Steve Cotton
1
Posted 13/02/2018 at 16:24:03
Dont tell me he is losing his hair already... first Rooney then Sandro then Terry Daracott
Tony Everan
2
Posted 13/02/2018 at 16:58:21
He can't have a completely hairless body for all I care, as long as he starts bangin'em'in.
Steavey Buckley
3
Posted 13/02/2018 at 16:58:46
For £20 million, Walcott starts every game for Everton. But for £27 million Tosun can't play another game until the threat of relegation is over.
Is he that bad, because, normally, clubs will break the bank to kick start their season with an expensive acquisition?
Len Hawkins
4
Posted 13/02/2018 at 17:10:04
"Normally" is the operative word which seems not to be used in the same sentence as Everton, unless you are talking about disastrous results.
Jeff Spiers
5
Posted 13/02/2018 at 17:22:58
Steve @1. Looks like a Rooney hair fill to me!
Derek Knox
6
Posted 13/02/2018 at 17:57:50
I can just imagine the 'warm weather training in Dubai' – Sam takes them all down the beach.
"I want you all to sprint to the Burj Al Arab; first one back gets a free ride on the donkey. No, I don't mean Schneiderlin, and the next four are automatic choices for next game. I'm just going to dip my toes in the water; would have gone for a swim, but my costume has a hole in the knee, and will no longer button up to the neck.
"Now that you are warmed up; we'll do some ball training; first one to hit the deck chair attendant, secures the striker's role next game.
"Now, Tosun lad, I am a bit embarrassed, that 5-year-old lad left you for dead in the sprint before. I'll get you an ice-cream and see if that helps; do you want' crushed nuts' cos the way you are performing you will be getting them, gratis.
This isn't working out the way I had planned; come on all back to the Hotel and we'll go on the piss; hope none of this leaks out back home!
Jon Withey
7
Posted 13/02/2018 at 18:31:19
Walcott has been in this league most of his career – give Tosun a season starts least.
Minik Hansen
8
Posted 13/02/2018 at 18:33:33
Couldn't be a better time. No excuses when the lads are back to play against Watford, Tosun better start that game, as several has indicated, that way he will step up to the pace of the Premier League.
Lawrence Green
9
Posted 13/02/2018 at 18:40:40
I don't know the exact 'settling-in' period for any overseas player that is required but I must admit that the acceptance by many that Allardyce is spot on with this claim is bafflling, particularly the media who don't provide a list of similar occurrences at other clubs.
The club has spent £40m on Niasse and Tosun, both of whom were purchased at different times to provide much needed fire-power to a shot-shy team and, whilst we have had some return from Niasse, there are plenty of others we have bought in the last half-decade who turned out to be mystery buys and added little or nothing to the team.

Si Cooper
10
Posted 13/02/2018 at 18:48:42
So what is it that the algorithms failed to tell us? Anything that a decent scout should have spotted?
I understand he might need time to get fully up to speed but I don't understand why that can't include regular outings from the bench especially if he's being given a place on it. A knack for taking a scoring opportunity isn't entirely reliant on peak fitness is it?
John Keating
11
Posted 13/02/2018 at 18:50:43
On 1 January, we should have been in a position to bring a striker in, fit, up to speed and ready to go.
It's not as if we didn't know we needed someone to replace Lukaku.
Lawrence Green
12
Posted 13/02/2018 at 18:51:23
Si (#10),
The Latch would have had to have waited for at least a year to show his talents if fitness had have been the only requirement.
Bill Gienapp
13
Posted 13/02/2018 at 19:30:29
I want to see Tosun play and judge for myself. He appeared to be one of our few bright spots against Tottenham, then was mostly anonymous in an overall wretched team performance against West Brom.
Frankly, I'm tired of hearing whispers about what does or doesn't go on in training. Whatever's happening in training hasn't been translating onto the pitch all season. All we got were half-assed excuses about why Lookman wasn't playing more, when anyone could see his qualities each time he stepped onto the field.
John Graham
14
Posted 13/02/2018 at 19:32:28
Saying all the right things. He seems to have a good attitude and looks like he's willing to work hard and learn.
Hopefully we can get a few points in the next few games and then hopefully he will get a chance with less pressure.

Rick Pattinson
15
Posted 13/02/2018 at 19:41:12
I reckon this fella has what it takes... he's determined at least so give him a damn start so we can see.
Kim Vivian
16
Posted 13/02/2018 at 19:45:19
Totally off topic but just watching the Juve/Spurs game, – I wouldn't mind Bramley-Moore Dock looking like that when done and dusted,
Mike Allen
17
Posted 13/02/2018 at 20:09:01
Far to many excuses for players not to play because the squads are far far too big to handle, 7 players on the bench – how stupid is that? And so belittling to the players. £40k plus a week may soften the hurt but it's still crackers.
Tosun may well be another Niasse. What a prospect to look forward to in a couple of years time... that's if we can keep hold of Niasse.
Flippen-eck! Funny ole game.
Peter Dodds
18
Posted 13/02/2018 at 20:18:28
What a load of cobblers. The England national team is regularly embarrassed by any team within the world top 30. To suggest that the Turkish League is a poor imitation of the Premier League is a little arrogant.
Anyone who played for Besiktas should be able to drop into the Everton team without any issues whatsoever. I don't recall any obvious fitness or pace issues when Cenk had his debut .
James Flynn
19
Posted 13/02/2018 at 21:10:32
Have to say, every time he's been interviewed, he sounds confident.
Bobby Mallon
20
Posted 13/02/2018 at 21:28:32
I think it's time this lad was given 60 mins from now till the end of the season. Niasse is (in my opinion) a very poor player.
Eddie Dunn
21
Posted 13/02/2018 at 21:51:05
I think it all stems from the fact that Sam wants to play one man up top. Niasse has got some goals and seems very fit, willing to chase down anything. If we were to play with two up there, I think Cenk would thrive but I just can't see it happening.
Jerome Shields
22
Posted 13/02/2018 at 21:59:20
There is nothing wrong with the Turkish league and the standard that Tosun plays at. The problem is that Allardyce has no attacking tactics and forwards have to fend for themselves. Tosun is used to good team attacking play, with movement and speed, with good technical players supporting and in attack.
A higher standard of tactics than Everton and Allardyce. Allardyce is only interested in accumulating points to get to safety as soon as possible. He is not interested in Tosun at the moment.
Chris Gould
23
Posted 13/02/2018 at 23:34:26
Niasse has worked his arse off and deserves his place in the team. His goals and assists tally is excellent considering the amount of minutes he's had on the pitch. We've been crying out for a striker who gives his everything and doesn't give defenders a minute's peace.
Niasse has surprised everyone, including Sam it would seem. His touch, movement, and passing have massively improved and it may just be that Sam can't ignore him at the minute. Niasse's form and workrate are more likely the reason that Tosun is on the bench, as opposed to Tosun being slow, unfit, or a bit crap.
Chad Schofield
24
Posted 13/02/2018 at 00:15:25
I agree that at Tottenham he started okay, bright flick-ons etc. But it's the Koeman dream if we'd have landed Giroud... the slowest Premier League team in the land.
I hope it works out (obviously), but very few strikers play well as a lone striker.
Kristian Boyce
25
Posted 14/02/2018 at 02:17:04
Slightly puzzled about this, mainly due to the fact he's actually German and grew up/played in the German league. I understand it's a step up in fitness and skill from the Turkish league, but he was groomed in Germany.
The one positive is that when Niasse was going through a similar adjustment when he first cane, all we heard was about the rumours coming from the training field that he was pretty poor (which he was when he first arrived). I haven't heard anything this time, only Alladyce saying he's not ready yet.
Ian Linn
26
Posted 14/02/2018 at 04:21:49
Before signing him Sam said:-
"This lad looks like he is strong mentally and has a good pedigree," the manager said. "He is Turkey's No 1 striker and has scored goals in the Champions League and the Turkish League but he is desperate to play here in the Premier League.
"He is an all-rounder, with good movement. He is two-footed, perhaps not the biggest but he's very efficient in the air and in the box he gets good space to get his head on the ball.
"We looked at the qualities of the player, his talent and goalscoring, and his resilience, too. I do not think you can look any more than we have done and, for the price, he is the best in Europe at the moment."
Great – so why's he not playing?
David Ellis
27
Posted 14/02/2018 at 04:48:16
Ian (#26) – because Niasse is proving more effective at the moment – bizarrely. Tosun needs to bide his time to win the shirt. Baines and Jagielka both had to wait a season before they were first-team regulars. Davy Weir was another one. Even Arteta took a couple of months to adjust to the Premier League.
Ajay Gopal
28
Posted 14/02/2018 at 06:23:52
I prefer to look at the positives from this story:
1. Tosun recognises that he needs to up his sharpness and fitness and is prepared to work hard for it.
2. He knows he cannot expect to saunter into the team – he knows there is genuine competition for his position (something we never had when Lukaku was main man – hence his 'I am doing Everton a favour' attitude).
3. When he gets his chance, he will do his best to succeed.
What is there to not like in this situation? I am genuinely baffled by some of the posts above.
Bob Parrington
29
Posted 14/02/2018 at 06:36:30
From what I've seen of Tosun, he has a good footballing brain, which is more than a few of our players are missing. With the likes of Walcott beside him, and an "in the right position" Sigurdsson, plus that extra bit of fitness, I think we will see this guy make his mark at Everton.
It's not like the team performed in any way, shape or form to support him in the short time he's been on the pitch.
Brian Porter
31
Posted 14/02/2018 at 07:20:49
Bobby Malkin #20, the 'very poor' player you mention, Oumar Niasse, is not only our second leading scorer so far this season but has a goals per minute ratio on a par with some of the very top players in Europe this season.
Without his goals, we would currently be one point above the drop zone. What does this lad have to do to convince some people that he has a striker's instincts and the uncanny ability to be in the right place at the right time in the penalty area?
I wish we had a couple more 'very poor' players with his commitment and work rate.
Jimmy Hogan
32
Posted 14/02/2018 at 07:40:35
Relax everyone. Even Berkamp was shit and off the pace for his first half-season in England. Not everyone hits the ground running.
Lenny Kingman
33
Posted 14/02/2018 at 09:19:17
lf he doesn't shape up while in warm as toast Dubai, unlikely, they can drop him off in Istanbul on the way back. A parachute payment to Beshitkas.
Dave Abrahams
34
Posted 14/02/2018 at 09:31:04
While Everton are on this warm-weather training base why don't they invite Sami Nasri to join them? He is now a free agent. With the state of Everton's central midfield, he could do a good job on a short term contract, if he is fit enough.
Jerome Shields
35
Posted 14/02/2018 at 09:32:01
I would also add that Tosun was the forward that the fans have wanted since the start of the season. So we have him; that doesn't mean he has to play. That's the way Big Sam thinks.
I totally agree withe Chris (#23), adding Niasse has his own way of playing and tactics, which he employs to good effect in the absence of any Allardyce tactics.
Niasse was picked by Koeman to save his bacon. Big Sam has discovered this also. As soon as Niasse plays Everton look like they have a forward line that threatens. You can see it in the opposition defenders' faces.
Charlie Lloyd
36
Posted 14/02/2018 at 10:34:19
Even at 30, Nasri is a has-been. And if you thought Schneiderlin didn't buy into team ethic!
I'd rather pass on thus guy who is a legend in his own mind.
Tony Everan
37
Posted 14/02/2018 at 10:48:04
We haven't seen anything of Cenk Tosun yet to make any kind of assertions. Far too early to label him anything. He seems focussed and determined and will benefit from this warm weather break.
I expect when they get back he will be chomping at the bit to get a game. Once he gets a goal, he will be more confident. He will start enjoying it and will show his quality. Supporters need to give him some breathing space to acclimatise and come good.
Dave Abrahams
38
Posted 14/02/2018 at 11:30:43
Well that's that sorted, Charlie. I wish Everton were as quick as you in their transfer dealings.
Dan Nulty
39
Posted 14/02/2018 at 11:41:33
Christ, Samir Nasri has never been liked wherever he as played: Arsenal, Man City and in particular the French National team. He was hated.
I agree with one of the posts above, manager says he needs to work on his fitness and get up to pace, player responds by saying that is exactly what he is going to do and some of us turn it into a negative story.
Niasse is just one of those players, there is no rhyme nor reason when you look at how they play or technical skills but they will always find a way to score goals. He reminds me a bit of Bakayoko, or even Wanchope.
Clive Rogers
40
Posted 14/02/2018 at 11:42:12
Charlie, yeah... he's a twat.
Nick Armitage
41
Posted 14/02/2018 at 12:33:36
David Ellis – common sense, reasoned, rationale responses aren't welcome in the Everton fan base.
Dale Rose
42
Posted 14/02/2018 at 12:34:06
Brian Porter, on the money mate. He's been great for us this season.
Andy Meighan
43
Posted 14/02/2018 at 12:59:14
The likes of Niasse and Stracqualursi are loved here because they give every last drop of sweat for the cause and will gain cult status in years from now. Mention their names and most people smile.
Compare that to a certain Frenchman at the club or in years gone by the likes of Nyarko, Barmby etc and I'll know what sort of reaction you'd get.
You see, Bobby (#20), we know they're limited but they are all heart and 100% effort. Give me that over some posturing arsehole who thinks he's too good for us. As for Tosun... it seems a bit strange but his time will come.
Ian Burns
44
Posted 14/02/2018 at 13:40:18
Dave – (#38)
Nice riposte – that made me smile!
Peter Warren
45
Posted 14/02/2018 at 13:42:08
Tosun has admitted he's not fit enough yet so Sam is correct.
Nicholas Ryan
46
Posted 14/02/2018 at 14:56:15
Nasri on a 'Pay if you Play' contract till the end of the season, with an option to extend – where's the downside? [Apart from him being a horse's bottom, that is.]
Jay Woods
[LAT]
47
Posted 14/02/2018 at 15:27:41
Nasri's downside: hopeless on the field, disruptive off it.
Alec Kociuba
48
Posted 14/02/2018 at 16:05:30
Does anyone know whether this Dubai friendly training game is open to the public or what time it's due to kick off? I don't live far from the training complex and wouldn't mind going.
Matthew Williams
49
Posted 14/02/2018 at 17:45:46
Tosun's ready... our manager isn't. The lad is a goal-scorer, plain and simple.
Play Walcott up front with him and he will bag us the goals, folks!
Paul Thompson
50
Posted 14/02/2018 at 17:45:59
Someone mentioned the (superb) Spurs game last night. The excellent Lamela had a very indifferent first season – just one indication that many foreign players take a while to settle into the English Premier League. I think he will come good.
If a criticism is going to be made, it's that we badly needed a striker who could settle quickly for the second half of the season and so Tosun was quite a risk. Luckily we also bought Walcott!
Phil Walling
51
Posted 14/02/2018 at 18:20:34
Posters are still lobbying to sign more players when all that is wanted is a management that can make the buggers we've got play better. Or, in some cases play at all!
Drew O'Neall
52
Posted 14/02/2018 at 19:07:47
"Billed by Sam Allardyce as the best striker in Europe in his valuation bracket"
Everton: Stop buying 3x players in that 'bracket' and buy one player in the >£70m bracket and we might have a player who improves our team instead of hoping to get lucky on a punt.
Mike Allen
53
Posted 14/02/2018 at 19:23:10
Just listened to Big Joe on Radio Merseyside – no waffle, just plain speaking that makes sense. If having a Director of Football, he's the man perfect for the roll.
Anyone know if he is still part of the club or was he moved on when Sam arrived?
Gaute Lie
54
Posted 14/02/2018 at 20:13:03
They should have gone for a training camp to Iceland. Better adjusting to cold climate than a warm one...
Soren Moyer
55
Posted 15/02/2018 at 01:12:53
They only need a proper manager. In the past 2 seasons the results worsened after they came back from their warm weather camp! Now, why should we expect a different outcome this time?
Brendan Fox
56
Posted 15/02/2018 at 10:34:12
This just smacks of a soundbyte by Tosun to say what he thinks the two Sammies want to hear after Allardyce's comments earlier this week.
If the Sammies truly think the fans are that gullible to believe that a player that has played 24 games for Besiktas this season, scoring 14 goals in their domestic league, cups and the Champions League, is not fit enough to come on as a sub for 20-30 mins per game to freshen up the attack, then more fool them because I and many others aren't buying that excuse.
Martin Nicholls
57
Posted 15/02/2018 at 13:05:51
Just been reading on the OS how "gruelling" this training camp is – looks more like a nice "jolly" on Joel's Instagram account!
John Pierce
58
Posted 15/02/2018 at 13:53:51
Mike, 53. I love big Joe. Funny, savvy and won something.
But the DoF role needs a modern, dynamic energized person in place. Joe moved on 'out of respect' for Unsworth who he has mentored.
Joe isn't that guy, which is a shame but the model must be retained.
Tony Williams
59
Posted 15/02/2018 at 14:11:29
It's all down to Allardyce again, you can't let him make any more decisions for our club. It's as though he has an agenda to ruin us. His decision-making up to now has been unbelievable and that's not only my way of thinking – about 30,000 plus people think that way.
He shouldn't take any credit for what he has done as it was on the back of Unsworth's win against West Ham. You could have put a monkey in charge of our squad and he would save us from relegation.
Brian Wilkinson
60
Posted 15/02/2018 at 14:13:15
Not the best of ideas, rewarding the players with a break in Dubai for failing in the Europa League and the FA Cup, sending out all the wrong messages for failure.
I am just hoping it is not too hot for Tosun, or it could be another month or so, before he gets off the subs bench.
Alan McGuffog
61
Posted 15/02/2018 at 16:51:35
Brian, each to his own of course but, with regards to Dubai as a holiday destination, I am minded of the old adage: "And the first prize is a week in Dubai; the second prize is two weeks in Dubai... etc."
Jim Bennings
62
Posted 16/02/2018 at 09:02:58
Well, all fine and dandy going off for warm weather training but are they going to roll their sleeves up on a cold night in Watford??
Brian Wilkinson
63
Posted 16/02/2018 at 19:00:56
Should have had them stripped to their undies and a pair of old pit boots training on Ainsdale sands, make them run to get warm instead of rewarding them with a warm weather Jollies.
Iain Johnston
64
Posted 18/02/2018 at 11:21:09
Anyone else been following the training on Facebook?
Easy to pick out the likes of Klaassen, Baines, Funes Mori, Garbutt etc but no Schneiderlin?
Ernie Baywood
65
Posted 18/02/2018 at 11:41:17
I just hope that Sam had no say in the signing. Doesn't make any sense to have a bloke making long-term decisions when he'll be out on his arse come June.
Mind you, based on past record, I'm not sure who I'm hoping was involved in the signing.
Barry Jones
66
Posted 20/02/2018 at 00:52:14
I have no problem in signing him, only with the fee paid. £20M makes sense for Theo who is proven in this league and of course, has hit the ground running. Tosun's fee is questionable. I wish he had more pace, it would ease my doubts somewhat.
Victor Yu
67
Posted 22/02/2018 at 03:19:12
Sandro is good enough to face Man Utd in the Champions League.
But he isn't even good enough to play for our U23 team, apparently.
John Atkins
68
Posted 22/02/2018 at 03:42:56
I see Lukaku is being slated in the press and also by Man Utd fans after another inept performance against quality opposition – some saying he's the worst No 9 they've ever had and a waste of money...
I'm made up!!! Now they can see he's not as good as he thinks he is and totally deluded
Let's hope Tosun at €27M can be as good!!!
John Atkins
69
Posted 22/02/2018 at 03:47:47
I meant let's hops Tosun at €27M will be better!!!
David Barks
70
Posted 22/02/2018 at 04:20:09
John,
Except you're talking out of your ass, and it's Mourinho's negative tactics being slammed. Most pundits were speaking about not being able to recall any Man Utd player other than Lukaku even being in the opposition's box. That Mourinho lines up with only 3 attacking players, Lukaku, Sanchez and Mata. That Mourinho chose to start Matic, Herrera and McTominay in midfield, doing his typical 0-0 away performance.
No Pogba, no Lingard, no Martial, no Rashford. Mourinho went into the match only looking for a 0-0. And he's being criticized in all corners for his negative tactics, and rightfully so. So sorry, it isn't Lukaku being blamed, it's Mourinho.
John Atkins
71
Posted 22/02/2018 at 04:48:47
Chill, David ffs – I'd didn't watch the game nor would I watch that lot, can't believe you've gone into detail about their manager and tactics?
I'm just posting I'm happy to see some of their fans and media slagging the big lump off and I'm happy to hear that; he's a disrespectful tool who thinks he's some great and I'll take negative comments about him all day long.
David Barks
72
Posted 22/02/2018 at 05:11:51
John,
So you'll gladly talk about something you're completely ignorant about. Great attitude there, mate. Don't watch the game, but you'll echo something someone said that happens to back up a predisposed position you have. What could possibly go wrong with that way of thinking?
John Atkins
73
Posted 22/02/2018 at 05:18:33
Moral High Ground comes to mind, David.
Let's leave it there, 'mate'.
David Barks
74
Posted 22/02/2018 at 05:39:21
Has nothing to do with moral high ground, or morality of any sort. 'Ignorance' is the word you're looking for.
Add Your Comments
In order to post a comment, you need to be logged in as a registered user of the site.
Or Sign up as a ToffeeWeb Member — it's free, takes just a few minutes and will allow you to post your comments on articles and Talking Points submissions across the site.