Everton History
'Rags': The Life of Cuthbert Tatters
Rob Sawyer

18/05/2019
12

comments | Jump to last
Share: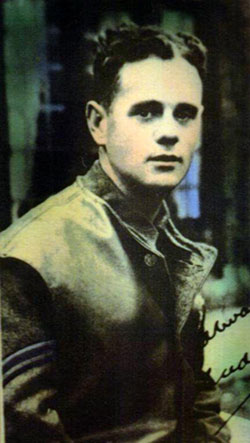 Few footballers' names are more evocative of bygone times in the Goodison lexicon than Cuthbert Tatters.
Cuthbert was born in County Durham, on 4th January 1915 and grew up on Sunderland Street in Easington. This was coal mining country and Cuthbert's father, James, worked at Wheatley Hill Colliery. Cuthbert followed the same path, employed as a pit boy there. On the football field, he played for Shotton Schoolboys, gaining county honours in 1929. He also turned out for Wheatley Hill Juniors. A photo also appears to show him, as a boy, wearing the stripes of Sunderland. Away from football, Cuthbert, an accomplished pianist, provided the musical accompaniment to silent movies in his local cinema.
In 1932, this diminutive inside-forward (5'-5" in height), starring for Spennymoor United in the North Eastern League, came to the attention of West Ham United who were reportedly offering him a trial. Records confirm that Cuthbert did move south, to the London area, but it appears that he did not make the grade with West Ham. By 1939 he was employed as a senior nurse in St Ebba's Hospital (also known as Ewell Mental Hospital), living at 45 Green Lanes in Epsom, with his wife, Olive. Playing district football, a newspaper report from 1939 suggested that Spurs, West Ham and Crystal Palace were interested in signing him... his age erroneously was given as 21, rather than 24 (an error that was repeated in subsequent years – perhaps Cuthbert was happy to shave a few years off, in the hope of attracting football suitors).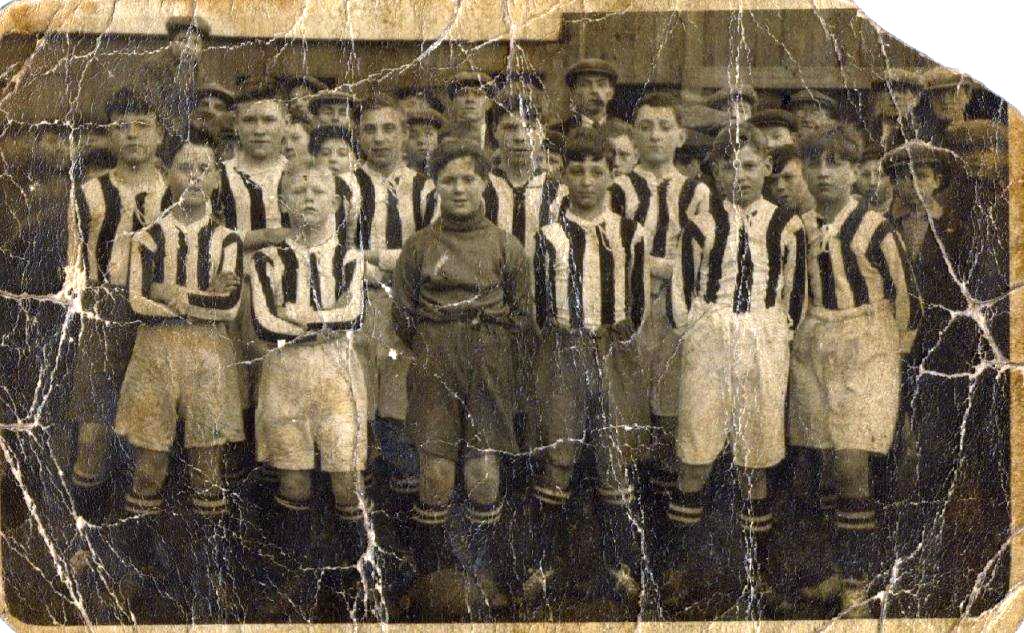 Cuthbert Tatters with Junior team
War put paid to hopes of securing a professional footballing contract and Cuthbert was called up in 1940 with the RAF, serving as a medical officer (Corporal) attached to construction teams on the building and repair of military airfields. The work took him to various parts of Britain, plus France, Germany and Australia (based with RAF Transport Command at South Yarra) as the war progressed.
For a period in 1943 and early 1944 Cuthbert was based at Broughton, Lancashire, and crossed paths with Tommy (TG) Jones – the classy Everton and Wales centre-half whose RAF service was as a Physical Training Instructor. With a New Year's Day fixture against Chester at Goodison Park looming, and question marks about the availability of some regular Everton players, Tommy asked Cuthbert along 'just in case'. Sure enough, Cuthbert was required and lined up at outside-right in an Everton team comprising: Burnett, Jackson, Greenhalgh, Grant, T.G. Jones (captain), Watson, Tatters (amateur), Wainwright, Boothway (Manchester City), Stevenson, and McIntosh (Preston).
Cuthbert started brightly – his volley from a McIntosh Centre was turned around the post by Scales, the Chester custodian. Later in the first half it was reported: 'Tatters responded well to a call by Wainwright to cut in, and let go an excellent shot which Scales pushed over the top'.
Of the debutant, Pilot, of the Liverpool Evening Express, wrote: 'Tatters was certainly making an impression and how he came across field to open up the way for McIntosh, but offside spoiled a fine movement. Tatters trickled Astbury and then Tagg in delightful style'.
The match was a personal triumph for Alex Stevenson who scored four in a 7-0 victory. The Irishman could have had more had be converted two through balls from Cuthbert. However, his through-pass to Boothway did result in the sixth goal.
Ranger, in the Daily Post summarised the debutant's contribution:
'Stevenson, who delighted with his amazing ball control, was the star of the day, and McIntosh and Tatters were excellent on the wings. Tatters is 23-years-old RAF amateur who has played occasionally for Spennymoor United and Durham. He was brought to Goodison on Saturday by TG Jones in case of emergency, and quickly distinguished himself by his speed, dribbling and canny positioning.'
After this dream Toffees debut, Cuthbert was unavailable for the next fixture but returned to the Everton team for the Merseyside derby on 22 January. The result was a surprise win for the Blues but it came at considerable personal cost to Cuthbert. The Blues had already had to shuffle the pack when Norman Greenhalgh was declared unfit shortly before kick-off – having fallen into a car pit at work and injured his leg. Cuthbert took his place at inside-left alongside Tommy Lawton and Jimmy McIntosh. Almost from the first whistle, Cuthbert was reported to have 'dribbled his way through the Liverpool defence but his final pass was smothered out.' One match reporter wrote:
'One of the surprises of the game thus far was Tatters, who played like a veteran even to the point of ordering his colleagues what to do.'
On the half-hour mark, immediately after Eddie Wainwright put Everton two goals to the good, Cuthbert left the field nursing an ankle injury. He returned to the fray for the second half, limping badly on the left wing, little more than a passenger. It was subsequently confirmed that Cuthbert had suffered a broken ankle which would be in plaster for 6 weeks. The injury – and the fact that Tatter's had to play on with it, upset TG Jones (who would suffer an ankle injury, himself, against Liverpool, later in the season). In a display of goodwill, not always associated with the Everton Board, the minutes note that he would be 'offered a professional engagement, should he be prepared to accept same.' True to the Board's word, just prior to the commencement of full peacetime domestic football, Everton offered Cuthbert - by now fully recovered from the ankle injury - terms of £5 per week for the 1946/47 season. He duly sought a transfer from his Surrey hospital work place to the Preston area, under the auspices of the Lancashire Mental Hospitals Board. However it appears that said board was less than enthusiastic about having Cuthbert split his time between football and nursing. It wrote:
There are certain difficulties which would arise from your transfer to a Lancashire Mental Hospital and accepting a professional engagement with Everton Football Club. I have written fully on the matter to Mr Theo Kelly, the Everton Club Secretary, from whom you will, no doubt, be hearing.
Yours faithfully,
Deputy Clerk of the Board
The Everton board minutes record that the club gave up on the protracted negotiations, four months later. One can imagine how frustrated Cuthbert must have felt to see his last chance of becoming a fully-fledged professional footballer (at 31 years of age) crushed.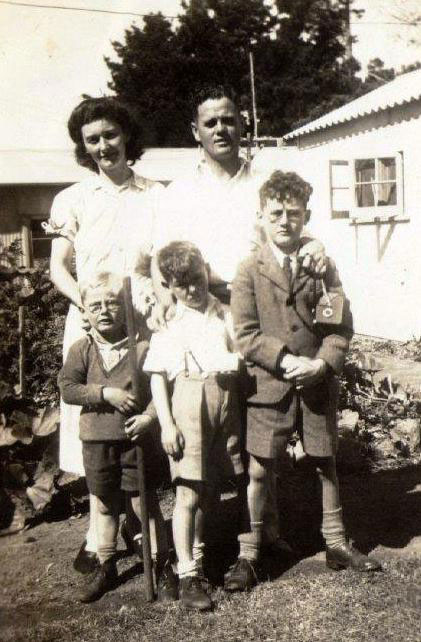 The Tatter family shortly after arriving in Australia, late 1940s
Almost exactly two years later, on 3rd September 1948, Cuthbert boarded a ship called Ormonde at Tilbury docks, bound for Melbourne, Australia. The seeds of the move had been sown when Cuthbert was based in Australia during his wartime service. Cuthbert's son, John, recalls: 'I do remember when Dad arrived home from the war. His words to Mum were: "We are going to Australia." He called us three boys (myself, James and Richard) together and explained to us that Australia was the best country to live in. He showed us a book picturing pineapples growing.'
On the ship's manifest for the long voyage, Cuthbert's occupation was listed as a 'carpenter's assistant' - probably a slight bending of the truth in order to satisfy Australian immigration requirements. He was joined by Olive and their three sons (a fourth, Howard, was born in Australia).
John Tatters recalls the family's first experiences in Australia: 'When we arrived in Melbourne we were in the immigration huts for approximately two weeks. Then our Australian sponsor came and, in his beautiful new Chevy, he drove us to Portland, Victoria. Dad worked for this wonderful man, Mr Harris, who was very kind to us.'
In February 1949 Cuthbert accepted terms of £3 per week to become player coach of Caledonian Soccer Football Club, based in Brisbane, Queensland. The deal almost fell through due to a shortage of accommodation in the Brisbane area but the family did, in time, all settle there. The Telegraph newspaper headline was a pun on the Tatters name: 'Rags Tatters Arrives'. The name, Rags, stuck from thereon in and very few people in Australian football circles knew that his real name was Cuthbert. He got Caledonian promoted to the state's top division. Spells followed at Oxley United, Newmarket Postal Institute and Hollandia. At various points, Cuthbert was the Australian Under-23 Coach, an Australian national team selector and Vice President Australian Federation of Coaches.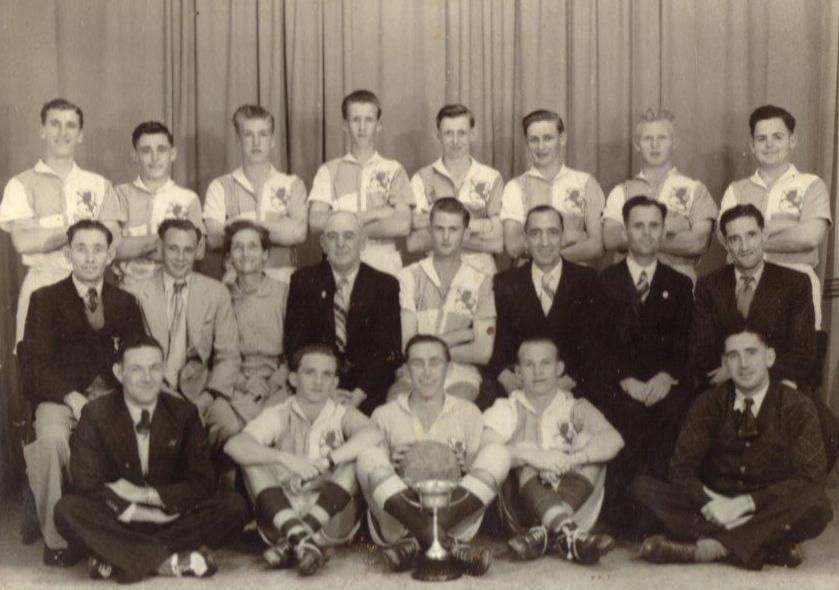 Cuthbert and Juniors, 1950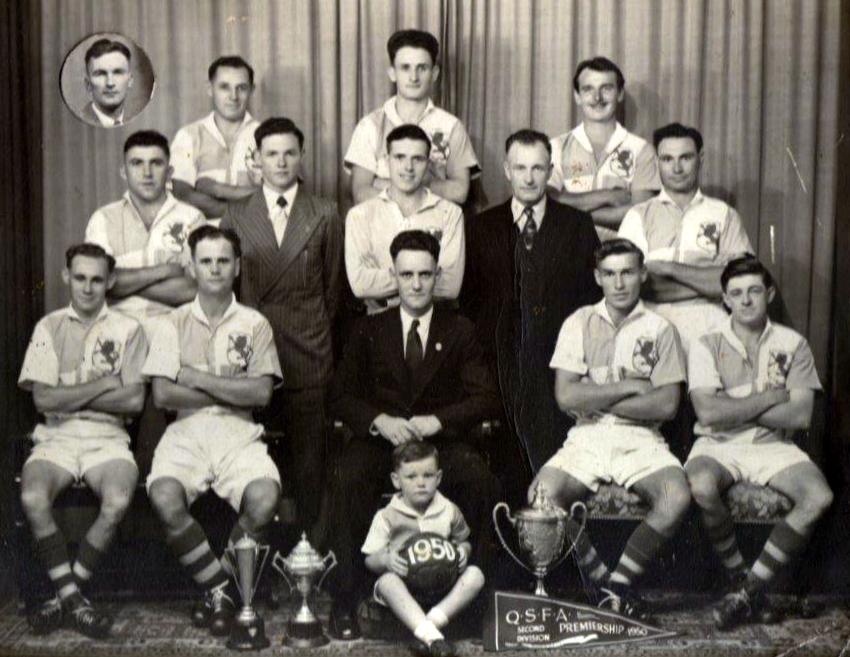 Cuthbert with QSFC in 1950
In 1967, he was appointed as State Coach for Queensland - and was in the hot seat when Manchester United played them on their Australian tour. The following year he was appointed as a Master Coach by the Australian Federation of Soccer Coaches. He delivered 10-week soccer training courses to Queensland University Physical Education students. He told the Courier Mail: 'At first the students were more interested in Rugby, but after a few weeks they began to understand the skills of Soccer and finished the course, last week, thoroughly enjoying it.' He was not forgotten by some contemporaries from his playing days in England. Stanley Mathews - with whom he had played in the RAF side - visited his house when touring Australia. In April 1969 Cuthbert stepped down from his football positions to focus on his successful contract cleaning business (which remains in the family to this day).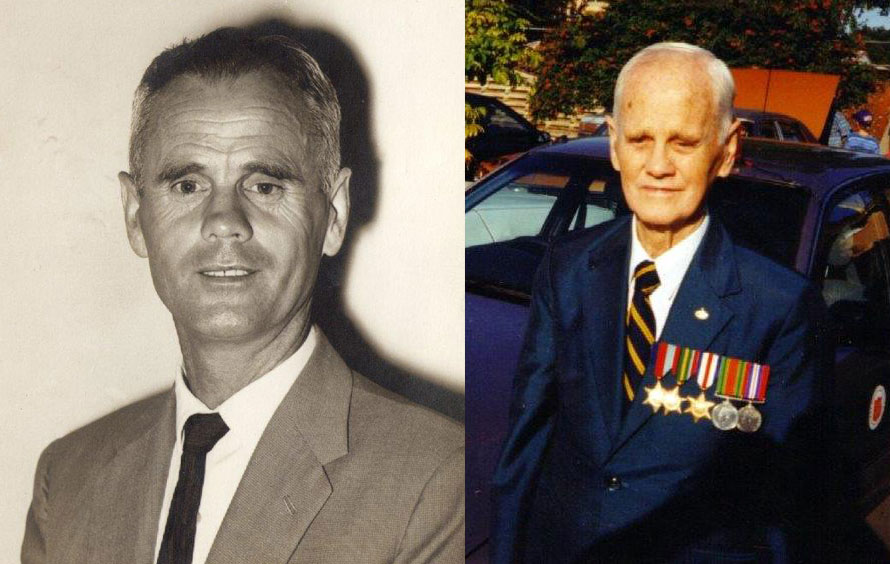 Cuthbert Tatters in the 1960s (left) and with his military medals later in life (right)
Cuthbert passed away on 4 June 2001 having battled bowel ischemia. He was always grateful to Tommy Jones, who he considered to be a wonderful player, for the opportunity he gave him at Everton – a club he was proud to represent, albeit all too briefly.
Acknowledgments
The Tatters family
Blue Correspondent website (Billy Smith)
Liverpool Echo, Evening Express and Daily Post
Everton: The Official Complete Record (Steve Johnson)

Follow @robsawyer70
---
Reader Comments (12)
Note: the following content is not moderated or vetted by the site owners at the time of submission. Comments are the responsibility of the poster. Disclaimer
John McFarlane Snr
1
Posted 19/05/2019 at 01:19:14
Hi Rob, my granddad and uncles spoke of Cuthbert Tatters, but they never went into detail, they told me that he had 'broken his leg' in a game against Liverpool, and that was about it, other than he was an exceptional player. I think that you understand my appreciation of the history of Everton Football Club, and your article has filled a gap in my education.
On another note, I have recently received an e-mail from Dr David France regarding your book on Roy Vernon, I'm experiencing a bit trouble with my e-mails (I am having a chap look at the problem) but I would ask a favour of you: if you have cause to contact David could you tell him that I will reply to his message as soon as possible?
Paul Birmingham
2
Posted 19/05/2019 at 09:51:59
What a story, incredible. A great testimony to Cuthberts, never give up spirit.
True grit and belief.

David Peate
3
Posted 19/05/2019 at 10:14:30
I will have seen the Everton games that Rob mentions. However, I do not remember Cuthbert Tatters at all. He seems to have been a bright spark and the article clearly does him justice. I do remember that Eddie Wainwright broke his keg and was never the same when he returned.
Vin McFarlane
4
Posted 19/05/2019 at 12:44:51
I've been waiting for this one Rob. The north-east has given us some of the best, most unusual names in the lexicon ( Venison, Shoulder, Mustard, Onions, Warneford and Corbett Creswell, etc, etc), but this feller's moniker tops the lot!
Phil Parker
5
Posted 19/05/2019 at 13:12:32
Sounds like a fine man and he wore the blue of Everton with two Goodison gods, T.G. and Tommy Lawton. His family will be rightly proud of him. Keep up the great work Rob.
Rob Sawyer
6
Posted 19/05/2019 at 14:35:06
Thanks for the kind comments, everyone. Cuthbert's children, grandchildren and great-grandchildren, in Australia, are all very proud of him. I was delighted to learn that some of the great-grandchildren are avid Evertonians.
Derek Knox
7
Posted 19/05/2019 at 18:49:44
Great and interesting story Rob, which must have taken you a while to collect all the information, and to put it onto TW.
When you look at what a lot of the Footballers then had to go through, and the sacrifices they had to make, it makes those privileged Jessies of today very lucky. I know it's all relative and £5 a week was probably a good wage then, but compared to the ridiculous amounts they 'earn' (?) today, a total disparity.
Paul Johnson
8
Posted 20/05/2019 at 11:54:53
great read Rob Cuthbert is part of our family Everton folklore. My grandfather was at the game and would often regale on how Cuthbert tore Liverpool to shreds. The story even got a mention at my old mans funeral two years ago. Quite amusing really as there was a fine turnout and while my brother told the story from the pew there were a couple of hundred people looking an thinking what the fuck is he talking about. Great memories.
Peter Mills
9
Posted 20/05/2019 at 20:34:19
Rob, your posts are always fascinating, thanks for them.
Gerry Morrison
10
Posted 25/05/2019 at 03:57:45
Thanks for that, Rob. I especially love the fact that his great-grandchildren are Evertonians.
Paul Staines
11
Posted 26/05/2019 at 07:29:10
Great article! I'm married to Rag's granddaughter and we are all fierce Everton supporters!
We are all so proud of Pa Tatters. I can remember him showing me his one arm push ups when he was 75!
Rag's great grandson, Alberto Campbell-Staines is also a fine sportsman, having represented Australia 7 times in Athletics, winning three World Championship bronze medals. He was also a pretty good footballer in his school days.
https://m.facebook.com/AlbertoCampbellStaines/
Jay Harris
12
Posted 27/05/2019 at 00:28:22
Great read Rob.
I love reading your posts, keep 'em coming.
Add Your Comments
In order to post a comment, you need to be logged in as a registered user of the site.
Or Sign up as a ToffeeWeb Member — it's free, takes just a few minutes and will allow you to post your comments on articles and Talking Points submissions across the site.
© ToffeeWeb