Visitors benefit from more sloppy Everton defending
Saturday, 4 August, 2018
Everton 2 - 3 Valencia
Everton took on Valencia at Goodison Park in their final pre-season fixture and a chance to see new signing Lucas Digne for the first time. Digne came on after the break, but Everton would not threaten and gave up a soft third goal in a poor second half.
The performances have left a lot to be desired as we approach the last of the pre-season friendlies and a rapidly closing transfer window with only two new players of note in Richarlison and Digne. Silva makes it a home debut for Brazilian winger Richarlison with fellow new boy Lucas Digne on the bench with Jordan Pickford with newly signed third goalkeeper João Virginia.
The omissions of Nikola Vlasic and Cuco Martina likely spell the end of their Everton careers while Ademola Lookman is significantly left on the bench.
Valencia kicked off and looked to control the ball but when Everton got possession, Sigurdsson released Walcott who showed his lack of match sharpness in failing to take full advantage.
Some terrible defending allowed Rodrigo to get in, Baines doing nothing to stop the cross.
Some good build-up got the ball out to Richarlison who curled a beauty at goal but Neto made a fine save to tip it over the bar.
Everton tried to implement quick one-touch passing to get into the Valencia area but the required finesse was not there, while Valencia looked very comfortable in possession. A dangerous free-kick wide left was wasted by them.
More crisp passing had the Blue shirts chasing shadows until a throw-in found Richarlison, then Walcott fed Tosun who powered a fine low shot across the keeper Neto and into the corner of the Park End net.
Gueye won the ball to start a move with some better touches and movement all around the Valencia area until Gueye's pass was wayward. Baines looked to cross in but had the ball whipped off his toes.
A fine cross from Piccini was laid on a plate for Rodrigo to score a far too easy second off his head, with no defender challenging him.
Sigurdsson had a chance to deliver a free-kick but it was low and put out for a corner that this time was delivered very well to the near post where Michael Keane timed his run to perfection and connected well to head home.
A poor clearance from Stekelenburg was punished but the goal was rather fortunately ruled offside.
Tosun did well to retain the ball wide right and Sigurdsson lashed in a meaty cross that was inches too high for Walcott at the back post.
Schneiderlin and Gueye were well involved in a better spell for Everton and fortunate to be given room to play some decent passes but Gueye's final choice was still a problem. There was a tendency to play deep or long balls too soon at times...
Baines crossed in a great ball that Walcott could not get his body shape right for. Another ball was put through for him by Sigurdsson but the keeper was out quickly.
Richarlison showed great desire to pick up the ball, turn and run forward, chipping in a tricky cross that drifted over as the whistle blew for half-time.
Lucas Digne replaced Leighton Baines after the break, with two changes on the Valencia side as Everton restarted. Sigurdsson swung in a free-kick punched away by the substitute keeper.
Sigurdsson put a free-kick into the danger area and it fell to Schneiderlin but his shot was blocked. The play was mostly in midfield, however, with the tempo slacking somewhat.
Valencia sensed an opportunity and pushed the Blues back for a while without threatening. But then they put together a fine move, rapid passing, finished with a clip across goal that went wide.
A bit of a scrap on the edge of the Valencia area looked like a handball but nothing given as Sandro replaced Walcott, but the pace of the game was relatively flat.
Tosun was slow but fouled, setting up another deep set-piece for Sigurdsson, played out wide, and Digne put in a fantastic ball to the far post that Richarlison missed.
After a lot of Valencia subs, Digne had his pocket picked and Coleman had to concede the corner, finally hooked away out of danger. The game was now quite scrappy as Marco Siva made more changes: Davies and Calvert-Lewin on for Gueye and Tosun with 15 minutes left.
Coleman and Sandro got in each-other's way, letting Wass pick up the ball and hammer it past Stekelenburg off the underside of the crossbar, another very poor goal to concede. Calvert-Lewin went down soon after, taking a hard knock.
Lookman relaced Richarlison to a good round of applause from the Goodison faithful. But so many substitutions destroyed any remnants of flow the game had lost since the break.
The game petered out with Everton losing their fifth pre-season game out of seven, despite a somewhat better performance, especially in the last 20 mins of the first half.
Scorers: Tosun (17'), Keane (30'); Rodrigo (6', 22'), Wass (75').
Everton: Stekelenburg, Baines (46' Digne), Keane, Jagielka, Coleman, Scheiderlin, Gueye (74' Davies), Sigurdsson (86' Dowell), Richarlison (81' Lookman), Walcott (60' Sandro), Tosun (74' Calvert-Lewin [Y:91']).
Subs not Used: Pickford, Virginia, Connolly, Kenny, Pennington, Besic, Niasse.
Valencia: Neto (46' Doménech); Piccini (67' Montoya) Garay (78' Murillo), Diakhaby (69' Vezo), Gaya (65' Lato); Soler (85' Escobar), Parejo [Y:81'], Kondogbia (78' Lee), Ferran (46' Wass); Rodrigo (68' Zaza), Santi Mina (84' Medran).
Subs not Used: Rivero, Montoya.
Referee: Chris Kavanagh
Attendance: 19,426
---
Reader Comments (156)
Note: the following content is not moderated or vetted by the site owners at the time of submission. Comments are the responsibility of the poster. Disclaimer
Michael Kenrick
1
Posted 04/08/2018 at 14:26:39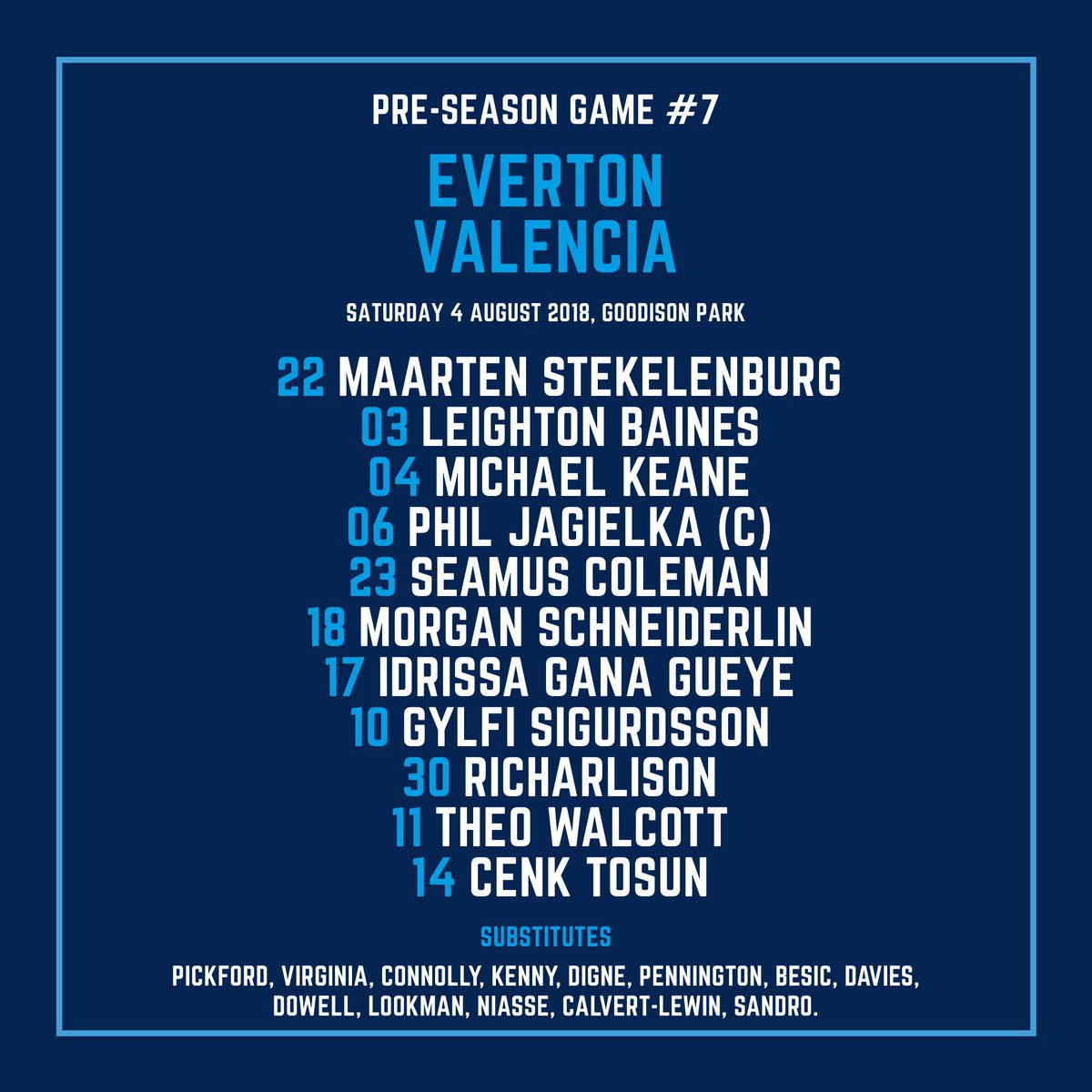 David Pearl
2
Posted 04/08/2018 at 14:30:22
Thanks Michael. Probably see this team next weekend too. It's about time we got a performance.

Michael Kenrick
3
Posted 04/08/2018 at 14:34:37
And the Valenica starting XI: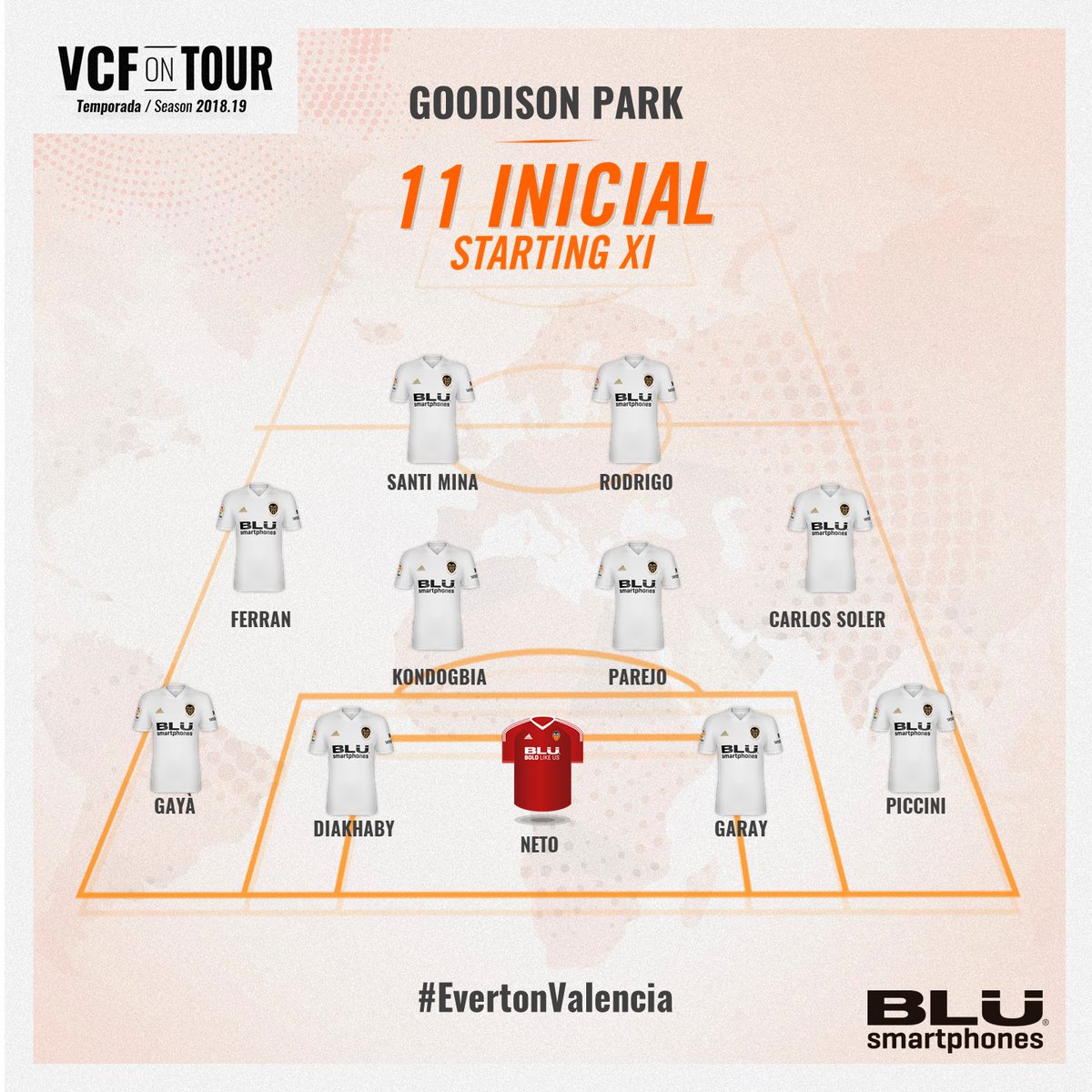 Tommy Surgenor
4
Posted 04/08/2018 at 14:36:18
What's the extent of Holgates injury?
What about young Beni? Any return date for him either?
Good to see no spot for bolasie either.
Derek Knox
5
Posted 04/08/2018 at 14:41:21
Unfortunately Schneiderlin is there again, He's like a ' five flush floater ' no matter how you try you can't get rid of him !
James Stewart
6
Posted 04/08/2018 at 14:43:39
@5 Spot on lol.
Neil Copeland
7
Posted 04/08/2018 at 14:47:29
He would still be there if you covered him toilet paper
Justin Doone
8
Posted 04/08/2018 at 14:54:16
Sadly this is probably the strongest starting 11 in Silvas mind so if we don't put in a decent performance today we should all have a flutter on a home win next week.
Result not to bothered but how the team perform and hopefully play as a team is what I want to see. Effort, movement, cohesive closing down and creating lots of chances.
Unfortunately Schnides is in, fortunately Valencia are a good side which may show just how poor Schnides really is.
They are a good counter attacking side so I can see a good few goals in the game, hopefully some Blue.
Jay Wood
[BRZ]
11
Posted 04/08/2018 at 15:04:57
Excellent feed for the game from Sport TV Portugal, Portuguese commentary.
Alan J Thompson
14
Posted 04/08/2018 at 15:11:42
What is it that these Managers see in Schneiderlin that we cannot? Certainly not effort or skill, it's got me.
Susong Hermawan
15
Posted 04/08/2018 at 15:12:14
Nice shot @#5, hahaha!
Denis Richardson
17
Posted 04/08/2018 at 15:23:27
'Five flush floater'
Now that's a term I haven't heard before but I like it.
Jeff Armstrong
18
Posted 04/08/2018 at 15:54:19
Pickford for Stek, Baines for Shiterlin,Digne for Baines, a left sided centre back sorted 7th and a cup.
Philip Bunting
19
Posted 04/08/2018 at 15:58:46
Playing very well. First 20mins a bit slow but controlled the second 25mins. 2 disappointing goals to concede but forward play and movement best I have seen in a while. Couple of things with the defence. Keane needs to talk more, Jags should stop thinking he is Franco baresi and trying to spray 50yard passes, all your doing is giving the ball back. Baines needs to be more vocal and Stek scares me. Pickford will sort that. Overall I think we are starting to see a team emerge again. If we can get that all important centre half I'd be made up.
Jay Wood
[BRZ]
20
Posted 04/08/2018 at 15:59:04
Decent half of football.
Everton very sluggish initially, but grew into the game.
The balance of the team looks better, even though the personnel is largely the same as last year.
Gueye is winning the ball and - surprisingly - distributing it well. Scheiderlin is being tidy in his work. Sigurdsson looks so much better in a true number 10 role. Walcott and Tosun link up play continues to look good. Richarlison has had some good moments, but we have also lost momentum with him on the ball at times.
The passing is crisper, sharper and more forward-looking than we've seen for some time. The accurate long passing and switching of flanks is serving us well.
It brought us two really good goals. Great play by Walcott in setting up Tosun who finished superbly. Great corner by Siggy and firm finish by Keane, who has been balloning those situations over the bar for a year now.
The big negative for me is the room and time Valencia - and other teams this pre-season - are getting down both our flanks. Both their goals came from this situation. Given the weakness at the centre of our defence, if that situation doesn't rapidly improve we will continue to leak goals at an alarming rate as we did last season when the serious stuff starts.
But from midfield going forward - AND playing out from the back with more purpose - a good deal to be encouraged by.
David Pearl
21
Posted 04/08/2018 at 15:59:09
I'd like to see what Baines could do in MS position too, good shout.
Another good shout... Never flush 5 times. I got my nephew a job in Canada helping out with a kitchen company. On his first day he flushed 5 times... could shift it. But he did flood the house, causing $8000 of damage. The couple and 2 week old baby had to go stay in a hotel for a week. They let him see out the week.
Steven Bencz
22
Posted 04/08/2018 at 16:01:51
Jay Wood
Thanks man from Canada
COYB
Steve Ferns
23
Posted 04/08/2018 at 16:07:47
How's it looking guys? Just abandoned my mother for long enough to check the score.
Mark Hulme
24
Posted 04/08/2018 at 16:14:06
Pat Kelly
25
Posted 04/08/2018 at 16:39:17
Why is Sandro there ? He cost us that last goal.

Pat Kelly
26
Posted 04/08/2018 at 16:42:08
Good cheer for Lookman coming on
Jay Wood
[BRZ]
27
Posted 04/08/2018 at 16:58:04
A very tepid 2nd half.
None of the substitutes made a case for themselves, did they?
Silly mess up for their winning goal.
That remains the big concern going into the season: conceding soft goals.
Think of all the goals we've conceded this pre-season: has any team had to work particularly hard, show some inspired play, to score any one of them?
It was largely the same last season.
This aspect of Silva's team has to improve.
Martin Berry
28
Posted 04/08/2018 at 16:59:01
I only saw the last 20 minutes but Valencia looked a different class, better at pressing to win the ball and then passing it well, we could do neither.
Our midfield is lacking in class our guile, water carriers as Cantona called it, except these wont win any trophies.
We need two class operators in midfield as well as a good centre back, but its getting a little late in the day to sort it.
Ciarán McGlone
29
Posted 04/08/2018 at 16:59:21
Interesting game.
We have some decent attempts to play football but some players don't get it and most of them arent good enough even if they do get it.
Schneiderlin and Sigurdsson didnt have bad games but they are the spine of our midfield and are decidedly average players. 75 million mispent.
As for the centre halves.. they need replaced asap.
There is a lot of work to do and a lot of money needed to assist that work.
Overall.. an improvement.. but the issues are clearly still there.
Philip Bunting
30
Posted 04/08/2018 at 17:02:58
Tom Davies is the worst football player I have seen in a blue shirt in some time. Dreadful. Very little movement and as soon as he gets it he passes back or loses it. He needs sidelined or moved out on loan. Lookman might as well of had my Granny on. Anonymous. Sandro is not a right sided midfielder, end of, striker is his position not that I think He is good enough but at least play him were he can't cause any Damage. Noticed Silva on the pitch having a good word with him. Still our first 11 passed and moved well. Just cut out the silly goals, everyone given away
George Cumiskey
31
Posted 04/08/2018 at 17:04:32
Central defense nightmare, reserve goalie nightmare, absolutely nothing in midfield including Siggy good job some of the forwards are having a go.
CB needed now and they give that goalie a two year contract, unbelievable.
Derek Knox
32
Posted 04/08/2018 at 17:06:32
Steve @23 slight improvement but still quite a way off, Valencia looked like they could go up another gear if necessary, we didn't !
Still missing at least a couple, commanding CB, playmaker, and possibly another up front !
Andrew Clare
33
Posted 04/08/2018 at 17:06:43
Aren't we always outclassed by a Spanish team in the last pre-season game?
It's going to be a tough season but we will see progress eventually. Next two signings are crucial.
Jay Wood
[BRZ]
34
Posted 04/08/2018 at 17:12:45
I see Robinson was straight into the Wigan side v Sheffield Wednesday today.
He's even got the number 3 shirt there. I didn't know until reading the report that James Vaughan is also at Wigan these days and also played today.
Danny Broderick
35
Posted 04/08/2018 at 17:13:47
Lots of positives for me today. The defending simply has to improve. However, I thought we looked good going forward. We played on the front foot, and our pressing was good. I thought that was a very even game, against quality opposition.
I just hope we will be a bit sharper and tighter in defence this time next week.
Paul Ellam
36
Posted 04/08/2018 at 17:14:26
Surely it's obvious to the coaching staff at Everton that we need 2 centre backs as soon as possible?
We've got rid of 2 so they need replacing - with better!
Throw a wad of cash at Newcastle for Lascelles and bring in another to go with him. Personally I would have gone with somebody like Mawson but that ship has sailed.
We also need another top drawer striker in my opinion to help out/challenge Tosun.
Let's hope we are busy over the next week bringing transfers in.
Tony Twist
37
Posted 04/08/2018 at 17:15:50
2nd rate, yet another loss, when is the penny gonna drop with these guys. Is Silva another dreamer like Martinez thinking that eventually if you keep playing the same way you will win a game. Naive.
John Boon
38
Posted 04/08/2018 at 17:16:34
Martin (28)...If you only saw the final twenty minutes you really did see Everton at their very worst. I felt they actually played very well during parts of the first half. That said, we gave up three very soft goals, all coming from preventable mistakes.
The young players did not take advantage of their chances to show what they might have. Steklenberg gives me zero confidence so I am sure he also make anyone in front of him anxious.
Pickford will make a huge difference as would at least one more defensive expert in the middle. Digne didn't set the house on fire but I think we need to be fair and hope he settles quickly
Christy Ring
39
Posted 04/08/2018 at 17:17:17
Need at least 3 players before Thursday's deadline. A centreback is a must, midfielder and a striker. I thought Davies was very poor when he came on.
Michael Lynch
40
Posted 04/08/2018 at 17:17:24
Our front three look exciting but we're going to need a lot of goals from them to mask the deficiencies at the back.
Not sure about how the defence is actually organised either. Looked a bit chaotic and surely that's up to the coaching staff to put right?
Karl Jones
41
Posted 04/08/2018 at 17:20:34
As well as all the mistakes, this Everton side are just not competitive enough. Its a real shame the supporters are having to watch virtually the same set of players who have proven far from good enough, going through the motions once again. They accept defeat far too easily, and their is very little heart in this squad.
Why sell Funes Mori with no replacement. at least he could have played left side CB and give Keane a go on the Right.
The shambles on and off the pitch continues.
Tom McEwan
42
Posted 04/08/2018 at 17:21:44
Tony @37. Yeah!
Chris Watts
43
Posted 04/08/2018 at 17:38:26
It's like Groundhog Day but with new concerns. The centre back situation is a catastrophe with the way silva likes to play. At least one is a necessity whatever we have to pay. Morgan is my least favourite midfielder and I wish WISH he leaves the club.
Sandro is not good enough. Full stop.
Sig needs to be moved back with Lookman tried as a number 10 to link play. All this we pretty much already knew
But the disappointment for me is the kids. Davies and DCL looked woeful and nowhere near good enough. They need to be loaned out pronto as they are going backwards at some rate.
I think we're going to be better than last season but need at least 4 top players and that is unlikely
Sue Brown
44
Posted 04/08/2018 at 17:42:21
Well very little improvement there, but still a long way to go. Would have liked to have seen Dowell on sooner, he didn't really have much impact in the seven or eight minutes he was on.
Watched the game on one of the Spanish sports channels, and the commentators were quite positive about Everton. Glad someone is!
They're now showing Wolves v Villarreal...Wolves looking sharp but their finishing is poor, they could have been two or three up already. Concerns for next week! Funes Mori seems to have settled into Villarreal pretty well, playing well more as a leftback

Michael Hughes
(South Wales)
45
Posted 04/08/2018 at 17:43:01
Missed the game today, but reading the report and comments it sounds like we played well for 20 - 25 minutes, unfortunately games last 90+ minutes.
On another issue, anyone know what's happened to Mason Holgate? I had high hopes of him kicking on this season and claiming a regular starting place, but he has hardly featured in pre season.
David Barks
46
Posted 04/08/2018 at 17:43:57
The first half we got better and better, had the better of the last 20 minutes if that half. A couple of poor mistakes cost us goals, principally Baines getting lost and then standing 10 yards off his man for an unchallenged cross to be sent into the box. He's been guilty of that for far too long, failing to close down his man. Digne will take that spot quickly.
The attack was starting to click more and more with each minute of the first half. Second half? Everything became disorganized with the team changes. I think what that proved is how poor that second string is. The front four in attack started to look very good and Gana showed a lot.
The team was pressing up the pitch and moving the ball forward quickly. That will only improve as they play together more and learn the manager's style. Don't forget that Gilfy just returned, Walcott just returned from an injury and Richarlison only just arrived.
We need a new CB and preferably someone better in midfield, but replacing Jagielka has to be the priority. Coleman on the right, Digne on the left, Pickford in goal and an improvement over Jagielka should have us vastly improved. Maybe Keane can partner whoever that is, or maybe Holgate.
But this will not be a single window transformation. It is going to take time and patience. Richarlison looks to be a great addition and I look forward to seeing how Digne is with the first team. I'm not worried about that second half. The first half had me much more optimistic going into the season.
Dave Speed
47
Posted 04/08/2018 at 17:46:01
TWO big brick shit-house centre backs with pace required, TWO strong pacy ball playing midfielders required, ONE strong striker who can head the ball, hold it up and bring others into play. DCL needs a Sharpy type education alongside an Andy Gray type, as he just doesn't get it. Also, it seems that every coach can nullify our good play in-match, as we hardly had a sniff in the second half.
I would buy that fast midfielder from Rennes (James Lea Siliki) - 3 assists and a goal, and that big lad from Porto (Moussa Marega) who scored the winner, whatever it costs.
Tom McEwan
48
Posted 04/08/2018 at 17:46:04
Michael @40, I posted on the live forum earlier, that we have a coach whose teams conceded 80 goals in 42 games in the Premier League last season. Throw in a defence and defensive midfield that has been pretty woeful for many a long year and then sprinkle into that toxic mix, zonal marking. For me, that is a recipe for disaster.
Before I get the usual abuse for 'whinging', I would like to add that I am fully aware this is not 'Silva's team' yet but, going on his past defensive record, it doesn't exactly fill you with hope, does it?
Oh, and before I forget, why just one week before the season starts proper, are we still awaiting reinforcements to rectify the defensive deficiencies so apparent to us mere mortals?

Andrew Ellams
49
Posted 04/08/2018 at 17:47:20
If we can't defend we won't be improving on lady season because the forward players aren't good enough to counter it

Michael Lynch
50
Posted 04/08/2018 at 17:49:29
A small thing (in every sense) but Lookman will surely be sold this week. I was only watching on a small screen but unless I was mistaken, he simply didn't give a shit. I'm not apportioning blame, but he has to go.
Andy Williams
51
Posted 04/08/2018 at 17:50:21
Ball was played into the box more quickly and more often than any point in the past 30 odd years. Front 3 looked very exciting. Gana bossed the midfield for a good while in the first half. Defensively muddled. Pickford will help when back as will the 3 or 4 new additions. Light at the end of the tunnel. Have faith. Oh and Richarlison looks like he could be a bargain.
William Gall
52
Posted 04/08/2018 at 17:51:08
Well this was a display with most of the players who will start the season present. It definitely shown the defensive failures in the central and midfield areas, and with the transfer window closing rapidly I can only see another central defensive player coming in.
As I only expect 1 and possibly 2 players coming, in and with Pickford coming back, the season up to Xmas looks like a mid table position, and hopefully quality players that may be needed can be brought in during the Jan transfer window.
Most of Evertons supporters after the last couple of seasons realize that Silva, with the help from Brands, are aware that it was going to be very difficult to turn this season around to make the top 6, but there were signs today apart from the usual defensive mistakes that things will improve.
We definitely need a quick strong no nonsense Center Back and hopefully this will be prioritized this week . The only other player I would like to come in is a quality midfielder to take the place of Scheiderlin .
I don't think that we will get any more players than that in, so this window hopefully can be used to get rid of some of the players that are not wanted.
Gary Willock
53
Posted 04/08/2018 at 17:52:15
Some big positives from today.
- if Walcott, Cenk, Siggy and Richarlison continue to link up like parts of that first half, we look like we could be a huge threat going forward. Theo standout for me, need to keep him fit.
- Gana was awesome in patches.
- Seeing DCL back, hope he can really push Cenk this year.
- much more fun to watch than ANY fat Sam game EVER.
Some negatives:
- Jags is spent, if we start with him and Keane we'll concede a lot more than we score.
- We need more than Sneiderlin there next to Gana. A general (that's certainly not Davies either, not yet anyway).
- Sandro did nothing of note and offers little.
- would have liked Dowell and Lookman to have got a bit longer.
Conclusion: desperately need a powerhouse, left sided centre half (an absolute must). Add a top midfielder and we may actually have the bones of a seriously good team.
Derek Knox
54
Posted 04/08/2018 at 17:54:39
As some have suggested before, Baines is definitely not the player we have grown to love over the years, age has dictated his limitations, which is naturally to be expected.
But rather than write him off completely, I would like to see him play a LDM role, preferably in place of Sch you know who, who in my opinion should be nowhere near Goodison, let alone the team.
Playing Digne in the LB slot, would at least shore up that side. It was glaringly apparent too that Jags is past it too. As for Stek, words fail me, and to think they have extended his contract, who needs to buy a Lottery Ticket?
Tony Twist
55
Posted 04/08/2018 at 17:57:46
Next week's result is vital to us now as we are really racking up the losses already. I am just totally p*ssed off with the consistent incompetence of Everton football club. I know this will rub people up the wrong way but I do think Silva must shoulder some of the blame for the total chaos that is our defence at the moment. If he is just unable to teach the oap defenders then the younger defenders should have been the priority. At least they would be fit and may be easier to influence in the way he wants them to defend.
Tom McEwan
56
Posted 04/08/2018 at 17:58:42
David @46, that's a pretty impressive analysis of today's game, especially with regards to the 'second string'. Almost had me regretting my previous post. But I have this itch I just can't scratch about our new coach's capabilities...
Steavey Buckley
57
Posted 04/08/2018 at 18:08:58
New manager same problems that got 3 managers sacked.
Stephen McNally
58
Posted 04/08/2018 at 18:09:47
Silva needs time to turn things around at Everton. The damage done by Walsh/Koeman is frightening. Sandro will never make a top player for as long as I've got a hole in my ar se and, there are others not much better. Personally, I would like to see a few others asked to train away from the first team but, it is not likely to happen during one short transfer window. At best, mid table this season. Terrible player recruitment.
Sam Hoare
59
Posted 04/08/2018 at 18:09:55
The first half team were doing pretty well against a very decent CL team. Put Pickford, Digne and a new CB into that team and we'll be doing ok.
As David Barks says we are not going to become a great team overnight. I don't think we will be buying 5 new players like some are praying for. We will possibly get 2. Maybe 3. A huge mess is being cleared up. But we are going in the right direction I think. I expect us to lose to Wolves but come 8-9th this season whilst playing much better football at times. That'll do for me, for now.
David Pearl
60
Posted 04/08/2018 at 18:14:49
Well we could drop Siggy deeper and have Lookman in the hole. We could even try Baines in midfield as his distribution is still there. Actually we could try a lot things... we do have some good players but the squad is weak. It would make things easier if we had a higher line. Personally if we could afford to I'd put DCL and Davies on loan for 6 months. Jags always seems to start slow, I'm sure he can have a positive impact as the season progresses. Not that I want him in at Wolves. Don't understand getting rid of Mori and Robles although the later needs to play. Midfield isn't quite there yet but showed promise. My instinct tells me we will get one more player in at CB on loan...
Derek Knox
61
Posted 04/08/2018 at 18:16:04
I know they always say you can't read too much into pre-season results, but although an improvement today, there remains a lot of concerns.
Hopefully there will be an addition or two before the window shuts on Thursday. Ideally three, CB, Playmaker/midfield maestro, and some more punch up front wouldn't go amiss.
To make matters worse, Wolves, our opening fixture away opponents, beat Villareal 2-1 today.
Brent Stephens
62
Posted 04/08/2018 at 18:20:53
Digne looked really up for it. He looked fast,and eager to get down the wing. I think he'll start instead of Baines. And there could be a really good partnership there with Richarlson who looked tricky and pacey.
So, with Coleman, that's a back four of two!
I like the way we're now compressing play, reducing the space between the lines. And pressing when the opposition has the ball.
Julian Exshaw
63
Posted 04/08/2018 at 18:22:50
Silva's slight shake of the head as the teams came off spoke volumes. 'How can I fix this in a week?', he seemed to be saying. I thought we played well enough in the first half but the second half was disappointing. Whereas we lacked severely on the left side for the last 2 seasons, I thought we were weak on the right today. Has Coleman lost a yard? I miss him galloping down the right. What we really miss though is that Modric type player. Siggi shows he can do it periodically, let's see if he can push on.
Regardless, this was pre-season, excuses can be made and it is ridiculous to judge anyone. I like Silva and I trust he will do a good job. I can't imagine our rivals outside the top six have progressed that much to knock us off our safe 7th/8th perch. I reckon that's where we'll finish but a cup run would be nice.
Can't wait!
George Cumiskey
64
Posted 04/08/2018 at 18:23:37
Whatever slant you put on it Siggy is a £45 million pound flop, and those people waiting for DCL to come good have got a hell of a long wait.
Michael Hazard
65
Posted 04/08/2018 at 18:23:47
Why the fuck are we losing 5 of 7 games pre-season? That's a bigger mess than last season. Maybe it's the philosophy...
"Things can only get better!"
Mike Gaynes
66
Posted 04/08/2018 at 18:29:19
Michael #50, he got on for the last TEN minutes, and you can tell by what you saw of a tiny figure on your "small screen" that he didn't give a shit and has to go.
I call bullshit.
Ed Prytherch
67
Posted 04/08/2018 at 18:30:02
A few days ago I was in favour of keeping Lookman until he turns in a transfer request but after today's cameo I say get shut as soon as possible. He looks like a bad apple.
David Barks
68
Posted 04/08/2018 at 18:38:21
Ed,
I could have swore you were on here a few days ago claiming Lookman was running his mouth off constantly. But actually, it was a different Ed that said that. I'll correct myself there.
I've been firmly in favor of us keeping him. That said, when he came on today he was very lethargic and did not look happy despite getting a massive ovation from the crowd.
Jay Wood
[BRZ]
69
Posted 04/08/2018 at 18:42:29
Mike @ 66.
Care to add Ed @ 67 to your 'BS Whiff Test'?
Remarkable profile reading skills some claim from viewing just nanoseconds of a player on a grainy internet stream.
David Barks
70
Posted 04/08/2018 at 18:45:38
Jay,
I was viewing an ESPN telecast on my 65 in TV, if that helps. Wasn't grainy at all and I was surprised by Lookman today while being one of his biggest defenders. But none of us know why. He could have been angry at only getting on after around 80 minutes. But the commentators picked up on it as well.
Tom McEwan
71
Posted 04/08/2018 at 18:51:42
For me, alarm bells regarding Lookman's attitude began to ring way back during Koeman's first season. I can't remember which match it was but as one of the subs he came on at half time for the kick around and while all the other subs were stripped down to kit and bibs being put through their paces, he was wrapped up in a big bubble jacket, hood up, looking totally uninterested, even when the ball came to him.
I remarked to my Mrs at the time that somebody from the coaching staff needed to have a word in his 'shell-like'. Apart from the odd flash since, I haven't really seen anything to change my mind that we had another 'big-time Charlie' on our hands...
William Cartwright
72
Posted 04/08/2018 at 18:54:16
Mike, I watched Lookman closely when he came on, including his lack of acknowledgement of the crowd. He was not as bubbly and energized as when he came on against City 2 seasons (nearly) ago. He seemed a completely different player, as if he couldn't be arsed.
However I could be wrong. Probably because I was hoping he would make a real contribution it became more obvious he wasn't? Also a 5 minute substitution is pointless. I don't know why managers think trotting onto and around the pitch for that length of time has any significance.
Darren Murphy
73
Posted 04/08/2018 at 18:55:36
Well then... apparently magic happens, I fucking hope so in these short days till deadline day.
Richarlison and Walcott looked sharp down both wings...sorry but that's all I have to add.
I have no ideas what the F our defence or DMF do anymore.
Heads up lads and lasses...yeah right
Terry White
74
Posted 04/08/2018 at 18:56:26
George (#64) and others, I think the criticism of DCL is unwarranted. This was his first appearance in pre-season as he recovered from injury. I don't know what you expected in his performance.
As it happens I thought he looked overweight and out of condition. That is explainable given his injury and he clearly needs more playing time before we pass any judgement on how he is likely to perform this season.
Sue Brown
75
Posted 04/08/2018 at 18:58:01
Jay #69
I watched on a 50" screen and fully agree with the Lookman comments. I wouldn't like to see him go, I do think he can change a game, but the body language today said " I don't give a toss about the game or club".
I think he wants out
Harvey Miller
76
Posted 04/08/2018 at 19:01:23
We got well beaten in all preseason matches except against mighty Bury of FL2.
I know it's preseason and all but it's hard to start winning when you just keep on losing, no matter what team you're up against besides amateurs who would suffer in the Sunday league.
There is a urgent need for at least four players and it seems that buying a player takes at least two weeks from Everton so I expect us to get only one more player and sadly it could be Rojo.
Jay Wood
[BRZ]
77
Posted 04/08/2018 at 19:02:46
David @ 70. Two things:
1) I clearly referenced Ed Prytherch with regard to his 'bad apple' profiling of Lookman based on...what, exactly? By implication, I also referenced Michael Lynch, as Mike Gaynes did explicitly, for doing similar, leaping to an extreme profiling based (again) on...what, exactly?
2) regardless of whether you or anyone watched the game on a theatre sized 4K TV, or a hand-held device, no one - not you, not Ed, not Michael nor the commentators - can conclude ANYTHING about Lookman's state of mind, thoughts, personality or intentions in the fleeting seconds he actually appears in vision, in the 10 minutes he was on the pitch, when Valencia were in the ascendency.
Doesn't stop some believing they do possess such elevated levels of perception though, does it?
John Keating
78
Posted 04/08/2018 at 19:03:38
Unless something totally dramatic changes in the next week this team will ship goals against every team in the league.
Defensively - and that includes our defensive midfielders we are absolutely shocking.
I appreciate Silva has been left this motley crew and cannot turn this around in two or even three transfer windows, however, he has to play a system that suits the dross presently wearing the shirts.
Trying to play the game the way he wants with this present lot is square pegs in round holes.
Unless he modifies his "philosophy" I can see us really struggling this season. Anyone got Sam's mobile number ??
Minik Hansen
79
Posted 04/08/2018 at 19:03:55
Walcott's and Digne's first game, looks better than it is, of course the centreback positions are a challenge, Marco seemed to point that out after the Valencias second goal, same mistake from the defenders. This system is new and on the up, atleast some looked more fitter and energetic, COYB.
Ciarán McGlone
80
Posted 04/08/2018 at 19:05:29
Interesting take on Digne above.. I noticed several mistakes he made when he came on. He has to shift Baines...not the other way around.
The criticism of Baines above for not being able to cut out the cross that led to the goal is ludicrous. He had another good game abd I failed to see the footballing reason for his substitution.
Tom McEwan
81
Posted 04/08/2018 at 19:15:40
Jay @77, quite right about anyone not being able to conclude 'anything' about Lookman's state of mind... and that includes you. However, they are entitled to their opinion of what they see and perceive. It's subjective, mate, just like this forum.
David K Shaw
82
Posted 04/08/2018 at 19:22:43
Just back from the game. I thought both Kondogbia and Diakhaby looked good defensively for Valencia and of course Rodrigo Moreno in attack, seemed to exhibit some of the skills we lacked. There also seems to be a complete lack of organisation defensively which is a real concern. It's going to be an important week ahead.
Although not a total write off as I got to take my 2 daughters 7 and 4 to the first ever game, hoping the Grand Old Lady itself is enough to see the blue blood line continue...
Michael Lynch
83
Posted 04/08/2018 at 19:22:47
Tom @82
Exactly. Fuck's sake, this forum is all about personal opinions and observations. As I'm clearly not the only one to have thought Lookman looked disinterested, those who "call bullshit" should just chill out and say "actually I didn't notice that".
Tom McEwan
85
Posted 04/08/2018 at 19:43:13
David @83, nice one. It's such a proud day when you take your kids for the first time. I remember taking my son when he was 4 (with hindsight, far too young really) and he asked midway through the first half, 'Can we go now?' – and this fella behind us said 'No yer can't mate, we have to put up with this shit every game so, if yer gonna be a Blue, yer stayin!' That was 28 years ago, so I guess not much has changed about being a bluenose really eh?
Talking of comments regarding 'shit', 'BS' etc, Michael @84 spot on, especially regarding being civil. I have been called all types of shit on here for expressing an opinion that goes against the general consensus and recently I was even called a piece of dung by one of our American 'cousins' because I had the 'temerity' to ask him a question... haha! As me Mam used to say, manners cost nothing!

Paul Birmingham
86
Posted 04/08/2018 at 19:45:44
Some good attacks in the first half, and link up play, but usual Keystone Cops defence, and nothing has changed from last season, in terms of defense and game management.
Too easy for their midfield to press and in my view we stood off, and made it too easy for Valencia.
It's not all gloom and doom, but on this showing it's gonna be some season..x2 CBS, and not the Rojas, as he isn't good enough.
I was disappointed in Tom and Dom. In my view ,both need to go on loan, as it's not happening, and doesn't look likely to happen, as much as I'm sure we all hoped it would for these players.
Big ask and if they get any players in by Thursday it will be a miracle.
Derek Taylor
87
Posted 04/08/2018 at 19:48:45
For someone who has played in only a handful of first team games, Lookman has attracted a very considerable following on here.
It was the same with that Delawhatsit poseur from Spain who, whilst he was away, attained cult status.
Personally, I cgaf whether he stays or goes back to Germany although it would help the cash flow if we managed to turn a profit on him.
On broader matters, I take a hint from those 'loyal' supporters who slag off the critics of this rather pathetic close season programme. But I ask of them one thing, how long do I have to wait before I can speak negatively of Silva and his charges? Some say Christmas, others the end of next season whilst no less than six windows was mentioned by one 'true supporter.'
Give us a hint as I do not wish to offend !
Michael Lynch
88
Posted 04/08/2018 at 19:52:37
Tom @87
I really don't understand why a few contributors on here have to be so aggressive about opinions they disagree with. There's a great cross-section of fans on here. Some are incredibly miserable, others madly optimistic, so why can't we understand that we're all seeing different things in the same match?
It's great to disagree, and it's great to have a laugh about it in my opinion. I will never tell anyone to "shut it" on here, or "call bullshit" on someone's opinion. I accept that others like to show how knowledgeable they are by shutting down someone else's opinion, so I try not to engage with them. Which is why I usually just tell them to chill out.
Then I laugh at them and get on with posting my bullshit opinions.
Winston Williamson
89
Posted 04/08/2018 at 19:53:02
Just back from the game..
Thought the first half attacking was good (once settled into the game), but rusty. Richarlison the top pick for me; Tosun top pick by my lad.
The midfield was solid, but uninventive; Sig looking nowhere near the player we saw for Iceland!
Oh dear god, the defence is utter tripe! Baines and Coleman both struggle to stop crosses, but their second goal was an absolute shocker for our two centerhalfs! Keane (other than his goal) was fucking dreadful!
We actually looked more solid for the first 10 minutes of the second half, once Digne settled. But changes to our attack (Walcott coming off) and Sandro's Inclusion killed our right side threat! Is Sandro a footballer or has he won a competition to play?? Utter awful giving the ball away for their third!!
Thought our keeper was shite too!
We need two, TWO, centerhalfs and fucking quickly! Coz the two playing today are turd...
Darren Hind
90
Posted 04/08/2018 at 19:54:42
You don't need to be a raven, some sort of seer of visions to know we are still short up top. Nor do you need special powers to know Jay Rodriguez will score more than any of our signings again this season.
I said he would last year and he did, despite the howls from those delighted with Koeman/Walsh business at the time – you know who you are.
I cannot believe Burnley are about to land this intelligent little footballer for a song while we contemplate starting the season with Niasse and both the Spanish and Turkish versions of Andy Johnson.
David Barks
91
Posted 04/08/2018 at 19:55:33
Derek,
Some of us watched him actually play while in Germany, saw him score goals and create for others. It wasn't just that he was away and achieved "cult" status. Its that we watched him play for a top German side and look the part.
Tony Everan
92
Posted 04/08/2018 at 19:55:42
5 days left to get a Centre Back and a Central Midfielder.
As John Keating says above, we will ship goals against all the Premier League teams unless we get a quality centre back signed.
That signing will stabilise us .
To make progress we need a quality Central Midfielder too. A player who can control and pass the ball. Someone who can make that split second of time for himself will make all the difference. I like Gana and would keep him but I would like to trade or sell Schneiderlin and bring in a quality midfielder that Silva wants .
They've got their work cut out now, we may have to concentrate on players who are surplus to their clubs requirements.Im not sure Newcastle will sell Lascelles at this late stage. The fee will be ridiculous unless he has a buyout.
Zouma may fit the bill . Drinkwater for the Midfielder? The next few days will be very interesting and crucial to our season.
Targets have to be achievable, there is no time for pie in the sky messing about.
Soren Moyer
93
Posted 04/08/2018 at 19:57:33
And in the middle of all this, we gave the curious case of Niasse!!!
Tony Twist
94
Posted 04/08/2018 at 19:57:52
I think Everton need to make a clear decision with Lookman. If they are going to sell him, then he trains away from the first team and the move is only when we get the maximum out of the deal with follow on money if he is sold on. If we don't get the acceptable offer and his attitude is toxic then he doesn't leave and he doesn't get game time. He's left to rot basically. No loan move, no reward for bad behaviour. Sounds like something supernanny would do but if he is not arsed and sulking like a spoilt kid then he should be treated like one.
Tony Marsh
95
Posted 04/08/2018 at 19:57:57
I reckon we need 8 new players by the end of January. Davies and Calvert-Lewin need to be given free transfers to League One. Schneiderlin, Jagielka, Bolasie, Lookman, Niasse can all go to whomever will take them.
Those moaning about Marco Silva need a reality check. Marco has inherited a load of tripe from the Koeman - Walsh fiasco along with Tosun and Walcott from the Allardyce regime. I don't rate either of the last two named.
The two lads we have brought in so far this season are good players but I think we need to shift more crap out to get more quality in. Our wage bill is horrendous. We can't keep paying wooden tops £100k plus a week to play in the Under-23s.
Really poor today. We have lacked pace and passion for years now. I said last season Tom and Dominic were not good enough and got hammered for it. I think you can see it now for yourselves.
I always look at players and think: Would Spurs or Liverpool, who haven't won the league title for decades, buy these players and play them?? If not, then they should not be in our squad either.
Peter Morris
96
Posted 04/08/2018 at 20:02:34
More comical defending,for all 3 goals, and this was arguably the strongest side apart from Pickford. Most top 10 teams in the PL would push us aside no problem if this is what we have to look forward to. Clearly, the left flank is a real weak spot, but there is no protection from midfield whatsoever. Very worrying indeed.
Lee Paige
97
Posted 04/08/2018 at 20:03:20
Sell Lookman and get in at least one CB (two needed) and a CM for Schneiderlin, get him out of the club ASAP. Him along with Mirallas don't have the right attitude.
Danny Halsall
98
Posted 04/08/2018 at 20:03:24
I honestly think the standard of football has been better this pre season, ultimately the problem is we can't defend. I think Valencia had 4 shots today and scored 3. Stekelenburg didn't make a save, it's just that the chances we give up are so catastrophic the opposition has no option but to score. For those saying that Valencia were fantastic opposition, I disagree. I thought they knocked it about ok, but aside from Rodrigo they were average.
There is a lot to be optimistic about this year and when it is all said and done I'm sure it will have been a success. But there is an important week ahead for Silva and Brands!
Steavey Buckley
99
Posted 04/08/2018 at 20:03:54
Silva has less than 7 days to save Everton's season and probably his own job.
Lee Paige
100
Posted 04/08/2018 at 20:06:59
Agree that Lookman looks disinterested and that's precisely what we don't want rubbing off on the new lads coming in.
Sam Hoare
101
Posted 04/08/2018 at 20:20:00
Keane, Schneiderlin and Sigurdsson. About £100m worth there and arguably the reason our spine is not functioning as well as it might. All too slow for my liking.
Replace with Maguire, Wanyama and Lanzini and already that team would be looking considerably better. Silva and Brands have to fix this mess and they have to get it right. Early days so far but their first two signings look very decent. They are well aware of what we need and Silva said after the games he wants more players.
Personally I'd be knocking on Chelsea's door for Zouma and Loftus-Cheek. Sad when so many of Chelsea's reserves would walk straight into our starting XI.
Andy Walker
102
Posted 04/08/2018 at 20:22:32
Get rid of Lookman, he's a nark. Whilst we're at it consign Davies to a sub at best for most of the season, he's not good enough, hopefully Silva thinks the same based on today.
Tony Everan
103
Posted 04/08/2018 at 20:26:49
Sam
Problem is they would demand Pickford . They may say.
Zouma, Loftus Cheek and 25m to buy Butland = Pickford
Selling Pickford to Chelsea is unthinkable. Isn't it? Or is it?
I'm being coy, rope and lampposts are common round here.
There was something cryptic in Silva's interview when he said I have to make decisions, do what is best for Everton FC. Almost like he was saying that the above scenario could be in Everton's best interests. Or maybe that's complete bollworms .
Andrew Ellams
104
Posted 04/08/2018 at 20:31:55
Sam isn't Lanzini going to miss the whole season with an injury?
Sam Hoare
105
Posted 04/08/2018 at 20:35:45
Tony, personally if they made that offer I'd bite their hands off. I love Pickford but Butland is almost as good and Zouma and RLC would add a great deal to spine of this team. Suspect I'd be minority though!
Tom McEwan
106
Posted 04/08/2018 at 20:37:54
Jay @85 it was that sentence you quote that I objected to. When you used the words 'such elevated levels of perception' – it sounded 'sneering' to me. However, I totally accept that you cannot read a 'tone' on here, or any other written forum for that matter, so if I got that wrong, I apologise.
Also, in fairness to you, I accept that you are one of the more 'objective' posters on TW who usually backs up their posts with facts as opposed to supposition.
I am just getting a bit fed up with all the silliness of a lot of posters on here who as Michael @90 says, 'have to be so aggressive about opinions they disagree with', so once again, apologies if I put you put you into that category.
Btw, Michael, I couldn't agree with you more regarding the rest of your post and I look forward to more 'bullshit' from you in the future haha!
Derek@89 spot on fella!
Raymond Fox
107
Posted 04/08/2018 at 20:38:11
Steavey I'm suprised at
you
saying Silva hasnt long to survive this season if things get a little 'ropey'.
The last thing we need is another change of manager.
The top and tail of it is we cant attract the very best players to Goodison.
How we get round that problem your guess is as good as mine.
I'm expecting 7th - 9th again, call me unambitious if you like but unless we pull 2 or 3 rabbits out of the hat this week I think thats where we'll be at seasons end.
Tony Everan
108
Posted 04/08/2018 at 20:39:22
Sam it wouldn't be universally popular, but there is no doubt it would be "in Everton FCs interests "as Silva says.
Grant Rorrison
109
Posted 04/08/2018 at 20:52:52
Sam 107. Great idea. Let's sell our best player. Never mind signing Butland to replace let's him. Let's just get linked with a move for him and then sign no one instead.
Michael Lynch
110
Posted 04/08/2018 at 20:55:27
Our neighbours won 5-0 against Napoli today. If I was a praying man, I'd be praying that both ours and their season is the complete opposite of the pre-season.
I'm still excited about taking my seat on August 18th, the problem is I really don't know why.
George Cumiskey
111
Posted 04/08/2018 at 21:02:44
Terry@74 I'm not just going on today's game I just can't see DCL making it he doesn't seem to have the goal scoring instinct of a centre forward.
And I'm going back a couple of seasons.
John Boon
112
Posted 04/08/2018 at 21:05:45
Any criticism of Silva is usually about formations and playing the right players in the best positions. He will have to improve the defence whichever system he uses.
Most of the criticisms directed to Allardyce were usually due to the complete rubbish that he spouted after, and often before, every game. I really do want Silva to be a success. Up to now he has refrained from making any significant comments. As one who couldn't stand listening to Sam's drivel, this alone is a positive .But please sign a top class central defender.
Terry White
113
Posted 04/08/2018 at 21:11:31
I quite agree with you, George (#113) that DCL has not set the world on fire for us yet. However, I did think he had some decent performances last season, sometimes isolated, and scored a few goals. He is an England junior international and to write him off before he gets a chance to train and play to get in shape this season is premature and unwarranted at this stage, especially as we currently have so few alternative options up front.
John Keating
114
Posted 04/08/2018 at 21:21:48
Similarities between Silva and Martinez.
They are both trying to impose styles and tactics on players who are not suited to them
I pray the outcome is not the same
Jay Harris
115
Posted 04/08/2018 at 21:23:47
Well the game was more enjoyable than an "Allardyce game" but I just cant see where we will get a win from.
This team and style of play will leak goals like a sieve,
Positives - Richarlison look good all round, Walcott is quality and gueye was the usual terrier but with improved passing and a few (good) shots on goal. Digne looked ok.
Negatives - both CBs and goalie no more to be said.
Schneiderlin, Sigurdson and Tosun looked badly off the pace. None of the subs except Digne did anything of note.
to the windowVery worrying times with just 5 days left
Paul Birmingham
116
Posted 04/08/2018 at 22:20:41
Jay@117, I concur, spot on. It's gonna be a tough season and the lack of moral fibre and a spine will make us easy pickings and not just the so called big .
It's not all doom but unless we get some rough diamonds or proven CBs, an Arteta sequel CM, and an agile CF, we will struggle. MSs because do language spoke volumns.. it's his toughest role by far.
Patience and patience is needed. I'm hoping and praying we don't get whacked at Wolves.
BMD now feels like a figment of the imagination.

Jerome Shields
117
Posted 04/08/2018 at 22:31:13
The centre of the defence is as wide open as the Mersey and we have just given a 2-year contract to a reserve goalkeeping nightmare. Less than a week to sort, as if we didn't already know.
Graham Hammond
118
Posted 04/08/2018 at 22:42:44
Just back from the game. I can take very few positives from that to be honest, Valencia put 3 past us (arguably should have been 4, a marginal offside decision) and beat us in first gear without really breaking a sweat. Stek is a big worry for me, or more to the point, a big, late bid from Chelsea for Pickford is a massive worry. We nearly always cave in to big late bids and if we were to lose Pickford either to injury or a late bid it would be very bad news, unlike Robles, I do not believe Stek would be able to fill the number one slot. Valencia played between the lines well and took advantage of our ongoing inability to close down the opposition. Too many players either couldn't be arsed or are still not fit enough or are too slow. I was happy with Gana and his attitude (good) but little apart.
Gavin Johnson
119
Posted 04/08/2018 at 23:05:32
Some good football in the first half. I thought Richarlison and Walcott were tremendous. The pace of the game changed with substitutions and I was surprised when Sandro came on instead of Lookman for Walcott. When Lookman did eventually come on for the last 10 mins he looked like he was going through the motions. Maybe that's why Sandro got the nod earlier in the game.
Despite some periods of good attacking play we were again awful at the back. It's a good job Pickford will be in goal against Wolves, and whoever the new CB is, here's hoping he goes straight into the starting line up next Saturday.
As for who the new CB back will be, a couple of posters read my mind. I was only thinking earlier today after reading a report that Zouma has no squad number at Chelsea whether we might make a double bid for him and Loftus Cheek. It would make sense in a lot of ways. Zouma might not be my first or even 2nd choice, but I'd prefer us to go for him over the likes of Gibson and Rojo.
As Sams Hoare points out, it's also a sad indictment that these Chelsea reserves would walk into our 1st 11.
Derek Knox
121
Posted 04/08/2018 at 23:42:37
Gavin@121, good point regarding Zouma and Loftus-cheek, even if one was a loan, it would give us that strength down the spine.
Denis Richardson
123
Posted 04/08/2018 at 00:03:12
Sam 107-id be happy with that.
Butland isn't far behind Pickford imo and getting the likes of RLC in would be a massive improvement for our midfield. Obviously Zouma is better than anything we've got.
How on earth did we manage to spend almost £100m on Keane, Schneiderlin and Sigurdsson? Still can't believe it.
Jim Bailey
124
Posted 05/08/2018 at 00:21:27
People talk about the pressing game. I noticed that, when Valencia kicked the game off, Everton players did not press. Quite alarming really, after a few poor friendlies, losing most; I at least thought that at home we would start in a combative manner.
How stupid was I? We don't have the players to let the opposition come on to us; we lack guile, speed and positional awareness. So why not close them down, or at least try to, thereby limiting their time on the ball?Beats me..
.
Also, I'm going out on a limb here but I would rather have a player who pulls his tripe out every game, as if it actually means something to him to play for our club, than some foreign prancing pony. Step forward, Schneiderlein and Mirallas. At least one of them's gone, thank God.
It's a sobering thought as to what one of the "big six" will do to us this season, again. Head above the parapet time: I would lose Scneiderlein; send Tom Davies on loan (he was abysmal for the time he was on today); lose Lookman (when he came on, it was as though someone had dragged him away from his tea). I want to see effort, guts and a never-say-die attitude in the players that represent my club. Not players who can't even look as if they're interested.
A lot of this is dependant on the voice of the fans, I realise this. But, as fans, we have to be realistic as to the standard of player we can attract to the club. Give me a decent, skilled player, who leaves nothing on the pitch, to a "name", any day.
Sadly, our club is a long way off dining at the top table; we will never get there unless we have players who believe, a management system that believes, and an ownership that believes.
Foreign players, even homegrown players who are built up as world beaters, don't necessarily cut it.Remember that success is relative, and can only be achieved if the target is realistic.
League placements, unless in the top four, are relatively meaningless. I would rather finish 14th/15th and win a cup than finish 4th and be obliterated in a Champions League qualifiers. Where do we find these players? I'm not sure... but it isn't always the names ending in O or IC or OS that do it.
Sometimes it can be a young kid from a lower division. You know the type: hungry, full of desire, and wanting to make a name for himself – not one that has been gilt-edged by a mostly moronic media.
I know which route to take towards success for me; it would be interesting to see if there is anybody with the same outlook. Or do people want instant success? Oh, wait... that's worked well for us, hasn't it?
Karl Mark Zarb
126
Posted 05/08/2018 at 00:39:37
we need 2 cbs and loftus cheek. we looked great up front but disastrous at the back.
Justin Doone
127
Posted 05/08/2018 at 01:07:00
I didn't see the game but from reading the comments I understand it was exciting, we had some good forward and link up play like a real team. Defensively and that includes the 2 deep midfielders the same players, the same poor performance, same sloppy goals conceded.
We always want better, I understand but personally when we got rid of Sam good entertaining football without relegation worries was my main requirement. I'm happy with that.
It will just be good to look forward to watching my team play, dare I say with a little excitement of what could be with an improves spine.
Top class central defender and a central midfielder to distribute the ball.
Defender I'm hoping is already incoming even if its not the Barca lad. Midfielder Mooy or Drinkwater would be a massive improvement over Schnides. Their range of passing and ability to control the game and create chances from in our own half is something not seen since Arteta.
We may lose to Wolves next week but we will loose at least whilst trying to win, create, score goals and that is a massive turnaround compared to Ron and Sam. It would be a game I would want to watch even knowing the final score.
Bill Gienapp
128
Posted 05/08/2018 at 02:26:09
I had said there was plenty of reason to be optimistic about the potential of a front four of Sigurdsson, Tosun, Walcott and Richarlison, and it sounds like today's results were plenty encouraging.
Bring in at least one legit CB, whether that be Mina or Lascelles or whoever (preferably not Rojo), and get Drinkwater on loan and we should be in decent shape heading into the season.
Chris James
129
Posted 05/08/2018 at 02:27:54
Throwing a controversial comment in here, I wonder if it's time to lose the 2 defensive midfielder setup?
I've never been a believer in this and there seems precious little evidence it makes us tighter defensively as a unit (quite the opposite at times).
So lets play one of Gueye/Schneiderlin with a back 4 (agree a commanding centre back is needed - Lascelles for me) and then have space in midfield for someone spraying the ball (Siggy) and someone box-to-box who'll genuinely run forward and support the front man and 2 wingers - not just sitting back and passing sideways (I'd hoped this could've been Davies, but it does appear he's losing his way a bit, so probably a new man needed?)
Unrelated but what happened to Beningame, he looked really decent when Unsworth threw him in last year.
Kase Chow
130
Posted 05/08/2018 at 03:01:44
Chris#131
Agree. 2 defensive midfielders appears to invite the opposition into us and our combination of defence are ill equipped to deal with all the various offences
Hence, let's play a formation that preys on 'let them worry about us more than we worry about them' I.e. 1 defensive midfielder only (Gueye)
Ed Prytherch
131
Posted 05/08/2018 at 03:18:23
Chris, I think that Gana was our box to box midfielder today. Whether he is up to the job is another question. If we get a new midfielder will he replace Schneiderlin or will Gana play the deep role with the new guy playing box to box?
A CB who can pass would ease the midfield problem.
Steve Brown
132
Posted 05/08/2018 at 04:07:17
So Lookman has a toxic attitude and must be sold because he didnt skip onto the pitch and do a twirl?
Honestly, my guess is he was pretty pissed off about only getting on so late in the game. Nothing wrong with that.
Michael Morgan
133
Posted 05/08/2018 at 04:11:59
Chris @131,
I totally agree and mentioned something along the same lines as your post in another thread I think it was after the Rennes game.
2 defensive midfielders is too negative in my opinion, and it's a setup that leads to a defensive style of play with less of a chance of creating chances.
1 defensive midfielder, Gueye preferably over Shneiderlin. I had Sigurdsson in my post ahead of Gueye but more deeper than the number 10 as I don't think he's proved himself in that position up to now. I would then have Richarlison, Lookman and Walcott as the pacey attacking players behind Tosun.
Kieran Fitzgerald
135
Posted 05/08/2018 at 06:47:03
New manager at Chelsea and there appears to be a clear out about to happen there as a result. There could be very decent players available. If selling Pickford to Chelsea solves two or three problem areas for us then I would be open to the idea. Butland would have to be part of any exchange though.
Ajay Gopal
136
Posted 05/08/2018 at 07:03:04
I am disappointed that Holgate and Baningime did not feature yesterday. I have high hopes for them coming good this season - along with Dowell, Davies, Calvert-Lewin and Lookman.
Any updates on McCarthy? I am so disappointed with all the injuries he has had to endure – he should be one of our main stays in the midfield if he stays fit. A fit McCarthy is equal to Schneiderlin and Besic playing together.
I don't get why so many people are down on Tosun – he is a very good finisher if he is given proper service. For now, I would be happy if we added 1 left-sided CB (Mina, Lascelles, Rojo or Zouma) and 1 attacking mid-fielder (Loftus-Cheek or Mooy) and get rid of: Schneiderlin, Vlasic, Martina, possibly Bolasie, apart from loaning out a bunch of youngsters.
Mark Tanton
141
Posted 05/08/2018 at 07:52:44
Would it be fair to suggest that Keane's form and development might have been held back by playing next to a creaking, over the hill partner at the back? I have been thinking this morning that Keane will be a better player when he is alongside someone younger and at a different stage in their career. Does Keane need leading? If so Jagielka perhaps hasn't offered that.
Derek Taylor
142
Posted 05/08/2018 at 08:04:45
At 116, John Keating sees a similarity between Silva and Martinez in that both expect inadequate players to fit into their philosophy on how the game should be played.
Be that as it may, I'll give the new guy time to make them do so as long as he doesn't come out with the intolerable after match bullshit of the Catalan !

Tony Everan
144
Posted 05/08/2018 at 08:07:02
The notional Chelsea deal seems to be gathering momentum (on this thread anyway).
Zouma + Loftus Cheek + 25m for Butland = Pickford
It would divide opinion down the middle, it would be interesting to see if there was a majority in favour of such a deal.
Personally a I think it would be good business for EFC and strengthen the team where it is desperately needed. Whilst getting a quality keeper in who is not too far behind Pickford.
David Ellis
145
Posted 05/08/2018 at 08:33:44
Surely we are in a much better position than this time last year? We started the season with Calvert-Lewin as the centre-forward, both full-backs injured (and no cover at left-back). Sigurdsson out of position on the left and Sandro down the right.
Since then, we've replaced the front 3, got Seamus and Baines fit and proper cover for both and play players in their correct positions.
With all those problems, we finished 8th. I think 7th is well within our grasp.
Alan J Thompson
146
Posted 05/08/2018 at 09:10:00
Mark (#144);
I've thought something like that on occasion. Jagielka seems to make plenty of last gasp tackles, blocks and covering others which is probably what someone should be doing, but wonder if this sometimes affects his partner.
Koeman said something about wanting the whole defence to move across together when someone was pulled out but we don't seem to have anyone dominant in the air. May be the problem is with our"defensive" midfield.
Jay Harris
147
Posted 05/08/2018 at 09:24:07
David,
Based on preseason and our new manager's form in the Premier League we will be lucky to finish 8th from bottom.
Until we get 2 CBs who can play this system and a proven goalscorer who can hold the ball up and link up play we will struggle against any Premier League team – let alone the top 6.
Steve Ferns
148
Posted 05/08/2018 at 09:38:09
How much of a difference would Pickford have made? I thought Stekelenburg was a decent backup but he has been poor. Not only in terms of keeping the ball out but in terms of being involved in the play and as an option for a pass. I think we'll be a little bit stronger with Jordan back in nets. Then we need a centre-back and a deep-lying passing midfielder.
Grant Rorrison
149
Posted 05/08/2018 at 10:10:45
Why don't we just try for a loan of Zouma? They clearly don't want to sell him as they gave him a 6-year deal 12 months ago. That way we keep Pickford instead of replacing him with an inferior goalkeeper.
I still think Mina will end up here personally. Barcelona can't keep him. They have too many non-EU players. Man Utd aren't seriously after him. Suppose he could go to Spurs if and when United sign Alderweireld.
Ian Bennett
150
Posted 05/08/2018 at 10:12:26
Most worrying is the number of goals from crosses and counter attacks.
No one closing down the cross,
Out of position full backs (both sides),
no one filling in as cover,
Total lack of pace,
Lack of awareness around tippy tappy players,
Clueless centre half marking.
The outfield back 6 have got to work better as a unit. They contribute fuck all going forward, so keeping it tight at the back should be their key job.
I am backing the manager here. The players are not performing.

Amit Vithlani
151
Posted 05/08/2018 at 10:18:38
I think Stekelenburg is not good enough, and pre-season confirmed it for me. He got away with a blunder yesterday, and was at fault for 2 of Blackburn's goals. I also thought Valencia's 3rd should not have beaten him, but I let him off because the mess that Sandro and Coleman made of clearing the ball.
I am dumbfounded we gave him a 2-year contract.
I am getting agitated with Sandro. He does not deserve more game time to prove himself as he has been very poor. Sandro is no wide man. Does Silva think that Dowell, or Lookman (with Richarlison shifting to the right side) will not do a better job? If so, I humbly disagree, although I am an armchair fan so I bow to his judgement.
Regarding the CBs, I am all for Mina. He looked better than Davinson Sanchez in the World Cup and we need a monster. If he does not come, I prefer a loan deal for Zouma (assuming Chelsea don't sell). Please, no Rojo or any other defender without the strength to compete.
If we don't find a CB, then I hope Silva becomes pragmatic. Try and drill the team to play with a back 3. I would love to see a 3-4-3 formation with Baines as a wide left midfielder, providing creativity on that side. Lose Schneiderlin from the middle as his passing does not justify his atrocious work rate.
Lastly, I think Rodriguez is a great shout as a striker. He has no express pace, but neither does Tosun or Calvert-Lewin. I thought West Brom looked menacing with him and Rondon paired upfront. He would give us a genuine option with a 2-man front line.
Anyway, I do agree that this is going to be a slow and painful process to improve the team. Some right decisions have been made so far, but some wrong ones too (Sandro, Stekelenburg).
It's a game of opinions and I appreciate that ultimately those that count belong to Silva & Brands.
Derek Taylor
155
Posted 05/08/2018 at 11:08:04
Is it not rumoured that Sandro is on £110k a week? This ridiculous figure apparently came about because the club-to-club transfer fee was unusually low.
My suspicion is that Silva has been ordered to get some value for money for the Club by fielding him at every opportunity – almost regardless of the player's ability to contribute in any meaningful way. Daft idea for sure but Moshiri has to be obeyed. And, at least, the guy 'runs about a bit'!
James Marshall
156
Posted 05/08/2018 at 11:09:46
Baines can't play in midfield, he's played fullback his whole career and doesn't have the 360 degree all-round nouse to play there. Yeah Philip Lahm did it but Baines is not Lahm. He'd get found out very quickly.
We're surely going to buy a centre half this week. Shirley?
Sean Roberts
165
Posted 05/08/2018 at 12:30:31
You can never get carried away with pre-season results, whether you win them all or get hammered in them all. They are fitness exercises and a time for trying things. Yesterday, we have to take the positives from the first half. Our front 3 linked up brilliantly at times and, although Sigurdsson looked slightly off the pace, he put in some decent set-play balls.
I believe what we watched yesterday, even though the result was wrong, was miles better than what we have seen for the last 2 years. Yes, it's blatantly obvious we need 1 if not 2 better centre-halves and then a midfield lynchpin to join up our defence to attack better and be a box-to-box ball carrying type but I don't think we are a million miles away.
Let's hope this week we see these transfers happen and then for once let's all get behind the team and support them. The one thing I think this season will be is entertaining and that is exactly what everyone last season was asking for when Fat Sam was dishing up his dross.
Rian Magee
170
Posted 05/08/2018 at 13:27:01
Sean @170 — words of reason, my man. 👍🏻
A lot of positives to take from yesterday's game. Yes, the centre-back issue needs sorting. 1 would be great, 2 would be amazing. But there was a lot of good high pressure and some lovely link-up play... the first half was what to really judge on as that's more our starting XI.
A solid CB will definitely make a difference. Whoever it is I'll give them my full backing (no defensive pun intended) as long as they fight tooth and nail for the shirt. There have been plenty say a big fat No to Rojo, but surely anyone that's an improvement on Jagielka or Keane is to be welcomed regardless of who they are or what club they've previously come from?!
COYB!!
John Keating
171
Posted 05/08/2018 at 13:29:32
People saying we don't have to spend millions on a player to get a good deal are quite right. Cahill for example.
We have mentioned a box to box terrier and hoped Davies could be him, not happening so far unfortunately.
Brighton are sniffing around John McGinn at Hibs. First in with 4 million gets him. Might be worth a shout at that price. We'd always get our money back if it didn't work out.
Stephen Davies
172
Posted 05/08/2018 at 13:37:36
According to the Echo, Sandro is likely to be shipped out... This is certainly a surprise considering he featured in all those pre-seaon games... surely a replacement has to be found?
Derek Knox
173
Posted 05/08/2018 at 13:39:35
Sean @170, while I totally agree that pre-season results are basically immaterial, there has been one worrying factor for me throughout all the games bar one (ATV Irdning) and that has been the extremely poor form of Stekelenburg.
While it is easy to blame the goalkeeper when there is a leaky defence in front of him, I have looked at many of the replays, and his positioning is what you would expect from a rookie.
Okay it can be argued that he is basically back up to Jordan, it is extremely worrying that should Jordan sustain an injury, God Forbid he doesn't, I fear having him in goal at all.
To make matters worse the Club has extended his contract, it beggars belief.
Tony Everan
176
Posted 05/08/2018 at 14:09:04
Stephen #77
He was banging them in for Malaga so he would be a punt at a few million for a mid table Spanish club. We would no doubt have to pay him off a sizeable chunk to go.
A loan deal would probably suit all parties as he may come back to his previous goal scoring ways and be much more in demand.
One thing is for sure he won't be getting any starts for us . A few cameos when we are 3-0 up is the best he can hope for.
Jimmy Hogan
177
Posted 05/08/2018 at 14:12:41
All of this speculation and analysis is great fun, but we must remember that Brands has a reputation as not just a player spotter, but as a skilled negotiator. My guess is he's playing hardball until transfer deadline day to get his and Silva's targets cheaply. Also, Everton have a sensible policy of not announcing something until the deal is signed.
Jimmy Hogan
178
Posted 05/08/2018 at 14:35:41
My guess is he is playing hardball with the agent to get a lower fee and save their club money I expect the agent to give. and wages
Chris Watts
180
Posted 05/08/2018 at 15:47:04
Agree Mike, it's a shame to see I would love to see him fulfil his potential but he just looks so slow and unsure of himself
Paul Bernard
181
Posted 05/08/2018 at 16:15:07
I didn't watch the game as I was running around picking parts up for my car, but I do follow Valencia a little bit since the days of Albelda, Baraja and Canizares.
Did Gaya, Santi Mina or Soler play? I would of loved to see either of the three at Everton this season. Also worth noting that they have that calming influence of Parejo and the power of Kondogbia in the middle, something Everton severely lack in recent years.
Hearing (and hoping) that Walcott, Tosun and Richarlison are giving us a real threat. I'm not the biggest fan of Gylfi as a No 10 as I think he is better drifting into a 10 from the left, time will tell. We need Gana at his best alongside some power in the middle; Doucoure signed a new deal so that's the Silva connection over, I think.
Baines allowing a cross to come in actually adds pressure to the centre-halves; Digne will hopefully offer more protection from the left. It seems Keane/Holgate and a left centre-half are what we are going with. A lot of patience is needed.
Mark Tanton
182
Posted 05/08/2018 at 16:28:38
I do think the success of our upcoming season depends on the defensive players we bring in. If we strengthen the defence successfully we might have a decent season - after all a style of play is emerging and we look like we have have the right players up front.
Graham Hammond
186
Posted 05/08/2018 at 18:26:30
Mike Allison is right in saying if we sign Lascelles and Loftus-Cheek we will improve but this will not be sufficient to break us into the Top 6 in my opinion. Also, in the Everton tradition, we will probably have to sacrifice Pickford in order to make those two particular big money signings. This window is massive for us, yesterday proved we are still a million miles away despite shelling out £50-70M on Richarlison and Digne.
Tom Bowers
187
Posted 05/08/2018 at 18:30:26
It always seem that many teams have lots of room once they get into Everton's half, even the so called '' weaker teams''.
The tackling and closing down is poor leaving the central defence exposed too much.
No matter who Everton bring in they have to be able to play tighter as a unit in that area.
Everton don't look too bad in possession but when not in possession always look vulnerable.
Granted they do not yet have the personnel that looks to improve the defensive area but they had better strengthen it soon.
Graham Hammond
188
Posted 05/08/2018 at 18:44:04
Tom Bowers just nailed it. We basically let other teams play which when we are up against genuine quality nearly always ends up in submission or a pasting! We need more hunger, aggression and pace in the team, Sigurdsson is all well and good when he has the ball but when he doesn't, dear god. Don't get me started on Schneiderlin, what are you thinking Marco?
Richard Lyons
190
Posted 05/08/2018 at 19:14:46
Everything feels exactly the same as this time last year. Is there any real difference in the way the team is playing?
Someone please reassure me that the current team is not as crap as they were last season...
John Hammond
192
Posted 05/08/2018 at 20:55:32
I'm just happy with signs of improvement! Unless we get a whole new CB partnership it's going to be an entertaining watch until January.
Surely Silva is playing Schneiderlin in order to get a decent price for him. Show other managers he rates him. Thursday I fully expect him to be sold and Brands already has a replacement lined up.
Justin Doone
193
Posted 06/08/2018 at 10:21:33
Schnides is one of the main reasons why we don't defend well, give the opposition to much space and concede sloppy goals. Too slow and reactive.
Don't get me wrong he's not the only one with a lack of pace in central defence both Keane and Jags are not comfortable with coming out to close down as they will be left exposed without cover and are to easily turned.
Central defence is the main concern and if we don't bring in a top class centre back switch to 3 at the back with Holgate and or Galloway. They will close and pressurise the opposition with Jags barking orders of when to push up, drop off etc.
I watch Schnides and he likes the easy game. Find space, receive ball under no pressure, pass the ball simply. All very good and well but he stays in first gear and offers nothing else. I look at him and Gana and it's like there playing different tactics for different teams.
I think McCarthy is a very limited player but compared to Schnides he's head and shoulders ahead. He's also similar to Gana but and they play the same tactical game of non stop closing down and pressurising opponents.
With our improved forward line they could play together against the top sides as we now have more forward passing options to get out of trouble.
However I think his career is pretty much over due to injuries but he or Besic can hopefully step up and partner Gana.
Hopefully Mooy or Drinkwater to come in as the main midfielder.

Gerry Ring
195
Posted 06/08/2018 at 10:42:35
It's at times like these that I ask myself the question "Why didn't we keep Shane Duffy" Strong, aggressive,physical, no nonsense attitude. Out of the same mould as Mountfield & Ratcliffe. He is exactly the type of C.B. we need.
Add Your Comments
In order to post a comment, you need to be logged in as a registered user of the site.
Or Sign up as a ToffeeWeb Member — it's free, takes just a few minutes and will allow you to post your comments on articles and Talking Points submissions across the site.