Holgate injury complicates Silva's preparations
Sunday, 5 August, 2018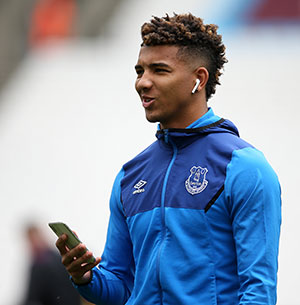 Steve Bardens/Getty Images
Everton are almost certain to be without Mason Holgate for next weekend's season opener as he tries to overcome Achilles tendonitis.
The whereabouts of the promising young centre-half, who is many fans' choice as a first-choice starter at the back, has been the subject of much conjecture as the pre-season programme has worn on without any sign of him in the line-up.
According to the Liverpool Echo, Holgate has been struggling with tendonitis in his heel since the training camp in Austria and there is apparently no timescale on his recovery or return to action.
That has affected Marco Silva's plans as he ponders which is his best central defensive formation and partnership during a pre-season that has seen a worrying perpetuation of the defensive frailties the Blues exhibited last season.
Ashley Williams and Ramiro Funes Mori have been shipped out, veteran Phil Jagielka, who turns 36 this season, hasn't quite hit his stride, while Michael Keane still looks well below the level expected when he was signed for big money from Burnley last year.
More poor defending underpinned yesterday's 3-2 home defeat to Valencia in the final friendly before Everton's Premier League campaign kicks off at Wolves next Saturday and the club appear no closer to signing reinforcements for a position badly in need of strengthening.
Silva explained after the Valencia game that he and Marcel Brands know what needs to be done and are hopeful that the club hierarchy will be able to deliver in the next few days as the Blues' transfer spending threatens to go down to the wire.
The transfer window for incoming signings to the Premier League closes on Thursday amid conflicting reports that Everton have either cooled their interest in Barcelona defender Yerry Mina after becoming frustrated with negotiations over the Colombian or agreed a €32m fee for him.
Another reported target, Ben Gibson, is set to join Burnley in £15m deal and while there have been suggestions in the press that Silva is looking hard at either Marcos Rojo or Victor Lindelöf at Manchester United, nothing of substance has yet emerged regarding either player.
---
Reader Comments (32)
Note: the following content is not moderated or vetted by the site owners at the time of submission. Comments are the responsibility of the poster. Disclaimer
Minik Hansen
1
Posted 05/08/2018 at 20:12:40
This desperate situation is hopefully approached in a good way, not making a panic buy, but choosing the right needed quality signing.
Graham Hammond
2
Posted 05/08/2018 at 20:13:25
I am shocked and really disappointed to hear that Holgate has Achilles Tendonitis, he is really unlucky to have this injury at such a young age, as many will know, it typically tends to kick in later in life. The report is correct in saying there is no set timescale for recovery.
I am very concerned that if pushed too much he runs the risk of an Achilles rupture which is basically a year out. In the meantime, running is going to be very difficult for him and increasingly painful over significant distances, he will need a lot of rest. This is the last thing Everton needed and explains why he didn't feature at all against Valencia.
We are now more desperate than ever for that all elusive quality Centre Back.
John Hammond
3
Posted 05/08/2018 at 20:33:41
Looks like United are seriously going for Maguire so we may still get Mina. What are the chance of us also bidding for Lascellas??!
Denis Richardson
4
Posted 05/08/2018 at 20:49:05
Just to point out, whilst technically correct saying Jags turns 36 this season, he actually turns 36 in two weeks time. Ie almost 37 come the end of this season.
It's completely unbelievable that with just a week to go till the season starts, we still haven't signed a CB. A LB, CB and midfielder, at the very least, should have been the top priority this summer and it beggars belief we're in this situation. Especially after shipping out two CBs.
Whoever we get in ( assuming we actually do) will have zero preseason with us and will need to get to know manager and team mates during the season.
Any injury to Digne and we've basicallly got the same defence we had 8 years ago!
We are going to ship goals for fun this season I fear.
Stephen Davies
5
Posted 05/08/2018 at 20:55:59
I had a similar injury not long back and even with regular physio took a very long time to heal.
On another matter..reports that Mina deal done 32.5m 5yr deal
George Mc Kane
6
Posted 05/08/2018 at 20:57:47
I wasn't sure where to post this - so I am floating this one over the astral with Blue Cosmic waves - For Steve and Jay and others who have been through a bit of pain lately and for Dave Abraham's - I went to mass in Chartres Cathedral this morning - I am not religious - but the last time I went to mass in Chartres was 1964 with Cardinal Godfrey - I sat and gave a thought for those of us who have suffered a little of late - I guess that is all Blues - but especially those who have been through some difficulties - so hope you catch it all the way from Orléans where I am spending tonight - I am looking forward to seeing The Blues next week - there was a time recently when I thought I wouldn't - had a few difficult months but moving forward now on Cosmic waves - Bon Soir mes Amis - Bon Soir Les Blues.
John Audsley
7
Posted 05/08/2018 at 21:06:47
George Mckane - A wonderful master of words and emotions.
On the Holgate situation, hell we need at least 1 centre back anyway.
Not good that we down to 2 only days before the start of the season.
Jay Wood
[BRZ]
8
Posted 05/08/2018 at 21:07:20
Graham @ 2.
Methinks you over egg Mason having achilles tendonitis.
I've had it myself at a similar age to Mason, at a similar time of the football season, and seemingly in a similar situation, based on the Echo story, namely, pre-season training.
The cause in my case was over-training, causing inflammation of the tendon. Mason' s condition sounds similar.
Yes, Achilles tendonitis can be caused by a degenerative condition in older people.
There is nothing to suggest the latter is the case with Mason. Simple rest and no excessive exercise for the tendon is all that is needed.
In my own case that took 2-3 weeks. 40 years on, being wiser for the experience, I've never again had problems with my Achilles tendons. And I'm someone who walks 5kms and cycles 10kms almost every day.
Mason will be fine.
John Keating
9
Posted 05/08/2018 at 21:20:12
George
Also went to Chartres with Cardinal Godfrey in that bloody old coach!!!!!!
Remember practising putting up those tents in the bit of a garden outside the staff room ??
Mike Gaynes
10
Posted 05/08/2018 at 21:24:57
Graham #2, I've had three Achilles tears, two requiring surgery. You're right that Achilles tendinitis (this is the correct spelling BTW) can lead to tears
when not properly handled.
In my case I tried to play through the pain and it eventually tore. The same thing happened to the Yak.
However, it sounds like Holgate is being properly handled, meaning he's resting it. It could heal in weeks, or in months -- no way to tell. And he won't be able to train while he's resting it, which means that even after he's pain-free it'll take a while to get fit again.
Very disappointing, but yeah, as Jay says he'll be fine.
Graham Hammond
11
Posted 05/08/2018 at 21:31:34
Hi Jay. Obviously I do not know exactly how long Mason has had the Achilles Tendonitis for but what is clear is that already it has all but completely buggered up his pre-season which cannot be a good thing either for the player in terms of attaining peak fitness or for the club as a whole given that as I write we have already lost both Funes Mori and Ashley Williams and signed no one else for that position. Some Achilles injuries do indeed settle better and more quickly than others, I hope you are right not to be concerned and I am wrong! Let's just hope we bring in two top quality CB's before the deadline closes and Mason can take plenty of time to fully recover!
Bill Watson
12
Posted 05/08/2018 at 21:32:33
George: great seeing you pop up on these pages. Enjoy Orlėans: I think it edges Garston and Huyton!
Neil Copeland
13
Posted 05/08/2018 at 21:54:12
Stephen #5, good if true - is it from a reputable source?
Neil Copeland
14
Posted 05/08/2018 at 21:56:25
Bill, Garston Gas works and Huyton District Sunday league take some beating mind.
Steve Ferns
15
Posted 05/08/2018 at 22:01:33
Thanks George, that means a lot to me. My mother isn't the biggest football fan, she has never been inside a stadium other than to watch my father play. I have relayed the messages on here back to her, and it does mean a lot, especially with everything we have been through with the suffering my father endured. Thanks again to everyone.
Thomas Lennon
16
Posted 05/08/2018 at 22:02:49
All is well, Mina just signed on.
Liam Reilly
18
Posted 05/08/2018 at 22:39:53
Hey Jay
Are you a courier that delivers down some tight streets? That's a lot of daily exercise.
Center half is a serious problem this year.
Steve Ferns
19
Posted 05/08/2018 at 22:49:15
Don't be too worried about Holgate. He was in his kit and messing about on the latest unseen video. I just think he is being rested to resolve the problem and will be back before we know it.
Jay Wood
[BRZ]
20
Posted 05/08/2018 at 23:30:33
Liam @ 19.
I've got a mutt (called Toffee, what else?) I take for a morning and evening walk and I live next door to a national park with a cycle path beneath the canopy of a centuries old rain forest and natural lake, unencumbered by traffic.
I try to cycle there at least 3 times a week.
But your suggestion of being a cycle courier has given me an idea for a second income!
Then again, knowing the nature of Brazilian drivers, nah! I think I'll pass on that one!
Mark McParlan
21
Posted 05/08/2018 at 23:51:29
What an awful situation we're in defensively then. Williams and Funes Mori transferred out, Holgate injured for God knows how long, leaving Keane and old man Jagielka as the only centre backs. One's past it, the other is the most bang average player in the league.
Why have Marcel and Marco Marco left it till there's 3 days to go of the window to bring in a new player? Bizarre stuff.
John Boon
22
Posted 06/08/2018 at 00:19:06
Just read that we have signed "Mina" to a five year contract. Sounds really good to me . What do others think ? Meanwhile I hope Holgate has a swift recovery.
David Pearl
23
Posted 06/08/2018 at 00:58:27
Friends of mine working as fitness coaches over in Spain confirmed the signing. Hopefully true. If we can get another centre back in to partner him then all of a sudden things don't half look better!!
Michael Morgan
24
Posted 06/08/2018 at 01:39:19
Mark @22,
You blame Silva and Brands for leaving it late? Even though Silva has pleaded for more signings:
No mention either of blame towards the board who have final say on matters of finance.
Me personally have no blame whatsoever for Silva or Brands. Silva has been quoted several times saying that we need signings, again though I'd like to point out that he has nothing to do with transfers.
Just like Mourinho, Benitez, and several other managers who are not to blame for lack of spending.
Brands has been brought in during a dark period for us. The last 2 years, the club has been run, again in my opinion pretty poorly and naively, with frivolous spending and a lack of stability.
Once appointed, Brands was also quoted as his first point of order being for him to trim the squad and reducing the wage bill. A massive task in itself to do with a below average and aged squad on mammoth salaries.
Personally both have my full support, Brands has already reduced the wage bill by over £22 million in player wages now off the books (once Mirallas has gone), with over 3 weeks to get rid of more.
Silva has started to change the drab, mind numbingly boring anti football style that FS had us playing. I know we are still along way off, but again it's not his fault he hasn't been fully backed yet to bring in his own players. You only have to look at West Ham in comparison to new managers and being backed.
That being said, he has my full backing now, but by Christmas if he hasn't at least kept us on a par with last season's table position, then my opinion might change if performances are still poor.
Laurie Hartley
25
Posted 06/08/2018 at 02:42:42
George # 6 - when I read your post I smiled. What a wonderful neck top thought generator you have.
Victor Yu
26
Posted 06/08/2018 at 03:04:38
I hope he recovers well. The last thing we want is to have another potentially above average being ruined by injury (Rodwell, Vaughan, etc)
Jerome Shields
27
Posted 06/08/2018 at 06:25:47
Silva has admitted that both himself and Brands knew early on in the transfer window what they required, but have found the transfer window difficult.
This has been a long-running problem for Everton, in that suitable players do not want to play for Everton and others candidates have their eyes on our ridiculous contract policy. The fact that Silva was the only Management candidate for the job tells its own story.
Brands introduction has not attracted suitable candidates and he has not had hidden gems up his sleeve to bring to Everton. This is disappointing, as is the giving of a two-year contract to Stekelenburg. It could be said that Walsh was more successful in that front, but hadn't good enough Managers to work with. But he did pin his colours to Big Sam, a big mistake. Martinez was also better in his first transfer window. Brands's success has been off-loading players, reducing the wages bill, and minimising losses on previous transfers. . . probably the remit he was recruited on. The incoming transfer policy results could throw up hindsight problems for Brands, if we are left without cover in defensive positions.
Silva has attracted Richarlison at a price which seemed high and risky, but now has been proved a true reflection of his potential.
The Barca connection established by Martinez seems to be one of the best transfer policy moves in this past 20 years, even providing back-up against Man Utd, and hopefully seeing that disastrous relationship for Everton kicked down the road where it belongs. No Rojo, please.
I hope Keane finds his potential if Mina is signed, and end the nightmare he has been having playing alongside Jags. I will be watching Ben Gibson's career with interest and reminding his detractors on ToffeeWeb of what could have been.
As I thought, the Everton rebuild is a long-term project. Hopfully Brands and Silva can do enough in this transfer window to live to fight in the next transfer window.

Mark Tanton
28
Posted 06/08/2018 at 06:37:27
Walsh has no success whatsoever. Your post is overly pessimistic in my opinion Jerome. I am happy with Brands and Silva so far, I can see they're doing three things so far.
First they are identifying a small number of players who can do what is going to be required off them in a SIlva system. Second they're busy cleaning out as much deadwood as they can. Third, Silva is beginning to impose his expectations and style, which isn't easy and takes time. We will see a high tempo Everton, moving the ball more quickly this season and we will, on the whole, see players who are capable of doing it. Those who are unwilling or incapable are finished. I am optimistic. It won't be overnight though.
Jerome Shields
29
Posted 06/08/2018 at 09:23:37
Mark (#29).
Walsh's initial signings live on and have made a contribution. Rather than being pessimistic, I am being realistic. I agree with your three things.
But you would have expected Brands to have a portfolio of targets, that's his job. There is clear evidence that Silva knows what he is about. But the job is long term and the success of this season will be determined by how Moshiri sees it. No top four this season, but will 7th be good enough? Or will we have a bad run, because we haven't got the players we need?
We have had managers who have failed to sort out the issues that Brands and Silva are still struggling to address. They are currently on the wrong side of 'Don't give me problems, give solutions' modern Management thinking. It will be their ability to get enough time to turn it around, which thankfully they look capable of doing.
Everton are better placed now than they have been for these past three seasons. Moshiri won't be in the mood to sit and wait, having learnt from these last two years that a plan needs to be in place and to be working.
Good luck to them both and Good Luck to yourself for this season.
Jerome Shields
30
Posted 06/08/2018 at 09:38:09
Additional Comment: Silva's coaching ability to bring out the best in underperforming players, and how tough he is in the dressing room in dealing with the drags on team performance and attitude, will be the deciding factor. I am optimistic regarding the former, but the latter is still unproven. I doubt if Brands will be tolerant of the latter, which should help.
Brian Williams
31
Posted 06/08/2018 at 10:07:48
If we could pull off a miracle and sign Mina, Lascelles and sign or loan Batshuayi I would be one happy Evertonian.
Still feel we need that dynamic attacking midfielder to pull the strings but I'm prepared to wait 'til January for him!!!
Not asking much like.
Mark Taylor
32
Posted 06/08/2018 at 14:10:52
The idea of facing Wolves with Jags and Keane as the CB pairing fills me with dread. I think we've seen plenty of evidence of the shortcomings involved in that.
But even if we sign Mina, I think that is what we will end up starting with. To bring a CB straight into the team 3 days after signing him would be a massive indication of just how bad the position is.
The Holgate injury is disappointing but let's face it, his stock has risen not because of stellar performances but with not actually playing!
Bobby Mallon
33
Posted 06/08/2018 at 14:26:01
Denis @4 Do you really think we have not tried to sign your elusive players. Come on really. Players of the top 6 standard don't want to come and their clubs and agents are trying to fleece us. I'm happy the management are playing it as they are. I don't want to end up as last season and hardly any signing plays
Add Your Comments
In order to post a comment, you need to be logged in as a registered user of the site.
Or Sign up as a ToffeeWeb Member — it's free, takes just a few minutes and will allow you to post your comments on articles and Talking Points submissions across the site.