Silva: I want to build something big at Everton
Thursday, 6 September, 2018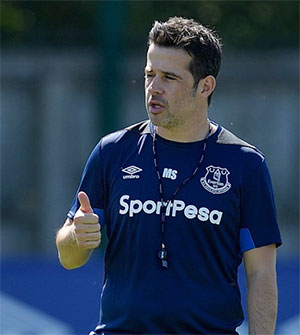 In the wake of his first few games in charge, Marco Silva has spoken of his long-term outlook as Everton manager.
The Portuguese has reached the first pause in the Toffees' schedule as the bulk of his players jet off on international duty and while he admits that he feels his team should be higher placed than they currently are, he stresses that, "we're building something important in the dressing room, the attitude and our behaviour as well."
Everton come into the international break with six points from a possible 12 having given up the lead at Wolves and Bournemouth and then been forced to accept a draw against Huddersfield Town at Goodison Park last Saturday following Philip Billing's headed opener and Dominic Calvert-Lewin's equaliser.
"We should have taken more points than we have at this moment," Silva admitted when with Sky Sports at Everton in the Community's opening of the Blue Base near Goodison Park yesterday but he also wants to look at the bigger picture of what he and Director of Football, Marcel Brands, are looking to build in the coming months and years.
"When you're at a club like Everton you want to be a part of the story," he continued. "For me it's really important.
"Of course, it's a long-term project. I want to build something but at the end of the day the most important thing will be the results.
"In football it's always like that but what you want to do in the future is to be part of this big story."
Four goals conceded from set-pieces in all competitions so far suggest some teething problems as the players get to grips with Silva's system, not least his insistence on deploying zonal marking at corners and free kicks.
His use of the tactic at Hull City and Watford suggests that he has no plans to dispense with it any time soon and goalkeeper, Jordan Pickford, says that the players will be putting in the hard work on the training ground to get things right defensively.
"Everyone has their own different ways that they like to set up from a corner," Pickford told the ​Daily Star. "The main thing is not to concede— and we have conceded too many. It has cost us four points in the last three games. We need to sort it out.
"We all know how to play football. I think with the gaffer's way of playing football — good football, good on the eye — we have the ability to do it.
"We have just got to trust ourselves and, if we do, it will be easier."
At the other end of the field, while he has yet to register a goal this season, the hard-working Cenk Tosun has been talking up the positive impact Silva's methods have had on the way Everton play going forward.
"Our manager changed, there is a younger, hungry coach," he told YeniSafak in his native Turkey. "He plays an offensive game.
"Of course, this is my business. This year we play football a little better."
---
Reader Comments (92)
Note: the following content is not moderated or vetted by the site owners at the time of submission. Comments are the responsibility of the poster. Disclaimer
Mark Tanton
1
Posted 06/09/2018 at 05:38:48
We're a big club and we're going to take some turning round. Sounds like young Marco is addressing issues in the club's approach to the game both on and off the field. I think we're heading in the right direction. Frustrating that we should have about 4 points more, at the very least.
Victor Yu
2
Posted 06/09/2018 at 06:16:25
The ambition is good.
We used to be a big club but we have been small for 25 years.
Let's make us a big club again by running it the right way.
Steve Pugh
3
Posted 06/09/2018 at 07:57:30
At least we are concerned that we have dropped points in games we could, and should, have won rather than getting hammered. Given time, hopefully, the mistakes will become fewer and the points haul significantly bigger.
Jim Bennings
4
Posted 06/09/2018 at 08:04:56
We are historically a big club, Mark. We haven't really acted like one for two decades now though.
Hopefully Silva can actually build something here, I do sincerely hope so because we need to stop making excuses for failures, even the majority of the fans have got the mentality of "let's be tomorrow's club". We have been saying that for years, it's always next season or two years time, how about let's do something now?!
Leicester got promoted and shocked the world of football instantly almost by lifting the title, okay that may never happen again but it's a prime example that Everton can and probably should have achieved something greater than they have in the last 20 years.
Tottenham were on our level no more than 4 years ago, they sold Bale and within three years they are now a club expecting top 4 finishes every season.
There comes a point at Everton when someone does need to achieve something at this club; money is being well spent now on an annual basis both in January and in summer.
We aren't spending that cash to just challenge for 7th each season...
Or are we?
Derek Taylor
5
Posted 06/09/2018 at 08:05:55
And we'll keep on dropping points if Silva continues mimicking Martinez with his pig-headedness over set-pieces!
Liam Reilly
6
Posted 06/09/2018 at 08:24:29
I guess the the trade off is concede cheaply against poor teams and you may get away with a point (but from winnable games); but do this against the top sides and we'll get a dam' good thrashing.
John G Davies
7
Posted 06/09/2018 at 08:29:41
He will build something big in my opinion.
If... IF, we give him time.
Andy Williams
8
Posted 06/09/2018 at 08:31:29
"Build for the future" you say? "Patience" you say?
Don't bloody read TW, Marco. 5 games unbeaten and the knives are already out.
John G Davies
9
Posted 06/09/2018 at 08:37:47
That's the problem, Andy. Fans condemning Silva on the evidence of a few games.
The manager who could turn the shambolic efforts of last season around in five games is yet to be born.
Jim Bennings
10
Posted 06/09/2018 at 08:41:05
Andy
The knives aren't out for Silva mate.
Evertonians have been patient for years with no result so you can't blame people for not buying into the "we will eventually get it right".
Under Moyes, it was always "nearly but not quite".
Then Koeman came in, coinciding with Moshiri spreading love in the form of big brass, but we have considerably gone backwards in terms of ambitions of challenging the top 6.
All the time, clubs like Arsenal, Manchester United and even Chelsea have chopped and changed their team and managers,we haven't been able to take any advantage and have a real assault; at some point, you know success at those clubs is demanded and they will get back to being where they believe they rightly belong and for us at Everton the opportunity will again have been missed.
Silva deserves time but say he's given three years, what would qualify as success under him?
Three 7th-place finishes might look good for him personally but it just backs up the beliefs that Everton haven't moved forward since Moyes left as he regularly claimed 6th or 7th with far less money.
Personally I'd take 7th or 8th this season with a domestic Cup win and at least then there's something to look upon as a real achievement.
7th or 8th for three seasons though with no trophy again to show for it doesn't qualify as major progression in my view.
I hope Silva does get it right eventually, I really do... but he's got to break the mentality at this club that runs deep.
John G Davies
11
Posted 06/09/2018 at 08:45:37
Jim,
I don't think Silva would be satisfied with 7th or 8th position for next three seasons. By all means, fans can complain if that is the case. But let's give him a chance to establish his own team.
Paul Knox
12
Posted 06/09/2018 at 09:08:28
We have to draw the line some time – now seems the time. Give Silva our backing, even with zonal marking (I hate it myself, as well as not leaving one of the faster front players up when we defend corners). Allow him time as time will tell.
Brands and Silva have already shown us what's needed – the players they have brought in are a class above our normal transfers; it has shown how average some of our players are and those who can up their game under the right conditions.
We now have no room for "average" players, even some of our previous better players pre-Silva will be sidelined – an eye-opener for most of us. Expectations are higher, but, there's still the need to add players, ie, another quality striker and a box-to-box central midfielder with all-round skills.
We have given far lesser managers a chance – this one feels like the real deal with a style if football we yearn for, so let's back the new management.
Ian Burns
13
Posted 06/09/2018 at 09:16:37
An extremely frustrating start to the season – particularly last Saturday's performance against Huddersfield – but oft said on this site: time and patience is the order of the day.
As I said on another thread, I suffer from a technical by-pass so I am not proficient enough to comment on tactics, and we all have an opinion on players' performance etc, but I would like to make one observation from the first five games and that is the use of substitutes.
I am not yet understanding some of the changes of personnel and the timing of said changes. Having said that, Marco is still finding his own feet, so no panic from me – he has my full support.
Mike Allison
14
Posted 06/09/2018 at 09:19:24
7th is a minimum this season. Anything less is a failure. For years now, we've been clearly behind the genuinely good sides and clearly ahead of the rest. The 7th-place finish under Koeman exemplifies this. It must be a record margin for finishing 7th.
It's not as simple as expecting to go up a place or two each season as it depends on the state of the other teams. When Leicester won the title, all the other teams were in some form of disarray for one reason or another. If we were as good this season as Leicester were that year, we'd probably come 4th behind Man City, Chelsea and our beloved neighbours. Tottenham also look solid despite some initial unrest; Arsenal are an unknown under a new manager at this point; and Mourinho is having a meltdown at Man Utd. All six of these teams' form will affect what we do.
As for anyone doing a 'Burnley', we can probably rule Burnley out, Leicester look decent again, the fearsome, big-spending West Ham that some TW geniuses were warning us about don't seem to be a danger, which only leaves Watford. I'm pretty confident that over 38 games we'll outlast them. A more useful way of looking at things is our number of points.
All this is of course only concerned with the Premier League. Winning a trophy needs to be a huge priority but is very difficult to do. For now, we might say that quarter-finals should be a minimum, semi-finals is decent and we should realistically be aiming to reach a final. This all depends on the draw though, obviously.
Steve Brown
15
Posted 06/09/2018 at 09:22:22
We'll all have a better sense of the improvement in the team after 10 league games – also when we have bedded in Bernard, Mina and Gomes.
No doubt about the quality of the new players we have seen in Richarlison and Zouma. There would be less of an issue in using zonal marking at corners if the players covering the front post actually did their jobs and attacked the cross.
Overall, a good start, Marco, and you are overcoming some of my doubts about hiring such an untested manager who jumped clubs a little too quickly!
Matthew Williams
16
Posted 06/09/2018 at 09:52:09
Although I've been slagged off before because of the mere thought of it... sigh... our Midfield should consist of three players, one who sits deep in front of a compact back four with the other two either side of him offering defensive support and real balance but willing to break forward to support our front three.
So, for me, it would be Gana or Beni who sit deep with Leighton to his left and Seamus to his right – it might just work, folks... so let's fucking try it for once or our style of play will just play into the hands of the opposition and bore shitless the paying faithful.
Pickford
Kenny Holgate Zouma Digne
Coleman Gueye or Baningime Baines
Walcott or Lookman Tosun Richarlison or Dowell
Done... time to try it, folks!
David Midgley
17
Posted 06/09/2018 at 10:10:44
Everton FC have been like a Roller locked in a barn for years, covered in dust, neglected and not cared for properly by its owners. It's been pulled out of the barn and into the sunlight, brushed down, getting a valet and hopefully a really good service.
It will take a few months for the new driver, Marco Silva, to get it tuned... but I have confidence. We might not win F1 but will be first, London to Brighton.
Steve Barr
18
Posted 06/09/2018 at 10:23:16
I'd settle for 7th or 8th (not happily) this season — then win the Premier League next!
Brian Wilkinson
19
Posted 06/09/2018 at 10:35:24
Give the guy a shovel and he can make a start at Bramley-Moore Dock [tongue pressed firmly in cheek].
Just to add to some comments in regards to Martinez-esque defending by Silva, I could not disagree more. The big difference with Silva is he is trying to sort the defence out – the players are trying a different system in zonal marking, rather than man marking.
It is only 5 games in and something that the boss is trying will take a little time to make an impact on the field.
Once we have Mina and Zouma there, more headers will be won at set-pieces by our bigger defenders; just be a bit more patient to this new system.
Steve Ferns
20
Posted 06/09/2018 at 10:37:45
Mike, I want us to win the league. I think that should be the aim. Of course, I'll be very happy to get fourth and make the Champions League, especially now the rules changed so we'd be straight into the groups.
Therefore, it's all about the end result the progression to get there. I agree that we should be 7th. However I would not be so rigid that I'd be unhappy if we were say 10th, because it's important for me that, come the end of the season, we look like a team that can be 6th next season.
If we're sat 10th, for whatever reason, but things are clicking and we're suddenky beating the top 6 and looking much better, then that's us on track.If we then miss out the next season and finish 7th but we're within 6 points of 4th, that would again be us on track.
For sure set targets and goals along the way, but don't be so rigid on the minor targets as long as we make progress towards the major ones (top 4 and win the league).
You see the problem with aiming for 7th this season is that you end up like Allardyce. He aimed to deliver 8th. He played the best set of players for his tactics and he played a certain tactic to deliver that. There was no progression towards a bigger goal.
If Allardyce was aiming for these bigger goals and 8th was a soft target but not important, then he could have played better football and played some kids.
In other words, by aiming for a minimum of 7th we try to obtain that goal instead of laying the foundations for a bigger goal. Imagine Anthony Gordon really is the ginger Messi. We wouldn't play him now as he's too young and is not good enough yet and 7th is so important. If we focus on progression towards winning the league, then we say yes, he could be a player good enough for that league winning side – let's give him a game even though he's only 17, let's get him developing faster and get him ready.
Then there's tactics. Aim for 7th and a draw away against most sides is good enough. If 7th is a soft target and you want to develop towards winning the league then you work on attacking and beating everyone. This means you often come away pointless and so down on the more conservative approach.
But you gain the experience to allow you to build on beating them next time. You can learn a lot in defeat about how to beat someone that you don't learn by successfully parking the bus and not having a go.
We want to win the league; it takes as long as it takes. We target progression rather than position. I'd also focus on 60 points more than position as well. Often 60 points gets you 7th easy.
Say Watford have a storming season and get 7th with 62 points and are just off the top 4 and we're right behind on 60 and within 10 of the top 4, I'd take it. That's progress for sure. But the key is working towards long-term goals.
Tony Everan
21
Posted 06/09/2018 at 11:00:47
I agree with the focus on set pieces and the necessity in sorting it out, but it was much more than that against Huddersfield. The inability to break them down, get behind their defence, and create chances was a big disappointment.
I am looking forward to the West Ham game now, there is a lot at stake. A great opportunity to flush the Huddersfield one out of the system.
Daniel Lim
22
Posted 06/09/2018 at 11:25:36
I'm still waiting for the advice...
"You want to build something big at Everton? It's easy, Marco, just buy the best players, don't play the kids."
Les Green
23
Posted 06/09/2018 at 11:26:29
Not being much of a student of the technical side of football, I was wondering if anybody could point to a successful team currently using zonal marking so I can run my eye over it, rather than judge the concept of it by our leaky defence?
Amit Vithlani
24
Posted 06/09/2018 at 11:34:24
Brian @ 19 I endorse your view. Looking back at the Martinez era, we had quite a few differences: he inherited a settled back line for one, and there was an admission by Ossie that set pieces were not prioritised, something Martinez himself would go on himself to admit.
I would avoid stereotyping Silva in the same way. Steve Ferns's thread on Zonal Marking is worth a read, and admits that Silva has failed to coach the team to execute it properly. Different thing entirely to Martinez's way of not trying to bother with practising set-pieces at all.

Steve Ferns
25
Posted 06/09/2018 at 11:40:27
Les take your pick from Man City, Arsenal, Man Utd, Chelsea, Liverpool or Spurs. Note, Spurs play a hybrid system.
Liverpool is the one to take note of. Before Van Dijk, they were a mess and leaked goals like we are. Then, after Van Dijk the problems are less evident.
If only we could sign a monster 6'-5" tall defender like Van Dijk.
Andy Williams
26
Posted 06/09/2018 at 11:51:19
FFS, Daniel, don't start him off!
It is bound to come, though, isn't it... My money's on by post 40.
Jakub Kollar
27
Posted 06/09/2018 at 12:26:38
Andy, everyone knows it's time to dismantle the Academy and buy the best players in the world.
Some people should maybe reduce their Football Manager gaming for less hours a day...
Brian Wilkinson
28
Posted 06/09/2018 at 13:03:17
Amit @24, I am not sure if you have misread my post, or commenting on others who have mentioned we're defending like Martinez.
The point I made is it is nothing like Martinez, Silva is working on the defence and trying to sort this out, something Martinez overlooked and never bothered in regards to set-pieces.
Martin Berry
30
Posted 06/09/2018 at 13:16:58
Marco can see what's coming, ie, with the clubs financing and new ground on its way, why shouldn't he be in it for the long haul, he will have one of the best jobs in football in a few years!
As for the zonal marking, we all know that balls in the box and you can score against anybody, we have to be careful with corners and free kicks like any team.
On that note, how do you think opposing teams will be when we pump long balls onto Mina's head? I predict he could score 7 or 8 this season and the whole Premier League will be talking about him, mark the words!
Craig Walker
31
Posted 06/09/2018 at 13:23:58
People quote Spurs as an example to which we should aspire. I agree that they have some wonderful footballers, a great goalscorer in particular, and what looks like a superb new stadium that they're about to move into.
However, I guarantee that, if we were Spurs right now, we would be frustrated that we haven't yet won anything with such a talented crop of players. Their bitter rivals, for all their faults, have managed a couple of FA Cup wins over that period.
Brian Harrison
32
Posted 06/09/2018 at 13:25:48
Well maybe we need to start by asking what did we want from Silva and Brands before they started.Tthe first thing most of us complained about was having so many players in the squad that were not good enough, so Silva and Brands have unbelievably been able to ship them all ou,t so a tick there.
The next most fans complained about was our centre-back pairings, so they have gone out and bought not 1 but 2 centre-backs, so another tick.
Many complained that sadly Baines was coming to the point were he needed replacing, So they brought in Digne who looks a class act, so another tick.
The biggest complaint last season was how negative we were, and we all wanted to see a more energetic approach, so despite the Huddersfield game, another tick there.
We also wanted the new man to have a connection to the club and refer to things as 'us' rather 'Everton' another tick.
Now I am not saying that everything is perfect but Silva and Brands have carried out what most wanted to happen. Also, we have to bear in mind that he still hasn't been able to include all his signings in the same squad. But, despite all of this, it still didn't stop some fans booing his substitutions against Huddersfield. When did it become okay to boo a manager making substitutions in his 4th game in charge?
I well remember last season when we were trailing 2-0 at half-time to Watford and managed to turn that into a 3-2 win. After the game, Silva said the home crowd's support completely changed the game and his players needed to be stronger when this happens. I wonder if he is thinking "Whatever happened to that great home support that completely changed the course of that game?"
Jamie Crowley
33
Posted 06/09/2018 at 13:32:50
I've said since day one I'd give Marco a shit-ton of rope to hang himself with. I think most Evertonians are thinking the same way. We need to be patient.
I like Marco a lot. The whole corners / zonal marking thing drives me batshit crazy, but I still love the guy.
My wife, for 22 years, busts into the house from running the kids somewhere and dumps her purse, keys, and any other shit she's carrying on the counter - just dumps and I mean splayed out like a domestic engineer took a shit on my kitchen counter.
Drives me batshit crazy, but I still love her.
That's kind of the way Silva's zonal marking is with me.
He just jumps in and shits all over my viewing experience. Drives me batshit crazy, but I still love the guy.
Peter Gorman
34
Posted 06/09/2018 at 13:38:46
I note that some above are describing the season to date as extremely frustrating. I can't say the same is true for me. Sure, disappointed after sloppily throwing away leads but I've not yet taken any lingering misery away from the games.
I think this is because my expectations are rock bottom. Silva has inherited an absolute shambles of a side and, to date, he and Brands have had one window which appears on paper at least to be just as the doctor ordered. Add that to the fact I've genuinely found Everton pretty entertaining so far, I'm not going to ask myself if Silva is the man to take the league by storm just yet, I'll save that for a year or two. I'm just grateful to have started enjoying football again.
Paul Kossoff
35
Posted 06/09/2018 at 14:10:27
Start with correcting the tactics that are obviously not working: zonal marking, players in the wrong positions... try that!
Daniel Lim
36
Posted 06/09/2018 at 14:20:09
Andy @26,
You realise that I could more or less control the outcome? By posting a few more posts so that it reaches 40 before he comes? LOL.
But let's see, and to be fair, this post doesn't count towards the magic 40.
Brent Stephens
37
Posted 06/09/2018 at 14:40:53
So now it's 41, Daniel.
Ah, damn!
Andy Williams
38
Posted 06/09/2018 at 14:59:26
Now look! If you are not going to take this thing seriously!
Derek Knox
39
Posted 06/09/2018 at 15:09:41
While I agree with most people on here regarding the patience aspect; I also concur that we as fans have been patient for far too long; and during that period have witnessed; the Good, the Bad and the downright coyote Ugly.
What does worry me more at this present moment in our 'Renaissance', is that we have had a relatively easy fixture start, and yet, have not even remotely looked like getting maximum points.
On reflection of the games we have played thus far, apart from the Huddersfield game; we have more-or-less dominated the games and yet have come unstuck at poor defending from opposition set-pieces.
Considering Marco Silva is allegedly a student of the technical side of the game; with reportedly in training, acute attention to detail, why are we making the same mistakes from opposition set pieces?
What is it that they say about making the same mistake more than once?
Bobby Mallon
40
Posted 06/09/2018 at 15:16:32
Sort the fucking defensive errors out, then – or you will be gone within a season.
Mike Allison
41
Posted 06/09/2018 at 16:20:49
Steve, I'm a little confused by your post (#20) but I'll respond with a couple of points. To be clear, 7th isn't the
aim
, it's the minimum. The aim is, I suppose, to win the league, and more realistically, it is to finish 4th. I believe this should happen this season.
7th is where we already are in the current 'natural order' of things and I don't believe it serves anyone to be patient enough not to demand a certain level of results now.
With regards to a point you make about accepting 10th if it looks like we might be close to clicking, then all I can say is that I'd believe we were close to clicking a lot more if we came 7th than if we came 10th.
Coming 7th is a much better foundation for a bigger goal than giving some playing time to a decent young player. A youngster like Gordon can go on loan if he appears to be progressing well. We need to be a team of both now and the future, and I don't accept that we have to sacrifice anything of now in order to achieve what we want in the future.
Christy Ring
42
Posted 06/09/2018 at 16:30:56
Rome wasn't built in a day, Silva needs time and a few more transfer windows, to change things. Agree about the zonal marking, but with injury and suspensions, we have different combinations at centreback since the start of the season.
Alan Bodell
43
Posted 06/09/2018 at 17:14:15
I'm just a frequent match goer that loves my team but here's a little advice to you, Marco: scrap that fucking zonal bollox, we cannot defend any ball in our box with the lack of aerial players, you fool.
Derek Knox
44
Posted 06/09/2018 at 17:28:21
Christy @42, that is what makes it even worse.
As you so rightly say, we have employed different combinations of centre-backs since the start of the season, and yet have conceded very similarly from set-pieces.
Therefore the finger cannot, in all fairness, be pointed at any one individual, so it must be the 'marking' or more accurately, the lack of it.
Brian Wilkinson
45
Posted 06/09/2018 at 18:08:24
Brian @32 – good post, mate.
Brent Stephens
46
Posted 06/09/2018 at 18:12:38
Alan #43 "scrap that fucking zonal bollox, we cannot defend any ball in our box with the lack of aerial players you fool".
Is the problem "zonal bollox" (technical term) or "lack of aerial players"? Good article by Steve Ferns on zonal bollox elsewhere on this site.
Steve Ferns
47
Posted 06/09/2018 at 18:23:56
I thought we were thinking he same, Mike. Clearly not!
I was making points over not having set targets for short-termism and the issues that brings (see Allardyce "success").
As for loaning Gordon out. No, I'm not a fan of loaning out our best players. Once's we don't think will make the grade, sure loan them out and see if they swim rather than sink.
I don't know if young Gordon is all that. But let's imagine he's Rooney like, then he needs to be in and around our first team. Not having the shit kicked out of him in the Championship.
Perfect example is Phil Foden. Pep is gambling and playing him now in the Man City first team. On present ability and form he's not good enough. But his potential is very clearly such that he could be the best player in that side 5 years from now. Pep is taking a long-term view.
This is what I'm on about. Forget the soft targets, aim to win the Premier League. That takes as long as it takes, but everything done should be toward achieving that goal. Not taking short-term views by ensuring we get 7th.
Len Hawkins
48
Posted 06/09/2018 at 18:38:57
Steve (#47) — I don't expect the Verruca Salts of this site to not "want it NOW"!
Harry Hockley
49
Posted 06/09/2018 at 18:47:23
Sounds perfect, so let's be patient, shouldn't be too hard should it.
Rob B Williams
50
Posted 06/09/2018 at 19:16:04
ST #25.'If only we could sign a monster 6'-5" tall defender like Van Dijk.'
We could have, in fact we should have signed Van Dijk from Southhampton way before the reds got involved. Koeman had worked with him and, regardless of whether the RS were his preferred club, we should have gone in there with all guns firing — sod the £75M and GOT HIM!!!
This was typical Everton, too slow on the uptake and too tight with the spondoolies.
Anyway we live to regret our lost opportunities and live in hope.
Kevin Prytherch
51
Posted 06/09/2018 at 19:23:12
Rob - A lot on here we're advocating Van Dijk when he was still at Celtic. Never mind £75m, we could have got him for £13m.
Kevin Prytherch
52
Posted 06/09/2018 at 19:44:10
Rob, A lot on here we're advocating Van Dijk when he was still at Celtic. Never mind £75m, we could have got him for £13m.
Martin Berry
53
Posted 06/09/2018 at 19:49:38
Brian (#32),
Spot on, Pal.
Okay, everyone has their opinion but some are just shameful and damn right ungrateful.
Mike Allison
54
Posted 06/09/2018 at 20:00:01
I don't think we're that far apart, Steve, but I disagree with you in that I do think we need to achieve minor milestones on the way in order to keep the juggernaut going in the right direction. If we finished 10th this season, Silva would be living on borrowed time. If he did it two years running, he'd be out. I doubt players would be interested in joining or hanging around either.
On a slightly side note, I don't accept any relevance of Sam Allardyce to this discussion at all. I've noticed this in other posts on TW, if people want to argue against a position they try to insinuate that it's what Allardyce did! I officially, now and forever reject any comparison between my points of view and anything Allardyce did.
I also object massively to Len denigrating anyone who wants Everton to be good now. Especially when the talk is of coming 7th, not some childishly unrealistic expectations based on a false sense of entitlement.
Marcus Leigh
55
Posted 06/09/2018 at 20:30:21
'It's a long-term project.'
Compare that to the bollocks we were hearing this time last year from the walking disaster that was Koeman – a man who made no bones about the fact that being the Everton manager was, for him, just a stepping stone to the Barca job, and who always declined to refer to the club as 'us' or 'we', but constantly referred to Everton in the third person. What a twat.
Well, I'm pretty sure Barca don't exactly have good old Ronnie top of their recruitment list right now. And while Silva clearly needs to resolve some glaringly obvious frailties on the pitch, at least it seems like he sees the big picture and has bought into it.
Personally, I have a feeling that Silva and Brands will, ultimately, deliver. Fingers crossed!
Jamie Crowley
56
Posted 06/09/2018 at 20:42:10
Brent @ 46,
Short answer:
It's the zonal bollox that's the problem!
** Apologies to Neil Copeland whom I promised that I would not mention zonal marking all week. I can't help myself, Neil.
Brent Stephens
57
Posted 06/09/2018 at 21:05:50
Scratch the zonal bollox, then, Jamie?!
Kunal Desai
58
Posted 06/09/2018 at 21:10:24
Let's not also forget, Silva and Brands have only had one transfer window. Just like fine tuning an engine can take time and patience, we will need to give this management set up time.
We will need to add one or two players (of quality) if possible in January, though that market as we all know is extremely difficult to do the business you want. It may be turning to the summer where we will again add three possibly four more first-team players and replacing those who are deemed not good enough who are in the starting eleven now.
As it currently stands we cannot compete with the six sides simply due to the quality in numbers they possess. I do believe next season we have to try to compete for marquee signings and convince one or two players to join the 'project'. A statement of intent would give us that platform and indication that we are looking to move on to that next level.
The signings we have made this summer are solid, but I'm not sure they will help to achieve the club breaking into that top six and beyond this season.
Jay Wood
[BRZ]
59
Posted 06/09/2018 at 21:52:36
Brent @ 57.
Naughty, Brent, naughty...
Jamie Crowley
60
Posted 06/09/2018 at 22:26:25
I have this wooden backscratcher thingy to hit those hard to reach places.
Peter Thistle
61
Posted 07/09/2018 at 03:14:29
Hope he proves us wrong with the defensive tactics. Being a defender meself in a rubbish Sunday League team, we could defend better than Everton have so far this season. All we had to do was pick a player and stick to 'em like glue, simple. No runners going into free space cos someone was always with 'em.
I just don't get this modern football stuff, beats me how they over-complicate it.
David Barks
62
Posted 07/09/2018 at 03:30:49
Really, Peter. So your team is keeping clean sheets every match eh? That's brilliant. That also means you're a better defensive team than another 8 Premier League clubs. Well done. Why aren't you guys working your way into the Football League?
Danny Baily
63
Posted 07/09/2018 at 08:13:43
Kunal 58, if you read the article on here from a month ago (Where did all the money come from?) the consensus is that we've spent more money than we actually have over the past three windows. That suggests that there won't be any marquee players arriving for a few years!
Victor Yu
64
Posted 07/09/2018 at 08:15:05
Honestly I think Cadamateri was more outstanding than Lookman at the same age. It is not easy to turn potential into production. That's why most big clubs go for finished product because they know what they are getting.
Justin Doone
65
Posted 07/09/2018 at 08:16:37
We are 10 times better than anything last season so, as long as we have no relegation worries, I'll enjoy the football and be happy with top 10 this season.

Mike Allison
66
Posted 07/09/2018 at 09:29:26
'Building something big' shouldn't mean constantly buying players. Ideally we would say that, from this point, it should mean one or two targeted additions per season (or possibly still per transfer window at the moment).
We may now have a good squad of two players in each position, with a couple of extras and some promising young players. However, we still have some unknown quantities and we may not yet be at that stage yet. We simply don't know about Mina, Gomes, Bernard and possibly Lookman.
Assuming we were, improvement will come not by further multi-player splurges in the transfer market, but by letting this group gel together, build a style of play and a team ethic that can count for far more than any millions you might spend on a player. The targeted one or two players would then be joining a squad with an ethos and identity that they can buy into.
This counts for more than simply having 'good' players. Everyone's got 'good' players, the trick is getting them to really care, believe and work together to create a team that is more than the sum of its parts.
John G Davies
67
Posted 07/09/2018 at 09:58:23
Mike @68,
Best post I have read on TW for a while.
Amit Vithlani
68
Posted 07/09/2018 at 10:48:18
Brent @ 57. Rather than scratching zonal bollox, we just need to stop getting fidgety when balls are in the box.
Tony Everan
69
Posted 07/09/2018 at 11:36:54
Amit, It's starting to sound like we need a doctor, not a manager, to sort these issues.
Steven Jones
70
Posted 07/09/2018 at 11:53:29
I like Silva and his methods – I have everything crossed we can keep progressing this year.
Whether or not Silva succeeds, I believe 100% Brands will succeed.
We need some luck in transfer dealing and four or five of our players to progress to that next level. Theo and Richie being two of those.
Brent Stephens
71
Posted 07/09/2018 at 12:25:29
Amit, our current woes are a combination of zonal marking and a scratch side.
Tom Bowers
72
Posted 07/09/2018 at 12:25:49
It will take time. Everton have been a long time in the wilderness and still have a lot to sort out both with the playing staff and individual performances.
Some older players are getting past their best.
Silva will need this season to get a strong defensive formation and to see what younger players can step up to the next level.
By January he will know if other new signings are required if they are still not entrenched in the top six but some early signs are encouraging.
Amit Vithlani
73
Posted 07/09/2018 at 12:33:49
Yes Tony @ 72. Either that or long fingernails! Brent, indeed, it is a scratch side, with a couple of plums. So we should avoid rash judgements. Things will be sore for a while.
Paul Burns
74
Posted 07/09/2018 at 13:40:57
We need a midfield general and have done for over a dozen years.
Oh, and only play players who DON'T give the ball away constantly.
Recognise those two musts and Silva will be on the way to improvement.
Lee Brownlie
75
Posted 07/09/2018 at 17:41:01
Well, we know it's there to be done, so why not with this man at the helm?
Personally, I can't wait to see an Everton team with all our new signings, so we can really see what they can do... and where we can go!!!
Terence Leong
76
Posted 08/09/2018 at 02:35:32
Our front line (Walcott, Richardson) looks like they are able to get more goals than what we had in previous seasons. Looking at Tosun's movement off the ball, I believe he will get in amongst the goals.
I am optimistic about the backline, seeing how Digne and Zouma have performed thus far, and how Holgate is getting minutes. Holgate will develop his game. With Mina still to feature, I think we can be hopeful.
What remains is how our central midfield (or triangle) looks... I will plump for Gana as the defensive midfielder. Davies is someone to bring on rather than start. Davies needs time to study and decide how he and should play. In his last game, he looked tentative, unsure of what he should be doing.
I think there are glimpses of Bernard to show that he can play between the lines very well. A trio of Sigurdsson, Bernard and Gana might be worth considering. Since Sigurdsson is not averse to dropping back abit, which I feel that he can still try to influence play for abit deeper.
So, it could be a case of Sigurdsson and Bernard interchanging between who goes into the hole.
That of course means that it can be a midfield lacking steel and too porous. But when you look at the fact that whenever it's Schenederlin and Gana, we seem to also be in danger of being overrun each time the opposition press.
So, I don't think we are any better for two defensive midfielders. It remains unseen if McCarthy can make a difference, as I think both he and Gana would provide both the steel as well as the occasional drive forward.
Jerome Shields
77
Posted 08/09/2018 at 06:12:58
Arsenal have achieved the most consecutive top four positions in the Premier League (20). They have achieved this by consistency, getting maximum points from the shallow end of the Premier League.
Everton, by conceding goals and leads from the start of the season, are a long way off this standard. The weaknesses in tactics and players have been well documented on ToffeeWeb.
One of the most successful exponents of zonal marking was the Everton team of 80s. The difference being that every player knew what they were doing, according to Kevin Ratcliffe.
Big Sam achieved 8th place by not winning any away matches, nor winning any game against a top-5 side.
I think that defining Everton's progress in terms of Premier League position, which is not going to be a top 5 spot this season, will not tell us anything about Everton's progress, since managers can clearly manipulate their league position. They can even rest their team before a potential point-winning game.
So Everton's progress can only be assessed by performance in individual games. Silva clearly realises this and that the team performance hasn't been good enough in the first 5 matches. There have been consistent weaknesses in tactics and players. Game on game, they have not been addressed. Some selection issues have been sorted out by default (suspension or injury).
It is now clear what Silva has to do. How he addresses the selection and coaching issues will determine Everton's progress.
Jerome Shields
78
Posted 08/09/2018 at 09:10:07
I would be happy with 10th place this season if I could see progress in player selection and tactics. Also, I would like to see a run in the cups.
I do think that Silva has a framework in place with potiential. The really big issues for me are that players are:
Challenging correctly in defence, no matter where the ball is coming from;
Allowing a player to cross unchallenged, meaning he also has space to get forward within shooting range;
All attacking midfielders, wingers and forwards should be threatening the opposition goal and capable of going past a tackling player.
Howard Kendall would have blown a gasket if an opposition forward had a free chance in front of goal and forwards were not threatening and shooting on target. The Everton team of the early 80s was way ahead of its time, but its legacy is built into the DNA of the Club. They would have been challenging in the Top 4 and the Champions League. The Brands & Silva framework is similar. Hopefully he has the coaching ability and the player selection ability with Brands to pull it all together.
Silva spoke of finding the Club tradition on his first day in charge, with Brands approving beside him.
Mike Allison
79
Posted 08/09/2018 at 09:24:22
But surely if there was progress in tactics and team selection, we'd come higher than 10th?! A 10th-place finish would be pretty strong evidence that we're not making progress in tactics and team selection.
We are 'naturally' 7th. We managed to finish 8th last season despite all kinds of problems. Therefore anything below that can't possibly be considered 'progress'. Even if it 'looks nice', if it doesn't work (in terms of picking up points), then there's no point.
We've been quite good at relentlessly winning home games against weaker sides, that's our strength. Our weakness is away games and games against the top 6. 'Progress' is to retain our strength and improve on our weakness. If we improve on our weakness but lose our strength, then it's not progress.
I don't buy into the idea that we can be improving but not getting the results. The results are the improvement. Allardyce seems to have seriously damaged the psyche of a lot of Everton fans. To paraphrase: "Clearly managers can manipulate their league position"? I bloody well hope we do, and make it as high as possible!
Ray Smith
80
Posted 08/09/2018 at 21:32:24
I'm not sure about you guys, but I'm getting rather pissed off with the absence of 3 of our new signings!
Gomes says he can't wait to start, he's been with us for a month, so where is he at?
Mina, wtf is happening here, he played in the World Cup, so rightly or wrongly, he was fit to play then, what's his problem now! embarrassing to say the least. Becoming a joke.
Zouma great, Richarlison great, Deigne very good.
Bernard? Still not fit after a month. We are being taken for a ride by these so called marquee signings!
Perhaps I'm being impatient but come on guys, 3 out of 6 signings not fit!!!!
Will Mabon
81
Posted 08/09/2018 at 22:01:42
Ray, it is a little strange. Perhaps Silva wants to deeply instill some form of tactical understanding, a basis before introducing them. Or get them to absolute maximum post-injury fitness before risking them.
I'm just guessing. It would be remarkably unfortunate if the situation is such that three players all have relatively long-term injuries or fitness trouble, right after joining us.
Ray Smith
82
Posted 08/09/2018 at 22:09:55
Will 81
The silence is deafening.
We have already dropped 6 points from a relatively winnable 4 opening fixtures.
Undefeated means nothing in my book, let's see what happens when we play last season's top 6!
Si Cooper
83
Posted 08/09/2018 at 23:00:23
Ray, I think you are being very impatient. It is too early to write any of them off as crocks,
I don't get what you are saying about Mina. He picked up an injury either at or after the World Cup. What is so outrageous about that? He is a long-term investment unless he proves so good that Barca want him back. Why not wait until he is properly fit to introduce him?
Gomes injured his hammy didn't he? They can easily put players out for a month or so and rushing them back really raises the risk of a string of injuries. He's also playing in a position where he's probably going to have to adjust his play to account for the increased physicality of the Premier League.
The same will apply to Bernard I would expect, who may need some extra strength work to go on top of the basic fitness he has presumably been catching up on. His last competitive match was March wasn't it? I would expect it is harder for most players to maintain peak fitness going for runs and doing gym work on your own than it is through standard squad training and practice games.
It is disappointing to drop points from games these players may have helped us to win, but if they end up being better prepared to contribute in the likely remaining 90% plus of our fixtures then I'm not too fussed that they weren't available for a few weeks after we signed them.
Jerome Shields
86
Posted 08/09/2018 at 23:28:41
Mike (#79), 7th and play the Big San way?
Where is that going to get us?
Tony Stanley
87
Posted 08/09/2018 at 23:51:56
Jerome @78, 10th place would definitely be several steps backwards.
Jerome Shields
88
Posted 09/09/2018 at 05:46:40
Tony (#87),
To play the system that Silva has set up, it will take a while for the players to get used to it. Also, some of them are not up to the standard required to play in this system. Everton are at least possibly up to four or more players short of a first team who can consistently play at that level. It's better to get the system right than be high up the table with a system that is going nowhere, as Everton have been doing for over 20 years.
Silva is also on a learning curve, but he needs to be heading in the right direction with an emphasis on sorting out the weak areas. Everton don't want to be a mid-table club forever.
Christopher Marston
89
Posted 09/09/2018 at 07:31:12
I think the issue is that, for several years now, the players clearly haven't been coached to play in any system.
Trevor Peers
90
Posted 09/09/2018 at 09:07:01
This utterance from Silva sounds very much like Koeman's 'project' talk. The real issue remains with his tactics and if they're good enough to produce enough wins, that's how he will be judged.
Zonal marking may well be a good system but only if it is administered correctly and, so far in Silva's career in the Premier League, he has been unable to do so, that's his real challenge.
There has obviously been and will be a more entertaining brand of football, but will it be winning football? Playing against the top six clubs will give us all the answers.
Victor Yu
91
Posted 09/09/2018 at 09:23:59
The real issue remains: We are still not going after Tier 1 players. We still haven't signed one superstar. So the 'plan' really hasn't started yet (Man City started their plan when they signed Robinho).
Mike Allison
92
Posted 09/09/2018 at 10:05:04
Jerome, what does Allardyce have to do with anything?
Mentioning his name has become a lazy way to try and score points when you don't have an argument. See my earlier posts.
Jerome Shields
93
Posted 09/09/2018 at 15:04:45
Mike (#92). I think we are both missing each other's points and therefore should agree to differ. Good Luck for the rest of the season.
Karen Mason
94
Posted 09/09/2018 at 21:32:19
Steve at #20. I love your post and ideas. Like you, I am more in favour of building something that can be sustained over the longer term. No 'flash in the pan' ideas for me. I'm with you.
Seeing real progression in terms of play and how we set about playing the top teams is crucial if we are to compete on a long-term basis, for real honours. As you say, even if that means a loss in the early days, but having had a right old go to win it rather than parking the proverbial bus and 'settling' for just hanging in there not to get beat.
Hanging in there to avoid defeat does not signify progress in my view. That would once again, make us a stagnant team, never to progress beyond where we are now. I'm prepared for a bumpy ride, and willing to stick with it if the signs continue to signal progress.

Mike Dolan
95
Posted 11/09/2018 at 14:16:09
We have shown a massive improvement already this season. Silva is doing a great job and hopefully he will be able to go on to further develop and improve this team into the future. Perhaps equally as important as implementing new tactics (lets face it the old ones were a lot less successful and needed to be changed) his public relations style is cultured yet honest and is a massive improvement to anything Everton has had in years and years.
Add Your Comments
In order to post a comment, you need to be logged in as a registered user of the site.
Or Sign up as a ToffeeWeb Member — it's free, takes just a few minutes and will allow you to post your comments on articles and Talking Points submissions across the site.