Dowell joins Sheffield United on loan
Friday, 28 December, 2018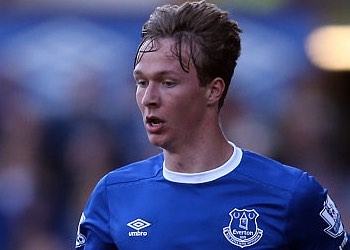 Sheffield United have secured the services of Everton U23 Kieran Dowell on-loan for the remainder of the season, in a deal that comes into effect from Wednesday 2 January 2019.
Speaking of the capture of Dowell, Blades boss Chris Wilder remarked: "We tried to sign Kieran in the summer when David Brooks left. Kieran is a talented player, left-footed, brings a balance to the group and gives us competition at the top of the pitch.
"He had a great loan at Nottingham Forest last season and was in and around the first-team at Everton in the summer when we tried to make a move then. We've been persistent, we've watched him, I went up to Scotland to watch him for England U21s and he's a talented footballer who wants to play games.
"We're looking for him to replicate what he did at Forest and hopefully a little bit more, we feel Kieran will add goals and assists to the group."
---
Reader Comments (38)
Note: the following content is not moderated or vetted by the site owners at the time of submission. Comments are the responsibility of the poster. Disclaimer
Rob Halligan
1
Posted 28/12/2018 at 13:38:49
First bit of transfer news involving Everton.
Providing he gets regular game time, he could improve dramatically and help Sheffield United towards promotion.
Jim Bennings
2
Posted 28/12/2018 at 15:09:20
No real surprise and it wouldn't be a shock if he leaves permanently in summer because he doesn't seem to have kicked on.
Silva gave him a chance to shine in the Cup games earlier this season and he looked a passenger and the manager obviously sees him in training regularly and feels he's not ready.
Derek Knox
3
Posted 28/12/2018 at 15:59:28
It will be interesting Rob to see how he fares with Sheffield United, they are already a decent side, so let's see if Kieran's inclusion can get them promotion.
Jim, he is a player I have always liked, but he rarely puts a ninety minute performance in, and regularly goes missing in action for long periods during a game.
Jay Wood
[BRZ]
4
Posted 28/12/2018 at 16:21:47
I hope this is a good fit for Kieran.
Absolutely no doubting his ability. Maybe it's his languid style that masks his desire, but as most are aware, it's his stomach for the fight and the capacity to graft which appears wanting.
With the Blades well in an extremely competitive promotion race in the Championship, he will need to show good mettle and application alongside his skills to gain and retain a place in the side.
We've got some Sheffield-based Blues on TW I recall. Be interested to hear their views what the locals reckon to this and where he'll fit in.
Jamie Crowley
5
Posted 28/12/2018 at 16:28:11
Fantastic loan for Club and player.
I love this kid, along with Davies. Here's hoping he improves and starts to push for regular inclusion in the first team.
Sheffield United will be thrilled with this move and this kid.
Dave Abrahams
6
Posted 28/12/2018 at 16:29:58
This is another chance for Kieran to show his talents off,
I hope he grabs this chance with both hands and impresses enough to get more chances at Everton next season, best of luck Kieran.
Simon Smith
7
Posted 28/12/2018 at 17:50:29
Dowell has to make an impression here as he's failed when given a chance too often.
I'm all for our academy kids coming through but the minimum expectation for a young lad is effort.
Dowell would do well to look at all the flair players in and around the top teams in the prem, they all work very hard. Also if he looked at the effort Richalison and Siggy put in he will see what the minimum requirement is to get into a Marco Silva side.
I believe he has the ability, he just needs to show the willingness to do the graft !
Dan Parker
8
Posted 28/12/2018 at 19:29:18
We talk about youth development and such but Richarlison is only a few months older than Dowell. It gets to the point where they can no longer hide behind youth. There are exceptions like Ozzie who took advantage of loan moves to establish himself. Hopefully Kieran takes his chance and earns a run in the team. Can't be charitable when aspiring to be a top side.
Frank Wade
9
Posted 28/12/2018 at 20:10:59
I really hope this works out for Kieran and for Everton. I've seen him look very good playing for the U23s with great touch, vision, passing and shooting ability. Just missing that X-factor to make it in the Premier League.
If only we knew what the missing ingredient is. I actually think he is too anxious and trying too hard to impress, which is having the opposite effect. I know that sounds wrong as he seems laid back.
He has been an England international at every age and an U20 World Cup winner. I hope we can get a Premier League tune out of him and he doesn't disappear like Liam Walsh.
Good luck, Kieran.
Karl Graham
10
Posted 28/12/2018 at 20:33:06
He needs the game time so it's a no-brainer for me. He needs to dominate games at this level and also be reasonably consistent. It's a better fit than Rangers as the games are more competitive. I would like to see Holgate go out as well as there is no point in him rotting away, not even in the U23s.
Dan Parker
11
Posted 28/12/2018 at 21:10:53
That's a good point, Frank. The pressure must be incredible, the lad might seem laid back on appearance but anything but within. Who knows. Good luck to him, really hope the loan works out well.
David Hallwood
12
Posted 28/12/2018 at 22:23:13
I'm disappointed at this loan... he's already gone to Nottm Forest so what's the point?
Surely he'd been better on the continent or at another Premier League club.
Peter Gorman
13
Posted 28/12/2018 at 22:26:27
Kieran is blessed with so much talent, I'll be following with interest.
What frustrates me is that most of the criticisms above are not always true, he just never seems to apply himself consistently.
Paul Birmingham
14
Posted 28/12/2018 at 00:09:43
This is gonna be interesting. The lad has class and ability but, when not on the ball, I'd call lazy.
Seen him loads in the successful U23s, 2- 4years ago.
I know some Notts Forest supporters who said he started Superb, but by the end was often jeered, as in the Championship, they expect blood, sweat, tears as the minimum then class.
Kev Sheedy, often lazy, but was a cunning, with an eye for a pass, shot and free kick, never bettered since, and was pure class with his unique vision and left foot, and appropriate sense of devilment.
Kieran is a different player and I hope he breaks through, and secures full-time footy, but I don't see that at Everton, being honest, unless he has a Jerusalem moment.
Liam Walsh for me was a better all-round footballer, than Kieran, but I've not tracked his progress since he went to Bristol City. By all accounts on TW, he's not in the mix, which is a shame.
If anyone knows how he's been playing or what has happened, it would be good to know.
Thank you.
Mike Gaynes
15
Posted 29/12/2018 at 00:28:58
Delighted at this loan. Last chance for this young man, and he has a good club and manager to play for. Hoping he steps up, but I'm dubious.
Paul #14, sad to report Walsh has had little impact at Bristol City. After three months as an unused sub, he managed seven appearances in October/November with no goals or assists -- went the full 90 only once. And then the first weekend in December he slightly tore a knee ligament against Ipswich. Expected back in late January but whether there's a place for him is iffy.
Don Alexander
16
Posted 29/12/2018 at 00:44:15
To me, there's a serious mental weakness throughout the entire youth set-up at USM Finch Farm when it comes to the "boys" performing for the first team. I mean Barkley hasn't set the world alight in any way at Chelsea and nor has Stones at Man City, and very occasional flashes aside, they never did for us either.
As for Lukaku (and yes, I know that Stones and Lukaku were not schoolboys with us), well he's just disappeared up his own egotistical arse at Man Utd, hasn't he?
Is Dowell the same? Promising except for basic nowse?
Rooney aside, can anyone identify one single "Everton academy" player who made any impression at all for any other club in the past 30 years?
Peter Gorman
17
Posted 29/12/2018 at 01:19:59
Not sure I understand the question, Don – you seem to want another example of a player on the level of Rooney ("apart from Rooney, what have you done for me lately!")
Aside from Rooney, examples of 'academy players' who made an impact at any other club are too numerous to mention.
Dan Parker
18
Posted 29/12/2018 at 01:42:44
Duffy at Brighton, Jeffers at Arsenal, Jagielka at Sheffield before we re-signed him, Gosling at Bournemouth. The sad reality of the game is only a few make it to the top of the pyramid.
Michael Kenrick
19
Posted 29/12/2018 at 03:46:44
Interesting twist, that Everton have supposedly written in cash penalties to the loan agreement, effectively setting The Blades a financial incentive to give Dowell playing time, presumably irrespective of form, or pay ut if they don't.
Source may be dubious as it's from a journo on Twatter, but it makes you wonder how much that languague is pushed by Everton and resisted by the loaner clubs? And will it/does it have the desired effect?
Terry Farrell
20
Posted 29/12/2018 at 07:26:18
Mike and Paul like you I would love to see Walsh make it but got injured after starting but not finishing 3 matches lately after several sub appearances. He can still do it but it's a big ask in the championship at his age and physique. Like others have said about Keiran D above it is about what he does without the ball that will allow him to step up and earn a regular starting position. One person not committed mean the others chase shadows. He has the quality. SG wanted him at Rangers. Robinson will make it in the prem and so will Holgate I think.
Sam Hoare
21
Posted 29/12/2018 at 08:02:10
Telling that Dowell still appears to be first choice for Eng U21, a head of Lookman though the coach does rotate a fair bit so hard to be sure.
Some players just won't find their game till their mid 20s (Leon Osman being a prime example) and I still hope Dowell might find the consistency to make an impact at PL level. If he can get in the Sheffield United team and get them up then I'd almost be tempted to loan him there for a full season in the Premier League to see how he fares. The boy needs starts.
Jim Bennings
22
Posted 29/12/2018 at 10:14:45
Unless he improves his all round game he's not getting in our midfield any time soon.
Is he better than Sigurdsson, no.
Is he better than Gomes, no.
Is he better defensively than Gana, no.
He might come through when Sigurdsson is finished in four years but he'd need to greatly improve.
Tony Abrahams
23
Posted 29/12/2018 at 10:28:16
If there is any truth in that Michael K, then it shows that Everton, really rate this kid, and need him to play, but what pressure that is going to put on Dowell, if he has a few bad games?
Derek Taylor
24
Posted 29/12/2018 at 11:19:03
On his way out like all the mature loanees.
John Dean
25
Posted 29/12/2018 at 11:35:24
I don't agree that Kieran is lazy; he doesn't watch an attack start and think "Sod that, I'll watch someone else deal with it".
Its not in his DNA to spend the same amount of his energy in chasing back as many other players do. Just as its not in the DNA of those other players to glide past defenders, instantly play teammates into space and sweetly time his shots to combine power and accuracy. Those skills he's got - he's still the only player I've seen score a hat-trick from outside the box (albeit at u23 level - a fierce drive, a chip and a first-time shot from a cross-field pass).
But he is a touch player and that touch deserts both him and others of his ilk for spells and that's when their loyalty and honesty are questioned.
We know how hard it is to create and take opportunities in the Premier League and sacrificing some energy about the pitch to increase our goals account is a price worth paying.
Do we want a team of Sammy Lee's or Golden Vision's?
Rob Dolby
26
Posted 29/12/2018 at 11:46:01
Dowell is the type of player who is being fazed out by the natural progression of the premier League. His position and type of player is becoming extinct. Similar to a full back who just defends, the winger who hugs the touchline or the big target man. The game has moved on.
Years ago most teams had a languid stylish player who could unlock a defence or score a spectacular goal but mostly would need 9 players to do the hard work for them. A Sheedy, Brady, Worthington, Curry, Barnes, Cunningham, hoddle etc.
In the prem I liken him to Ozil and Mahrez everyone else plays with work rate first and foremost.
As much as I love watching players who have a real languid style our current setup cannot accommodate anyone who doesn't work their balls off for 90 mins to make up for the lack of quality across the team.
I would love to see this loan improve his work rate and positional awareness but that's his natural game and can't see it changing. A move to another league like the Dutch or French league may be more suited.
Jay Wood
[BRZ]
27
Posted 29/12/2018 at 13:00:32
I think John @ 25 and Rob @ 26 get it right between them.
John, for calling out those saying Kieran is 'lazy', and for highlighting his considerable skills set. I consider that technically, KD is as gifted as any other footballer currently on our books. He has sublime skills.
Like John, in the past I excused Barkley on the same grounds as he defends Kieran: that you don't want your most creative footballer expending unnecessary time and energy doing the grunt work, that he was better focussing on honing his creative skills which could better influence and determine a game.
That said, I'm sure the wise old bird that you are John recognizes and understands it is not an 'either-or' choice when you ask: 'Do we want a team of Sammy Lee's or Golden Vision's?'
You know a successful team needs a good mix and balance of the two.
And that is what Rob alludes to, that 'luxury' players such as KD are very difficult to accommodate in today's modern football (more the pity, IMO).
Increasingly, the languid technician is being marginalised unless he also has the graft to go with his craft. The very best players in the world certainly possess these two attributes.
Kieran initially did very well on loan at Forest last season and it was more a change of manager who didn't fancy him in his way of playing that saw him dropped, stalling the evident progress he was making.
I don't agree with those saying he could better benefit from a loan to a continental club. Sheffield United is right in the mix for the most competitive Championship promotion race in years. It's a good training ground for what we want from Kieran: to become a first teamer for Everton in the English Premier League.
Very interesting what Michael K @ 19 mentions, that there is Twatter gossip that the Blades have a monetary incentive to play Kieran. No qualms with that if true and that the lad returns to Everton a more all-round player.
Kieran Kinsella
28
Posted 29/12/2018 at 14:20:24
John, Rob, Jay
I agree. I would argue it is similar with Tosun -- a latter day 80s goal poacher. It is one of the problems bringing through talent. You bring in 7/8 year olds who seem to fit the profile you're looking for but 15 years later when it is their time to shine, the game has evolved and teams aren't looking for those kind of players any more.
Peter Mills
29
Posted 30/12/2018 at 15:42:00
I went to the match at Bramhall Lane yesterday with my two sons-in-law who are both Blades. It wasn't a bad game, Sheffield Utd eventually managed to beat Blackburn Rovers in spite of the dreadful refereeing of demoted referee Anthony Taylor.
Sheffield Utd are a decent team, probably not top level in their league but should stay around the play-off places. They looked as though they need a midfielder who can put their foot on the ball. I'll be receiving regular updates on whether Dowell can do that or whether he gets overwhelmed by the fairly frenetic pace of the league.
Jay Wood
[BRZ]
30
Posted 30/12/2018 at 15:52:35
Keep us updated please, Peter.
I for one would be interested to know how Kieran does over there.
Peter Mills
31
Posted 30/12/2018 at 16:00:12
Will do, Jay, both lads know their stuff so their thoughts will be interesting.
Tim Smith
32
Posted 30/12/2018 at 17:16:55
As a Sheffield-based blue who also watches Wednesday and the Blades locally, I think this will be an interesting one.
As already commented on previously, the Championship tends to be quite intense and Sheffield United are no exception. Chris Wilder plays a full-on style and anyone who appears to be a passenger will get hooked.
I've seen Dowell play live 3 times and there's no doubt he has some skill, so it'll be interesting to see how the Bramall Lane crowd take to him. I think he needs a good start.

Joe McMahon
33
Posted 30/12/2018 at 19:31:19
I still hope he makes it, I had high hopes from reports from a Forrest fan. Our youth system sadly seems to churn out too many players for the lower leagues.
Justin Doone
34
Posted 31/12/2018 at 12:26:40
I agree, he's potentially a top talent but definitely right-footed and a bit light weight. He reminds me a little bit of Lallana and I think in another 4 years could be very good.
He's needs to play, learn, listen, develop and understand how other smaller, lightweight players make the most of their talent through hard work, movement, vision, one and two touch football like David Silva or Scholes.
I'm not saying he's that good but to simply let the ball do the work, not having to dribble 20 yards with it every time.
Bill Griffiths
35
Posted 31/12/2018 at 12:41:48
Red Echo site saying Holgate going to West Bromwich soon after window opens. Doesn't say anything about loan, appears to indicate it as transfer.
Brian Williams
36
Posted 31/12/2018 at 13:10:45
It's a loan, Bill.
Roman Sidey
38
Posted 31/12/2018 at 23:48:42
For anyone able to see U23 matches or just in the know, what is going on with Dowell? I know he's going to Sheffield on Thursday, but at 21 years old now, is he overdue?
Paul Birmingham
39
Posted 04/01/2019 at 23:24:56
I hope it works out well for Kieron, and he comes back a better player and ready for the first team. It's his final chance in my view, I hope he takes it.
Peter Mills, cheers for the updates and thank you.
Add Your Comments
In order to post a comment, you need to be logged in as a registered user of the site.
Or Sign up as a ToffeeWeb Member — it's free, takes just a few minutes and will allow you to post your comments on articles and Talking Points submissions across the site.