Second string overpower reds at Anfield
Liverpool U23s 0 - 2 Everton U23s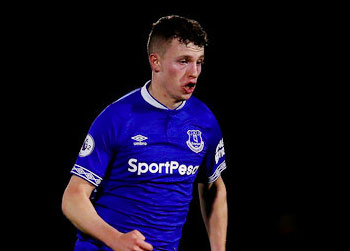 Nathan Broadhead bagged a brace at Anfield as Everton took another step towards reclaiming the Premier League 2 title
Everton's Under-23s took a step closer to a second Premier League 2 title in three years with an impressive 2-0 win over Liverpool at Anfield.
Nathan Broadhead gave the Blues a great platform early on, firing home after just 10 minutes to put them ahead and he would seal it five minutes from the end of the second half off a great assist from substitute Anthony Gordon.
In between, Broadhead, Fraser Hornby and Bassala Sambou had all been guilty of spurning golden chances as David Unsworth's side looked to press home their superiority in front of 4,000 seething kopites while goalkeeper Caoimhin Kelleher denied Nathangelo Markelo and Ryan Astley with good saves.
Everton need just three more wins to seal the title.
"It doesn't get much better," Unsworth told evertonfc.com. "I told the boys any victory here is a wonderful result and you must enjoy it.
"It's a really deserved win after a great performance and I'm really proud of our players.
"Everyone brought their A-game and that's all you can ask when you play a good team.
"We've been working a lot on wide players getting crosses in. We thought that was an area we could exploit. We've been asking our wide players to go on the outside all week in training, so it's great when you see something like that come off.
"Nathan finished his chances off really well, so that was very pleasing, too.
"We actually could have scored a few more goals, we had the best chances throughout. It could have been three or four, and that wouldn't have flattered us at all."
Everton U23s: Virginia, Astley, Galloway, Markelo (85' Foulds), Feeney, Gibson, Bowler (81' Gordon), Adeniran, Hornby, Sambou (89' Denny), Broadhead.
Subs not Used: Hewelt, Ouzounidis.
Attendance: 4,362
ps: After topping Group B, Everton U23s have been drawn at home to Sunderland in the next stage of their Premier League Cup campaign, the Round of 16. Date TDB.
---
Reader Comments (62)
Note: the following content is not moderated or vetted by the site owners at the time of submission. Comments are the responsibility of the poster. Disclaimer
Brent Stephens
1
Posted 04/03/2019 at 19:11:19
Great goal. One up.
Bobby Mallon
2
Posted 04/03/2019 at 19:19:31
Who scored, Brent? I'm at my kid's boxing training and just started watching.
Neil Copeland
3
Posted 04/03/2019 at 19:27:16
Comment by Echo reporter in the U23 game. "Liverpool are not doing enough with their balls out wide. Better delivery needed".
Classic!
Brent Stephens
4
Posted 04/03/2019 at 19:28:53
Nathan Broadhead.
Brent Stephens
5
Posted 04/03/2019 at 19:37:53
Virginia has just come out of his goal to almost edge of area to claim a cross. Contrast with Pickford.
Brent Stephens
6
Posted 04/03/2019 at 19:41:20
And again.
Neil Copeland
7
Posted 04/03/2019 at 19:42:31
Maybe we will see Virginia on the bench next season.
Brent Stephens
8
Posted 04/03/2019 at 19:48:41
Virginia really commands his box.
Klopp in the crowd.
Broadhead misses open goal. Difficult chip.
Tony Abrahams
9
Posted 04/03/2019 at 20:03:16
I definitely think Pickford has got to start coming for the ball a lot more, Brent.
When Robertson hit a 35-yard, straight ball into Everton's box yesterday, I'm sure a more committed keeper could have come and smashed both Van Dijk and the ball, especially because the Liverpool player was on the half-turn, and wouldn't have known much about it.
Maybe I'm wrong but only a last-gasp clearance from Digne prevented a certain goal and I personally think the more a goalkeeper plays on the front foot, the less saves he usually has to make, which can only be good for the team.
Brent Stephens
10
Posted 04/03/2019 at 20:05:18
Tony, I don't know if it's lack of balls or anticipation / reaction. I hope they're working on it.
Brent Stephens
11
Posted 04/03/2019 at 20:14:35
Great break by Adeniran, bad miss from Sambou.
Christy Ring
12
Posted 04/03/2019 at 20:40:49
Still 1-0, should have had a couple more. I find it hard to understand McCarthy is fully fit since October, but no game time On the bench for 3 Premier League games lately, but dropped from the squad, with Schneiderlin in from the cold.
Why not get him match fit by playing with the U23s, and get his confidence back?
Neil Copeland
13
Posted 04/03/2019 at 20:43:32
Christy, yes, I have thought the same – seems an opportunity missed.
Brent Stephens
14
Posted 04/03/2019 at 20:46:41
Interesting the U23s don't set up for zonal marking...
Second goal!!!
Neil Copeland
15
Posted 04/03/2019 at 20:48:35
Brent, perhaps they don't understand it...
Brent Stephens
16
Posted 04/03/2019 at 20:49:30
Only one man does, Neil!
Neil Copeland
17
Posted 04/03/2019 at 20:50:36
Even that is debatable!
Tony Abrahams
18
Posted 04/03/2019 at 20:54:20
Possibly because Unsworth is a British coach, Brent?
Brent Stephens
19
Posted 04/03/2019 at 20:57:05
Yes, Tony. But it raises questions as to how easily any of our young lads could step up to first team and transition easily to zonal. As easily as the first team took to it!
Rob Halligan
20
Posted 04/03/2019 at 21:03:30
Good game that. 2 good goals by Nathan Broadhead.
Even at U23s level, the referee lets them bastards get away with murder. Fraser Hornby gets studs raked right his ankle from behind, and nothing given, whilst a deliberate elbow on one of ours (can't remember who) also goes unpunished.
Good performance from the defence with Virginia in goal having next to nothing to do.
Tony Hill
21
Posted 04/03/2019 at 21:19:34
Dowell has just been subbed in the Sheffield derby after a pretty anonymous display. I'd love that lad to fulfil himself but I have my doubts, certainly at Premier League level.
It's so difficult even for the best youngsters to make the big move up - and that includes up to Championship quality on a consistent basis.
Phill Thompson
22
Posted 04/03/2019 at 21:52:47
Well, it's been a while since we've beaten them at any level, even U18 & U23 they seem to have the jinx on us, so I really enjoyed watching that. Glad we got that second goal; even when we're the better team, we can manage to throw it away.
It was a great performance from our defence. Adeniran was probably Man of the Match, driving forward from midfield, although Josh Bowler ran him close. He was very lively on the right wing until taken off. Broadhead too, playing on the left, had a good game, taking his goals well.
A very satisfying performance leaving us four points clear of 2nd-place Brighton who we've still to play at home.
Paul Birmingham
23
Posted 04/03/2019 at 21:56:02
Very pleasing couple of days for Evertonians. Let's hope the next game we turn up, at Newcastle.
Jim Bennings
24
Posted 04/03/2019 at 22:46:03
Brilliant two days!
Really got under the skin of them.
Tony Abrahams
25
Posted 04/03/2019 at 22:59:36
It shows me that not everyone at the club thinks the same way, Brent, and it is definitely going to make the transition harder for any defenders that are coming through.
Brent Stephens
26
Posted 04/03/2019 at 23:11:53
Tony, if first and second XI play different systems re zonal or man marking, I just wonder what the conversations are between Silva and Rhino.
Really interesting! Clearly no consistent approach at overall club level. Conflict? Agreement to disagree?
Benjamin Dyke
27
Posted 05/03/2019 at 08:09:35
Great to see the U23s doing so well. I watched Dowell last night in the Sheffield Derby and he was at best anonymous!
It's great to see players getting experience that's a level above the U23s but hard to see a pathway for players like Dowell to our first team at the moment. I wonder how many in the U23s will become first team players but one or two would be great.
Hugh Jenkins
28
Posted 05/03/2019 at 08:57:53
Great win for the U23s.
It is disturbing though that we have no "overall" club philosophy on team set-up.
This, surely, is something that needs to be addressed and nowadays, I imagine, will be part of the remit of M Brands.
So, I suppose it's a case going forward of "watch this space".
Dave Abrahams
29
Posted 05/03/2019 at 09:35:05
Regarding James McCarthy, who I rate highly if he get himself fit, Michael Kenrick explained the senior players are given the option of playing for the U23s, so maybe James prefers not to play.
I gave up criticising Pickford and his lack of commanding his 6-yard area, he is glued to his line, he will never be a top class goalkeeper with this big flaw in his game, unfortunately.
Paul Cherrington
30
Posted 05/03/2019 at 09:46:59
I agree re Pickford – the only thing I would say is that it might be something he is being told to do by the manager. It might be a tactical thing that he is told to let the centre-backs take care of anything into the box that he would normally come for.
It might not be though – could just be a weakness in his game, as suggested above.
Matthew Williams
31
Posted 05/03/2019 at 10:50:10
Now... that's the way it's done.
We'll played lads, hopefully we'll see one or two in the first team at the tail end of this season.
Sam Hoare
32
Posted 05/03/2019 at 13:35:00
This U23 team has conceded only 8 goals in their 18 league matches this season. That's very impressive. Feeney has been instrumental in that, as has Brendan Galloway and indeed Virginia who's only 19 but already looks a well-rounded keeper who might benefit from a loan to a League One team next year or maybe a European team.
David Hallwood
33
Posted 05/03/2019 at 14:18:07
So, we can win a derby! well done Unsy and the boys.
A couple of other points; agree with Dave(#29)about Pickford for the same reason.
And Tony's point(#21) about Dowell; I reluctantly agree because I watched the Sheffield derby, and his game doesn't suit the cut and thrust games like this. He'd probably blossom in Italy or Spain. But what a talent.
Michael Kenrick
34
Posted 05/03/2019 at 16:08:29
This continuing conundrum over the senior players very rarely appearing for the Under-23s.
I would rephrase Dave @29: the option is always there for them to play, but I doubt it is ever their decision alone. The PL2 rules allow for up to three over-age outfield players, plus the goalie, to play in any PL2 game.
Of course, the U23 coach must want to play them, and must be on board with the benefit of having them play what is likely to be a one-off appearance for what we, the fans, believe is a vital step in regaining match fitness in preparation for a return to the first team after a long lay-off.
To that end, it has to be something the full backroom team is on board with – coaches, trainers, physios, fitness specialists, sports psychologists...
And maybe that is where this one comes home to roost. I think it may be possible that the negative psychology of a first-team squad member playing for "The Stiffs" outweighs any positive benefit of improving match fitness? It happens so very rarely these days, there has to be some kind of explanation like that behind it.
Then again, is this a case of us fans, watching so intently but always from the outside, and at a disadvantage of not being true 'football' people, not being an intrinsic part of the club system and all its layers and structures... we don't know what the fuck we are talking about?
Dave Abrahams
35
Posted 05/03/2019 at 16:14:47
Or Michael are they taking extra care with McCarthy to make sure he is absolutely ready before he plays seriously again.
Doesn't explain fully why he has been on the bench a few times, unless it is to let feel James part of the squad in readiness for his return? It is frustrating for me as a supporter waiting for James to come back, it must be even more frustrating for McCarthy himself.
Brian Harrison
36
Posted 05/03/2019 at 16:26:29
Michael,
I heard a discussion by a journalist and an agent about specifically overseas players, playing in the Under 23 games. The agent said most overseas players have it in their contract that they don't play in these games, obviously I don't know if it applies to British players.
But you very rarely see many players playing in the Under 23 teams even if they have been out with an injury. As you say maybe they just don't fancy stepping down a level.
Whyever did they scrap the Central league games where the first team played at home 1 week and the reserves played at home the other weeks. They were full of first team players which I think helped the young lads who were picked for these games mature quicker. Now by and large there are no first team players playing and they end up playing lads of their own age.
Michael Kenrick
37
Posted 05/03/2019 at 16:30:43
No, I don't buy that 'frustration' thing, Dave. That's you putting yourself in his place.
Clearly to me, they do not think it's necessary, or they don't see the benefits we, as fans, see really outweighing some unspoken negatives they must see?
Obviously, it is better for McCarthy to sit out three Premier League games on the bench as an unused sub, never given a runout, rather than to get real game time in the cut and thrust of the PL2.
And then, on the 4th game, the biggest of the lot, not to even be in the Squad... Go figure!!!
Dave Abrahams
38
Posted 05/03/2019 at 16:44:24
Michael, the simple thing would be for the club to explain where James is in his rehabilitation after his very bad leg break. Everton never keep us in the picture concerning interesting items like the McCarthy situation.
Michael Kenrick
39
Posted 05/03/2019 at 16:56:28
That's really good info, Brian.
It's surprising looking at the U23 stats, the senior players who have played the most in recent times are Niasse with 3 goals in 2 games last season, and Funes Mori, who also played twice last season.
(I guess I was really thinking about the season before, 16-17, when Niasse played 6 games in PL2, scoring 8 goals. That was his first full season at Goodison Park, after playing a few times under Martinez since his arrival from Russia the February before... Remember, he was then – at least initially – denied squad number and locker by Koeman, and never played a senior game for us that season after looking terrible in pre-season half-game at Barnsley. So he's a bit of a special case... in more ways than one!)
So far this season, James McCarthy has played just one game for the U23s, and that was way back in October. Beni Baningime and Jonjoe Kenny have played just 2 games each, and Mason Holgate 1 game. That's it.
Keith Dempsey
46
Posted 05/03/2019 at 21:30:58
How long has Galloway been back with us? I really thought he was going to be a regular first-team player until Koeman told him he had no future and Fat Sam seemed to confirm that.
Tony Abrahams
47
Posted 05/03/2019 at 22:24:26
They maybe don't see the benefits or don't think it's necessary with the unspoken negative possibly being that it gets in the way of helping the younger players progress, Michael?
Michael Kenrick
48
Posted 05/03/2019 at 22:34:25
That's true, Tony. It could be that Unsie says "Ths is my Development team. That's what it's here for. It's what I believe in."
Michael Kenrick
49
Posted 05/03/2019 at 22:35:58
Keith, here's our
Brendan Galloway profile
, tracking his Everton career in full. He joined us from MK Dons on 1 August 2014.
Paul Cherrington
50
Posted 06/03/2019 at 12:25:16
I agree re Galloway – when he first burst onto the scene, he looked pretty good and I thought he would go on to establish himself in the first team. It hasn't quite worked out yet but hopefully now he is back playing in the U23s, he can push on again.
Steve Ferns
51
Posted 06/03/2019 at 21:26:47
Paul, at Brendan Galloway's age, Lucas Digne was signing for Barcelona. Think about that. Galloway is never going to make it. He's 23 now. It's too late.
Paul Cherrington
52
Posted 07/03/2019 at 12:06:13
Yeah, I know what you mean there, Steve – I always quite liked him, I guess, so it would be nice to see him blossom late on. Time is certainly not on his side, as you say, but I think there is a player there with the talent to make it. Whether he ever gets a chance to stake his claim now, though, is debatable certainly.
Derek Knox
53
Posted 07/03/2019 at 14:26:59
Michael @ 49, says a lot of our previous scouting missions, as you rightly say they got Brendan Galloway from MK Dons but must have failed to notice Dele Alli who was there about the same time.
Going further back, we had another similar oversight, when our Scouts went to watch Southend, and failed to notice Stan Collymore, but we ended up with Brett Angell who played alongside him. Gordon Bennet! He would have been better.
Mike Gaynes
54
Posted 07/03/2019 at 14:52:54
Derek #53, you just never know. We signed Galloway after the 2013-14 season. Dele scored 7 in 37 that season for Dons, not exactly burning the house down.
And for the first couple months of the 2015 season, it sure did look like we had the better player of the two. Ah, well.
Kevin Prytherch
55
Posted 07/03/2019 at 15:01:02
I agree about the differences between U23s and the first team. Despite Steve Ferns insisting the U23s play the same 4-2-3-1 system, they have regularly played with 2 strikers all season (Sambou and Lavery, then Sambou and Hornby) in more of a 4-4-2 system with hard-working attacking midfielders rather than out-and-out wingers. Gordon, Bowler and Broadhead all match this description.
Unsworth has something right with simple formations, man-to-man marking, and success.
Dave Abrahams
56
Posted 07/03/2019 at 15:12:55
I don't understand Galloway's contract, if he signed a 5-year contract in 2014-15 then he will have been at Everton for five years at the end of this season, although his contract finishes in 2020, that would mean it was a 6-year deal.
Michael Kenrick
57
Posted 07/03/2019 at 15:19:09
That's a puzzler, Dave...
I shall do some research!
In fact, here is the answer (sadly missing from our TW profile):
Galloway happy to have found the 'whole package' in Everton
That was December 2015, when he was on something of a peak.
Here's a bit of context, that you will no doubt remember well:
Galloway played in Everton's final two Premier League games of the 2014-15 campaign and was called upon to deputise for Baines (who needed surgery on an ankle injury) for the first four months of the following season, acquitting himself with remarkable maturity that had many observers purring about another future England international refining his trade at Goodison Park.
However, he played very little part in the second half of the 2015-16 season after picking up a knee injury that would keep him sidelined for more than two months. He returned in May, played for the Under-21s and featured in couple of pre-season games under new manager Ronald Koeman but the competition for places in the squad by that point meant that a loan elsewhere made more sense.
His last start for the Everton first team was against Dagenham and Redbridge in the FA Cup; he came on as a late sub against Carlisle in the next round... over 3 years now without a senior game.
Steve Ferns
58
Posted 07/03/2019 at 15:52:11
Kevin @55, that's not correct.
They did play a loose 4-4-2 for the last two games, but it's not a simple 4-4-2 and not a traditional 4-4-2. There was no 2 banks of 4. The defence was set up in a 4-2 formation as in 4-2-3-1. Then the attacking midfielders are ahead but in the channels. The attacking two don't play side-by-side, but instead one drops into the No 10 position and makes a 4-2-3-1. It's a flexible formation as it will also look like a 4-3-3 at times.
They have used a back 3 on occaisions and have played 3-4-3. Mostly though, it's been 4-2-3-1, which is Unsworth's formation of choice and has been for a while now. Unsworth is not afraid to change formation mid-game as he did when Gordon came on and he went full 4-2-3-1.
Chopping and changing formation is not simple, but he's winning games, he's making his teams harder to predict, harder to train for, and more flexible. It's hard to do this successfully, and shows he's not the simple coach many paint him out to be.
Dave Abrahams
59
Posted 07/03/2019 at 16:10:30
Michael (57), thanks for going to the trouble of sorting out Brendan Galloway's contract at Everton, much appreciated.
Jay Harris
60
Posted 07/03/2019 at 16:17:59
I watched a lot of Galloway's loan games after he was out of the first-team picture and he looked a shadow of the player that deputised for Bainesy.
Whether it was the injury or demotivation, I don't know... but he lacked awareness and his concentration was poor.
It does bring home, though, that we shouldn't get too excited by youth players until they consistently show they should be at the top table.
Dave Abrahams
61
Posted 07/03/2019 at 16:32:17
Jay (60), you could be right about demotivation regarding Brendan Galloway, it is quite possible he has been on decent wages since signing his first contract with Everton, say at a conservative £10,000 per week. That's £2½ million at the end of this season – not bad for a 23-year-old and another year to run on his contract after this.
His career will not be over then and the likelihood of another contract somewhere else. There's much to be said for the argument that players get too much too soon in this day and age.
Kevin Prytherch
62
Posted 07/03/2019 at 18:23:34
Steve – I think we'll have to agree to disagree.
The first team play with wingers and Sigurdsson as a very advanced midfielder (number 10). The reserves play with attacking wide midfielders and a second striker (think Cantona or Sheringham role).
The two midfielders are more defensive so it's not a traditional 4-4-2 with the 3 banks, I don't think it's similar to the first team though as the main striker gets far more support than the first teams, and the wide players offer a lot more defensive support. The latter probably contributes to the brilliant defensive record when compared with some of the vulnerabilities of the first team.
Personally I don't like the Number 10 role that Sigurdsson plays and I don't think there's many truly successful teams who utilise it. I prefer a second withdrawn striker.
Dave Abrahams
63
Posted 07/03/2019 at 21:01:01
Michael Kenrick, earlier in this thread we were talking about the lack of game time James McCarthy has had this season and yet he is in the Eire provisional squad, along with Seamus, for the forthcoming European games...
Maybe he'll get a game there? I hope James and Everton are okay with this.
Jay Harris
64
Posted 07/03/2019 at 21:10:06
Totally agree with you Dave,
I was on Tranmere's books at 17 earning £7 a week in 1968 till a drunk driver put paid to that but I was over the moon and just loved playing football.
To think 18-year-olds are earning £30k a week just for being part of a club squad just beggars belief.
Sky have got a lot to answer for.
Steve Ferns
65
Posted 07/03/2019 at 21:42:19
That's fine, Kevin, but I would suggest you re-watch the games prior to the last two, particularly the two before where we used a 3-4-3. Unsy has mixed it up this season.
Paul Birmingham
66
Posted 07/03/2019 at 22:43:40
On a separate note, let's hope that there's no adverse impact on City, as they're being grilled on the FFP rule.
I don't want to consider the impact and them, being beneficiaries.
That would take the biscuit.
Mick Davies
67
Posted 08/03/2019 at 16:12:53
"as David Unsworth's side looked to press home their superiority in front of 4,000 seething kopites "
The attendance was 4,362. So there were hardly any Evertonians there then? I find that hard to believe
Michael Kenrick
68
Posted 08/03/2019 at 20:59:36
A couple of hundred is all, apparently, Mick: "Officially 200 Everton fans among the crowd." — That's from
Phil Kirkbride at 20:12 on the Echo's As it Happens feature
.
So yes, hard to believe. Or not, if you consider that is a pretty typical attendance these days for Everton's U23 games, even though they are topping the PL2 table. We really don't seem to have many fans following the junior sides.
Now quite why you have that many kopites turning up at Mordor on a wet Monday night is a whole other question. Perhaps they are all the poor locals who have been priced out of first-team games by the rice tourist fans and this is the only chance they have to see the red twats live?
Add Your Comments
In order to post a comment, you need to be logged in as a registered user of the site.
Or Sign up as a ToffeeWeb Member — it's free, takes just a few minutes and will allow you to post your comments on articles and Talking Points submissions across the site.