Everton History
Looking Forward to the Past
Lyndon Lloyd

12/03/2020
137

comments | Jump to last
Lyndon Lloyd chats with David France
In the aftermath of some of our darkest results in recent years, I've often sought the counsel of — and mutual commiseration with — Dr Everton and Sunday, following the Blues' hugely underwhelming performance at Stamford Bridge, was just such an occasion.
We chatted about the 1969-70 season when, in what feels like a stark contrast with the current team, our players performed with passion, commitment and courage. The golden anniversary of our beloved club securing its seventh League crown is almost upon us and it was nice to hear David reminisce about one of the truly great sides from our history. Yes, those were the days.
---
Q: The trophy-winning teams of the 1960s produced a slew of Goodison greats and are rightly revered, even by those of us born too late to appreciate them, but it was the 1969-70 Champions that were expected to go on to years of success that sadly never materialised. Nevertheless, was that title-winning team the best Everton side you've seen in action?
In my eyes, there are three candidates for that epithet — the Champions of 1963, 1970 and 1985. While the first of Harry Catterick's champions coupled the silk of Alex Young and Roy Vernon with the steel of Jimmy Gabriel and Tony Kay and the first of Howard Kendall's champions boasted a formidable spine of Neville Southall, Kevin Ratcliffe, Peter Reid and Graeme Sharp and repeated its success in 1987, I believe that Goodison Park had been blessed by the gods of football when Howard Kendall, Colin Harvey and Alan Ball dovetailed perfectly to become the most stylish and most dominant midfield trio ever assembled by an English club. Where they that good? Of course not, they were better.
Back in the late-Sixties, most games were decided in midfield and, thanks to the Holy Trinity, Catterick's men kicked off every game with the genuine belief that they were better equipped for battle than any of their opponents. No exceptions. Their neat and tidy interplay augmented by their rare blend of enchanting ball skills, sharp passing and movement, crisp tackling, adroit positioning, superior stamina, never-say-die enthusiasm … you get the gist … elevated them to the summit of the British game and into the hearts of their admirers. Yes, the 1969-70 campaign was a great time to be a Blue. Performances were breath-taking. Like most Blues on the bald side of 60, I feel privileged to have seen most of them.
But as for a three-man team? Captain Brian Labone is responsible for the tongue in cheek label. On more occasions than I can remember, he told me: 'The only three-man team to win the League title? Nonsense. They were a sensational midfield unit sandwiched between the best defence (which conceded 19 goals at home and only 15 on the road) and the most productive attack in the land.' When reminiscing about the 1969-70 season, Brian never hesitated to mention that Everton was the most exquisitely balanced – he would repeat balanced - team from goalkeeper to outside-left.
The newly crowned First Division Champions celebrating on Wednesday, 1 April 1970
Q: That magnificent trio you mentioned were so good and are worthy of such reverence that they now have a fabulous statue of their likeness outside St Luke's Church. Most fans idolised Alan Ball but who was your favourite member of the Holy Trinity?
Respected as outstanding footballers in their own rights in an era of exceptional British players, Colin Harvey was the most naturally talented of the biblical trio. Of course, I may be biased because he was my favourite. I had grown up watching him progress through the junior ranks. When the first-team was playing far away from home, I would marvel at him in Central League matches alongside Tommy Wright, John Hurst, Jimmy Husband and Gerry Humphreys. I loved his precise and intricate passing as well as the way in which he grafted to win the ball, shimmied past opponents and pierced defences with perfectly weighted passes. How good was he? Despite his lack of goals, I would say that 'The White Pele' was the finest footballer produced by the Everton nursery system until the emergence of Wayne Rooney and remains the yardstick to measure other Goodison midfielders. Nicknamed 'Snarler' by Brian Labone, he is proof that, even though some Everton fans like to eat their young, he persevered to win them over. Tom Davies should take encouragement that Colin was cruelly heckled and barracked during the early years. Quiet and reserved, the life-long Blue is a very special person and arguably the greatest living Evertonian.
Then there was Alan Ball who was a World Cup winner swaggering with self-confidence. Someone who made things happen, his indefatigable energy, turbo-charged Rolls-Royce engine, ultra-competitive nature, non-stop commitment, passionate leadership … tell me when to stop … were the answers to the vast void in Harry Catterick's plans created by Tony Kay's life-time ban. He was the superstar to build his new side around. A regular match-winner, Ball netted only 10 times that season but demanded improvements in the efforts of his team-mates irrespective of his own form. Unfortunately, his words upset many of them and not all were sad to see him move to Arsenal. His fiery temperament got him into trouble with referees, but he possessed such a refined first-touch that he rarely got into trouble with the football. There was something else about the flame-haired, white-booted superstar - he was one of the worst losers that you are ever likely to come across on a football pitch. Alan would cry with anger after defeats. He loved Everton almost as much as he loved England.
Howard Kendall's success as a manager tends to overshadow the fact that he was a top-class footballer. Hailed as the youngest player to appear in an FA Cup final at Deepdale, he became the finest player never to be capped by England at Goodison. Mature beyond his years, the 23-year-old was noted for his football brain, expert vision and accurate long passing. Instinctively, he knew where the other two midfielders were and what they planned to do next. Then there is the small matter of him converting tackling into an art form. Always fair and never nasty, the midfielder shared Alex Parker's uncanny knack - some say genius - of sliding into tackles and coming away with the ball. Also, he possessed a rasping shot from distance. Blue to the core, Howard was a kind and generous friend who is sincerely missed.
Q: It takes a team to win trophies, particularly a League Championship, and there were plenty of the players from the 1969-70 side inducted into the Gwladys Street Hall of Fame. What are your memories of the other members of the small first-team squad?
The 17-man squad was special because it was composed of a bunch of home-grown youngsters augmented by the experience of previous champions such as Brian Labone, Johnny Morrissey and Gordon West, and enhanced by big-money signings such as Alan Ball, Howard Kendall and Keith Newton. Back then, there was very little squeezing of square pegs into round holes. Because the Central League side mirrored the first-team, youngsters were promoted seamlessly into the senior line-up. The Everton manager at that time was not shy to give youth a chance. Perhaps, that's something we can learn from the past?
While this the special chemistry of youth and experience could have been a product of good planning by the Goodison hierarchy, I believe that once in a generation the gods of football provide the ideal formula for the beautiful game and, in the late-Sixties, they chose Goodison Park for their divine intervention.
Because many young and international ToffeeWebbers may not be familiar with all squad members, here are my pen-pictures. Remember they are from the top of the head of someone who is recovering from a stroke:
Gordon West: At his best, which was often, Gordon's courage, positioning and reflexes approached those of Neville Southall. However the most expensive keeper in the world back in 1962 became increasingly prone to matchday nerves and unforced errors. As a result, his form fluctuated until he lost his place in September 1970. Of course, as most Blues know, he was a wonderful character with a wicked sense of humour and the crowned head of the dressing room. He liked to brag to me that he was 'the only FA Cup winner never to kick a ball in a Wembley final' and could throw it 50 yards are more with great precision. 'Gorgeous Gordon' played in all 42 League games that season and I think my dear friend recalled every one of them to me in no little detail.
Tommy Wright: Alan Ball often told me that the one weakness of the 1969-70 side was that the defenders were too soft. In his words: 'We lacked bite.' Clearly, he had forgotten about Tommy. A life-long and devoted Evertonian, the England right-back was a warrior who could sprint like Gary Stevens and tackle like Alex Parker or, if required, like Tony Kay. Check out YouTube; Tommy was Man of the Match when England clashed with Brazil in the 1970 World Cup. Proudly, he was an ever-present that season for his one and only club. How good was he? Well, George Best told me that the right-back's speed of recovery made Tommy his most difficult opponent.
Sandy Brown: Even though his legacy and our folklore is tainted by memories of his immaculately headed own-goal against Liverpool that season, our only home defeat, the somewhat ungainly Scotsman was a natural athlete and a versatile and rugged left-back. In the late-Sixties, my old pal Neville Smith – writer of the Golden Vision television drama – asked Bill Shankly which player he would like in his team. His response: 'Sandy Brown – he's wasted at Everton.' Clearly, the Liverpool boss was impressed by the thunderbolts from his left-foot and knock-blows from left-fist. Remember the words of the Boys Pen? 'What's the things we love the most – Sandy Brown and beans on toast!'
Keith Newton: The established star was equality equipped to play both right-back and left-back for Everton and England. He was an elegant mid-season addition, but his performances were surprisingly inconsistent and failed to reflect his pedigree. In short, we didn't see the best of him. Before his premature death, I met with him in Blackburn. He complained that his time at Bellefield involved too much fitness training, especially running, and not enough ball work.
Frank Darcy: The big 22-year-old was a reliable and versatile defender in an era of one substitute per game to replace an injured team-mate. Everton made only a dozen substitutions throughout the season and the no-nonsense Scouser was used on five occasions to manage games – when a team-mate was 'injured' - to their fruitful conclusion. Cruelly, his subsequent career at Tranmere was truncated by his own injuries and he made only a handful of appearances before retiring. Since then, he has been a match-going Blue and a great spinner of royal blue yarns.
Tommy Jackson: At age 23, he was a tireless grafter who should be mentioned in every conversation about the Holy Trinity. Though not blessed with the skills of Kendall, Harvey or Ball, his contributions were significant. Previously a part-timer at Glentoran, Tommy stepped up to deputize for Howard Kendall during the first six games of the season and then for Colin Harvey in eight games in mid-season. Of course, it's part of our folklore that his bruising interactions with Alan Ball during training sessions, and especially the 1970 Public Practice match, resulted in cancellation of that traditional Blues versus Ambers fixture. To spend an hour in conversion with the eloquent Ulsterman is one of the joys of football.
Brian Labone: My old pal was something that our beloved club has missed in recent years – a well-respected skipper. A magnificent pivot – who rarely ventured forward; he was commanding in the air, astute at reading the game, and expert at timing tackles. Also, he was admired throughout the game for his Corinthian sportsmanship. A characteristic that didn't please at least one of his team-mates, namely Alan Ball. Brian was no pal of his England comrade who referred to him as 'Mr Softy'. Unfortunately, the life-long Blue was injured at Turf Moor – in a collision with Gordon West – and missed the final eight games of the run-in. Perhaps, my words are biased. Brian was a wonderful friend and I like to think of him as the club's ambassador in heaven. Matchdays aren't quite the same without him.
John Hurst: At age 22, he was another ever-present and unsung hero of the 1969-70 season and many more. John was a gifted and unruffled footballer and a top-class central defender who was the ideal partner for Brian Labone. Many claim that Howard Kendall was the best player not to be capped by England, but I concur with Brian that John deserves that title. He was so consistent. If he ever had an average game, then I don't remember it. Also, John contributed five important goals that season.
Roger Kenyon: Nicknamed 'The Assassin' by his team-mates, the 20-year-old centre-half was an almost seamless replacement for Brian Labone. Fast, courageous and granite-like hard, he excelled during the run-in. For those unfamiliar with his story, Roger is lucky to be alive. He was involved in a car crash. With his face and throat filled with glass, the future Everton captain was initially pronounced dead at the scene.
Jimmy Husband: A 22-year-old product of Catterick's youth development initiatives. Even though 'Skippy' disputes that his confidence was impacted by a vicious foul by Dave Mackay in late-1968, subsequently he was no longer the fearless and unorthodox forward wandering across the pitch into open spaces and terrifying his markers. At his best, he was an unplayable forward who would set off on mazy dribbles during which no-one knew what he was going to do next – including Jimmy. He loves to joke that he wasn't the most skillful winger but was fast enough to catch up with the ball. Anyone who has met him will confirm that he is a lovely modest man. Surprisingly, he netted only 6 League goals, compared with his tally of 19 goals in the previous season.
Alan Whittle: At age 19, Alan was heralded by the media as the next Denis Law, and by his manager as 'the greatest Everton discovery of all-time'. Boasting immense confidence, Alan enjoyed a sensational spell during the run-in when he replaced Jimmy Husband and notched one goal per game – most of them match-winners. A genuine character, he has never been reluctant to proclaim that his goals secured the title. Nowadays, you don't see him it at Goodison on matchdays. I miss his company, knowledge and riveting tales.
Joe Royle: Acclaimed as an FA Cup winning manager, I fondly remember 'Big Joe' as a formidable spearhead. At 6 ft 1 in, he was dominant in the air, deceptively skillful on the floor, and a tremendous marksman with a keen eye for goal and a powerful shot. Incredibly, he was still only 20 when he netted 18 times and five penalties in his 42 League appearances during the 1969-70 season. Something of a gentle giant, Tony Kay admits that the manager required him to kick the raw novice in training to anger him and toughen him up. Clearly, it worked; Joe became the club's top scorer for five seasons. Another true gentleman with royal blue blood and a tremendous sense of humour.
Gerry Humphreys: At age 23, the Welsh left-winger played one game that campaign as a deputy for Johnny Morrissey. It was his final first-team appearance before his transfer to Crystal Palace that summer. A direct and pacey striker, the previous season he had scored a memorable goal against Leicester City. I can picture Peter Shilton throwing the ball some 50 yards to Gerry's feet who, without any hesitation, smashed it back past him.
John Morrissey: Often Catterick's 4-3-3 system reverted to 4-4-2 with Johnny as the fourth midfielder and release valve when his defenders where under pressure. Brian Labone claimed that Johnny needed his muscle-man physique to carry his tons of skills. While respected for his ability to look after himself and his team-mates, he possessed sublime ball control and ability to outwit defenders at will. The wing wizard netted nine times that season and remains one of my all-time favourites. People forget his contributions to the club capturing the 1963 title.
As the founder of the Everton Former-Players' Foundation back in 1999, I was fortunate to interact face-to-face with my heroes – except Johnny Morrissey, who ironically was living in the USA at the time. The vast majority were modest. All were blue to the core. Since then, I've been saddened by the premature deaths of Keith Newton at age 56, Alan Ball at 62, Brian Labone at 66, Gordon West at 69, and Howard Kendall at 69. They were great losses to the fabric of our beloved club. Today only nine members of the squad remain, and I trust that the club will celebrate their deeds and title-winning accomplishments in front of a full-house at Goodison in April 2020.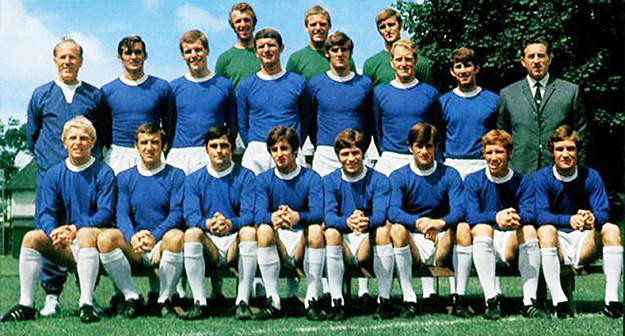 Barnett, West, Rankin
Dixon (coach), Hurst, Royle, Labone, Kenyon, Brown, Kendall, Catterick (manager)
Whittle, Morrissey, Humphreys, Husband, Jackson, Wright, Ball, Harvey
Q: Even 50 years on, there must be many memories and matches that have stuck with you. Are there any that particularly stand out from that season?
There are times when the penny drops that you are watching an exceptional side. During my 63 years attending Goodison Park, only three occasions come readily to mind. First is the sight of Alex Young out-jumping the defence of our closest rivals at Goodison in 1963. We were so superior that day that we should have battered Tottenham by 6-0. Like many Blues, I was convinced that, with five games to go, we would win the title. Next is Andy Gray's spectacular flying header into the same Gwladys Street net against Sunderland in 1985 when we recovered from a goal down to score some truly exquisite goals. With 10 League games remaining, we won the next five and captured the title against QPR at Goodison. Finally, there is the 5-2 destruction of Chelsea in 1970. The much-hyped title-decider was a memorable afternoon. I recall that Howard Kendall netted at the Park End before a visitor had even touched the ball. In fact, the darlings of the London media didn't show up for the first hour during which we went 5-0 up. That day, I refused to count my chickens, but knew that we were a truly exceptional side destined for glory.
Compressed by the requirements of the impending World Cup in Mexico, our fixture schedule was so congested that we seemed to cheer a triumph every other day. In fact, Everton notched seven victories in 25 days during the sprint to the finish line. My favourite memory is the match at the Victoria Ground just 48 hours later, on Easter Monday. My father and I joined 20,000 other Blues on the terraces to witness a tense affair until Alan Whittle netted the only goal. I can picture the post-match hullabaloo and, most of all, the drive home. We hadn't travelled far before my father stopped to help some fans who, in his eyes, were too young to be hitch-hiking. As a result, four youngsters squeezed into the back of the Ford Cortina and two others crammed next to me on the front bench-seat. We hadn't gone 100 yards before the driver complained that he was unable to access the gear shift. Sacrifice was required. Rather than ditch one or two Blues by the roadside like unwanted puppies, the smallest youth volunteered to join the spare tyre in the boot. With his limbs drawn up to his torso, he resembled an East German contortionist heading towards Checkpoint Charlie.
No-one heard him complaining. In truth, it would have been impossible to have done so above the merrymaking. The sight of the Ford Cortina decorated with scarves prompted other vehicles to sound their horns. The honking was drowned by the singing. We spent most of the journey belting out: 'Bless them all, bless them all, the long and the short and the tall. Bless wee Bally and Big Joe too, bless all the boys who are wearing royal blue.' The verses were repeated until we had covered every member of the first-team squad, including Frank Darcy and Gerry Humphreys. As we approached Merseyside, this cacophony was augmented by fist-pumping pedestrians. Together, we screamed our undying love for Everton. At first, we sang: 'And now you've gotta believe us ... we're gonna win the League'. Through the streets of Wavertree, the youngsters on the rear-seat mimicked the taunts of Muhammad Ali to Ernie Turrel, the heavyweight title-challenger who insisted on calling him Cassius Clay in 1967. The Cortina reverberated with cries of 'What's-our-name? … Ev-er-ton!'. As for the contortionist? He was released from solitary confinement outside St Anthony's Church on Scotland Road. The youngster, still in a fetal position, appeared slightly disoriented by his experience. Upon closer inspection, he displayed the signs of euphoria rather than those associated with oxygen starvation.
Of course, we secured the League title two days later. This time, I joined both my father and mother at Goodison Park - a building site where the partially-built Top Balcony, a massive physical structure and an even bigger sign of the club's ambitions, dwarfed the remnants of the old Archibald Leitch stand. I doubt that anyone there has forgotten the joy of arguably our finest-ever team being crowned Champions. There was no stopping Catterick's men against West Brom. After Alan Whittle netted his mandatory goal, my father wrapped me in the type of hug that a Kodiak bear would admire. After Colin Harvey scored an absolute cracker, my mother jumped up and down like the winner on an American game show. At the final whistle, the three of us were near to tears, bewildered by the enormity of the accomplishment and the knowledge that Catterick's young side was on the verge of a football dynasty. We felt blessed to be Blues.
Q: Most Blues know of your sterling efforts in establishing the Everton Former Players' Foundation, with the aim of helping some of the very players we've discussed here. I've always admired your vision and efforts to bring Evertonians together, not least with the famous Hall of Fame Dinners. Tell me about the 2001 reunion.
The trustees of the Former-Players' Foundation organized the first official reunion of the 1969-70 Championship-winning side in 2001. It was a special event for two players. Sandy Brown had been extremely ill and needed a couple of walking sticks to get around. I had visited his home in Blackpool and promised to arrange for him to 'tread the bonnie turf one last time.' When he arrived at Goodison for the pre-match lunch, I observed that he didn't have a warm coat. To redress the situation, I popped down to the Megastore and acquired a dozen or so Puma overcoats, identical to that worn by Walter Smith in the dugout, to make sure that the former-players looked like a team and that no-one appeared out of place. As expected, the Scottish defender received a hero's welcome as he hobbled onto the pitch. By the time Sandy joined his team-mates in the centre-circle, he had tears streaming down his face. He wasn't alone.
Sandy was followed by Brian Labone. You may recall that the captain had been injured towards the end of the season and Alan Ball had been presented with the silverware in his absence after the West Brom triumph. More than anything, I wanted Brian to stride onto the Goodison pitch holding the famous trophy high above his head. It's an iconic piece of silverware. I know because I ogled it throughout the pre-match meal. I was entranced by the intricate relief work of its Victorian silversmiths. Everton was the first club to be awarded the trophy and I searched through the inscriptions to show our name to Brian. He retorted: 'It's something that I hope we never win again.'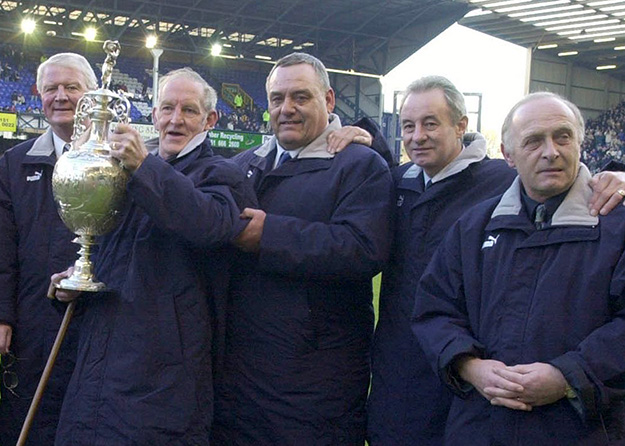 The reunion of Labone, Brown, West, Husband, Whittle at Goodison in 2001
Q: As I mentioned earlier, at the time, that wonderful 1969-70 side seemed poised for the kind of footballing dynasty that the rabble across the Park ended up enjoying during the 1970s, a decade that ended up being disappointingly barren for the Blue half of the City. Where did it go wrong, do you think?
While the finest footballing team in the land rarely received the plaudits outside of the North-West, I was convinced that such a young and cultured squad – with eight members aged 23 and younger - would get better, sweep away everything in front of it, and compete for the domestic and European honours for six seasons or more. Oddly, despite finishing 9 points ahead of second-place Leeds United (equivalent to 13 points in today's three points-for-a-win system), we failed to convert our 1970 success into a royal blue dynasty. To this day, I've struggled to come to terms with the decline and eventual demise.
The reigning Champions earned just three points from the first six games of the 1970-71 season and slumped to the foot of the table. Some blamed World Cup fatigue - Brian Labone, Alan Ball, Tommy Wright and Keith Newton having represented England in Mexico. Others claimed that our high-tempo tactics accelerated the wear and tear to key men. Alan Ball struggled with a pelvic problem which prevented him from getting up and down the pitch as often as he would've liked, Colin Harvey was troubled by a hip complaint as well as inflammation of an optic nerve, and Brian Labone suffered from Achilles tendonitis.
Not surprisingly, there has been much speculation. Was it Harry Catterick's failing health, the manager's disciplinarian style, the departure of head coach Wilf Dixon, Alan Ball's frustration and incessant moaning, the imminent retirement of ageing key men, the lack of quality acquisitions? Had we beaten Panathinaikos in the European Cup quarter-final on that ill-fated Wednesday in late-March 1970 and Liverpool in the FA Cup semi-final on the following Saturday, who knows what we might have achieved? Perhaps that's something for ToffeeWebbers to debate.
---
The longer our current trophy drought — now the longest in Everton's history — drags on, the greater the feeling among some fans that we, as a fanbase, need to stop clinging so much to our history. I can't say that I share the notion that it is somehow holding us back from achieving the success that has been denied us for so long; for me, the financial realities and the mis-managed recruitment of recent years are more to blame.
Everton FC has a history that few clubs can rival and, in my view, its past achievements can serve as an example and an inspiration to the current and future teams. If and when we move into our new home on the banks of the royal blue Mersey and we have a museum showcasing the times when the Toffees truly were the best in the land, this rich history will be the link between our storied past and a promising new future.
We shouldn't be afraid to deify these heroes of the past and I love to hear David's stories from watching some of Goodison's greatest in action. Their feats and accomplishments on the field form the metaphorical pillars of the club we now follow. Will we ever reach those heights again? If so, I look forward to the arrival of the likes of Alan Ball, Colin Harvey, Howard Kendall, Joe Royle, Brian Labone and Sandy Brown. Of course, I wonder if they would sign for the Everton of today?
In the words of Welsh chart-topper, Mary Hopkin, from the late-Sixties …
Those were the days my friend
We thought they'd never end
We'd sing and dance forever and a day
We'd live the life we choose
We'd fight and never lose
For we were young and sure to have our way
La la la la
Those were the days, oh yes those were the days
To read more about this remarkable season, please check out 'Gwladys Street's Holy Trinity – Kendall, Harvey & Ball' by David France & Becky Tallentire published in 2000 by Skript Publishing (ISBN 1 874799 14 8). The collection of memories and anecdotes from players, friends and fans forms a remarkable work of adulation and provides testimony to the finest midfield trio Goodison Park has ever seen.

Follow @EFCLyndon
Share article:
Reader Comments (137)
Note: the following content is not moderated or vetted by the site owners at the time of submission. Comments are the responsibility of the poster. Disclaimer
Peter Mills
1
Posted 12/03/2020 at 06:32:47
I know that some supporters say that we hark back too much to these good old days. However, as one of those on the bald side of 60, I make no excuse for often dwelling on them. They really were that good.
The problem lies when you hear the memories expressed by Dr David France, because you know you can never express your own experiences of the time as well as he can. That is then compounded by a wordsmith like Lyndon Lloyd providing the backing vocals.
Reading this article brought back so many joyous occasions. One element worth bringing up is how that 69-70 season culminated so wonderfully for us. When you are heading for a Title, there is a constant mental calculation going on - not only "Can we win it?", but "Where and when will we win it?". This was a troubling season, in that sense.
Leeds United were a horrible but tremendous team. Despite our great form, we could not shake them off, I think up to Easter 1970 they were undefeated in the calendar year. There was no reason to believe that would change, so it looked very much like we would have to win the League during the last couple of games, away at Sheffield Wednesday or Sunderland. Somewhat underwhelming.
Imagine the tension at Goodison on Easter Saturday post-match after we had annihilated Chelsea 5-2, then the roar that went up as the match-day announcer told us that Leeds had lost at home.
So, thousands of us to Stoke on the Monday afternoon. A scratchy 1-0 win, then ecstatic incredulity as word came through that Leeds had lost again, 4-1 this time.
So, it was not going to be Hillsborough or Roker Park. The Title was there for the clinching two days later, at home.
In the years that have passed since then, our misfortunes have become greeted with a muttering of "Everton, that". This was a season when the footballing gods conspired to perfection.
"Send our team to Mexico, hallelujah". Could 11 English Evertonians have won the World Cup? It would have been some final against Brazil.
Very best wishes to Dr and Lady France.
Derek Knox
2
Posted 12/03/2020 at 07:02:30
I agree, Peter, as we were privileged to see the teams of the '60s, '70s and '80s in the flesh as it were. What we have had served up more recently doesn't even come near in comparison.
Yet we are seeing 'investments in players' which is on a scale we could never have imagined back then, but have we improved? Hopefully with our new Manager those times may be round the corner again.
Thanks Lyndon for a very interesting and informative article with Dr (Everton) France, whom I wish all the best for the future to him and his wife, long may they continue, to support our once great Club.
Derek Thomas
3
Posted 12/03/2020 at 07:33:15
Those were indeed the days. It was an honour and a privilege to stand and watch true giants make the impressive look easy.
If I were given one free trip in the TARDIS, (it wouldn't even have to be a return, I'd swat up on some key racing results). I'd go back to 1960, watch Carey lay the foundations, chip in for his taxi, then sit back and watch it all unfold.
As to why it all fell apart so quickly, well the good doctor listed many reasons - all of the above and the rs devil's pact is all I can say.
I see your Mary Hopkin on the success, Dr David and raise you a Don McLean on the collapse.
I met a girl who sang the blues
And I asked her for some happy news
But she just smiled and turned away
I went down to the sacred store
Where I'd heard the music years before
But the man there said the music wouldn't play
And in the streets the children screamed
The lovers cried, and the poets dreamed
But not a word was spoken
The church bells all were broken
And the three men I admire most
The Father, Son, and the Holy Ghost
They caught the last train for the coast
The day the music died

Chris Williams
4
Posted 12/03/2020 at 07:51:48
Great article Lyndon, thanks.
Derek, the American Pie reference is very appropriate, sadly.
There were two excellent books published last year about this period, and I strongly recommend them both.
Blue Dragon by Rob Sawyer and David France all about Roy Vernon, and
Money Can't Buy Us Love by Gavin Buckland, covering the Mersey Millionaire through the 60s and into the 70s.
Well researched with lots of contemporaneous articles and quotes.
Some surprising stuff and some reality checks as well.
Stan Schofield
5
Posted 12/03/2020 at 09:56:07
I was first taken to Goodison by my dad in 1961 when I was 7. So I am a truly blessed Evertonian, being introduced to the fantastic early 60s side, and then being privileged to see the 69-70 side at a time when I was old enough to appreciate beautiful football.
That 69-70 team is definitely the greatest Everton side I've seen. In fact it was wonderful. The way the ball was worked beautifully through midfield whilst most other British teams were booting the ball upfield, was just great. We played like Brazil.
That entire side could easily have been the England team at the 1970 World Cup. The midfield of Ball, Harvey and Kendall was stupendous, and equalled only by Brazil's great midfield of Gerson, Rivelino and Clodoaldo.
It's difficult to say anymore about that side, except that the football in the 68-69 season was probably the peak of perfection, it was a mystery why we never took the 70s by storm, and an equal mystery why we sold Alan Ball in 1971.
Dave Abrahams
6
Posted 12/03/2020 at 10:21:25
Thanks for that article David/Lyndon, I've relived all those marvellous memories from that year, what great days they were and all happy ones, the Chelsea, WBA, and especially that victory on a lovely sunny day at Stoke.It's great that David remembered Tommy Jackson, Roger Kenyon and Frank Darcy from those days.
Howard Kendall was my favourite of the midfield trio, I could talk all day about the brilliance of Howard's all round abilities, and what a quiet modest and genuine lad he was when he came from PNE, I was in a club one Thursday night after the boxing had finished at The Stadium and he came in for a couple of hours with Alan Ball, Alan was the extrovert, talking with everyone, Howard sat there nursing his small glass of lager, like a choirboy. Just listening to the conversations, a nice lad.
Sandy Brown what a character he was, although he didn't realise it half of the time, I met him in Maghull one morning with Jimmy Gabriel, he was moaning about not getting a regular game, he said to me " l'm going across the park, I know I'm wanted there" I winked at Jimmy Gabriel and said " Where to Sandy, Tranmere?" While Sandy started spluttering and getting excited, Jimmy grabbed hold of him, laughing and telling Sandy" he's winding you up" Good enough Sandy started laughing himself.
Thanks again Lyndon/David, and David, at Christmas I got plenty of gifts but the most thoughtful one I got was off you and Elizabeth, a simple but lovely Christmas card, thank you very much, that card told me you had received my letter thanking you for that DVD of Alex Young, which is still doing the rounds with fellow Evertonians.
Good luck and good health to yourself and the " Brains of the family" Elizabeth, I hope you both make it back to Everton one day, I'll get in a very long queue to say hello.
Dave Williams
7
Posted 12/03/2020 at 10:33:00
What a marvellous article! Dr France and his wife are truly great Evertonians and Lyndon has captured it all perfectly.
The big message to me is the comments about how the young lads were berated even in those days as they struggled to find their form in the first team. Harvey in particular was crucified every home game until 1967 when he suddenly developed in startling fashion into the finest wing-half I have ever seen.
Royle, regularly savaged not only by the crowd but by the demanding redhead alongside him became the best centre forward in the country and would have become even better had it not been for that terrible back injury which curtailed his Everton career.
Husband, a real favourite of mine also copped for more than his share of criticism but these lads all had the strength of character to come through despite the efforts of their home supporters – which is a shocking indictment of those responsible.
A great read Lyndon!
Martin Nicholls
8
Posted 12/03/2020 at 10:44:51
Wonderful article and similarly wonderful posts by the 5 respondents prior to this – I particularly liked Derek T's superb American Pie reference. I cannot hope to match any of your contributions so will limit mine to "unforgettable memories".
Many thanks to all of you.
Martin Nicholls
9
Posted 12/03/2020 at 10:46:11
Sorry Dave and Dave - you posted while I was busy with my one fingered typing!
Jay Wood
[BRZ]
10
Posted 12/03/2020 at 11:58:47
Yet another great TW read that puts a spring in my step and sets me up nicely for the day.
What really makes the piece for me is the good doctor's personal recall of meetings with the players he describes in his pen pictures. It both 'humanizes' Everton Giants whilst making them appear even greater and bigger at the same time.
His story of the trip back from Stoke with fellow supporters crammed in sardine-like in his dad's Ford Cortina is a belter!
How such a beautiful team had such fleeting success remains a mystery to me.
Rick Tarleton
11
Posted 12/03/2020 at 14:41:18
Very much my era. I was 16 in 1962-63, an impressionable age, I admit, but Young and Vernon remain my favourite Everton strikers, and players. Bobby Collins, Colin Harvey and Ray Wilson may have been better players, but Young and Vernon were truly iconic.
Also, Alex Parker was in 62-63 a truly great full-back. His pace and his slide-tackling were truly impressive. He would go in for a slide tackle and you'd expect the ball to end up on the cinders round the pitch, but at top speed he could wrap his foot round the ball and emerge with the ball at his feet. Such tackles could garner a roar like a piece of Young trickery.
1969-70, with that magnificent midfield, were a better team, but lacked the attacking virtuosity of the 1962-63 team. The mid-eighties team were the best team I've seen at Everton, a great unit, they knitted together perfectly, but were less individual than their predecessors, less showy.
Football was changing towards the modern style with the emphasis on pass and move and less individual moments. But when I lie awake and think of Goodison Park in the early hours, it's always 1962-63... and Young and Vernon are in their pomp.
Ajay Gopal
12
Posted 12/03/2020 at 14:53:31
Out of the entire article, which makes me both happy and sad (about our present state), this sentence really stood out:
"I believe that, once in a generation, the gods of football provide the ideal formula for the beautiful game and, in late-Sixties, they chose Goodison Park for their divine intervention."
Beautiful! Oh, to see those days for once in my lifetime!
Christy Ring
13
Posted 12/03/2020 at 15:11:49
A superb read Lyndon, and David, a real joy.
Just wondering, we know Bally, like all red heads, had a fiery temper, but do you think, because of his comments, that's why Harry sold him to Arsenal, which was a complete shock?
Ken Kneale
14
Posted 12/03/2020 at 16:16:12
A truly superb article – thank you to all concerned in the compilation, evoking the greatness and the pain when we fell apart in 1971. Pain felt all the way up to 1984 and then we were cruelly robbed again within a short time – this time, not of our own making.
We must be due another great team on the law of averages surely? I make such comment in hope but at present with little expectation.
Chris Williams
15
Posted 12/03/2020 at 16:36:19
Christy,
It seems that the relationship between the two of them had grown increasingly strained over a period of time. And Ball's approach to captaincy also alienated other team members.
Catterick had threatened to drop him several times, and his form had deteriorated gradually, probably aggravated by the physical demands his all action style of play had placed on him over a number of years. He was not as effective, nor was the team.Apparently there had been a number of screaming rows between the two of them, and confrontations between Ball and other players on the pitch.
The whole team was in decline and aging and the conveyor belt of young talent had pretty well dried up, at least compared to the early and mid sixties. Catterick himself was not as effective either, and had a track record of getting shot of his higher profile players.
Neither Catterick nor Ball was a believer in compromise, Catterick being autocratic and Ball being a perfectionist, so it happened.
Very sad.
Money Can''t Buy Us Love by Gavin Buckland examines the whole episode in a fair bit of detail.
Dave Abrahams
16
Posted 12/03/2020 at 16:42:37
Christy (13), I think in the Harry Catterick book, which I have recently read, thanks to Peter Mills, that was one of the reasons Bally was sold, having shouting matches with his team mates during training and belittling them, it's all in the book.
He loved Everton and we loved him, but things happen and life goes on, although it left plenty of Evertonians devastated when he went. I was just getting over Cliff Britton selling Davie Hickson 15 years before, when Alan was sold, so I really felt it!!!!
Kevin Molloy
17
Posted 12/03/2020 at 17:49:27
I remember when Everton were whacking everyone in the 80s, I asked my Dad as an aside who was the best player he had ever seen play for Everton. I was shocked when he said 'Howard Kendall'.
I had no idea he was such a great player.
Tony Heron
18
Posted 12/03/2020 at 18:17:23
Is my memory playing me up but wasn't Alan Whittle part of that team (1969-70), and didn't he score in all of the last 6 or 7 games?
Jack Convery
19
Posted 12/03/2020 at 18:30:31
1963 and 1970 were my father's Everton teams – for me, it's 1985. Having started going to Goodison in 1972, I missed the Holy Trinty.
To this day, my father says Young was his all-time favourite, though I personally would have loved to have seen Alan Ball in a blue jersey. I did see him play at Goodison but it was for Arsenal and Southampton.
Ball said in his book, Shankly phoned him when he left for Arsenal and wished him all the best, he was that thankful he had left Everton. He said he had felt a thorn being removed from his side! Some compliment!
I love these trips down memory lane and reading the memories and views of stalwart Evertonians. Let's hope we are not too far away from Everton helping us all to make new great memories, which we can all cherish. Starting Monday night of course. Knocked out of Europe and beaten in the derby the following match – now where have I heard that before.
John McFarlane Snr
20
Posted 12/03/2020 at 19:30:03
Hi Lyndon, an excellent article. I'm sure that you will be well aware that I revel in nostalgia, I sympathise with the fans who were not old enough to remember those days of success and glory... some were not even born. I am fortunate to have witnessed four Championship-winning sides, the first being the 1963 triumph, but prior to that, I hung on every word that my granddad and uncles told me, when they described the talents of Dixie Dean, Warney Cresswell, Alec Troup etc. My granddad went further back, extolling the virtues of the Balmer brothers, Robert and Walter, Jack Sharp, Bill Scott etc.
But back to the 1960-70 period, when we were at our peak, it was a joy to go to Goodison. The first hint of what the future promised came just after I was demobbed from the army in 1959, and John Moores became involved, providing an interest-free loan, which led to the purchase of Tommy Ring, Roy Vernon, Mickey Lill, and Jimmy Gabriel. These players, along with Bobby Collins, were the building blocks that enabled Harry Catterick to assemble a title-winning side.
The 1969-70 team were probably a stronger side, but the 1960-63 sides with Albert Dunlop, Alex Young, Roy Vernon, Alex Parker etc gave fans of my age the first glimpse of football the way it should be played, and while I appreciate that it's nigh on impossible to separate the influence that Bobby Collins and Alan Ball had, my money is on Bobby Collins.
Apologies for the rambling, if we could only turn back the hands of time, I was in my 20s and all was right in my world.
Billy Bradshaw
21
Posted 12/03/2020 at 20:46:12
A Sunday night it was when in my local social club with my mates, Our Lady Queen of Martyrs, Stonebridge Lane, L11, when I found out about Alan Ball being sold to Arsenal. It destroyed me. I cried into my ale real tears. He was my favourite at the time. I went into work on the Monday morning, all the red noses in ecstasy reading the papers.
Little did I know at the time that, a few years later, Wayne Rooney would grow up in a house right opposite the gates of the church club car park.
Dave Williams
22
Posted 12/03/2020 at 21:04:08
For me the 69-70 side was the best I have seen. Only Southall and Ratcliffe would have dislodged their opposite number from the 84-85 side, although in strictness Wilson was not in the title winning side so Pat would trump Sandy Brown or Keith Newton to make it three.
I was only seven at the time of the 62-3 win but from a somewhat hazy recollection I would seek to find room for Young, Kay and Vernon but could not drop anyone from the 69-70 side in those positions. A midfield three of Kay, Reid and Ball with Morrisey out wide would scare the crap out of any opposition but I could not drop any of the Trinity who were just too good to believe at times.
Why did Ball leave? There were rumours of course of gambling debts which he always denied. For me he was never the same player after the Mexico World Cup in 1970 and being the sort of person he was this would have frustrated him hugely and I imagine led to his fall outs with team-mates and manager. He had a long-running hip injury which no doubt hindered his perpetual motion style of play. Harvey too was struggling and Catterick for some bizarre reason tried to replace Kendall with Henry Newton who just wasn't anywhere near Howard's class.
For what it's worth my take on it is that Catterick was concerned about Balls loss of form and influence on the pitch and the rows, and saw the offer of double your money from Arsenal too good to turn down. The man marked to replace him was Mick Bernard of a Stoke City, a tough player with some ability but again nowhere near Balls class and he secured a place at right-back eventually. The quest to replace Bally only ended 13 years later when a combination of Adrian Heath and Peter Reid gave us something half close to the player we had lost.
Kendall whilst a great manager is often forgotten as the one player who kept us in the first division in 1971-72 and 1972-73. The team in those years was awful, Catterick was absent ill and Tommy Casey was caretaker and was not up to much. Some of the worst players to play for us were around at that time and Kendall was the only one worth watching as he kept us up single-handed with marvellous displays which dwarfed his contribution to the Holy Trinity.
People like David France and his wife should be cherished as there are not many around with that dedication and knowledge and articles like the one above are like gold dust. I wish a David a speedy and full recovery from his stroke and I have his most recent book open and ready to read.

Andy Crooks
23
Posted 12/03/2020 at 21:51:04
I have been holding back reading this piece until I could savour it. This, and a glass of wine, have eased away the doom and gloom that we are engulfed in.
I remember coming home from school at lunchtime and my older brother, an Arsenal fan, telling me that Bally had been sold. I knew that he was a mark but had no idea until I read this piece, just how bad it must have been. To be honest, it has tainted my memory of him, particularly what he said about Brian Labone.
Best not to know too much about your heroes, I suppose. He did nick my autograph book, though.
Great piece, Lyndon.
Christy Ring
24
Posted 12/03/2020 at 22:13:19
Chris @15 & Dave @16, Thanks for clearing everything up on Bally.
Chris Williams
25
Posted 12/03/2020 at 22:16:54
You're welcome, Christy,
Still sad though.
Mike Gaynes
26
Posted 12/03/2020 at 22:21:35
What a gift Dr France has been to Everton's history and fan base. I would venture to guess that no other club in Britain has such a knowledgeable, generous and devoted historian dedicated to preserving its memories. And Lyndon, you have captured David's recollections beautifully.
Add to that the stellar posts here by historian fans like Pete Mills, Dave Abrahams, John McFarlane and Dave Williams, and the result is solid gold. Particularly for a Blue who, unlike all of you, didn't grow up with the club and doesn't have memories of his own to cherish and share.
Thank you, gentlemen, one and all.
Paul Birmingham
27
Posted 12/03/2020 at 22:35:01
A fantastic article and it is incredible what those players achieved with hard work.
If only today's players had the guts and go of this generation.
I hope the club's shrinks replay some of the matches from these eras and show the current squad what Everton Football Club is and what it means.
One day, perhaps, the club will get back on the road to success.
Christine Foster
28
Posted 12/03/2020 at 00:03:22
Fabulous article, beautiful memories, and it brought more than a few smiles when reading. To all those who say we dwell too much on the past, I would say this:
When you have experienced perfection, it forever raises your expectations; when you experience sublime skill, it forever caresses your soul; when you experience Goodison savouring all three, you have touched heaven.
Some say we are too critical, but we are lucky to have etched into our hearts those memories to comfort us in the darker days, but it will come good again.
On a side point, I remember vividly the tackle on Jimmy Husband by Dave Mackay, I think I was about 10 yards away... it was the first time in my life I had ever seen red mist.. it was that bad. He cut him in half and it was so deliberate... to this day I have never forgiven him..
Andy Crooks
29
Posted 13/03/2020 at 00:16:35
Christine, it galls me to hear Dave Mackay lauded as a proper pro and hard man. He was a sack of shite.
Don Alexander
30
Posted 13/03/2020 at 00:31:02
Great read, and thanks to Dr Everton and "Nurse" Lloyd!
I was at that 5-2 demolition of Chelsea as a 15-year-old. I remember a Chelsea corner where Osgood, their best player, was stood next to Roger Kenyon who was replacing Labby. The amount of damage Kenyon slyly inflicted on Osgood's shins before the corner came in was awesome.
A few years later, I met Mick McGuire of Norwich City. He was another Blackpool lad (like Kenyon and John Hurst) who'd played against Norman Hunter, Tommy Smith, Chopper Harris and the rest of the hard men. I asked him who was the hardest of the three. He immediately said none of them came close to Roger Kenyon!
Dark arts or not, our current luvvies could do with two or three such folk at comfy Finch Farm, as far as I'm concerned.

Jay Harris
31
Posted 13/03/2020 at 02:03:19
Lyndon and Dr Everton, what a great contribution.
Nostalgia is a great thing and "If you know yer history".
I have great memories and favourites from every generation.
Roy Vernon was my '60s favourite (Sorry, Bally and the Golden Vision) although it could have been Tony Kay if he hadn't been banned from Football.
My '70s and all-time favourite player was Howard Kendall who had everything in his locker. Brilliant tackle and would come away with the ball, could pass long and short, scored goals and had a great engine.
My '80s favourite was Neville Southall, undoubtedly the greatest goalkeeper in the world for a few years and, but for being Welsh, would have had far more recognition.
My '90s favourite was none of them, they were all shite... although Kanchelskis did illuminate a few games.
Since then some have promised but never reached the heights of their predecessors.
Let's hope the new messiah isn't far away.
Laurie Hartley
32
Posted 13/03/2020 at 08:16:48
Don # 30 - you are so right about our current crop.
I was also brought up on the teams of the sixties. If I could pick three players from that era to inject into our current squad it would be Tony Kay, John Morrisey, Roy Vernon.
Imagine having them walk into our dressing room for the next weeks derby game. We won't get back to the top until we get such characters playing for us.
John Cook
33
Posted 13/03/2020 at 08:29:30
Andy @ 29. Agree with you about Mackay, the description 'yard dog' was invented just for him. I seem to remember him jumping in two-footed at Jimmy Husband down near a corner flag at the Park End. Jimmy was never the same player after that.
Dave Williams
34
Posted 13/03/2020 at 08:55:50
Don #30 – great story. I remember that game very well. Howard put us ahead after 14 seconds whilst I was just about to sit down in my seat and we were three up inside 10 minutes.
A story appeared in a paper covering the game where Osgood (who was not averse to putting it about a bit himself) said that, in the tunnel before the game, an Everton player advised him to steer well clear of him during the game if he wanted to be fit enough to get on the plane for Mexico in the summer. I ran through the team that day and couldn't figure out who might have said this but, from your post, I think Roger would be a good guess.
In my opinion, one of the best centre-backs ever to play for us. For two seasons, he was the best in the country and way better than McFarland and Watson, who were first- and second-choice for England.
I still recall a home game when a ball was floated down the middle of our defence and Roger made up a couple of yards and lunged forward to hook the ball out of the air away from the chasing striker ahead of him and calmly had the ball caught on his foot under control.
He was fast, strong, skilful and great in the air. It was such a shame he became so injury-prone – a great player.
.
Jim Wilson
35
Posted 13/03/2020 at 11:19:39
In my biased but honest opinion, this was the last proper football team to win the league. The team was full of pure footballers and decent people, with impeccable characters like Labone, Wright, Harvey, Husband, Royle, Kendall and Hurst.
There were unsung heroes Brown, Jackson, Kenyon, Newton, with the brilliant Whittle, and characters like Ball, Morrissey and West made the team special.

The dirty tricks teams Arsenal, Liverpool and Leeds then took over the game and it was never the same again.
We had a great spell in the '80s but the game was completely ruined by Heysel and then money coming into the game in an obscene way courtesy of Man Utd & Sky. It is now a shell of what it used to be and is also now a corrupt sport.
Alasdair Jones
36
Posted 13/03/2020 at 14:30:55
What a fantastic article. like so many who regularly contribute to the site it is this kind of posting that brings me back time and again to ToffeeWeb. It also makes it the stand-out forum, in my opinion.
In July 1969, I had to decamp from my part-time bases at home on the Wirral or in Coventry at the Poly (later Coventry University). My course in Urban Planning was spread over five years, Year 4 of which was 1969-70 and was designated as a year out in employment.
For me, that was with Worcestershire County Council and so, over the ensuing 12 months and that glorious season of football, I lived in Great Malvern. Watching the Blues became a challenge. Weekends at home were limited by the permissible number of days leave.
However, I did manage to see a fair number of games, mostly around the Midlands, in London, and at Christmas and Easter whilst on the Wirral. Coincidentally, that meant I saw many of those matches recalled by David France.
The stand-out games for me were the slaughter of Chelsea at Goodison, 5-2; two hard-fought home games against Derby Couunty and Manchester City, both 1-0 wins; and the 3-2 win away at Wolves.
I also witnessed our less than stellar performances against Liverpool at home and West Brom away.
Much has been written about the team's decline following that Championship season. I went to the opening game of the following season, the Charity Shield encounter with Chelsea at Stamford Bridge. All seemed well; the shield was won 2-1and a strong season was forecast by the press.
The next game was Arsenal at home. We scraped a 2-2 draw, after which, I felt that the spirit of the team was beginning to unravel. And so it proved. The four players who participated in the 1970 World Cup will have been affected by the heat and off-pitch difficulties experienced by the England squad in Mexico.
As others have also pointed out, Harry Catterick's managerial style was becoming yesterday's approach. He couldn't deal with the impact of niggling injuries on players; Ball's temperament and hip problem; Colin Harvey's eyesight; Brian Labone's slower pace. His own health was not good culminating in his absence from the semi-final match vs Liverpool. Indeed, in my view, that was the turning point. As they say now, the ageing squad was being exposed. There were no useful replacements, either by transfer or from the Youth set up.
Just one final aside. I am not sure if it was only the northern press that appreciated what a good side Everton were in securing that Championship. I distinctly remember the distinguished Brian Glanville, Chief Football Correspondent of The Times, saying on BBC Radio after the Stoke game, that he felt he was witnessing the birth of a new force in European football. A side that could only get better and likely to secure more trophies at home and in Europe. Ah, well... they don't always get it right.
Rick Tarleton
37
Posted 13/03/2020 at 14:39:22
The 62-63 team was the last team to win the Football League playing with a back three. Parker, Labone and Meagan. The next season, Liverpool won with Smith as a fourth defender and the pattern was set.
This set-up meant we had four permanent attackers, two wide men: Scott, Young, Vernon and usually Morrissey. It was an exciting format and placed a premium on individuality in a way that has essentially disappeared from the modern game.
By 69-70 we had a fourth defender in Hurst and Morrissey had evolved into essentially a wide midfielder, supporting, the Holy Trinity in a flexible system, either 4-3-3 or 4-4-2. In fact, the set-up could probably be used by modern teams, whereas 62-63 were the last of the old style.
By the mid-eighties, our midfield was rock solid, Reid and Bracewell were anchors, Steven was both a winger and a midfielder and Sheedy was the skilful long passer and dead-ball specialist – a version of Sigurdsson, but with an engine and a belief.
As I said earlier, 62-63 were "my team"; 69-70 had a great midfield but, as a team, that mid-eighties team were excellent.
Dave Abrahams
38
Posted 13/03/2020 at 14:46:38
I've got no arguments over any of the players from the title-winning teams of the sixties, seventies or eighties but one player, who I know is appreciated by many fans, is never picked out on his own and was not welcomed by some: Dennis Stevens.
Dennis was here, there and everywhere for the Blues, a wonderful team player and team-mate as well as being a genuine man. When I went to watch Everton in 1962-63, my favourite team out of the three, I never worried if any of the "star" players were not playing, as long as Kay, Morrissey and Dennis Stevens were in the line-up.
By the way, my favourite and best player never played for any of the title-winning teams: Bobby Collins.
Dennis Stevens
39
Posted 13/03/2020 at 15:15:40
A bit before my time, Dave, as I was only 1 when we won the Title in '63. However, what a great name for a footballer, and the spelling of both names correct as well!
Chris Williams
40
Posted 13/03/2020 at 15:20:22
Dave,
I agree with your comments about Dennis Stevens. In that championship-winning team, Young and Vernon get all the plaudits, but recalling that marathon second half of the season after the big freeze, it was pretty relentless 2 games a week. Like Christmas but going on for weeks.
It was Stevens, Gabriel, Kay and Morrissey who pushed and dragged us through that attritional period, even when 'the big 2' had spells of firing blanks, while trying to shake the rust off.
Tony Kay is in my personal top four. It was that spell that put him there, I guess.
Collins was sold too early but, if he'd stayed, we might never have signed Dennis Stevens.
Jay Harris
41
Posted 13/03/2020 at 15:25:55
Dave, my overriding memory of Dennis Stevens was he just couldn't score. I remember a few times he would scoop them over the bar from a yard out but OMG what an engine. He was all over the pitch doing the graft for the "silkier" players.
Dave Abrahams
42
Posted 13/03/2020 at 16:02:30
Dennis (39), is that your real name? Any relation?
About Dennis being a genuine man, in that 1962-63 season, four lads I know went to Barnsley for the FA Cup tie, they jibbed it on the train going there and, coming out of the match, made their way to the players' entrance and waited for the players to come out.
They knew some of the players in the team, explained they had no transport home, and were told to get on the coach, they would be okay. Eventually, the coach stopped at a hotel and the players made their way off.
Dennis Stevens asked them if they were going in with them? They explained they were skint. Dennis said "I never asked you how much you had, I asked you if you were going in." And he did the honours when they went in. As I said, a genuine man.
Chris Williams
43
Posted 13/03/2020 at 16:31:55
Jay,
He missed a sitter on his Goodison debut, from about 8 yards out, and that didn't help with being accepted as a Bobby Collins replacement.
Tony Sullivan
44
Posted 13/03/2020 at 16:33:07
Dave Abrahams (38 and 42),
I agree about Dennis Stevens, truly an unsung hero and one of Catterick's many outstanding buys.
I never got over the sale of Dave Hickson either.
Dave Abrahams
45
Posted 13/03/2020 at 16:58:45
Tony (44),
Ah, Dave Hickson, the only player I ever idolised. I loved him.
He wasn't the best, and he knew that, but he loved Everton as much as any of us. And what great days he gave in that 1953 cup run and the following season when we gained promotion.
"They wear Blue jerseys and Dave Hickson scores the goals" sang to a Guy Mitchell song, in the hit parade at the time.
Chris Williams
46
Posted 13/03/2020 at 17:44:24
Dave,
"She wore red feathers and a hula hula skirt"?
It also became at school:
"She wore red feathers and a dirty underskirt."
John McFarlane Snr
47
Posted 13/03/2020 at 17:49:19
Hi Dave [38 & 42],
It's my belief that Dennis Stevens wasn't readily accepted by the fans because of the fact that he ousted Bobby Collins. Had Fred Pickering not scored a hat-trick on his debut, it may well have been a different story for him, because he was facing the fact that he was replacing a Goodison idol in Alex Young. Both Stevens and Pickering proved their worth and both played important roles in the success of their respective teams.
I felt sympathy for Fred Pickering and Sandy Brown regarding the 1966 FA Cup Final, but the team selection proved the point by winning the Cup, I can't imagine what the reaction would be in today's cyber community if that kind of situation arose.
I'm on record saying that, as good as Alan Ball was, my preference was Bobby Collins.
Gerard McKean
48
Posted 13/03/2020 at 18:52:47
Well, how do you follow such a great article and some of the best posts I've seen on here for a long time? It is probably the only article on TW that I have read and re-read several times, so enjoyable and evocative did I find it.
So, first of all, a huge thank you to Lyndon and David for their collaboration on such a fine piece, and secondly, just some random reactions to the article and some of the posts:
I was at every game mentioned or alluded to in the article and the references to Alex Young's soaring goal against Spurs, the "home" game at the Victoria Ground in Stoke, Colin Harvey's magnificent strike to win the League title, and Alex Parker's slide tackles sent shivers down my spine. On the debit side, I remember, like Christine and Andy, the cowardly assault by Mackay on Jimmy Husband; I think it was actually on Jimmy's 21st birthday and a potentially great career was ruined. My heart goes out to Ajay's post and I can only hope you do get to see some of the things that we older Evertonians have been privileged to witness.
Like others, I loved the inclusion of lesser-known names: Tommy Jackson had big shoes to fill when any of the Holy Trinity was not able to play but he never let us down; Gerry Humphries has probably dined out on that screamer into the top corner at the Gwladys Stree End ever since; and Dave A is of course, and as always, correct when he draws attention to Dennis Stevens. My mate, a lifelong Bolton Wanderers fan, still laments his departure for Goodison!
With a nod of deference to Dave Williams, I have picked my all-time team from those 3 title-winning squads. Like Dave A, I regret that there can be no place for the Little General, Bobby Collins, who left Everton too soon, but not as much as I regret the unavailability of the finest left-back in the world in his time at Everton; the great Ramon joined us just after one Title and left just before the winning of the next – and no left back of any of the 3 teams comes even close to Ray Wilson. So, from those actually eligible, here goes:
Goalkeeper:– no argument, Neville Southall. For a time, Gordon West was the best, as we serenaded, but it is a measure of the greatness of Neville Southall that, as I say, there can be no argument.
Right-back:– Alex Parker. Tommy Wright runs him close and Gary Stevens was immense but, if you want a full back who can tackle anything that moves above grass, Alex is your man.
Ccentre-back:– Brian Labone and Kevin Ratcliffe. What a combination that would have been with both at their peak! Labone was a rock and supreme in the air, making him the ideal foil to Ratcliffe's speed of thought and action.
Left-back:–
Pat van den Hauwe. Pat was no slouch but this is possibly the least competitive position in this team. As the article and other posts point out, Keith Newton was never at his best for Everton and, as much as I loved Sandy "Chop'em Down" Brown, Pat gets the nod.
Midfield:– Tony Kay, Colin Harvey, Alan Ball. For those of you who never saw Kay, well there's a reason I put his name first. Colin Harvey, on his day. and there were many, was simply untouchable! Finally Alan Ball and, to be honest, I wrestled between him and Howard Kendall but Ball offered something totally different to Kay and Harvey, so Howard has to settle for being the manager of this team!
Forwards:– Roy Vernon, Alex Young, Johnny Morrissey. Again no argument, or is there? What about the young Joe Royle, the fearless Gray and Sharp, the pre-McKay Jimmy Husband? Good lads one and all, but someone used the word "iconic" in relation to Vernon and Young and you can't leave out icons, can you?
And John Morrissey, equally brilliant on the wing or providing help in midfield and even more brilliant at scaring the life out of any defender coming anywhere near him! I can't see any team trying to attack this team down its left flank; if they get past Morrissey then Kay and Harvey are waiting and in the most unlikely event they get past them their pain is only just beginning because here's Pat!
Rick pointed out that the '63 team played with a back three, not four, and I think I'm tempted to change to that formation in order to include Howard Kendall, with Pat van den Hauwe making way. I'd be more than happy with a back line of Parker, Labone and Ratcliffe and then two banks of two in midfield, Kay and Harvey in tandem and Kendall and Ball, But I bet there are loads of you who disagree!
So I've selected 12 players there depending which formation you prefer. A glance through shows 6 from '63, 5 from '70 and 3 from '85. The total of 14 is because Labone and Morrissey spanned two title-winning sides. Does this mean, therefore, that I make the 1963 winning team the best by a small margin?
Rick Tarleton
49
Posted 13/03/2020 at 19:43:49
I agree about Bobby Collins, Dave Abrahams. Was there ever a signing who so instantly and so consistently managed to be so effective and so good?
Brian Labone told us at the Collegiate that, from his point of view, Dennis Stevens was the most valuable and under-rated player in the 62-63 team. Incidentally, if our Dennis Stevens was related to that Dennis Stevens, he'd probably also be related to Duncan Edwards as they were cousins.
As ever with these nostalgia pieces, they trigger memories of our past greatness, and it is saddening to compare that period with the last 30 years. However, we have had the knowledge and privilege of watching Everton as a great team and a highly successful one at that.
I think the reason, Gerard, that you choose more players from 62-63 season is simply because football was a more individual game in those days and individuals and individual skill stood out.
Dave Abrahams
50
Posted 13/03/2020 at 21:27:45
Great post, Gerard (#48), You mentioned plenty of names there and caused plenty of arguments in people's minds over the selection of your final eleven. Being honest, no-one could argue over the merits of those players. There wasn't a bad one among all of them.
Great players; even greater and happier days.
Steve Dawson
51
Posted 13/03/2020 at 21:50:50
Oh, that 69-70 season, the one that cemented me as a lifelong Blue.
I first watched Everton in the 68 FA Cup Final, on a small black & white TV in my home on the South Coast. I was all of 9 and had never been to Liverpool. But I picked Everton over West Brom, cheered for them and was crushed when Jeff Astle scored that last-gasp winner. But I was hooked.
So, just a year later, armed with my cardboard league table and club tabs from Shoot magazine, I followed Everton in that championship season. I reveled in every Briann Labone headed clearance, Howard Kendall tackle, Alan Ball pass and Joe Royle goal.
Fifty years later, it's time for another winning season... hope springs eternal. Nil Satis Nisi Optimum.
John McFarlane Snr
52
Posted 13/03/2020 at 22:47:02
Hi Gerard [48],
The names that you have listed have obviously brought me pleasure, winning trophies and entertaining me with their style of football, but the thrill I experienced from the 1960 season team was something else.
The team, in the main, was Albert Dunlop, Alex Parker, Tommy Jones/George Thomson, Jimmy Gabriel, Brian Labone, Brian Harris, Mickey Lill/Billy Bingham, Bobby Collins, Jimmy Harris/Alex Young, Roy Vernon, Tommy Ring/Derek Temple.
With Colin Green, Alan Tyrer, Frank Wignall, Keith Webber, George Sharples, Roy Parnell, Jack Bentley, Peter Kavanagh, and Jimmy Fell filling in when necessary. Our generation had never seen football like that, and it was a pleasure and a privilege to watch. Fans of today may wonder why we bask in our 'Glorious' past, but you really had to see it to fully understand.
David France
53
Posted 14/03/2020 at 00:30:42
Ged @ #48.
Some years ago, our mutual pal, Ronny Goodlass and I were interviewed by Toffee TV for 'Live at the Winslow' about the best players (1 to 11) we had seen in action. Thinking that everyone of our vintage thought the same as you and me (well almost), I summarized my second XI namely: Nigel Martyn, Alex Parker, Dave Watson, John Hurst and Mike Pejic; Bobby Collins, Peter Reid, Tony Kay and Kevin Sheedy; Graeme Sharp and Adrian Heath.
When I returned to the USA, my much better half gave me an earful for not selecting Gordon West, Dennis Stevens. Bob Latchford or Johnny Morrissey. Even worse. When we next met with her hero, Big Bob (the man with the most beautiful muscular legs), she blurted: "Sorry Bob, you didn't even make his reserve side!"
By the way, my first XI was: Neville Southall, Tommy Wright, Brian Labone and Ray Wilson; Kevin Ratcliffe, Howard Kendall, Colin Harvey, Alan Ball plus Andrei Kanchelskis; Alex Young and Roy Vernon. Since the Russian winger bolted in January 1997, and besides Martyn, probably the only men to approach their standard during the past two decades have been Phil Jagielka and Leighton Baines when at their best.
Brian Wilkinson
54
Posted 14/03/2020 at 00:51:24
I have thought long and hard on this discussion and see every point from the 63 team up to the 1970 Champions. However I ask the question: Why Everton failed to follow up on that season's success?
You then look at the eighties team, for three years they were top dogs: FA Cup finals, two League Championships, a European trophy, losing a Cup Final in extra time, losing out on the double in 86.
For me, that eighties team would have dominated for a few more seasons at the very least.
No-brainer for me, it has to be the eighties team.
Andrew Merrick
55
Posted 14/03/2020 at 09:20:11
Steve 51, I remember being devastated by the Jeff Astle winner for West Brom in the 1968 FA Cup Final; my grandad calmed me down... As he had two years earlier, when we were losing to Sheffield Wednesday, great life memories.
Dave Williams
56
Posted 14/03/2020 at 09:35:18
What an enjoyable thread, no slagging off of posters or players, just joyful memories.
I was just a bit too young to remember Tony Kay; could someone who does explain to me what was it about him which makes good judges go for him above Kendall? Genuinely interested as any reference to him is accompanied by the "would kick his own granny" description but it seems like he had a lot more than that?
I have to say I like Dr France's selection for his first-team: my only concern would be the front two but I guess, with that midfield behind them, they would be devastating.
Dave Abrahams
57
Posted 14/03/2020 at 09:39:34
David (53),
I doubt if you remember but you were on a panel that pushed forward names for Everton's "Hall of Fame" and Duncan McKenzie was nominated and Tommy Ring wasn't. I wrote you a letter complaining and asking you why this was so.
You sent me a postcard with some lovely cartoons on it (I presume they were drawn by yourself) and you explained that the players were voted by a panel of about five people and the majority vote ruled, but I think (not sure) you said you voted for Duncan; fair enough. I thought it's just opinions and your opinion and lovely cartoons was good enough for me.
I still think you were wrong though!!! That is why I said Elizabeth is the brains of the family, that and she knew Dennis Stevens and Johnnie Morrissey should have been selected confirms it!!!
Chris Williams
58
Posted 14/03/2020 at 10:56:15
Dave @56,
Tony Kay was the complete midfielder. He would have been a World Cup winner in 1966 without question. Probably in place of Stiles, but frankly in place of any of them.
He was number 4 on my all time Everton greats after Vernon, Harvey and Ball, which after such a small number of games gives you some idea of the impact he had, at least on me. Also probably of my age group, and the impact that group of players had on me after going to Goodison with my dad for the first time in February 1954 for my 6th birthday. Not the greatest period for the Blues but at least we got promoted at the end of my first season.
It was like that bit in The Wizard of Oz when it changes from monochrome to colour going into the 60s at Goodison
His tackling is the bit that people always focus on and that was excellent. He was also seriously hard and took no prisoners. I still see a tackle he made in a night match under lights in my minds eye on a greasy pitch. He seemed to start the slide from a fair way away and took the ball as clean as a whistle. I swear you could hear the hiss of the slide his boot made. Both ball and opponent ended up on the running path. Excellently executed, a thing of beauty, and probably a foul these days. He was also proficient in the dark arts, which you needed to be in those days, to earn the right to play your football. Catterick had him earmarked as the last piece of the jigsaw, and as his captain.
But there was a lot more to him than that. He was one of those players who always had time and space, he could play all over the pitch, and did. He could pass short and long, with accuracy and skill with the right pace. He could run all day and when he showed it he had a good shot and could score goals. He had grace on the pitch and was unhurried.
As I said earlier, he was instrumental in the 62-63 Championship win, along his midfield mates Gabriel, Stevens and Morrissey who often dropped back when necessary. I think they had to play 18 games in about 2 months at the end of that season, so it was a slog. They played 3 games in May, up to 11/5 when they played Fulham to clinch the title. You needed skill and stamina, steel and silk. He had all of those attributes in spades. Actually, all of those 4 players had them. They would have been good today to, with perhaps a few adjustments!
He'd just broken into the England team, after playing, I think, for the Football League. I think he may have scored in both matches but Dave A or John Mac will probably correct me.
Then, The People rag intervened, and he was made an example of by a vengeful Football League management and judiciary. Can you imagine a footballer being jailed for betting these days? Especially when he was nominated as MotM in the game concerned. In The People!
A tragedy for him, for us, and frankly for justice.
Len Hawkins
59
Posted 14/03/2020 at 12:58:22
I started going to Goodison in 65 aged 15, after watching my home team Southport for 7 or 8 years. I wanted something more and my brothers mate and two others were regulars at Goodison Park one came from Preston and picked up the other two plus me.
When I got into Goodison I couldn't stop looking around the giant of a ground I was completely overawed and when the household names ran out on the pitch it was like a big dream.
The signing of Bally and later Kendall just added to the excitement and in 68 the ultimate game Southport vs Everton sadly I had to spend 3 months in hospital after a car driver took it upon himself to attack my mates scooter whilst he was giving me a lift home and was in D Ward at the Promenade Hospital when the match was being played. Having a calliper on my leg and on crutches ended my support for that season also missing the final. How could WBA beat the team with such great players and inflict more misery on me.
The 69 - 70 season was unbelievable the football majestic and the night at Goodison Park vs WBA was the sweetest revenge, culminating in my only incursion onto the hallowed turf to watch these magnificent players lift the trophy in half the old stand.
These memories are there forever and, unfortunately on my part, will never be repeated as I am no longer able to go to the Grand Old Lady to see my adopted team.
Gerard McKean
60
Posted 14/03/2020 at 13:48:24
Dave #56, I agree completely; a really good thread and all the better for the absence of personal attacks.
Discussing the merits of one player over another is always going to be subjective and you could see from my post that I was very exercised by having to leave Howard out, so much so that I cheated in the end and changed the formation to sneak him back in! The point is though that, when it came down to it, I chose Kay ahead of Kendall; that's just my personal opinion and other Blues will make the opposite call.
David #53 has selected two wonderful teams and, while I would love to have a pint with him to explain to him where he's gone wrong, I can go along with his choices for now!
Brian #54 raises an interesting question but I'd argue that it wasn't the players who failed to kick on in the '60s and early '70s but rather a failure of management. Kendall knew how to build and bond whereas Catterick had this ridiculous notion that, once a team had won something, surgery was required; who else would have sold Ball at the height of his powers? Kendall had a chemistry with his players, Catterick kept them at a distance and, if a Bobby Collins or a Roy Vernon became too uppity in his eyes, they were already on their way out of the club.
An interesting slant on this is that Sir John Moores sent two of his employees to take care of his football interests: LFC got Peter Robinson and we got the conservative patrician Philip Carter. I wonder who got the best deal? It is a matter of unfathomable conjecture as to whether Catterick would have been given such free rein by Robinson.
It is perhaps less unfathomable to suppose that Robinson would have had EFC fight tooth and nail the lifetime ban disgracefully imposed on Tony Kay.
Dave #56, I can't add much to the excellent analysis by Chris #58 other than to say that Kay was a leader of men and never took a backward step. As a young kid, I devoured the Charles Buchan Soccer Gift Book and such, always looking for action pictures of Duncan Edwards who was invariably described as a young colossus. Edwards was lost to the game tragically before he'd even matured fully.
Kay was also a colossus, not necessarily in physique but as Chris describes him: the complete midfield player who probably could have played very well anywhere else on the pitch, too. Two-footed, strong in the air, and the only thing harder than his tackle was his shot – including a rocket for England against Switzerland, I think.
Tony Kay was also lost to the game tragically early and to this day I cannot understand why EFC did not go to war with the FA over this. Frankly,it is another part of the answer to Brian's question.
John Raftery
61
Posted 14/03/2020 at 14:11:18
A brilliant article and a great set of comments. My first game was in October 1962 but as a 10-year-old I felt like an intruder at the party as our team marched to the league title later that season. By 1969-70, I knew enough to appreciate fully what I was seeing. What I was seeing was pure poetry.
I recall Brian Granville comparing Leeds and Everton around August 1970. He wrote that, if he wanted to be entertained he would choose Everton; but if he wanted a team to save his life, it would be Leeds. I feel the same way when comparing our 69-70 team with our 84-85 team. Both were truly great teams but the latter were arguably more durable, capable of maintaining long unbeaten runs in all competitions.
That noted, one of the features of the 69-70 campaign was the number of matches we won by only a one-goal margin. I think Catterick had drummed into the team the need to do enough to win while keeping things tight defensively. It was a more pragmatic approach than we had seen in previous seasons.
The season kicked off with two games per week from 9th August. We were unbeaten that month. Our victories included 0-1 at Arsenal, 2-1 v Crystal Palace, 2-1 v Sheffield Wednesday and 3-2 v Leeds. In the autumn, a late 1-0 win at Coventry and the same scoreline the following week at home to Forest gave us an 8-point lead at the top.
One-nil to Everton became familiar especially in December when defeats to the RS and Leeds sandwiched 1-0 wins at West Ham, and at Goodison v Derby and Manchester City. Those narrow wins were vital in keeping us afloat at a time when the team was suffering from injury and loss of form.
In the title run-in the narrow wins at Burnley and in the double-header against Spurs set us up for the grand finale when our midfield trio recovered their top form. The 2-0 win in the rain at Anfield was simply a great day, possibly our finest away performance of that season or many others. The Anfield Road End was heaving an hour before kick-off as we sang our anthems. Never have two goals been celebrated so exultantly as we exacted revenge for the defeat in December.
The following Saturday's 5-2 win at Goodison Park was the cream and the cake. With the rain pouring we led 2-0 after three minutes with goals from Howard and Bally and did not ease up until we had a five-goal cushion. I remember John Hurst returning to the pitch with his head heavily bandaged. No player wanted to miss a minute if he could avoid doing so in an era when the one permitted substitute was used sparingly, if at all.
Just a point about the ends at which Gerry Humphreys scored his two goals for us. Both were in 1968 and both were belters. His first came in a 3-0 win against Sheffield Wednesday when he cut in from the left and fired a rising shot into the top corner of the Gwladys Street End net. His second came a couple of months later in the 7-1 win at home to Leicester when Shilton threw the ball out to him. Gerry promptly returned the ball with interest straight into the Park End net.
Chris Williams
62
Posted 14/03/2020 at 14:19:37
Yes it makes a very pleasant change.
Another thing I remember is the 1966 FA Cup Final. It was the year I left school after A-Levels. Me and a couple of mates went down in a 3-wheeler, taking turns of piece to sit on what was an excuse for a back seat, with our feet out of the window. It was a great laugh. Even better coming back, apart from the regular stops!
I'd had a decision to make about that day. Bob Dylan and what became the Band were playing at the Odeon, London Road, that night. It was that tour when they got a dogs abuse across 4 continents for plugging in. We were all great fans, but really there was no decision to make.
He got dogs abuse that night too. I reckon it was because there were no Evertonians there to provide a civilised balance.
He retired to Woodstock shortly after, with the Band, reinvented rock music, invented Americana, and nobody heard from him until 1968. I think the next time anybody saw him in public was at the Isle of White Festival.
But I made the right choice, we got the right result and won the Cup for the first time since 1933, when my Dad, went and bunked in.
I saw Dylan several times subsequently too. His performances were not as good as Everton's that day.
John McFarlane Snr
63
Posted 14/03/2020 at 14:25:30
Hi Gerard [60],
It would take a really demanding fan to criticise any of the players that you have praised, each an inspirational figure in his own way. As I wrote in an earlier post, prior to the successful sides of the 60s, 70s, and 80s, the team Johnny Carey assembled was, in my opinion, unforgettable, because they gave me a glimpse of what football was all about.
Before that time, I had worshipped Peter Farrell, Dave Hickson. Wally Fielding, Jimmy O'Neill etc, but the team in 1960 took me to heights of ecstasy. We'll have to arrange another get-together to talk of days gone by.
Brent Stephens
64
Posted 14/03/2020 at 14:50:05
Chris #62,
"Another thing I remember is the 1966 FA Cup Final. It was the year I left school after A-Levels".
Snap. Possibly the best year of my life.
But you missed Bob Dylan? Judas!
Chris Williams
65
Posted 14/03/2020 at 14:56:49
Brent
I don't believe you. Play fucking loud!
Brent Stephens
66
Posted 14/03/2020 at 14:59:59
Chris, did you really say that?!
Chris Williams
67
Posted 14/03/2020 at 15:09:32
"It's probably the kind of thing I may have said a few times."
Isn't it what he said when someone called him Judas, supposedly at Manchester Free Trade Hall? Except I've since read it was another venue altogether.
I'm not sure what people were expecting after 3 electric albums and 4 electric singles in the year leading up to it. They'd also toured in 1965, and got a dogs abuse then too.
I think that experience so soured them all that, to this day, he never cared for his live audience, ignoring them and playing with his back to them.
He makes Van Morrison look like Billy Connolly.
Brent Stephens
68
Posted 14/03/2020 at 15:24:07
I've always thought it was Manchester, Chris.
Chris Williams
69
Posted 14/03/2020 at 15:32:57
Yes, so did I. I've got a CD that says as much. I read fairly recently they'd got it wrong. I can't recall where the writer said it was.
The book's actually called Judas! by Clifton Heylin and it chronicles the tours, concert by concert, interview by interview. Perfect for a sad bugger like me!
I doubt he'll tour again now. He's knocking 80 by now. His concerts are pretty patchy.
I'm still glad I went to Wembley though.
Dave Williams
70
Posted 14/03/2020 at 17:15:35
Thanks for the info about Tony Kay, chaps – he truly sounds one helluva player and one can only imagine how a midfield of him, Harvey and Ball would have been supported by Morrissey!
Gerard McKean
71
Posted 14/03/2020 at 17:23:05
John #63, always a pleasure to meet you, sir, and reminisce. You are a team or two ahead of me in your memories and listening to you mention Wally Fielding and Peter Farrell is like talking Evertonia with my Dad.
Of course, if we include the venerable Dave A in the meet-up, I can also talk Evertonia with my Grandad, too!!!
Dave Abrahams
72
Posted 15/03/2020 at 09:10:27
Gerard (71), cheeky bloody monkey!!!
Derek Thomas
73
Posted 15/03/2020 at 09:46:47
After Lyndons piece above with Dr David and after toying with it in my head, I was finally spured on by Gerard McKean closing remarks Re 62-63.
In another place as they say, I'd see questions like...just how good were The Holy Trinity?
Good enough to win the League with a near record points total and games to spare, I'd reply.
Then I'd get...yeah but they weren't as good as Reidy & Co. nobody could be that good (ah, the certainty of youth)...and they gave everybody a 2 game start and won it with games to spare too.
I had to admit they may have had a point.
I've seen 4 Title winning teams. There will be somebody who can say - I saw 5 and I've heard tales of yore were it was claimed that the 38-39 team had no equal. But I'll have to go with the 4 post war teams.
The numbers: (maths is not my strong point)
62-63; P 42, W 25, D 11, L 6, F 72, A 42,Pts. 61. won by 5Pts. @2 for a win.
69-70; P 42, W 29, L 8, L 5, F 72, A 34, Pts. 66. won by 9Pts. @2 for a win.
84-85; P 42, W 28, D 6, L 8, F 88, A 43, Pts.90. won by 13Pts. @ 3 for a win.
86-87; P 42, W 26, D 8, L 8, F 76, A 31, Pts.86. won by 9Pts. @ 3 for a win.
Some swear by stats, some at them. You can find pithy quotes to cover both views.
My own personal view, in loose racing terms is.
1st. 69-70 / 84-85 Dead Heat.
3rd. 62-63 by a short head
4th. 86-87 by half a length.
How to split the dead heat? Easy - change sporting metaphors *engages snooker mode*
Instead of 42 games, we have 41 (or 43, it has to be an odd number) frames
I score it 21-20. The frames, as they do, would ebb and flow. 69-70 would score more century breaks, but 84-85 would win more of the close frames, the 59 / 54 pt. Black ball frames.
I saw 62-63 and 84-85 as teams of a similar style and nature. Both had enough hard men who could play and would not cave in when the going got tough
I just edge it to 84-85 by virtue of the difference between the two keepers.
86-87; Mountfield, Bracewell Pat van den Hauwe and Reid were missing a lot, their replacements performed well enough to beat everything that was put infront of them and win the League...what more could they do.
Wayne Clarke scored many vital goals, but he wasn't Andy Gray.
So having narrowly overcome 69-70 on the black ball of the last frame.
I give it to. 84-85, by virtue of the fact they hated losing that little bit more.
Who would I go back in time to watch? 69-70 ! That team would've given the 1970 Brazil team a better run for their money than England did...
Though to be fair Big Nev wouldn't have put up with all that Maradona hand ball shite...maybe Reidy will catch him this time before Pat van Den Hauwe or Ratters takes the ball of him to stop him waltzing through.
Have at it.
P.S. I could live with your back 3 idea to get Kendall in the first 11
Alan McGuffog
74
Posted 15/03/2020 at 10:42:08
I'd always believed that the Judas thing was at the Free Trade Hall. I too loved that line about playing it fucking loud. Was there a documentary about that gig ? Seem to recall seeing something.
Roger McGough, as I recall, wrote that he had tickets for Wembley and for Dylan. He chose the correct option of course.
Chris Williams
75
Posted 15/03/2020 at 11:18:30
Alan and Brent,
I've just re-read the relevant section in the book,and very good it is too.
I've misremembered it to a degree,and what it actually says is that there has been much controversy as to where the Judas remark was made, over the period. And he makes the case at some length.
In fact he pretty much nails it that it was in fact made in Manchester, and even names the individual wh was most likely to have made it, Keith Butler a student at Keele University. The level of research is impressive.
So apologies gents.
The book is called Judas! From Forest Hills to the Free Trade Hall, A Historical View of the Big Boo.
It's by Clinton Heylin.
Apparently the Liverpool show was notable for its vitriol and anger, much of it from pro New Dylan fans having a go at the 'luddites'. It was as bad as Manchester. Both paled into insignificance compared to Glasgow. In these uncertain times it is nice to have some old certainties to cling to!
And I wasn't there, I was probably still on the way home, or possibly in a field relieving myself, high on victory and Guinness.
Alan McGuffog
76
Posted 15/03/2020 at 11:48:12
No need to apologise Chris..it was a few years back. I'm pleased you were at Wembley to see that game. I think there were upwards of 2 million people who were present at the Judas gig. If you follow my drift.😉
Brent Stephens
77
Posted 15/03/2020 at 12:03:11
Cheers, Chris.
Alan, yes must have been at least 2 million - well it was a big venue.
Chris Williams
78
Posted 15/03/2020 at 12:18:54
Alan,
They must have been Kopites then, which sounds about right. But there were many seen in the pubs saying, ' I would've gone like, but you just can't get any tickets'
Their unfortunate offspring use a similar excuse these days.
Teach your children well!
Kevin Molloy
79
Posted 15/03/2020 at 13:59:27
nobody mentions the 86-87 team, it is astonishing really. Not the team, but Howard's achievement in knocking Liverpool s double winning team off their perch with a team comprising for large parts, Bobby Mimms Neil Pointon Alan Harper Neil Adams Kevin Langley Ian Snodin Paul Power and Wayne Clarke.
Ray Roche
80
Posted 15/03/2020 at 14:42:26
Always interesting and entertaining this, picking your all time best team. Mine is the 69-70, by the way, but I think I'm correct in saying that the Holy Trinity only played AS a trio in just under half of the games due to injury etc. If I'm wrong I realise some bugger will correct me. But it also serves to underline their brilliance when whichever duo played they were superb.
Chris Williams
81
Posted 15/03/2020 at 16:10:03
Everyone seems to be doing it, so I'll have a go. This is my all time favourites Everton team. Not necessarily the best, although some of them are unquestionably the best. I've not limited it to championship winners.
Some of them are players I'd love to have seen more of, but for whatever reason, they didn't play often enough, got injured,left early, arrived late etc.. not that I'm being greedy, you understand!
Neville Southall
Alex Parker
Brian Labone
Kevin Ratcliffe
Ray Wilson
Alan Ball
Tony Kay
Colin Harvey
Andrei Kanchelskis
Alex Young
Roy Vernon
Subs
Gordon West
Howard Kendall
Paul Bracewell
Kevin Sheedy
Johnny Morrisey
Bob Latchford
Gary Lineker
Near misses
Nigel Martyn
John Hurst
Leighton Baines
Bobby Collins
Dennis Stevens
Trevor Steven
Fred Pickering
Jimmy Husband
Peter Beardsley
The players above I'd loved to have seen more of? Well all of them really, but those where we missed out for a variety of reasons
Nigel Martyn
Ray Wilson
Tony Kay
Andrei Kanchelskis
Paul Bracewell
Gary Lineker
Fred Pickering
Jimmy Husband
Peter Beardsley
Dave Abrahams
82
Posted 15/03/2020 at 16:51:04
Chris (81), I think those selections in different sections will cause some arguments, but each to his own, putting Bobby Collins in the near miss section for instance, yellow card ( nearly) for that Chris, your excellent other posts got you off there Chris.
There is one player not on any ones lists and he was as good if not better than any of them, I put it down to an age thing because he played before the war in that 1938-39 team, so I never saw that team, but I did see T G Jones in the late 1940's, admittedly through the eyes of a seven and eight year old boy, but I never forgot the attributes he, even though I couldn't spell ' attributes' then, I used to marvel at his coolness and ability, he would just stroll through a game, seeing everything seconds before anyone else,he always seemed to stay on his feet and came off the pitch without a mark on his shorts, even on the muddiest of pitches. An immaculate performer.
Chris Williams
83
Posted 15/03/2020 at 17:27:19
I know what you mean Dave, but it's very much an idiosyncratic personal list, I suppose.
I was 10/when Bobby Collins arrived and I knew that I was seeing someone a whole lot better than I'd seen before. He was the leader of an average team., several notches higher than the rest.The only other I saw since I started going in 1954 that got my young self going was of course Davy who scored on 'my debut' against Blackburn in a 1 1 draw.
The best display by Bobby I can recall easily was in Tommy Rings debut against Forest, and I know he ran the show that day and at inside left to Ring their play was brilliant together.
I suppose I was blown away by what I saw in the seasons that closely followed that. Actually I should have had Tommy Ring on my list too!
So I hope you can forgive me Dave.
My dad used to regale me with stories about TG Jones. A prince,lad, he used to say. Along with Dean, Britton and Mercer. I used to be able to recite the Cup winning team of 1933 when I was about 5. Not sure I could now.
I'd like to have seen more of Richard Gough and Norman Whiteside too, now I come to think of it. Good players still in a pretty bleak period.
Billy Roberts
84
Posted 15/03/2020 at 18:06:29
What a brilliant read by Dr France and the magnificent writing of Lyndon.
This article is so well written it is making me nostalgic for a period of time before I was born, I saw the 84-87 period and now realise I was spoiled rotten, it is the glory revisited so well described with personal anecdotes that have made this article so emotional to read.
A player I loved to watch was Trevor Steven I thought he was the epitome of class, he had grace under pressure .
Southall was indeed world class, whilst Reid and Bracewell made a flawless combination.
The 90s as some others have noted was barren but forKanchelskis and often forgotten was Peter Beardsley who I believe would have gotten into our mid 80s team.
Let's hope a new team can emerge to give our young fans memories that do last a lifetime.
Dave Abrahams
85
Posted 15/03/2020 at 18:11:23
Chris (83), I 'm just glad you saw the brilliant players you did catch playing for Everton and wouldn't we all have liked to see " Dixie", I did see see Joe Mercer, but not for the Blues, he played for Arsenal on my first glimpse of Everton's first team, March 1948, Arsenal won 2-0, never forgot that day either, running up the steps of the boys and looking at the magnificent Goodison Park, I hope Heaven is as good as that sight, presuming I get there!!
Dave Abrahams
86
Posted 15/03/2020 at 18:13:59
(85) above, should have read " running up the steps of the boys pen" I got a bit misty eyed writing that part.
Chris Williams
87
Posted 15/03/2020 at 18:23:24
Dave, you will get to Heaven I'm sure, after the Purgatory of the last 25 years, with Everton in Limbo
Peter Mills
88
Posted 15/03/2020 at 19:29:16
My Dad always used to say about the afterlife - "Wherever I end up, I'll be amongst friends".
There are many great players named above, but in any squad made up of players I've watched I would always find a place for Tim Cahill. He had the heart of a lion.
Chris Williams
89
Posted 15/03/2020 at 21:40:30
Andy Crooks
90
Posted 15/03/2020 at 21:54:00
Chris @ 67. Van Morrison is a pretenious( poetic champions compose) overrated, talentless c**t, who,quite deliberately, got me a parking ticket.
Alan McGuffog
91
Posted 15/03/2020 at 22:06:19
Andy you must elaborate !
Peter Mills
92
Posted 15/03/2020 at 22:24:45
Off on a tangent, as I am prone to wander, how about this team if we had had them all together in their prime?
Pat Jennings
John Gidman
Colin Todd
Richard Gough
Kenny Sansom
Paul Gascoigne
Peter Beardsley
Asa Hartford
David Ginola
Louis Saha
Samuel Eto'o

Paul Birmingham
93
Posted 15/03/2020 at 22:43:03
Well in Dave@85,86, when we are gone from GP, we are gone.
In my time the nostalgia, won't, couldn't be replaced, the atmosphere, the moods a mile before your at ground.
Now a new era, bit there's nothing like Goodison Park, on match day, for atmosphere and banter.
Brian Wilkinson
94
Posted 16/03/2020 at 01:12:45
This one is for a John Mcfarlane sen and any others who may have seen a certain player.
A lot mention Dixie Dean and other players, but one player who always seems to be missed off any list is Tommy Lawton.
Did anyone including John get to see Tommy Lawton and how good was he.
Brian Wilkinson
95
Posted 16/03/2020 at 01:17:56
I realise the players picked are from the 63-70 and eighties so apologies for the off topic question of Tommy Lawton.
Chris Hockenhull
96
Posted 16/03/2020 at 04:43:52
Chris (69). The Judas incident was indeed Manchester Free Trade Hall a few days after the Liverpool concert. For many many years it was attributed to the Royal Albert Hall at the end of the month. I was doing some research in the 80's when I delved into Northern local press and lo and behold found a letter recalling the incident at Manchester that proved it was there not London. Clinton Heylin was a regular visitor to me ( City fab) and he couldn't believe what I'd found etc. Some may have seen the BBC film U did about the May 14 incident in Liverpool when whilst the final was in some local children who I tracked down were playing and photographed with Dylan whilst their folks were watching the final unfold. Indeed I was able to get them to include Temples winner and Labone lifting the cup in the finished film.

On the topic of this post Jimmy Husband was a Dylan fan and proclaimed it in one if the 68/70 home programmes. (Incidentally Dylan does continue to consistently tour the world constantly to this day. Unfortunately the whole of April tour in Japan was called off last week and a June/ July tour of USA is set but likely too to be cancelled because of the current situation. (Look up the site Expecting Rain scroll time bottom and you will see just how constant his touring is every year. Age certainly has not withered him as he approaches 80). Yours Tangled Up In Blue. Chris
Tony Abrahams
97
Posted 16/03/2020 at 07:13:13
I watched Dylan, two years ago in Liverpool, Chris, and I can honestly say that the show put on in the day, at the side of the Jury's inn, by a group calling themselves Simply Dylan, (ex-ground-pig, covering Dylan tracks) was much better than the great man's performance that same evening.
Chris Hockenhull
98
Posted 16/03/2020 at 08:59:48
Tony (97). Having attended 60 shows since 1978 I have ridden the trail from the sublime to the poor and blind faith doesnt play any part in my opinions but glad I've stayed in the journey(sound familiar at all???). It wasn't a highlight for me too. That said whilst I am only too aware of who you saw earlier in the day I'd rather avoid seeing something like that prior to seeing the bloke who's had to deal with life's pressure of being who he is and done it all and written the songs instead of someone having an easy option reinterpreting the mans craft. Bit like watching say the Bayern or Rapid full 90 minutes then immediately watching the current lot straight after if you get my drift?!! Best wishes. Chris
John McFarlane Snr
99
Posted 16/03/2020 at 09:22:17
Hi Brian [94],
I saw Tommy Lawton at Goodison Park in 1951 when I was 13 years old, but he was wearing a Notts County shirt, he led ted line and played a major part in helping them to 5-1 victory, their inside forward Jimmy Jackson scored 4 goals that day, I believe that Jimmy emigrated to Canada later in life.
I may have seen Lawton play when Brentford visited Goodison, but can't be definite. I'm afraid that most 'lads' of my age have to rely on reputation, my granddad and uncles considered him comparable to Dixie Dean, and that's good enough for me.
Dave Abrahams
100
Posted 16/03/2020 at 09:38:36
I agree with John (99), I was at that game when Jimmy Jackson stole the show, and I think he also played in a friendly game for County which Everton won 2-1 or 3-1 not long after that game. As John says Tommy was past his best then so it would be hard to judge him.
I met him in one of the lounges at Notts Forest after an Everton game there, I asked him for his autograph on the match day programme and asked him if he could sign it on the Everton team part, " Certainly " he said, "They were the team that gave me my big chance and made me". Tommy was well recognised by plenty of people that day even though he was getting on and seemed happy to talk to anyone who wanted to.
Sometimes I listen and read what players say about the players who played with and against them. Tommy was well rated by those who played with him, and like a lot of players of that era Tommy was robbed by the war of his better years.
Chris Williams
101
Posted 16/03/2020 at 10:17:30
Chris,
That's really interesting thanks. Those photos of Dylan and the kids are there to see on Google, as well as those of the kids grown up.
I never got to see that television programme unfortunately.
I'm content that I made the right choice all those years ago.
Tony Abrahams
102
Posted 16/03/2020 at 10:31:14
Good point Chris. I always said I never wanted to see Dylan live, unless I won the lottery and could invite him to my own camp-fire. I love his lyrics, (best ever imo) but don't understand why he still tours, because the great man just looked like he wasn't enjoying himself, when he was up-there on stage.
It wasn't that the other band was better Chris, but they mostly covered "Blood on the tracks" which has a couple of more upbeat and instantly recognisable songs for a wider audience imo, and after reading this paragraph, it will be very obvious to you, that I haven't been in the journey, nowhere near enough!
Chris Williams
103
Posted 16/03/2020 at 10:51:56
Tony,
I said earlier that I thought Dylan's attitude to live concerts and the audiences was directly affected by his experiences in that tour in 1966 and the one the previous year. That's a lot of abuse to soak up, plus the attitude of the press corp was also pretty rank.
The reaction probably had has much to do with his retirement to Woodstock as his motorbike accident.
Here's a quote from Dylan from much later on
Judas, the most hated name in human history. If you think you've been called a bad name try to work your way out from under that. Yeah and for what? For playing an electric guitar?
Andy Crooks
104
Posted 16/03/2020 at 11:47:13
Alan @91. I was in a cafe in County Down a number of years ago. Van was there with a couple of kids with the usual surly bake on him. He left and a few minutes later a guy came in and asked who owned car on the corner. He said that Van had summoned a traffic warden although his own car was nowhere near it. This was confirmed by the traffic warden who was deaf to my pleading.
I guess I deserved it but not really rock and roll from Van the man.
Alan McGuffog
105
Posted 16/03/2020 at 12:00:44
Dear God he really is a miserable little charmer isn't he ?Not just a stage persona then.
Alan McGuffog
106
Posted 16/03/2020 at 12:04:10
Chris I would suggest its a VAR between Judas and Jurgen
Tony Abrahams
107
Posted 16/03/2020 at 12:05:28
We don't see that side of a hard days life Chris, but there's no way I would have let him play an electric guitar at my camp-fire. Just leave him on the acoustic and I'd get T/W's own George McKane on the harmonica!
Tom Bowers
108
Posted 16/03/2020 at 12:18:08
Peter Reid for me would have been a world class player for years if he had not broken his leg as a player with Bolton.
His class oozed through when at Everton. Back then players had to earn England call-ups unlike today when a couple of decent games get you in. I was always surprised that he never made it as a great manager at the higher level.
Alan Ball of course was a winner, fantastic in every sense and so passionate about the game.
Chris Williams
109
Posted 16/03/2020 at 12:43:18
Tony,
That sounds great. Can I come too? But you better make it quick by the sound of it, because I may not be going anywhere for 4 months by the sound of it.
My oldest friend emailed me yesterday. He's retired to Spain. It was the first day of their being confined to barracks there. He already has cabin fever, and is worried his wife may kill him if it goes on too long!
One of the best live concerts is The Last Waltz, which Scorsese directed. It was the Bands farewell concert. Dylan was good in that. The Band were superb. Well worth watching. They were probably my favourite all time band. Only two of them left now.
Tony Abrahams
110
Posted 16/03/2020 at 13:04:23
I hope to invite you once this "hard rain has fallen" Chris, because music is quite possibly the only thing that is going to keep a whole lot of people sane, over these next few months mate, even if I don't like the name of the concert I'm sure I'm going to google... Thanks for the advice!
Dave Abrahams
111
Posted 16/03/2020 at 13:12:16
Tony (110), I'll give a song at your camp fire, not worried what sort of guitar is being used, my voice will get me through. Thanks in advance, for the invite.
Brian Williams
112
Posted 16/03/2020 at 13:22:20
Oh Jesus!
Tony Abrahams
113
Posted 16/03/2020 at 13:23:00
If everyone gets through this virus Dave, I might consider you as a mime-artiste, but that's only because I've just been listening to Joni Mitchell & Neil Young, thanks to Chris!
Dave Abrahams
114
Posted 16/03/2020 at 13:31:35
Brian (112), I heard that Brian, no need for that!!!
Joni Mitchell, Tony, heard of him, didn't he play Alf Garnett in " Til death do us part" I enjoyed that.
Chris Williams
115
Posted 16/03/2020 at 13:38:57
Tony, it's got Van Morrison in it too, but don't tell Andy C!
Chris Williams
116
Posted 16/03/2020 at 13:41:59
Alan@106,
I think the main difference between them is that Judas didn't share his teeth with Mr.Ed!
Brian Wilkinson
117
Posted 16/03/2020 at 15:38:25
You should dig out the Kinks Are the Village Green Preservation Society album, that will keep you going Dave and give you a few songs for your set list.
They even put one on for our former manager, do you remember Walter.
Brian Wilkinson
118
Posted 16/03/2020 at 15:44:21
If all posters are invited Dave I can knock out Kumbaya on the comb and paper if you can provide lead vocals.
Tambourine, washboard, couple of pans and a wooden spoon and we will have a Phil Spector a worried ma.
Brian Wilkinson
119
Posted 16/03/2020 at 16:07:41
Worried man
Jay Harris
120
Posted 16/03/2020 at 16:17:14
Sir John #99,
My Dad used to say he was better than Dixie so he must have been a great player. Another whose career was marred by the second world war.
Hope youre keeping well and still drinking the orange juice.
Chris Hockenhull
121
Posted 16/03/2020 at 16:24:25
Tony Abrahams/ Chris Williams.. Put in VIMEO BOB DYLAN LIVERPOOL 1966. 2/3 Item down There I am/it is. See how I got Everton into a Dylan film!!!
Chris Williams
122
Posted 16/03/2020 at 17:10:05
Chris,
I've just watched it mate. Brilliant and really nice to watch. It must have been quite poignant for some of them.
Good to see Everton in there too. Dereks goal.
Number one team and number one rock musician. I often wonder if the guy who shouted Judas ever bought any of his electric albums, or just stuck to Pete Seeger and Peter Paul and Mary. Maybe he got into Jansch and Renbourn. I like all of them and Dylan in all his personae (?)
Nice piece of detective work. How long did it take you?
Tony Abrahams
123
Posted 16/03/2020 at 17:13:44
Enjoyed that Chris H, my mates father-in-law, had two cracking pictures in his house, one of that picture, and one with Everton running round Wembley, the very same day with the cup.
I went to see him on his death-bed, and told him that the picture was mine, he gave out a laugh, someone in the room, (one of his family) asked him what he was laughing at, and he waved his arm and said, I'm laughing at him, so that's my final memory, of another good Evertonian, and to think how close Dublin St is, to Bramley Moore!
Jay Wood
[BRZ]
124
Posted 16/03/2020 at 17:22:20
Chris @ 121.
Great persistence! Great detective work! Well done!
Tracing them all and getting so many together again to pose in the same doorway was some achievement.
Well worth a watch for all!
Oh! And a clever and devious weaving of Everton into the footage too!
John G Davies
125
Posted 16/03/2020 at 17:36:29
Chris H.
Brilliant, absolutely brilliant.
Brings back memories of the great days on the ship repair.
And great nights after work. A pub on every corner.
Had a walk down the Dock Road a while back.
Like a ghost town compared to the thousands of men and women who worked down there.
Tony A.
Was Oily Joe's on the corner of Dublin St?
Maybe one for your dad.
Brian Wilkinson
126
Posted 16/03/2020 at 17:42:00
Wow Chris, that was some great piecing together and tracking all the kids down.
Really enjoyed that mate.
Brian Wilkinson
127
Posted 16/03/2020 at 17:43:23
Many thanks John Snr@91.
Brent Stephens
128
Posted 16/03/2020 at 18:00:39
Chris H. Great stuff!
Peter Mills
129
Posted 17/03/2020 at 09:40:55
Chris H, great film. Jay, thank you for the link.
Dave Abrahams
130
Posted 17/03/2020 at 13:53:21
Chris (121),I wandered what all the fuss was about, regarding the photo of the young kids with Bob Dylan down at the docks in 1966, so I had a gander and now I know.
One of the young kids, a girl, now grown up and looking back at that day and talking about it, said ' It was emotional', an understatement, I'm older than them and I wasn't even there but found it very emotional, what great detective work Chris, glad your not a bizzie, working in Liverpool now!!
I like Bob Dylan's music, my favourite is " 92nd. Street" I've been lucky and met hundreds of nice, genuine people in my life, that song always reminds me of the three or four snides I've also met.
Thanks for video Chris, I'll look at it every so often, made my day.
Dave Williams
131
Posted 17/03/2020 at 16:51:56
A mate of mine, big Van fan, went to see him a few years ago and apparently Van was in such a foul mood he did the entire concert with his back to the audience!
Re, Tommy Lawton; my dad saw him a lot and swore he was a class above Dixie and the best centre-forward he ever saw. He also said T G Jones was the best centre-back and as a footballing centre-half made Alan Hansen look a novice.
Tony Abrahams
132
Posted 17/03/2020 at 18:35:25
Positively 4th street Dave, it's why I don't think Dylan has got an equal when it comes to lyrics, although it's each to his own when it comes to music, obviously.
Chris Williams
133
Posted 17/03/2020 at 18:52:55
Tony,
I totally agree. It seemed in the sixties we were hearing something new pretty much several times a week. Of all the wtf was that moments, possibly the biggest was when I heard Like A Rolling Stone for the first time on Radio Caroline. An eye opener, quite unique and mind blowing.
Another one was Otis Redding Respect. I stayed to listen to it to the end, missed my bus, got to school late and got detention
Imagine, Otis got me detention!
Music seemed so important in those days. It's still important now, maybe especially now, but not like when you're in your teens and it's so new and fresh, and you feel it more.
Dave Abrahams
134
Posted 17/03/2020 at 18:53:54
Tony (132), yes that's the correct title, don't know how I got 92nd. Street, we were only talking about that song a couple of weeks ago. Keep your eye on me, might be losing it.
Tony Abrahams
135
Posted 17/03/2020 at 19:08:29
It's one of my favourites and for exactly the same reason that you mention Dave, but I'm getting a bit worried now that you're becoming aware of your mental state, because I've been trying to hide it from you for years!
My biggest disappointment has been no pre-match music from George, no looking across the Mersey, no walking along Scottie, no mention of Vincent, (what a song that is) and one more cup of coffee, before he goes, to the dark house, and onto Goodison Pk!!
Dave Abrahams
136
Posted 17/03/2020 at 19:29:37
Tony (135), thanks for that reassurance, knew I could depend on you!!
By the way try Leonard Cohen and his lyrics, I think he was pretty good.
Tony Abrahams
137
Posted 17/03/2020 at 21:54:19
Hallelujah, fantastic!
---
Add Your Comments
In order to post a comment, you need to be logged in as a registered user of the site.
Or Sign up as a ToffeeWeb Member — it's free, takes just a few minutes and will allow you to post your comments on articles and Talking Points submissions across the site.
---
© ToffeeWeb