Everton History
A Day of Celebration and Commemoration at The Winslow
EFC Heritage Society

23/03/2020
15

comments | Jump to last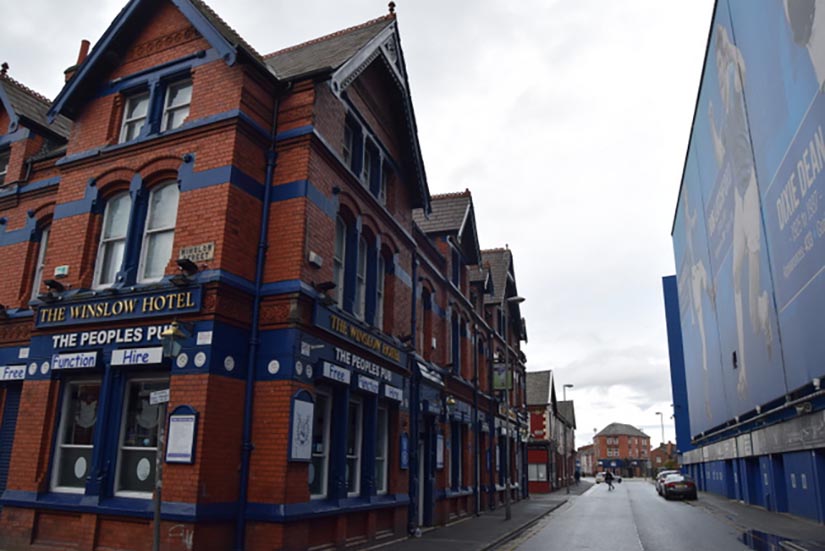 Number 31 Goodison Road is an address with 134 years of rich history – 128 of them indelibly linked to the football club across the road. When The Winslow Hotel called first orders in 1886 there was a field opposite called Mere Green. In 1892 it became the new home of Everton FC. Over the decades countless Toffees supporters and no few players (in the days when many lived, literally, around the corner form Goodison Park) have passed through the doors.
On Saturday 14th March this year, the Everton FC Heritage Society teamed up with the current licensee, Dave Bond, to celebrate with the Borthwick, Robinson and Greenhalgh families' connections to the football club and pub. After some informative speeches, specially-commissioned blue plaques were unveiled on the exterior of the pub to mark Jack Borthwick and Norman Greenhalgh's service as Everton players and Winslow landlords.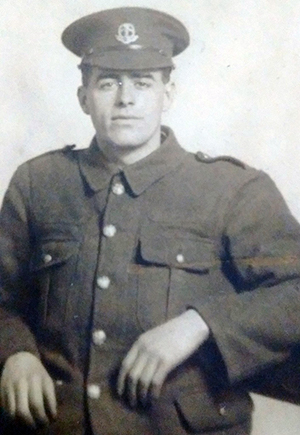 Private Jack Borthwick
Leith-born Borthwick moved from Hibernian to Everton in 1908 as cover for the venerable Jack Taylor at centre-half. In all he would make 25 appearances for the Toffees before transferring to Millwall. He subsequently enlisted in the so-called Footballers' Battalion and was seriously wounded on the Western Front in July 1916 before returning to Liverpool to convalesce. Threfalls engaged him as The Winslow licensee for two periods (1921-1926 and 1938-1942) – where he gained a reputation as a diligent and popular landlord.
The little time he had off work was dedicated to his family, the Freemasons and bowling. Upon his passing in 1942, the pub management duties fell to his widow, Ruth, and eldest son Bill. Bill had a part-time coaching role at Everton for over a decade and helped young players like Jimmy Harris take their first strides at the club. Like his father he represented Everton at Goodison Park – but at Baseball rather than soccer.
Norman Greenhalgh had failed to break-through to the first team at his hometown club, Bolton Wanderers, and arrived at Everton in January 1938 via a spell at New Brighton FC. At left-back, he was the sole ever-present during the Championship-winning 1938/39 season. During wartime he continued to represent his club and was also selected for England in a wartime international. He had the honour of being club captain between 1946 and 1948. On retiring from the game, he was selected by Threlfalls to run The Winslow in 1951. As well as pulling in the punters, he was often visited by ex-teammates and former Everton secretary-manager Theo Kelly, who lodged there. After five years he moved to the Wirral to manage the Bromborough Hotel, where he remained until retiring. He passed away in 1995. Both his son, Dave, and grandson, Phill played football at non-league level.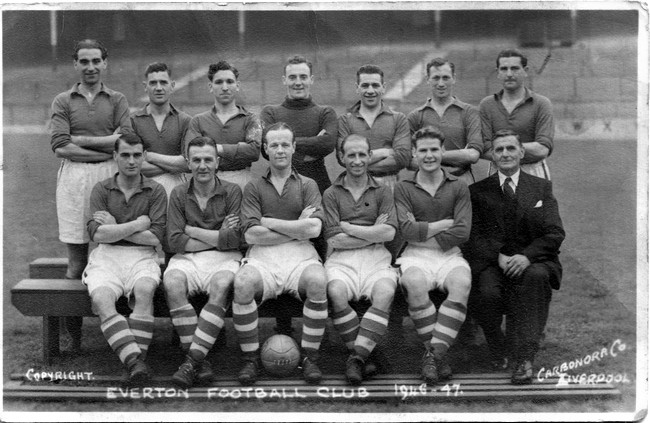 Norman Greenhalgh captains Everton in 1946
Jim Robinson, who lived with his family on Spellow Lane was head barman at Tthe Winslow in the late 1940s and early 1950s. He was shortlisted for the position of licensee in 1951 but lost out to Norman Greenhalgh – nonetheless he helped the successful candidate settle into his new role. Sadly, Jim was paralysed in a workplace accident at Kodak in 1959. His youngest child, Neil, went on to play for his boyhood club in the 1970s and later enjoyed success at Swansea City. Ahead of his time, he was the first vegan professional footballer in the land. Another son, Ken, who had been struck down with Polio as a child, was knighted for his services to education (check out his impressive talks on the 'TED Talks' channel on YouTube) and is the Honorary Patron of Everton Free School, across the road from where he grew up.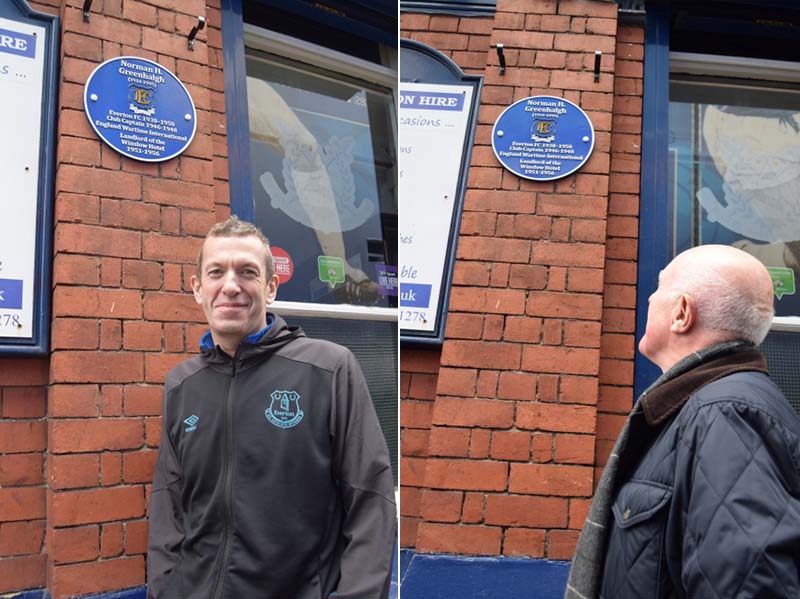 Left: Winslow General Manager, Dave Bond. Right: The son of Norman Greehalgh admires the Borthwick plaque
Attendees were given a tour of the building and presented with a 36-page illustrated commemorative brochure containing the history of the pub - recounted through the prism of the Borthwick, Robinson and Greenhalgh families. Also there is a spot of 'what if?' fiction concerning Dixie Dean (a patron of the pub in the 1930s). The research and writing was provided by past and present Heritage Society members, including Ken Rogers, Pete Jones, Billy Smith, Richie Gillham and Rob Sawyer. It was expertly designed by Thomas Regan of Milkyone Creative and Toffee Art. Anyone wishing to obtain a copy, priced at £3, should contact Dave Bond at The Winslow (07473 091278, thewinslowhotel@gmail.com or via social media)
Brendan Connolly, Chairman of the Heritage Society said:
'It was a most enjoyable couple of hours and the feedback from the families was excellent. They clearly enjoyed the event and the exposure given to their predecessors. It's always great to exchange stories with the families of our former heroes. My special thanks go to Rob Sawyer for organising the event and Dave Bond for hosting us at The Winslow. Thomas Regan of Milkyone Creative designed a beautifully-presented booklet detailing The Winslow's history using content produced by Society historians and researchers.'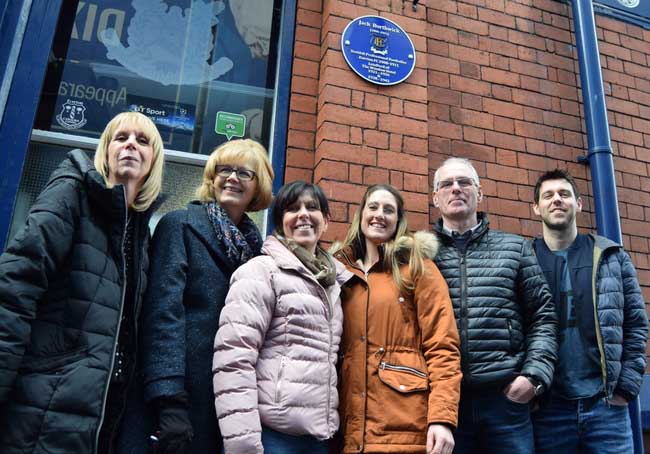 The Borthwick family

Follow @evertonheritage
Share article:
Reader Comments (15)
Note: the following content is not moderated or vetted by the site owners at the time of submission. Comments are the responsibility of the poster. Disclaimer
Colin Glassar
1
Posted 23/03/2020 at 07:50:36
Many a pint of Tetley's bitter drunk in that place.
Mark Cuddy
2
Posted 23/03/2020 at 08:46:43
This is superb and one of the things that makes our club different and special.
I remember a European game in the mid-nineties (can't remember who it was against) and me, my uncle and his mates were sat drinking in the Winslow. We all had tickets for the game but missed the first 15 or 20 minutes of the match because we were all having a good laugh drinking in the Winslow. Crazy.

Lenny Kingman
3
Posted 23/03/2020 at 09:24:49
Amazing history of a pub steeped in blue.
Jamie Crowley
4
Posted 23/03/2020 at 13:05:03
When the Club moves, will the WInslow open a new location near BMD, or fade into history?
The only thing I can think of that's remotely similar to this is the Cask n' Flagon next to Fenway. But that's more bar, and not pub with rooms type of thing.
Places like this should be linked with the Club. I'd almost hope they'd negotiate real estate to move with the Club, in conjunction / partnership with the Club.
Derek Knox
5
Posted 23/03/2020 at 14:09:12
Jamie C, good question, but I would imagine as the site of the now Goodison Park is due for regeneration on completion of BMD.
The Winslow (I would imagine anyway) will become part of that regeneration and under possibly a Compulsory Purchase Order, no longer exist. The projected images of the regeneration (post BMD completion) do not appear to accommodate any 'old with the new'.
Phil Parker
6
Posted 23/03/2020 at 16:12:38
We were in there till 4 in the morning the night we beat Liverpool 2-0, Joe Royle's first game as manager. He came in behind the bar, stood on a crate and said in typical Joe style "That'll do for a start". What a night that was.
Mick Davies
7
Posted 23/03/2020 at 16:36:09
Phil Parker @ 6, great story
Derek Knox
8
Posted 23/03/2020 at 20:33:46
Phil @ 6, those halcyon days when we could go to a pub, I remember them well! :-)
John McFarlane Snr
9
Posted 23/03/2020 at 20:51:16
Hi Phil [6] I have just mentioned your name on the Leon Osman/Wayne Rooney thread, regarding how you brought Wayne Rooney to my attention, the last time we were together was in the Winslow when we were in the company of David France. That was in the days of Alan Jackson's football-football show, the signed photo you gave me of Alex Young, [To John from Skem] occupies pride of place in my bedroom.
Mike Gaynes
10
Posted 24/03/2020 at 00:29:37
Wonderful historical piece.
This Yank is honored to have consumed half a Guinness at the Winslow before my first wondrous moment at Goodison.
Mark Cuddy
11
Posted 24/03/2020 at 06:13:22
Phil @6, that is amazing. How can that be topped? What a story, what an experience. Well done for being there.
I love Joe Royle and that 2-0 game was a superb night under the Goodison floodlights.
Wow, amazing. I think I'm turning green with envy and I'm never like that. The Scouser in me is shouting, "Jammy git!"
But I'm made up for you really. Superb. Great story.
Phil Parker
12
Posted 24/03/2020 at 12:32:18
Hi John, hope you are keeping well, your knowledge is invaluable to us all, as is your outlook on life. Make sure you and everyone please stay safe and keep to the strict rules in place. As you say, best wishes to all.
John McFarlane Snr
13
Posted 24/03/2020 at 14:15:01
Hi Phil [12] I'm not too bad, although there is a bit of a problem, I require a monthly injection, as one of my ailments is pernicious anaemia. I'm due to have an injection tomorrow but because I'm 'confined to barracks' I can't attend the clinic. I'm awaiting a phone call from the District Nurse for a possible home visit. I've been told that most people with anaemia have an injection every three months. I don't do things by half, 'if a job's worth doing, it's worth doing well'.
You will remember how you told me of Wayne Rooney, long before his introduction to the masses, that was in the days of the 'Football, Football Show' on Radio Merseyside. When you heard me say that I was a great fan of John Charles, you took the trouble of driving down to the studio to leave a photo of him as a gift for me. I still have it along withe signed photo of Alex Young, and I will be eternally grateful for your kindness. When the Football returns we must make an effort to meet up again, I suggest that it should be outside the Winslow where we first met, or maybe at the next ToffeeWeb get-together whichever comes first.
Ron Sear
14
Posted 24/03/2020 at 21:14:27
There's a nice patch of empty ground opposite Bramley-Moore Dock on the other side of Regent Road that could do with a pub like the Winslow only with better beers. Anybody fancy shifting it?
Patrick McFarlane
15
Posted 17/04/2020 at 23:20:20
Having just read about this iconic pub in the Echo, I had a thought - very strange I know. Although the Pub is a private business and it will get some help from the government, it would be a shame if it went out of business due to the current lockdown.
I have no shares in the business and I only encounter the barstaff on a matchday, like most other Evertonians. But I was wondering if Evertonians across the globe would buy a virtual pint from the owners to be redeemed at some future point?
I have no idea how this could be done, I assume crowd funding or similar, but I'm sure that it could be done a) if the owners wanted it to happen and b) if someone out there knew how to set it up.
---
Add Your Comments
In order to post a comment, you need to be logged in as a registered user of the site.
Or Sign up as a ToffeeWeb Member — it's free, takes just a few minutes and will allow you to post your comments on articles and Talking Points submissions across the site.
---
© ToffeeWeb