Saints accept Højbjerg bid, but player wants Spurs
| Tuesday, 21 July 2020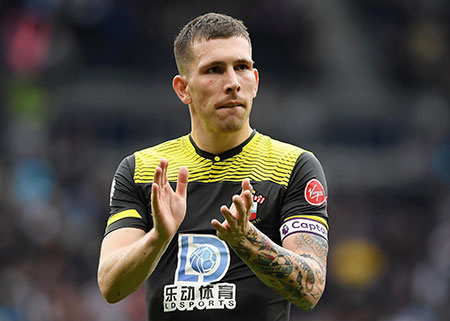 Everton have reportedly had an offer of £25m for Pierre-Emile Højbjerg accepted by Southampton.
MailSport claim that the Blues have so far outbid Tottenham for the Danish international midfielder who has signalled his intention to leave St Mary's this summer.
This follows a suggestion earlier in the day that Southampton had rejected a bid from Everton of £20m rising to £25m based on appearances and a subsequent report by Metro that claims that Spurs will now match the bid from Merseyside.
---
Update 22 July The Liverpool Echo maintains that Pierre-Emile Hojbjerg has made it clear to Everton he wants to join Tottenham Hotspur this summer.
The Echo maintains that Everton have not lodged a £25m, although they have made it clear to Højbjerg they want him. They say Carlo Ancelotti is an admirer of the 24-year-old and asked the club to make a move for the Denmark international but Højbjerg has told the Blues, on at least two occasions, that he wishes to move to Spurs and play under Jose Mourinho.
Everton had not initially been deterred by Højbjerg's stance and had been in dialogue with Southampton over a potential deal, with player exchanges discussed as part of the negotiations. But the club insists that, contrary to reports, they have not lodged a £25m bid for the player. Everton's valuation, for a player who is into the final 12 months of his contract, was closer to £14m.
That appears to have drawn a line under any further speculation.
---
---
Reader Comments (309)
Note: the following content is not moderated or vetted by the site owners at the time of submission. Comments are the responsibility of the poster. Disclaimer
Derek Knox
1
Posted 21/07/2020 at 19:42:06
I hope I'm proved wrong, but I don't see what the urgency is to pay that sort of money for this guy, especially when he favours a move to Spurs anyway.
I think for that sort of money we could spend it more wisely, and possibly get a right-back as well as a midfielder.
Remembering the quotes of Le Tissier "he has never kicked on from Bayern Munich" and even their own fans reckon he was not as good as Schneiderlin.
Duncan McDine
2
Posted 21/07/2020 at 19:42:07
Just talking about this on Talksport...
Brian Williams
3
Posted 21/07/2020 at 19:48:05
"Not as good as Schneiderlin." Has to be the ultimate slap in the face, that!
Like saying "not as popular as Hitler."
Marc Hints
4
Posted 21/07/2020 at 19:48:20
Derek, Matt Le Tissier is very well known for saying stuff when players leave Southampton, he has done it before.
I think this is a good buy, he is 24, solid midfielder. If anyone will make him better, then Ancelloti will. I watched a few games when he played and he was very good.
Simon Jackson
5
Posted 21/07/2020 at 19:50:47
£25M is nothing for any player, remember Southampton struggled for most of the season, how many players in our team looked good?
But him next to Gomes et al will be a good fit; he's a hard-working midfielder who can tackle and pass, we don't have that.
James Green
6
Posted 21/07/2020 at 19:54:17
Upgrade on Davies. Possibly the mobile, tenacious and narky midfielder that we need alongside Gomes.
Brian Wilkinson
7
Posted 21/07/2020 at 19:55:54
Should be a done deal, Saints want straight cash, cannot see Levy stumping up £25 Million.
Carl Manning
8
Posted 21/07/2020 at 19:56:28
Schneiderlin for Saints was fantastic, that's why he got the dream move to Manchester United, so it's expected Saints fans consider him superior.
Steve Shave
9
Posted 21/07/2020 at 19:56:44
Okay, I'm happy if this is true but only if one more centre-midfielder is coming in, be that Allan (sheer quality) or more than likely a Koopmeiners or Sangare type. Hojbjerg has shown he can really play in the Premier League with plenty of scope to keep improving. The other centre-midfielder could have time to bed in next season and find their way without so much pressure on them.
If true then he will be here because it's what Carlo wanted, I trust his eye for a player. I really think Kean is going, possibly as a makeweight for a winger so we will need to look for another striker. I am praying we can shift Besic, Delph and Sigurdsson in this window.
Joe McMahon
10
Posted 21/07/2020 at 19:57:05
£25 million, FFS have we not learned any lessons.
James Stewart
11
Posted 21/07/2020 at 19:57:12
£25M seems to be the price we pay for everyone!
Duncan McDine
12
Posted 21/07/2020 at 19:58:51
Wonder if there's some kind of influence from Hummel. We seem to be going very Danish lately, let's hope he has the drive and personality to wake up the snoozy players he'll find around him at Finch Farm.
Colin Bell
13
Posted 21/07/2020 at 20:00:18
Check out his passing statistics, 600+ forward passes this season. 177 is the best we can muster with the current crew.
Jay Wood
[BRZ]
14
Posted 21/07/2020 at 20:05:42
Colin Bell! Nijinsky!
We could do with a midfield player with the skill and box to box stamina of your namesake.
Cracking player.
Dan Nulty
15
Posted 21/07/2020 at 20:08:59
Honestly I don't know enough about this player to comment. Hopefully he will be a good signing.
Rob Dolby
16
Posted 21/07/2020 at 20:12:17
This is an easy, low risk transfer for Brands. You don't need an extensive scouting network to unearth this guy.
An experienced premiership and international player who hasn't really pulled up any stumps in 3 years at Southampton.
Is he better than what we have, probably.
Would a top 4 team want him. No.
Would a signing like this make Richarleson think that the club are going places, probably not.
Les Moorcroft
17
Posted 21/07/2020 at 20:14:00
FFS – if true, give the lad a chance.
Gavin Johnson
18
Posted 21/07/2020 at 20:16:47
Hope he becomes the player we're hoping but he has big shoes to fill following Gana. He's better than what we have but that isn't difficult. The bonus is that it he knows the league. The negative for me is that it's too much money.
Gary Willock
19
Posted 21/07/2020 at 20:30:14
If it's sealed early, this could be a smart move all round. We are *desperate* for options in the middle, and by signing someone (proven Premier League player, only 24 years old) early we take that obvious desperation away.
£25M feels a lot in post-Covid world, but hopefully now we can sit back a little and take our time getting the right players at the right price. Personally I'd like another centre-midfielder (and see if we can ship out Delph), but if we seal this there is no desperation there and we can focus on right-wing. COYB 🤞
Stephen Vincent
20
Posted 21/07/2020 at 20:37:07
If he is the 'enforcer' we need and he enables Gomes to play, then he may be worth it. But god do we need pace in midfield.
Mike Gaynes
21
Posted 21/07/2020 at 20:43:38
I don't opine on the cost of a player, because honestly I never have the slightest idea if the price is right, but I'm pleased with this signing, simply because I've seen him play and I know he brings the aggression and attitude that have been sadly lacking in the side this season.
But I'm with Steve #8, I'm only happy-happy if this is the first of two. Hope Carlo and Marcel have somebody in mind to play next to him (McKennie? McKennie? McKennie?).
Martin Berry
22
Posted 21/07/2020 at 20:44:02
Every team needs someone to put the spade in and in midfield he could be ideal to do the graft and let the others play.
He is still young at 24 and obviously has the work ethic that we need, also there may be another new face alongside him before the new season starts.
Much better option than a player like Rodriquez for Barca etc who has no idea of the speed and physical demands of the Premier League.

Tony Everan
23
Posted 21/07/2020 at 20:46:13
Anyone asked the player if he actually wants to come here before the offer was placed? I thought he wanted to go to Tottenham...
Are we being used by Southampton to rubber-stamp his fee with Spurs? Along with him showing Levy his wage demands are realistic.
Time will tell, but I hope we don't end up signing a disgruntled, semi-motivated player that preferred elsewhere. We've just got rid of one of those.
Keeping an open mind though because there is a lot of bullshit and strategic lies flying around as the silly season starts.
Gavin Johnson
24
Posted 21/07/2020 at 20:47:56
There's a theory going around amongst some Saints supporters that Spurs were never really interested and the player's agent, who's good friends with Mourinho, used Spurs to get an inflated price from another club. Apparently this was also the case when Jose Fonte left Saints.
Who knows?! But I do remember the fee for Jose Fonte raised a few eyebrows, especially given his age. The consensus amongst many Saints fans is that this lad never reached the potential they were hoping. Wasn't this the same as what Le Tissier said?!
Justin Doone
25
Posted 21/07/2020 at 20:54:09
If it comes true I'll be disappointed.
I don't see him as an upgrade from what we have. We need much better to improve, not more of the same.
A decent enough player but I'd take Ward-Prowse over him any day. A player that can pass, cross and score goals. Am I wrong in wanting that from a midfielder?
Colin Glassar
26
Posted 21/07/2020 at 20:55:36
Only twice has this guy stood out for me in a game. Once was last season he was awful and I think he got sent off. And once this season when he absolutely bossed the midfield on his own. I can't remember who Southampton were playing but, on both occasions, this guy stood out for differing reasons.
Derek Knox
27
Posted 21/07/2020 at 20:56:42
Mike @19, something tells me you would like McKennie, I could be wrong though. :-)
Been invited to another do on Sunday, so I may miss the match and the Live Forum, but from what I can see there are not many Channels covering the match DAZN Canada is, but the others are thin on the ground. Probably because all the matches are being played at the same time.
Joe McMahon
28
Posted 21/07/2020 at 20:59:52
Colin, I think it was Altrincham in a League Cup match.
Kieran Kinsella
29
Posted 21/07/2020 at 21:00:19
If Everton ordered donuts for the office staff, it would no doubt cost £25 million.
Ian Horan
30
Posted 21/07/2020 at 21:02:29
Any decent player that leaves a club, especially if they are a young international the supporters will try to say wasn't good enough or failed to deliver. My view is he kept Ward-Prowse out of the Saints team (who is a very good player) until he refused to sign a new contract. I don't care what the fee is as long as Carlo wants him, that's good enough for me.
Kevin Molloy
31
Posted 21/07/2020 at 21:04:04
Echo now saying nothing's happened, so it looks like it's on.
Marc Hints
32
Posted 21/07/2020 at 21:08:12
Spurs preparing another bid according to various reports now. I think he will go there; he wants the Spurs move.
Marc Hints
33
Posted 21/07/2020 at 21:16:51
Echo now saying Everton have not submitted any bid. They value him at £14 million and player has told Everton he wants to join Spurs.
Chris Hockenhull
34
Posted 21/07/2020 at 21:17:26
Ah, Le Tissier... yes, an expert on discussing others' lack of ambition and not living up to their natural abilities and potential.
Len Hawkins
35
Posted 21/07/2020 at 21:17:30
Kieran #27,
They would if they were buying them off me, I wonder if they like custard, jam or apple donuts.
Jay Harris
36
Posted 21/07/2020 at 21:23:43
I'm on the fence about this one. We definitely need a grafter in midfield and that job is not spectacular but, as sure as eggs are eggs, this guy is no Gueye.
Personally I would have preferred McKennie who I think we might have got by swapping Kenny thereby saving £25M towards a goalscoring midfield player.
Having said that, didn't he play for Carlo at Bayern?
Jamie Crowley
37
Posted 21/07/2020 at 21:33:20
If I sold Everton T-shirts, my entry price would be $75 each.
They'd pay it.
Colin Glassar
38
Posted 21/07/2020 at 21:36:30
Red Echo says it's not happening!
John Pierce
39
Posted 21/07/2020 at 21:36:36
Lad doesn't want to come. Move on.
Jamie Crowley
40
Posted 21/07/2020 at 21:40:20
Saved. Thank God. Knock it off, Everton, with these nearly men please! We're full of them. Go make 1-2 impact, quality signings.
Jesus man.
Jack Convery
41
Posted 21/07/2020 at 21:41:17
He was apparently sold by Bayern when Carlo was in charge. Are we making Spurs pay top dollar to get him? Don't they want Gabriel too?
Le Tissier hates Everton. It might have something to do with the 1984 FA Cup Semi at Highbury when we knocked out Saints with an Adrian Heath header! What a day that was!!
Jamie Crowley
42
Posted 21/07/2020 at 21:43:10
Every Blue on planet earth in July:
"We need quality midfielders."
Everton:
"Here's our solution to our midfield issues - Pierre-Emile Højbjerg! Welcome to Everton Pierre-Emile!"
Every Blue on planet earth:
"Fuck off."
Joe McMahon
43
Posted 21/07/2020 at 21:44:11
Jack, that's stretching it a bit, it was 36 years ago!
Paul Birmingham
44
Posted 21/07/2020 at 21:47:47
There's no point in buying any player no matter how good he may be, if he doesn't want to play for Everton. Smells like Sissoko, three years ago.
I'll back Ancellotti, and hopefully, who is brought in to the squad this preseason will improve and boost squad morale, and will adapt quickly.
Pat Kelly
45
Posted 21/07/2020 at 21:49:03
We'll probably offer £30M and give him a 5-year contract on £150k per week. And he'll be every bit as good as Iwobi.
Jack Convery
46
Posted 21/07/2020 at 21:50:45
Joe - some people never forgive or forget. He queried why Koeman would want to choose Everton over staying at Saints. Considers us as nobodies.
James Stewart
47
Posted 21/07/2020 at 21:54:48
Player states he's not interested; cue the Echo reporting we haven't made a bid, hilarious.
Jack Convery
48
Posted 21/07/2020 at 21:56:05
Spurs fan sites having a right go at Levy. Some people are never satisfied!!
Tom Bowers
49
Posted 21/07/2020 at 22:05:18
Wouldn't anyone prefer a move to Spurs. as things are at present?
We need more expertise from midfield as what we have seen this season just isn't good enough. Southampton have for the most part been a very good hunting ground for many other clubs, (Schneiderlin excepted).
With sick note players like Gbamin and Delph and the inconsistency of other players, we need some fresh looks for next season. Although it's been a poor season with many inept performances we can probably finish 11th and they have only lost 2 out of eight since the restart (both away to decent teams).
Okay we are still a long way off being a top side and there is a lot of debris to get shut of but I feel that Carlo can be the man to do it come the new season..
Bournemouth have to beat us on Sunday to have any chance of surviving the drop so hopefully Everton don't play as poorly as they did down on their patch.
Oddly enough, Watford, who seem destined to go down, were the first team to beat RS and yet Everton have beaten them 3 times. Football is a funny game.
Colin Metcalfe
50
Posted 21/07/2020 at 22:09:42
Totally underwhelmed. I hope there is no truth in it. Another dud on his way... what on earth is wrong with the recruiting at Everton?
Jack Convery
51
Posted 21/07/2020 at 22:27:26
Italian coaches love a four-man midfield consisting of a playmaker, hard-working tackling defensive type, a wide player who hugs the line and the other being the player who runs his socks off. Like De Rossi, Pirlo, Montolivo and Giaccherini.
Hojbjerg would be the De Rossi type – not in the same class... yet. Gomes would be our Pirlo type – never in the same class, but who is?
McNeil at Burnley would be my favoured Giaccherini type. Allan can play the Montolivio role. Simples.
Go get em Carlo.
Steve Ferns
52
Posted 21/07/2020 at 22:56:04
Koeman never managed Hojbjerg so why would Hojbjerg pass comment on Koeman having left other than to try to make Southampton not look as small-time as they are?
If Carlo wants Hojbjerg as his first choice midfielder, why would you celebrate the manager not getting his man? Why would you rather have his number 2 choice than his number 1? And how do you know that you won't dislike the number 2 choice more?
Let Carlo make his first proper signing and let's see how he plays before bashing him and thinking we know better than the manager.
As for Le Tissier, he adds about as much insight as Paul Merson, Charlie Nicholas or Phil Thompson. So what if they were great players, they are all thick as, and you'd never know they had top class careers as they come out with a load of crap. If Le Tissier thinks he's crap, then we should sign him.
Jack Convery
53
Posted 21/07/2020 at 23:03:03
Steve Ferns - unsure if that comment was directed at me. I was saying Le Tissier considers Everton as nobodies and he made that plain when Koeman was considering Everton's offer to manage them. I reckon Hojbjerg wants the London lifestyle – and the money of course!
Sean Kelly
54
Posted 21/07/2020 at 23:11:33
If he's not on his lawnmower, busting a gut to get here, then tell him to stay within the M25. Why bid or pay for someone that clearly wants Spurs? Move on – there's better out there for that money.
Steve Ferns
55
Posted 21/07/2020 at 23:12:23
Sorry, Jack, I thought you meant Højbjerg was saying Everton are nobodies! Which would have been a strange one as he was never managed by Koeman.
The general point on Højbjerg, I want to see a player similar to Idrissa Gueye signed. When we signed Gueye, no one thought he was going to be so good and the transfer was rather underwhelming with many comments made on here about signing a relegated player.
So, for Højbjerg, let's hope he's similarly able to ram the words down people's throats, if and when he does arrive.
Soren Moyer
56
Posted 21/07/2020 at 23:15:48
We need pace and power in the midfield urgently, not another slow midfielder! Why not take a chance on someone from lower leagues or some Eastern European countries, like the Italian clubs seem to do very successfully!!? After all, they don't cost much and are less risky when it comes to after-sale value. We need actual scouting which doesn't involve YouTube!
Bill Gall
57
Posted 21/07/2020 at 23:19:41
Not sure that we want a player who doesn't want to come here.
I watched him the other week when he played at right-back; I wasn't overly impressed. I agree with other supporters – for £25M, we may be able to get someone better. If he signs, we still need another midfielder.
Jack Convery
58
Posted 21/07/2020 at 23:21:02
Steve, no probs. If Carlo wants him and apparently Mourinho wants him too, then that will do for me.
Am I right that Mourinho got shut of Schneiderlin or was that Van Gaal?
Fran Mitchell
59
Posted 21/07/2020 at 23:26:30
Let's wait and see.
I'm not gonna pretend to know much about the lad. Never really watched him. In the last game at Southampton he was the best midfielder on the pitch when he came on, so that's something.
He appears to be hardworking, tenacious and a decent passer. that's an automatic upgrade. So hopefully he can be so.
Young and with time to improve.
And not all players need to be 'exciting' signings. Many people giggled at Liverpool signing Henderson, I seem to remember, but he's developed into a world-class No 8.
Christy Ring
60
Posted 21/07/2020 at 23:27:16
We badly need a competitive midfielder, and he fits the bill. If Carlo wants him, it's good enough for me. It seems his first choice is Spurs but, with Levy in charge, it could work in our favour.
Le Tissier is the only one of the four pundits I listen to, I wouldn't take any offense with his comments, he's bitter with Koeman and Højbjerg because he's Southampton true and true.
Mike Gaynes
61
Posted 21/07/2020 at 23:27:34
Kieran, if TW was a subscription service, I would pay the monthly fee just for your posts. Even when I don't agree with you, ya crack me up.
Sam Hoare
62
Posted 21/07/2020 at 23:31:37
Couple of things:
1. If we only want to sign players for who we are first choice, it's gonna severely limit us. We are a mid table team with no European football. The players do not have to be Everton fans, so long as they are good professionals and good players. If a good player would prefer a move to the likes of Napoli, Dortmund, Spurs etc but we outbid them, then that sounds fine to me.
2. There are not that many hidden gems anymore. The growth of football statistics and journalism in the last 4 years means that very few players in the top leagues have not been poured over by scouts and statisticians alike. I'd be extremely surprised if Brands (or any of the top 8 clubs) were to buy in a player for their first team that some of the stats geeks (like me and Tressell) had not heard of.
3. What's your issue with Højbjerg, Jamie Crowley?! Ha! You know he's got some of the best defensive numbers in the league? He may not be as mobile as Gueye but the guy wins the ball back for you a lot.
4. If Højbjerg is not to be then I wonder who the second choice is? Seems we want someone with lots of energy, who wins the ball back a lot and can make progressive passes. I'd really love Laimer from Leipzig who won't excite many of you but you'd grow to love him!
Steve Ferns
63
Posted 21/07/2020 at 23:31:44
Van Gaal sold Morgan Schneiderlin.
Højbjerg might not be quick, but he doesn't seem slow to me. I think he'd beat all of our central midfielders in a foot race.
If Carlo rates him, Mourinho rates him and even Pep Guardiola (his manager at Bayern) rated him, then he must be decent. That's a very different mix of managers. Mourinho also requires an excellent defensive midfielder to glue his team together. He's a great judge of them.
That said, I've never seen much of what Højbjerg does to take note. In that he's usually fairly anonymous for an opposition player. But that's exactly what we need. A busy bee doing non-descript stuff to allow the others to play.
Don Alexander
64
Posted 21/07/2020 at 23:33:17
Let's pop the corks, we're now about to at last replace Tommy Gravesen as the fulcrum of a basically wholly dysfunctional midfield. Whoopee Farhad, that's the way to go to even end up 10th next season. Progress indeed.
Sigh.
Mike Gaynes
65
Posted 21/07/2020 at 23:42:03
Sam #62, I'd be excited about Laimer. He couldn't find the goal with a telescope but he pressures the ball like a Tasmanian Devil. Very Gana-like.
Tom Dodds
66
Posted 21/07/2020 at 00:07:08
@ Jamie (various)
Penny packet Everton.
Top 6 Clubs... £80M for him... £70M for him... £70M for him, and yes, £60M for him. That's the squad shaped up nicely.
That's the way to do it.
Or: Work on the Youth: Branthwaite, Gordon et al, and create a homegrown relentless Burnley / Sheffield Utd type role model.
Tony Twist
67
Posted 22/07/2020 at 00:24:15
We are such foolish buyers. Niasse had a better looking YouTube video than this bloke.
It is about time there was transparency with regards purchases, who's bright spark idea is it to buy this, slightly poorer, Schneiderlin Mk 2???
Not who we need, so typical of Everton.
Victor Yu
68
Posted 22/07/2020 at 00:37:34
This is about marketing. The sponsor wants a Dane to promote the shirts in Denmark (just like signing two Chinese players after we got a Chinese sponsor). Sucks big time!
Bill Gall
69
Posted 22/07/2020 at 00:50:32
Hope Everton don't buy him after reading some of these reports by the ToffeeWeb scouts, he is on a hiding to nothing before he kicks a ball,
I wrote that I watched him but they were playing him at right-back and I wasn't overly impressed, but then that was not his usual position. I think I will leave it to the professional scouts as I have only seen him a couple of times and that is no way to make a decision on his game.
Derek Moore
70
Posted 22/07/2020 at 00:57:13
If we've got him... and if the price of £25M is to be believed, does anyone here know how it will affect our FFP situation?
This lad might not be who many wanted, but I only hope he's the guy we desperately need.
Lester Yip
71
Posted 22/07/2020 at 00:59:25
I appreciate Højbjerg's work rate and lack of injuries record. But not for £25M. Let Spurs have him. I wonder if Spurs just jack up the price as they know we're desperate. And they'll go for the one who they really want after we spent our silly money.
Why don't we go for Loftus-Cheek from Chelsea? It seems he's not getting much games? Probably in the range of £12M to £15M?
Paul Jones
72
Posted 22/07/2020 at 01:24:03
Moussa Sissoko wanted a move to Spurs who would not meet the asking price. Following an acceptable offer from Everton, they then matched the price. Would not surprise me if history is repeated.
In recent seasons, Holgate has been the best player for us in that role and more mobile than Højbjerg. Although he has also been our most consistent centre-back this season.
I would hope that another player has been identified as Højbjerg does seem to want the move to Spurs.
Nicholas Ryan
73
Posted 22/07/2020 at 02:01:46
1. Lots of people on here saying he's no good, yet Ancelotti and Mourhino, with 7 Champions Leagues between them [Carlo got 2 as a player] are desperate to sign him.
2. Looks like he's going to Spurs anyway.
3. He's Danish. Denmark consistently gets voted 'Happiest country in the world'. The Danish Prime Minister was asked if Denmark really was the world's happiest country and gave the great response: 'Name me a Danish Blues guitarist'!
Jamie Crowley
74
Posted 22/07/2020 at 02:48:36
This is not what we need. As Paul @71 points out, Holgate is a better central defensive midfielder than this dude who will cost us TWENTY FIVE MILLION FREAKING POUNDS!!!
You know what my litmus test is for a CDM signing?
Ya gotta be better at it than Mason Holgate.
If you want to change the pathetic direction of this lovable but oft dysfunctional club, make sure any CDM signing is better at the position than Mason Holgate.
Simple. Now fuck off to Spurs, you happy Danish dude – you wouldn't even take us from 11th to 10th in the table!
Steve Brown
75
Posted 22/07/2020 at 03:31:30
He's bang average, costs too much and wants to play for another club. Other than that, it's a done deal.
Bob Parrington
76
Posted 22/07/2020 at 03:34:49
It seems the guy doesn't want to move up North. So, what's the point? He signs, he's unhappy and his performances drop – just like a number of the current squad.
I've watched him a few times this season and he has some good qualities that would probably fit well in our team.
But, if the reports are honest that he wants to move to Spurs... so, as Jamie just stated: Fuck off to Spurs!
Alan J Thompson
77
Posted 22/07/2020 at 04:43:31
I've never seen this bloke play but someone said "he is hardworking, tenacious and can spot a pass". Does this mean he's been playing in a team where other players move to take a pass? Whatever happened to all round midfielders, we just put up statues to them?
Kristian Boyce
78
Posted 22/07/2020 at 04:57:15
This is actually decent brinksmanship from the club. He might prefer Spurs, but Levy being Levy, he doesn't want to pay the going rate.
They were probably were going to wait till the end of the transfer window to drive his price right down due to him going into the last year of his contract. While we may be paying more now, the chance of Spurs trying to compete now drops greatly.
Eddie Dunn
79
Posted 22/07/2020 at 06:46:14
I'd be surprised if he wanted to go to Spurs. A place that looks rather miserable under the egomaniac manager and tight-fisted chairman. The last Dane they had there got out after off-the-field nonsense ruined the atmosphere.
He could come here, earn more, with little real pressure and his missus ensconced in a Caldy nunnery. What's not to like?
Tony Everan
80
Posted 22/07/2020 at 07:23:04
Kristian @79, I think that is exactly what is happening here too. It forces their hand and, even if they do sign him, it relieves us from a direct competitor for our next midfielder on our target list. It's part of a good strategy to get the critical signings done in advance and not wait until the last minute.
It bodes well because it means Mr Brands is serious and determined this window to make an impact.
And ps: Le Tissier is as bitter as they come when talking about Everton; I would only take his opinion with a sack of salt.
John Keating
81
Posted 22/07/2020 at 07:42:15
Steve @63,
I fully agree. We can go back to Gabriel, Bracewell, Carsley even Gueye. None real speedsters or match-winners but all excellent at what they did and were brought in to do.
Even though personally I don't really rate him for £25M, though hope I'm proved wrong if we get him, I agree with you regarding him being the manager's choice.
Frank Sheppard
82
Posted 22/07/2020 at 07:58:07
I don't know enough about him. But if Carlo wants him, surely that's a good sign? Let's not forget – our midfield has been very poor this season.
Sam Hoare
83
Posted 22/07/2020 at 08:12:29
Jamie @74,
Holgate is not a centre-midfielder! He's played one match this season out of necessity and, though he did well in a backs-against-the-wall type display, he is very much a centre-back. A good one at that. Less square pegs in round holes, please.
Why the hate for Højbjerg?! He's not flashy but did you know that he made more recoveries per game than any central defensive midfielder in the Premier League this season? More than Kante, Rice, Ndidi, Henderson.
He's not in the team to be great on the ball but, even so, he makes more progressive passes and key passes per game than Gomes or Davies. He's flexible in that he can play the box-to-box role or the defensive screener. And he's a highly competitive and determined player who's captain of his club at 24.
Plus Ancelotti, Mourinho and Guardiola all rate him. He may not have been my first choice but he'd be a very sensible, experienced addition who undoubtedly improves our midfield and offers the sort of solidity and dependability that Henderson offers Liverpool.
Who would you prefer? McKennie, for example, would cost the same but comes with less experience and a less complete defensive (and offensive) game – though he has good potential.
Drew O'Neall
84
Posted 22/07/2020 at 08:16:51
Looks driven, robust and positive which have to be the main criteria on the shopping list. Hope he infects the rest of our team with those attributes.
We should be taking a good look at King and Wilson from Bournemouth if they drop out of the Premier League this weekend.
Mal van Schaick
85
Posted 22/07/2020 at 08:21:35
Please don't sign Zaha.
Nathan Ford
86
Posted 22/07/2020 at 08:25:30
I'm not sure what I think about Højbjerg but, if he keeps Tom Davies out of the starting 11, that will do for me. I'm sorry but I just don't rate the kid and he's liable to cost us a goal every game. He gives the ball away several times a game and always gets us put under pressure.
Derek Knox
87
Posted 22/07/2020 at 08:29:54
Drew, I take it you mean Josh King and Calum Wilson? I wouldn't go near either. Harry Wilson would be a better proposition but I think he is on loan from Liverpool, so we can forget him too.
We have had alleged interest in these two for some time now, so I have made a point in watching them whenever Bournemouth have played. Even when they weren't struggling for survival, neither looked to be the answer.
That is my opinion based on observation, and not just 'Sphincter Speak'!
Robert Tressell
88
Posted 22/07/2020 at 08:31:12
Over the years, I have seen so many rumours quashed on the basis the player was not good enough. These include the likes of Michael Essien, Michael Carrick, Damien Duff, Ashley Young, James Milner, Virgil Van Dijk, Wan Bissaka etc etc.
It is a bit like a father being introduced to a potential son in law.
Højbjerg is a dull signing and the price seems unduly high. But he has the attributes we need (or at least some of them) and Carlo and Jose have been in the business long enough to judge.
Sometimes what these players have doesn't come through in the stats either. Phil Neville for example. Desperately average footballer but I'd take him all day long in the current set up.
Højbjerg is young a captain and ambitious. So maybe he has that Neville je ne sais quoi.
Like everyone else, I'm not especially excited but it doesn't look like a bad signing. Might be the transfer equivalent of the Big Lebowski's rug – really tying everything together.
Duncan McDine
89
Posted 22/07/2020 at 08:38:44
SH 83 - I don't think Jamie meant at all that Holgate played as a defensive midfielder for the whole season. He just points out that (when he did play that role) he was the best out of anyone in our squad. Unfortunately we don't have 2 or 3 clones of Mason, so whoever comes in needs to be good enough at his job to let Mason concentrate on being a centre-back.
Paul Whittaker
90
Posted 22/07/2020 at 08:39:56
I really hope that this news is a smoke screen. I can't believe the club has taken a £30M financial hit on Schneiderlin and then in the next transfer meeting are discussing Schneiderlin version II as our first key signing?!!
We already have players in the squad that just graft and play sideways. I would love to see Holgate given a chance in this position next season and allow Branthwaite an opportunity in central defence.
My ideal Everton team is a team full of promising under-25 players that have been scouted at a young age (what we are good at) surrounded by a spine of 3 or 4 top class players. If we keep signing 3 or 4 £20M to £35M players each off-season, we will keep watching the same type of player – Iwobi, Gomes, Kean, Walcott, Mina, Pickford, Bolasie, Klaassen, Schneiderlin, Tosun – that can't produce 2 top-level performances in a row.
Quit wasting money Everton and stop buying these slow, mediocre, injury-prone players and concentrate on finding the hidden gems. Then when we go into the transfer market, shop at the level above and buy a game-changer. Our two best transfer windows since Moshiri arrived have been the last two January windows, where we bought no-one – and then this year, just Branthwaite.
Joe McMahon
91
Posted 22/07/2020 at 08:42:33
Robert,
"Michael Essien, Michael Carrick, James Milner" – now you are talking; if only.
Joe McMahon
92
Posted 22/07/2020 at 08:46:59
This doesn't feel right. You don't have to pay that much money for a player that can pass a ball forward.
"In Moshiri We Trust"
Bill Griffiths
93
Posted 22/07/2020 at 08:51:10
Why get all riled up by rumours and newspaper talk? Let's wait and see what happens. According to the Red Echo site Everton say no bid has been made and the piece also claim Everton see his value as being more like £14m not the figures quoted.
Derek Knox
94
Posted 22/07/2020 at 09:04:03
Bill @93, very true there – it could be all Anal News and we are verbally squabbling with each other over the merits of this guy when we don't in all honesty know what is going on.
Mind you, I wouldn't believe anything the Red Echo says either.
The Liverpool Echo (printed in Oldham now)... WTF?
Tony Abrahams
95
Posted 22/07/2020 at 09:04:45
I think we might learn a bit more about our young centre-back when he plays against King on Sunday. Until we really improve, we might have to start using some of our younger players a bit more.
If Ancellotti is going for a defensive midfielder, then maybe he's going to change his formation? I honestly don't know enough about Højbjerg although, with Sam's stats, and with some big managers seemingly rating him, then he looks like a very interesting player.
I remember when money was tight, Moyes was waiting for both Scott Parker and Emre, who both ended up signing for Newcastle before he then went and signed Arteta. I think I would have preferred either of those other two at that time, but the third choice ended up being our best player, so hopefully Brands has got a long list!
Laurie Hartley
96
Posted 22/07/2020 at 09:27:56
John Keating # 81 – you missed Dennis Stevens off your list. We were all underwhelmed when we signed him but he proved a great buy.
Ball, Harvey, and Kendall rightly get a lot of mentions on here and rightly so, but I reckon, Gabriel, Stevens, and Kay would have given them a run for their money.
Here's hoping he has a similar impact to Stevens – but we need another.
Dave Abrahams
97
Posted 22/07/2020 at 09:36:38
I must have seen him but I can't remember him. Going by Sam (83), he sounds a bit like Paul Bracewell – not very spectacular but very safe and sound, that would make a lot of Evertonians happy if he turned out as good.
John Hammond
98
Posted 22/07/2020 at 10:00:41
I'd rather we risk spending £25M on a player with all the attributes we're looking for with 4 years Premier League experience than £25M on a player who's never played here.
Just because someone says he's not as good as Schneiderlin doesn't mean it's true. What's their agenda? Do you honestly believe, having watched Schneiderlin pull out of tackles and put in totally anonymous performances and end up on the fringes of the team, that Hojbjerg is even worse?! Now, if you compared Schneiderlin's time at Southampton to Hojbjerg then Schneiderlin blows him out of the water but unfortunately the guy we signed was a shadow of that player.
Anyways, sounds like he's not interested in joining us so best we move on!
Brian Harrison
99
Posted 22/07/2020 at 10:10:48
Seems rather strange that reports are saying fee agreed with Southampton and also apparently he has been to Finch Farm to agree personal terms. So why aren't we seeing pictures of him signing?
Maybe because this is all a ruse to get Spurs to make a bid. Southampton want the right back they have on loan as part of the deal and Hojbjerg prefers Spurs to Everton. So I guess, if he doesn't sign today or tomorrow, he will be on his way to Spurs.
Kase Chow
100
Posted 22/07/2020 at 10:13:27
No disrespect, fellow ToffeeWebbers, but if Carlo wants him., then I trust him x100 re the management of our football team more than I trust any of you. (Until you can show us your trophies!)
We don't know for a fact that Højbjerg prefers Spurs – it's a rumour.
If he signs, then he's voted with his feet: he prefers Everton to all other available options. And if he arrives, then it's because Carlo wanted him.
Which, all-in-all, would make it good news. So stop whinging will you and just see what happens and back him (and Carlo) if he arrives.
Ajay Gopal
101
Posted 22/07/2020 at 10:17:05
Brian (99), remember there is a match coming up on Sunday? Maybe that is why he is not travelling to Everton or Spurs to sign just yet?
Marc Hints
102
Posted 22/07/2020 at 10:23:46
Brian #99,
We cannot sign anyone can we and show pictures of a signing until the Window opens up on the 27th? So, even if he has agreed personal terms etc, Everton cannot announce anything until the transfer window is open?
From what I can see now on a lot of forums is he desperately wants to go to Spurs, so I would say this is dead in the water.
Kevin Prytherch
103
Posted 22/07/2020 at 10:26:31
If the rumours are true about him wanting to go to Spurs then we should leave him well alone, and definitely not offer him more money to come here instead. We don't need more players simply coming here for the money, it only ever results in abject, soulless, lifeless performances such as the ones we've been used to.
If they don't want to come to the club, we don't want them.
Patrick McFarlane
104
Posted 22/07/2020 at 10:28:30
Do we really want to sign any player no matter his ability or cost, that openly states he wants to play elsewhere? Let him go to Spurs if that's what he wants, and let's turn our attention to those who are happy to sign for Everton.
Tony Shelby
105
Posted 22/07/2020 at 10:31:49
Moshiri walks up to the bar and orders a round of drinks.
The barman says: "That'll be £25m please..."
Derek Knox
106
Posted 22/07/2020 at 10:35:04
Brian@99, I remember some time ago, one of the gutter newspapers, The Star or Sun had a headline " Elvis spotted on Mars ", it was allegedly a report, but did anyone apart from the readers of that crap believe it?
The same is true when a Transfer Window is about to open, there are rumours and counter rumours, and yes I'm as guilty as the rest of us for get lured to the bait.
We all want the best for Everton, and I think because of the lockdown and no Football (rightly so). Then suddenly we have to finish the season behind closed doors, mainly for the benefit of the Money Monsters that are Sky et al.
We are all eager to watch our team do well and frankly the crap that we have had served up (mostly) has highlighted that, and the need for change of personnel is patently obvious. We have a World Class Manager now, there is no question about that, but he has inherited the mismatch of a squad that has been a combination of errors from predecessors.
We can to a degree appreciate that initially they may have not been match-fit, but so must the rest of the sides, but the recent lack of effort and commitment is totally inexcusable in my eyes. It's not as if they are doing some sort of favour for us, they are all highly paid professionals (?).
Even the youngsters are probably earning a lot more than most who are considered highly paid! I am optimistic though, that these foolish acquisitions are condemned to the past, although M Brands has still got a few skeletons in his Everton closet to answer for.
Tony Shelby
107
Posted 22/07/2020 at 10:36:48
When Trevor Francis was sold for £1m in 1979 it seemed like a huge figure.
Allowing for inflation that's less than £5m in today's money.
Transfer fees and wages have gone frigging nuts!
Brian Harrison
108
Posted 22/07/2020 at 10:39:35
Marc @102,
Yes, I know the window doesn't open till the 27 July but it hasn't stopped Chelsea agreeing terms with Werner which he will sign on the 27th.
Derek, I agree papers will make up any old stories, but this particular transfer seems to have some legs.
Fran Mitchell
109
Posted 22/07/2020 at 10:41:07
Whoever we get, just hope we do it soon.
For this position, we don't need spectacular, we need solid and hardworking: Carsley - Neville - Barry - Gana. These players were all much maligned when they joined, but turned out to be excellent players for us.
Another who'd be decent in this position may be Douglas Luiz from Villa.
And with Watford looking doomed - they've got a few players who are pretty decent (their fall this season mainly due to woeful management and an even worse defence). Gerry, Doucoure, and Sarr are all players who'd improve this team in an attacking sense.
Trevor Peers
110
Posted 22/07/2020 at 10:43:25
Like everybody else I'm wondering just what role Carlo has for this guy in the team. I can only imagine he will replace Davies as some kind of enforcer seeking out the danger and putting his foot in when required, there's no doubt statistically that's what he's good at. To pay £25 million is baffling, but nothing surprises you about our transfer dealings anymore does it.
Carl Manning
111
Posted 22/07/2020 at 10:43:36
There will be no post-Covid price drops for players in demand. Havertz will go for £75M. Werner would have cost a heap more than his £50M if he hadn't had a clause. £25M is the going rate for a steady dependable midfield player.
I'm not overly excited by any of the names so far but, if Carlo can spot a player in any position, surely it's midfield where he excelled himself? And he will be calling the shots this summer, not Brands.
Steve Carse
112
Posted 22/07/2020 at 10:48:58
It's getting more and more difficult for all but the currently successful northern clubs to attract players, particularly the foreign players. They invariably want the glamour and cosmopolitan culture of London and, important in this day and age for both footballing and non-footballing reasons, the greater media attention they get there.
The vastly warmer weather in the south east and the south coast is another key factor (Kean's agent must have shielded him from finding out about the weather when he signed).
Paul Tran
113
Posted 22/07/2020 at 10:49:36
Twitter was rife with contradictory stories about this last night, which suggests to me that there's plenty of mileage in it, with journalists guessing at the outcome.
He looks to me like the kind of player we need and has Premier League experience. I'm all for effective signings rather than the 'marquee' ones.
If he really wants to go to Spurs, he'll end up there. Some have to get their heads around the simple truth that most non-UK players will prefer to be in London for a team that plays in Europe regularly. Unless we splash the cash, for which many will criticise.
Kevin Molloy
114
Posted 22/07/2020 at 10:51:05
If you're getting the same wages, you'd have to be nuts to choose Mourinho over Carlo.
Joe McMahon
115
Posted 22/07/2020 at 10:56:08
Kevin, unfortunately you have to factor the pull of London, plus shiny huge stadium v Goodison Park, link passes to main striker Kane vs main striker Calvert-Lewin (harsh but true).
Also, yes, Carlo is a big name with Silverware... but so is Mourinho.
Andrew Keatley
116
Posted 22/07/2020 at 10:58:57
Højbjerg has played over 100 Premier League games, so he knows the league. He's proven to be a regular pick for Southampton since signing in 2016, despite the club having four different managers in four years.
He's 24 - so he'll have sell-on value. His stats reflect the fact that he is a decent ball-winner, which is something we have missed hugely since Idrissa Gana Gueye departed.
The price might be a bit toppy, but - and this is the major factor for me - Højbjerg is full of running, seems to me a great competitor, and likes the physical side of the game. I can see why Ancelotti might think he would fit our bill.
Steve Brown
117
Posted 22/07/2020 at 11:01:07
By the way, Spurs don't have a pot to piss in. They had to borrow an additional £175 million to survive the impact of Covid-19 and none of it can be used to sign players.
Derek Knox
118
Posted 22/07/2020 at 11:07:26
Fran@109, good shout there for those Watford players, but should they go down, I think there will be a few fishing round that pond. What a shambles of a Boardroom they must have there, and we thought ours was bad. 3 Managers in one season, surely is a record.
I have always believed that a player, or Manager is never the same if he goes back to a Club, and have never advocated that, but in Gerard Deulofeu's case I would make an exception.
Gerry was basically a very talented kid when he first arrived on loan from Barca, didn't know the Premiership, wasn't willing to track back when needed. Then a mish-mash of Managerial appointments saw him come back then be sold again under Major Saboteur Koeman (I'll never forgive him).
He was considered a luxury player, but he has since learned a lot, and because of recent injury, Watford have suffered badly, he is capable of winning a match on his own virtually when fully fit.
Would have him back in a heartbeat if it was up to me, (which it's not) although I would wonder about his proneness to injury. Having said all that I don't think he would come cheap, but I believe Gerry would jump at the chance, if offered a return to the Club he considers to be his English home!
Steve Shave
119
Posted 22/07/2020 at 11:09:41
Kevin 103, surely Højbjerg is "Championship at best" material? ;)
John Keating
120
Posted 22/07/2020 at 11:18:11
I've read over the last few days that Celtic may have to sell due to lack of money coming in.
This may well be the chance to get in and get Odsonne Edouard if we do offload Kean.
Phil Brown
121
Posted 22/07/2020 at 11:43:38
Derek @ 118 Completely agree. I'd also add Ross Barkley to join Gomes and a midfield ball winner. Pace and power on the break to equal most teams in the league.
Fran Mitchell
122
Posted 22/07/2020 at 12:22:39
Phil, you really think Gomes and Barkley would equal most in the league? Really?
Barkley has proven himself to be a good, but not great player, and Chelsea want to offload. He won't be joining any team challenging at the top should he move. Destined for the likes of Newcastle, Crystal Palace and West Ham.
Gomes on the other hand has been 4-5/10 since the restart. Slow and cumbersome, too easily beaten to the ball. And his passing has been very ineffective even when pretty. I had high hopes for the lad, but he should be looked at as a substitute from now on. Hopefully he'll improve and push the new recruits.
But Deloufeu I'd have in a heartbeat. Him on the left in place of Bernard, or on the right in place of Walcott. Quality player. Gordon and Gerry out wide, and a bid for Sarr too who looks quality and will be better still after a year in the PL now. Those 3 as wingers/wide forwards would be mint.
And Édouard in place of Kean would be a good deal. Maybe even a straight swap. Kean just might thrive in Scotland.
Whatever Ancelotti and Brands do, I just hope they do it before September, ideally in the first couple of weeks of the window. Our squad hasn't had a proper pre season in bloody ages.
Matthew Williams
123
Posted 22/07/2020 at 12:35:57
Nooooooooooo.
We already have players of his type,more clueless signings from our hierarchy.
Sigh.
Julian Exshaw
124
Posted 22/07/2020 at 13:31:01
My brother is a Saints fan. I asked him if Højbjerg was any good and he replied that he's 'hit and miss' and said he's surprised we are in for him. I don't tend to focus on other teams' players during a game so I have no recollection of seeing him play myself.
As others have said, if Carlo wants him and sees something in him, well that's good enough for me. However if it's Marcel Brand's call, I wouldn't be doing backward flips with excitement.
Sam Hoare
125
Posted 22/07/2020 at 13:45:03
I'd take Sarr from Watford in a heartbeat. That kid has pace to burn and gets goals too. In a decent team i'd expect him to get 6-12 goals a season and good handful of assists. Tremendous counter-attacking asset.
Trouble is that he cost Watford around £30m so I think you'd have to end up paying a chunk over that. Possibly what we bought Richarlison for. Don't know if he's worth that much but I think getting someone in who has real express pace would be good; ideally someone who can finish too. Sarr, Diatta, Diaby, Bailey, Diaz (Porto), Lozano, Raphinha, Deulofeu etc
Robert Tressell
126
Posted 22/07/2020 at 13:46:36
I look back very fondly on the team of Lukaku, Deulofeu, Barkley and Stones. But these ships have sailed. Sarr and Edouard are very promising though and will be looking to step up.
As an aside, I always liked Lewis Cook of Bournemouth who seems to do a Højbjerg type job. Only 23 and a northern lad although possibly gone off the boil (I don't really know - anyone?). Interesting to see him and Brooks (from Warrington) up next against us. Should probably have bought them Leeds Utd and Sheff Utd first time around.
Steve Shave
127
Posted 22/07/2020 at 13:47:25
Now you are talking. Sammy boy Bailey all day long for me!
Jamie Crowley
128
Posted 22/07/2020 at 14:25:25
Sam Hoare -
Good morning. It's morning over here, so I guess good afternoon?
Either way.
I do not like this possible transfer not down to the player necessarily, as much as the approach by the Club to our transfer dealings.
I've said multiple times, and will repeat, Everton need 1-2 major impact signings that will cost 60 to 70 million. What they don't need is average players (to what can be argued as possibly above average players) for 20 to 30 million. They generally aren't good enough to affect real change.
This continual "shit 25 mil away here, crap 25 mil away there" on high wage players we can't offload is killing us. This HojPodge is turning 25 the first week of August. Assuming he'll want at least a 3 year contract, will he be worth more at 28?
We need to buy quality players around 25-27 years of age for big, big money, and leave these types of players out of the mix entirely. It's bad business.
What is very, very good business is buying young kids like Branthwaite for relative pennies. Developing Davies, Gordon, DCL, Holgate, etc as well (or buying super cheap) is superb. Everton are indeed doing that well. We need players like that, Ajax-style buy young and introduce into the squad, surrounded by 1-2 expensive studs who take us to the next level. We have one of those studs already in Richarlison. We're not far off.
The above is a Moneyball-esque / Red Sox-esque approach I put forth on another thread. "Team" ball with homegrown / inexpensive young players who have a specific role to fill inside Carlo's system, surrounded by 2-3 Richarlison quality players (or choose a name like Salah, DeBruyne, etc).
It's the way forward. Buying 25 million pound players, frittering away money unnecessarily, trying to bullshit your way to success isn't ever going to work.
And regarding Holgate at CDM. Why, why, why would a Club ever shit away 25 million precious British Pounds if they could shift a player to a position he has, and will, excel at for nothing? Zero outlay to solve a problem sounds like pretty good business!
Buying this HojPodge guy is just stupid business. Buy a 60 million central midfielder - not a 25 million splunk-dumb-money-on-a-defensive-mid. It's just stupid in my opinion. And when I say stupid, I mean like what the fuck dumb-assery on an apocalyptic scale.
Let's hope I'm wrong if this deal goes through.
HojPodge will probably become my favorite player by Christmas, who the hell knows.
But one thing I'm certain of - Everton must develop young and augment with quality, not continually purchase 25 million pound players, if they ever seek to regain glory.
Jamie Crowley
129
Posted 22/07/2020 at 14:33:09
Also Sam -
I watched Jack Graelish yesterday come into possession, and drive into open space like a missile yesterday, scaring the shit out the Arsenal back line, and drawing men to him like a magnet. He laid the ball off to his striker after sucking all and sundry to him.
In short, he thought offensively and he drove into the open space like a mad man.
That is the type of player this team needs! NOT a CDM - a position we could easily and fantastically fill by just moving Holgate there in front of Branthwaite, Keane, and/or Mina. We'd be a solid outfit with that triangle in front of Pickford.
We need a goal scoring, offensive minded, dynamic midfielder first, and foremost. That should be our very first move in the market and no expense should be spared. From there, we go look around at other needs. Without filling that massive gap in our current lineup, we'll see Crystal Palace and New Castle pass us by next season, just like we've seen Burnley, Spurs, Leicester, and Wolves buzz by us.
That's what we need. Not HojPodge.
Sam Hoare
130
Posted 22/07/2020 at 14:47:34
Jamie, good morning.
A few issues.
Firstly we have more than one or two gaps. We definitely need a CM. Possibly two. We then need a RW as only have Walcott at the moment, who has been a mixed bag to say the least. I'd then say we still need a pacy CB as it would be premature to rely on 18 year old Branthwaite on the back of 180 or so minutes. We also need a RB ideally as Seamus is not getting any younger and Kenny lacks the dynamism to do what a prime Seamus could do or what Digne does do. Perhaps we'll get to a place next year of only needing one or two players a summer but we're not there yet.
Secondly, how many £65m players do you think what to come to us? We have a mediocre squad sitting in 11th with no Europe next year and an increasingly competitive league around us. Who is this fantastic CM who will choose us over the many other clubs in better positions, more able to offer profile and trophies? Even your HojPoodge is unconvinced and thinks he could hold out for Spurs.
Thirdly our two best players this season were bought in that mid range; Digne cost £18m and Richarlison cost £35m.
Fourthly, how can you say that Holgate will excel at DCM off the back of 1 game when saying that HojPoj isn't good enough despite putting up some of the best defensive numbers in the league. A player like Rodwell was ruined by being moved around various positions all of which he looked ok in momentarily because of his natural athleticism. Please lets not do the same to Holgate!
I agree with your sentiment. We must develop young players and there must be a blend of experience and talent. We should not keep buying £30m players who make only marginal improvements on what we have. But Hojpoj is considerably better as a defensive midfielder than any of the midfielders we currently have. It would be a very clear improvement. As he can actually make tackles. £25m may be more than it should be to fend off Spurs and the move may lack ambition but its certainly not 'stupid'. If anything it is too sensible.
Sounds like it won't go through anyway!
PS Grealish is great. I'd love him. But he's not a CDM (nor is Holgate!) and he will more than likely have better offers than us anyway.
Robert Tressell
131
Posted 22/07/2020 at 14:59:03
Jamie - very much agree with a lot of this. Some nuance though.
We should always buy players who we believe are / could be champs league quality. Setting sights lower just perpetuates us having a team that is not as good as where we want it to be.
That means categories:
1. Once in a blue moon opportunities like Coutinho. The sorts of £60m type players who would make a difference. Not many in this category would want to join us though... Allan perhaps, albeit he'd be much less than £60m.
2. Players at big clubs who can't get a game and are on the way up. Dalot is an example.
3. Players age 19 to 24 around Europe who are on the up from clubs like Ajax, Lyon etc and stand outs like Jonathan David in Belgium and Edouard in Scotland.
4. Young lads from the lower leagues / Scotland. Like Branthwaite and McGinn.
We've spent big on average, declining Prem players for too long with no success whatsoever.
Hojbjerg doesn't really fit the bill but he happens to be available, has prem experience and is still on an upward trajectory. He's therefore overpriced. He therefore uses up more of the kitty than should be necessary for what appears to be a marginal gain.
That said I'm hoping other signings look more like what we're all after - with Hojbjerg being the boring Deschamps / Carsley type that help knits it all together.

Kevin Prytherch
132
Posted 22/07/2020 at 15:00:22
Steve 119 - with the amount of top championship players we have, we'll walk the league if we get relegated...
Kenny, Davies, Calvert-Lewin, Holgate and now Højbjerg... Greatest Championship at best team you'll find!!!
It's just a shame we can't tempt Hibbert and Osman out of retirement, and persuade Kenwright to manage the team with Unsworth as his assistant, that would have been some Championship team.
Richard Mason
133
Posted 22/07/2020 at 15:01:30
Jamie, I'm sorry I have to disagree. Everton need a CDM to do the donkey work, like villa have Douglas Luiz in order to allow players like Grealish run at defenders.
I would leave Holgate where he is at CB, allow young good players develop in their best natural positions and excel there.
Jamie Crowley
134
Posted 22/07/2020 at 15:05:59
Firstly we have more than one or two gaps -
Correct. Rome wasn't built in a day. But to compete, we need 1-2 quality signings
Secondly, how many £65m players do you think what to come to us?
One to two. It's all we currently need while our young player develop.
Thirdly our two best players this season were bought in that mid range; Digne cost £18m and Richarlison cost £35m.
Digne yes. Rich I can't agree with. He cost 40 million I thought, and at the time he was purchased it was, definably, a big buy. The market has moved north.
Fourthly, how can you say that Holgate will excel at DCM off the back of 1 game when saying that HojPoj isn't good enough despite putting up some of the best defensive numbers in the league.
Holgate is a total footballer. I have no doubt he'd excel at CDM. And it's worth a try. Your alternative is shitting away 25 million on a player that SH fans say is bang average or industrious.
PS Grealish is great. I'd love him. But he's not a CDM (nor is Holgate!) and he will more than likely have better offers than us anyway
We need a Graelish type player, not necessarily him. And try Holgate at CDM - you're fixated on him being a CB. With our current squad, we would be definably better is Mason changes positions in my opinion. Screw CDM - again it should not be a priority! An attacking, offensive minded CM should be.
Cheers.
Jamie Crowley
135
Posted 22/07/2020 at 15:22:20
Robert Tressel -
As always, a thought provoking post. I don't know if you remember Harold Mathews, The Mage of Merseyside (RIP), but your posts are becoming the "new Harold".
Not that you can ever replace Harold - there's only one.
I agree with your 1, 3 and 4. I can't agree with #2. We need to find the talent. Cast-offs not good enough to make the starting lineups in these Clubs should be purchased rarely, if ever, for me.
Sam Hoare
136
Posted 22/07/2020 at 15:27:06
Jamie, the only way that CDM is not a priority is if you have a lot of faith in the fitness of Gbamin and Delph. Even if Holgate were to be moved there (and I strongly feel he shouldn't- see Rodwell) it would be a huge risk as he's barely played there in his career. He'd need time to adapt to the position if you're suggesting a permanent move.
The CM's we already have (that are fit) Gomes, Davies, Sigurdsson are all better with the ball than without it. Too many times since the restart (and before) have I seen oppositon teams walk through our middle like it wasn't there.
We badly, badly, badly need a ball winner.
Kevin Molloy
137
Posted 22/07/2020 at 15:28:28
Everton will be a warning for other clubs in future years, we might even make Panorama. the programme will start wilh Moyes heading off to United, and how 'one of England's oldest teams went pop'.
Just think about it, signing 10-15 players for between £20-45M, none of which have any sell on value, all of them on sky-high wages. Talk about a slow strangulation. Our only hope is the kids, or Moshiri really does hand over £300M of his own money to bail us out. They might just save our bacon. But we have to prepare ourselves, anyone good in the next five years will be sold, just to stop us sinking.
Nicholas Ryan
138
Posted 22/07/2020 at 15:33:34
Just seen a report that Napoli are happy to sell Allan to us, because they've lined up a young, hot-shot star from the Russian league to take his place.

HIs name: Nicola Vlasic ... OMG, you couldn't make it up, you just couldn't make it up!!
Jamie Crowley
139
Posted 22/07/2020 at 15:34:51
Sam -
We badly, badly, badly need a ball winner.
I think this is the crux of our disagreement. I'd maintain we badly, badly, badly need an offensive minded, dangerous CM much worse than we need a CDM.
I think you're trying to replace the not-replaceable Gana Gueye. I'd argue an offensive minded CM with Holgate at CDM would round us out, balance us, and be a formidable midfield. Plus, we need to frankly be more dangerous. We need another offensive threat to compliment Rich. That is, for me, the top priority.
To achieve that top priority if it means Holgate slotting in at CDM, so be it.
Mason Holgate is simply a stud. He's a fantastic footballer. I honestly feel he could play 5-6 positions and not even blink - he's that solid a player.
Derek Moore
140
Posted 22/07/2020 at 15:38:07
Agree with Jamie entirely. We weren't world beaters with Gana, so replacing him - to my mind - will only restore us to that level.
If we want to end the trophy drought, if we want to go to the top six and get a result, if we want to give long suffering Blues something to cheer about then we don't need grafters and "tries his best". We need goals, and the sort of players that can create and score them.
If there's only so many resources to go around then let's go find a James Maddison type of our own.
Jamie Crowley
141
Posted 22/07/2020 at 15:40:58
Sam -
Another very quick point.
The way Branthwaite is playing, and the way Michael Keane is playing, why would either of them or Mason Holgate be on our bench?
Play your best 11.
I'm not a fan of square pegs in round holes. Moving Holgate to CDM isn't that, for me. Now if we were moving him to CM, LB or RB? Yes, that's a stupid move!
But CDM in a deep holding role in a 4-1-4-1 or a 4-2-3-1 isn't some massive jump. In fact, it's pretty damn easy to make that transition and can be viewed as playing as an "advanced" CB who distributes well.
Not a jump in the least for Mason.
Robert Tressell
142
Posted 22/07/2020 at 15:56:30
Jamie, on cast offs, all I would say is that Henry and Vieira were cast offs. Don't turn your nose up if they are on the up.
Otherwise, I'll press you a bit. Who are the £60m players who would join us? It's a very narrow field if you don't like cast offs...
Jamie Crowley
143
Posted 22/07/2020 at 16:10:43
Robert -
A quick point in general before I address your questions.
Everton right now are easy to beat. In fact, too simple. Spurs showed the football world the way to beat Everton every single time as we're currently set up:
Foul the ever-living poo out of Richarlison.
If we prioritize an attacking, worldie CM, that's two men the opposition has to worry about. Immediately you can't just hack down one dude to victory.
I digress.
Who are the £60m players who would join us? It's a very narrow field if you don't like cast offs...
This is where you can call bullshit on me every time. I have NO idea. But we pay this fella named Marcel Brands a small fortune to answer that question. It's not my job to identify specific players.
Wolves' midfield is superb. I'd never heard of any of them until they were promoted. This dude at Man U, Bruno Fernandes, came out of no where and simply changed the Red Devils. There's countless other examples of diamonds in the rough. There also has to be multiple players in world football where we can indeed splash a ton of cash to obtain.
If you leave it to me to come up with names Robert, you'll always be disappointed. Conceptually I feel like I know what we need to do. I don't feel not being able to give you a name invalidates the point. There's professionals out there to find these players for Everton. Keyboard warriors need to stay in their lane - which is what I've done here by advocating for prioritizing a position Everton desperately needs, and also advocating for a player I know very, very well in Mason Holgate facilitating improving our midfield at the CDM, saving us a ton of money to put towards an attacking CM - which again must be a priority.
Steve Shave
144
Posted 22/07/2020 at 16:11:39
Jamie & Sam, if I may I believe I can settle this little disagreement concisely.
Sam, you think we are crying out for the ball winner (def agree with you there!) and Jamie, you think we need someone who can bring the ball up the pitch ala Grealish?
Well here's the thing, fellas, you are both right!
There you have it. drops the mic leaves.
Carl Manning
145
Posted 22/07/2020 at 16:29:49
Werent Lukaku, Digne, Gomes, Deulofeu, Barry, Kanchelskis – to name a few – so-called cast-offs from bigger clubs?
James Stewart
146
Posted 22/07/2020 at 16:30:40
Soumaré is the midfielder we need. Or Florentino Luis, if we want a pure Gana replacement.
Højbjerg is a bullet we would do well to dodge. Another slow, non-scoring(in fact he has the worst shooting stats in the league) midfielder at a premium price. Has Brands written all over it. Højbjerg combined with Iwobi, Gbamin and Delph is a midfield in excess of £100M, which is quite frankly disgusting recruitment.
Jay Harris
147
Posted 22/07/2020 at 16:31:24
The one thing I have noticed about Holgate (And Branthwaite) is they play simple precise passes and not "Hollywood" passes.
They keep it simple hold position and let the opposition worry.
Mason has that little bit of extra confidence that comes from experience but they have both obviously been schooled the right way.
I agree with Jamie that Holgate could play defensive midfield but would prefer to get a more energetic midfield player in the mould of Gueye.
Jamie Crowley
148
Posted 22/07/2020 at 16:31:37
Solid point Carl @ 148. Touche'.
Mike Gaynes
149
Posted 22/07/2020 at 16:31:43
Steve #147, I resent your conciseness. Nobody wants that here. Please be more wordy next time.
Jamie, Robert's right. Nobody worth that kind of money is going to come to us unless they're desperate to play for Carlo, either for career resurrection (like a James Rodriguez for example) or to get out of a bad situation (Lozano et al). Neither kind would stay once they had rehabbed their reputations. And as you yourself pointed out, Wolves built a midfield with then-unknowns. So did Leicester when they won the title. HojPog (I love that!) is just the kind of player they'd have signed. I don't know if he's the answer, but I think that's the price range we should be shopping, not the 65's.
Robert #133, I like your categories 2, 3 and 4.
Nicholas #140, ain't it the truth. Face-palm.
James Stewart
150
Posted 22/07/2020 at 16:37:01
@133 Spot on.
Jamie Crowley
151
Posted 22/07/2020 at 16:39:46
Mike -
Jamie, Robert's right. Nobody worth that kind of money is going to come to us
Money is really weird. It has a strange effect on people.
I don't engage in prostitution, and don't take drugs. If someone offered me a couple million to snort a line off a paid-lady's belly and then do the business, I'd consider it.
Put another way, no one ever thought the rumors of Carlo coming to Everton had legs. Yet here he is.
We can get quality to come to "project Everton" under Carlo. I'd still maintain a single purchase in the 60s would be better for Everton than three 20s purchases.
More importantly forget the money altogether. Let's go out and target a CM, not a CDM, first please??
Carl Manning
152
Posted 22/07/2020 at 16:41:56
It's like another poster says, Jamie. You're both right and the need for both types is for me the same. I think we'll see the shackles come off André with 2 quality additions besides him.
It would be nice to have a ball-carrying midfielder though! Somebody who drove at the heart of the opposition. But wouldn't it be nice If whoever comes in is told it's not illegal to shoot if you're not a striker?
Robert Tressell
153
Posted 22/07/2020 at 16:48:40
James, a midfield of Florentino and Soumare would be outstanding, you're right.
Jamie. These are both circa £40M players. Give or take £20M, I think this is the sort of player you mean.
Sam Hoare
154
Posted 22/07/2020 at 16:57:53
Jamie, we may not even be needing a CDM if Carlo continues with 442. We'd need a CM. Are you happy with Holgate playing there because it's a pretty different skillset from CB and RB. Like I said before he'd need some adjustment time. Sounds like square pegs to me plus I think he's more than capable of becoming our best CB. I keep mentioning Rodwell and you keep ignoring it!
I do agree we need more attacking quality but I expect that to come out wide; possibly in the shape of Sarr who would certainly add pace and more goals.
I'd love to get a top class CM in who can score goals and do what Fernandes does for United but honestly I don't see one out there (and i'm something of a player geek!). Brands will do very well to find a £65m player that is keen to come to a mid-table team.
Fact is that Davies, Gomes and Sigurdsson are already in the team for their ball playing rather than winning capacities and two of them are our top earners. I'd love someone to offer us a good fee for Siggy but untill that happens i'm not sure they'll feel able to splash huge money on a '10' type player; which is why I think our best shot of more goals and creativity will come out wide on the right where we are understocked.
Steve Shave
155
Posted 22/07/2020 at 17:02:12
Carl 155 that ball carrying midfielder (i.e. a cross between Jamie's and Sam's desired player type) would have been (in my opinion) Rabiot, out of our league sadly and experiencing a recent renaissance in Turin.
Steve Shave
156
Posted 22/07/2020 at 17:03:34
And who is this Florentino you speak of? Never heard of him.
Gary Willock
157
Posted 22/07/2020 at 17:46:45
Apparently Hojbjerg has stated a preference for Spurs.
Without being too technical, can anyone explain how someone like Spurs can borrow £175M of UK Government Covid loans and then be allowed to buy players with it? (Don't say it's other money; it's not.)
Surely state funding and FFP isn't allowed?
Martin Mason
158
Posted 22/07/2020 at 17:47:52
Sam@157 is correct, Holgate couldn't play in midfield in a 4-4-2 system or 4-3-3 only as a defensive mid in 4-2-3-1. My own feeling is that if we want a good CM then don't compromise by using a CD and that is what Mason is.
The correct business for Everton is to play players in their strongest positions. We struggle now because we don't have 2 CM good enough to play 4-4-2, we simply aren't good enough to play 4-3-3 and as we saw Monday we can only really play 4-2-3-1. We then struggle to both defend well and still create chances on the break because our wingers aren't quite good enough.
We also have the enigma of Richarlison, is he a winger who cause havoc coming inside or is he a forward in a pair with Calvert-Lewin? He has to play but in what system? Whatever, we need a good attacking CM and a defensive mid.
Højbjerg looks to be a great fit for one position so that leaves a ball playing CM and a right-winger? Is Bernard good enough? For me, definitely not top 4 or 6 material.
Derek Moore
159
Posted 22/07/2020 at 17:53:05
Gary (#161), great point made.
I've got no legitimate answers, only theorizing and conjecture on the matter.
As always in this world though, it seems as if it's rules for thee but not for me.
Sam Hoare
160
Posted 22/07/2020 at 18:03:14
Steve@160,
Florentino Luis of Benfica. Looks a real prospect in the middle though he's only played 700 or so minutes this season so it would be a huge step up. Possibly one for the future and he wouldn't come cheap I don't think.
Interesting that the other Benfica lad Gedson Fernandes has hardly featured since his move to Spurs. Not sure if he's injured but possibly an indication that the likes of Florentino would need time to settle in.
Tony Everan
161
Posted 22/07/2020 at 18:11:18
Gary 161
Perhaps they will have to borrow another £10M off the BoE at 0.1% as they thought they were getting HojPodge for £15M. now its £25M.
Holgate better to focus on being a top-class central defender.
Midfield, an Allan type and a Bruno Fernandes type please ....We may get the Allan type [the man himself or Hojpodge] ...but getting the switched on, forward-thinking, dynamic, energy-filled, goalscoring Fernandes type may be tricky, there's got to be one or two candidates out there??
This is the game-changing player that can really make a team dangerous and wake up players around him. I wonder if Brands knows anyone available for the obligatory £25M?
Robert Tressell
162
Posted 22/07/2020 at 18:16:35
Sam. Really good point about Florentino. The trouble is we would pay £40m and expect him to hit the ground running (he won't). Man City would spend £40m on him as a prospect to fill Fernandinho's boots (he might).
I should have said Florentino and Soumare could mature into an excellent pair.
Soumare also, like Ndombele at Spurs, could take a while to settle.
This is why, I guess, Hojbjerg comes at a premium price. He is ready now.
ps: Everyone can forget Holgate in midfield. He was fleetingly very good there but he's a centre half and that's where Carlo will play him.
Andrew Keatley
163
Posted 22/07/2020 at 18:37:18
Jamie (146) - Bruno Fernandes did not "come out of nowhere", so with that statement you've rather pulled your own pants down.
Jamie Crowley
164
Posted 22/07/2020 at 18:57:13
He did in my limited world. Sue me.
Carl Manning
165
Posted 22/07/2020 at 19:21:08
Jamie ref Wolves midfield... imagine if we'd signed Moutinho at the age wolves did! The uproar it would have caused!
Even Traore. everybody knew he was as quick as lightning but had shocking end product. Nuño obviously looked at him and told Wolves he could improve him and get him performing, what's he worth now?
We also need to get Mr Mendes onside, he must be responsible for all the Portuguese players at the club and I'd take every single one. Wolves must be into him for big bucks.
Darren Hind
166
Posted 22/07/2020 at 19:31:39
Holgate is a natural footballer. He could play anywhere across the back line and is comfortable in midfield. If we have cover in central defence and we are short in midfield. It would be daft not to utilise him.
Ray Said
167
Posted 22/07/2020 at 20:20:36
I am prepared to be shot down but I still have hopes that Gomes will be the driving force we need. He is a strong runner, can pass creatively and can shoot. He looks slow and lethargic when tasked with playing deeper, holding and challenging but relieve him of that, push him forward with a solid defensive mid behind him and he could be transformed.
Trevor Powell
168
Posted 22/07/2020 at 21:36:51
According to BBC [via the Southern Echo] Pierre-Emile Højbjerg is at Finch Farm discussing personal terms.
Joe McMahon
169
Posted 22/07/2020 at 21:46:38
Trevor, mixed views from Saints fans. They are happy with money though, some want Wanyama back.
Darren Hind
170
Posted 22/07/2020 at 22:17:17
Is this Højbjerg deal going ahead?
Tony Everan
171
Posted 22/07/2020 at 22:20:36
Alfredo Morelos rumoured again, The big question is do you think he could do the business in England? 28 goals in 35 games this season is impressive.
Paul Smith
172
Posted 22/07/2020 at 22:34:40
Going to Spurs according to the Telegraph.
Bill Gall
173
Posted 22/07/2020 at 22:35:12
The only time when I believe Everton have actually signed a player is when the transfer window opens officially and when I see a player holding an Everton scarf over his head and maybe wearing an Everton shirt.
This player may want to go to Spurs as Ancelotti sold him the last time he was his manager.
Michael Kenrick
174
Posted 22/07/2020 at 22:37:28
"One area that Højbjerg could improve, however, is in front of goal. The midfielder currently holds the unenviable record of most shots taken this season without scoring a goal in the Premier League."
Seriously! You couldn't make it up.
Paul Tran
175
Posted 22/07/2020 at 22:45:37
Darren, I've seen a couple of dozen versions of this saga on Twitter. Seems clear that us & Spurs want him. Depending on what you read, he's been to Finch Farm, he's told us he wants to go to Spurs and Saints are using us to put up the price Spurs pay. Best to wait & see.
Annika Herbert
176
Posted 22/07/2020 at 22:58:25
Brooks, the young lad from Bournemouth, would be a good addition to our midfield. Scores goals, creative and is fairly pacey.
Not suggesting he is the complete answer to our midfield requirements but he would certainly add some quality depth to the team.
Laurie Hartley
177
Posted 22/07/2020 at 01:19:27
Ray Said # 167 - I agree with you about Gomes. What I think we need is two ball winners in midfield - one left footed. I also don't think Sigurddson is going anywhere.
Derek Knox
178
Posted 23/07/2020 at 07:01:47
Tony @171, I have seen that link as well with Morelos, who can no doubt score goals, but has a terrible disciplinary record, he would be ripe for being wound up in the Premier League by the opposition. At 29, he could be another Jamie Vardy.
To be honest with you, I had never even considered him as an option for us, but often hankered hopes of landing Odsonne Edouard at Celtic who is a lot younger and equally prolific in front of goal.
I do feel we need someone else up front as Calvert-Lewin can't be relied on to score regularly enough, and unfortunately it hasn't seemed to have worked out for Moise Kean. Hopefully, Carlo knows who we need and who realistically we have a chance of actually getting.
Tony Everan
179
Posted 23/07/2020 at 07:04:34
Levy may end up telling Højbjerg to sit tight this season and sign him for free, giving him a pre-contract in January.
I agree with the previous comments: if he has his heart set on a Tottenham move, we should not be trying to sign him. When things get tough, such a player can become disillusioned with his move and regret it. We don't want a player like that. We want a player that is buzzing to be here and will fight for the club.
I think we are doing this to force Tottenham's hand and get a competitor for a midfielder out of the way. Any club must hate dealing with Tottenham with Levy at the helm.

Tony Everan
180
Posted 23/07/2020 at 07:29:20
Derek I think he has just turned 24, young enough to be Vardy's grandson, almost.
Derek Knox
181
Posted 23/07/2020 at 07:38:10
Thanks Tony, just checked, I had always thought he was older and the last report I read, had him down as 29, goes to show don't believe anything in these reports, unless it has been verified.
Mind you he seems to have been around for ages and does look a lot older, must have had a long milk and paper round as a kid! :-)
John Keating
182
Posted 23/07/2020 at 07:55:56
I see a few posters mentioning Morelos. Derek alludes to it but his discipline is non-existent. We would be lucky to get 15 games a season out of him. For sure he knows where the net is but the risk on signing this nutter is not worth taking.
As mentioned on numerous threads, Celtic admit they need funds and Odsonne Edouard would do a real good job for us. Height, power, pace, certainly knows where the net is. Whatever we spent on him we would get back if he decided to go.
We should have snapped up McGinn when he was available we can't keep missing out on bargains just because we feel we have to buy "established" expensive stars.
Paul Tran
183
Posted 23/07/2020 at 08:08:01
Morelos goes missing in big games and is a walking red/yellow card. Edouard is the only striker up here that interests me. A super player. I'd buy him.
Brian Murray
184
Posted 23/07/2020 at 08:17:20
All this Højbjerg stuff, plus the two from the old firm, are lazy press usual suspects that we can all go for. It once again begs the question where is the inspirational scouting we heard of from Brands in Holland?
If it's true over Højbjerg, we can't have another Sigurdsson scenario, paying way over what he is worth. Move on and find the next up-and-coming pacy goal scoring midfielder.
Big world out there... try to utilise it Marcel! Woeful strategy so far, mate.
Mike Allison
185
Posted 23/07/2020 at 08:38:14
I'd be surprised if we bought a new striker. If you read direct quotations around the topic then Ancelotti says he rates Kean and expects more from him next season. Evidence against this is the lack of game time he's had recently. Conversely, that Ancelotti can't find space in the team for a hot young prospect could be further evidence that spending limited funds up front makes even less sense.
The journalists reporting on us all seem to have the same information, that we're looking to sign three players. Gabriel Magalhaes was first choice for the pacy, left-footed centre-back role; Allan or Højbjerg are most consistently linked for the energetic central midfield role and there's only really been Lozano mentioned for the right wing, although the idea has surfaced again that we're looking for a left-footer to cut inside from the right.
I wouldn't get yourselves too upset if we 'fail' to bring in anyone outside these three 'profiles'.
Tony Everan
186
Posted 23/07/2020 at 08:43:36
'I think Kean needs game time, he cannot have another season like this one. If he goes on loan to get it, or is sold, then we will definitely need a forward to back up and challenge Calvert-Lewin to start.
Sam Hoare
187
Posted 23/07/2020 at 08:52:29
Edouard is a far better all-round player than Morelos in my opinion. Crucially Edouard is much better at linking play and is actually quite a creative forward, as well as being able to score goals. He has twice as many assists as Morelos in less games this season.
I think we could really use that as neither Richarlison or especially Calvert-Lewin are the most creative or the best necessarily at linking play. I'd suggested before that actually instead of buying a new RW we could put Richarlison there and put Edouard up front.
It was an idea rubbished by most at the time as Calvert-Lewin and Richarlison were playing so well up front but that that has ceased to be and actually our best performance since restart (of the season) came at Sheffield with Richarlison playing wide.
Vijay Nair
188
Posted 23/07/2020 at 09:06:55
Mike (@185), another one that's been routinely mentioned as far as right-wingers are concerned, is Roma's Cengiz Ünder. And yes, he is left-footed.
Tony Abrahams
189
Posted 23/07/2020 at 09:14:29
I spoke to a Celtic scout not long ago who echoed your views on Eduardo, Sam. The scout is a blue, and he said he would be perfect for Everton!
Joe McMahon
190
Posted 23/07/2020 at 09:37:27
Morelos is an absolute no-no, he would get red and yellow cards and possibly miss more games due to suspension than Duncan Ferguson did. He is so hot-headed he makes Roy Keane's temperament look like a pussycat.
Alan J Thompson
191
Posted 23/07/2020 at 09:47:54
Quite possibly we've all missed that the wily old fox in Mr Ancelotti is just looking to upset the only team that could rob us of the much prized 11th place finish!
Yeah, I know, never works for us.
Hugh Jenkins
192
Posted 23/07/2020 at 09:48:41
I am surprised that anyone, nowadays, finds £25M to be "excessive" as a transfer fee.
When Borussia Dortmund are placing £150M price tags on teenagers and other clubs are putting £350M release clauses into player contracts, £25M is becoming the norm.
Mike Allison
193
Posted 23/07/2020 at 09:50:19
Thanks Vijay, you're right. Ünder has been linked for that role. I don't know much about him.
Sam, I agree that Richarlison may have to move wide again, but I'd prefer to see him back on the left where it's easier to be a natural goal threat. An ideal squad would have two left 'wingers', one who is naturally left-footed and offers true width and the other (Richarlison) who is right-footed and would attack the box and look for goals. We'd then want the same with right 'wingers'. Ancelotti seems happy to use Walcott as the right-footer, and that leaves us looking for the left-footer. Kieran Dowell anyone?!
I'm not sure where any of this leaves Iwobi, although taking some internet journalism at face value, apparently he's been told he'll be used from the left. That, and the emergence of Gordon, suggests Richarlison will be staying in the middle.
Robert Tressell
194
Posted 23/07/2020 at 10:03:07
Leon Bailey and Cengiz Ünder are the linked names for the RW slot. Lozano, Neres and McNeil have been mentioned in the recent past. Only McNeil regularly plays in a 4-man midfield. The others are really wide forwards more suited to 4-3-3.
I suppose it's possible that Dalot might be earmarked for right-wing. He plays like Bale when he was a left-back (ie, stylish but hit and miss).
I really wouldn't be surprised to see Walcott & Iwobi fighting it out for the right-wing slot next season.
I've said before that might make sense if we're grooming a young player to take over. No obvious candidate on the books at the moment.
Michael Kenrick
195
Posted 23/07/2020 at 10:12:17
This morning, the crazy talk of Højbjerg seems to have completely evaporated, with that piece in the Echo yesterday perhaps bang on the nail despite other sources (
The Express
) still saying he was Everton-bound up until midnight last night.
Usually when they say "the Echo understands that Everton have not lodged such a bid", they are pretty sure of their facts and I don't recall them ever having to backtrack (I could be wrong).
I like the little dig about us only valuing him at £14M... although you then have to ask: Why the hell were we going after him anyway? Doh... I guess that's exactly what a lot of you did already!
So ends yet another Everton transfer saga.
Ray Roche
196
Posted 23/07/2020 at 10:17:14
Saints are using Everton to up the price, that's all. The guy doesn't want to come here so just forget him.
Ray Roche
197
Posted 23/07/2020 at 10:18:38
And we should run a million miles from a lunatic like Morellos.
Clive Rogers
198
Posted 23/07/2020 at 10:21:44
Moshiri has gone grey in four years with us. The Kenwright affect!
Nick Page
199
Posted 23/07/2020 at 10:36:09
Clive, not one single transfer will be done quietly, proficiently, professionally with Kenwright behind the scenes. And we will get our pants pulled down over and over. Just remember, it's his train set. Nihil mutantur.
Derek Thomas
200
Posted 23/07/2020 at 10:47:28
Ray @ 197; Some said that about Costa too, but there is always the chance you get a Balotelli.
Brian Harrison
201
Posted 23/07/2020 at 10:53:38
From the comments from the player, it was obvious he wasn't coming here. I don't know if we put a bid in or not. I think its worth remembering that with the window about to open, football agents go into overdrive. They will leak stories to journalists even though they are a complete pack of lies.
If they have a club interested in their player they leak information to the press that another club is interested so their player gets all his demands met. Sometimes, the selling club release spurious information to journalists to raise the stakes in the player's price, so let's say Wolves have made a bid for their player they let the press know another club has bid more just to up the ante.
So take all transfer speculation with a wagon load of salt as most never happen. You only have to look at the speculation round our club: if the rumours were correct, we would be spending about £200 million on about 10 players. Brands was quoted as saying there won't be much money to spend and he believes loan deals and players on a free may make up the bulk of our transfer activity.
But again that could just be Brands putting out the message we don't have much money to spend, that might be true but again believe nothing about transfers till you see a player at Finch Farm holding up the shirt.
Daniel A Johnson
202
Posted 23/07/2020 at 11:43:57
I don't buy into rumours. I just wait till I see a picture of Marcel Brands next to the player, holding up the shirt. With the caption "I will look after your son".
Then wait as they make 4 starts all season or get injured.
Laurie Hartley
203
Posted 23/07/2020 at 12:28:45
Ray # 197 - at the risk of you telling me to "give my head a wobble" I would sign Alfredo Morelos in a heartbeat.
He might be a lunatic (we need a bit of that) but he more than compensates for it with his goals.
And he hasn't forgotten where he came from.
Michael Kenrick
204
Posted 23/07/2020 at 12:46:30
You're 100% correct, of course, Brian. And it's a timely reminder of how to view this bi-annual nonsense as we are on the brink of a very long transfer window opening imminently.
This Højbjerg saga seemed to have slightly more gravitas than most of the almost daily trail of floated ballons we have had to suffer through so far, meriting a couple of headlines on the main site and a lot of comment posts before it died the death.
This one got a 'warm' rating on our Transfer Rumour Tracker and I was sucked in by the comments made above on that Echo story, the messenger in this case being well and truely shot by a few when it seems they may have actually got it right for once.
Sam Hoare
205
Posted 23/07/2020 at 13:32:42
Some (very) tenuous links to Marc Roca of relegated Espanyol today who could be an alternative to Hojbjerg. Very good passer who can tackle a bit too; not sure he'd bring that energy and dynamism that we need. Looks a bit like a Gomes upgrade to me but a good player who Bayern were reportedly chasing.
Derek Knox
206
Posted 23/07/2020 at 13:46:30
Laurie@203, thanks for both links mate which were very informative, there is no doubting his eye for goal. I often watch the Scottish games as I originally hail from north of the border, so Morelos is no stranger to me. Dundee United being my (original) home side but I always look out for Rangers results too.
What impressed me, which I hadn't noticed before, that his goals, have been scored with either foot, seemingly with ease, and although he's not the tallest his aerial ability is amazing.
My only reservation as I mentioned before is his disciplinary record, but there is definitely a scorer in there, if someone like Carlo or Big Dunc could somehow get him to cool down, he would definitely be an asset.
I thought he was older than 23, as he has seems to have been around for ages, which again is testimony to his goal-scoring ability, he has scored goals almost at all levels consistently since the age of fifteen. If the price was right he could be a worthwhile addition.
He certainly has a humanitarian side to him too, as he has not only provided for his family, but been involved in projects and Charities to allow kids, who come from disadvantaged poor areas like he did, get access to education and sports facilities. That sort of care has to be commended and dare I say it, a rarity among most Prima Donna Footballers these days.
Rangers does have some history with Everton too, and has proved a happy hunting ground in the main as we have had some very decent players from them, maybe there is mileage in this after all!
I think both Rangers and Celtic need an injection of money, especially following the Covid-19 effects, so either Morelos or Edouard could be available if the price was right.
Although in the case of the latter, I have heard of him being a favourite of Marcelo Bielsa, who has publicly declared his admiration of him. With Leeds having been Championship champions they will no doubt be looking to strengthen and improve their chances of not only doing well, but also by staying in the Premiership.
Ray Roche
207
Posted 23/07/2020 at 13:59:34
Laurie, thanks for the links.
There's no doubt that he has ability but he can also be a liability. Imagine if he got sent off in the 5th minute of a derby game after being wound up? And, unfortunately, that would be a distinct possibility with someone like him! He's still a very decent human being though, as the link illustrates.
By the way, give yer head a wobble.😁
Derek @200.
Yeah, let's get a Balotelli, he can be in charge of the firework display when we enter BMD!
Derek Knox
208
Posted 23/07/2020 at 14:49:19
Hi Ray, funnily enough the last player to score a hat-trick for Everton, was also a player we got from Rangers, he scored with the left, the right and a headed goal against Chelsea at Goodison Park. Steven Naismith!
If memory serves I believe it was Gareth Barry's first game for us too, although I may have had a senior moment on that one.
Another similarity apart from the Rangers connection, to Steven Naismith is his charitable work for the (genuine not these drugged up morons) homeless and less privileged, where he unstintingly gave generously at home in Scotland and also in Liverpool.
He provided 2 Tickets gratis too, to every home game to those who genuinely supported Everton and couldn't afford to attend. I will always hold him in esteem for his contribution on the pitch as well as his benevolence to those less fortunate.
We also got him on a free or a very small amount and sold him to Norwich (£7M ish) for a decent profit!
Rob Halligan
209
Posted 23/07/2020 at 15:08:11
Derek, don't know if your memory is playing up but, as far as I know, the last player to score a hat trick for Everton was Wayne Rooney against West Ham in November 2017. The game when he scored the 45-yarder after a poor clearance by Joe Hart. I can't recall any other hat-tricks after this Rooney one.
Chris Locke
210
Posted 23/07/2020 at 15:31:29
The Saints fans call him Donkey Højbjerg and are all laughing at the £25M price tag. They prefer Romeu which tells you everything you need to know. He'd obviously improve our current midfield options but that bar is pretty fecking low.
On this basis, I'd say he's a cert to sign for us for about £30 million and be deadwood before the year is out...
Brian Wilkinson
211
Posted 23/07/2020 at 15:58:19
The signing I want this year above any other is Bramley-Moore Dock, Once we get an agreement and hopefully are given the okay, then that will be a massive, massive step to moving onto the next level.
I still want our midfield revamping, would love to get the likes of Allan, Doucoure, Edouard in, but for now, I just want some positive news on the stadium.
Sam Hoare
212
Posted 23/07/2020 at 16:57:53
Chris @210,
Saints fan were all over him last year when he was their captain and definitely one of their best players. Suddenly they seem to rate him less since he decided not to sign a new contract and move to a bigger club. I wouldn't take them too seriously, Højbjerg beats Romeu in tackles, interceptions, key passes, successful pressures; pretty much every important statistic for a central midfielder.
The £25M tag possibly is too much because of his contract so they're right to be pleased with that but maybe we went in big to fend off Spurs. Or to force them to pay more!
Steve Guy
213
Posted 23/07/2020 at 17:32:57
Move on. Billy Liar our "ace" negotiator is being played into either paying over the odds (£25M for a player with one year left on his contract is a joke) or acting as stalking horse for a lower bid from Spurs but one more acceptable to the player.
Fran Mitchell
214
Posted 23/07/2020 at 17:39:47
Apart from some reports, I am yet to see anything from Everton confirming we made this bid. I've seen many reports, from Everton bidding £25 million, to Everton bidding just £14 million.
So don't know why people get their knickers in a twist.
Until the player is standing with the scarf and all that.
Geoff Lambert
215
Posted 23/07/2020 at 17:51:25
Laurie, I would have Morelos no worries. The guy has what a top striker needs composure in front of goal. He might be a bit rash sometimes, but so were the likes of Cantona, Big Dunc Suarez etc..
Clive Rogers
216
Posted 23/07/2020 at 18:40:10
The Echo is saying no bid has been made and he has told EFC he prefers to go to Spurs.
PA Greenhow
217
Posted 23/07/2020 at 19:14:13
I suppose Højbjerg is as good as it gets for a mid-table club, with no Euro footie and no trophies in his lifetime.
I suspect the fee is £25M for us, but will be closer to £15-20M for Spurs. They're a club with actual business acumen and a hands-on owner. Not an actor and a guy only allowed in the country for a limited time.
Tony Everan
218
Posted 23/07/2020 at 20:19:31
Why are we trying to sign a player that wants to go to Tottenham? I don't get it . Stop wasting time on this feller and move on now please. Either there is some chicanery going on or the whole thing is a bit messy from us.
Christy Ring
219
Posted 23/07/2020 at 20:37:21
Edouard 22, is different class, great feet, good in the air, at over 6ft-1in comparison to Morelos 24, who is 5ft-9in, and disciplinary record for Rangers is shocking.
Talk about Morelos's scoring record, against big clubs: played Celtic 11 times, scored 0. I'd prefer Brett Angell
Mike Doyle
220
Posted 23/07/2020 at 20:40:16
This guy seems set on Spurs. Either Spurs will get him before the season starts (at the price Daniel Levy wants to pay) or he'll run down his contract and leave on a free & bigger salary next year.
I expect the Echo's summary is correct.
Dave Abrahams
221
Posted 23/07/2020 at 21:13:33
If it's Levy v Kenwright, Moshiri will pay through the nose again. Kenwright spars and Moshiri takes all the punches.
Tony Everan
222
Posted 23/07/2020 at 22:16:32
Let Spurs sign Højbjerg, then we can go all chips in for Denis Zakaria. He would cost a fair bit but would be a game-changer if Ancelotti could convince him to come.
Sam, Robert. What is your take on the Hoffemheim DM, Samassekou? Looks a decent player but 5'-9" is quite small, but makes up for it with his athleticism..... there again Gana and Ngolo Kante are both shorter and they were among the best in the business of ball-winning, tacking and breaking up play. May be achievable if we were interested.
Tom Bowers
223
Posted 23/07/2020 at 22:20:54
If he wants Spurs then he will be pissed if he has to come to Everton so forget about him. We want players who want to be 100% Everton committed from now on.
Paul Birmingham
224
Posted 23/07/2020 at 22:36:44
Rob, your correct in that the last hat-trick was scored by Rooney vs West Ham and Derek is correct with his recollection of Naismith's hat-trick vs Chelsea.
That game always is remembered more than most as my dad passed away on the Friday night before the game.
As for Højbjerg, I'd save our time and energy, and money and focus on players, who freely would embrace playing for EFC.
That's a challenge for Marcel and Carlo.
Derek Knox
225
Posted 23/07/2020 at 22:37:32
Hi Rob, yes I have had another Senior lapse of memory, I totally forgot about the Rooney hat-trick against West Ham, but in my defense Big Fat Ugly Bullshitting Sam was about to take over, and furthermore got credited with the result, where it turned out to be David Unsworth's last game in charge!
Sorry for being not totally correct Rob, but you and all other Tw'ers must know my heart is in the right place!
John Raftery
226
Posted 23/07/2020 at 22:44:13
Dave (221),
I don't know if Bill Kenwright is still involved in club v club negotiations but, even if he is, I would be surprised if he is the one setting the financial parameters of proposed deals.
Our recent history of competing with Spurs for midfield players is both positive and negative. We paid £22M for Gomes when supposedly Spurs were prepared to pay £30M for him. Gomes made it clear he wanted to join us and of course eventually he did.
In 2016 we thought we were about to sign Moussa Sissoko only for Spurs to get him in the final hours of the transfer window for £30M.
In a situation where two clubs are competing for a signature, ultimately it is the player and his agent who have the biggest say in the outcome. Neither Gomes nor Sissoko have set the world alight since their moves.
I am not sure Højbjerg will be much different. I don't think we should be paying anything like £25M for a player who is hardly a world beater with only a year left on his contract.
Sam Hoare
227
Posted 23/07/2020 at 22:47:18
Tony, I like Sammesakou. Definitely reminds me of Gueye and seems a very proficient ball winner. He's not the best on the ball though so might not be ideal in a midfield 2. He was on a list of Højbjerg alternatives today with Zakaria and Mwepu of Salzburg who many analysts rave about.
Zakaria would be ace but probably the most expensive of the lot. I will be interested to see who's next on Brands's list after Hojbjerg.
Steve Ferns
228
Posted 23/07/2020 at 23:16:56
Jamie Crowley @ various, Sam Hoare is bang on the money. If we can only sign one player, it has to be a defensive midfielder. The squad is desperate for it.
As for Holgate, he's a centre-back not a centre-midfielder. Just because he survived a game there does not make him able to play there, week in, week out. Also, shouldn't we take the views of the lad himself into account? He unequivocally said that he's a centre-back.
If you forced him to play there, then sorry, his feet are too slow, he is ponderous in possession, his short-passing isn't good enough, he can't link play, he doesn't move well off the ball, he can't dribble, and his tackling ability is not great (in the middle of the park). He's a fantastic young centre-half mind.
As for Wolves and the Portuguese, no one came out of nowhere. You just have a blind spot to Portugal. Jorge Mendes is linked to the ownership of Wolves. They have a dirty deal there that should be called in. You cannot have an agent that close to a club.
Mendes is the one who bought the club in Portugal and got our old assistant to manage them, leaving Silva without his main lieutenant and main sounding board, and perhaps this season could have been so different if our management team had remained intact.
Ruben Neves was a very, very, very highly rated young 18-year-old. Every major club in Europe was linked with him. Then he tanked badly and Porto couldn't get what they wanted for him. Mendes then got him to drop to the Championship to revitalise his career.
Moutinho is an ex-player or Sporting. Indeed he played for them when they destroyed Everton. Joao was at Monaco and looked done when Mendes, his long term agent, got him to go to Wolves and, with the legs they have in midfield, they were able to revitalise him in a way that perhaps Clough did with Dave Mackay.
Wolves owners are richer than Moshiri. They have spent a fortune. Mendes has made a fortune.
Simon Dalzell
229
Posted 23/07/2020 at 23:31:14
Steve @ 228.
I agree with all of your last paragraph. That's why he is an okay centre-half not 'fantastic'. Surely a fantastic centre-half would not have all these faults even out of position?
You are spot on saying he is young.
Steve Ferns
230
Posted 23/07/2020 at 23:34:31
Simon, you're right in that Holgate isn't the finished article and is not a fantastic centre-back. He's a fantastic young one, for me, in that he can get better, and become one.
Laurie Hartley
231
Posted 23/07/2020 at 23:38:08
Ray Roche, #207 – head duly wobbled.
Christy #219 – they are both gifted strikers - there's actually nothing between them:
Comparison
Eduoard looks like he is going to Arsenal.
I like Morelos because he has got fire in his belly. Disciplinary record in 46 games: 8 yellows, 2 reds. For me, he is a risk worth taking.
As far as Højbjerg is concerned, if he really doesn't want to come here, that's game over for me.
Derek Moore
232
Posted 23/07/2020 at 23:57:24
Steve Ferns, sorry to say, Silva was never up to the job and never will be. It only ever was going to end in tears.
Chris Locke
233
Posted 23/07/2020 at 00:18:28
Sam (212),
Saints started last season with Mark Hughes in charge. They were an absolute tragedy to watch. Worse than Everton during the lowest points with Koeman and Silva.
The change of management and style of football improved the whole team, including Højbjerg. But for that change, he could easily have been playing Championship football and I doubt the clubs would've been queuing up to sign him.
Every Saints fan I know (and that's plenty being local) think he's a donkey and are already chuckling at the fees being suggested.
Times have been hard for us Blues especially where midfielders are concerned and I'm just not sure adding another bang average, agent-hyped £20+ million midfielder is going to help make it any better.
If we do sign him, then at least we can make use of one of the Finch Farm stables recently vacated by Schneiderlin, Niasse or Martina.
Jay Harris
234
Posted 24/07/2020 at 05:20:48
Off topic but check this video out of Richy trying to order a pizza in English>
https://www.facebook.com/evertonsthekendallend/videos/307027907112818
Sam Hoare
235
Posted 24/07/2020 at 07:11:28
Chris @233; he really isn't bang average. He makes more recoveries than any midfielder in the league! All the stats point to him being one of the most effective ball winners in the league who passes it forward quite effectively too. Even if he can't shoot for toffee.
I've read lots of Saints accounts who rated him highly so perhaps your pals are a more bitter bunch?! Just kidding. But if Guardiola, Mourinho and Ancelloti rate him highly that has to mean something.
Either way, it looks like he's off to Spurs instead, so no need to worry. Who'd you prefer instead?
Steve Shave
236
Posted 24/07/2020 at 07:50:08
Great at recoveries, tough, a leader and has made more than 700+ forward passes this season – more than most of our midfield put together. He would be a good addition (probably not one to get your pulse racing like Allan, however) in my view.
Some trashy transfer gossip today is that Chelsea are looking to ship out Kante for more signings, now you are talking! I suspect one of the reasons why we are going for Højbjerg is because he would be able to play in 4-4-2 as well as 3 in the middle; Carlo likes to mix it up. Kante, Gueye, Sammesakou and the likes of don't have that adaptability.
Steve Shave
237
Posted 24/07/2020 at 07:54:14
Sam, how much do you think it would take to get Zakaria? What a player too much I suspect.
Christy Ring
238
Posted 24/07/2020 at 08:00:37
Laurie @232,
Sorry, I completely disagree. Edouard has been a match-winner most times against Rangers. Morelos has only scored against the weaker teams in Scotland, never against Celtic, and your stats say Morelos only got 2 reds. That was this season, which finished early; the previous season, he got 5 reds. Someone earlier compared him to Suarez, that's the only comparison.
Laurie Hartley
239
Posted 24/07/2020 at 08:10:27
Christy #240 – sounds like you really don't rate him. Fair enough but I will be keeping an eye on him. He has aroused my interest.
Steve Ferns
240
Posted 24/07/2020 at 08:12:32
I can only find some dodgy rumours on some dodgy sites that this lad prefers Tottenham to us. Can someone point me in the direction of a quality site?
Meantime, I doubt Tottenham will bid as high as us. I doubt they will offer the wages we will. I think money will talk and he will come here as Southampton won't persuade him to stay and won't match our wages either. And it will ultimately be, stay at Saints for another 12 months or go to Everton now.
12 months is a long time in football. Just ask Gbamin. Højbjerg knows this.
Chris Locke
241
Posted 24/07/2020 at 08:54:32
Sam (237),
I'm not sure who the answer is but I think I'd prefer to see us try and scout the Championship for a player or two. I'd definitely take a punt on that Eze from QPR and maybe Swift at Reading. Neither are necessarily defensive midfielders but the sort of player I think we should be targeting.
Maybe I'm just scarred by the massive transfer failures of the last 5 years (minimum) but I just feel that, when we attempt to buy established/proven Premier League or international players we generally get it wrong. I think it's because many of these players haven't come to Everton to further their careers or make a step up. It's been all about the crazy money we're offering and the chance of one last big transfer.
However, when we have taken a player from a lower league club, they've mostly put the effort in and tried to make the grade. Some don't have the ability and, despite the effort, need moving on which is generally easier to do as they're not paid £100k a week and aren't necessarily seen as a failure.
Basically I want more like Cahill, Arteta and Gueye and less like Klaassen, Sigurdsson and Iwobi. Maybe I'm being unfair on Højbjerg but, at £25 million, It feels more like he may be more of the latter.

Dave Abrahams
242
Posted 24/07/2020 at 09:34:51
John (227), yes I agree with most of what you say and I sincerely, very sincerely, hope that Kenwright is nowhere near any of the upcoming transfer action.
I did say "if" at the beginning of my post, John.
Lester Yip
243
Posted 24/07/2020 at 09:59:13
Chris (243), good point.
Before we buy a player, we should have given thought about an exit plan if the player doesn't work out with the team setup.
Our recent signings on big wages prove our strategy so far is a failure. A player on big wages happy to just sit there and collecting till the contract run down. Buying players at their peak hoping to slingshot us into Top 4 just doesn't work.
Purchasing from lower leagues, right age bracket and on reasonable wage seems the right way moving forward. While I writing this, I feel like Moyes's way isn't that bad after all. Darn...
Brian Murray
244
Posted 24/07/2020 at 10:19:31
All the club has to to do over new players is show a little transparency and it will stop any nervousness or hysteria. Just one measly tiny statement, eg, "We are actively looking at our targets and Carlo and Marcel are confident we can succeed."
(No mention of the teary one...) Simples!
Sam Hoare
245
Posted 24/07/2020 at 10:37:41
Chris @243,
Eze looks very good and will surely be playing in the Premier League next year. And Swift is very underrated I think. But neither are ball-winners and we definitely need one of those. I've had a good look at the Championship but not sure I've seen the dynamic ball-winner that we need there.
Kalvin Phillips would be good but that's out now due to Leeds Utd's promotion. Norgaard at Brentford is useful but too slow for me. Matt Grimes at Swansea is a very decent player I think. Josh Cullen at Charlton's had a good season. But none of these players seem ready to me to step straight into a Premier League team with top 6 aspirations. Jude Bellingham would have been good!
I'm not a huge fan of Højbjerg and £25M is definitely too much for someone with just a year on his contract but I think he's a very consistent ball-winner who would definitely add something we lack. I like hungry players too and the Championship could be a good source; I'd be looking at Matt Cash from Forest now they've missed the playoffs; very decent right-back who could also play right-midfield in a pinch. I think if we're looking for a cheaper player to try and step up then the man is probably Sangare from Toulouse who's only 22 and wouldn't be on big wages or huge transfer fee but is strong and quick enough and makes a load of tackles and interceptions.
Dale Rose
246
Posted 24/07/2020 at 12:14:49
Bid accepted but wants Spurs. My arse.
Robert Tressell
247
Posted 24/07/2020 at 12:33:00
Let's take a step back for a minute.
A young ambitious Danish man is offered two job opportunities. Both a step up from where he is now. One is in London, with a company that looked like it was really going places only a year or two ago but has fallen behind a touch. Well run company though and although the new CEO is a knobhead he does know what he's doing.
The other job is in Liverpool. Similar situation but that company is a bit behind the London company. Needs new premises. Always seems to be rebuilding and not hit any great heights for years. CEO seems like a good guy though. But although its a step up and the pay is better, in some ways it doesn't feel like a massive step up.
And you are saying that we should move on if Højbjerg would prefer to play for Spurs? Of course he'd prefer to play for Spurs. These people aren't Everton fans. Pretty much anyone we're linked with would probably rather play for Spurs. Richarlison would probably rather play for Spurs (Calvert-Lewin vs Kane?). However, it doesn't mean they don't want to play for us at all. It just means we're a bit down the queue.
Ian Horan
248
Posted 24/07/2020 at 12:59:13
Valuing players is subjective. An international, age 24, with Premier League experience, one year left on his contract, not interested in signing a new contract!!!!
Let's rewind and remove our emotion bias as Bluenoses.. Ross Barkley any parallels here. We agreed £35M – then Ross either bottled it!!! Or was given an offer of...???
"Well Ross you can't play for 3 or 4 months so say No. We [Chelsea] will come back with a lower offer, say £15M, the £20M we save we will give you xxx amount on this considerable saving..."
What I am trying to evidence is we demanded £35M for Ross yet get upset at £10M less for Højbjerg. Based on circumstances, Covid-19, and Ross being slightly more skillful, £25M seems a fair price.
Tony Everan
249
Posted 24/07/2020 at 18:44:08
Steve @239.
Transfermkt has Zakaria at €36M but I think that is a conservative estimate. Wouldn't surprise me if he was sold this window for €50M+. Unfortunately, the Champions League teams will be after him and he will want to go to one, unless Ancelotti is a miracle worker and somehow brings him to Everton.
When there is talk of making one major signing that will make a difference, inspire the team and take us up a level, this is one of them.
Robert Tressell
250
Posted 24/07/2020 at 20:41:19
Zakaria will probably play Champions League with Borussia Monchengladbach next season. Really good player but probably not for us.
Ash Coakley
251
Posted 24/07/2020 at 20:41:32
What does everyone think of Douglas Luiz?
I feel his style, tempo and skill are perfect for us. He could play 4-4-2 or 4-3-3 and whilst I know Man City have buy-back clause, I'm not sure he'd be in the starting 11 for them.
I quite rated the last central defensive midfielder we picked up from Aston Villa and think we could pick him up for around £25M or so.
Gary Carter
252
Posted 24/07/2020 at 20:49:52
I think we could probably get Zaha now for £30M after the season he has had and Covid-19.
But for me, and as much as I acknowledge that we need a ball-winner, we should go absolutely all out to sign Grealish. £40-60M would not be unrealistic given he's not an England international.
Simon Smith
253
Posted 24/07/2020 at 22:08:54
Couldn't agree more, Gary. Grealish is an outstanding player. I would love to see him in an Everton shirt.
Justin Doone
254
Posted 25/07/2020 at 00:52:01
Very impressed with Douglas Luiz for Aston Villa, him and Grealish?
Then we need a top striker and possibly Ake or Mings.
Tony Everan
255
Posted 25/07/2020 at 12:39:24
Rumours today we have made an offer of around £30M for Allan and he has agreed a £4.7M, £89k pw wage deal. It's a hell of a lot of money for a player who will be 30 in January with no resale value, but it looks likely Carlo is going to get his main man in.
Brian Williams
256
Posted 25/07/2020 at 12:50:56
Tony, agreed.
Paying a major lump of our transfer kitty on a player of his age seems daft to me and a very short-sighted move.
I'd rather invest that into an up-and-coming player with his best years ahead of him, to be honest.
Ian Bennett
257
Posted 25/07/2020 at 13:12:58
Grealish has supposedly bought a house in the North West and is heading to Man Utd.
Colin Glassar
258
Posted 25/07/2020 at 13:21:27
If Allan gets us into Europe next season, he will be worth it.
I've said it hundreds of times, why focus so much on age? These are super-fit players who can go on at the highest level for years. I wouldn't mind a team with the likes of Allan, Thiago Silva, Cavani, Vidal etc... They are winners and still have plenty to offer. Who gives a fuck how old they are?
Ronaldo, Messi, Totti, Maldini, Pirlo, Barry, Milner, Seedorf etc were (are) all great players well into their 30s.
Dave Abrahams
259
Posted 25/07/2020 at 13:38:02
Ian (257), I hope it's not next door to me in Norris Green, he'll be a pain in the arse with those parties he has. Mind you, he'd be handy for tickets!!!
Andrew Keatley
260
Posted 25/07/2020 at 14:05:14
Chris (241) - " Basically I want more like Cahill, Arteta and Gueye and less like Klaassen, Sigurdsson and Iwobi."
So, you prefer cheap success stories to expensive flops? No shit, Mr Holmes.
Problem is that nobody knows whether paying £30+ million for a player is going to land you with Richarlison's goals or Klaassen's chronic ineptitude – or whether taking a risk on a player from a lower league could end up in Cahill-style returns or Jermaine Beckford*-style slim pickings.
You never know for sure who will sink and who will swim, but packing out a team with hopeful bargains is probably more likely to end in disaster than trying to strike a balance between the odd potential world-beater supplemented by the potential rough diamond.
* I actually thought Moyes could have given Beckford more opportunities to prove himself.
Steve Ferns
261
Posted 25/07/2020 at 14:25:58
Colin, because older players are more prone to injury and after 28 you never know if the injury will be the one that kills the career. There's also no resale value.
So Sigurdsson is £50M down the toilet and we can't sell him because he's too old. Moise Kean would probably get us our money back.
Someone truly terrible like Sandro still gets chance after chance at clubs, because of his age and people believe he can get better. Whereas people believe Sigurdsson will only get worse.
Tony Hill
262
Posted 25/07/2020 at 14:36:24
It's said that Allan is Ancelotti's express wish and, if so, I would have thought we should do our very best to get him. I agree with Colin but, of course, it's a risk, as any purchase is. We don't know how anyone is going to perform or fit into, and influence, the team until they get here and play.
That said, what is Allan's injury record?
Brian Williams
263
Posted 25/07/2020 at 14:42:27
The reason for my take on the age things is because I'd like to see us develop a team that can be a settled on in terms of personnel for a number of years, rather than having to chop and change after a relatively short period, building for the short AND mid term. Don't think it's that easy to build for the long term these days but that should be the aim IMO.
Colin Glassar
264
Posted 25/07/2020 at 14:51:00
None of the players I mentioned, Steve are injury prone and I could name a few dozen more guys in their late 20s or early 30s who are in better shape than many teenagers.
Age, imo, has little to do with injuries. Weak bodies and minds are a factor. Mina is young and breaks down every 10 seconds. Sturridge refused to play for the rs due to some unknown ailment. Michael Owen was a permanent sick note once he reached 20. Iwobi is weak, and a coward, and will probably have a short career in the game. I could go on.
If a player is good, no matter how old he is, clubs will buy them, especially in Europe where age seems to matter less than here. Give me a team of battle-hardened vets over a bunch of weak, spineless, hair-ribboned dandy's any day.
To end this monologue, if Carlo wants a trusted lieutenant in his golden years then Carlo should be able to go out and get him.

Steve Ferns
265
Posted 25/07/2020 at 15:20:20
Colin, doesn't matter if they are injury prone. Once you're old, you automatically become more prone to injury. That's life.
Javier Zanetti, the inter Milan legend, never missed a game for about 10 seasons and played until injury claimed him at 39 and his career was over.
On the other hand, you get 29-year-olds who never have an injury and suddenly it hits and they are done.
If Carlo really wants Allan, it's within the budget and plan, and he's thought it through, then sure, we should get him. I wouldn't disagree with him walking if we refused.
My biggest reservation is that we repeat previous transfer windows and bring in a couple of decent players but leave a gaping hole. Such as our failure to sign a striker under Koeman, and last summer our failure to sign a centre-half.
Allan is not the defensive midfielder we need. If we get him and such a player, then great. Otherwise, we're going to have another erratic season and be praying for Gbamin to become Lazarus.
Colin, it seems like Allan has been injured 4/5 times this season. He's not started back-to-back games since January. Warning signs are there, I'm afraid.
John Pierce
266
Posted 25/07/2020 at 15:30:02
I wonder how many clubs will be forced to sell this window? With the current circumstances, many clubs you'd think maybe struggling financially. Do Everton think they can ride the storm and pick off the better players? Is there one last cash injection from Moshiri? The noises coming from Goodison seem complete contrary to the 'loans and free' section of the transfer malarkey.
As for the age of the player, the whole picture is the way to go. Players generally who are injury prone, miss games from an early age. It's a body and mindset thing. Some players need to feel absolutely tip-top to play, take Louis Saha. He could have been top top draw but for his mindset.
Richarlison gets kicked and probably is bruised and battered, but it rarely stops him taking the field.
It's up to the club to find that type of player, the more durable. For example, at centre-back you cannot have a player who breaks down regularly, they are the last player you want to sub in a game, it's a waste of resources. Mina has a lot to prove next season, he's on a ton of money so hard to move. Yet, if we get a decent centre-back in, he won't be playing.
Feels like an interesting 6 weeks.

Steve Ferns
267
Posted 25/07/2020 at 15:35:18
John, I believe Italy and Spain will be pillaged this window. The countries economies have been in descent for a long time, and coronavirus will only make that worse. There's no way Série A can sustain the big wages they've thrown at players trying to catch up to the Premier League, the finances are just not there.
Also, the players themselves will find they get a pay rise to come to the Premier League. I think the price of £35M for Allan, who is a very expensive player sat on Napoli's bench, is laughable. We could get him for £15M or less.
Mike Gaynes
268
Posted 25/07/2020 at 15:43:40
Chris Locke, I'm with you all the way. Bowen from Hull is a perfect example of a Championship player capable of an immediate impact in the Prem, and I remain pissed as hell that we never even glanced at him before Moyes snapped him up for Hammers.
Sam #245, I wouldn't restrict myself to looking for just ballwinning midfielders in the Championship. We need attackers just as much. If Brentford doesn't get promoted, I'd be in for Said Benrahma like a shot. And big yes to Matt Cash -- ferocious tackler who can get forward from RB -- and Eberechi Eze. I've heard good things about Swift at Reading but haven't seen him. Pereira is amazing but undoubtedly headed back to Lisbon.
Tony #262, Allan's injury record is exceptionally good. He has made about 380 top-level appearances over 10 years with zero serious injuries, and has missed only 16 games in his career. The only slight concern would be that 10 of those 16 misses have happened this season, with various niggles including a sore knee, "muscle fatigue" and a bruised rib. He turns 30 in January.
Ash #251, I like Luiz very much indeed.
John Pierce
269
Posted 25/07/2020 at 15:45:13
Yes, Steve, that's what my take is. Perhaps not specifically Italy and Spain as you say, however that does make sense.
The overall picture is gloomy in European football save for Germany were the ownership style differs. I think we might, if we are smart, make some decent inroads into our squad. Let's hope so.
Steve Ferns
270
Posted 25/07/2020 at 15:47:22
Mike, he's player only 21 games this season, not started two in a row since January, and had four different injuries and an illness. Sure, he's fallen out of favour since Carlo left and Lobtka arrived, but it must give all pause for thought.
Tony Hill
271
Posted 25/07/2020 at 15:49:08
Thanks Mike @268, yes, that is a concern. One assumes/hopes that it will be properly taken into account.
Steve Ferns
272
Posted 25/07/2020 at 15:54:37
John, Germany and France will probably be stronger. Both have stronger economies than Spain and Italy, and arguably even ourselves. They just don't consume football the way we do and so they've never tried to take on the big three leagues.
Things have changed a little in France with more investment. Perhaps France will see this as an opportunity to push themselves up the food chain.
France has always been a strange one to me, they've a similar economy, a similar population, and they're so close, but, whilst they love football like we do, they've just never put their money into it.
Sure the Qataris took over PSG, but PSG are just Chelsea, a team with little history of trophies pumped up with investment.
Mike Gaynes
273
Posted 25/07/2020 at 15:59:17
Steve #265, geez, man, please tell me you're not STILL bemoaning the fact that we didn't sign a "centre-half" last summer.
Holgate's emergence, Mina's fine play last fall and Keane's remarkable resurrection since play resumed are clear evidence in my opinion that we did not need Zouma or another centre-back then. And certainly not now.
Also, we did get one in January. Fella named Branthwaite. Think he'd have gotten his shot with Zouma around? Any regrets how things worked out?
Steve Ferns
274
Posted 25/07/2020 at 16:07:03
I have regrets, Mike. We are about to finish 11th or 12th. Whilst Branthwaite looks a prospect, he's not ready to be first choice. Holgate needs to improve. Mina needs to get fit and Keane is not good enough.
So yes, for me we still need a centre-half or we'll have to endure more dreadful football because we need to sit deep covering up Keane's flaws.
Mike Gaynes
275
Posted 25/07/2020 at 16:10:20
Steve #270, Allan has actually made 31 appearances this season including Champions League and Copa, but you're right, he has played little for the new manager since January. However, under Carlo he was a regular starter for a year and a half, and nobody knows him better.
As for centre-back regrets, you're welcome to them, but none of the centre-backs we were rumored to be connected with last summer would have made us one iota better, or made any difference this season. We have far greater needs and, after watching him this season, I am particularly delighted we didn't spend our money on bringing Zouma back.
Steve Ferns
276
Posted 25/07/2020 at 16:15:53
21 was in Serie A, Mike, and that's not starts either. He's only started 16 games, which is less than half of them.
But you're right, Carlo knows him, and if he wants him, we should get him. As I said above. I just have reservations and think we need to secure a defensive midfielder first and foremost and then we can look into additional central midfielders.
Jim Jennings
277
Posted 25/07/2020 at 16:54:17
Steve #272
"Germany and France will probably be stronger. Both have stronger economies than Spain and Italy, and arguably even ourselves"
Very bizarre logic. The Bundesliga restarted earlier than every other country because there were genuine fears that many, many clubs in the top two divisions would go bust without meeting contractual obligations with TV companies to finish the league season before 30th June.
The top three clubs basically bailed out the 33 clubs below them. You have clubs like Schalke without a pot to piss in. Other big city clubs like Köln have a gaping hole in their revenue streams because they could not physically get bums on seats. Many clubs have politely asked for handouts from fans by offering them the option to forego a refund on tickets for "ghost games" (no fans) so that money can be invested in youth development.
If ever there was a summer that German clubs' talent could be picked off, this is it. None of them are coming out of Covid-19 in a better financial position than English clubs either in relative or absolute terms.
Andrew Keatley
278
Posted 25/07/2020 at 17:08:10
Mike (268) - I heard we did a good deal of glancing at Jarrod Bowen: you don't score the number of goals that he did for Hull and not get noticed and considered by clubs like ours. £18 million, possibly rising to £25 million.
Che Adams at Southampton is a similar case, although he's spent much of this season waiting for it to come right for him. Again, it's so hard to know who from the Championship might be worth risking £20 million on – because that is what it will cost for Eze or Benrahma.
I remember when Helder Costa was ripping it up for Wolves in the Championship, and was linked to all and sundry, and he just hasn't properly ever kicked on since then.
As for older players and injuries, like everything else, you can get unlucky or the opposite. I'll bet Villarreal are pretty happy they took the risk on the horribly unfortunate Santi Cazorla. What a player, even after missing almost two whole years of football, and losing huge mobility in his ankle.
Mike Gaynes
279
Posted 25/07/2020 at 17:42:12
Andrew #278, I sure as hell noticed Bowen, but I never heard even a sniff of a rumor that we were interested in him. Couldn't understand it. West Ham??
On another subject, Carlo has told ESPN Brazil that we need to copy the RS model to succeed:
https://www.espn.com/soccer/everton/story/4146512/everton-boss-ancelotti-wants-to-copy-liverpool-blueprint-for-success
Tony Everan
280
Posted 25/07/2020 at 18:03:40
Allan is overpriced but Napoli know they have us over a barrel. But there are scenarios where even that ludicrous £34M price tag may be worth spending.
Carlo Ancelloti needs backing with who he wants; he wants Allan as his first signing and his trusted man in the central position. We've got to trust his instincts, that's why he has been appointed.
We have a good few relatively young players establishing themselves: Holgate, Gordon, Calvert-Lewin, Richarlison, Kenny may come back, Davies, Branthwaite, even Kean may come back from a loan spell fired up.
So having a wise old head in there for the next 3 years in Allan could be very good for the younger lads, the team's stability and progress.
It's about getting a balance in the side that works. Allan could well be a big part of that. In light of Gbamin's bad luck or fragility, we probably need a back up to as well.
I would be interested to know if it was possible, whether we would like to sign both Højbjerg as well as Allan or is it a case of one or the other?
Simon Smith
281
Posted 25/07/2020 at 18:28:16
Mike, Matty Cash is a great shout. I have seen him live for Forest several times this season and he, along with Joe Lolley, are the stand-out players. I think wing-backs or full-backs like an in-form Digne and Cash could be excellent.
He also chips in with goals. I definitely think that right-back is a position that needs improving. Sidibé is not the answer for me.
Jason Li
282
Posted 25/07/2020 at 18:29:53
Yeah, kind of thinking the same thing Tony @ 280.
I guess it implements Carlo's way of playing immediately. Plus Gbamin and Davies can learn the Carlo way while watching Allan in training and match day, as there's only so much you can learn from video.
I think Carlo is going for Champions League and a cup next season, so will need all midfielders in the number of possible games we'll be playing. Allan will need resting on occasion, so up to Davies and Gbamin to learn quickly.
If Davies and Gbamin can learn some of Allan's game, then that value of Allan today transfers to them in transfer market value, so yeah... why not?
Steve Shave
283
Posted 25/07/2020 at 18:48:39
I wonder if we are going balls in for a double Napoli deal with Chucky coming too? It would require some outlay but I believe both would kick us on significantly.
Brands has history and a relationship with Lozano, both him and Allan under fire there. I think it would be an amazing show of intent.
Steve Ferns, you have however planted a seed of doubt in my mind about Allan's fitness, maybe Napoli know something we don't? I love and hate the transfer window in equal measure, the not knowing kills me sometimes.
Steve Ferns
284
Posted 25/07/2020 at 18:48:58
Jim, France and Germany are the strongest economies in the EU. Italy and Spain aren't even close. Quite how Spain and Italy can sustain their football positions after the battering their countries and their economies have taken during the pandemic, I don't know. Maybe you can enlighten me.
I don't think the pandemic is going to cause Spain and Italy to fall behind France and Germany in economic terms, it's already been happening for decades and the pandemic is only going to accelerate what's been happening. Which applied to the football economies, how's it possible to sustain their positions and football economies over the longer term?
Sure Barcelona and Real Madrid will help Spain and La Liga attract outside investment, but the rest of the league is struggling and has been for some time and it's only going to get worse now.
Serie A got some outside investment but that's only stretched them financially and a load of their clubs will be having fire sales this summer, particularly Napoli.
Steve Shave
285
Posted 25/07/2020 at 18:50:59
And yes, good shout on Matty Cash for right-back.
Martin Mason
286
Posted 25/07/2020 at 18:55:39
The concept that he will go to Spurs because that is his preference is false. He will go where he'll be paid the most money. London is 2hrs from Liverpool by train and the hotels cost nothing for him.
Steve Ferns
287
Posted 25/07/2020 at 19:01:29
Martin, I can see a player choosing Spurs over us if we offer a little bit more money.
What I can't see is Everton putting a bid in, us offering terms he will accept, and then the player deciding to do a "Barkley" and wait 6 months or 12 months until Spurs and Saints agree a price.
Either Spurs match our supposed "bid" or they miss out. The lad might prefer Spurs, but he ain't a fan and he won't risk cutting his nose off to spite his face.
Dan Nulty
288
Posted 25/07/2020 at 19:07:35
Breathing a sigh of relief that Lallana is going to Brighton. He's the type of sicknote player we sign.
Jim Jennings
289
Posted 25/07/2020 at 19:11:04
Steve,
Football is not macro-economics. If it was, it would have ceased to be, years ago.
Unless I missed it, the top three clubs in Ligue 1, Serie A or La Liga did not have to bail out the rest of the top two divisions. In Germany, they very much did.
Sam Hoare
290
Posted 25/07/2020 at 19:15:09
I expect that there's very little chance of us paying over £30M for Allan. Gattuso doesn't fancy him and they want to bring new players in so really the ball's in our court.
I can see him arriving for £15-20M plus bonuses which would be a pretty good deal if he can stay fit.
But he's not a Barry or a Pirlo. Those are players who rely on their football minds, their technique and their decision-making. Allan is a more athletic player whose effectiveness derives in part from the bursts of speed he has and his agility and stamina around the middle of the park.
The physical attributes will diminish far quicker in your 30s than the mental ones. Allan has been one of the most consistent midfielders in Serie A over the last 8 years (he was especially excellent in his last season at Udinese) and he's a pretty complete midfielder, able to pass and tackle; something we lack.
However, Steve Ferns is right to point out his injury concerns this season. Buying any almost 30-year-old is a risk and the last thing we need is another (more expensive) Delph.
Steve Ferns
291
Posted 25/07/2020 at 19:25:18
Jim, you are misrepresenting what happened in Germany. 13 of 36 clubs suggested they needed football to restart in a country where only 6,500 had died at the time and the virus appeared under control. They used financial reasons as a justification. There was no bailout.
Italy on the other hand, with mass unemployment, mass poverty caused by coronavirus and a plunging economy could easily see Serie A go bust, lock, stock and barrel. That country is in a mess, make no mistake about it. Spain is not much better off.
Steve Ferns
292
Posted 25/07/2020 at 19:32:37
Sam, he's a decent player, full of energy and a good passer. But he's not going to hit passes like Gomes. He can't tackle like Gueye.
He needs to play in a 3. Under Sarri, he had Marik Hamsik alongside him and either Jorginho or Diawarra behind him. He also had the luxury of Kostas and Koubali at the back, two of the fastest centre-halves around, so Sarri played a ridiculously high line.
He's basically going to be an upgrade on Davies. Someone to make us tick and drive us forwards. There's nothing he does exceptionally well and he's not going to floor you with any fears of skill. If combined with the right defensive midfielder and a faster centre-back, he'd be a key part of a major transformation of the side.
Steve Shave
293
Posted 25/07/2020 at 20:22:47
Steve 292 who is the missing piece in the jigsaw then in your opinion? Clearly you don't think Allan is the answer!
There are quite a lot of options out there, who should it be?
Steve Ferns
294
Posted 25/07/2020 at 20:51:28
I'll leave that to the scouts, Steve. But we need a defensive midfielder in the mould of Idrissa Gueye with preferably a bit more ability on the ball.
Jamie Crowley
295
Posted 25/07/2020 at 21:30:39
If HojPodge has his eyes set on Spurs, you have to question his mental capacities. Who in the hell wants to play for Jose Mourinho nowadays?
He's an aging, arrogant, grumpy, negative dick.
If a player can't see it would be better to play for Ancelotti over that fella, said player can just piss off.
And Joe McMahon all the way back at 190 -
Morelos is an absolute no-no, he would get red and yellow cards and possibly miss more games due to suspension than Duncan Ferguson did. He is so hot-headed he makes Roy Keane's temperament look like a pussycat.
That's sold me. I want Morelos. Never seen him play a single second. But my Lord this team needs passion, a Keane-type player, and a rocket shot straight up their ass! Bring him in. I hope he pours gas around the perimeter of Goodison and lights the fucker on fire to get our boys moving and playing with some degree of emotion!
Jim Jennings
296
Posted 25/07/2020 at 22:01:16
Steve,
I'm not misrepresenting anything. Bayern, Dortmund and Leipzig "donated" €20m to keep the rest of Bundesliga 1 and 2 afloat. The league wanted (read: needed) the league restarted in time to finish before June 30th. If they didn't, they ran the risk of failing to meet contractual obligations with TV companies who could therefore opt out of payments. This would have jeopardised the very existence of 31 out of those 34 clubs. I'm well aware of COVID numbers in Germany, thanks.
How do I know all this? I live there.
Steve Ferns
297
Posted 25/07/2020 at 22:07:20
Okay, Jim, but 3 clubs donating €20M as a pot for smaller clubs If they need it is not: "The top three clubs basically bailed out the 33 clubs below them".
Sam Hoare
298
Posted 25/07/2020 at 22:36:40
Steve @292, at his best, Allan is making a lot of tackles, not as many as Gueye's but then no one does! On average in his career, he makes about 3.4 tackles per game which would rank him comfortably highest in our midfield and right up there in the league.
He's not a long ball distributor like Gomes but carries the ball well and can pass the ball pretty well. He's got more goals and assists than Gomes over the last few years though admittedly in a better team.
If he could play like he did previously under Ancelloti and at Napoli then he'd be our best midfielder and I think he'd do well in a midfield 2 either with a more defensive partner or a more creative one. He offers that balance.
The question would be whether he could replicate the form of 2018-19 and before? And when might his physical decline kick in and affect his game?
Steve Shave
299
Posted 25/07/2020 at 22:49:15
Steve 294, aw, come on, man, play the game! You are happy to say who we shouldn't sign!
Steve Ferns
300
Posted 25/07/2020 at 23:24:47
Steve, I'd like Brands and his scouts to look at Wilmar Barrios and De Roon. I would like them to be able to link up with what we have though so the scouts would need to focus on that and on personality.
De Roon is a bit older now but he was brilliant when they destroyed us. Barrios is 26 and surely fed up of Russia and very obtainable. We were linked to him before he went there. I think he could be the tough tackling midfielder we need.
Steve Shave
301
Posted 26/07/2020 at 00:25:11
I don't know anything about De Roon but I wanted us to look at Barrios before, liked the look of him in the world cup. Good shout, maybe Yerry can have a word?
Mike Gaynes
302
Posted 26/07/2020 at 03:54:35
Jamie #295, the proper comparison for Morelos isn't Roy Keane. It's Rat Boy Suarez.
He's not an inspirational "hard man" who would bring passion to Goodison. He's an off-the-ball cheap shot artist who would bring embarrassment.
I'm a hockey guy like you, but this guy ain't hockey.
No thanks.
Tony Everan
303
Posted 26/07/2020 at 12:33:29
I agree, Matty Cash is an interesting one. The Nottm Forest fans love him and he is probably their Player of the Season. If Forest don't come up through the playoffs, he will be off to the Premier League.
I think Forest will want £10-15M for him. The rumours in Nottingham are that Sean Dyche has had him scouted and will try to get him for Burnley, and Dyche knows what it takes to be a good defender.
At 22 years old, he definitely warrants a close look from our scouting team, we need to be more thorough assessing Championship talent. The lad has a few goals in him too.
Matty Cash and Max Aarons need serious consideration, and could solve our right-back position out long-term – that's if Carlo is overlooking Kenny.
Ray Roche
304
Posted 26/07/2020 at 13:32:35
Rangers' Morelos has agreed terms with Lille, so that might end our alleged interest in him.
Jamie Crowley
305
Posted 26/07/2020 at 13:56:06
I trust ya Mike.
That's me unsold.
Tony Twist
306
Posted 26/07/2020 at 20:08:58
Plain and simple, I expect Brands to fuck it up once more and we will be saddled with an ageing midfielder who can do it in Italy but – surprise, surprise – can't handle the pace of the Premier League. Insanity as usual.
Hugh Jenkins
307
Posted 31/07/2020 at 07:55:03
According to the BBC "Gossip" column today, Spurs have not yet made a bid for Højbjerg.
So, irrespective of whether or not he prefers Spurs over us, do Spurs prefer him? Or is Levy trying to adopt his usual "candle auction" tactics?
Sam Hoare
308
Posted 04/08/2020 at 19:02:37
Spurs bid of around £16m has been accepted. Think he's a bargain at that price.
How many people on this thread saying he's not good enough for us will be moaning we should have tried harder to sign him when he does well at Spurs, I wonder?!
Dan Nulty
309
Posted 10/08/2020 at 12:46:27
I think this shows that we were being used to hurry Levy up.
---
Add Your Comments
In order to post a comment, you need to be logged in as a registered user of the site.
Or Sign up as a ToffeeWeb Member — it's free, takes just a few minutes and will allow you to post your comments on articles and Talking Points submissions across the site.
---
© ToffeeWeb