Gareth Barry hangs up his boots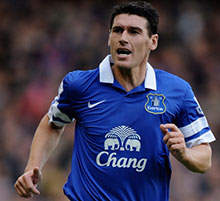 Popular ex-Everton midfielder Gareth Barry has announced his retirement from football at the age of 39.
Barry is the Premier League's record holder for the number of appearances, having played a total of 653 times in the top flight, including 131 out of a total of 155 senior appearances for Everton. He also played for Aston Villa, Manchester City, and West Brom during a distinguished career.
The England international joined the Toffees, initially on loan, on a busy transfer deadline day in September 2013. The move proved to be something of a masterstroke by then manager Roberto Martinez and, after impressing in his first season at Goodison Park, the Hastings-born player signed a three-year deal in July 2014.
Barry was capped 53 times for England, scoring three goals in total, and is regarded by Evertonians as one of the most accomplished players to wear the Royal Blue jersey over the past decade.
ToffeeWeb Player Profile: Gareth Barry
---
Reader Comments (61)
Note: the following content is not moderated or vetted by the site owners at the time of submission. Comments are the responsibility of the poster. Disclaimer
Jamie Oliver
1
Posted 27/08/2020 at 12:29:15
For me, one of the best players to grace the Premier League. Was never about being fancy, just hard-working, consistent and good at it. A true solid player and, from what I could tell, seems to be a top bloke off the pitch too.
Jerome Shields
2
Posted 27/08/2020 at 12:31:48
Gareth Barry was a great midfielder when he played for Everton. This reputation has been enhanced even more since he left. He is, by far, better than anything we have or are likely to get.
Happy retirement, Gareth. I will always remember you as one of best footballers I have seen.
Tony Hill
3
Posted 27/08/2020 at 12:39:30
A good player with a good brain. I wouldn't go as far as posters above but I enjoyed watching his first season with us, in particular, when he was alongside McCarthy.
Will Mabon
4
Posted 27/08/2020 at 12:41:00
Professionalism and commitment, an adult footballer that calmly understood the game. We needed him and were lucky to have him. At 39, he's certainly made the most of his career!
Best of luck.
Robert Tressell
5
Posted 27/08/2020 at 12:45:41
The midfield trio of McCarthy, Barry and Barkley had lovely balance. All 3 had limitations but we've since spent a lot of money on not coming close to that.
Gerry Quinn
6
Posted 27/08/2020 at 12:49:27
Liked him from minute one in an Everton shirt - fully respectful of the club, honest commitment and true workmanship - have a great retirement, Gareth - you have fully earnt it wherever you played.
Paul Richardson
7
Posted 27/08/2020 at 12:54:30
Unfortunately, he is likely to be one of the forgotten not-quite-greats-but-bloody-good players for the club, who were close to the end of their careers, like, for example, Richard Gough and Paul Power. A mainstay. Best of good fortunte in retirement for a man who never gave less than his best.
Steve Brown
8
Posted 27/08/2020 at 13:01:37
Now that's what signing a senior quality player can give your team. Barry matches Richard Gough and Nigel Martyn in the regard.
Compare their impact with the likes of Schneiderlin, Williams, Delph and Sigurdsson, who set the younger players in the squad such a diabolical example of what it means to be a top professional.
Geoff Williams
9
Posted 27/08/2020 at 13:12:47
I have nothing but total respect for him as a man and as a player.
Christine Foster
10
Posted 27/08/2020 at 13:26:38
In the tradition of EFC, another very good midfield player like Paul said, just bloody good. Comparing to present day is always hard but lets face it if he was 29 again we would be signing him.
Hope he is not forgotten like some (actually like many). Good luck to you Gareth! Thank you for your excellent service!
Graham Hammond
11
Posted 27/08/2020 at 13:32:14
A really good player who understood that football is a team game and knitted play together really well. Never blessed with pace but understood where he needed to be at any given time to help out a colleague in blue when we were in danger of losing possession.
Gave away 10 years to James McCarthy and was nearly always the better player of the two, says it all really. A terrific signing whose work ethic, desire, intelligence and will to win have never been replaced.
One of those few players who you believed was worth the wage, a few professionals at Everton currently are taking the piss. Happy retirement Gareth, you have earned it and the lifestyle you undoubtedly now have. All the best, it was a pleasure to watch you in blue.
Stephen Vincent
12
Posted 27/08/2020 at 13:37:48
Don't think we realised how good he had been for us until he had gone.
Definitely the glue that held us together for four years. Can't believe he was 32 when he signed for us, I'm sure that if you went back to the thread on here when he signed you would find people moaning about taking on an ageing Man City reject.
Geoff Lambert
13
Posted 27/08/2020 at 13:39:35
Christine, Imagine trying to sign him now at 29!! ToffeeWeb would go in to meltdown, To old, no sell on fee, City reject Etc etc...
Tony Everan
14
Posted 27/08/2020 at 13:42:19
A proper professional and a class act. A shining example a mature player for us who was here to play to his highest standard possible, not just for the money. Good luck to Gareth Barry in whatever he does next.
Jason Leung
15
Posted 27/08/2020 at 13:45:34
Thought it was a bad signing..proved me wrong and earnt my respect with a goal-line clearance in one of his first games, not sure which match, anyone help me out?
Also, that goal against Norwich in 2014 with a run just past hafl-way, the way he made the ball curve.
Absolute class act and professional, someone who we need back at the club to sort these wasters out.
Good Luck to him in the next chapter of his life!
Martin Reppion
16
Posted 27/08/2020 at 13:50:19
Good pro who, as has been said above, always gave everything, which is all we fans ask.
Famously described as having deceptive pace... slower than he looked. But speed over the ground can be covered by speed of thought. His 2 Premier League records (appearances and bookings) show he wasn't scared to do play hard, yet he never had a reputation as a dirty player. It is telling that he is one, like Kevin Kilbane, of whom nobody has a bad word. Given the vitriol that appears on social media sometimes, that in itself is an achievement.
I'd expect a player of his experience and intelligence will appear in management sometime soon.

Colin Glassar
17
Posted 27/08/2020 at 13:51:52
A solid pro and a good guy.
Jonathan Tasker
18
Posted 27/08/2020 at 13:58:22
An excellent player.
An absolute credit to the profession.
Chris Hockenhull
19
Posted 27/08/2020 at 14:01:21
Jason (15). vs Chelsea.
Dave Abrahams
20
Posted 27/08/2020 at 14:04:44
Jason (15), I think it was his very first game v Chelsea, it was a brilliant tackle close to the goal line that saved a certain goal.
Gareth was a solid profession who enhanced the team just by being on the pitch, for whoever he was playing for, he certainly improved Everton when he joined and had two very good seasons before his lack of pace started to tell, still never let us down and was missed when he left.
Good luck and good health in your retirement Gareth.
Paul Birmingham
21
Posted 27/08/2020 at 14:14:22
A good solid professional and EFC got a few good years service from him.
Sadly since he and McCarthy left, our midfield aside from Gana, has been so ineffective, to the point it ceases to exist on the park as a midfield.
Stephen Brown
22
Posted 27/08/2020 at 14:16:26
I certainly didn't realise how good he was until he played for us and I watched him properly!
An excellent player and potential good manager in the future?
John Raftery
23
Posted 27/08/2020 at 14:16:57
Gareth was one of the cleverest players I have seen. I recall him saying in an interview he didn't really understand the game until he was twenty five and that it was Fabio Capello who helped him to become the perfect central midfielder.
I also recall people saying we could not keep playing him as a thirty six year old. So we signed Schneiderlin who looked twice his age and proved to be less than half the player.
Barry Rathbone
24
Posted 27/08/2020 at 14:33:15
A really good player who did as much off the ball and around the dressing room as he did on the pitch. Shades of Reid and Gray about his influence and a player who certainly exceeded my expectations.
A fine player and a gentleman who will always be welcome at Goodison Park.
Jack Convery
25
Posted 27/08/2020 at 15:06:51
Happy Retirement to a class act. The last great player to don the royal blue - just a pity it was just for a couple of seasons.
Koemans biggest mistake (he made plenty), was to let Barry go when he did. The midfield has been a joke ever since, that's how good Barry was.
If Delph was half the player Barry was but alas he isn't – not even in the same ballpark. Thanks for your service to EFC you will be fondly remembered.
Jay Harris
26
Posted 27/08/2020 at 15:20:44
A true professional in every respect.
The way he trained, the way he conducted himself and even though he was late in some of his tackles he was never dirty.
Enjoy your retirement Gareth it has been well earned.
Eddie Dunn
27
Posted 27/08/2020 at 15:30:14
An intelligent footballer who looked after his body and had a long and successful career. As he got older he adapted his game as all clever players do.
He was also streetwise and would "take one for the team" on occasion which is why he accrued a few yellows.
He could pass, tackle and even score the odd goal, but he was also a useful extra defender, often with a deft interception or important headed clearance.
Would jump at the chance of getting him at 29, like the others above!
Andrew Ellams
28
Posted 27/08/2020 at 15:41:45
The media blamed him for the failures of the golden generation after England's debacle against the Germans in 2010 but he still finished his career with the Premier League medal that Slippy Steve never got.
Jack Convery
29
Posted 27/08/2020 at 15:45:37
Well said, Andrew.
Bill Gall
30
Posted 27/08/2020 at 15:46:37
This is a player that you always thought was a good player, but didn't realize how good a real professional player he was, until he left,
We are still looking for a defensive midfielder?
John Keating
31
Posted 27/08/2020 at 16:12:12
A good solid pro. Just what we are desperately short of just now.
Don't know if it's been mentioned on other threads but I see Thomsons been axed from Sky Sports, thank God! Now we can just hope the other 350 RS supporting pundits get theirs...
Rob Dolby
32
Posted 27/08/2020 at 16:26:45
Good luck to Gaz Baz in his retirement. I wouldn't be surprised if he turned out to be a top manager.
We are a bit obsessed with age and sell on fees etc for older players. Fact is most sports people are lasting longer in their profession due to sports science and fueling their bodies properly.
Barry never had pace but didn't need it as his speed of thought got him into the correct positions a lot of the time or his midfielder partners did his running for him.
As people have said above likening him to Gough, Martin and Power are great examples of proper professionals. Given the right players around him Gomes could fill a similar role.
Hugh Jenkins
33
Posted 27/08/2020 at 16:38:32
John (31) - Don't know what him, Le Tissier and Nicholas have done - but after Carragher's performances, they must have at least committed murder in order to earn the sack.
Martin Berry
34
Posted 27/08/2020 at 16:42:38
A real class act and a top pro, one the best British midfielders of the past 20 years.
I am sure he will have a successful career in other aspects of the game should he wish.
I am sure all Everton fans wish him only the best.

Frank Crewe
35
Posted 27/08/2020 at 16:46:43
@Rob 32. "Barry never had pace but didn't need it as his speed of thought got him into the correct positions a lot of the time or his midfielder partners did his running for him."
Is that why he holds the record for the most booked player in Premier League History?

Kevin Prytherch
36
Posted 27/08/2020 at 16:51:40
Frank – I think that comes about twofold...
Firstly – the player with the most appearances is also likely to get booked a lot.
Secondly – he was very good at tactical fouls (much like Fernandinho) where he would pick up a yellow to avoid the opposition from breaking quickly, thus preventing a goal scoring opportunity.
Ajay Gopal
37
Posted 27/08/2020 at 17:11:02
John (23), like Fabio. Capello helped Barry become a top midfielder, hopefully Carlo will help Tom Davies improve and become a top midfielder and Tom is still only 23.
Yes, I remember that 1st season under Martinez, still my best time as an Everton supporter (post-TV age). And Barry and James McCarthy absolutely bossed the midfield.
The 3rd midfielder was a problem, I think Osman mainly played that role, but his legs were creaking by then and that was our weak link. The front 3 of Barkley, Deulofeu and Lukaku was absolutely fantastic.
Joe McMahon
38
Posted 27/08/2020 at 17:30:42
Absolute class act, and from the same mould as Nigel Martyn. Both head and shoulders above any of the Everton squad now.
John Keating
39
Posted 27/08/2020 at 17:36:29
Hugh
Thomson was a disgrace and never should have been on the gig, however, Carragher has got away with murder and how he's survived – so far – is a mystery?
Let the bloodletting continue until they've all been devoured!!!!
Allan Board
40
Posted 27/08/2020 at 17:56:45
Very good player who played the game simply and without fuss. Most of his passes went forward too. His generation will be the last to do this, nowadays it's all about showboating and fannying around with the ball.
Never been replaced by Everton either. Good luck Gareth.
Sean Callaghan
41
Posted 27/08/2020 at 18:13:24
Taxi for Barry, oh hang on, you've got your own.
Dave Evans
42
Posted 27/08/2020 at 19:32:54
Interesting reading all the above.
Apart from a few voices in the wilderness, Barry got unrelenting stick on here when he played for us.
Dale Rose
43
Posted 27/08/2020 at 19:41:47
Alan #40. Spot on mate.
Robert Williams
44
Posted 27/08/2020 at 20:11:29
Class act, nice chap apparently. Bechenbaurish to my mind.
Steve Carse
45
Posted 27/08/2020 at 20:25:51
A defensive midfielder who was central to the success of John Stones. Not only in providing a shield to the two CBs but also, particularly important for Stones, an out ball when under pressure.
Christy Ring
46
Posted 27/08/2020 at 20:35:44
He was oustanding for Everton under Martinez, a class act. A very clever player, himself and McCarthy were superb together. He was the brains, pick a pass, Macca in their faces. Unlike our toothless midfield now. Happy retirement.
I hope Sky Sports might sign him up, delighted Thompson and Nicholas are gone. I don't understand why they kept Merson, who hasn't a clue, but I guess he was on a lot lower salary. At least the panel should be impartial now, as long as Glen Johnson is not part of it. Hopefully Souness and Carragher next.
Barry Rathbone
47
Posted 27/08/2020 at 20:53:48
Christy Ring, lord knows where Merson's celebrated addictions would take him if he got the boot. I suspect Sky don't want publicity about pushing him over the edge if he ended up on a slab.
Pat Whitmore
48
Posted 27/08/2020 at 21:03:31
Had the good fortune to play golf with him a couple of weeks ago, the guy is pure class and spoke highly about Everton and said he loved every minute of his time there.
I was like many who never realised how good he was until he actually played for us. He'll do well whatever he does.
Mike Gaynes
49
Posted 27/08/2020 at 21:05:33
Lucky man, Pat. But did he foul you on your backswing?
Pat Whitmore
50
Posted 27/08/2020 at 21:10:25
I did mention foul play a couple of times, he's a steady golfer as well. Signed a shirt for my mate as well so can't speak highly enough of him.

Christine Foster
52
Posted 27/08/2020 at 22:08:19
Pat, he couldn't resist pulling your shirt on your approach shot on the 18th!
Eric Myles
53
Posted 28/08/2020 at 00:43:17
I was very sceptical when we signed the aging Barry but he turned out to be a good player for us and probably the best value for money we've had in many a year.
A consummate professional, I wish we had more like him now.
Best of luck in your retirement years Gareth, and thanks.
Don Alexander
54
Posted 28/08/2020 at 01:07:14
Barry was a pro footballer, in every sense of word. He wasn't talented enough to be ever deemed a great, for us or anyone else, but he was honest, reliable and hard-working, as any pro footballer should be.
Whilst I respect the acclaim other posters give him, such acclaim to me illustrates just how reduced we've had to get accustomed to being, overseen by the ponce in the boardroom for the past few decades.
Jim Jennings
55
Posted 28/08/2020 at 01:50:36
Only Don Alexander could crowbar a dig at Kenwright into a thread about Gareth Barry retiring.
Dano Holcomb
56
Posted 28/08/2020 at 02:34:09
True pro. Always gave you an honest shift. Total team player and a selfless, tireless worker. I'd put him on the shortlist of those who always looked after themselves, rarely made headlines for the wrong reasons, and showed up everyday to give 100%. Gary Speed and James Milner would also make that list.
Jim Bennings
57
Posted 28/08/2020 at 07:09:22
2013-14, what a season that was eh?
Best transfer deadline day signings ever in September 2013, Barry, McCarthy, Lukaku, talk about players that made a big difference.
Gareth Barry and James McCarthy, Ross Barkley in midfield going away to the likes of Arsenal and Man Utd dominating them football-wise in their own backyard.
I've nothing but admiration for Gareth Barry. If only we possessed a midfielder with half of his footballing nous and savvy these days we'd be in a better place.
Good luck to you man.
Steve Greir
58
Posted 28/08/2020 at 13:45:13
For sure, as some have already posted, we've had a pop at Gaz on occasions, but all the plaudits are warranted, and then some! A top pro without question.
One of my favourite recollections of late has to be the 'face off' with Diego Costa. Pure Hollywood!
Derek Knox
59
Posted 28/08/2020 at 17:43:13
Great professional, should never have let him go, but that was Koeman the wrecker again, he's only been at Barca 5 minutes and Messi and Suarez want to leave.
Wish Gareth all the very best, and thanks for being a good player in an Everton shirt.
Mick Davies
60
Posted 29/08/2020 at 17:10:24
Jason @ 15, yes that goal saving tackle (after another Howard Howler) was actually on Eto'o, who of course later joined us.
As mentioned above, there has probably never been a better deadline day than 2013: to get Barry, McCarthy and Lukaku was amazing, and I was sitting in the pub watching it all and when they were announced, all the blues went wild - we knew we were going places.
The midfield skill and calmness of the former, aided by the ruthless ball-winning and bravery of his young teammate gave us a fantastic season, especially with Rom up-front, the best striker we've had in the Premier League era. Sadly, it all went tits up with Martinez playing the 'Special One' and spending his summer in Brazil, coming back too late to prepare, and bringing with him that lump of shite Besic.
If only Roberto had been humble enough to appoint Big Joe to steer him and not have that gimp Jones as asst, we may have been in the Champions League, or even Champions, and Barry would have something more tangible to remember us by. A great pro and a player I will always respect for his commitment to Everton.
Jamie Crowley
61
Posted 29/08/2020 at 18:51:19
Part of the best Everton midfield in my time. Barry, McCarthy and Barkley were fantastic.
Absolutely loved this guy. Professional, classy, hard working - everything you want your Club to stand for.
For me, again in my time, right up there with the Cahill, Arteta, Carsley, Coleman, and my dark horse fave Hibbo all-time favorite players.
Retire, relax, enjoy the fruits of your labor Gareth. Tough to say nowadays considering the crazy salaries, but you've earned it. You always, always worked your socks off.
Legend for me. Your mileage may vary. But when you consider my Blue time, and what Everton have served up, Gareth is a legend. Yes, I know he's no Dixie, Southall, Ball, Young, etc. But he's one of a handful of players that I've got, during my time, that I utterly respected.
Nicolas Piñon
63
Posted 07/09/2020 at 06:29:50
He was the only Everton player who stopped to sign me an autograph the first time I was at Goodison (2013 against Tottenham). Looked a real gentleman, not a footballer. And he played like that as well. A true professional. I live in Argentina, and love Everton. Good luck Barry!
---
Add Your Comments
In order to post a comment, you need to be logged in as a registered user of the site.
Or Sign up as a ToffeeWeb Member — it's free, takes just a few minutes and will allow you to post your comments on articles and Talking Points submissions across the site.