Everton History
The Joe Mercer Plaque Ceremony
Rob Sawyer

23/11/2021
20

comments | Jump to last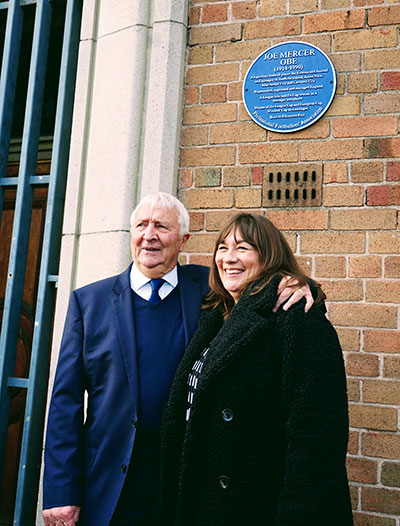 Mike Summerbee with Joe's granddaughter, Susan
Supporters from across the football spectrum, including members of Everton FC Heritage Society, came together in Ellesmere Port last Thursday, 18 November, to celebrate the life of Joe Mercer – one of the town's greatest sons. A plaque commissioned by football historian Mark Metcalf, with the support of the PFA, was unveiled at the Civic Hall.
Mercer, the son of a Nottingham Forest and Tranmere player, was universally admired in the football firmament for his sunny disposition and success as a player with Everton and Arsenal (winning the Football League title at both) – as well as for taking Manchester City to the heady heights. He also had a spell as caretaker manager of the England team.
Although prematurely ushered out of the Goodison Park exit door in 1946 (he went on to show the folly of the decision by leading the Gunners to glory), Joe remained an avowed Evertonian and, in retirement, was a regular attendee at Toffees matches and events. He passed away on his 76th birthday in 1990.
The Mercer family was represented by Joe's daughter-in-law and granddaughter – along with her husband and children. Former players Graeme Sharp, Peter Reid, Mike Summerbee and Gordon Taylor (representing the PFA) were present, as was a representative of Arsenal. Reid, Summerbee and Taylor all spoke warmly of Joe's achievements and legacy while Gary James, Joe's biographer, spoke of how much Ellesmere Port and the Wirral meant to the great man throughout his life.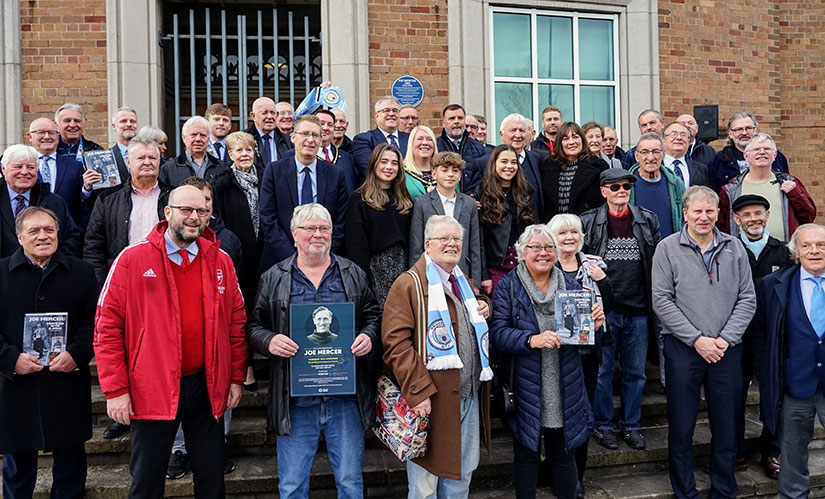 The attendees assembled in front of the new plaque
In a touching gesture, the Mercer family presented the town's mayor, Lisa Denson, with the silver tea set that had been presented to Joe after he led Arsenal to the FA Cup win and won the Football Writers' Player of the Year Award in 1950. Residents had funded the purchase through a subscription scheme – now it has been given back, to be cared for with pride in the Civic Hall.
Recommended reading: Joe Mercer – Football with a Smile by Gary James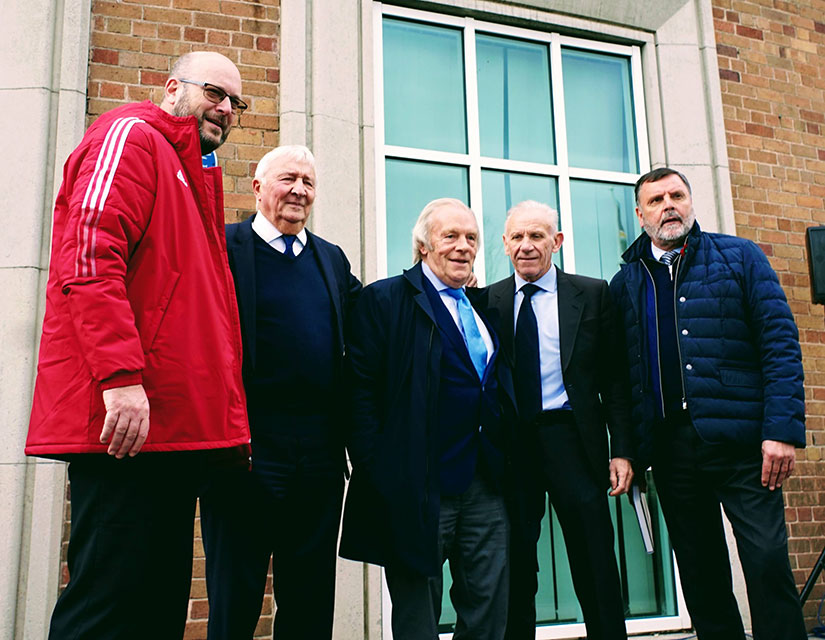 Representatives of Arsenal (Mark Brindle), Manchester City (Mike Summerbee), The PFA (Gordon Taylor) and Everton (Peter Reid and Graeme Sharp)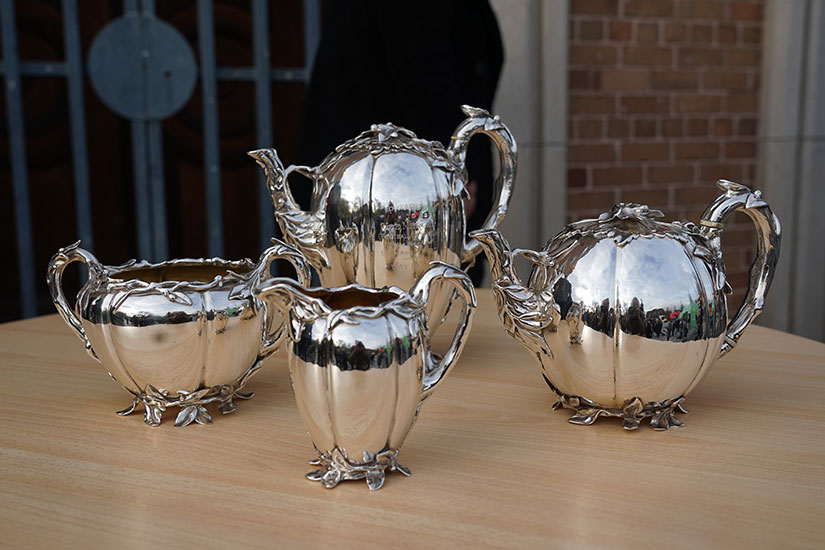 The silver tea set, given back to the people of Ellesmere Port by the Mercer family - 71 years after it was given to Joe

Follow @robsawyer70
Share article:
Reader Comments (20)
Note: the following content is not moderated or vetted by the site owners at the time of submission. Comments are the responsibility of the poster. Disclaimer
Peter Mills
1
Posted 24/11/2021 at 09:28:19
Nice to read this. Joe always came across as a great guy, funny and philosophical, but as an ex-Sergeant Major I suspect he would take no messing. I remember him speaking very emotionally but eloquently on Match of the Day in the immediate aftermath of the death of William Ralph Dean at Goodison.

Joe was a member of our 1938-39 Title winning team, the best Everton side ever according to my Dad. His spell as England manager saw them play with great freedom and apparent enjoyment.

Thanks for posting, Rob.
John McFarlane Snr
2
Posted 24/11/2021 at 13:39:54
Hi Rob,
My Granddad and uncles spoke highly of Joe Mercer, and my daughter who was 8 years old at the time, received his autograph. You can imagine her disappointment when he wrote "Best wishes to Vicky" – her name is actually Nicki.
Peter Mills
3
Posted 24/11/2021 at 16:31:26
John#2, Vicky is in good company, Joe used to refer to Pele as Eddie Peely!
Dave Abrahams
4
Posted 24/11/2021 at 16:34:42
My first ever Everton game was versus Arsenal, March1948, we lost 2-0, Joe played in that game, don't know if it was his first game back at Goodison since his move to Arsenal.

Did he used to train back near his home in Ellesmere Port while with Arsenal and travel down to London at the weekend, this was to help him run his shop, was it a grocery business.

Finished his career in 1953 after breaking his leg against Liverpool, I think.

Joe got a lot of praise for bringing success to Man. City alongside Malcolm Allison but I think Malcolm was the main man in their partnership.
Peter Mills
5
Posted 24/11/2021 at 17:21:09
Dave, I'm not sure I agree with your final paragraph, I always thought Joe was a steadying influence on Allison who didn't do much when managing on his own.
John Raftery
6
Posted 24/11/2021 at 17:21:34
Great for the family and Ellesmere Port and good to see the three clubs with whom he enjoyed the most success all represented. He was one of the most popular football men across five decades from the thirties to the seventies. He was also astute in handling the media, jovial and very quotable. I remember him describing the Wembley pitch before the 1969 FA Cup Final as a cabbage patch.
Just as Everton were criticised for letting Joe go too early, so were Manchester City for forcing him to step aside as manager in favour of his assistant Malcolm Allison in 1971. Once Allison took sole charge there was nobody there to hold him back from rash decisions. It could be argued City's subsequent decline stemmed from that change. Gary James's biography of Joe is an excellent read. I bought it when it was first published in the mid nineties. Top quality.
I met Joe's widow Nora at one of the Hall of Fame dinners at the Adelphi. A lovely lady. His Everton connections still meant a lot to her and the family even though he had left the club over half a century earlier.
Danny O'Neill
7
Posted 24/11/2021 at 18:15:27
Thanks, Rob, these articles are always a great read.
My Grandfather spoke fondly of Joe Mercer to the point that despite his affiliation with other big clubs as player and manager, I always thought of him as an Evertonian, despite being way before my time.
Interesting to hear the view that Everton let him go too early. A feat that was seemingly repeated in my dad's era with the sale of Alan Ball. To Arsenal!! Déjà vu?!
Ken Kneale
8
Posted 24/11/2021 at 18:16:55
Peter - like you, my Dad said the 1939 side was fabulous - he rated Joe and Tommy Lawton very highly indeed - sadly like the side 30 years later which is my own benchmark, only one title although for different reasons.

Dave - my recollection was that Joe was somewhat double dealt by Malcolm Allison and was very upset at the time when he lost his job. Allison was by all accounts a gifted coach but needed a steadying influence on the tiller to prevent him from simply running wild with unworkable theories - City's decline tends to support that as they certainly had useful players at the time but his tactics disrupted the whole team.

I did read that Harry Catterick was put off finding a 'capable deputy' after conversations with Joe about how hard it was to keep Malcolm Allison focussed - that in a weird way may have had an effect at Everton of unintended consequence given that when Harry's health sadly failed, there was no person at the club capable of picking up the reins quickly and easily - to the point that when he was recuperating from his heart attack and Joe Royle was out with injury, Joe was calling at Harry's house and when hearing how bad things were, Harry rushed his return and really was not the force at the club he should have been, leading to even greater problems
Dave Abrahams
9
Posted 24/11/2021 at 19:58:46
Peter (5),
Malcolm was always an big on how the game should be run, even when at West Ham as a player he tried to get the training changed. A lot of trainers then thought it was wise to let the players do physical training most of the week and not a lot with the ball, thinking they would be hungry for the ball on Saturdays. Malcolm got a few of the players together to go and get the trainer to change his mind, which was successful. Maybe he wasn't a great manager but he was, like Colin Harvey, a great coach and I think he had more recent ideas how to make the City players into winners.
Sure, Joe had a better public image than Malcolm; Malcolm didn't really care what the fans and papers thought about him, he was a maverick, did his own thing. Maybe City failed as a team when he took charge, that was nothing new to City, they were always an up-and-down club and, if Joe had stayed as manager, there was no guarantee that City would have stayed as a top club.
Ken (8),
You could be right about Joe keeping Malcolm in check but I think Malcolm was too much of his own man to be kept down too long and wanted a go of the job maybe he wasn't suited too.
Regarding Harry Catterick, my favourite manager, the man he wanted to be his number two was Joe Fagan, but Joe was settled at a lower league club and turned him down... what a combination that could have been.
Yes, Harry's health was in a bad way to the fact that he wouldn't delegate his responsibilities, tried to do everything himself, especially scouting for new talent, nearly cost him his life on one occasion and that was the start of his ill-health from which he never recovered. Afterwards, Everton became the club they had been before John Moores brought him back to the club he had played for years before.
Dave Abrahams
10
Posted 24/11/2021 at 20:07:29
(9), that last paragraph : Harry's health was in a bad Wayne: obviously should have way, not Wayne!,

Michael have you brought that Wordchecker back, I thought you'd give him his comics and his P45, he hasn't made a mistake for ages, check his desk, the bastard is back on the scotch again.
Joe McMahon
11
Posted 24/11/2021 at 20:18:05
On the subject of Malcolm Allison, my father (lifelong City fan) unfortunately only passed away last month, but the tales he had about City in the 70s. Allison referred to Matt Busy as Matt Baby. When City won 4 -1 at Old Trafford in the early 70s, Allison walked all the way to the Stretford End and stuck up 4 fingers.
After a Man City Xmas do, Joe Mercer was stopped by the police in the early hours, wound his window down and said "What's Malcolm done now?"
That's not even including Allison in the bath with Miss World and a cigar in his mouth. Terry Venables stated he brought a porn star into the dressing room at Palace.
All this of course is years before Sky and Mourinho etc.
Dave Abrahams
12
Posted 24/11/2021 at 20:26:23
Joe (11),
My favourite tale of Malcolm was when Alf Ramsay saw him talking to a fella outside Wembley Stadium, and after the fella had gone, Alf said to him,
"Malcolm, that chap you were talking to, he looked like a bit of a spiv to me."
Malcolm said, "Yes, he is a bit of a spiv, just like your fuckin' brother" – putting Alf in his place.
Ken Kneale
13
Posted 24/11/2021 at 20:44:14
Dave 9,
Good memory! Yes, Joe Fagan would have been ideal and Harry knew that. Sadly, as you say, he had not long gone to a lower league club and loyalty held sway; you cannot fault him for that, no doubt the good character Harry saw in the first place.
Like you, Harry is still my favourite manager – he had faults but his love of Everton and, as you outline, his dedication could never be faulted. If he and Sir John are watching from above, they must be getting as irritated as us by the plight of the club now – it is tremendously sad.
Dave Abrahams
14
Posted 24/11/2021 at 20:53:58
Ken (13),
Yes, the plight we are in is very sad indeed. I keep telling myself it can only get better but I only half-believe that at the moment!!
Ken Kneale
15
Posted 24/11/2021 at 21:07:16
Dave,
That is sad but true for me and many on TW. I just cannot equate how a club with our history has allowed itself to get into this plight. Then I look at those running the club for the last 30 years and realise why.
How on earth Bill Kenwright has a shred of credibility left with any Evertonian is beyond me now. He has been a self-serving, duplicitous disaster in my view for the club as both a footballing entity and a business.
Even worse, at this particular time, I don't see a way out for a long long time.
Barry Rathbone
16
Posted 24/11/2021 at 21:10:09
Speaking of Joe has me questioning my own sanity.
I had Joe Mercer as caretaker England manager for a period rescuing us (England) during qualifiers for the Euros with Keegan and Brooking playing out of their skin and the entire team playing the best I've ever seen. In a distant slavic country I think...
Well, he was in charge and I think the game was the 2-2 against Yugoslavia and a quick watch of the YouTube highlights has me reassessing: we were shit. Even with Keegan, Brooking, Bell, Channon, Clemence etc.
I'm beginning to question if modern togger is quite as woeful as I think by comparison?
Dave Abrahams
17
Posted 25/11/2021 at 11:00:48
Ken (15),
The sad thing about Kenwright still being involved with the club is that quite a big percentage of the fan base are happy to see him here and some even think he has done well for the club and defend the criticism he gets. One man's meat is another man's poison; poison is what Kenwright means to me.
By the way The Echo are reporting that Gray's injury is not as serious as at first thought, but in typical Echo reporting they say "Although Gray is doubtful for the Brentford game he should be back for the New Year" which is about five weeks from now!!
Ken Kneale
18
Posted 25/11/2021 at 19:00:44
Dave,
If that is true, it is truly myopic in my view. History is being made in the here and now and what has gone on in his time as a board member, major shareholder, and now chairman.
His whole period is one of declining force as a football club, dysfunctionality as a business, and a reduction in status to also-rans. I think any jury would happily say guilty with such weight of evidence.
Add in his 24/7, 365 over 15 years search for the 'right investor' and look how that is panning out. I am not sure his character judgement is sound either – I think Don alluded to similar on another thread last night. Add in Philip Green and those that have walked away from Everton because of Kenwright and it all starts to look very self-serving indeed.
Barry Hesketh
19
Posted 25/11/2021 at 19:16:32
Barry @16,
I was too distraught to watch England during that period as the team failed to qualify for the '74 World Cup. But you are correct that Joe Mercer was in charge for seven games between May and June 74, which included a two-nil defeat at the hands of Scotland at Hampden, according to the record books Pejic and Todd were the scorers of the two own goals.
Len Hawkins
20
Posted 30/11/2021 at 11:51:44
My ageing brain is losing cells faster than HMP Service but I used to laugh at Joe and his mis-pronouncement of players names I used to remember a few but Peely is the only one I can remember now.
He was what was commonly called 'Genial' in those days and he was a regular on football panels at big games.
I can't think of many good laughs nowadays talking about football; perhaps the foreign influence and elitism has taken away the 'bloke next door' characters. I suppose Barry Fry is one of the last of the breed.
---
Add Your Comments
In order to post a comment, you need to be logged in as a registered user of the site.
Or Sign up as a ToffeeWeb Member — it's free, takes just a few minutes and will allow you to post your comments on articles and Talking Points submissions across the site.
---
© ToffeeWeb