Report
Abysmal display totally lacking in Rafa's 'intensity'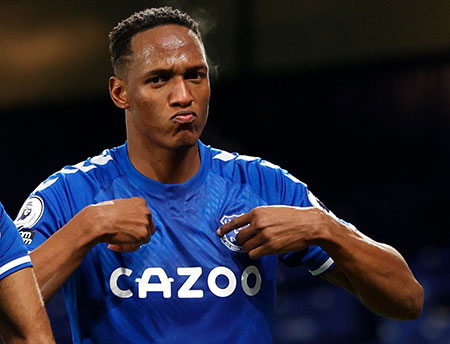 In addition to Dominic Calvert-Lewin and Abdoulaye Doucouré, Everton will again be without Yerry Mina and André Gomes this weekend
Everton traveled to the Etihad Stadium to face Manchester City without Yerry Mina, André Gomes, Dominic Calvert-Lewin, Tom Davies and Abdoulaye Doucouré, the 2-0 loss being something of a foregone conclusion given their passive style of play.
With those key players missing, the team pretty much picks itself, with Simms and Onyango on the bench.
Kevin de Bruyne, Ferran Torres, and Jack Grealish are all out for the opposition this afternoon but Phil Foden starts.
City kicked off but Gray had a good run in and Gordon saw his shot blocked. Needs to be smarter! Sterling runs into Digne to win a very dubious free-kick, that went out for a corner, but not given.
Cagey stuff from City looking for an opening but when Everton won possession, they played it backwards — not the right message to be giving out!
Gordon played an awful clearance straight to Palmer whose shot dribbled wide. Gordon looked to advance but gave up the ball rather easily. Everton were notably reluctant to play the ball forward and continued to invite City onto them.
Sterling did well to cross to the far post but it was behind Foden who could only head behind. City continued to completely dominate the play all around Everton's area. Finally, they attacked through Gray but his shot was blocked and then Gray went down with a groin problem, a massive blow. Iwobi on to replace him, not Onyango.
Pickford messed up a cross and Gordon had to save his blushes but he then, while in possession, did the strangest two-footed movement into Foden, both going down.
City won a corner that Foden put too deep but it needed a desperate clearance from Coleman, and City built again. Some horrible defending by Digne almost let City in on goal, it was increasingly painful to watch. Coleman was dispossessed, Gundogan's shot was blocked. Iwobi tried to break and easily thwarted.
Article continues below video content
City won another corner, eventually 'cleared' by Iwobi straight to Rodri! If it had been poor so far, it was simply getting worse and worse. Foden put in a cross that Sterling headed over.
Their best chance came for Gunodgan but Pickford was out quickly and the City follow-through went over the bar. Pickford then had to parry a weak shot from Palmer and he was almost caught out again.
At the other end, Townsend was fouled but not given, Richarlison was livid and dived in on Walker, seeing a yellow that means he will now be suspended. Unbelievable stupidity.
More hopeless defending and Keane appeared to foul Sterling to give up the softest of penalties. But on VAR, there was no real contact and Stewart Atwell, after looking at the screen, cancelled his decision — and rightly so — but no booking for Sterling for simulation.
Another attempt to play out was easily thwarted and Pickford's hoof upfield was soon heading back, earning yet another City corner but City got themselves offside. Another chance for Everton to play forward abruptly ended.
In another City attack, Keane headed behind for another corner. But Pickford's grasp stopped the move and Iwobi went on a surprising run before letting Walaker take the ball off him. Another Everton attack, another hopeless cross from Iwobi, at the head of a defender.
City went up the other end, a clearance to Cancello and he returned it with a brilliant ball off the outside of his foot that Keane gave up on and Sterling turned past Pickford with a perfect half-volley.
Laporte tripped Townsend as he was goalbound, Townsend firing the free-kick straight at Ederson. Abysmal half of football from Everton… but miraculously they are only down by one goal!
From the restart, Everton mounted something that looked like an attack, initially ended again with a poor cross from Iwobi, but then Coleman was fouled and Delph wafted at Townsend's free-kick cross, ending the nose-bleed venture forward.
Iwobi caught Cancelo's Achilles. Allan gave away a silly corner trying to clear, the ball going out off his standing foot, Pickford punching clear as Iwobi bundled into Gundogan.
Bernado wanted a penalty when Keane kicked the sole of his foot, Everton farted around trying to clear, Allan clearing the ball perfectly to Rodri for him to smash a worldie past shot-stopper Pickford. Resistance is futile.
At this point it pretty much turned into shooting practice for City with Mahrez firing wide. Walker and Palmer were next to try their skills. To underline the huge gulf in class, or maybe to just annoy the Evertonians, Rafa's masterstroke was to bring on Rondon for Delph!
A rare Everton attack saw Townsend charging forward but the cross was easily cleared. City then knocked the ball around for a good while to build up their possession stats before winning a soft free-kick that Marhez delivered into Pickford's enormous gloves.
Another rare attack saw a brilliant cross from Iwobi this time that Richarlison reckoned was worth an acrobatic finish but it just made him look really silly. E for effort.
Coleman took the initiative and tried to jink it over Edersen after he got close in, and showed some neat dribbling skills going back out to the corner flag! City took advantage and got behind the Everton defence but Pickford was out quickly to stifle the chance for Sterling.
City basically just walked the third goal into the net through four Everton defenders for Bernardo to finish. City brought on an Academy debutant, McAtee, so Rafa followed suit, giving Tyler Onyango a short runout, perhaps the hilite of a really dismal display, totally devoid of the intensity Rafa likes to talk about.
Manchester City: Ederson, Walker, Stones, Sterling, Gundogan, Laporte [Y:45+3'] (76' Ake), Rodri, Bernardo, Cancelo, Foden (58' Mahrez), Palmer (87' McAtee).
Subs not Used: Steffen, Carson, Dias, Jesus, Zinchenko, Fernandinho.
Everton: Pickford, Coleman, Keane, Godfrey, Digne, Allan (90' Onyango), Delph (63' Rondon), Townsend, Gray (17' Iwobi), Gordon, Richarlison [Y:29'].
Subs: Begovic, Kenny, Tosun, Gbamin, Branthwaite, Simms.
Referee: Stuart Atwell
VAR: Chris Kavanagh
Share article:
---
Reader Comments (475)
Note: the following content is not moderated or vetted by the site owners at the time of submission. Comments are the responsibility of the poster. Disclaimer
Howard Sykes
1
Posted 21/11/2021 at 13:02:33
Grealish out; De Bruyne out; Foden in.
Tony Twist
2
Posted 21/11/2021 at 13:13:40
Time for what Everton do best, roll over and show their soft underbelly. I have zero faith in these players, I hope to be proven wrong but we just seem to lack togetherness as a team.
Clean sheet and a chattie goal for us will restore my faith that there actually is a God and that he is a blue. COYBs.
Jerome Shields
3
Posted 21/11/2021 at 13:15:04
Same team as last week. Just going to absorb Man City attacks and try to hit them on the break.
No Rondon.
Tony Everan
4
Posted 21/11/2021 at 13:20:44
The team is the strongest available, maybe what most Blues would have wanted. So that's got to be a positive.
Come on you Blues! Get at them from the start and cause an upset.
Gary Smith
5
Posted 21/11/2021 at 13:22:56
If we sit back too much, we will be in big trouble. We are not keeping out Gundogan, Foden, Silver and Sterling by allowing them to pass it around on the edge of the box.
The way to beat them is to hit hard and fast on the counter. Make them know very early on that if they push forward too much then they leave themselves badly exposed.
If we are still in it at 80 mins, bring on Simms and go for it. He's an ex City boy, might be the extra motivation needed…..and what a spring board it would be.
Danny O'Neill
6
Posted 21/11/2021 at 13:26:57
I don't think we had many options really so the team more or less picked itself!
False hope yesterday then. Foden and Sterling were rumoured to be on the Covid bench with Kevin!!
Here we go.
Jay Wood
[BRZ]
7
Posted 21/11/2021 at 13:35:28
Grateful to see City's line-up so ravaged by injuries.
Brian Wilkinson
8
Posted 21/11/2021 at 13:36:48
If we had a poll in here before the team was announced, I would say almost all of us,would have gone with that starting 11.
It s the best we have available and credit to Raffa, to taking notice of the boos, when he took Gordon off a few weeks back, also seems to have read ToffeeWeb, and benched both Rondon and Iwobi.
He has gone for a decent starting 11, although my gut feeling tells me he will eventually bring Iwobi and possibly Gbamin on, not too sure if Rondon will make the last sub, chances are he might give Simms the last 5 mins.
That is assuming we have no unforced injuries elsewhere on the pitch.
Gbamin for Delph, Iwobi for Gordon and either Simms or Rondon for Townsend.
Ciarán McGlone
9
Posted 21/11/2021 at 13:47:39
Our best available 11.
Nothing to lose, let's go for it.
Simon Dalzell
10
Posted 21/11/2021 at 14:09:23
Surely just a question of how many. Just can't see us scoring.
Simon Dalzell
11
Posted 21/11/2021 at 14:37:50
Sterling should be booked for diving. Serial diver.
Colin Malone
12
Posted 21/11/2021 at 14:41:16
Got to get Ritchie on the left or right, wasted up front. Gordon need a rocket up his arse.
Ciarán McGlone
13
Posted 21/11/2021 at 14:42:57
I know it's City... but my god, this is pathetic.
Michael Lynch
14
Posted 21/11/2021 at 14:52:47
Next few weeks are going to be immensely painful. Only pub team forwards for the Brentford game. Delph is back to being useless, and Iwobi is in a competition with himself for worst use of a ball.
So throughly depressing
Jay Wood
[BRZ]
15
Posted 21/11/2021 at 14:55:01
Out of considerable adversity, we did well across the entire half.
Never a penalty. Never even a foul. Did Keane even touch him? Wasn't even in the box. Other than that, yeah. Give it.
Undone by a top, top class goal. Exquisite pass by Cancelo. Clinical finish by Sterling.
Pity Seaumus held back a yard behind the rest of the advancing defence otherwise Sterling was offside.
Gray out. Richy suspended next game.
Hey ho!
Alan J Thompson
16
Posted 21/11/2021 at 14:55:41
That's the end of that then. The only chance we might have of scoring is if we get City's goal moved up to the halfway line. With Gray went any chance of us looking dangerous and I think Richarlison gave up on the half hour and it looked like we gave up altogether when Iwobi was put on to play as another full back.
As for the refereeing, that must be the poorest most biased yet this season. Townsend was brought down in the exact same way as Sterling and he gives nothing for one and wants to give a penalty for the other while booking Richarlison for not much worse.
But if we are going to sit with almost every man on the edge of the penalty area we are going to get all that lack of imagination deserves.
Joe McMahon
18
Posted 21/11/2021 at 14:59:19
When I look at the starting 11 (and yes, the squad also). I hope the mastermind of "The People's Club" is happy. His tales of Ball, Reid, Sharp, Howard's Way and "the Everton Way" with Unsworth and Ferguson can only interest even the bored for so many decades. The comment recently about the Everton board and how they operate.
How much more can we (the fans) take? It's horrible, the pitiful squad when our neighbours year on year score bucket loads for fun.
How the hell have we got so few striking options? ... and Iwobi and Keane? I'm sure I'm not the only one; I despair. A lot needs to happen in early January, as we will be in the bottom 3.
Tony Abrahams
19
Posted 21/11/2021 at 14:59:41
I don't normally listen to the commentary but some of things being said today.
Everton's lack of composure when in possession is alarming.
Ederson is facing about as much activity, as he faced the other night sitting on Brazil's bench.
Once he realised it was Walker, he was always going to look to bring it onto his right foot when Iwobi burst through.
I thought "at least he ran" but I'm blaming him for City's goal, because after great work by Allan, why was Iwobi looking to rush so much to cross the ball to Richarlison (who looked offside) although that was a fantastic pass for City's goal.

Ashley Roberts
20
Posted 21/11/2021 at 15:03:20
With another of our best players injured in Gray, we just cannot get a break at the moment!!
I would bring Simms on and push Richardson wide and take Iwobi off as he offers nothing going forward.
Backs to the wall second half. If we can keep it to only one, we will be doing well.
Geoff Trenner
21
Posted 21/11/2021 at 15:05:05
Just got in from work. What happened to Gray?

Michael Lynch
22
Posted 21/11/2021 at 15:08:24
Looked like he pulled his groin, Geoff.
Tony Twist
23
Posted 21/11/2021 at 15:10:48
For whatever reason you would like to cite, this assembled "team" is pathetic. They are just individuals and more and more I feel that our Director of Football hasn't got what it takes to build a battle-hardened first team.
The procurement of players has been amateurish, you don't need loads of money to build a robust team – just someone who knows what they are doing. This is not the Dutch league, Mr Brands. Unfortunately Everton haven't got anyone remotely capable of doing that.
Brian Wilkinson
24
Posted 21/11/2021 at 15:14:58
I would take Richarlison off and give Simms a go. Richarlison misses the next game anyway, but will be back for the derby. If he goes in with a reckless challenge and picks up a second yellow, if it is violent conduct, then his suspension could get stretched further than one game and, let's face it, with the derby coming up, we need Richarlison for that game.
Never going to score against this City team, just a question of how many City score.
They recruited well and bought the very best while we spunked over £400 Million on average-at-best players.
Colin Malone
25
Posted 21/11/2021 at 15:22:17
Simms is from our Academy, so don't expect too much.
Barry Hesketh
26
Posted 21/11/2021 at 15:22:36
Has there ever been a more ineffective Everton side than the one we are watching today?
There's lots of chasing and harrying and a good work ethic on display, but the use of the ball is pathetic in every area of the pitch, lashing things away when there's a need for a cool head, unable to find a pass, unable to control the ball, certainly unable to trouble ANY defence.
The quality of the opponent is a mitigating factor but that isn't a reason to be unable to use a football. I'm getting less and less convinced that we won't be in the drop zone come Christmas, because most of the other teams are creating and taking chances, Everton is not.

Ciarán McGlone
27
Posted 21/11/2021 at 15:23:54
"Did well across the entire half"
Wow.
Paul Sleight
28
Posted 21/11/2021 at 15:25:00
Ball retention is shocking by everyone.
Colin Malone
29
Posted 21/11/2021 at 15:26:37
Rondon on, that's how good Simms is.
Gary Smith
30
Posted 21/11/2021 at 15:27:49
How anyone can defend a manager who brings on Rondon and Iwobi is beyond me… this manager will be the worst of all, and I include Sam and Ginger Ron in this.
Simon Dalzell
31
Posted 21/11/2021 at 15:28:55
Correct Barry (26),
Absolutely pathetic. Even in such a poor team, Iwobi is outstandingly bad.
Neil Lawson
32
Posted 21/11/2021 at 15:31:16
Rondon for Delph. What does that tell us?
A manager who is clueless. Gone by Xmas.
Wide open now for a battering if City can be bothered.
Colin Malone
33
Posted 21/11/2021 at 15:42:01
Gary #30,
They are the managers who put us in this shit. Give Benitez a chance to bring his own players in. Also, get rid of Kenwright's "jobs for the boys" backroom staff.
Joe McMahon
34
Posted 21/11/2021 at 15:45:12
You could argue that, due to mass failures in recruitment and little from the academy, Palace have a better squad and Patrick Vieira, Villa have a better squad and Gerrard. Norwich have won their last 2; we are below Wolves, Arsenal and West Ham.
So, with this in mind, thinking about the bottom 3 in mid-December, I have a question. Is Rafa defensive/conservative?
I know he won about 5 trophies with Liverpool and Newcastle fans loved him. But he seems late with attacking subs, then often the wrong ones. I know it's a difficult task with this squad, but yet again we are in familiar territory, negative goal-difference land. I daren't even look at Liverpool's...
Gary Smith
35
Posted 21/11/2021 at 15:51:08
Colin,
He brought in FIVE players in the summer – average age of 32. He's changed the set-piece marking, won 5 points in 8 matches, had us arse-slapped by City, Watford, and Villa.
He's had all the chance I'm going to give him. He needs to get out of this club before he takes us further down than any of the others did.
Paul Carsley
36
Posted 21/11/2021 at 15:52:55
Colin 33 - Give Benitez a chance? How much of a chance? Never wanted him in the first place.
Dreadful tactics. Well, not even sure what tactics we employ. Defensively we're garbage and offer nothing going forward.
No pressing from any of the players. Some dreadful players not fit to wear the shirt. Sad thing is 3-0 is a good result as could have been double figures.
However, I think the underlying problem is Marcel Brands. What does he even do?
Neil Lawson
37
Posted 21/11/2021 at 15:54:50
We are only going in one direction. Anyone who thinks otherwise is deluded. Blame who you like but start by looking up the definition of "manager".
Phil Wood
38
Posted 21/11/2021 at 15:55:56
Yes, we are crap.
This game was always about damage limitation. The damage has been done over several years of wasting money on poor players and bad contract negotiations. Add to this the number of money grabbing non-interested managers and you have what we have today.
City have scored 2 worldy goals and our threadbare squad were always going to struggle here. Let's move on and regroup for the next game.

Alex Gray
39
Posted 21/11/2021 at 15:59:01
I'm more upset that Gray is injured. Depressing. We get one player back and another two get injured.
Ajay Gopal
40
Posted 21/11/2021 at 15:59:37
With Gray's injury early on, Richarlison on a yellow from the 1st half, it was a matter of how many – 2 world class goals and a 3rd goal off a deflection – realistically the most that we could have hoped for.
The positives for me:- Keane, Godfrey, Coleman, Digne, Iwobi for showing heart and trying his hardest, Gordon for trying to create something out of nothing.
Come on, it was a game between 2 teams on 2 different levels.
Colin Malone
41
Posted 21/11/2021 at 15:59:55
Gary.
Because of previous managers / Financial Fair Play rules, there's nothing he can do.
If we had a decent Academy, there would be options. There is fuck all coming through. Gordon stunk today.
Bill Rodgers
42
Posted 21/11/2021 at 16:00:27
This team has the intensity of a wet haddock. The players look beaten before they start. Several look as if they are waiting for the chance to look injured. There is no commitment, no team spirit, no pride. They expect to lose.
Benitez can huff and puff on matchdays – but these performances are shaped at Finch Farm. Most teams will lose to Man City but it is the manner of the defeat, the complete lack of determination, drive – or even of a plan.
The table is a fair reflection of the season to date – but the worrying thing is that we already know that half the teams below us will play us off the park.
Finch Farm is the source of constant mediocrity. Clear it out.
Dale Self
43
Posted 21/11/2021 at 16:03:12
Yep, just what I thought. Time to put the target on Rafa's back.
If you would step back from the inner rage, I think you will realize that to be the wisdom of a circular firing squad. But what do I know? I'm just that retarded American.
Lee Courtliff
44
Posted 21/11/2021 at 16:03:21
There are, at least, 3 teams worse than us so I'm not concerned about relegation. That's just scaremongering.
But, we have been really, really poor lately. I'm no fan of Rafa but, at the start of the season, I was impressed with how we played. Yes, it was mainly counter-attack stuff but it was good to watch.
Now, I'm starting to worry about him. Injuries are one thing but why not change things up? At least try to press and win the game! At least give the youngsters a fair chance, not 3 minutes at the end.
I'm sure we'll pick up soon, we always do. That's why we've been also-rans for 25 years... but this has been painful to watch.
Can't help but think we'll beat Liverpool, though.
Ted Donnelly
45
Posted 21/11/2021 at 16:04:16
Rondon made a difference!
My heart well and truly sank when Iwobi came on though... surely we have better youngsters on the books?
Get packing, Benitez – you'll soon be off your pop!!
Clive Rogers
46
Posted 21/11/2021 at 16:05:45
We are in free fall. We have injuries, but no youngsters good enough to step in. We have an owner, chairman and CEO, none of whom have any idea how to run a football club.
Neil Lawson
47
Posted 21/11/2021 at 16:05:46
And what is the only positive we can take out of this shambles? That it wasn't 4, 5 or 6.
Truly awful and utterly dispiriting.
Tony Abrahams
48
Posted 21/11/2021 at 16:05:58
I suppose it was a massive improvement on the last time we played at the Etihad, but at least that was the last match of the season, and our suffering was over for a few months, whereas it looks like our suffering is just about to go up another level, and this after we have had nothing to celebrate for 26 fucking years.
Alan J Thompson
49
Posted 21/11/2021 at 16:06:42
Didn't quite get all we deserved as City treated it as a practice match after the 2nd goal.
If we had played as we did, or tried to, in the last 20 minutes then I'd have been more optimistic about the future but this looks like a relegation struggle; mediocrity would be an improvement.
And who says this manager doesn't give youth a chance when Onyango had almost 3 minutes to show his wares???
All that's left is to thank Mr Kenwright for his years of looking for the right buyers as we saw today what could have been... and also thanks to the present owner for the manager we have.
Jay Wood
[BRZ]
50
Posted 21/11/2021 at 16:07:22
Am I happy with the 3-0 loss? Of course not.
Did the team simply lay down and have their bellies tickled? No, they didn't. They kept competing and that's a minimum we can ask which hasn't always been the case in recent years.
We are very limited as to what is currently available compared to the riches City can call on.
Did they threaten our goal for 44 of the opening minutes until a worldy goal on the stroke of half-time? No. They didn't.
Was it always going to be a challenge to get back on level terms? Of course it was.
A loose ball by Allan and another worldy hit by Rodrigo. A very fortunate deflection falling kindly to Bernard for the third.
And still we competed, getting forward well at times with just the final ball or good fortune lacking.
I won't be beating up the team, individual players or the manager for today's results, given all the circumstances.
Pleased to see Anthony Gordon continuing his progress. Increasingly, he looks like he belongs at this level.
Joe McMahon
51
Posted 21/11/2021 at 16:11:05
Lee, apart from Burnley... who? We also have to go to Turf Moor on Boxing Day. Norwich have now won 2 on the bounce.
Yes, IF we had no injuries we would be Top 8. But the quality in the Everton squad is pitiful.
Christy Ring
52
Posted 21/11/2021 at 16:11:06
I know we're down to the bare bones, especially with Gray off injured as well, but Benitez bringing on Iwobi and Rondon – who offer absolutely nothing – summed it up.
Phil Wood
53
Posted 21/11/2021 at 16:11:34
Colin Malone @41,
Gordon didn't stink today. He ran his socks off and tried. Selective specs from you I think. How can you just pick him out?
Rubbish posting, Colin.
Robert Tressell
54
Posted 21/11/2021 at 16:11:58
Very predictable. We added £1.7m of talent to a squad that finished 12th and 10th in previous seasons. That squad is now injury hit and our first 11 presently is not of top 10 quality.
City are one of the 4 richest clubs in the world and have an outstanding squad and manager.
Hence we lost.
We're still on course to finish in our rightful place between 8th and 12th.

Andrew Keatley
55
Posted 21/11/2021 at 16:12:26
Obviously that was a tough watch, and it isn't good enough, but let's keep things in perspective; the squad depth is poor and the spine of our first choice XI (Mina, Doucouré, and Calvert-Lewin) are missing. Add to that Gray picking up an injury and we were always going to be on the back foot, as he carries our biggest threat on the counter-attack.
Rondon continued in his quest to offer the team nothing, but I thought Iwobi grew into the game and worked harder than is customary for him. He could still work a hell of a lot harder, and be twice as physical, and his decision-making is sometimes bizarre, but he showed more today – under very difficult circumstances – than I feared he would. And with Gray potentially out for a game or two (and pray God no more) then something needs to click with Iwobi.
When Delph was substituted, it was interesting to see Rafa prefer to deploy Townsend in central midfield as opposed to bringing Gbamin on. Gbamin has been passed over by Rafa in two consecutive games now, and I can only assume that Rafa does not trust him. On the evidence we've seen, I'd say Rafa is spot on.
A disappointing afternoon, but not the out-and-out disgrace that some on here are already claiming. We need to see what Rafa and the club can do in January in terms of attracting better squad options as I truly think we could have any manager in the world and, with the players we have, they would struggle to do much better.
Phillip Warrington
56
Posted 21/11/2021 at 16:15:39
City are so many classes above Everton, but the disturbing thing was Everton players just wandered around the pitch chasing shadows. There was no fight or urgency.
You watch teams like City, the amount of running off the ball they do to give their teammates easy options to pass to. Everton do the opposite and, if we don't get our shit together, the only thing Santa's going to bring is a relegation battle.
We must be playing the worst football in the Premier League at the moment and, with Liverpool, Chelsea, Leicester City and Arsenal to come in December, it isn't looking like a great Christmas this year...
Pete Jeffries
57
Posted 21/11/2021 at 16:16:06
Agree with Bill – they looked scared walking on the pitch.
There is no team spirit in evidence and Seamus moans but doesn't encourage the kids.
The whole thing looks ominous as if this bunch know they are going to go down in history as a relegated team.
Most of it isn't Benitez's fault but his team selection and subs and Finch Farm etc needs questioning I don't think the famous 3 missing injured players would make any difference. It's the whole team – weaknesses all round.
Pat Kelly
58
Posted 21/11/2021 at 16:17:12
Rafa never got up off his arse. Not exactly leadership. At least the traveling fans did.
Kieran Kinsella
59
Posted 21/11/2021 at 16:23:38
Why would they sack Rafa?
Firstly, cause of FFP, they can't afford to pay him off.
Secondly, they brought him precisely because they knew we'd need a pragmatic bore like him to keep us in the division with the lousy squad we have.
Thirdly, while Rafa is around, Kenwright, Moshiri and Brands can hide behind him as fans bang on about Rafa being a "Red" and miss the fact that every kind of manager (Champions League winner, young up-and-comer, great entertainer, industrial Brum, and Koeman) all failed to get a tune out of these rabble.
Lastly, even if they had the cash, the naivety to expect more, and the courage to step out from behind the patsy, who would replace him? Other clubs have just sacked their managers and who did they pick off the ripe managerial tree of life? A manager who got sacked and has been out of work for 2 years, someone from a small league who's redder than a tomato, a man who just got sacked from one of the other struggling clubs, and a prima donna flash Harry whose mantra is to spend more money than Elon Musk spends on his mission to Mars.
Would any of them be a better "fit" than Rafa? To be clear, I am not a fan of his and didn't want him but he is here and, all things considered, we don't have other options at this time.
Michael Lynch
60
Posted 21/11/2021 at 16:24:39
We looked like a pub team at times, compared to City. Their work off the ball was ridiculously good – every time Gordon got the ball, there were three players in his face, sucking all the space from him. And that was happening all over the park. When we pressed, the ball was gone before our player got within 2 yards of one of theirs.
With the ball, it was even worse. They knocked it around us like we were traffic cones, but when we had the ball, we panicked and gave it away.
We're miles away from the standard required to remain in the top flight. My only hope is that, once we get some of our injured players back, we don't take too long to get some confidence back.
Come the summer, Richarlison will be gone and quite possibly Calvert-Lewin too. I hope I'm being too pessimistic when I say that it looks bleak for at least the next couple of seasons.
Mike Doyle
61
Posted 21/11/2021 at 16:24:49
Sorry for the travelling fans (as always). At least it's a short trip home for most.
Ciarán McGlone
62
Posted 21/11/2021 at 16:25:36
It's no coincidence that, when we played further up the pitch in the last 15 minutes, we looked far better.
That team was sent out to park the bus today... and that is an absolute disgrace.
Neil Lawson
63
Posted 21/11/2021 at 16:27:02
Lee Courtliffe.
At least 3 teams worse than us?
Barnsley, Grimsby and Fleetwood?
Colin Glassar
64
Posted 21/11/2021 at 16:27:44
I must disrespectfully disagree with the title of this thread. Yes, we are poor. Yes, we were beaten. Yes, we are shite etc… but today, unlike Wolves, Watford, West Ham etc, we showed some grit, some fight. We never lost our shape. Heads didn't go down. We showed energy right up to the final whistle.
This is a poor squad assembled by Moshiri, Kenwright and Brands (who should be sacked) but we showed some togetherness today which should stand us in good stead over what will be a very difficult 6-week period.
Get to January with our heads above water, with the return of key players, and with a decent transfer window, we will once again stave off relegation for another season. Thus honouring our new motto, "Numquam Relegatedus Cum Billus".
John Keating
65
Posted 21/11/2021 at 16:28:02
Just confirms that this season is damage limitation.
The praise of Delph was a little quick. Okay, when we had the ball and a bit of time in previous games; without the ball and minimal time... atrocious.
We are so far behind the Top 3, it's unbelievable. In fact, we're well behind the following 4 or 5...
We have to accept that these players are it! Hopefully if we can get Mina, Doucouré and Calvert-Lewin back in the starting 11 together, we can finish mid-table.
We try going defensive and this lot aren't up to it; if we try opening up, they are still shite.
Raymond Fox
66
Posted 21/11/2021 at 16:30:53
I didn't watch the game, so I can't comment on the performance.
The result is what I was expecting, to be honest; it's too annoying to watch the games live now, we are so poor. With injuries to the players that have shown some decent form, we are theadbare.
Does anyone really think changing the manager again will do any good? We have had plenty high-profile managers and all have ultimatly failed.
The sad fact is we have become a joke club who can't seem to get off this cycle of incompetence. The owner has put his money on the line but we have not advanced one jot from when Martinez was manager.
Joe McMahon
67
Posted 21/11/2021 at 16:31:04
Dion Dublin (I rate his opinion) states the following:
Everton have had so many [managerial] changes that I feel even the players are confused. Yes, they have injuries but it's not their first season in the Premier League.

Injuries are going to happen and if you've only got one player who can score goals and you decide that's the one you're going to stick with then fine.

But it's a gamble. If he has a bad run of form or picks up an injury, you know you have no Plan B.

I don't want to believe that is the way Everton are run now. They should have planned for this because injuries are part of football.
Stuart Sharp
68
Posted 21/11/2021 at 16:31:17
I agree that Benitez can't take too much blame for the state we're in. But I can't understand why he would bring on Rondon. The game was already lost, so why not Simms? He'd at least have some energy?
Rondon's only chance of a goal is if he gets a pinpoint cross. We didn't put a single half-decent cross in before his arrival, so what is the point? Bringing on someone who can hardly walk, never mind run? Baffling. Iwobi is woeful but at least showed a bit of fight in the 2nd half.
Based on the currently available squad, I really am not sure there are 3 worse teams in the league. We can't score and have a leaky defence. Oh, and a poor midfield. Fortunately, the season is long and there is time for things to turn around.
Colin Malone
69
Posted 21/11/2021 at 16:32:31
Phil #53.
We only stepped up when Townsend went to the right in the last 15 minutes. Townsend had a go at running at them.
I never seen that from Gordon all game. To me, it looked like he was in his local park.

Mick Conalty
70
Posted 21/11/2021 at 16:33:08
How pitiful are our board? To allow an ex-kopite gobshite manager ("little club") to get Everton relegated.
It may have been Benitez who called us a little club, but it is Kenwright who made us one.
Colin Battison
71
Posted 21/11/2021 at 16:41:16
I didn't expect anything else from today but Man City could have had 10 if they really wanted to, they played the whole match in 1st gear which is embarrassing for us.
They put 20+ passes together every time they go forward; we can't even manage 1 to a teammate, it's a total shambles and we just don't look like scoring in any match at the moment.
Look at the fixtures ahead: Brentford (with no squad), Liverpool, Arsenal, Chelsea. This is going to be a relegation battle, even if you watch our training videos at Finch Farm, it's laughable. Our ball retention is hopeless.
Ajay Gopal
72
Posted 21/11/2021 at 16:41:34
Forget this game, but looking ahead to those who not play next week against Brentford:
Calvert-Lewin
Richarlison (suspended)
Gray
Doucoure
Mina
Gomes
Davies
I wonder if Rafa will be able to put out 11 players on the pitch. It is just ridiculous – Moshiri and Brands must be held accountable for the position Everton are in.
Barry Hesketh
73
Posted 21/11/2021 at 16:44:43
Colin @
I don't think the headline is incorrect, the team did work hard and tried, which is fine and dandy, but we looked like a lower league side at times with the ball.
The Echo, via Adam Jones who is not given to rock the Goodison Park boat very often, had the following to say:
The briefest of rallies at the start of the second period couldn't stop what was coming. If City didn't have an important Champions League game in midweek, they might have really been trying after the break and the score could have been embarrassing.
That's honestly the worst bit. Guardiola's team genuinely did not get out of first gear in the second half, and they still walked right through the middle of the visitors.
Those who made the trip to the Etihad Stadium and stood in the away end gave it their all, but they will be travelling back hugely disconnected with their side once more.
This performance showed absolutely nothing that Evertonians can relate to.
Losing to Man City is not the end of the world, but the manner in which this defeat came about was nothing short of pathetic, abject, miserable, demoralising... use whatever word you want.
It was not good enough.
If the fans don't want the removal of Benitez, I have an idea that certain factions within the boardroom do and the pressure will ramp up with each disappointing result.
Ian Hollingworth
74
Posted 21/11/2021 at 16:45:33
Sadly we are a very poor side. Sadly again, it is not just ability that makes this side so poor as there is no spirit or fight in this team.
They have no desire, no belief and no confidence. There is no hope for us with this shower.
Clive Rogers
75
Posted 21/11/2021 at 16:45:36
Gordon bottled it today. He lost the ball every time it was given to him.
Ian Edwards
76
Posted 21/11/2021 at 16:47:24
Colin @64.
Not sure what game you watched. There was no fight and at no time did we have a proper go. The tactics were to keep the score down and those tactics never changed. Palace went at City last week and were rewarded.
Any Manager that plays more defensive midfielders than forwards deserves all he gets.
The club is a joke. Every managerial change has brought in another footballing dinosaur. Dreadful tactics, awful football. Despite the millions spent, not one player would get in a top-half team. We should have gone for someone young and hungry, like Potter.
There are no decent players coming through. Not sure what Unsworth is doing. Ferguson seems to be imposed on every Manager.
We were always best of the rest. Now we have fallen behind West Ham and Leicester and are now the equivalent or worse than Wolves, Leeds, Palace. Newcastle will be ahead of us within 2-3 years.
A new 52,000 stadium still leaves us behind West Ham and Newcastle.
This is a relegation battle and we have a Manager that is content to sit back and not attack.
Barnsley, here we come.
Ray Jacques
77
Posted 21/11/2021 at 16:47:51
Paul @36, I feel you are misguided, blaming Benitez for 27 years of failure just because you didn't want him.
I expected a heavy defeat today and how sad that this is the reality of the farce that has become Everton FC, and as usual, they fulfilled the brief.
After 50 years of loyal support, I have had enough and will spend time doing something worthwhile rather than spending money on something that I used to love, but now am starting to resent.
I had four glorious years in the mid-eighties and the FA Cup win in 1995 to treasure… but the other 45 years have been barren. However, through the 70s with the cushion throwing, the early Kendall years, and the relegation scraps of the 90s, there was always fight and pride and hope that we would come good again because, even though the players were poor, there was a connection with them. This has now gone for me and I couldn't care if any of the guys on the pitch today never pulled on a blue shirt again.
The issue I feel lies with the ownership. Moshiri needs to get a grip, rid the club of Kenwright and his cronies and luvvies who propagate the 'plucky losers' mentality and infect the club from junior ranks to first-team assistant manager and run a modern, professional organisation. You can see how the ownership is destroying Man Utd as an example.
Until this club sorts itself out off the pitch and the focus is on football, within total control of the Director of Football and manager, we will continue to fester and rot from within.
Dixie Dean, School of Science, Golden Vision, Royal Blue Mersey… things that once made me proud are now embarrassing if I make reference to them when talking football.
The new stadium is likely to be a white elephant if there is no team to be proud of playing in it.
27 years of abject failure and we are further away than ever… the clock continues to tick.
Alex Gray
78
Posted 21/11/2021 at 16:47:59
I feel for Benitez. People complaining about Rondon and Iwobi coming on but we literally have nobody else.
The youth academy isn't being used as the running of it is dross. They get loaned out 3 years too late and anybody expecting to go from U23 level to playing Premier League football is in dreamland.
I pray at this upcoming Annual General Meeting, somebody has the bottle to hold the board to account. We have very little money to spend and our entire squad is injury-prone. We don't have a bad squad, we don't even have a squad!
I can't remember the last time we had our strongest eleven for three games running. We can blame bad luck but two years of injuries non-stop points towards something else now.
The manager has no options. He can't change the system or drop out-of-form players. We can blame who wasted £35 million on Iwobi, nearly 50 million on he who shall not be named, didn't get a right back after three years of needing one, loaning out Kean when he was at his most valuable, signing sub-par players on insane wages who we can't shift and our now in a position where we can't improve the squad.
Love or hate Rafa, I honestly believe Pep wouldn't make us any better. We need a complete reboot.
I'm sick of seeing us getting worse each year and make the same mistakes in the transfer market that the common fan can blatantly see.
The consequence of hiring and firing managers mean our squad is a mess of players who don't work well together and, until we stick with someone for a few years, it's only going to get worse. Sadly, you can see the fans will turn on Rafa.
Justin Doone
79
Posted 21/11/2021 at 16:49:45
Fucking pathetic.
I know Man City are a top team but allowing them time and space on the ball makes their life easier and ours harder.
I expected to lose and we lost. They scored a couples of top class goals and I've no complaints to losing a game against a top team who score like that.
We could be a bit meaner and aggressive in our defending and our desire to win, ie, blocking runs, marking them tighter, and giving Sterling and the referee stick for not booking the diving cheat… but we don't have that captain to help drive a 'win at all costs' mentality on the pitch.
My main complaint today is minor but skill warrented. We all know possession and opportunities would be in short supply today.
Townsend, Coleman, Gordon and Iwobi had good opportunities to either shoot our put in an early cross and didn't. The chance evaporated shortly afterwards.
I just don't understand the mentality and decision-making process. 99 times out of 100, Townsend shoots. Why not today, in that moment. Was it because it's Man City?
That's what frustrates my mentality most. The silly errors and not taking the few opportunities we had to be positive.
That and Iwobi. On the ball, he can be okay at times. He had a good 10-minute spell late on. Off the ball, he's lost… not knowing what to do. Get tight, man mark, follow the runner, stay in position etc.
So he does nothing. That needs to be addressed on the training pitch but ultimately, at his age, he's not good enough.
Kieran Kinsella
80
Posted 21/11/2021 at 16:49:50
Welcome to the world's most expensive exhibition. The £500 million Kenwright Era Merseyside Museum of Misery.
Exhibits Include:
Koeman's Christmas Tree
Gum chewed by both Fat Sam and Holgate.
An interactive display on zonal marking through the ages.
Duncan Ferguson.
A piece of rusted barbed wired from the Kirkby ring fence
The rubber check from the Fortress Sports Fund.
Arrest records of coaching staff and first team players
A relic of bone from St Virgil of the Pickford derby
Open for business 40 days a season*
*Discount pricing if unlikely progression in cup competitions causes extended exposure to visitors.
Michael Lynch
81
Posted 21/11/2021 at 16:50:42
Ajay – in addition to all those injured and suspended, we often forget that Sigurdsson would have played almost every game this season if he was available.
Colin Glassar
82
Posted 21/11/2021 at 16:50:44
Don't disagree with you, Barry. All I'm saying is there was a bit more fight than in previous games.
Quality-wise we are probably a bit better than the bottom 5 but that's not Benitez's fault but the three stooges who hired him.
Dave Abrahams
83
Posted 21/11/2021 at 16:51:04
A very poor performance for me with only Townsend and Godfrey looking anything like footballers. I wouldn't like to comment on any of the other players, some were really abysmal. Enough to say if they could pass the ball to their teammates as good as they pass to their opponents, we would improve 100%.
Feel so sorry for the thousands of our fans who travelled to watch this mostly hopeless effort, yet they'll be going to Brentford next week, great fans indeed.
Andrew Hight
84
Posted 21/11/2021 at 16:54:27
Zero surprise here.
Club is rotten throughout – apart from the wonderful away support who go, week-in & week-out.
Maybe this is the year the decades of mismanagement catch up on us. Still, I'd rather be a Blue than support anyone else for some weird reason…
Martin Mason
85
Posted 21/11/2021 at 16:54:32
The more I look at our terrible situation, I have to say that our overriding problem is having Kenwright as Chairman. Not because of anything bad that he's done in the past but because he knows only failure and he isn't the quality of Chairman that we need to drive us forward.
Blame Moshiri, absolutely ridiculous.
Don Alexander
86
Posted 21/11/2021 at 16:57:51
To me, the match encapsulated what so much "football" is like in this day and age.
Man City wanted 3 points and strolled around when in possession to get them. They've bought dozens of players able to do so, against anyone. We didn't want a hammering so kept two lines sitting very deep, lumping the ball to a hapless Richarlison on the odd occasion we didn't pass it straight back to one of their players.
We didn't harry them at all really. We've bought or developed dozens of players able to do this, against anyone.
Anyone pointing a finger at Benitez is looking elsewhere than the culprits in the boardroom and in Monaco, in my opinion.
Bill Gall
87
Posted 21/11/2021 at 16:58:43
As I said in the Live Forum, we were up against a team with a manager who has been with them for 5 seasons at least, given unlimited financial help, has a few injuries but has a quality squad for coverage, and only had 6 goals scored against them.
Compare that to Everton, who have a manager with 6 months at the club, no financial help, injuries to players that weaken the team, and a poor squad to replace them with.
Sure, Dion Dublin says at a big club you should be able to cover for that, but unfortunately Benitez has been left with the scraps from previous managers and incompetent buying.
Where do we go from here? Well, I hope Benitez doesn't resign and Moshiri panics and signs Fat Sam. We are going to have to dig in and work harder; I think we have a manager who is not frightened of the position we are in, and will work harder to get us out of the mess, and hopefully he gets some of the injuries back.
Don't be talking about relegation – it just puts you on the same level as you accuse the manager and the board of.


Peter Neilson
88
Posted 21/11/2021 at 16:59:14
The defeat was a forgone conclusion with such a poor selection available and such a shocking squad.
Richarlison not even getting scraps to feed on, we'd make Messi look useless.
Moshiri and his band of duffers have been a disaster for the club – and it's not over yet.
Tony Twist
89
Posted 21/11/2021 at 17:03:31
I don't think Benitez gets a free pass, I have felt for a very long time that whatever goes on in training is sub-standard.
There's 24 hours in a day, they should be doing their own sleep-in and working all the hours in the day until they can defend, transition and, to be honest, pass to an Everton player.
This whole club is hung up on this Big Club history. That is long gone. Brands is the "Director of Football"; he is ultimately responsible for the state of the team, he has failed. If he didn't like Benitez coming in because he didn't fit his vision, then he should have walked and we would have been so much wiser on who to blame.
Shambles of a club and I am not convinced, at the moment, that there is a worse team in the Premier League. Relegation is a very real possibility.
Derek Taylor
90
Posted 21/11/2021 at 17:06:01
'We can't keep sacking managers' – so many say. But what if the present form dictates that we don't win again before Christmas?
Just wait until we are in the bottom half-dozen and hoping for a miracle?
Don't talk so daft; another change is inevitable!
Bill Gall
91
Posted 21/11/2021 at 17:08:55
Martin #85,
Bill Kenwright is the Chairman, not the CEO. Two different positions on the Board of Directors. Look it up, and the way Everton are set up, it's the owner who seems to be calling the shots.
Peter Neilson
92
Posted 21/11/2021 at 17:10:07
Tony, I've stopped thinking Brands has any kind of "vision". If he has a strategy, it's not obvious and it's definitely not working. He fits in perfectly with the band of fools running our club.
Kunal Desai
93
Posted 21/11/2021 at 17:11:50
Time for our matchday going fans to start cranking the pressure up on this board. These clowns have got us into this position. Fans now need to go in hard on the board.
No transparency, no communication, no plan or strategy, they should be accountable. No more side-stepping shite which has gone on for years and peddling out rubbish for their convenience.
Alex Gray
94
Posted 21/11/2021 at 17:12:38
Derek,
No other manager will win with no players! Rafa's been able to spend £1.7 million and we literally have now lost all of our attack.
What would another manager do? Play Gbamin instead of Delph? Start one of our many reserve keepers upfront? Implement Tom Davies as a make shift left-wingback and hope he becomes world class? Or maybe put everyone on the goal line and hope nobody falls over?
I said it with Carlo and I'll say it again with Rafa: they can only work with the tools they're given and we have a load of broken ones! Maybe it's time to look at the person buying broken tools rather than the poor bloke expected to use them.
John Hall
95
Posted 21/11/2021 at 17:15:15
Pretty sad to watch the demise in standards at the club which I have supported for over 60 years.
I can't remember such a half-hearted chicken-livered bunch of over-paid under-performing players who don today's royal blue.
"Be careful what you wish for" certainly hits home as we all craved investment after soft-arse Bill had nearly run us into the ground.
We got the cash we all desperately wanted but have seen it frittered away in gung-ho style and now we are left with a club devoid of ambition and players with no heart.
Granted we have spent badly on managers and players but what were we to expect, having decided to keep a failed regime steering the ship? Moshiri has apparently made lots of money as a businessman but I can't for the life of me see how, having whittled away a fortune on Everton FC.
Would it be an injustice to us supporters if an ex-Red Shite took us down? You can bet your life King Bill would still be in control.
Our club is a laughing stock and a shambles of a business, as aptly explained in the super recent series of articles written by Paul the Esk. We could do with Paul's intelligence levels and foresight on the board instead of the idiots currently running the show. Any chance that you could go and offer your services on a temporary basis, Paul??
The new stadium will likely be half-empty if it ever gets finished as not many Championship clubs can fill a 40,000+ stadium. We could be that club if things don't change and improve very soon. Tranmere Rovers, I heard it said, had only ever filled their main stand once and that was when it was filled with workers to vote on strike action at Vauxhall Motors in Ellesmere Port. Hope it doesn't come to that in our case!!
Time to move your arse out, Billy Boy, and take the useless board with you so we can clear the decks and instill some savvy and modern management experts who know how to run finances and who can point us in the right direction and turn this shambles around.
I watch and wait every weekend to see if there is any improvement but, as the saying goes: "The definition of insanity is doing the same things over and over again and expecting different results" – which certainly is the case at Everton. Much like putting the likes of Iwobi, Rondon, Tosun and a few others in blue shirts and expecting anything different to happen.
Bare bones of a squad is threatening our valued and once proud reputation as a Premier League club. Why and who allowed this to happen?
Christy Ring
96
Posted 21/11/2021 at 17:15:51
Ian #76,
You talk about Palace last week, Vieira spent over £70M during the summer. And what forwards had Benitez available? Youngsters on the bench and Tosun hasn't kicked a ball in months.
What would Potter do if he had nothing to spend, and the spine of the team injured for months?
Benitez has been left with a squad of players assembled by previous managers and Walsh and Brands who paid massive money on average players.
Soren Moyer
97
Posted 21/11/2021 at 17:15:52
Did someone say we miss Davies and Gomes!!? They are part of the problem rather than a solution.
Look at Leeds. I'm watching them playing at Spurs. Even with having their main players out, having a go at them, and currently up 1-0. That's how I want us to play. Too much to ask?
Lee Courtliff
98
Posted 21/11/2021 at 17:18:00
Joe McMahon,
I think Burnley, Norwich, Newcastle are definitely worse than us. I also don't rate Saints, Watford, Wolves, etc as being any better than us either.
All those teams will have a decent run at some point or another, but they're nothing special and we'll still finish above all of them. Or, nearly all of them.
I'm as frustrated as the rest but to say we're going down is just an over-reaction. I mean, come on, we've seen all this many times and we always pick up and dangle the carrot of promise for 'next season'.
Remember how awful we were under Silva from December to February, then we suddenly clicked into gear and finished the season very strongly.
Marc Hints
99
Posted 21/11/2021 at 17:20:17
Just watched Rafa's interview. Is it me or is he just too relaxed about the situation? Seems no urgency or worry in his voice or even anger at the same players letting him down, week after week. Is this why players are getting away with it?
Jerome Shields
100
Posted 21/11/2021 at 17:26:03
I thought Everton possession and pass completion was poor getting out of Everton's quarter. Goals against where all the result of poor individual play, either positioning, tracking or awareness.
They where set up as against Spurs, but some players where not at the races, especially Iowbi and Delph. One thing that Beglin did say that I agreed with was that Brands had not done his job properly.
Everton will not be relegated, but will run it close, finishing midtable. They are 3 years ahead of Man Utd in realising the manager is not the problem, knowing the players are, but not prepared to admit that the internal management of the club is a big factor, just like Man Utd.
Lucky Benitez lives in Liverpool and likes to be able to walk to work. Ancelotti was Everton's last chance, but fortunately Benitez is another chance. Need someone as manager who is prepared to take on Everton's non-productive, unaccountable culture and make it uncomfortable for the powers that be.
We all need to get behind Rafa to put the pressure on these pretenders.
John Boon
101
Posted 21/11/2021 at 17:26:27
The frustrations of all Evertonians are understandable. We all take an active part in the "blame game" and that is also completely acceptable. Since the departure of David Moyes, we have had:
1) Martinez
2) Koeman
3) Allardyce
4) Silva
5) Ancelotti
6) Benitez
Everton's "Rogue Gallery". That does not include the temporary appointments of Unsworth and Ferguson. I don't put any blame on either of them, other than the fact that Ferguson seems to have minimal positive effect on the players or the team. As such, he is merely a stooge.
As I look at this list, I feel that Koeman and later Ancelotti had the most negative effect on Everton Football Club. This is ironic in the fact that they have also managed Barcelona and Real Madrid. Koeman because he started the "Waste of Money" signings, and Ancelotti because he gave up after he had continued to make poor signings, and basically took his £10 million and left the club bereft of the finances to be able to make any positive signings.
I have never been a supporter of anythin regarding Liverpool FC and the appointment of Benitez was bound to cause negative reactions. However, while there may have been wiser appointments, I sincerely believe he came to a sinking ship. I do not think that anybody could have taken over and been successful for the present season. However, he was willing to take a large salary to be able to remain in his present house. He should have taken the job with Zero salary.
On the positive side, the signings of Gray and Townsend have proved to be more than adequate. Unfortunately, we are left with the poorest squad I have ever seen since I have been watching Everton in the Premier League.
We have been very poor before that, but we need to go back to the early 1950s for a comparably poor team. It is also difficult to compare teams of different eras. I have witnessed "both" and I am left with the same feeling of "helplessness and hopelessness" that I felt in 1952.
I do not think another manager change will do anything positive at this stage. We have been extremely unlucky with injuries. Whether we like it or not, we are now part of a relegation battle and we need to realistically accept that avoiding the "drop" is the new goal, although I am not sure it is really "new".
Sad times but part of being an Evertonian. I can never change. That does not mean that I will not be disappointed and annoyed that things have gotten so bad. I may even decide not to watch a particular game.
Who on earth can we put out against Brentford? It is so sad that we have to approach such a game with fear and trepidation. But I can still say COYB. I really do not have any other choice.
Ian Edwards
102
Posted 21/11/2021 at 17:27:45
It seems to me that what happens on the pitch is secondary to the Board. They are more interested in the off-field Community activity.
Martin Mason
103
Posted 21/11/2021 at 17:28:16
Bill @91,
Absolutely correct and sorry. He still has massive influence as chairman and effectively he is the boss of the club.
Justin Doone
104
Posted 21/11/2021 at 17:31:37
The man with the money is a fool when it comes to football.
He trusts no-one, everyone has let him down, and yet they are still around.
I'm not a Kenwright basher but time he went. Brands ultimately has been disappointing. He must be doing good work behind the scenes to be repeatedly offered new contracts. I just wish they told us what.
Ultimately, I will never know why or what they contribute and that's not what matters most to me. It's all about the first-team performances, results and creating a winning mentality.
Rafa will never be loved nor wanted but... he is a good, proven, Premier League manager. I personally think his style and counter-attacking preferences are a little outdated.
But the constant managerial changes hurt the team, the recruitment and the squad unity. Rafa needs a few seasons to get his ideas and players on the same page. Then judge him and his team in Season 3.
Obviously any serious threat of relegation or continued poor form and results may change the picture. So Moshiri, draw up a shortlist of candidates and hope they are not needed.
Steve Johnston
105
Posted 21/11/2021 at 17:33:49
To me, nothing will change whilst the one constant fixture of the last 25 years is still there: Kenwright.
He's managed to take control of his train set and keep it, all without investing anything. He finds a dupe with £££ in Moshiri (good with other people's £££ – Usmanov's, but not his own). Fills the board with his people. Usmanov can't take full control due to FFP (or something else?).
Previous CEOs (Wyness, Harris et al) all leave quickly. Probably seeing what a shit-show the club is and they don't want to damage their professional reputations any longer.
Revelations (Harris?) that Kenwright always insisted on staying on, even though others could invest. That's the 'deal'? No wonder Mansour (maybe others) fecked off.
Filling the coaching staff with ex-Blues (won next to nothing with not much experience). But, they're Blues, so that's okay then.
Banning AGMs, sitting back as fans turn on each other (Destination Kirkby etc). Making claims that have not happened (£££ in the bank tomorrow, King's Dock etc).
All we are is about staying in the Premier League, like most clubs. Yet, they at least seem to make a fist of it (on the playing field especially). I mean, how the feck can a club spend nearly £500M and be worse off?!? It's ridiculous, for fuck's sake! Other clubs don't stand for this, why do we?!?
Maybe we've all swallowed too much of "The People's Club", "Knife to a gunfight", "Best of the rest", "Other clubs jealous of how EFC operate" bullshit! And that's exactly what it is. Bullshit! 25 or so years of it. I for one cannae stands it no more.
Anthony A Hughes
106
Posted 21/11/2021 at 17:39:58
Benitez was brought in knowing what he had to play with and the state of the squad, he knew the limitations.
We were told he would steady the ship and keeps things ticking over until the stadium is built... what sort of magical change is going to happen in a new stadium?
The constant promise of "This time next year, we'll be this that or the other" is done and boring... 3-year projects, blah, blah fucking blah!
We're being subjected to defensive football without it actually working. We have the worst record in the Premier League for defending set-pieces.
It isn't working and the worst thing is, not one of us has the answer... and that includes our celebrated board.
Anthony A Hughes
107
Posted 21/11/2021 at 17:41:24
Rant over.
Stephen Vincent
108
Posted 21/11/2021 at 17:48:24
John Hall #95,
We didn't get the investment we wanted – we got the investment that Buffallo Bill wanted.
Ed Prytherch
109
Posted 21/11/2021 at 17:49:38
At 63 minutes, Rafa showed that he has a sense of humour, bringing on Rondon for Delph.
Ian Edwards
110
Posted 21/11/2021 at 17:51:42
Ed @63.
I will never criticise a manager for taking off a holding midfielder for a forward when losing.
David Hayes
111
Posted 21/11/2021 at 17:53:21
Having been out having Sunday lunch at a fantastic pub on the Welsh border with Shropshire, I then returned to our local in the village at 14:30.
There I sat with a local man, also a lifelong Toffee; neither of us had even bothered to check the score. The landlord ask if we would like to switch from Formula One to the Everton game on the Pub TV. "No thanks," we both said in unison. Why spoil a good day with predictable abject, heartless failure?
This is where we are, fellow blues. A to-be-avoided embarrassment. Not that tingle of excitement that grew all week, that surge of energy and passion that the next game sparked in your soul. This is not it. This fire is out.
Money has killed this game and we can't complete. So why let it spoil your weekend?
Stephen Vincent
112
Posted 21/11/2021 at 17:55:23
Why have we started calling him Rafa? He is Benitez at best.
Tony Everan
113
Posted 21/11/2021 at 17:59:11
I got tired of watching Man City having 80% possession and strolling to a win, feathers unruffled, so I took the dog for a walk instead.
I got the feeling this match was written off before the game started. We are chronically missing Doucouré and Calvert-Lewin, also Mina. Hopefully two of them back for the next match and we'll be better.
Without those core three, as we already know and are consistently reminded, we just don't have the strength in depth to cope.

Rory Grant
114
Posted 21/11/2021 at 18:01:15
Feeling is that, whatever money needed to be laundered, it has been sorted now and we are subjected to a slow death as any kind of footballing side.
Protagonists are pulling out one by one and we the fans are left wondering what happened here?
We are supposed to be so afraid of FFP infringements that we can't invest, even if it means relegation. Money is simply gone.
Barry Hesketh
115
Posted 21/11/2021 at 18:03:30
Tony @113
I don't think we'll be seeing Dominic until after the derby game although Doucouré may be fit for next weekend; not sure whether Mina is on the mend or not.
As we'll be without Richarlison next week and possibly Gray too will be absent, we'll be no better off than we were today, but with Rondon leading the line – yay!

Raymond Fox
116
Posted 21/11/2021 at 18:05:34
We do need a culture change, a clear-out.
Kenwright (if possible), Brands and Ferguson for three, maybe also at Finch Farm.
No wonder Ancelotti abandoned ship... The good ship Everton isn't sailing as it is.
Peter Mills
117
Posted 21/11/2021 at 18:16:37
I know we had key players missing, and were up against a very good team. But that doesn't excuse inaccurate passing, constantly turning backwards, a lack of any conviction, being slow and timid.
I fear for us.
Joe McMahon
118
Posted 21/11/2021 at 18:19:07
Raymond, we have needed that for years. Chuck in Unsworth too.
There is a reason why we have never played in the Champions League, all of them you mention just happy to be at Bill's Everton, just being in the Premier League.
The new stadium won't change a thing – it's coming 20 years too late. Richarlison will want away in January and Calvert-Lewin is working on his personal image marketing. You can see him leaving in the summer.
Sean Kelly
119
Posted 21/11/2021 at 18:19:21
Raymond, neither is the Titanic. Remember it's leader insisted on the band playing. Our panto queen will be shouting "Oh no, I didn't bring ye down," while we will be shouting "Oh yes, you did!"
David Pearl
120
Posted 21/11/2021 at 18:20:37
A clear-out of background staff won't fix the big holes in our squad.
We played 90% of the game on the back foot, like scared little rabbits. Our manager sat there and let us play the whole game without an out-ball.
Maybe next week, Delph can last the full 90 minutes but, at present, he is being managed... not a lot of other things are.
Digne has lead in his boots, he's a different player than what we thought he was. The team all played okay, it was the tactics. Richarlison chased shadows all game.
If lwobi must play, it must be from a central position. If Rondon must play, then we are doomed. Surely Simms and Tosun should be ahead of him now?
I fear for us next week against Brentford... the derby is another matter.
Dave Abrahams
121
Posted 21/11/2021 at 18:24:19
I'm glad to see that a few supporters are seeing what Benitez is reaping from the seeds sown by previous managers, CEOs, DoF and one Chairman. Benitez has a thankless job to try and get Everton into being a decent Premier League club.
He is not helped by the present board but I hope he perseveres with the task and gets some help in the January transfer window.
The crowd can help by getting behind him and letting Kenwright and his fellow board of directors know where they think the blame lies, starting at the derby game.
Ian Riley
122
Posted 21/11/2021 at 18:28:57
Why would you watch us against Man City? I don't like watching a match that it's about keeping the score respectable! Sorry, we should have rested some players for games where we have a chance of getting positive results.
In January, we need 3 loan players and a lot of praying. I can't keep turning to the great one to save us! One day his magical powers won't save us. A relegation battle is here, we are in one as other clubs have changed managers already.
We can't go on being very average. Eventually, you improve or go down. Our teams over time have been average for a long time. Managers come and go and the teams have remained average.
This is no quick fix – and no, the manager is not to blame... but, if the run of defeats continues, he must go. Relegation must be avoided at all costs. David Moyes must be asked to come back.
Have a good week, y'all!!
Andrew Ellams
123
Posted 21/11/2021 at 18:31:46
The players looked like their confidence and self-belief is shot to pieces and the upcoming run of games is not going to help that much.
If there is no investment in the squad in January, then a relegation battle is going to be very tough to avoid and I don't fancy this bunch in a fight.
Christy Ring
124
Posted 21/11/2021 at 18:34:17
I thought Delph was a passenger today.
For Rodri's goal, I know it was a poor clearance by Allan, but why did he stop and turn his back instead of challenging and putting his foot in? It reminded me of Iwobi.
Bobby Mallon
125
Posted 21/11/2021 at 18:34:38
John Boon, what poor signings did Carlo make? I thought he bought Godfrey, James, Doucouré, Allan, and Olsen. Who is a poor buy from them?
Barry Hesketh
126
Posted 21/11/2021 at 18:34:52
To those who are saying that Everton won't be relegated, the current form table for the last six games played by every team shows Everton are bottom with only 2 points to show from the 18 available. Villa won yesterday to go above us with 3 points, Norwich have taken 8 points in the same period.
Everton's next half-dozen fixtures need to see an increase in points gained, to help stop the rot. A point a game from the remaining fixtures should be enough to stay up, but each defeat we suffer makes that modest target ever more difficult.
Barry Rathbone
127
Posted 21/11/2021 at 18:38:20
No easy answers here, reversing the lack of ambition of the Moyes - Kenwright era was always a two-edged sword. The mesmerising success of Martinez's first season allowed the genie out the bottle and expectation rose. Unfortunately, resources didn't and that ship sailed to Belgium with rank bad judgement coming in as a substitute.
The fleeting opportunity of Moshiri's early spending has been frittered away and now we are arguably worse off than the "knife to a gunfight" era.
Perhaps everything is going toward paying for the new stadium at Bramley-Moore Dock? I dunno, it sure looks like that and, while I think we have just enough to avoid relegation this season... not so ensuing seasons. The seemingly inevitable failure to invest adequately from income generated possibly by sales of Calvert-Lewin, Richarlison, Digne etc suggests not.
The whiff of Randy Lerner and Mike Ashley, failing at Aston Villa and Newcastle Utd respectively, is becoming more acrid every passing season. We're too big to go down, aren't we? [Shudders!]
Barry Hesketh
128
Posted 21/11/2021 at 18:39:06
Here is the current form table:
Mark Dunford
129
Posted 21/11/2021 at 18:40:32
It seems to me that everything is now about not getting relegated while the promised land is in sight with the new stadium occupied by a post FFP 11?
In the intervening years, we'll have to watch a threadbare squad struggle, week-in & week-out as injuries bite and suspensions rob us of frustrated players. 25 points to go at moment.
Hanging on to the better players will be January's achievement and Benitez will be gone when they're out of the mire.
Ever get the feeling you're being cheated?
Julian Exshaw
130
Posted 21/11/2021 at 18:43:59
Have we really reached the stage when we have to think of three worse teams than us? Are we that bad, or even sad?
The reality is nobody expected anything today and we got what we expected, big fat nada. We held out for 43 minutes by parking a few buses but, once they had been breached, there was nothing to offer in response. They brought on a kid to replace a kid. How many kids can we look to bring on?
My computer broke down a week ago. The guy in the shop told me to do a total reset. Now there's an idea for Everton FC...
Paul Birmingham
131
Posted 21/11/2021 at 18:48:44
Very tough times being an Evertonian. The injury crisis can't get any worse surely.
Next game up is Brentford, who have shown this season they have guts and fight. They were robbed against Liverpool a month ago, and have some direct attacking players.
A tight ground and what should be a great atmosphere will show what is in the tanks and minds of the Everton management team and squad.
But hell, missing Calvert-Lewin, Mina, and Doucouré is impacting this team; the manager is severely depleted with attacking options and let's hope Demarai Gray is available for Brentford.
It's looking clear that the games against the Bottom 5, which I don't think will change much now for this season, are going to be 6-pointers. The next 6 weeks of games will confirm the definition of this season, which is a struggle, with the manager inheriting a very difficult complex mess of poor players and poor financial management by the Everton board.
In context of January, as it stands, with the FFP noose hanging and ready for Everton FC, any incoming deals must be loans, but let's see.
Some fresh players, with heart and fight and some skill and total belief are needed. Who, how, when and if?
Time to take in a few beers, and to consider, the ifs and buts about Everton FC. That's gonna be a long night.
Brian Wilkinson
132
Posted 21/11/2021 at 18:51:27
Does anyone think the board cares one bit? Mid-table and they are happy, that is success to them.
The fans will never keep away from the game, Bill and his cronies know that. They know, no matter what, the fans will still be there, week after week. He knows damn well Evertonians are one, if not the most passionate fans in the UK.
Next home game is the derby, not the place to have a protest; we have to be right behind that shower.
Blue Union saw this 10 years ago, yet most in the stadium clapped when Bill's face came up on the big screen that day.
Moshiri must have been the only potential buyer who would agree to allow the clown to stay on as Chairman, pulling the strings even now.
If I upset the few that still hold a candle for Bill, then I make no apology on my feelings towards this board and him, who, for over 25 years, has left us stagnated as a club.
Barry Hesketh
133
Posted 21/11/2021 at 18:55:13
Paul @131
We are Everton and the injury list could get worse.
The manager has stated tonight that the team has to deal with the injury crisis, but the longer we are without certain players, the heavier the workload for the 'fit' players, and they too will succumb to injuries. Hopefully, though not long-term ones which we have suffered thus far.
Dan Johnson
134
Posted 21/11/2021 at 19:03:11
I never expected anything from today's game, but it breaks my heart to see how far we are away from the decent teams. I don't think Rafa can do anything with this bunch. I feel sorry for him.
My big concern is the downward spiral that the club is in. A poor squad, no money to buy any quality, and an academy that can't produce a quality player.
Today, City could have beaten us with their youth team. We can't keep the ball, poor movement off the ball, no confidence, no desire, no fight. I just hope that Rafa can do something in January to improve the squad, or I can see a relegation fight coming on.

John Raftery
135
Posted 21/11/2021 at 19:03:34
I have never played golf but, in golfing terms, the 3-0 defeat seemed like par. If it had been a boxing match, the referee would have called a halt after an hour to spare us from further punishment.
From the point we fell behind, it was a case of damage limitation. The injury list is now of crisis proportions, exposing the limitations of those who are left.
Were there any positive points? Collectively, the defence stayed focussed in terms of shape and discipline. There was little they could have done in regard to the first two goals, which were the result of brilliant pieces of skill.
Townsend was just about the only man in a black shirt who looked remotely capable of matching City's players for skill, effort and belief. He was our Man of the Match. Allan stuck to his task in dogged fashion, doing his best to shield the defence from even more damaging exposure.
The negatives included our inability to make anything at all of the rare moments when we were able to venture into the final third. Gordon proved that Rafa was right to treat him as a 60-minute player. He looked out on his feet in the final 20 minutes today.
Having Richarlison chasing around as the loneliest striker in the Premier League is a waste of a player who always looks more dangerous when he has space to run with the ball. He looked increasingly frustrated as the game wore on.
John Boon
136
Posted 21/11/2021 at 19:08:11
Bobby Mallon (125),
I probably think you are right about the signings. My response was a typically "knee-jerk" reaction to Everton's most recent display.
However, I do not think Ancelotti ever got the best out of his own signings. More important is that I think he just "gave up" in regards to Everton. I do not think he had any sort of a positive influence on Everton.
Of his signings, they all had potential but, for me, only Doucouré has continued to flourish. Godfrey still has possibilities. The others have been litle more than average. James had huge "talents", but we seldom saw them. He just wasn't productive enough.
Basically, I am just really annoyed that Ancelotti arrogantly jumped ship because he could not handle the job and was probably offered even more money.
Koeman really started the rot, but Ancelotti actually accelerated the decline. Just my perspective, and, as always open for disagreement.
I am just one of many many disappointed Evertonians, Fortunately we don't have a cat to kick!!
David Hayes
137
Posted 21/11/2021 at 19:08:39
It's not just the shit performances, it's the shit boring "It's all Bill Kenwright's fault" – what position does he play on the pitch?
So it's not low quality players failing to complete basic functions for which they are highly paid? It's not that total lack of a cohesive game plan that can't be achieved?
No, it's a theatre businessman that makes the team on the pitch so shit for so long.
Really, is that the extent of your acumen, that you seriously offer that as a reason for bad football???
Peter Mills
138
Posted 21/11/2021 at 19:15:22
Christy #124,
Thank you for calling out Delph for chickening out of that challenge, I couldn't agree more.
I watched the England v South Africa rugby international yesterday, every player put his body on the line and took severe punishment trying to win the game. Delph couldn't give a monkey's.
Joe McMahon
139
Posted 21/11/2021 at 19:20:29
Kieran, you forget "The Magnificent 7th" DVD and a signed photo of Moshiri's Fab Four.
Michael Lynch
140
Posted 21/11/2021 at 19:22:32
Rafa seems pretty pragmatic about the situation in his interview. Basically, we're fucked til January, and hopefully we can have a strong second half of the season.
Fair enough really, that's how I see it myself. Sadly, before then, we've got humiliations at Brentford, in the derby, and at Chelsea. Plus whatever we can scratch from games against Leicester, Palace, Arsenal and Newcastle. Not much probably.
You know, watching Leeds lose at Spurs, it strikes me that, even though they are a bit shit, at least they're fucking entertaining and they really give it a go. They had a load of their top players out but they dominated Spurs in the first half. Kalvin Phillips is a top player. We simply don't have anyone of his calibre. In fact, most of their players are better than our team today.
Sad times.
Barry Hesketh
141
Posted 21/11/2021 at 19:28:21
David @ 137,
Of course, Bill Kenwright doesn't play for the first-team out on the pitch; however, he and the other board members are responsible for setting the tone for the club and how it operates – both off the field and on it.
Many of today's squad came to Everton because they were promised they would be playing for an ambitious club with eyes firmly on the prizes; what they have found is that it is a badly run outfit with no real ambition and no real footballing ethos. As each rubbish season passes, the chances of fulfilling the players' dreams they had upon their arrival at Goodison diminish.
We can't buy our way out of trouble; who is responsible for that? Many of our more talented players will either choose to leave or be made to leave to ease the financial burden; who is responsible for that?
Kenwright and Company shouldn't get the blame for the failures of the players on the park, but they should be held culpable for the mess they have made in running the club.

Andy Walker
142
Posted 21/11/2021 at 19:29:15
Have we now caught up to where Ancelotti was?
'I'm not a magician' 'we are better without the ball'. He went to Moshiri gave him some home truths and Moshiri didn't recognise them. QED.
As I've said for 5 years, the players aren't good enough. (Are you reading this, Stan Schofield?)
Tony Gavin
143
Posted 21/11/2021 at 19:29:54
David @137,
It's more the way the club has gone backwards whilst he gushes over the Boys Pen and Alex Young.
I'm 40 and we've been nothing but awful for the vast majority of my life. Bill can't answer for tactics but he can answer for the Academy and just needing to be an ex-player to get a job.
The Sir Philip Carter Park Stand – before Neville Southall? Really? He's just not cut out for it. The board should have stood up to Moshiri with Rafa, we will never attack with him in charge as it's not his style, he really is a foreign Big Sam.
A forward thinking club would have gone for Potter. I genuinely believe the RS will make the 80s derby pale into comparison in 2 weeks, they'll put a minimum of 5 past us. And that is down to Rafa and how past-it he is and those who stood by when he was hired.
Ken Kneale
144
Posted 21/11/2021 at 19:39:10
Dave @121,
That is the nub of it – Kenwright needs the crowd to know where we position the blame for this; he gave us years of under-(no?)-investment and Moshiri's inability to see beyond Kenwright during his tenure equals a thankless task for Benitez.
The club needed an owner who was either hands-on or appointed his own team of professional specialists. Instead, we got more of the same – just with money thrown around on some amazingly bad 'investments' and some bizarre leadership appointments at club level and within Finch Farm.
Peter @138
I ponder Delph is one of the players you referred to without name in your post last week.
It is a truly agonising time to be an Evertonian. I am afraid I am one of those that cannot possibly equate the club with being anything other than at the top of the game but I am slowly being ground down on such thinking by the desperate management the club has suffered over the last three decades. As Barry @127 points out, there is no easy way back here now.
Clive Rogers
145
Posted 21/11/2021 at 19:40:03
Of course Kenwright is to blame, he is the chairman, for God's sake, and has presided over 20-odd years of decline, and now he has fitted us up with an owner who has no idea how to run a football club. Bad appointments, bad strategy, bad everything.
Lee Gorre
146
Posted 21/11/2021 at 19:42:39
There's many things wrong with this club; if the approach lacks professionalism then it's never going to work on the pitch.
Anyone who gets to the game early, have a look at what goes on in the pre-match "warm up". Not today because they weren't all there but every week this season, Holgate, Davies and Kenny dick about playing crossbar challenge, shooting into empty nets. Today, the goalkeeper coach was playing keepie uppies with Begovic and Lonergan. This type of thing sums this squad up to me.
Someone else said it on the Live Forum: managers change but it's the same old things on the pitch. We drag everyone back for a corner, no matter who's in charge, no matter the stage of game. We were 4-2 down to Watford the other week and brought everyone back.
The "style" of play is always stale; apart from last season, we look like we never practice set-pieces. Injury time today, first corner of the game and it's straight into the keeper to catch.
Why we are on Sky and BT so much, I've no idea as we are shite to watch and provide zero entertainment.
Barry Hesketh
147
Posted 21/11/2021 at 19:47:39
Lee @ 146,
I realise that as Evertonians we find it very difficult to view the current side, and somehow being live on the UK satellite channels makes it worse, but the broadcasters know that Everton will provide their core subscribers (LFC supporters) with the entertainment that they want to see, when they cover Everton so often.
Mike Doyle
148
Posted 21/11/2021 at 19:50:08
So no Richarlison – and probably no Gray either – for the next game. Presumably that means Rondon and Iwobi back in the starting 11.
With every game that passes, Ancelotti's decision to walk becomes easier to understand.
God help us (someone has to).

Nick Page
149
Posted 21/11/2021 at 19:50:35
Big thanks again to Bill Kenwright for turning Everton into such a makeweight, average side that nobody cares about anymore, least of all the players. Best thing to do now, Bill, is focus on the award winning (?) charity and create a museum out of Goodison Park, with a whole segment on where you used to stand in the Boys Pen. Bramley-Moore Dock will be a total waste of money.
All I can say is that I'm glad I saw us win the league twice in the 80s. My old man, RIP, was a massive Blue and I have to thank him for those wonderful memories but I'm almost glad he hasn't had to witness this shite. Given the investment, it's worse than '94.
I tried hard to get my eldest involved but he's actually embarrassed to tell people he's a Blue (where we live). A few more years of this and we'll be totally forgotten about.
Time to act is now, Blues. If we don't rid ourselves of the Kenwright cancer and all it brings, we'll be done and playing League One football in a few years.
Cheers, Bill.
Allan Board
150
Posted 21/11/2021 at 19:51:17
Brentford know where the net is too. We can't score in a brothel. Trouble in spades.
As for the derby, I usually look forward to it as a chance to kick the shit out of them, but this lot wouldn't kick the bloke who's poking their missus!!
The big R is looming on the horizon, folks, we need to get the other side of the hill quickly! 10 more points by New Year and we'll be okay; I've got to be honest and say not sure where they are coming from though.
Eddie Dunn
151
Posted 21/11/2021 at 19:53:23
Well, I had an excuse not to watch the inevitable stroll of Man City to the most predictable win. At least it didn't ruin my day, just my evening.
Rafa has very little to work with and the injury to Gray and the ban for Richarlison is further limiting his options for Brentford. No hiding for the team now.
Everyone can excuse a loss to City but the nitty-gritty is how we do against the other teams in the dogfight.

Derek Knox
152
Posted 21/11/2021 at 19:53:48
I missed all of the first half and a good portion of the second... I said 'good portion' but it looked pretty bad to me. I know we were playing one of the best sides on the Planet, but the lack of determination and application was there in evidence yet again.
As John Raftery mentioned, it became more damage limitation than anything else. These injuries to key players are really costing us points at a crucial time, and indeed exposing our lack of depth of those available. How much have we spent?
Kenwright Out!
Tom Harvey
153
Posted 21/11/2021 at 19:57:21
Brian Wilkinson @132
Hello Brian.
The sad thing is that Covid and empty stadiums have proved that the clubs don't need us fans anymore, TV now funds the clubs.
I doubt they'd even notice we're missing?
Dale Rose
154
Posted 21/11/2021 at 20:03:08
It's all about technical ability, shame is we haven't got any. If they did the basics right, we will grind out a few results.
Terry Farrell
155
Posted 21/11/2021 at 20:15:05
I'll say exactly what I said after seeing Rondon in the flesh against Norwich: "I'm sorry but I have nothing positive to say about Rondon."
Rafa needs much longer to put his stamp on this team; we all like Gray and Townsend but Rondon is his addition and he's a shocker. Stop the facade now and play anyone but Rondon.
We are strapped for forwards so throw Simms in the deep end, or play a limited but useful Tosun, but let's not repeat this mistake again ever, please. Yes, we were up against it today given the injuries and the opposition but Gbamin had to be the replacement for Delph.
I'm not vindictive but I recognise when someone is completely spent and Rondon personifies it! Rafa, you must see this – it's fucking obvious!
Bobby Mallon
156
Posted 21/11/2021 at 20:19:13
How badly do we miss Sigurdsson's goals?
And please don't tell me getting James off the books was a good idea.
Brent Stephens
157
Posted 21/11/2021 at 20:22:23
My views? As per Jay #50 and Robert #54.
Of course I'm disappointed; always am when we lose. But the difference in squad quality is just unbelievable. Even with us 4 at the back and 6 lined up in front, City managed to play the ball around and between us. I saw players who tried but who just haven't got the skill to match City.
And I read the Live Forum comments on the way back – nothing changes does it. So many contributors holding knives to their own throats.
Perspective. Apparently a guy below us in Block 313 had a heart attack, with a defibrillator called into action. I hope the guy is okay.
Minik Hansen
158
Posted 21/11/2021 at 20:25:09
The players showed fear against the opposition, fear to pass and collect the ball, fear to have possession and therefore unmotivated to make movement to receive the ball.
The centre-backs just slumped the ball forward at first opportunity, I hope it's only this one time we see this "go after luck" tactic.
Clive Rogers
159
Posted 21/11/2021 at 20:25:20
It is dangerous to assume that we will string together a few good results when the injured players return. Our malaise goes deeper than that.
Calvert-Lewin will have been out for 4 months and will take quite a few games to get up to speed. He may have one of his barren spells. Richarlison has been back for three games but had a stinker today.
When Doucouré came back after injury last season, his form was poor till the end of the season. Allan and Coleman are past their best and are in decline, while Townsend has had his purple patch and has reverted to squad player level.
Times will be grim.
Anthony A Hughes
160
Posted 21/11/2021 at 20:25:35
With you on James, Bobby. Okay, he didn't run much but he was head and shoulders above this bang-average lot of no goals, no creativity and no real effort.

Joe McMahon
161
Posted 21/11/2021 at 20:28:39
This will be a relegation season. Unfortunate for the current manager as it's been years in the making. Even Burnley are scoring goals now that Cornet is fully fit.
Koeman era did us over, plus letting players we need now go on loan, and not addressing left- and right-back cover. Oh, and of course, the lack of strikers.
Tony Abrahams
162
Posted 21/11/2021 at 20:29:32
You have no money to spend, and have lost most of your better players to injury, at a club that has been totally mismanaged for years, and it's your fault.
I can't even blame him for his Liverpool connections because I personally think we have been getting failed for years by many people inside our club with Everton connections, whilst the connection between the players and the fans has never felt so wide in my lifetime.
Everton is our club for many different reasons, and we have played more top flight games of football than any other club, probably because of our pragmatic nature. But right now, I witness very little character, and this is possibly why Benitez was saying that it's not something you can buy on the fifth floor at John Lewis.
What kind of football club appoints a very poor DoF into its boardroom, even if we are told he's one of us, a proper Evertonian?
Mark D, I know how much you love the Blues but I think it's a fact that the club motto has been getting cheated for years, mate.
Anthony A Hughes
163
Posted 21/11/2021 at 20:31:10
James out and Rondon in, says it all really.
Anthony A Hughes
164
Posted 21/11/2021 at 20:37:27
When Brands came in, so many on here creamed themselves with a Brands man-crush without any merit.
I'm absolutely at a loss to see what this fella has done.
Tom Harvey
165
Posted 21/11/2021 at 20:42:04
Anthony A Hughes,
We have three DoFs at the club: Brands, Moshiri and Kenwright – too many cooks stiring the pot.
Brands was never given a free hand to improve the team, but he was given a lot of lolly and a promotion to keep him quiet.
Anthony A Hughes
166
Posted 21/11/2021 at 20:48:02
No, Tom, we have one DoF but I agree – a weak man just taking the money.
Robert Tressell
167
Posted 21/11/2021 at 20:52:39
Too right, Tony # 162.
The club has been very poorly run in almost all departments for the near decade since Moyes left. Benitez has picked up a mess and, lo and behold, is unable to do much with it.
We're still reliant on players who were found out in the Silva era. We need to overhaul the squad with youth (Gordon, Branthwaite and Onyango in particular) and acquisition.
On that latter note, I think Benitez at least has his head screwed on and will fish out a couple of improvements at low cost in January.
Unfortunately, this season was always going to be crap but, if we get the squad-building right, then 2022-23 could be much better.
Tom Harvey
168
Posted 21/11/2021 at 21:01:48
Robert Tressell @167,
Benitez has to get to next season first; he knows that, if the next 5 games go against us, he could be under serious pressure.
The fans will be driving this.
I didn't want Benitez when he first came, but I have to admit he's doing most things right and the current position we find ourselves in is not his fault: most of the players are gutless.
Mike Doyle
169
Posted 21/11/2021 at 21:02:03
Minik @158,
This group of players look terrified every time they play a top team. Little attempt to pass and move. The ball is simply booted out from back – and possession surrendered. Then we await the inevitable onslaught.
I expect it will be exactly the same vs Liverpool and Chelsea and probably Arsenal and Leicester too. On the basis of games so far, we'll probably adopt the same approach against Brentford and (rapidly improving) Crystal Palace.
Against the weaker sides, our plan to play on the counter won't be helped if Gray is out for a while – though I think he's lost some of his early season impetus anyway. It's difficult to see where the next points are coming from.
Robert @167,
My expectations for this season were never high either – I just didn't think it would get so bad, so soon.
Tony Abrahams
170
Posted 21/11/2021 at 21:03:01
I've been wondering what Branthwaite is doing, Robert, because he's supposed to be quick, whilst half of this team look like they're running in quicksand.
I always felt it was going to get much worse before it got better, but even that is concerning me right now, because of our alarming lack of quality whilst under pressure when in possession.
Tom H says that, with all the money in the game now, the fans wouldn't even be missed, but my own thoughts are that only the fans and Goodison can keep Everton from falling through the trap-door, because of how little character this current squad possesses.
Paul Hewitt
171
Posted 21/11/2021 at 21:03:43
Anthony @163.
James was on £200k a week, and hardly played.
Gary Smith
172
Posted 21/11/2021 at 21:03:52
My mind boggles there are people still defending the manager.
Yes, it's not his fault the squad is this bad, but he added 5 players in the summer (average age of 32!) to it. 2 are average, 3 are utter shite.
He could have brought on a striker today and moved Richarlison to his best position (left attack); instead, he brought on Iwobi. Then Rondon. Two players who simply don't deserve another shot ahead of any kid.
He plays a brand of football that cedes possession. Not just against City, but against every club we've played. Big and small. It is dinosaur football of Sam Allardyce levels and beyond.
He's taken a half-decent set-piece defence and turned it into the second worst in the league. Over the next few weeks, we'll take that record off Palace and be Number One.
He's taken 5 points from 8 games, and we'll be lucky if that's 5 from 10 soon. That's 20 points averaged over a season. That's not 'relegation form', it's in the Top 5 of all-time lowest points hauls in the top league.
We've been battered by Watford, Villa, City and the worst Man Utd team I've seen in 30 years (okay, last one was pre-season, so what?).
He's been ran out of every club he's been at, with only exception being Newcastle…..
Again, he's had a poor run of luck with injuries, or it could just as easily be bad training methods. All clubs have injuries, it's not an excuse.
The rot started long before Rafa, and there are others who need to go too (quicker to name ones who shouldn't), but this man is making it worse – not better. He is a big part of the current problem.
Bill Gall
173
Posted 21/11/2021 at 21:04:53
Forget the Kenwright bashing, all the years he said he was looking for someone with money to back the club, he still managed to find some for Moyes who put out some good teams but never a Top 6 regular team. Because of the price of quality players, we became more of a selling club than a buying club. Moyes moved on to a club that he must regret as they have less time for a manager than most other clubs.
So Kenwright gets a money man and what happens? We go through 6 managers, millions spent, and on to one of the lowest times for the club in a long while. So who decided to sack these managers? Who brought in the new managers? Was it Kenwright or Moshiri – and how many supporters were against it?
As they say, we are up Shit Creek without a paddle. But I still believe we have a paddle in Benitez as, with the compensation he could receive if he resigned or was fired, it would not put him in the poor house, and he seems to have the backbone to stand up to adversity. I just wish he could instill it into these players.

Tony Abrahams
174
Posted 21/11/2021 at 21:14:34
I think the biggest part of our current problem is that we haven't got much character in the squad and are also missing most of our better players through injury, so I don't see how that is the manager's fault?
Clive Rogers
175
Posted 21/11/2021 at 21:16:11
Bill,
Kenwright didn't just find a money man, he found one who was prepared to let him remain Chairman, unlike Sheikh Masoud. His own needs first before those of the club.
Rob Dolby
176
Posted 21/11/2021 at 21:22:27
No idea what the game plan was other than sit tight and try to nick one.
2 great goals later and that was that. Not quite humiliation but we certainly didn't lay a glove on them.
More bad news is that Gray and Richarlison look to be out for the next game.
Playing City is a challenge for the best teams. For the lesser teams, we have to have a game plan.
Just embarrassing, how are we ever going to close the gap between the top teams?
Tony Abrahams
177
Posted 21/11/2021 at 21:28:15
I think it's only the clubs that are united that compete for honours, and it's a fact that Everton have never gone so long without a trophy, and have never even came close, since the great divider came along.
We all fume at the players when they say it's not good enough and it'll be better next week, but when was the last time we heard from anybody out of Everton's boardroom?
Things are bad and we look doomed because of this FFP, but it's like we are scared to speak up and blame Moshiri because he's building us a new ground, or maybe because it's kopite behaviour?
Geoff Lambert
178
Posted 21/11/2021 at 21:38:21
Paul 171,
So who in this bunch of pricks does play, then??
We should have kept James – he could do more in 10 minutes than Rondon could do in 10 fuckin' games.
Geoff Lambert
179
Posted 21/11/2021 at 21:44:28
Steve Bruce is available??
Paul Birmingham
180
Posted 21/11/2021 at 21:46:08
Everton has become a simmering volcano of a mess.
As supporters, it feels like we are slowly sliding down the inner gravel to a potential nightmare.
But hope eternal – the fans sticking together and uniting, which they do and will as Tony says @170, will be what is the eternal baton carrier for the Everton cause.
The board must surely be considering "How and Why?" right now, but it's an almost terminal erosion of a football club, at every playing level.
Being rational and Evertonian, doesn't bring any scientific rational, it's the love, the smell of Goodison and the atmosphere, and memories.
But the rational in me means I don't expect much from the team these days as results and performances, based on facts and a lack of silverware as a club record; abstinence from success has made this a reality.
I still think that there's big changes needed within the board and on the park; a new captain from next season for me.
For now, it's batten down the hatches and ride the storms and the increasing anxieties to come in the next 6 weeks.
Brentford next, Old Nick, and let Mr Ed talk them up... He will.
Chris Jenkins
181
Posted 21/11/2021 at 22:02:18
In the interests of fairness, I must preface my comments with the caveat that, because of the Covid pandemic and the fact that I live in the far West of Ireland, I haven't been to Goodison for a match since March of last year. Consequently, I am relying on the assessments of other contributors as to the reasons for the team's increasingly poor performances and the precarious situation the club finds itself in.
I have always had a great deal of respect for the comments of John Boon over the years and his contributions @101 and @136 are very relevant. I think his recollection of the effects of the 1951 relegation and the spectre of its possible reappearance this season, unless the current downturn is quickly reversed, are extremely apposite to the discussion.
Similarly, Ian Riley @122 stresses that it is critical that relegation must be avoided and calls for the return of David Moyes if Benitez is unable to reverse the current slide.
For my part, I attended my first Everton game in 1958 and have never experienced anything other than top-flight football since then. I honestly believe that, unless drastic action is taken sooner rather than later, then relegation will become more of a probability than a possibility.
Although I have in the past defended him in the face of what I considered to be unjustified criticism, I think that it is now time for Bill Kenwright to consider his position. Crucially I have never been able to understand the rationale for Denise Barrett-Baxendale holding the position she does and, based on the performance of Marcel Brands, why a Director of Football is required?
Drastic action is now required and heads must roll. Whilst I realise that I am inviting a barrage of criticism by suggesting it yet again, I honestly believe that it is imperative that an urgent approach be made for David Moyes to return as manager. The immediate focus has to be on avoiding relegation. He has proved in the past that, with minimal financial resources, he can achieve the retention of Premier League status and build the foundations for long term success.
The club was in a far better situation when he left than it is now, the evidence for which is incontrovertible. I remain hopeful that he could be persuaded to return provided he was given full control of player and staff recruitment.
Rob Halligan
182
Posted 21/11/2021 at 22:11:15
Well what a fucking disgrace that was.
And people had the audacity to call it dinosaur football under Ancelotti. He was one hundred times better than this fraud.
Today, there was no effort, commitment or motivation. We barely got out of our own penalty area in the first half, let alone ventured into City's half. The plan (haha, fucking plan) was to defend, defend, defend... and hope for the best.
How we got to half-time only 1-0 down was a miracle. City never needed to break sweat all game, and I suppose we should be grateful it was only 3-0.
As I say, the plan was to defend, there was no Plan B or C. We've all seen how poor Rondon is, so why not put Simms or Tosun on? At least give them a try... but no, it seems the Spanish fraud has to play Rondon at some point in every game.
Only one person to blame for this fiasco, the useless fraud of a manager. And don't give me the old injuries excuse. Injuries doesn't prevent effort, motivation or commitment. I could take the beating if all three of the above were shown, but there was absolutely nothing.
Benitez Out!!
Jeff Armstrong
183
Posted 21/11/2021 at 22:12:34
What makes people think Moyes would be interested? He's got a good thing going at West Ham... why would he consider our shitshow?
Brendan McLaughlin
184
Posted 21/11/2021 at 22:13:11
Chris #181,
Fair play to the West of Ireland if you are posting on TW having attended your first match in 1958.
But... the turf you are smoking ain't good – no way is Davey coming back!
Geoff Lambert
185
Posted 21/11/2021 at 22:16:37
Now second favourite with the bookies for next manager to loose his job. The bookies are never far off.
Nick Page
186
Posted 21/11/2021 at 22:19:49
If you think like this: "It's not just the shit performances, it's the shit boring "It's all Bill Kenwrights fault, what position does he play on the pitch?" like David @137, you are part of the problem with your incomparable ignorance and total lack of ability to see what the problem is and has been (some call it critical thinking).
David, you should be ashamed.
Actually, for the first time in a long time, I feel like more supporters at least on this thread are moving against this fraud, this conman and his cronies, but I really feel like it will take more abject performances and bottom 3 for the rest to wake up. And that includes Moshiri.
What a sorry, sorry state of affairs.
Barry Rathbone
187
Posted 21/11/2021 at 22:21:07
Chris Jenkins @181,
Whilst I vehemently disagree with the return of Moyes, I have to ask why would he come?
Prospects at West Ham are much better and expectations more in keeping with his modus operandi. Crap as we are, I don't think Evertonian ambition will ever return to that temporary state of the Moyes - Kenwright decade – mere existence.

Christy Ring
188
Posted 21/11/2021 at 22:34:15
Brian #132,
I agree completely with your comments. Gregg's wife gave Bill Kenwright the money to invest and then he went against Paul's proposal for Kings Dock, stabbed him in the back – that's Kenwright.
Bill #173,
Moyes worked wonders with little money from Kenwright; if he could have had the money to buy a striker, who knows what we could have achieved? Bill ran the club into the ground, selling anything that moved: Bellefield, Finch Farm, the merchandise franchise, Rooney?
He sold the majority shares to Moshiri but stayed on as Chairman instead of walking, and I believe he definitely advised Moshiri in the manager merry-go-round.
Andy Riley
189
Posted 21/11/2021 at 22:38:47
This may be a bit controversial but perhaps the major mistake of the last few years was sacking Sam Allardyce? Perhaps if he'd been given a season or two, rather than appointing Silva, he'd have stabilised things a bit.
Brian Wilkinson
190
Posted 21/11/2021 at 22:43:53
Barry Hesketh
191
Posted 21/11/2021 at 22:50:55
If Mr Haligan has been moved to write what he has in his earlier post @182, I think the club had better sit up and take notice, as Rob is one of the guys who travels up and down the country, week-in & week-out, to watch Everton; his opinion counts and his view will be replicated amongst many of his fellow travellers.
Brentford next week and Arsenal following the derby are massive games for the club as, on current form and the injury situation, it's unrealistic to expect anything from the next match at Goodison, unless something extraordinarily dramatic happens that night.
Danny O'Neill
192
Posted 21/11/2021 at 22:51:37
I've skimmed through the posts. In these moments, I'm not one to get critical of people. We all need to deal with it in our own way. Vent, point, shout and blame someone. Human and Evertonian nature.
It's pointless going over the who, what, when. It's all been said above and previously. We all have our own pantomime villians. Owner, Chairman, DoF, Manager, Players. Simple fact is, the club got itself into a decent position, attracted an investor, and then blew the moment. Spectacularly. But it's not just been the past 5 or 6 years. It's been 30 years in the making.
The season isn't finished, and although the next few weeks are going to be tough, let's see where we are at the end of December. That's what I always do. A funny old game, football, as they say.
I don't think it is worth analysing such a one-sided match as that. When this current City side are in that mood, you're on a hiding to nothing. Their ability to retain and recycle the ball, often in tight positions, is incredible and, dare I say, admirable, even though it was against Everton.
How comfortable are they on the ball? How hard do they work off it? I shouted for us to get hold of it and keep possession. Yeah, right. Easier said than done when you face an opposition of that quality that decide to turn it on.
You can't actually get the ball in the first place and, when you occasionally do, they hound you until they get it back. As young Anthony Gordon found out.
I don't think it would have made a difference to the outcome, but we were very close to an undeserved equaliser just before half-time. Great cross from Townsend on a free-kick that was a whisker away from Richarlison's head, who cut such a lone and frustrated figure all afternoon. Iwobi seemed to be through but didn't have the confidence to keep going. Didn't have the belief he could beat Walker, so checked?
I could go through individual players' performances, but what's the point after today? Collectively, we were outplayed by a team light-years ahead of us.
Dust ourselves down, players and supporters, and get ready for next weekend. It's an unpredictable game, football. Who knows what the next several weeks hold?
With Richarlison out suspended and likely that Gray is out injured, I have no idea who we will have to make a team.
I'm not going into the politics of it right now. That's for the week once the disappointment dust settles. Back to my opening paragraph, let's just all vent, shout and reflect as we see fit. No right or wrong way to do that on days like today.
Ian Riley
193
Posted 21/11/2021 at 22:53:52
Rob #182,
Sorry, with a full-strength team out, we would have lost. Manchester City are away over the hill with quality and depth. A manager has to weigh up to go for it and open the back door to a drubbing and putting confidence at an all-time low, or a respectful loss.
The next five games are crucial to get confidence up. Financial Fair Play rules may restrict us in January. Either we pick up points or changing the manager will have to happen to stem the tide.
The squad is simply lacking quality and depth. It's been an on-going problem over many years. Either we stay with Rafa and accept, hope for the best, keep praying... or we change the manager again to go through the same coping mechanisms that all Evertonians do, day-in & day-out.
Defeats dictate a manager's tenure. Rafa knows that. Players are accountable as well... but only one outcome if results are defeats.
Better days are ahead!! Keep the faith all!!!
Paul Hewitt
194
Posted 21/11/2021 at 22:54:42
Carry on blaming Rafa all you want. But you're letting the really problem get away with it.
Derek Thomas
195
Posted 21/11/2021 at 22:56:19
No worse than expected; not as bad as it could've been, lacklustre, shitshow, laughing stock, etc, etc.
It being 00:49 hrs by me and after a heavy Saturday night, I went to bed at half-time.
The squad, aided and abetted by too much money as wages, win, lose or draw... or sit on the bench: poor form, poor attitude, poor fitness are throwing yet another manager – Number 6(?) – under the bus.
The fact that Benitez is an ex RS FSW is neither here nor there. You get rid – where do you go from there? The same chancers are still driving the same gold Bentleys.
Marcel Brands? We'd be better off with Jo Brands.

Paul Hewitt
196
Posted 21/11/2021 at 23:03:19
If Brands had any self-pride, he would resign. He would get a job at a better club.
Jim Harrison
197
Posted 21/11/2021 at 23:09:27
Totally out-classed. Not even close to them in a single area.
Their 2 subs, worth £80-odd million, would walk into our first 11.
The real disappointment from the Moshiri time in charge, that after 5 years and millions spent, the team are further away from Man City than when Moyes was at the club!!!
Ray Smith
198
Posted 21/11/2021 at 23:11:41
Until Kenwright & Brands leave, we are going nowhere, other than backwards!!! Brands is a misnomer! Kenwright – we all know what he is!
I can't believe Moshiri has been sucked in by Kenwright, he's a successful businessman but allows Kenwright to lead him by the nose.
I don't know how, but Kenwright has got too go. Pay him off, it will be cheaper in the long run.
FFP doesn't apply to board members, get rid now, and ditch Kenwright. He's had you all over!!!
Soren Moyer
199
Posted 21/11/2021 at 23:13:10
This club is in disarray. Ladies and Gents, shit has well and truely hit the fan!
Derek Knox
200
Posted 21/11/2021 at 23:15:17
Paul @194,
I hope you mean Kenwright as being the real problem, which he is – this man's ego has prevented Everton from being the new Man City!
Sheikh Mansour was only interested in talking to two clubs and this was way before the City take-over. One was Newcastle and the other was Everton! Why? Because they actually owned their own grounds.
Mike Ashley was about to make sure he got Newcastle, so the focus shifted towards us, which was subsequently squashed by none other than Bill Kenwright!
So please do not not come on here proclaiming Boys Pen Bill (aka Tiny Tears) as the Saviour of EFC! Kenwright had one interest, and one interest, only that he was to be Head Honcho, whatever the consequences. He borrowed money because of his status (?) – he didn't put any of his own ill-gotten gains in the pot.
Just look at the situation we currently find ourselves in, remove those blue-tinted glasses, and start wearing a pair of 'reality' or 3-D specs and see the real picture. Come on – it isn't that difficult!
Tom Harvey
201
Posted 21/11/2021 at 23:15:35
Glory, Glory, Hallelujah – the Moyesiah has risen and is amongst us again!!!!!
Kieran Kinsella
202
Posted 21/11/2021 at 23:16:37
Rob @182,
"People had the audacity to call it dinosaur football under Ancelotti. He was one hundred times better than this fraud."
People? Thought it was one. The man with the panoramic view.
Andy @189
If you're being serious, then it shows how bad things have become.
Barry @191
If the club cared about the fans' views – which they don't, unless you count Bill Kenwright as a "fan" – and sacked Rafa... Who would they get instead?
What's the best-case scenario for anyone with this squad? If it was a matter of some tangible goal, eg, Champions League football, and we have an adequate squad, then maybe. But I think, based on recent seasons, you're looking at a high point, injuries permitting, of 8th. Is it worth another £10 million payout to get a few places higher than 15th or so?
The only way I could see Rafa going is if we are seriously adrift in the relegation zone. Even if we lose the upcoming games, we won't be at that point yet. So, regardless of whether it's right or wrong, I just don't see it happening any time soon.
Phil Wood
203
Posted 21/11/2021 at 23:20:40
Some right rubbish on here.
There are plenty of idiots spouting "Benitez Out" etc. There are many clubs in this division who will lose by 3 goals + against City, 2 great ones at that. Name me a manager who could get something out of the pittance of a squad we have available?
They just sound like Pep in his interview saying only one team came to play. I would like to see him managing Everton today to see any difference. He is managing a squad of world-class players and wouldn't take on a squad like ours. What a hypocrite.
Just like some of our so-called super fans who travel the country and think they know more than anyone else. Doesn't mean they are not deluded idiots.
Rob Halligan
204
Posted 21/11/2021 at 23:20:55
Ian # 193.
Injuries should make no difference when commitment, motivation and effort are clearly lacking. Yes, I know it was Man City, and yes, our full-strength team might still have lost, but how can Southampton and Palace go to Man City and get a result? How can Brighton go to Anfield, be 2-0 down, and still get a result? How can Burnley go to Chelsea and get a result?
The answer is simple: all three of the above are instilled into their players by their manager, something our manager is clearly not doing. Watching that game on MotD was even worse, as City had so much time and space on the ball, it was ridiculous.
Besides, it's not just today, it's been the last four or five games, being completely over-ran by West Ham and Wolves was embarrassing, the total capitulation against Watford. I can accept defeat if the team show commitment, effort and are motivated, but all three are lacking.
Simon Dalzell
205
Posted 21/11/2021 at 23:27:55
Colin (64),
"We showed energy right up until the final whistle."
You must have watched a different game to the rest of us.
The worst thing apart from the inevitable loss, is that we didn't show any energy, commitment skill... etc. We are unwatchable.
Probably the worst team in the Premier League at this point. A complete shambles. Embarrassing, spineless, ruderless, a disgrace. Premier League players that are sluggish and can't do even the basics.
Rob Halligan
206
Posted 21/11/2021 at 23:29:36
Phil Wood, sounds like your post is a dig at me, but just to put you straight, I was not the one who said I travel up and down the country supporting the team, nor did I say I know more than anyone else.
And don't dare called me deluded just because I'm voicing my opinion. Who the fuck are you anyway?
Paul Hewitt
207
Posted 21/11/2021 at 23:31:06
Derek @200.
No, I don't blame Kenwright. It's bloody Moshiri, what an absolute fraud he is. He has taken us back years that I think we will never recover from.
The new stadium he can stick up his arse, it means nothing. He should fuck right off. What a con-man.
Ray Smith
208
Posted 21/11/2021 at 23:35:43
Paul @207,
Are you serious????
Barry Hesketh
209
Posted 21/11/2021 at 23:36:53
Deluded idiots who have seen us park the bus more often than an overworked coach driver, deluded idiots who have seen us fail to create many scoring opportunities and score even less, deluded idiots who have seen us concede goals for fun.
Deluded idiots who haven't witnessed a victory since the back end of September, deluded idiots who witnessed an opportunity to lift a cup, disappear into the London air at the hands of an average QPR team, deluded idiots who spend most of their time fretting about the club and its fortunes and who spend plenty of hard-earned cash to witness some of the most boring football ever seen, not just this season but for years.
Of course, today's result was expected by many, even the most optimistic among us, but it is the way we are dropping points that gives us so little confidence that we will put many points on the board with or without our best players available, not just this side of Christmas but for the whole campaign.
I don't know whether the manager will solve the issues, or whether he has added to them. What I do know is that I can't bear another season of cowardly football, but it looks as if that's what we're in for and I'm not looking forward to it.
Derek Knox
210
Posted 21/11/2021 at 23:41:12
Paul H, by all means stay in the 'Desert of Disillusionment' and I don't see how you can blame Moshiri who is certainly no Football Genius or even an 'Angel'. The point I have raised so many times, how can an allegedly Top Accountant, be so easily fooled by a self-centred dickhead!
Maybe that was a trifle derogatory, but it's not very far from the truth, my friend! Like Lloyd Grossman used to say in 'Through the Keyhole' – or Through the Arsehole in the case of Boys Pen Bill, "Let's examine the evidence" – that is, if you are not too blinkered!
Rob Halligan
211
Posted 21/11/2021 at 23:41:48
Ray #208.
Unfortunately he is.
Pete Clarke
212
Posted 21/11/2021 at 23:41:52
We currently have an owner who knows little about football and also has little interest in running the club and that's why he left Bullshit Bill in place.
Unless we as supporters take action, then we may well be seeing our team play in the new stadium whilst battling for promotion.
This is without doubt the worst owner we have had in my nearly 60 years of life. He is sleepwalking us into oblivion. He has not only left the man responsible for 20 years of crap in place at the club, but he has appointed two of the worst managers in our history.
We need a new owner to come in and kick out all of the deadwood from bottom to top and start running the club professionally instead of some Sunday league part timers.

Marc Harris
213
Posted 21/11/2021 at 23:49:17
Money has taken us backwards. Rafa in my opinion is doing a decent job. Results have been poor recently but we finally have a manager who isn't afraid to make a decision.
Time to get rid of the "jobs for the boys" gang and appoint the best available staff. Hopefully we give minutes to Dobbin, Gordon and Onyango ready for next season.
Danny O'Neill
214
Posted 21/11/2021 at 23:58:26
Better out than in, Rob. And I agree with your sentiment. Evertonians and most football fans can take a defeat if you see the effort.
I was going to refrain but that 'super fan' comment has got to me. I got up at 6am to watch that this morning. That doesn't make me a super fan. Just an Evertonian following his team.
I've been on both sides of the fence twice over. Season ticket holder to having to watch and listen to Everton results from afar for many years. I've recently been fortunate enough to attend more regularly, much as a result of the kindness of the band of brothers on this website.
There are no 'so-called super fans', just dedicated Evertonians who have followed the club all our lives. And will do for the rest of it. However long that may be.
As I said earlier, for many it's raw right now, but nothing a result won't sort out.
See some of you at Brentford.
Don Alexander
215
Posted 21/11/2021 at 23:58:55
It's a measure of how desperate we now are that some people are clamouring for Moyes.
First, Moyes is answerable to two despicable porno-kings who are tighter than a duck's ass when it comes to spending, but even they've enabled him to spend about a third of what Moshiri has on players and they also acquired a brand new stadium (horrible as it is) for peanuts. So a pair of cunts betters a silly prick (Moshiri), comprehensively.
MotD will be what most players, agents and fans saw of us today. Mercifully the pundits creamed themselves about City but the fact is we were never near the ball as they attacked. It looked shite, good as they are on Mansour's £billions.
Kenwright, latterly under his "enhanced role" from Moshiri has for decades inadvertently turned us into the best-paying ne'er do wells in the history of the Premier League, the perennial basket-case club when it comes to genuinely competing against anyone.
Players, agents and other club's fans know it but there's still some of us who attribute no fault at all to him, and to me that's incredible.
He's what's made us pathetic, with his clan of super-suckers, sadly now including a very curious so-called accountant in Monaco.
One day soon someone might make a soap-opera out of the total demise of Everton. Don't be surprised if Kenwright doesn't buy the rights to it!
Kieran Kinsella
216
Posted 22/11/2021 at 00:20:55
Derek,
Lloyd Grossman? That's a first for ToffeeWeb. I'll add another quote. Kenwright's job — his one job — was to find an investor with money. As Bane from Batman said, "Victory has defeated you."
Chris Hockenhull
217
Posted 22/11/2021 at 00:31:06
Paul @ 207.
What utter shite and bollocks. A double header of absolute crap. 'Don't Be Denied.'
Paul Birmingham
218
Posted 22/11/2021 at 01:09:30
The Everton Richter Scale and Fuse Wire Rating scale has risen today and rightly so, on TW.
The lack of an Everton Board quality and care plan for EFC has caught up.
It's not acceptable but the club as PLC, must be accountable.
Interesting comments from Derek H, last night. Hits a true note, and sadly.
History and facts stack but Everton's history is now in the archives.
Si Cooper
219
Posted 22/11/2021 at 01:26:48
Man City have a wealth of talent; we have a paper-thin squad and lose a lot of influence when key individuals are unavailable. Did this performance lack intensity or just the ability to go toe to toe with the opponents?
I'm not getting too upset by this match and result although I was furious and ranting at the TV when the penalty was award. From first sight, it always looked to me that Keane hadn't actually made any contact with his leg and I only calmed down when that one honest soul persevered to find that crucial angle that exonerated Keane. Has to be simulation, so Sterling should have been carded for his weakest kitten antics.
Same for Bernardo who ably demonstrated that the soft knock on the sole of his boot wasn't any hindrance by taking two more steps before throwing himself theatrically to the ground. Why no card if the ref realises he's trying to get something for next to nothing? Did he even have to leave the pitch after feigning significant injury for long enough to convince Allan to boot the ball out of play?
A card for Sterling and he may be still sulking and not making that run when Cancelo is looking for a runner, and one for Bernardo maybe sees him subbed before he gets the chance to convert the late chance.
Clutching at straws? Well, we need a tremendous amount of luck to be able to get near to competing with some teams, the way things are at the moment.
Steve Brown
220
Posted 22/11/2021 at 01:37:08
Lucky for Benitez, he got off to a good start, as form like this would have seen him sacked by now. If he wants to play a defensive game plan, it would help if he actually organised the team properly to plan it. That doesn't involve just trying to camp in your own box for 90 minutes.
He should also revert back to last season's defensive set-up for set-pieces that was number 1 in the league, as his approach is number 18. Also, his determination to sign Rondon and dispense with James was a terrible decision given the number of goals and assists we lost from the team when the suspension of the 'Nameless One' is added in.
I thought he might reach the January transfer window as: (a) Townsend and Gray started well; (b) he had zero money to spend; and (c) he suffered injuries. But, he is doing a poor job right now in managing the resources he does have effectively. Given the justified anger on this thread, he has a relatively short period to turn this around.
Steve Carter
221
Posted 22/11/2021 at 03:44:40
Maybe it would have been better if European Super League thing had got off the ground. At best, along with 16 others at any one time, we are going to be make weights in the Premier League for the foreseeable future, if not the lifetimes of all us.
It's Pythonesque. If it wasn't for the (now entirely irrational) sentiment that I hold for Everton, my interest in football has gone from fanatic to zero.
Like Jimmy Greaves, I've switched to watching rugby. New Zealand v France on the weekend made any football game I've seen for years seem like watching paint dry in comparison.
Danny O'Neill
222
Posted 22/11/2021 at 05:08:47
Still hurting, but just listened to Pep's post-match interview. Quite intriguing.
Patience. When the other team doesn't want to play and just defend, you go sideways and backwards and wait for the moment.
That will draw gasps from the masses here.
When they "defend, defend, defend" and look for the break, you close them and surround them as soon as they do get the ball. In other words, work hard off the ball and get it back (recycle) immediately to prevent them. He clearly anticipated that tactic and countered it through hard work from his players.
And finally, when questioned on bringing on the young lads who made their debuts today. "They are not here just because they are from the academy or Mancunians".
That's not word for word, by the way. But great sentiment. My take from that:
1. It's not a bad thing to be patient and pass sideways or backwards to retain possession. Just when you go forward, it has to be with purpose and intent.
2. Work harder off the ball than you do on it, both in terms of movement and to win it back off the opposition.
3. Sort the academy out so you are playing players because they are good enough. Not just through local sentiment and "to see if they're good enough".

Alan J Thompson
223
Posted 22/11/2021 at 05:59:07
Phil Wood (#203); So, because you can't think of anyone better, you believe we have the best manager available?
A couple of games ago, a bloke took charge at a club that looked like relegation fodder and produced 5-2 and 4-1 results that put another manager on the market – no putting 9 men into defence and nobody in the opposition's half for him.
So don't tell me that what you saw yesterday convinced you we have the best available. He has now come out again and put all the blame on the players, nothing to do with his shameful tactics.
Yes, some blame can be put on his predecessors and the Board but he takes responsibility for what happens on the park now as I'm fairly confident that the club's position was explained before he took the job. Either time to cut your losses or at least ask for his explanation of his part in recent performances.
Tony Everan
225
Posted 22/11/2021 at 07:37:15
Woke up still a bit numb with apathy and despondency due to the gulf in class in the teams on display . It was a nothing performance from Everton – no intensity, no proper closing down, and suspect technical ability.
A lack of burning desire in keeping the ball or drawing a foul when in possession, like Calvert-Lewin has done for years sometimes without appreciation.
I am convinced now that this match was written off by Benitez. Damage limitation was the the game plan, avoid more injuries, then prepare for Brentford.
It's an unpalatable strategy, but is it a good one? We'll find out next Sunday.
Gary Smith
226
Posted 22/11/2021 at 07:44:28
Everyone turning on each other. Names being called by all sides (including me).
Got to admit, they've set the club up well to withstand the either/or criticism. About the only thing they have done well, and it won't have been on purpose.
Shame we can't all unite and say the whole pack of cards needs to come down. Now. Moshiri should be included unless he backs the fan base and strips the lot. All of them involved in playing or recruitment side of first 2 teams; Kenwright, Unsworth, Fat Waiter, Ferguson, Brands, etc need to go.
Bring in a progressive young manager (Potter or Lampard for me) and a super agent with young talent, and give them total control of top 2 teams. It can't be any worse than where it's heading right now.
Mick O'Malley
227
Posted 22/11/2021 at 07:55:25
Phil Wood,
The fat kopite can fuck right off with his shithouse tactics, he is the one who has us playing like this. He won't try any of the youngsters; he is a coward and I can't wait to see the back of him.
Ken Kneale
228
Posted 22/11/2021 at 08:07:49
Gary - It is called "Divide and Conquer". It is a well-recognised strategy to gain control over multiple opponents and maintain power – Bill Kenwright has practised it for years.
Tony A is correct – the fans are going to be really important this season to get behind the team at Goodison – but that should not detract from making it clear to the management committee that the current game is up.
Mal van Schaick
229
Posted 22/11/2021 at 08:20:49
Agree with #197, Jim. We were out-classed. Would we have been any closer to them if we didn't have injuries to our better players? Maybe.
It shows that the strength in depth of our squad is poor. Everton's problems for me are with previous managers squandering money on some poor buys.
We are where we are, and we need to clear our injury backlog, get our best team out, get behind the team and get some points in the bag.
Bobby Mallon
230
Posted 22/11/2021 at 08:21:58
Rob 182 I totally agree. The effort was a disgrace.
Eddie Dunn
231
Posted 22/11/2021 at 08:43:06
In Rafa's defence, the team selected (with the obvious exception of Doucouré) had enough regular defenders and defensive midfielders to put up stern resistance. Last season, we managed to do very well away from home.
I suggest that mentally, the whole team, coaches et al were beaten before stepping on the turf.
I can only imagine that the players sensed that the coach just wanted, at best, a point but would have taken a non-embarrassing defeat against such a marvellous side.
They all know better than us that their chances of success without Calvert-Lewin, Doucouré and Mina are limited.
The acid test is Brentford. If we can't deal with them we are in the mire.

Ian Hollingworth
232
Posted 22/11/2021 at 08:47:48
Unfortunately the club's focus is not on the team but on the new stadium and the community stuff. I don't think I have ever heard the CEO talk about football matters and don't get me started on Kenwright.
That said, there is no excuse at all for no effort or commitment being shown by the players but sadly we are seeing this, week-in & week-out. It is unacceptable and the manager has to take some blame for this as he picks the players.
Barry Hesketh
233
Posted 22/11/2021 at 09:10:01
"Everton are a side with a lot of weapons, believe me."
Pep Guardiola Man City Manager.
How true Pep, how true!

Bobby Mallon
234
Posted 22/11/2021 at 09:14:28
The one thing I'm sick of hearing from fans is City are so much better than us.
Yes, they have better players... but we let them walk all over us. No fight, sat in our own half all game. We were a complete shit-show of effort.
Then look at the Leeds game yesterday. They have more injuries than us but what a breath of fresh air they where yesterday. Yes, they got beat but they put a shift in all game with young exciting players running their arses off.
That's what I want from Everton. We have not been a top team for over 40 years, for fuck's sake. Start playing the kids. Rondon and Iwobi should never play again – it's embarrassing.
Barry Hesketh
235
Posted 22/11/2021 at 09:19:38
Sorry, Bobby @ 234, but the manager (via the Echo) says that Rondon is ready to start:
Rondon came off the bench against Manchester City on Sunday and is now in the frame to return to the starting XI for a crunch game for the Blues.
Asked if Rondon was fit enough to start, Benitez said: "Yeah, 100%, because he has been training well the last two weeks. I am quite confident he can do well."
Pete Clarke
236
Posted 22/11/2021 at 09:20:34
The perfect storm is brewing for the derby, and even more so if we lose our next match.
Benitez will come out of this a winner regardless and that's what's fucked up about his appointment. Do they have no vision or forethought at board level?
There should be banners all over the ground with clean words to let Moshiri know that he needs to clear out the deadwood or sell up.
We are a shambles of a club and the fans can change it before it gets much worse.
Andrew Ellams
237
Posted 22/11/2021 at 09:20:36
I'd say Benitez is pretty much a dead man walking at Everton already.
There won't be any meaningful incomings in January so, if he can't get a tune out of what he already he has, it will be 6 months of looking over his shoulder at what's below and then another farcical summer of manager searching.
Clive Rogers
238
Posted 22/11/2021 at 09:23:51
We fielded three old men in midfield who ambled about thinking, "How many more pay packets can I get out of this lot before they suss us out?"
Then we stuck a young lad wide left who couldn't cross with his left foot. A complete shambles.
David Pearl
239
Posted 22/11/2021 at 09:24:27
We set up to draw at best, just like at home vs Spurs. City pressed us high and we lost possession every time. Pickford tried kicking long but we had no out-ball as there was either nobody up there or no player capable of holding up the ball, so we lost it there too. 20% possession is an absolute disgrace.
Our manager has already stated that Rondon is fit and ready to start next week. So it doesn't look likely that Simms or Tosun will get a run out. Gordon has to start left and Townsend right. We need to play with a backbone. We need crosses in the box. We need to find a way to keep the ball and control the game. We are playing the same spineless tactics as we did under our last manager.
It's possible to go the same tactics and formation we used at Anfield last season over the next few games. I doubt it. Rafaball looks set to see us down close to the bottom 3 before we get players back and a couple players in. Has Brands started looking yet?
We are fucked.
Clive Rogers
240
Posted 22/11/2021 at 09:30:56
David, Gordon had a nightmare on the left yesterday.
Bobby Mallon
241
Posted 22/11/2021 at 09:31:28
Barry 235... 😂😂😂😂
Did he really say that? He should be sacked just for saying it if he did.
😞😞 – that is how I feel seeing things like that.
Brian Harrison
242
Posted 22/11/2021 at 09:54:08
Before I say anything about yesterday's game, I think the main question we should be asking is: How can a DoF oversee a spend of around £400 million over the last 5 years and still not have any meaningful cover at goalkeeper, right-back, left-back and centre-forward?
Yesterday went pretty much to script, us sitting back with 10 men behind the ball and City passing us to death. City will do what they did to us yesterday to many teams, but it seems the DNA for our club when playing a side in the Top 4, we sit deep and hope against hope we can pinch something on the break.
I think this just highlights how far as a club we have fallen despite the vast amounts of money spent on this club. When did you last see Liverpool or Chelsea or Man City or Man Utd adopt such a cowardly plan? If we want to be back amongst the big boys, then we need to start to play with a lot more bravery. I don't mean going gung-ho but just attack with some intent when we have the ball.
When Benitez joined, he said he well understood the sort of football scousers wanted their team to play like; well, all I can say is, what he coached our team to do yesterday was nothing like us scoucers want our team to play, it was cowardly football.
I didn't want him anywhere near my club but he is here now, thanks to yet another poor appointment by Moshiri. He has been massively unfortunate with injuries and, whether we like it or not, changing the manager again is not an option.
This group of players, by and large, have thrown previous managers under a bus, so let's not judge Benitez too harshly. I really hope he can turn things around as, if he can't, I really don't want to contemplate the outcome. But please, Mr Benitez, some more front-foot football, please, which will allow us to have a little belief.
Next week – without Richarlison, who is suspended, and I can't see Gray being available for a few weeks – we are going to struggle against Brentford and then Liverpool... but, after that, with players coming back, we do need to see a lot more attacking intent from this team.
Dave Williams
243
Posted 22/11/2021 at 09:59:27
I and others were criticised on the pre-match thread for being too gloomy and even not being real supporters!
Unfortunately, we were realistic supporters who have seen way too many white flags being raised before a ball is kicked.
There was nowhere near enough fight and determination and, as someone posted above, a midfield of 3 old guys and an out-of-position youngster was never going to do it against City. Far better surely to have given Simms and Onyango 20 minutes to get an idea of what it's like at this level and maybe encourage them to work harder still for a place in the team.
We all know our squad isn't good enough so why persist with them? Give a couple of the young lads a chance and at least we will get some real effort rather than the "couldn't really be bothered" attitude we are getting from some! Not much passion from the touch line either, which suggests Rafa was not so surprised at the absence of fight.
Dave Abrahams
244
Posted 22/11/2021 at 10:00:18
David (239),
Yes, we are set up to draw, at the moment, with three important members of the squad out injured and now two suspended. Every point is valuable and I expect he will continue to play pretty much like this until the squad is more capable of going out to win games.
I doubt if the injury list was anything like it is now when they played at Anfield last season.
Dave Williams
245
Posted 22/11/2021 at 10:19:07
Forget Moyes –why would he come back to this?
Time to stick til at least Christmas and hope Rafa sees the light?
Dave Abrahams
246
Posted 22/11/2021 at 10:30:19
Dave (245), give Rafa 'til Christmas?
Six months he's been here, Moyes was here for 11 years and Kenwright, the real villain of Everton's demise from the top, made Moyes one of the highest paid managers in Europe before he, thankfully for me, sloped off to become Man Utd's manager, while still being employed by Everton and giving new contracts to Everton players under the eye of Billy Boy.
Benitez is trying to put the wrongs of many, many years, right with the pitiful threadbare squad he has inherited from those before him. I'll stick with Benitez because, if he goes, we will be really fucked... and likely to fobbed off with Ferguson and Unsworth – that will definitely be the end of Everton.
Rob Halligan
247
Posted 22/11/2021 at 10:32:54
Barry # 235, so the manager is only "quite confident" Rondon can come in and do a job, not 100% confident that he will terrorise the Brentford defence?
Gary Smith
248
Posted 22/11/2021 at 10:42:50
The 4-4-1-1 system isn't working. Gordon is not a left-midfielder, and playing Iwobi either right or left of midfield is insanity too. Townsend the only one who can really do it.
We must switch to 4-3-3 next week, or even try 3-5-2 again for a bit. Ideally taking some chances on personnel. What I'd like to see against Brentford (assuming no Gray and all the sicknotes):
Pickford
Coleman Godfrey Branthwaite Digne
Townsend Allan Delph
Whitaker Simms Gordon

More chance of pigs flying though. Rondon, Iwobi, and Keane again more likely.
Mike Doyle
249
Posted 22/11/2021 at 10:55:15
Dave 246,
I fully agree with your thoughts, other than I think our current manager – indeed, any manager – will need longer than Xmas.
The current manager was brought in, given a squad of proven non-achievers to work with, and almost £0 to spend. Add in the current injury list and I fail to see how changing the manager (again) will improve anything.
I suspect you are correct about Ferguson & Unsworth being the likely contingency plan.
John Raftery
250
Posted 22/11/2021 at 10:56:35
Andy (189),
You are right. I have been thinking exactly that for some time. I would add it is better to recognise we are in a relegation battle in November and December than in April and May. It gives the manager time, including the January window, to find solutions. Benitez said as much in his post-match interview.
Steve Brown
251
Posted 22/11/2021 at 10:59:01
Mick @ 227, damn straight.
Calling fellow blues 'deluded idiots' while shoving your nose up Benitez's arse. Lower than a snake's belly as far as I am concerned.
Steve Brown
252
Posted 22/11/2021 at 11:01:08
Rob @ 247,
I am 100% confident that Rondon will come in and be absolute shite.
Frank Crewe
253
Posted 22/11/2021 at 11:11:21
We would have had a hard enough time trying to get a result against City with our strongest side. With the side we had out yesterday, we had no chance whatsoever.
What we should be focussing on is the fact that, despite being on our 6th manager since Moyes and having spent £500 million on players, we have one of the skinniest squads in the Premier League and a few injuries have basically wrecked our season.
We can't buy our way out because of FFP rules and our youth system hasn't produced a decent player in years. If we can get our best side back on the pitch and maybe bring in a decent loaner or freebie or two in January to bolster the squad, we should be able to pick up enough points for a decent mid-table finish.
But this season has to be a wake-up call. The whole club, especially the youth system, needs a total revamp.
Sam Hoare
254
Posted 22/11/2021 at 11:12:17
Going to be a grim winter I fear. I'm all for giving managers time but equally, if this dreadful run of form continues for another month or so, then surely the board will have no choice.
I read an interesting stat today. Yesterday, we made it 70 games in a row without managing 20 shots or more. By way of comparison, Newcastle have managed it 7 times in the same period and we did it 6 times under Marco Silva.
Not only are we mediocre. We are dull.
Julian Exshaw
255
Posted 22/11/2021 at 11:14:07
Are we becoming, as a club, apathetic?
Is it okay to say 'Ah, it was Man City, we'd never beat them anyway'?
Is it okay to just shrug our shoulders and have a 'What do you expect' attitude, owing to injuries, FFP etc?
One thing for sure is that this attitude will get us nowhere except the Championship. What we can't have is coaches bemoaning our lack of this and that and using it as an excuse after every defeat, even if it is justifiable.
This needs a collective response because, as a club, we are deep in the brown stuff. It has to start at Brentford. It has to start with Benitez getting at them and somehow extracting the maximum from the squad.
We know we have injuries, we know FFP ruined us last summer... but come on, let's fight a bit!! Bring on some Dogs of War! – and enough of the Passive Poodles we have now.
David Pearl
256
Posted 22/11/2021 at 11:16:22
Dave, 244,
We have the same back 5 available. Allan, Doucouré maybe back soon. We are missing James, Richarlison for the next game. I can't remember who else. Did Gomes play?
Anyway, after winning that game, we fell off a cliff. Can't remember Carlo even trying that formation again. Drove me crazy him changing shape for every game.
Here we are with another dour manager. Liverpool last season without Van Dijk suffered mentally and us this season without Calvert-Lewin and l think a lot of it is in the players' minds because of tactics.
If Gordon isn't a left-midfielder, then what is he? Maybe we played too deep for him to get involved where he needs to be. Or maybe he's just not that good.
Townsend has surprised me. He may have lost some pace but he tries all game and looks effective in every role he's been asked to play.
Benitez needs to look at the squad and come up with another way of playing. We are Newcastle. Complete with Rondon. Is he finished, or did he need some time (a lot) to get some fitness back? If he can't jump or hold up the ball, there's no point him being on the pitch.
Paul Hewitt
257
Posted 22/11/2021 at 11:21:54
Worrying about relegation in November. Why?
Christy Ring
258
Posted 22/11/2021 at 11:35:06
It was only a matter of time before Benitez became the fall guy. He inherited a skeleton squad with the spine of the team missing.
Oh yeah, and no money to spend, and no cover at right-back, left-back, midfield and upfront, so it's not the previous managers' and Brands's fault??
David Pearl
259
Posted 22/11/2021 at 11:38:01
Paul, l think perhaps because we are all wondering where our next 3 points are coming from.
Brent Stephens
260
Posted 22/11/2021 at 11:40:13
I don't like Benitez's previous association. But he's here, anyway; we are where we are. He's had less than 5 months to do something different with this squad, this seriously weak squad. Seriously weak even before a serious injury list and a couple of players suspended.
Yet another manager? So soon? In a long line of "yet another manager"? There's nobody internally with a proven track record. Who externally is available, capable, and willing to join? To see if they can work a miracle with this squad?
I'm not one for drawing conclusions from a single game or even a small number of games. Yes, Team A beats Chelsea – but they can't repeat that. Yes, Team B beats Liverpool – but they can't repeat that. These are one-offs.
Very good sides do lose games at times! So I don't go with the view that says "if A can beat Chelsea [etc] then why can't we?" Upsets happen but by definition, not often. We produce our own upsets occasionally.
The time might come when I want him out – but that time is not now. Not yet.

Phil (Kelsall) Roberts
261
Posted 22/11/2021 at 11:42:46
Bobby #234,
My eldest kid is 36 and I still remember coming home from the maternity unit and re-watching the ECWC Final from a few days before and weeping with joy.
So it can't be 40 years. Stop being dramatic.
Derek Moore
262
Posted 22/11/2021 at 11:46:28
"Worrying about relegation in November. Why?"
Five points taken from the last 24; 2months without a Premier League win, only one league away win all season.
No relief in sight on the fixture list.
It's a deeply worrying run.
Paul Hewitt
263
Posted 22/11/2021 at 11:57:13
Most teams in the Premier League will go on a bad run. This is ours, that's all.
John Keating
264
Posted 22/11/2021 at 11:58:31
We need players with guts.
When I heard Hibbo had signed for a club called Louzy, I thought he'd resigned for us!
Colin Malone
265
Posted 22/11/2021 at 12:04:48
Give Richarlison the holiday break he deserves.
Andrew Ellams
266
Posted 22/11/2021 at 12:07:27
Paul Hewitt @ 257, because March could be too late.
Christopher Timmins
267
Posted 22/11/2021 at 12:31:48
I watched the game on the box yesterday and the result was as expected. Two teams in the same division but, unfortunately for us, there is a massive gulf in ability between them. City are a top 5 team in Europe while we are a mid- to bottom-half Premier League team, maybe a bit higher with everyone fully fit.
We will be hard pressed to pick up many points in the coming games. We have to get Mina back as Keane is not up to it and, even when we played with the bus parked yesterday, he was exposed. He was lucky not to give away a penalty and shortly afterwards was caught out by Sterling for the first goal.
We also have to get Doucouré back on the pitch as Allan is exposed without him. We paid big money for Allan given his age profile and he is limited. Just like Keane, he needs protection; otherwise, his lack of pace is exposed. Does he get an assist for Rodri's goal?
Calvert-Lewin – his reputation grows by the week – cannot come back quickly enough as our options up top are very limited.
I think we will be closer to 10th than 15th by the end of the season, once the three injured players mentioned above return.
I sometimes wonder how Danny keeps getting the early morning train from London to go and watch the fare currently on offer, his dedication knows no bounds!
Kenwright spent 24 hours a day, 7 days a week, over a considerable period of time, looking for a new owner. Just look at what he produced. His legacy to the club!
There is no point talking about the upcoming Transfer Window as we will be dealing in the basement end of the market.
Not easy being a Blue.
Martin Mason
268
Posted 22/11/2021 at 12:33:16
Everything is fine... I just read that they may sack Benitez and install Nuno Espirito Santo as his replacement.
Tom Bowers
269
Posted 22/11/2021 at 12:39:11
Chris Timmins # 267 – you are so right.
Nothing to look forward to this season now. All gone to pot. We all hope to beat Liverpool but that seems even more remote. New stadium should be put aside until the product on the pitch is sorted out.
Ken Kneale
270
Posted 22/11/2021 at 12:40:32
Dave A @246 – totally with you on the real reason for Everton's long-term decline and with your comments about Moyes.
The thought of Ferguson & Unsworth is a frightening one – far worse than backing the current manager and making our protests to Moshiri about his lack of governance at the club.
Kim Vivian
271
Posted 22/11/2021 at 12:49:35
Martin 268 – that a wind-up? Or are you actually seeing something? Hopefully a wind-up. Nothing against Nuno, but for fuck's sake...
Barry Hesketh
272
Posted 22/11/2021 at 12:53:36
Kim @271
Martin is only relating what I have also read today, but I think it's speculative click-bait, however, This is Everton.
According to CaughtOffside reporter Colin Walker, the Toffees have identified the 47-year-old as a possible successor to their struggling Spanish tactician.
He tweeted: "As reported earlier this month – Everton are already lining up potential replacements for Rafael Benitez – Nuno Espírito Santo a name I have been quickly informed with."
Andrew Clare
273
Posted 22/11/2021 at 12:54:26
Dave 246,
I agree completely with your view.
Everton, once a big club, were destroyed by the Kenwright - Moyes axis. They accepted mediocrity and, as a result, we have been in free-fall ever since.
We now have a mountain to climb. Sacking managers is not the answer so we should stick with Rafa and ride the storm.
Martin Mason
274
Posted 22/11/2021 at 13:03:16
Kim @271
No, I read it on the news flashes that come up on Microsoft Edge. Sorry but I didn't see the source, almost certainly crap.
Kim Vivian
275
Posted 22/11/2021 at 13:05:26
Barry, Martin – yep. Someone just looking for column inches hopefully.
Everton changing the manager every 5 minutes would be like having a car that has a fucked engine (injuries), old rusting bodywork (ageing workforce) and wobbly wheels (DoF), and sticking a new driver in it hoping it will actually work better.
Sort the car out and then find a good driver – hopefully one that will help with improving the car.
Michael Williams
276
Posted 22/11/2021 at 13:08:14
From The Guardian:
6) Everton's problems predate under-fire Benítez
Carlo Ancelotti's last game as Everton manager was a 5-0 defeat at the Etihad Stadium. It was a sign of Rafa Benítez's skills as a defensive strategist that this scoreline was narrower. Everton denied Antonio Conte's Tottenham a shot on target but a sequel never felt realistic as City had 77% of possession.
"To defend against a good team all the time is not easy," said Benítez. Pressure told and Everton were depleted before they were defeated. Already without the spine of a side, in Yerry Mina, Abdoulaye Doucouré and Dominic Calvert-Lewin, they lost their most exciting winger, in Demarai Gray.
As a former Liverpool manager, Benítez can make an obvious scapegoat but the problems predate his appointment. It is damning that a club who have spent half a billion on transfers under owner Farhad Moshiri had a bench of such mediocrity. Benítez, whose expenditure amounts to £1.7M on Gray, has been hamstrung by their past. – Richard Jolly
Mark Taylor
277
Posted 22/11/2021 at 13:20:09
I always take a day or so to chill before commenting, especially after a humiliating defeat.
The gulf in class yesterday was scary. We looked like we were two divisions lower and that is no exaggeration. Let's be honest, City won at a canter, preserving their energy and we offered next to zero threat after Gray went off.
You could argue that it was little different to the humiliation City handed out to Man Utd. Their style of play may not lead to all-out goalfests but it does make their opposition look comically awful.
Yet only a couple of weeks ago, a moderate Palace team gave City a real game, creating some decent chances and while they maybe were fortunate to win, they at least gave themselves a chance, which we certainly didn't. Maybe City had an off day. Maybe we are worse than Palace.
I am worried. I don't think this is Rafa's fault, or not mostly. The problems long pre-date him. We just have a very poor squad that isn't even performing to the very modest limits it possesses (the latter is arguably Rafa's fault, or will be if he doesn't sort it out).
I don't pretend to be an expert so I can't help much with a cure but there is something badly amiss if a lumbering, past-it, incompetent like Rondon can be brought in, while King is let go, who is now doing a remotely passable imitation of a Premier League striker at a struggling club, something we won't be getting from the former however long we wait. How did that happen?
Kevin Prytherch
278
Posted 22/11/2021 at 13:40:04
Everton destroyed by the Kenwright - Moyes axis of accepting mediocrity?
In the 11 seasons preceding Moyes (since Howard Kendall Mk 2) we finished an average of 12th, and that would have been worse if it wasn't for Royle's 6th place in there.
Under Moyes, we finished an average of 8th.
Since Moyes, we have finished an average of 9th.
I think that the mediocrity started far before Moyes and Kenwright were ever here. Nice narrative though.
Tony Everan
279
Posted 22/11/2021 at 13:56:49
It is fair to say there was a cavernous gulf in class yesterday, the result was no shock to anyone.
It is also true, if that incarnation of Everton turn up at Brentford we will get the same treatment.
Next week the Everton players will have to put their balls on the table. They have to be brave, committed and organised. The club and fans need a professional performance.
The defeat was bad yesterday, the manner of defeat was soul destroying. I'm putting that down to the fact that the manager and most players were resigned to defeat before the Kickoff.
A total 180 degree shift in attitude is needed right now.
The Brentford game has become a very significant one. Benitez has got to dig deep and use all his managerial wiles to get a result.
Get a win at Brentford then Mina, Doucoure and hopefully Gray back for the Derby. The win will give us a lift, a bit of confidence, the crowd can get involved in the Derby.
Come on blues, give it everything you've got ( and then some more ) these next two weeks and turn things around.
John Kavanagh
280
Posted 22/11/2021 at 14:03:29
So we go into our next match likely to be starting Rondon AND Iwobi. If anything is likely to gift Brentford 3 points it is having either of this pair on the pitch at any point in a match. I'm sick and tired of being told how well wasters are doing in training when they have repeatedly failed where it matters - in a competitive match. Any slight chance we had yesterday evaporated when Gray went off.
What was the point in giving Simms a new contract if the manager won't use him and prefers Rondon who everyone can see would struggle getting into a pub team?
Having left Bernie Wright far behind as the worst player ever to wear an Everton shirt, the only real competition this season is between Rondon and Iwobi to be our worst ever signing.
If Benitez is sacked, then it should be for appointing and playing his pal Rondon. Whoever was involved in scouting and signing Iwobi, as well as negotiating his transfer fee and wages should be put up against a wall and shot with a blunderbuss loaded with their own shite.
For those who are saying that relegation is not a possibility, look at how the competition at the bottom end of the table are improving when we are consistently performing woefully. By Boxing Day we will be hoping to catch up with Burnley and our injured players will most likely still be 'two or three weeks away' from being fit based on the usual Finch Farm projections.

Kieran Kinsella
281
Posted 22/11/2021 at 14:08:47
John Kavanagh
I've been thinking the exact same thing about those two and Simms.Then there's Tosun. If we hoping to avoid injury so we can sell him in January then why's he even on the bench? We went with one striker yesterday so why have three on the bench? One of whom — Tosun — has been over looked as a sub for Dobbin as well as Simms and Rondon. Is it just to placate his ego?
Stu Darlington
282
Posted 22/11/2021 at 14:29:46
It is perceived wisdom that repeating the same actions over and over again with expectations of a different outcome is a definition of madness.
And yet here we are 4 or 5 seasons down the track seeing the same old thing. A promising start to the season with talk of top 6 finishes,then a series of gutless,abject performances on the pitch leading to talk of relegation battles or mid table finishes.
Sound familiar? It should do.
Then the knives come out for the manager but with few suggestions of who would replace him) apart from Unsworth,Ferguson or Moyes of course )
And while all this is happening we have the same response from the Board—- A deafening silence!
The management team is fast developing a bunker mentality,witness the move to a digital AGM, isolating itself from reality
Senior management is fast becoming a function unto itself totally divorced from whats happening in the rest of the club a"please don't tell me what I don't want to hear" mentality
I am not confident that things will change in the near future so I can only cling to the words of some of the great and good here here on TW that if we can struggle on till January, get our players back to fitness and perhaps add one or two new ones to the squad we may make mid-table by the end of the season. I did hear today that the manager may have £30 to £35 million to spend in January
Either way we will have completed another revolution of the magic roundabout!
Regarding Mark's comments @277.if things don't improve soon we might be getting a closer look at standards in leagues 2&3
John Kavanagh
283
Posted 22/11/2021 at 14:33:28
Stu @ 282. £30-£35 million to spend in January. Oh joy. We could get another Iwobi for that!
James Marshall
284
Posted 22/11/2021 at 14:44:53
We're a mediocre, middle of the table club with mediocre, middle of the table players and have been for 30 years.
Our results, outside perception and league finishes reflect our standing in the modern game and I for one can't see anything changing in my lifetime (I'm pushing 50), unless having a new ground magically transforms us in every way.
All PL clubs have a bit of cash to spend, and they can all pay decent wages barring the top teams so even if we do have money to spend, our hands are tied because: A) Top players go to top teams not mediocre ones, and B) There's nobody decent available in January anyway.
The one thing Moshiri got right was when he said we're [in danger of becoming] a museum. I don't know about anyone else, but I've lost the appetite for the fight these days, much like our players.
Gary Smith
285
Posted 22/11/2021 at 14:47:58
Again: it's not an either/or. The club is rotten. It's was rotten before Rafa got here.
Doesn't mean Rafa isn't the latest mistake, or a big part of the problem himself. He is, and always has been, the wrong fit for this club – defensive football, played by 30-year-old journeymen will kill whatever soul we have left.
Brent Stephens
286
Posted 22/11/2021 at 14:52:42
Barry #272 thanks for the quote from CaughtOffside - "Everton are already lining up potential replacements for Rafael Benitez – Nuno Espírito Santo...". Regardless of its reliability...
Over the last 5 years, we've had 5 managers, not counting stand-ins Unsworth and Ferguson. I don't see how we're going to attract another top manager if they see such a track record of sackings and impatience.
They would surely want to have, and seek, promises about time and money – but who would trust promises like that with a sacking record like that, knowing that their predecessors would probably have sought similar reassurances?
Kieran Kinsella
287
Posted 22/11/2021 at 15:08:57
Nuno would be perfect. His ultra defensive posture relying on rare counter-attacks would be a breathe of fresh air...
Michael Lynch
288
Posted 22/11/2021 at 15:09:21
We're certainly in a dark and desperate place. I'll go to the derby, but only out of a sense of duty and because 'misery loves company', as the saying goes.
Regarding our manager, we've got plenty of problems but the least of them is Rafa. A dreadful, threadbare squad and a rich idiot owner are probably top of the list, but at least Moshiri is building us a new stadium.
It does feel like it will be an achievement if we get to Bramley Moore without going down a division or two, and that's probably where our focus should be for now.
Brent Stephens
289
Posted 22/11/2021 at 15:12:23
Yes, Kieran, now where have seen that before?!
Andrew Keatley
290
Posted 22/11/2021 at 15:17:19
There are some angry and frustrated ideas being swapped on here today, but the suggestion of a front 3 of Whittaker, Simms and Gordon (by Gary at 248) for the Brentford game crystallises where we are.
Not because I agree with it – I think playing those 3 together would very much lead to defeat and, worse than that, it would potentially harm their development to be given such a hospital pass of an opportunity – but because the options that Benitez has at his disposal are so poor that some consider it to be Hail Mary time.
I'm not as concerned as the regular doom-mongers. I should think if you'd made the decision to be a nay-sayer on this website over the last decade or so, then you'd have had the satisfaction of being right more often than not. So I can see the appeal in continuing that narrative.
In truth, we are probably further away than ever before in terms of competing for the Premier League title but, for some reason, I think we are currently better off than we were in the last months of Marco Silva and Ronald Koeman or during the horror of Sam Allardyce, or the tail-end of Carlo Ancelotti.
It can go downhill fast, of course, but I think Benitez has the team organised and working hard, and when players return to fitness, and we get (hopefully) three or four decent recruits in January, then I do believe we will be back to something closely regarding buoyancy.
John Boswell
291
Posted 22/11/2021 at 15:24:57
I really do not understand the call against the current manager. He has inherited a squad that has been assembled by a committee and it shows!
It is not easy to sell players we no longer want or need when they are on large-value and long-term contracts. Look at James as an example.
Our current manager has to try and get a tune out of what he has available. Not an easy task. Look at how many players are missing from our engine room, we do not have the depth of quality to accommodate so many missing players.
It will be a long cold and dark winter, I just hope we can keep a hold of Richarlison and Calvert-Lewin to see the season out. COYB
Terry Downes
292
Posted 22/11/2021 at 15:25:36
Do we all agree that, for some reason, the Press, Radio and TV pundits don't seem to like us?
On that note, doesn't it seem funny that the majority of them seem to be plotting Rafa's exit on a daily basis? Either they're trying to do us a favour (but why would they?) or do they think, given time and money, Rafa knows what he's doing and could actually build a team of note?
Seems funny to me a lot of people on here are slagging him off already but Newcastle with all their millions would take him in a heartbeat.
Bill Gall
293
Posted 22/11/2021 at 15:34:38
For those saying "sack the manager" – Who would we bring in who will be given no money, have the same group of players, and injuries, with a weak squad???
We had players yesterday who should not have played, and no-one on the bench to replace them. We have gone through previous managers that have put us in a hole and the hardest thing to do is dig your way out of it, so you have to decide to stick with someone to get you out, whether you like his tactics or not.
Even with some of our injuries back, we are still going to struggle; we have to hope we can just stabilize, and maybe have some funds to strengthen in January.
Changing a manager this early in the season is not going to change things. Recent managers fired have left strong squads for a new manager. Everton firing their manager would leave a new manager with a weak squad and an impossible job.
Geoff Williams
294
Posted 22/11/2021 at 15:37:24
The squad lacks depth and we all take that as read but Benitez's use of the players available is criminal. Is he the only person on Merseyside who fails to see that Rondon and Iwobi are extremely poor footballers and offer nothing?
Iwobi is a liability as he either loses the ball in dangerous positions or simply fails to find a teammate with his passing. Rondon is totally void of any of the attributes a centre-forward needs: good ball control, pace and energy, the ability to win the ball in the air, score goals and so on.
The youngsters may not be ready for regular first-team football but at least they would offer energy and enthusiasm. Those of you who fail to realise that Everton are well and truly part of the relegation battle need a reality check. Current form would indicate that we are in a downward spiral which is gathering pace.
Hoping that, once Calvert-Lewin, Mina and Doucouré are fit, everything will be fine is a mistake as they are going to take time to get back up to speed.
Marc Hints
295
Posted 22/11/2021 at 15:42:26
Blimey... just heard on Twitter that Gray could be out for up to 6 weeks!
Unbelievable the long-term injuries we get.
Derek Moore
296
Posted 22/11/2021 at 15:55:20
The injuries really do have me worried.
Teams with a form line like ours – one league win from the last nine! – allied to an injury list like this one... well, they end up in relegation fights.
Something needs to change, but everyone agrees we have no money to spend. Almost everyone rightly agrees Benitez should not be given the blame... so what is going to change?
It's deeply worrying. This group has less collective backbone than a jellyfish. I do not anticipate dramatically different attitudes or performances from our misfits the rest of the season. A player-led revival, or even the "players only meeting" with some response on the pitch – might as well pray for the lottery numbers or similar. It isn't going to happen.
Dave Abrahams
297
Posted 22/11/2021 at 15:56:07
Kevin (278),
Well, didn't Moyes and Kenwright accept mediocrity? Eleven years with an average finish of 8th, what's that then? Eleven years where he went to away grounds at the top clubs terrified of getting beat and going for a draw, that's 44 matches and I think he got one win against a top four team.
Moyes went to a semi final against Liverpool who had a poor reserve goalkeeper playing, took a 1-0 lead into half-time then came out to defend that lead and had one half-hearted shot at the Liverpool goal, it didn't surprise many of us fans, we could have written the script for that game and many like it.
11 years and for the last 4 or 5 of them, Moyes was one of the top paid managers in Europe, in fact, no Everton player was paid higher wages than Moyes until Arteta got a renewed contract and got paid more.
Moyes even joined Kenwright, along with Jagielka and Cahill in telling us Everton fans how great it would be if we got the Tesco Stadium in Kirkby, all part of a nice cosy clique that existed then and is still going now with different names but Kenwright's rat pack.
Kieran Kinsella
298
Posted 22/11/2021 at 15:58:45
Bill Gall 2@93
I agree. The dearth of available "talented" managers is such that Man Utd are being linked with Steve Bruce as interim boss. And that is just looking at manager "talent" – not taking into account the obvious deficiencies in our squad. You could roll the dice on someone like Thomas Frank but he could be another Mike Walker.
David Moyes? There's more chance of Nyarko coming back. He's not a mug. He has things as he wants them at West Ham Utd. But anyone short of Jesus of Nazareth couldn't raise more from this squad and even his powers would be limited to miraculously healing injuries. If Gomes and Davies were fit, they still aren't any good.
Kieran Kinsella
299
Posted 22/11/2021 at 16:02:14
Dave 297,
You hit the nail on the head. Prior to Kenwright, Johnson, Walker, Royle, Harvey, Kendall (Mk II), Smith all tried to bring success -- but mostly failed. Kenwright normalized the idea that we could be the modern equivalent of Coventry City from 1967-1987 where they simply existed in or around mid-table. But even they had the resolve to sneak out an FA Cup win to end that dreary 20-year period.
Mike Gaynes
300
Posted 22/11/2021 at 16:02:59
Benitez should be sacked unless he sits Rondon and Iwobi and plays a bunch of kids who haven't played at this level before. Because it's "criminal" that he hasn't.
Riiiiiight. As if some other manager would. [...eye roll...]

Just as an aside, yeah, he's poor, but the two best passes the side played all day were made by Iwobi. The cross to Richarlison and the chip/flip to Coleman in the box.
Kevin Prytherch
301
Posted 22/11/2021 at 16:07:36
Dave @297,
Kenwright and Moyes might have accepted mediocrity, but they definitely didn't start it. It started at the end of the 80s with the gradual decline under Harvey and actually got marginally better under Moyes and Kenwright.
I won't argue with them accepting mediocrity, but will argue about it starting with them. It didn't.
Kieran Kinsella
302
Posted 22/11/2021 at 16:16:18
Kevin,
If you want to get technical, you could say mediocrity was there from the outset as we finished 8th in 1888-89.
But, while periods of mediocrity and failure have been there from the outset, we always had some kind of trophy success every decade or (decade and a half) or so, right up until 1995 with the FA Cup right before Kenwright took over.
Mark Ryan
303
Posted 22/11/2021 at 16:20:26
Egg and chips or lasagne, Bill? What is it to be?
This mess is not of Rafa's doing. This mess is down to the club's bosses.
Kenwright has brought in Moshiri. He is not a football man. He's wasted millions. We sold our best players and bought poorly. We have given far too many journeymen twilight careers, players such as Rooney should never have come back. Schneiderlin, Gomes, Delph... we know who they all are.
Other clubs have invested in youth, hungry players and developed them. We have not done that. We've given shit managers a lifeline. We've given journeymen a wage and managers a wage. Koeman: unproven, Silva: unproven, Allardyce: a lifeline... Ancellotti – "I'll go anywhere for the money, until it runs out, that is." Just so poorly managed from the top down. Consistently the wrong choices.
Moyes with Moshiri's money would have turned this club around but I'm not after him back. I just want someone who understands a good player when he sees one to take this club by the scruff of the neck.
Get rid of Kenwright, get rid of Brands and start again. Rafa is as good as we will get at this time but take Brands and Kenwright out of the equation. They are the issue here. They are pulling the strings at the top and they are repeatedly getting it wrong, whether that is players and/or the managers. Get rid before it is too late.
It is like Bill is in a marriage of convenience. Been with the same woman too long. She cooks him egg and chips every night and he's happy with his lot. Sometimes, Bill, you need to expand your horizons and go and have lasagne and tiramisu. Leave her and just walk away. You can have too many chips and too much Vienetta.
Please Bill, divorce us.
Dave Abrahams
304
Posted 22/11/2021 at 16:22:59
Kevin (301), fair enough about Moyes and Kenwright not starting the mediocrity period, but you better argue with someone else because I never said that they did.
By the way, Colin Harvey finished 4th in his first season, not sure about the second season but they got to an FA Cup Final and lost after extra time, then finished sixth in the third season before he got his comics and P45 half way through the next season. And you might agree that Colin was a great coach and had a very big hand in Howard Kendall's successful first time round as Everton's manager.
Barry Hesketh
305
Posted 22/11/2021 at 16:27:01
It could be argued that the acceptance of mediocrity started in the early 1970s as we looked on while the other lot went from strength to strength. Kendall managed to buck that trend in the mid-1980s, and from the early 1990s onwards we have been nowhere near the club that many of the older generations of fans held in such high esteem.
It's concerning that things will just continue to slide until we become another Derby County, Sheffield Wednesday et al.
Nothing I can see on the horizon points to the club becoming a true power again. Perhaps the possibility of a European Super League has knocked the wind out of the owner's sails, but that's no reason to allow the decline to continue.
If the owners don't have the appetite to address the issues at the club, do the decent thing: find a buyer, and move on.
Tony Abrahams
306
Posted 22/11/2021 at 16:47:55
It's loads of Evertonians who accepted mediocrity, because looking back the engineered sale of Wayne Rooney should not have been accepted, but it was, and we all know who took the stick, whilst the second engineered move, supposedly had Kenwright was crying crocodile tears to Moyes's mate, Sir Alex, on the phone.
We are the fanbase who accepted Kenwright, so we are the fans who accepted mediocrity. Moyes got a standing ovation after 11 years, keeping plucky little Everton punching above their weight... think about it.
Paul Kossoff
307
Posted 22/11/2021 at 16:51:07
If you look at the Premier League form table, Everton are joint bottom with Brentford as having just 1 point out of the last five games. I fear a relegation battle before the New Year. I can't see anyone who is as bad as we are at the moment.
Eddie Dunn
308
Posted 22/11/2021 at 17:10:53
Things are looking a bit gloomy but let's try and put things into perspective.
We are in an injury crisis due to our terrible decisions on recruitment and letting lads go out on loan. Another injury in the backline would leave us in deep shit. >So much mismanagement.
Rafa is responsible for Rondon but Gray and Townsend have been good signings. In the pound shop, he has done okay. Other sides also have their problems.
Leeds have been decimated by injuries, Leicester are on a downward spiral, Brighton's bubble has burst, Newcastle will continue to concede goals, Norwich will revert to type soon... etc, etc.
We need to be patient with Rafa. We won't find anyone else as good midseason. Our wrath should be reserved for Moshiri and Kenwright. We mustn't let the club use him as a scapegoat for their mess.
Perhaps the penny will drop with the players. Brentford can cause problems but surely we can cause them some too? A win away to them and things will look a lot rosier.
Gerry Quinn
309
Posted 22/11/2021 at 17:11:46
Dale Self
310
Posted 22/11/2021 at 17:12:37
And Kim was right, we go over 300 and beyond. I have to do a meeting so I'm going to do a short version and take the return fire later.
Everton have done well to remain stable with the influx of new money to the Premier League. That came with tradeoffs that ultimately led to some short-sighted manager moves; no surprise and no credit for saying anything there.
Once that got to the Koeman - Allardyce part of the cycle, the gig was up... yet all the top could do was take a chance on Silva without being able to turnover the squad. That began the overall stagnation in players developing here and started some sort of dysfunctional atrophy in our football.
The turnover has affected us badly and yet many are asking for it to be accelerated. That is madness, although I get the fury.
To whine about accepting mediocrity right now misses where we are at in the rebuilding process. Continued turnover is not the answer for damn sure. We don't have the resources or the parts in place to try some things being demanded.
The philosophy of the present manager is not some vague ad hoc cloud of who knows what. That is being provided by the front office holders. Choose your mates wisely man.
Barry Hesketh
311
Posted 22/11/2021 at 17:18:28
I saw that earlier today Gerry and the similarities between Everton and his new club are exemplified by this:
Louzy's president Jerome Archambeau said: "He was looking for a small club to keep himself fit and was was already taking care of our Under 13s side.

"He was itching a bit to return and coming back to the basics of football after such a career is good for him.

"The idea is that he brings us his experience, and that he takes pleasure from what he's doing.

"We're a family club, and I think that's what he liked, namely the spirit of camaraderie rather than that of competition."

Hibbert retired from football in 2016.
I fear that many more than Hibbo retired from FC Lousier in 2016, unofficially of course.
Roger Helm
312
Posted 22/11/2021 at 17:20:45
Moyes provided a few years of stability but, other than that, it has been a steady downward drift since the Premier League started. A whole series of bad appointments and signings, and an academy that has produced almost nothing since Wayne Rooney (who didn't need an academy) has left us on our uppers.
Something is wrong with the club but I doubt that we will ever find out what it is. It is no good blaming Rafa, it is the board and the DoF which needs to change.
Jay Wood
[BRZ]
313
Posted 22/11/2021 at 17:30:21
Kevin P. There is some merit in what you say, but BK's association with Everton predates Moyes' tenure at the club by 13 years.
First appointed to the Board in 1989. Failed in his first attempt to take control of the club in 1994, losing out to Johnson. Successful in his second bid to win a controlling interest when Johnson sold out to him in 1999, making BK the second highest shareholder at the club.
On completing the deal - 22 years ago - he uttered these stirring words:
'Acquiring Peter Johnson's shares is only the first step to restoring a great club to where it belongs – to where it should be. If you are going to run a successful football club you need two qualities: you need to be realistic and you need a plan. I'm realistic and I have a plan.'
Have the last 22 years - nearly a quarter of a century - shown any evidence of BK's 'realistic plan' to restore the club to 'where it belongs?'
He became the majority shareholder at the club in the fateful year of 2004 when he was also appointed Chairman. I say fateful, because that was the same summer that saw Trevor Birch appointed and leave as CEO in 6 weeks, Rooney sold to United and the King's Dock project canned.
On his appointment, BK said of Birch that the CEO will dictate the policy of the football club, that Birch had not been brought in to sell the club, but that a new investor can have BK's shares as long as they had money to run the club.
Birch resigned six weeks later after a meeting with True Blue Holding (Kenwright, Woods, Gregg and Abercromby) with the board opting not to sell the club. Gregg claimed there was a refusal to relinquish control by other directors and that it was preventing progress at the club.
Whilst some may not like it (and there is sound reasoning why they don't), there is merit in what you say about the 'stability' of the BK-Moyes axis you reference.
Shockingly, in the 51 years since the classic Everton Championship side of 1970, we have finished above the 'bours in the league a mere five times. Two of those we did so as Champions under Howard with that lot runners-up. The other three times were achieved by Moyes, including his last two seasons at Everton before Martinez inherited the manager's seat.
As for what constitutes 'par' for our finishing position in the league, we are distinctly mid-table. On average across all our 122 completed seasons to date, it is 9th to 10th (9.70). In the 28 seasons of PL football, it is marginally worse. A constant 10th (10.27). T'other lot average a default 8th position across all their 117 seasons and a very healthy 4th (4.47) in the PL era.
Given the very limited resources he had to play with, Moyes batted above average, achieving a respectable 7th-8th average finish (7.55) across his 11 seasons.
Just adding a BK timeline and statistical data to the observations offered by you and others. Make of it what you will.
Barry Rathbone
314
Posted 22/11/2021 at 17:31:32
Kevin Prytherch
30
I maintain the Moyes/Kenwright era sparked something unique in the clubs history an unwritten pact between fans, players and officials to ditch ambition in favour of stability.
I don't think it was a long term scheme it just evolved. Moyes earned millions from it and Kenwright discovered he had an ever growing golden egg cashable at a time of his choosing. The dynamic duo just had to keep the club up and ignore clubs bypassing and leaving us in their wake.
People hate this fact but Moyes first season with effectively Walter's team achieved 7th and the numerical average finish over the decade was 7/8th without the sniff of silverware. Stable, yes, but real progress - no because our drift from clubs once our peers had become insurmountable.
Any restoration of ambition had further to cover than 11 yrs previous and bar a single fleeting season we haven't made one step forward. Not all Moyes and Kenwrights fault knee jerking by a vociferous minority of fans hasn't helped but the dynamic duos fingerprints are all over the demise.
Andrew Bentley
315
Posted 22/11/2021 at 17:41:21
Eddie @308,
If we lose away to Brentford, then what then? With the injuries and now also Richarlison banned, we haven't got any options to play other than Rondon, Iwobi, Gordon and Townsend. Look at the state of those 4 names and tell me any club that will be fearful of facing them!
I don't disagree with your comments about not making Rafa a scapegoat for others' mistakes but, at the same time, surely he should be adjusting our tactics and formations to take into account the state we find ourselves in, eg, go 2 up top and get a young lad running off Rondon, or put Taylor in a 3 in the middle with Allan and Delph to make us tougher to get at.
The board should be held to account absolutely as the mess we are in is down to them and not Rafa, but I fear that, if we carry on as we are, then his position will become untenable and then the merry-go-round will begin again.
Jim Lloyd
316
Posted 22/11/2021 at 17:46:06
I think we've just played the team that should have been our team, if some certain individual had not wanted to keep charge of his own train set.
I didn't see the match, and couldn't listen to the commentary, but it's no real surprise that they beat us.
We were playing some of the best players in world football and probably have a reserve team with players just as good. We were playing them with a team made up of some really good players and some decent and some who no Premier League side would buy from us, or even take them off our hands for nothing.
To blame Rafa Benitez for the place where we find ourselves is, in my view, misguided. The players he's bought for the grand total of 2 months pay of one of our players, is not going to take us into Europe, nor will it take us down, as some fear.
I wrote on another thread that Benitez has been hired by Moshiri and Usmanov after long discussions. Evidently much against the wishes of Kenwright and the CEO. (What is she doing having anything whatsoever to do with recruitment, if this is true?) Anyway, my view is that Benitez has been hired to sort this club out (at all levels!); he will advise the owner on what, in his view, is rotten in this club, and there's plenty of that!
Someone posted that we're bottom of the form league after the last 5 matches. Well, we are where we are, and we were near the top of the league after all the matches before. In my view, we will attain neither, we will do what we are capable of and that is mid-table.
So, instead of freaking out and ringing the alarm bells, when there is bugger all that the manager can do until he gets all his best players back... even then, I don't think we're going to get in the Top 6, but who knows.
I just keep remembering (when me memory allows me!) that Man City were bought by one of the richest men in the world. Evidently we didn't feel like talking to their representative. Before that, we've had decades of a poorly run board and yet people blame Farhad Moshiri for the mess. My view is that there is someone in this club who has been here much longer than Moshiri, who is a likely suspect behind the demise of the club we love.
We will have to wait until those players who are costing us a fortune get shifted – patience is the quality needed by us.
Peter McEvoy
317
Posted 22/11/2021 at 18:06:44
What would the vibes out there be on trying to sign Alexander Mitrovic? He is scoring regularly, albeit in the Championship, and he's Fulham's highest wage earner... Just a thought.
I also am very impressed with Scott Parker, a bright new ambitious manager. Unfortunately we need a magician, not a manager.
It is shaping up to be a long season. We need to get the injured players back as they are very influential.
Barry Jones
318
Posted 22/11/2021 at 18:07:18
The fact that the quality half of the squad is out injured is not the fault of Benitez. The fact that the remainder is bereft of quality is also not the fault of Benitez. He cannot make a silk purse out of a sow's ear.
We will need to wait until the squad is back to close to100% fit, and also let him put his stamp on the winter and summer transfer windows before we can judge him effectively. If you judge him prior to that, you obviously have an inherent bias with his past connections.
These are desperate times, largely due to the incompetence of Marcel Brands. Being divisive and negative is not helpful. We need to support the manager and this "ugly sow's ear" through this difficult patch.
Tony Abrahams
319
Posted 22/11/2021 at 18:12:58
I've had a horrible sickly feeling about Everton since the West Ham game, especially once I heard Doucouré was injured, and that's why I never read the article that Brian posted @190.
Silly me, I've just read it now and the nausea that I felt whilst reading it has just ten-folded the way I've been feeling for weeks about Everton.
How can people genuinely defend this man?
Mike G, I loved that little floated pass to Coleman, but I thought Allan played the best pass of the match from an Everton player to Iwobi, but he rushed his half-hearted cross to Richarlison, who looked offside, and 30 seconds later, City were one-up.
Simon Dalzell
320
Posted 22/11/2021 at 18:14:54
I wish we were that mid table team that was going nowhere.
Pete Hughes
321
Posted 22/11/2021 at 18:18:16
Barry Jones @318. well said mate!
Colin Glassar
322
Posted 22/11/2021 at 18:26:22
Peter Mc, Mitrovic has had several opportunities in the Premier League and has been worse than useless. He's a great Championship player but that's his level.
Derek Knox
323
Posted 22/11/2021 at 18:36:34
Gerry @ 109, I can see the Headline now, " Lousy Right Back, is Right Back at Louzy " :-)
Dale Self
325
Posted 22/11/2021 at 18:49:27
Outrageous Brent. The nerve.
Brent Stephens
326
Posted 22/11/2021 at 18:50:50
No comment, Dale!
Brent Stephens
327
Posted 22/11/2021 at 18:58:39
If you want a laugh after yesterday, have a look at the subtitles for tonight's U23 game. Hilarious.
Tom Harvey
328
Posted 22/11/2021 at 18:58:57
Michael Lynch @288
Didn't Sunderland build a new statdium and then go down and also Middlesbrough?
With the players we have we might the best ground in the Championship when it opens.
I've got no faith hierachy at EFC to turn this around.
Kunal Desai
329
Posted 22/11/2021 at 19:03:09
Rumours that Gray will be out for 6 weeks.
It pours...
Derek Moore
330
Posted 22/11/2021 at 19:10:18
That's the problem, Tony (#319). I read that article and agreed with almost every word of it 10 years ago!
I suppose I should marvel at the prescience of that Blue Union post but I'm disappointed and angry that supporters know more about running this club than the people actually running it. Fans writing internet blogs with such foresight does rather lead one to wonder what on Earth the brainstrust at Everton actually does.
And although your and your dad's voices are both here on this thread, Tony – and we're markedly better for it – I'm more than a little concerned at the absence of John Mac, Darren Hind, Andy Crooks, Jamie Crawley, Paul Ferry and other regulars here today. The last 30 long barren years have alienated many thousands of supporters, actual former and potential.
It's inarguable really, how many new supporters have we attracted this season would you say? How many existing supporters have we alienated completely, or are presently in the process of doing so?
How sustainable do you think a club operating this way actually is?
Kieran Kinsella
331
Posted 22/11/2021 at 19:15:19
Derek Moore,
I'll tell you another thing. Whilst there may be a tik-tok for young Evertonians or something, I've noticed the average age of fans on forums increasing with few younger folk coming along. Just stabbing a guess here but, based on comments I've read regarding age, I'd say the average age on here must be around 60.
And many of those refer to buying tickets for kids and grand kids to go to games. Will those kids and grand kids continue buying their own season tickets and have the same level of interest as the regulars on here?
Or will the complete lack of success and hope cause faith in Everton to dwindle... so, 20 years from now, the new stadium at Bramley-Moore Dock on matchday will look like the average CofE church on Sunday?
Mike Gwyer
332
Posted 22/11/2021 at 19:17:53
Yeah, it was bad... but I tell you what: I have got great respect for these Everton players. In fact, I doff my cap to each and everyone one of them.
When they want rid of an Everton manager, they do not fuck about. "Watch and learn" is what I say; they will put out shit-show after shit-show until that fucker has gone. The message is there for all to see: Do not fuck with these Everton players. Six and counting...
Pep, seriously, great interview about how good City are and how shit we are but we only spunked £300M on shite players – not the couple of billion City have wasted... and for me, if you really are so good, pop over to Goodison and get this lot to play Pep style football.
I'm guessing you will be really impressed with Iwobi, his forte is 500 keepie uppies on each foot...
Derek Moore
333
Posted 22/11/2021 at 19:20:53
Agree Kieran entirely. The Walter Smith thread where quite a few people expressed their view that 73 was a young age to have departed the mortal coil was very revealing.
I'd guess I'd be one of the youngest supporters here, and I'm 40 with my hair going grey.
My own son would rather wash the car than watch Everton. I'm a fifth-generation Evertonian at least. Where the next generation of sucke... err, Evertonians is to come from, I have no idea.
Nicholas Ryan
334
Posted 22/11/2021 at 19:25:49
Danny at [192] makes the fair point, that away at the Etihad is not really the match to guage where you are in the scheme of things. The Brentford game will [I fear] be much more instructive.
Andrew Clare
335
Posted 22/11/2021 at 19:33:39
Kevin 278,
Yes, it started way before Moyes and Kenwright but they without doubt compounded the situation.
Dale Self
336
Posted 22/11/2021 at 19:35:56
Okay, I get the need to stick one in Everton for the shitty football they've served up without ever coming to the mic and explaining what the fuck they're up to but can we please stop with the "What about the children?" variations?
There is a huge market growing in America and plenty of not-so-attached fans of other clubs that will shake loose as those clubs struggle and fade. Get sights firmly on those issues that matter right now and let's at some point get a unified message (hopefully not making Rafa a scapegoat) and let's get through this.
And I think it is mostly the over-60 crowd that actually gets what the hell has gone wrong, so let's not discount what they bring to the table at times like these. I know we need a rant or an outlet but the "What about the children?" thing really gripes my ass.
Gary Smith
337
Posted 22/11/2021 at 19:37:43
I'm always amazed that any club outside of the top 3-4 ever manage to find a manager. According to some on here, a Fat Spanish Waiter who's been ran out of every club he's been at with exception of one is "the best we can get".
Tony was spot on: our fans are as responsible for the shit we're in nearly as much as the muppets we allow to carry on breaking it.
Mike Gwyer
338
Posted 22/11/2021 at 19:45:52
Nicholas.. #334
Fair comment. City away is not the match to set any standards by.
However, what's your view about Wolves away and Watford & West Ham at Goodison? All games we should have taken points from; however, we got battered.
The City game just proved that we really really are shite and the game just gave Beglin even more opportunities to stick the knife in.
Ian Bennett
339
Posted 22/11/2021 at 20:00:28
We have 23 outfield players and 9 out injured or suspended from football for football and non-football reasons.
That's a joke. 14 outfield players left including Kenny, Keane, Rondon, Iwobi, Gbamin, and Tosun who have regularly shown they are nowhere near good enough.
This is going to get a lot worse before it gets better...
Christy Ring
340
Posted 22/11/2021 at 21:04:26
We're down to the bare bones for the Brentford game; not easy playing with 9 fit players and Iwobi and Rondon.
I still think he should play a three-man midfield against Brentford of Allan, Delph and Gbamin, who I know was poor against Wolves. Playing him in a two-man midfield was a step too far, but he has to offer more than Iwobi.
Tony Abrahams
341
Posted 22/11/2021 at 21:15:15
Derek @330,
When you read what the Blue Union were saying, and then you read what Gerard proposed to the hierarchy at Everton whilst he was employed by the club, it's then that you realise just how much more genuine Evertonians seem to know about our club, than a lot of the people in high places on the inside.
The people you mentioned will all be back, Derek, because they all love Everton FC, but sometimes this club sucks the life out of the best of men. I think I've been feeling this undercurrent every time I've been to Goodison Park this season, mate.
Derek Moore
342
Posted 22/11/2021 at 21:27:33
I hope the people at his meeting today got more sense out of Dale Self than I do.

"Everton has done well to remain stable with the influx of new money to the Premier League. That came with tradeoffs that ultimately led to some short-sighted manager moves; no surprise and no credit for saying anything there."
Does anyone have a clue what he's saying, or trying to say here? Anyone at all?
That's followed by this beauty.
"Okay, I get the need to stick one in Everton for the shitty football they've served up without ever coming to the mic and explaining what the fuck they're up to but can we please stop with the "What about the children?" variations? There is a huge market growing in America..."
A huge market for following dross football clubs? And it's growing??? Where??? How??????
"I know we need a rant or an outlet but the "what about the children" thing really gripes my ass."
I literally don't know what this means?
I haven't met an Evertonian in this country younger than myself – I'm 40 – and that's not a cause for concern? Because the trollish American fellow on ToffeeWeb says so? We'll just become a very good football team (at some point) and acquire bandwagoners, glory hunters and fairweather fans, huh?
What a relief! The future is secure!
Ken Kneale
343
Posted 22/11/2021 at 21:28:36
Derek,
Good points. The new stadium at Bramley-Moore Dock will not require a capacity upgrade any time soon. I would guess we have one of the oldest fanbases, hence the anguish we feel about Kenwright and Moyes.
Kevin,
I have to take a contrary view on kenwright and Moyes – they accepted and embraced mediocrity like no previous leaders of the club ever. Others may not have tasted success but they at least set out to achieve it.
'Plucky little Everton' had never been suggested in the previous 120 years – nor the amount disingenuous spin about club affairs and various external advisor relationships.
Kieran Kinsella
344
Posted 22/11/2021 at 21:58:58
Derek,
My nephew's mum and dad are both Evertonians but the two kids, despite having been going to Goodison since birth (one is 10 now, the other 7), the younger is "undecided", the older one supports Everton... and Blackpool. Bloody Blackpool. What is that "and" thing???
Used to just be Everton in my day, although I guess Eddie Howe is my age and he was an "and" fellow too now that I think about it, with Everton "and" Watford. But nevertheless, dark times.
Dale Self
345
Posted 22/11/2021 at 22:01:24
Ok. I'm back. Thanks for responding, Derek. If you could turn down the rhetoric, I'm sure a discussion is possible. One that you might understand. Take a look at where Everton has finished relative to their net spend and yes it has been relatively stable compared to other non-six teams in the Premier League.
Okay, on to beauty No 2. I didn't say 'dross football'; I stated that there is a growing market in the US. How the fuck do you think that contract grew to its present size, man?
And while you cower behind the couch or rub your hands together like Michael Gove (can't really tell which, though I have an opinion there), there are people watching the league as somewhat neutrals and it is possible for Everton to get it together soon enough to benefit from their interest.
Are you following this, my man? You keep shouting about your nervous attachment to the club as though everyone else is ready to bail; they're not. It could get worse in the short run, yes, but you are absolutely going rather Nigel Fawlty on this.
Another round?
Derek Moore
346
Posted 22/11/2021 at 22:10:43
"I'm sure a discussion is possible. One that you might understand. Take a look at where Everton has finished relative to their net spend and yes it has been relatively stable compared to other non-six teams in the Premier League."
What is "non-six teams in the Premier League"???
Actually, I withdraw the question. And following this exchange, I've no desire to pursue a discussion with you, Dale. You're muddled, offensive, inarticulate and insufferably arrogant, to be quite frank.
If I ever wish to make myself stupider, I know where to find you.
Andrew Bentley
347
Posted 22/11/2021 at 22:10:44
Dale, do you mean Basil Fawlty?!?
Kieran Kinsella
348
Posted 22/11/2021 at 22:11:18
Dale,
Was Nigel to Basil as Basil it is to Barry Rathbone?
Dale Self
349
Posted 22/11/2021 at 22:19:26
Ha! I blew it. Not with you, Derek, you in a second, but yes, I meant Basil, damn it.
Hey Derek, can you get anything going without laying out quotes that take up so much space? Just refer to their statements, it's better form.
And non-Top 6, non Champions League contending teams, I think most could struggle their way to get that phrase. Probably lost more on the Nigel Fawlty than that. I am so sorry you've lost that loving feeling, Derek. Again, Pure Gold. I was actually hoping that could go a round or two but ta ta.
John McFarlane Snr
350
Posted 22/11/2021 at 22:20:00
Hi Derek [330],
There's no need to be concerned about me. I feel that I can't add anything to this thread, and as I have no control over events that occur on or off the pitch, I have therefore refrained from entering the fray.
All I can say is that it's my intention to support Everton through thick and thin, as I have done since 1948 at the age of 10. I am as disappointed as anyone to see us in the state we're in, but having read the bad news regarding Gary Stevens's 4-year-old son, it reinforces my belief that there are more important things in life than football.
I suppose that there are many on this site who have suffered a bereavement at some time or other, and while football plays a big part in our lives, that's all it is – 'a part'. If Everton losing a game or two is the worst thing to happen to any fan this year, then he's had a good year. Hope springs eternal.
Andrew Bentley
351
Posted 22/11/2021 at 22:20:04
Rather than the internal bickering, let's focus on the real issue here. There are 9 games (if you include Brighton on 2 January) before we can realistically get in any reinforcements.
We are down to the bare bones and, looking at those next 9 fixtures, only Newcastle at home you'd say we should absolutely win. That's the shit state of affairs we now find ourselves in with the injuries and FFP that has screwed us.
Realistically, that means we'll have played 21 games and are unlikely to be past 20 points. That's relegation form.
When are people going to wake up and smell the coffee here and not bang on about us being a safe mid-table side? Too many fans think we'll be fine and it's merely a blip, without looking at the real state of things.
Dale Self
352
Posted 22/11/2021 at 22:29:10
For the record, I am not at all comfortable with where we are. There are no easy solutions to what we face. While not happy about how we got here, I'm not looking to shake things up just to see if we can turn it around that way, we need to be methodical as possible and build up.
Putting a target on Rafa's back after some heavy injury setbacks and the expected results from a depleted squad is not any sensible way to proceed. If continued sniping is directed at Rafa it will serve the interests of those who are truly responsible and may chase off someone who could help us find a way through this episode.
Don Alexander
353
Posted 22/11/2021 at 22:39:44
Keiran (#344), maybe the kids like the fact that Blackpool have ex-Everton players in the first team, not the least of whom is Northern Ireland's international, Shane Lavery, a 22-year-old knocking goals in for fun. We got rid of him two years ago, he not been deemed good enough by Unsworth.
They're also managed by one Neil Critchley, who had the balls to leave his seven-year coaching role for Liverpool's youths to manage Blackpool, got them promoted from next to nowt in his first season, and now has them 3 points off play-off status with a whole new slew of impressive lower league signings for minimal expenditure.
Still, what does he know, eh?
Kieran Kinsella
354
Posted 22/11/2021 at 22:49:16
Don,
I forgot about Lavery. He's looked pretty good for Northern Ireland too.
David Pearl
355
Posted 22/11/2021 at 23:35:26
John @350,
Well said. I sent off for my pack a couple of years ago. l got swabbed just because of Gary Stevens. We all need something to moan about and Everton provides us every opportunity unfortunately.
Danny O'Neill
356
Posted 23/11/2021 at 05:12:42
Brentford on Sunday. Palace away next month. A point in the derby and that's 7 points. The world will look a whole different place this time next month.
We got schooled by the best team in the country when they turn it on. And, my word, they did.
Alan J Thompson
357
Posted 23/11/2021 at 05:21:29
If Benitez is the best anyone can expect at this time of the season, then we should expect Man Utd to be on the phone to Bill's mum any day now. As for Steve Bruce being mentioned as Ole's replacement, I think you'll find that only Steve Bruce mentioned Steve Bruce.
What did Man Utd do? They asked "What would Everton do?" and appointed an assistant coach for now or until their preferred option becomes available.
And as for these players now wanting to rid themselves of another manager, I imagine they all got together before the City game and decided they'd do it by totally ignoring the manager's instructions and stand on the edge of our own penalty area, or was that just an unapproved team meeting?
Yes, we've had a few injuries we could have done without and should have better cover in the squad but is it being serious to blame Brands for bringing in the players previously in this manager's teams, or are you saying he should have blocked all those or is responsible for overseeing limited spending?
It would appear that Man Utd may have to wait until the end of the season to get the manager they want, or be refused permission to approach another club's employee, but Pocchetino's compensation is being quoted at £8.5M which wouldn't even get you a Koeman, Martinez or Silva.
Michael McLoughlin
358
Posted 23/11/2021 at 05:57:40
Everton are in dire straights at the moment with the amount of injuries and our back against the wall with the FFP. Whether the players are rebelling or not (I don't think that's the case), I think it's a serious lack of confidence and old and new blood needs exchanging.
The lift we got from the injection of Gray and Townsend had an instant effect. This has largely been eroded with the amount of injuries we have, and thus confidence has waned.
I don't believe losing the manager is the answer; he is a good manager and I think he is the manager we need at this time to change this club for the better. What is clear for me is the squad needs some major surgery if we are to prosper in the future.
It is rumoured that Rafa will have £30 million to spend which in itself won't be enough to effect major changes. But, with the sale of a couple of top players which could bring the war-chest to £120- £159 million and with some canny buys in the market, we can progress. I know losing top players doesn't seem the way to go and it would weaken an already threadbare side. But something drastic is needed at Goodison with our current situation.
Whether that is in January or the summer and other windows going forward, I believe a big rethink on our playing staff needs to happen or we will sink into the abyss.

Robert Tressell
359
Posted 23/11/2021 at 08:14:43
Michael #358,
If Benitez has £30M to spend in January, then that would be enough to give the squad a welcome boost.
There are (unusually) lots of good players coming into the last 6 months of their contracts, plus loan options and a lot of good right-back options.
As for summer, we know we have £28M coming in for Kean and it would be a surprise if Mina, Richarlison and Calvert-Lewin all remain at the club.
It might not help us get shot of players who have now had more than a fair chance and failed (Gomes, Iwobi, Holgate and others) but it will enable us to move on and bring in better if we spend wisely.
Gary Smith
360
Posted 23/11/2021 at 08:46:19
Anyone notice how precious and aggressive the Rafa fans are of their fat, defensive (except at set-pieces, of course) failing pal??
Ian Horan
361
Posted 23/11/2021 at 08:48:07
I struggle with selling our best players to generate a substantial £100M war-chest for transfers.
We have seen the struggle this season when stripped of Calvert-Lewin, Pickford, Mina, Doucouré and Richarlison. All 5 would generate money but we would then be buying-in lower quality players, so any sales should be built around exchanges or similar.
I believe we should target the loan market as clubs do on the continent: 18-month and 2-year loans, similar to Moise Kean at Juventus. We need to move the deadwood on for hard-working committed players… and also the unnamed No 10 needs replacing.
Eddie Dunn
362
Posted 23/11/2021 at 08:50:38
In a way, we have been quite lucky having the recent international breaks, or we would have had at least two and possibly three more games without key players.
So... it could be worse!

Robert Tressell
363
Posted 23/11/2021 at 08:55:17
Ian, I don't for one moment want to sell Calvert-Lewin, Richarlison and Mina for the reasons you suggest. I'm just expecting at least 2 of those 3 to leave, especially given Mina's contract situation and Newcastle's new-found wealth.
The loan market is a very good option – and, as I say, Covid means that a very unusually high number of quality players will end their contracts or enter their final year in summer 2022. These are not Bernard-style big earners either but often upward-trajectory younger players.
As long as Benitez recruits people for his dynamic, aggressive style (deployed when everyone is fit), then we've a better chance of rebuilding than the last disastrous time we brought in a big fee player.
Barry Hesketh
364
Posted 23/11/2021 at 08:59:56
Gary @360,
I haven't noticed too many Rafa 'fans' on this site; I have seen pragmatic Evertonians accepting that it might not be quite the right time to push another manager under the bus and replace him with somebody else.
I can't see the club having the appetite to go through the whole recruitment process until at least the end of this season, but that will depend on whether Everton can eke out a few points this side of Christmas and don't suffer too many humiliating defeats along the way.
Everton is in such a weak position in every possible way, that we are hostages to fortune and have to hope that the bad luck on the injury front clears up – and soon – because, if it doesn't, who presides over first-team affairs will be the least of our worries.
Craig Walker
365
Posted 23/11/2021 at 09:12:15
Get rid of Rafa? What? And give the likes of Iwobi, Delph, Gomes, Davies, Keane, Holgate, Kenny yet another chance to impress?
We need to get rid of the many players we have who are nowhere near good enough. Guardiola or Klopp couldn't do anything with the squad we have.
Get Calvert-Lewin, Mina and Doucouré back with a few decent signings and we'll be okay. I'd settle for mid-table mediocrity at this point but did anyone expect any more this season?
Tony Abrahams
366
Posted 23/11/2021 at 09:25:28
Barry H @364,
That last paragraph sums our club up 100% right now, mate, except the last sentence, because I think loads of Evertonians will never be able to accept Benitez.

Brian Wilkinson
367
Posted 23/11/2021 at 09:28:31
Tony A@319, I am so sorry you had to read the article from 2011, from the Blue Union.
10 years on and we are still somehow being hoodwinked and safe in the knowledge, most Evertonians will turn a blind eye and not support the protest they had back then,in a way some see it as Kopite behaviour to stand up and say no, or enough is enough.
We have sat back and allowed this for a further 10 years.
I missed the last ToffeeWeb meet up, So I am looking forward to meeting quite a few more of you on the next meet up, whenever that is Tony.
Any Evertonians who have not read the link on my post@190 should not take other posters comments on Bill and the board as our views, but I would strongly recommend you click on the link at 190, then make your own minds up after reading it.
As Billy Bragg would have said, together we bargain, divided we beg.
It is just a pity that link could not be posted as a new thread.
Tony Abrahams
368
Posted 23/11/2021 at 09:53:49
I read it after I had posted earlier about it being our own fault for accepting Bill Kenwright, Brian, and that's what also made it worse because, after reading it, the most obvious conclusion is that Bill Kenwright has always been more interested in himself than he has been about Everton Football Club... but loads of us knew this already.
Derek Knox
369
Posted 23/11/2021 at 10:05:02
As much as I was against Rafa coming in the first place, I neither think that his head should be on any future or immediate chopping blocks.
However, I would question some of his game plans and substitutions, and persistently playing a certain player, and stubbornly resisting giving some of the youngsters a chance to show what they could do. When, let's face it, even if the occasion overawed them, could they possibly do any worse than some of the underperforming overpaid players?
I am totally against selling our better players too, unless of course they have expressed a desire to go. No, the problems that have left us in the mire we currently find ourselves in, stem from higher up. I further think it's about time the many, many loyal supporters who turn up week after week make their feelings shown.
It was only recently at the West Ham Home game that many of the Hammers in the Lower Bullens displayed an array of banners proclaiming their desire to oust both the Porn Kings and Karen Brady too. Seems crazy when they are arguably doing a lot better than us, but I totally understand and share in their frustration, albeit at a different club and a different chairman.
Time to Stand Down, you Fraud, before it's too late... if it's not already too late now!
Not that he would ever read these pages, but the odd chance that one of his arse-wipers do, hopefully the message will get conveyed.
Phil Lewis
370
Posted 23/11/2021 at 10:14:09
Be very careful what you wish for. Nobody wanted Josh King, yet he is scoring for fun now. Rondon is nowhere near his quality.
During Gbamin's injury period, people on here were picking him in their best eleven, before they'd seen him play! Unsubstantiated wishful thinking from long-suffering fans.
We are faced with an increasingly desperate situation in the coming months. Seemingly, the manager is unable to spend and the injury crisis deepens. Benitez apparently has no faith in our young talent, so we are left clutching at straws.
It seems to me that our only option is to acquire a couple of mature journeyman players, as was achieved with Townsend and Gray, on short-term contracts to bolster our depleted ranks. With our current hit-and-miss approach, failure to do so in January could see us in serious relegation trouble by the end of the season.
New stadium? Don't make me laugh! Our team, our board and our manager are in grave danger of becoming a lamentable joke.
Brian Harrison
371
Posted 23/11/2021 at 11:05:23
Well, these are really worrying times being an Evertonian; at present, it's hard to see where our next win is coming and, seeing that both Richarlison and Gray will be missing for the trip to Brentford, it's hard to see us winning there.
We are only 6 or 7 points away from the relegation zone and not many so-called easy games coming up in the next few weeks. I say 'so-called easy games' because, after Watford had been beaten heavily at home the previous week, I think many of us thought that was a guaranteed 3 points.
I agree, we can't keep changing managers as regularly as we do but, if results go against us in the next few weeks, Moshiri will be under the most pressure he has been under since he took control of the club.
We can only hope that some of our injured players will come back and help us pick up enough points to avoid being in the relegation zone. I have to say that I am more fearful of where we will finish this season more than any other time in the last 15 years.
Finally, and nothing to do with Everton or football, but what a man Kevin Sinfield is to run 101 miles in 24 hours is just mind boggling, I will admit watching him cross the line on TV this morning I had a tear in my eye. A giant of a man and I hope he gets a knighthood for this Herculaneum feat, and he did all this not for self-gain but to raise money for his friend and rugby team mate Rob Burrows who is fighting MND.
Mick O'Malley
372
Posted 23/11/2021 at 11:33:46
Brian, I echo those sentiments on Kevin Sinfield, he is an incredible athlete he has run numerous marathons day after day to raise money for the MND charity. I seen him speaking about Rob Burrow and you could see the emotion in his face, the determination, an incredible friend and team mate, he is a true hero.
Dave Abrahams
373
Posted 23/11/2021 at 11:49:45
Brian (371),
Your last paragraph. Always touches a nerve watching Kevin Sinfield doing his marathon runs for MND and his former team mate Rob Burrow. What a friend Rob has got in Kevin, not just running the marathons for him but being there and offering his encouragement to Rob and his family. Awe inspiring and very moving to watch Kevin and also Rob very bravely fighting this illness. Best wishes to both of them.
Peter Mills
374
Posted 23/11/2021 at 11:54:29
Brian #371, well said regarding Kevin Sinfield.
Paul Randall
375
Posted 23/11/2021 at 11:57:58
Keep giving Benitez time and we will be in a relegation battle. Current form, including cup: Played 7, 5L, 2D – this can't continue.
I understand that we are missing key players, but his bizzare constant picking of Rondon and Iwobi is on him... and, yes he does have other options: Simms, Tosun, Dobbin, Gordon.
Benitez trains, picks tactics and chooses his team and he is failing to motivate the current squad. We all know about our terrible recruitment but that's no excuse for failing to motivate your team. Previous managers got sacked for our current form.
Brian Williams
376
Posted 23/11/2021 at 12:43:50
This'll cheer you up!
https://www.youtube.com/watch?v=S5ckh6O39pg
Eddie Dunn
377
Posted 23/11/2021 at 12:45:40
Paul, these guys have been very difficult to motivate for more than a few games.
I read today that Regulon, at Spurs, said that Conte's training was the toughest he'd ever had. John Terry also said he was at his fittest under Conte.
Of course fitness alone, just like motivation, is not enough. Bielsa has got his team super fit but injuries have cost him, as quality is also important.
Benitez is not giving our youth a chance. I presume it is because he has seen them in training and thinks they are not good enough. He should know.
And for those wondering why he has not put Tosun up top... just use your memories!
What we would give to have Josh King back.
Mick O'Malley
378
Posted 23/11/2021 at 13:15:25
Tosun is a far better player than Rondon has ever been – if Benitez can't see that, he is absolutely clueless.
I also refuse to believe that none of our younger players is worth more than injury time at the end of an embarrassing display to prove their worth.
Benitez is just a stubborn prick, especially regarding Rondon and his insistence on zonal marking. I am gutted he is a our manager, he won't do fuck-all here.
Tom Bowers
379
Posted 23/11/2021 at 13:17:56
A really dismal time, to say the least. Things just go from bad to worse and, despite the injuries, I fear Rafa's head will be first to go.
The prospects for the next few games are grim indeed. We could do with another 1963 deep freeze to suspend the season (for those old fogies like me who remember).
The problem is that Everton cannot seem to play any strong defensive plan when needed. Most teams cut through us like butter, even when we have 10 men back. Go figure.
David Hayes
380
Posted 23/11/2021 at 13:36:58
The Fat Spanish Waiter will get be removed after defeat to Newcastle.
I won't say 'sacked' because it isn't in the way that applies to mortals outside top flight football. Extremely well paid off for abject failure.
Bring on the next leech.
Tony Abrahams
381
Posted 23/11/2021 at 13:37:12
I was hoping for loads of snow starting about 11 o'clock next Wednesday morning, Tom, and that's coming from someone who would play Liverpool every single day of the week.
The fact that people are calling for Tosun shows us how desperate we are and what a complete lack of talent there is amongst the players who are not in the treatment room. He's one of the worst players I've watched in an Everton shirt in recent years, which is really saying something.
Brian Wilkinson
382
Posted 23/11/2021 at 13:43:00
I am not too sure, Tony. Tosun is slow, but you feel he has it in him to set up a goal or put a goal away; I cannot say the same for Rondon.
I am not saying we should keep Tosun but, until Calvert-Lewin is fit, or Benitez gives one of the youngsters a go, then I just think Tosun is the better option than Rondon.
Andrew Ellams
383
Posted 23/11/2021 at 13:59:23
Looking around other Everton pages and social media groups, I see no end of comments about people should stop moaning because we're lucky to born not manufactured and at least we don't support the other lot, People's Club etc.
People swallowing this stuff as a means of accepting anything that happens on the park is exactly why Kenwright has got away with what he has for the past 20+ years.
Tony Abrahams
384
Posted 23/11/2021 at 14:01:09
We all see a different game, Brian, but I've sat there watching Tosun sometimes thinking, "I've never seen anyone in a position where the ball has just been, more than this player in my life!"
Centre-forwards who don't show for the ball to feet must show something down the sides or over the to,p imo, but I've never personally seen either from Cenk Tosun, except the occasional goal.
Shane Corcoran
385
Posted 23/11/2021 at 14:08:45
Andrew, we all welcomed James as a route to broaden our worldwide appeal and, presumably, attract more fans from untapped markets.
Yet we're born not manufactured and Liverpool's fans are all Norwegian.
Another layer of embarrassment.
Pete Clarke
386
Posted 23/11/2021 at 14:11:07
The players themselves are totally lost and it's clear that they lack any belief in what they are being told to do. This even goes deep into the younger players.
If you take a look at Allan, Doucouré, Godfrey, Digne, Gomes, and Davies, you can see not one of them can challenge for an aerial ball properly. Even the young kid Gordon half-heartedly jumps in with his back to every aerial challenge (just watch him closely). This is a disgrace and begs the question: Who is coaching the players? And who is overseeing the coaching?
We are not fit enough. Not mentally or physically strong enough... and the lack of intelligence beggars belief for players that have been getting taught this game every day for most of their lives. It must take a lot to motivate these players because they are all millionaires but that's where good management comes in. Unfortunately, the club is rife with apathy.
Ultimately, the problem is at the top because you need the board to care about the way we play and the way the players are being coached.... and they don't. They don't care about us supporters – that's for sure.
We have football dunces in charge who are too busy drinking champagne somewhere far away from Finch Farm during the week; as long as the Premier League money is coming in, they just don't care.
It's going to carry on, guys, unless there are some really strong protests regarding the piss-poor management and ambition of this once great club. Time to let them know.

Tony Abrahams
387
Posted 23/11/2021 at 14:17:35
Do Evertonians have it in themselves to go and protest really strongly, Pete?
Although I can see more and more people maybe not attending Goodison, even though they have paid for a season ticket, because that's what apathy ends up doing to many.
Steavey Buckley
388
Posted 23/11/2021 at 14:26:57
The Everton performances for the past 2 months have been very disheartening for most loyal fans. One of the major gripes has been the under-performances of players who easily give the ball away without any sense of guilt.
If there are any players from the Academy who want to play for the first team, this is a 'golden' opportunity with so many players out injured or playing badly.
Pete Clarke
389
Posted 23/11/2021 at 14:48:39
Tony. We just have to do it!
I'm 12,000 miles away but, if I still lived back home, I would make an effort, I'm certain of that.
It's at a point now where we win the next game and the apathy continues. Are we all waiting for a miracle to happen at this club?
We lose the next game, then god forbid – those bastards are going to run riot against us in the derby and sing Rafa's name just to rub it in. Our supporters will turn then for sure and it won't be nice.
Maybe, just maybe, if them dirty bastards do give us another good hiding, it might be the straw that breaks the camel's back for Moshiri.
Phil Lewis
390
Posted 23/11/2021 at 14:50:10
A complete clearout of the under-achieving backroom staff, Messrs. Unsworth, Ebbrell and other "jobs for the boys" cronies is the only answer for the future of our club.
Brands is a leech whose so-called expertise has set us back decades. Kenwright is quite simply a phoney. We can never progress while these people continue to bleed the club dry.
Barry Rathbone
391
Posted 23/11/2021 at 15:15:23
I can't see fans protesting these days... the decline has been ongoing for decades... a philosophical shrug of the shoulder as relegation looms (probably next year) is about where we are.
The place has lost all dynamism, on and off the pitch; all that remains is a blue-and-white cadaver.
Kieran Kinsella
392
Posted 23/11/2021 at 15:24:08
Barry,
It might be time for someone to end the misery by sneaking into Goodison Park during the night and placing a pillow over EFC.
Tony Abrahams
393
Posted 23/11/2021 at 15:27:02
Can't disagree with much of that, Barry. Divide and conquer, let them argue amongst themselves, and slowly people become apathetic, which has probably already happened to a lot of the people who were involved with the Blue Union, the ones that could see into the future all those years ago.
Ian Horan
394
Posted 23/11/2021 at 15:55:36
We can't take the chance of playing Tosun as he is made of rice paper. EFC could just be keeping him fit and ticking over to move him on in January.
It's desperate times being a Toffee at the moment... scrap that – it's every season!!!!
We need to hope Moshiri and Usmanov are getting a plan together and go all-in in January – a big transfer splash and then take the financial punishment for breaching FFP. The penalty for the breach will be less severe than losing Premier League status!!!!!!
Kieran Kinsella
395
Posted 23/11/2021 at 16:36:59
Ian
If we get rid of Tosun in January, then we'll save about £1.5 million on his wages through the end of his contract in June. If he were to play and say get a goal that earned us a win or even a draw, that could be the difference of a place higher up the table which would mean pocketing about £3 million in prize money.
I could understand keeping him in cotton wool if he was on Aaron Ramsey money with 3 years left but, at this point, the best case savings versus possible rewards, it doesn't make financial sense to me or indeed football sense, when the alternative is Rondon.
John McFarlane Snr
396
Posted 23/11/2021 at 16:39:06
Hi Tony [393],
In my youth and early adult years, my life revolved around Everton FC but, as I have grown older, I have lost the passion I once had for football. The formation of the Premier League and the changes in the laws of the game, plus the obscene wages and transfer fees of today, are far removed from the game I grew up watching.
In the 84th year of my life, I still attend games, but I use football as a distraction from the important matters that we are all faced with. I have stated on this site once or twice that, on matchday, my world is 120 yards long and 70 yards wide, and for the best part of 2 hours the only thing that matters is the performance or the result. I don't celebrate victories the way I used to and defeats don't hurt so much.
It's my intention to continue attending games as a season ticket holder, where I will give the team my full support. I know that we all go to the match and can see a different game; some fans see players not trying, while I see players who are simply not good enough.
I anticipate that some will disagree with my outlook but, as I stated at the start of this post, in my younger days Everton FC ruled my life; they don't anymore, but I still the feel the pull of the game.
John Boon
397
Posted 23/11/2021 at 17:30:33
Regarding all Evertonians but one of my favourites, John M (350) and (396):
We share very similar thoughts regarding football. Not too surprising since we basically share the same timeframe.
When Everton were relegated, I was fully into Everton and regularly going to games. Relegation was different when you were 12. I used to go to the games with a long-passed friend, Alan, who lived at the back of me. I clearly remember trying to see the positive side by thinking that we would now be able to see different teams like Rotherham or Doncaster Rovers... and more importantly we might even win!
We had been desperate for a number of seasons at that time, so almost anything was acceptable...
Things did not improve too much after promotion until the early Sixties. I do think it is different today when only a few teams have any chance of winning the Premier League and relegation has far more severe consequences. The days of winning the league immediately after promotion, as did Ipswich, is impossible.
There just isn't as much fun in the Premier League. And you are right: it just isn't quite as important as we let it be.
What we were relating to was all of 70 years ago. Amazing... but, in another 70 years... who knows? Ha, ha, we may even be playing teams from another planet and there may be 18 divisions with four teams in each one. We could be in Division 15 – which would not be that bad if Liverpool were in the16th Division. Everything is comparative...
I really do often laugh at the ridiculousness of supporting any football team, and there are many teams far worse than Everton. It is just that we really do not have as much time left to support our beloved Blues and I would prefer to go out on a high.
Unfortunately, a high today may be 10th in the Premier League. But, other than other Evertonians, who really cares? Even the closest of relatives, in my case, my wife and daughter, think that following football is just plain daft.
Maybe late in life but an Everton win always lifts me to absolute delight and makes me more pleasant. After we lost to Man City, I went shopping for a pair of shoes and managed to have ridiculous rows with two different naive girls while trying on the wrong size shoes.
I wasn't annoyed at those unfortunate lassies, but I was still annoyed that Everton had played badly. They would not understand if I had told them that it was all due to Benitez, Rondon and Everton.
John, you are so right. Football is so unimportant compared to almost any other problem in life... but sometimes the biggest problem in my life is – one more time... Everton!

Brian Wilkinson
398
Posted 23/11/2021 at 18:29:47
Well, after the past few weeks of dross, the two highs for me over the bad performances was meeting a few off here, and at least being able to drown my sorrows with fellow Evertonians back in town.
The second I have coming is Thursday, Friday and Saturday, and finally the 6-hour fest of The Beatles documentary Get Back finally hitting Disney+.
Thank god for The Beatles to at least give me something to look forward to, before the Brentford game.
Barry Rathbone
399
Posted 23/11/2021 at 18:58:03
Tony @393,
Remember the reaction the Blue Union got on Everton forums? – Visceral hatred for trying to stop the rot! 😅😅. Weird as fuck but confirmation that delusion is a pre-requisite among some fans – reasoned analysis?? – forget it.
Kieran @392,
You might be right.
Brian Murray
400
Posted 23/11/2021 at 20:09:28
Tony A.
Pitchforks at the ready (kopite style) – at least they got change.
Christy Ring
401
Posted 23/11/2021 at 20:42:47
Reading Michael Ball's column after Sunday's game, he was totally disgusted with Iwobi's attitude, when he lost the ball he put in no effort to win it back or track back, 'he must have been expecting a miracle'.
Simms played in midweek, would he not be a better fit than Rondon or Tosun? And sadly with Gray missing, against a workmanlike team like Brentford, Benitez couldn't possibly play Iwobi?
Don Alexander
402
Posted 23/11/2021 at 20:53:40
Christy, Michael Ball hit the nail on the head re Iwobi. He makes Ross Barkley seem like Bobby Collins.
And I take no pleasure in coming to the conclusion that our most expensive Brazilian is still costing us with petulance the like of which I hoped we'd never see again after Mirallas.
Roger Helm
403
Posted 23/11/2021 at 20:54:56
It just seems like no-one in the club is bothered. Other than Richarlison and a few others, the players are posting in their performances.
Management seems to think that filling Goodison Park every home game and staying in the Premier League equals job done. This is why the club is drifting downhill year by year.
Rob Halligan
404
Posted 23/11/2021 at 21:13:22
Injuries .
Player Injury Scheduled Return
Dominic Calvert-Lewin Quadriceps Unknown
Andre Gomes Calf November
Yerry Mina Hamstring November
Abdoulaye Doucoure Foot November
Tom Davies Knee Unknown
Demarai Gray Groin Unknown

Suspensions
Player Suspension Details Eligible For Return
Mason Holgate Three-match ban (red card v Tottenham Hotspur) Arsenal (h) - Mon 6 Dec
Richarlison One-match ban (five yellow cards) Liverpool (h) - Wed 1 Dec
Out of the above, you could say four are definite starters: Calvert-Lewin, Mina, Doucoure and Richarlison. Two have a very good chance of starting: Gomes and Gray; while Davies and Holgate are squad members at best.
It's a hell of a chunk of a first eleven to be missing, never mind from a first-team squad. I know Richarlison is only missing one game, but we need all the rest back ASAP!!
Gary Smith
405
Posted 23/11/2021 at 21:17:15
Interesting stat in the Manc Echo: need to go back to 2005 for a run this bad.
We can't do better? GTF.
Gary Smith
406
Posted 23/11/2021 at 21:25:25
Ian/Kieran - why would Tosun risk himself? Stays fit – he's guaranteed a contract in Turkey, with or without goals now. Plays and gets injured – he's unemployed in July.
Wouldn't surprise me if Delph's made his form conditional on the 60-minute hook too. He needs 2-3 good games and he'll get to bank another few million from some mugs before he heads for hills.
We need young, hungry players desperately….
Bill Gall
407
Posted 23/11/2021 at 21:32:17
Getting a reminder of players coming through a youth system, commentator said all 3 goals Chelsea have scored against Juventus are from players who came through their youth system.
Rob Halligan
408
Posted 23/11/2021 at 21:32:27
Gary, it's not down to Tosun whether he's "Risked or not", for any game, it's down to the manager who decides whether to play him or not.
If Tosun is selected to play, I think he would be jumping at the chance, but if he refused to play, then I think there would be a hefty fine winging his way.
Gary Smith
409
Posted 23/11/2021 at 21:55:03
Rob, don't be so naive. Good luck proving 60-80% effort wasn't 100% for a player that's been out that long.
Rob Halligan
410
Posted 23/11/2021 at 22:01:24
Gary, so what you meant was he would be out on the pitch but just stood around like one of Lewis's mannequins?
Tom Bowers
411
Posted 23/11/2021 at 22:01:52
It is a sad state of affairs at the club right now. Key players injured and not a chance they will be back soon.
Surely the top brass will be taking action regarding this and I don't mean sacking the manager just yet.
What we have is a half-decent squad – meaning only half of them are really decent enough for the Premier league. The rest should have been turfed out in the Summer.
Okay, I can see an excuse for some who were injured a while back like Delph and Tosun as you have to give them a chance to get back to full fitness before getting shut but the Calvert-Lewin, Richarlison, Doucouré injuries, along with Gomes and Davies have really shown up what we have in reserve.
What can we look forward too now? Very little, it may seem.
With Gray now injured and idiot Richarlison getting 5 yellows, we look to what's left with the likes of Moise Kean, Tosun and Rondon. Exciting isn't it.
I fear, like some have said, that in a few weeks we could be in the relegation zone.

Steavey Buckley
412
Posted 23/11/2021 at 22:14:53
Surely, Everton have hit new lows when deciding who is the better striker: Rondon or Tosun.
Gary Smith
413
Posted 23/11/2021 at 22:37:16
No Rob, he just won't be playing… and, in the very unlikely event that he does, he certainly won't be going in on any 50:50s.
Derek Thomas
414
Posted 23/11/2021 at 00:15:58
John @ 396;
"I anticipate that some will disagree with my outlook but, as I stated at the start of this post, in my younger days Everton FC ruled my life; they don't anymore, but I still feel the pull of the game."
Pretty much this.
Against Brentford, 4-4-2:
Pickford,
Coleman, Keane, Branthwaite, Godfrey,
Townsend, Delph, Allan, Digne,
Gordon, Rondon.
Gordon plays off Rondon, runs about like a blue-arsed fly until he drops. Is then replaced by Simms or Onyango.
Rondon doesn't do any box-to-box marking for corners shite, but rather 'works' the centre-halves – very roughly, keeps them honest, until he's knackered... (Yeah, I know... but what ya gonna do???) Then he is replaced by Simms or Onyango.
If 3 young, supposedly fit lads can't run around for 90 minutes between the 3 of them... even for nuisance value – well they can fuck off too.
KITAP1 – Work your bollocks off – or fuck off.
Time to start kicking the teacups and hairdryers, Rafa... Who am I kidding?

Danny O'Neill
415
Posted 24/11/2021 at 00:17:31
I don't fucking care who plays. I just want a reaction.
I've been swearing a lot on here this week. I apologise and will go to confession.
This must surely be Simms's moment. We don't have a lot left in the locker.
I never thought many would say it, but to have Sigurdsson available to play football right now.
Don Alexander
416
Posted 24/11/2021 at 00:44:50
Danny, Simms did reasonably well at Blackpool in the third tier.
He's young'ish (but 21 in a few weeks), still "coltish", through no fault of his own maybe, but "lumbering" to those of a less forgiving nature, and miles and miles away from being a Premier League contender, whatever the problem.
Is he related to Anichebe perchance?
Kieran Kinsella
417
Posted 24/11/2021 at 01:49:46
Off topic but John Fleck collapsed tonight playing for Sheff Utd mid game and rushed to hospital. This coming hot on the heels of Aguero collapsing and Ericksen.
On one hand, it's frightening. On the other, I'm thankful medics are better prepared nowadays as I recall Marc Vivien Foe and Fortunato of Juve both collapsing similarly and not making it some years back.
Brian Murray
418
Posted 24/11/2021 at 05:41:18
It's unbelievable that the media, and even our own smiling hand-shaking Yank, Dan Meis, think all is marvellous and well with Everton FC.
Okay maybe it's not their problem and they don't want to scratch the surface or even ask awkward questions – like why can't Benitez at least tweak his side to play Onyango and Dobbin etc instead of his 3-time signing Rondon? And now also we have the bad smell that is Iwobi hovering until at least Xmas because of injuries.
Obviously Dan is our architect so it's not his remit to even bother about these things. An example of a manager's stubbornness or lack of vision is Man Utd and Ole's obsession with the McFred midfield axis which cost him his job.
I'm just meandering and have nothing new or profound to add except I wish I was at the stage of John Mc Snr or John Boon in this website who don't take Everton seriously anymore and are able to somehow switch off.
Remember us trying a kid called Jeffers who kept us up and was a revelation with Super Kev? Time to be brave, Rafa, and stop acting as an agent for them other gobshites. Coyb.
Kevin Prytherch
419
Posted 24/11/2021 at 08:51:54
Ellis Simms is a strange one.
When he came, he struggled for the U18s, then the next season scored for fun.
Then he moved up to U23s and struggled initially, before becoming their top scorer the next season.
He went to Blackpool and struggled for the first couple of months, he was in and out of the team. Then he started scoring.
He seems to struggle with each step up, before working it out and becoming good. No doubt he'll struggle at first in the Premier League, but will he be given long enough to work it out? With our fans, probably not.
Robert Tressell
420
Posted 24/11/2021 at 09:03:57
Kevin, that's why I'm hoping he goes on loan in January even though we're light on forwards. He's not a natural like Jeffers was and takes time to acclimatise as you say.
It's different for Branthwaite because he does seem more of a natural – I hope he stays and gets games as we phase out Holgate and prepare for the likely departure of Mina in summer.
Kim Vivian
421
Posted 24/11/2021 at 09:37:07
What Derek says at 414 *** - but amend that to "eleven professional footballers..."
Brian Harrison
422
Posted 24/11/2021 at 09:43:17
Kieran @417,
I agree with your concern about fit professional athletes collapsing and being rushed to hospital. I suppose the saving grace for the professionals is that expert doctors are on hand and, as in Ericksen's case, the use of a defibrillator saved his life.
Which got me thinking about all of the amateur games played every week, and not forgetting children's matches, I wonder if any of these games have access to a defibrillator? Surely all local and county FAs should make sure one is available everywhere any matches are played.
I had a quick look on Google and the cost is between £500 for the cheapest to £2,500 for the dearest. As well as the local FAs, maybe local professional clubs could donate a defibrillator to all local schools.
Being a grandparent who has a 12-year-old grandson who plays for his school and his local junior team, I would like to see a defibrillator at every game his teams play. Could you imagine as a parent having to take a call saying your son or daughter had died playing football and could have been saved had there been a defibrillator to hand?
Kevin Prytherch
423
Posted 24/11/2021 at 09:46:40
Brian @422,
Man City donated 26 defibrillators to local grassroots clubs this summer. Not much, and I'm sure they could donate more, but if every Premier League club donated 50 per year, there'd be a lot going round.
Kim Vivian
424
Posted 24/11/2021 at 09:47:57
Kieran, Brian 417/422 etc - whisper it quietly or the Scientologists will be blaming vaccines.
I kid you not - I know one!
Dave Abrahams
425
Posted 24/11/2021 at 09:52:59
Danny (415),
Don't go to confession for a few swear words. God has never been busier dealing with this evil world, just say: One Our Father, Three Hail Marys and a Glory Be The Father and try and bite your tongue, especially in front of the dogs!!
Derek Knox
426
Posted 24/11/2021 at 10:25:23
Danny,
I have tried contacting you by both phone and email, but SMS messages won't go, on either of my SIMs (Dual SIM Phone) – all others are no problem. Can you please check your email and get back to me?
Derek Knox
427
Posted 24/11/2021 at 10:42:09
Good points on the defibrillators, lads, but isn't it sickening when someone's life (which you can never put a price on, btw) depends on very limited funding at grassroots, and the less well-off areas, when you see the flagrant waste of money on schemes (Government, National and Local alike) which, with a bit of common sense or forethought, wouldn't or shouldn't even get off the ground! 😥
Mind you, when it comes to wasting money, we don't need to look any further than our own beloved Everton, which as I have said many, many times we as fans can see what is going on, but are totally defenceless to do anything about it.
Gerry Killen
428
Posted 24/11/2021 at 10:59:45
I believe Duncan Ferguson has had his Senior Coaches Badge for a number of years now… what's he waiting for?
There are and have been plenty of clubs looking for an experienced Coach, one not a million miles away — Wrexham — with two balmy millionaires waiting to splash the cash.
It's a no-brainer, maybe take Unsie and a few more with him. I wonder how much money he has taken out of our club over the years? We need a fresh clear-out ASAP.
Danny O'Neill
429
Posted 24/11/2021 at 11:02:47
Just sent you an email and text, Derek.
Stephen Vincent
430
Posted 24/11/2021 at 12:55:47
Kevin #423,
I think that it was the charity City in the Community that made the donation – not the football club. Perhaps we should be lobbying EitC to do something similar as they are the largest Premier League club linked charity and surely should be taking the lead.
Tony Abrahams
431
Posted 24/11/2021 at 13:04:18
I got to the kids' football about 6 weeks ago on Everton Park, and was surprised to see an ambulance because it's only Under-11s and younger.
A girl I know said, it's not because of an injury, it's because the ref just collapsed and this woman had been giving him CPR, and kept him going until they got the defibrillator.
She said it was amazing the way the lady reacted, and she, along with the defibrillator, had definitely saved the man's life.
Matthew Williams
432
Posted 24/11/2021 at 14:51:45
I've thought about it for a few years now, the only hope for our beloved club in the long run ain't a new ground but the unthinkable to finally happen to us!
We deserve it... a truly woeful shambles of a club at the moment, and sadly it won't get any better in our next two games... sigh.
Brian Wilkinson
433
Posted 24/11/2021 at 15:04:06
Derek @426,
It made me chuckle that Danny posted swearing a lot lately and needed to get in touch with confession, then you type a message, "Danny, I have been trying to get back in touch with you via email and text without success."
All just purely coincidental, but from now on, I will have to watch my language in front of you, Father Knox. :-)
Brian Wilkinson
434
Posted 24/11/2021 at 15:16:09
From all accounts Dobbin has been the better player this season, Simms has had his injuries, so for me, I would give Dobbin a go, anything but Iwobi and Rondon on the pitch, at the same time.
In regards to Dobbin, once Calvert-Lewin is back, Dobbin's chances will be slimmer, if he does not get game time now; he can do a pre-contract signing for another club in January, if he does not sign a new contract for us before then.
If we are not careful, we will end up losing the player – and who can blame him, if he cannot get a game when our main striker is injured?
Bill Gall
435
Posted 24/11/2021 at 15:21:56
Complaining about our injury list there are 3 players due back in November... I may have missed something but there are only 6 days left in November and no indication of any returns except Benitez said Mina may be fit soon.
Is it now he thinks they are over their injuries, but at the moment they are not fit enough to play?
Makes me wonder in the case of Calvert-Lewin: they don't want him to get fit enough to play until January, as they have an offer they can't refuse.
I am with other people on youth – they may not be as experienced but they make up for that in fitness, and surely a player running at the opposition is better than someone strolling around.
Derek Knox
436
Posted 24/11/2021 at 15:51:40
Brian @ 433, I'll be holding Confession before the next match at Ye Olde Royal Oak. All sinners are welcome, especially you, and Jim Lloyd, Stephen Vincent and others who have been led astray recently. :-)
I have some Holy Soap Solution to cure Brother Danny's use of profanity and lack of vocabulary too. I swear it will it do the trick, Oops!
Danny O'Neill
438
Posted 24/11/2021 at 17:38:16
I am repented, Dave Abrahams. I got home today and the dogs were pleased to see me, although I can sense their concern!
A sprinkling of holy water, Derek. That will do the trick. Poured from the natural springs of the Royal Oak.
It's a dilemma with the young players. It was mentioned on another thread how Simms has always struggled when making the step to the next level. One step forwards, two steps back before eventually settling and progressing. This is natural for most young players. You get very few ready-made stars like Rooney in football. Even Chelsea have developed their young starts.
Their physicality needs building (as we saw with Gordon) and when we talk fitness, stepping up a level takes time to adjust. You will often see a young player fade. There are obviously exceptions, but most take time to step up.
John McFarlane Snr
439
Posted 24/11/2021 at 19:24:21
Hi Derek [323],
I presume that you will claim that the remarks you made regarding Tony Hibbert were meant to be humorous? I consider them to be disrespectful. Tony Hibbert, in my opinion, served Everton well during his time at the club; while he could never be considered as an international prospect, he gave everything for the cause.
Three or four weeks ago, I asked you how much had been raised for the Cancer Research Fund; you may well have replied but, because I haven't been online so much lately, I may have missed your response.
Derek Knox
440
Posted 24/11/2021 at 21:07:32
Hi John, Thanks for your question on the Cancer research UK Fund. We managed to raise £1,100, which was far better than I even anticipated. I am just waiting to hear back from Teddy Draper, who it was that got the whole thing started. I know he hasn't been too great recently, and is still undergoing chemotherapy.
Teddy has offered to auction off a 'Gold Disc' presented to him at Northgate Arena Chester in recognition of his son's group 'Mansun' selling over 100,000 copies of the 'Attack of The Grey Lantern' – no doubt you have heard of it and them, John! 🤔
As soon as this has been realised, I will send the total off to CR UK, hopefully in the next week or so. I will of course post an article confirming all of this and hopefully the reply from CR UK, with some photos too.
Brian Wilkinson
441
Posted 24/11/2021 at 21:13:21
Derek @433, please no soap bubbles for Danny, we had enough bubbles in the Crown on our last meet up with Danny. :-)
Stephen Vincent
442
Posted 24/11/2021 at 21:59:38
It's you leading me astray, Derek, I mean The Bramley Moore is just 5 mins walk from Sandhills – seriously. Perhaps I do need to repent for the names I was calling you after walking for 20 mins!!!!!
Tony Abrahams
443
Posted 24/11/2021 at 22:03:31
If you know the way, Stephen, it would probably just be quicker walking straight to the pub from Goodison, rather than having to walk to Kirkdale station just to get the train one stop!
Stephen Vincent
444
Posted 24/11/2021 at 22:08:58
I'll just get a taxi Tony!!
Tony Abrahams
445
Posted 24/11/2021 at 22:11:46
They're like rocking-horse shite at the minute though. I've even heard a story that loads of HGV drivers are looking to get on the cabs because they are that busy!
Brian Wilkinson
446
Posted 24/11/2021 at 22:13:47
5 mins walking time for Bill maybe, I am with you on it being more than a 5 min walk from Sandhills Steve.
Brian Murray
447
Posted 24/11/2021 at 22:20:14
Alright Tony. You may remember I'm an HGV trucker, long distance (UK). I hope I'm away for the midweek derby. I hate the occasion at the best of times but it really could get nasty for us.
For starters, the stewards and or bizzies need to drag the Rafa-inspired bed sheets they no doubt will have off them gobshites in the upper bullens. We as usual are not savvy enough to demand that.
Tony Abrahams
448
Posted 24/11/2021 at 22:34:21
I'm the opposite, Brian, because playing Liverpool has never scared me, although it's probably fuckin scarred me down the years.
Football is always eleven v eleven, and if you've got nearly 40,000 people behind you, willing you to do better, then that should always be the basis on how to approach these games.
We've all dreamt of playing in one of these games, but in my dreams, the game was always at Anfield, because I don't think there could be anything better than shutting thousands of those bastards up. That should be uppermost in every Everton players thoughts next week, although I do admit I've been praying for loads of snow!
Brian Murray
449
Posted 24/11/2021 at 22:44:16
Tony.
Our fans, especially away, are second to none in numbers and support. Even in the bad old '70s, I went to many when we were just as bad as now. Yes, still mentally scarred.
I'd settle for another Pickford type rush of blood and do a cruciate or two in. As you say you never know although them shower rarely have an off day against us.
We need to get Dobbin signed up and thrown in instead of Rafa's favourite donkey.
Tony Abrahams
450
Posted 24/11/2021 at 22:50:03
You made me laugh, Brian, because I know you was serious about those couple of cruciates.
But don't let any of those fuckers call you bitter though, because you are too wise of a cat to be scratched by kittens – or people who love re-writing history!
Brian Murray
451
Posted 24/11/2021 at 23:01:14
Tony.
I remember sagging off school with mates and somehow getting into a deserted Anfield. On the pitch with a tennis ball, scoring at the Kop end, pretending to be Latchford I think.
Emylm Hughes was doing some interview and screaming at us to do one when he heard us singing Everton and laughing at him because Man Utd had beaten them the night before (at Goodison) in an FA Cup semi-final replay. Small victories as a kid, I know, ha ha.
Paul Birmingham
452
Posted 24/11/2021 at 23:06:23
Spot on Brian, get Ellis to soften their baby Cham central defence, and Dobbin, to clean up.
Let them think they'll take us the cleaners and Everton do them..
But to do that on the park, you need to retain the ball and use it well.
But hope eternal, all matters Everton.
A game plan, leadership plan and desire plan..
The Everton version of Death or Glory!
In context of the RS, the stench gets worse, each passing day.
But that's also due to the longest running farce, in English football, in miss managing a football club on the pretence to be successful. Another story.
Time for shut eye, and rant over.
Tony Abrahams
453
Posted 25/11/2021 at 08:15:42
Come on, Paul, everyone thought Kenwright was doing a great job, keeping 'plucky little Everton' punching well above their weight, so this can only be on his investor, the man who just kept giving.
Ian Horan
454
Posted 25/11/2021 at 08:57:58
Kenwright's Era will be remembered as the managed decline of a once-great footballing institution. Moshiri – apart from the shinny new stadium – will go down as the man who knew the cost of everything but the value of nothing... communication and engagement have long left the building.
The question needs to be asked: What are Everton? Shinning beacon of charitable wonderment or a professional respected successful football club?
For what it's worth, my opinion is the former – and it's not what the club should be.
Tony Abrahams
455
Posted 25/11/2021 at 09:06:14
I think Moshiri's biggest failure is that he hasn't really known the cost of anything, Ian, which is absolutely criminal.
It must also be very embarrassing for a top accountant to see the way his football club is struggling so badly with FFP, because he didn't want Everton to take up too much of his time.
Paul Birmingham
456
Posted 25/11/2021 at 12:48:14
Agreed Ian and Tony.
History doesn't lie, and managed and accelerated decline it has been, and continues.
Brian Wilkinson
457
Posted 25/11/2021 at 14:45:37
Anyone remember the Goalkeeper, Drew Brand, signed in 1975, played 2 games, loaned out from 76-79 to Crewe, then released from club?He retired from football and joined the Police force.
I cannot lay claim to this beauty, but one fan commented, "I hope he had better luck catching criminals than he did catching a ball."
Alan McGuffog
458
Posted 25/11/2021 at 14:58:31
Brian, I'm amazed he played again after a rather forgettable afternoon at Elland Road.
Barry Hesketh
459
Posted 25/11/2021 at 15:11:16
Alan @458,
I too am amazed that he played another first-team game following that terrible performance at Elland Road. I was convinced that his debut at Elland Road was his one and only appearance for the Blues.
Having checked the records, his other appearance came in May 1977 against Newcastle United at Goodison; Everton won 2-0 thanks to goals from Dobson and McKenzie which were both scored in the opening 8 minutes.

Nicholas Ryan
460
Posted 25/11/2021 at 15:14:35
I was there at Elland Road... he really was awful!
Alan McGuffog
461
Posted 25/11/2021 at 15:53:43
In between Gordon West and Neville Southall, we didn't have a lot of luck with our choice of keepers, did we? In the '70s, we would have been better off with Mick Lyons playing "goalie in and out"!
Don Alexander
462
Posted 25/11/2021 at 16:07:08
"Wee" Georgie Wood looked the part for a while, Alan.
Rob Halligan
463
Posted 25/11/2021 at 16:18:25
Bit of good news on the injury front. Benitez saying that Doucoure has returned to full training and could feature on Sunday, while Demarai Gray has done light training this week and will be assessed before Sunday's game.
Yerry Mina is progressing well but not quite ready for Sunday. Jeez, the sooner we get them all back, the better.
Steve Brown
464
Posted 25/11/2021 at 16:28:30
Ian, they should be both.
However, whereas EitC has been run professionally, the club has been run by poor leaders, commercial illiterates and without a sustained footballing philosophy.
However, winning a trophy would make a huge difference to the footballing side. That's why the defeat to QPR was so infuriating, as it was avoidable if the best team had been picked.
Danny O'Neill
465
Posted 25/11/2021 at 16:34:02
I know, Rob. With Mina in alongside Godfrey (or Keane), Doucouré alongside Allan and Calvert-Lewin in front of Gray, Richarlison & Gray, suddenly we're a different team.
Not like we needed evidence, but this has totally demonstrated our powder puff squad. I've seen more depth in a desert Wadi.
Brent Stephens
466
Posted 25/11/2021 at 16:40:56
Whooaaa, Danny! Two Grays?!
Brian Wilkinson
467
Posted 25/11/2021 at 16:41:14
Give Doucouré the last 15 mins at Brentford, ease him back in, then roll him out for the derby.
Barry @459, he played twice as many games for Everton than Glenn Keeley – scary thought on both fronts.
Danny O'Neill
468
Posted 25/11/2021 at 16:57:05
I'd like 2 Grays Brent!! Substitute one for Townsend though!!
Alan McGuffog
469
Posted 25/11/2021 at 17:24:25
Brian... have you come off your meds? First, you mention Drew Brand and now flashbacks to Glenn Keeley.
Take care buddy!
John McFarlane Snr
470
Posted 25/11/2021 at 19:21:48
Hi Derek [440],
The sum of £1,100 raised for the Cancer Research Fund is superb, unfortunately I have had to make three donations to that organisation during the past 8 months.
I'm afraid that I have neither heard of Mansun, nor their record "Attack of the Grey Lantern," although I was reared on tales of the "Moonlight Dribblers" who operated in the 19th century, I think this may be where I add, "If you know your history".
Brian Wilkinson
471
Posted 26/11/2021 at 00:30:37
How about Bernie Wright, Alan?
Alan McGuffog
472
Posted 26/11/2021 at 15:24:47
Brian...
D'you recall Peter Scott? Early 70s-ish. Can't recall if he was any good but, as he didn't figure for long, I guess he wasn't.
Danny O'Neill
473
Posted 26/11/2021 at 15:52:35
Close to my heart as well John Senior. Too many family and friends have been visited and unfortunately, some taken by that awful disease.
Huge thanks to Derek for his efforts. Back when he started it with the Golf Day, I don't think he would have envisaged the response he would get.
Great contribution from the many on here to a totally worthwhile cause that effects all of us in some shape or form, be that directly or indirectly, throughout our lives.
Dave Abrahams
474
Posted 26/11/2021 at 15:59:57
Alan (469) (472) Peter Scott was a right back and an Irish international, I think he was a decent full back but never made the top grade at Everton although he played quite a few games for the club if I'm not mistaken.
Glenn Keeley was a very good centre half who only lasted thirty odd minutes playing for the Blues all down to his former manager at Blackburn, Howard Kendall.
Kendall got him on loan from Blackburn because he knew how good he was. Before that Derby game Glenn told Kendall he wasn't match fit because he hadn't played any matches that season, the game was early season, Keeley's wife told him he was making a big mistake if he played, Howard told him he'd be okay, Howard was completely wrong and Glenn was sent off for pulling Dagliesh back because he wasn't fit enough to catch him and a new rule had been brought in that season that made it ascending off offence for that type of foul.
Everton were trounced 5-0 mostly due to the sending off, Keeley never played again for Everton, Southall was dropped then sent out on loan after this game, and possibly another player never played in Everton's first team again.
Howard survived, I'm glad to say and gave us our pride back for three or four years then went to manage in Spain, unfortunately he came back another couple of times to manage the Blues without further success.
Glenn Keeley had a very successful career with Blackburn before and after Howard's cock up!!
Jeff Armstrong
475
Posted 26/11/2021 at 16:00:19
Alan,472, Peter Scott was a full back, who I think left us for York City.
Danny O'Neill
476
Posted 26/11/2021 at 16:08:40
That's really good balanced context, Dave Abrahams.
We all have views and opinions on players, but it's sometimes important to take into account the circumstances as well as the team they play in.
Glenn Keeley will forever be remembered by generations of Evertonians for that one match. It was still whilst Howard was testing and adjusting but, as you say, he made the judgement. He signed and selected the player.
It brings into question players over the years. And I will focus on centre-backs, who many Evertonians berated, but ones you could see would excel in the right surroundings. John Stones, Slaven Bilic (yes injury factor here), Marco Materrazzi, Martin Keown.
All could and most did, go onto better things away from Everton. Sometimes you have to look at the players they are surrounded by, not the individual, to realise how good they are or could be.
Alan McGuffog
477
Posted 26/11/2021 at 16:17:48
Dave,
A very good and balanced appraisal of Glenn's career at Goodison. I too have read up on the issue with his fitness for that game. Poor bloke hung out to dry.
Did he ever get a testimonial, I wonder... 30 minutes selfless service to the cause? 😅
Dave Abrahams
478
Posted 26/11/2021 at 19:02:53
Alan (477),
No, he didn't get a testimonial but definitely deserved one for all the stick he's taken off Everton fans over the years!!!
Danny O'Neill
479
Posted 26/11/2021 at 19:10:07
Since Howard's Way, Glenn Keeley to me is only heard through the high pitched, screeched voice of Derek Hatton!!
---
Add Your Comments
In order to post a comment, you need to be logged in as a registered user of the site.
Or Sign up as a ToffeeWeb Member — it's free, takes just a few minutes and will allow you to post your comments on articles and Talking Points submissions across the site.
---
© ToffeeWeb