Report
A shocking defeat after it took Everton an hour to start playing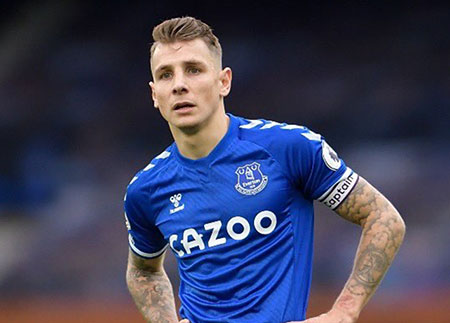 Lucas Digne was not part of the group that travelled down to London this weekend and is not part of the matchday squad
Horrible tactics from Benitez saw Everton trying to defend from the off against a lively Palace side, conceding before halftime, and only playing forward after making subs on the hour mark; but they ended up gifting goals and throwing the game away..
Gordon lost his starting place while Holgate, Delph and Gomes started. Rondon and Iwobi were thankfully only on the bench. Allan and Digne were not involved. Davies, Mina and Calvert-Lewin were also out injured.
Everton kicked off in their Spurs kit and got the ball forward down the right but only for a goal-kick. Conor Gallagher looked to lay down an early marker with this run but Gray replied with a better run on that side, winning an early corner as Gomes took a smack in the face.
Palace had a bit more of the play, Delph helping with a foul on Zaha. And Jordan Ayew got through but Pickford was the last man and saved well with his legs. Something of a warning for the travellers. Palace advanced again but launched it behind as Everton tried to keep their shape.
Richarlison gave up a free-kick and Gallagher ran across the top of the box to fire just over. Edouard then got a chance to shoot after a good cross from the Palace right but Pickford was in his way. Palace attacked again and Godfrey needed to clear the ball out. Richarlison rather unfairly was penalized again, this time closer to the Everton goal, with Gallagher spooning it straight to Pickford.
Gray inspired some decent play down the left then cut in for the first Everton shot at goal, easy for Guaita to collect. Palace were having more than the lion's share of possession but Gomes did get a forward run but his ball out to Townsend was difficult. Delph tried the same and was easily robbed.
If the early game plan was to let Palace blow themselves out, then it was at least partially successful, Benitez's charges having soaked up the early pressure from the home side without really responding. Delph and Zaha got a talking to after a silly bout of shoving.
Zaha forced a corner off Coleman and it was a dog's dinner in the Everton box, eventually deflected wide. The next Palace corner was cleared but Everton did not advance the ball effectively. Still, Palace were not making any progress either against a disciplined Everton rearguard.
Gray fairly skipped down the wing, cut inside, but shot again straight at Guaita. Then a great run by Godfrey and super cross but Gomes could only turn it into Guaita's hands again. At least the game was now being played in the Palace half, but still no really meaningful attempts on goal.
Article continues below video content
Godfrey and Gray combined well again down the left but Ward tackled Godfrey well. Godfrey then returned the play with an excellent tackle on Ayew but they won another corner, taken by Hughes, defended well by Everton.
But all of a sudden, when Everton should have cleared their lines, a ridiculous ball from last week's hero Gray to Ayew saw him pass it to Gallagher who finished easily past Pickford. Oh dear, what an absolutely dreadful gifted goal.
It got a little more spicey after that, Holgate clashing with Ayew and then Doucouré being fouled. But nothing came of the disorganized attack. But Everton won another free-kick without really pressing home any goal threat from it.
An annoying scoreline, no doubt, for Rafa Benitez, who may now have to rethink things and crank up the Everton attack for the second half. But this is the epitome of conservative pragmatic game-management from the wiley old dog...
Ironically, the last time Palace beat Everton was... 27 years ago!!! Oh lordy. The game resumed and a wicked cross whipped in by Ayew suggested nothing had been learnt from the first half.
Everton's attempt to play out from the back was simply pathetic, and Palace threatened again, Gallagher heading just wide. Everton seemed to have no match for the home side's determination to get on the ball and use it effectively.
A simple ball into the Everton area caused total havoc as Keane walked underneath it. The name of the game seemed to be "Let's see how we can set Palace up for their next goal?"
But DOucoure had a decent run that looked to be more promising than it turned out as Everton finally started to play the ball to each other, but they weren't winning the 50-50s and seemed all too happy to invite Palace to attack. Another corner after Gallagher's shot from a narrow angle skimmed off the head of Holgate.
The Benitez masterstroke to win the game was a double change, Rondon and Gordon for Delph and Richarlison... utterly astounding for the traveling fans, and those at home now hiding behind the sofa.
Holgate was immediately humbled by Zaha but recovered to push him to the byeline. Hughes then took out Gray. His free-kick was shockingly poor, totally overhit. Palace went up the other end and won yet another corner and it was an utter clusterfuck at the far post Tompkins poking it past Pickford. Utterly pathetic for the entire Everton team.
Everton tried to attack but it was also pathetic, Gomes saw his lazy shot blocked and the ball sent back to Pickford. Gordon at least tried to play forward but the quality was poor; however, he did win a corner that was easily defended.
Gray was fouled outside the Palace box, setting up a free-kick, but what would Everton do with it? Gray curled it over the angle. There was s messy scramble forward and guess what! Rondon Scored!!! A fantastic goal from 1 yard!!!
Doucouré was called for a foul and went mad when Madely booked him after a series of infractions trying to stop Ayew.
A wonderful flowing move started by Doucoure at the back but Townsend's shot was blocked narrowly wide. Zaha then got aggressive with Townsend, but the free-kick was defended, Gray was next in the book after Ayew leapt up in the air, feeling a boot on his ankle.
Everton had responded well but Palace won a couple of corners as they pushed the visitors back, the game much more of a contest than it had been. But time was running out, although Everton had at least reclaimed the momentum. But each clash saw a Palace player writhing and was met with screams from the Selhurst Park mob. Could Everton maintain the pressure?
Ward on Gray, Godfrey on Gallagher... it was getting even more spicey. Everton kept pressing, but then Ayew and Benteke broke and looked like scoring a third but it was blocked. Gordon getting free but his shot was so, so poor, so easily saved.
Gordon seemed to have taken total responsibility for winning the game but his crosses weren't smart enough. Benteke went in very heavily on Coleman, then pulled back Gray, but no punishment. Everton tried to create something on the left this time but it was laboured and eventually broke down as 90 minutes clicked up, and Everton's chance had surely gone.
Into 5 minutes of added time but the pendulum, was swinging inexorably Palace's way. You can't expect to win a Premier League game when you only play for 30 of the 90 minutes. Terrible tactics and game management from Benitez, whose negativity is abject and thoroughly counterproductive.
And that was underlined in fine style by Connor Gallagher after another dreadful clearance by Coleman, a superb strike in off the bar, and Everton's game plan torn to utter shreds.
Scorers: Gallagher (42'); Tompkins; Rondon (70')
Crystal Palace: Guaita, Ward, Mitchell (90+1' Clyne), Tomkins, Guehi, Kouyate, Ayew, Zaha, Hughes (74' Benteke), Edouard (74' Schlupp), Gallagher.
Subs: Butland, Olise, Eze, Mateta, Kelly, Riedewald.
Everton: Pickford, Coleman, Keane, Holgate, Godfrey, Delph (58' Gordon), Doucouré [Y:73'], Gomes, Townsend, Gray, Richarlison (59' Rondon).
Subs: Begovic, Kenny, Iwobi, Gbamin, Branthwaite, Simms, Onyango.
Referee: Andy Madley
VAR: Stuart Attwell
Share article:
---
Reader Comments (555)
Note: the following content is not moderated or vetted by the site owners at the time of submission. Comments are the responsibility of the poster. Disclaimer
Tony Hill
1
Posted 12/12/2021 at 15:38:22
I assume Allan is injured.
Jeff Armstrong
2
Posted 12/12/2021 at 15:40:20
Or part of the Digne 4...
Danny O'Neill
3
Posted 12/12/2021 at 15:43:16
Thought that Tony.
It's that a 4-3-3 but with Doucoure having more a licence to roam and press higher?
Chris Cook
4
Posted 12/12/2021 at 16:03:12
Allan was 50/50 so I guess he didn't make it.
Digne off in January, I guess.
Dave Abrahams
5
Posted 12/12/2021 at 16:04:30
Tony (1), maybe he has got Thursday's match in mind and giving him a much needed rest, think he has played pretty regular this season.
Steve Griffiths
6
Posted 12/12/2021 at 16:06:39
On recent YouTube pictures released by club, Allan was clearly limping when leaving the ground. Benitez said in his pre-match presser that he only trained for half a session on Friday. Therefore, no surprise he's out to me.
Alan J Thompson
7
Posted 12/12/2021 at 16:18:34
He hasn't had words with Allan and Gordon as well, has he?
Paul Birmingham
8
Posted 12/12/2021 at 16:25:45
Good Dave, a good call out.
As squad depth and fitness of the squad is key as much at this time of the season, due to the fixture density of so many games with a day to two recovery time, and Everton's squad depth and general fitness malice of the squad, means it is thread bare.
But with the belief shown last Monday night, any thing can happen in a football match.
Now to stand firm, as a team, and as Evertonians, and beat Palace.
Colin Malone
9
Posted 12/12/2021 at 16:51:28
No balance in midfield.
Need to take Delph off for, I hate to say it, Rondon.
Simon Dalzell
10
Posted 12/12/2021 at 17:19:33
Very poor, Showing little intent going forward and as usual diabolical defending. Benitez...
Ciarán McGlone
11
Posted 12/12/2021 at 17:25:07
I've no idea what our tactics are but it's mind-numbingly boring.
Alan J Thompson
12
Posted 12/12/2021 at 17:27:15
Any chance we could stop this week-in & week-out crap of only defending for the first 20-odd minutes? Gray, last week's hero, this week's cock-up but nobody picking up players in the box or attacking the ball.
It's nearly as bad as the haircuts that most have had, the exceptions being Pickford who hasn't let them at anything above the ears and Delph.
Perhaps the game plan is to let them run themselves out but we still have to get more men into the box when attacking. Disappointing.
Bill Gall
13
Posted 12/12/2021 at 17:32:22
Very disorganized the defense winning the ball but their distribution going straight to a Palace player. Richarlison not in the game and neither is Townsend. Hate to say it but we may be better with Rondon on in place of Townsend and Richarlison and Grey on the wings. Godfrey is the outstanding Everton player.
Kevin Prytherch
14
Posted 12/12/2021 at 17:32:23
It's like we never learn. We let them have ball and, until the goal, don't press them until they're 15 yards inside our half. We defend the edge of our box and simply invite pressure. Although we have contained them, apart from the mistake, if we invite pressure then something is likely to give.
If the midfield and defence simply move forward 10 yards, it becomes a completely different game.
Tony Abrahams
15
Posted 12/12/2021 at 17:34:29
Looks like they are all thinking about Thursday, Dave?
Alex Gray
16
Posted 12/12/2021 at 17:36:12
Are we to assume that this group refuse to perform unless Goodison is roaring?
I've been impressed with Palace massively but, bar one or two, we are full of workhorses who don't seem to want to work.
Dave Abrahams
17
Posted 12/12/2021 at 17:37:36
If one Everton player doesn't fuck up, the next one to touch it makes sure the job is complete. Getting in each other's way or waiting for the other fella to do the job, just a complete shambles... then the goal.
Gray has to take the blame but Coleman, what sort of clearance was that? Just a panic-stricken slash at the ball.
Three men in central midfield doing fuck all between them, and one of them will go off because they can't last the game.
We looked lost from the beginning then started to look like we could do something before comedy capers took care of that.
God help the fans actually down there!!
Fran Mitchell
18
Posted 12/12/2021 at 17:38:52
Get Onyango on for Delph and get some energy into the middle of the park. Take off Townsend too, and get Gordon on.
Need more urgency and movement. And some desire, which is severely lacking.
Far too passive, conservative, slow, and sloppy.
Just not very good.
Alex Gray
19
Posted 12/12/2021 at 17:48:30
Richarlison off for Rondon?
What on earth is Rafa thinking?!
Bob Skelton
20
Posted 12/12/2021 at 17:50:09
Fuck off, Benitez. Rondon for Richarlison??
John Davies
21
Posted 12/12/2021 at 17:51:15
Brilliant substitutions by the Arrogant One. Stunning. Really well thought out.
Get him out of our club.
Alex Gray
22
Posted 12/12/2021 at 17:53:35
I hate us changing managers but, Christ, that was unforgivable. Moronic!
Ernie Baywood
23
Posted 12/12/2021 at 17:54:44
We lack ability (I won't say quality – that's a step up) to such a ridiculous degree.
Palace are just a better team, and better man for man than us.
It's pathetic.
Simon Dalzell
24
Posted 12/12/2021 at 17:59:41
Yes we've scored but Benitez must go today. Forget the string of managers we've had, he has to be judged in his own right.
Tom Bowers
25
Posted 12/12/2021 at 18:11:46
This is as poor an Everton squad as we have had in a long time and we have seen some rubbish over the years.
After the emotional high against Arsenal, we are back to the usual mediocrity in the very next game against opposition we should be able to beat.
We should have known. Blimey... Chelsea next!!! What a lousy Xmas that we have to come.
Tony Hill
26
Posted 12/12/2021 at 18:22:50
A truly awful performance. I can't defend either the manager or the team after that.

I see no way forward alas. We're abject in every way. I fear we're finished as a serious operation because we have no soul.
Simon Dalzell
27
Posted 12/12/2021 at 18:23:02
What the fuck, Coleman! He needs to retire now. Urgency needed, but that was diabolical. We are the worst ever.
We make average teams look good. No pressure whatsoever. Palace just strolled out from the back with virtually no resistance.
Everton – the perfect gift when you're on a bad run. Spineless and mainly talentless.
,
BENITEZ OUT!!!!!!!!!!!
Dave Abrahams
28
Posted 12/12/2021 at 18:24:24
Just do one, Seamus... fuckin' ridiculous.
Alex Gray
29
Posted 12/12/2021 at 18:26:51
Coleman completely unprofessional there! Who does that!!!!
Neil Lawson
30
Posted 12/12/2021 at 18:28:02
3 days ago, I posted that this was pivotal. Benitez makes the selections, determines the tactics and fires up the players.
Need I say more?
FSW out now. Knob.
Fran Mitchell
31
Posted 12/12/2021 at 18:28:50
Woeful. Just woeful.
Coleman, Holgate, Gomes, Delph, Townsend, and co are just poor players.
And Benitez is the most conservative manager I've seen.
It's garbage football from a decade ago. Out dated and ineffective and too dependant on mistakes and small moments.
No pressing. No movement. No inspiration. Poor passing. Poor organisation. Far too easy to play against.
Benitez is not the man for this club. Not the present, not the future.
God awful.
Michael Kenrick
32
Posted 12/12/2021 at 18:29:48
That was absolutely abysmal from Benitez.
Utterly pathetic game plan for the first half, typical of the dinosaur mentality to try and keep the point you started with and get to half-time. How well did that not work?
Taking off Richarlison and putting on Rondon may well have changed the game and won a goal... but it ultimately lost the game as Rondon did not do anything else and Gordon, sorry to say, just isn't up to it.
Absolutely maddening!
Danny Baily
33
Posted 12/12/2021 at 18:30:03
Massive overreaction on here. We've no right to win away at the moment. I'd have taken a draw before kick off.
Richarlison's reaction was worrying though. I would have thought there'd be a better atmosphere in the dressing room after Monday night.
Ciarán McGlone
34
Posted 12/12/2021 at 18:31:27
Benitez belongs in the dark ages.
Phillip Warrington
35
Posted 12/12/2021 at 18:32:05
We gave them two goals, for fuck's sake. Back to the same shit – we will be lucky to avoid relegation. At any other club, Rafa would be gone – not so much for the defeats but for the
shit
football we play.
Everybody blames Brands for it, but he does not pick the team and set the style of play – that's on Raffa. On current form, we're going down; we play the worst football in the Premier League.
Bill Fairfield
36
Posted 12/12/2021 at 18:32:13
Is there a worse team to watch in the Premier League? Another joke performance. God help them v Chelsea.

Andrew Keatley
37
Posted 12/12/2021 at 18:32:21
I think Seamus was petulant – he's trying to get the Palace player booked for standing in the way of his attempt to take a quick free-kick, like Raul Jimenez against Man City.
I suspect that the third Palace goal should probably have been disallowed by VAR on the basis that I think the Palace player standing in front of the ball did partially block Coleman's free kick, and therefore it is an infringement. But nobody looked at it, or referenced it, so maybe it just didn't touch the Palace player at all.
But if it did touch the Palace player, then why Coleman or any other Everton player didn't go straight to the ref and demand VAR look at it, well that would be an even bigger kick in the teeth.
The challenge by Benteke on Coleman in the last 5 minutes probably would have been a red card if VAR had looked at it. Wasn't even a booking. Refereeing this weekend has been shocking across all of the games.
Simon Dalzell
38
Posted 12/12/2021 at 18:34:23
I disagree Danny. Of course we've no right to win, but that was inexcuseable. Richarlison's reaction was understandable. Did you see the game ?
Robert Tressell
39
Posted 12/12/2021 at 18:35:17
We've been deteriorating since Moyes left. Lukaku made us look much better than we really were for a few years. We have a bad group of players, no money and a bad atmosphere behind the scenes with different agendas pulling in different directions.
This goes way beyond who the manager happens to be from time to time.
This is about the whole top to bottom of a very badly run club.
Mark Andrews
40
Posted 12/12/2021 at 18:35:23
I have no idea what Benitez is trying to achieve, judging by that performance, neither do the players.
Hoping there's another team worse than us, or we'll be joining Norwich and the Loony Toon.
He's lost the crowd.
Tony Hill
41
Posted 12/12/2021 at 18:35:32
Stop deluding yourselves, a new manager will make no difference. We are finished because, in summary, we can't be arsed and haven't been arsed for ages.
We are rank failures run by fuckwits. Rich, self-serving fuckwits, certainly, but fuckwits even so.
There is no point in picking over the bones and trying to plot a course. That performance tells you all you ever need to know – as if you didn't know already.
Craig Walker
42
Posted 12/12/2021 at 18:35:58
Typical away performance. Start attacking when 2 goals down. Could have built on some momentum from Monday but looked like we'd been out drinking.
Problems all over the pitch. Stupid fouls. No ability to retain possession. No threat. No fight. No speed. No ability. No brains. No creativity. No pride. No hope. No point.
Barry Hesketh
43
Posted 12/12/2021 at 18:36:06
Townsend and Gomes should have been replaced not Richarlison and Delph, if Richarlison was indeed injured then I apologise, although the Brazilian's reaction wasn't that of an injured player.
If Benitez did have the dressing room in the palms of his hands, he may have lost it today and that's not a good thing in our current situation. Forget Stamford Bridge – Turf Moor and Newcastle at home are the important games.
Seamus, for such an experienced player, lost his head (again) and cost his team any chance of what was probably an undeserved point.
I am getting a bit tired of seeing opponents being able to constantly go in very strong and mostly fouling our players but suffer very few yellows in return, whilst our lads often make a clumsy challenge but a yellow is so often shown.
The game in the first half was nearly as bad as at Wolves and Everton could have had no complaints if the score had been more than one-nil to Palace.

Ed Fitzgerald
44
Posted 12/12/2021 at 18:36:48
He is an arrogant, stubborn and intransigent manager whose tactics are dreadful. No doubt we will probably sack Jimmy Martin tonight as the FSW stamps his authority on the club.
He should have never have been appointed and needs to go NOW!
Tony Abrahams
45
Posted 12/12/2021 at 18:37:06
Rondon helped set Townsend up for a decent chance, Michael, and done more in 25 minutes than Richarlison had done all game. He might have been offside when Gordon shot (but that lack of quality is why we are where we are, IMO).
It looks like half these players only play when they want to and the others are simply not good enough, whilst also giving the feeling of a split camp.
Dale Self
46
Posted 12/12/2021 at 18:39:03
Could have easily been 2-2 somehow. We don't have the personnel for 4-3-3 from the start.
Not that it would have made any difference with 3 errors creating their goals.
It won't look good when Potter refuses. Who else then?
Simon Dalzell
47
Posted 12/12/2021 at 18:39:14
'A new manager would make no difference' – you are joking. We're not the deluded ones.
Craig Walker
48
Posted 12/12/2021 at 18:39:42
Agree Tony. Rondon did okay. Poor performances all over the pitch.
Pat Kelly
49
Posted 12/12/2021 at 18:41:08
Okay, it hasn't worked out. Rafa turned out to be a bad mistake. We've gotten worse under him. His football is criminal. He's losing the players.
Let's move on. Put Ferguson in on an interim basis.
Danny Baily
50
Posted 12/12/2021 at 18:41:33
Simon, I fully understand the reaction. But we've all been here before in the 90s. We aren't getting much on the road. Anything we do get is a bonus.
To think, this time last year Carlo had us on the way to 2nd over Christmas.
Alan J Thompson
51
Posted 12/12/2021 at 18:42:12
What piss poor management, why take off your best available striker for one of Lewis's when we need more and the only reason he scored was because he was the only one who didn't move and was then nearest to poke it home. Gordon played well and at least the lesson of last week was learnt and he was played on the right.
The defending for their second goal was awful as Godfrey failed to pick up the man at the back which wouldn't have mattered had he not missed his header. And Benteke looked like he would be more at home at the Stadium on a Friday night, Jack Pye would envy some of his holds which again just showed how poor refereeing is in England.
And the third, what was Coleman trying to achieve and why didn't the Ref recall it as an opposition player wasn't 10 yards/9 metres, whatever.
I'm sorry but this manager must share a lot of the blame as we again go down to a team that just tried more while we let them.
Kunal Desai
52
Posted 12/12/2021 at 18:42:15
I couldn't care less about BMD, I want that fraud Moshiri out, people need to start demonstations against him now.
Only club who would appoint Benitez and Allardyce. Disgusting. Get this fraud out.
Tony Hill
53
Posted 12/12/2021 at 18:44:03
Simon @47, what manager has made a difference for the last three decades? Wake up. Blaming the manager is a fool's game, and an easy option.
I expressly said Benitez could not be defended after that but the idea that a change of manager will take a terminal case like us to success is idiotic.
Carry on believing it though, by all means. Yeah, the next one is the one. Jesus wept.
Fran Mitchell
54
Posted 12/12/2021 at 18:45:14
Ferguson till end of season.
Tony Everan
55
Posted 12/12/2021 at 18:45:46
We were a bit shit, they were a bit shit too. We made awful schoolboy errors again and they didn't.
Why do we always start so slowly? Is there a team in English football that is so passive at the start of games letting the opponents dictate and impose themselves?
Why are we so weak mentally that we allow ourselves to be subordinated on a weekly basis until we are chasing the game? Absolutely shameful.
Get if fucking sorted out.
Derek Taylor
56
Posted 12/12/2021 at 18:46:51
Not many contributions by the 'Can't keep changing managers - Benitez must be given at least this season' mob. Okay, but look forward to relegation, won't you !
Eddie Dunn
57
Posted 12/12/2021 at 18:49:51
Richie had been awol and Rondon did okay.
We needed a focus. We were far better with Gordon and Rondon.
For me Townsend has been pretty poor since utd away. He loses possession regularly, his corners are dreadful- his fragile confidence is gone...why did Palace let him go? Answer - he is poor.
Shame Gordon didn't pass to Gray for a tap-in or score himself...what a difference it would have made.
This situation was down to Rafa. He sets us up to lose and it takes an hour for us to wake up. Mind you this group have been like this for a couple of years.
As for Coleman, a frustrated old man surrounded by dross...it happens to everyone who used to be good.
Keith Meakin
58
Posted 12/12/2021 at 18:51:44
Yes, we did play poorly but, for me, individual errors cost us today.
If Gordon had scored, that's two all and the pressure's on them (fine line). I thought Gordon gave a good account of himself. Keep Benitez and let him clear out the dross, ie, Holgate, Delph, Iwobi and Gbamin.
What's concerning is Doucouré on 4 yellow cards – that's worrying for the Xmas games.
Tony Hill
59
Posted 12/12/2021 at 18:54:22
Ferguson. I see. Ballboys. Passion.
I'm not defending Benitez after that disgrace today. I'm saying that we're fucked regardless. We have a horrible set of weak players and a board of shithouses.
Find the man to sort that out. Can't wait to see him.

James Byrne
60
Posted 12/12/2021 at 18:55:04
We have now become unwatcheable. I didn't even know that was a real word - it turns out it is so I thought I'd share it!
Unwatcheable: "too poor, tedious, or disturbing to be viewed".
I'm gutted for the fans who travelled to watch that garbage.
Benn Chambers
61
Posted 12/12/2021 at 19:00:14
I can't do this shit anymore.
This club is a total disgrace.
Hiring that fella in the first place shows what utter contempt we fans are held in. We're cash cows to be milked. Mugs. That's why we get treated like this.
I don't even know what to say anymore. That team are spineless slugs. The back 4 is the worst back 4 I have ever seen in the premier league. Comfortably.
Coleman is a joke. It's not his fault he hasn't been replaced but if he's got a shred of dignity, he'd retire. He's finished and has been for 3 years. No one will remember how good he was at this rate, we're gonna remember how shit and pathetic he ended up. Captain my arse, he's brainless, your captain doesn't do the things he does. That for the 3rd goal is unacceptable. He's fucking shit. If I never see him in blue again it'll be to soon. Same goes for that arrogant bastard, Holgate. Can't defend to save his life but just fouls and dives in. Fucking clown. I'll rejoice when he gets chased.
And Rafa, I get you can't polish a turd, I get that. This squad isn't his and it's abysmal. I get that…. But he sets them up zonal and our set piece defending is the real pandemic. It's a shambles. Every single time a corner or free goes in the box, there is chaos. That's on Rafa. Carlo at least sorted that out. His substitutions are also on him. Taking our main goal scorer off, when we're chasing a game, and leaving the likes of Townsend on…. Is he taking the piss ? He is….. he's buzzing off us. He's a stubborn twat and he doesn't give two fucks what we think of him coz his job is safe regardless. It's obvious the players are turning. Digne is the first and now it will be a Richarlison. Make no mistake, he will be allowed to take us down by Moshiri. Get him out this fucking club before the tiny shred of support we have left, just turn the place in to a cess pit and it drags us to the championship.
The last issue…. Moshiri. Yeah he spent a bomb but he's got that much money,from his other businesses, he's made twice what he spent on us since he bought us. He's another taking the piss and the fact he's building a ground, does not give him a free pass to serve up this shit. He put his fingers up the fans when he hired Benitez. He either needs to start acting responsibly with our club or fuck off with Benitez.
I miss the days we were skint and had a proper team of leaders and fighters. Moyes, jags, Baines, cahill, Fellaini, arteta, Pienaar, Osman, Yak, ….. what I'd give for them now instead of this shower of mercenary, gutless c**ts. I recognised that Everton. I don't know this club anymore. It's a disgrace.
Gavin Johnson
62
Posted 12/12/2021 at 19:01:29
I've seen enough of this manager now. Rafa is a relic! Tactics are just defend (which they're not able to do) and then pass to Gray. Virtually every club in the modern game play with attacking full-backs... but not Rafa! He's now ostracised the best left-back in the Premier League because he wants some transfer funds in January.
I gave the guy a chance and looked beyond a partisan quip he made managing the RS. My reservation was always whether he could still do it after managing in the football backwater of China, and from what we've been seeing, he clearly cannot. Rafa out!!
Gerry Quinn
63
Posted 12/12/2021 at 19:03:10
The word is "Unwatchable" - with no e in it, James. I have not been able to suffer watching this team for over a year now. I am almost embarrassed by the crap attitude and football they do not even attempt to play!
Tom Harvey
64
Posted 12/12/2021 at 19:05:08
Fran Mitchell @ 54
Big Dunc will be our only option, I can't see a queue of desirable managers at our door to take over.
Many on here need to understand that.
Dale Self
65
Posted 12/12/2021 at 19:05:16
I'll try to find Rudy Garcia's number. But I don't see how Mosh spins killing off the DoF and manager two episodes in a row? Bill? A little help with the script please?
David Connor
66
Posted 12/12/2021 at 19:05:43
This squad has to be the worst I've seen in over 20 years and by a million miles the most expensive. Something has to give before we are sucked into the bottom 3 or 4 clubs. Even Norwich play more attractive football than Everton.

A truly awfull depressing club from top to bottom. Both manager and players are stealing a living.
Martin Mason
67
Posted 12/12/2021 at 19:06:21
Spelling police alarm @63
Clive Rogers
68
Posted 12/12/2021 at 19:06:53
A really shocking performance. It's not just the team that's in free fall, it's the whole club.
Matt Byrne
69
Posted 12/12/2021 at 19:07:51
Don't worry lads. Seamus will be on saying we must learn lessons from this game whilst there will be news of some more sand in the dock. So all is well then!
Fran Mitchell
70
Posted 12/12/2021 at 19:08:10
Ralph Hasenhüttl would do more with this team.
Or Jesse Marsch (despite not thriving at Leipzig).
Modern football is necessary
Steavey Buckley
71
Posted 12/12/2021 at 19:08:27
The Everton defence allows the rest of the team to look vulnerable. Everton also has a goal keeper who can't and won't come out of his goal for corners. No wonder Everton concede so many crucial goals.
John Boon
72
Posted 12/12/2021 at 19:08:28
We lost because Palace were a better managed team with better players and a far better game plan. We are a worse team with worse players and NO game plan.
I totally with James (60) that we are becoming, as he suggested "Unwatchable". However I will continue to watch the unwatchable because I am an Evertonian and consequently I have become devoid of logic and commonsense.
Clive Rogers
73
Posted 12/12/2021 at 19:09:06
Gavin, 62, agree with the rest of what you say, but Digne has not played well all season, especially defending.
Clive Rogers
74
Posted 12/12/2021 at 19:12:14
Rafa has started upsetting and falling out with the players now. It may be the ones he wants out to generate some funds. This is the guy who fell out with Allonso and sold him.
John Keating
75
Posted 12/12/2021 at 19:14:16
I thought the named starting 11 was fair enough. What I was not expecting was the laziness, slack, lack of fight and commitment from almost everyone. An absolute disgrace and no excuse.
Two horrendous errors from Gray and Coleman – again – both resulting in goals.
The Arsenal result papered over the permanent cracks and nothing has changed. The only positive was that Allan couldn't be blamed for everything.
Time for Kenny and Branthwaite as Coleman and Kenny will continue to deteriorate. Management, coaches and players need shafting
Ian Edwards
76
Posted 12/12/2021 at 19:14:20
Everton are unwatchable. Undeniably true. Would anyone pay good money to watch us.
Christy Ring
77
Posted 12/12/2021 at 19:14:25
Richi didn't want to come off so he must have been ok, Rafa saying he was injured? His negativity against palace who lost their last three games, he's too set in his ways, look at Vieira, different mindset. We need a younger man, he's passed it
Kevin Prytherch
78
Posted 12/12/2021 at 19:15:51
Picking on Gordon is a bit ridiculous in my opinion and only sees to reaffirm what many on here think about young players being singled out for no other reason than they came through as a youngster. Gordon did more in 20 minutes than Gray, Townsend and Gomes did all game.
Our issues today were that we defended far too deep again in the first half, then made 3 stupid mistakes, each of which cost a goal.
Palace were nothing today, the barely had a sniff of a goal, however the same could be said about us. It was two poor teams cancelling each other out.
Despite people's reservations about Holgate, the defence was fairly solid despite the 3 goals. They need to move forward more, though, so we can actually attempt to beat teams like Palace. It's pointless sitting on the edge of our box and inviting pressure against teams we don't need to.
Delph did what he was meant to, tidy up the gap between midfield and defence. However, because we dropped so deep in the first half, there wasn't that gigantic space that there was against Arsenal, so although he didn't look bad, there wasn't much of a need for him.
Set-pieces are a joke. The same thing nearly happened 10 minutes before the goal when we had no-one on the back post. We crowd the front of the 6-yard box, then when the ball goes over them all, there's players left free at the back. It happened against someone else earlier in the season a few times.
Overall, poor tactics again. The game has evolved in the 10 or 15 years since Rafa was successful, but it seems that Rafa is too stubborn to realise this.
Jerome Shields
79
Posted 12/12/2021 at 19:17:01
The midfield trio of Delph, Gomes and Doucoure did not gel. Without Rondon who was propably carrying a injury Everton had no shape, so both Gray and Richarlison had no space to run into, as Palace defence was able to push up and mark them. Most Palace attacks in the first half where down the left, like Arsenal to exploit Colmans weaknesses.
Colman is weak
First goal as a result of Colman untackled and unpressured playing a ball across his own defence. A cardinal error for a defender.
Second Goal unmarked Palace player at far post able to take two touches. Colman's area of responsibility both marking his man and zonally.
Third Goal; Self explanatory. Even if he was trying for a wide off a defender who was not 10 yards away or to pass the ball.
These are three goals to add to getting skinned by Arsenal resulting in a goal, who set their tactics to exploit his weakness and not stepping up with the defensive line against Liverpool, playing their striker on side. All after playing two Internationals in one week.
Of course you could blame it on right back recruitment, but do you thing that Colman, a Everton Stalwart, would welcome a understudy or replacement.
Richarlison coming off was probably to do with concerns over a first half tackle.
Rondon can score, but is carrying a injury. Him coming on improved Everton's shape and brought Everton more into the game.
Kenny is better than Colman. Chelsea attacks will be down the left.
Gavin Johnson
80
Posted 12/12/2021 at 19:17:11
Clive.
No, I agree, Digne has been poor all season.
I don't know if he's still not fully shaken off his injury or it's the instructions he's getting from Rafa but I still wouldn't have another left-back in the Premier League. You can tell how much he's valued by the calibre of clubs who are now linked in January.
Stephen Brown
81
Posted 12/12/2021 at 19:17:29
We simply do not have the players to play modern football!
I've never seen a team so dire and uncomfortable in possession. Everything is rushed, everything is safe, no guile, no flair, no vision!
That Gallagher for CP best player on the pitch. Surely he would come to us?
I wasn't in the "Sack Rafa" camp, what's the point? But I'd say lose to either of Burnley or Newcastle and he has to go! Can we afford to give him that long though?
I stupidly started looking up the table, not down, before the game!
Ian Edwards
82
Posted 12/12/2021 at 19:18:41
John 75.
I wasn't happy with the starting 11.
It panned out how I thought it would. Three holding mids sitting back and letting Palace come at us. Stoneage football.
Alexander Murphy
83
Posted 12/12/2021 at 19:19:18
Chairman who took 25 years to find a wealthy buyer.
A club whose CEO is "Little Miss Dynamite".
A CEO who's CV is one step above running a Charity Shop.
A "Wealthy Buyer" who never goes to the match
A "Wealthy Buyer" who whimsically buys talentless, overpriced overpaid, ageing players.
A Club that hires a respected DoF but entirely ignores him.
A club that hires a different manager with a different philosophy each season.
What could possibly go wrong???
Peter Mills
84
Posted 12/12/2021 at 19:19:30
Our zonal marking worked to perfection for Palace's second goal, 4 defenders standing together, marking the zone. Just a pity one of their guys decided to stand outside it, loitering at the back post, just to see what might happen.
Sr Benitez spoke of Everton being "in control". Quite right, for about 4% of the match.
A dreadful display. Hopeless, hapless, helpless.
Tony Abrahams
85
Posted 12/12/2021 at 19:19:51
Our set-pieces are disgusting, Kevin P, absolute non-league stuff.
Stephen Brown
86
Posted 12/12/2021 at 19:19:52
Another point – if Jonjoe Kenny cannot get a game with Seamus Coleman in this sort of form, then he may as well not be a footballer!
Frank Fearns
87
Posted 12/12/2021 at 19:21:14
I rarely comment on this forum but am reluctantly forced to say what a shambles we are. I have a massive problem with seeing how we can get out of this mess. We do not have the players and the management across the board seems woeful. I'm at a loss.
Jerome Shields
88
Posted 12/12/2021 at 19:22:49
Stephen #86,
I had not thought of that.
Ben King
89
Posted 12/12/2021 at 19:25:26
Why would you ever take off our only reliable goalscorer????
So he's alienated Digne and now wants to do the same to Richarlison.
This Rafa thing is going even worse than I expected…
Will Mabon
90
Posted 12/12/2021 at 19:26:14
Agreed, Peter.
Zonal marking has never been the answer with the players we've had at any particular time. It has to be almost perfect or it's hopeless. Plus, it requires players that don't look as if they're expecting to concede at every corner and set-piece.
Karl Meighan
91
Posted 12/12/2021 at 19:26:54
Shocking if a manager cannot get his team organised to defend corners by Christmas... nevermind picking up 5 from 30 points – something has to change.
Subbing Richarlison and bringing on Rondon – are you fucking kidding me, does he make these subs to piss us off?
I would be confident of avoiding the drop with Ferguson in charge. With Benitez in charge… I'm not so sure.
Paul Jones
92
Posted 12/12/2021 at 19:27:19
Clive does make a valid point. Rafa seems to have fallen out with the two most saleable assets.
He must be the only person in the world who thought Gareth Barry would have been a great replacement for Alonso.

Darren Hind
93
Posted 12/12/2021 at 19:28:27
The Big fella's missus seen darting into the dry cleaners with a suit under her arm.
Alan Moss
94
Posted 12/12/2021 at 19:29:54
Mr Benitez now throwing Richarlison under the bus for not wanting to come off... saying he was injured and it was agreed that he'd have 5 minutes in the second half.
Also has a go at the fans for not understanding. If Richarlison was injured, why give him 5 minutes? Mr Benitez totally undermining himself. The fool needs to leave.
Tony Twist
95
Posted 12/12/2021 at 19:31:21
Let's face it, he ain't very good. Benitez was like this when Newcastle went down. Embarrassing result, amateurish tactics, shocking defending, unacceptable performance.
Rob Dolby
96
Posted 12/12/2021 at 19:31:56
I thought the ref was poor tonight. On another day, Coleman gets the foul before the corner for their 2nd. Clear foul on him.
Benteke also gets sent off for the tackle on Coleman. If that was Ayew, he would still be on the floor. Coleman being an honest pro didn't make a meal of it and got on with the game. He didn't even get a foul for it!
Gomes mush have impressed in training this week. He was dreadful today from start to finish. I don't recall him doing anything whatsoever. He should only come on for the last 20 minutes if anything at all.
I felt sorry for Delph, the only midfielder wanting to get the ball back today.
Tactics terrible from the manager. Zonal back post goal again. Chasing the game and take a striker off.
If I didn't know any better, I would think that he was doing this on purpose. Are there 3 worse teams this year?
Norwich, Newcastle and ????
Godfrey my MotM.
Barry Hesketh
97
Posted 12/12/2021 at 19:32:09
Ben @89,
It may get even worse between now and the end of January for Everton FC and Evertonians. I hope that it doesn't, but the signs are there for all to see.
Moshiri wants to recoup some of the losses he's made in the transfer market and Benitez is the man to achieve that. Meanwhile, back where it matters, out on the pitch, we looked no better today than we did at the start of this poor run of form.
It still mystifies me why – if Richarlison did have a bad calf – wasn't he replaced at the interval? That way, the team would have known their jobs going into the second half, rather than having to re-jig in the early part of the second half.

Tony Hill
98
Posted 12/12/2021 at 19:33:06
Ha ha, Darren. Maybe, maybe.
Perhaps we should all stop worrying and enjoy the trip down the chute.
I flip between fury and faintly amused despair.
My word we're shite. Shite squared, cubed.
Rick Tarleton
99
Posted 12/12/2021 at 19:33:26
Was it as bad as I thought it was? Did he really put Gordon on the bench? Is Digne not good enough for the bench?
Was Richarlison taken off for Rondon? And did Gomes actually have his worst game ever? – and that's saying something because since the Son injury he's had some stinkers. Did Gray get an assist for their second goal?
Was the second half against Arsenal a mirage, an illusion, a dream? Words fail me.
Benitez, you have a lot to prove. I never wanted you, because of your history, but surely this fiasco can't continue.
Nil satis nisi pessimum is our motto now.
Steavey Buckley
100
Posted 12/12/2021 at 19:33:37
Digne can argue as much as he likes with the manager's decision to leave him out of the squad, but he has defended poorly all season.
Pat Kelly
101
Posted 12/12/2021 at 19:33:38
As mentioned above, 5 from the last 30 points. The writing is on the wall. The longer action is delayed, the harder it'll get.
Andrew Hight
102
Posted 12/12/2021 at 19:36:05
The Benitez experiment was yet another bad idea from a hopeless owner and board. This Palace side were poor and the Gallagher kid was a fairly average player made to look like Messi.We offered nothing as usual until too late.
Coleman is done as captain, totally unprofessional. A squad with Doucoure, Gray, Godfrey, Pickford, Calvert-Lewin and Richarlison should not be in this position. Rafa, the board and the coaching staff need replacing, owner also.
Allan Board
103
Posted 12/12/2021 at 19:43:04
What's the point of this shit anymore? Just puts me in a bad mood. I'm taking a sabbatical from this loser club. None of them give a shit.
If you want your club back, then stop going to support the wankers and wait for the fuckers to come crawling to us for help. If it means relegation, so be it, preferable to having liabilities taken all the time!
And Ferguson is one of them too. Kenwright's best mate and confidant. It's the only explanation of how he has survived 6, soon to be 7 managers.
Denis Hignett
104
Posted 12/12/2021 at 19:44:32
Just when you thought it couldn't get any worse – it did.
Relegation on this form.

Ray Robinson
105
Posted 12/12/2021 at 19:45:32
I'm always prepared to give managers the benefit of the doubt but what was Benitez doing subbing Richarlison? He admittedly had not been in the game at all but at 1-0 down you don't take off your best chance of a goal.
Alienating players to prove who is boss is not a clever tactic.
Ian Edwards
106
Posted 12/12/2021 at 19:46:54
Benitez said Richarlison was injured. He didn't look like an injured player in his attitude at being subbed.
Derek Taylor
107
Posted 12/12/2021 at 19:47:34
Having sampled Allardyce and found him wanting, we are in Pardew or Bruce territory now. It happened with Villa and history is repeating itself here, god help us.
Benitez will get to the New Year and we are out of the Cup. Kenwright will resign and repair to the Isle of Man to protect his fortune whilst, meanwhile, a buyer must be found for the new stadium at Bramley-Moore Dock before a spade is laid in that lovely sandcastle.
But we mustn't be negative, must we!
Colin Glassar
108
Posted 12/12/2021 at 19:51:42
I have no idea how to stop this death spiral. I'm tired of complaining, moaning and worrying. Moshiri has the power to do something drastic but he's a clueless fuckwit who appears to be paralysed with fear and indecision.
We are well and truly screwed with these people in charge.
Si Cooper
109
Posted 12/12/2021 at 19:52:06
Not too long ago, Fabian Delph finally seemed to twig that he was past his best and played for the team by recognising he was but a cog in the greater machine. Today, he was back to his 'Billy Big-Boots' persona and we were the worse for it.
Nominally, switching him in for Allan should be practically seamless but, for some reason, it just totally wrecks the way the midfield operates and that reverberates around the team.
I know the manager has said Richarlison was carrying a knock and had been told he was very likely to get withdrawn early in the second half, but I can still understand why the player was frustrated not to be given some time with a less dysfunctional midfield behind him.
Sprinkle in some utterly tragic decisions that coughed up gilt-edged chances for them and you get another inexplicable performance from a manager and team that should be delivering better.
Anthony A Hughes
110
Posted 12/12/2021 at 19:56:00
He's setting up to defend and not lose but that just isn't working.
We are far too deep and not compact as a unit and it's quite easy to play through us as we don't press hard enough when we don't have the ball.
The man needs to recognise the faults and change them but I fear he's far too stubborn and set in his ways.
Jerome Shields
111
Posted 12/12/2021 at 19:58:35
Ian #106
Just shows the attitude of some of these players. It was apparently agreed at half time that, due to injury, he would come off 5 minutes into the second half.
Tom Harvey
112
Posted 12/12/2021 at 19:58:42
Colin Glassar 108,
That drastic thing Moshiri does could be drastically and totally in the wrong direction.
He brought Iwobi into the club, Moshiri is our very own Mr Bean!

Barry Hesketh
113
Posted 12/12/2021 at 19:58:45
"It was a difficult game against a team that, I believe, are not in the right place. I think they are better than what the table says."
Palace manager Patrick Vieira following today's game.
I wish I could agree with Mr Vieira, but find it impossible to think that we are in a position that we don't deserve to be in, and if we continue to play with the same timidity away from home, we'll be in a much worse position fairly soon.

Jerome Shields
114
Posted 12/12/2021 at 20:02:38
Barry #113
If you have players making basic defensive errors, it will have an effect on your table position.
Bill Gall
115
Posted 12/12/2021 at 20:04:22
Yes, we have a poor squad but really only one man missing. The squad or the team has deteriorated after each manager takes over but this manager has sunk from the lowest to the lower.
Richarlison may have not been playing well but he was the same against Arsenal, yet in the second half, he changed the game around. Richarlison and Gray are our only recognized strikers with Townsend chipping in with a couple.
I suggested Rondon at half-time (see post 13 ) but I never thought I would see a goalscorer replaced with someone who had never scored before, or looked like he ever could.
I thought Benitez would maybe turn it around but not after we have been relegated. We are getting the lower half of the league teams walking over us, and for once maybe Kenwright was right in not wanting Benitez.
If you can't motivate a team after a win, I think you'd better get someone who can. As for a supposed defensive coach, I doubt if he can even defend his tactics today.
It may be too late to change but I can see Calvert-Lewin, Richarlison and Digne and maybe a couple more putting in a transfer request tonight or tomorrow.

Peter Neilson
116
Posted 12/12/2021 at 20:06:08
Terrible… but Moshiri's probable fear of sacking another manager, especially one he's pretty much handed the steering wheel over to, means make it to 21 points by beating Burnley or even Newcastle and he's safe.
Getting to 20+ points around midway through the season is all it's about. But the problem with low ambitions, miss the target and the next one is even lower. Last Monday night seems a lifetime ago.
Kunal Desai
117
Posted 12/12/2021 at 20:10:16
What's worrying is you have not just a chairman but an owner equally culpable for this mess. Both are frauds and the club is heading in one direction only – if not this season, then next season.
Paul Birmingham
118
Posted 12/12/2021 at 20:10:49
As soon as a I saw Gomes aka the Sloth, and Delph - Snail, it was like playing with x9 men.
All three goals conceded were pathetic, and preventable.
It could have been worse, but the Arsenal win is erased well and truly and any positivity from that game has gone.
Thursday could do some serious damage to the already wafer thin confidence and frailty of the playing system used today.
The manager needs to be made accountable for the line up today, allowing for the x slowest midfielder in the EPL, to play today was neglect of duty by Rafa, he could have started with Gordon.
The coaching that goes on at Finch Farm, what goes on, based on the rotten panick descisions made for their three goals today.
And in my view the substitution of Richarlison, was foolish. The lad got no service when he was on.
Some times today I felt it was futile. Is Rafa out to goade some players out of the club?
Hopefully the bottom of this festering rotten barrel is reached, for Everton FC.
For Thursday, the world will expect Everton to be cannon fodder.
Let's pray and hope for gutsy performance with character and belief.
Colin Glassar
119
Posted 12/12/2021 at 20:10:58
Tom 112, it's a terrifying scenario we are facing. Incompetence, ineptitude and insanity at every level. We are a ship without a captain, a steering wheel (not sure what the naval equivalent is) and a drunken crew of lazy fools. And in no sight of land.
Joe McMahon
120
Posted 12/12/2021 at 20:12:10
FFS, why are people still calling for Ferguson as interim manager, he's part of the problem, he's been assistant to how many failing managers?
Of his interm boss stint, 2 years ago (with the new manager bounce)
Won 1 (home to Chelsea on a Saturday game in the sun)
Draw at home to the worse Arsenal team I've seen, and away at an awful Man U (I think OGS was manager)
Lost at Home to Leicester in the league cup.
If he wants to manage a premier league club, he has to start elsewhere first, like Gerrard has done and Lampard did. And no Rangers would not have won the title last season with ex Boy Duncan in charge.
It's the blue tinted specs that have been holding this pathetic dated relic of a football club back for decades, please remove them.
Brent Stephens
121
Posted 12/12/2021 at 20:17:10
I don't know how it sounded on TV but at the game the fan reaction was massively vitriolic and angry against Benitez.
It's already been said but why sit back from the start?

Brent Stephens
122
Posted 12/12/2021 at 20:19:57
Alan #51. "Jack Pye"! Wow that's a blast from the past.
Mark Ryan
123
Posted 12/12/2021 at 20:22:40
Sack Benitez, give it to Ferguson and watch him fail. Then and only then can this club move forward.
We've removed Brands, now it's time for Ferguson et al to move on. Let them all shuffle off that Everton coil and let's have a re-start.
Get Lampard, use new blood. Clear out Iwobi, Holgate, Coleman, Delph. Hit the re-start button. Give some new blood a chance.
Soren Moyer
124
Posted 12/12/2021 at 20:24:10
Can't put up with this shit anymore! And no to Ferguson. He is on the "get rid" list.
Peter Mills
125
Posted 12/12/2021 at 20:25:27
We played with a back four across the edge of our own penalty area. With Townsend and Gray out wide, that left a huge middle of the pitch occupied by Doucoure, who looks injured, and Gomes and Delph who are, to be charitable, slow.
Accordingly, a poor Crystal Palace looked like a good team.
Responsibility for that lies with the manager.
Tony Abrahams
126
Posted 12/12/2021 at 20:25:29
A very thoughtful paragraph in that post, Paul B.
Sometimes it was futile, is Benitez out to goade some players out of this club?
That's one way of looking at it Paul, it certainly had that type of feel to it, today, mate. But I take the other view, and think some of our players are taking the Liverpudlian victim route, because they are getting away with murder, with the feeling that, because of Benitez, it's never their fault?
John Boon
127
Posted 12/12/2021 at 20:25:30
Frank Fearns (87)
Good to see you making your point of view. I am sure one echoed by all Evertonians. I am also completely at a loss and expecting any serious success is just an illusion.
Posting on ToffeeWeb allows you to vent your frustration and give some relief to the troubled 'Football''mind. We, as Evertonians, are probably just as screwed up as the team itself.
You have to have masochistic tendencies to keep supporting this team year after year.
Pat Kelly
128
Posted 12/12/2021 at 20:26:05
We are growing more deadwood than we're shifting ! It's a logjam now. Holgate and Coleman have been added to the pile. Time for a clear out. Chop chop.
Dale Self
129
Posted 12/12/2021 at 20:27:25
I'm not into Palace intrigue if you will but perhaps after offing Brands Rafa now sees the desperate beads of sweat on Moshiri's brow and is making a move at a clear out. Mosh is the only gate keeper and can either take the money hit or look for a manager at his reputational nadir.
This is the slightly fucked scenario I mentioned when he came. Still hope I'm wrong but Rafa's not going to take a hit job quietly while Moshiri takes a pill or two.
Dave Abrahams
130
Posted 12/12/2021 at 20:28:28
Brent (122), yes Jack Pye and his brother Dominic, brilliant nights at the Stadium on a Friday night, all the wrestlers were great actors but could get crowd going berserk with their antics.
Everton's players get supporters going berserk doing nothing… one of them today spent loads more energy off the field in the second half than he did on it for over an hour.
Alan McGuffog
131
Posted 12/12/2021 at 20:29:26
Made my debut in 1961. Apologies to all for saying this, but I no longer care. Relegation...so what. Stay up..more of the same.
Sorry for you young ones, I've great memories at least.
Shite club, shite team, magnificent fans.
R.I.P.
Ian Riley
132
Posted 12/12/2021 at 20:29:31
The run of wins had to come to an end sometime!
Hard work supporting this club!
Night all!!
Ian Edwards
133
Posted 12/12/2021 at 20:29:48
Away to Chelsea on thursday will be a tonking and I'm genuinely worried about Hull away in the Cup. Benitez has already lost at QPR. Can you imagine sitting back at Hull and letting them come at us.
Ian Edwards
134
Posted 12/12/2021 at 20:29:49
Away to Chelsea on Thursday will be a tonking and I'm genuinely worried about Hull away in the Cup. Benitez has already lost at QPR. Can you imagine sitting back at Hull and letting them come at us?
Eddie Dunn
135
Posted 12/12/2021 at 20:32:33
Richarlison was injured, he was rubbing the calf then was subbed and the medic was on the bench with him, treating him. Later, he could be seen still rubbing it.
Players will want to stay on and the manager has to think long term. Richarlison was also piss poor.
We have slow midfielders and little potency. Rafa is making wrong choices and not getting the best out of them. I think he should be sacked.
Soren Moyer
136
Posted 12/12/2021 at 20:33:52
And lets not forget we still have to play New Castle twice! Remember they did the double on us last season!?
Dale Self
137
Posted 12/12/2021 at 20:35:34
I think now is the time for Everton's marketing to show its creativity and roll out that new kit.
Brown top brown shorts and brown socks with a yellow stripe.
Paul Birmingham
138
Posted 12/12/2021 at 20:39:27
Tony, mate, fair points.
If, as what we can all, ask and have been asking about Everton FC, since the late 80s.
Id love to be a fly on the wall this week at Finch Farm.
Rafa got a near mission impossible task, if he knew the situation he was taking on, when he took the job.
Perhaps that why he got the job.
I want him to succeed as he is the manager of Everton FC.
But for me his selection today of the midfield against always one of the busiest team in this league in terms of effort and movement, done it, along with, lack of individual and collective pride of this squad today, at times barely playing for the Everton shirt and their professional pride.
Let's hope for better times this Thursday at Chelsea.
Mike Doyle
139
Posted 12/12/2021 at 20:41:44
Wonder who will get the job of making this week's "we must do better / pull together blah blah" statement? I think we can rule out Digne and probably Ritchie. Maybe Rondon could be given a go?
Failing that, another video update on the new stadium at Bramley-Moore Dock from Darren 'Dazza' Griffiths perhaps?
Johan Elmgren
140
Posted 12/12/2021 at 20:42:56
Sitting back inviting pressure against teams we should beat... These negative dinosaur-tactics are killing us!
FSW OUT!!!
Bill Fairfield
141
Posted 12/12/2021 at 20:43:14
From a performance on Monday full of guts, if not great football, to this gutless whimpering disgrace today, especially the first hour. Looks like the Arsenal game was a one-off.
Barry Hesketh
142
Posted 12/12/2021 at 20:48:07
Moshiri : "Tell me again, about this cunning plan you have to ensure that my club is revitalised before we enter the new stadium? "
Benitez: "It involves a pretty daring strategy, I can do what I did at Newcastle, take the club down to the Championship..."
Moshiri: "Pardon? "
Benitez: Please allow me to finish Mr Moshiri, I take the club down to the Championship, and then watch as the fans gain newfound vigour and enthusiasm as they urge their team back to the Premier League, I will then be hailed a master and you will be hailed as the best Everton owner of all-time. Never forget that Leicester City firstly had to be relegated before they won the Premier League and in the meantime, I will slash the wage bill to levels you can only dream about."
Moshiri: "But...according to my library of Premier League facts, the relegation happened 14 years before they won the title, I don't think I can be that patient."
Benitez: "Okay, I can see the merit in that reaction, but if Everton fails to gain promotion quickly enough, you could shelve the stadium plans, who knows the game may have restructured itself by that time and a new stadium wouldn't be necessary no?"
Moshiri: "I'll ask Jim White what he thinks about the plan, if he agrees that it is sensible, I will give you the go-ahead to implement the plan."
Benitez: "I look forward to that moment Mr Moshiri."

David Pearl
143
Posted 12/12/2021 at 20:51:37
I go numb watching this team, coached by this manager. He constantly gets it wrong. Playing a deep 4-3-3 and ceding possession just boggles the mind. And on we plod.
Bill Gall
144
Posted 12/12/2021 at 20:54:45
I never read Benitez's comments before I wrote my comments.
Sorry, you don't improve an injury by playing; if Richarlison had an injury, he should have come of at half-time. He could have ended up aggravating the injury and missing for more than the next game.
Worrying signs, Palace are not exactly a fast team… Chelsea are.
Peter Mills
145
Posted 12/12/2021 at 20:58:04
Brent#121, it sounded pretty bad on the telly, the booing of Richarlison's substitution coming through loud and clear, followed by the Richi song. Then the "Just a FSW" song.
It must have been grim.
Tony Abrahams
146
Posted 12/12/2021 at 20:59:21
The selection of the midfield has been wrong all season for me Paul, and this is absolutely critical because we haven't got many "good defenders" which means they definitely need better protection than they're currently receiving.
If you can't be busy, you're no good playing midfield in this country, and I also hate 4-4-3, because unless it's done properly, there is always an out ball on for your opponent, with a little switch of play.
We only took Allan and Gordon out the team from Monday, and yet the team produced only half the effort tonight. This is sickening, I just can't understand why the players didn't break rank, which obviously must have been the case on Monday?
John Kavanagh
147
Posted 12/12/2021 at 21:02:53
Why all the negativity? We can look forward to the new EITC Bramley Moore Nursery, which will feature the world's biggest play area sandpit. And we can anticipate a new EITC walking football team managed by Rafa and captained by Rondon.
Whatever his perceived shortcomings, Big Dunc won us 5 points from three difficult games at a time of crisis. The huge mistake was in appointing Allardyce and wasting another £50 million on his brown envelope jobs instead of taking the time to get the right person in post. That's what increased our spiral of decline followed by yet more bizarre appointments by Kenwright's chosen investor.
If we want to stay in the Premier League, there's no option other than to go back to Big Dunc, otherwise I cannot see where we will get another 5 points from, let alone 22, based on today's 'performance' by both manager and players.
Kristian Boyce
148
Posted 12/12/2021 at 21:03:34
Mark Ryan @ 123, I wouldn't be at all surprised if Lampard replaces him. He looked all set to take the Norwich job and suddenly changed his mind at the 11th hour. I wonder if someone spoke to him/agent about the possibility of a bigger job coming available in the near future (possibly Brands or Kenwright).
Jerome Shields
149
Posted 12/12/2021 at 21:04:09
Paul#138
Due to injury he had little choice in who he selected. He was even managing injuries during the game, having prearranged to take Richarlison off after the calf that was still giving problems to be subbed. Rondon had to have his thigh strapped after he came on. Though the Substitutions did change the game.
Before Benitez arrived Everton where in bad shape that is why Ancelotti left. Benitez has tried to inject into the side competition for places, which made a difference after he dropped Digne. He would need to drop Coleman as well, but who will replace him?
Moshiri has to stick with Benitez, there is noone to replace him. In the meantime Kenwright &Co through the Strategic review are rebuilding by shafting fans protests and even pushing for the appointment of another Director of Football.
The push is still on within the Club to get rid of Benitez, helped by Fans, if possible.
Jerome Shields
150
Posted 12/12/2021 at 21:04:10
Paul#138
Due to injury he had little choice in who he selected. He was even managing injuries during the game, having prearranged to take Richarlison off after the calf that was still giving problems to be subbed. Rondon had to have his thigh strapped after he came on. Though the Substitutions did change the game.
Before Benitez arrived Everton where in bad shape that is why Ancelotti left. Benitez has tried to inject into the side competition for places, which made a difference after he dropped Digne. He would need to drop Coleman as well, but who will replace him?
Moshiri has to stick with Benitez, there is noone to replace him. In the meantime Kenwright &Co through the Strategic review are rebuilding by shafting fans protests and even pushing for the appointment of another Director of Football.
The push is still on within the Club to get rid of Benitez, helped by Fans, if possible.
Peter Dodds
151
Posted 12/12/2021 at 21:05:44
In a crowded field of "ways we can play better", why on earth can't these players cross the ball, take free kicks or corners without either a) completely over-hitting it or b) not clearing the first man? Gray, Townsend and Gomes were all culpable of wasting good opportunities today. Drives me mad.
At least I've now worked out why we seem to come alive after 60 minutes or so. It takes that long for the game to become more open, and before then we simply can't play neat possession-based football when being pressed and harried.
Danny O'Neill
152
Posted 12/12/2021 at 21:08:50
Shitty weekend of feeling like shit due to being ill and not being able to go capped off with a shitty performance that delivered an equally deserved and even shittier result. Shitty.
Poor from the first whistle. Poor tactics. Poor set up. Worst of all, poor mentality from the players. Second to every ball, bullied by Palace throughout. Second to everything. I can accept being beaten. I can't stomach that.
As I saw it, in the first half, the only players to come out with any credit were Gray and Godfrey down our left. Forget the mistake from Gray, he was practically our only threat. And Palace knew it. They swarmed on him most times he got the ball.
We gifted them 3 goals, not 2. A poor clearance from Coleman led to the situation where Gray then made the mistake; yes he could have put more on it and maybe held and turned. But his mistake came after Coleman's poor clearance.
The second; how do 5 or 6 Everton players, including our entire defence let the ball float over all of their heads to allow a tap in at the far post? When and why did we stop having full backs on the post?
The 3rd. I'm kind of going to try to understand what Coleman was trying to achieve in aiming at the player standing on and impeding the free kick. But his execution was shocking. If you're going to do that, aim it at him, like the City player did yesterday. Not do some weird long ball across the front of our own penalty box when the opposition are pinning us in. What was the 33 year old, most experienced Everton player on the pitch and captain thinking?
The only defence I can offer for that 3rd goal is that the Palace player that got the free kick shouldn't have been on the pitch for the leg breaker he put on Seamus not long before that. And then his afters in getting that free kick too.
But that meaningless defence from me doesn't deflect from shockingly negative tactics, poor attitude from the players and a dreadful performance all around.
Another positive? Rondon scored. The counter-negative; it gives the manager justification for his continued selection and inclusion. Worrying.
More worrying was watching Richarlison's reaction. Genuinely pissed off. And for a long time. The cameras kept focussing on him long after the substitution and his mood hadn't changed.
Chelsea Thursday. Come on Everton. Do an Everton on me when I fear the worst.
Clive Rogers
153
Posted 12/12/2021 at 21:17:41
Bringing Gomes back as an attacking mid was a complete failure. He had a shocker, offered nothing going forward and giving fouls away when he tried to tackle. He is far too slow for the PL and should have been taken off instead of Delph.
Danny O'Neill
154
Posted 12/12/2021 at 21:21:20
Also, maybe just me, but did anyone else notice how often Pickford walked up to the dugout? I don't know if that's a positive or a concern given the Digne and potentially now Richarlison situations.
I must mention Gordon. Once he settled into the game, he done well and gave us an outlet. Although I think he should have pulled that back for (I think) Gray running in at the penalty spot when it was still 2 - 1.
Chelsea Thursday. Nab a point before taking all 3 against Leicester on Sunday.
Tom Harvey
155
Posted 12/12/2021 at 21:25:01
Danny, If only the team had your confidence.

Bobby Mallon
156
Posted 12/12/2021 at 21:25:07
Danny I love your upbeat attitude, but we are going to get twatted by Chelsea and the FSW is going to get us relegated
Ray Jacques
157
Posted 12/12/2021 at 21:26:32
Why are some posters thinking Lampard would be a good choice?.
He struggled at Chelsea, Tuchel has shown that.
The whole club stinks so don't think any manager could get a tune out of the dross we employ as footballers. How many players improve when they reach the first team, whether they are bought or home grown. I can only think of DCL in last 5 years.
Rotten club, ashamed of it.
Craig Walker
158
Posted 12/12/2021 at 21:27:47
Lucas Digne is not the best left back in the Premier League. A good player, on his day, but hasn't played well for a very long time. I hate that lot across the park but their left back is far superior to Digne. Sad but even with the biggest Everton blinkers on, it's true. We have very few good players at our club.
Paul Kossoff
159
Posted 12/12/2021 at 21:32:07
Oh well, let's just hope we all get what we want for Christmas, a big Santa sack for someone!🎅🎅🎅
Dale Self
160
Posted 12/12/2021 at 21:32:36
Peter 151 exactly
The space isn't created from them all running forward in sync. They hesitate and that limits the dribblers vision Ends up being very station to station stuff without the pass creating forward space or a cut to a different point of attack.
Most of that is a breakdown of players confidence in each other and I'm not sure it can be coached out of them. They don't trust each other and we don't have a possession player who can come back and settle the ball for some movement upfield.
Clive Rogers
161
Posted 12/12/2021 at 21:34:12
Richarlison did look upset at being subbed, but he always looks like that!!!
Paul Birmingham
162
Posted 12/12/2021 at 21:35:41
Jerome, it's a good point, but accepting Allan, is either injured, or being kept fresh for Chelsea, the tempo today at Selhurst Park, was light years from last Monday night, at GP.
Professional footballers, should have professional pride in playing for their club, the shirt, it seems at first team level, this has been a consistency issue for the best part of three decades bar a few brief seasons of getting into a Europe.
I want Rafa to succeed, there will be, more pain to come, in the recovery of Everton FC, but it's a toxic situation, and within the club hierarchy there doesn't seem to be any unification of the boards belief and plans for the football side of, Everton.
Was the DoF, deemed a lesson learnt, else is it a trial that could and, should., have succeeded?
Hindsight is wonderful, I'm not sure that the DoF, was ever given a clear objective, but in view of so many managers the last 5 years and the last 4 years, could it have succeeded?
Elsewhere in the EPL, it would be useful to see where and how it's worked.
But a good scouting system is part of that function, but it's a good debating issue and perhaps let the manager manage and develop the team and football style and tactics, is the way, what will Everton decide?
No more changes until the end of this season.
But personalities and chemistry and human level respect, what is this in the Board room of Goodison Park?
Who knows but I hope Everton turn up on a Thursday night.
This period reminds me of darker days, from, the past.
The past proves that times change, as they do, and for better, but it's about fekkn time, that the fortunes of Everton FC, at all levels and matters football, changed.
Great game Friday night by the u18s, and sadly too much today for the first team to be professional and show and fight for 95 minutes at Selhurst Park.
Now for Chelsea.
Matthew Williams
163
Posted 12/12/2021 at 21:38:15
Right, ok... Thursdays game,back to basics however we do at the Bridge,play 4-4-2,pass & move,no inverted wingers shite,no zonal marking either...shite, doesn't work at our club, no two holding midfielders too,sick of it,real aggression from the off,raffle a few feathers,take no shit, contest everything & drop certain players ready to be sold ASAP...my team...
Pickford
Kenny Keane Branthwaite Godfrey (C)
Gray Gordon Doucoure Townsend
Tosun Richarlison
Nil Satis Blues... Remember!.
Bobby Mallon
164
Posted 12/12/2021 at 21:39:32
Karl 91 Ferguson is as much to blame as Rafa. Sitting there doing fuck all. If he had any pride he would call Rafa for what he is and fucking resign.
Jeff Armstrong
165
Posted 12/12/2021 at 21:41:02
If the big fella is DF, god help us!
Jerome Shields
166
Posted 12/12/2021 at 21:41:34
Danny#152
Good post. Get well soon. I am also been laid up with a Cold since Wednesday, hard to shake off.
The atmosphere at Finch Farm must be terrible , no doubt helped by the preliminary soundings on the Strategic Plan Review.
Richarlison did not all of a sudden get that attitude, he was playing the situation. Didn't notice Pickford, but it will all come out wash, as it did after the Brentford game. Rumours of discontent at Finch Farm.
After the sacking of Head of Medical Services we got a uplift in the Spurs game.
After the sacking of the Director of Football we got a unlift in the Arsenal.
Obviously the sacking of the Head of Recruitment and Head of Scouting don't count for much, on todays performance.
More likely the filtering through of the possibility of a new Director of Football has given renewed hope at Finch Farm. and gossip rather than work and effort was a priority during the week on the training ground.
Back Benitez and Save Everton.
Derek Knox
167
Posted 12/12/2021 at 21:43:54
I really thought after the Arsenal game and result, we had eventually turned the corner, how wrong could I be ? Like the Watford Game when the commentator just had to mention " that they had NEVER beaten us at Goodison Park, and similarly with this game Crystal Palace hadn't had a result against us, Home or Away for 27 years " I should have guessed what was about to happen.
Like an idiot, I continued to watch them believing that we could get something against Palace, who themselves had had a previous poor run of results. They obviously wanted it more from the kick-off, and they seemed to win most of the outfield duels, and the most likely to get a goal, so it turned out to be. While it's difficult to put a finger on it, we seemed disjointed and a shadow of the side who had played against Arsenal.
Okay there were a couple of changes, well three actually, but nothing that was visibly better. Again my heart goes out to the Travelling Support who could be seen and heard supporting them on a poor day weather-wise and long journey time-wise, not to mention the costs involved. It is a hard and disappointing life being an Everton Supporter at the moment, something has to change, and fast otherwise we will be fighting a relegation battle. Another week-end ruined !
Robert Tressell
168
Posted 12/12/2021 at 21:44:31
Mid-table side with dysfunctional squad loses to another mid-table side away from home. Not hugely surprising.
Some small margins. We gave up goals from mistakes and didn't take our chances. Could, with luck and better concentration, have won that despite not doing much with the ball.
It really has been like this for 30 years though. The mediocrity and cowardly-ness is engrained into the club.
The club, as we all know, is really badly run - and the people running the club badly are key figures in the strategic review. So don't expect any change.
We'll pick up enough points to stay up - but it's going to be crap until we no longer have to rely on players who don't work hard enough or can't concentrate.

Jeff Armstrong
169
Posted 12/12/2021 at 21:47:06
Why keep players fresh for Chelsea where we will get pummelled,when Palace are there for the taking? ridiculous thinking.
Danny O'Neill
170
Posted 12/12/2021 at 21:47:10
I know what you mean, but his response was different tonight Clive.
It will be interesting to see how this pans out. Do we look at the players' response or listen to the manager's comments at the end??
I noticed him pulling up and feeling his calf after about half an hour and then looking sluggish after that. I said to my son, Benitez needs to take him off now and I didn't expect him to come out for the 2nd half. I know this was an important game, but there's a longer season to play if you look bigger picture.
My worry now is twofold.
Firstly, we have a pissed off player who apparently dictated to the manager he was okay and subsequently played a lot longer than he should have if injured. A player that may also now be falling out with the manager. And, he'll be out for a longer period because we kept him on injured. We need him on the pitch.
Secondly, a manager who didn't or wouldn't make that decision earlier despite the lack of options on the bench. Let an injured player carry on because he said so (we know Richarlison's desire to be on the pitch)? But surely given the way the game was going, young Simms was worth a punt if we needed to protect Richarlison? It wasn't going to get worse.
To my Pickford point, are our more sellable and better players all falling out of favour with or questioning the manager?
That's a question by the way.
Peter Neilson
171
Posted 12/12/2021 at 21:47:37
Lampard had the second lowest win rate of any manager under Abramovich and was way too inexperienced for the job. The Chelsea squad is a Ferrari compared to our Morris Marina. Tuchel has shown the difference a good coach makes. Lampard withdrew from the Norwich role probably because he knows the next job with define him and he couldn't save them. Hopefully, and a rare bit of good fortune, we're too much of a mad house to be of interest to him.
Eamonn McEvoy
172
Posted 12/12/2021 at 21:51:03
Can't take to Rafa, even in good run, I simply cannot understand why he was brought it.
A good manager? An excellent one…….but a man despised by a lot of the fan base so what was the point? In any business anywhere what would be the point of that appointment. Maybe there was not as good available, but there was managers not far off him available without the history and that history was always going to come into it when a run like this happened. That sounded toxic today.
When Moshiri took over it seemed like it was finally our time to have a go yet we are, a total laughing stock. How do the board expect fans to watch this, their pointless unproductive decisions forced on us.
Sick of this crap, sick of players throwing in shifts like this, Rafa not fully to blame but he has no way back with the fans that can't have him….and that's a group with expanding numbers daily these last 6 weeks.
Ken Kneale
173
Posted 12/12/2021 at 21:53:01
Bobby 164 - no chance of that - he was eulogizing about Sam Allardyce at one stage.
The club is poisoned from top to bottom and the Kenwright era drags on as we all argue amongst ourselves - his machiavellian "divide and conquer" leadership ensuring he still has hands on the wheel whilst all the time wearing gloves so his fingerprints don't show
As with most away games, I feel truly sorry for those who made the trip and return downcast and heartbroken
Tony Abrahams
174
Posted 12/12/2021 at 21:53:37
4-5-1, is the only formation that I'd be playing with that back four.
We need energy in the midfield, because Gray and Richarlison will both offer plenty out wide.
Doucoure, Allan, and maybe interchange Richarlison, and Gray, as the third, higher midfielder, which will allow Gordon to develop?
Give Kenny a game? Try Brainthwaite? Got to have Rondon until DCL is fit because we need a focus point?
Whoever plays, has got to play with fucking energy, and also play for the shirt, definitely play for the fans, and most importantly play for their own personal pride. Is that to much to ask from these players?
Andrew Bentley
175
Posted 12/12/2021 at 21:54:08
Back Benitez and save Everton?!? What are you talking about?!? The man inspires no passion for anyone. I've only advocated getting rid of Big Sam before and now Benitez. Can you honestly not believe that no one else on the planet couldn't inspire our lot to do a little bit better?
Look at Ralf Rangnick, straight into Utd and one of the first thing he wants to do is get a sports Psychologist in as he knows the benefits of sorting out the mental state of players. What's Rafa's plan? It's clear he doesn't change his style to motivate different players, everyone comments on him always being on them after games. This clearly isn't working.
Sticking with Rafa is not going to change anything. We don't have money but I can't believe that there isn't someone else out there who can get this team playing better.
Andy Kay
176
Posted 12/12/2021 at 21:54:54
We are the new Notts Forest, or Ipswich Town. Once a club that succeeded in Europe, now also rans heading for relegation and oblivion. Does any blue look out for how they're doing in the Championship ? Doubtful. Does anybody think anyone will give a fuck if we do go down ? The players ? Doubtful. Media ? You've got to be joking, they cant wait to see the back of us so they can drool over Jurgen and their song with scarves. Agent Benitez is in full swing. They couldn't have scripted it better. Ex Dinosaur manager taking us down. It starts with all of us. The Club, the players and even the fans, apathy for so long This mistaken belief that we'll be a challenging club again is so far off the mark its laughable. Do you think those pricks across the park would accept any of what we experienced in recent years? In 2005 every football pundit and RS TV celebs were insisting they be allowed to defend their European title ( some saying at the expense of us ). Well they got their way. Same with the Gillette and Hicks protest. National news outlets saying it shouldn't be allowed to happen to a club like Liverpool. Do we have anyone saying that for us? Can you blame them for ignoring us? Not really. We don't do Kopite behaviour and now we're staring into the abyss. At least once a season we get an Arsenal atmosphere ( Kopite behaviour ?) but mostly its a couple of bars of "If ya know ya istory" before fading to murmurs and grumbles. ( Everton behaviour). BMD wont get built if we go down. Wish I had a solution but I think we're finally fucked. Since the Premier league started we've lurched from crisis to crisis. I fear at the end of this season we'll finally sit along side Sheff Wed as a once top team of the 60s in a decaying old ground.
Paul Hewitt
177
Posted 12/12/2021 at 21:59:19
I agree a manager should aspire his players. But for God sake when are these players going to do it themselves. They aren't children. Start acting like highly paid footballers and do you bloody job
Barry Rathbone
178
Posted 12/12/2021 at 22:02:02
Week in week out the team sheet is the epitome of a "wing and a prayer" setup even without injuries this squad is barely mid table.
Exercise won't beat bad diet and tactics won't improve crap players this outfit MIGHT get enough points to avoid relegation but results like today are deffo part of the road map
Matthew Williams
179
Posted 12/12/2021 at 22:02:03
Forgot to say...play in all black,wind up the Chelski mob,be in the face of the Ref,start the game like we're 1-0 down already,play for our magnificent away supporters (at long last) and put ALL our young lads on the bench... ready or not (past caring tbh) & most importantly of all... don't let Kenwright in!.
Danny O'Neill
180
Posted 12/12/2021 at 22:02:50
Tony @174, just to round off my evening, you've reminded me of that gap we've been talking about that is still there between the midfield and defence. Mind the f"*cking gap as they say on the London Underground that many Evertonians would have been travelling back on tonight.
It was so evident today, so your 4-5-1 shout is very valid, even though not my preferred. But you play to the strengths of what you've got right? Maybe even an adaptation of that; 4-1-4-1? These days most formations morph depending on being in possession or not but I tend to agree.
Don't tease me on Rangnick Andrew @175. I've been calling for him since we replaced Moyes. Most definitely the time to entice him was when Moshiri first came in. What he could have done with that money we spent.
John Raftery
181
Posted 12/12/2021 at 22:04:20
The performance improved after the double substitution. Richarlison had made little contribution and we now learn he had a calf problem. Given he is a player we cannot afford to lose over the next few weeks it made sense to bring him off before he incurred further damage.
The reaction of our fans to that substitution was predictable but depressing. Booing the player, Rondon, and the manager while the game is in progress did nothing to help our cause but arguably encouraged the opposition. Some of our away supporters behave like a baying mob with the invective aimed at players, manager and some fellow fans who are brave enough to offer an alternative view, reaching levels I have not seen before, even during the brief reign of Sam Allardyce.
As regards the tactics in recent weeks some have argued we have needed the extra man in midfield. What we had today in compensation for the absence of Allan was Delph, ageing and slow, sitting behind the pedestrian Gomes and Doucouré. That trio struggled to contain Gallagher who looked a class above any of our players and was constantly finding pockets of space in front of our back line especially on the right. He had a field day. So I would suggest it was not a failure of tactics as much as a failure of personnel. Once the personnel changed we looked marginally a better team.
Obviously we need to cut out the mistakes. Gray held his hands up for the first goal. The second from yet another corner highlighted our continuing inability to defend set pieces while Gomes, trying to move the ball out of defence in the dying minutes, gave possession away for the third.
Si Cooper
182
Posted 12/12/2021 at 22:08:51
Can we please lay off the 'Gomes is dead slow' tripe? His pace was improving the more games he got last season and now he has obviously lost some weight and actually carried the ball forwards for about 20 yards with their players not reeling him in until he had to veer, so he is quick enough for where he is playing.
I saw the main problem in midfield as the way Doucouré and Delph just didn't mesh, and Delph was back to thinking he could swagger and strut and still play his way out of trouble. The movement of the ball just wasn't quick or slick enough and Palace were athletic enough to dominate the midfield far too easily.
Tony Abrahams
183
Posted 12/12/2021 at 22:11:48
Andrew I think Jerome is talking about changing the whole attitude of a club that hasn't won a trophy for 27 years, instead of being happy with a squad of players that continuously blow hot and cold?
Some good points about Benitez, though Andrew, but look what happened with Silva, when he had most of that back four?
Ancelotti got a lot of away wins by protecting that same back four, but when he tried to change his formation, results also changed, and unless Benitez, goes really ugly, I don't think things will improve, with this present back four either, unfortunately, although that's just my own personal opinion, and doesn't excuse the lack of aggression or energy today.
Paul Birmingham
184
Posted 12/12/2021 at 22:15:18
Jeff, one of the ifs, but the communications from the club, in general is rank.
Ask the manager, the next game I.e.today is the most important game, the club invites chaos, is chaos, 8n matters football.
Consistency and minimum effort and common values in my view aren't coached at Finch Farm.
Today bar a few players, none played the whole game for the shirt.
The free kick for their third goal, our free kick, summed up the real picture of this teams plight.
Captain rushes a free kick, without the opposition being 10 yards away, plays at an angle across the line just outside the box, into a position of no strength for Everton.
A very bad away day..
A Medal, to all Evertonians who went today, the board should refund all their travel coasts, regardless of travel mode.
The travelling circus, Everton FC, has once again failed to turn up and play a proper match for the whole match.
Here's to a reaction, good one at Chelsea.
Matt Byrne
185
Posted 12/12/2021 at 22:17:56
I think our away fans are fantastic. We sell out each away game despite pathetic performances on the field. I salute all those who give their time and money to the away cause. I've given my full support to the manager thus far however he appears to be wishing to alienate some of our best players. What has Digne done to justify being cut out of the squad? Richy clearly felt he was fit enough to carry on. The manager is not helping himself with these decisions. 5 points from 30 speaks for itself.
Don Alexander
186
Posted 12/12/2021 at 22:18:43
I'm always amazed that so many of our players have so limited ability at the basics. Passing, control, consistently crossing past their first defender at set pieces, and shooting accurately from the edge of the box or just beyond can be improved at a training ground. Anyone who's played at any level knows this, and yet we're nearly always poor season-in season-out.
I suspect Benitez has no confidence in almost all of the squad, with good reason. How he improves the set-up he's taken on is anyone's guess. I just hope he avoids asking for the opinion of anyone in Finch Farm or the boardroom.
I'd recommend Moshiri to pay close attention to Newcastle United this January. Relegation is no part of their new owners' plans either but I bet they don't spend anything close to what we have in six hopeless years in a bid to merely survive. They'll sign some bog-standard players for silly money no doubt, and who knows they may just survive to the cost of one of clubs just above them, all of them averaging about a point per game.
Danny O'Neill
187
Posted 12/12/2021 at 22:24:10
Very balanced John Raftery.
Andy Kay. I appreciate your view, so please excuse my sentiment.
A team that has spent all but 3 seasons outside of the top flight of English football since it was formed? Has played more seasons than any other club in the top flight and won more top flight titles than any other than Manchester United, Liverpool and Arsenal? That is not the next Nottingham Forest or Ipswich in my opinion given their history.
If I think back to 1987, Everton had won more titles than Manchester United, who got relegated in my lifetime. I've never seen Everton relegated and don't intend to start now.
I get the pessimism, but please lets not compare ourselves to clubs like that.
Of course there is no easy fix, but if you want to go down that route, I'd call us more of a City or Chelsea. And in my lifetime they had achieved nothing like we had and dropped to depths much lower than we are now until they got to where they are now. So we have a better starting point.
This all goes back to how the club is run at to very top. We never capitalised, but we still have the chance to re-emerge.
I'm not dismissing the mismanagement, just trying to put some context to it.
Robert Tressell
188
Posted 12/12/2021 at 22:25:53
There are plenty of managers out there better than Benitez - someone I really didn't want at the club.
We obviously tried alternatives first too with Nuno Santos and maybe others.
However, no top drawer managers wanted the job. Anyone good enough to really turn this around will have much better options.
Personally I doubt Lampard (amateurish in my view) or Potter (doing well at a club that is well run and organised for relative success) would be interested in ruining their reputations here.
Ancelotti was not everyone's cup of tea but he knows what he's talking about - and he knew that an immediate upturn in fortunes requires a magician (especially with no money) not a manager.
The only way we can possibly achieve anything of note is through patient building. Hopefully that starts with more game time for Branthwaite and Gordon - but don't expect too much from Simms and Onyango. They're not even setting the U23s alight with their limited performances this year.
Jerome Shields
189
Posted 12/12/2021 at 22:29:28
Tony#183
That is exactly my point. The last chance was Ancelotti, Benitez is the second last chance.
How many Managers are they going to go through 7, 8, 9, 10, whilst getting rid of two Directors of Football. Now we might get another DOF. Nobody knows why we need one and what to do with one. Surprise Susprise.
The problem has been running through the whole Club for years and the performance today has been it's hallmark for years. It about time a stand was taken, either that we will be in the same situation with the next Manager next year, as we have for this past 6 years.
We may be shocked by the performance today, but noone has said they are surprised. Why? They have been looking a similar performances for years.
Agree Tony , Benitez will have to go ugly like Ancelotti, for the reasons you state. Like Ancelotti their could be also a trust issue.
Danny O'Neill
190
Posted 12/12/2021 at 22:31:32
Good point Don. Not enough players comfortable on the ball.
The only one today was Demarai Gray in my opinion. Wants the ball, runs with the ball and threatens the opposition. Concerns them enough to crowd him.
Richarlison too, but we isolate him when played as a the 9.
Tony Abrahams
191
Posted 12/12/2021 at 22:35:36
I'm certain confidence has a lot to do with that limited ability Don, but I always feel that when good players take the ball forward, they naturally protect it by keeping it away from their opponent.
When good players receive a pass they instinctively protect it by moving it across their body and open up, to keep it away from their opponent.
When Everton players get the ball they rarely take it forward, and the only effective way that most of them can find to keep the ball away from their opponent, is by constantly checking back, and passing a square ball that damages nobody.
I always say it's easy being critical, especially because these players are playing at a level we can only dream about. But the lack of style, the lack of panache, and the lack of enjoyment that only comes from playing with real effort, is all sadly missing.
How can we be happy with a team, that appear to have very little pride in themselves?

John Raftery
192
Posted 12/12/2021 at 22:36:19
Si (182) Gomes has certainly lost weight and did make one forward run today which was as surprising as it was impressive. Unfortunately he did not get around the pitch enough over the ninety minutes and displayed little of the agility required to recover possession thereby turning defence into attack.
In fact his impact when we were not in possession was negligible. When we were in possession he offered very little by way of a threat in the final third. He remains a player best used in the latter stages of matches when he is fresh and opponents tiring. That said, for all his shortcomings there were no better options today other than to select him.
Paul Hewitt
193
Posted 12/12/2021 at 22:48:23
Let me just say, sacking Benitez would achieve absolutely nothing.
Colin Malone
194
Posted 12/12/2021 at 22:50:58
Today, we packed the midfield like a sardine tin. No-one knew where they where doing and going, no fucking balance. Who was our number 10?
Fucking no one.
Richie was so isolated.So Instead of moving our best player to his best position, left or right side or behind the front man. He took him off.
Francisco Franco. Spanish dictator. My way or no way. if that's your way Rafa. Taxi for Rafa.
Paul Birmingham
195
Posted 12/12/2021 at 22:52:13
Don a good point.
Football stats are down to every ones, view and can open a 1000 different views on how, why and justification etc.
But I read some this week, reference Keane - most blocks, and Allan, most. tackles, this season, on an internet link with the stats shown by Sky Sports.
But it seems lately that any of the decent footballers, and not all the Adonis athletes as seems the vogue in football these days to get there,( get there and go nowhere, for many, after getting there), in context of Everton have their natural skills coached out of them, at FInch Farm.
Each to their own, views and I hope that this tidal wave of Omnicron doesn't, impact adversely the plight of all Evertonians health, and their families health, and EFCs fortunes in this toughest of seasons.
But this season is going to be a very tough battle to the end of this season.
Hopefully Everton will survive with damage limitation minimal in terms of good player stocks left, by next summer.
Alan Moss
196
Posted 12/12/2021 at 22:55:15
Paul #193...except a significantly happier and more supportive fan base.
Sticking with him doesn't seem to be achieving anything but disharmony. Since he came in the football hasn't improved, the board have begin in-fighting and now he's alienating senior members of his playing squad.
No, you're right, sacking him would achieve nothing.
Jonathan Tasker
197
Posted 12/12/2021 at 22:56:11
Gomes is finished.
You won't win many games with Gomes and Delph.

Paul Birmingham
198
Posted 12/12/2021 at 22:56:22
It's in summary looking like the bulk of the Everton first team midfield, in terms of players is in the knackers yard!
Possibly a fair few others, in defence, no names but loans out or sell as soon as.
Brian Williams
199
Posted 12/12/2021 at 22:57:24
According to some reports Kenwright wants Benitez sacked and replaced with Rooney.
Paul Hewitt
200
Posted 12/12/2021 at 22:59:51
What the hell is Rooney going to do?
Brent Stephens
201
Posted 12/12/2021 at 23:04:47
Peter #145 "it sounded pretty bad on the telly, the booing of Richarlison's substitution coming through loud and clear, followed by the Richi song. Then the "Just a FSW" song. It must have been grim."
It was. And, I'm only guessing here, but I have a feeling that a barney that broke out in front of us late on was over who's to blame for what's going on. It seemed to get a bit tasty. Everton fans literally fighting among themselves - not a good look.
Tom Bowers
202
Posted 12/12/2021 at 23:09:53
It was always going to be a defeat when Rondon finally gets a goal, never a win. Too many 3rd.rate players in this squad and quite frankly yet another manager who has had his best days elsewhere.
Forget anything about Rooney, he is not ready yet for the Prem.
Everton should look to a German coach as they seem to be more in tune with what the Prem. is all about, much like the Bundeslige.
An absolutely awful defeat and a letdown which was on the cards after Monday night and we should be getting used to this scenario.
Kieran Kinsella
203
Posted 12/12/2021 at 23:13:48
The Sun, Star and Express all reporting we are on the verge of a mass extinction event. So we may not have to worry about Everton for long.
Steve Carter
204
Posted 12/12/2021 at 23:26:30
Brian [199]. You're joking, right? If not: Jesus wept.
Rob Dolby
205
Posted 12/12/2021 at 23:29:56
Anyone have any ideas on the game plan, tactics or formation today?
After 20 mins the game settled but we still couldn't put 2 passes together.
Unless we get a bit of brilliance from Gray or Richarleson I just don't see how we set up to score a goal.
I don't see any pattern to our play.
Out of possession which is a lot of the time. We don't have ball winners, you don't need to be 7ft to put a tackle in. Look at city and the shite, they swarm when out of possession to get the ball back.
We are back to being vulnerable on corners. Same players under Ancelotti could defend corners!
The players look more confused as the weeks go on. Digne a model pro is now on the outside for voicing his opinion. He won't be the last either.
This run of results isn't a fluke. We have been out played by very average teams.
Surely he can't last much longer.
Danny O'Neill
206
Posted 12/12/2021 at 23:31:51
Never good to see Evertonians fighting over the one thing we all agree on, Brent, and sorry we couldn't meet up today. Disagree with each other? Of course. Fight? No.
Next time mate.
Tom, don't start me. There are many German coaches and managers out there. I called a couple out in the summer.
I also called for Rangnick to come in, as I did a few years ago and he was my first choice this summer with a younger coach under him givem he is effectively a DoF. He will shake Man Utd up and snap up a young up-and-coming coach to run the first team under his stewardship.
But that would have seen Brands's position threatened or seen him move up to a complete boardroom role. Guess what happened? He went... and we now have a control freak in his place.
That ship has sailed, but there are a few good German coaches out there. And they generally switch young, so you are talking coaches in their 30s and 40s.
I'm biased (right Michael?!!), but that's where I'd be looking.
Jerome Shields
207
Posted 12/12/2021 at 23:37:46
Allegedly, Kenwright has made his feelings on Benitez clear to Moshiri, after today's defeat.
So the Strategic Plan review is going to plan. Shaft the Protest Fans during the week, float the idea of a new DOF. Shaft Benitez this weekend, players' rumours wheeled out during the week, Reports of unrest wheeled out in the media by the end of week. Poor performance against Chelsea.
Just warning you all. Vieria was right: Everton are not in a good place at the moment.
Think I will give Everton a miss this week.
I watch football – not politics.
Colin Glassar
208
Posted 12/12/2021 at 23:40:24
Kieran 203, the mass extinction event will happen in the year 2030 just as Everton are 5 minutes away from winning their first trophy in 30+ years.
Don Alexander
209
Posted 12/12/2021 at 23:41:52
Tony (#191) I was never a player of your calibre. I was "amateur" at best. That said, I strived to improve as a player (I was a "ball-playing" centre-back in my dreams but others told me I could read a game and I was made captain for much of my, err, "career").
To that end as a mere boy I spent every day trying to become two-footed, having been born with my left as "a swinger". Until age took its toll I played on in the left centre-back, or left back role.
I also had an ability to hit a ball with power. It was taught to me from a basis of sod-all by a headmaster I had aged 9, a pre-war English Amateur International. All my playing life I practised free-kicks as a result. Sometimes I played with a player with innate talent and therefore I deferred to them, but constant practise never went amiss. I could score to the end of my playing career.
I just wonder whether such practise improved you to such an extent as to make you conspicuously better?
Barry Hesketh
210
Posted 12/12/2021 at 23:43:10
According to a Tweet by Bobble:
Everton Chairman Bill Kenwright, has made his feelings clear to Farhad Moshiri. Rafa Benitez's time at Everton Football Club now lie in the hands of Farhad Moshiri
This Tweeter does seem to have more hits than misses, but it's really poor if the owner and Chairman can't keep their views private without one or the other leaking information to select people as a divided club at any level is bound to fail.
Brent Stephens
211
Posted 12/12/2021 at 23:43:48
Great, isn't, we ditch the DoF, supposedly because we want the manager to take the strategic view of playing style, tactics, player development and acquisition. And now we're talking about ditching the very same manager just a week after. So much for the longer-term strategic view.
Derek Thomas
212
Posted 12/12/2021 at 23:44:31
Gray hero then villain. As I mentioned after the Arsenal game...you're not as good as your last game, which is history, you're only as good as your
next
game.
Up until Grays poor backpass I thought we were getting into it. But goals change games.
Those cracks that were papered over last week are all back, because all the multitude of problems that causes the cracks have not gone away.
Problems require solutions, sometimes time can cure them, sometimes only actions can...but they can't be of the kneejerk type.
As always with our band of County Rd Casuals - more questions than answers...I've written that a lot over the years.
Jerome Shields
213
Posted 12/12/2021 at 23:49:17
Brent #211
It is not called the long term strategic plan, it is called the long term permanent strategic plan( ref Everton FC website). In other words it is a plan to keep Kenwright &Co in power permanently. Thats's what the strategic review is about, to get it back on track.
Danny O'Neill
214
Posted 12/12/2021 at 23:55:50
Brian, Steve, I missed that; the Rooney thing.
Please no. Having had to watch on the tele, I saw the cameras on Kenwright looking down and texting. Worrying.
Surely not Rooney.
The Everton Lampard only with a worse start point, destined for an equal, but worse, fate given he wouldn't have anywhere the same resources??
When will this sentimental bullshit end? When will this club move on? As just about all those we were on a par with 35 years ago and those who couldn't touch us then (City, Chelsea) have done?
Please cite me the old boys club in prominent decision making positions at any of those clubs. I can't think of many.
At manager level, I can only think of Arteta, but he's hardly a dyed in the wool North London Arsenal lad. A few weeks ago Solskjaer maybe, but look how that ended. And he is Norwegian anyway.
We have a new stadium on the way. But we also desperately need to reinvent the structure of how this club is governed and run. Not keep reverting back to days of old sentimental bullshit.
That's for the likes of us on these pages and, dare I say, Blue Bill? When we talk of clearing out deadwood, its not just the playing staff.
Could get messy, but it's needed.
I've not been well and Everton aren't helping. But roll on Thursday Blue Boys.
Brent Stephens
215
Posted 12/12/2021 at 23:59:40
Jerome, maybe it's our equivalent of Chairman Mao's Five Year Plan, our Great Leap Forward, of the People's Club. And we're now suffering the Great Goodison Famine. Revisionist counter fan coalitions will be re-educated.
Our Journey of a Thousand Miles began with a single step, and another one, and…
Laurie Hartley
216
Posted 12/12/2021 at 00:01:41
What a roller coaster ride the life of an Evertonian is. Feeling gloomy this morning.
If you can't defend what chance have you got in the premier league? Have a look at this photograph from the BBC.
Says it all for me.
Eddie Dunn
217
Posted 12/12/2021 at 00:05:15
Robert Trestle, the reason Carlo A left wasn't because we were up shit street but because one of the biggest jobs in the world was offered to him.
Who in his right mind would have stayed?
I'd rather promenade in Madrid than flipping Crosby any night of the week.
The squad got 10th last season. We have lost James R and Siggy plus temporarily lost DCL.
We have gained Townsend and Gray.
Surely we should managed top 12?
Rafa clearly is struggling to inspire the side and his appointment has split the fanbase. The players are thus unsettled. This lot are bottlers but they are capable of grinding it out on occasion.
Our problem is that this manager is uninspiring, unloved, and his methods are failing to get the best out of our team.
He may well have been dealt a poor hand with some injuries but now we only lack Dom and yet we look dreadfull.
He simply has to go. A temporary manager needs to circle the wagons and tough it out. What money we can spend should not be entrusted to Benitez or we will have nothing to offer our next incumbent.
Mark my words, we will struggle against a resurgent Leicester and Chelsea away is a place where we get nothing even when on form.
If we give him the push now, we might get a response from the players. We need to do something as this is going tits-up very quickly.

Danny O'Neill
218
Posted 13/12/2021 at 00:07:43
If we go down the path of replacing Benitez only a week (weeks?) after Brands going then I would suggest:
1. We've seriously lost the plot. Why would Moshiri sack something he believed in to only sack someone he allegedly brought in as well?
Which leads to:
2. Kenwright still holds power and influence.
Dysfunctional top to bottom. Who actually would take this on?
Obviously I don't hold the keys but we see this season out and regroup.
Again.
Barry Hesketh
219
Posted 12/12/2021 at 00:23:23
Jerome @ 213
I never, ever thought that I would type the following, but on this occasion, perhaps Bill Kenwright's gut feeling for the club is far more aligned with the fan base than that of Moshiri, I also don't think that Bill is saying or doing things from a selfish point of view. My fear is that Moshiri and Benitez could put Everton FC in real jeopardy, not just for this season but for many season's to come.
The club seems to be in disarray with many competing factions within it, pulling in many different directions, but ultimately no matter how some may view the situation, the owner has to take practical steps to prevent or curtail a possible mutiny of his staff, which could mean the end of the Spaniard's tenure would come pretty soon, or he has to back his choice of manager and rid the club of those who don't agree with him. He could of course go the whole hog and remove the Spaniard and replace the dissenters with his own choices.
Everybody connected with Everton Football Club should only be interested in giving the team their full support to help them win football matches, there is no place for political in-fighting, or empire building or any other selfish behaviours, but if people don't believe in what Moshiri is doing, or can't make the Iranian listen to their points of view, then they should do the honourable thing and resign from their positions.
We are rapidly approaching a point of no return and merely removing the manager - if that's what Moshiri wants to do - will not solve the issues the club faces. Moshiri is the key to everything that matters and his decisions will make or break the club.
Paul Birmingham
220
Posted 13/12/2021 at 00:34:27
The Pits?
Not Gardens of Stone, yet but the rumours now coming this or whatever way, don't give Everton FC, much credence, in terms of communications and management of corporate affairs.
But and if.
Thirty years plus, of mediocrity, is a fact, in terms of Everton FCs, progression, in football terms.

Rob Halligan
221
Posted 13/12/2021 at 00:57:24
Been home just over an hour now, and I've mulled over and over about what to say. Simple matter is, I don't know what to say, other than I'm absolutely seething about that useless manager. I didn't want him in the summer, and I definitely don't want him now, in fact just get of the useless bastard. After we get hammered at Chelsea on Thursday, that will be it, his time will be up. If he's still there next Sunday, then expect the most toxic atmosphere Goodison will have probably ever witnessed.
Who do we get, don't give a fuck, but we've got to sack Agent Gobshite before it's too late.
Bill Gall
222
Posted 13/12/2021 at 01:02:25
A DoF needs more than one season with a manager to set the base line of a new model of football; the one we got in 2019 had 3 different managers, the one we have now did not believe in a DoF and wants complete control. The football side of the club, including Finch Farm, is too much for one man and he should just have been left to look after the first-team squad.
Today was the first time in 60 years when I have had the chance to either walk out, not go, or stop watching, I switched the TV off at half-time. I don't know if they played better in the second half but I always thought that a game was 90+ minutes.
Blaming the Board or one man in particular will not solve the present problem; it is the manager and players who are losing games or playing without spirit, and they should either be changed or dropped.
I just texted my nephew, who was at the game today and goes to nearly all home and away games, including Europe, to let him know he must be a glutton for punishment. And kudos to those who went to today's game; this club don't appreciate and don't deserve loyal supporters like you.
Jerome Shields
223
Posted 13/12/2021 at 01:26:47
When I say Moshiri is wreaking Everton I am refering to on the pitch. The new Stadium is different.
Jack Convery
224
Posted 13/12/2021 at 01:43:43
Does this sound in any way familiar to whats going on at EFC over the past 6 years.
In June 2011, Lerner appointed manager Alex McLeish, who was previously working from local rivals Birmingham City. McLeish's contract was terminated at the end of the 2011–12 season after Villa finished in 16th place, just above the relegation zone. On 2 July 2012, Aston Villa confirmed the appointment of former Norwich City manager Paul Lambert.
In February 2012, the club announced a financial loss of £53.9 million. Lerner put the club up for sale on 12 May 2014, with an estimated value of £200 million.
Lambert was sacked on 11 February 2015 and replaced by Tim Sherwood, who saved Villa from relegation in the 2014-15 season and took them to the 2015 FA Cup Final. Sherwood was sacked on 15 October 2015, after six consecutive league losses, with Kevin MacDonald taking over as interim manager. On 2 November 2015, Frenchman Rémi Garde agreed a 3½-year deal to become the manager and was sacked after 147 days.
In April 2016, two members of Villa's board of directors, former Football Association chairman David Bernstein and Lord King submitted their resignations to Villa Chairman Steve Hollis. Their resignation was due to them being "increasingly frustrated at the lack of progress they were able to make" at the club. There had also occurred, reportedly, a "hostile interaction" between them and owner Randy Lerner.
Taken from Wikipedia.
Craig Harrison
225
Posted 13/12/2021 at 01:58:55
I still feel we will get a points deduction for ffp in the spring.
Kieran Kinsella
226
Posted 13/12/2021 at 02:28:42
Rafa has made a rod for his own back with Digne. Many of us feel his form was poor but he remains popular. If you drop a star player you better be sure results are good otherwise you've given huge ammo to your critics. For Arsenal it worked out OK, today it didn't and regardless of whether Digne would have made a difference (he probably wouldn't have) critics can point to his exclusion and the magical "what if?" I think more than than fan protests, the Digne situation may be what does him in.
Phillip Warrington
227
Posted 13/12/2021 at 02:33:53
There is only one person to blame and that is Rafa Benitez. He picked the team and he set the style of play, and he was in charge of changing all this with substitutes or a game-changing address at half-time.
The Arsenal game, if they had taken their chances, we would have been blown out the water. All this crap about Brands and this or that former manager is deflecting from the simple fact: after the initial new manager syndrome where we won games, now that has settled and the initial enthusiasm has died down, we are left with the true Rafa and his outdated style of play and his lack of motivating the players to perform 10% better.
I am dreading Rafa being in charge of transfers. All I can see is another 3 or 4 over-aged has-beans on above-average wages. If he can't win the next two games, then he really should go and Ferguson should take over till the end of the season – otherwise, we are spiralling into a relegation fight that we might not be able to recover from.
Once we go down, it might not be that easy to return. Ask Sunderland.
Michael Forster
228
Posted 13/12/2021 at 02:55:13
I've seen every game this season and it's always the same. When the opposition have the ball, they have acres of space and easily find teammates in the open. When we have the ball, there is rarely anyone moving into an open space so, when the pass (usually about 5-10 yards) is made, there are already one or two players harrying the receiver. Same with throw-ins. We amble about and nobody seems to want the ball.
I also agree with an earlier comment about 'It's A Grand Old Team'. The only history that counts these days is that of the Premier League and our record since its inception hardly does anything for our hearts. Anyway, the anthem belongs in Glasgow, where it is much easier to have any meaning.
Steve Brown
229
Posted 13/12/2021 at 03:19:00
Where do we go from here? Last 10 league games form record is W1 D 2 L 7 and Chelsea away next.
DoF sacked, manager failing, losing to teams around and below us, fans in open revolt, key decision maker on any change is Moshiri. It takes a lot of energy and combined effort to screw things up so royally.
Jerome @ 166, we can't sack someone every week in the hope of getting a response on the pitch!
Bobby Mallon
230
Posted 13/12/2021 at 06:04:11
Paul @ 198 and everyone else with your opinion: When we get relegated, do we keep Rafa to get us back up? Because IMO, after being there yesterday, he will take us down.
We have a threadbare squad that he is making a whole lot thinner by falling out with senior players. That in turn will make the rest of the team less likely to want to put a shift in. IMO he has to go.
Mick O'Malley
231
Posted 12/12/2021 at 06:19:54
Jerome (above), I think you mean "sack Benitez and save Everton" – haven't you been watching this season? he is tearing the club apart, worst manager Moshiri has appointed – he is fucking hopeless, Benitez Out!
Si Miles
232
Posted 13/12/2021 at 06:32:34
Blaming Rafa is ridiculous and shows how deluded some of our fans are.
NO MANAGER IN THE WORLD COULD MAKE A COHESIVE TEAM OUT OF THIS SQUAD.
Our players are awful.
Tony Gavin
233
Posted 13/12/2021 at 06:33:28
Unfortunately, as most have guessed, Rafa was always an awful appointment. His negative, defensive football and 'never his fault' demeanour were hardly going to endear him to all of us.
What it has caused is a split in the fans, people arguing (apologies, editorial team – I was at it last week), a split in the board, and a split on the park.
Football clubs are at their best when they are in harmony; the last time we truly were was under Moyes. The players have an awful lot to answer for but, in terms of Rafa (in my opinion, the longer he stays the worse it gets) and the board, something needs to change soon or we WILL end up relegated at some point.
It's almost like the club needs an absolute disaster to wake it up. I hope it doesn't but it feels like that's where we are heading.
Ernie Baywood
234
Posted 13/12/2021 at 06:41:04
Si, I don't blame Benitez. But I want him out.
Let me explain how that works. The club is in disarray. We have splits in the team, in the crowd, and seemingly upstairs too.
So what do we need? Who is the one who can get us on the same page? Probably the most divisive managerial appointment in our history? No. It's a bad appointment and a bad decision to continue down this road.
It's not like we could honestly say he's getting a tune out of the players. The best ones seemingly don't even want to play for him.
What's the upside to him staying?
Bob Parrington
235
Posted 13/12/2021 at 06:48:04
Can we at least celebrate Rondon's first goal for the club? At least he was in the right fucking place at the right fucking time – unlike most of our players.
How does the song go? "Accentuate the positives – eliminate the negatives!"
Tony Hill
236
Posted 13/12/2021 at 06:53:38
Jerome, @223, I think there is a lot in what you say.
Gary Smith
237
Posted 13/12/2021 at 07:21:57
People like Si pretending Crystal Palace (and Watford, Villa et al before them) players are like Man City, whilst deludingly shouting "our man had no chance, it was a knife to a gun fight" are utterly DELUDED (apologies for the capitals eh Si)
Man for man, we have far the better players. The difference yesterday was a modern, progressive manager. Full stop. Someone happy to give kids (match winner Gallagher) a go. Someone who sees Townsend as not part of the future.
Give your heads a wobble - the players have blame again, the boardroom have massive blame, but the biggest blame of all lies with the defensive, divisive, fat, kopite dinosaur…..micromanaging our team towards football league oblivion.
Paul Hewitt
238
Posted 13/12/2021 at 07:26:37
Blame Benitez all you want (and yes, he is part to blame) but this club has been going downhill fast the minute Moshiri walked in. Blame the 5 managers, 2 DoFs, and the crap players. This is probably the worst I've seen the club in 40 years. It's heartbreaking.
Gary Smith
239
Posted 13/12/2021 at 07:34:13
Paul, can't disagree with anything in your post, but he's a massive part of the blame this year (just watch set pieces ffs) and he is the one thing that can easily (and must) change now.
Danny O'Neill
240
Posted 13/12/2021 at 07:43:03
Gallagher. Another example of Chelsea reaping the benefit of investing in their academy over the past several years. And clever use of the loan system before bringing them back when tried and tested. He won't be at Palace or anywhere else other than Stamford Bridge playing in Chelsea blue next season.
Barry, Jerome, Brian Murray and others. Moshiri is the problem but not the problem.
Sorry if that sounds like an Irish riddle, but I agree with your views. He needs to surround himself with proper, impartial football people and far better business operators. Why am I having to tell a Billionaire this?
Not Evertonians or ex-players who now consider themselves Evertonians. I could do that job and would never want to lose my seat at the top table once I got it. Sound familiar?
Despite the severe turbulence right now and my distain at the appointment of the current manager, I don't think change is going to help (sorry Rob H - you can chest poke me next time we meet!).
Those on here who bother reading or listening to me know my views on the DoF model. Ironically, Benitez is behaving like one. But, and this is the problem, he's still trying to be first team coach as well. Too much control in the modern game.
If he wasn't such a control freak and if he'd accept he's a bit more "mature" now, maybe, just maybe, he could work with a younger first team coach whilst he set about disrupting and shaking up the club's structure and strategy. Let's face it, he's only here for the short-term, be that next week or the next 2 years. But if his legacy is that he influences the owner, forces the change many call for at board level, then he might achieve something, even if, for now, it's painful on the pitch.
Just an early morning thought.
Gary Smith
241
Posted 13/12/2021 at 07:56:49
Danny, I've asked this on several threads now, but:
Where is there any evidence that Benitez is capable of going into a club, shaking it up, and instigating long term substantive change?
Please point me to it? All I can see is a history of division and infighting that usually has him removed in less than a year or two. That means he alienates and upsets people…..and I can see why that could even be attractive right now. What I can't see is any evidence it won't make things much worse either.
It's equivalent of a business manager hiring a disruptor with zero evidence of past disruptive success.
Peter Neilson
242
Posted 13/12/2021 at 08:23:10
The lack of planning shows in James and Gylfi never being replaced. James as he was sold too late; Gylfi as the club let events dictate their non-response. Compounded by the lack of cover for DCL (Rondon for King, more great planning). Whoever manages us has to get a tune out of what we have as other than a couple of loan signings in January nothing else will change.
Can't see Benitez going anywhere as long as as we have 20+ points after Newcastle. As for Bill, he'll make his exit only after opening BMD and leaving us his legacy. Chickens have truly come home to roost.
Robert Tressell
243
Posted 13/12/2021 at 08:28:01
Jack @ 225, our situation is very similar to Villa's demise. In our case though, we have put our faith (of late) in much more experienced managers. With Villa they had Sherwood and Lambert for our Ancelotti and Benitez.
They finally went down because they dismantled the very strong side O'Neill had assembled and eventually trusted inexperienced Lambert with a side of pretty well scouted youth - in Vertetout, Gueye, Amavi, Traore, Lowton, Okores and maybe one or two others.
Many of those players have gone on to have decent careers but they weren't ready to cope being chucked in at the deep end together.
I'm a big fan of youth development but that's not the way to do it.
We have a badly assembled squad and we'll have a better idea at the end of Jan what Benitez' strategy is. Based on the more credible rumours I expect a focus on 23 to 27 yr olds with enough games under their belt to step straight into the side (very Moyes-esque). But it depends how much money there is.
If we sack Benitez (dinosaur though he may be - though fellow dinosaur Moyes is doing ok), there is a real risk that we place our club in the hands of a real rookie or amateur - like Sherwood and Lambert. Because certainly anyone of calibre will not want this poison chalice of a job at a badly run club with a deteriorating squad and no money.
Gary Smith
244
Posted 13/12/2021 at 08:37:16
Robert - look at how well Palace played yesterday (and for large parts of this year) thanks to changing their manager from a dinosaur to a modern progressive. Brighton, Red Bull, Lille, Ajax and dozens more counter your off "but Villa are the rule not the exception" observation. We stick with this micromanaging, possession ceding, worst set piece (zonal) routing pleb and we will go down too. It's that simple. Feck your fire I want out of the pan.
Robert Tressell
245
Posted 13/12/2021 at 08:52:54
In fairness Gary, Lille, Ajax, Brighton and the RB clubs in Leipzig and Salzburg are organised for success - having a clear vision revolving around youth, infrastructure to support that vision and everyone pulling together in the same direction.
It's not really Potter, Gaultier, Ten Hag etc that take all the credit.
Personally, I wanted a team of Potter and Brands working along these lines - to transform us into a modern progressive club with a strategy of player development. So we're totally on the same page there.
But without Brands and with all the politics and interference (and an almost non existent budget) there's a strong chance that Ten Hag, Potter, Gaultier etc would be a disaster at Everton. Because the club is so fundamentally (badly) differently run to clubs where they've had their success.
I'm not a fan of Benitez at all, but I don't see the point of sacking him when the problem runs much deeper than the manager.
Steve Brown
246
Posted 13/12/2021 at 09:14:14
Like Danny, I still believe the DoF is the optimal model. What we do next is clear to me (but others might disagree!).
We talent-hunt a TOP DoF - a top candidate will only consider the job if it is written into the contract that he has full accountability for a) manager searches i.e. only candidates short-listed by the DoF will be interviewed by the board b) the footballing philosophy of the club and the sole right to hire/fire employees on the footballing side c) and accountability and control of transfers within the budget set by the owner. The owner and board to get the hell out of the way of all the above and stay out.
The current farce where the board is carrying out a strategic review of the operating model while Benitez is evaluating the football-related departments is another sign of the DYSFUNCTIONALITY of how this club is run. How can the manager be overhauling the medical department when he has lost 7 of his last 10 games?
If Benitez wants to be DoF, then he can interview for it. If the successful DoF candidate can work with Benitez and wants to keep him, then so be it.
Karl Meighan
247
Posted 13/12/2021 at 09:19:04
John@181Gallagher, Loftuscheek and Gilmour have all either been out or are out on loan from Chelsea. Benitez has lists of thousands of players in his so called database, so why has he not even been interested never mind sign those 3 for a start from a Club he managed as all would walk into are first team and all are mobile, fast enough, young have good engines and chip in with goals?
I never like to sack the manager and I would agree Digne has not been at his best but he's a leftback Godfrey is not and if there is not another at the Club who's at fault for that, this cannot be allowed to continue 5 points from 30 is a disgrace.
Joe McMahon
248
Posted 13/12/2021 at 09:19:07
I don't know where the club is going. The Everton Way mindset (which is the most damaging), will not go away. As Robert says Lille, Ajax, Brighton and the RB clubs in Leipzig and Salzburg etc and yes add Palace. Have a different mindset of vision and a plan. They don't have Kenwright, Unsworth, Ferguson and others stinking the place out, just happy to be a blue. I've gad enough, embarrassed, frustrated and hurt that this is my club. I'm done (I'm sure like many if us). Palace yesterday were everything Everton are not, players and Manager, and done with a lot less money.
Gary Smith
249
Posted 13/12/2021 at 09:32:40
Robert - really good points and agree with 99%. The only bit we disagree on is that it is not an either/or situation. The governance structure needs massive reform - something we ALL know is true. I just see absolutely no evidence that Rafa does anything other than disrupt and divide. His zonal marking is unforgivable. His substitutions indicative of a man who sees fans as a threat to his authority too. For me he is the straw that is breaking the camels back, and the first (not last!) dead weight that needs shifting.
Sam Hoare
250
Posted 13/12/2021 at 09:34:59
What an almighty mess.
Danny O'Neill
251
Posted 13/12/2021 at 09:52:20
Gary, to respond, in short, I don't have evidence. I did put a "but" in there. Maybe I should have put a few more "ifs" and maybes". Guesswork and assumptions on my part.
I made my thoughts clear in the summer what my preferences where. The guy United have just snapped up plus a younger first team coach, probably from Germany under him. We obviously need to look elsewhere when we make our next move, but that's they type of model I'd want.
Back to Benitez. I agree with you on this, He doesn't have a history of laying long term foundations. But, maybe if (got them in this time), he can disrupt the status quo, ruffle feathers and force short-term change by Moshiri, he can achieve something for the next incumbent. And we know where the real change needs to be.
Like the guy who throws the hand grenade into the trench to cause impact then steps back to allow the main assault force to come in and finish the job.
Maybe that's a bit of a dramatic analogy, but that's where I'm coming from.
The culture of this club (not the fans) needs to change. And we will only do that by outing those who ride on and dictate the existing culture that prevails within the corridors of Goodison and Finch Farm.
Dave Abrahams
252
Posted 13/12/2021 at 10:06:29
Michael (229), a whole lot of truth in that post, not a lot of players are playing as a team or playing for the team.
Benitez has to take some of the blame for the organisation of how we play but too many players are just not good enough and compound that with the stupid mistakes they make nearly every game, yesterday was a prime example.
Justin Doone
253
Posted 13/12/2021 at 10:16:07
We showed a lack of effort, organisation, cohesion and ability.
I don't know the game plan, but it didn't work..AGAIN!
We did make a few adjustments but its clear to all we play our best football when we are chasing a game, pushing forward, playing a high tempo.
We don't possess the ability, mindset, footballing brain or cohesion to play a slow game, weather that's keep ball or sit back to counter.
All other sides in the bottom half appear to really target us as a good mid-table team that can be beat.
We get out fought, out played, out run, a few Palace players said so much in interviews.
We have a soft centre, an unrealistic " it will be OK" attitude, the nice guys. Colemans attitude sums it up. Tries hard, but no real 'win at all costs' attitude.
After Benteke nasty challenge he should have stayed down injured. Then VAR would have got involved with a real possibility of getting set off.
Instead he jumps up and says all fair. It wasn't. It was at least a yellow card which may have subdued him a little. He and Ayew battered our players who struggled to win the ball from their 'super strong' players.
Carlo fixed our defence, Rafa is struggling without them. I just don't get players mindsets.
But I'll leave with a positive. Rondon scored, we created chances, we do carry a threat going forward which hasn't always been the case.

James Newcombe
254
Posted 13/12/2021 at 10:25:14
This is not a great Everton squad. But they can play a lot better than this and shouldn't be concerned with the bottom three.
Why do we play on the back foot? Why don't we ever get started before the other team scores? Why can't we defend set pieces?
Sam Allardyce was a better brand of dinosaur than this guy. Can we please get someone young and fresh in (and not one of our ex-players!).
Ray Roche
255
Posted 13/12/2021 at 10:36:05
I'll say at the start, I didn't want Benitez. No way. Not just for his RS connections but because we have had defensive anti-football from too many managers lately. No more, please!
But I have always been of the opinion that, well, he's here, so we have to get behind him. Any hostility towards him will flow from the terraces and affect the team. But he doesn't make it easy for us. There are enough posts above detailing his faults so I'm not going to waste time adding to the list, but what I will say, and this will look like I'm defending him when I'm just stating the bleeding obvious, is this.
Coleman:- Every man and Danny's dogs know his best days are behind him. Successive managers have ignored this and refused to bring in a young replacement, so we consequently read on TW that he's 'shite'.
Holgate:- By common perception on TW he's 'shite'. Very shite in fact. Can't pass, prone to errors, you get the picture. Also up his own arse.
Keane: Another one who, on TW at least is 'shite'. Turns like the Ark Royal, too slow so we have to play deep etc.
Digne:- Been poor for 'a couple of seasons. Still a good player in there somewhere though.
Godfrey:- The only defender we've got. Escapes any real criticism in my book.
Mina-; Ah, the lesser-spotted Mina, a rare sighting but occasionally capable of defending. But still 'shite'. When he's off the treatment that is.
Of the back four from yesterday, three are always regarded as shite on here and very shite on the Live Forum where posters think that they should be dragged out, put against a wall and shot. If they're lucky.
All were inherited by Benitez so he's unlikely to get the silk purse out of this sow's ear. With no money for replacements, it's difficult to see where and how we are going to improve.
And if you add the midfield to this, Davies is apparently Championship at best; Godfrey isn't going to make it; Townsend was free so must be shite; Gray, well, no Top 6 club wanted him so he's also merdé; and Gomes, well I haven't got time to list all of his apparent faults etc, poor lad. Nice hair though.
If you also believe that Richarlison sulks, Calvert-Lewin wears a skoolie's frock, then we really are in the shit.
If Benitez goes, who can get a tune out of this lot? Really? Who is available, would come to Goodison and be prepared to try and breathe life into this dying club?
Jerome Shields
256
Posted 13/12/2021 at 10:37:52
Danny#255
I think Gary is to some extent right. Benitez was brought in to shake the Club and was identified by Moshiri and Usmanov as the required Manager to do it. It could be that this is why the reaction against Benitez is so disportionate, because to get rid of Benitez, Moshiri and Usmanov have to change their minds.
As Don and Tony have discussed through this thread, the lack of basics skills in technical and tactical ability is very evident. To be a Premiership footballer you have to be working to be at the top of your game on the training ground This is not happening at Finch Farm. Even experienced players such as Digne and Seamus have been falling down on basics. The level of fitness is also questionable.
Benitez and the people he has brought in are not getting the cooperation of the players. This has been the case since the first International break.
In a team a few players unchecked can influence a team. Against Palace a injured Richarlison was playing the gallery with his antics. The strange reaction to Digne being dropped, who alot of us thought should have been dropped earlier, as the French International Management did.
This all culminates in something wrong at Finch Farm, where Benitez has said that improvements are needs in all departments. The problem is their is resistance to the necessary changes, supported through the Club at all levels.
Part of that is rubbishing Benitez methods, For footballers who where comfortably earning their corn, whether they play or not it's a easy sell, especially those that think that there is value in a transfer.
The world of Professional Football is a cynical place, that few fans can understand. This is particularly so at Everton.
Bobby Mallon
257
Posted 13/12/2021 at 10:50:47
Rob 221 I wholeheartedly agree with every word you say.
Luke Welch
258
Posted 13/12/2021 at 10:51:59
When I watch Ben it seems to me he is more suited to full back, full of pace loves a challenge and gets forward when he can. If he can work on his positioning and final ball maybe we have a replacement for Seamus already?
Brent Stephens
259
Posted 13/12/2021 at 10:58:26
Robert #247 "we'll have a better idea at the end of Jan what Benitez' strategy is. Based on the more credible rumours I expect a focus on 23 to 27 yr olds with enough games under their belt to step straight into the side (very Moyes-esque). But it depends how much money there is."
And because there's very little money, this week's Digne affair might have been orchestrated by Rafa in order to engineer a January move, with a decent fee received; to then use that fee for a couple of cheaper but experienced "23-27 year-olds".
And Richie to be "engineered out" in the same vein?
Brent Stephens
260
Posted 13/12/2021 at 11:03:44
And, if I may add, I get the idea that all the recent changes and upsets are part of a wider plan for root-and-branch change. Strong organisational cultures take a long time to develop and to become embedded. But their strengths are also their weaknesses; so by definition, organisational cultures take along time to change (to BE changed), with a (often) necessary and deliberate shock to the whole system.
Simon Dalzell
261
Posted 13/12/2021 at 11:27:34
The people saying it's not the manager's fault need to wake up. We should have had momentum and a degree of confidence after the Arsenal win. Instead, the has-been manager sets the team up so negatively against a team that has lost the last three – it's mind-boggling.
He takes our biggest goal threat off at two-nil and lies about an injury. Yes, bring Rondon into play but obviously keep Richarlison alongside.
We need players in January but it's so depressing to think Benitez will be the one doing the business.
Benitez Out!!!!!
Barry Hesketh
262
Posted 13/12/2021 at 11:32:47
Simon @ 261
Just a minor correction to your post: Richarlison came off a few minutes prior to Palace going two-nil ahead.

Rennie Smith
263
Posted 13/12/2021 at 11:39:00
I'm starting to believe Benitez when he keeps on saying we'll be better in the second half of the season.
That's because you won't be there, you RS dinosaur.
Mark Ryan
264
Posted 13/12/2021 at 11:39:22
Simon says it all. Pardew was amazed how negative we were, Souness the same. My Mrs was the same and that sums it up. She was asking within 20 minutes "Why be so negative?" Where is the momentum from the Arsenal game? Benitez – and Benitez alone – killed it.
Ferguson sits alongside, a mute dummy. Kenwright sits in the stand, a mute dummy. The players must have thought "What the fuck are we doing against an out-of-form, gutless side like Palace?.
I for one have had enough. I actually wanted him. Many told me on here, "His football is negative, he is a dinosaur of a manager". To all those, I apologise. What do I know? I know this, people: "He has to go; Ferguson too. A clear-out please, Mr Moshiri!"
I could have set the team up better yesterday and I'm no football brain, believe me. Benitez needs to do one or we are sunk.
David Hallwood
265
Posted 13/12/2021 at 11:40:18
Just watched MoTD2 to make sure I didn't have a bad dream yesterday. Overall Palace were better in every in every aspect with Gallagher head and shoulders above every one else.
That being said, all 3 goals came as a result of schoolboy errors; Gray's through ball to Ayew in the penalty area, Godfrey forgetting the basics of marking from a corner, and Coleman's rush of blood and Gomes losing the ball, worldie from Gallagher apart.
I'm in the 'don't sack the manager' camp because he's been dealt a poor hand with injuries and what is laughingly called the recruitment policy, and the worst group of players I've seen at the club. Not talent-wise which makes it worse, I've seen Carl Tiler and Scott Gemmil running round in blue shirts who gave their all of what limited talent they possessed.
What we see in the body language of this pack of fuckers is terminal indifference and I can't recall a time when I hated so many Everton players.
That being said, the unforced errors are beginning to stack up. The weird substitutions vs Watford, in fact, the weird substitutions, full stop. Playing 2 in midfield vs the RS 3 workaholics that are probably the best pressing midfield in world football. The way we start passively; when was the last time we were on it from the first whistle?
At the start of the season, I thought we'd be anywhere between 6th and 12th. This is now beginning to look like the stuff of dreams. Worrying times.
Rennie Smith
266
Posted 13/12/2021 at 11:45:28
Don't be coming on here saying, this group of players blah blah...I said on another thread ask yourself this question, do you think Palace have better players? Do you think Brentford or Wolves have better players?

Phil Lewis
267
Posted 13/12/2021 at 11:49:58
Let's not forget that Rafa Benitez succeeded in taking Newcastle down. What's to say he won't complete 'The Double' with us?
He is yesterday's man. His methods are outmoded, his tactics archaic. Just like all of the others, he'll walk away with a nice fat retirement cheque to show for his failure, thank you very much.
Will we never learn?
Mike Gwyer
268
Posted 13/12/2021 at 11:52:16
We can't continue with this. Every supporter can see the errors that this manager makes, it's almost every game. You seriously begin to wonder what the fuck that fat twat is up to.
It's a disgrace to this club and the fans to allow this man to represent Everton Football Club. There is no style of play, the right-back is not allowed the grace to show that he is finished, and every team knocks the ball around us like our players don't exist.
We are going to get battered at Chelsea on Thursday and then that fat twat will see who supports who on Sunday.
Pat Kelly
269
Posted 13/12/2021 at 12:05:53
If sacking Benitez is not the answer, do we let him take us down? Then what? Hope he'll take us up?
Survival is critical now. And Benitez is looking increasingly lost. Something needs changing before it's too late.
Bob Parrington
270
Posted 13/12/2021 at 12:09:42
OMG. My attempt to put even the slightest positive thought on to this thread fell on deaf ears. I must be getting old.
Rondon actually scored a goal. He was in the right place at the right time.
OK. One positive take away.
Seriously, I'm past all of the negativity. At least my youngest son's family (in Sydney) have named their new puppy dog "Toffee". So they still have some hope for the future!!!
Barry Hesketh
271
Posted 13/12/2021 at 12:17:05
Rumours abound (well just one rumour in truth) that Benitez has two games to save his job and that Moshiri wants Luis Campos as DoF. The Portuguese would want Galtier.
Apparently, Benitez has been seen this morning heading towards the Liver Building, carrying what may have been a Santa suit, it is nearly Christmas after all.

Christopher Timmins
272
Posted 13/12/2021 at 12:21:33
Unfortunately at this point in time we have a significant number of players who are not up to it. One only has to look at the Wolves, Brentford and Palace games to realise how poor we are. I don't expect us to finish ahead any of the above named come the end of the season.
Pep would not turn this squad into top 6 contenders.
I will be keeping a close eye on the Newcastle, Watford and Norwich results in the coming weeks.
Danny O'Neill
273
Posted 13/12/2021 at 12:25:58
I think you articulate what I was trying to say, but in a better way Jerome. Shake things up, poke the Wasps' nest and rattle a few comfort zone cages to force the beginning of change throughout the club.
He's not necessarily the one to lay longer-term foundations or certainly be the one who oversees it through. He won't be here long.
Medical staff gone. DoF gone. Next stop coaching staff and influence Board level changes if possible.
Brent, I'm probably going too deep, but your post at 261 is very thoughtful and I like the analogy it drew me to, even if I'm going a bit political and deep for a Monday morning.
But you're right, stir things up enough and long sitting, controlling and comfortable establishments topple quickly once the winds of change are in motion. Imperial Russia, the Soviet Union, most of latter 20th century eastern Europe, Saddam Hussein's Iraq and Gadafi's Libya. Once you flick the first domino, the rest fall.
All it takes is someone to light the (blue) touch paper.
"Light the blue touch paper. To do something that instigates or initiates some intense or widespread action or reaction".
Very apt saying, especially the blue reference.
Interesting sentiment on here right now. Reading between the lines, most are in agreement on a lot of things even if put forward in different ways. One of the few things creating divide is sticking or twisting with the manager. Personally, and taking the personal out of it, we've been there and done that, to little effect. Regardless of whether we want him or wanted him (I didn't - repeat), I don't see that being the answer. It hasn't been to date.
We need better players (repeat), change at the top (repeat), change at the training ground (repeat) and change in culture (repeat). Changing the manager again won't change a lot regarding the real change needed for years.
I think we'll stumble through this season. Here's a dreadful, sobering, but possibly realistic thought, Based on where we are and the points we have, if we do more of the same, and have at least one spell of form, we'll end up on about 42 - 44 points. Yes, more of the same. Shudder.
An short-term preventative vaccination injection in January, then regroup in the summer. But then surely a longer term cure, major surgery and real change throughout the club?
It's only Monday. You'll have to excuse me. Recovering from my weekend bug and yesterday's non tonic helping served up by Everton as well as getting ready for that away point on Thursday.
Danny O'Neill
274
Posted 13/12/2021 at 12:31:13
Luke @258. Back to football. I like that!
My view on Ben Godfrey is that he will become a very good centre-back and one that can give us that drive to get us up the pitch.
But I think he will thrive and be better used in a back 3, which is where I think you're seeing the full back in him and why we can also use him there in a 4.
Karl Meighan
275
Posted 13/12/2021 at 12:35:16
Maybe Pep could not turn this squad into a top 6 side but surely, being fit, competing, being organised and defending corners is basics that even us fans could put right.
Hard work playing for your teammates and the shirt should be a given that we are not getting and it needs acting on before its to late.
Michael Kenrick
276
Posted 13/12/2021 at 12:47:02
Yea, Danny,
How old is Rangnick? And what's he been doing all this time? Or was he the one who took your beloved Schalke down?
Sorry, I've not been tracking the comments. Just got a new Dobbie pub and she's very demanding. But I'll have to keep her away from your ridgebacks until she knows how to stand up for herself!
Pat Kelly
277
Posted 13/12/2021 at 12:51:59
Quote from Moshiri in an article on TW on 2 December
"Next two weeks, we will get to a full squad and, in the meantime, results will improve."
Well we've had the mean time but the results haven't improved.
Think again Farhad.
Tony Abrahams
278
Posted 13/12/2021 at 12:54:16
Jack@224, if not now, then when? I was just using the lyrics from a Joan Armatrading song, because what you have posted, has so many similar parallels, and talking to a few Villa fans, over-the weekend, they were all very sad to see Dean Smith leave, because the man had helped give them their identity back.
Kenwright changed our identity, and although it was never good enough for me, it seemed to make a lot of people happy, and now it seems his sidekick investor, the man who just kept on giving, has spent enough, and been left a playing squad, of mostly average footballers, earning fortunes.
These average players, are simply not good enough, and it's why the last manager had them playing mostly negative football, because it was the only way he could find, to make them win?
The dinosaur is now eight points clear at the top of the Spanish league, which tells me he still knows a lot more about managing football teams than most people, and he couldn't wait to get out of Everton, because in his own words, he's not a magician.
Everton find themselves in a perilous position, despite having a super accountant, as it's owner, and a scheming, tight-fisted, conniving actor as chairman, and this is where I'd prefer to be voicing my displeasure, because if something doesn't change on this side of the club, it's definitely going to be, IF NOT NOW, THEN WHEN?

Andrew Keatley
279
Posted 13/12/2021 at 13:11:45
Tony (278) - It's a Tracy Chapman song...
Ken Kneale
280
Posted 13/12/2021 at 13:14:12
Tony,
I felt extremely let down by Ancelotti but I cannot fault his reasoning from a personal perspective – he could clearly see no person can bring about change at Goodison or Finch Farm under this regime.
I remain of the view the crown at Goodison will be vital to this team and the ire should be directed towards those in the padded seats. It is only through concerted and consistent effort in that regard, that we can overcome the divide-and-conquer leadership regime Kenwright has imposed to sustain his reign.
Danny O'Neill
281
Posted 13/12/2021 at 13:17:52
My boy's a big softie Michael. Gentle giant. Unless someone threatens. Then he will stand up for me and the puppy girl we have. Even though he is terrified of her. How old is yours and is she learning to console you in the morning after an Everton match?!! My pup is 11 months, the boy is 4 years. They're all ears and sad eyes.
Rangnick didn't take Schalke down at all. In his first spell, he took them to a runner up position in the Bundesliga (Champions League qualification) and runner up in the Pokal (FA Cup). On both counts losing out to Bayern inevitably.
In his second spell, short-lived due to illness, he took them to a Champions League semi-final, losing to Manchester United.
He also resided over the emergence of Hoffenheim, taking them from the 3rd tier (then regional league South) to the Bundesliga in successive seasons, where he established them on solid foundations.
Then after a stint as DoF at Salzburg, he had 2 stints at RB Leipzig until moving to United.
Not a bad CV. He's in his early 60s now I believe, but his more recent operandus modi is to be a DoF / Sporting Director with a young first team coach under him assuming that function. Like Nagelsmann at RB Leipzig, who went to Bayern in the summer. I have no doubt and think I read, this is his plan for United once this season is out of the way.
Like Nagelsmann, he started his coaching career very young - in his 20s. Can you believe Nagelsmann is only 34, has coached a successful RB Leipzig and is now head coach of one of the biggest clubs on the planet?
Executed correctly and DoF works over time. It let's the first team coach worry only about the first team.
Gary Smith
282
Posted 13/12/2021 at 13:18:50
Christopher @ 272, you need to read Rennie @ 266 - the latter of whom is absolutely spot on. Brentford, Watford, Crystal palace do not have better players than us. they simply have better managers. It really should be this simple to see.
He keeps playing the SAME 'sit back, get your shape, don't press high, look for the long ball out' shite. There is no fluidity, nor sophistication in his system. The full back costing us goals all season is still there as team captain, and the one who could actually get setup goals at the other end is banished. all for daring apparently daring to question Herr flick benitez.
We need a team that will press high and keep the ball. That is MODERN football, but it is not Benitez. We need a team that will look to buy and attract the Conor Gallagher as that is a sustainable business model. That is not Benitez. We need to be strong at set pieces using a system that works for the players. That is not Benitez.
Whilst I hope changes don't stop at him, they MUST start with him after Brands. Giving him the next 3 games will put us closer to bottom 3. Act now Moshiri, give the new guy (or Duncan for xmas) chance to keep the small air gap that is there.

Tony Abrahams
283
Posted 13/12/2021 at 13:40:25
"They all have better managers" is quite a statement, Gary, and not something I'd agree with, mate.
Reading what Jerome repeatedly writes, is how I view Everton's better players, and I have to agree with Robert T's sensible posts, and hope that Danny's very deep early Monday morning thoughts actually happen because getting rid of another manager so soon, is just shedding an outer layer of skin, imo, whilst it's Everton's interior that seems the most rotten to me.
Tony Abrahams
284
Posted 13/12/2021 at 14:02:18
Thanks, Andrew, one often reminds me of the other, when I think of those two fantastic singers!
I've just googled the song, and it really did remind me of Everton right now, especially because of the melancholic way that Tracy Chapman sang her song.
We got inspired on Monday night, and came crashing down with a bang yesterday. The players took most of the credit on Monday, and the manager is taking most of the blame for yesterday, which shows me that inconsistency exists everywhere at Everton right now.
Jay Evans
285
Posted 13/12/2021 at 14:06:00
Barry 271, the rumour is true about him going into the Liver Building for a meeting.
Not sure about the Santa suit part though 😂
Robert Tressell
286
Posted 13/12/2021 at 14:06:06
Brent – hard to know what's gone on with Digne. I'd always viewed him as someone with a good attitude (albeit poor recent form) so that may be Benitez.
As for Richarlison I don't think his exit needs to be engineered. I think he'd have left in summer if the big Spanish clubs and PSG didn't have their hands tied financially. He was always going to leave.
Barry – the Lucas Campos link is kind of weird because Benitez has just seen off one DoF. Maybe they just felt Brands was a bad DoF – so let's get a better one. Campos has certainly done a good job building the squad at Lille. Whether he'd be allowed to do his job properly at Everton is another matter.
And matching up Benitez with another dominant DoF seems a weird move. I got the impression Benitez had sort of assumed the DoF role and therefore what we really need is a more progressive coach (didn't Benitez always used to work with someone called Paco something or other?)
Adrian Evans
287
Posted 13/12/2021 at 14:18:45
Dont like to admit it.Souness spot on.
What idiot of a manager, not a clue sets up with Delph infront of the back four.
Give them the ball be negative lets try to nick it or get a draw.
After Mon night these are pros we had confidence, belief.They lost lady three no confidence until we gave them the ball for 1 hour at home.
A mistake waiting to happen, Gallager all over our back four.
Banitez then springs a moment of genius.Takes Richarlison off.Rondon.
Beggers belief.
Play Rondon up top from the off.
Get at them, they wobbled for ten, fifteen when we had a little go.
Who the hell is going to keep us in the Premier League if we allow Benitez the rest of Dec,Jan.
He sells our best players to build a fund.
For what???
We had a squad that should be 3wins certainly best 9points if not more.Couple of draws, so 29points.A few signings and we might have been pressing 5/6th, 7/8th.
Now, very good chance bottom 6 by 30 Dec, I absolutely pray not.
He sells, he buys what.
Gets sacked leaves us in the mire.
Guess what D of F at Newcastle, takes £15million out of us.
Duncan, plus Rooney will keep us up.
Youngest manager in Premier League.
We been down the £1million a month road
Waynne has all the youngest records.
Why not, cant do any worse.
I ll back it, if we went down ok.
No club is to big to go down if they are managed like a bag of crap.
Get rid of this bluffer Benitez 61, gone.
Its football lose like this as a manager you expect it.
Tony Abrahams
288
Posted 13/12/2021 at 14:23:32
I was wondering where Benitez was walking on those little videos doing the rounds this morning.
So it looks like he's been to the Pier Head, for a meeting, but is Moshiri also in town?
Barry Hesketh
289
Posted 13/12/2021 at 14:29:59
Tony @288,
According to Alan Myers, it was a scheduled meeting.
He goes on to say "Nothing to see here". I was wondering if that was going to be our new motto?
Bobby Mallon
290
Posted 13/12/2021 at 14:52:08
We need a manager that is going to turn this team into the new Leeds. These players need someone like Bielsa to get them going
Michael Kenrick
291
Posted 13/12/2021 at 14:53:04
Danny,
4 months old. This is how she looks when told that we lost... again!
From her coat, I think she has a liking for Crystal Palace!
Mick O'Malley
292
Posted 13/12/2021 at 15:11:52
Who cares wether Benitez was dealt a bad hand, he agreed to take this job on knowing the limitations of that squad, he said he could make us better, tougher to beat, this fella is the worst manager we could ever have, an old Nokia in a world of I phones, I absolutely despise seeing his miserable fat face in our dugout, we've hardly been ahead in any matches this season, a couple of half decent displays and a decent 20 minutes against Burnley, I am absolutely flabbergasted that anyone wants him to stay, Benitez out!
Will Mabon
293
Posted 13/12/2021 at 15:19:47
Whatever our woes, and they are manifold, the
sell the better players to raise funds
angle is Loserville; desperation stakes for broke, small clubs fighting relegation that can barely field a team.
How the hell could selling players to buy lower quality ever make sense? The result is a changed but overall lower quality team. El Gordo must not be allowed to do this, should he remain.
We should be pulling out all the stops to keep the better players as a matter of course.
I can understand some wanting out though...
Will Mabon
294
Posted 13/12/2021 at 15:25:22
Mick,
I take your point, but as to the phones - I'll have the Nokia, all day :)
Paul Hewitt
295
Posted 13/12/2021 at 15:31:09
Bobby@290. A thousand volts up the arse wouldn't get this lot going.
Don Alexander
296
Posted 13/12/2021 at 15:33:23
A pathetic effort yesterday, dire off the pitch too, and yet there's not yet 300 posts in this thread.
The times they are a-changing indeed. More and more supporters getting disinterested?
Lynn Maher
297
Posted 13/12/2021 at 15:40:55
Sun 21 Nov 2021
Benitez: Confidence Key For Everton Upturn
The Spaniard admitted Everton missed composure and precision on the counter attack against City.
Sun 28 Nov 2021
Benitez's Message To Fans After Brentford Defeat
We paid the price for lack of "precision " in the final third.
Wednesday 01 Dec 2021
Benitez Reacts To Derby Loss
Rafa Benitez says Everton were "made to pay for making too many mistakes" in Wednesdays derby defeat.
Sun 12 Dec 2021
Benitez: Mistakes Cost Everton
Rafa Benitez says Everton were punished for committing too many errors in Sundays defeat at Crystal Palace.
Is it just me, or does he roll out the same excuses ?
This cannot be acceptable.
Kim Vivian
298
Posted 13/12/2021 at 15:42:08
Bit out of left field this - (apols if it's already been said but I've not had time to read every post on here + about 6000 HYS comments after the GP yesterday) - but I wonder what would happen if Benitez was made DOF and Ferguson given the managers gig.
Tin hat and kevlar jacket donned.
Will Mabon
299
Posted 13/12/2021 at 15:43:13
Don,
I think it's all been pretty well vented above. I couldn't think of much extra to add but read everything. I guess others did the same.
You're right though, might've been 600 posts of fury in the past. Guess they finally broke us :(
Alan Hines
300
Posted 13/12/2021 at 15:45:05
As soon as I saw the team sheet it was clear we would be overrun in midfield. Delph and Gomes are too slow for the modern game and they flatter to deceive. In every game they lose possession in dangerous areas. Seamus had a stinker but he is still our best right back and kept Zaha quiet for long-periods. The problem with Benitez is he doesn't trust in youth. Gordon made a massive difference when he was introduced. I'd rather see our young players being given a chance than watch another second of Iwobi. We struggle on corners and Branthwaite is 6feet 5. We've got Onyango, Dobbins and Simms hanging around the team and getting zero minutes. Has our investment in training facilities and youth set up really not yielded anything close to a Connor Gallagher? We need to give the kids a chance until others are fit. And please stop going out with the objective of surviving until half-time before we think about showing what we are made of! We need to see more moral courage from the manager and team alike.
Sam Hoare
301
Posted 13/12/2021 at 15:47:05
Lynn@297; Benitez keeps blaming mistakes. And he's right to a degree. What he's failing to mention or accept is that if you play the vast majority of the game without the ball and under pressure in your own half then it is more likely you will make mistakes, and that those mistakes will be costly. If you sit back and let the opponents come at you in wave after wave then chances are at some point you will concede; unless you are extremely well organised with some dominant central defenders in the mix.
Dan Johnson
302
Posted 13/12/2021 at 15:57:43
I think we have all had enough now, the least I expected Benitez to do was organise the team, he hasn't done it, I do believe that no manager could get a consistent performance from this squad, they can't or don't want to do basics, pass and move into space, it's been this way for years, experienced players looking like they've never played before, regardless of the manager being crap, the players should still put an effort in and show some pride, it's sad but our club is a total mess, hoping for miracle in January, but fearing the worse.
Lynn Maher
303
Posted 13/12/2021 at 16:23:41
I totally agree Sam@301. He cites lack of composure and precision, but as you say if you haven't got the ball, you can't have them.
Brian Wilkinson
304
Posted 13/12/2021 at 16:32:00
Bobby@290, I have a better idea forget A new Bielsa, we need a new Paul McKenna, who can get into the minds of these players, after his speech, click his fingers, finishing with a back in the room comment.
Absolutely no doubt in my mind that these players, who down tools at the slightest fart, have been through this before, with various Managers and coaches, now it is Benitez,the latest in line of this.
I cannot defend his tactics and subs yesterday, or the sitting back for a point, maybe he had some logic in his head, whether it was true Richarlison was carrying a knock, we just do not know the real reasonings of his tactics.
We can let Bill have his say about the Manager, already said last week, Brands gone, Bills next target will be the Manager, another smoke screen for Bill to hide behind.
So ok we bring a new Manager in, do you honestly believe he will get these players playing, for more than a handful of games, before they slip back into shitness.
The problem is the players, the board, yes can say the manager as well, right down to finch farm, run by amateurs. We are rotten to the core and need a damn good clean out.
Christy Ring
305
Posted 13/12/2021 at 16:35:58
Jerome Shields #166 ' Back Benitez and Save Everton' We've picked up 5pts/30pts from our last 10 games, that's relegation form, how can you call that saving our club. Benitez with his dour outdated tactics and game plan, Palace lost there last 3 games and he picks a team to sit back and defend, and his tactics against Brentford, three strikers on the bench, he brings on a winger and leaves Rondon on his own upfront and we losing 1-0. Richarlison if he was injured should have been off at halftime, give you 5 more minute's after the break? utter bullshit. He fellout with Alonso and Torres across the park, now Richie and Digne. Digne hasn't been playing well fair enough, but the only left back at the club in a small squad, wouldn't leaving him on the bench buck him up, but dropping him completely, totally senseless. He has to go.

Roger Helm
306
Posted 13/12/2021 at 16:38:02
The whole club is a mess. We have a rubbish chairman, rubbish board, rubbish executives, rubbish coaches, rubbish manager (it is turning out)and a lot of rubbish players. I think the stewards are ok though.
Who can sort the mess out when they are all rubbish themselves?
Phil Lewis
307
Posted 13/12/2021 at 17:03:04
Evertonians that I've been in touch with today would normally be up in arms. Yet they are showing an unusual indifference. Some confessing to not even bothering to watch the game, preferring Christmas preparation instead.
It's like being insanely, blindly in love with someone, running to the ends of the Earth for them and spending your life's savings on them, only to eventually find that the couldn't care a toss about you and they were laughing behind your back at your pathetic devotion all along
People have had enough. And have become so dispirited as to accept our ineptitude as almost a foregone conclusion. That's how sad our club has become.
Benitez, Kenwright & Co must go. Surely Klopp and Tutchel are not the only young German coaches worthy of Goodison.
Paul Tran
308
Posted 13/12/2021 at 17:04:27
'Results football', without the results.
No discernable sign of any kind of plan. Players looking confused, hacked off, with increasingly regular bouts of ill-discipline.
Problem with divisive people is that the moment they don't get results, the knives come out. Same in any walk of life, applies to Benitez, will apply to the PM soon enough.
Moshiri is an interfering back-seat driver. Being a good accountant doesn't mean you can run a multi-million pound business. He needs good people in place who he can trust to run his business for him. Hasn't got that now. Will need to get the right people in so we can get the business on the right footing to capitalise on BMD.
This is all about how much pride Moshiri has, how prepared he is to replace (and afford) a replacement.
Moshiri took a punt on someone, presumably relatively cheaply, to preserve his investment till we move to BMD. If this is the status quo for three years, I think we'll move there as a PL club, but it isn't going to be fun to watch, is it?
If we're unlikely to win anything, the least we can ask for is to be entertained. It's OK for me, I don't spend a penny on the club, but if I'm finding the podcasts/discussions more entertaining than the football, what would the heroic regulars say?
I hope the only reason they haven't binned him yet is because they're thinking carefully about his replacement.
I'm not holding my breath.
Martin Mason
309
Posted 13/12/2021 at 17:07:37
Phil@307, you are so correct. The post match posts seem heavy with resignation.
Brian Wilkinson
310
Posted 13/12/2021 at 17:25:17
If ever a song summed the feeling around Everton at the moment, it surely has to be bad moon rising.
Ian Edwards
311
Posted 13/12/2021 at 17:26:40
Christy 305 just about sums it up. The whole team is a shitshow and the book stops with the Manager.
Tony Abrahams
312
Posted 13/12/2021 at 17:35:56
A very sensible post Paul T, but I also won't be holding my breath because what kind of manager would be prepared to come to Everton with this FFP, posing so many problems?
Phil L, so true mate. I looked at the tickets for sale for Chelsea, and saw that my Dad, is trying to sell two tickets for his granddaughter. They are my 14 year old godsons tickets, a 14 year old kid, who lives for the match, and was going to be getting a day off school to go and watch Everton in London, and the kid can't be bothered.
I think Everton are entering uncharted territory, and feel that fans voting with they feet is coming next?
Joseph Walsh
313
Posted 13/12/2021 at 17:51:17
I've read on a few threads fans comparing Moshiri's tenure with Sheik Mansour at City. You are dead right about him wanting to get the best people around him at all costs to build success.
I worked for a law firm that represented City for a number of years - we were very successful and in fact had not lost a matter for them.
When Mansour took over they called my partner and told him they were going with a London Magic Circle firm. He queried why and referenced our strong relationship over many years and our success rate. Their answer was "Sheik Mansour wants to the best" - money was no object.
That is the difference between them and us. He allowed Kenwright to retain an influence at the club and surrounded himself with his cronies. There was no ruthless streak like we experienced with City.
We have wasted £500m as a result. Who knows how successful Brands would have been as it appears he was happy to take a seat at the top table in return for being a yes man and accepting his place when it came to Moshiri / former managers making the signings.
The Arsenal result papered over the cracks. I wanted Benitez to work because I support the team and the club but after yesterday enough is enough.
Ken Kneale
314
Posted 13/12/2021 at 17:51:37
Don - not sure 'disinterested' is really fair - many of us like you have been disillusioned by the so-called management for decades - I suspect people are simply worn down - I di agree whichever it is playing into BK's hands with his divide and conquer strategy deployed to the full at present to ensure he keeps hands on the tiller - the general silence from on high is both insulting and discourteous.
Sadly the management committee has the team they deserve - the fans do not deserve either this management or this squad
Mike Doyle
315
Posted 13/12/2021 at 17:52:35
Roger # 306] I have to disagree regarding the Stewards. They should be handing out cushions to disgruntled supporters - at least in the main stand.
With regard to managers I notice Carlo's Real Madrid are sitting comfortably at the top of the table. I guess he's breathing a large sigh of relief this Christmas.
Steavey Buckley
316
Posted 13/12/2021 at 17:52:48
Everton's squad is not strong enough to cope with injuries. But if Everton had a better academy then it would be possible to promote more younger players into the first team. Although, I cannot understand why Branthwaite is not given a chance while both Keane and Holgate are playing badly. At 6' 5" Branthwaite at least offers height when corners and free kicks are directed towards the oppositions taller players.
Paul Tran
317
Posted 13/12/2021 at 17:56:53
Tony, there's always someone relatively unproven who thinks they can crack it at this level in this country. The question is whether Moshiri has a plan, or whether he wakes up in the morning and decides he wants Mr Big Name, Mr Former Big Name or Mr Next Big Name. He is very good at making expensive plans, interfering and changing his mind at even greater cost.
Whatever he thinks, the club would be better served by him appointing at least two heavyweight directors who know how to run and govern a multi-million pound business and someone to run the football side of the business. Then he needs to leave them alone and let them get on with it.
If anyone thinks these things 'don't matter', this is why we're in this mess. We're a badly-run business that does it worse the more money we spend. We're buying managers like lottery tickets instead of sorting out the business and running it properly.
Mike Doyle
318
Posted 13/12/2021 at 17:58:39
Alan # 300] Be interesting to see what happens to Connor Gallagher next season. Looks very good - then again so did KDB and Lukaku - and both left Chelsea without getting a look in. Recent games have reminded us how good the Academy's of Chelsea and Man City are these days.
Paul Tran
319
Posted 13/12/2021 at 18:00:34
Joseph #313, I can concur with this. I did some work (at a lower level!) at City not long after Mansour took over. It was eye-opening how all depts were under pressure to achieve stringent targets and told their jobs were on the line if they failed. That mindset has nothing to do with money spent, it's about standards, hard work and the willingness to keep improving. I don't see that at Everton. That's the difference.
Brian Murray
320
Posted 13/12/2021 at 18:07:11
Paul. That's called being professional. A dirty word at efc thanks to biscuit tin bollox and his merry men. ( and woman ). Benitez has shocked me how basic and average he is. The same as Carlo too set in their ways and ok when it's all on a silver platter for them player wise. I hope these so called banners on Thursday are directed at the main culprit.
Chris Jenkins
321
Posted 13/12/2021 at 18:13:35
The evidence is clear enough on the basis of four points from the last nine games. Relegation is likely to become a reality unless wholesale changes are made as a matter of urgency.
The dismissal of Benitez within days not weeks is an absolute imperative, no 'ifs' no ' buts'. His arrogance and stubbornness is completely unacceptable and unjustified. Quite simply, with his track record of recent years and previous disparaging comments about Everton, he should never have been appointed.
However, we are where we are, and Benitez' replacement has to be someone who somehow can get an absolute minimum of a further twenty five points on the board very quickly, no easy task with the current players favoured by Benitez.
On the basis that those currently successful managers with a strong track record are unlikely to want to risk their reputation by moving to what is still a great club but one that has been woefully mismanaged for the last eight years, the most sensible choice, arguably, would be to give Duncan Ferguson the reins again. He would at least instill some pride and passion into the team and hopefully give those young players on the fringe of the first team an opportunity. He is capable of grinding out the required points total.
Every day that Benitez is allowed to continue brings the spectre of relegation closer. There is no justification for waiting until after Christmas to get rid of this tiresome imposter. In sixty years of supporting the club, through thick and thin, I have seldom been as concerned as I am now about it's future.
Tony Abrahams
322
Posted 13/12/2021 at 18:14:42
ToffeeWeb is only a very small proportion of the Everton crowd, but there are enough sensible people, making very sensible points, about what Moshiri has got to do, so it's over to Paul The Esk, and the people who are looking for real change, to really up the anti on our owner now🤞
Graham Mockford
323
Posted 13/12/2021 at 18:31:05
If he's shaking his head at the crowds reaction to replacing our best player with the worst centre forward I've ever seen pull on an Everton shirt he truly is a fool.
The fans won't have it and rightly so. They can see the shite that is being served up for what it is.
But it's worse than that, not only is the football of an alarmingly poor standard with the exception of a few players there is a lack of spirit and belief. We are at that point where the dressing room appears lost. Only one thing will change that. He needs to go.
Tony Abrahams
324
Posted 13/12/2021 at 18:55:50
That worst ever forward made us a better team yesterday imo Graham, not a chance Coleman could have clipped that ball into the ineffective Richarlison yesterday, is my own opinion
Barry Hesketh
325
Posted 13/12/2021 at 19:09:19
Tony @324
Palace sat back a bit once they took the two-goal lead, which meant that Everton could get forward in greater numbers, I've never rated Richarlison as a centre-forward and not in the system that Everton employs at any rate. Rondon, through no fault of his own, is possibly the most ordinary, unfit forward I've ever seen in an Everton shirt.
I'm sure we'll see what Rondon offers the team on Thursday at Stamford Bridge, as I think that Richarlison will be rested.
Mike Gaynes
326
Posted 13/12/2021 at 19:15:33
Chris #321:
"Benitez' replacement has to be someone who somehow can get an absolute minimum of a further twenty five points on the board very quickly..."
No argument there.
" the most sensible choice, arguably, would be to give Duncan Ferguson the reins again He is capable of grinding out the required points total."
Really. On what do you base that assessment?
What experience? What background? What success record?
We should risk our Prem survival on a guy with no discernible managerial ambitions whose entire professional background has been serving as assistant to three consecutive failures?
Of course. He played for us.
Hmmm.... maybe that Rooney idea isn't so crazy after all.
Dave Abrahams
327
Posted 13/12/2021 at 19:21:45
The tide seems to be turning against Benitez, if it happens that means, to me, that Kenwright has won the battle, how can fans possibly want a man who mismanaged the club for years and years be left with a say in running the club, a man who sold most of his shares for a vast profit and now owns1.72 per cent of the club, 1,72 per cent let that sink in.
Paul Tran ( couple of posts) has the right idea, let Mr.Moshiri get professional people who know how to run a football club and sort this whole mess out, Mr. Moshiri it is your club, in name, look after your interests and get rid of your pseudo friends, it will help you and us in the long run, Mr. Benitez has started to stir the club up, give him your backing now that he needs it.
Christine Foster
328
Posted 13/12/2021 at 19:28:39
Frankly at the moment, its hard to point the finger at anyone in particular the club, manager, owner, chairman, directors or players! They are all to blame, compounding bad decisions on bad decisions and no-one sorting it out. With every day the pressure increases. With every defeat relegation looms larger and becomes a self fulfilling prophecy.
I feel locked in a madhouse (Goodison Park) and no one in charge except a fruit case of a warden who doesn't know what he is doing, on an ego trip all of his own.
It feels like the manager is losing the players now, if so Moshiri or the board has to act. If cannot be allowed to fester.
Gary Smith
329
Posted 13/12/2021 at 19:31:41
The fact he's still here after that shit show is illustrative of the utter disdain and disrespect Moshiri is now showing the fans. To date I've been grateful for his efforts at least. If Rafa still here beyond Chelsea I'm losing all faith I have in Moshiri. Stadium or not, we can't afford a relegation battle and that's where we are heading.
Gary Smith
330
Posted 13/12/2021 at 19:33:52
Dave @ 327 - another one who thinks a disruptive influence is the same as successful disruption. There isn't a single bit of evidence that Rafa has transformed any club, ever. Why do you believe he can? Is it his stern eyebrows?
Dale Self
331
Posted 13/12/2021 at 19:34:39
Actually it is a picture of our predicament, there are no good moves from here. And Gary, sorry I went to the immediate F-bomb yesterday, heat of battle thing. I'll try to keep it clean going forward.
Tony Hill
332
Posted 13/12/2021 at 19:37:10
Quite right, Dave @327.
Gary Smith
333
Posted 13/12/2021 at 19:38:37
Apology accepted Dale, we all want the same thing, just different views of how to get there. COYBs.
Johan Elmgren
334
Posted 13/12/2021 at 19:40:26
Dave #327

..."Mr.Moshiri get professional people who know how to run a football club"
Can't argue with that.
However FSW is NOT in that category. He's as far from it as he could be... only causing division, frustration and anger within the club. And on top of that totally clueless at managing the team.
Brands suggested Livramento or Dumfries as replacements for the long aging Coleman, but FSW shot the idea down. Now we stand with only one aging error-prone right back. Only that a sackable offense on it's own... Both are now prospering at other clubs... And he's alienated the only left-back at the club... Wow, what a professional...
No, Moshiri sacked the wrong person from the club, and now he will soon have to sack the right one, because if he's allowed to stay, we will be RELEGATED!!
FSW out NOW!!!
Kieran Kinsella
335
Posted 13/12/2021 at 19:43:14
Dave Abrahams
That is what worries me. Rafa isn't helping himself any but he is a smokescreen for Bill. And if we get him and Brands out of the way ALL of the football "knowledge" rests on him. Due to financial limitations, if we do payoff Rafa we won't be able to afford much beyond Big Dunc, which is perfect for Bill as he will be a lap dog to him. Moreover, Bill can play the "plucky little Everton" line and have us "all get behind a true blue" who will have zero expectations put on him as "he's one of us, learning on the job, and inherited a mess."
So yeah I am not a Rafa fan. And he may or may not be the right man for the job but I've seen Bill fail for 27 years so I am willing to role the dice on sticking with Rafa for a while longer. I mean it's only been three months for goodness sake.
Brent Stephens
336
Posted 13/12/2021 at 19:43:29
Gary #329 "To date I've been grateful for [Moshiri's] efforts at least. If Rafa still here beyond Chelsea I'm losing all faith I have in Moshiri."
But if Moshiri was responsible for removing Brands and for dispensing with the concept of Director of Football only a week ago, in order to strengthen the hand of manager Rafa, would you have faith in an owner who shifted his strategic thinking so quickly, on the back of a single loss?
Tony Abrahams
337
Posted 13/12/2021 at 19:44:25
Barry@325, when Rondon came to the club he was clearly unfit, but since the last international break, when he decided to stay at Finch-Farm, rather than represent his country, he looks like he's lost about a stone in weight, and hasn't looked a bad player at all imo, although I agree with both your other points, mate.
Gary Smith, why do you think that Dave, doesn't know the difference, between what you're saying, because if you read his post clearly, I'm certain he's describing why he wants rid of Bill Kenwright.
Dave Abrahams
338
Posted 13/12/2021 at 19:47:30
Gary (330) the disruption hasn't finished yet, it's only just started but if Kenwright is still here when it comes to it's end then the club will carry on as it has been for the last decade, at least, and if you think that will help Everton FC to move forward then I think you are wrong.
I'm not interested if Mr.Benitez has tried to transform any other club I know he is trying to transform this one and I hope he succeeds.
Matt Henderson
339
Posted 13/12/2021 at 19:56:41
Whether you want Benitez to stay or not, how many more managers have to be fired in the early part of their contracts for everyone to work out that the real problem cannot be the manager and that everyone needs to focus purely on the root cause of this i.e. the people picking the Managers they soon after fire.
Who has any faith in the Board to pick the correct next Manager? It will be pure luck if they get a good one and in 12 months time we are more likely to all be on here again with a shite performing team and asking for another manager to get sacked and rinse and repeat again and again.
Whether you want Benitez or not at present, we have to go after the ones that are running this shit show and continually making poor decisions. If we get the top of the Club set up correctly, we may end up with someone with a few brains making decisions that lead us to appointing a good manager, improved development of youngsters, better recruiting and a finance function which manages to not send us FFP bankrupt. The incompetency at the top flows down and impacts every single way the Club functions.
Kieran Kinsella
340
Posted 13/12/2021 at 19:59:14
Gary Smith & Ian Edwards
You two remind me of this Russian joke. A dilapidated train broke down with the Soviet leaders on board. Stalin said "Shoot the driver," the guards killed him but the train failed to move. Brezhnev said "Close the curtains," that didn't help either. Finally, Gorbachev said "Why don't we all get out and push."
I will leave you two to figure out who you are in this analogy.

Gary Smith
341
Posted 13/12/2021 at 19:59:15
Tony - can't disagree with wanting rid of BK, but if the tool (in every sense) of doing it is Rafa and relegation then no thanks.
Gary Smith
342
Posted 13/12/2021 at 20:00:43
Brent - we all make mistakes, even the billionaires. It's when we stop acknowledging them and persist with a bad one that they'll lose me. Rafa is definitely a huge mistake.
Dale Self
343
Posted 13/12/2021 at 20:01:37
Thanks Gary. I still vehemently disagree with most of what you say mind you but I will try to behave myself. Keep posting you.... nevermind.
Gary Smith
344
Posted 13/12/2021 at 20:04:09
Kieran - it's really simple: 39% possession against Crystal Palace and 50% less chances than them. No touches in opposition penalty boxes is first half of second half chasing it. Slapped by them, Watford, Villa, the shite and a shit man United pre-season. Worst run since 1999. Worst defensive set piece record in entire league.
No amount of daft analogies disguise the utter failure of the fat kopite in charge.
Brent Stephens
345
Posted 13/12/2021 at 20:08:51
Gary, yes, I agree about the need to acknowledge mistakes. My concern is that Moshiri might not acknowledge any mistakes. And if he does, then maybe the mistake was not only hiring, and then keeping Rafa, but also getting rid of not only Brands but also, it seems, the whole concept of the Director of Football.
That's all a huge mea culpa. And does Moshiri then acknowledge further that he needs somebody more knowledgeable to advise him? And if so can we trust Moshiri's decision-making in appointing an adviser? quis custodes custodiet?
What a mess.
Will Mabon
346
Posted 13/12/2021 at 20:12:26
Kieran, I think you're the conductor.
Gary Smith
347
Posted 13/12/2021 at 20:15:01
Brent, that'd quite a pickle. Just keep it simple for now, and sack Rafa. Worry about the complex stuff after removing him.
Dave Abrahams
348
Posted 13/12/2021 at 20:17:24
Johan (334), Johan the professional people are to replace Kenwright and his clique in the boardroom plus some on the non playing staff.
Mr. Benitez is making mistakes with the style of play but to be honest he doesn't have three central midfield players who are fit enough to play ninety minutes which causes most of the problems in how the team play, who knows, for real what the argument is between Digne and Benitez, what I do know is Digne, once one of our best players, hasn't played consistently well for a long period, under Ancelotti as well as now, he got dropped and the lad who came in has had two very good games, after the Arsenal game coming off the field everyone seemed to be happy fans and players so what happened in the six days since, Charlie throwing a tantrum because he was replaced, he wasn't playing very well,and the man who came on had a good thirty minutes or so, obviously not in the same class as the Brazilian but he did more yesterday.
I don't know why the two players you mentioned were not signed, maybe a lack of money, maybe not good enough forBenitez,
I liked the idea of Mr. Brands being the DOF when he came and started off well, then he was promoted to the Boardroom and, to me,didn't seem to be his own man and seemed to go along with the the clique in the boardroom and he finished up resigning? Who got rid of him ? I don't know.
Jamie Evans
349
Posted 13/12/2021 at 20:38:57
Hate to say it buy we are probably 2-4 transfer windows from any type of improvement in player personnel.
We have a great opportunity for someone to ship out and shed a load of players (more than likely when players contracts end as no one will buy them) then start again and build from scratch.
We just need the right person to plan and build a team and squad.
Brian Wilkinson
350
Posted 13/12/2021 at 20:51:49
Enjoyed reading your post Dave Abrahams, seems we are both singing from the same hymn sheet along with a few others.
Of course Bill wants Raffa out, we have already seen some board members leave, along with our director of football Brands.
Raffa is doing it his way, that is why Bill is shitting himself, with Raffa gone, Bill can try to persuade to put one of our ex players in charge, who will have Bills back, a yes man.
Now not for one minute am I happy with some of Raffa's tactics, but neither was I happy for these same players downing tools for the past Managers we have had as well.
Martinez got slated, Koeman, Silva, Sam, everyone, even last season Carlo got slated for a number of games and playing the same players.
So again I will ask, apart from the players raising their game for a few weeks under a new Manager, can anyone say hand on heart a new Manager coming in, will suddenly transform these half hearted lazy bunch of cowards.
Get rid of Raffa now after 3 Months and we will be taking a step backwards, the board will be untouchable.
All those not happy with Benitez, me included, solely on some of his tactics, I fully get where you are coming from, but at the same time, we have someone who is shaking the club and board up, we have to back him for now.
Tony Abrahams
351
Posted 13/12/2021 at 20:54:28
Gary@341, relegation would be horrible, but it surely can't be worse than 27 years without a trophy? Because this is not something Everton were ever brought into existence for, and making up the numbers, sometimes makes me feel that we might as well be fucking dead.
This is just my own opinion, by the way, because I can still just about remember what it's like when you see your team win a cup.
Paul Tran
352
Posted 13/12/2021 at 20:55:47
I'm struggling to work out how Everton, a club without a pot to piss in, were on the verge of paying £17m for Dumfries and that he would prefer us to Inter Milan. And that Chelsea would let us have a player on loan. They're not soft, made sure Gilmour went to Norwich and the other kid went to Southampton.
We spent the summer hawking out James to get some transfer spending money. It didn't happen in time.
Next people will be saying Benitez deliberately only spent £1.7m on three players to spite the club, not because of P&L rules.
Plenty to criticise Benitez for, using clickbait headlines to make a point doesn't wash with me.
Johan Elmgren
353
Posted 13/12/2021 at 21:04:48
Dave, I agree with you that we need a change at board-room level, if that includes getting rid of Kenwright, that's fine with me... And I feel that if Moshiri and Kenwright would have left footballing matters to Brands, and a manager who fitted Brands' philosophy, things would be a lot different right now...
The problem imho has been people on the board who has no football-knowledge, meddeling in footballing-matters, leading to disastrous manager appointments and as a consequence of that disastrous player purchases. Average players for high costs on high wages...
It would seem that Moshiri has been calling the shots on the manager-appointments, despite Brands suggesting other candidates, overruling him. He also seems to have been behind the aquisition of Iwobi for example... Those are prime examples of totally side-stepping the purpose of having a DoF.
I read somewhere that Brands wanted Potter after Ancelotti, but that Moshiri pulled rank and chose FSW. It would have been very interesting to see what the Brands/Potter-combo could have achieved, if that appointment had happened...
So there doesn't only need to be a clearout at board-room level, Moshiri also needs to keep his fingers out of it, and entrust footballing-matters to those who knows football. Until that happens and he hires such people, we won't progress, I'm afraid...
I also support the DoF-model, there are many success-stories out there, but it need to be implemented correctly, and that hasn't been the case at our club...
Mike Gaynes
354
Posted 13/12/2021 at 21:07:09
PT #352, I've never figured out the Dumfries thing either. But damn, could we use him right now.
Tony Abrahams
355
Posted 13/12/2021 at 21:15:29
Do you know why I think that is a great post, Paul T? Because it's the brutal and honest truth, unfortunately, and exactly why I don't see how changing the manager is going to help us right now, simply because the club can't spend much money at the moment, and any new manager would have a ready made excuse, if they were not quite up to the job, which is quite conceivable, considering the way we have ambled along for years.
Good post Johan, and that's why I personally think, it was when Brands asked if it was just the players, that less than a few days later Moshiri, had him straight out the door.
Stephen Vincent
356
Posted 13/12/2021 at 21:19:54
Joseph #313, The firm City employed were an international firm with head office in Washington (Covington Burling). They also took a senior associate from their Sports Litigation Department and appointed her senior legal council at City. The same woman is now senior legal council for the City Sports Group.
When City were suspended from European Competition for 2 years for FFP breaches they reputedly spent £30m in legal fees to have that decision overruled and reduced to a £10m fine.
Stephen Vincent
357
Posted 13/12/2021 at 21:19:54
Joseph #313, The firm City employed were an international firm with head office in Washington (Covington Burling). They also took a senior associate from their Sports Litigation Department and appointed her senior legal council at City. The same woman is now senior legal council for the City Sports Group.
When City were suspended from European Competition for 2 years for FFP breaches they reputedly spent £30m in legal fees to have that decision overruled and reduced to a £10m fine.
Dale Self
358
Posted 13/12/2021 at 21:23:00
Everyone knows Moshiri knows fuck all at this point. Killing off his DoF to appease his latest managerial appointment that all were doubting from the beginning is his 'Emperor has no clothes" moment. There is a bit of suspense but can he really go to Bill for any help after taking the Rafa road at the last fork?
I think it does come down to a Rafa vs. Bill moment. That Bill has been quiet except for some leaks is interesting. I'm still thinking that Rafa's new look directly at the camera during pressers is a sly visual communication that he is digging in and has a move in mind. That may make more than a few here nervous or possibly nauseous but it does look like it's him or Bill. It seems rather obvious who knows more football and has better connections to the transfer market.
This is not the same decision as getting rid of Carlo. At this point we are seriously burning some cred as a club. Who is the manager that can come in and inspire this squad? Not who was a better choice than Rafa but who will inspire this squad now and how?
If you think players are less than motivated now, how will the new appointment change that dynamic? Forcing everyone to grind out a solution here is the best thing for the organization, sadly. I'm not trying to get some to accept mediocrity, I am honestly opining that we really don't have a better option at this time.
Darren Hind
359
Posted 13/12/2021 at 21:26:12
Chris Jenkins.
Spot on... I wouldn't let misguided rebukes from people who have clapped and applauded a succession of failures put you off having your say.
Our last five managers had accumulated thousands of games between them as managers before they got here and have collectively managed to achieve the square root of fuck-all.
Years and years of tried and trusted managers with vast experience and still we go backwards.
You have to ask... What's it gonna take? When will people stop calling for costly misfits to drain the life out of our club?
Moshiri has forked out approaching a billion quid on transfer fees, the wages of these managers, the wages of the back room and coaching staff, they brought... the wages of the players who they have brought in.
At any other club, he would be considered a dream owner. Not here. We have fans who want to hammer him, yet expect to continue down the same route.
Club backs its managers to the hilt? Let's kick fuck out of it... Can't be the manager's fault.
Experience??? Vastly experienced managers with outdated methods are slowly but surely taking this club to hell in a fucking handcart.
Jason Leung
360
Posted 13/12/2021 at 21:29:36
I apologise if this has been brought up already, but can someone explain to me how the free-kick from Seamus that led to their goal didn't get retaken?
If there's a free-kick in shooting distance of the goal and a runner attempting to block the ball runs inside the 10-yard radius, isn't it retaken? So shouldn't that have been retaken? Or is there another rule I'm unaware of?
Brian Murray
361
Posted 13/12/2021 at 21:30:40
Dale & Darren.
If it really is one vs the other, Rafa vs Bill, I'd gladly get to Lucifer's gaff on the handcart if it means Kenwright is ousted.
Risky call, I know, with our Premier League status at stake, but it's really the only way because the owner won't sack him unless the new stadium at Bramley-Moore Dock is threatened by relegation.
Kenwright Out!
Danny O'Neill
362
Posted 13/12/2021 at 21:32:59
Michael @291, I couldn't access the photo of Ruby if that's what the link was. Shame as I do love pooch photos and was going to try and upload JPGs of Rorke (the beast) and (Francesca) Bella (the beauty) - partly named after Totti!! I don't think we have that feature on here though.
Anyway, enough dog talk. I'll have them out with the Vatican Rosary beads Thursday morning praying in vain hope and with foolish belief.
Interesting watching this debate unfold.
I am seeing more of a majority than I've previously witnessed swinging towards viewing this as the moment for genuine change at the appropriate level and throughout the club. Others continue to focus on the manager (whatever flavour) as being the root of all our problems.
I'm now firmly in the former camp. And I'm not going to contradict myself, I was never a venomous Kenwright despiser early on. Some would call me relatively passive, although I've not been without criticism. He and other ineffective board members and backroom staff have more than outstayed their welcome. Go back to being supporters like the rest of us and leave this to professional people. As I've said many times; Moshiri needs to own this and take grip.
If he wants to run from afar and by delegation, then fine, I get that and many owners / leaders do. But delegate to the right people. Your own people; competent professional people. Not those who are taking you for a ride and telling you everything is okay and the natives will be alright if we beat Chelsea and stay in the Premier League. Don't listen to them, it's just social media noise.
The other side of the fence just want the manager sacked and see that as the solution. I can see why and understand the immediate frustration. We've all endured it this season. But in my opinion, we've been there and done that several times in short succession. It's short-termist and hasn't worked. And I appreciate that right now, long-term seems further away than the term suggests. But we can at least think medium term??
To me, it's become apparent that repeating the same action over again is not the answer and preserves those who are the real problem.
Enter the next sacrificial lamb if we go down that route yet again and nothing actually changes. Make the changes where they are really needed if we are to be put on a sustainable and successful future footing.
Roll on Thursday. Come on Everton.
Tony Abrahams
363
Posted 13/12/2021 at 21:35:25
Going to hell in a handcart, reminds me of Kenwright's reign at Everton, Barry.
Ian Edwards
364
Posted 13/12/2021 at 21:36:13
Rumours that Benitez has been told that he is gone if we lose at Chelsea and also that Ferguson has left. We shall see.
Brent Stephens
365
Posted 13/12/2021 at 21:39:19
Ian - you have a source I assume? Which is?
Tony Abrahams
366
Posted 13/12/2021 at 21:41:01
At least Moshiri has got a sense of humour, if there is any truth in that rumour, Ian!
Ian Edwards
367
Posted 13/12/2021 at 21:42:34
Not my sources, Brent. Just what I've read on Twitter in last half-hour.
Nick Page
368
Posted 13/12/2021 at 21:43:12
Has Boys Pen Bill and/or Barrett-Baxendale gone? That's the game changer.
Robert Tressell
369
Posted 13/12/2021 at 21:43:26
For what it's worth, Norwich, Newcastle, Saints, Watford, Leeds and Burnley all got more likely odds of relegation than us.
Seems about right.
Once Calvert-Lewin returns we can revert to the system we played earlier in the season which seemed to suit our fairly limited players.
I expect we'll get a right-back (probably Maitland-Niles) and there are loan options and a really unusual number of players with contracts coming to an end who may be available on the cheap.
We'll finish about 12th.
Much of the football will be really awful. Every so often, it will click and we'll be tricked into thinking we're better than we are.
Over summer, decent fees will come in for Richarlison, Kean, Mina and probably Digne now (if he doesn't leave in January). That will generate some decent money in a buyer's market. We will struggle to offload poor players.
Players will be brought in who have better physical attributes to those we have. There will be talk of an assault on the Top 4. We'll finish about 9th.
We won't win any cups.
In the meantime, we as fans will will lurch from one knee-jerk reaction to another.
Much of the football will remain really awful.
Someone other than Benitez will be our manager for at least some of the 2023-24 season.
Come the 2024-25 season, we will be a really boring Premier League side playing at the best stadium in the city – outside of which will be a badly vandalised statue of Bill Kenwright.
Andrew Ellams
370
Posted 13/12/2021 at 21:44:55
I've seen the rumour that Ferguson has walked today but so far it seems nothing more than social media Chinese whispers.
Danny O'Neill
371
Posted 13/12/2021 at 21:46:07
Good summary, Brian Wilkinson @350.
Don Alexander
372
Posted 13/12/2021 at 21:46:47
Just to make a point about the only modicum of excitement I had watching the match: wasn't Godfrey impressive in his very rapid, strong forays into their defence throughout the game?
Sure, he was caught out (like everyone else in our, erm, defence) for their second goal but runs at that speed and strength, with crosses to match, were a joy to see.
No idea whether he angered Benitez playing that way but he pleased me, worried Palace, and laid chances on. Keep it up, lad!
Tony Abrahams
373
Posted 13/12/2021 at 21:51:32
I've got a real feeling that we are going to win the FA Cup this season, Robert. I can still remember how unhappy loads of Liverpudlians were with Benitez when he first went to Anfield because of how badly they were doing in the league.
I say it every year, but I do think it's going to be our year. We shall see!
Ian Edwards
374
Posted 13/12/2021 at 21:54:40
There is a twitter spaces at present about Ferguson.
Danny O'Neill
375
Posted 13/12/2021 at 21:55:08
Don't Tony.
You'll have the romantic fool in me making comparisons the this winter and December 1983.
Look what happened next.
I'm now visualising Seamus hoisting the trophy in May and me crying like a baby.
Dale Self
376
Posted 13/12/2021 at 21:55:46
Brian,
Thanks for the mention but I think that should be Darren or Dale.
To be somewhat unclear on my little story, I don't think we get rid of Bill. He's likely here until the stadium opening, just to keep that continuity of ownership vision (ultimately a mirage) intact.
It may be our revenge to see him make appearances knowing that he has nothing to do with operations and seeing the turnaround in operations before he actually leaves. One can only hope.
Stephen Vincent
377
Posted 13/12/2021 at 21:58:34
Danny,
I understand where you are coming from, but the whole thing has become so divisive, maybe irretrievably.
I thought that the atmosphere between fans and players couldn't get worse than it was at Brentford. On Sunday, I witnessed Blues scrapping with Blues, chants of 'Red and White Shite' aimed at the dugout – the atmosphere was truly poisonous.
Don't get me wrong, I am firmly in the 'all things must change' camp, especially Benitez, who I absolutely never wanted anywhere near our club in the first place.
We just can't carry on like this. It is going to kill the club. If Benitez is to go, then he must go now. Giving him our very limited transfer budget in January would be disastrous.
Ian Edwards
378
Posted 13/12/2021 at 21:59:28
If they are giving Benitez the Chelsea game to save his job, then they may as well sack him now. We'll be lucky to get nil.
Danny O'Neill
379
Posted 13/12/2021 at 22:02:48
If it was worse than Brentford, Steve, then it must have been bad.
No matter what happens, catch you after one of the Christmas home games?
Ray Jacques
380
Posted 13/12/2021 at 22:03:19
Ferguson gone?
Brent Stephens
381
Posted 13/12/2021 at 22:06:25
Stephen #377,
"On Sunday I witnessed blues scrapping with blues".
Stephen, I saw a scrap just in front of me, late in the game. (I was in the extreme right Block R, and just above the central walkway.) A scrap about the away kit?! Or Benitez Out / not out?
Chris Jenkins
382
Posted 13/12/2021 at 22:06:51
Mike #326,
Thanks for your reply.
With reference to a replacement for Benitez, I did say that Ferguson was "arguably" the most sensible choice. It is a proposal with which I have no doubt that many will disagree. In the meantime, I will try to answer the points which you have raised.
In terms of his experience, as you know, Ferguson has been at the club in a non-playing role for around 10 years, in the academy, as first-team coach, and assistant manager successively. Rightly or wrongly, he has a fair degree of knowledge as to the many areas of concern surrounding the way in which the club is run. Conversely, he will know the positive factors – and there must be some as it can't all be bad.
With regard to your point that Ferguson has served as assistant to three consecutive managerial failures, I think it is rather harsh to describe Ancelotti as a failure at Everton. He achieved a creditable 10th position with access to only limited financial resources, having inherited the cumulative shambolic mess created by his four predecessors after Moyes left. For my part, I would think that Ferguson learnt a fair amount under Ancelotti who most would probably agree has been a very successful manager over the years.
In terms of his success record, Ferguson was only acting manager for three Premier League games and one FA Cup fixture, achieving one win and three draws. Obviously it's not reasonable to extrapolate this short-term achievement rate over the remainder of the current Premier League campaign but of the 22 remaining games, I think Duncan has the ability to achieve the points required to avoid relegation.
On the other hand, I fear that Benitez has lost the dressing room with his nonsensical tactics, selections, substitutions and behind-the-scenes arguments with previously good players whose form has, as a consequence, faltered. I fear that he is fast leading us to the Championship.
The club is in a mess and the stables have to be cleaned out, particularly at boardroom level. I will continue to support the club whatever happens, whether that is in the Premier League or, heaven forbid, lower down.
Johan Elmgren
383
Posted 13/12/2021 at 22:08:38
Although the root of the problem lies with the board, the "solution" to bring in the Fat Spanish Waiter has absolutely backfired. I can't even say his name now, it has gone that far...
I didn't want him in the summer but, like many others, I was prepared to support him in case his experience could put us in good stead going forward.
However it hasn't worked at all, even at the start of the season when we were winning, the football was negative. We were bailed out by Gray, Calvert-Lewin, Richarlison, Doucouré and Townsend combining very well in counter-attacks. And a couple of penalties added to that...
Now we have 5 points in 10 games, confidence is smashed, and the Fat Spanish Waiter doesn't know how to get a song out of the players. He's only making it worse trying to play the "hard man" alienating player after player. It can't go on; he needs to go. I can't see how he is going to acquire 40 points with his methods; the risk of relegation is huge.
I would like to see Dunc given temporary charge for the rest of the season. He might not be a genius manager and is definitely not a long-term solution, but at least he knows how to motivate the players. He would certainly get us 40 points, and we wouldn't need to spend any money, neither on players in the window nor on recruiting a new manager. Save the few quid we have until the summer.
Then, in the summer, appoint a really good DoF (Rangnick would be immense) and let him take control of footballing matters; hire a manager who will work alongside the DoF to create a template for the club to follow in the future of how we should play. Then give them the support and time to lay the foundations of play on the pitch and purchase players to suit the model.
It might not work instantly but, when the template is set, chances are we have created a good platform that will bring stability to the club football-wise.
Stephen Vincent
384
Posted 13/12/2021 at 22:09:29
Danny, yes definitely, I'll be at them all. Look forward to it.
Faz Bhayat
385
Posted 13/12/2021 at 22:13:16
On Twitter, Ferguson has left!
Club is a shambles how do we recover from this? I don't think many of us know how Moshiri can get us out of this farce!
Benitez has to go, surely, but who do we get? Like others on here, I think no manager would want to leave their post for Everton right now.
Stephen Vincent
386
Posted 13/12/2021 at 22:14:37
Brent,
I was in R as well, right against the wall. You're right though, I don't know what the scrap was about; just assumed… which is always dangerous.
Neil Copeland
387
Posted 13/12/2021 at 22:17:02
For what it's worth, I watched the game on Sky and could hear the "Fat Spanish Waiter" and "Red and White Shite" chants in the background.
Darren Hind
388
Posted 13/12/2021 at 22:19:10
Yes, Faz,
The tweets are turning to texts. The rumours about big Dunc growing legs.
True? Or is the devil making work for idle taxi-driving hands?
Neil Copeland
389
Posted 13/12/2021 at 22:21:45
Are the rumours saying he has walked or pushed?
Rob Halligan
390
Posted 13/12/2021 at 22:24:06
Danny, Stephen and Brent…
Benitez got the full song sheet hurled at him yesterday. Top of the charts was "You're just a Fat Spanish Waiter", closely followed at # 2 by "Red and white shite", whilst bringing up the Top 3 was "You don't know what you're doing".
I remember when Top of the Pops was shown every Thursday night on BBC. Seeing as we're playing this Thursday night, will there be any movement in our own Top 3?
Faz Bhayat
391
Posted 13/12/2021 at 22:26:33
Neil, apparently he has walked!
Brian Murray
392
Posted 13/12/2021 at 22:30:15
Teary arse saved him from bankruptcy so he's done okay. Good luck, Dunc, anyway.
Neil Copeland
393
Posted 13/12/2021 at 22:31:14
Faz, cheers. Wow – big statement, if true!
Talk about up the creek without a paddle
Brian Murray
394
Posted 13/12/2021 at 22:32:54
Maybe his position was untenable when he outrageously asked Rondon to jump and the team to press?
Brian Wilkinson
395
Posted 13/12/2021 at 22:33:00
Nah... Dunc will not leave unless he has been given the boot, and I cannot see Bill allowing this.
I would be very surprised if this is true.
Paul Smith
396
Posted 13/12/2021 at 22:35:46
There is nothing on the internet about this.
We love a drama – maybe we're more like Bill Kenwright than we thought.
Danny O'Neill
397
Posted 13/12/2021 at 22:35:48
Rob @390,
Looks like the European tour might have to be coming with me to watch Schalke in the new year. This season, it's Bundesliga 2 unfortunately – although for some, that might be considered good preparation and practice for next season.
Paul Tran
398
Posted 13/12/2021 at 22:37:16
Lots of Twitter posts about Dunc leaving, but they're all just repeating the rumours and I haven't seen anything credible yet.
Tony Everan
399
Posted 13/12/2021 at 22:37:19
Didn't Ancelotti want him at Real Madrid?
Perhaps he's off there to give Benzema some tips.
Bill Watson
400
Posted 13/12/2021 at 22:39:02
I wasn't exactly overjoyed when Benitez was appointed but was prepared to give him a chance and said so on here.
However, having endured another shambolic display caused by a piss-poor formation and more bizarre substitutions, I want this person out of our club... now!
A Chelsea drubbing is on the cards; if he's still here, it's going to get really nasty!

Will Mabon
401
Posted 13/12/2021 at 22:41:06
Nothing online anywhere (yet?) that I can find. I exclude antisocial media.
Rob Halligan
402
Posted 13/12/2021 at 22:41:06
Brian #395.
I agree with you, I cannot see Dunc just walking away. I have it on good authority, though, that he has been told by Benitez to remain seated at all times during games. Benitez wants total control over everything, and basically it's "His way" or "No way".
Brent Stephens
403
Posted 13/12/2021 at 22:41:07
Big Dunc must have been tempted by all sorts of offers over the last year or two, given all his vast managerial experience and success. Don't know how he could have refused the offers.
Karl Meighan
404
Posted 13/12/2021 at 22:42:08
Paul Tran,
Chelsea let us have both Lukaku and Zouma on loan so why would they object to us having a kid like Gilmour? Both Lukaku, who had been to West Brom, and Zouma were far bigger assets with experience than Gilmour. They wouldn't object, IMO, as we certainly are not going to be competing with them on any fronts or challenging them.
If we start to believe in that shite that we're too good to go down, we may well perish. Were unfit, lack fight and are struggling badly with basics. They're probably the 3 most important things when struggling.
Pointless talking of quality and pace as we lack it badly. I don't have the answers but neither does Benitez and we're sleep-walking out on the pitch – and that's where it matters.
Rob Halligan
405
Posted 13/12/2021 at 22:45:34
Danny, aren't all German games still being played behind closed doors, or is that only European games?
I watched Bayern Munich v Barcelona and Leipzig v Man City last week, both played in an empty stadium.
Lyndon Lloyd
406
Posted 13/12/2021 at 22:50:52
The Dunc thing is just Twitter nonsense, it seems.
Svein-Roger Jensen
407
Posted 13/12/2021 at 22:51:25
Everton have gone from a team very solid at set-pieces, brilliant at winning second balls, and with fantastic delivery – to a weak, tepid and soft defensive-minded outlet without genuine threat.
Danny O'Neill
408
Posted 13/12/2021 at 22:58:30
I think they had just gone to reduced attendance, Rob. Maybe that was just a Champion's League thing because of travel?
There were 15,000 in the Veltin's this weekend for the match against Nuremberg.
Not great for a stadium that holds over 60,000.
Darren Hind
409
Posted 13/12/2021 at 23:00:09
I don't see how Ferguson would have any qualms about turning down Carlo's offer to join him at Real Madrid. He's witnessed enough behind-the-couch football without following it to Spain.
Maybe he feels he just has to sit tight and the job he really wants will be offered to him in the not-too-distant...
Mike Gaynes
410
Posted 13/12/2021 at 23:08:59
Robert #369, logical predictions all.
Chris #382, I happen to agree with you about Ancelotti, but the overriding theme here is ongoing failure. Everybody can point to what you lot would call purple patches -- Roberto's first year, the initial months for both Carlo and Rafa -- but overall there has been no progress.
I am also of the opinion that the overarching problem with Everton is a lack of talent on the pitch. Either the last five experienced managers were all actually shit (an opinion cherished by one pontificator above), or they simply didn't have enough good players to win anything.
I lean more to the second school (although there has been some shit on our touchline!). I believe we have benefitted -- rather than suffered -- from the vast experience of our previous managers, and our present one as well.
My problem with Ferguson is not merely the fact that he has no managerial experience, but that he has shown no sign of pursuing it. At age 50, a good 15 years after most retiring players with coaching ambitions have gone out into the world to learn the trade (Rooney, Lampard, Gerard and previously Pep, Conte and Zidane), he remains an unambitious sidecar on the Everton bench.
We have no way of knowing whether he learned anything from Carlo about tactics, organization or crisis management -- multiple players, particularly Calvert-Lewin, have effusively praised his individual coaching and motivational skills, but I've never heard a single reference to his contributing to pregame strategic planning or tactical changes at halftime, for example.
Agreed, the club is a mess. Agreed that at some point we need a new manager. But a panic change now could be a major mistake in my view -- and installing a raw rookie to keep us up would be catastrophic.
Brian Murray
411
Posted 13/12/2021 at 23:09:28
Rob.
If he's been told by the catering kopite to stay seated, no-one with any self-respect would wear that. Surely not.
Brent Stephens
412
Posted 13/12/2021 at 23:13:46
Brian,
There's no way Big Dunc would be happy staying seated. He wants to be in the thick of the action – wielding that subs board.
Danny O'Neill
413
Posted 13/12/2021 at 23:15:11
Duncan will be 50 in 2 weeks.
For those craving a "fresh, young, hungry" manager (I hate that phrase, by the way), that doesn't fit the bill.
He has shirked or not even bothered to go out and get experience and sat passively in the comfort zone of Finch Farm and on the bench next to several managers who he occasionally says something to if they will listen.
I'll stand by for the incoming and go and wash my mouth out immediately, but credit to Gerrard. He clearly has his eye on his dream job; the job he really wants.
But he's had the balls to go out, take the gamble and try and prove himself elsewhere to give him the credibility and credentials, knowing it could backfire. But he's gone and done it. And at big clubs with demanding supporters.
Lampard too. He possibly jumped too early to take the Chelsea job, but he wasn't going to turn the chance down.
Unsworth and Ferguson meanwhile: "If I sit here quietly, I might get the Everton gig because Bill likes an Evertonian like him. Let's just play the game."
Much like Ferguson the player, Ferguson the coach / alleged manager (to date), has failed to demonstrate his ability to reach his potential. Unproven potential in terms of coaching and management. I know that will upset a generation of Everton fans who saw him as a shining beacon in dark times (he was), but he was never the legend many made him out to be, in my opinion.
Continuously injured (he would fit in well now), ill-disciplined and just never reached the heights he possibly could have.
Yes, he gave us some great moments and won against Chelsea once. But our next manager? No thanks. That would mean Kenwright has won and we're still in the same sinking boat.
Brian Murray
414
Posted 13/12/2021 at 23:15:39
Brent.
He could always get a start with the Highways Agency. He's wicked with a cone!
Pete Clarke
415
Posted 13/12/2021 at 23:18:56
The writing was on the wall when Moshiri took charge of our club when he decided that Bill Kenwright would remain at the club. 90% of his decisions since then have been equally poor and he is the biggest cause of concern to the future of this club.
The decision to appoint Benitez actually shows his real-life intelligence to be zero. He may be okay looking at a screen with numbers flashing around but we live in the real world here.
Moshiri has no proper control and is now allowing in-fighting between Bill, Benitez and the rest of the useless employees at the club, including the players. The man just can't make a good decision and needs to spend some money on top-level business advice. I'm sure there are people out there who can piece this club back together.
The situation is so chaotic that, as much as I dread the thought of Benitez carrying on, I also believe he can do a better job if Kenwright was gone. That's the best of two evils because at least we would be rid of the fat ghost.
I'm just guessing here but, if rumours of Ferguson leaving are true, then that makes sense because I don't believe he wants the responsibility of the job and potentially ruining his reputation with the club.
This is proper turmoil like we have not witnessed before so it's going to be a bumpy ride through Xmas and New Year. We may survive the drop this season on the fortune that the existing Bottom 3 break all records for the lowest points gained in Premier League history.
We are currently giving Newcastle a run for their money as the worst run club ever.
Brian Murray
416
Posted 13/12/2021 at 23:19:07
Couldn't lace Sharpy's boots but was good when he popped his head round the door now and again vs the shite.
Brent Stephens
417
Posted 13/12/2021 at 23:19:17
Sorry, Brian, he'd be punching above his weight.
Phillip Warrington
418
Posted 13/12/2021 at 23:37:48
There is only one action left that can save this club and make board members take note, and that is if fans don't show up for games. The board or owner ain't going to give a shit about grumbling fans, while they're walking through the gates and filling their coffers every week.
Hit them were it hurts and stay away until there are positive changes or the club takes the playing side of the club more seriously.
Derek Knox
419
Posted 13/12/2021 at 23:39:18
Tony A @ 373,
Nostrodamus, or was it Doris Stokes, said Everton will win the FA Cup in a year with a 2 in it. I've just checked, this coming year there will be three 2s, so does that mean we have three times the chance of it happening?
A pig has just flown over my neighbour's roof! A sign, a sign!!! :-)
Brian Murray
420
Posted 13/12/2021 at 23:45:42
Derek,
Maybe we need Glenn Hoddle's mentor, Eileen's Brewery, or whatever her name is.
Derek Knox
421
Posted 13/12/2021 at 23:57:00
Brian,
Possibly! Or we'll be drinking the contents of Eileen's Brewery if we get knocked out early doors, in despair. :-)
Jay Harris
422
Posted 14/12/2021 at 00:46:14
"I am an Evertonian and I haven't been sober for any days"!!
Derek Moore
423
Posted 14/12/2021 at 02:30:34
Danny thinks Potter is a media invention and hype, doesn't have the track record or mentality to be Everton boss, but Stevie G "he's had the balls to go out, take the gamble and try and prove himself elsewhere to give him the credibility and credentials".
I've entered the twilight zone, surely???
Danny, mate, Scotland is actually part of the UK. They speak English there too. Gerrard took one of the two historic superclubs in a two-team league to domestic success, nothing more noteworthy than that.
Sweden is actually a different country with a different language. And far from manage a superclub, Potter's success is more akin to taking Raith Rovers to successive promotions and the Scottish Cup.
Bizarre, shows a distinct void in logic IMO.
Don Alexander
424
Posted 14/12/2021 at 03:13:12
Talk of Slippy G as a viable manager based on Rangers is next to absurd.
There's only ever been two teams in Scotland for obvious and generally unsavoury reasons. And then the Rangers folks went bent, the fans suffered a few years of sanctions, and then the age-old norm was restored just in time for Gerrard to get on board with wealth and new spendability to, err, "cement" his place as a great manager in a two-horse race.
Yeah, right.
That said, the Slippy One always had way more gravitas as a player, coach, manager and leech than the bent, skiving pigeon-feeder that Kenwright has ensured we're saddled with.
Mick O'Malley
425
Posted 14/12/2021 at 06:10:15
Rob @402,
If that's true, it just shows what an egotistical self-centred horrible man Benitez is. Who does he think he is???
I know one thing: if we drop any further, I could imagine many a bedsheet being hung up in Caldy. Get this muppet out of our club – he doesn't deserve the job.
Benitez Out!
Bobby Mallon
426
Posted 13/12/2021 at 06:18:31
If we are to believe every word that has been written, then Moshiri is the main culprit in this saga (what a film this would make). I just don't trust the man to make any sensible football decisions.
He employed a manager, that, from the start, divided the club and fan base. There is no way those ex-Blue players are ever going to be happy with an ex-Liverpool manager telling them what to do. It doesn't matter what he's done in the past, the rivalry is engrained. The same manager has turned one of the best defensive records into the worst.
On Sunday, Palace won because of one young energetic player in Gallagher. He was allowed to be everywhere by his team and manager. Where is our young stars like Gallagher?
People say it will ruin them playing now; I bet they would relish the chance to get on and show these others. My only concern is Rafa would want them all to defend.
David Currie
427
Posted 14/12/2021 at 06:18:59
Derek @423,
Good post, I wanted Graham Potter in the summer and I would guess that Marcel Brands would have as well.
Bill probably wanted Moyes and Moshiri wrongly got Benetiz.
I rate Potter and he would be my choice… although I'm not sure if we could get him now.
Mike Gaynes
428
Posted 14/12/2021 at 06:36:25
David #427, there isn't the slightest indication that we could ever have gotten Potter.
He's contracted at Brighton (a club ahead of us in the table) through June 2025.
He would have had to be interested in Everton. No indication he ever was or would be.
Brighton would have been willing to let him go for the right price. Hah!
And that "right price" would have had to include a massive buyout of that contract in addition to a transfer fee. We're skint.
There is simply no reason to believe that Potter was a realistic possibility last summer. Or would be now.
Robert Tressell
429
Posted 14/12/2021 at 07:30:57
So has Ferguson been sacked / left the club then?
ps: Bobby #426, if you've seen anyone in our U23s or U18s remotely close to Gallagher, then I'll be interested to know who I've missed. Gallagher has loans at Charlton and West Brom under his belt plus, I think, U21 international recognition.
We have some good players but the closest is Gordon (who is playing) and Branthwaite (who looks close to taking Holgate's place – or at least I hope so).
Unfortunately, below that, the better route for development (as has been the case with Gallagher, James, Abraham, Tomori, Mount etc at Chelsea) is generally loans – rather than being chucked into a poor Everton side while still learning the trade.

Peter Neilson
430
Posted 14/12/2021 at 07:43:41
Only the likes of Steve Bruce, Mark Hughes et al would be desperate enough to take us on. In our current state, no up-and-coming manager would touch us with a barge pole.
Kunal Desai
431
Posted 14/12/2021 at 08:12:16
Until the decison-makers change or are removed, nothing will change at this club and that will continue beyond the new stadium being built at Bramley-Moore Dock.
That will not change how this club is run, nor is it leading to a longer-term fix.
John Keating
432
Posted 14/12/2021 at 08:15:56
Nobody in their right mind would come to the poisoned chalice that is Everton
It's a sad day when I spend half of it looking at fixtures to see where and against who we can possibly pick points up… looking at fixtures and hoping such a team beats so and so to keep us above the Bottom 3.
Now I'm hoping bloody players get Covid to call our games off!
Tony Abrahams
433
Posted 14/12/2021 at 08:35:37
What kind of football club are we if there is even a grain of truth in what Rob has posted about Duncan Ferguson?
"Sit down next to me" is just incredible and shows how bad things really are – even if I can't believe it for one second.
Danny O'Neill
434
Posted 14/12/2021 at 08:39:11
Right to reply Derek Moore!
I don't recall bringing Potter into this conversation, nor calling him a media invention, so that one has confused me if that's referring to me.
Familiar with Scotland. Grandmother on my mother's side and many friends and ex-colleagues who I meet with and talk to regularly. In English.
My point was that Gerrard has gone out and taken on jobs. I get the Scottish league point, but it was still good grounding and now he's landed a big club in the Premier League. Will he succeed? Who knows, he is building his managerial CV.
I'm not sure anyone suggested he's a viable option as manager. He's learning his trade, but is doing so in managerial roles since his late 30s. He didn't take the probable easy route of sitting at Kirkby waiting for the job he wants to come along.
Since Potter was brought into the conversation (not by me), credit to him for going abroad and gaining a different coaching and cultural experience. I think more British players and coaches should do so. It broadens their horizon and they learn different things. Credit to him for the job he's done at Brighton.
But still unsure what I'm supposed to have said or seemingly have referenced relating to Potter?
Peter Mills
435
Posted 14/12/2021 at 08:47:18
Those who feel the breath of sadness
Sit down next to me
Those who find they're touched by madness
Sit down next to me
Those who find themselves ridiculous
Sit down next to me
In love, in fear, in hate, in tears
In love, in fear, in hate, in tears
In love, in fear, in hate, in tears
In love, in fear, in hate
Down
Down.
Christopher Timmins
436
Posted 14/12/2021 at 09:10:13
Given where we are with the quality of our squad, it will take a revolution to change things at this stage.
If the current occupant of the managerial hot seat is moved on, then a major decision needs to be made about where the club goes from here.
If we go for a solution similar to the one taken by Manchester United, then we have to accept that it will take a considerable period of time before we start to see positive results as the current personnel will simply not be able to play in a high pressing manner.
At a minimum, a new manager will need to bring in the following starters: a right-back, a centre-half, and a box-to-box midfielder. In addition, squad replacements will be needed for players who will need to be moved on… players such as:
Keane
Holgate
Allan
Iwobi
Gomes
Delph
Davies
Gbamin
Rondon
Tosun and
Sigurdsson
It's some mess we find ourselves in at the moment! I will say it again, we are not too good to go down!
John Keating
437
Posted 14/12/2021 at 09:12:54
Danny, you're correct. Regardless what we think of him, Gerrard got off his arse and has given management a shot.
However, it has to be said he gave a lot of thought to his management team before setting off. Seems this guy Michael Beale he has is the brains behind things – a bit like Wilf Dixon was to Catterick and Peter Taylor to Clough.
Rob Halligan
438
Posted 14/12/2021 at 09:13:22
Tony #433.
I'd love to reveal my source, but unfortunately I can't. But I 100% fully believe it to be true.
Andrew Bentley
439
Posted 14/12/2021 at 09:14:50
Comes to something when I'm hoping that C0vid helps to cancel some of our matches over the next couple of weeks to help us not lose the opportunity for points and get the matches replayed in the New Year when we can hopefully get a couple of new players in to bring some energy and options to the team.
Clive Rogers
440
Posted 14/12/2021 at 09:16:41
Christopher, you are right, but that is 11 players, almost half the squad. That shows the extent of the mess we are in.
Darren Hind
441
Posted 14/12/2021 at 09:25:30
Why would an Evertonian who has made it clear that it is his ambition to manage the club, leave and go elsewhere?
Ferguson's situation is vastly different to the one "Saint" Stevie G faced over the park. Their first-team management has been hugely successful. They are watertight, Ferguson however, has sat and witnessed failure after failure. He has a far better chance of getting his dream job by being on the spot when the inevitable happens again. He has already had a taste and let nobody down.
As a lifelong Evertonian, I would do excatly the same thing: stay right on the spot and be ready. All that made-up shite about lack of ambition is just that – made-up shite from people who don't know him.
Nobody has claimed Ferguson was "fresh, young and hungry". That's just more nonsense made up in order to build a platform upon which to launch an attack. It's an insult to the intelligence of your average Evertonian to insinuate they don't know he is around 50... Those who have been around all this time will distinctly remember a player who simply didn't cower in the sight of the big boys and they know when it happened.
I think every managerial appointment is a gamble… but the gamble in this case would be somewhat diminished by the fact that a steady stream of expensive appointments has resulted in abject failure. These mercenaries have not just failed to mount a challenge – they have failed after squandering a fortune while playing football so ugly, it should come with an X-rating. If anybody knows how not to do it, Surely that man is Ferguson.
I often wonder why the same few people come on here so regularly to hammer the credentials of a man who spent his first 2 years working or nothing when he came back to this club? I wonder why they call him a "Kenwright boy"? Especially when they know (or should know) that it was David Moyes who took up the offer of his free service in return for giving him the chance to earn his coaching badges.
I also wonder why they attack a man who has stepped in before and saved the club from free-fall with 3 or 4 impressive results against serious opposition? I wonder why they make up weird shite about a succession of high-profile managers being "forced" to retain his services... Even though the club virtually begged the last one to come to the club and another told a nationwide Radio audience that he was given the option to sack him, but was so impressed, he decided to keep him.
I often say ToffeeWeb is a true reflection of the Evertonia I live in and experience every day but I don't extend that to the hammering of Evertonians within our ranks. Only on TW have I witnessed this and only by the same few people who believe, if the say it often enough, it will become true.
Few clubs in world football have backed their managers and allowed them to bring in as many of their own people as our one has. It's time to stop blaming the tea lady or the girls who sell you your pies. It's time to stop blaming the fella who works on the turnstile, or the girls and boys who sell you your tickets.
It really is time for people to accept that, when they were vehemently shouting down criticism of the free-loading failures who have stripped this club bare, they were nailing their colours to rotten masts and therefore contributing to the perpetuation of this nightmare....
Now, they resort to pointing the finger at junior coaches who have had no part in the squandering of this vast fortune, or the anti-football we have been forced to endure.
You can analyse the club to death, but the primary function of any top-flight club in the world is to provide the manager with the tools to do his job. A warchest... and this club has done that in spades since Moshiri got here.
We are the Formula One team who have repeatedly hired crap drivers and wondered why they never ended up on the podium.
If Benitez gets the sack after the Chelsea game, he will leave behind the most poisoned of chalices. He will be the latest in a line of expensive mercenaries to have failed to do what it said on the tin; like the others, he will have left us in deep shit.
I don't know if Moshiri would even consider Ferguson again. Let's be honest, he only turned to him last time in desperation. What I do know is that Duncan Ferguson stood up to be counted. Unlike the mercenaries. He let nobody down. I find the bile directed at him (especially the made-up shite) staggering.
What I do know is that, if Duncan Ferguson is called again, Goodison will be bouncing. Passion will once again sweep Evertonia. Nobody, but nobody can get this crowd going like he can.
The few dissenting voices from agenda-driven people calling for the retention of the kopite who has us in free-fall will be drowned out. As will the voices of people who extol the virtues of the former Kopite Captain because he had the courage to back a racing certainty.
Charles Barrow
442
Posted 14/12/2021 at 09:26:20
This must be the greatest crisis at the club in the last 50 years, and potentially since the founding of the club.
Moshiri has well and truly caused total chaos, with multiple managers coming and going, destabilising the club, over priced, very average player, bought on a whim on high wages and, most importantly, we've gone from a mid-table club with little money to a relegation club having spent shed loads of money!
What worries me is if Moshiri decides to walk away. These oligarchs don't actually give the clubs the money, they loan the club the money. If he demands his money back from the club, it'll go under.
I suppose he has to work out if we go into administration, will the amount he's loaned the club mean he'll lose more than the amount he paid for it? Very worrying times.
Barry Hesketh
443
Posted 14/12/2021 at 09:33:31
For now at least, the rumours about Ferguson leaving Everton appear to be baseless, but it might be one of many salvos in another 'Battle for the Blues'?
Joe McMahon
444
Posted 14/12/2021 at 10:08:46
Darren H, you've finally won me over.
But I'd prefer him to have an experienced assistant (someone like Stuart Pearce with experience of defence). Just imagine them 2, both as hard as nails, would take no shit from sulking players.
Brian Harrison
445
Posted 14/12/2021 at 10:10:10
I agree with Darren when he says that Ferguson would restore the passion that has been missing, and would, I imagine, unite the players which isn't the case right now. Certainly a team playing with passion and the full backing of every fan would be a massive plus.
My only concern in appointing Duncan Ferguson would be: Can he match the passion he would undoubtedly bring with a tactical approach? This will be just as important for the rest of the season.
Ferguson also said before Ancelotti was appointed that he wasn't ready to be manager and I don't know what has changed that would now make him think differently. I would also wonder who would be there to help and guide him seeing we don't have a DoF?
I am not sure how close he and Unsworth are but, given when Unsworth was given the caretaker role, he had Eberell as his assistant and not Duncan. Maybe a Peter Reid to come and assist as he will no doubt need an older more experienced person to help with day-to-day running of the football club.
I have to admit I wouldn't have considered offering Duncan the job a couple of years back, but maybe make it an interim appointment and see where it takes us. Because staying with Benitez is not an option.
Gary Smith
446
Posted 14/12/2021 at 10:29:17
Hoping there's at least some genuine fire behind this smoke. Best case scenario is that Duncan's stood up and made his feelings about Rafa clear, and the club have backed him and said "Hang fire, we're on it".
Duncan then gets Xmas as caretaker, and a new guy comes in 1 January with a few players too. If we can't get someone, then Duncan gets half a season at least to prove once and for all whether he's our boot room saviour.
Ultimately it's a gamble of course… England gambled on Southgate with a remit based on youth, and that got us to first major final in donkey's years. Liverpool gambled on Klippety after the wheels came off in Germany. Rangers gambled on Gerrard, Athletico on Simeone, Palace on Viera, Spurs on Potchetino, Arsenal on Wenger, etc.
This for me has been Moshiri's number one failing – he's an accountant, not an entrepreneur and unwilling to gamble, at least since he got stung by Marco! Instead of players like Haaland, Sancho, Bellingham, etc. we've signed Sigurdsson, Walcott, Townsend and Bolasie. We've backed that up with apparently "safe" managers like Sam, Ron, Rafa and Carlo. Even the big names here have had bare years recently.
It's time for a gamble. If it's not Duncan (maybe going all out to get Lee Carsley as Number 2), then someone like Lampard, Pirlo, De Zerbi, Diego Martinez, etc.
Throw the dice, for fuck's sake.
John Keating
447
Posted 14/12/2021 at 10:31:03
If Duncan gets the nod, I'll be straight down to church and light a few candles for him.
Can you imagine the stick he'll get if he ever picks Delph, Rondon or God forbid, the anti-christ, Allan!
Luke Welch
448
Posted 14/12/2021 at 10:34:17
Very well stated, Darren! I agree with every word – get Ferguson in and let's see what he can do.
Christy Ring
449
Posted 14/12/2021 at 10:41:17
If it's true about Duncan, I'd be disappointed to see him go. A lot of the anti-Ferguson brigade on here, which I find sad, to say the least... why so bitter? He's not Bill Kenwright.
The man took the reins last Christmas when we were in the Bottom 3. Ran up and down the touchline, wore his heart on his sleeve, got the commitment and passion back in the team, got 5 points from 3 hard games, and turned us around.
Benitez has got 5 points from the last 10 games, alienating players, and Mike Gaynes says there's no need to panic, stick by Benitez?
Peter Mills
450
Posted 14/12/2021 at 10:43:22
I'm surprised that an articulate, intelligent, passionate Evertonian, known and respected throughout the footballing world, is not mentioned more often as a candidate for the managerial position – Tim Cahill.
Barry Hesketh
451
Posted 14/12/2021 at 10:49:12
Peter @450
If Tim was at all interested in becoming part of the Everton managerial team, he would be welcomed with open arms by most. I've always advocated having him on the coaching staff in some capacity, whether he's cut out for the top job or is even interested in managing at all, I don't know.
Cahill and Carsley could be ones to keep an eye on in the future, however, I'm also fairly sure that Moshiri will keep choosing 'big names' for the top job, whenever the Everton manager's job becomes vacant.

Pat Kelly
452
Posted 14/12/2021 at 10:53:44
Wouldn't surprise me if Dunc has left. Moshiri appears to be backing Rafa for now.
Ferguson may have had enough and Rafa may want him out too so he can realise his revolution at Everton. Let's face it, a revolution is necessary.
Rob Young
453
Posted 14/12/2021 at 11:14:54
If it was to be an ex-Blue, Lee Carsley seems to be making a bit of a name for himself away from the headlines. But he has only just been promoted to the England U21s.
However, I reckon we shouldn't look in-house if no one jumps out and, at the moment, no-one does.
Get Potter. Simple.
Brian Murray
454
Posted 14/12/2021 at 11:50:17
We could get the next Pep but, until that idiot and his crew are gone, nothing will change. Kenwright Out.
Jay Wood
[BRZ]
455
Posted 14/12/2021 at 11:58:31
Eat yer heart out, Danny O'Neill:
Ernie Baywood
456
Posted 14/12/2021 at 11:59:44
If it was my job to develop young players, the last thing I'd do is send them on loan to Everton.
1. It's a crap environment.
2. They won't play any kind of style that they'll be asked to play in the future at their owner club.
So rule out decent loans.
Rule out big money transfers due to the profligacy of whoever made the deals.
So we're back to a manager who has split the club at every level... in exchange for 3 points out of the last 30.
You don't need to personally blame him for our overall mismanagement to see that he shouldn't still be our coach.
Adrian Evans
457
Posted 14/12/2021 at 12:05:32
Based on Form Duncan had a couple of days, 3 games got 5 points.Instilled confidence nack in the dressing room.
Oh had time to buy a new suit to.
This bluffer, garbage talker 10games,blames all but himself.
How many points.
Get Duncan in for Leicester game if Rafa don't get a point.
A point will delay things,3save his job.
Or its how it should work.
Rafa gone by Fri night unless League suspended until Feb??
Thats an intetesting senario.
The winter break taken early, plus an extra week.Trim international breaks.
Next few days could have a major impact on us.Sack and Dunv or Rafa into Feb.
God help us,although I think hed struggle.
Danny O'Neill
458
Posted 14/12/2021 at 12:12:04
Good case Darren, but still not for me.
Unlike during the summer and before it started to unfold as to the situation we were in relating to FFP, right now, if change at manager level happens, I am stumped as to who I would want and, more worryingly, who we could get.
Does the sentiment in your opening paragraph apply to the Chairman too? Why would a Chairman leave? My point is about going to get experience, like many other ex-players have done at other clubs. I wish Duncan had and been successful, so that we would now be potentially looking at him more seriously. Rather than taking a punt; but to your point, every appointment is a gamble.
I didn't suggest anyone claimed he was "fresh, young and hungry". I said he doesn't fit the bill for those who want and call for that type of manager.
I agree with your point about Moshiri. I too am not sure he would go there or he would have done by now I think.
But to my earlier comment on this response. He may not have a choice because who would take it? So it could be that those advocating Duncan may get there wish.
Interesting 72 hours ahead.
Tony Abrahams
459
Posted 14/12/2021 at 12:21:54
The last time I left Goodison, Evertonians were singing in the street after the game, because of a very passionate display by our team.
Ray Roche
460
Posted 14/12/2021 at 12:28:46
Jay@455
Good article, and to think, we passed over on Rangnick and took Ancellotti instead.🤦🏻‍♂️
Brent Stephens
461
Posted 14/12/2021 at 12:33:50
Genuine questions from me. I really don't know the answers...
What has Big Dunc thought when he's been sat next to each of the last 6 (non-interim) managers we've had in the last 5 or 6 years, none of whom have delivered much? Has he thought they were ok, and if so does that then raise a question of his judgement?
Or has he thought they weren't any good, and if so does that then raise the question as to why he's been content to sit next to poor manager after poor manager?
Dave Lynch
462
Posted 14/12/2021 at 12:36:18
He's thinking Brent.
'I hope the next useless bastard doesn't sack me because this is easy money'.

Barry Hesketh
463
Posted 14/12/2021 at 12:38:41
In this confusing period for Evertonians and the club itself, is it not time for Moshiri to come clean about who is actually steering the club through this turbulent time?
Is Moshiri acting alone? has he or will he give the manager carte blanche to restructure the club? Is it Bill Kenwright who is responsible with the support of Moshiri? or is it all down to Usmanov who Simon Jordan seems to believe is the real power-broker behind the scenes at Goodison?
I don't know about the rest of the Everton family, but I fail to see what good it does to have such confusion surrounding the people who are in charge of the club and which allows the space for people like Simon Jordan to make sweeping statements that may or may not prove to be true.
It's time for the club to make things a lot clearer to everybody and then everyone will know who is responsible and maybe then the club can actually move forward in a less confusing manner.
John Raftery
464
Posted 14/12/2021 at 12:41:17
Unless the decision has already been made would we really sack a manager after a defeat at Chelsea? We have not won a league game at Stamford Bridge for twenty seven years. I have seen us lose there more often than I care to remember yet we would sack a manager, who has been in charge for four months, for losing at the home of the current European Champions.
Brian Harrison
465
Posted 14/12/2021 at 12:41:46
While we all put forward suggestions to get out of the mess were in, I don't see Moshiri or Usmanov sacking Benitez. Their colours are firmly nailed to his mast and I believe they will give him what money the FFP rules will allow in the January window. The problem is if he brings in new players and doesnt turn it round then relegation would become even more of a concern than it is now. Should the worst happen I rarely don't know what would happen, would Moshiri/Usmanov still plough on with the new stadium, would they still trust that Benitez could do what he did with Newcastle and bring us straight back up. Very worrying times being a blue.
Tony Abrahams
466
Posted 14/12/2021 at 12:50:25
The other side to the Gerard argument, is more like I'd see it Darren.
If you've got a chance of one day being the Liverpool manager, then stay and learn from one of the best managers in the business? Gerard, has chosen to do the opposite, and probably to gain experience, because one thing about that man, that is without argument, is that he has always been a winner and also a very singled minded individual, imo.
Duncan, wants to be Everton's manager, which is fair enough, but he'd sooner stay and learn from all the losers, especially that Ancelotti, who had us playing behind the coach football, because it was the only way he could get the players to win!
Duncan would unite the crowd, (thousands would even give Harold Shipman, a lot more patients, I mean patience, if it meant Benitez had gone!) ) but if he was to do the job, then the importance of a number two would be crucial, because when I look at how well Moyes, is now doing at West Ham, I look at the likes of Kevin Nolan, and wonder how much influence, he has given to them?
Brent Stephens
467
Posted 14/12/2021 at 12:51:59
Dave #462, I couldn't possibly comment!
Tony Abrahams
468
Posted 14/12/2021 at 13:06:05
Thanks for that article Jay. It took me back to a game I once played against a supposedly Russian National team, in a tournament in Holland.
Hardest game I ever played in, I actually felt like I was cheating, because they just moved the ball so quickly, that It was impossible to get tight when closing them down, and all my hard work, just felt like I was doing it for the sake of it, (Iwobi style) because they were that good, and yet we ended up beating them 2-1, in a game that got a young goalkeeper called Mark Crossley, a four year contract, because he made at least 5 top class saves, and one of our staff, said he was a first division goalie, after that game.
Maybe this article, might give an indication of why Benitez is allegedly falling out with everyone at Finch-Farm, especially when you see how hard our players worked on Monday night, and how subdued they were the following Sunday?
Danny O'Neill
469
Posted 14/12/2021 at 13:12:26
Thanks Jay (BRZ). I think! Good read, but its also given me a sense of "look at what you could have won" after reading that!!
The builder as he is sometimes known.
I was shouting for him after Moyes and just about every other manager appointment since. Until the summer when a few others mentioned it, I mostly felt like the kid in the corner that noone was listening to!!
Ideal timing would have been for him to have been Moshiri's first appointment. He's demonstrated he's not shy at taking on a project or 3 and I suspect the £500m or whatever it was would have been invested more wisely.
I appreciate that Premier League clubs pay a premium, but believe the model at RB Leipzig was to very rarely spend over £20M on a player.
Jay Wood
[BRZ]
470
Posted 14/12/2021 at 13:32:25
Duncan Ferguson in his 14-day, four-game tenure as caretaker manager of Everton, did a sterling job.
He took up the reigns in a crisis with Everton in freefall, having been thumped 5-2 at t'other lots shed.
He had zero time to prepare for his first game, home to Chelsea, near the top of the league, on a 17-game unbeaten run.
He simplified things and went for a 4-4-2. The starting midfield four consisted of Iwobi-Schneiderlin-Sigurdsson-Walcott, with Richarlison and DCL up front.
An early goal by Richy lit the blue touch paper and the Goodison crowd was at its racous best, helped by the joyous reaction of Duncan on the touchline.
By the end of the game belief and pride had been restored to the team and the fan base. Duncan Ferguson gave us back an Everton most Blues identify with.
A week later, impacted by injuries, Duncan travelled to 6th placed Manchester United, played the same 4-4-2 but had to play a midfield four of Bernard-Holgate-Davies-Iwobi.
Once again, the bottle and the battle was there, taking a 1-0 lead into half-time before finally conceding and drawing the game on the 77th minute.
Duncan showed he can make hard decisions in-game by substituting in and then out Moise Kean in the final 20 minutes of the game.
Just 3 days later, Duncan had to send out another patched up side in the home quarter-final tie to Leicester, playing the same midfield four as the United game.
Sadly, in the first half the team looked as if they were running on fumes and found themselves 2-0 down in 30 minutes.
Somehow, Duncan and the team rallied and drew level in the final 20 minutes of the game, with Baines memorable 90th minute strike, only to be beaten 6-4 in the penalty shoot out.
Just 3 days later Arsenal were the visitors and curiously both teams had their future managers sat in the stands watching, but not taking charge of their teams on the day: Carlo Ancelotti and Mikel Arteta.
It was a tedious 0-0 borefest with little energy or inspiration from either team. Our midfield four was Iwobi-Sigurdsson-Delph-Davies.
In his final week in his caretaker role Duncan said he was not ready to manage Everton and that the club - and the fans - deserved a world class manager.
There is absolutely no denial from this poster that Duncan Ferguson did an outstanding job in extremely difficult circumstances in a short space of time, in four very challenging fixtures.
This poster also believes it is a perfectly legitimate question to ask if Duncan Ferguson is well-suited to being a PL manager.
If one of his 'qualifications' for the job is to just sit it out at Finch Farm in the hope he may be offered the top job, then I for one think it is more than reasonable to question his ambition to step outside a familiar environment and experience and learn new things with a different perspective.
To lead, rather than follow.
I did a quick scan of this thread on all references to Duncan Ferguson. I see no evidence of made-up bile by anyone towards the man. Just reasonable questions being raised as to his suitability to manage Everton, given the known.
I do see one poster directing 'made up shite' at fellow Blues for not sharing his absolute view on Duncan Ferguson.
Darren Hind
471
Posted 14/12/2021 at 13:43:14
My post was more a response to the now constant attacks on Evertonians who work for the club.
It's something that I believe has escalated on these pages, this season, not by the number of people who do it, but by the number of times the same people do it.
Why in the name of all that is good would somebody ignore the spectacular failings of the real culprits to constantly point the accusing finger at what is essentially "the help"? I believe I know the answer. Show me a critic of the backroom staff and I will show you posts from that critic rabidly defending Carlo Ancelotti. They got it spectacularly wrong and it's easier to point the finger at others than to admit it.
There is a very good chance that Duncan Ferguson isn't the answer. As the more reasoned skeptics have pointed out, there is not a lot of evidence to show he ticks all the boxes, However. there is even less evidence to suggest he doesn't. He did better than the full-time managers in his brief stand-in spell and he did it against top opposition. That is all we have to go on.
What rouses my suspicion is why some of Carlo's more vociferous acolytes are so desperate to deny him even a shot. Why do you suppose that is?
This is another Doctor Pepper moment for Everton as far as I'm concerned: we are heading for a dogfight and I have got to ask "What's the worst that can happen?" by appointing Duncan Ferguson? He couldn't possibly do any worse!
Peter Gorman
472
Posted 14/12/2021 at 14:00:29
Darren, I doubt Ferguson is the answer but the games under his in interim management (especially Vs Chelsea) were the most entertaining and hard fought that season.
I also don't get some of the criticism of the former players. There is a hunch that it just 'must' be them as they have been a continuity over years of underwhelming performances.
Piss-poor game management from supposed paragons of the game like Ancelotti and Benitez is surely a more important factor.
As is piss-poor recruitment.
The only player Unsworth actively recruited for Everton is apparently some complete no-mark named Calvert-Lewin. Probably our best player and most valuable asset, so what does he know.
Brian Wilkinson
473
Posted 14/12/2021 at 14:09:42
Jay and Darren, you both have very valid points on Dunc, there was no doubt the crowd and team was up for those few games, we cannot deny that.
We saw the first few games under Raffa, these players getting results, we have seen the same players time and again, do the same under every single other Manager we have had for a few weeks.
We also saw first hand when the fans gave a tremendous effort against Arsenal, that very team that had been shocking the previous weeks get a result.
So yes if Dunc comes in, I have no doubt the fans will have Goodison rocking and I am sure those first few games, the team will pick up results.
My worry is what happens after the adrenaline wears off on the players and those three to four weeks have passed.
These players will go back into their shell, time and again the players have hid, gone into games half hearted.
I loved it when Dunc was in charge, I would just hate these players to let him down, once the honeymoon period is over.
I honestly do not know the answer long term, certainly not Duncan, but short term yes, and that is no bad reflection on Duncan, I just feel these players have not got it in them and to be honest, I believe it is more in the players heads, than their actual ability.
Tony Abrahams
474
Posted 14/12/2021 at 14:12:15
Fair enough Darren, but by not going out and becoming a manager in his own right, then Duncan has left himself wide open for criticism imo.
My own view, is that if Duncan did get the big job, he'd probably over time, do what Benitez is getting accused of allegedly doing, because something is rotten inside our club, and a man who has been there for years, might possibly already have the answer to what is going terribly wrong?
Barry Hesketh
475
Posted 14/12/2021 at 14:13:57
That Bobble guy is at it again on Twitter, saying that Townsend has undergone a scan on a suspected broken bone in his foot that he suffered during the game against Crystal Palace, and perhaps more importantly and far more concerning that Richarlison has undergone a scan on a calf injury that he suffered during the game against Crystal Palace. Initial fears from the Everton medical staff is that he could miss some key games in December 2021.
I would love to know how Bobble comes by his information.

Brian Harrison
476
Posted 14/12/2021 at 14:28:18
Barry 475,
I think we can believe what this Bobble guy says, he always gives the team before games and I've never known him to be wrong.
I understand that Townsend has broken a bone in his foot and Richarlison will be out for 4 weeks.
Mark Ryan
477
Posted 14/12/2021 at 14:28:58
If the Palace game had been at Goodison, it would have been a very different approach by Benitez and therefore a different result. If we had set up against Arsenal the way did against Palace, we would have been thrashed.
I don't want my Everton team to sit back and play counter-attack football and I don't think the players do either.
The answer is not Ferguson. The answer is not Benitez… but sadly I think Moshiri has put all his huevos in Rafa's canasta.
Very worrying times… and meanwhile, the club remains quiet on all fronts.
Tony Abrahams
478
Posted 14/12/2021 at 14:31:56
I will look at Thursday's team sheet to see how much of a perilous position that Benitez is really in.
Peter@472, my own view is that if Everton would have been able to keep hold of one of our managers for a few seasons, then a few more of Unsworth's players would have probably came through, but I've also seen enough methodical footballers, to last me a lifetime, and think it can't be that hard, how to teach players, to be more comfortable on the ball, surely?
This does admittedly start in an earlier age of a players development, but it's really frustrating seeing more of the same, and nothing different, so hopefully Metcalfe and Whitaker, might prove me wrong, and also change my way of thinking, because these two do seem to like the ball🤞
Derek Taylor
479
Posted 14/12/2021 at 14:35:32
I have no doubt that the appointment of DF as manager would appeal to a great many Evertonians - including our august Chairman. The problem is that as soon as the playing staff at his disposal reverted to type and strung a few of the inevitable defeats together, the Scot would be reviled by the very same supporters.
Let's face it, the post is doomed to failure whomsoever gets the gig. So carry on Rafa, I enjoy seeing you suffer for past sins !
Mick O'Malley
480
Posted 14/12/2021 at 14:53:39
Darren@441 absolutely brilliant defence of Duncan, I'm with you regarding the kopite, I am at a loss how any Blue can happy clap that gobshite, give me a true blue any day over a failing kopite, and why would Duncan leave? Why should he? He doesn't send the team out to play pig ugly football, that's on the odious backstabbing snake we have in the dugout, Michael Ball is right in the echo, Paelladyce is setting us up to fail and is causing division at the club, I can't wait to see the back of him, must be one of the worst managerial appointments we've made in years
Luke Welch
482
Posted 14/12/2021 at 14:57:13
Now with Brands gone, who is going to work night and day getting rid of the crap the squad is full with? Rafa? BK?
Barry Hesketh
483
Posted 14/12/2021 at 14:58:02
Very good Brent :)
At least someone, somewhere knows what is happening at Goodison.
John Keating
484
Posted 14/12/2021 at 14:58:23
It seems many were against not only a couple of managers we had but some we were linked too, as being too old, out of date, old methods, tactics and formations.
It apparently appeared that we needed a young new method manager, a Pep, Tuchal type.
Ferguson did great when he stepped in and if anything we got those results on adrenalin and up and at 'em footy, the crowd lapped it up.
Unfortunately I very much doubt the Fergie factor would last more than a few games. The adrenalin would run it's course and so would have our performances.
I don't think Duncan has that new age management material that is supposed to be the future
Considering our present predicament, just getting out the ship, Ferguson may well be beneficial short term. Long term I have my doubts.
Steve Brown
485
Posted 14/12/2021 at 15:00:50
Seems Ancelotti's more vociferous haters just can't seem to get past him!
Interesting, as he has done so well at Real Madrid with a team 'sin galacticos'. Eight point clear in La Liga and heading for another league title as manager - I thought the narrative was that he was a busted flush, over the hill, could only play zombie football.
He actually explained that he called Real Madrid enquiring about a player and ended up getting offered the job. But given he would have been aware that the promises he had been made about investment in the squad were about be proven false, I don't blame him personally.
As for Ferguson replacing Benitez as either temporary or permanent basis, I think that will happen in the next 1-2 weeks. Then it is up to him to take his chance.
Tony Abrahams
486
Posted 14/12/2021 at 15:01:03
If that's true Barry, then Benitez has been absolutely destroyed for trying to protect one of our better footballers.
The fans hate the manager, who is having really bad luck in trying to keep his best players on the pitch, with my own prayers being, that I hope this is Bill Kenwright's final curse, before he stands down.
Why can't I get Bill Kenwright, out my fucking head.
Barry Hesketh
487
Posted 14/12/2021 at 15:21:20
Sam Wallace on Twitter has posted this:
BREAKING Premier League clubs have voted to pass new rules governing related-party transactions. Opens the door, for example, for #NUFC to strike commercial deals with Saudi companies/entities judged by PL to be fair market value. More @TeleFootball
Could this help Everton FC? I certainly hope so, because we need to be able to purchase players in January and it's possible that loans or cheap buys wouldn't cut the mustard, over to Moshiri and friends to begin a new era? That's my wishful thinking, so probably in the real world, we'll remain in the sell-to-buy market.

John Keating
488
Posted 14/12/2021 at 15:39:52
Family up in Edinburgh tell me bookies shortening odds on Dunc at Hibs.
Chris Jenkins
489
Posted 14/12/2021 at 15:41:14
Darren #441
A really excellent contribution on the attributes of Duncan Ferguson [DF] and the reasons as to why he should be seriously considered as a candidate for the position of manager.
His age is hardly a negative factor as several contributors have suggested recently. DF has spent the last ten years of his working life fully immersed in the footballing operations of the club, learning the necessary coaching skills and, when allowed by the manager of the time, putting his ideas into practice. Touching fifty years of age can hardly be construed as entering the winter of one's life even in the modern world of football. Most importantly Duncan has always worn his Everton heart on his sleeve in stark contrast to Benitez.
Admittedly, DF's experience as caretaker manager comprises just four games but in those matches he certainly acquitted himself extremely well. No rows with players, no "I'm in charge, I know what's best" mentality, and no after the match spouting of utter gobbledegook which the present misguided [ and I'm being polite here] incumbent is a past master at.
I have always taken the view that, whilst experience is important in any line of work, the ability to do the job is just as crucial. We all have to start somewhere. In Duncan's case I am confident that, with a fair wind and the necessary bit of luck, he certainly has the ability to turn around the the horrendous run of the last couple of months and pull the club clear of the relegation mire.
Nothing in life is guaranteed but I honestly feel that DF can instill the pride and passion into the club and players which is so obviously missing at the moment. I totally agree with you that if anyone can get Goodison bouncing again it is DF.
The managers since Moyes left, with the exception of Ancelloti, have been nothing more and nothing less than overpaid and seemingly incompetent mercenaries. Ancelloti, yes he was extremly well paid, but in his defence he was effectively sold a pup in that he was conned as to just how poor and hopelessly inefficient the internal structure of the club had become and the declining state of finances, coupled with the emerging FFP problem. It's hardly surprising that he threw the towel in and went off to Madrid when he realised the true situation.
The preoccupation with zonal marking of the majority of this previous group of managers would almost certainly be consigned to history if DF was given the job, players and staff would be listened to and Benitez' attitude of "it's my way or the highway" would also not be tolerated.
The only point I'm slightly at variance with you Darren is your point "if Benitez gets the sack after the Chelsea game . ". I genuinely hope, although, it's now very unlikely, that this imposter, wolf in sheep's clothing, or whatever description is most appropriate, is shown the door in the next forty eight hours ie before the Chelsea game.
As Mick O'Malley, a regular and straight to the point contributor, has consistently argued, Benitez should never have been appointed and should get out of the club. I agree with your sentiments completely Mick and your forceful way of presenting your views. The rationale behind appointing Benitez completely mystifies me and no doubt many others.
Jay Wood
[BRZ]
490
Posted 14/12/2021 at 15:41:19
All these, Darren:
* 'My post was more a response to the now constant attacks on Evertonians who work for the club.'
Personally, I don't see any ramping up of the intensity or the quantity of these alleged attacks. Again, some legitimate views are expressed about the quality and credentials of Finch Farm backroom staff. Some daft speculative stuff is also written. Up to each one of us to filter through such diverse opinion on a footy forum and give it the gravitas (or not) it merits.
* 'Show me a critic of the backroom staff and I will show you posts from that critic rabidly defending Carlo Ancelotti.'
And...
* 'What rouses my suspicion is why some of Carlo's more vociferous acolytes are so desperate to deny [Ferguson] even a shot. Why do you suppose that is?'
As opposed to the constant rabid attacks and vociferous criticism throughout Carlo's tenure - even before he was appointed, even now six months after he departed - by certain posters, eh Darren?
Funny how the likes of yourself, who denied even the good performances and results by Ancelotti, was so enamoured of Benitez after a decent start in less than half a dozen games that you were moved to post:
'I didn't want him, but he is really twisting my arm.'
Finally,
* "What's the worst that can happen?" by appointing Duncan Ferguson? He couldn't possibly do any worse!'
Already answered by yourself, Darren. 'I think every managerial appointment is a gamble.
It could go spectacular well. It could go spectacular wrong.
Your own absolutism is simply the reverse side of the same coin you keep tossing.
Brian Harrison
491
Posted 14/12/2021 at 15:47:17
Steve 485
I was definitely a Carlo Ancelotti fan, yes some of the football was dire at times and hard to watch, but the man was a winner. You don't win what he has by being lucky. He transformed a team that conceded goals for fun from dead ball situations, and by the time he had finished we were one of the best teams at defending set pieces. The other aspect of Ancelotti's time was did he improve players well Pickford said he improved him and made him much calmer in games, Godfrey looked a different player under Ancelotti than he does now. Michael Keane another who improved under Ancelotti, and last of all DCL. He turned him into a good finisher by insisting he hit most shots first time and improved his positional sense.
I think if he had stayed the football would have improved and even allowing for some hard to watch performances he still has the 3rd best win rate of any of our managers in the last 60 years so he must have been doing something right.
Stephen Brown
492
Posted 14/12/2021 at 15:53:32
Big Dunc and an experienced No2, you've definitely won me over!
Why not ? Every other approach has been a disaster!
Christy Ring
493
Posted 14/12/2021 at 16:02:49
Tony#486 If it is true Tony, why didn't Benitez replace him at halftime, instead of making the injury worse?
Mike Gaynes
494
Posted 14/12/2021 at 16:03:17
Pete #450,
Timmy has said he'd like to be a manager "someday", but I doubt he would consider himself qualified for a Premier League debut in the role right now.
Alan J Thompson
495
Posted 14/12/2021 at 16:08:21
If Benitez is transforming/re-organizing the club at all levels then I wish he would stop and spend all his time getting the minimum 22 points required from the last 22 games.
John Keating
496
Posted 14/12/2021 at 16:08:38
Christy,
I saw something, not sure where, Benitez said they wanted to take Richarlison off at half-time but he insisted he could shake it off. Reluctantly they allowed him to give it a go but seeing he was toiling he brought him off.
Richarlison's usual histrionics didn't help much working up those at the game and watching on the telly.
Tom Harvey
497
Posted 14/12/2021 at 16:08:58
Just imagine how much we'd have to pay a Pep or Klopp class manager to come to our club and we'd probably have to get him drunk first to agree.
Tom Harvey
498
Posted 14/12/2021 at 16:10:25
Tim has the right type of character, but I'd need to see him learn his trade elsewhere first.
Tony Abrahams
499
Posted 14/12/2021 at 16:12:59
Exactly Christy, especially when you look at Richarlison's face, when he was taken off.
Now just imagine if Ferguson was to get the Everton job, and the same situation happened, then I'm not sure if Duncan, would have got the same response as Benitez from the fans, who completely despise this manager?
I was actually going to post what you wrote Christy, but I honestly can't get that other fella out my head.
Eddie Dunn
500
Posted 14/12/2021 at 16:25:56
Christy@493, I think the reason Benitez didn't sub Richie at halftime was exactly because he thought if he offered him 5 mins to see if he could run it off, then Richie wouldn't have had such a titty-lip.
The lad had a knock and many coaches would do the same thing with their best players.
Let's face it, no one wants to see sulky petulance from Professional players. The manager(perhaps wrongly) thought he was doing the best for the team and the future health of the player.

Stan Schofield
501
Posted 14/12/2021 at 16:26:07
It's interesting to look at our league final positions and points for each season since the Premier League started. From 92-93 season up to last season, that's 29 seasons.
Over those 29 seasons, our average league finish has been at 10th, with 53 points.
These averages are basically unchanged if we look only at the 6 seasons where Moshiri has been involved. As such, the numbers underline the fact that the managerial changes under Moshiri have made no difference in relation to our overall performance in the Premier League.
That said, it's also interesting to look at how Moyes performed:
Prior to Moyes, we averaged league position 14th with 47 points.
With Moyes, we averaged league position 7th to 8th with 57 points.
Thus, Moyes made a significant difference to how we were performing in the Premier League, and our performance after his departure has diminished slightly (10th placing and 53 points) despite the money injected by Moshiri.
So, during the Premier League era, it appears that only David Moyes gave us any significant improvement, and that since his departure we've stagnated-to-worsened.
These facts beg the question of what Moyes might have achieved if he'd been given the resources that Moshiri has provided. And what he might achieve if he returned and were provided with comparable resources.
Dave Abrahams
502
Posted 14/12/2021 at 16:30:13
Dave (462), Many a true word said in jest!!
Ray Roche
503
Posted 14/12/2021 at 16:33:14
At one point in the first half you could clearly see Richie rubbing his calf. I'm not surprised that he went off, sadly I'm not surprised at the histrionics and tantrums when did go off. Slagging Benitez off in this case is wrong.
Dennis Stevens
504
Posted 14/12/2021 at 16:39:29
I don't think it does, Stan. Moyes left us for a club with a few bob to spend, but he couldn't hack it.
Kieran Kinsella
505
Posted 14/12/2021 at 16:44:08
Ray
Not even just one point, a few times, then they showed him on the bench rubbing his calf etc the rest of the game. I couldn't understand how "experts" like Michael Ball and Alan Pardew failed to notice this when they wrote articles this week saying he should have stayed on. No doubt they'll be writing follow ups saying it's Rafa's fault he's injured.
What it does show is how logic goes out the window when someone has been cast as the villain. Few fans wanted to Benitez, many now want him gone and the media pile on, so anything he does that works out is either lucky or warrants a "I told you so," anything that doesn't work out is amplified to support the agenda of the critics.
To be clear, I am not a Rafa "fan." I think he was to blame tactically and selection-wise for the Brentford game among others. But I am not buying into this narrow viewpoint that firing him would solve all our problems. Or indeed that promoting a man who was sat eating a sandwich on the bench just prior to Palace's third goal would somehow restore our fortunes.
Tony Abrahams
506
Posted 14/12/2021 at 16:55:42
Logic goes out the window Kieran, because Benitez just wasn't a logical choice?
Kieran Kinsella
507
Posted 14/12/2021 at 16:57:01
471 Darren
Whatever happened to that busted flush who won at Anfield and the Emirates? Having been exposed as a cowardly fraud I should imagine he's found his level somewhere as an assistant coach at a fallen giant like Torino and is patiently waiting his turn in the hot seat.
Ray Roche
508
Posted 14/12/2021 at 16:59:37
505
Good level headed post Kieran. 👍🏻
Brian Wilkinson
509
Posted 14/12/2021 at 17:15:18
Stan, in regards to Moyes, I can honestly say he has been the only Manager we have had, who had the players fit in recent times, lost count how many games we nicked towards the end.
His record against the top teams away were dreadful, but you cannot argue the facts that against the other teams, he came out on top more often than not.
Martinez benefited from the first season of the players Moyes had whipped into shape, however after the first season, and every season since, some look knackered, some are struggling to string two passes together, there is certainly no team togetherness there now.
Whatever anyone thinks of Moyes, the players were fit and could string passes together, when he was on watch.
Will Mabon
510
Posted 14/12/2021 at 17:27:44
Brent @ 461;
"What has Big Dunc thought when he's been sat next to each of the last 6 (non-interim) managers we've had in the last 5 or 6 years, none of whom have delivered much? Has he thought they were ok, and if so does that then raise a question of his judgement?

Or has he thought they weren't any good, and if so does that then raise the question as to why he's been content to sit next to poor manager after poor manager?

"

Ironically, Brent, Ferguson has had an experience afforded to very few; to see from the inside, the effect or not of these six managers, with their differences, similarities and particular backgrounds and characteristics - in the exact same environment.
More ironically, he sees how this has so far led to the "All roads lead to Rome" outcome, which with each manager re-set further consolidates the fact that the wider club structure itself is playing a major part. Wider club structure of course includes the players and Ferguson himself.
What this experience does for Duncan as the man he is, with whatever plans or ambitions he may have, who knows. Got to've been a pretty wild ride though, and there is surely an interesting book in there, down the road.

Mike Gaynes
511
Posted 14/12/2021 at 17:31:43
Kieran #505, exactly. Well said. And very specifically, the substitution for which Benitez was excoriated on the Forum and afterwards is now shown to be fully justified, with Richarlison just declared out for "a number of weeks" with a calf muscle tear. (Of course, Benitez will now be excoriated for leaving him on too long.)
Brian #491, amen. I feel the same.
Chris #489...
"The preoccupation with zonal marking of the majority of this previous group of managers would almost certainly be consigned to history if DF was given the job, players and staff would be listened to and Benitez' attitude of "it's my way or the highway" would also not be tolerated."
And you know this... how, exactly? Or is it just your best guess?
I pay close attention to our defending at set pieces -- it's a particular irritant for me -- and I have no recollection of Dunc reverting to man-to-man marking on corners during his interim role two years ago.
And what evidence can you cite that he's a better listener and more accepting of opposing views than Benitez? Or is that, again, just a guess on your part?
Will #510, amen. I'd buy that book the first day it's out. What a story he'd have to tell. Ironically, I have much warmer feelings about Duncan now than I did when he played for us -- frankly, I sometimes considered him an embarrassment and unworthy of the shirt -- and I'd be very interested in what he has to say today.
Danny O'Neill
512
Posted 14/12/2021 at 17:39:28
Always a genuinely interesting debate on Moyes Stan @501. When he left Everton, there was final widespread anticipating as to what he could do when actually given resources. Personally, I always thought Moyes was mainly better with the more modest acquisitions rather than the few occasions he spent relatively big. Fellaini being the probably exception.
On the Richarlison injury, which I mentioned earlier, I called as soon as I saw it happen and suggested we get him off. This from my son via one of the twitter feeds he follows:
"Richarlison has suffered tear to the muscle in his calf and will be out for number of weeks for Everton. Andros Townsend has a small fracture in his foot and will see a specialist. In addition, Seamus Coleman suffered bone bruising and soft tissue damage".
Brent Stephens
513
Posted 14/12/2021 at 17:40:20
Will #510, yes, a Duncan Ferguson book on this would be a best-seller. Another Ferguson hit.
And as Kieran #505 says.
Mike Gaynes
514
Posted 14/12/2021 at 17:42:26
Danny #512, yep, Lyndon just posted that news item on TW as well.
Will Mabon
515
Posted 14/12/2021 at 17:51:54
Jeez, Danny, it gets worse.
Richarlison. Then Townsend. Now Coleman (courtesy of Benteke?).
Looks like I'm playing, Thursday.
Peter Neilson
516
Posted 14/12/2021 at 17:54:58
Benitez is more of a wheeler dealer than Redknapp. On top of the 60 he brought in at the RS he brought in 28 players at Newcastle in 3 years. I read he aims for a 70% success rate with 10% being outstanding. He might have to get used to a lower turnover considering our FFP state combined with over remunerated clingons chained to their lockers in Finch Farm.
Danny O'Neill
517
Posted 14/12/2021 at 18:12:54
Attacks on Duncan or just opinions and questions on his suitability? Is than any different than those who have given their equally fervent opinions on previous candidates, incumbents and past managers?
I don't see it as having escalated. I believe I've been pretty consistent in my view on his suitability and experience to be Everton manager. And I don't care if he's an ex-player or Evertonian or not. I'm looking at his managerial experience and credentials to judge. I can use his tenure at Everton to support that view, but its not an attack on him. Certainly not because he used to play for Everton.
Who's been ignoring failure? We've all done the post mortem on a succession of failed managers and players. I've backed every Everton manager apart from one who I just couldn't, although it did't waver my support for the team. All of them, even though I didn't want and haven't wanted any of them since Moyes went, aside from Ancelotti.
None of us here are prophets and can predict the future. We offer opinion based on our love and opinion of Everton. No one can predict if Duncan or anyone will be a success. If he was to get appointed, I'd be on here giving the same reasons (not insults or attacks) as to why I think he shouldn't get the job. Just as those who's dream would come true would be in ecstasy. And if this happened, I'd be backing him. And if he was a success, I'd gladly be put wrong and celebrate as much as the Duncanites.
Martin Mason
518
Posted 14/12/2021 at 18:17:33
Everton mustn't sack Benitez now, that will be history – having already repeated as tragedy – repeating again as farce. The club is falling apart and is fast becoming a laughing stock.
While the club decides how it wants to organise itself, we need to keep as much as possible constant. At the end of the season is the best time when we will have decided what model we want to adopt in terms of DoF or not and we hopefully would already know who we wanted to take over.
Benitez was a terrible mistake; giving Duncan Ferguson the reins now would be farce at a level never even seen at the dysfunctional mess called Everton FC. The buck stops at Bill Kenwright, he has to go... and yet how do you winkle out such an embedded parasite?
Tony Everan
519
Posted 14/12/2021 at 18:26:49
Benitez was asked at the start of his employment whether or not he'd be accepted. He replied "It's all about the results".
I think he is convinced he can turn it around given time. He needs Mina and Calvert-Lewin back, he needs schoolboy errors to stop, and he needs to buy two or maybe three first-team starters in early January.
Moshiri (or Usmanov?) stuck his neck out when hiring Benitez; he knew it was a gamble. I've got the feeling they are all chips in with their appointment. They are going to ride out the furious derision and stick with their man.
I suspect he will be still in there fighting in January like a bloodied, swollen-eyed, patched-up boxer getting encouragement from his corner (Moshiri). Bashing his gloves together and coming out to fight another round, ignoring the chaotic noise around him whilst calling on all reserves to turn the contest around.
In the meantime, Chelsea is a very remote chance, but Leicester at home is in the Arsenal territory for getting a result. There will be some prayers said on the lead-up and during that game. A win in that match will dampen the fires.
Tony Abrahams
520
Posted 14/12/2021 at 18:28:00
One thing I will definitely give Benitez stick for is not using a young scouse kid at right-back, meaning he's probably going to have to play at Chelsea, having not kicked a ball in anger since the QPR defeat, unless he brings Luca Digne back in from the cold.
Bobby Mallon
521
Posted 14/12/2021 at 18:28:43
My mate has just mailed me and Big Dunc has left.
Dennis Stevens
522
Posted 14/12/2021 at 18:31:27
Or plays Branthwaite alongside Keane and shift Holgate to right-back, Tony?
Kieran Kinsella
523
Posted 14/12/2021 at 18:34:09
Bobby
Mailed? Like a letter from the postman?
Tony Everan
524
Posted 14/12/2021 at 18:37:39
Big Dunc's going nowhere. At this alarming rate of injuries, he will need to look under the stairs and find his boots.
Derek Taylor
525
Posted 14/12/2021 at 18:40:25
Hate to say it but Monshiri should have listened to Kenwright. He would not have had Benitez within a mile of Everton FC. I know Bill's post is just ceremonial but he's now our only hope of bringing sanity to our Club !
Barry Hesketh
526
Posted 14/12/2021 at 18:43:49
Kieran @523
It was a letter, informing Bobby that Duncan had left – dated sometime in the 90s when Peter Johnson flogged him off to Newcastle. Terrible service the post office in those days. :)
Kieran Kinsella
527
Posted 14/12/2021 at 18:45:56
Barry,
Lol. I was wondering. Any day now, he'll be getting one about Rooney going to Man Utd.
Tony Abrahams
528
Posted 14/12/2021 at 18:49:47
Does his mate have anyone on the inside, Bobby?
I think the lack of real pace in the middle of our defence is disrupting our overall shape, Dennis, so I'd definitely like to see Branthwaite starting a few games, mate.
Rob Halligan
529
Posted 14/12/2021 at 18:53:39
Tony,
Bobby's mate is probably "on the inside" at Walton prison. Probably why his letter took so long to arrive!! (Only joking, Bobby!)
Darren Hind
530
Posted 14/12/2021 at 19:13:47
Danny O'Neill,
Stop digging, lad. You have been as guilty as anyone of attacking "fist-pumping" Dunc in recent weeks. You opened on this thread alone by declaring that he had shirked going out?
That's not an opinion. It's an accusation. Somebody making unsubstantiated claims without a shred of evidence.
How do you know he has "shirked" going out? How do you even know he has had offers... you don't. You are making it up.
Who are you to attack an Evertonian for wanting to work for Everton? Would you not do the same???
I love that you throw Kenwright's name in to give your argument gravitas... but you have no clue as to what influence he has these days either... you can only guess – like everyone else.
I don't really don't know why I am asking you these questions because I already know for sure that you don't have answers.
You will claim you are only offering opinion, but you will not be able to offer anything to substantiate that opinion. You seem to spend a lot of time posting about something you have no knowledge of.
Nasty accusations such as "living stealer", "parasite" and "free loader" may have gone under the radar of our Brazillian friend, but they will be common place for those who visit this site to listen to opinions other than their own.
There is a very real difference to criticising a coward who made the fan base endure 18 months of abject anti-football, to making unsubstantiated allegations against somebody who hasn't even been offered the gig.
Jay Wood
[BRZ]
531
Posted 14/12/2021 at 19:38:12
'[certain themes/comments/posts] are common place for those who visit this site to listen to opinions other than their own.'
Oh, the irony.
Kieran Kinsella
532
Posted 14/12/2021 at 20:02:18
Danny
"Duncanites" yet another quasi-religious sect formed among ToffeeWeb. The Moyesians, Kenshites, Koemanites, Silvarado's, Carlo's acolytes, Mike Walker's tanning boys. Love it.
Brent Stephens
533
Posted 14/12/2021 at 20:12:12
Jay, the irony wasn't lost!
Don Alexander
534
Posted 14/12/2021 at 20:18:29
Dazza, the bad news for you is that your accusation of Danny because he made "an accsation" (sic) is, well, only your opinion.
In my opinion Kenwright's more an Evertonian than Ferguson but he's totally unfit for purpose too......in my opinion.
Other fans have different opinions. That's allowed owd boy!
Danny O'Neill
535
Posted 14/12/2021 at 20:27:34
You're right, Darren. I don't know. I guess, assume and form an opinion from what I see and read. I don't think I've claimed to know.
So yes, I will claim to only having an opinion. On Duncan Ferguson, Everton and many other things. Like everyone else.
Anyway, Duncan debate done for me. I've got my opinion, others have theirs. If and when it ever happens, we'll still all be on the same side.
Will Mabon
537
Posted 14/12/2021 at 20:37:33
But... but, Tony! The boy's pen...
Kieran Kinsella
538
Posted 14/12/2021 at 20:53:01
Tony & Don,
Bill Kenwright is a great Evertonian in the way that parents with Munchausen Syndrome by Proxy are great parents... in their own minds.
Don Alexander
539
Posted 14/12/2021 at 20:57:25
I was trying to be a bit ironic Tony but you might be right!
When it comes to Ferguson I share the opinion expressed at #462. In speculating what goes through Ferguson's mind manager after manager the author, Dave Lynch said only,
'I hope the next useless bastard doesn't sack me because this is easy money'.
Leopards and spots come to my mind with Ferguson, screwing everyone whilst swanning about for a comfortable easy living as close to home as possible.
Svein-Roger Jensen
540
Posted 14/12/2021 at 23:40:10
Everton's problems are running deep. An owner with no patience – a board with no excellence – a team with no spine – and a manager with no soul.
Darren Hind
541
Posted 15/12/2021 at 07:34:04
No Danny,
You are the one who is right.
I get very annoyed when I see people hammer away at any Evertonian working at the club simply because he is an Evertonian. I know (and yes, I do know) how several of them have initial worked voluntarily and see this as their dream job. They have demonstrated that they would do this for nothing and they put their heart and soul into it.
I confess to not knowing what happens at boardroom level, but this jobs-for-the-boys culture certain people will have you believe exists at the club is ill-informed, spiteful, wild-shot-in-the-dark nonsense. Spouted by people who, by their own admission, have no idea what they are talking about.
The constant accusations that they are on Easy Street, made by people who do absolutely nothing for our club, is simply disgusting. These "Kenwright boys" have had their love for the club more exploited than any of us.
Yes, I do believe this ignorant criticism is gathering strength and I do see a particularly spiteful bandwagon forming. That said, I have seen enough of your posts to know you are a free thinker... I may not always agree with you but you generally say what's in your heart. You are not a bandwagon jumper-on.
Having read your response and given it some thought at work, I think you are right. Ferguson may have worked for nothing for the first couple of years and he probably doesn't earn very much even now. But he has become a big enough fish at the club to be a legitimate target.
You don't fancy Ferguson? Fair enough. At least you don't sink to the gutter by labeling him a "living-stealer" or a "parasite" simply because he once played for us.
I think I may have done to you what I have accused others of doing. I have gone for the wrong target. I owe you an apology. You have it.
Martin Mason
542
Posted 15/12/2021 at 07:57:18
The correct selection criteria for personnel is that they are the best available for that position, not that they used to play for Everton. If the two match, then that is a perfect fit. If the people aren't the best available and yet are forced upon incoming managers, then this is the worst possible fit?
Bobby Mallon
543
Posted 15/12/2021 at 08:14:02
Kieran @523.
Yes, letter – he lives next door put it in the letterbox with a smiley face. Also saying agent Rafa is working well. He supports the Mancs. 😃
Danny O'Neill
544
Posted 15/12/2021 at 08:41:07
You don't owe me an apology, Darren. Genuinely not needed.
And I know you don't need me to say this, but I will. Stick by your principles. I learn a lot from reading and contributing to the debate on here from all contributors. A bit of a cliché but, whilst we may have different views and opinions, the underpinning factor is we have one thing in common: our club. That will never change.
You make a good case in the defence of Duncan (who I don't dislike or dispute his Evertonian-ness, by the way) and I understand your frustration. The flip side (the bashing, if you like), probably comes from a perception born out of frustration. But let's park that one as we'll be going around in circles.
Let's keep debating, however thorny it gets. Otherwise, we'd all live in la-la land, vote Liberal and all agree with each other all of the time.
I've learned my lesson on many occasions and not just here. As long as we don't get personal, debate – however contentious – is healthy and can make you think about your own opinion. We learn from others. Otherwise, we just agree with ourselves.
Until the next one, Darren. But let's get Chelsea out of the way first. I'm going for a point. Although I'm tempted with Christine's 2 - 0. There must be good odds on that?
Wish me luck on the Kings Road and my journey home through west London surrounded by the arrogants.
Brian Williams
545
Posted 15/12/2021 at 08:56:44
Well, if reports are true (and I sincerely hope they're not), there'll be another ex-Evertonian at the club soon for people to disagree on and fall out about.
Would this be the second coming of Wayne Rooney? He's only actually returned once so I guess it could be classed as that?
If there is any truth in the reports, I wonder whose idea it is?
Christine Foster
546
Posted 15/12/2021 at 08:58:04
Danny,
It would be such an absurdity for us to win, for so many reasons, but this is football; Benitez may have no option but to play the kids and they are an unknown, like a certain Mr Rooney... strange things do happen. I really must keep taking the tablets!
I don't think I have ever denigrated any ex-player working at the club; I sometimes feel we look after ex-players in a way other clubs don't. Are they the best we could have or the only ones we could get?
I really don't know how good they are but, regarding Duncan Ferguson, he brought a passion to the club, its supporters and players… but it was a short-term fix. Giving him the job now would ensure focused support and passion on the pitch but I fear it would only be a short-term effect, petering out when the effect wears off.

Dave Abrahams
547
Posted 15/12/2021 at 09:03:10
Martin (542),
Yes, that is the absolute truth but hasn't been applied at Everton for a very long time.
Brian (545),
You are usually a very sensible person so I would get that idea out of your head.
Brian Williams
548
Posted 15/12/2021 at 09:12:52
Dave #547
It's not one I want in my head, mate, believe me, but I've seen it a couple of times online now and, to be honest, nothing that happens with our club would surprise me at the moment mate.
"Basket case" doesn't cover the description of where we're at and have been for some time.

Eddie Dunn
549
Posted 15/12/2021 at 09:23:10
Christine, fooball is absurd some of the time. The beautiful Chelsea machine that suggested Champions a couple of months ago without Lukaku have recently stuttered. Even with such a great squad, the blend has to be right.
There was talk recently on Radio 5, from an ex-player, that the standard in the Premier League has improved over the last few years. And while it is true that odd results occur, it is more common that absolute thumpings have become more regular.
Man City destroying Leeds Utd was a good example. The Leeds squad is thin like ours and like us, they can present a good XI with everyone fit, but a few injuries leave them open for a hiding.
The squad depth can only be afforded by the Top 5 or 6. We have been off-loading deadwood and loaning out young players. We can't afford a big squad. Imagine if we had sneaked into the Europa League!
Now predictions are that it will take a record low points tally to stay up. This shows that the gulf in class is growing between the richer and the poorer clubs.
With us, it is down to squandering riches but, for most the Premier League, money can only get you so far. The big sponsorship deals, overseas sales, and big commercial income make the difference.
With this in mind, we are here to survive until the new stadium at Bramley-Moore Dock is open and Rafa is being tolerated in the hope that his dictatorship will eventually right a sinking ship.
Never mind Cup runs – we will have to play the kids; forget the Europa League – it's miles off; survival is all we have to hope for.
Dave Abrahams
550
Posted 15/12/2021 at 09:23:38
Brian (548),
Yes, I can understand your thinking, but let that idea come in one ear and get it out of the other ear as soon as it comes in.
Christopher Timmins
551
Posted 15/12/2021 at 09:25:47
We are now paying the price for letting Richarlison play at the Olympics. He has had too much football over the past year and is now picking up regular injuries.
With regards to Mina, just what is going on there? I am pretty sure I saw him in the pictures released by the club of the first-team training session a number of weeks ago.
Townsend, needs a break as he has been ever-present from the start of the season.
As for Coleman, well he should be playing a maximum of 12 to 16 games a season at this stage of his career, providing cover for the first-choice right back. It's a scandal that a replacement was not found for him during the past three transfer windows.
It's a dire situation at present and, unless we stick together, we are doomed. If we replace the manager, we will probably end up with Ferguson or Rooney as no other top manager would come near the club at this point in time.
If either of the above take over the reins, I will support them and wish them the best, as I have done with every other appointment; however, I want the current manager to succeed and turn things around as that is the best scenario for the club.
Another painful night tomorrow evening, I am afraid!
Martin Mason
552
Posted 15/12/2021 at 09:26:30
The rumour is Digne to Chelsea in January. He was an amazing buy and is a very good player, why would he be sold on the whim of a poor man-manager?
Darren Hind
553
Posted 15/12/2021 at 09:54:46
Christine,
That of course is the point. Are the junior coaches the best we can get, or are they the best we can get for the money we are prepared to spend?
Either way, several of these people worked for nothing and give their all for the club. I still find it disgusting that people who contribute nothing, feel entitled to accuse them of stealing a living, or living on Easy Street.
The suggestion that managers signing contracts worth £20, 30, 50 million are agreeing to have "the help" forced upon them as part of the deal, is for the birds. The fact is, they have all brought in their own staff.
Here's another fact: I have never seen any of the staff brought in by these managers criticised.
Danny
Fair enough.
Tony Abrahams
555
Posted 15/12/2021 at 10:08:16
Tony, I told myself I wasn't going to write on ToffeeWeb because I can't get certain people out of my head, but that post really sums our basket case of a football club up, mate.
I'm not sure about the last paragraph though, mate, because it seems that too many people are pining for the return of cosy little Everton... although, if the prodigal son was to return, hopefully it's with the memory of an elephant?
Martin Mason
556
Posted 15/12/2021 at 13:51:07
There's a key difference between having a coach like Duncan Ferguson forced on the incoming manager and him bringing somebody in.
When he brings his own staff in, it is his choice and he is accountable for their performance.
When he has Duncan Ferguson forced on him, he has no accountability and can hoist blame for poor performance on the old boy staff that he has had forced on him.
Will Mabon
557
Posted 16/12/2021 at 10:11:09
Martin @ 552,
Agreed. No room and no need for petulant flexing at the cost of worsening the team – if the rumours are true. Also, no selling better players to "Reinvest", thanks.
Martin Mason
558
Posted 16/12/2021 at 10:14:32
Looks as though it's completely broken down between Digne and Benitez. I'd prefer to keep Digne and get rid of the manager in January. What a staggering mess we are in.
---
Add Your Comments
In order to post a comment, you need to be logged in as a registered user of the site.
Or Sign up as a ToffeeWeb Member — it's free, takes just a few minutes and will allow you to post your comments on articles and Talking Points submissions across the site.
---
© ToffeeWeb