Report
Another dismal result despite Gordon's brace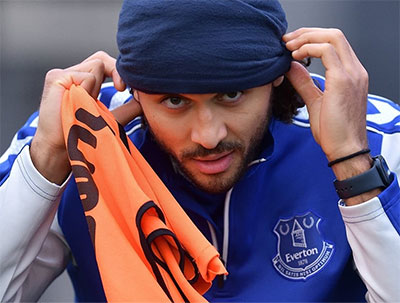 Everton gave up another priceless 3 points when finally back in action again after an enforced break for the last 2½ weeks and three matches postponed as they lost to Brighton & Hove Albion at Goodison Park this afternoon.
The break had allowed additional time for Dominic Calvert-Lewin to get back to full fitness and was in the starting XI for the first time since August, but would miss a crucial penalty in the first half.
Seamus Coleman and Allan were back in the starting XI but Richarlison, Yerry Mina, Tom Davies and Andros Townsend were all out injured for this one.
New signing Vitalii Mykolenko was not eligible to play per Premier League rules. Lucas Digne returned to the squad despite his widely reported spat with manager Rafa Benitez.
Everton kicked off but managed only to put themselves on the backfoot with lots of daft head-tennis that only conceded possession to Brighton. And MacAllister nipped in to beat Pickford with a ridiculous finish to a looped header. Abysmal start.
Gray tried to feed Calvert-Lewin but he was being easily shielded and Brighton were soon on the attack again, with DOucouré looking particularly inept in defence. Kenny was in a bit too hard with his studs showing, earning an early yellow card.
Gordon had a chance to play in a free-kick but it was too straight with the line of play and easily defended. Gordon then gave away a free-kick that was countered by a foul on Calvert-Lewin. But the game was very scrappy and Everton were ponderously trying to get forward but without creating a real chance, Calvert-Lewin being well marked.
Bissouma fouled Gray to set up another free-kick for Gordon but the delivery was shocking and his follow up was no better, while Bissouma was able to run almost all the way to the goal area, winning a corner that Dan Burn was able to finish off all alone at the far post, where was all that fine zonal marking?
As Everton furnished a ragged attack, Gordon was barged over on the side of the Brighton penalty area and VAR said it should be looked at… and a rather fortuitous penalty was granted for Calvert-Lewin to completely miss, lashing it confidently over the bar! Astounding!!!
Article continues below video content
At least Everton got a looping header on target from Calvert-Lewin, winning a corner that was then wasted by Gordon, putting it cheaply behind the goalline. Everton pressed forward again but it was sloppy and the ball was lost. Coleman advanced again but Gordon got himself offside. Nothing seemed to be working for a very sorry looking Everton side.
Gordon got a chance for a strong run after treading on Lallana's foot and he got a good cross to the far post where Calvert-Lewin was on the wrong side of the defender. At the other end, a good shot from Lallana forced a great save from Pickford, at the expense of some more corners that were well defended.
Gordon tried to do it all with a bold run from the half-way line but his final shot was scuffed and deflected and easily saved. More ponderous attacking from Everton ended when Gray allowed a pass to role under his foot and out of play.
Doucouré gave away the ball and Maupay found his way forward too easily before lashing a shot just over Pickford's bar. Three added minutes did little to improve what had been an absolute shit-show of a first half from Everton.
No changes by the embattled Everton manager, his side looking plainly embarrassing trying to play ut from the back. But they did get forward down the left and a ball in to Calvert-Lewin looked promising but Burn was in quickly to block his shot.
Gordon was finally rewarded for his enthusiasm, his shot tacking a wild deflection off Lallana's foot and into the Brighton net for his first Everton goal. A ball in to Calvert-Lewin was also inviting, before Gordon was wiped out in the Brighton area but it was deemed a nothing push in his back.
Everton looked more effective from the ensuing corner but Doucouré could not fashion a shot. Gray then produced a decent shot that was saved by Sanchez. But Brighton were pressing forward again and Kenny made some important interventions.
Gray was bundled over by Webster. The dangerous free-kick by Gordon was taken short to set up Coleman for a ridiculous shot that was way off target.
Another Gordon corner was curled behind by him, doing it a second time is an unforgivable error really. Allan pulled out a tremendous shot that Sanchez tipped over. Gray floating the corner this time that was easily defended.
Maupey got through but Holgate did brilliantly to stop him. But the Everton defence were pulled all out of shape after a terrible Keane clearance and MacAllister was able to pull out a wonderful strike that Pickford had no chance stopping.
A better spell of attacking finally saw Kenny cross a nice pass out from Calvert-Lewin and Gordon met it perfectly to put it inside the post. Rondon then came on for Kenny as Everton looked to get back into the game. MacAllister tripped Gray and set up an Everton free-kick but Brighton repelled it.
Everton tried to up the pace but they kept making stupid mistakes in midfield. However, Gray battled hard to win a corner, before Rondon came on for Kenny and a crescendo of boos from the Everton crowd.
But the changes seemed to have disrupted the tempo and Everton were no longer getting into the Brighton area as Gomes replaced Allan with a few minutes to go. But Rondon looked to see up Gordon for his hat-trick but it wouldn't go in.
Approaching the final minutes a good Gordon cross forced a corner that came out to Gomes and then floated back in to Rondon who showed how awful his shooting could be, lashing it way off target.
As Everton were attacking, Keane was foolishly tempted to fire a weak shot from 40 yards and well off target. Gray tried to set up Calvert-Lewin at the far post but it wasn't going to work. And another dreadful result for Everton under Rafa Benitez was received with another round of boos.
Kick-off: 2:00 pm, Sunday 2 January 2022

Everton: Pickford, Kenny [Y:9'] (71' Rondon), Holgate, Keane, Godfrey, Coleman, Allan (87' Gomes), Doucouré, Gray, Gordon, Calvert-Lewin.
Subs: Begovic, Digne, Iwobi, Gbamin, Simms, Dobbin, Onyango.
Brighton: Sanchez, Veltman (61' Duffy), Webster [Y:63'], Burn, Cucurella, Bissouma, Mwepu, Lallana (61' Lamptey), Trossard (81' Moder), Mac Allister, Maupay.
Subs not Used: Steele, Gross, Alzate, Welbeck, March, Richards.
Referee: John Brooks
VAR: Stuart Attwell
Share article:
---
Reader Comments (495)
Note: the following content is not moderated or vetted by the site owners at the time of submission. Comments are the responsibility of the poster. Disclaimer
Neil Lawson
1
Posted 02/01/2022 at 13:10:40
Interesting. Digne on his way out now "for sure".
Judgement to be reserved.

Ajay Gopal
2
Posted 02/01/2022 at 13:14:00
Interesting team selection playing both Coleman and Kenny. I presume Kenny will play further than Coleman because of his better crossing ability. And Digne is on the bench. 8 Englishmen in the starting XI!
Jay Wood
[BRZ]
3
Posted 02/01/2022 at 13:14:34
How nice to have an Everton game again.
Watched Brighton v Chelsea. They were excellent and Chelsea were lucky to get a point, even though it was Brighton that needed a late equaliser.
The 2-0 away win to Brighton early season was one of our most accomplished performances under Benitez.
Sooo good to have Dom back. Hope he doesn't break down! Needs to be managed carefully on his return.
Bit of a funky line up. I'm guessing it's three centre backs with one of Kenny or Coleman playing left back/wing back. A bit strange given Digne is available and on the bench.
Yet another sign, given Mykolenko's recruitment, that Lucas is probably out of the door in January.
I read Branthwaite is a CV-19 victim. Would have been interesting to see if Rafa had chosen him rather than Holgate if fit. Townsend missing completely. Also a CV-19 carrier, anyone know?
Good game to win today.
Dave Abrahams
4
Posted 02/01/2022 at 13:23:46
I hope there are no injuries, that bench looks very weak and I hope we play three in midfield. Come on you Blue Boys.
Dave Abrahams
5
Posted 02/01/2022 at 13:28:37
Sorry, just had another look at the bench, Rondon on to score the winner!!
Tony Hill
6
Posted 02/01/2022 at 13:31:30
I think it mIght be quite a fluid formation but I expect Kenny ahead of Coleman although dropping back defensively into midfield if needed; Godfrey at left-back. Gray's position will be the interesting one.
Dave Williams
7
Posted 02/01/2022 at 13:43:52
Holgate in defensive midfield role perhaps?
At least these lads will fight and put in some effort! Delighted to see Kenny given another chance.
Good to see Dom and Gray back up front.
Derek Taylor
8
Posted 02/01/2022 at 13:44:03
Oldest tactic in the game- manager creates a fall-out with the only player he can get decent money for – which enables him to have funds to buy more dross like Rondon!
Tony Hill
9
Posted 02/01/2022 at 13:45:59
Yes, that would be interesting, Dave @7 and has been mooted on here as an option before.
Phil (Kelsall) Roberts
10
Posted 02/01/2022 at 13:46:08
He didn't spend any money on the "dross" like Rondon. He came on a free.

Jay Harris
11
Posted 02/01/2022 at 13:48:09
I just watched the preview with Rafa. He seems very relaxed and happy.
Let's hope that's justified and we get the much needed 3 points.
Lot of energy in that line-up – we just need a tight defence and some goals up front.
Neil Lawson
12
Posted 02/01/2022 at 13:49:55
May have come on a free but stupid wages soon mount up. Far rather see the tea lady and front of house staff given a huge bonus. At least they earn it.
Derek Taylor
13
Posted 02/01/2022 at 13:50:36
Phil @10. I didn't realise Mr Hopeless was playing for free!
Guy Rogers
14
Posted 02/01/2022 at 14:06:28
Were the links?
Tony Twist
15
Posted 02/01/2022 at 14:13:41
Remember guys, this is the much improved second half of the season. We need more defenders on the pitch obviously. Clueless.
Christy Ring
16
Posted 02/01/2022 at 14:14:13
Ridiculous not playing Digne at left-back; square pegs in round holes doesn't work.
Bob Hannigan
17
Posted 02/01/2022 at 14:22:25
Here we go AGAIN 🙀😡
Kieran Kinsella
18
Posted 02/01/2022 at 14:26:24
Right-back has been a weak link for years so we replace him with a worse right-back and move him to left-back?
This ref sucks. Seems like he's determined to not be swayed by the crowd to the point of bias.
Championship at best is back.
Ernie Baywood
19
Posted 02/01/2022 at 14:39:31
Are we a club in crisis yet?
Kieran Kinsella
20
Posted 02/01/2022 at 14:45:50
It's just the players?
Paul Sleight
21
Posted 02/01/2022 at 14:49:32
Poor team, shocking manager and directionless Board. We have a bit to do on every level. So frustrating.
Colin Glassar
22
Posted 02/01/2022 at 14:54:40
And I thought Allardyce was bad with his dinosaur tactics. Never in my life did I imagine seeing Coleman play left-back and a League One standard player at right-back. No wonder Digne wants to leave!
Ted Donnelly
23
Posted 02/01/2022 at 14:55:09
I've had it with Everton. I've been supporting them for over 50years... now I'm absolutely finished with them... fuckin gutted!!
Jay Wood
[BRZ]
24
Posted 02/01/2022 at 14:55:43
What. A. Shambles.
Half-time team talk?
Introduce the players to each other, because that is a bunch of strangers playing out there with no cohesion whatsoever.
Selecting both Kenny and Coleman was always going to be unkind to the one asked to play left back.
But it's hopeless and hapless all over the park.
Nailed on penalty. How can the ref not call that in real time?
Given the lifeline so soon after going 2-0 down, Dom HAS to score. He doesn't even get it on target.
Anthony Gordon has taken a couple of bad corner kicks and free kicks, but he is the one bright spot in a truly appalling performance.
It will be a miraculous turnaround in form from the first half if we get anything out of this game.
Awful. Truly awful.
Bob Skelton
25
Posted 02/01/2022 at 14:55:51
Benitez tactically inept. Holgate and Kenny shouldn't be near this team. Gets worse and worse. Three teams worse than us??
Kunal Desai
26
Posted 02/01/2022 at 14:56:52
Tony Hill, are you still trusting Benitez will have a strong second half of the season and finish 7th?🤣
Andy Mead
27
Posted 02/01/2022 at 14:57:42
I'm glad the Xmas fixtures have been called off as it saves me from having any more of my time wasted with this club. What a shitshow. Why do we have to hoof the ball away straight from the kick-off?
Zonal marking doesn't work so stick with it anyway???
Tactics. have the back 8 lump the ball straight down the middle to our only striker?? Leave the only left-back we have on the bench and put our busted flush 33-year-old right-back there instead??
We make Brighton look like Bayern. They are liberally walking through our midfield. It's like the Under-18s playing the Under-12s.
How long does this pathetic streak have to go on before Benitez is gone? Not 100% his fault but the buck stops with him.
Oliver Molloy
28
Posted 02/01/2022 at 14:59:51
Benitez has got it all wrong sticking Coleman out the left, Kenny has been awful.
The less said about the Calvert-Lewin penalty miss the better.
Digne on to save the day?
Danny Baily
29
Posted 02/01/2022 at 15:09:24
Time for Rafa to go.
Jerome Shields
30
Posted 02/01/2022 at 15:12:43
Gordon deserved that goal.
Kieran Kinsella
31
Posted 02/01/2022 at 15:34:57
Too much positivity in the forum. "Kenny good lad" for one tackle, Jokers do one thing right and make a hundred mistakes and people are lavishing them with praise.
Johan Elmgren
32
Posted 02/01/2022 at 15:53:35
FSW-brigade, are you convinced yet? That was a shambolic setup...
FSW OUT NOW!!!
Joe McMahon
33
Posted 02/01/2022 at 15:54:11
New Year... but nothing changes at desperate Everton. Shocking defensive line-up. The Bill & Moshiri show will keep taking the piss out of Everton fans for another year. Grand Ole Team, eh!
Kieran Kinsella
34
Posted 02/01/2022 at 15:55:16
Carlo critics look ever more foolish.
Simon Harrison
35
Posted 02/01/2022 at 15:56:38
Since 25 September 21: Played 13, W2, D3 and L8.
Benitez isn't the or any kind of solution.
Kenwright is 'incompetent' at best, other more wildly adjective words at worst.
Moshiri, please realise you made a mistake and sell up now...
Phil Wood
36
Posted 02/01/2022 at 15:57:48
Saint Carlo took the money and ran.
Danny Baily
37
Posted 02/01/2022 at 15:58:44
This run of form is absolutely inexcusable. It's relegation stuff and we're in real danger of going down. I'm sure a caretaker could get a few results out of this lot. Time to act.
Tony Hill
38
Posted 02/01/2022 at 15:58:58
As a loud supporter of Benitez, I think I am obliged to come on here and say that I have no defence at all to offer for that today. Dreadful tactics, an idiotic substitution bringing on Rondon and a general air from the team that they couldn't really be arsed.
What continues to baffle me is the abject failure to do the basic things competently.
I apologise to those who I sparred with last night about us overtaking West Ham. What a joke.
We're in trouble, big time. But what on earth do we do? I have no idea.
Fran Mitchell
39
Posted 02/01/2022 at 15:59:00
Palace, Brentford, Watford, Villa, West Ham, Wolves, and now Brighton. These are not the best teams. These are not teams with better squads. But they all beat us.
Everton are a team that are just far too easy to win against.
The faults are limitless. Lack of organisation. Poor movement. Woeful ability to keep the ball. Massive lack of composure. Slow and predictable build up play. Lack of concentration. Terrible passing.
Benitez just has to go. Time is up. He has to be the most busted of flushes.
Jerome Shields
40
Posted 02/01/2022 at 16:01:52
Just looked like a team that had not put in the work in on the training ground. Only players who looked Premier League standard were Gray and Gordon. Midfield was woeful and non existent in the first half. Defensive errors too numerous to mention.
Gordon deserved his two goals. Pickford and Calvert Lewin ok. Allan ok second half.
Tony Hill
41
Posted 02/01/2022 at 16:03:11
The only plus, and it's a big one for the future, was Gordon's performance: full of heart and everything you want to see from an Everton player. Bravo, young fella.
Tony Twist
42
Posted 02/01/2022 at 16:03:22
Lost it before we had even kicked off. This manager is scared of his own shadow. Couldn't organise a piss up in a brewery.
Trouble is, with regards footballing matters, the club is clueless, it is devoid of anyone who knows the game of football.
Ajay Gopal
43
Posted 02/01/2022 at 16:03:51
Poor team setup, totally unbalanced. And after such a poor 1st half, how Benitez made only 1 substitution and that too taking off the guy who had just made an assist for the goal that lifted the mood at Goodison Park.
I thought Gordon and Kenny had started to link up well, and that substitution took the sting off the right side.
Coleman, Doucouré,, Calvert-Lewin (understandable), Keane, Godfrey, Holgate – were all poor. Just no composure at all – everybody looked unprepared, nervous.
In contrast, Brighton just tore us apart in the 1st half, always composed on the ball, very few misplaced passes, always winning the throw-ins and keeping possession intelligently.
This result puts the pressure on Benitez big time. What a mess!
Craig James
44
Posted 02/01/2022 at 16:04:06
I'm not part of the Rafa out brigade but he has to take full responsibility for today's defeat for 2 reasons.
1st for playing 5 st the back against a team who apart from today struggle to score
2nd for selecting Keane who has been a donkey since the 1st day he signed. 1st goal lost his player, 3rd goal shit clearance and always passes behind a player meaning they have to take that extra touch which slows the play down and allows the opposition to get back into shape.
Imho, apart from Calvert-Lewin and Pickford, two players who came out of the game with some credit at least were Gordon and Gray.
Tough time to be a blue.
Dave Lynch
45
Posted 02/01/2022 at 16:07:49
Before that 2nd goal of theirs, I said to my lad. "There is no-one guarding the back post". Hey fucking presto...
My lad is not on for swearing but all he said after the final whistle was.
"Dad... that was Wank!"
Paul Smith
46
Posted 02/01/2022 at 16:08:16
Absolutely awful stuff. Doucouré and Allan just so bad. No idea anywhere in the team.
Other teams will be looking at Gray and Gordon and licking their lips for us to go down and offer them a stay in the Premier League.
Gordon would stay, I reckon. It's gonna be close.
Benitez has to go. Gutted that Carlo left.
Sean Roe
47
Posted 02/01/2022 at 16:08:43
Brighton had not one, but two players free and unmarked to head their second goal, that is inexcusable. This club is in deep deep shit!
Pat Kelly
48
Posted 02/01/2022 at 16:10:04
Benitez is hollowing out this Club and has to go. There's nothing left in terms of organisation. Just an overblown ego past its sell-by date. And a distant owner who's got no knowledge of football.
Colin Glassar
49
Posted 02/01/2022 at 16:10:20
Once again the team that giveth, gave. Brighton win for the first team ever at Goodison!
That must be one of the worst defences of all time. They can't pass the ball out from the back. They can't defend. They can't jump. They can't head the ball or clear it.
Useless players plus a dinosaur manager = 17th place finish this season.
Gomes with his pathetic last second "pass" summed up for me just how many brain dead morons we have in this squad!
Ian Linn
50
Posted 02/01/2022 at 16:11:09
Very poor, no midfield, players have become shadows of what they looked like at the start of the season.
A few more results like this and it's difficult to see Benitez keeping his job. But who do we turn to next?
Derek Knox
51
Posted 02/01/2022 at 16:11:41
Colin, Tranmere will be made up!
Sam Hoare
52
Posted 02/01/2022 at 16:11:44
Are we the only club in the modern era to take a massive financial injections to make ourselves immeasurably worse? I can't think of another exmaple but I'm sure there must be one.
I've only been supporting Everton since around the late '90s and, for me, the Moyes years were immeasurably better than what I'd seen under Smith and Kendall. To me, it seemed like he improved us, on and off the pitch, and made us hard to beat and playing some good football at times.
I was told over and over again by many on here that it wasn't good enough and that being scrappy and resilient as well as fairly consistent against the lower and middle teams did not make up for our shortfalls against the best teams. I'd happily take some of those better Moyes years now!
We have been on a slow decline and the sad truth is that – despite spending fortunes – I'm not convinced we have a squad that deserves to be in the Top 8 or even the Top 10. Without even mentioning the manager.
Be careful what you wish for.
Alan McGuffog
53
Posted 02/01/2022 at 16:14:48
I couldn't give a monkey's if he is given his P45 tonight. Things won't change... our only hope is that there are three worse teams.
And if there aren't, so what? If we survive, we'll only have more of the same next season
The team is a perfect reflection of the club.
Brian Wilkinson
54
Posted 02/01/2022 at 16:15:02
Tony@38,
I second that. I have been in the Raffa camp, giving him the benefit of bad luck with injuries and lack of transfers, but I cannot defend 5 at the back at home and that set up.
Can anyone blame Dobbin, if he does not sign his contract, when Billy Bunter is getting game time every week?
Shocking that, when we got back to 3-2, he should have thrown both Dobbin and Gomes on.
His stubbornness with Rondon and Iwobi is doing him no favours. Okay, Iwobi missed today and will be away soon in the Africa Cup of Nations, but he has to start using alternatives to those two players.
John Boon
55
Posted 02/01/2022 at 16:16:37
Really dire stuff.
Only the "G" men – Gordon and Gray – deserve any sort of a compliment.
I will never give up but, as of late, it has been far too much of a challenge. It is just not right to spend most of the season merely hoping Norwich, Newcastle and Burnley lose. Oh and for good measure also the RS.
And that is about as negative a season you could ever expect because there is so little that is positive to look forward to.
Ashley Roberts
56
Posted 02/01/2022 at 16:16:49
Today's defeat is all down to Benitez and has nothing to do with the board.
Starting the game with only one striker and playing Coleman out of position was just a joke too far. After a shambolic first half, he did not make any substitutions to change things around. Then it was a sure thing he would bring on Rondon... another bloody joke.
Setting up a 5-man defence at home against Brighton, who have struggled for goals was the downfall from the start.
I have to say these were some of the worst management decisions I have ever been witness to as an Evertonian and, to make it worse, playing folk out of position. Just indefensible!!
Where we go from here, I just don't know? This guy obviously does not have a clue and his stubbornness is a ridiculous trait.
Derek Knox
57
Posted 02/01/2022 at 16:16:56
Sam, I blame whoever let that Genie out of the Bottle, and that Fat Prick Kenwright, who was granted 3 wishes, all centred round himself! Can someone please get him back in the Bottle and get Kenwright in it too, cast into the turbulent waters never to be seen again.
For those saying why blame him? It has all happened on his watch!
Ian Riley
58
Posted 02/01/2022 at 16:18:00
I was having a lovely Christmas till we played!!!!
Jay Wood
[BRZ]
59
Posted 02/01/2022 at 16:18:17
The 2nd half restored a
little
- just a smidgen - of pride.
But it's not pride alone we need. It's points.
Anthony Gordon head and shoulders Everton's MoTM. Gray did well, but beyond that far too many below-par performances.
Keane, Holgate and Doucoure were uniformly awful all game. Godfrey, not as error prone as the others, but not a great influence on the game, either. His marauding pace is negated when played at centre back.
Coleman, Kenny and Allan some redeeming moments, but plenty of errors too. DCL very little influence on the game when he could have been massive if scoring with his penalty so soon after going 2-0 down. Pickford blameless.
The manager? Simply not good enough. Playing a back five kept us pinned back and surrendered midfield to Brighton who exploited it to the full.
Ancelotti left behind a solid inheritance, having sorted out the defence and zonal marking. Benitez has not maintained that standard with the same players. Big fail. We are back to sweating it on every corner and free kick into our penalty area.
It's also self-harming to have Lucas Digne on the bench, but play Kenny and Coleman ahead of him, then not sub him in when the balance is so evidently wrong.
There can be no other conclusion than believing the Frenchmen will be gone this month.
If there are any takers, Holgate should be gone too. I saw promise with Mason. Under Ancelotti he seemed to be fulfilling it. But for 18 months now the lad has seemingly badly plateaued and I don't see any evidence he is about to get it back.
I think Anthony will be lucky to keep his first goal, but no doubting his second. He started and finished the move which was our best action of the game.
Nice turn inside from the touchline by Anthony. Good ball laid in to Dom. Excellent ball by Dom to Jonjoe. Great one touch cross by JJK into AG for the finish.
Six points from 36, 1 win in 12 PL games, is simply not good enough.
Ray Jacques
60
Posted 02/01/2022 at 16:18:38
I was happy with the Benitez appointment, but must confess I was wrong, and not because of his connection to the RS but for footballing reasons.
I've seen shockers over the years, but today was simply inept by the manager. We have some awful players, both technically and mentally not good enough for top-flight football, so why not get them into a system that they can play to, not try to adapt inadequate players into something they aren't capable of doing?
Coleman is no longer a good enough right-back for the Premier League, so why would he be adequate on the left? Holgate is the worst centre-back I have seen in 20 years and drags Keane to his dire level, whilst Branthwaite sits and watches. Dobbin should have started with Calvert-Lewin whilst he refinds his playing speed, Rondon substitution etc etc etc.
Unfortunately I have no faith that the football dullards who own and/or run the club are capable of finding the right man, their track record shows this.
The whole place stinks of failure. I look at the shite on the pitch, and then the idiots in the directors box... and despair.
Steve Brown
61
Posted 02/01/2022 at 16:21:09
Insane team line-up, incoherent, negative gameplan, poor game management and terrible substitutions. Just another week under our saviour, Rafa Benitez, who apparently should have more control over the club and is changing the culture. Into what?
Two in fourteen games now and 15th place. Wake up and sack him before it is too late.
Mark Ryan
62
Posted 02/01/2022 at 16:22:59
Dave, Lynch's son @ 45 sums it up, WANK. Benitez cost us that game. Coleman? Digne? Sort your fat head out, Benitez.
He either plays or you sell him. Don't bench him, you bell-end!!!
Rafa out!! Get Jose in.

Christy Ring
63
Posted 02/01/2022 at 16:23:26
Total shambles, to play Coleman on the left because Benitez's pride wouldn't put the club first and play Digne... a disgrace; no shape whatsoever.
Why bring on Rondon, no pace whatsoever, to play beside Calvert-Lewin, with Dobbin who more than likely won't sign a contract now, and Simms on the bench... clueless.
He brings on Gomes, his 2nd sub with only 3 minutes left? Time to go, he has us in a relegation battle now.
Anthony A Hughes
64
Posted 02/01/2022 at 16:24:04
Benitez has been nothing but poison to our club. From garbage, negative, bemusing tactics to falling out with players. Fuck Moshiri for bringing this dated, arrogant, stubborn dinosaur here.
Anthony Jones
65
Posted 02/01/2022 at 16:25:33
Wingbacks have to be very good players as they cover the entire flank.
Coleman too old and Kenny too slow.
A master stroke from Rafael.
Christine Foster
66
Posted 02/01/2022 at 16:25:55
For the umpteenth time, Benitez got this badly wrong. 5 at the back with 2 in midfield is conceding possession, space and control. We haven't got the quality in the back 5 to do it and midfield becomes overran. The pressure is always on the back and play is dictated by the opposition. What was even worse than watching it, was no change at half-time in tactics or personnel.
Benitez may be thick-skinned but he is not setting the team up to its limited strengths by playing 5 at the back leaving Allan and Doucouré outnumbered, outpaced and chains shadows.
Dreadful game brightened only by Gordon's first goals. Calvert-Lewin's penalty miss summed up the afternoon.
5 am... I stayed up to watch that!
Phil Smith
67
Posted 02/01/2022 at 16:26:49
That first half was as bad as I'd seen us at our worst in 2021.
Doucoure was absolutely woeful today. All he did was turnover possession.
Kenny was okay and grew into the game. Good set-up for Gordon's second. Midfield was totally unbalanced against theirs.
Gomes should have been on earlier. Holgate and Keane should never play together. Too many errors in them.
Was Branthwaite injured again? Not a great outlook for 2022… :(
Steve Brown
68
Posted 02/01/2022 at 16:28:24
At this point last season, we were 7th with 33 points and now we are 15th with 19 points. I would like someone to explain to me one thing that Benitez has improved since he took over?
Anthony A Hughes
69
Posted 02/01/2022 at 16:28:28
What's that now... 1 win in 12,13?
8 points off 10th place?
This gobshite is taking us down...
Kunal Desai
70
Posted 02/01/2022 at 16:29:46
It's a very difficult one and not much to choose from as to whether the FSW turns it around or the gutless and hopeless Moshiri fires him. Neither will turn.
Moshiri can fuck off and take the new stadium at Bramley-Moore Dock with him. His appointment of this fella and Allardyce are an indictment of what an absolute coward he really is. I cannot wait to see the back of him.
Paul Jones
71
Posted 02/01/2022 at 16:29:51
Benitez needs to be fired.
His "dinosaur negative football" is from an era that needs to remain buried in the past.
Alex Gray
72
Posted 02/01/2022 at 16:30:39
Schoolboy stuff. Gordon was fantastic. I feel for Coleman but he is dross these days. Takes ten touches to make a simple pass.
Doucouré is at his best as a box to box player not a defensive midfielder. Allan can't pass a ball. Calvert-Lewin wasn't fit but still better than Rondon.
Sad reality is that Brighton are a better team than us. Rafa playing Coleman as a left wing back seriously?
I saw a lot of fight today but bar Gordon, who is becoming a good good player, we have no quality on the ball and we better hope we're getting good money for Digne because we need players! Then again, that involves us spending it wisely.
I'd say Rafa out but Ferguson isn't going to get us into Europe as I doubt anyone can get any more out of this lot.
Squad needs a revamp but nobody will buy our flops.
Happy New Year, Blues!
Will Mabon
73
Posted 02/01/2022 at 16:30:43
Steve, he's improved the negativity.
Danny O'Neill
74
Posted 02/01/2022 at 16:31:42
I can't hate Everton as that isn't possible. If I could dislike them it might be now but I'm still struggling to do that.
That was poor. I don't know what shape or pattern we were trying to play. We played an ageing right-back as a left wing back?
I need to reflect as it's still raw. Gordon and Gray the only ones to come out of that with any sort of credit. Maybe Godfrey; I think he thought he'd cleaned up just before the 3rd goal.
Doucouré had a real off-day, but so did most of the team.
Heading back into town and then onto London. No doubt surrounded by Brighton fans.
I'll be back for more.
Simon Dalzell
75
Posted 02/01/2022 at 16:32:25
Diabolical set-up. Totally giving up midfield before a ball is kicked. I've seen enough. Clueless Benitez out now.
Dale Self
76
Posted 02/01/2022 at 16:32:34
Benitez absolutely needs to explain his intent with that setup. So many stray passes and dead-end dribbles either means he trusted some incapable of duties or he simply got it madly wrong.
Playing Kenny and Coleman immediately left us short of possession and forward looks. Playing Gray on the side was not affordable, he had to be running through the middle or space would continually get tighter and we would reduce to goofball.
Until we get a No 10, either Gordon or Gray have to be found or Doucouré becomes ineffective as a ball advancer.
Fuck it. C'mon Chelsea, you bourgeois shite!
Sean Roe
77
Posted 02/01/2022 at 16:33:25
Ashley @ 56
''After a shambolic first half, he did not make any substations to change things around.''
I realise that it was a typo / predictive text at play but what an analogy for the mobility of some of our players lol.
Graham Haines
78
Posted 02/01/2022 at 16:34:50
Forget Europe, Alex Gray, we need someone to keep us up this year.
Europe is years away now we have gone so far backwards under this ownership and manager.
Jim Bennings
79
Posted 02/01/2022 at 16:34:53
Banishes the theory of needing the winter break then doesn't it?
Our players should have been well fresher than Brighton but nope, we look fucked on turkey and wine.
I thought Benitez was supposed to be pragmatic and organised in the same mould as Allardyce?
Allardyce quickly simplified things with a defence that included Kenny, Williams, Holgate and Cuco Martina, so I'm becoming bemused why Benitez can't do something similar??
Forget playing good football, we can't do that and haven't been anything to watch on the eye since Martinez was here (admirable attempts in Silva's first season).
Why the fuck we can't just simplify defending to start eeking out a few 1-0 wins?
One clean sheet since September is an absolute piss poor effort, one win is even worse.
Imagine if Gray hadn't scored that injury time winner against Arsenal?
Bill Gall
80
Posted 02/01/2022 at 16:35:09
This game – right from the team selection – showed Benitez has no backbone for a relegation fight. We were the home team – not the away team. Yet we set up defensive with a weak midfield.
I don't know what the problem is with Digne but I believe the players will be more behind Digne than the manager as they realize the same thing may happen to them. I don't care if he gets injured and is not fit for a transfer; results come first – not a player.
I have often said on here that I didn't want Benitez, not because of his association with the other club but because of his reputation of negative defensive play. I have often stated that we should keep him… but no more; if we are going to go down, I'd prefer to have someone who wants to win, not to set up not to lose where a win is a bonus.
Derek Moore
81
Posted 02/01/2022 at 16:37:20
Digne pissing himself laughing as he runs for the exit door, no doubt.
Somewhere in Holland, Brands is buying a round of drinks and counting his lucky stars he got out with some of his reputation intact as well.
Not sure we can afford the sort of intractably stubborn garbage Benitez insists on serving us. It hasn't worked, it's not working, it won't ever work.
Defensively, we're an absolute shambles.
I really like and respect the likes of Darren Hind, but what I'd give for Ancelotti and his snoozeball now. We gift a goal or two a game, home and away.
This sort of extended run of results is starting to have its own effects as well. Confidence builds confidence, and vice versa.
We could lose to anyone right now. I'm fuming. Nearly 3 weeks preparation and Evertonians get served up that...
Does anyone have any answers???
Tony Williams
82
Posted 02/01/2022 at 16:39:01
I am bewildered, we as fans put up with these dreadful displays year after year by players who just aren't up to the fantastic salaries they pick up, when we sponsor them at the turnstiles on our meagre wages. I think they are taking the you know what.
Bill Griffiths
83
Posted 02/01/2022 at 16:40:32
As a matter of interest, has anyone idea what the situation is with Tom Davies?
I thought he would have been on the bench at least?
Derek Knox
84
Posted 02/01/2022 at 16:40:36
Mark @ 62, Jose, Que? Do you mean Hose A and his sidekick Hose B, from the Spanish Fire Brigade, or Mourinho?
Don't think either would work, no fires to put out!
Mourinho, although decent, is basically a Cheque Book Manager, and could not make a Silk Purse out of the Sow's Ear we have at present (not all btw).
I, like many others, was reluctantly prepared to give Rafa the benefit of the doubt and time, despite his history, and previous connections, but today was a chance in a New Year to prove that was all Cod's Wallop!
Problem is, where do we go from here, with little or no money?
Kenny Smith
85
Posted 02/01/2022 at 16:40:52
Calvert-Lewin, Digne, Pickford and Richarlison could all be sold in this window by Benitez, especially with no DoF in place. In my opinion, we need all of them to get out of this hole.
He has to go now because we are in real danger of going down. I'm not sure there are 3 worse teams than us when Benitez sets us up like this. Bringing in the likes of Barkley and other bit-part players from clubs who don't want them will only add to the pressure on him.
Jim Bennings
86
Posted 02/01/2022 at 16:41:08
I think the games against Hull and Leicester will probably see the demise of Rafael Benitez.
Hull will beat us, they'll bombard us with crosses and we can't defend anything high, Benitez will not prioritize the Cup.
Leicester will come to Goodison and simply own the pitch let's face it, they'll dominate possession (like every visiting side does at Goodison) and win it comfortably this time.
I don't see any way back after that for the manager.
Dave Williams
87
Posted 02/01/2022 at 16:41:46
Christine, great post.
Time and again, we are driven back by having only two central midfielders; you, I and countless others can see this… so why can't the manager?
His failure to give Dobbin and / or Simms the last 20 minutes was pathetic. Playing Coleman on the left was madness.
Why can't we do the basics of pass and move? Why can't the defence do the basics of marking the opposition?
Very poor management again and raises questions about the training. Was Rondon so clearly overweight – if so, fine… drop him and, for heaven's sake, give Dobbin a game!!!
Ian Hollingworth
88
Posted 02/01/2022 at 16:42:57
We really are piss poor...
Manager is not helping.
I really do not know where we go from here.
Danny Baily
89
Posted 02/01/2022 at 16:43:08
Rafa out, this evening. There's no point waiting. Dunc in for the FA Cup and the foreseeable.
Joe Corgan
90
Posted 02/01/2022 at 16:43:34
I'm starting to get genuinely worried, and I'm not one of those people who start to think we'll be relegated during every bad run. Last time I was this worried was 1998.
I was willing to give Rafa a chance. Chopping and changing managers every five minutes rarely leads to success but when something's just not right, it's madness to stick with it til the bitter end.
Sky Bet now have Rafa at even money (and favourite) as the next Premier League manager to be sacked. And I don't think too many people would lose much sleep over it.
Something has to change, right now.
Tony Hill
91
Posted 02/01/2022 at 16:44:14
I ask the question genuinely, having no answer: if Benitez goes, who do we look to recruit and who would come?
Dave Evans
92
Posted 02/01/2022 at 16:44:28
Brighton were quicker than us and they seemed to know the pass before they got the ball. Oh for that level of coaching...
Potter and Howe are gone. Many didn't want them. But there must be a young coach out there who are the right side of 60, who would come for less than £5 million and would inspire these players.
Rafa sooner or later will be gone. How can a team play five at the back and have two players unmarked on the back post at a corner?
Mature experienced safe pair of hands? Jeez.

Paul Hewitt
93
Posted 02/01/2022 at 16:45:24
Rafa is going nowhere. The club will have signings lined up. I think Rafa will be given at least the month.
Jim Bennings
94
Posted 02/01/2022 at 16:45:46
Tony @91,
That's the million-dollar question but the way the results are and the performances also where we never ever dominate a game, there's not many managers that are gonna survive a run like this.

Graham Mockford
95
Posted 02/01/2022 at 16:45:51
He shouldn't survive today but he probably will. And the sad thing is a manager who everyone can now see is not up to this job is currently spending the transfer kitty.
I mean, Ancelotti divided opinion but he got considerably more out of the same squad.
Christine Foster
96
Posted 02/01/2022 at 16:46:44
It would not surprise me if Benitez is sacked after that. He should be, but then, it's probably not going to happen. One senses those who gave him time and opportunity to ìmprove and shape the team into an effective unit, are now saying enough. And it probably is.
Tony Twist
97
Posted 02/01/2022 at 16:47:07
Brain-dead owner calling the shots who seems to think that managers that have done things in the past can do it again. Doesn't work like that. Purple patches of success only last so long. You need to be wise enough to see the up-and-coming next success story which basically means we are screwed.
If it doesn't happen this year, relegation will happen next year without the people making the decisions changing. Benitez really is dreadfully bad, he is trying to look good by doing other things like getting players in than organising his bloody football team to defend.
Moshiri, unfortunately, is solely to blame now, his decision to bring Benitez in, his decision to keep Benitez in, no hiding place now.
Bill Gall
98
Posted 02/01/2022 at 16:48:05
Another Question: Why do we take so long to get players fit?
Pete Jeffries
99
Posted 02/01/2022 at 16:48:47
Okay, we all know he inherited a majority squad of hopeless substandard players; not his fault. But where is the logic of playing 5 at the back at home to Brighton and excluding Branthwaite and Dobbin after the Chelsea game?
Then adding to the agony by bringing on Rondon and Gomes when we needed goals? Rondon's contribution was to give away a throw-in then a goal kick, then he blazed over.
These decisions are his fault. he won't learn and will not be tolerated by the fans. He is in effect digging his own exit.
Colin Glassar
100
Posted 02/01/2022 at 16:49:53
We don't have the money to sack Benitez… so forget it.
Johan Elmgren
101
Posted 02/01/2022 at 16:50:39
In my list of worst managers, FSW has now officially taken 1st place ahead of Fat Sam. At least Fat Sam knew how to set up the defence and win games. FSW can't even do that, which was supposed to be his forté, and a win seems far, far away...
FSW OUT NOW!!!
Christine Foster
102
Posted 02/01/2022 at 16:54:39
Going to try to get a couple of hours shut eye, hopefully I will wake up to a new manager..
Ajay Gopal
103
Posted 02/01/2022 at 16:54:46
The Goodison Park crowd made their feelings known about Benitez. They started cheering and clapping when Digne started warming up on the sidelines, and booed the substitution. I don't think they booed Rondon, they showed their displeasure at Kenny being taken off just when he had a great assist.
At half-time, I expected that Digne would come in for Coleman and perhaps Gomes or Gbamin for Holgate. That would have restored us to a conventional 4-3-3 formation.
And why he didn't play Dobbin remains a mystery. The only excuse I can think of for Benitez is that some of these players had just come out of Covid isolation, and therefore he had to play that bizarre formation.
Derek Moore
104
Posted 02/01/2022 at 16:56:00
Some clubs - Chelsea, the neighbours - would have binned him just for starting the ghost of Seamus Coleman at left back. Absolute total madness.
How bad does it have to get before Moshiri has seen enough? Because, fellow Blues, we're going to find out.
Aren't we?
Tony Twist
105
Posted 02/01/2022 at 16:56:14
Gardening duty for Benitez it is then if we can't afford to sack him. Then, unfortunately, Big Dunc in to try and save things; if relegated, then he is the man to try and get us back up again.
It's Football 101 now. Too many mindless choices made by Benitez, what credibility the club had is almost spent by this clown.
Joe McMahon
106
Posted 02/01/2022 at 16:58:00
Johan, Big Sam got us to 8th. We would have been better off keeping him. But no, he wasn't good enough for a team with such a ridiculous trophy drought in a clapped-out old stadium.
BBC rubbing their hands for the Hull match. Oh and joy – I just noticed Liverpool are winning.
Ian Bennett
107
Posted 02/01/2022 at 16:58:25
I don't know what we've done to deserve this shit.
Barry Ferguson
108
Posted 02/01/2022 at 16:59:00
Colin, we don't have the money for relegation, and that's where we are heading with the inept stubborn dinosaur currently dismantling the team.
Steve Shave
109
Posted 02/01/2022 at 16:59:26
We must write the season off and build for the future. Build around Branthwaite, Gordon, Gray, Calvert-Lewin and start giving more minutes to Onyango, Dobbin and Simms. Sign a couple of young hungry players and start looking to adopt an actual style.
I would be patient with that and accept low-table finishes if I felt it was going somewhere. This, however, is utter dogshit. Keane, Doucouré, Kenny, Coleman and Holgate all total gash today. Fuck, I wish I didn't care… but I do.
Eddie Dunn
110
Posted 02/01/2022 at 17:00:38
I've been in the car all day, so missed the game... sounds like I did the right thing driving to the airport and back.
The manager has royally screwed it up again. How does a guy with all his experience decide to put Seamus at left back? Two in midfield, which hasn't worked for us at all. It's simply dumb. The silly late subs are just what he does every time.
I cannot see the point in not sacking him. As Geoffrey Boycott would say, "My Nan could manager better than that" (and she is no longer in management… or alive).
Steve Shave
111
Posted 02/01/2022 at 17:01:16
Joe @106,
That must be the 3rd or 4th mention I've seen of Fat Sam today; things really are bad then.
He wasn't the answer either – let it go.
Darren Hind
112
Posted 02/01/2022 at 17:03:15
Derek @81,
Does anyone have any answers???
Yes mate. Pour yourself a large Mahatma. I did that before I even took me coat off when I got home. On me 3rd already and the pain is receding.
I thought we couldn't get worse than under The Ginger Twat. Then I thought we couldn't get worse than Martinez. Then I thought we couldn't get worse than Koeman, Then Allardyce. Then Carlo... How the fuck did this happen???
Take comfortably numb, mate, it's the best offer you're getting today.
George Cumiskey
113
Posted 02/01/2022 at 17:03:15
Rafa is a spiteful bastard. He would rather lose a game than bring on a left-sided player who we desperately needed.
He's a tactical dinosaur to boot!
Phil Smith
114
Posted 02/01/2022 at 17:04:45
I know it's early days for him, but I'm surprised no one has mentioned Rooney. The miracle is on for him getting Derby out of relegation in the Championship.
We've tried the up-and-coming foreign managers and the experienced managers. Let's give a young ex-blue a chance?
Alan Moss
115
Posted 02/01/2022 at 17:05:35
We as fans deserve this. We've sat by for far too long and allowed the club to become a laughing stock.
I hate them from across the park and the conduct of their supporters but look at the difference in the teams. We can't keep allowing the club to continue on this course and have to do more to demand change.
Johan Elmgren
116
Posted 02/01/2022 at 17:05:40
Joe, 106, yes he did, but the football was atrocious. Like I've said before many times, I'd rather play positive, attacking football ending up 12th, than boring, negative, defensive football ending up 8th.
I wan't us to play enjoyable, attacking football. Fat Sam was a panic appointment by Moshiri that should never have been made. All those wrong manager appointments are the reason we are in this mess right now...
Joe McMahon
117
Posted 02/01/2022 at 17:06:42
Steve, I agree he wasn't, but every appointment since has been costly, the football low-scoring, dire and mainly awfull to watch. We now are as low as it gets.
Funny how, since that era, we still have Teary Bill, Moshiri, Unsworth and Duncan. Same shit, year on year.
Kieran Kinsella
118
Posted 02/01/2022 at 17:07:15
Reminds me of when Gullit left Shearer and Ferguson on the bench at Newcastle. Picking an obviously crap team to show who's boss.
Eddie Dunn
119
Posted 02/01/2022 at 17:07:17
Colin @100,
We can afford to sack him. Unsie or Dunc could not do any worse, so put him in his big Caldy back garden.
Ian Riley
120
Posted 02/01/2022 at 17:08:05
The manager of today's opponents, Mr Potter, may be a shout. Young, hungry and with Premier League experience. However, he may not see Everton as a step up – but we could ask!
I don't see any improvement and that can only lead to one outcome.
Anthony A Hughes
121
Posted 02/01/2022 at 17:09:12
We"ve been writing seasons off for 30 years with promises of the next project, give it time and be patient. When do we ever get to the promised land?
Sack Benitez and get the next one in and, if he doesn't do it, sack him too. Football today is about the here and now, not what might be.
We never move forward, it's always backwards and sideways... such a frustrating fucking club.
Ed Prytherch
122
Posted 02/01/2022 at 17:09:24
Agent Benitez can make decent players look bad.
If we don't properly practice defending corners, then the defenders screw up. When we play two in midfield against three, then they are overrun. When we leave our only left-footed outfield player on the bench, then right sided dead balls are so much easier to defend.
The man is so pig headed that it is hard to see us achieving anything better than narrowly escaping relegation.
Clive Rogers
123
Posted 02/01/2022 at 17:10:10
We really needed to strengthen right through the middle and at right-back but have spent the money on a left-back because Benitez has fallen out with Digne. Rank bad management.
Brian Murray
124
Posted 02/01/2022 at 17:11:11
Phil. I remember Owen Coyle, I think at Bolton, he was the next Fergie. At least if you're going to pluck the next big thing out of the air, then say Potter or Viera. Someone who at least knows the top flight.
Only one solution to stop this shitshow once and for all. Get a proper boardroom and chairman fit for purpose.
Mark Ryan
125
Posted 02/01/2022 at 17:11:46
Phil @ 114, just shoot me now.
I'd sooner see Graham Souness? Ex-blue isn't this our problem.

Terry Downes
126
Posted 02/01/2022 at 17:12:14
Darren,
All those managers, apart from Koeman, seemed to do well elsewhere. Could it be that it's Everton and not the managers that are at fault?
Derek Knox
127
Posted 02/01/2022 at 17:12:44
Colin @100,
Totally agree, by the way, but it is a reverse Fairy Tale in many ways, where we have gone from Riches to Rags, and this has all happened under Kenwright's tenure. I must also hasten to add, that most fans could see it coming, and yet, we were totally powerless in voice or persuasion to avert it!
Water Under Bridges, or Time and Tide, can never be turned back, but it is a seriously worrying time for those who genuinely care about our once great and well followed club!
Bill Watson
128
Posted 02/01/2022 at 17:13:40
Yet another shit-show and yet another appalling formation by the manager, coupled with poor substitutions – and even those were made far too late.
I was prepared to give Benitez a chance but enough is enough.
Get rid now before it's too late.
Barry Hesketh
129
Posted 02/01/2022 at 17:14:18
Still unworried about Everton's stay in the Premier League?
If you were looking at the requirements for a side that is likely to go on a long winless run, Everton has all the right attributes: an unpopular manager, who is stubborn beyond belief, and one who is more interested in his own persona than the good of the team/club.
A bunch of players who are clueless as to how to approach a game, with nobody stepping up to lead the team through sticky patches and they don't begin to look interested until it's practically too late, and a side that still leaks silly goals aplenty.
Hampered by financial constraints due to utterly cocking up in the transfer market over the last 5 years and with nobody at the club providing the right type of leadership.
Add to all of that a growing number of disenchanted supporters who are questioning their own sanity in following this current bunch of players and you have the recipe for a club that could easily drift into that Bottom 3.
I don't see how Everton can get itself out of this rut. Even if they manage to escape the drop this season, the likelihood is that next season will look very similar to this one and the one before.
Doubtless, next Saturday will provide another humiliating result for the traveling fans and to those Evertonians watching at home, but it won't matter because the board and owner aren't that bothered, so long as they can provide a new venue for the circus formerly known as Everton Football Club.
Tony Everan
131
Posted 02/01/2022 at 17:18:12
The manager didn't have to field that ridiculous team selection and formation. Not one Everton fan before the match would have recommended that set-up. I'm just dumbfounded by what I was seeing, it made no sense. There were players available to go with a simple 4-3-3 and attack Brighton.
They are no great shakes and we should be going for the throat, on the front foot from the off. This team selection just provided confusion and sloppy play all round from players who have lost all confidence.
Only the excellent Gordon and to a lesser extent Gray did themselves justice. Others were woefully poor; passing, control, speed and clarity of thought was substandard.
The manager has to take full responsibility for this debacle. Along with the failed team selection, terrible organisation again from a corner, what the hell is going on? Whatever is being drilled on the training ground is not being understood.
Time is running out for Benitez, he has to get a grip, what we saw today was totally unacceptable.
Martin Mason
132
Posted 02/01/2022 at 17:18:37
We can't just get rid of another manager and believe that will make one bit of difference because it won't. People above him in the club hierarchy need to do their job and get a grip of him.
They should select an assistant manager who is young and progressive and who will take over from Benitez when his contract is over. That man mustn't be Ferguson or Unsworth; we need to bring in skills and attitudes from outside the club. Everybody at Everton is associated with nothing but failure and, until they are cleared out, the decline will continue.
We can't buy ourselves out of decline, we can't have a managerial rotating door because it never works. We need completely new thinking, new blood – as all successful enterprises do.
Ray Jacques
133
Posted 02/01/2022 at 17:21:01
I wanted Benitez, but I was wrong.
Go out on a limb and give Rooney a chance. May as well lose with him rather than Rafa. At least everyone will get behind him.
Paul Birmingham
134
Posted 02/01/2022 at 17:21:18
Baffling selections today and the formation was tantamount to conceding the game before a ball was kicked. A dire start to 2022 and the away team played the first half like the home team.
It's a struggle to take the positives but Anthony Gordon and Demarai Gray played for the shirt but too many off-days today – it's become a common issue.
How a player who's not played for 4 months was allowed to take the penalty sums up the unprofessionalism of the game management by Everton. Time for sticking tight and riding the storms and it's a struggle to see with this level of performance where x7 wins will come from.
Nick Page
135
Posted 02/01/2022 at 17:22:22
The Gypsy Curse on Maine Road
Sounds to me Everton have been cursed most of our history; two World Wars, Heysel etc etc. I wouldn't be focussing on a new manager, rather finding a bloody witch doctor to lift the spell. Lol!
Joe McMahon
136
Posted 02/01/2022 at 17:23:23
Phil @114,
Yes, he's doing very well, and if incredibly Derby stay up or even don't finish bottom, then that is an achievement. And one that cannot go unnoticed. At the moment, Wayne and his team would do no worse than the shambolic set up we have.
We will have to wait anyway as I can't see Wayne leaving until end of season.
Steve Brown
137
Posted 02/01/2022 at 17:27:38
We are one point better off than we were at this stage under Mike Walker in that terrible season where we survived by beating Wimbledon on the final day.
Derek Moore
138
Posted 02/01/2022 at 17:27:48
It's 6:20am here, Darren, but I did bow to the inevitable and make up a double Jack and Coke.
You're right, it's helping. Another might help some more.
It's a bank holiday Monday here and I can't believe I've consciously wrote it off to stay up and watch that. Thank Christ I have to go back to work tomorrow, and thank Christ I only had to ruin the end of my holidays by watching them.
We're about to enter the most make-or-break period of the season. Games against virtually everyone in the bottom half. This really could get worse, a lot worse, and quickly.
Yep. Time for that second double Jack.
Dan Johnson
139
Posted 02/01/2022 at 17:28:22
I thought the team selection was awful, we are always outnumbered in midfield, so we allow the opposition to dominate the game.
The decision to play Seamus at left back while Digne was available is shameful, and then to have him warming up was even worse.
Most of the players tried, but due to the defensive display, we were always chasing the game. I don't know where we go from here, apart from the Championship, it's such a mess.
Steve Shave
140
Posted 02/01/2022 at 17:28:48
Joe,
I don't mean to pick on you as I respect your opinion and your right to say whatever you like but in two posts you've suggested Fat Sam and Wayne Rooney as our managerial saviours.
Things are so bad right now that I am even pondering if that second suggestion is such a terrible idea after all – I think I need a lie down.
Do you even know how he is setting that Derby team up? Style of football? He'd obviously jump at the chance.
Bobby Mallon
141
Posted 02/01/2022 at 17:28:52
Derek Moore 81.
I have answers. Sack Rafa asap. Then, whoever takes over must not play Rondon.
Dale Self
142
Posted 02/01/2022 at 17:29:30
Ian @130,
I'm considering flagging that comment. Completely over the top. Reel it in mate.
Steve Shave
143
Posted 02/01/2022 at 17:30:41
At least the lads could bond on some team building lash ups around the city under Rooney, finish the night off in a house of ill repute. Might be good for morale?
Soren Moyer
144
Posted 02/01/2022 at 17:31:09
1 win since last September yet a few of us wishing he gets it right in the next 2-3 games!!!!
But hey, we are Evertonians and our expectations are not high! Just win one game out of 10 and we never complain!
Colin Glassar
145
Posted 02/01/2022 at 17:33:24
I mentioned Rooney a few weeks ago and got shot down but I thought more of a consultant role for him. Now, after today, give him a go with big Dunc.
We might not become world beaters but at least more than a few egos will be bruised and skirts and buns will be banned.
Simon Dalzell
146
Posted 02/01/2022 at 17:33:58
Martin: "We can't just get rid of another manager and believe that will make one bit of difference''. Staggering comment!
Steve Shave
147
Posted 02/01/2022 at 17:36:54
I'm not going to have a pop at Rafa for leaving Digne out, he might be already sold for all we know.
However, I could not believe that Rondon came on looking so out of shape and Dobbin stayed on the bench, the game was calling out for some industry and pace. How Rondon has been allowed to let his fitness go to that level is a disgrace.
Anthony A Hughes
148
Posted 02/01/2022 at 17:37:21
Martinez, Koeman, Fat Sam and Silva all sacked for less than this dross served up. What makes this fella Teflon?
Bobby Mallon
149
Posted 02/01/2022 at 17:39:31
Martin @132,
Yes, we can and we must. He has divided the whole fan base; he needs to go – and so does Moshiri, in my opinion.
Daniel A Johnson
150
Posted 02/01/2022 at 17:43:18
By the time the egomaniacal wrecker, Rafa, has had his way, we will be left with a shell of a club.
Rafa the tactical genius... what a fucking laugh.
Moshiri, this is all on you. Get that fucking Red Shite blagger out of our club.
Joseph Terrence
151
Posted 02/01/2022 at 17:44:59
Putting on that fat, lazy Venezuelan striker says it all really.
Jerome Shields
152
Posted 02/01/2022 at 17:46:02
Both Holgate and Keane where woeful most of the game. Put any type of formation out with their standard of play would have been useless IMO.
Nicholas Ryan
153
Posted 02/01/2022 at 17:46:44
Guess what - if you give a free header to the tallest player in all 4 divisions, you won't win the match.
Guess what – if you fail to convert a penalty, by missing the frame of the goal entirely, you won't win the match.
Surely none of this is rocket science!
Peter Neilson
154
Posted 02/01/2022 at 17:49:20
Terrible selection by Benitez with Coleman and Kenny... but, then again, it's always about this manager's ego rather than what's best for a club.
Doucouré had as bad a game as I've seen in many years. Terrible, minimal tactics, bunch of strangers.
Hats off to Anthony Gordon who was the exception.
I wouldn't be bothered if Benitez was sacked and replaced by a stuffed chimp. He's simply not working. Fairly muted response at the end, more apathy than fury... Well, that's dry January postponed.
Paul Swan
155
Posted 02/01/2022 at 17:49:22
I have a serious question: Is Benitez actually setting us up to lose matches and get relegated?
I just could not believe what I was seeing there today. That result was 100% the fault of Benitez. Coleman did not know what day it was for the first 20 minutes today, by which time it was game over. The most bizarre team formation ever and completely overrun in midfield with no changes.
I feel really sorry for Gordon and Gray, who both had good games, but the rest of them and particularly the manager need to hang their heads in shame. This could be the year we go down because these arseholes are bad enough without this clueless clown in charge.
Pat Kelly
156
Posted 02/01/2022 at 17:50:25
That's all we need. Calvert-Lewin out for 6 weeks with a torn G-string.
Andy Crooks
157
Posted 02/01/2022 at 17:52:01
Benitez out. Rondon is a fat useless fucker. The worst player I have ever seen to get paid to play football. Truly, utterly, shit coach. Shit players, shit chairman and a CEO whose qualifications are shit.
Best supporters, though. 'Shame' is a word that the thieves who earn a living at Goodison Park really have not heard of.
Sam Fitzsimmons
158
Posted 02/01/2022 at 17:52:13
I was neither for nor against Benitez when he took over. For me, it was a case of let's just suck it and see. What I didn't expect was just how bad things could suck.
The fact that he inherited a group of players which have varying degrees of technical ability but have shown little desire, passion or in-game footballing intelligence is neither here nor there; previous managers have been able to work with many of the same players and get a tune out of them.
Today's game highlighted everything that's wrong with Benetiz's approach – five at the back, leaving Digne out because of a personal spat, playing Coleman as left-back, leaving two in the middle to get overrun... again.
Moshiri must be thinking "What the Fuck, another season, another manager to be sacked."
Big Dunc is probably just biding his time…
Martin Mason
159
Posted 02/01/2022 at 17:52:40
Simon @146,
And how has our policy of changing managers every season done? Pretty staggering comment that.
Bobby @149,
I agree that he has to go but the mindless disruption of sacking a manager now after sacking the DoF and while carrying out a review of the best managerial structure at the club? We are in desperate trouble and fast becoming a laughing stock.
Allan Board
160
Posted 02/01/2022 at 17:53:53
Expected defeat. Brighton are a much better-run club, team and business. Fortunately, I think the Bottom 4 are so rubbish that Everton will avoid relegation, just.
I personally have refused to enter Goodison since 2015 as long as Kenwright had anything to do with Everton. He is responsible entirely for where this club is now. He has impregnated the club with his DNA – lies, deceit, bullying, cronyism.
He has placed his disciples in key positions and areas of the business over 2 decades – including players – who spout his fucking drivel and spite, bullying new players and staff into submission until they just accept what goes on, as long as the price is right. All the good players who have left could see through the tosser and his minions – and good luck to them.
There were tossers in that team today who are under his wing and afforded protection because they have bought into his quite disgusting practices. They were also sitting in our coaching area.
Understand it: he targets weak, niaeve, or down-at-heel people to instate and manipulate them within our club to reinforce and protect his own position. Sack every manager you like, abuse them, abuse the few decent players we have had because they have seen through him and want to leave. Because that's what happens every stinking year, and the more it goes on, the happier he is. He is a very clever boy, a master manipulator, but absolutely untrustworthy.
If Benitez is the one to destroy this almost satanic circle at Everton, then I back him 100% – relegation or not.
Ask yourselves this: We all love Everton, but do you really like feeling so frustrated and angry towards it? What's the point?
Kenwright has destroyed all I held dear for Everton. My brother will be turning in his grave. I hate seeing bluenoses falling out over Everton, especially when I know who is to blame.
David Bromwell
161
Posted 02/01/2022 at 17:55:38
Yes to all those who criticised the manager's team selection today. He got it wrong and should have changed the formation at half-time. I believe he cost us the points today and he needs to hold his hands up and apologise.
An experienced manager should not be making these sorts of mistakes so wake up, Rafa, you are on notice, we will not tolerate this level of incompetence. Get your act together soon or piss off now, before it gets really ugly.
Paul Appleyard
162
Posted 02/01/2022 at 17:55:51
@82, Gate receipts are only a small percentage of Everton's income (about 15%). The vast majority of the income comes from the TV Premier League deals. So the real motivation to avoid relegation isn't to keep the attending fan happy, it's to avoid losing the £100M or so of TV cash that comes from finishing 17th (we got £128M for finishing 10th).
Finishing 17th will put more strain on the club finances as our wages-to-turnover ratio is diabolical. We have too many players sucking cash on the books.
If we get relegated, it will be a financial disaster, and I wonder if Moshiri would then just cut his considerable losses, whatever the status of the stadium project?
Tony Hill
163
Posted 02/01/2022 at 17:58:08
I fear that we may be finished as a Premier League side. Yes, that is massively inconsistent with my deluded hopes for the team as expressed in recent posts but one steps back to take a view and we are a basket case.
We've been slowly killing ourselves for decades and this is the time.
We have no-one but ourselves to blame. A great, great shame.
Derek Taylor
164
Posted 02/01/2022 at 18:00:21
Everton owned by Moshiri (or his Russian mate) are replicating what happened to Aston Villa under their 'saviour' Lerner.
Put £millions into the club, rely on media figures for advice, change managers every five minutes and then be forced to sell up when the inevitable relegation occurs.
Kenwright had it right when he begged for Moyes to return – now he gets the blame for finding the prayed for rich man. Fuck knows what will happen to the new stadium at Bramley-Moore Dock if we suffer the drop!
Derek Knox
165
Posted 02/01/2022 at 18:01:13
Pat @156,
Good news abounds, don't worry about a torn G-String. I know of a lady (?) who has a thong, which she claims has been kept in good nick, and could be made available, for the price of a couple of very large gin and tonics! :-)
Andy Crooks
166
Posted 02/01/2022 at 18:02:06
Changing managers has worked for Chelsea, Martin. It's working for Spurs. Working for Villa. Worked for Liverpool. Worked for Man City. Working for Man Utd.
Our coach is a dinosaur, who, beyond belief, actually fucked up in China. Fucking China… and he couldn't do it. Yet, the fools who run our club thought, "He's the man for us."
He stinks of relegation, nearly as much as relegation Roberto, and by fuck, that stunk.
Alan J Thompson
167
Posted 02/01/2022 at 18:02:20
For only the second time over the festive season, I had visitors and one must be a good host but the game was almost over when they left so I waited to see the replay of the whole game from the beginning.
As soon as the team was named, I thought, "What sort of line-up has he put out now?" So it proved and this must go down to this shithead manager, again! The sooner he stops trying to get responsibility for everyone else's job and gets on with his own, the better, if he has the ability!
Two right-backs, one playing left-back and three central defenders, two of whom, Godfrey and Holgate, didn't seem to know where they were supposed to be playing which was shown by the first goal after the usual fart-arsing start leaving Pickford to welly it up the park as we had no creative midfield.
Calvert-Lewin didn't look fit and when he stepped up for the penalty, my first thought was that he hasn't played for a few months and he tried to take the penalty off a step and a half which resulted in just how I thought it would.
Second half was another load of rubbish with Holgate now at left-back while Godfrey seemed to be playing right-back and central while you couldn't make out where Kenny had been told to play as at times he seemed to be the only defender.
Then we came to the substitutions which I just couldn't fathom. Kenny was looking good and he takes him off while it was screaming for Coleman, Holgate or Godfrey – but not for bloody Rondon who was just slightly better than useless while Gomes was introduced far too late.
The new bloke in the stands from Ukraine had a changing look on his face throughout the game and at the last show it looked like he was wondering what the hell he had just walked into.
Brighton are no great shakes but their manager, who a lot didn't want here, is getting far more out of his players than Benitez is from ours. Anyone still not think we are in a battle against relegation!?!
And a final word: another display of totally awful refereeing. Why is it that, when you go in for the ball and accidentally, not deliberately, catch the player, it is a bookable offence while a deliberate foul, such as barging a player in the back when not trying for the ball, isn't?
Oh, and before I forget again, a second final word; MotM, by a street, the 60-minute man, Anthony Gordon.
David Pearl
168
Posted 02/01/2022 at 18:03:19
Rondon has been okay the last few games so it's complete bullshit to blame him, and to boo him on the field is shameful.
Coleman did okay and had a lot of space in the first half but a lack of a left foot held him back a bit. Doucouré and Keane forever giving the ball away. Right from the first whistle, we give the ball away with the old predictable diagonal punt forwards.
Man for man on a corner amd Keane leaves his man to wander inside. Holgate makes a last ditch saving tackle and then Keane gives the ball away for the 3rd.
And 2 in midfeld again overrun. Gomes given 4 minutes. Yes, we have kids on the bench... but you bring them on when having a more comfortable game and not chasing the game in a hostile atmosphere.
Oh, and Rafa out. I'd have Allardyce over this big-headed baffoon but we really need a younger manager with fresh ideas that understands that balance is always the key to performance.
Anthony A Hughes
169
Posted 02/01/2022 at 18:06:59
Why anyone would think relegation would be anything less than disastrous amazes me. It would be the end of our club.
Less TV money, no chance of attracting players, Europe a pipe dream, matches against shite clubs and hard games against seasoned Championship sides. Playing Friday nights and twice a week with a small squad.
No, sack this fella now and bring in a less poisonous, divisive manager now.

Paul Tran
170
Posted 02/01/2022 at 18:09:23
One day, there will be year when I don't peruse the news and social media to check whether the Everton manager has been sacked. One day...
I'm visualising Moshiri with a calculator, working out what we can afford to do and a spreadsheet of managers, checking whether any could or would do the job.
Daniel A Johnson
171
Posted 02/01/2022 at 18:10:00
No other club in the Premier League would put up with such a run of wretched results.
Moshiri made a big mistake and he's too stubborn now to act to get rid of his man.
Tony Hill
172
Posted 02/01/2022 at 18:12:03
From where I was sitting, there were very large gaps throughout the crowd. Stay safe and all of that, but don't imagine you're doing the fans a favour by laying on a pile of shite like that and assuming that they should jump through hoops to witness it,
Andy Crooks
173
Posted 02/01/2022 at 18:13:01
David, I agree. Booing players on the pitch is counter productive and wrong. However, Rondon is so awful that, if I knew where he lived, I would boo him if he nipped out to buy his copy of "The Peoples Friend".
Peter Carpenter
174
Posted 02/01/2022 at 18:14:27
Get rid of Rafa or go down.
Dave Abrahams
175
Posted 02/01/2022 at 18:15:46
I asked, like most fans, before the game, for three in the centre of midfield, but when I thought about it, the three players who play in that position are Delph (unfit), Gbabim (nobody is sure if he's fit enough), and Gomes (who, if games lasted 10 minutes, would start every game, along with Davies (who is injured) and Onyango (with 15 minutes of senior football in his career.
We also had two centre-backs out injured and ill, Mina and Branthwaite. Digne wasn't called upon but has got better and better, apparently since he hasn't played. Townsend and Richarlison out injured, and Iwobi – who many, well nearly everyone, don't want him selected at any cost.
Benitez set up those who did play, with no apparent plan, in a very negative way, and Brighton took advantage and deserved their two-goal lead at half-time. He made no changes at half-time, which surprised most fans. He then brought Kenny off after setting up a goal and he had got better after a poor first half – along with every member of the team, it must be said.
Then we got back in the game with a fortunate goal, although if you don't try a shot, you'll never score. Gordon did and got the reward. At that stage, Everton were pressing hard and, with the crowd behind them, looked good for a draw at least.
Then, as in the Liverpool game and other games this season, panic took over and a ball that should have been cleared three times was given to a Brighton attacker who promptly whacked it home.
We still could have got a draw when Gordon scored a well-worked goal to get us back into the game again but there was no calmness about shots from Coleman and a 40-yard effort with his left foot from that 6 foot, 13½ stone bag of nerves, Keane, went 2 yards wide.
Brighton deserved to win but, if you score two goals and miss a penalty, you'd think the defence could do better than concede three, two of them from defensive errors and give more points away.
I'm sticking with Benitez until all the players are fit, he gets two or three more players in the next 3 weeks and gets a settled nerveless squad together and see where we go from there.
Mike Gaynes
176
Posted 02/01/2022 at 18:16:22
A few points now that I've calmed down:
1. If any Everton centre-back has played a worse game in the past 10 years than Keane did today, I can't remember it. The first goal was simply embarrassing.
2. If any Everton player has ever enhanced his reputation more in one game than Gordon did today, I can't remember it. What commitment, what confidence. He wasn't flawless, but he was relentless.
3. If any team anywhere has ever been so consistently shit for so many years on set-pieces, I can't remember it. Not a single free-kick was properly delivered. Gordon actually curled two of them outside the end line, which is normally a once-a-year event. And of course three Brighton players were left unmarked at the back post for the second goal.
4. Benitez's lineup was of course ridiculous -- five defenders for a home game is pathetic -- but Coleman did actually make a couple of the nicest passes of the day down that left side.
5. Demarai Gray was superb today. His aggression, his willingness to split two defenders off the dribble time after time, gave me one of my few smiles of the day.
6. He gets scant credit, but Allan was excellent today as well. He benefitted tremendously from the Covid rest period. Connected very well on his passes today.
7. Unlike Doucouré.
8. That we missed Mina and Richarlison today was no surprise, but I was surprised how much we missed Townsend. He keeps the ball when he gets it. We gave it away all day.
9. How can we suck so completely on throw-ins? I ref schoolkids who do it better.
10. Rafa is not going to be sacked. We can't afford it, Moshiri won't want to, and there is nobody out there who is available, quality and would take the job (stop with the Rooney and Ferguson crap already!). But this stinks.
Anthony A Hughes
177
Posted 02/01/2022 at 18:22:52
Dave,
Benitez has served dross up all season. I"m not sure he"s going change his philosophy from negative, frightened football in the next 3 weeks.
Unless those two to three players are Messi, Mbappe and Salah, then be prepared for more garbage from him.
Danny Baily
178
Posted 02/01/2022 at 18:22:58
Seeing people standing by Rafa is like a scene straight out of Don't Look Up.
Steve Brown
179
Posted 02/01/2022 at 18:24:23
We are one point better off than Mike Walker was after the same number of games in the season of the great escape. And we should stick with Rafa?
Wake up.
Dale Self
180
Posted 02/01/2022 at 18:25:54
Cheer up a bit. The Red Shite just dropped 2 pts after being up 0-2.
Phillip Warrington
181
Posted 02/01/2022 at 18:28:12
I don't understand: we play Chelsea and, through injuries, he was forced to play some youngsters and it worked. It injected some hunger and energy. Now, against a weaker opponent, he goes back to the old hacks and guess what?
Is Branthwaite injured? And to bring on Rondon before Dobbin, Christ this is just after apparently Rafa telling the youngsters to commit to Everton then showing them that he has no interest in playing you unless numbers are down.
Not only are we going to come too close to relegation but our youngsters will be thinking "Why stick with this club when the manager would rather play hacks than the young players?"
Tony Hill
182
Posted 02/01/2022 at 18:28:36
A fair summary, Dave @175 and Mike @176: the calm views I have tried to express myself and would like to share now. But I can't; I think we're fundamentally diseased.
Derek Moore
183
Posted 02/01/2022 at 18:30:01
Chelsea rally from two back to deny the neighbours – and I had £20 on the draw at 5/2.
Will keep me in Jack Daniels I suppose.
Preferred Rob Halligan's measured take compared to some other regular posters to be honest, but perhaps after a kip that opinion will soften a bit.
Rob Halligan
184
Posted 02/01/2022 at 18:30:37
Fuck off, Benitez, you useless piece of fucking shit.
Danny O'Neill
185
Posted 02/01/2022 at 18:31:01
Still raw, but I'll second your Allan shout ,Mike. He tried to hold that midfield together. On his own today as Doucouré was off sorts and we haven't filled the gap.
As suspected, surrounded by Brighton fans on the train.
Still raw.
Rick Tarleton
186
Posted 02/01/2022 at 18:33:38
Perhaps Graham Potter would come.

David Pearl
187
Posted 02/01/2022 at 18:34:35
Mike, good points. I'd have Slaven Bilic all day. Although l'd also have Paddington Bear over who we have.
Andy Crooks, he lives in Caldy. Just write 'Get Out Fatty' on a bedsheet and he will get the message.
Anthony A Hughes
188
Posted 02/01/2022 at 18:34:37
On your point 10, Mike, I have to disagree: we're dropping like a stone. We can't afford not to sack Benitez.
Brian Wilkinson
189
Posted 02/01/2022 at 18:38:18
Paul @155,
No but he could be setting himself up to get the sack and a payoff, then he can try his luck at Newcastle again.
Tony Hill
190
Posted 02/01/2022 at 18:40:08
Who is the saviour? No-one wants to tell us. Apparently, he's out there somewhere, just waiting to cure the last few decades of pain.
Barry Hesketh
191
Posted 02/01/2022 at 18:41:50
If Benitez doesn't work any magic in this transfer window, by getting shut of some and bringing in better, the rest of this season is going to be a white-knuckle ride.
Those postponements over the holiday period could cost us dearly as the necessity for change will be less pressing for the board than it might have been had we played those games and failed in such an abysmal way as we did today.
Seven wins should be enough from the remaining 20 matches but 20 draws would be good too. But, until Everton learns to stop conceding daft goals, even draws are seemingly beyond this team in its present guise.

Ian Edwards
192
Posted 02/01/2022 at 18:41:55
If the fans want Benitez gone, then they must mobilise. Demonstrate outside the ground next home game.
Rob Halligan
193
Posted 02/01/2022 at 18:43:59
Anyone who defends Benitez wants their head examining. He's useless, clueless and stubborn.
We're not Chelsea, we can't afford not to play a French international just because he's had a bit of a fall out with the manager.
To play a right-back at left-back, to play five at the back against Brighton, fucking Brighton, is just unbelievable.
At the very least, Benitez should have changed it at half-time, taking Kenny off, and putting Digne on, with Seamus moving back to right-back.
I'd also have taken Holgate off, and reverted to a back four, bringing Gomes on. As for Dobbin and Simms, forget those two, as they want out.
Anthony A Hughes
194
Posted 02/01/2022 at 18:44:21
So, Tony, we stick with Benitez until what happens? Relegation?
Andy Crooks
195
Posted 02/01/2022 at 18:44:23
Mike,
I think we are nearing crisis point. Another two defeats will do it, and, frankly, I can't, bar Norwich, see a worse team or defence than ours.
Also, I agree, Keane was beyond bad. So, Mike, what do we do? Hang in there with the dinosaur that is the utterly lamentable Benitez. Or act now to save our club? We need a lift, some inspiration, a buzz, some fight, something to get us 15 points.
In my view, Benitez might relegate us. He is stubborn enough to do it.
Wayne Rooney would be inspirational enough to save us. Not a long-term choice, but surely, Mike, you will agree that a crisis is nearly upon us.
Wayne Rooney, 6 months to save us.
David Hallwood
196
Posted 02/01/2022 at 18:46:07
Ok he inherited an unbalanced squad and has had to cope with horrendous injuries. Sort of OK to show who's boss he freezes out Digne, even if it means playing Coleman at LB (but why didn't he play Godfrey there?? and why have Digne on the bench???)
But for me the final straw is to see our 2 in midfield being over run a la derby massacre, and do nothing about it.
He kept the same shape like a truculent teenager trying to prove a point, despite the fact it was not working, he brings on Rondon who offers nothing despite Dobbin coming on at Chelsea and looked lively.
I hate changing managers-really do, but there has been too many occasions in recent years where you realise that the manager is a dud, and this is one of these occasions.
A manager playing football of 10 years ago, a 'defensively' minded manager that can 't keep clean sheets, but ultimately, even I could see it was crying out to bring Gomesh on to make a 3 in midfield and push Gordon and Gray closer to support Dom.
Get him gone now and give the job to Ferguson.
Dave Abrahams
197
Posted 02/01/2022 at 18:46:28
Anthony (177), yes Anthony I understand most fans anger after watching such a paltry, mostly putrid, performance and if there was man angrier than me in the crowd I'd be surprised, yes there have been many games like this one since the start of the season and Benitez must take his share of the blame, but Anthony you don't expect seasoned footballers, most of them international footballers to make so many constant stupid errors and yet two lads both relatively new to the team were the best performers Gordon and my man of the match Grey, although I wouldn't begrudge Gordon if he got the honour.
You are right they did play like frightened players and the set up was poor but Benitez needs the players to stand up and play like men instead of mice.
Kim Vivian
198
Posted 02/01/2022 at 18:46:38
I'm hearing from a reliable source that Mykolenko is applying for his work permit to be rejected by Priti Patel.
Paul Tran
199
Posted 02/01/2022 at 18:48:18
My answers:
Sack Benitez now, to end the speculation
Tell Ferguson he's got the job till at least the end of the season, to give the club a lift.
Have a fully independent review of how the business side of the club is run.
This is the side of Everton that:
Appointed Trevor Birch, who then left after a few days.
Appointed a scout as Director of Football, then bought players over his head.
Appointed a manager to keep us up, even though we weren't going down, letting him spend 50m on two unproductive players, then paid him off that summer.
Appointed a renowned Director
of Football, then bought players & hired managers over his head.
Nothing will change till the club is run by people who know how to manage thus kind of business effectively.
Peter Mills
200
Posted 02/01/2022 at 18:50:26
The thing I find most galling is the sheer predictably of what is happening under Benitez - many people did forecast it exactly.
He is arrogant and manipulative. He is years behind the times. He creates discord. He falls out with players. His substitutions are foolish. He has completely failed to organise our defence. We supporters were never going to be tolerant of him. And it makes me feel nauseous to see him on the touch line as our manager.
Ian Edwards
201
Posted 02/01/2022 at 18:51:23
Just seen on twitter that Holgate told our fans to shut the fuck up. Not sure he best placed to criticise anyone.
Ian Edwards
202
Posted 02/01/2022 at 18:53:25
And for fuck sake stop these Rooney shouts. He's an inexperienced Championship Manager and is as thick as mince.
Barry Hesketh
203
Posted 02/01/2022 at 18:54:32
I understand Evertonians not being too happy to see Rondon brought on as a substitute, but I can't condone fans booing his arrival. However, Benitez has totally misread the fans by saying he doesn't understand the fans' reaction to that substitution.
"It is difficult to understand," he said.

"You take off a defender and put on a defender when you are losing. normally people are happy with that and, hopefully, can understand that we are trying to do the best for the team.
If only Benitez had told us that Rondon was a defender, playing out of position up front, now that I understand!
Dale Self
204
Posted 02/01/2022 at 18:55:23
Make sure all your signs address Moshiri directly in bold.I don't see it but if Moshiri gets shaky it could happen. I get Branthwaite was out but to get out effectively against Chelsea and then get stuck in our half against Brighton is mind numbing. This really was a disturbing outcome for Benitez. Doucouré is always weird after a layoff but the first half was excruciating. Adding DCL should not have broken other things that were working vs Chelsea. Not the last straw for me but damn that is some ugly ugly football.
Tony Hill
205
Posted 02/01/2022 at 18:58:33
Anthony @184, I hoped I'd made it clear that I thought Benitez was dreadful today, and that I am very fearful for our wretched club.
I have no answers; I merely caution those who think that a new manager will save us. We're shite, a failed organisation waiting to be put out of its misery. I agree with those who blame the ludicrous, self-serving ham, Kenwright, but I also blame the other board members who've bled us dry down the years, the inadequate managers and, let us not forget, the fucking awful, couldn't-really-give-a-shit players we've had to endure.
Moshiri? He's put in the money but he's a know-nothing Sky football fuckwit backed by a Putin darling oligarch.
COYB.
Derek Knox
206
Posted 02/01/2022 at 19:02:03
Andy, I have total respect for you as a person and as an Evertonian, and agree with nearly every point you have made, BUT you say WE ? Too many keyboard warriors in my estimation.
I remember when the ' 27 Years 27 Minutes ' was mooted on here, and so many people were saying, yes, We Will Walk, We Will do This, That, and the next thing under protest. Admittedly the point was aimed at Kenwright and quite rightly so, by the way.
I went to that game, and I, who have supported Everton for just short of 60 Years, was the ONLY one at 71 years of age and surrounded by much younger supporters, to Stand Up and display a Pillow Case with " KENWRIGHT OUT " displayed on it. As far as I know, and could observe, I WAS the only one !
Action is needed by the FANS, if they truly are Fans, Enough Is Enough !
Sit there like Sheep or Lambs, you will be regarded, and treated as such !
Clive Rogers
207
Posted 02/01/2022 at 19:03:11
Paul, 199, well said. The owner and chairman haven't got a clue and compound that by their absence. The owner is a tax exile living in Monaco who has stopped attending games, while the chairman has a full time job in London running his theatre business. We haven't had a proper chairman since Sir Philip Carter. The CEO is an ex school teacher and charity worker who is completely out of her depth. Talk about a rudderless ship.
The owner is now organising a behind the scenes appraisal to find out what is going wrong because he has no idea himself. He should just read TW.
Anthony A Hughes
208
Posted 02/01/2022 at 19:03:52
If the Twitter comments are true Ian then that's another arrogant fucker who should be fucked off.
Julian Exshaw
209
Posted 02/01/2022 at 19:05:16
We have had some crap seasons of late but this one beats the lot. The football is dire notwithstanding the efforts of Gray and Gordon who really stood out today. The decision to play Coleman at LB was ludicrous. It's not working with Benitez, it simply isn't. Moshiri took a risk with him and is probably loathe to admit to defeat. In the meantime we are sinking.
Ian Edwards
210
Posted 02/01/2022 at 19:05:58
Just seen the interview with Paelladyce. He has to go.
Peter Neilson
211
Posted 02/01/2022 at 19:06:04
Hats off to the board for having the foresight in appointing a manager who knows how to get promoted from the Championship.
Rob Halligan
212
Posted 02/01/2022 at 19:08:25
And to think people had the audacity to criticise Ancelotti. FFS, he is head and shoulders above this useless gobshite.
Ian Edwards
213
Posted 02/01/2022 at 19:11:08
I wouldn't go that far Rob. 212. The last 6 months at home under Ancelotti was far worse than this season under Benitez.
Mal van Schaick
214
Posted 02/01/2022 at 19:11:10
Benitez did make a mistake with his tactics today playing a back five, but we will have Richarlison coming back, we have a new left back and a possibility of some players out, some players in.
Holgate isn't up to it and aside for one good tackle is calamitous. Delph can go, Digne can go, Iwobi can go, Gomes can go.
I also wondered why Gray played wide left? He would of been better central or right wing.
Benitez has to build his own squad, we should be okay as there are lesser teams in the bottom six or seven.
Paul Tran
215
Posted 02/01/2022 at 19:11:17
Yes Clive, it's one thing having 'the money', it's another thing to bring people in who will change the culture of the place from top to bottom. Our 'board' seem to think that managers are like lottery tickets - keep buying one and you're bound to win the jackpot.
I've seen this so often; a badly run business that wants to change, but won't take the necessary steps to facilitate that change.
I hope and believe that Moshiri will sell once we're at BMD. I hope he chooses better than Bill did!

Derek Knox
216
Posted 02/01/2022 at 19:11:54
Ian Edwards, " And for fuck sake stop these Rooney shouts. He's an inexperienced Championship Manager and is as thick as mince. "
I assume you know, or are talking from experience, please explain ?
There are several Managers in the Premier League now who are doing well with the Teams/Clubs they are in charge of without Previous Premiership Experience, again please explain ?
Lastly, how long have you been a Member of Mensa ?
Furthermore, I HAVE met Wayne, admittedly some time ago, and he is anything, contrary to appearances, family, or past references, ' Thick as Mince ' when it comes to Football !
Rob Halligan
217
Posted 02/01/2022 at 19:12:50
Ian, just wait for the next few months. You will soon be having second thoughts.
Tony Gavin
218
Posted 02/01/2022 at 19:13:25
I give up, I really do. We have been mediocre for years, the board accept it, managers accept it and unfortunately us fans accept it. As much as I hate the RS, the standards (on the pitch - not off) are so much higher than ours. Every year they got rinsed for saying it was "their year" as I blue, Ive never even give "our year a thought". They are now run by proper business men and proper people and have achieved success we'd never stop dancing over in the past few years if we had it.

We all accept mediocrity, appointing Rafa was a mediocre appointment, I never ever wanted him but Jesus, didn't think it'd go this pear shaped. What's the answer? I don't know, although he's not the only manager out there and to keep with him after one win in 12 is asking for trouble. Would the RS put up with this? Never in a million years. Unfortunately our football club does and its not good enough. If relegation happens, it'll take us 10-15 years to recover, just like Leeds.
Tony Abrahams
219
Posted 02/01/2022 at 19:16:00
Ancelotti realised early that the only way for Everton to play compact was to put eleven men behind the ball imo Rob.
Benitez played the same system as the one that got him a point at Chelsea, which tells me he doesn't quite fancy our current central defenders, but how Holgate got past the 30 minute mark today, was beyond me.
Very scrappy game, only Anthony Gordon, and Demari Grey can come out with any real credit, with simple, stupid, pathetic and horrible mistakes being the main order of the day, once again.
Ian Edwards
220
Posted 02/01/2022 at 19:16:39
Derek 216.
Rooney is a championship manager. Fact.
Rooney is an inexperienced Manager. Fact.
Rooney is unintelligent. Open to debate but most people agree he is thick. Look at Darren Farley's videos. He portrays Rooney wearing an NFL helmet eating waffles and beans for Xmas dinner and calling his team County Derby.
Robert Tressell
221
Posted 02/01/2022 at 19:19:13
I agree with your 10 points, Mike.
Unless I'm forgetting something the 5221 formation hasn't worked at all this season.
It looked even less promising with Kenny and Coleman at wing-back.
Dobbin and Simms earned some game time, surely. Rondon has been getting better though until now.
Iwobi must be completely finished if he can't get into an injury hit side at home to Brighton.
Paul Hewitt
222
Posted 02/01/2022 at 19:22:35
Patterson close to signing anyway.
Barry Hesketh
223
Posted 02/01/2022 at 19:26:25
Derek, being a true fan, is supposed to mean that you support the players as best you can during the 90 minutes that unfold, even when they are not deserving of that support. True change at the club will only come about if those who own and run the club, decide that is what THEY want to do.
Fans can influence decisions, of course, they can, but a revolution will not automatically follow, even if all circa 35k regular match goers vented their spleens for the entire duration of every game still to be played at Goodison Park, which in our current predicament would create a bad atmosphere for even the most committed of players to perform well in.
If the fans who regularly travel away decided en-masse to boycott Everton games in the future, that may have more impact, but again there is no guarantee that anybody in positions of power will listen let alone take any drastic action.
I don't get hung up about terms like 'we' because in reality there is no such thing, as fans we all follow the same club, but we have as many differing views on the club as the team has in their many ways of making mistakes which cost crucial goals and points.
What we have seen in the last five years, is that the owners and board members have proven to be unfit to run Everton Football Club at least in terms of making us a club to be proud of, but they will continue to do so until they decide to sell up or resign, and that day, at this moment, seems a lifetime away.
It's for this reason that the choice of manager is so crucial to Everton Football Club, given some of the current manager's decision-making in recent months, it would seem that the Owner and the board have got that wrong too.
Luke Welch
224
Posted 02/01/2022 at 19:29:32
I think it's clear that Moshi has no knowledge or insight into footballing matters. Brands was picked to develop the culture of the club and use his expertise to advise him, that failed miserably. I still think it was because Brands was never really allowed to do his job properly.
The trouble is it looks like Rafa has been given a lot of say into all footballing matters, because who else is there? I think it's also clear to see that Rafa is not up to the task. So if Moshi is not going to get the right team of people in to make decisions and set standards he might as well try and sell up.

Danny Baily
225
Posted 02/01/2022 at 19:31:00
I'd take Rooney. We just need a few results to stay up, any caretaker or up and coming manager should be able to deliver that. Can't see them coming under Rafa. He's lost the fans and dressing room.
Kim Vivian
226
Posted 02/01/2022 at 19:31:01
I'm pleased we seem to be moving fast in the transfer window - We really need to get any new signings in early before they get a chance to change their minds.
Brian Wilkinson
227
Posted 02/01/2022 at 19:31:01
Something not right with the more than reliable Doucoure today, could he have been one of the players that was COVID positive just before Xmas?
Certainly not up to the task today, can either put it down to just an off Day, or one of the players returning from illness.
Brent Stephens
228
Posted 02/01/2022 at 19:34:05
Dave #175 - a longer post than you normally submit and I agree with your whole take on the game and the immediate future. Well said.
Oliver Molloy
229
Posted 02/01/2022 at 19:34:10
I couldn't believe that Coleman was still playing on the left at the start of the second half. What the fuck was he watching is all I can say. Coleman didn't know what the fuck he was doing!
He has a proper international left back on the bench and a striker just back begging for crosses that Digne can / could provide.
Don't be surprised if some spin is forthcoming as to why Digne wasn't called upon. I still can believe it !
One more defeat and he's gone.

Barry Hesketh
230
Posted 02/01/2022 at 19:34:48
Brian @227
Agreed it was Doucoure's least effective performance in an Everton shirt, could his head have been turned by one of the 'big boys'? He's 28 and for him, it could be a good move at the right time, not so good for Everton if we can't find an adequate replacement for him.

Tom Harvey
231
Posted 02/01/2022 at 19:35:06
Dispite the clamour on here for Benitez to be gone, I don't think Moshiri or the fanbase has the emotional energy for a sacking and the even greater problem of who'd replace him?
The names that pop up most on here are Dunc, Rooney and Moyes, that says it all! Some have said Potter, but why would he (mid season) want to come to this basket case of a club? There's only one reason and that's a whopping Salary.
If you forced me to place everything I own on relegation or survival? I'd place my everything on survival, the teams below us are even more shockingly worse than us. We should get away with it and the end of the season will be the time to sack.
Ian Edwards
232
Posted 02/01/2022 at 19:36:14
If fans demand Rooney then they deserve everything they get. He would be a terrible appointment.
Peter Mills
233
Posted 02/01/2022 at 19:37:01
I don't think people were booing Rondon when he was introduced. Rather, they were booing the decision, they could see that Brighton had 3 strong tall centre halves on the pitch, and they shared my opinion that bringing on a young, quick substitute would cause them more problems.

Nick Page
234
Posted 02/01/2022 at 19:37:41
Said it on the forum during the game, can't stand Holgate. Horrible arrogant player and divisive in the dressing room. Getting rid of him could be a big step forward. Poor this
https://twitter.com/waggy81/status/1477700850055274500?s=20
Alan J Thompson
235
Posted 02/01/2022 at 19:37:43
You know, I really don't give a damn who the hell comes in or just takes over or for however long but can they really be any worse than this bloke? Sort the rest out when we know we will be in the Premier League next season but this bloke just spells trouble!
And that should have been seen either at his multiple interviews, consideration of his previous positions or when he started interfering in other appointments responsibilities.
For heavens sake, somebody step up!
Should the appointees take responsibility for their appointments
Derek Knox
237
Posted 02/01/2022 at 19:39:15
Ian @ 220, I am amazed at the so called proof, to my previous questions, I suggest you get back to your Playstation, or whatever it is you are basing your comments on !
Ian Pilkington
238
Posted 02/01/2022 at 19:41:20
"Bring in Big Dunc or Rooney as manager",
now isn't that just what our utterly useless Chairman might by saying to Moshiri just now…
Oliver Molloy
239
Posted 02/01/2022 at 19:43:17
Barry @ 230,
You are in cuckoo land if you think Doucoure will ever get a move to one of the big boys as you call them.
It's one thing having a decent engine, quite another being able to play the right pass ALL the time.
Doucoure ain't good enough which is why he's at Everton, if you get me.
Barry Ferguson
240
Posted 02/01/2022 at 19:48:39
Unfortunately, I think Moshiri stubbornness early December (when it was clear how bad it was), and the fixture cancellations have sealed our fate.
We are now ONE win since September 2021. Even that needed two bad misses by Arsenal. That's not relegation form, it's *record breaking* bad form. A third of a season, averaged out over a full season would be 5th worst in premier league history!!! That's not just our history, but includes the worst of the Fulham's, Sunderland's, etc.
People can harp on about Rafa being 'unlucky' with injuries, or cling to the hope his aggression will somehow fix us, or that swapping Digne for Mykolenko is somehow genius, but the simply fact is that's just utter bullshit. He is a tumour ripping us apart.
To me today that looked like a team who just didn't want to be there. Micromanaged Rabbits in headlights. No freedom to play, and a system they didn't believe in, but had to stick to - else they'd "be the next digne" (a man who was their friend a few weeks back).
Worst club in the league at set pieces. Same warm up routine, same training, heading for oblivion with a dinosaur manager ORDERING his players to 'believe' in a defensive / diagonal ball style that other teams sussed in October.
He's dividing the fans. Killing the passion. Driving out the kids (Dobbin won't sign shut when a fat Rondon gets ANOTHER go)……and taking us down.
If he's given January, he will simply accelerate the decline. Enough is enough.
Danny O'Neill
241
Posted 02/01/2022 at 19:50:10
I'll save myself for the morning.
It's not about the money but I've probably spent 4 season tickets worth of money on my blue boys this season already and and I'll do the the same and more this season and next. Had to travel & to sit talking with jubilant away fans on the train for the last 2 plus hours.
Why they do it to me and why I do it to myself I can't explain. But I'll keep doing it. As long as I breath.
Barry Hesketh
242
Posted 02/01/2022 at 19:50:27
Ian @238
I agree, that's exactly what I imagine the Chairman will be saying to the owner, and as usual, in so far as the Chairman is concerned, I'm in a quandary as to what's best for the club. relieve Benitez of his job and watch as the Chairman by default increases his influence on all football matters as he brings in a more popular appointment that will at least unite most of the fanbase, or do we persevere with the unpopular Spaniard and hope that he changes the club for the better over time, and then gets his team to provide the entertainment and results that we all crave.
My preferred option would be to remove the Chairman and the Spaniard and begin afresh.

Derek Knox
243
Posted 02/01/2022 at 19:52:16
Ian @ 238, I get the gist of what you are implying, and obviously I agree with The Chairman Description, but the point I was trying to make, was that Wayne Rooney, is still a Blue, through and through, despite his Global Recognition and status, he would want the current attitude, furthermore and KNOW what the Fans want !
He may not get every decision right initially, but do you think for one minute he would be any worse than any of the Charlatans, we have had, and blown a King's Ransom ?
Ian Edwards
244
Posted 02/01/2022 at 19:53:13
Derek 237 I'm not sure how you disagree that Rooney is an inexperienced Championship Manager. Are you a Tory spin Doctor or something.
Pat Kelly
245
Posted 02/01/2022 at 19:55:12
If Burnley or Newcastle manage to claw their way back up we could well be drawn into the quicksand. Quite possible Newcastle could improve if they buy wisely. Their owners are not going to sit on their hands and accept relegation. Also quite possible we'll decline further as Benitez continues to be stubborn and loses the players and supporters, if he hasn't already. We could well lose DCL, Richarlison this month. But hey we've got Rondon. Who needs Dobbin.
Mark Burton
246
Posted 02/01/2022 at 19:55:29
5 at the back. Kenny on the right, Coleman on the left and Digne on the bench is enough for me to see how arrogant and pig headed the manager is. Rafa the red has to go
Derek Knox
247
Posted 02/01/2022 at 19:57:30
Ian @ 244, I actually thought you may come back with some intelligent contribution, obviously not. Goodbye !
Barry Hesketh
248
Posted 02/01/2022 at 19:58:28
Oliver @239
I think that's the reason most of our current squad are at Everton, but I was basing my thinking on the plaudits that Doucoure received by many of the pundits earlier in the season, his form of late hasn't been good, even poor, but he has also shown that he can play and in a better side than Everton, he may well reach his full potential and I certainly wouldn't be surprised if the likes of Arsenal, Spurs or United came in for him.
Rob Halligan
249
Posted 02/01/2022 at 20:03:38
Pat # 245. I was asked to keep this quiet, but WTF, I'm going to say it anyway. Dobbin has said that if he doesn't start getting regular game time, ie at least 25 - 30 minutes, instead of 2 or 3 minutes at the end then he's off. He won't be signing any new contract and as of yesterday, he is free to talk to any continental club and sign a pre contract agreement. Does Rondon have some kind of clause written into his contract that says he must get on the pitch every game?
Rob Dolby
250
Posted 02/01/2022 at 20:03:51
He has to be sacked. It's relegation form.
Pretty ironic and sums Benitez up in a nutshell. Playing 5 at the back, a formation suited to Digne and he leaves him on the bench whilst Coleman fills in.
It's almost like he is rubbing our faces in it.
Players struggling in a formation alien to them and the manager watching on not even trying to adjust things. Watching Rondon lumber on is another piss take with 2 young lads on the bench.
Game after game watching our 2 man midfield being swamped and then slaughtered afterwards for having poor games.
Besides Mike Walker this fella is the worst manager we have ever had. Statistically I bet he isn't far off being the worst.
Ferguson, Rooney or Unsworth would get a better tune out of these. Let's face it they couldn't do any worse!
How much longer will Moshiri give him?
David Greenwood
251
Posted 02/01/2022 at 20:04:19
Time for Rafa to go.
If the parents of Simms, Dobbin, any of our younger players read this, could you ask Rafa :-
You said last week that my son has a clear pathway to the first team, could you square that away with today bringing on a fat, lazy, unfit, disinterested, non trying, unprofessional wage thief rather than my son.
Why should I tell him to sign with Everton with you in charge?
Thanks very much!
Barry Ferguson
252
Posted 02/01/2022 at 20:06:34
Imagine calling fellow fans "Tories" so you can defend a fat kopite. Ffs.
Raymond Fox
253
Posted 02/01/2022 at 20:06:46
Good god, change the manager again! We have gone through how many top flight managers with the same outcome ?
We need better players thats where we are lacking, players who can change games.
Look at the shites team, they have forwards and midfielders who can win games even if the team is not playing well.
Of course this being Everton we miss a penalty too which would give us a draw.
It was always going to be a struggle today, they are a decent side.
If you want to blame anyone for our lack of quality blame the management before Benitez came.
I still think we will finish in 10th to 12th place, that was the general opinion on here before we had kicked a ball at the start due to the squad of players we have., I dont remember many thinking that we would have a great season.
Julian Exshaw
254
Posted 02/01/2022 at 20:10:21
Brentford, Brentford!!! are above us in the league. If ever there was a sobering fact, it's that one. Is their squad better than ours? I must assume they've had injuries like us and are hardly big spenders.
Benitez is starting to moan more and more about the fans in his press conferences, not understanding the howls of derision coming from the stands. Can he not see that we are fed up of this crap? Is the frustration not justified in his eyes? Does he even like our fans? This isn't working Mr Moshiri.
Pat Kelly
255
Posted 02/01/2022 at 20:10:57
Rob, for Dobbin's sake he should get out now. Benitez will do nothing for him but frustrate him. He needs a manager who will encourage him.
Soren Moyer
256
Posted 02/01/2022 at 20:13:17
Does "Benitez needs to build his own squad" mean he will do that next season when we are in the championship!?
These are the names of a few available managers:
Ernesto Valverde
Joachim Low
Paulo Fonseca
Rudi Garcia
Lucien Favre
Gennaro Gattuso
Zinedine Zidane
Andrea Pirlo
Let the debate commence lol.
Derek Knox
257
Posted 02/01/2022 at 20:14:42
Rob @ 249, Exactly, what was he thinking at a point in the game, where we as the Home side should (you would have thought) been the offensive one ? Rondon, may have been a mediocre player, and an occasional goal scorer, in the past, but is he suddenly, having previously failed in China, going to be the player to get us out of the brown stuff ?
This is not a Quiz by the way !
Why not, when backs are to the wall, give the young lads a chance ? It eventually worked for Antony Gordon, but young lads like Dobbin, are not exactly encouraged, by getting a sniff, but never seriously considered !
Faz Bhayat
258
Posted 02/01/2022 at 20:15:47
According to Paul Joyce we are closing in on Patterson from Rangers
Colin Glassar
259
Posted 02/01/2022 at 20:19:05
Faz, done deal by all accounts. Now expect more pics of sand and machinery in tomorrow's red echo
Faz Bhayat
260
Posted 02/01/2022 at 20:21:42
Agree Colin funny how positive news always comes after an Everton defeat!
Rob Halligan
261
Posted 02/01/2022 at 20:21:50
Should Patterson sign anytime soon, then our back four should be Patterson, Godfrey, Mina and Mykolenko. A back four that's never played together before, maybe, but it seems every back four we've had this season have never played together before.
Luke Welch
262
Posted 02/01/2022 at 20:24:52
Are the 2 new fullbacks any better than what we already have? From what I read they are just backups. Also, do you think Rafa would pick them considering their age and having never played in the premier before. After all it's not like the youngsters are getting much time upfront.
Joe McMahon
263
Posted 02/01/2022 at 20:25:01
All good, but we need a central midfielder who can pass and shoot, and most definitely a proven goalscoring striker. Can't see such gems arriving in January unfortunately, plus we are skint.
Ian Edwards
264
Posted 02/01/2022 at 20:27:20
Barry 252. You are wrong.
I referred to a Tory spin doctor regarding Derek Knox denying Rooney was inexperienced and managing in the championship. Nothing to do with defending Benitez
Tommy Carter
265
Posted 02/01/2022 at 20:28:01
@ 230
Anybody who honestly believes that any other premier league club would consider Doucoure as a viable signing is not on this planet.
Anybody who believes a top 6 team would consider him, is beyond the multiverse.
Barry Ferguson
266
Posted 02/01/2022 at 20:28:34
Rob, I agree we need a consistent back four, but that's the last thing Mina is ever going to be fitness wise. Swap Branthwaite in and leave it the hell alone to gel. Ideally under a manager who doesn't micro manage them into utter shit.
Rob Halligan
267
Posted 02/01/2022 at 20:29:20
Well Luke, one is about to be kicked out the door by the manager, while the other one is a 33 year old nearing the end of his career. So I'd say yes, they are exactly what we need, and I doubt they, or certainly one of them, will not be just back up.
Rob Dolby
268
Posted 02/01/2022 at 20:30:42
Ray 253. The players may be poor but its the managers Job to get the best out of them.
Game after game there isn't any pattern to our play. We lose the midfield every match and invariably lose the game unless there is a bit of individual genius.
Pickford the only left footer in the team in a formation set up for overlapping fullbacks he leaves Digne on the bench!
He has put his own ego before the benefit of the club's. He has to go.
Rob Halligan
269
Posted 02/01/2022 at 20:31:13
Barry, of course, I forgot about Branthwaite..
Barry Rathbone
270
Posted 02/01/2022 at 20:32:38
I think it would be the height of madness to get shut of Benitez right now.
In his post match spiel he described new players coming in as those "who want to be here and fight for the shirt".
Now, if he's right and GP has a number of bad apples ( let's be honest evidence stretching back to the arse end of the Carlo regime suggests he might be) then he's onto something.
The choice is get someone in who will cravenly submit to these ne'er do wells possibly saving our bacon but guaranteeing next season is another Koeman/Silva/Carlo farago as players continue to do what they want when they want. OR. Be brave enough to let the man get on with the surgery most have called for since Adam was a lad and CHANGE THE LOSER ETHOS of this club for good and all.
Daft question really fans prefer moaning about fucking board room structures than actually grasping the nettle.
Barry Hesketh
271
Posted 02/01/2022 at 20:33:47
Tommy @ 265
A tad harsh for my liking, but I won't let it spoil my day, everybody's entitled to a point of view, no matter how outlandish it may seem to others.
David Pearl
272
Posted 02/01/2022 at 20:35:44
Derek, 257
I don't think its about just throwing on the youngsters. l'm thinking why did he not bring on Digne when the game was crying out for a left foot down that wing. I know you don't rate Gomes but to bring him on in the 86th minute... why? And Rondon. I think people just want to blame a player (that needs our support) as an extension of the feeling towards our manager. He was another presence up top but with poor supply from the wings what else do we expect. Back to basics and start with a compact shape would help, as would Keane learning the basics again. He was awful, and Douc was too. You can't carry players in this league. And we can't carry that manager of ours. What an awful decision by Moshiri in a long long line of awful decisions.
Martin Mason
273
Posted 02/01/2022 at 20:36:53
Only in an insane business like football could a no-mark, average coach like Benitez treat a top professional like Digne as he has for questioning how he was being coached. Benitez is only the head coach and how he gets the power to treat his absolute equals as he has treated Digne I do not know. That is, the power to deprive the club of a very useful asset because of his own total competence. The club should get a grip of this idiot before he does more damage.
Rob Halligan
274
Posted 02/01/2022 at 20:37:39
Joe # 263. According to reports, Glen Kamara from Rangers is also due down at Goodison anytime soon. A central midfielder, but I've not seen him play to give comment on what he's like.
Barry Hesketh
275
Posted 02/01/2022 at 20:41:26
Rob @ 274
I believe that the Kamara rumour was started as a wind-up to Rangers' supporters yesterday, one Scottish paper picked it up and then dropped it almost immediately.
Barry Ferguson
276
Posted 02/01/2022 at 20:42:17
Barry R - the bad apple is the dickhead in the dugout playing an over the hill RB in LWB and 5 man defence at home to Brighton. Same muppet that has us last in set piece routing and has one win in 3 months.
Steve Brown
277
Posted 02/01/2022 at 20:42:53
Barry @ 270, blaming others is standard Benitez MO at every club he has managed.
He is the bad apple - arrogant, divisive and confrontational without producing any results.
Robert Williams
278
Posted 02/01/2022 at 20:48:23
RT 186, Don't know about Graham Potter. What we need is a magician, I wonder whether Harry Potter is available!!
Micheal Lynch
279
Posted 02/01/2022 at 20:49:39
I posted on the Live Forum re Digne. His performances over the last 2 years are similar to Iwobi. I'm no fan of Rafa but getting a transfer fee for him will be good business. Can't cross, can't defend.
Luke Welch
280
Posted 02/01/2022 at 20:50:22
I get that, Rob, I still see Ben as a wing-back and not a centre-back, of course, with positional and delivery training. I'm just not sure it's the best way to improve the team. In fairness, the squad lacks quality in every department but the centre-midfield area and centre-defence are just awful.
When I was watching the Sunderland documentary, I was shocked to see how many ex-Everton players they had in their team when they first got relegated – but then, of course, we ended up buying their keeper!
Then I think of all the Number 10s we brought and the only thing Rafa has said about the new signing is he wants to be here.
Rob Dolby
281
Posted 02/01/2022 at 20:51:13
Barry 270.
There are 40,000 every week that would kill to play for the shirt. It doesn't mean that we would win!
The lad from the Ukraine has come for the money. The sub right-back at Rangers has come down here to play first team footy... oh, and because he isn't a charity, he also is here for the money!
We are witnessing week after week a manager that has set us up to fail. He got schooled today by a young English manager that is hungry to succeed.
Do you think the players finished today's game and thought that the manager got the best out of them?
Brent Stephens
282
Posted 02/01/2022 at 20:51:19
Rob #249,
Thanks for coming out with that. Though it's not good reading. I will be devastated (almost) if Dobbin leaves us. Shining potential ready to be given his chance, slowly but surely – but not too slowly.
Steve Guy
283
Posted 02/01/2022 at 20:51:23
Our points tally was mostly gained in the first few games. A quick top up versus Arsenal where we could easily have lost if they'd been more clinical and the young guns earning a point at Chelsea… and…. that's it.
Getting tonked by every team pretty much and embarrassed by more than a few. Utter tosh every game. Worst manager since Mike Walker by a county mile.
Bill Fairfield
284
Posted 02/01/2022 at 20:56:05
Please, Mr Moshiri, sell our club, because it's very clear you haven't got a clue what you're doing.
55 years supporting our great club and it's clear football is not your thing. For heaven's sake, man, go.
Peter Carpenter
285
Posted 02/01/2022 at 20:56:19
Pick any fan at random out of the crowd today...
Nobody would have picked that starting team.
Nobody would have picked a right-back out of position at left-back – especially with an international left-back sitting on the bench!
Nobody would have let the same 11 start the second half.
Nobody would have left it until the 75th minute to make the first change.
Nobody would have waited until 5 minutes before the end to reinforce a midfield that struggled all game. p>Only Rafa.
He is a dangerous mix of stubborn control freak who never thinks he is wrong and out-of-date manager with nothing, absolutely nothing new to offer.
Rafa was a huge mistake.

Geoff Cadman
286
Posted 02/01/2022 at 20:56:27
We couldn't capitalize on his crosses. When it became obvious Digne was on his way out, I was worried that he was linked with various loan moves. I now feel it would be the best option, Benitez has lowered his value so much and at least a loan will give him a way back after Moshiri comes to his senses or hits the panic button again.
No Idea about a Digne replacement but, going on past experience with Bilyaletdinov, McGeady, and Bernard making their names in the same area, I am very concerned.
Tony Abrahams
287
Posted 02/01/2022 at 21:06:25
Very observant, Barry R, although I think it's pretty easy to see that not everyone is pulling in the same direction, or are simply just not good enough to begin with.
It was disgusting having to watch the way Holgate started the game today. His unbelievably poor concentration levels were embarrassing.
I've seen many managers and coaches put away the ball, and just run the fucken legs off everyone for players displaying such a lack of effort during training, never mind during a Premier League game.

Stephen Brown
288
Posted 02/01/2022 at 21:07:45
Rafa Benitez has won multiple trophies as a manager and been in the dugout of many of the world's top clubs and he sees these players train each day! However, everyone could see today that 5 at the back with Seamus at left- wingback, no subs until 70 minutes, then Rondon brought on, were ludicrous decisions!
My son next to me said so – he's 8!
The 2 guys behind me said so!
The blokes queuing for the toilets said so!
The old bloke getting a cuppa in front of me at half time said so!
The bloke I met in Oswestry services said so!
The 2 blokes on the radio phone-in said so!
My 9 mates who sent me WhatsApp messages said so!
My 14-year-old daughter who knows nothing about football just said so too after my 5 hour drive home!!
Why does he not know so?? Shambles.
Neil Copeland
289
Posted 02/01/2022 at 21:10:47
Stephen #288, because he is blinded by his stubbornness.
Stephen Brown
290
Posted 02/01/2022 at 21:14:42
Neil, I completely agree – he was almost making a point to us and Digne!
Everyone could see the system needed changing after 20 minutes but he didn't want to lose face!

Tony Hill
291
Posted 02/01/2022 at 21:15:04
Barry@270 and Tony @287,
I am in broad agreement but that set-up today was absurd. Anyway, the fans want Benitez out regardless, so we will get what we deserve.
Jim Lloyd
292
Posted 02/01/2022 at 21:15:27
Sitting in Orry's (can't remember the new name) with a couple of friends and, like most other Blues, in the alehouse or at home, we enjoyed our meet and wishing each other Happy New Year.
Behind all the enjoyment of meeting up, like everyone else, the forthcoming 90-odd minutes hung over us like a darkening cloud. We all in there, and everywhere else, realised the increasing importance of each and every game coming up.
When me mate's son showed us the team and the expected set-up, we all thought it looked decent. Jonjoe Kenny providing the back-up for Seamus, who just can't be expected to turn back the clock, and with Godfrey maybe being a very fast partner for Gray, attacking on the left. We thought that was a good set-up, though none of us preferred to see Holgate in the middle with Keane (the two of them are like Mick and Montmorency!)
Anyway, we all saw what none of us could fathom, why Seamus was on the left and Godfrey in the right side of the centre three, by the look of it.
What went on was... I was going to say 'a comedy of errors' but it was a nightmare, especially in the middle of defence.
I won't go through the lot of this harrowing episode but a few points stood out. Why did two Brighton goals come from free headers and a great lay-off by Keane for their third goal?
And was Doucouré hampered by having his shoelaces tied together and the ball turning into a balloon everytime he tried to control it?
And early on in the game, Holgate hitting a pass from the left wing, right across our penalty box, which a Brighton player just failed to reach for an open goal! Lot's "What the Fuck?" with some of the cretinous actions of too many of our players... unforced errors everywhere around the pitch.
I thought Alan, Gray and Gordon played well, Kenny and Godfrey, not bad; but overall, far too many unforced errors that schoolboys shouldn't make. And that penalty effort smacks of arrogance without the class to carry it off.
I supported Benitez as the man to begin getting rid of that nest of charlatans on The Board and at Finch Farm; but tonight I came away from the ground thinking that Benitez is getting the push tonight.
Is he as bad as he's made out to be (and maybe he is)? Too many of these players made Ancelotti do a runner, and got previous incumbents in the manager's chair the sack.
This idea of bringing Dunc in as saviour isn't what I'd like to see. Isn't he the first-team coach? Never, as far as I know, got involved in transfers, in or out, I'm not sure he has a scouting network or who he'd want as 1st team coach after Kenwright picks the players coming in.
I think it is Benitez that has the best chance of bringing in players to replace some of the absolutely dire men masquerading as Premier League footballers. So, I will stay with Benitez while he is the manager.
ps: Barry R... well said.
Peter Neilson
293
Posted 02/01/2022 at 21:16:34
An article in The Athletic a couple of days ago said there's significant interest in Dobbin from a few German clubs. It also says our contract negotiations are being led by Benitez. So no need to be concerned – the main man has got it covered.
Terry Farrell
294
Posted 02/01/2022 at 21:19:18
One of my brothers sent me a text after our game and it simply said "Why isn't Trent playing left back?" And if you think about it, it says it all.
Seamus did his best but what the fuck is the thinking behind it? It was a crazy decision! I get it that Digne, one of our best players ,is finished at our club but stick with Godfrey who does a job there but isn't comfortable.
5 at the back is crap at home and I'm sick and tired of zonal marking at corners. Rafa looked unwell on the close-ups. Not good.
Kieran Kinsella
295
Posted 02/01/2022 at 21:22:16
Gary Megson gets the club. He could do a job with this lot.
Pete Clarke
296
Posted 02/01/2022 at 21:24:13
We are well and truly in the shit as a club.
An owner who purchased us and wanted indirect rule, so leaves the existing failed system in place to run it for him. He has zero knowledge on football matters and zero knowledge on how to handle a crisis which is what we are in.
At the moment, it is pure luck that there are worse teams than us, so we have maintained a few points ahead of the relegation area but, sooner or later, one or two of those teams will win points and we will be dragged into the drop zone. Once we have a head-to-head with one of those teams, then a loss will be that nail in the coffin.
Benitez is walking a tightrope and he needs to get a win in the next couple of easy fixtures or he simply has to go. He shouldn't even be at this club but that goes back to the owner being clueless. I hope he puts us up for sale because I can't handle anymore of this shit-show.



Barry Rathbone
297
Posted 02/01/2022 at 21:25:53
Rob Dolby 281
"We are witnessing week after week a manager that has set us up to fail."
Can't be true because we won games with a fit first eleven – possibly a clue there.
Not sure your 40k comparison stands scrutiny unless you know how many are professional footballers – do you know?
Rob Dolby
298
Posted 02/01/2022 at 21:31:31
Tony @291,
You have mentioned on this thread a few times. "We will get what we deserve" or "we have killed the club".
What do you mean by that?
Robert Williams
299
Posted 02/01/2022 at 21:36:16
BF 284,
Same message but in the form of an on-line petition?
Do you think that would get the message over to the powers that be?
Mike Gaynes
301
Posted 02/01/2022 at 21:42:58
Andy #195, I don't consider it a crisis, just a miserable stretch of poor play and wildly inconsistent coaching. We've still won more games than the bottom three clubs combined, and they're not gonna get any better. So we're not going down. Unless, of course, we panic and turn the club over to some blue-connected amateur to manage.
(And yes, I'm talking about Rooney and Ferguson, two guys we would never consider in a thousand years if they hadn't played for Everton.)
We sucked today because we suck. Yes, Rafa's setup was abysmal. So was the play of Keane, Holgate, Doucoure, Calvert-Lewin and, except for one sharp moment, Kenny.
I opposed Rafa's hiring not because of his RS background but because I considered him a not-very-good manager, and he is performing about as I expected. But as I've said many times before, there's nobody else available who would take the job, that we could afford, that would be likely to improve things. (None of the candidates Soren listed would be either remotely interested or remotely affordable.)
What will improve things will be to get our injured players back on the pitch, and to buy some quality depth in the January window. Time enough to look for a new manager in the summer.
Paul Birmingham
302
Posted 02/01/2022 at 21:43:10
Looks like Hull is gonna be a defining game.
Aka Oxford away, Stoke City away, Wimbledon at home. Many moons ago and almost another Everton eclipse. It's not a circle because at Everton, there's no consistency and no proper professionalism playing for the shirt.
Many Everton players today, too negative and thoughtless and comical descision making giving the goals and the game away.
But the professionalism of the team, is rank poor.
Panic mode, defeat mode, and lack of belief on the park, and being at home today, before they got onto the pitch.
7 wins, on current form, this will take this season and half of next season.
Diabolical and today Brighton worked hard and believed and won the game.
Solace in the JD, and beers, but at this rate, it's looking a very tough season.
Reeking of 1979-80, and at this rate gonna be a tough battle.
NB a couple of Rangers work colleagues, state that Patterson is a very good player. Let's hope so.
In that Creek, with half a paddle, Everton let's stick together, and stay up.
Ian Riley
303
Posted 02/01/2022 at 21:45:11
After time to reflect. New players are coming and yes, we are in trouble. This squad has limitations and we know that and the manager's methods are not getting through.
This club is going round in circles from manager to manager. Rafa has been honest in interviews but we are heading south. I don't want to keep going round in circles. Those saying Chelsea change managers regularly must remember Chelsea have world class players. Top players adapt to different methods much more quickly, like top golfers to different golf courses. Carlo tried and failed because the squad is not capable of sustaining a run for top four. This squad cannot get to the top as too many clubs have more quality and work harder.
The player recruitment and age of players is not this manager's fault. Perhaps we need stabilisation with players being brought in to adapt to the culture and methods Rafa wants to implement. Those players not adapting moved on.
My belief is this season has been coming for many years. The crash and burn methods of this club must stop. Really, is another manager going to change much? Are the players working hard enough for the shirt? I don't think so. I am fearful of relegation but to go forward it may be we have a season like this.
My view is the owner needs to get to the training ground tomorrow and meet with the manager and give his support and make it public. Then gather the whole squad and tell them to work harder or get out of his club! Sack the manager and round the circle again. Remember this was coming and at least we have an experienced manager to take the fans frustration.
My last point is as fans we know very little what goes on behind the gates of the training ground. Perhaps Rafa sees the problems that run much deeper and that need changing. Rafa needs time to make changes hopefully for success in the future.
Happy and Healthy New Year to all.
Bill Fairfield
304
Posted 02/01/2022 at 21:52:39
There is no footballing future under this current owner. It's easy to see why he couldn't get on the board at Arsenal.
Jim Lloyd
305
Posted 02/01/2022 at 22:02:22
Ian (303),
That's an excellent post! It's the best I've read and I hope it reaches many more supporters, it deserves to.
Danny O'Neill
306
Posted 02/01/2022 at 22:04:05
Just home and going for a drink with the family, having left them at a ridiculous hour rhis morning.
As well as the wife rightfully questioning my loyalty. Thats not in question, but I understand it.
My son is off abroad soon. If there's such a thing, he's a bigger Evertonian than me.
Fucking Everton...
'p>
Barry Ferguson
307
Posted 02/01/2022 at 22:04:50
Peter @ 285 - nail on head.
Rob Dolby
308
Posted 02/01/2022 at 22:08:24
Barry 297. How many times in a season will any manager have his first 11 fully fit? You can't make that an excuse – every other manager has the same dilemmas.
We arent just getting beaten every week. We are getting schooled at home by teams that haven't won at Goodison in their history. If that doesn't ring alarm bells, I don't know what will.
Are we supposed to be so naive as to believe that, given time, Benitez will fill the team with players that want to play for the club? Come on, mate, wake up. He has a history for this type of stuff.
The guy is at best from a bygone era. His divisive attitude won't ever bring the club and fans together. He needs to go.

Tom Harvey
309
Posted 02/01/2022 at 22:10:22
Barry Rathbone @ 270,
I approve of the way Benitez has handled Digne, if a player doesn't want to play to instructions, he has to go.
Many on here would have Benitez bending over backwards to accommodate Digne and lose all authority; one can get away with it, they all can.
Sack him! Sack him!
That's all I see, Who replaces him?
Tony Abrahams
310
Posted 02/01/2022 at 22:11:08
I agree with that, Jim, because I also thought Ian spoke a lot of sense in that post.
Sam Hoare
311
Posted 02/01/2022 at 22:11:18
Ian @303, that could be wisdom. Or it could be madness. I just don't know at this point. I'm pretty sure though that you cannot just assume that things will get better.
I don't like changing managers rashly. And I certainly don't like the idea of moving onto an 8th manager in 6 years. Someone has to be given a longer crack at the whip. I just remain unconvinced that someone should be Benitez, especially if he is the one dictating transfer policy.
Andrew Bentley
312
Posted 02/01/2022 at 22:15:35
Ian @303, a well considered post but I'm sorry, I just can't buy in to Rafa being blameless.
Yes, player recruitment and ages are not his fault but please tell me what his methods or tactics are? He has no playing identity and was the man solely responsible for picking the line-up today and going with a 5-4-1, playing our only specialist full-back out of position (where the first goal came from) and playing Holgate who is not of the required quality to play centre-back for us. His woeful attempt to close down MacAllister for that 3rd strike just about sums him up. No heart, no desire.
If Digne is going and you don't want him to play, then don't put him on the bench. Nonsense to not use all the tools at your disposal to get the job done. His pig headed-ness is going to cost us. Everton comes first, not the manager, not the players. The club and its fans come first.
If the players aren't showing desire, are making mistakes and not doing what's expected from the training ground…then maybe the issue is the person training them, leading them.
If I could genuinely see on the pitch little seeds of hope or signs of a footballing strategy, then maybe I could buy into what Rafa is doing. All I can see, however, is a power-crazy fool whose tactics are archaic and his stubbornness is driving us into the relegation zone. That's why I want him gone. 1 win in the last 12 matches.
Andrew Ellams
313
Posted 02/01/2022 at 22:17:04
Mike Gaynes, 6 points from 36 and in the bottom 6 is absolutely a crisis.
Tony Abrahams
314
Posted 02/01/2022 at 22:21:49
I'm not sure he his dictating transfer policy, Robert, and heard through the grapevine that David Weir wanted Everton to approach Brighton because they have treated him very well, and this prompted Bill Kenwrigh to say he'd spoken to them.
It turned out that this just wasn't true, although I'm not sure if this is why Weir turned Everton down because it was also mentioned that the owner and the chairman want a bigger name than our ex-player.
Barry Rathbone
315
Posted 02/01/2022 at 22:29:59
Tom Harvey @309,
It's not only the "Who would replace him?" question – it is the utter delusion that booting out the manager in these most bizarre circumstances is the solution. Koeman, Silva, Allardyce, Ancelotti say "Hello" with millions stuffed down their kecks.
Daniel A Johnson
316
Posted 02/01/2022 at 22:30:15
Make no mistake, Rafa Benitez is a cancerous egomaniacal individual whose footballing methods are now 10 years out of date.
He's a cancer who's infected our club and he may well be the catalyst for the relegation and decline of Everton FC.
Barry Ferguson
317
Posted 02/01/2022 at 22:39:45
When I wonder why and how some continue to support the kopite dinosaur, I remember that some like sadomasochistic experiences and others think Joe Biden leads the free world. Then it makes sense.
Very clear a large majority want him gone now…….
Tony Abrahams
318
Posted 02/01/2022 at 22:40:21
"A cancerous egomaniac" reminds me of somebody else at Everton, Daniel A, although that's definitely me not trying to make excuses for our manager's abysmal performance today.
Peter Rogers
319
Posted 02/01/2022 at 22:40:43
We're Everton aren't we, we win three lose two, win two lose three, especially when we can move above the teams above us or we can make a statement.

It's the Everton Way, for the last god knows how many seasons we have flattered to deceive and it can't be the manager or the owner – it has to come down to the players at the end of the day.

I am sorry to all the Benitez haters but Ancelotti, Koeman and Martinez have all failed to get anything out of this team. Then, when the chips are down, they can perform – albeit not to worldie standards – but we can get results. Then we play Brighton, Crystal Palace, or even a Newcastle and we look shite.

I agree, the manager has a job to do, setting up the team but, if you haven't got the tools, what can you do? You cant knock a nail in with a screwdriver. There is something wrong with the mentality of the players or at least some that is affecting the rest of the squad.

The last press conference from Benitez, when he said that he will be bringing in players that want to be there, is a big signal to this squad that – if they're not prepared to give 100% every game, then fuck off.

To not start or bring on Digne is a big statement in my opinion (I was screaming for him to be introduced from the 3rd minute) but, if he doesn't want to be at our club, then fuck off.

We can't carry on chopping and changing managers and keeping the same shite squad. Yes, we are restricted by FFP but that is the reason why we have to support the manager – not get rid. If, in three transfer windows, we are still in the same situation, then that's when we get rid… but not now.

It's not just the team's mentality that has to change but also the small-minded supporters that think changing managers will fix the problem.


Rob Dolby
320
Posted 02/01/2022 at 22:42:42
Tom 309.
Why do you think Benitez put Digne on the bench?
He obviously never intended on using him. It was a public show of power and an attempt at humiliation.
Similar situation, Tuchel just left Lukaku out for his spouting off. Who looks the better manager?
Ernie Baywood
321
Posted 02/01/2022 at 22:43:47
I don't feel the need to go into detail about the game. One game is minor in the grand scheme of things.
Any business, any organisation, and certainly any football club needs people united – pulling in the same direction.
It wouldn't matter whether Benitez was the best manager in the world (he's not), it was a divisive appointment when we needed unity. Divisive because of his history and divisive because of his approach.
It's a horrible feeling when you know it's just a matter of time and yet we're still not acting. What's the point of giving him more time? There's no upside in this approach to anyone but Benitez.
And our form can't be ignored. It's dreadful and sustained. This approach could take us down.
Jay Wood
[BRZ]
322
Posted 02/01/2022 at 22:44:45
Not only was Anthony Gordon my Everton MotM, he also played a blinder in his post-match interview:
Anthony Gordon's Honest Appraisal
I like more and more what I am seeing – and hearing – from Anthony, on and off the pitch. He spoke well after our last game at Chelsea, too.
Maturing very nicely is our Anthony.
Kieran Byrne
323
Posted 02/01/2022 at 22:45:25
1st goal was "cement boots" fucking Keane
2nd goal was "way to mark your man" fucking Michael Keane
3rd goal was Michael Keane, you fucking fuck.
Anthony Gordon, you're a star, as was Gray, what was Doucouré's passing percentage? He was brutal; nothing came off for him.
While I'm looking forward to the new signings at wing backs, we need a spine & not just on the pitch, Benitez has to put some trust in the squad & that's not playing 5 at the back at home vs anyone, for fucks sake... to put up with that in the first half today was embarrassing. I feel for the Goodison crowd and all of us – today that was a low.
We need results the rest of January or heads will be rolling, it's time for the whole club to step up, c'mon Everton, for fucks sake... we are better than that!!
Tom Harvey
324
Posted 02/01/2022 at 22:48:25
Rob Dolby @ 320
"Why do you think Benitez put Digne on the bench?"
He looks like he couldn't give a flying fuck when he plays, he's not defending well, and he's contributing not much at the other end of the pitch?
If he really does have an attitude on the training ground, then he has to go.
Steve Brown
325
Posted 02/01/2022 at 22:48:41
I am curious, so a question.
How many more Premier League games will it be acceptable for Benitez to lose before he is sacked?
Where is the line drawn in your minds?
Tom Harvey
326
Posted 02/01/2022 at 22:50:24
Kieran Kinsella
327
Posted 02/01/2022 at 22:55:36
Jay Wood
Gordon took (as Michael said) two unforgivable corners that went out of bounds. But he didn't let it get him down, he kept going, was courageous and had a hand in both goals and the penalty. That's the character you can't train.
Tom Davies and Ross Barkley follow mistakes by going into damage limitation mode playing it safe, eg, versus Man Utd. The other thing about Gordon is that, unlike various others, he doesn't go on about being young and leave it to the old heads.
He sees it as his responsibility, be it on the field, addressing angry fans or talking to the press. Hate to say it but, in that respect, he reminds me of a young Gerard.
Steve Brown
328
Posted 02/01/2022 at 22:56:27
Tom, if the 'Who will replace him?' line is the best you can do to justify retaining Benitez, then I suggest you try a lot harder.
Soren @ 256, produced a list off the top of his head that must have taken him 10 minutes.
Come up with proper arguments, as the results and performances are damning.

John Raftery
329
Posted 02/01/2022 at 22:57:01
Everton lose. Iwobi not to blame.
The formation looked unbalanced from the start with two players on the left both preferring to switch the ball back to their right foot before crossing. That stymied the momentum of our attacks on that side of the pitch. I was surprised the manager did not change it at half-time.
The formation does not however explain the dreadful individual mistakes which began with two misplaced passes from Holgate in the first forty seconds. That was followed by very poor passes from Kenny, a hopeless penalty from Calvert-Lewin, an unusually lethargic performance from Doucouré, two corners sent directly out of play by Gordon, and some hopelessly ambitious shots from the likes of Rondon and Keane.

Brian Murray
330
Posted 02/01/2022 at 23:00:52
The health and future of Everton as a club in the top flight is almost secondary to Benitez, the chairman, and the owner.
The manager can't or won't trust the youth or even admit when a system is not working. Now that's one big ego.
Kenwright – we all know his agenda. Cling on no matter what damage he does as long as he remains in the focal point Main Stand and whatever cack he fills Moshiri's head with. Again, a big ego.
As for the owner, he has backed himself again into a corner with an appointment that's woeful. It's disgusting these people are playing Russian roulette with people's lives. Sounds dramatic but the club to a lot means everything in their lives.
Tony Abrahams
331
Posted 02/01/2022 at 23:02:35
Gordon has spoken well Jay, and comes across as a very honest kid. I said to the people around me that I've heard louder minutes silences, than the silence inside Goodison, just before Brighton scored their first goal, and this is when the game was less than three minutes old.
I don't normally listen to pundits, but Jermaine Jenis, has just come out with something very interesting with regards Lukaku, and why he thinks that he was a Chelsea signing rather than a Tuchel signing.
Just mere speculation but, for a manager who seems to build his teams on workrate, it's a signing I couldn't get my head around, so maybe managers like being in control for a reason?
Was Calvert-Lewin's penalty his first touch of the ball with his feet today?
Paul Swan
332
Posted 02/01/2022 at 23:05:35
Steve #325
A line crossed for me. Absolute shit-show of tactics and organisation today.
Who replaces him? On his recent performance, the 5lb Tesco free-range turkey I recently cooked – complete with an onion up its arse – could do a better job.
Tony Abrahams
333
Posted 02/01/2022 at 23:13:40
Jermaine Jenas has summed Everton up and not just on today's game, but for most of the season, imo.
Unorganised, gap's everywhere, "defence going one way, midfield going the other way", and this is supposed to be one of Benitez's main managerial strengths.
Rob Dolby
334
Posted 02/01/2022 at 23:14:32
Tom @324.
Why put him on the bench if he had no intention of using him?
It was a show of power in my opinion that has backfired. He puts his own ego Infront of the good of the club.
Tuchel just dropped Lukaku all together.
Do you honestly believe we will come good under Benitez.?
Ignoring the latest horror show, Can someone explain what formations and tactics are being deployed? I need the same comfort as some on here as my small mind is struggling to understand.

Mike Doyle
335
Posted 02/01/2022 at 23:14:55
Just listening to Jenas & Shearer on MotD confirming what we already knew:
1) Allan & Doucouré outnumbered/overrun vs Brighton's 4 in midfield
2) Manager decides the set up and tactics. It's his fault.
As an aside, credit to Anthony Gordon. 2 goals & penalty earned – and worked his bollocks off.
In other news. Rafa's Mike Walker impression coming along really well.
Andrew Bentley
336
Posted 02/01/2022 at 23:20:00
Peter @319 why the need to call people "small-minded supporters" for having different opinions than you?!?
I love ToffeeWeb for its diverse opinions, the arguments, the banter, with all of us aligned on our love for this club. It's like the virtual pub where we can go to celebrate or wallow after each game.
You can argue people's opinions and challenge facts and comments but leave it out calling other Everton fans names for not seeing it the same way as you.
Ernie Baywood
337
Posted 02/01/2022 at 23:20:05
Tom 326... you don't think we can find someone who isn't:
- An ex red manager who belittled our club
- A negative footballing dinosaur
- Prone to constantly playing Solomon Rondon
- Constantly falling out with our best players
- A divisive figure at the club
No? We don't even need to set the bar too high. Someone who can deliver more than one win in over a quarter of a year?
The answer is that almost anyone with some managerial credentials improves this situation. He's a cancer in our club. And I don't even really blame him. We're getting exactly what we paid for.
How does anyone think Benitez should still be in charge?
Tom Harvey
338
Posted 02/01/2022 at 23:24:33
Steve Brown @ 328
"Tom, if the 'Who will replace him?' line is best you can do to justify retaining Benitez, then I suggest you try a lot harder."
We can all be grateful you're not making the important decisions.
No club would sack a manager without any idea of who will replace him. I'm not the one who has to try harder.
Peter Carpenter
339
Posted 02/01/2022 at 23:24:50
At half-time, all the Brighton subs were on the pitch doing a vigorous warm-up including some specific drills. A couple of minutes before the restart Rondon and Iwobi wandered on and passed a ball half-heartedly between them (Iwobi mis-controlling at least once).
The whole thing looks like an amateurish, directionless, leaderless mess.
Tom Harvey
340
Posted 02/01/2022 at 23:26:49
Ernie @337,
Give us all a name?
If you can't, you're struggling – just like the rest of us and the club.
Jerome Shields
341
Posted 02/01/2022 at 23:27:44
Watched MotD. What seems to have happened is that Everton practised as playing this formation against Brighton during training, as well as the set-pieces, but on the pitch it is clear that the players hadn't a clue how to play in that formation, which was exasperated by defensive errors and losing possession. The defending of set piece practise on the training ground was totally ignored during the game.
Rafa hasn't copped on that he doesn't have the players to play the formation he wants to play. Ancelotti copped on quicker and said so.
Tony#333
That occurred to me as soon as Calvert-Lewin was about to take the penalty. Not his strong point.
Christy Ring
342
Posted 02/01/2022 at 23:29:26
Just watched MotD and Jenas and Shearer couldn't believe our lineup. How can you back a manager who played Coleman at left-back because he was too thick to start Digne?
Five at the back at home to Brighton and totally lost with two in midfield, he's now totally in charge and hasn't a fucking clue!
Steve Brown
343
Posted 02/01/2022 at 23:35:24
Tom @ 338, every club has contingency plans for such eventualities. It is called risk management.
Manchester United, Aston Villa, Spurs, Watford, Newcastle and Norwich have all managed to change their manager, so pardon me if I find your comments laughable.
Jerome Shields
344
Posted 02/01/2022 at 23:40:43
Christy #342,
As soon as I saw the team selected after the break, I wasn't confident either.
Brian Murray
345
Posted 02/01/2022 at 23:42:40
Looks like we have two proper full-backs coming in. It's a start and if they have any awareness and can defend, it's best keeping them away from Keane and Finch Farm even. It's a start, I suppose.
Jim Lloyd
346
Posted 02/01/2022 at 23:43:43
I think that hatred is getting the better of some supporters' judgement.
Outside of the first 11, which is by no means good enough to get into European places, we've got kids... plus those like Iwobi, Gbamin, Gomes, Delph, He who shall not be named, Rondon, Kenny, Holgate and Tosun and maybe others who I can't remember. None of them have, in my view, done enough for me to start crying if they aren't selected.
Then we've got injuries to Mina, Richarlison and Townsend, men who I'd definitely like to see in the team or coming off the bench to play, including the lads who played at Chelsea.
Branthwaite looks good enough; but at present, his partners like Keane, who isn't good enough, and Godfrey, who is learning his trade, then Mina, good enough... when he's fit. So not a lot to choose from.
Some people were clapping or cheering Digne but I think his last two seasons have been poor. If we are going to get players in, then who's going to select them? Kenwright?? Ferguson??? A committee; which has been a problem that has undermined our managers for years???
No, I don't want to see a change of manager. Certainly not one demanded by a section of fans, without any thought of who we bring in, either the players or as manager. I'd have thought this club has had enough turmoil without heading off into an unknown future with an unknown manager picking unknown players.
Bill Watson
347
Posted 02/01/2022 at 00:05:44
I watched MotD to see if we were really as bad as it seemed at the game. I think it seemed even worse.
Interestingly, the pundits agreed with my own view and that of many posters on here; the set up was a disaster in the making, the two in midfield were totally overrun (again) and the manager seemed incapable of changing it around (yet again).
Everyone except Benitez can see the problem is selection, formation and on-going game management. Is it now just the one last-gasp win in 12 or 13? What other so-called 'big' club would tolerate such dire results and performances? It's nailed on relegation form.
Barry Hesketh
348
Posted 02/01/2022 at 00:08:37
Jim @346,
I don't hate our manager, but I really don't like what he's doing with the team; he claims that he knows what the fans want – but he really really doesn't.
Ancelotti got away with defending deep at Goodison for many games, mainly because the place was empty due to Covid. Evertonians only ever want what is best for the club; they also want to see Everton playing on the front foot at home to most clubs.
Obviously, there are three or four sides when playing on the front foot would be footballing suicide. Brighton and their ilk aren't those sort of sides and inviting pressure from the first minute against teams such as Brighton is footballing suicide of a different kind.
I realise and acknowledge that there is a significant proportion of Evertonians who never wanted Benitez and will never accept seeing him in the home dugout at Goodison. Today, when Everton started to go at Brighton, the crowd did get behind the team, whether they wanted Benitez or not.
The Spaniard didn't help his cause today with an extremely strange team selection and with apparently no game plan. I could accept some of his more bizarre decisions if I could see any semblance of any particular department of the team performing as units.
What I saw today was a mish-mash of players, performing as individuals, even the good ones, such as Gordon and Gray, didn't seem to be part of a pattern and the two in midfield played like complete strangers and didn't complement each other. The less said about the whole back five, the better as nobody from that department came out of the game with any credit.
Benitez is the manager for now and maybe for the next few years; however, if the team continues to look as disjointed for much longer and continues to lose as often as it is doing, then – love him or hate him – his position as manager will come under serious threat.
He's the manager of Everton Football Club; he bears full responsibility for its performances on the pitch and its results.
Paul Hewitt
349
Posted 03/01/2022 at 00:11:18
I wanted Benitez in the summer, I'm not afraid to admit it, and he has been hampered with injuries. I've stuck by him during this terrible run, thinking once the injured players are back, we would get better. But today was totally ridiculous.
PlayIng Coleman, who is past it, a right-back playing left-back, was terrible. Playing 5 defenders at home to Brighton, who have won only 1 in 11 before today, and two in midfield against their three.
We have two new signing now so I'm willing to give Benitez the Leicester and Norwich games. But anything less than 6 points and he should be sacked.
Mike Gaynes
350
Posted 03/01/2022 at 00:13:18
Daniel, Ernie and Tony, please find another adjective.
Steve #328, try answering the question. Soren's list is a fantasy. None of those would come to Everton even if we could afford them, which we can't. And if it's not yet clear to you that this club doesn't have a contingency plan for anything, you've been in a coma for years.
Brian Wilkinson
351
Posted 02/01/2022 at 00:14:46
Could be worse, we could have already played a further 3 games, had they not been called off.
Those 3 games in the bank could turn out to be a blessing.
That is the only positive I can take from today.
Ed Prytherch
352
Posted 03/01/2022 at 00:16:02
We have only heard agent Benitez's version of what went on between him and Digne. The fact is that Ancelotti turned a leaky defence into a much better one. Digne was part of that and he has now seen us go backwards under Benitez.
Distin saw the same thing happen under Martinez and neither of them was able to hold his tongue. It is easy to say that Digne should not play because he wants out but, if he really does want to go, then it is because of Benitez,
The longer Benitez is in charge, the more damage he will do. Get shut ASAP. I don't trust him any further than I can throw his fat arse.
Brian Wilkinson
353
Posted 03/01/2022 at 00:23:14
If it was not for his dodgy ticker, with all the names banded about, I would have given Glenn Hoddle a go if things do not improve.
Well after hearing Rooney and Ferguson, I would certainly have had Hoddle first.
Sadly I feel the job at Everton is a step too far to risk for his health.
Kieran Kinsella
354
Posted 03/01/2022 at 00:32:04
Brian Wilkinson,
Irrelevant to his credentials but my Mom taught Glenn Hoddle in high school. He later opened The Glenn Hoddle sports shop in our town. His brother ran a pub in town called The Cock Inn (no need to explain how that name earned the pub a certain reputation).
Hoddle's medium woman was my Grandad's neighbour. One of his mates worked with me in a bar and leaked us the '98 World Cup squad early, Gazza out and all.
Anyway, that apart, his heart and his views on disabled people probably preclude him. Sorry we didn't have much going on in our town then other than when Beckham bought a disused mental asylum across the street and turned it into a mansion. So I get excited reminiscing.
Alan Moss
355
Posted 03/01/2022 at 00:33:52
Jim Lloyd @346... hatred getting the better of judgement, seriously?!
We're 15th in the Premier League after half a season and playing terribly.
What part of that is acceptable to you?
Clive Mitchell
356
Posted 03/01/2022 at 00:50:16
Peter Carpenter, 285 – bullseye comments.
Most people seem to agree Benitez has to go. In the last 12 games – a third of a season – he's collected 6 points. So we're operating at the rate of 19 points a season.
Quite a few say "who's going to replace him?" The answer is, when you're in this deep, you have to roll the dice and anyone from Krusty the Klown up is worth a go.
I think most of us realise the owner is desperate not to sack Benitez; perhaps a lot of us can understand why, but there's no way back from this. Lance the boil.
If you have to give it to Ferguson and Unsworth, so be it. At least they won't field a starting 11 that includes Coleman, Kenny and Holgate, Keane and Godfrey, at home to Brighton, and with Gomes, Gbamin and Iwobi on the bench.
Phil Lewis
357
Posted 03/01/2022 at 00:58:51
I couldn't care less who Benitez has managed before us. My sole concern is the performance of Everton under his management.
Clearly we lack throughout the team. Doucouré was the worst player on the pitch today. He should have been replaced at half-time. The only players to come out with credit were Gordon, Gray and Pickford. The rest were abysmal. Things must improve quickly or, make no mistake, we are going down.
Benitez is yesterday's man. His methods are outdated and ineffective. His decisions lack both imagination and courage. Alledged disputes with certain players, notably Digne, do not suggest a strong-willed manager to me.
Benitez's selections and decisions have all the hallmarks of stubborn Spanish machismo. Once he is on a particular path, no amount of cajoling orderliness will shift him from it. His 'my way or the highway' attitude may well backfire on him.
Branthwaite and other youngsters came in and performed admirably, as did certain other young players. Yet they were totally discarded today. Lesser players were selected in preference. Benitez has to take responsibility for these grave errors. All a consequence of his stubborn pig-headed incompetence.
As soon as the teamsheet was named, it was clearly evident that we were doomed before the first ball was kicked. Five at the back, with two right-backs selected. Where was the balance? Pathetic all round.
Rafa, time is surely rapidly running out for you.
Joe Digney
358
Posted 03/01/2022 at 01:14:14
One of the most worrying things about yesterday wasn't just the result but seeing The Bobble on Twitter say how much power Benitez actually has; not even at the shite was he given such free reigns.
He's going nowhere anytime soon, hence they are still allowing him to spend money, with the Paterson deal all but done.
He must have manipulated Moshiri well and truly into thinking his stubborn way is the only way forward for the club.
Digne will be laughing his head off when he swans off to play Champions League football this month.
Mike Gaynes
359
Posted 03/01/2022 at 01:17:28
Phil, not sure Branthwaite was "discarded"... he didn't train this week.
Ernie Baywood
360
Posted 03/01/2022 at 01:18:07
Mike, "cancer" and "cancerous" are legitimate words. They're in common use and indicate something bad that spreads and continues to get worse until you remove it. So I'll continue to use those words because they make sense and convey what I'm trying to express.
As for the list of managers you want, when did that become my job?
Put an advert out to manager agents. Use networks. Interview and see how aligned they are to what we're trying to achieve. If that's a short-term appointment to achieve survival, then assemble an interview board and have them present on how they would go about it.
There are more managers out there than the 20 or so that would spring to mind.
And don't appointment someone who will immediately divide the club further. Appoint someone who you believe can get the club together for a push at survival.
And maybe that's what is underpinning this apathy from some on here around our manager. They feel we'll be safe.
We've won 1 in our last 12. It's not fantasy to suggest we could go down. I think we'll be right in that fight with our current approach. Our form is absolutely dreadful. In fact, it's the worst in the Premier League during that time. Now is not the time for inactivity.
Don Alexander
361
Posted 03/01/2022 at 01:23:42
Just why, after every regularly embarrassing performance, do so many of us turn on the latest manager appointed by Lawd Knows Who in, or over, our "exalted" non-entity boardroom as the sole cause of our inbred ineptitude?
Every one of our 21st Century managers has shown with other clubs that they know the way to some success, yet they've all spectacularly failed in Finch Farm, still occupied by Kenwright's ever-present ass-kissing ex-players, erm, "coaches", every ex-managers' chosen coaches never finding a way to meld with them.
I never wanted Benitez with us but I imagine that, throughout the world of professional football, our club, still one of the 50 top-paying clubs as it is, has long since been recognised by self-serving agents and lazy uncommitted players who can't believe the generosity of the contracts we offered them to sign on.
Still, let's pour the blame on the latest self-serving manger, eh, and completely overlook the in-depth analysis of Paul the Esk as to where the ever thriving cancer of ineptitude is centred.
Neither he nor I have ever gone out of our way to slaughter this month's manager whilst the true author of our worsening demise smugly remains for decades, now fabulously rich via the inept Moshiri, in the ground's best seat with his guards all around him.
Appointing another manager is akin to expecting an elastoplast to stem the bleeding of a bayoneted body. It simply won't make the slightest difference to our fate.
The cancer in our midst for decades, and his hand-picked minions, need to be eviscerated before we can even hope to get lucky under our mysterious owner(s).
Happy New Year? As if!!
Nicholas Howard
362
Posted 03/01/2022 at 01:25:39
We played shit, tactics were beyond repair, except a few fighters like Gordan and Gray... the rest, just meh.
I seldom criticize players' characters but, after this match, I found myself holding grudges towards Mason Holgate.
We were down 1-2, at one of our corners. Instead of building intensity to get our equalizer, he, Mason Holgate joked and put up a 'smiling arse' laughing face with Brighton defender.
I can't stand the fact he still can laugh and joke while putting on such a shambolic defensive stunt.
i Just don't want to see him In Everton shirt ever again.
Mike Gaynes
363
Posted 03/01/2022 at 01:33:17
Ernie #360, if you can't understand why those terms are overstatements and make some people uncomfortable, I won't try to explain it to you.
And I didn't ask you to hire a manager. I just asked folks who they'd choose to replace Benitez. For weeks now, the suggestions have ranged from the fantastic -- Potter, Zidane, Valverde, Pirlo and others we could never get or afford -- to the ridiculous, namely two certain ex-strikers whose only qualification is having played for us. Not one person has submitted a thoughtful, realistic suggestion. Not one.
Sacking the manager out of panic and replacing him with whoever happens to be unemployed this month is not a course of action. A course of action is intelligently replacing the manager with someone who can reasonably be expected to do the job better.
And "roll the dice and anyone from Krusty the Klown up is worth a go"and variations on that theme are simply panic. The idea that "things can't get worse" with a new guy is massively mistaken in my opinion.
Jack Convery
365
Posted 03/01/2022 at 02:01:57
Muggles undone by Potters wizardry.
Phillip Warrington
366
Posted 03/01/2022 at 02:25:09
So I take it we have got a new left-back and a new right-back. Does anybody know if we are losing any players? And what is the deal with Gylfi Sigurdsson?
Happy New Year to you Evertonians and hopefully this year might not turn out so bad after all.
Jay Wood
[BRZ]
367
Posted 03/01/2022 at 02:32:14
Mike Gaynes, let me offer a realistic and interesting name for manager:
Abel Ferreira.
Who, you ask?
He is the 43-year-old Portuguese manager of Palmeiras here in Brazil.
In less than 2 years, he won the Brazilian cup and the Libertadores (South America's Champions League equivalent) in his first season and followed up by defending and winning the Libertadores again this season.
He has done so working with what the club has. He has not signed one single player during his time at Palmeiras.
He has only been a first-team manager for less than 5 years. First with Braga in Portugal where he finished 4th in his first season behind Portugal's big three, Benfica, Sporting and Porto, qualifying them for the Europa League.
He moved to PAOK in Greece where he finished 2nd in the league and reached the Greek Cup semi-final before moving to Palmeiras.
A track-suited training-ground manager, his teams play with defensive solidity and resilience and rapid counter-attacking. On the touchline, he is like a hybrid of a young Mourinho and Conte. On speed!
He lives and kicks every ball and the fourth official would be wise to use ear plugs 'cos Ferreira is in his ear all game. He's had a few banishments to the stands as a result. Goodison would love him.
Currently between seasons (other than the World Club Championship this month), his contract expires in June, so the right offer could tempt him back to Europe.
I doubt, with Brands gone, there is anyone left at Everton who has got an inkling of Ferreira or anyone like him.
But there are good managers out there.
Derek Moore
368
Posted 03/01/2022 at 02:55:16
I'm truly baffled by those who say "we cannot afford a managerial change" when that clearly and obviously is untrue. We're building a stadium worth a couple of hundred million quid; the owner just found eighteen million down the back of the couch for a new left back.
We clearly do have enough money to get rid of Benitez. Whether the owner wishes to spend that money of course is another matter. But we're not stuck with Benitez due to penury.
FWIW I thought we should have got Gerardo Martino a few years ago when he was in the MLS. And with recent results going against him in the Mexican national job, perhaps he could be persuaded, Ancelotti style, to come even now.
But regardless, insisting Benitez is "the best we can do", or even worse, is all we can afford is just risible nonsense. And deserves to be treated as such.
And Don Alexander, please refrain from posting links to that execrable kopite. Farley is to "scouse wit" as Derek Chauvin is to community policing. I've received parking tickets more amusing.
Ian Riley
369
Posted 03/01/2022 at 03:06:01
It anyone thinks the manager and owner are not bothered about our results is laughable. Rafa knows poor results will dictate his tenure. The players are not working hard enough and this has been happening for a while. It's been now and then putting in a shift. We have no leaders on the pitch. Who is bollicking who? The players must take more responsibility! Digne has not been playing well for a while and the manager expects more, good, drop him, sell him then move on. It sends a signal to every squad player to raise your game.
The squad will need considerable overhaul in the next two seasons. Players will leave, end of contract, not in our plans. If the manager should leave? Fine, but we must accept this will be putting a plaster over a deep wound. For me, I will take 16th in the league as long as the current manager roots out those players who need to be moved on. Whoever our manager is this is a big job in planning, restructuring, and purchasing to keep us in the league for seasons to come and bring success.
I believe rafa can get us through this spell and plan for the future. No disrespect to Hoddle, Rooney, Ferguson written about here but no no no. Remember the squad needs an experienced manager to build over years. This is no quick fix whoever is in charge.
Mike Gaynes
370
Posted 03/01/2022 at 03:07:11
Jay, I know of him. I watched the Copa final a few weeks ago on tape delay. Palmeiras was not exactly elegant, but they played their asses off every minute. Enjoyed watching their manager doing sprints down the touchline.
But I assumed Ferreira was local/Brazilian... didn't know he was Portuguese. Hmmm.
Gallardo's name was occasionally mentioned during our previous manager search. Only 45 and speaks English and French. What are your thoughts on him?
Mike Gaynes
371
Posted 03/01/2022 at 03:19:18
Derek #368, didn't you tout Tata Martino when we sacked Koeman, or was that somebody else here? I like the idea. He'd have been a great hire, but obviously Mexico was a more attractive offer. Not so much now. He might be at liberty soon after the latest stompings from the
USA! USA! USA!
Of course we can afford to replace Benitez, if his replacement isn't currently employed. What we can't afford to do is hire away another team's manager (Potter) or pay the moon for a high-profile guy (Valverde, Zidane), both of which have been ridiculously suggested here.
Derek Moore
372
Posted 03/01/2022 at 03:19:58
For others reference, the Gallardo Mike Gaynes mentions recently won the South American manager of the year award three years in a row, and is River Plates most successful boss ever. He continues to hold that role until today.
It would take a monumental effort to get him as he has connections with Monaco and PSG, two clubs he turned out for during his long playing career. But if we lured Ancelotti briefly, then surely worth a shot at it.
I did want and tout Martino a while back. Was it Steve Ferns who suggested Bielsa? Saw Martino at Atlanta I think, and thought he could bring a similar energy and ethos to the incumbent Leeds boss.
Christine Foster
373
Posted 03/01/2022 at 03:29:53
When Moshiri hired Sam Allardyce, he did so to protect his investment and keep the team in the Premier league. Arguably we were not in as bad a state as we are now, forget how much has been spent, forget the plan, right now I would say we are at a critical point. In my view the team does not have the capability or quality to stop the rot. Benitez, instead of forging a well organized and defensively sound base, he has been responsible so far for the loss of James and now It looks like Digne as well. One might have forgiven his intransigence if his style or team actually won games, but it is irresponsible to get rid of internationals of known quality without care or concern leaving the team, and club vulnerable.
Benitez has failed to not only inspire a group of players but has alienated the best of them. A major concern even should he stay and we avoid relegation, would be the future of Richarlison and DCL. Are they next on his my way or the highway ego trip? More than likely the pair would want to leave.
Moshiri has, once again, a choice ao a gamble. The gamble is keeping Benitez, backing him in the transfer window and praying to God he gets it right. Or he gambles on a new manager with an ability to get us out of the hole and raise our game. Both choices are critical decisions made worse given the transfer window has just opened. Moshiri is in a back him or sack him now position. Either way it's a gamble but given he has done this before I believe he will do it again. The short term lift is to let Ferguson have it until another appointment, but it's twixt the devil and the deep blue sea.
Right now we need to win 7 or 8 more matches, a new manager gets a bump of two or three wins, three or four draws and we are in with a fighting chance. What is clear is that Moshiri needs to make his call, if he backs him he has to curtail his arrogance and get the best out of what we have. We are on a slippy slope, someone has to dig their heels in.
Jay Wood
[BRZ]
374
Posted 03/01/2022 at 03:31:12
Gallardo without doubt is an interesting coach Mike.
In a very short time he has become River Plates most successful manager and is revered by the club's fans. He must be unique in the football world for having a statue sculptured of him outside the stadium when still manager of the club and still so young.
However, that is the question mark against him. He has only managed in one country in (by comparison to European leagues) a middling league, although his success in continental club competition is impressive.
If he was recruited by a European team it could go very well. Or equally, very badly. But then that is true of all appointments.
Nicholas Ryan
375
Posted 03/01/2022 at 03:36:51
"You think it's only the players" ... as someone famously said!
Don Alexander
376
Posted 03/01/2022 at 03:46:52
Derek (#368) Darren Farley is an admittedly acquired taste but he is becoming more popular on world-wide social media on account of his mickey-taking postures on all sorts of Premier League "legends". His routine at the moment is limited to about six or seven clubs though, of which we are one in the persona of Benitez.
To me he reflects the disquiet I and many other TW'ers have expressed about Benitez being our manager at all. I don't in any way want to encourage Moshiri et al into ever being able to claim even a modicum of credibility for appointing him. To me he's way past his sell-by date but, before anyone might ask me, I don't have a clue who might be a better manager for us given the decades-long demise of our club as trophy winner contenders.
Cheers Kenwright!
Jay Harris
377
Posted 03/01/2022 at 04:09:11
And IF DCL hadnt missed the penalty we would not have lost.
Benitez didnt make the defensive mistakes that gave Brighton their 3 goals. That had nothing to do with setup or tactics it was just really bad play by the usual suspects.
Keane and Holgate are a disaster together and IM sure if Brandthwaite hadnt got Covid he would have played today and made a difference.
We are a dreadful squad with 2 or 3 exceptionally good players but if any are not playing like Richy or not firing on all cylinders yet like DCL that gives the manager a poor choice of players or formation.
I cant defend our recent poor run of results but it is wrong to blame it all on Benitez IMO.
Mike Gaynes
378
Posted 03/01/2022 at 04:59:58
Atlanta it was, Derek, and I thought it was you who brought up Tata's name. He not only won in Atlanta, he made them the most exciting team in MLS at the time.
Jay, yeah, and in addition to his wild local popularity, doesn't Gallardo have his son in his team? He'd definitely be a tough get.
Bobby Mallon
379
Posted 03/01/2022 at 05:10:46
Jay Harris you just wrote
Keane and Holgate are a disaster together. Well who picked that central defensive pairing. I'm sure it wasn't Pickford or any of the players. Who picked Coleman to play left back, who played 2 in midfield. Rafa did, so he's to blame end of. Players play to a system they are coached and play where they are told to.
Bobby Mallon
380
Posted 03/01/2022 at 05:14:15
Peter Rogers 319. If we keep him as manager we will be relegated this season.
Danny Baily
381
Posted 03/01/2022 at 05:20:49
Jay, wake up. This is the worst we've been since the 90's. A RS legend is taking us down. It baffles me that anyone can defend Benitez at this point.
It's not about Palace or Villa away, it's about Watford and Brighton at home. These opportunities to put points on the board are passing us by. I've no doubt that Ferguson as caretaker would have given us a better chance of 3 pts yesterday.
Some sort of collective madness has gripped us where we feel obliged to stand by a manager presiding over our worst season since 1994. Get. Rid. Now.
Craig Harrison
382
Posted 03/01/2022 at 05:26:15
Maybe we can sign lukaku on loan
Bobby Mallon
383
Posted 03/01/2022 at 05:29:15
The first goal was godfreys fault, why didn't he just bloody jump. The second was not having a defender on the fucking post. Why has this simple but effective way of defending a corner been abandoned. The 3 rd goal was just a great strike.
Paul Ward
384
Posted 03/01/2022 at 05:30:55
TONY TWIST # 105, "Gardening duty for Benitez it is then if we can't afford to sack him. Then, unfortunately, Big Dunc in to try and save things".
Maybe be a bit tongue in cheek by Tony but I would reluctantly trust DF to keep us up rather than Benitez. Dunk I think would also have a much better relationship with the players. And just for the sacked medical staff, James and Digne keep Benitez on as Big Dunks assistant or kit man.
Brian Murray
385
Posted 03/01/2022 at 05:42:18
Don 376. i obviously don't know you or know how naive you are not but Score pointing snidey kopite of a comedian can't wait to stick it to efc. Hes never remotely had a go at lfc in any way. Darren Farley. mildly amusing red shiester.
Brian Murray
386
Posted 03/01/2022 at 05:56:09
Danny O'Neil. Great to have a bev with you before the match. I wasn't in the mood for a drink after plus up a bit handy today. Hey that hall pass you get off your wife that leaves you 200 sovs lighter in the pocket. Is it all still worth it ? Maybe save up for Wembley in may instead. Sorry just trying to dip my toe in your blue positive world pool. Two proper full backs on the way so maybe the ridge backs might still have a spring in their step. Coyb kenright out
Darren Hind
387
Posted 03/01/2022 at 06:28:21
Rob
It was not audacity which prompted criticism of Ancelotti. It was obligation. The guy was committing crimes against football on a weekly basis. He is a major part in our struggles this season. He may be enjoying his steering job over in Spain at the moment but, as predicted by many, he was well and truly found out when asked to do a building job.
Carlo's dealings in the transfer market were appalling. One of his signings didn't want to play and the other two couldn't play. I'm getting a little sick of people talking about his signings as if they in any way decent. £50M-plus spent on Doucouré and Allan, yet every week we see journeymen go through them like piss through snow.
It's not just these two. It's every midfield player we sign. How many times have have we dominated possession of the ball in the past three seasons? Why do we never have the lion's share of play? We can't keep exonerating managers for this. They are the ones who signed them. They are the ones who instruct them to spoil the games.
The suggestion made elsewhere that our steady stream of failures were decent elsewhere is complete nonsense too. Moyes, Martinez, Silva, Allardyce and Rafa have all been relegated with other clubs... Koeman would have had the R-word on his CV too if he wasnt saved from the free-fall he had us in.
Carlo was a complete failure too. Seven wrongs don't make a right.
Eric Myles
388
Posted 03/01/2022 at 06:59:45
Paul #384.
Not only a good relationship with the players but I remember a Leon Osman interview about the times Dunc was Captain for the day.
He said, "You wouldn't want to come off the pitch if you hadn't followed Dunc's instructions."
Maybe that's what our team needs at the moment!
Svein-Roger Jensen
389
Posted 03/01/2022 at 07:42:21
Everton's first ever league defeat to Brentford. First ever home league defeat to Brighton. Defeats to Watford at home, Palace away which hadn't happened in 20 years.
Benitez Breaking Records.
Danny O'Neill
390
Posted 03/01/2022 at 07:43:27
Brian, good to see you too. I understand and I didn't hang around myself.
The morning after the day before.
Not a lot to add, but I did want to add to the Gordon comments and what I'd said after the match regarding him and Gray being amongst the few who came out of that with any sort of credit. The Brighton fans I was talking to on the way home kept raving about him.
A bit like Jonjoe Kenny after Chelsea, he went to the crowd (Paddock towards the Gwladys Street) to offer his shirt. Very different circumstances but didn't shirk facing the potential music. Showing more and more maturity on top of the talent that is developing nicely. I know it's only a gesture in the midst of a defeat, but nonetheless, it's more than some of the senior players show.
My dogs are a breed known as Lion Hunters. Next week, it's Tigers.
Derek Moore
391
Posted 03/01/2022 at 07:55:09
This club is doing my head in, and I'm starting to take it out on those around me. Both those in my personal life, and some poor sods on here in the wrong place at the wrong time.
My son asked me this afternoon why I keep watching them when they wind me up so much? Tradition, commitment, and that feeling of belonging to something bigger than yourself was all I could muster. Plus, it wasn't always like this. He remains unconvinced.
My genuine apologies to all on here I've been snidey to. It ends up on reflecting on me anyway, as my wife points out, but trying to ruin other supporters' days because I'm allowing the club to ruin mine is as juvenile as it gets really. I'll own that, and I'll do better.
So many posters here obviously have the experience, intellect, skills and mental makeup to take the club forward if they were given the responsibility and power to do so. To see such an incredible fanbase so under-utilized and under-represented by EFC leadership is borderline criminal at one end, and gross stupidity personified at the other.
Might have to take a step back, or find some of the infinite optimism the likes of Danny O'Neill possess. But I can't keep going on like this. Football is supposed to be a pleasant distraction and a shared pleasure... for me, it's like a nightmare I can tune into on the weekend and an argument in a hundred thousand parts.
My apologies again. It matters to me, and makes me so angry that club leadership don't seem to demonstrate the same depth of feeling.

Danny O'Neill
392
Posted 03/01/2022 at 08:01:42
One thing that frustrated me most about yesterday's performance was our reluctance to keep the ball and retain possession.
Too many of our players seem fearful of the football and were punting it aimlessly forward like Rugby Union players seeking to try and gain territorial advantage rather than keeping the ball. We kept forcing the game rather than controlling the game and being patient. Worlds apart, but Manchester City against Arsenal this weekend anyone?
Okay, we were chasing the game, but keep the football. Be comfortable with the football. Use the football. It's football. The clue is in the name of the game. You don't win football without having the football.
We can change the manager again, but we need better players. My blatantly stating the obvious scratched record is spinning again.
I said I had nothing to add. I probably haven't added anything useful. Let's just all let each other vent!!
Mick O'Malley
393
Posted 03/01/2022 at 08:11:07
Jim @346,
I'll admit I absolutely despise Benitez with a passion, he is doing an atrocious job and he needs to be gone pronto.
Ian Edwards at various, I wish I was thick like Rooney, all those medals and caps, goals galore and accolades galore, all the cars and houses... yes, he must be thick!!!
Derek Moore
394
Posted 03/01/2022 at 08:11:49
Problem is, Danny, I'm reducing my social circle to Jack Daniels and a Scottish gent named Mr Walker!
You'se all vent, I'll try biting my tongue. For a change.
ps: It really pisses me off how little we value the ball as well, Danny! I'm on the call in list for a local team and the fundamentals they stress are getting, holding and valuing the footy. Then I go and watch us play and feel I've entered the twilight zone...!
I'll bite down harder next time. Next time.
Svein-Roger Jensen
395
Posted 03/01/2022 at 08:45:34
Totally inept by Benitez, wrong selection, wrong formation, players out of position, appalling substitutions. Team clueless in possession, terrible in defence.
Difficult to over emphasise how poor that display was (Gordon aside). Worst performance of the season. Deeply concerning.
Martin Mason
396
Posted 03/01/2022 at 08:55:11
It's not that we can't afford to sack Benitez – only that the money could be spent on something useful, like players not in the pocket of our incompetent coach. Please don't call him a manager.
Gerry Killen
397
Posted 03/01/2022 at 08:57:52
Dave Lynch @45,
I'm glad someone noticed that. Go back and have a look at nearly all the goals against us this season have been shots or headers into an open goal where a full-back should be standing holding on to the post to cover the space where the goalie has gone out to stop the attacker.
I know sod all about zonal marking but, when I played, the full-backs were each told to guard the posts when under attack, mainly by the captain or the goalie; it was a basic thing to do.
Wishing all TWers all the best and don't give up yet. COYB
Derek Moore
398
Posted 03/01/2022 at 08:58:32
If Benitez is the weakest link, then the money
is
best spent on his replacement, Martin.
I'm quite sure that's what the "Benitez Out" crowd are saying.
Len Hawkins
399
Posted 03/01/2022 at 09:03:47
Derek #391,
I know exactly how you feel. I have no life at present. My wife is suffering from a severe form of Parkinsons and me being tied to the house 24/7 on top of that she now has vascular dementia and it is a real struggle I can't even understand her when she is talking to me. She cannot walk move herself she is totally reliant on me and the carers who come in.
The one thing I thought would keep me sane was sport. Luckily, I used to go to watch Saints in the Rugby League (my wife being from St Helens) but, having first gone to Goodison in 1965, I have to agree with Alan Ball when he said once Everton touches you it is in your heart.
So, although Saints have been the polar opposite of Everton and I enjoy watching them on Sky and they have been successful, still the rot that has been creeping up for damn-near 30 years at Goodison Park, along with the other problems, is ripping my heart out.
I have never known Everton be relegated during the time since I was first touched by the Blues – unlike Man City, Man Utd, Liverpool, Chelsea, who have made the Top 6 their own, along with Arsenal and Tottenham.
There is nothing that gives me any form of optimism at Everton, the running of the club since the '80s with Phillip Carter at the helm has been nothing short of a disgrace. Like you, I get very downhearted and snapping at loved ones, especially my poor wife, as there is no optimism just hope as each manager comes and sheer despair with the devastation they leave in their wake.
I hate Kenwright for his reign over this stagnation and the absolute bullshit he spouts: "other clubs always say what would Everton do?" Maybe when John Moores was at the helm and players would crawl over broken glass if Everton came in for them. What is there now to give us one iota of hope?
The only thing I can think of is Branthwaite, Gordon and Dobbin becoming the players we hope they can become and a complete clear-out of the Everton pensioners at Finch Farm. Not a winner amongst them.
The board led by the luckiest man in the world to have made £millions whilst investing peanuts and someone else's money.
Watching this club at the moment is like standing at the bed of your grandad, who used to take you as a child with him on the footplate of his steam loco, watching him passing slowly away knowing the most enjoyable part of your life is slipping away in front of you.
Like you, Derek, the only way I seem to release the pressure is by snapping at people who have done nothing wrong when the cause is mainly the cancer at Everton FC Co Ltd which urgently needs cutting out.
Rob Halligan
400
Posted 03/01/2022 at 09:17:27
Darren,
I wouldn't say Ancelotti was a complete failure. He recognised the utter dross he inherited only after he signed, and within time realised he wasn't going to be able to fix it.
Having two useless donkeys in the middle of your defence in Keane and Holgate didn't help his cause, hence the reason for defending so deep. It was like shaking your sieve when doing your Sunday roast, if you know what I mean. It was better when Mina was fit but, as I say, when he was fit. Ben Godfrey was bought to play as a centre-back, but how many times did he actually play there?
I will be like Danny now, and start repeating myself. Everywhere Ancelotti goes, he inherits world-class squads. He's only got to sign one or two players to his squad, it didn't need a full-blown overhaul, like he needed with us, hence the reason why he did one in the summer, the impact of FFP, and of course the lure of Real Madrid. (I've been once and wasn't impressed at all by the place, but that's for another day!)
You say he was a complete failure. Eleven away wins, including wins at Liverpool, Arsenal, Spurs, Leicester, and West Ham, along with a creditable draw at Man Utd, suggests otherwise. In fact there was only Man City who "did the double" over us, but who didn't they do that too?
Granted, the home record was atrocious, but again, whose wasn't, apart from again Man City? Liverpool lost six on the bounce, Man Utd, Chelsea, Arsenal, Spurs, Leicester all lost games at home.
To finish, Ancelotti got us to two cup quarter-finals, and one game from qualifying for Europe. Can you see that happening this season? Nah, me neither!
So overall, I wouldn't say Carlo was a complete failure.
Darren Hind
401
Posted 03/01/2022 at 09:22:54
Kinell Len.
What a powerful post. The one thing I can offer you is the thought that footy and the fortune of footy clubs can and do turn in a heartbeat.
Your personal circumstances would try anybody.
I know it will mean nothing or change nothing, but you are in my prayers today lad.
Tony Hill
402
Posted 03/01/2022 at 09:26:16
Yes, Len, I echo Darren's comment.
Derek Moore
403
Posted 03/01/2022 at 09:28:34
We all deserve better from this club, but Len, you deserve it more than anyone.
I just don't understand why something we love causes us to lash out at the people we love. That can't be right. It just doesn't make sense does it?
I'm sick of being hurt, but I'm finding it really difficult to look in the mirror after I've lashed out and hurt others. I don't know how this is going to finish, I just keep throwing up prayers that the club will work it out so I don't have to. But I'm really not sure that's going to happen either???
I'm incredibly lucky to have this community online, because here in New Zealand there isn't a lot of people who can relate to feeling this way. "If it makes you angry, stop watching" they say. But how to break the habits of a lifetime, of my father and his father before him? And as I said in my original post, I've even started to do my best to sabotage this wonderful place called ToffeeWeb as well. It can't, it won't continue.
What you have given me, Len, is an incredibly humbling insight into some of my fellow Evertonians – the greatest supporters, bar none, in the entire football universe. I'm not sure if there's anything I can ever do to repay you, such was the value of your post to me. The next time I send up a prayer to the big guy, I'll ask for the opportunity to repay your kind thoughtful words with some meaningful action of my own. Or pay it forward to somebody else.
Stay as strong as you can, Len, you've got a new friend in New Zealand pulling for you. I would love to buy you a coffee or something stronger the next time I go back home as well, mate. You and the people like you are the reason it matters so much. And that will never change.
Humbled, and grateful again.
Paul Tran
404
Posted 03/01/2022 at 09:31:48
The next month will be interesting.
Moshiri is the bad thoughtless punter who keeps chasing losses rather than studying the form. He's now run out of money like they all do.
He's backed himself into another corner. Not by appointing Benitez, but by taking his side and getting rid of Brands & a swathe of backroom staff. This means that either the gamble will work, or he has to publicly admit he was wrong and replace even more people.
I remember at one point Abramovitch made some daft 'he was good once' signings over the manager's head. He sorted all that out by appointing a proper CEO and giving a high level of autonomy to the person that negotiates the transfers.
The club needs a change of culture, but it will only work if the business changes first.
It's alwsys a huge gamble to put all your eggs in one basket, more so if it's Benitez at Everton.
My hope is that we stay mid-table till we move to BMD, then he sells to someone who knows how to delegate.
Tony Hill
405
Posted 03/01/2022 at 09:35:33
Rob @298,
I simply mean that the club has been erratically run for far too long and we are reaping the whirlwind. As for Benitez, I share Mike's views @363. If we dispose of the current manager mid-season then we'd best have a good option in waiting.
Interesting names from South America but the risk factor must be very high, even if they would come.
I agree with those who think we're in worrying times, very worrying, but we must not make them worse just for the satisfaction of seeing Benitez going out of the door.
Rob Halligan
406
Posted 03/01/2022 at 09:52:46
Len, I'm so sorry to skip your post in order to reply to Darren. I've just read your post now. Football kind of, or even does, become an irrelevance when reading of your situation.
Obviously, to a player, it's their livelihood, and so of course, it is relevant, but to fans, it's something we can drop, give up, forget, but of course we won't.
I lost both my parents on a Friday before a game the next day; my dad in fact died the day before we played Chelsea in the FA Cup replay a few years back, winning on penalties. I was in two minds as to whether I should go, but the missus, my brothers and other relations said I should, because it's what my parents would have wanted me to do, because it's in my blood, and because I'm bloody addicted to the club.
As much as we all want to rant and rave, kick the cat, fight verbally with people, we're all there the next match, and the one after, and the one after that. As Darren rightly says, things will turn, we will improve, we simply have too. There is no other way of looking at it.
Take care, Len, and best wishes to you and your wife.
Peter Neilson
407
Posted 03/01/2022 at 09:53:19
I originally thought Benitez would survive upto the Newcastle game and a win then would save him. Now, after backing him in the transfer market, I think Moshiri will stick with him through to at least the end of the season – regardless of the outcome.
No doubt Benitez will continue to drop players and choose inferior ones in the wrong position just to make a point of what he needs.
As David Brent said, "There may be no 'I' in team but there's a 'ME' if you look hard enough". Benitez is all about Benitez.
Ian Hollingworth
408
Posted 03/01/2022 at 09:59:27
Len, sorry to hear about your personal circumstances and it certainly puts things into perspective.
Everton means a lot to all of us on here but, at the end of the day, it's just a game and your post has snapped me out of the Brighton-caused downward spiral.
Onwards and upwards, we might win next week.
Darren Hind
409
Posted 03/01/2022 at 10:06:18
Fair enough, Rob.
Carlo could not be considered a failure on points alone and he did get that Anfield monkey off our backs.
We all see things differently, but I see football as an unrehearsed live entertainment. Managing Everton is an incredibly lucrative little number and I feel anyone in the job has an obligation to at least pit their wits against opponents.
I know many feel results are all-important but, for me, there has to be more to it than that. Results gained by stifling the opposition (often less-talented opposition, in Carlo's case) don't bring me the same joy.
I think Carlo took the piss out of thousands who gave him unconditional support. He abandoned the spirit of the game and, from that point of view, he will always, in my eyes, be a failure. I felt his departure was akin to sneaking out of a restaurant without paying for his dinner.
Moshir spells out his modus operandi very clearly. His last three appointments have all been safety-first merchants. The goal is a simple one: safety.
Because I have done nothing but criticise previous managers, I have tried very very hard to support Rafa. I wanted to break the cycle... but I think yesterday killed any hope of him getting it right. I know Digne would have been positioned to challenge that free header had Rafa not been so pig-headed.
Don't get me wrong: I don't blame Seamus for the free header or anything else for that matter. I hated seeing an Everton legend being hung out to dry by somebody who cares more about his own pride than our club.
Brent Stephens
410
Posted 03/01/2022 at 10:09:16
Len #399. My thoughts are with you, too. I can genuinely appreciate your situation with your wife, though not quite to the extent you describe. Football is indeed a welcome form of relief.
I suspect Benitez is here for the (comparative) long haul and I'm still optimistic that a few signings this month will start to turn things for us (and I'm sure I've said that before!).
Alan J Thompson
411
Posted 03/01/2022 at 10:11:08
How bad does it have to get before the only way is up? I just don't see any signs of change, never mind improvement, and, as some have said, there is now only a couple of blokes in Monaco and London who can do anything about finding someone who might be capable of the job he is hired to do.
It has been said that the only good thing about banging your head against the wall is when you stop but whoever and whenever somebody else is given the job, and they will, then failing to meet expectations must be valid reasons for dismissal without compensation.
Rob Halligan
412
Posted 03/01/2022 at 10:14:29
Just to add a correction to my post @ # 400, which I'm surprised nobody has noticed. Newcastle also done the double over us last season, but of course, what I meant was Man City was the only so-called Top 6 club to do the double over us!
Anthony Hawkins
413
Posted 03/01/2022 at 10:46:57
The significant issue is Benitez is currently un-sackable. No, he's not done well and should do much much better – but he's only spent £1.7M (I'm excluding the current January window as they've not played yet or arrived yet). If he had money, could he have done differently?
The boardroom and wars behind the scenes is where the issue currently has to be focused, although I hope we don't find out too late to save the season from relegation. Moshiri has well and truly backed himself into a corner as the team will be relegated if Benitez fails.
Relative success from here is likely to look like a mid-table finish and that's not where any of the fans want to be nor deserve.
Paul Tran
414
Posted 03/01/2022 at 10:49:39
Some good points, Darren #409. Moshiri tried his expansive & expensive gambling with Koeman, then with Silva/Brands. These expensive failures led to Sam & Rafa. With Carlo, it was a last throw of the dice to get Europe, The moment that failed, that was Carlo done. The moment he left, I suspect our better players started to ponder their futures.
Like I said in the summer, Benitez was a conservative appojntnent designed to preserve Moshiri's investment till BMD. I thought we'd be dull to watch. I didn't expect a defence like a sieve. He often had better second halves of the season across the park, God knows we need one now.
I haven't felt consistently entertained since Martinez's first season. Accepting us neither winning nor challenging for honours is bad enough. To watch, knowing we are likely to be very dull is beyond the pale for me - and all I do is switch on my laptop. The thought of paying £40 plus to watch that nonsense...
Moshiri strikes me as an impatient, impulsive, gullible character who needs a steady, rational hand to guide him. The fact that he admits he doesn't spend much time working on the club exacerbates this.
Who's Moshiri's steady hand now? Looks to me like Benitez is Manager, Coach & Director of Football. Looks to me like Bill is his football business guru & link to the 'soul of Everton' (I'd put an r before soul)
I'd like to lock him in a room with Abramovitch & Mansour and not let him out till he promises to put their advice into action.
Nothing will change till the culture changes.
Paul Birmingham
415
Posted 03/01/2022 at 10:52:25
Len, great post and if only EFC, had the courage and belief and spirit you have.
Watching and supporting Everton, I've said for years, should have a public health warning.
It's the pits at the moment, well in truth the best part of 30 years. The lack of leadership and moral fibre at board level has made a mockery of what was by merit one of the greatest clubs in the UK.
But we live in hope eternal, and hopefully starting at Hull, the salvage plan for this season can start.
Let's all stick together to ride the storms and believe. Will lessons be learnt from the game yesterday remains to be seen.
Neil Copeland
416
Posted 03/01/2022 at 11:08:36
Len #399,
Wow! What a fantastic sincere post. I think you have have made a lot of new friends with your words. Stay strong, mate.
Dave Abrahams
417
Posted 03/01/2022 at 11:18:36
Len (399),
So very sorry to hear about your very sad situation. You obviously love your wife and give her hours of attention, not to mention love and devotion. I understand how you feel when you snap at her. You forget the thousands of good deeds you have done for, in fact, you don't even think you are doing good, it just comes natural to you, but the few times you snap at her grips your conscience and you remember those times and forget all the good things you have done and still do.
Everton and their results do reflect your moods and quite a lot of Everton fans moods and they are hard to control. I'd say to you, Len, instead of reflecting on those bad moments give yourself a pat on the back for the many thousands of good things you do for your wife. God bless the two of you.
Steve Brown
418
Posted 03/01/2022 at 11:36:17
Len, your post was very moving and heart felt. It also made me stop and think about what is really important in my life.
Whatever our massive frustrations with all things Everton, it's impact on us does not compare with the love of our family.
Take care of yourself and, as Dave says, give yourself a pat on the back sometimes for the wonderful care you are giving your wife. You are there when she most needs you.
Tony Everan
419
Posted 03/01/2022 at 11:40:13
Best wishes, Len, stay strong even though our team and manager are doing their best to to do our heads in.
As Brian Blessed likes to say (Shout):
"Don't let the bastards grind you down!"
Also, a big Thank You for kind comments from Dave and others on another thread. I have similar issues on a much smaller scale looking after my dad at the moment.
Jay Evans
420
Posted 03/01/2022 at 12:15:30
God Bless you and your wife Len. Prayers said for you both and I swear to God, the next success we have at our club - whenever that may be - I will be thinking of the two of you and raising a glass.
Tony Mace
421
Posted 03/01/2022 at 12:26:24
I've been giving Benitez the benefit of the doubt in that he has inherited a lot of crap and injuries haven't helped but when you have a decent break to get players fit, a bench full of young talent like Dobbin and you bring on Rondon, something is drastically wrong.
Add to that players like Keane who appear to be colour blind. Keystone Cop defending week after week.
Not to mention the board
Shit show from top to bottom
The only light at the end of the tunnel is what happens in this transfer window. Get it wrong and continue with this shit show it will be a relegation battle and most of the jokers we have don't have the stomach or skill to fight their way out of it,
Board, Manager and half of the team. Incompetent.
Joe McMahon
422
Posted 03/01/2022 at 12:45:15
Len, that's from the heart, and yes sport is second to the important things of life. I just wish this shambolic football club would give you an all of us a lift just occasionally when we need it.
Danny O'Neill
423
Posted 03/01/2022 at 12:49:42
Like everyone here Len, thank you for that very poignant reminder to put life into perspective. It certainly put my long day out yesterday and feeling worse for wear this morning into perspective. I don't know if that was an Everton hangover or an actual hangover. Likely a combination of both.
Life is precious; I wish you and your family the very best.
Don't be hard on yourself Derek Moore. We all come to this fantastic virtual community to share views, agree, lock horns and swap handbags at 10 paces from time to time, but we all share the same passion. I visit other clubs' fans websites as I've always found it healthy getting different views. And that includes those on here. But I genuinely haven't come across one that compares to the material I see from posters on here. Be that from regulars, occasionals or down right too much's like me.
Those were fair points on Ancelotti Rob. I felt if he'd stayed, he was onto something. But he must have smelled the FFP odour. Another window or two and who know's. But that's gone now.
Back to yesterday. Those are good points on the match yesterday Darren. Seamus being asked to play on the left when we had a French international warming the bench. There's stubborn and then there is pig-headed. Mouth, cutting, face, spite. I think I can make a sentence from that.
I also agree with you on the result v performance point. It's not always necessarily about the result even though that's the aim of the game. As I used to say to the youth teams I coached, if you focus on your performance, the result will often follow. I often found if the focus is on the result, nerves and caution sets in, which then impacts performance and subsequently the result.
My son came up with an interesting point as he tried to console me. He suggested that Benitez is reminding him of Allardyce in terms of it looking like the players are not doing much ball work in training and there could be too much emphasis on tactics and shape??
Paul Tran, totally. Until the culture changes, nothing changes. For me that sits somewhere between Owner and the players. And I don't mean Manager; this one, the last one, those who've gone before or the next one. They can't all be wrong can they??
Anyway, as I snoozed on the train leaving Euston early yesterday morning, I opened my eyes as the speed ramped up to look across to Wembley Stadium and the arch.
It's a sign. See you at the next one. See you in May.
Tony Abrahams
424
Posted 03/01/2022 at 13:01:05
Such a brutally honest, very sad post Len, and it's why I think Paul The Esk's 27 year's campaign is so important to us supporters right now.
We all argue, debate and disagree, but the reason why I feel that the future of our great club depends on us fans right now, is because of what Paul Tran's last sentence@414 says.
NOTHING WILL CHANGE UNTIL THE CULTURE CHANGES, surely we must all agree with this?
Brian Harrison
425
Posted 03/01/2022 at 13:16:53
Danny 423 Tony 424
First Danny I believe like you that Ancelotti knew exactly what he was doing and while it certainly wasnt pretty or entertaining at times he still managed to have the 3rd best win rate % of all Everton managers just fractionally behind Catterick. Tony the culture change comes from success on the pitch and until we start winning trophies its very difficult to have that winning mentality, which produces the culture change. I listened to Declan Rice being interviewed after their game yesterday and he was asked about why people didnt think West Ham could finish 4th. He said its a lot to do with perception but said when your leading 3-0 and you let a side come back with 2 goals then thats why people don't believe West ham could finish in the top 4. I also hear Danny Murphy say that when teams become regular winners then the level at which you train goes up a notch and anybody who signs for a winning team realises its that intensity at training that sets the good teams apart from the also rans. I know being an ex player you will understand that perception only to well.
So it becomes a bit chicken and egg how do you change the perception if you don't win things. I also remember Ian Rush saying that after they had won the league and came back for pre season training they were all told last years success counted for nothing.
Tony Abrahams
426
Posted 03/01/2022 at 13:48:56
That's the hardest part Brian, but it comes from the top in my opinion mate.
I spent a few years witnessing Clough, who was very simplistic in his approach, but it was definitely his, more than anyone else's club, and because the man "wanted to win" he had a very successful career trying to do just that, until Father Time and alcohol caught up with him.
I honestly don't think winning is ingrained into Everton's culture anymore, and a power struggle involving a Chairman who has presided over the longest barren spell in the club's history, and just won't let go, is why I'm hoping that a man I used to absolutely detest, comes through?
Maybe Usmanov and Moshiri both knew that appointing Benitez was the most divisive thing they could have done, but possibly thought it was the only way to get rid of Bill Kenwright, maybe?
Wild speculation I know, but I've long since called for unity, because I believe it's the most important thing that any successful team must have, alongside talent, and an obvious will to succeed, and sadly all three seem to be lacking at the club, that drives so many of our moods, unfortunately.
Jay Wood
[BRZ]
427
Posted 03/01/2022 at 14:09:28
Dear Len Hawkins.
Your post resonates with me to the very core of my being.
My dad's final years were afflicted by dementia. As a dear friend of mine whose mother experienced the same eloquently put it "We lose them twice. Once, when they are still with us. And then when they finally pass."
It's not sudden or rapid. It's slow and creeping and not discernible at first. But progressively the person who was fades before our very eyes.
In my dad's case he couldn't understand where his wife was. She died 10 years previous. By the end he couldn't recall two of his four children.
And yet, even though he couldn't remember he had just eaten tea five minutes earlier, there were triggers that revealed his long term memory was still present.
Two of those triggers were football and the gee-gees.
He could recall fine details and player names from matches of 50-60 years ago. Play him a club song and the words would come back and he would sing along.
As for the horses, I could regale the likes of Paul Tran with fantastic stories from me dad.
He was a skinny short-arsed lad and me grandma's local grocer, who liked a bet, told her dad would make a great jockey. A seed was sown.
He pestered and pestered his ma to let him become a jocky. She finally relented and - aged just 14-15-years old - he was indentured as an apprentice jockey (aka as bonded labour) to the great trainer Fred Darling at Beckhampton, whose stable jockey was a fellah who went by the name of Gordon Richards.
So imagine. You're 14-15-years-old, 100s of miles away from home in a strange environment for the first time in your life, and on arrival at Darling's yard he is confronted by the head lad, Norman Bertie with the words:
"My name's Norman Bertie. MISTER Bertie to you. 'B' for Bertie. 'B' for 'BASTARD'!"
Me dad stuck it out and rode out with Gordon 'Moppy' Richards every morning. They say the Moppy nickname was for his thick black hair. Dad insisted it was because he mopped up all the winners.
Dad never made it as a jockey, but he did ride a handful of races in which Gordon looked after him, riding alongside him, telling him what to do, until they approached the finishing line when Gordon said to dad:
'I'm going to have to leave you now.'
A kick of the heels and off Gordon rode to another winner.
Ironically, although Moppy won all the classics the Epsom Derby eluded him until the Coronation year of 1953 when he finally won it on Pinza trained by...Norman 'B' for 'BASTARD' Bertie, who by then was a trainer in his own right at Newmarket.
Years back dad and me made a nostalgic trip back to Beckhampton to watch the horses train on the heath. The memories that flooded back.
'The number of times Fred Darling asked me 'Where's Moppy? He's up on the heath collecting those bloody mushrooms again, isn't he?!' my dad recalled.
It was an inclement day. High winds and icy rain.
'I bet you don't miss getting up early morning to ride out' I joked.
He looked me straight in the eye - 80+ he was by then - and said softly:
"If I could still climb into the saddle, I'd ride out every morning, no matter what the weather. Greatest feeling in the world."
So thank you Len. Your post helped trigger so many marvellous stories. I'm going through it all again with my 96 (soon to be 97) year-old father-in-law.
Again, short term memory shot, but incredible recall of events 50-60-70 years ago.
He gets caught in a loop sometimes, repeating the same thing again and again and again, unaware he is doing so, until you have to quietly explain to him what he is doing. The sadness in his eyes at those times is soul destroying.
'I'm so forgetful.'
I have no doubts you are full of remorse in the moments you snap at your wife, but you also need to be kind to yourself, Len. It is a huge burden to bear, all the more so in these perverse times, to be the sole carer of an afflicted love one.
I hope you have the support of both family and social services to share the load.
I know it is much maligned by some, but have you approached EiTC explaining your circumstances? I'd bet a pound to a penny they would find some way to help you.
Good luck Len. And as I said, be kind to yourself.
Tony Abrahams
428
Posted 03/01/2022 at 14:20:24
There's more to life than Everton, but even Jay, (lovely story, mate) all the way from Brazil, is telling Len to connect with someone at EITC, such is the power that "our great club" holds over us🙏
Dave Abrahams
429
Posted 03/01/2022 at 14:20:32
Jay (427), very good post Jay, best of luck along with your wife looking after your father in law. I'd say he is in very good hands there.
Pinza, 1953, yes I had five shillings (25p) on that at 3/1 with my local street bookie, Pip Graham, I was twelve years of age at the time, don't ask me where I got 25p from to put on the horse but I felt like a millionaire when I got £1 off Pip that Saturday night.
Brian Harrison
430
Posted 03/01/2022 at 14:30:57
Dave 429
Pinza who won the derby in 1953 as you say, it was the only time Gordon Richards won the Derby despite being Champion Jockey 28 times. I think at present I would rather talk horse racing or golf instaed of football at the moment.
Kim Vivian
431
Posted 03/01/2022 at 14:41:19
"There is a light within us that is free from all sorrow and grief, no matter how much we may be experiencing suffering"
I read this somehwere, and thought of it when I read Len's moving post. I hope you can find that light, Len.
The institution that is Everton are doing their best to extinguish that light in all of us however, despite occasionally brightening it up with a rare optimistic performance on the pitch.
I mitigate the players to some extent who are not the best but are actually not 'bad footballers', but are pretty good, highly (over?)paid footballers playing badly. The Everton institution seems maligned from within these days.
Having just watched yesterday's game in it's entirety on sky, and objectively knowing the score, I have to ask myself - did I choose this, or was I chosen?
And I think again of Len.
Danny O'Neill
432
Posted 03/01/2022 at 14:44:48
Jay (BRZ), that struck a chord. My Grandad experienced similar. Out of respect, I went to his final local, the Arkles last night. Full or Reds watching Chelsea and red Istanbul related decor behind the bar, which was difficult to stomach after what I'd just watched, but I always went for a drink with him there as he lived several doors down, so I tend to have one there when I have time and toast him.
He didn't really recognise many of us in his final years. He died in 2001, had re-married in 1972, but would talk of his first wife (my Grandmother) as though he was back in the 1950s and 1960s.
Similarly, but different (contradiction), I watched my mother and father literally waste away to cancer. As you say, you lose them twice and for me the worst one is when they stop being the person you remember rather than the actual moment they are at rest and finally at peace.
Brian H, it's definitely a chicken and egg debate. Do we plant deep seated roots and wait another decade? Or go for short-term glory and then build on that? Get yourself on the map so to speak?
Either way is a gamble. I think City's model leaned more towards the latter but now they are established, we see the likes of Foden and the young lad who made his debut against us coming out of their academy. Likewise with Chelsea.
Jerome Shields
433
Posted 03/01/2022 at 15:07:35
Kim #431
Very much appreciate your quote, which very much expresses what I wanted to post to Len, but found it difficult to express myself. in Len's case. I do think the suggestion of him contacting EItC , by Jay, is a good and worthwhile idea, because it is support he needs to find that inner strength that he has always had.
I know I have attacked it's use in the Everton narrative by our Chairman and Chief Executive, but that does not take away from the fact that there are unnamed people who work in EitC doing a excellent and worthwhile job. The fact that Len is a Evertonian with needs is all the better and he should seek their help.
Soren Moyer
434
Posted 03/01/2022 at 15:38:30
#Mike 302, why would't let's say Paulo Fonseca, Rudi Garcia or Lucien Favre come to everton!? They are out of work at the present. What is it that make them so unreachable for everton? We hired Ancelotti! Didn't we?
Stephen Vincent
435
Posted 03/01/2022 at 15:46:32
Len #399, I know from personal experience what you going through.
I don't know where you live or how readily you can arrange care for your wife, but if you can arrange an evening off I have a spare ticket for the Leicester game which I will happily send to you. An evening shouting abuse at the EFC hierarchy might be blessed relief.
Email me stephenvincent389@gmail.com with your address and I will pop it in the post immediately.
Rob Halligan
436
Posted 03/01/2022 at 16:11:29
Soren, I agree with you. Any manager would come to Everton, because you know why........... We offer a decent wedge to them. I keep hearing players will join Newcastle because of the wage they will be on, and its exactly the same with any, hopefully out of work, manager we approach. You never see any manager resigning nowadays, because they know that when the sack comes, there's another nice hefty wedge coming their way.
Mike Gaynes
437
Posted 03/01/2022 at 16:17:31
Len #399, deepest condolences on your situation, and highest respects for your commitment, love and willingness to care for your bride through this most difficult of situations. Please don't forget to take care of yourself as you take care of her. You are a magnificent man, sir.
Stephen #435, that's a lovely gesture and I hope Len is able to take you up on it.
Derek #391, no apologies necessary. We're all doing the same thing.
Jay #427, wonderful story, and wonderful memories for you.

David Pearl
438
Posted 03/01/2022 at 16:19:21
Stephen Vincent, a top man you are!
Rob, unless you're Ancelloti and you prefer leaving and taking a 50% paycut
Christy Ring
439
Posted 03/01/2022 at 16:31:26
Benitez tactics and team selection are old school and behind the times. Simms and then Dobbin were given a chance against Chelsea because we had no one else, there pace certainly caused there centrebacks problems, both on the bench yesterday and Benitez brings on Rondon beside Calvert-Lewin no pace and suited Brighton's big defenders, and playing two midfielders who were totally overrun and he brings on Gomes in the 87th minute. Ian Edwards mentioned Carlo's pre historic tactics, Benitez tactics are worse.
Stephen Tyler
440
Posted 03/01/2022 at 16:31:49
Watch Darren Farley's impression of 'Agent Rafa' on YouTube.
Funny-but it shows you what a laughing stock our club is just now...
Dave Abrahams
441
Posted 03/01/2022 at 16:34:45
Brian (430), yes I understand how you feel there is hardly anything to cheer us Bluenoses up at the moment, I think it is a case of: As one door closes another one gets slammed in your face. I keep saying to myself, very quietly, " We shall return". Just don't where or when!!
Mike Gaynes
442
Posted 03/01/2022 at 16:36:42
Rob #400, bravo and amen.
Soren #434, I think Ancelotti was a one-off. The three you cite, their most recent jobs were at Roma, Lyon and Dortmund respectively. All in Europe. They are successful managers with fine records. None has taken a backward step in their careers. Unless unemployment has left them desperate for money, why would they come to a lower-half situation where Europe and league honors are not currently attainable? What about Everton would interest them career-wise? I just don't see it.
Robert Tressell
443
Posted 03/01/2022 at 16:36:51
Soren 434, I thought those three were probably viable out of your original list. Bilic too, whom a few other posters mention.
I wonder though, what we are really expecting from these guys if appointed.
Only Bilic has managed in England and managed to get himself sacked and replaced by Allardyce at West Brom and Moyes at West Ham.
Garcia has had a mixed time of it and it's a long time since he won a few trophies at Lille. Favre is now 64 and has passed on opportunities to manage in England before. Fonseca did well at Shakhtar in difficult circumstances but didn't really work out at Roma. For what it's worth, Steve Ferns on this site (who I always thought talked a lot of sense) rated Marco Silva much higher.
All of these guys are the kind of manager you bring in and sack after a season or two.
If appointed they might generate a bit of additional enthusiasm but it would be short lived. Frankly if we're terrified of relegation then hire Sam Allardyce again and remind ourselves how to attack and defend set pieces.
I would personally rather allow Benitez to complete this crap season (and it was always going to be crap by the way) and progress the squad rebuild that is clearly underway.
Robert Tressell
444
Posted 03/01/2022 at 16:42:55
Ps. Len @399, very sorry to hear of your circumstances. Wish you all the very best.
Dave Abrahams
445
Posted 03/01/2022 at 16:49:24
Brian (430) thinking about Gordon Richards winning his only Derby in 1953 was the same year Stanley Mathews won his only Fa cup winners medal and something that had never been achieved before, Mount Everest was climbed.
The first four minute mile was also ran around this time but might have been just before or later,oh to put you back in a dark mood Everton got knocked out of the FA cup but at least we got to the semi final!!
Alexander Murphy
447
Posted 03/01/2022 at 16:54:42
None so blind as those who will not look.
None so deaf as those who will not listen.
None so stupid as those who fail to think.
Get gone rafa, and go now.
You've done your damage.
Now sod off.
Rob Halligan
448
Posted 03/01/2022 at 16:55:05
David # 438. There's always an exception to the rule!!
Dale Self
449
Posted 03/01/2022 at 17:03:02
I've been hiding out rescheduling my inaugural issue of the Renaissance Report (it's been shelved actually). Still recovering but still rather shocked at the way Benitez shot himself in the foot. While I think it is best to ride it out with the four relegation potentials helping out it is indeed time to at least consider who would come in and perhaps improve the present form which is untenable.
Soren, I'm glad to see Garcia on your list. I think he may consider a chance at Everton and has successfully kept Lyon and Roma from the kind of faceplant that we may experience. I don't think now is the time to talk about it but now is damn sure the time to pick up the phone. It's not like Rafa can't anticipate something like that coming.
Bobby Mallon
450
Posted 03/01/2022 at 17:03:25
The above posts are the reason this site is so great. The ToffeeWeb family is amazing.
Matthew Williams
451
Posted 03/01/2022 at 17:07:51
We are in desperate need for some balance to our team,we need Branthwaite and Townsend back ASAP with the new lad at L.B,then we need to find a left footed attacking midfielder,who scores goals and can work alongside the Duke,for me that should be our priority in January,cos we have no craft and goal threat in our central midfield area and we have way too many right footed players in that particular area of the pitch in our ranks who all play a similar style as it stands.
Mike Corcoran
452
Posted 03/01/2022 at 17:12:26
Yesterday stung. Rafa is about as useful as Matt Hancock with a goatee.
Denis Hignett
453
Posted 03/01/2022 at 17:29:11
The two game against Newcastle will define our season. Lose them and will be in real trouble.

Shaun Laycock
454
Posted 03/01/2022 at 17:32:32
Holy smokes, Batman, we're in trouble!
I have tried to get behind Rafa but he consistently makes the same mistakes and shows no sign of changing. Now we have given him the checkbook, he won't be gone anytime soon.
Hopefully, the players he brings in (and shifts) leaves us stronger at the end of the window.
Peter Mills
455
Posted 03/01/2022 at 17:52:21
Len#399, very best wishes to you and your wife for 2023. Should you ever feel the need to sound off, feel free to email me at peter@twomillsland.co.uk
I can't guarantee to offer you optimism about the Blues, but I'll lend an ear.
Your post is a reminder to us all that behind every name on this site there is a person. We have no idea of their circumstances apart from a common allegiance to Everton FC, so we should pause before hitting the "Submit your comment" button.

Peter Mills
456
Posted 03/01/2022 at 18:01:02
2022!
Soren Moyer
457
Posted 03/01/2022 at 18:02:45
Robert (443), Any of those 3 can do better than 6 points from avaliable 36 imo.
Dale (449), Agree with you. He is a decent coach.
On another note. Anyone watching manure v wolves? They are tearing MU a part. The way they are moving the ball with pace, power and precision is eye catching! 3 (P)s that don't exist in our club's vocabulary. And that Prodence lad, what a player!
Peter Neilson
458
Posted 03/01/2022 at 18:14:19
Newcastle have 8 points from their last 12 games. I think they'll fancy their chances. Regardless, no pressure on Benitez he's here for the foreseeable.
Dale Self
459
Posted 03/01/2022 at 18:34:59
I had to come back after reading Len's post and offer what I can to distribute the weight of that. We all feel for you Len and that takes some courage to reveal what you're going through. At some point this turns around so try to find comfort where you can and know that you're doing the right things and get by however you can. When you come here and say something like that you are not carrying that weight alone.
Keep it going.
Robert Tressell
460
Posted 03/01/2022 at 18:40:27
Soren, your observation about Wolves is a good one - and that good stuff, including a stock of very talented players, all comes from a club that is organised properly from top to bottom.
I've come to think we credit generally very average managers with far too much. I expect we'd be in much the same position as we are now had we appointed Lage (or Bilic or Favre etc) because our club is so badly organised from top to bottom. There would be calls for a guy with Premier League pedigree who's not scared to stand up to the powers that be - ie Benitez.
Of course Benitez isn't helping, with weird formations, crap set pieces etc - but our weakness as a club (and really awful cosy, cowardly, conservative attitude) exacerbates each manager's weakness.
Lage isn't a better manager than Benitez - he's at a better club (sad though that is to say).
Brian Wilkinson
461
Posted 03/01/2022 at 18:41:15
Hi Len, a very moving story, I know where you are coming from, I have to tend for my other half 24/7 with no support whatsoever, I have to do all the things you mentioned along with home dialysis 5 Days a week, any visits anywhere is done by wheelchair, it's tough mate, but we do it out of the love and care they deserve.
I manage to prepare things beforehand, when I go to the match, so I do get a little me time every now and then.
I know exactly what you are going through, and how draining it is, my only salvation is my partner still has good knowledge and awareness, so I can only imagine how hard it is for someone with dementia and I really do feel for you Len.
If you take Steve up on his offer of a ticket, I would love you to meet up in the Oak beforehand and with some of the other regulars, and offer you a drink and some support.
I have met some great people on here and just a little meet up helps me so much on the games I manage to go.
To lighten the move Len, my other half is a Saints fan, which goes down well with me being Wigan.
Anyway Len thoughts are with you mate, no matter how bad the football gets, come on here if you ever need to chat, people will have difference of opinions on all things Everton, but when someone needs help or to just talk, there are a great bunch of people on here.
Tony Hill
462
Posted 03/01/2022 at 18:47:11
Very true, Robert @ 460. If you have two leaders, it's a recipe for disaster. That was true from the moment Moshiri bought in but Kenwright stayed.
It was a fudge from which only one person benefited and from which the club and team inevitably suffered.
Bill Gall
463
Posted 03/01/2022 at 18:47:28
After watching that display of a negative line up from an antiquated manager,i thought another weekend ruined, and suddenly things went from bad to worse as I was diagnosed with Covid 19 with all the restrictions.
The only positive from this is I will get better, the negative is I cant see this manager getting any better. This manager with his "its my way or the highway" is an outdated attitude, that lost him his job at Chelsea and Liverpool, and was most probably what drew the comments from Brands, is it just the players. A comment that showed the power that Benitez wants that got Brands fired.
The irony of what is going on at ownership and lower, is we fired a manager that no one wanted F.S. because of his negative defensive attitude and we hire one with the same philosophy and a worse performance.
I was one who believed we should keep Benitez to try and bring stability on the playing side but now I don't believe you hope 3 teams are worse than you to avoid relegation is a stable environment.
They will not fire Benitez unless they start getting 20/2500 or less crowds, and that will not happen as Evertonians want to get behind their team, not the manager, and as was showed at the last game the crowd was quiet from when the team was shown.
Yes the manager should have control, but to play players out of position, and have a qualified player for that position as an unused sub is just strange, as well as having a midfielder sitting on the bench while your midfield is getting overrun.
As I said I cant see them firing this Antiquated manager, but I hope they realize they made a mistake before it is to late. I don't believe that Moshiri has any Idea the depth of genuine supporters Everton have, and going from a shareholder to an owner is a position he is not qualified for. The sad thing is we have people under him on the board who have shown they are not qualified either.
Mike Gaynes
464
Posted 03/01/2022 at 18:47:51
Soren and Robert, agreed. Wolves has done things well.
We may get to see if you're right about those managers being interested. But I still believe probably not until summer.
Brent Stephens
465
Posted 03/01/2022 at 18:49:06
Jay #427 wonderful.
Dennis Stevens
466
Posted 03/01/2022 at 18:57:09
Bad news, Bill. I hope it turns out to be quite mild for you & that Everton's performances are sufficiently uplifting as to aid your recovery!
Bobby Mallon
467
Posted 03/01/2022 at 19:05:40
Don Alexandra 361. What do you and Paul the Esk want us fans to do. Most fans think Kenwright is a ducking god. How many are willing to give him shit at the next game with banners telling HIM kenwright, to fuck off out of our club. Not many I bet, every banner I have seen mentions the board not Kenwright. He is the one who has overseen 30 odd yrs of stagnation but it's the manager RAFA who picks the bloody team, and tactics and is a red shite who needs to go now.
Mike Doyle
468
Posted 03/01/2022 at 19:08:00
Assuming RB's brief is to avoid relegation (and we play Leicester next Tuesday), I wonder if we might see a few more of the youngsters get an outing in the inconvenient FA cup match at Hull at the weekend (plus one of our ancient reserve goalies of course)?
Soren Moyer
469
Posted 03/01/2022 at 19:20:19
Wolves scored! Deservedly so.
Dale Self
470
Posted 03/01/2022 at 19:25:43
And our thoughts are with you as well, Brian.
One thing on the desire for another manager, we're giving credit of the overall organization's performance to managers. This isn't to say that the mentioned candidates couldn't produce something better than what we're currently seeing but it goes to what happened when we thought we were clever grabbing Walsh from Leicester. Turns out it was the staff behind him generating the choices he was credited with.
Bill Gall
471
Posted 03/01/2022 at 19:26:22
Dennis @466,
Thanks, I feel a little rough at the moment, but expecting to get better.
The strange thing is I have had 2 shots and am in line for my booster. The problem is I am having to go into isolation with my wife who has medical problems herself.
I am not going to rely on an Everton performance to be uplifting to aid my recovery, I think I will leave that to the professionals.
Mike Oates
472
Posted 03/01/2022 at 19:57:32
There is no way Benitez will be shown the door. Moshiri has put total faith and control in Benitez's hands. He won the Medical changes, the Brands dilemma, he'll win all the battles with the players who cross him and take him on and your out.
Moshiri won't want another £6M write-off, we are stuck with him. Any significant pressure from the fan base to remove Benitez will also lose Moshiri, and Bramley Moore!!
Benitez's problem is he's inherited a shambles of a squad, a defence which can't defend, can't pass the ball 15 yards, a midfield which can't compete, can't control the ball never mind the game. He inherited a squad with no pace, no width, no leaders, nothing!!!
The only good point – he got Richarlison and Calvert-Lewin and added quality with Gray, and hopefully Gordon. But realistically, he's got to find replacements for Coleman, Keane, Godfrey (if he carries on with his current form), Mina (injury-prone), Holgate, Allan, Gomes, Davies, Iwobi, Rondon, and Sigurdsson.
It will take 2-3 years to overhaul this baggage, no matter who takes over.
Ancelotti wasn't daft – he saw the writing on the wall and knew back in early June he wasn't going to be given a penny to spend. An impossible job, so bye-bye Everton, you sold him a vision which was impossible to deliver.

John McFarlane Snr
473
Posted 03/01/2022 at 19:59:04
Hi Len [399],
My sympathy's lie with you during your hard times, I have often written on this site that "There are more important things happening in the world, than football." I would say again, that if the worst thing to happen to anyone is an Everton defeat, then fate has been kind to them. I wasn't going to post amidst the gloom and doom of yesterday's game, but your post deserves a realistic response. Best Wishes John.
Andy Crooks
474
Posted 03/01/2022 at 20:13:27
Len, I can't begin to imagine what you and your family are going through. Look at this thread, Len, and believe that every Blue has their arm round your shoulder.
Allan Board
475
Posted 03/01/2022 at 20:15:38
Don @361. Thank you. Nail well and truly hit on the head!
Any business success starts at the top. The issue here is the particular business involves a sport, so it's the fans who bear the brunt and managers get abused.
If it is true that the majority of fans like Kenwright, and that view isn't going to change, then Everton are finished. However, any Bluenose I have spoken to of late on this latest charade are all of the same opinion that sentimentality throughout the club is destroying it.
Now I wonder which individual has deliberately promoted this to his own ends of monetary gain since he rocked up 25 year's ago?
He has done this deliberately; he knew within weeks he was out of his depth, had made a big mistake, but his self-righteousness and deluded self-importance wouldn't let him admit it.
Once he started receiving any criticism, he reverted to type, removed any threats, coerced weak individuals by enticement, and lied to fans daily about all and any club related issues.
He now has his network of cliques throughout the club; this is why no manager has ever been successful under him because he won't have anyone be more liked than himself. This shit runs through staff, players, the Board, CEO, Finch Farm, the Academy down to the kids' teams.
It is irrelevant Moshiri is now the owner, because the network of sleaze was 10 years in the making, a further 10 in full overdrive, and Moshiri has never implemented a complete clear-out from top to bottom.
I can't fully explain how much I miss going to watch Everton: it's 6 years and counting, but there is no way I will ever go again until this sleazeball is removed, and the club restarted from the bottom up.
Tragic? Yes, but Kenwright is twisted enough to turn it into a West End show!

John Boon
476
Posted 03/01/2022 at 20:54:50
Totally agree with John McF in regards to Len's story. Health is always more important than any football game or team.
I notice also that Bill Gall (463) has contracted Covid-19. This pandemic can really cause chaos in any family. Personally, both my wife and I have been free to this point. We are fortunate that, in our close family setting that includes 14 people including 6 teenagers, we have all received three shots.
However, despite this, eight of that group have tested positive and a much anticipated family Christmas has had to be delayed until mid-January. Fortunately nobody has been significantly ill but isolation has put the lid on any family meetings. The lack of serious illness is hopefully due to Everton Blue Genes... spelled with a G.
While I fully accept that Football has to play second fiddle to Everton, I also think that a good solid win can lift the spirits and even lead to improved health. In the case of Len and all those with serious health problems, it is so refreshing to see so many ToffeeWebbers get behind him and his family, even if the support is only on paper. Best Wishes can also have a positive effect on emotions.
Everton will always be important to me but I do try to put it all in perspective. I clearly remember relegation in 1951 and I am sure that John and many other TW Elders do. However, we did recover from it. Unfortunately it is far more difficult today to recover from relegation. Therefore, I declare with confidence: We will not be relegated.
Great Health to all Football fans and a Very Happy New Year to Everyone at Toffee Web. COYB we need and deserve a win… soon!
Don Alexander
477
Posted 03/01/2022 at 22:30:33
Bobby (#467),
I cannot account for why any Evertonian has a glimmer of support for the bloke who's been either 100% in charge since the end of the last century or, since Moshiri, a mere 95% responsible for the day-to-day running of the club.
I can identify piercingly insightful opinion in the manner spelt out by Paul the Esk, Gerard McEwan, Tony & Dave Abrahams, and others who see the link between success on the pitch and a cohesive successful boardroom and owner.
To quote the old song, "You can't have one without the other."
"Shite and Kenwright, shite and Kenwright,
After 30 years of him we all need respite
But this I tell ya, brother, you'll never get it through the... other."
Lousy chant admittedly, but these days way more accurate than "An' if yer know yer 'istory!"
Christy Ring
478
Posted 03/01/2022 at 22:42:22
Totally agree with John and John McF, thoughts and prayers with Len and his family. Your health is your wealth, and wishing all a happy and healthy '22. Would be nice if EFC could cheer us up.
Danny O'Neill
479
Posted 03/01/2022 at 22:47:55
Good to see you back, Sir John Senior.
This is a good omen, starting with Hull at the weekend.
Dave Brierley
480
Posted 03/01/2022 at 23:05:48
Len, like many others, I'm in awe of your courage in your current situation. I can only hope you can keep the odd smile through such a challenging time. I suspect you will. All best wishes.
Derek Thomas
481
Posted 03/01/2022 at 23:14:58
After the Chelsea game, I asked, "Will Benitez, after stumbling on to / being left no option etc, a formation that actually works after a fashion... much like Ancelotti and the 'Wall of Four'... will he retain or revert?"
He reverted.
To me, it seems there is no hope for him if he can't – or won't open his eyes to what is right in front of his face... But I'm not Moshiri and, like a few others, I think that sacking for the sake of it might make it worse... if that's possible.
I get the impression that Moshiri has gambled – despite Watford pulling our pants down 5-2 – that the bottom 4 are there for a reason, and he has gone all-in on Benitez for at least this season, the January and Summer transfer windows, and into next season.
If Benitez was played by Paul Giamatti, there'll be redemption at Wembley in May – it's the hope that kills you.
Rob Halligan
482
Posted 03/01/2022 at 23:29:47
I won't be the first to say this, and I certainly won't be the last, but after a depressing last 3 or 4 months, I decided to console myself by watching
Howard's Way
.
Many clips of the film bring tears of joy to the eyes, probably too many to mention, but probably like most, watching Howard's funeral brings tears of sadness, the bottom lip still quivers as if the funeral was yesterday.
No doubt the greatest manager, team and period in the club's history. I won't go into why it broke up, because we all know why.
It's definitely a film I would show to today's current squad, and make them realise what a privilege it is to play for this fantastic club, and amazing fans. One day we will return, and as Danny keeps saying, it will be May this year when we win the FA Cup.
COYB!!
FTRS!!
Rob Halligan
483
Posted 03/01/2022 at 23:57:42
Meant to also add a comment on Stephen Tyler's post @ #440, but by the time I found it, the 5 minutes to edit a post had run out.
I have no intention of watching the YouTube clip which Stephen mentions, because it's obviously made by a RS, probably with a voice over of some comedy sketch. Apologies if I'm wrong about that, but we all know the type of thing, there's been many of Adolf Hitler, and the laughing Spanish fella.
We are going through a difficult period, there's no denying that, but trust me, there are probably 90% of clubs who would love to have won what we've won down the years. If fans of those clubs were ever to watch Howard's Way, they would realise that this club of ours is no way a laughing stock. So Stephen, I realise that you were probably sent the YouTube clip by a RS mate, or maybe not, but whereever it came from, tell that person to shove it so far up their arse that they would need James Herriot to remove it.
For those who don't know who James Herriot is, just Google him.
Ed Prytherch
484
Posted 04/01/2022 at 00:25:00
Don Alexander
485
Posted 04/01/2022 at 00:31:24
Rob (#483), my point about Darren Farley is that he's prospering by taking the piss about our owner/boardroom/"cloob". No Toffee is likewise prospering, obviously (and Farley doing Harry Kane's "obviously" IS funny BTW).
The fact that we can all whinge about unfair media coverage masks the fact that had our owner/boardroom ever in the past 30 years (at least) shown the slightest ability to produce success we might not be the subject of so much media bias or irreverent piss-taking.
Kenwright will be right behind you, Rob, pointing the finger anywhere but at home.
Rob Halligan
486
Posted 04/01/2022 at 00:41:04
Don,
I get the impression you think I'm a fan of Kenwright. Far from it. He's poison, cancer, a leech. He should have been kicked out of the club when Moshiri took over. Kenwright is the one holding this club back, and the sooner he is gone the better.
Kenwright and Benitez Out!!
Brian Wilkinson
487
Posted 04/01/2022 at 00:45:44
I watched
Howard's Way
a few times, Rob... heartbreaking to see just how far we have fallen as a club.
I am halfway through the book Boys from the Bluestuff – brilliant book, just up to Gordon Lee's final days. What I did not realise was the number of transfer requests Bob Latchford put in, on both Bingham's and Lee's watch.
Highly recommend the book to anyone who followed Everton through the early '70s, right up to the glory years of the '80s; lots of games mentioned that fans will have been at.
Still waiting for his first book to arrive in the post, Money Can't Buy Us Love, covering the '60s team.
Alexander Murphy
488
Posted 04/01/2022 at 01:01:40
"Shite and Kenwright, shite and Kenwright,
After 30 years of him, we all need respite
But this I tell ya, brother, you'll never get it through the... other."
"Chim Chimnerney,
Chim Chimmerney,
Chim Chim Cheroo Kenwright's a loser but he's laffing at You,
He's rinsing Your Pockets,
Your Everton too,
He'll get his cash back and take it from YOU!"
Ernie Baywood
489
Posted 04/01/2022 at 01:46:51
Yes. Absolutely. We need to fix things from the top down.
Vision. Strategy. Plan. They're not just buzzwords - they're essential to having any cohesive idea of how to operate.
I've criticised the club for thinking too much in the short term for years. But right now I can't believe we're not thinking about the short term.
"There are three worse teams than us" seems to be the order of the day.
If that were true then I'd say, great go for long term actions. Undertake the reviews, come up with a cohesive plan to restore us to greatness.
But there aren't three teams worse than us. Over the last 12 games we rank 20 out of 20. We're currently the worst team in the league. We are absolutely heading for relegation on this form - and where some teams will rally in adversity, this club and team is so divided that it just won't.
Sadly, we need a quick fix. The manager shouldn't still be there. But it feels like we're going to sleepwalk into relegation and suddenly become aware of our predicament when it's too late to do anything about it.
Don Alexander
490
Posted 04/01/2022 at 02:06:02
Rob, not for a second do I think you're a Kenwright supporter, at all. I read and respect your posts. You're a far more committed fan than I am without doubt but the issue with Kenwright and The Muppet above him is that they seize upon your fabulous support as evidence that you're fully behind them.
Folks more insightful than me post information and opinion, at length, that supports our disdain of those in charge, but that very "length" is what aids those at the top in becoming unaccountable.
We're in a Twitter world, occupied by the likes of the thriving Darren Farley. Anything more than a brief sentence now seems to be far too long for many folk to assimilate, and that's why I'm reduced to suggesting "Sack The Board" as the most impactful chant at a Goodison Park match.
All the best!
Phillip Warrington
491
Posted 04/01/2022 at 03:05:43
There is only one person to blame for Everton's current form and that is whoever the manager is at the time. Yes, there's has been distractions and Moshiri has been wasteful, only because he has believed whoever the manager was at the time had said it would lead to success.
Benitez is the person to blame. After drawing with Chelsea and the youngsters showing no fear, Benitez changes the team against a weaker side. He's too late with his substitutes and rarely seems to get that right, his continuing to play Rondon instead of one of the youngsters is sickening.
I haven't seen the so-called 10% improvement in each player. He's smart: he has created turmoil within the hierarchy which deflects from the real issue. He is not improving anything at Everton and in fact we are probably going backwards.
What a headline: "Everton relegated with ex-Liverpool manager in charge" – can you imagine the amount of shit that's coming our way from the other side?
I was never a fan of it but just maybe giving Ferguson the job might just work. We have tried managers who have been good tacticians and coaches and it hasn't really worked. I believe Ferguson would motivate them, which to me is what's missing. Everton players just seem to go through the motions, without any direction or purpose.
Alan J Thompson
492
Posted 04/01/2022 at 04:55:41
While I think we need to get rid of this manager soonest, and even appoint Duncan Ferguson until season's end if necessary, I don't think this will happen.
It might depend on him being hoist on his own petard, that is, failure to re-sign Dobbin and/or Simms to want away followed by somebody like Richarlison to follow Digne out before Moshiri will get up the nerve to admit it has been his biggest mistake.
Whenever it is, we are in a relegation fight that presently seems to be relying on others' failure rather than the possibility of our success and that should be Benitez's first priority rather than some power struggle while something similar may be happening in the Boardroom.
Len Hawkins
493
Posted 04/01/2022 at 10:41:51
First of all I must say I am overwhelmed with peoples best wishes it is a fantastic lift to know that people who I have never met can say such kind things. The common theme of Everton FC supporters thinking about other peoples problems is heart warming and I doubt many clubs have supporters like the "Evertonians".
I answered Derek's post regarding the mood changes and snapping at loved ones after yet another dire display by the team you have nailed your colours to was not to garner sympathy but to show how true his words were but the response of such fantastic people was humbling and I would like to thank all of you.

Stan Schofield
494
Posted 04/01/2022 at 11:10:58
The underlying problem at Everton is the problem that's been here for some time, and it is the lack of strength-in-depth in the squad. That is a problem with most Premier League sides, with the exception of City and Chelsea (Liverpool also have the problem - their supporters were complaining about it last season when St Virgil was out - but it's less serious than ours).
When you have inadequate strength in depth, a cause of it is not just misplaced recruitment, but also a failure to give younger players opportunities, especially during the good phases (and we do have them every season) when the team gels and the pressure on the youngsters is less. And the failure to give them these opportunities is down to the manager.
Managers are paid millions for what? Primarily to get the best out of the players in the squad, including the youngsters. Our managers have failed to do this, and the latest manager is failing miserably, throwing away an opportunity following the Chelsea game, with a defensive attitude in the Brighton game that was also incoherent and likely to fail.
Ancelotti said that he wasn't a magician. Well, to earn the millions these managers get, magic is the very thing that's required, that extra ingredient which in principle is simple: Using the players at your disposal as best you can, organising them well to make best use of their individual skills, and thereby maximising the chances of creating a winning mentality at the club.
This fella we have at the moment isn't doing any of this, and he seems lost. He looks like a rabbit in headlights. And his man-management is terrible, clearly hasn't got a clue. But such managers are like bad CEOs and inept politicians, they profit from their failure. They can't lose. And until that changes, with the contract for any new manager being tied to some success criteria, improvement is unlikely, and all we can expect is continued midtable stagnation or worse.
This fella needs the chop asap, but any replacement should be based on criteria for success rather than the current situation where they profit whether they succeed or fail.
Christine Foster
495
Posted 04/01/2022 at 11:23:39
Len, ToffeeWeb are an extended family you never knew you had. It has a sense of belonging with people who actually care. It's not lip service, just old fashioned concern and respect. Ten years ago I had to deal with the loss of a loved one, I never thought to share that grief or pain in here, just left a parting glass. But my fondest memory of that time is the way people I had never met, closed around and supported me. There are always someone he4e with a hand outstretched. It's why Everton supporters are the best in the world Len. Never under estimate their ability to be there when you need as several have already reached out to you. Keep your memories close, smile a little and remember the good times on and off the pitch. God bless you and your lovely wife Len. Two fabulous loves in your life.
Frank Crewe
496
Posted 04/01/2022 at 12:45:34
Since the general tenor appears to be sack the current manager out of idle curiosity how many of you advocated for the sacking of Martinez, Koeman, Silva, Alladyce and Ancelotti? Has this constant manager merry go round improved the fortunes of the club?
Man Utd sacked Ole and are now doing no better under his replacement. Arsenal could have sacked Arteta after they lost their first three games but didn't. Now they are in the top four.
Rafa had no money in the summer and is working with a squad of players the previous 6 managers cobbled together. Since early in the season he has had nothing but injuries to our best players. Finally he has managed to replace his full backs and may bring in some more players in this window.
I suggest we stop moaning and let him get on with it since plainly constantly sacking one manager after another isn't doing the club any good at all.
Stephen Vincent
497
Posted 04/01/2022 at 13:14:27
Frank, the difference between benitez and Arteta is that Arteta has a plan and a vision. He chose to play youth and has stuck with them and it is now paying off for him. Benitez has neither a plan nor a vision.
Arsenal play good front foot football. There is no way that they would ever have played 5 at the back at home against Brighton.
The other significant difference is that Arteta's appointment had the support of the majority of the fan base and the whole board.
I can't disagree with you about the managerial merry go round, which has been ridiculous, but the present incumbent is clueless and incompetent and must go now before he has the opportunity to do any more damage.
Stan Schofield
498
Posted 04/01/2022 at 13:14:35
Frank@496: I advocated the sacking of Koeman and Allardyce, but not the others. Horses for courses, and all that. It's one thing to only achieve maintaining us at midtable (like Ancelotti, who also had to deal with injuries), but quite another to achieve sheer bad management that puts us near the relegation zone.
Since the Premier League was formed, only Moyes has improved our average points trend, but the management merry go round since then hasn't made any further improvement despite the turnover of players. But stagnation at midtable one thing, whilst potential relegation is quite another.
Alan J Thompson
499
Posted 04/01/2022 at 15:31:11
Frank(#496); We've played half a season so when is he going to start getting on with it? He knew, or should have known, when he took the job on that transfer funds would, at best, be limited and it is believed that is why Ancelotti resigned, not sacked.
Put it this way, there are only four clubs with less points than Everton so what has he been getting on with in that time? It's not the sacking of incompetent managers that has to stop as that should be good practice, it's the hiring of them that needs looking at.
John McFarlane Snr
500
Posted 04/01/2022 at 19:46:32
Hi Christy [478] & Danny [479],
I try to avoid posting after a disappointing display from Everton, but posts similar to Len's demand a response. I am as concerned as any other Evertonian regarding the performances we have been subject to for some time now, but I never single out individual players for criticism. I tend to take the view that as a team, 'we are not good enough'. I must admit that I am more forgiving in my 84th year than I was in my younger days, and football doesn't dominate my life the way it used to.
---
Add Your Comments
In order to post a comment, you need to be logged in as a registered user of the site.
Or Sign up as a ToffeeWeb Member — it's free, takes just a few minutes and will allow you to post your comments on articles and Talking Points submissions across the site.
---
© ToffeeWeb