Report
Goodison Reaches Peak Bear-Pit as Everton Triumph Against the Odds
Lyndon Lloyd

17/03/2022
55

comments | Jump to last
If there was a feeling after the morale-sapping home defeat to Wolves last Sunday that Everton had, perhaps, gone to the well of their home crowd's vociferous backing one too many times, tonight illustrated in the most stirring way just how deep runs the passion and devotion of this club's long-suffering fans.
Supporters have answered the clarion call — initially unbidden but increasingly at the request of a struggling team — already this season, starting with the fevered atmosphere against Arsenal in December that carried the Blues to what was, before the win over Leeds last month, their last home win in the Premier League.
And if, as was suggested on these pages that the Leeds game saw the Goodison Park bear-pit cranked up to 11, tonight shattered even Nigel Tufnell's ambitious ceiling in terms of intensity. This famous old ground has played host to some raucous atmospheres but surely never has the Old Lady quaked to such a ferocious din for as long as it did tonight.
Grasping the gravity of a situation that meant even a draw would have done little for the club's parlous position, Evertonians shed their nerves at kick-off and dragged the players through 90-odd minutes of fire, brimstone, controversy and the bizarre interruption of an anti-oil protester cable-tying his neck to one of the posts early in the second half to what could end up being one of the most important results in the club's history.
The crowd seemed to live every throw-in, every tackle, every refereeing decision, practically every kick of what was, in truth, an ugly game of football played against the backdrop of gnawing anxiety leading up the game so tangible you could have cut it with a knife. Even as the odds stacked up against the Blues — the loss of Donny van de Beek and Jordan Pickford to illness before-hand, being deprived of kicking towards the Gwladys Street in the second half and then the infuriating circumstances behind Allan's red card — the fans maintained the volume.
And then… sweet, blessed relief as Alex Iwobi pivoted from being a ceaseless bundle of industry chasing black and white shirts around the park to scorer of what was, in truth, a lovely goal and one worthy of settling any game, never mind one as ugly as this.
In a purely footballing sense, Everton offered desperately little. Newcastle, with the benefit of having had Eddie Howe in the job longer than Frank Lampard and with some savvy recruitment having beefed up what was a woeful side prior to January, were more composed and penetrative over the 90 minutes but came up against the bristling intensity of a Blues team that responded to the urgency of the moment in every way in terms of sheer commitment.
The Magpies didn't shrink from the ferocity of the atmosphere in the way that Leeds seemed to; indeed they gave as good as they got in what was a very physical contest that straddled the line between legal and not. So it was fitting that referee Craig Pawson, having cultivated a permissive stance over the course of the game, only booked Allan for his cynical and late tackle on Allan Saint-Maximin with nine minutes left of the regulation 90.
His decision, however, at the prompting of the increasingly maligned Stuart Attwell sitting a couple of hundred miles away in Stockley Park, to upgrade that yellow card to red was shocking and it simply ratcheted up the fury in the crowd while simultaneously under-cutting what little chance Everton seemed to have of getting the victory they so badly needed.
Article continues below video content
Enter Iwobi, the unlikely hero of the hour, a player whose only previous goals in a Blue jersey had come at Wolves in each of the last two seasons and who was, perhaps, only in the starting XI because of Van de Beek's absence.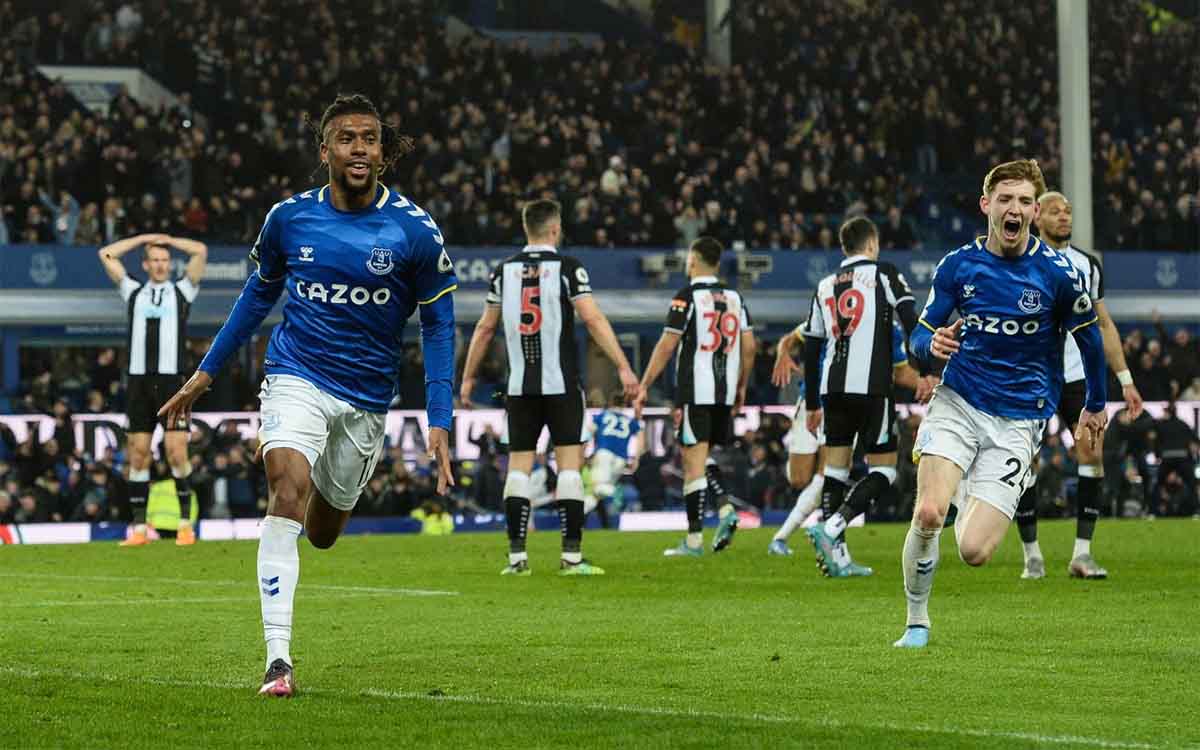 By the aftermath of Sunday, it felt as though Everton had made a lie of the refrain that there is enough quality in the ranks to drag themselves clear of relegation this season but together with Dominic Calvert-Lewin, Iwobi produced a preciously rare moment of brilliance just when the Toffees needed it following Allan's dismissal.
While the cry from supporters since Sunday had been for the manager to return to a three-man central midfield, Lampard was moved to reinstate Iwobi to the starting XI in place of Van de Beek, deploy Demarai Gray and the indefatigable Anthony Gordon either side of Richarlison, and move Ben Godfrey out to left-back to accommodate Michael Keane's return at centre-half.
Though Everton had the first chance of the game when Iwobi won a corner that Godfrey managed to get his head to but could only plant into Martin Dubravka's arms, they managed to create precious little during a tense first 45 minutes in which the visitors, in very good form coming into the evening, looked more and more comfortable as the half wore on.
Chris Wood headed straight at the impressive Asmir Begovic in the 11th minute, Ryan Fraser fired a half-volley well wide and Wood despatched a header off another set-piece narrowly over as the Magpies looked the more likely to score before the break.
Joe Willock, meanwhile, had the first effort on target of the second period when his deflected shot was comfortably gathered by Begovic before proceedings were disrupted for more than eight minutes by the one-man protest in front of the Gwladys Street and had to be cut loose.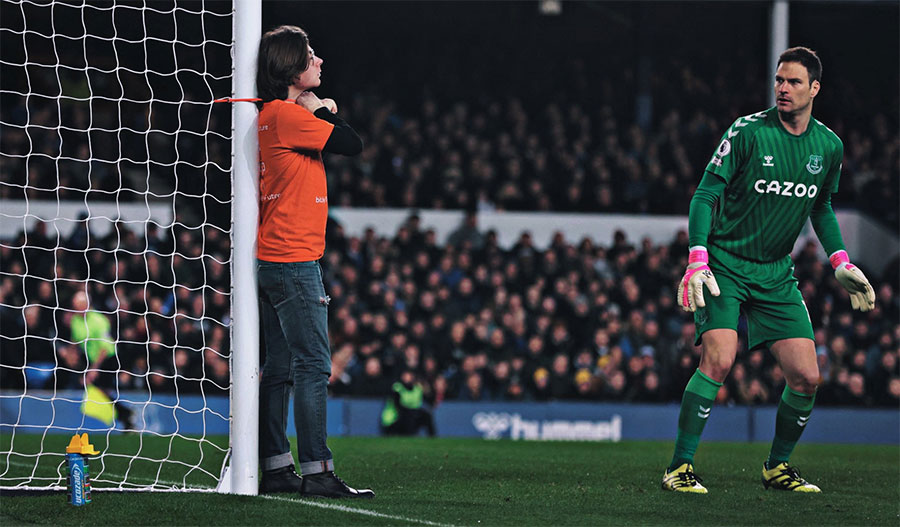 When play resumed, Everton didn't manage to fashion an opportunity until Gray sliced a half-volley over the crossbar from around 12 yards out on the hour mark after good work by Seamus Coleman while Emil Krafth saw a decent long-range effort dealt with by Begovic a few minutes later.
And the Bosnian had to be at his best in the 70th minute when Miguel Almiron beat Godfrey down the outside and cut the ball back for Bruno Guimarães but Begovic pawed the ball away from his goal superbly.
What had been a fractious affair throughout got testier as the second half wore on and when Krafth chopped Richarlison down on the edge of the box, it handed Gordon an opportunity from a free-kick but his effort couldn't find its way through the defensive wall.
Everton kept the ball after the resulting corner had been cleared, though, and Gordon stung Dubravka's palms with a strong drive after excellent footwork had taken him away from two Newcastle players.
Gray was replaced by Calvert-Lewin with a quarter of an hour of the regulation 90 minutes to go and he was almost handed a quick chance to break the deadlock but Richarlison's whipped cross in the 80th minute was just too far ahead of him.
Everton's hopes of grabbing a vital victory appeared to have been dashed, however, three minutes later when Allan scythed Saint-Maximin down in full flight and Pawson stepped into the limelight to upgrade the yellow to red to the dismay and fury of the Blues' players and crowd.
Newcastle were denied the chance to make their numerical superiority count in what ended up being more than an additional quarter-hour's play by dogged Everton defending by all nine remaining outfield players and Begovic who denied Willock with another good save at his near post.
And then, after Gordon was denied a penalty when barged over in the box, the roof came off Goodison as Iwobi plundered the winner with 98 minutes on the clock. Coleman, who was back to his tenacious best, won a full-blooded challenge against Saint-Maximin, bouncing off the French winger in the centre-circle and moving the ball quickly forward to Iwobi.
The Nigerian glided inside Dan Burn, left him for dead and found Calvert-Lewin on the edge of the box who composed himself when it looked like his first touch might have got away from him before turning and laying a lovely reverse pass into Iwobi's path where he slotted across the keeper and into the far corner to send Goodison wild.
On the sidelines, Everton's management team erupted, with Lampard admitting afterwards that he might have broken a bone in his hand in the process while the Goodison crowd, which had fought every moment along with the players all night, turned into a mass of limbs.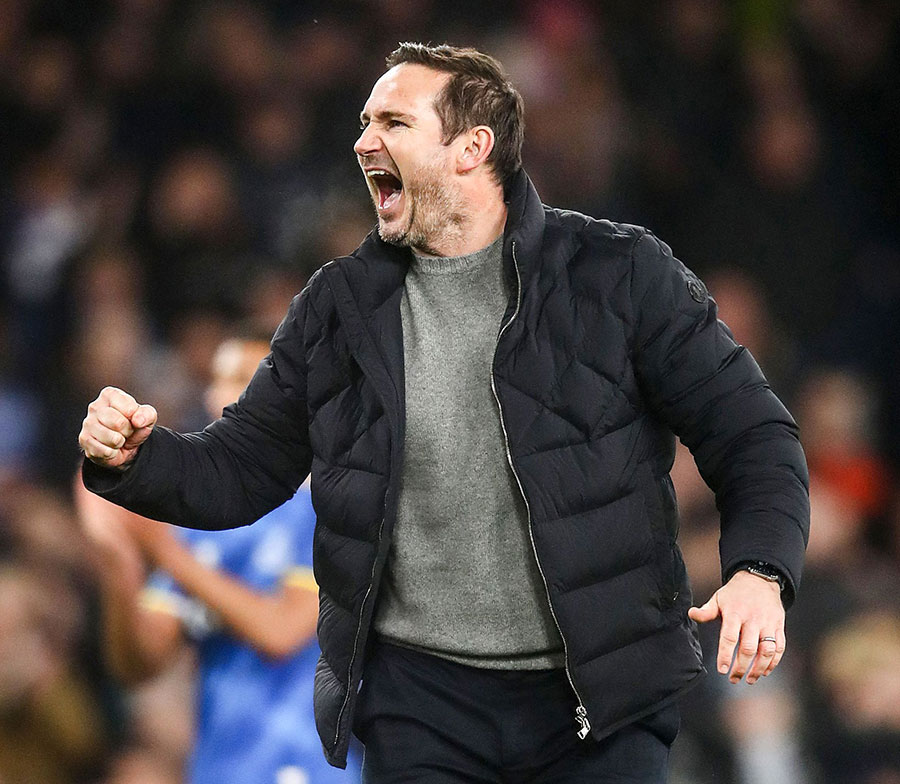 Fabian Schär had a wild effort at goal fly off target as Newcastle tried to avoid a second successive 1-0 defeat after going on a nine-match unbeaten to haul themselves clear of danger but the night was to be Everton's.
With low confidence verging on crippling among the players after what was Lampard's fourth League defeat in five, Everton sitting above the drop zone on goal difference, Newcastle in a rich vein of form and then Allan's sending off appearing to cut off the Blues' avenue to victory, this was an uplifting triumph against mounting odds.
It was another evening where, to a man (including the beleaguered Michael Keane who was excellent), the players rallied to put in a battling display that, if nothing else, proved once more that they do possess the fight when the chips are down. If things go the way Evertonians hope over the remainder of the season, it has the potential to go down in Goodison folklore as one of Everton's most memorable matches.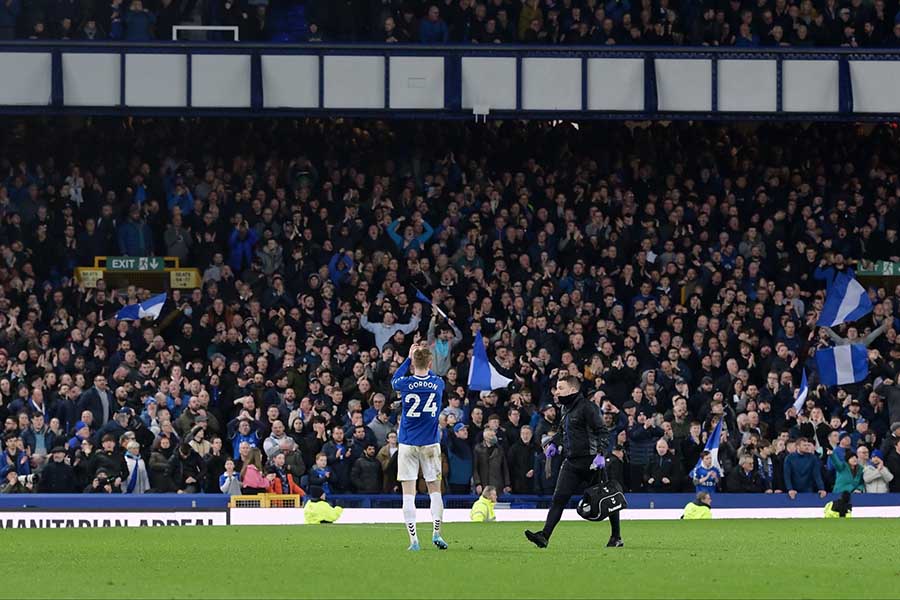 But for this to prove to be the turning point that the Leeds game wasn't, the players have to maintain this effort and commitment while finding a higher level of football in the coming weeks. This was all fire and little finesse and that's not going to be enough in many of the forthcoming fixtures.
After Sunday's FA Cup quarter-final, one that will test the Blues' dreadful away form once again, the manager and his staff have the international break to work with those players who won't be away with their national teams to continue developing an effective playing style that can grind out the remaining points we need.
Until then, the catharsis that accompanied this dramatic victory by the 10-man Toffees will afford the fans and players alike a little room to breathe before the League programme resumes at the London Stadium on 3rd April.

Follow @EFCLyndon
Share article:
---
Reader Comments (55)
Note: the following content is not moderated or vetted by the site owners at the time of submission. Comments are the responsibility of the poster. Disclaimer
Rick Tarleton
1
Posted 18/03/2022 at 06:58:00
You've summed it up perfectly, as ever, Lyndon: "the players have to maintain this level of commitment, while finding a higher level of football in the coming weeks."
There was effort, Oh, boy, was there effort, but the only level of football class was the goal, when Iwobi, yes, it was him, I'd cursed his selection, but it was him, who burst through, exchanged a brilliant one two with the much maligned Calvert-Lewin and then coolly placed his finish into the net.
In many ways we were outplayed, Pawson's poor refereeing added to our problems, but we fought. Hebraic, rather than Hellenistic, but for once we had the luck.
Some were better than others, but all gave their all. Begovic exuded confidence, Coleman defended with all he had and exhorted the others, Gordon's skill has steel and the crowd made it a bear pit.
My angina was making me breathless, but it was one of those matches which reminded me how I fell in love with Everton when Dave Hickson epitomised courage and effort.
Well done, but don't forget Lyndon's advice to find a little bit more football class, against better opponents, effort may not be enough.
I'm not sure the cup game is that relevant, and Lampard may be tempted to give his key performers a rest on Sunday. A semi-final at Wembley against City or Liverpool could shred our fragile confidence. I wouldn't be over upset if Palace won a tight game.
COYB.
Mick Roberts
2
Posted 18/03/2022 at 07:45:36
Just one question: How the hell, with his abysmal decisions, is Atwell still in a job???
Ian Bennett
3
Posted 18/03/2022 at 07:45:58
Great result, dragged over the line by the crowd under the lights.
I worry on a 2pm on a Sunday, it'll be as flat as a pancake. So we need the players to inspire the crowd as well.
John Hammond
4
Posted 18/03/2022 at 07:50:10
Awful game. We were fortunate Newcastle didn't have their shooting boots on and Saint-Maximin was only a sub. Ref tried to let the game flow but had no control and as for VAR...
Lampard needs to find a solution to our midfield because, it's been said a million times, 2 doesn't work for us. I'd like to see Iwobi tried as the furthest forward of a midfield 3. He seems more comfortable central and doesn't stop running. He's completely ineffective on the wing. Just a thought.
Mick O'Malley
5
Posted 18/03/2022 at 07:53:40
Sorry but I can't agree about getting knocked out of the cup, I want us to go through 100% and would be absolutely gutted if we lost to Palace.
A trip to Wembley could be a confidence-booster for everyone associated with the club. Every side is beatable and we are close.
The trip to the 1984 Milk Cup Final ignited the rest of that season, leading to an FA Cup win. Trips to Wembley and winning cups is what it's all about!
I'm desperate for a big performance at the weekend and our fans deserve a day out at Wembley… COYB UTFT!!
Phil (Kelsall) Roberts
6
Posted 18/03/2022 at 08:03:57
Love "Peak Bear Pit"
Brilliant Lyndon, brilliant.
Russelll Smith
7
Posted 18/03/2022 at 08:28:57
Great result in a crap game. The worry now is who replaces Allan for the next three games?
Suspect it will be Gomes. That will be okay against Burnley but he will be a disaster against West Ham and Man Utd, as he can't string two good games together.
As he often does, he looked solid in his brief time yesterday but we have seen this before. With whatever lurgy is going around the squad, it may be we only have a limited number of players available. COYB
Sean Roe
8
Posted 18/03/2022 at 08:29:14
It's a shame that playing a bang average team like Newcastle at home is considered ''against the odds'' but that is how far we have fallen.
Unless we start playing as a team, we are going to get our bottoms handed to us on a plate over the next few games.
The forwards are so far detached from the rest of the team, it's unreal.

Bob Parrington
9
Posted 18/03/2022 at 08:30:30
Rather than awful game, it was a great game absolutely full of passion, sloppy play, excellent play, lousy refereeing, fabulous home ground passion from Everton supporters, total commitment from Everton players, thuggery as usual from the Barcodes and badly managed by the officials. And we won with a really well contrived and executed goal.
What else would you want from reality entertainment?
Nick White
10
Posted 18/03/2022 at 08:46:33
Agreed Bob! I don't know how anyone who was at Goodson last night could describe that as awful!
Absolutely fantastic and a much needed 3 points. I'll take a smash and grab every game for the rest of the season now starting on Sunday!
Mike Morgan
11
Posted 18/03/2022 at 09:12:47
Great 3 points and win. But losing Allan could cost us. A back four with Allan and Doucouré playing deep gives us the best chance of survival. We have no-one to replace Allan.
Gomes over-plays and can't tackle. Davies and Delph are injured. Good to have Godfrey back at left-back, he's a good defender but offers little going forward.
I still can't believe we let Digne go (Mykelenko should have been bought as his back up, to give him time to develop).
Hopefully the 4-2-1-3 will continue with Gomes stepping up to Allan's role and the team spirit from last night will see us through.
Simon Jones
12
Posted 18/03/2022 at 09:41:29
This will probably prove to be an unpopular opinion, but watching the game on the TV, I thought the referee did ok. He tried to get the game to flow despite umpteen niggly fouls from both sides. Our worst offenders for this were definitely Richarlison & Gordon, who have the "modern game" ability to buy a foul down to a tee and subsequently appear to have their world snatched from them when one of the barcodes did the same back to them.
The sending off was one of those decisions when viewed at normal speed was definitely a yellow, but looked much worse when slowed down. I can see why the card got upgraded to a straight red.
I suppose on the back of the non-handball VAR decision against Man City, the crowd are already predisposed to vent their fury at what seems like unfairness coming from Stockley Park, but taken in isolation, I thought the upgrading to a red seemed inevitable.
The biggest win for Everton was getting the crowd back onside after Wolves. Scarcely an empty seat despite the game going on something like 16-17 minutes longer. It sounded amazing in my front room. Wish I'd been in the ground for that one.
Brian Williams
13
Posted 18/03/2022 at 09:52:50
Not just an unpopular opinion but an astounding one!
That was one of the worst refereeing performances I've seen in a long time, and I'm not including the red card decision in that.
He was atrocious and made bad decision after bad decision.
Brian Harrison
14
Posted 18/03/2022 at 10:00:53
So many emotions to deal with for fans and players, the pressure these players are under is immense and its even worse for the fans. What nobody can say after last night is players don't care, they left everything out on that pitch as did every fan inside the ground. For most of the game we lacked any cutting edge and this has been a problem all season and its something Frank will need to fix for the coming games. Richarlison as always ran himself into the ground but as much as he says he wants to be the front man it doesnt suit his game. He takes an awful battering from CBs and he needed someone like DCL or Rondon to play in front of him to lesson his load. Although DCL only came on shortly before Allan was sent off ( a poor decision ) we had a focal point someone who could physically battle their defenders.
Although I thought Doucoure had another poor game once Allan went off he really grew in stature and started to have a real impact which he hadnt done much previously. Also whether it was a virus that kept Pickford out of the side or maybe Frank had heard about him getting wound up by Newcastle fans, the decision turned out well. I thought Begovic brought a calmness to the back 4 which gave them confidence, for me he starts the next game. Special mention for 2 men who have taken a lot of stick during their Everton careers Keane and Holgate, I thought they were magnificent and apart from a header from a corner from Wood other than that their forwards never created any problems thanks to Keane and Holgate. I think left back is Godreys best position the only one concern last night is when the Newcastle player picked the ball up just inside our half and out paced Godfrey who fell over trying to defend.
Again another top performance from Anthony Gordon who just gets better and better with every game. My only criticism is he doesnt shoot enough and the same can be said of Gray who so far hasnt played as well under Frank as he did under the previous manager.
At this stage of the reason results are far more important than performances and last nights game was so very important on so many fronts. Hopefully with DCL now back and ready to play irrespective of where he ends up playing next season, I want him to show why he is Englands understudy to Harry Kane and that was a great lay off for Iwobis goal. I admit I have slagged off iwobi loads of times and I think rightfully but last night he ran his socks off and at long last had the belief to play it to DCL then run into the box for the return and finished with a great finish. maybe just maybe that Frank can get the best out of him.
Jon Harding
15
Posted 18/03/2022 at 10:15:27
From my front room with the match on the big telly, the atmosphere was amazing. There must be nearly 40,000 hoarse supporters about this morning.
That atmosphere inspired all our players to give it their all: A for Effort all round; as for Attainment, well that still needs some work.
UTFT
James Lauwervine
16
Posted 18/03/2022 at 10:55:58
Excellent report Lyndon, some lovely phrases in there, eg 'mass of limbs' :-)

Watching the game (at home) I really felt that the referee was doing his utmost to lose us the game. The red card was a disgrace. You can imagine Twatwell in Pawson's ear as he watched the replay, convincing him it was a red. Bad decision after bad decision. Fortunately the goal was indisputable, because if there had have been any chance whatsoever to disallow it, he would have.

One thing I will say about watching the game on Amazon is how nice it is to have the option to turn the commentary off - especially with fucking Shearer as co-commentator.
>I don't think I've celebrated a goal so madly for a very long time. Almost did a Lampard myself when I punched the wall in mental delight.

Tom Bowers
17
Posted 18/03/2022 at 11:44:01
When you play poorly as Everton have done for most of the season everything goes against you even the 50/50 decisions by officials but all credit to the Blues in this game to rally and find a way to win even down a man. Terrific !
This seemed even better than Gray's late winner against the Gunners and Jag's late screamer against RS.
Talking of decisions how do RS get the weakest team left in the Euro draw ?
Barry Hesketh
18
Posted 18/03/2022 at 11:46:41
"Our Everton" a video poem from Ali Bell, well worth a look.
Howard Sykes
19
Posted 18/03/2022 at 12:00:32
Well we can appeal Allan's red card (straight reds can be appealed) which will bring it back to the yellow that the referee thought it was.
Mark Andrews
20
Posted 18/03/2022 at 12:35:08
Beautifully written Lyndon.
Christopher Timmins
21
Posted 18/03/2022 at 13:07:18
A great result given the circumstances leading into the game and the fact that we were slightly unlucky to go down to 10 men. We kept a clean sheet and if we just add a bit more quality then we should get out of this mess, we certainly have enough winnable games left to keep us from the drop. We don't possess a lot of quality in the squad but with hard work, desire and the rub of the green we can survive.
The manager has a major rebuilding job ahead of him in the summer but he certainly seems committed to the cause and with current player contracts running out there will be scope for new additions. He can at least make a start to putting a stamp on the way he wants us to play. It will take time but if we stay up were in chance going forward.
We have to avoid the drop!
Jack Convery
22
Posted 18/03/2022 at 14:12:27
A great report that sums up the game, atmosphere and the results importance.
The Red card has to be declared void. If not, it proves what a lot of us Blues feel, that EFC are definitely judged under different rules.
Now for a trip to the Palace and keep the momentum going. COYBs !!!
Rick Tarleton
23
Posted 18/03/2022 at 14:12:54
In theory, Mick, I'd agree with you about Wembley. However, Kendall's team had some great players: Southall, Mountfield, Ratcliffe, Sharp etc. They needed to be stimulated, but the present group look rather fragile and Premiership survival has to be their aim. A Wembley semifinal against City or Liverpool could shatter that limited confidence. It's cautious and I'm slightly ashamed of my negativity, but I'm frightened for this squad.
Rob Hooton
24
Posted 18/03/2022 at 14:13:54
Great report Lyndon, I only wish I could have been at Goodison to scream and shout myself silly!
I think we should put the best team we can field on the pitch on Sunday, there is an international break after that and it would be great to go into it with a bit of confidence and a semi-final to look forward to.
Our destiny is still in our hands and I have more belief than a few days ago that we will climb out of this mess - surely we have to win at least a couple of away games this season and stop that rot! DCL looked good when he came on and it allowed us to move players further up the pitch knowing he had a good chance of winning the ball and holding it up, Richy tried hard but doesn't offfer anywhere near as much as he does when playing out on the left.
COYB!

Jay Harris
25
Posted 18/03/2022 at 14:40:26
Great report, Lyndon.
Stuck here in Central Florida, I have become increasingly depressed these last few weeks but, when that goal went in, this 71-year-old screamed like a newborn baby, so loud I'm sure the whole neighborhood heard it.
A game which proved that hard work and determination can overcome a lack of quality and ability.
Stu Darlington
26
Posted 18/03/2022 at 14:40:35
Ugly at times but we found a way to win, that's all that matters. Let's hope it continues over the remaining fixtures.
I can't fault the effort and commitment which has been lacking all too often this season, we need to see it in every game now.
Something has really got to be done about the standard of refereeing and the VAR application. It's unfair, incompetent and inconsistent and could cost Everton dearly at the end of the season
It would be interesting reading if the PL undertook an honest review of referee performances and VAR decisions in each game over the season and published their findings with a commitment to make changes. It will never happen of course but it can't be allowed to continue like this.
I know I can be accused of wearing blue-tinted glasses (and I make no apology for that) but it's happening every weekend all through the league.
What worries me is that we begin to accept this level of officialdom as the "norm" and things go from bad to worse.
Steve Little
27
Posted 18/03/2022 at 17:59:44
We carried little goal threat with 11 men but looked more dangerous in the short time that we played with 10. That's despite losing our best midfielder. Go figure…..
Here is my theory - its to do with the formation. Playing 4231 the front 4 players are too isolated from the rest. If Coleman won the ball in midfield he would not have been able to lay it off to Iwobi as he would have been too far advanced. Options would have been to play a long ball forward or a pass to Iwobi's feet but he would have his back to goal. In too many of these sorts of situations the play broke down.
Once down to 10 men we were forced to play 441. Coleman wins the ball in midfield, Iwobi is nearby for the simple pass and the rest is history.
With 11 men we had only 6 who were in a position to work the ball forward from the back. With 10 men we had 8 available. Hence the more joined up football.
In order for the original formation to have worked the three forward-supporting players would need to be sitting a lot closer to the defence until the ball is won and then moving up to support the lone striker when on attack.
Does this make any sense?
Paul Birmingham
28
Posted 18/03/2022 at 18:13:28
True faith, and Blind Hope, fantastic crowd, crazy game and some celebration, when Iwobi's goal went in, the noise level like Bayern Munich at home in 1985.

Now to get some consistency and learn from last night.
Shame about the latest amateur referee, to be in charge of our game, Everton, are getting no luck and very rough justice.

For me from next season, scrap Stockley Park, and new rules means all VAR decisions are done pitch side.
But if a referee with in 20 yards of the challenge can't make a decision, then there's serious question about the purpose of the match referee.
Now to beat Palace.
Mark Andrews
29
Posted 18/03/2022 at 18:23:54
I see the clubs appeal for the red card has been rejected.
What an utterly corrupt league this is.
Will Mabon
30
Posted 18/03/2022 at 18:26:28
Nailed another one, Mr Lloyd.
I wasn't impressed by Newcastle at all, their relative position in the table serving to illustrate how far we've fallen from our realistic level.
A below-par Calvert-Lewin cameo showed how their defence might fare against some of the better teams.
Will Mabon
31
Posted 18/03/2022 at 18:27:31
Mark, yes.
I'd be interested to hear the "Reasoning".
Dave Abrahams
32
Posted 18/03/2022 at 18:35:22
Mark (29), I wonder what sort of case we put up to get this red card dismissed or reduced, it makes a mockery of Mike Riley's apology for admitting they got it wrong the other week in Man.City's handball game plus the referees they have chosen on the field and in the studio for Sundays cup game v Palace, they are just laughing at us and the club.
Dale Self
33
Posted 18/03/2022 at 18:37:15
Not trying to wind anyone up and yes, Shelvey's and some others rise to that level but I do believe it was red at the margin. Allan had no play on the ball and studded Maximin's ankle from the angle I saw.
While you could argue the follow through contact and maybe that could take it down to a yellow, if it appeared on screen that Allan didn't pull back after knowing he wouldn't get the ball then that's just enough, I'm afraid to say.
Sorry Dave, I hate disagreeing with you. To my credit you weren't there when I read before posting.
It should not be a three-game suspension though. And seriously, not trying to wind anyone up here, I would rather it not have been called at all.
Will Mabon
34
Posted 18/03/2022 at 18:42:07
Too much politics and big-power thinking in there now, Dave.
It shouldn't come into it but you just know that someone there would have also considered how it "Looked" if they'd admitted two mistakes to us in a couple of weeks - irrespective of the reality.
Dale Self
35
Posted 18/03/2022 at 18:46:25
Had another look and it wasn't on the ankle but on the side of the boot I think. I would have had a talk with a yellow if saw that on the monitor but if Pawlson has some consistency on these kinds of calls ok otherwise he is a bit of a prick.
Dave Abrahams
36
Posted 18/03/2022 at 18:49:05
Dale (33), Dale it makes no difference if you saw my post or not you are entitled to your opinion the same as everyone else but it appears that quite a lot of neutral people have indicated it didn't deserve a red but whether it was or wasn't Allan is going to miss the next three games and it's no use in crying over spilt milk, although I think if every foul such as last nights was treated with the same punishment then there would be a lot less to moan about.
Gary Jones
37
Posted 18/03/2022 at 18:53:17
Steve @ 27, I think it makes a lot of sense. For me it should really be mostly a 4-5-1. Let one sit and protect the back and the other 4 flood forward and get back too. Gives numbers at both ends, and I think suits the players we have more, especially Gray and Gordon who I think are wingers rather than AM's.
A proper 4-2-3-1 requires an exceptional two I think, and it's never really worked for us since Barry and Jimmy Mac. Allan and Doucoure showed early promise as a pair, but haven't delivered consistently. Don't think there's another one of our midfielders capable of playing it as a primary role. Delph pre-injuries maybe.
Without Mina fit, only other shape I think fits is the 4-3-3, but I think that'd only work with exceptional ball players at fullbacks to send some long balls forward to goal scoring wingers like the shite do. We don't have these players either. I think a 4-3-3 could work maybe with Rondon, Calvert-Lewin, and Richarlison as the front 3, so the forward lumping doesn't just rely on one Number 9 taking a kicking. I think those 3 together would be a nightmare, but Gordon is currently undroppable!
So, all waffle aside, 4-5-1 for me on Sunday please:
Begovic
Kenny Holgate Keane Godfrey
Gordon Gomes Iwobi Doucouré Richarlison
Calvert-Lewin
Gray, Rondon and Townsend from the bench if we end up chasing it.

Steve Shave
38
Posted 18/03/2022 at 19:17:55
I like that team Gary (37) except I think Coleman did more than enough to play ahead of Kenny.
Stephen Yule
39
Posted 18/03/2022 at 00:07:51
Allan had both feet off the ground and was flying – can't complain much re a red in the circumstances. Three game ban is severe and we have no replacement.
Not Gomes please. Try Holgate in that role with Branthwaite in his back position?
Bernie Quinn
40
Posted 19/03/2022 at 00:47:21
*I am 84 years old and supported Everton since 1946. I remember our last relegation back in '51 and certainly don't want it to happen again, though with this Premier League and poor standard of refereeing (VAR etc) it is very worrying.
Though born and bred very close to The Grand Old Lady, I have been living in Christchurch, New Zealand, for many years and I mainly rely on ToffeeWeb for the Blue's News and very grateful for it, My thanks go to you, Lyndon and Michael, for the site and thanks also to all the contributors for your offerings.
If I may I would especially thank Christine Foster, Danny O'Neill and Colin Glassar for their comments. I am on their wavelength and fully agree with what they say.
My thanks again, and God Bless the Team and all Evertonians.
Chris Jones [NZ]
41
Posted 19/03/2022 at 03:13:19
Hi Bernie,
Nice to know there's another Toffee in this neck of the woods – I live just south of you in Lincoln. I've bumped into a very few others but there are far too many of the red sort around. Hope you are keeping well and that the results pick up from here on!
Bernie Quinn
42
Posted 19/03/2022 at 05:44:13
Hi Chris - Thanks for the contact. Nice to know there are a few of us Evertonians on the Mainland. Actually there is another one here in Christchurch and funnily I can't think of any followers of the Dark Side here (apart from my wife but she doesn't know any better. Then of course there is Christine Foster from up on the North Island.
I was thinking about the big drop, and after the first season in Div 2 I enjoyed the games what with Dave Hickson and John Willie Parker goal-scoring madmen and Tommy Eglington banging in 5 in one match.
I don't want that to happen again though. I want some trophies before I go to that big stadium in the sky!!! Take Care.
Gerry Quinn
43
Posted 19/03/2022 at 07:23:09
Bernie - are you the "Bernie" Offshore Diver that joined me on running away from the radio and standing out on the Bridge wing of the ship shitting ourselves when Dion Dublin scored THAT goal against us?
James Hughes
44
Posted 19/03/2022 at 08:06:01
Chris my daughter lives in Auckland and we went to see her December 2019. I also went to Christchurch to see my cousin, her oldest son has kept the faith. His main complaint was too many RS and Man Utd fans about, simply because they were the only kits available when they were growing up.

Gerry Quinn
45
Posted 19/03/2022 at 08:26:35
Bernie - it was 10th May 1998 - Everton 1-1 Coventry - Dublin equalised in 88th minute and Everton (mercifully) finished 17th...avoiding relegation on goal difference with Bolton!!!!!!!!
Brian Murray
46
Posted 19/03/2022 at 08:26:45
Gerry post 43, If true Gerry now that's a story and a half. Small world as they say. Any nice retirement homes out there for a deluded chairman. Il pass on your details. Not quite far enough but it would do.
Danny O'Neill
47
Posted 19/03/2022 at 10:27:37
It's important that we take the feeling from the Newcastle match and build momentum. Starting tomorrow. A Wembley date can lift morale even more after Thursday.
Bernie, thanks for the mention. Humbled sir.
I spent time in Christchurch. Well, the military base at Burnham to be precise, but got to spend some time in the city. It was a couple of years after the earthquakes. I'd read about the impact, but to see it first hand brought the scale of the damage home.
Gerry Quinn
48
Posted 19/03/2022 at 12:13:03
Think I have the wrong Bernie Quinn as you would have been 60 in 1998!!! Sorry about that
Bernie Quinn
49
Posted 19/03/2022 at 16:54:31
Sorry Gerry - definately not who you were thinking of as I came to NZ in 1971 joining the Police here. Hi Danny - nice to hear from you - hope you didn't mind my mentioning your name' I do enjoy and agree with your comments - likewise with Christine and Colin. Fingers crossed we win today ( sorry, tomorrow for you ! ) and you get to Wembley.
Danny O'Neill
50
Posted 19/03/2022 at 21:29:25
No problem at all Bernie; call me out anytime, even when you don't agree! It's a great forum for exchanging views and opinions and meeting people both virtually and in person.
Regardless of how views and opinions may differ, it all relates back to the one thing that binds us together. Something I can't remember how I ended up being blessed with.
Everton. We just are and always will be.
Chris Jones [NZ]
51
Posted 19/03/2022 at 22:18:41
James - you could be right there. I still see plenty of red replica shirts in the sports shops and bugger-all of ours. Another marketing masterstroke by the club!
Then again, we might just notice reds more because they're invariably louder.
Just thinking about Blues down this way - I've a vague memory that there used to be a Christchurch supporters club, perhaps called Bluesaders, years ago when the internet was new-ish. I've seen nothing about it for ages though.
Bernie Quinn
52
Posted 19/03/2022 at 22:46:31
Danny, my dad was a semi-pro with the Toffees way back in the day when I was a toddler so I guess I was just about born an Evertonian.
Chris, I can't recall Christchurch having a Supporters Club, otherwise, I would have been a member.
You are right about the lack of Everton shirts. Plenty of other clubs but not ours. I did meet the Team though back in the 1980s and had my photo published in the Christchurch Star handcuffing two players together. I spent a couple of hours with Howard Kendall and the full Team telling anecdotes. Cosmic!!!
Gosh, I hope they beat the Palace COYB
Bernie Quinn
53
Posted 20/03/2022 at 01:58:05
Not really topical - but can anyone tell me how Christine Foster is? I know she was in hospital but not sure how well she is now.
Christine Foster
54
Posted 20/03/2022 at 05:51:36
Hi Bernie, thanks for the enquiry!
I am doing okay, dreaded heart disease, too much butter on my toast when I was a kid! But doing ok, just have to keep on with the beta blockers. asprins and some other stuff for the rest of my days! Waikato hospital were very good, had a couple of procedures but came out the other end okay, not something I want to do again!
Thanks too for the kind mentions, I think I remarked the other day, that it must be about 17 years since I first posted on ToffeeWeb, it's been my one and only go-to place for all things Everton. I have moved around a lot over the years, this is my second spell in New Zealand, had 13 years in Rotorua before setting off for Brisbane for about the same amount of time before heading over to France for a few years... mum always called me a gypsy...
Back in the North Island now, after a brief spell in Richmond / Nelson, just a small place in Hawera I am doing up... its a long way from Goodison, I am determined to make it to the new stadium at Bramley-Moore Dock (I used to get my tyres from Metro Tyres opposite the dock gates).
Very much a Scotland Road girl, when I go home, it's like finding my own Tribe again!.
Stay safe and well Bernie!
Bernie Quinn
55
Posted 20/03/2022 at 07:08:19
Hi Christine; Thank goodness you are keeping well.
As I have bionic hips and also a knee – plus a triple heart bypass – arthritis in hands and back and very hard of hearing (pardon?) and knowing how I felt after Thursday's match, I was concerned if you were put under stress.
I am originally a Walton boy then moved to Gingerbread Ormskirk in my youth. Three years in the Irish Guards then joined the Lancs Police. After 10 years, came to New Zealand in the Police, stationed in Christchurch, and lived here ever since with my wife Sheila and 3 children.
Of course we are empty nesters now and looking forward to our Diamond Wedding Anniversary in June (please God) . I just want us Evertonians to enjoy a trophy now before I join Dixie Dean and the rest of the Gang in that Stadium in the sky.
But I am pleased, love, that you are well – just wait until you are taking 12 tablets every morning!!! Tara Well
---
Add Your Comments
In order to post a comment, you need to be logged in as a registered user of the site.
Or Sign up as a ToffeeWeb Member — it's free, takes just a few minutes and will allow you to post your comments on articles and Talking Points submissions across the site.
---
© ToffeeWeb