Everton duo and England into the last four
Saturday, 3 July, 2021
England 4 - 0 Ukraine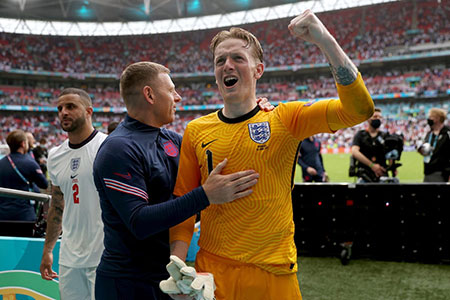 Jordan Pickford made history and Dominic Calvert-Lewin made another cameo as England booked their place in the semi-finals of the European Championships with a thumping win over Ukraine in Rome.
Gareth Southgate's men hammered Andriy Shevchenko's charges 4-0 thanks to a brace by Harry Kane and further strikes by Harry Maguire and Jordan Henderson, with Pickford becoming the first goalkeeper to keep five straight clean sheet in the tournament's history.
England went ahead early when Kane beat the offside trap to stab past the goalkeeper before Pickford was called upon to make a decent stop to prevent Ukraine levelling later in the first half.
Maguire struck from a corner inside two minutes of the second half and Kane added his second shortly afterwards but initially there was no sign of Calvert-Lewin when Southgate started making substitutions.
Henderson came on for Declan Rice and headed home from another set-piece to make it 4-0 as England ran away with the tie.
Pickford was called upon again to parry away a fierce effort moments after Calvert-Lewin was belatedly introduced with 18 minutes left.
---
Reader Comments (89)
Note: the following content is not moderated or vetted by the site owners at the time of submission. Comments are the responsibility of the poster. Disclaimer
Colin Glassar
1
Posted 03/07/2021 at 22:05:41
England are going to bore me to death but I don't give a flying fuck tbh!!! Cmon Eng-Er-Land!!!!
Des Farren
2
Posted 03/07/2021 at 22:09:17
I'm bored watching them. Jordan seems back to his errr best?
Brent Stephens
3
Posted 03/07/2021 at 22:10:05
In all honesty, the opposition didn't provide much opposition. But you can only beat what's in front of you, as Winston Churchill once said after a game against Germany. But it looks as if Southgate can interchange players, formations and tactics with everybody understanding their role. Brave to pay the likes of Sancho, Bellingham.
Tom Harvey
4
Posted 03/07/2021 at 22:37:51
Very true, you can only beat what's in front of you.
However, the Italian or Spanish defenses will not be as charitable as the Ukrainian defense.
David Pearl
5
Posted 03/07/2021 at 22:42:32
Saka, Grealish and Foden to come back in the team. Ben White not in the squad (a £50M player, apparently). Has to be the strongest squad in my memory.
Pickford probably a bit bored.
If England can win a major tournament during my lifetime... then so can Everton!
Coyb
Jay Harris
6
Posted 03/07/2021 at 22:57:46
As usual, the commentators ruined it by going on about this being the same stadium that Liverpool won the Champions League twice in and would not shut up about Jordan Henderson's goal.
What is it about this obsession with the RS?
Jeff Armstrong
7
Posted 03/07/2021 at 23:06:13
To all the Evertonians who do not give a fuck about England, thank you, fuck off and good night, see you in August !
Paul Hewitt
8
Posted 03/07/2021 at 23:15:58
Can't wait till really football starts.
Jeff Armstrong
10
Posted 03/07/2021 at 23:18:22
To all the stuttering English Evertonians who do not give a fuck about England, thank you, good night, see you in August!
Danny O'Neill
11
Posted 03/07/2021 at 23:58:30
Don't Colin. I've been listening to that pronunciation of the chant for hours.
Jeff, we're all Evertonians, just not all English or England supporters.
England have a real chance here. They were always going to be too good for Ukraine; the were superior in the end.
They will have too much for Denmark and make the final. They have a genuine chance to win this.
Forza Italia!
Jeff Armstrong
14
Posted 04/07/2021 at 00:05:27
Yes Danny, fair point, my ire was aimed at the English Evertonians, who no doubt will pile on cos they don't support England, well fine, see you in August.
Danny O'Neill
15
Posted 04/07/2021 at 00:16:26
Hey Jeff, I've just come back from watching the match in my local and the atmosphere was great. There seems to be real belief amongst the England faithful.
Rightfully so. England has a chance, which I said from the start.
Mark Andersson
16
Posted 04/07/2021 at 01:02:37
The last time England won a trophy, Everton won the FA Cup.. coyb
Tom Harvey
17
Posted 04/07/2021 at 01:07:44
Danny @ 11
If you tot up the £ value of every squad in the competition I feel sure they're the most expensive squad (maybe them and the French?), England really should be winning this thing based on this.
Just look how well Denmark are doing for next to no value.
John Gorham
18
Posted 04/07/2021 at 02:44:45
Thought Pickford look nervous and Calvert-Lewin played as a #9 to hold up play.
They need to play Foden as Man City can break down the final third better than any team, and he was the best at it last season.
Bob Parrington
19
Posted 04/07/2021 at 03:40:43
Can't complain too much having won 4 - 0 but did Luke Shaw make a forward pass at any time during the game (a couple of good crosses maybe)? To me, he seemed to kill every bit of momentum down the left.
Terry White
20
Posted 04/07/2021 at 03:43:30
Shaw was doing his best Holgate impersonation, Bob (#19). Run forward 5 yards and then pass it backwards.
Not sure what you are getting at in relation to Calvert-Lewin, John (#18).
Bill Watson
21
Posted 04/07/2021 at 05:13:12
Jeff.
I'm English, an Evertonian of over 60 years but couldn't give two fucks about England. Just do one.
Derek Moore
22
Posted 04/07/2021 at 05:32:14
I'm English and an Evertonian too. I won't watch them for a second either but I look for the score in the morning after they've played. I have more or less "pissed off til August" but I still hope they win the whole thing. The fans have suffered enough to deseve some success.
Quite staggered Pickford holds that clean sheet record actually. There have been at least a dozen keepers over the years I've seen in the Euros whom I wouldn't see Jordan fit to lace their boots. It's a funny old game.
The team not playing particularly well but grinding through regardless are generally the danger in tournament football, so to my mind I think it will probably be Spain.
Bob Parrington
23
Posted 04/07/2021 at 05:55:54
Yes Terry, good point. Holgate did come to mind.
Danny O'Neill
24
Posted 04/07/2021 at 06:27:40
Tom @17, yes, the Danes are currently bringing through some very good players. Brentford are pretty much "made in Denmark". As I've repeatedly said around these pages, they were my dark horse tip before a ball was kicked. I wish I liked a punt at the bookies. I think I'd have got good odds on that. If I was Brands, I'd be looking to shop in Denmark.
Not taking anything away from England last night, but they didn't have to do a lot, just stay patient and wait for the moment. Hence a lot of sideways and backwards stuff. It was the plan. Ukraine came into a bit more in the latter part of the first half after changing formation, but once that early 2nd half goal went in, that was that.
Jordan has had a great tournament on the back of a very strong second half of last season. But last night he reverted to what we've seen in recent seasons for a period having made an error with a clearance that seemed to effect him mentally. It appears to be problem with him, but encouragingly, one he in most part seems to have addressed. The ability is there, but it's when his head goes he (and we) have problems. You can arguably say that about most players, but particularly pertinent to Jordan and always more visible when it's your keeper; the last line of defence.
Aside from that, I thought Sterling was standout and Kane showed his all round abilities as a striker. Some of us have discussed the differences between him and Calvert-Lewin. I've often said that Kane is more complete because as well as doing the in-the-box stuff, he can be effective as a striker from outside. That volley or shot from outside the box in the second half that forced a "worldy" save from the Ukraine keeper is an example. You don't get that from Dominic. He is effective, but almost entirely inside the box. The more I watch Kane, he reminds me in some ways of Graeme Sharpe.
A tougher test lies ahead against Denmark, but England will have enough. A final against Italy is my prediction. As well as not really having allegiance to England, I have Italy in my local pub's sweep stake, so that's the blue (Azzuri) mast my colours are nailed to!
Paul Smith
25
Posted 04/07/2021 at 07:03:18
Literally can't believe the negative comments. We should be winning? Well, we are – with no goals against. Luke Shaw being questioned about forward passes and likened to Holgate? 2nd most assists in the whole competition and absolutely nothing like Holgate. I had to laugh at that. Holgate has never crossed anything – including the halfway line.
England have been fantastic and will get to the final, I hope against Spain as Italy look like a Rolls-Royce of a team. We (I've always enjoyed supporting England even growing up in Liverpool) have a great chance of making history and it's a great feeling.
Come on England. Where's me fuckin George cross?

Jerome Shields
26
Posted 04/07/2021 at 07:15:08
I think that they will probably get to the final and have a good chance of winning the competition. It would do Pickford's confidence no end of good.
Early in the game, I thought Pickford would make a difference. They did not need him to that extent as Ukraine's inadequacies were ruthlessly exposed.
I may have to watch football next season with subtitles. The commentators will be worse than Jim Beglin. At least with Jim I can swear at the television and maim him on the live forum.
Danny O'Neill
27
Posted 04/07/2021 at 07:27:21
It's interesting Paul. I grew up not really having a connection with England. Britain yes; I'm a huge patriotic Brit, but not England. I guess that's down to my family background. Union flag for me, not the St George's Cross.
I'll be honest, I was pretty apathetic about England for most of my life. I think living in London for so many years has driven me down the path of actually not liking it too much. Not to the point of resentment, but it definitely takes on a more sinister feel here when I watch the behaviour of England fans in my opinion. I've said before, I was also scarred by my one and only attendance at an England match in Luxemburg in the 80s. Never been a fan of the following England attracts. I know there is support from all over the country, but it tends to have a London / south East ownership stamp written all over it.
Don't get me wrong, my wife is polar opposite. She's from the West Midlands and English first, not British. My attitude towards England generally causes internal strife and conflict during these periods!!! She equally resents my Everton-ness and allegiance to the city of Liverpool above all things England.
I could go on, but I don't want to distract from the football. You are right, England, without having been spectacular, have been very professional and played to their strengths in this tournament. They've had the luck of the draw and all that, but then that's football, you play what's in front of you. Good luck to them, but I don't want them taking my sweep stake winnings!
Darren Hind
28
Posted 04/07/2021 at 07:53:01
I want England to to win it.
Maybe that's solely down to the fact that I've backed them to do so, but I also want them to win it because two of our players are playing.
The indifference to the England team is down to the over-the-top London press. The foolish expectation. The total nonsense spouted by pundits. whenever we beat a poor side.
From a Scouse point of view, there is always the political element. Many Scousers simply refuse to see themselves as English.
I have the utmost respect for all those millions of people who live in towns which don't have a top class team. England is their team and, let's be fair, they've suffered.
I don't think the indifference is solely a scouse indifference these days either. Those who support Premier League teams find it difficult to cheer on players they have spent all year despising. I bet the number of Evertonians jumping up to celebrate Henderson's goal last night didn't even reach double figures.
I've loved this tournament and the sometimes breathtaking games it's produced. I only have one team, They`re based in L4, but I love seeing the reactions of millions of people up and down this country on the news when England have won. I want to see more of that joy when I switch the news on and, for that reason, I want England to win the trophy.
Disclaimer: I accept the fact that it could just be my wallet talking.
Happy 4th over there. Enjoy your day. Don't waste any of it trying to figure the English out!
Danny O'Neill
29
Posted 04/07/2021 at 08:29:14
It has been a fantastic tournament. Really enjoyed it.
You hit the nail Darren with regards to the city. Always felt that way. Everton, not England. With specific regards to the England football team I often wonder if I was influenced by my father's bitterness about Kendall and Harvey only ever earning one cap between them. He wouldn't shut up about that and even used to cheer Scotland on.
You are correct, we are a complex nation. We confuse everyone, especially the Europeans. We fight internally as four nations, we fight internally as cities and regions. But if an outsider picks on one, they get it from all of us.
A bit like my cousins (2 brothers) fighting at my wedding. My best man and best mate done the honourable, tried to separate them and calm the situation. He got floored and told not to touch my brother from one of the fighting two!!
By the way all, this isn't an anti England theme. I can actually relax and enjoy international football much more than the emotional anxiety ridden wreck I have often become watching Everton in recent decades!
Andrew Clare
30
Posted 04/07/2021 at 08:49:11
My first viewed international tournament was the '66 World Cup. Then I wanted Brazil to win because they had the world's greatest player(s) and I wanted to see more of them. Unfortunately, they were kicked off the pitch and went home early.
The good thing was that Ray Wilson brought the Jules Rimet Trophy to Goodison Park that August. Since then, I have admired the great international teams who played with skill and flair and had great players – never bothered about England as they were generally boring and workmanlike with the odd exception the '70 World Cup team and a couple of other teams or players through the years.
Now, yes we have a good team who are doing well but, with all this booing of the knee and booing of national anthems, I just find myself watching but feeling detached; do I really want to be associated with people like those England fans? People who have been an embarrassment to the country for years. Everton, on the other hand, even with the awful 3 decades we have had, are still my passion.
My wife is Italian so my two sons have divided loyalties (they are both Evertonians of course): one is for Italy, the other is for England.
Danny O'Neill
31
Posted 04/07/2021 at 08:59:03
Very good summary and reflection on international football for many of us Andrew. I just enjoy watching it.
As I've repeated many times, I've lived and worked in both Germany and Italy. I have soft spots for both countries. In football terms, I admire Germany's footballing system from the grass roots up and experienced playing in it both as a youngster and as an adult. But Italy is a country I hold with dear affection, despite only having spent 2 years there. I worked in Anzio and lived nearby in Latina in the Lazio region. Good fun with the Roma - Lazio rivalry. I leant towards Roma.
Ian Hollingworth
32
Posted 04/07/2021 at 09:05:13
Firstly, I'm a very patriotic Englishman and thought England were magnificent last night.
Secondly, you have to treat international football completely separate to domestic footy. I celebrated when Henderson scored and don't give a flying fuck about who any of them play for when it's England.
Thirdly, if you want to enjoy football you also need to separate it from politics as again it should not be related and you certainly won't enjoy it if you let it be connected.
Frankly, some of the excuses on here for not supporting England are pathetic at best.
C'mon England!
David Nicholls
33
Posted 04/07/2021 at 09:16:44
Spot on, Danny. If England lose, I'll be disappointed but will shrug it off.
If Everton draw at home to a bottom half team then Sky Sports is banned in my house for about 3 days until it's out of my system.
Ian Bennett
34
Posted 04/07/2021 at 09:30:16
The commentators are just waiting for Pickford to make an error. Anyone else in the squad for missing a pass or a chance won't get the same criticism.
Two mistakes, and that rat Jenas was all over it. A poor clearance with his right foot, and a slashed clearance when they kicked through the middle in 5 games.
5 clean sheets is brilliant at any level. Keepers are human, so stop the fucking witch hunt.
Mark Murphy
35
Posted 04/07/2021 at 09:40:01
I don't "not" support England. I'm pleased they won last night but I'd rather Everton won the League Cup than England won the World Cup. It's just the way I've always felt.
But I'm jolly pleased that they won last night – 4-0 with good goals from Harry Kane and Maguire is a decent result.
UTFT!
Danny O'Neill
36
Posted 04/07/2021 at 09:42:12
Don't know about that, Ian. I was surrounded by Chelsea fans last night singing Harry Maguire songs.
I found that odd. They're probably the same fans that will call him all kinds of abusive obscenities when / if he scores and celebrates in front of them next season.
I could never envisage me chanting whatever chant they do for Henderson. In fact, not even envisage. It won't ever happen. I remember sitting quietly when there was pandemonium going on around me during France 98 when Owen scored that goal against Argentina. All that was going through my head was Michael fucking Owen.
Like I say, international football for me is about enjoying the football. No allegiance. If there was a national UK team, I might feel different. But there isn't and won't ever be.
Tony Abrahams
37
Posted 04/07/2021 at 09:44:45
I posted last night that I'm going to the semifinal game with my two oldest sons, and I had a little tinge of sadness because I actually started thinking about all those England fans who don't have a top class team to follow, Darren.
It hurts, it really fucken hurts, because they're both mad Toffees, who've been everywhere, but they are still to witness that special joy that winning a trophy brings.
They've both seen us lose two League Cup semi-finals, and two FA Cup semi-finals, with their only real joy being that semi-final victory over Man Utd.
It's horrible, I hope the horrible little Spaniard can change things, and if Noah could build an ark, I'm sure I'll have no problem building our next winning manager a kings chair, because that's how desperate I'm becoming now.
Funny story, Danny, and if the rest of Europe can't fathom out the English, I'd say the rest of England find it even harder fathoming out us scousers, and it's something we wouldn't have any other way!
Neil Cremin
38
Posted 04/07/2021 at 09:46:38
Can't believe the apathy toward the England team on this thread.
Getting back to topic, I am delighted for Pickford. I was one of his biggest critics since he joined Everton, always regarded him as a liability with at least one mistake per game. I regarded him as a brilliant shot stopper and very good coming off his line. However, he did not have a commanding presence in the 6-yard box and his kick outs were awful often going directly out of play.
His erratic behaviour for me unsettled the defence. When Carlo omitted him for (injury, protection, or putting manners on him), he came back much more a team player, less erratic tantrums and hence a stable influence.
My only concern is, if England do win, and particularly if he keeps a clean sheet, that Jordan head will again be turned and he will again think he is bigger than the team. Over to you, Alan and Rafa.
Graham Coldron
39
Posted 04/07/2021 at 09:46:57
Spot on, Ian @34.
I said exactly the same thing last night. Can you imagine the national outcry if Jordan makes a pivotal mistake in the next game?
As to England generally, I am just not interested and think this probably started in 1970 when Brian Labone was blamed for the West Germany defeat and Peter Reid was blamed for not stopping Maradonna in 1986.
Dave Abrahams
40
Posted 04/07/2021 at 09:53:53
Ian (32),
"I thought England were magnificent last night."
That was exactly what I thought when Everton beat Salford in the League Cup earlier in the season.
Ian Burns
41
Posted 04/07/2021 at 09:57:11
If those of you who don't give a flying fuck for England, why come onto this thread?
There are many articles on this site for you to get your negative teeth into.
Robert Workman
42
Posted 04/07/2021 at 09:57:44
1966 was a great year. Both Everton and England came from behind to win.
I grew up on Wirral, feeling English. Married a Scot, who told me that I was British.
In my late 50s, I moved to Vienna, where I felt European. Brexit has caused me so many problems that I am moving to… Scotland! I did have a Scottish grandfather which entitles me to be Scottish – which annoys my daughters – as I am now anti-English because of Brexit and the lying buffoon (Prime Minister of England only).
However, I still find it difficult to support Scotland. Will always support England at cricket and rugby. Football too, particularly if there is no redshite in the team.
I commented very late on the Germany game and asked if anyone could tell me what Rice does on a football pitch. Deafening silence. Last night he did manage to play the ball forward once, it was actually a good shot. So my rating went from 1 (for turning up) to 2. The Guardian rated him 9! I must have been watching a different game!

Phil Wood
43
Posted 04/07/2021 at 10:12:07
Ian (34) Spot on.
If Jordan Pickford doesn't do everything to perfection then the media are all over him. God help him if he makes a slip up in the semi-final, they will bury him for the Final (if we win) or forever.
Somebody else did a Sterling-type backpass last night that could have led to a goal and it was just forgotten about but Jordan slices a kick and the knives sharpen.
Also, sorry to say Sancho looks a diamond and Man Utd are going to take some beating next season. They might even be strong enough to come 2nd to us!!!!
Mark Murphy
44
Posted 04/07/2021 at 10:24:08
Ian #41
It's a discussion on ToffeeWeb - an Everton site. Not everyone will have the same views as you. No need to be angry about it.
Good luck to England but UTFT even more!
Paul Smith
45
Posted 04/07/2021 at 10:25:36
Danny glad your wife is English First and and Britain First. She might find herself on a terror list if she was 😉
Ed Fitzgerald
46
Posted 04/07/2021 at 10:29:32
I've enjoyed watching this tournament as most teams have played positively. England have been efficient and clinical without really showing any great flair. An Italy vs England final should be a game worth watching and it would at least be a measure of how good England really are.
I'm personally ambivalent about England and always have been. I've no issues with people who are patriotic and get caught up in the frenzy of a tournament but neither is there a need for posters on here to lecture or attempt to censure those who hold a differing view.
A demographic analysis of Liverpool's population would reveal the city and surrounding areas have a large Celtic heritage; that, aligned to the political issues Darren alluded to, result in ambivalence and in some cases antipathy towards Ingerland.

Brian Harrison
47
Posted 04/07/2021 at 10:36:46
I have never really understood the apathy most fans in this city have toward England. I was at Goodison Park when Ray Wilson and Roger Hunt both ran round the ground holding the World Cup… absolutely brilliant.
You couldn't get a more divided city than Glasgow, yet they all come together when Scotland play. But here, local tribalism overrides supporting England; I find that really strange.
Getting back to the Euros, it was a good win last night but, so far, we have had a very easy ride, the group stage was a formality and we played the poorest German side I have seen in a long time.
Again, last night, Ukraine were never in England's class. I think the commentator said they had 7 Shaktar Donesk players in their team, so it would have been a massive shock had they beaten England.
For me, Italy have been the stand-out side and they have definitely had the toughest side of the draw. And, very unlike the normal Italian sides, this team plays with a freedom that I have never seen an Italian side do before. So I think we will beat Denmark and meet Italy in the final. If we want to win it, we will have to step up to beat the Italians… but I hope we do.
Danny O'Neill
48
Posted 04/07/2021 at 10:39:34
I hope you and your boys enjoy the occasion Tony. England will go through, they are more than good enough to do so.
It won't replace the joy they will experience when (not if) they experience Everton lifting a trophy. Nothing surpasses that feeling and I've been married and had a son!!
To repeat myself, Pickford has shown so much improvement recently and is very much part of the reason England have progressed.
Unfortunately he will be beholden to an English media that as soon as they build footballers up, they can't wait to knock them down. Goalkeeper is often a lonely existence on the football pitch. Their mistakes are scrutinised much closer as they have much more impact. When they mess up, all the good they have done is all to easily forgotten very quickly. Noone forgets that Rice or Henderson played a misplaced pass or two, or that Kane missed a sitter, but one fumble from the keeper and its lynch mob time. Not a keeper example, but remember the media reaction to Beckham after France 98? You'd have been forgiven for thinking the lad was going straight to the Tower of London on arrival at Heathrow. Horrible creatures the British sporting media when they sharpen their knives.
Keep doing what you're doing Jordan. Good luck to you and make sure you're back at Finch Farm soon.
It's an Everton website. We are all Evertonians and contributors, just not all England followers. But those posting are doing so and giving opinion on the basis of following the tournament.
Steve Brown
49
Posted 04/07/2021 at 10:44:26
Bit apathetic about Ingerland myself for the reasons Danny and Darren alluded to, but mainly because of the over-reaction in the media. However, people could do with something positive to get enthused about given the tough last 18 months so good luck to them.
Danny O'Neill
50
Posted 04/07/2021 at 10:51:13
Always a tolerant city in comparison to Belfast and Glasgow, Brian, both my grandparents' origins and something we can be proud of.
Again back on topic. Not taking anything away from England, but you're right. The group and the draw has been very kind to them, but that's football, right? I think their biggest test will come in the final. And when you get to a final you have as much a chance on the day as anyone, including the favourites.
My head tells me Italy, but I sense momentum behind England.
Stan Schofield
51
Posted 04/07/2021 at 10:56:35
This business of attitude towards England requires some clarification, because the discussion on here tends to become polarised between the two extremes of 'I love England' and 'I can't stand England'. The reality involves more than that simplistic polarisation.
For me, as a teenager, I sort of starting losing interest in England after 1970, because they seemed to shoot themselves in the foot by habitually choosing mediocre players to the detriment of performance. The exclusion of Harvey and Kendall compared with relative yard-dogs like Peter Storey is simply a specific example of a wider problem that, in my eyes, began around 1970, and has tended to continue to this day.
In the 70s, there was a lot of discussion about England needing to use more capable players from the same clubs, like West Germany using 5 or 6 players from Bayern Munich. So they tried, I recall, 4 or 5 from Liverpool, but to no positive effect, and the experiment wasn't pursued. The irony is, it could have been pursued more for the 1970 World Cup, when England used several Everton players, but arguably could have used more given our 1970 league-winning side and the English talent in it.
In principle, the entire Everton side from 1970 could have been the England team in Mexico, with players from other clubs providing strength-in-depth. But of course this particular potential club advantage was never used, and the rest is history.
As such, I tended to naturally lose interest in the entire England setup, without 'refusing' to watch them, but it being a 'natural process' of avoiding the kind of mediocrity that England were demonstrating. This feeling continues to this day.
I'll watch a mediocre Everton, because it's in my blood, but I won't tend to watch any other mediocre team, including England, because it's not in my blood and I have no particular urge to.
Best of luck to England, but I haven't watched any of it; I've been focused on other things of a higher priority to me.
Geoff Lambert
52
Posted 04/07/2021 at 10:58:08
Don't bother with the media or with what the pundits say.
I'm English and want them to win, as did all the lads and lasses in my local last night, blue and red together.
Come on, England!
Barry Rathbone
53
Posted 04/07/2021 at 11:20:25
It used to be supporting England was a given but the problem is, after failing to qualify against Poland in the 70s, the perceived wisdom was to bin the British style and attempt a European passing game.
Playing Germany, Spain, France, Holland etc when they have decent teams is doomed to failure. British sides playing a "foreign" way is fighting with one arm tied behind their back… and is as boring as fuck!
Continuous failure and boredom is an excellent recipe for apathy, so why people are surprised at a high level of disinterest is mad.
Compared to previous tournaments, not a single stand-out side exists; it is the most homogenous group of footballers I've ever seen. In which case, Southgate's snooze boys have as much chance as any. If they do it, I will be moderately pleased… but that's about it.
Paul Tran
54
Posted 04/07/2021 at 11:26:49
I'm English. I always want England to win. More so this time because I like what Southgate's doing. No stars, team ethic, good mindset. Following the non-UK media has been interesting, as there is much praise for an England team being tactically acute and flexible.
Hope you're counting your money next Sunday, Darren!
Stan Schofield
55
Posted 04/07/2021 at 11:39:18
Barry @53:
Regarding style of football, the irony (for me) is that the 1970 Everton side, that could have been the 1970 England side, were masters of a slick passing game untypical of British football at the time. Better technically than any other British side, and probably technically on a par with the great Brazil side that won that World Cup.
Imagine the midfield of Gerson, Rivelino & Clodoaldo against the Everton midfield of Ball, Harvey & Kendall.
Bobby Mallon
56
Posted 04/07/2021 at 11:45:15
What is it with England on here? We played brilliant last night, battered Ukraine. Shaw played plenty of forward passes.
If you don't like England, don't comment. We are going to win this tournament.
Tony Abrahams
57
Posted 04/07/2021 at 11:46:31
I've always felt the media is the most dangerous tool in this country, and probably because I grew up in Liverpool during Thatcher's reign of Britain.
Everton was my place of birth, and nothing compares to seeing Everton win. I instantly thought back to the QPR game after reading your post, Danny, whilst remembering 50,000 Evertonians singing "Champions!" before moving on to Rotterdam and 30,000 Evertonians singing "We Shall Not Be Moved". Then on to Bayern Munich at Goodison Park, and the greatest night of my life, especially when I got home and my mother told me she would pay for me to go the final!
The best thing about this tournament has been the return of fans into the stadiums, and seeing thousands of Jocks bringing back life to London. This is the reason I'm glad I'm going to Wembley on Wednesday, whilst praying for a return with Evertonians next May!
Danny O'Neill
58
Posted 04/07/2021 at 11:53:13
Good call out Stan. It's not "can't stand England", it's just some are not particularly interested or as passionate as we are about Everton.
For me it is part background and part political.
Because of my family, being from Liverpool has always been a first and foremost proud part of my identity. Politically, I identify as being British. There is no such thing (for now or in my lifetime) as an English passport. I hold a UK passport. I served in the UK Armed Forces, the British Army, for 28 years I served under a Union Flag, not a St George's Cross.
There is no right and wrong here. Its a nuance of the way the UK has been formed as a nation state while retaining the identities of the 4 nations. And the transient manner in which the people of those 4 nations move around and settle in different parts of the country. As the vast percentage of the UK population lives or has moved to England (84%), there is inevitably many so called English by virtue of where they were born who don't align to England because of family and background.
There is no comparison I can think of. The 16 German States, each with their own Parliament and Prime Minister don't compete as Bavaria or Lower Saxony on the international stage, they do so as Germany. Flanders & Walloon don't compete as individual nations, they represent Belguim. We are a unique nation state in that respect when it comes to football and rugby. There is no UK or team GB as in the Olympics.
I'm pretty sure that with population shifts over recent decades, there are many people born and bred in Liverpool (England) whose international allegiances lie with Italy or Poland. My friend and colleague from East London who has settled in Texas has 2 US passport holder children who are fanatical West Ham and England followers.
Deep for a Sunday morning but good discussion. Its all about identity and that is a personal choice.
Apart from Everton. That's non negotiable.
Ed Fitzgerald
59
Posted 04/07/2021 at 11:56:23
Bobby,
This is an Everton website and two Everton players played for England last night, therefore posters are entitled to post their views about England aren't they?
It's amusing me that it's the big supporters of England on this thread who are getting riled simply because some of us are expressing indifference not hostility about England.
Barry Rathbone
60
Posted 04/07/2021 at 11:59:58
Stan #55,
Agree with that and it still dismays me how that side disintegrated so quickly.
Selling Alan Ball mortally wounded us and I still don't think we've truly recovered despite Howie's boys.
Brent Stephens
61
Posted 04/07/2021 at 12:01:12
Barry #53 "Continuous failure and boredom is an excellent recipe for apathy".
Pretty much reflects the way my keen interest in England has diminished over the years - especially given the lack of blue boys in the team, and more than a smattering of the other lot getting selected.
Great to see our very own keeper re-emergence though. He seems so much more mature. The Southgate influence?
Danny O'Neill
62
Posted 04/07/2021 at 12:01:19
Tony, I'm watching in a pub in Camden on Wedneaday with some ex military mates. Enjoy the London trip and Wembley experience. 60,000 fans. Great to see them back.
Even better when we paint it blue next season.
I'm glad my West Midlands wife doesn't read ToffeeWeb. She gets annoyed with my England attitude at best and even though she's become accepting and tolerant of the other woman in my life (Everton) over the years, my Everton, wedding and birth of son comparisons probably represent a red line for her.
Derek Moore
63
Posted 04/07/2021 at 12:38:31
Danny,
Olympic football features a British national team, believe it or not.
Rather like Stan (#51), I have already expressed my hope England go on and win the tournament whilst not being enthused by it whatsoever. I'm also a little bemused by the abuse of anyone who has voiced a lack of enthusiasm for the tournament – no matter what the reasons may be.
One reason for me as yet unmentioned is it's a 24-team tournament, with a full second round and lucky third place losers – the exact same structure the World Cup Finals had up to and including the USA in 1994.
The Euros themselves had four teams until the 1980 edition, eight teams until "football came home" in 1996. A 24-team tournament for Europe on its own? Just bloated and pretty pointless, 'invented for TV' shite is my opinion, but then I feel similarly about a 64-team World Cup in a desert or an Olympics with no spectators that nobody in the host country is interested in having anymore as well.
Players are obviously a lot more widely traveled these days, and a lot of the mystery of seeing players you would never normally see has been removed from these tournaments as well.
There's plenty of other valid reasons as well but, for me at least, they are some of the main reasons I used to watch these sorts of things and now generally can't be bothered. That and the likes of Rooney going to these things and never coming back.


Geoff Lambert
64
Posted 04/07/2021 at 12:50:40
Barry #53,
"Continuous failure and boredom is an excellent recipe for apathy so why people are surprised at a high level of disinterest is mad."
See Everton for the last 25 years.
Stan Schofield
65
Posted 04/07/2021 at 12:56:46
Geoff @64: See my post @51. Watching a mediocre Everton because Everton is in your blood, and choosing to watch some other mediocre side, including England, are two different things.
Having been brought up on the 60s Everton sides, the Premier League Everton sides are of much less interest to me, and I sometimes can't be arsed to watch them. But I still tend to watch a lot of it. It's a fuckin curse.
My background of watching Alex Young and Alan Ball means that I naturally have a high regard for only a few modern British football sides. Principally the Arsenal Invincibles under Wenger, and Man City under Guardiola. Chelsea come a close second. All others are shite, including the current Everton, and people on ToffeWeb lauding the likes of Liverpool and Leicester (and England) make me laugh. It's all down to personal standards.
Geoff Lambert
66
Posted 04/07/2021 at 13:10:15
Stan,
I see your point, but lauding Chelsea and Man City does not float my boat, Billionaires' playthings made for the TV and only motivated by money.
I'd much rather go and watch Marine or Southport.
Stan Schofield
67
Posted 04/07/2021 at 13:16:32
Geoff @66:
Yes, I also take your point regarding the wealth injected into footy. But then Everton in the '60s was based on wealth. The detailed motivations of Moores might have been different from those of oil shieks and Russian oligarchs, but the point is the same about success and football aesthetics being based on wealth.
Martin Reppion
68
Posted 04/07/2021 at 13:29:55
I've read all the posts and enjoy the diversity on here.
My allegiances are based on having been born in Liverpool and raised in Yorkshire, and growing up in the '60s & '70s.
In football, I am fanatically pro anything Everton and anti anything RS. This includes watching a game where an ex-Everton trainee is playing and supporting them.
At international level, I support England and have the same feeling for Scotland as I do that lot across the park. This is a remnant from the rivalry of the Home Nations I watched in the '70s.
At rugby, I support England and love to see Wales lose as they were the benchmark side of my youth. In cricket, I'll support England and anyone playing Australia.
In all other things, I will support the Scouser, then the Lancastrian. After that, the Northerner, the English, the British then the European. All with the proviso that they aren't 'Reds'.
I find it hard to enjoy sport as a neutral as supporting a team or competitor gives it an edge. So, if all else fails and I turn on my TV or walk in the park and see a game and don't know who is playing whom, I support the team in Blue!
Kevin Molloy
69
Posted 04/07/2021 at 14:00:34
Haha, Martin, yes, the logic is unarguable!
Joe McMahon
70
Posted 04/07/2021 at 15:45:18
Danny @24, 100% agree with comparisons with Kane and Sharpe. However as much as I thought Graeme was "just the best" in my teens, I honestly feel Kane is much the better of the 2 strikers, when he's fully fit and firing, he is one of the best in Europe (IMO). He has already scored more goals than Greame did (although Graeme does have the winnners medals), and yes I think he will end up at City.
On the sunject of Greame Sharp, it's a mystery to me why he made so few appearances for Scotland, and only scored 1 goal. Does anyone have any answers to this?

Danny O'Neill
71
Posted 04/07/2021 at 16:07:50
That's a dilemma for me, Joe, but if I remove my Sharpe tinted spectacles, I would begrudgingly agree with you on Kane.
That's a very good point on the international front. Without sounding like a paranoid Evertonian, but maybe because he played for Everton, even during a successful period? As with Kendall and Harvey.
I have no idea and have never given it much thought. Maybe because Scotland then had a bigger pool of talent to choose from so the competition was high. Top of my head, Charlie Nicholas (Arsenal), Brian McClair (Celtic then United), Ali McCoist (Rangers & Scotland favourite) and then of course Dalglish.
Barry Rathbone
72
Posted 04/07/2021 at 16:28:47
Geoff @64,
I was wondering if anyone would join the dots.
I call Ingerlund "Ingerton" because of the uncanny parallels.
Don Alexander
73
Posted 04/07/2021 at 16:38:59
Dave Abrahams (#40), very droll!
OTT media, pundits and fans now abound of course, but it was a deserved victory against only a modest side I'm afraid.
If any of the three teams left are able to raise their game, we're gonna have to do way better to actually win the thing.
A victory (or two) in a genuinely exciting, skilful match ain't too much to ask for is it?
Dave Abrahams
74
Posted 04/07/2021 at 17:12:00
Don (73), it really was "much ado about nothing" or not very much. Ukraine looked lifeless to me to be honest. As you say, if they win against a good team, the victory will not be begrudged; up to now, they haven't played a decent team.
Paul Smith
75
Posted 04/07/2021 at 17:15:41
Dave, come on, are you on a wind-up?
Beaten Germany. Beaten the Czechs - quarter-finalists. No goals conceded. Sometimes they really can't win, can they?
Danny O'Neill
76
Posted 04/07/2021 at 17:29:33
I'm not dismissing England's achievements here, Paul. You can only play what's in front of you and ultimately results talk. But in support of Dave, they have had a favourable path and haven't done anything particularly spectacular. Even last night, apart from 20 minutes in the first half, the opposition were poor and a level or two below England. To Dave's Everton - Salford comparison.
The Czechs were solid and I like that striker Schick, but not really threatening. I'd have him at Everton by the way if we can sneak him under the radar.
Germany are not Germany of a few years ago. Very much transitional. England beat the name, not the best of German teams. Not a German team like those who have won 4 World Cups and 3 Euros. But on paper, a huge scalp and historical rival. I get that.
They will have enough to get past a decent Denmark side and then once in the final it's anyone's on the day. It could well be England's. I've said from the start, they have a chance. More so now.
Forget my talk of having no allegiance to international football and forget I'm an Evertonian. My underlying fear is personal and around that this would mask over the underlying problems in our football pyramid and grass roots.
English football will think everything is all good when it isn't. As we've always done, we just sit and hope that a few good players come together at the right time and strike lucky. We have a fingers crossed strategy. There is no plan to it. Nothing will change on the mud ridden, daisy covered parks most our kids play on and only the elite academies will bask in the glory and investment. Sorry, I tend to get triggered by this!!
Derek Moore
77
Posted 04/07/2021 at 17:39:55
Mo Johnston and Ally McCoist got most of the opportunities for Scotland in that era, and Sharpie didn't set the world alight when he did get a chance. He also faced competition from the likes of Gordon Durie, Gallacher, Sturrock, Nicholas, Maclair and Andy Gray at various times in that era. And of course Kenny Dalglish was the incument strike partner for a big chunk of that time as well.
Prior to the European and then global influx of players in the Premier League era, the home international countries benefited more than anyone else from their pipeline into top English football. Seamus represents one of the last real links to that more old fashioned era, signing a raw talent from the physical Irish league, much as Sharpie himself came over from Dunfermline.
Not sure Brands does much of his scouting north of Liverpool, to be honest.

Dave Abrahams
78
Posted 04/07/2021 at 18:26:22
Paul (75), no, absolutely no wind up, you've seen the five games, to be honest the game v Scotland was the only one I watched throughout because Scotland gave them a game, deserved the draw and possibly could have won, and with respect to Scottish fans they just don't have decent teams anymore, watched most of the Germany game because I had a bet on it but a poor game and Germany are not the team they were, but could have won it with the chances they had, the two games they won in their section both 1-0 wins, I had the game on but was reading a book at the same time, the book was very good and exciting, a lot different to those two games. Last nights game was a boring first half and left the game on with the sound off reading the book, when I casually looked up I saw it was 2-0, I looked up again later just as Harry Kane scored the third, missed the fourth goal because of the book, I love watching football, good football, England haven't provided much up to now, good job I've got my book.
But I'm not taking the piss, you are genuine England fans and want them to win, I just have a passing interest in them.
Barry Rathbone
79
Posted 04/07/2021 at 18:28:56
The news just showed the latest England anthem as a version of "You Can Make Me Whole Again" by Atomic Kitten... taking 'grim' to a whole new level.
Danny O'Neill
80
Posted 04/07/2021 at 18:42:12
Don't Barry. I have been subject to that during the last 2 matches in my local. Tattooed Chelsea & QPR fans arms aloft and widespread standing in front of me while I'm trying to watch the football singing Atomic Kitten badly.
I think the words said something about Southgate turning them on. Disturbing on many counts.
Barry Rathbone
81
Posted 04/07/2021 at 18:49:54
Dan 80
That's the problem English crowds are tone deaf every song comes across as a monotone dirge. Latino crowds on the other hand can not only hold a note but keep good time, listen to the Argentines.
https://www.youtube.com/watch?v=MEMfkQTnEhA&ab_channel=OhYeahFootball
Kristian Boyce
82
Posted 04/07/2021 at 19:22:17
Being Stateside in a fairly large city, when England play, it's always good to meet up with fellow expats and has been a great social get together. Unfortunately, the local British pub also doubles up as the red shite supporter's pub so while celebrating England's wins there are numerous Liverpool posters/shirts/scarfs adorned to the walls.
We've been getting anywhere between 30-70 English lads & lasses coming to watch the games. Amusingly other than the owner, I don't believe any of the local RS who have been in attendance for the England games have been Brit's. The saddest thing I've seen these US RS fans do was during the Germany game, a whole bunch of them came dressed in German shirts (none were German), as they were pushing the 'Scouse not English'/Anyone But England line. At the end of the game after being roundly laughed at, they quickly switched back to their RS shirts.
John Boon
83
Posted 04/07/2021 at 20:20:33
Darren (28)
Hope you can handle this but I actually agree with you 100%. We must have something in common. I think it is EVERTON.I had posted a truce response to you on the article about The New Ground (102). I may be going "soft" but if it isn't to your liking I can still get out the duelling swords. Always ready for debate.
Danny O'Neill
85
Posted 04/07/2021 at 20:47:52
Always Everton John. There is only Everton. One true love.
Everything else is just the beautiful game to watch and enjoy.
Enjoying Everton is periodic, but involves periods of anxiety, frustration and anger interspersed with moments of sheer elation that nothing else can emulate.
But we don't always have to enjoy Everton. We just are Everton and always will be.
Joe McMahon
86
Posted 04/07/2021 at 21:12:50
Thanks guys on comments re Scotland goalscorers. It looks like Dalglish was past his prime (and unfortunately he was pretty good for many years) when Greame was getting to his best form. And to be honest the Scotland team were on their way down after '86 World Cup, when they didn't do very well.
Some very good players in the '70s, until mid '80s,
Let's face it (the one mentioned above), Danny McGrain, Gordon Strachan, Archie Gemmill, Graeme Souness, and Alex McLeish are better than anyone they have had for years.
Anthony Dove
87
Posted 04/07/2021 at 21:36:48
Leaving aside the football, the referees, apart from Oliver, have been fantastic. Is there any chance the Premier League will have taken note for next season? None whatsoever.
Stan Schofield
88
Posted 04/07/2021 at 21:40:34
Further to the reasons some of us have for being indifferent, rather than hostile, to England, the general media coverage, both broadcast media and (these days) social media doesn't exactly motivate any interest. This is because the media coverage is essentially cringeworthy and immature, too often simply childish.
Too many pundits talk drivel, with crass biases that undermine any substance in their comments, and too many pro-England posts on social media are quite simply stupid. In addition, some England 'supporters' appear feral in their behaviours.
All this, combined with the chronic mediocrity of England teams, means that the whole thing seems contrary to the very idea of the 'beautiful game'. As such, it's very easy to be distracted onto more interesting things to spend your time on.
Mike Connolly
89
Posted 04/07/2021 at 22:47:27
Obviously Everton for me first. However I'm right behind England. We get a lot of stick off most countries without us adding to that. I bet the scots are just waiting for us to go out. Come on England
Stan Schofield
90
Posted 04/07/2021 at 23:06:59
Mike@89: I live in Aberdeenshire, and surprisingly there are Scots who are supportive of England winning it. I would say that one or two are more engaged with the idea than I am.
Kieran Kinsella
91
Posted 04/07/2021 at 23:12:41
Wales could learn from the Ukraine. Shevchenko and even Yarmalenko were very magnanimous in defeat. No rash tackles late in the game, no whining after – just "Well done, you deserved it." Unlike Wales, who lost their disciplin, then their captain said the tournament was a joke.
Kieran Kinsella
92
Posted 04/07/2021 at 23:14:25
Stan,
As for Scotland, I support British Andy Murray at Wimbledon – although having lost, he's now Scottish specifically.
Matthew Williams
93
Posted 05/07/2021 at 15:58:53
Tough game on Wednesday night mind,certainly won't be an easy game,even if they are at home...so good luck to Andy Morrison and the rest of the Nomads with their European qualifier...just a pity it ain't on telly.
Sorry folks... couldn't resist like.🙊
---
Add Your Comments
In order to post a comment, you need to be logged in as a registered user of the site.
Or Sign up as a ToffeeWeb Member — it's free, takes just a few minutes and will allow you to post your comments on articles and Talking Points submissions across the site.