Yerry Mina into the Copa America semi-finals
Saturday, 3 July, 2021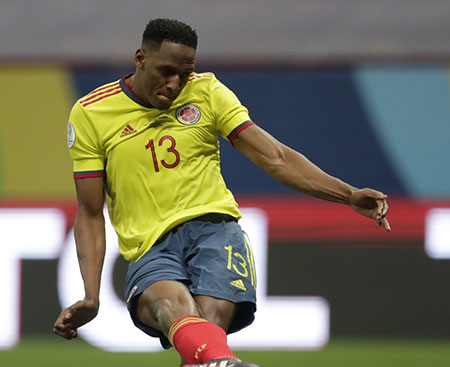 Yerry Mina's Copa America adventure continues after the Everton defender helped Colombia beat Uruguay in a penalty shoot-out in Brasilia to join Richarlison's Brazil in the final four.
A bruising match often played at a furious pace, particularly in the closing stages as the two sides traded counter-attacks and set-pieces, yielded few clear goalscoring opportunities but arguably the best of the second half fell to Duvan Zapata but his header was well saved by Fernando Muslera.
With no goals in the 90-plus minutes, the game went straight to penalties and while Zapata, Edinson Cavani and Davinson Sanchez were perfect from the spot for the respective sides, David Ospina saved the first of two penalties when he palmed away Jiminez's effort.
Mina had easily the most theatrical kick, complete with stutter-step run-up and a thumb-suck celebration followed by a trademark dance after he'd put enough power on his shot to fire it in off Muslera's gloves before Luis Suarez and Borja netted theirs.
Article continues below video content
Viña had to score but Ospina dived to his left to beat it away and set up a semi-final clash with Argentina who beat Ecuador in the later game.
---
Reader Comments (46)
Note: the following content is not moderated or vetted by the site owners at the time of submission. Comments are the responsibility of the poster. Disclaimer
Mike Gaynes
1
Posted 04/07/2021 at 04:01:56
And it'll be Mina vs Messi in the semi-final, as Argentina dispatch Ecuador (and our old friend Enner Valencia) 3-0 on two assists and an absolutely gorgeous free-kick by the world's best free agent.
Offer to name the Bramley-Moore Dock stadium after him... maybe he's got a secret yen for living on Merseyside. Beautiful Messi Dock. Got a ring to it.
Anyway, Brazil - Peru is Monday night and Colombia - Argentina is late Tuesday night for those who want to watch our boys in action.
Derek Knox
2
Posted 04/07/2021 at 06:22:09
Nah Mike G, sounds too Messy for me! :-)
He would demand naming rights too, and Jabba The Hut would insist on it being the USM or Megafon Arena, or something along those lines.
Although he's not on the Board and technically NOT connected to us he always gets his way, or the Giant Ukrainian Dummy flies out of the Troika!
Tony Everan
3
Posted 04/07/2021 at 08:22:49
I think the meastro's wage demands for his next contract are about £500m over the term. So the same price as the BMD, so it's one or the other I'm afraid. Unless Mr Usmanov raids his slummy jar that is.
Ajay Gopal
4
Posted 04/07/2021 at 09:47:39
Sell Mina for £40 million, and get in Koulibaly for about £45-50M! Yes, Koulibaly is 30 years old, but he could become our bedrock for the next 3-4 years on which we build our success – somewhat like what Vincent Kompany was for Man City.
Soren Moyer
5
Posted 04/07/2021 at 15:01:57
All those Messi v Ronaldo comparaisons are silly imo as Messi is in an another level and his game is not just about scoring goals. So no contest!
Don Alexander
6
Posted 04/07/2021 at 15:07:55
Soren, I agree. When I were a lad in '66 we only had glimpses of Pele and Eusabio. One was a mesmeric but creative playmaker/scorer and the other was a mesmeric goal-scorer. That comparison stands re Messi and Ronaldo as far as I'm concerned.
Soren Moyer
7
Posted 04/07/2021 at 15:13:31
Exactly Don. He is just so much more. I hope he keeps on playing till he is 40.
David Pearl
8
Posted 04/07/2021 at 15:33:32
This argument keeps coming back and probably will for a very long time. Messi has scored more goals that made me go "WOAH!!!"
However, it's just too close to call, especially with Ronaldo's success at international tournaments.
Either way, it's been a pleasure to watch both over the last number of years. They will be sorely missed when they retire.
The next few in line, Neymar, Mbappe etc, don't even come close.
Neymar earns £190,000 per day!!!
Derek Knox
9
Posted 04/07/2021 at 15:44:32
David @ 8, Earns £190,000 per day? You mean that goes into his already bloated Bank Account! Just pure greed, and an example of how stupid the Football World has become!
Is it more enjoyable these days than it was when they were earning decent but not immoral amounts?
I think you will find the answer is a resounding NO!
Matthew Williams
10
Posted 04/07/2021 at 15:49:30
A dire match, thank fuck they didn't bother with 30 mins of extra time!.
Mina started badly but slowly improved throughout... I still don't rate him as highly as other Blues do on these pages and should be sold for extra funds for new players.
Jay Wood
[BRZ]
11
Posted 04/07/2021 at 15:53:37
Derek, if you think players' salaries are a bit rich, best not to consider the following.
This week CR7 jumped to the top of the Instagram 'Rich List'.
If you want him to make a SINGLE POST to endorse a product on the social media platform, it will set you back a cool $1.6 MILLION.
The pauper Messi 'only' comes in 7th, earning $1.16m for a single post.
Ronaldo tops Instagram Rich List
Methinks Michael and Lyndon are getting us all on the cheap by comparison!
Jay Wood
[BRZ]
12
Posted 04/07/2021 at 15:58:21
Oh! As for the Copa America, it's been a total borefest. Even though it's being staged in Brazil, there is virtually zero interest in it. I've never seen the Brazilians so apathetic about a tournament involving 'a seleção'.
The bigger game here is Covid-19 and all the political shenanigans.
Soren Moyer
13
Posted 04/07/2021 at 16:26:54
David,
It's not about scoring goals as I stated earlier. It's his whole game that should be taken into consideration. His "through the eye of the needle" passes, his dribbles through a crowded defense, his running with the ball from the half-way line while he is taking on several opposition player while he is being kicked the shit out of him by the other team! As I said, no contest.
However, he doesn't have the looks of Ronaldo lol. I'll give you that.
David Pearl
14
Posted 04/07/2021 at 19:45:33
Soren,
Shame I never got to see him play live. As in Everton didn't get to the Champions League proper yet. Maybe I will see where he turns up next season.
I guess my favourites I did see live would have to be Sheedy, Andy King, Arteta, Kanchelskis, Southall, Trevor Steven... and believe it or not also Bilic and Fellaini.
Soren Moyer
15
Posted 04/07/2021 at 19:53:50
David, hopefully Benitez brings him to GP as, according to sport journos, they are good mates 😀.
Most of them you mentioned I haven't seen playing live (only Kanchelskis) and I would die to see the rest of them on your post playing footy live at Goodison.
Danny O'Neill
16
Posted 04/07/2021 at 20:10:09
Jay (BRZ), I tried to get into Copa America but couldn't. Agree with you, the matches have been dull & difficult to watch.
David & Soren, two discussions there. Best players; for me its Messi over Ronaldo. But it's opinion and splitting hairs.
Best Everton players I've witnessed myself in person?
McKenzie in my formative years. Then inevitably a mostly 80s nostalgia list. Southall; we often forget the keepers. Stevens & Steven; for the younger generation, think a right sided Baines & Pienaar partnership on steroids with titles & trophies thrown in. Reid & Bracewell. We didn't have Bracewell long enough; very classy player. Sharpe & Kanchelskis. A call out for Derek Mountfield; 14 goals in a season from a centre back.
Random ones. I agree with the Bilic shout. In a similar vein I'd throw Materazzi in that mix. Players who you could absolutely see the quality in but just at Everton at the wrong time, not for long enough and in the wrong team? Would we throw Martin Keown in that mix too? I would and I think his post Everton record showed that. Peter Beardsley must get a mention and my wild card as I always liked him; Dacourt.
But my all time favourite goes to Kevin Sheedy. Sublime & an absolute joy to watch with a football. Especially when you saw it live with an electric crowd not just wanting us to win, but knowing we were going to.
How sad many of those fantastic players never got to perform on the European stage they deserved to & earned the right to.
Mike Gaynes
17
Posted 04/07/2021 at 20:12:37
To me, Messi is the best in the world, head and shoulders, and the second-best ever behind Pele.
I would love to see Messi in person. I did see Pele, Beckenbauer and Cruyff in the US. If Messi comes to MLS in a couple of years as rumored, I will be there in line for a ticket.
Danny O'Neill
18
Posted 04/07/2021 at 20:28:08
We've had this debate here and no doubt with other friends elsewhere many times.
I never witnessed Pele or Eusebio, vaguely remember Beckenbauer and can just about recall Cryuff. But when you're doing coaching courses and you are still being taught Cryuff stuff, you know a player has made a lasting influence on the game. Alongside Maradona and now Messi, true world class; different class should I say.
Question. Does Gullet the player make that grade? I think so.
Obviously Sheedy does!!
Tony Abrahams
19
Posted 04/07/2021 at 20:38:53
Talking about money, they reckon Ronaldo, removing two bottles of Coca Cola from the table before an interview at this years Euro's, and holding a bottle of water up, and saying agua, took a staggering £$4 Billion off the share price for coke.
Dave Lynch
20
Posted 04/07/2021 at 20:40:22
For me... Cruyff and Cantona in Europe, whith Cristiano Ronaldo a close runner up.
But my favourite ever player was Socrates of Brazil, he was a stunning player.
Then again its probably irrelevant because footballers continue to push boundaries with regards skill and fitness.
I'm just happy I love the game and have seen some magnificent players in my day.
Barry Rathbone
21
Posted 04/07/2021 at 20:44:26
Messi above Ronaldo for me and by a distance not that either touch peak Maradona or Pele.
Barry McNally
22
Posted 04/07/2021 at 20:47:45
Mina had played in every minute of Columbia's Copa games 🤔
Dave Abrahams
23
Posted 04/07/2021 at 20:48:47
Jay (12),
It's not hard to imagine the Brazilian supporters being apathetic about the tournament going on in their country when you have described what has gone on in Brazil since CV-19 started to ravage the people there and a president in charge who just shrugs his shoulders and does next to nothing to try an alleviate the deaths and sufferings that occur every single day with little respite, heartbreaking to read about, God knows what it's like to live there and witness the suffering going on there. Best wishes to you and your angel, hope the suffering starts to diminish very soon.
Barry McNally
24
Posted 04/07/2021 at 20:48:50
Even Colombia's!
Mike Gaynes
25
Posted 04/07/2021 at 22:48:04
Dave #20, Socrates was elegant to watch, wasn't he? That towering presence with the beard and the curls. Sadly overlooked internationally because he wasn't among Brazil's most-capped players, and because they flopped in both the World Cups he played in. But I once had a Brazilian mate who swore he was as good as Zico.
Dave Lynch
26
Posted 04/07/2021 at 22:59:13
He was better IMO Mike.
There are some grainy clips on YouTube of him that give you an idea of how good he was.
He was constantly at loggerheads with football authorities and was a great socialist
Smoked 40 tabs a day as well apparently
Mike Gaynes
27
Posted 04/07/2021 at 23:31:27
Dave, I watched him play alongside Zico in the '82 WC, and based on that small sample, I'd say Zico was not only the undisputed champion of that side but the best player in the tournament. So dynamic, where Socrates was more about flowing grace.
Even back then Socrates was described as a "heavy drinker and smoker" by an English commentator. Sadly predictive of his short life.
Jay Wood
[BRZ]
28
Posted 04/07/2021 at 00:22:52
Socrates! Now you're talking!
A native of my home state in Brazil where he has near God-like status, with his football prowess almost secondary.
He was named Socrates by his civil servant father who had a love for philosophy and had a library of books on philosophy and politics.
Following a military coup in the 1960s, Socrates father came under suspicion. Fearing becoming one of the 'disappeared' as happened to many, the 10-year-old Socrates watched his father destroy his much-loved books.
Socrates recalled "In 1964, I saw my father tear up many books, because of the coup d'état. I thought that was absurd, because the library was the thing he liked best. That was when I felt that something was not right. But I only understood much later, in college."
In the 1980s playing for Corinthians, he co-founded the Corinthians Democracy movement, bravely openly defying the then-ruling military government, calling for a return to democracy. They even played games with the word 'Democracia' emblazoned on their shirts.
His legendary smoking and drinking sadly accelerated his premature death.
Oh! And he even has a link to the city of Liverpool. His 3 childhood heroes?
Fidel Castro, Che Guevara and John Lennon.
Imagine.
Steve Brown
29
Posted 05/07/2021 at 04:43:04
Zico, Socrates, Falcao and Eder - what a midfield that was.
Kieran Kinsella
30
Posted 05/07/2021 at 04:50:29
Steve,
Wasn't it Carlos I'm goal (total nutter) and Careca up top? What a player he was,
Pete Clarke
31
Posted 05/07/2021 at 05:01:03
Not sure what happened to my last post but will try again.
Jay.. I worked in São Paulo (São Bernardo do Campo) in 1996 and my ex-girlfriend took me to Riberao Preto for a weekend. That was Socrates's hometown and I saw Socrates in a bar one night in a restaurant but could not get to shake hands with him as he was surrounded by friends and family.
Fast forward to 1999 and I was living in Cabo Frio in the state of Rio. Socrates was the coach of the local team and I finally got introduced to the great man outside a bar on the famous canal side in that town.
Ciggy in one hand with a beer in the other and sat on the floor. What a legend he was. Had a chat to him and he was over the moon that I was from Liverpool. Unfortunately no mobile phones with cameras to get a photo.
Leandro was another star who lived in that town. He had a Pousada nearby and Romario also lived nearby for a while.
Danny O'Neill
32
Posted 05/07/2021 at 07:55:07
Jay (BRZ) @28 & Peter Clarke @31. I love historical anecdotes and stories like you both provided. Thank you for sharing.
Pete Clarke
33
Posted 05/07/2021 at 10:40:03
Jay.
I'm assuming that you are married to a Brazilian so you're probably in the know of all things football in Brazil through your wife's family and of course the constant Football on TV.
My ex-girlfriend's father played for Palmeiras back in the late 50s early 60s. He said that there were so many good players in that day that Pele was not considered the best by the general public of that day.
I have a great book at home called 'Estrela Solitaria' which you may well have read. The life story of 'Garrincha' who was considered by many to be better than Pele and yet sadly died an alcoholic and wreck of a man.
I went to about 6 games at the Morumbi Stadium whilst I was there working. One of those games was the final of the (old format) Brazilian championship playoff 1996 between Gremio and Portuguesa. There was a very young player of the future sat on the bench that day for Gremio... Ronaldinho.
Crazy place, Brazil, but I miss it.
On the subject of favorite Everton players, well I was a bit too young to appreciate Alan Ball as an Everton player so, a few years later, when Duncan McKenzie arrived, he gave me everything I wanted to see. I loved characters like him, Stan Bowles, Frank Worthington etc.
The game has none of this anymore and is even tainted by players diving around trying to cheat. The good old days anytime over today's hype, for sure.


Jay Wood
[BRZ]
34
Posted 05/07/2021 at 15:25:23
Pete Clarke. I said earlier: 'Socrates! Now You're talking!"
Mention Garrincha, and you're singing with the Holy Chrous.
I've written about Garrincha before on TW. You've given me an excuse to extol his virtues and mourn his tragic life again.
Like Pele is a nickname by which Edson Arantes do Nascimento is universally known by, the same can be said of Manuel Francisco dos Santos, simply known as Garrincha, 'the little bird'. And yes, there is a very strong Everton connection with the two greats as this 17 minute compilation shows (in Portuguese, but easy to follow).
This was made five years ago in 2016 to celebrate the 50th anniversary since they last played together. Where? At Goodison Park in the 1966 World Cup.
Each scored a cracking free kick in their opening game victory v Bulgaria. Nobody knew it then, but it would be the last time they played together in the yellow shirt of Brazil. It made for a nice symmetry as they first played together for their nation 8 years previously in 1958 against the same opposition.
Garrincha played in the second game loss to Hungary but Pele didn't, then it was the reverse situation in the final game loss v the filthy Portuguese who kicked Pele to pieces, reducing him to a walking passenger (no subs in those days) which eliminated Brazil at the group stage.
To this day they remain the most prolific pairing in world football in games played together. 40 games, 36 wins, 4 draws, no defeats.
In the above clip, the legendary trainer Mario Zagallo who played with and managed them for the national team is adamant. They are the best two players ever produced on the planet.
As for Garrincha, if people think George Best makes for a sad story, it's nothing in comparison to Garrincha.
Born into a poor rural family whose father was an alcoholic, Garrincha himself was an alcoholic by his tenth birthday, imitating his father drinking the local firewater Cachaça like water. Best not to dwell too much on the tale he himself shared that, aged 12, in a drunken stupor, he lost his virginity to...a goat!
He actually ran over his own father when driving under the influence...and was only made aware of it when the police arrived at his home, finding him drunk again. Some years later again driving under the influence he smashed into a lorry, killing one of his passengers, his mother-in-law.
In Pele's autobiography he wrote when Brazil won the World Cup in Sweden in 1958, Garrincha asked his team mates why they were so happy. He didn't realise he had just played in the World Cup final.
I learnt very, very quickly on moving and settling in Brazil that there is possibly more love for Garrincha by Brazilians than there is for Pele. My Brazilian wife being a Botafogo fan (his principal club) quickly educated me on that score. 'The little bird' also has another moniker by which he is known in Brazil:
'Alegria do Povo' - The Joy of the People.
It's so distant in time now that many are not aware that when Brazil successfully defended their WC title in Chile in 1962, Pele sat out most of the tournament and it was Garrincha who carried them to glory. Indeed, he became the first player in FIFA's history to win the trophy, win the Golden Ball award (tournament's best player) and the Golden Boot (tournament's highest scorer).
Throw in his slightly deformed 'S' shaped spine, his 'one knee in socket, one knee out of socket' which made one leg shorter than the other as well as his alcoholism and it's astonishing that he had any sort of football career at all, never mind at the very highest levels.
As the above clip mentions, even converted to today's values, his monthly - MONTHLY!!! - salary was equal to US $2,400.
By the time he died, aged 49 he had been hospitalised 8 times in his final year with cirrhosis of the liver and was a physical and mental wreck. He never woke from his final alcohol induced coma.
At his funeral, he was driven atop a fire truck from the famous Maracana Stadium in Rio (where Botafogo played most of their home games) to his birthplace in the interior. Tens of thousands turned out at the start of the funeral cortege, en route and at his final resting place.
On the walls of the cemetery where he was laid to rest the people had painted a simple final message:
'Obrigado, Garrincha, por você ter vivido (Thank you, Garrincha, for having lived)'.
So Pete, thanks for giving me the excuse to share the above. Did you know that the 'Estrela Solitaria' book on Garrincha you mentioned was made into a film? A good watch.
Jay Wood
[BRZ]
35
Posted 05/07/2021 at 15:34:31
Just one more thing on your posts Pete.
I have a heavy green tint (of envy!) that you actually met, supped ale and chewed the fat with Socrates in a simple back street bar.
Cap duly doffed, yer lucky FDP!
Jay Harris
36
Posted 05/07/2021 at 15:58:47
Pete and Jay,
Thank you so much for an informed and enjoyable read.
The Brazilian team of the 60s and 70s was awash with talent but Garrincha was one of my favourites along with Jairzino.
It was a pleasure and a privilege watching Brazil who were awash with great players.
Brian Harrison
37
Posted 05/07/2021 at 16:24:36
I think the 58 Brazil team didnt get the accolades they deserved, they had Gilmar in goal Didi in midfield and Garrincha, Pele and Vava who scored 2 in the final. But there wasnt the coverage on TV back then. But for me the Brazil side of 1970 are by far the best team I have ever seen, they had the best individual as well as the best collection of players. The Carlos Alberto goal in the final has to be the best goal ever scored, practically every out field player had a touch before Pele played in Carlos to smash in the goal.
That Brazil side was just full of brilliant players Clodaldo hardly gets a mention but a great midfield player along with Gerson then to have Rivelino, Pele and Tostao in front of them. Obviously all the teams that win World Cups are god teams, but the Brazilians of 1970 were on a different level to all other winners. Also Mario Zagalo who played and managed Brazil must be up amongst the best ever managers.
Tony Abrahams
38
Posted 05/07/2021 at 16:42:30
Keep this story going about these great Brazilian footballers, whose talents have thrilled the world, and what a story about Garrincha, Jay, a sad tale, about a man who most can unfortunately relate to, a character who helped shape an era of unrivalled brilliance, and made every football lover, fall in love with Brazil🙏
Mike Gaynes
39
Posted 05/07/2021 at 16:57:54
And way to go Dave Lynch for the aside that got this conversation started!
Dave Abrahams
40
Posted 05/07/2021 at 16:58:35
Brian (37), yes that 1970 Brazilian team takes some beating for all round football ability and skill, the fourth goal proof of how terrific their football was, add Jairzino who, I think scored in every game of that tournament, and was a handful on his own, football entertainment at it's very best.
Andy Crooks
41
Posted 05/07/2021 at 17:27:07
Brilliant thread, brilliant stories. It was a different game then. Mexico 1970, Argentina 1978. Happy days, happy football, days of sunshine.
Pete Clarke
42
Posted 05/07/2021 at 17:50:50
The best football you can watch in Brazil is played on the beach. I used to sit for hours and watch kids of all ages learning the beautiful art in the thick golden sand around the beaches of Rio.
The skills they possess playing the beach foot-volleyball is incredible and there are always a few girls with equally great skills mixed in.
When Man Utd skipped the FA Cup in 2000 to take part in the club World Cup thing, I went to watch them play Vasco in the Maracana. Vasco won 3 - 1 but the skills were planets apart. Gary Neville tried to copy a traditional Brazilian chest pass on the edge of his own area and 'O Animal' Edmundo, latched onto it, rammed the ball home and turned to Gary Neville with his finger waving side to side and just laughing at him.
Funny enough, right after that game there was another game on with Melbourne v Metaxa of Mexico so I watched that too. Not sure if too many people remember the Brazilian lad Rodrigo who was at Everton for a year around 2002. He had been Player of the Year for Botofogo 3 years running so obviously had something about him and yet Moyes didn't give him a chance.
The likes of Moyes is not into flair and yet that's what we all really want to see. That's why I loved McKenzie because he entertained. There's been a few since who could get you off your seat: Trevor Steven, Peter Beardsley, Limpar, Kanchelskis and possibly Pienaar.
Can somebody start a thread on favorite signings? Might be interesting.

Barry Rathbone
43
Posted 05/07/2021 at 18:19:43
Jay, good stuff that.
Brazilian players through the 1950s to Ronaldo in the early 2000s will forever be the bar every player must measure against maestros who define the word "great".
I watch the 1970 Brazil world cup win every so often to jog the memory of what true mastery of a football looks like. Trouble is you then cringe at todays "top" players as they wrestle with rather than control a ball.
Lukaku? Say no more.
Dave Lynch
44
Posted 05/07/2021 at 18:44:31
Clodoaldo... now that was also a player.
Some would argue the heartbeat of that 1970 Brazil team.
Wasn't he the player who calmly brought the ball out of defence to initiate the move that led to "that" goal in the final.
Pete Clarke
45
Posted 05/07/2021 at 23:50:52
For sure, the days of pure football at a professional level have gone. Ronaldinho and now Messi have kept it going on an individual basis but there are no great entertaining teams anymore. It's more about not losing.
I love Messi and often put his highlights on, trying to brighten things up in my own football world. He probably has more highlights as an individual than most football clubs have in their history. He has been a blessing to the sport given the amazing skills he possesses and, for a man so small, he can take a fair bit of kicking yet still get up and play on.
Most of today's footballers are a disgrace to the game, the way they roll around screaming after being nudged off the ball. Richarlison being one of the worst culprits – he seriously needs to grow a pair of balls.
I reckon there should be a rule about players going down needing treatment, that they be treated off the pitch so the game goes on. That may put them off play-acting.
The Euros have been quite entertaining and I'm looking forward to Denmark v England. The Danes are a lot more enterprising than England so hopefully Grealish plays as he is at least worth watching. Italy should be too strong for Spain who have flattered to deceive in most games.
Here's hoping for some entertainment.
Danny O'Neill
46
Posted 05/07/2021 at 00:01:02
Great discussion on some great past teams and players. We all grew up wanting to play like Brasil back in the day. Also Holland and Cruyff for me.
On the international stage, and I am bias, but I think the Germany team that emerged in 2010 and then won the World Cup in 2014 were very entertaining. Okay, not Brazilian, as there will always be an element of German discipline and efficiency. But a very talented team with some top draw players of their own generation.
Agree Peter, it's mostly been a really enjoyable tournament to watch. Here's hoping it continues.
---
Add Your Comments
In order to post a comment, you need to be logged in as a registered user of the site.
Or Sign up as a ToffeeWeb Member — it's free, takes just a few minutes and will allow you to post your comments on articles and Talking Points submissions across the site.