Richarlison back in the Copa America final with Brazil
Monday, 5 July, 2021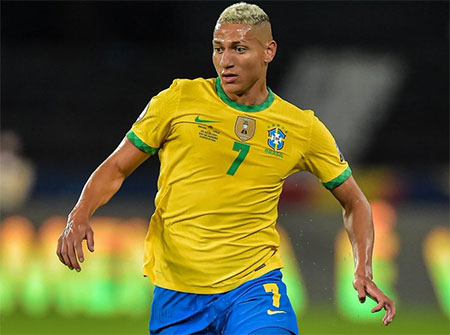 Brazil will contest the Copa America final for the second successive time as they bid to make it six titles out of six when hosting the competition after edging Peru in tonight's semi-final.
Richarlison played 84 minutes as Tite's men triumphed thanks to Paqueta's first-half strike, set up by wonderful footwork and cut-back by Neymar.
Richarlison came off the bench in the 2019 final against Peru and scored a penalty and he will be hoping to be in the starting XI this time as Brazil take on either Argentina or Colombia in Saturday's final.
---
Reader Comments (89)
Note: the following content is not moderated or vetted by the site owners at the time of submission. Comments are the responsibility of the poster. Disclaimer
Mike Gaynes
1
Posted 06/07/2021 at 01:41:21
Brazil up by a slender 1-0 over Peru late. Nice piece of work by Richarlison to start Brazil's goal move... won the ball in midfield then released Neymar on left wing with a good pass, and he teed up Paqueta for the goal.
Richi now subbed off in the 85th minute.
James Flynn
2
Posted 06/07/2021 at 06:52:30
Good boy yourself, Richi. Good luck.
Alan J Thompson
3
Posted 06/07/2021 at 07:10:54
I don't suppose he's been in Neymar's ear about how wonderful life is at Everton and how you can even go to the Olympics with them, sort of.
Colin Glassar
4
Posted 06/07/2021 at 07:33:42
Funny isn't it how the rs stop Salah from going to the Olympics but our bunch of wet rags can't, or won't, stop the sulk from going? Pathetic bunch of spineless weaklings is what they are.
Paul Smith
5
Posted 06/07/2021 at 07:43:10
Get back to Finch Farm, Bruv, and earn your coin.
Mal van Schaick
6
Posted 06/07/2021 at 07:57:05
Good luck, but I fear a bid or transfer request on his return.
Jerome Shields
7
Posted 06/07/2021 at 08:18:07
Good luck to him in the final. I don't think he should be going to the Olympics. Hopefully it will enhance his profile and Everton will get big money next season when he is transferred. That is the only practical reason he is let go.
Paul O'Neill
8
Posted 06/07/2021 at 08:30:53
Surprised Benitez has allowed to this given his reputation. Beginning to think there must be more to it.
Jerome Shields
9
Posted 06/07/2021 at 08:32:32
Fabrizio Romano seems to have come to the fore regarding all things Everton. Talking of crunch talking between Richarlison and Benitez regarding his future.
Does anyone know if their is a connection between Fabrizio Romano and Benitez? He seemed to have a lot of information on Benitez's recruitment early on.
Robert Tressell
10
Posted 06/07/2021 at 08:54:32
PSG might be interested in Richarlison as a hard working selfless foil for Neymar. A bit like what Benzema did for Ronaldo for years. Not sure any other club has the need or the money right now.
Derek Knox
11
Posted 06/07/2021 at 09:08:11
I'm a bit ambivalent on this for several reasons, I always want our players (EFC) or indeed any British Athletes to do well at Olympic Events, but also fail to see how very highly paid Golfers, Tennis Players and Footballers etc, qualify !
Mind you having said that, are there any real Amateurs anymore? Beth Tweddle used to live not for from me when I lived in South Liverpool (Aigburth), she was always seen in a Brand New Car, and had an apartment which must have cost a fair amount each month, or was it hers as a gift? I am not sure on that, she never discussed the intricacies with me on that, or anything for that matter, just a friendly wave in passing. :-)
Getting back to Richie, I would be doubly pissed off, if we let him go to the Olympics, (he will miss several games) he does well and then starts murmuring on his return about getting a move away, I think I would have got assurances from him, that should have been the case before acceding to his desire.
Dave Abrahams
12
Posted 06/07/2021 at 09:35:07
I'm not a big fan of Richarlison but, even if he was the best player in the world, he would still need a good rest from football. I don't think he has had a real rest from football over the last 2 years.
Going from one tournament to another after a tiring, and poor, season in the Premier League won't help Richarlison very much. It will help Everton a lot less, that's for sure, and we are paying him while he plays for Brazil in a competition even most Brazilians have little interest in.
Danny Baily
13
Posted 06/07/2021 at 09:41:19
Robert, PSG would be a perfect fit for Richarlison in terms of quality of the opposition and profile of the club.
Derek Moore
14
Posted 06/07/2021 at 09:48:13
I admire the lads commitment if nothing else. He clearly and obviously loves football, and especially appearing for his country.
To my mind though, he looked jaded and in need of a break quite early on last season. If he is not being quietly prepared to be moved along for transfer funds then allowing Richarlison to play this much football seems foolhardy at best and downright negligent at worst.
Should an injury befall him during the Olympics then the club could only really blame itself. Particularly when sports science is starting to point to sustained load and lack of meaningful recovery periods as significant co-factors in serious injuries.
Brian Harrison
15
Posted 06/07/2021 at 09:49:06
I think playing for Brazil means a lot to Richarlison and I think he wants to follow his idol Neymar and captain Brazil in the Olympics. By playing in the Olympics that means he will miss a few games at the start of the season which is not ideal, but Everton have agreed to it so that's the end of the matter.
As a few pundits have said, there are a number of clubs who are interested in Richarlison, I think if PSG come in for him, that would be his preferred move to play with his idol Neymar.
Although last season was not his best, I think on his day he is our best player and if we lose him we need to get in a like for like replacement, which won't be easy. Let's hope, by Everton agreeing to him playing in the Olympics, he may stay another season, but I doubt it somehow.
Eddie Dunn
16
Posted 06/07/2021 at 10:15:21
I bet the club are being as accomodating as possible to keep our boy happy, hoping to keep him sweet for another season.
Bill Fairfield
17
Posted 06/07/2021 at 11:12:01
Be interesting to see how Benitez views Richarlison's dedication to country before club.
Lester Yip
18
Posted 06/07/2021 at 12:50:00
A few good games in such competition can up the player value by quite a lot. I think the club might be looking to offload either one of the striker when a big offer comes in to fund other areas transfer. DCL, Richy and Kean all command massive fee.

Matthew Williams
19
Posted 06/07/2021 at 14:18:08
The better team lost!.
It really is embarrassing watching Richarlison,the faintest touch,or nudge and once again he's on his arse looking for the Ref to blow up.Brazil are now a boring joke too,no wonder the Krauts put seven past them!.
From the world's greatest ever side in '70,to this... shocking.
John Pickles
20
Posted 06/07/2021 at 14:27:03
I doubt it matters much. We're unlikely to be competing for anything in the league, no one at the club seems to ever care about the EFL Cup and the FA Cup doesn't start for us until January. He should be back by then.
James Flynn
21
Posted 06/07/2021 at 14:41:40
No team with Neymar on it can be boring.
Been watching the Brazil games. Most watchable is Neymar; contrasting his club games, where he's a brilliant player with top class teammates and the Brazil games where absolutely everything runs thru him. And he takes on that responsibility, no matter how many times he's kicked down.
What a wonderful talent to see. Wouldn't he be something at Goodison. If only
Justin Doone
22
Posted 06/07/2021 at 14:51:30
Nearly every footballer at nearly every level playing football now involves play acting.
In my book that's cheating as its trying to con the referee, wind up opposing teams and is simply pathetic.
VAR has made this much worse as players are vary rarely booked.
Brazil and especially Neymar are amongst the very worst for this.
For all the skill and ability.. wasted in trying to cheat.
Danny O'Neill
23
Posted 06/07/2021 at 15:13:32
I'd agree Justin. And I'd call out Jack Grealish for this too.
I wouldn't say it's play acting. Grealish is repeatedly called out for being the most fouled player as I understand, which he probably is.
But, as with in any league now (we are no different), they are taught to make sure they get the foul once there is contact and the ball is lost.
Personally I think there is a subtle difference between that and play acting. It's just a virtue of the modern game.
To reverse the debate, as a player, nothing gave me red mist more than shirt pulling. Now that is cheating on the flip side of the coin. Plenty do it and get away with it. But we don't seem as concerned with that as we are when we see someone play for the foul (go to ground) as when there has been contact and an obstruction. Shirt pulling boils my blood. A bit like petty stealing of yards on free kicks and throw ins that never seem to get pulled up by shithouse officials.
Derek Cowell
24
Posted 06/07/2021 at 16:08:23
We area now definitely a charity with a football klooob attached. There is no way we should be letting Richarlison go to the Olympics. He is our professional player who is very well paid to play FOR US.
Other, more professionally run, teams like the RS put their foot down and say no, quite rightly.
If we lose points during the more favourable start we have been given and end up struggling for points at the wrong end of the table with our difficult finish, Richarlison missing winnable games will look a lot worse! He will also probably be knackered well before the season's end having had no rest for at least 2 years.
How can a Brazilian team refuse to let a player go but us mugs allow his replacement to play? It makes no sense unless we are selling him and the offer has already been made and accepted. Mind you, what team would want to buy a knackered overplayed player?!
This club needs to communicate a lot more with fans on issues like this.
Derek Knox
25
Posted 06/07/2021 at 17:18:13
Derek, I can fully understand your frustration, but the day a Club starts to recognise the cross sectional feelings of the fans will be a first, and possibly an admission that they are incapable of reaching a logical decision on their own merits. We all know it goes on and these paid people are paid very generously for their 'football wisdom' but so often fail to deliver.
The other side of the coin being that I doubt anyone at Board Level or even in the Club Hierarchy, even knows that ToffeeWeb, or any other Fansites, even exist!
John McFarlane Snr
26
Posted 06/07/2021 at 17:23:21
Hi Danny [23],
I feel that I must take issue with you when you say, "That there is a subtle difference between play-acting, and players being taught to make sure that they get the foul once there has been contact and the ball is lost". You then describe it as a 'virtue of the modern game'.
I would suggest that it's the complete opposite, and it's a 'vice' of the modern game, that is leading to football becoming a non-contact sport.
Danny O'Neill
27
Posted 06/07/2021 at 17:48:05
You don't have to take issue John. I probably should have put my point across better.
Football is a contact sport. My knees and ankles remind me of that regularly these days!
I should have made the distinction between diving and play acting in the traditional sense when there is no contact. Sometimes officials spot the latter and penalise, but not often enough in my enough in my view.
Then there is the situation when there is contact and it is a foul. Moderns players are coached to make sure they get the decision. But it is a foul. Grealish is a master of it. Some call that diving, but there is a foul. I draw distinction between the two.
Andy Johnson was accused of diving when in reality he was often moving so fast and got the slightest of clips. Combined with him being relatively lightweight, it would send him flying so he got accused of diving. Not the case. But then he wasn't the resident darling of the English media like Grealish.
It shouldn't distract from a fair 50-50 challenge where there is contact yet no foul.
Derek Cowell
28
Posted 06/07/2021 at 17:55:23
Playacting by players will only stop if refs refuse to react to their ridiculous over dramatic antics. The refs though are scared of criticism by the top managers so err on the side of caution and give the fouls.
In my book though the refs should just wave play on and leave the playactor rolling around 'in agony'. We would soon see them get up and carry on. Just look at that clown Imobile the other day and what a laughing stock he made of himself.
I am surprised that the commentators and pundits are not calling this out more often as it is usually so obvious. It is spoiling the flow of the games. I am sick of seeing 2 players runnning alongside each other and one, usually the forward, throwing themselves to the ground and rolling around as if shot and looking at their hands for blood.
I watch motorbike racing and those guys race with broken bones! Other sports like rugby also show our primadonna footballers up for the soft cheating pussies that they are.
Mike Gaynes
29
Posted 06/07/2021 at 18:04:18
Matthew #19, very strange comment about Brazil. All countries have up and down periods. I would remind you that after being
"the world's greatest ever side in '70"
and making the World Cup semis in '74 and '78, they had a prolonged period of underperformance.
And then they roared back to own the world again, making three straight World Cup Finals and winning twice, in '94 and '02.
Right now, they're in another down period for talent. I'd say only Ederson and Neymar of the current squad would likely have made their starting lineup in 2002. (And only Ederson in 1970.)
But are you gonna bet against them returning to the top again? I'm sure as hell not.
Eddie Dunn
30
Posted 06/07/2021 at 18:19:41
Mike,
Perhaps the club have told Richarlison to chat-up some of the young team mates at the Olympics. Perhaps there is a cunning plan?
Alex Gray
31
Posted 06/07/2021 at 18:25:23
The fact that, at our time where we need him most, he's forced us to let him go to the Olympics is the end of him for me.
If, and it's a big 'if', we get an offer like Barca put in last time, I think it's time we cash in and reinvest.
With James likely to force a move before the window is shut, we need wingers desperately for the first match at the start of the season. Richarlison will no doubt miss that now and, even when he gets back, he'll be shattered.
Justin Doone
32
Posted 06/07/2021 at 18:26:13
I feel for referees, an almost impossible task without stopping play and using VAR all the time, something nobody wants.
So let's applaud the very high standard in this year's refereeing at the Euros. I'm impressed with the initial ignoring of little taps and barges. Its sets the play up to flow.
Well done them, clap clap. I only hope the FA, UEFA and fifa continue to help educate referees so they can improve and clamp down on the cheats.
Mike Gaynes
33
Posted 06/07/2021 at 19:00:43
Eddie, I don't know if Richarlisonand Rafa have ever even met. Probably just a couple phone conversations. Certainly not enough for Richarlison to chat up his teammates.
Rafa came home from China in January. If he started watching Everton the day he plopped back into his La-Z-Boy in Wirral, he saw Richarlison score 5 goals in 21 league games (8 in 25 overall). He would have seen him turn in two spectacular performances (the Anfield derby and the Spurs cup tie) and 8 or 10 dismal ones.
My guess is that Rafa views the Olympics as the world's biggest shop window for a forward he doesn't really want. Richarlison bangs in four or five to increase his value and Rafa already has replacements in mind.
No factual basis for this guess, but it seems a logical explanation for the otherwise inexplicable decision to let Richarlison go to Japan.
Bill #17, I doubt you'll ever see a Latin American player who isn't dedicated to country before club. The game is a matter of national identity in South and Central America. Total commitment to the national team is more than expected, it's a given.
John Boon
34
Posted 06/07/2021 at 19:41:41
John (26).
Totally agree. Players rolling around as though they had been mortally wounded brings nothing to the game. In fact, anti-football critics derive amusement at such antics. If players had to stay off once they had visually demonstrated a feigned injury it would hopefully cut out the acting.
I have not noticed it too much in the Euros. I also think the general standard of refereeing has been very good. They seem more willing to let the game move along and they are more aware of actors.
It is a shame that one of the world's best football players, Neymar, is also one of the worst at over-reacting. A very poor advertisement for football.
Matthew Williams
35
Posted 06/07/2021 at 21:02:17
Sorry Mike #29, but Peru played the better footy from where we was sat. Brazil have fallen so far and so fast, they're living on past glories and the diving and play-acting is beyond a fucking joke. Their sides in the past had that Samba, devil may care attitude; now they look like Spain playing in yellow shirts.
They are to me atm the international team I despise the most: dull, over-rated and predictable... and they will never get even remotely near to the sheer quality and brilliance of their '82 team... whatever they win in the future.
Mike Gaynes
36
Posted 06/07/2021 at 21:28:20
Matthew, I wasn't disagreeing about the Peru game or the current Brazil form. I was just saying don't write them off.
And if you remember brilliance from the '82 Brazil team, you remember better than me. What I recall is sloppy defense and a massive choke job at the World Cup.
Tim Kells
37
Posted 06/07/2021 at 22:07:02
Matthew 35. Yes remember them well. Socrates, Zico, Falcao. Loved that tournament and that team. Ultra attacking and a shame that they didn't progress further.
Matthew Williams
38
Posted 06/07/2021 at 22:52:07
True, Mike, but their footy was full of joy. Okay, they couldn't defend for Toffee, but the world itself wasn't expecting the finishing of Rossi after all that he'd been through.
Often wonder what the players of '82 think about their current side?
Still think the Hungary verses El Salvador match was the best game in '82 like!... win big I say.
Gary Smith
39
Posted 07/07/2021 at 12:56:04
Reports of Ancelotti phoning Richarlison directly about a transfer to Real.
Surely that's an illegal approach?
If it is the club need to aggressively pursue it. If it's not, then whatever the price is elsewhere, we should double it for that fat bellend and this horrible game stealing ESL club.
Dave McDowell
40
Posted 07/07/2021 at 13:21:58
Gary #39
The irony is that we overpaid for Richarlison because we tapped up Silva.
However, my main issue here is those who've backed letting Richarlison go for a Japanese beano.
I've read "If we don't let him go, he'll be unhappy and want to leave".
As a club, we need to grow a pair of balls the size of Rafa's.
Richarliosn is the only Copa Brazilian going to the farce of a football Olympic tournament… You know why? Because we are the only club mug enough to let a player go.
The RS said Salah can't go.
Now the story of Richarlison to Madrid comes up… Do any of you think he won't be on the first Ryanair outta here if that interest firms up?
I'm at the point that I hope we sell him now for £100M but of course we won't, we will wait and watch him get crocked against Saudi Arabia.
Mike Corcoran
41
Posted 07/07/2021 at 13:30:45
Sam Hoare
42
Posted 07/07/2021 at 13:35:48
Ironic that Real Madrid reportedly want Richarlison after he had his worst season with us under Carlo.
If they pay big bucks (which seems unlikely given their finances) they can have him; he clearly wants to go and I think he will be knackered this season after a long 2020-21season and then Copa America and then Olympics. He's definitely one of our best players but I've never thought he works well with Calvert-Lewin and if we could get £60M plus a useful Real Madrid starlet (Kubo? Rodrygo? Diaz?) it could be best for all parties, so long as that money is spent well. (Unlike the Lukaku money!!!)
Shane Corcoran
43
Posted 07/07/2021 at 13:42:47
Get him out the fuck so I don't have to look at him.
I'm one usually advocating players playing with their countries but the bloody Olympics straight after the final of the Copa America?
Out the Fuck.
James Flynn
44
Posted 07/07/2021 at 14:10:15
Mike (41) - Better than Madrid, I'd suggest Brands go shopping at the FC Barcelona market.
Desperate to fix their books and a look at their roster shows an array of young talent could get them some money.
Jay Wood
[BRZ]
45
Posted 07/07/2021 at 15:13:31
It's been evident for some time as the links show that the pandemic and absence of fans (amongst other things) has seriously impacted on Real Madrid and Barcelona's finances.
They are now reduced to signing up out-of-contract free transfers, whilst trying to shift or loan out fringe high earners on inflated salaries.
Juventus are in a similar position. Thus, why all three are desparate and unrepentant in their push to establish the ESL.
As James rightly points out, there could be some cheap but quality pickings available at both clubs with crafty negotiation.
Dan Nulty
46
Posted 07/07/2021 at 15:42:49
Rumours in Spain that Carlo wants him at Madrid and has made contact. Can't see them affording what we would want.
Perhaps this is why we have agreed to let him go to the Olympics because he won't be playing for us.
Sam Hoare
47
Posted 07/07/2021 at 15:56:59
Jay@45, assuming they are not selling first teamers I'll take Emerson Royal from Barcelona, Odegaard from Madrid and Kulusevski from Juventus. That trio would help.
Jay Wood
[BRZ]
48
Posted 07/07/2021 at 16:08:23
That would be transformational, Sam!
Right age group, more than decent potential, in positions required.
What's not to like?
Robert Tressell
49
Posted 07/07/2021 at 16:42:06
Can't argue with that Sam. Odegaard could be our DeBruyne and it does seem that Arsenal have withdrawn interest. Emerson one of a number of very good right back options. Kulusevski would be a real coup - maybe the best of the lot. Power and quality. Little bit outshone by Isak at the Euros but could be that left footed, wide-right forward we've been crying out for, for years.
Or, this being Everton, it might be Juan Mata, Callum Chambers and Andros Townsend.
Here's hoping more of the former than the latter.
Dale Self
50
Posted 07/07/2021 at 16:43:02
Sam and Jay, good stuff there. Maybe with the economic shock of the pandemic we now enter a post-Bosman phase where some teams trade rather than sell and buy in separate processes. This could be interesting if an overall strategy of unwinding the long rosters becomes dominant among giant clubs that were hoarding spectacularly.
Kieran Kinsella
51
Posted 07/07/2021 at 16:51:30
Jay Wood,
Despite shopping for free transfers, Barce haven't even been able to register those new signings as they are over the league imposed salary cap. One "released" player is suing them for 9 million for "breach of contract" too.
I remember years ago, I think in the mid 90s, there was an attempt by the Bank of Spain to call in a massive loan from Real Madrid but allegedly King Juan Carlos intervened to prevent the bank doing so. Since then the two Spanish giants have continued to spend like crazy and just kick the can down the road. Seems like they may have found that the proverbial road comes to an end on a cliff edge.
Jay Wood
[BRZ]
52
Posted 07/07/2021 at 17:22:14
Or, Kieran, the very dodgy deals Real have made with their city council and state govt down the years. Everton could have learnt something from them with their own sell off-lease back deal for Finch Farm with LCC. Follow this:
In 1998 Real sold part of their training ground to the council for £23 million, half paid in cash, the rest in council-owned land. In a flash, Real sold some of that property and developed the rest of its training ground. The proceeds were so generous that Real bought Galacticos such as Luis Figo and Zinedine Zidane who helped them win their 9th CL in 2002.
Only in 2012 was an 'inexplicable error' discovered by Spain's El Pais newspaper. Some of the land given to Real in 1998 did not even belong to the council at the time.
The solution? The council took back the land and 'compensated' (HAH!) Real Madrid with additional land at their new training ground and stadium (footfalls they have subsequently developed), plus prime assets elsewhere.
The total value of this compensation for Real was more than £19m, a 54-fold increase on what the original land was worth in 1998.
I guess it helps if your club president is Florentino Rodríguez, ex-Madrid city councillor himself, the billionaire owner of Spain's largest construction company.
Nice to have friends in high places, eh?
Kieran Kinsella
53
Posted 07/07/2021 at 17:32:32
Jay
It explains the ESL drive and Perez's refusal to accept defeat. In banking jargo "moral hazard." You let people get away with financial mismanagement and rather than thanking their lucky stars they just become more and more reckless as they have no concept of consequences.
I don't see it happening but it would be fitting if Real and Barce got a taste of the Glasgow Rangers treatment. A few years playing their own B teams in the lower leagues might shake them up.
Mike Gaynes
54
Posted 10/07/2021 at 03:23:35
Hate to go against Richarlison tomorrow, but I'm all in for Messi to win his first international trophy with Argentina.
I'm not alone... saw multiple press reports today about lots of Brazilians rooting for Argentina.
Sam/Robert/Jay, a big 'Amen' to those three players... very much liked what I saw of Kulusevski at the Euros.
Mike Gaynes
55
Posted 10/07/2021 at 03:33:18
And after his performance in the Copa, I'd like us to take a flyer on Luis Diaz of Colombia and Porto. Tremendous speed and has developed an excellent finishing ability.
Jamie Crowley
56
Posted 11/07/2021 at 01:16:34
Is anyone watching this final?? FULL BLOODED footy. Skill everywhere.
The Copa has been brilliant.
Soren Moyer
57
Posted 11/07/2021 at 01:33:01
VAMOS AREGENTINA!!!!!
Mike (55) +1 on Ramon Diaz. Excellent player.
Jamie Crowley
58
Posted 11/07/2021 at 01:36:09
Si!!! I want Messi to win one for Argentina.
All this ridiculous criticism of, "He's never won anything for his country."
Pah-leez. Best footballer I've ever seen. Would love to see him and Argentina win it.
Mike Gaynes
59
Posted 11/07/2021 at 01:42:52
I sure do hope some of you English lads have stayed awake past 1am to watch this game. It's an absolute cracker. Ferocious pressure all over the field, full-blooded tackles and technical virtuosity.
Only bummer is Di Maria, who scored a brilliant goal for Arg's lead and has had a superb tournament, going down with an apparent Achilles.
Our fella Richi has barely seen the ball. No factor in attack, although he's relentlessly pressuring the Argentina backline.
Jamie, amen, I'm wearing my Argentina shirt with my Messi tank top underneath.
Mike Jones
60
Posted 11/07/2021 at 01:48:39
I am only concerned that Brazil win if richy stays a Blue
Mike Gaynes
61
Posted 11/07/2021 at 01:49:28
How good is this game? Messi and Neymar just hugged
walking off at halftime.
Never seen that before.
1-0 ARG. Great header by Richi off a Neymar corner just before the break, but none of his teammates could reach it at the back post.
Soren Moyer
62
Posted 11/07/2021 at 01:56:01
Absolutely briliant. Enjoyed every game of this year's coppa even the 3rd place play off. Now come on Messi and La Albiceleste!
Mike Gaynes
63
Posted 11/07/2021 at 02:06:40
Richi at his worst. Instead of driving with the ball into the defender, flopping for a soft foul at the end line. Ignored by the ref and the linesman. Laughed at by the Arg defender.
But then Richi at his best, driving with the ball and great effort for the goal, which is properly overturned for a marginal offside.
Nicholas Ryan
64
Posted 11/07/2021 at 02:08:31
On the subject of footballers rolling around etc. at the slightest touch; I was watching a stage of the Tour de France the other day, when there was an almighty crash, involving about 30 riders, including our own Geraint Thomas.
As well as a clutch of cuts and bruises, Thomas had a dislocated shoulder. No sooner had the commentator said 'Well, that's the end of his Tour', than the team doctor arrived and simply 'popped' the shoulder back in. Thomas got back on his bike and rode on... for another 150 kilometers... and he's still going!
Jamie Crowley
65
Posted 11/07/2021 at 02:18:20
I don't want this to end. Makes the Premier League look boring AF.
Jamie Crowley
66
Posted 11/07/2021 at 02:22:10
Dude, for every dive there's like three wicked hard tackles. Just full on, I'm comin' in like a freight train, brace yourself.
Mike Gaynes
67
Posted 11/07/2021 at 02:32:11
As good as the Euros have been... this is better.
Jamie Crowley
68
Posted 11/07/2021 at 02:36:51
But Mike - the group stages in the Copa are just plain stupid. 4 of 5 teams go through. Silly.
The knock out stages of the Copa have been unreal. But the Euros from start to finish are better in my opinion.
Jamie Crowley
69
Posted 11/07/2021 at 02:44:48
Oh my God Messi blew a flat. What the fuck?
This is crazy.
Mike Gaynes
70
Posted 11/07/2021 at 02:45:42
Messi with the trophy on his foot swallows the ball. Incredible.
Jamie Crowley
71
Posted 11/07/2021 at 02:48:23
Mike Gaynes -
I give this ref and A+++.
You agree? I think he's been stupendous.
Mike Gaynes
72
Posted 11/07/2021 at 02:51:01
Neymar looked like Walter Payton running through those tackles.
Jamie, yes, this is one of the best ref performances I have EVER seen anywhere.
Jamie Crowley
73
Posted 11/07/2021 at 02:52:41
And they all run to Messi.
So cool to see that. Congrats Argies. Messi finally over the "bullshit hump" and wins something for Argentina.
Mike Gaynes
74
Posted 11/07/2021 at 02:56:48
What. A. Freaking. Game.
Viva Messi. The world will never remember that this was maybe his worst performance ever in a final. He is being properly appreciated for everything he has done for his country and the game. Bravo, Lio.
Jamie Crowley
75
Posted 11/07/2021 at 02:59:02
Just for effect so the two loudmouth American TWers can let it be known and are on the exact same page - in the words of Mike Gaynes:
What. A. Freaking. Game.
Mike Gaynes
76
Posted 11/07/2021 at 03:02:33
Okay, I just cried. Openly. Watching those two legends hug it out and sob into each other's shoulders. Neymar understands what this means to Messi, and even in his own grief he is able to share that with his dear friend.
Magnificence.
Ed Prytherch
77
Posted 11/07/2021 at 03:09:39
No shortage of passion in that game. They all played as if their lives depended upon the result.
Nick McGregor
78
Posted 11/07/2021 at 03:15:18
What an amazing game! You guys are spot on - that ref did an amazing job managing that chaotic, immensely physical, beautiful game. So happy for Messi and co.
We can count ourselves lucky if tomorrow's final is even half as wild as this one.
Mike Gaynes
79
Posted 11/07/2021 at 03:16:43
I feel sorry for our TW friends east of the Big Water who slept through this one. They missed something special.
Jay Wood
[BRZ]
80
Posted 11/07/2021 at 04:03:10
Blimey, Mike. I think you are being overly misty-eyed which is clouding your vision calling the game as you do.
I saw a distinctly ordinary Brazil, devoid of any magic, invention or grace, easily held at arms length by an extremely rugged Argentina who were prepared to do anything, anywhere on the pitch, to prevent Brazil getting anywhere close to their penalty area.
The solitary goal came from a long punt the Athletico full back Renan should have cut out in his sleep, putting Di Maria in with a clear run on goal, drawing out Ederson and lobbing him.
The ref didn't 'let things flow'. There was no flow to the game. Rather, he turned a blind eye to a lot of very ugly stuff. The gamemanship, simulation and out-and-out cheating was nauseatingly typical of a lot of South American football.
It was a fitting finale for a miserable competition, mostly devoid of any decent football, individually or collectively, or 'wow' moments, played out in empty stadiums (until tonight's absurd concession allowed by CONMEBOL).
It hasn't been a patch on the Euros. Whoever the World Champions are next year may be, they ain't coming from Latin America.
Oh! And our Richy was totally anonymous. Amazed he wasn't subbed out.
Mike Gaynes
81
Posted 11/07/2021 at 04:39:54
Jay, I'm more about the passion and less about the technical artistry. Agree that the tournament overall was poor, but this was the most ferociously contested match I've seen anywhere this year, and a worthy and exciting final. Such finals are often decided by mistakes rather than virtuosity, and Lodi's blunder was a fine example of that. But full credit to Di Maria for a brilliant run -- one of many he made in this game -- and a decidedly classy finish.
The ref can't "let things flow" when there's no flow to the game -- I thought his management, control, positioning and accuracy (except for one missed call on a corner kick) was exemplary. And I don't think he let Argentina get away with anything unusual -- sure, there was lots of strategic fouling as expected, but nothing dirty from my perspective. In a game that emotional, having no red-card-worthy fouls and no serious incidents is a triumph. I expect to see that guy working late into the World Cup.
As for Brazil being ordinary, they've been that for several years now IMO. But I think Argentina deserves credit for an extraordinary level of effort -- they never slackened through the whole 90. And they needed it. The US TV commentator said Brazil hadn't lost a home Copa elimination game since 1949, and no home Copa losses at all since 1975.
Correct about Richi. The effort is relentless, but the quality is poor and the falling down for fouls was totally nonproductive today. I would support selling him if a good offer comes in and a quality replacement is available.
Danny O'Neill
82
Posted 11/07/2021 at 06:37:48
Well, I didn't catch this one. Mike and Jay, that's a classic example of how two people can see a game in two totally different ways!!
Mike, your point about the players embracing sometimes gets lost on supporters when I hear criticism of our players mixing with the opposition after a defeat or disappointing result. We often forget, these professionals, and more so in the modern game, operate in a bubble and many are close friends or have tremendous respect, regardless of club or country. Plus, it is sportsmanship.
Right, this one done. Now to get today's hysteria out of the way, collect my sweepstake for an Italian victory and get on with the more important business of speculating who is staying, who is going and who we're signing before 14th August.
Darren Hind
83
Posted 11/07/2021 at 06:53:20
Just been watching the "highlights". Half an hour of crap. If that was the highlights, I'm glad I didnt sit through it all.
These two great footballing nations went about it like two overly aggressive league one teams playing each other in a derby. On the night, nobody seemed to have the quality to rise above it - Cept maybe Di Maria....briefly
Woeful finally to what as been a woeful tournament
Darren Hind
84
Posted 11/07/2021 at 07:04:45
Final
Colin Glassar
85
Posted 11/07/2021 at 07:17:38
Aarons, Saint Maxim (for Richarlison) and Zaha and I think we'll be sorted for this season.
Darren Hind
86
Posted 11/07/2021 at 07:21:33
What did you have in mind Colin ?
St Maxim one side, Zaha the other and Iwobi in the engine room ?
Mike Gaynes
87
Posted 11/07/2021 at 07:29:31
Highlights? Hah. The quality in this game wouldn't have shown up in the highlights. A dozen brilliant dribbles... sharp skillful passing under extreme pressure... fantastic touches... but in the middle of the pitch, not in the buildup to scoring chances.
But I can understand preferring abridged versions. I really enjoyed The Two Musketeers and Four Brides For Four Brothers.
Colin Glassar
88
Posted 11/07/2021 at 07:35:06
Iwobi in the engine room? The Titanic's engine room would do.
Darren Hind
89
Posted 11/07/2021 at 07:43:19
Interesting
So they took out the brilliant dribbles. The sharp skillful passing and the fantastic touches and made the highlights a compilation of fouls, diving and feigning injury ?
When you think about how often the ball is dead or out of play. That's one helluva piece of editing.
---
Add Your Comments
In order to post a comment, you need to be logged in as a registered user of the site.
Or Sign up as a ToffeeWeb Member — it's free, takes just a few minutes and will allow you to post your comments on articles and Talking Points submissions across the site.