Everton launch 2021-22 home kit
Friday, 9 July, 2021
Everton have unveiled the new home kit for the 2021/22 season with the dazzle-camouflage inspired strip available to pre-order from today.
The kit, which features a two-tone patterned blue shirt, white shorts with royal blue and yellow detailing, and white socks, can be pre-ordered online at evertondirect.com and will be available to buy from Thursday 15 July.
The use of the dazzle pattern is inspired by the role of the city of Liverpool and its docks in painting naval ships with the inventive and bold livery during the First World War. The brainchild of a British marine artist, the use of contrasting shapes, tones and colours proved highly effective at disguising a vessel's size, speed, distance and direction, confusing the enemy at sea.
To this day, the practice is celebrated in Liverpool through a working Mersey ferry 'Everybody Razzle Dazzle', painted to commemorate the dazzle ships in 2014 as part of the city's First World War centenary activities.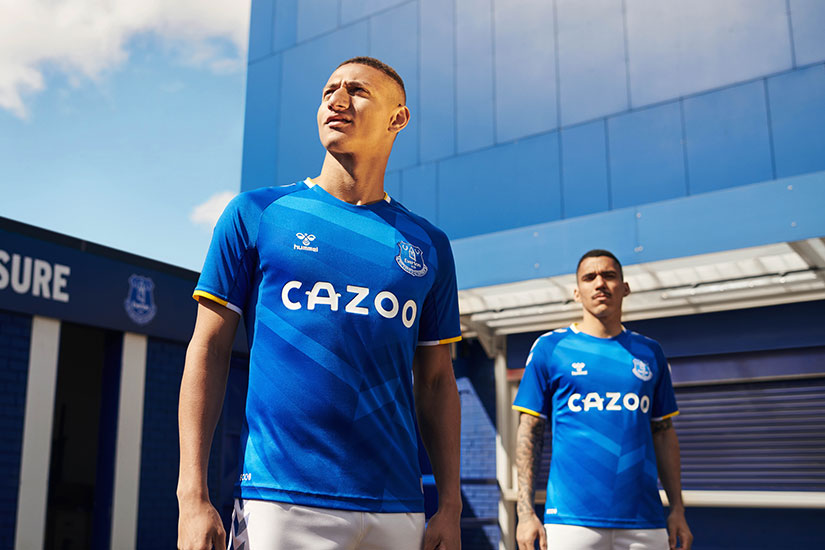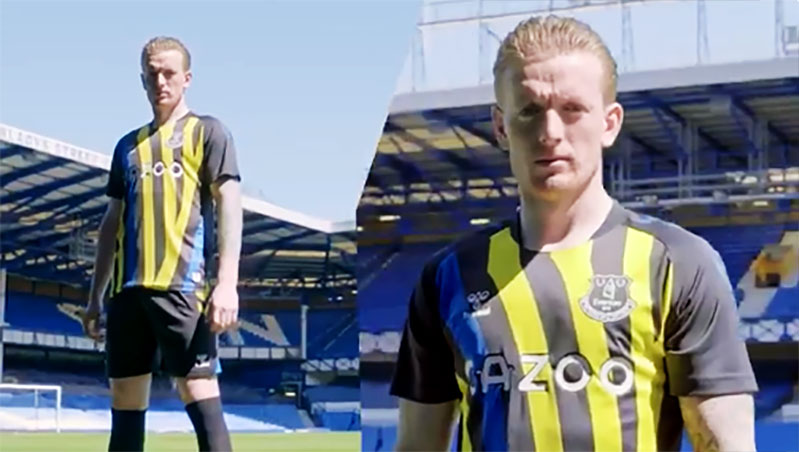 ---
Reader Comments (60)
Note: the following content is not moderated or vetted by the site owners at the time of submission. Comments are the responsibility of the poster. Disclaimer
Brian Williams
1
Posted 09/07/2021 at 14:30:08
Great, shite, love it, hate it. Any more?
I hope the idea from WWI works against opposition defenders.
Alan McMillan
2
Posted 09/07/2021 at 14:32:02
Hmmm...
Tony Shelby
3
Posted 09/07/2021 at 14:32:47
The team can smear themselves in dog turds for all I care, as long as they compete for every ball and get the results.
Mike Keating
4
Posted 09/07/2021 at 14:35:08
Tony #3 – I think they have!
Bill Hawker
5
Posted 09/07/2021 at 14:37:23
It's okay I guess.
Francis van Lierop
6
Posted 09/07/2021 at 14:39:28
I like it!
Derek Moore
7
Posted 09/07/2021 at 14:44:13
Uggh...yeah. Pretty gash.
The yellow and white sleeve detail, oh dear. Seems nineties inspired? Are any younger ToffeeWebbers able to confirm whether party drugs and house music are also back in a big way as well?
Because I'd be happy if they were.
Danny O'Neill
8
Posted 09/07/2021 at 14:47:26
Lighter shades of blue and hint of yellow.
1998, Howard Kendall Mark 3, Mick Madar and Gareth Farrelly. Dark times.
Dave McDowell
9
Posted 09/07/2021 at 15:08:10
"The use of contrasting shapes, tones and colours proved highly effective at disguising a vessel's size, speed, distance and direction, confusing the enemy at sea."
Perfect… because, for the past five seasons, we've been all at sea.
Barry Hesketh
10
Posted 09/07/2021 at 15:13:09
Some of our lads don't need camouflage kits to disappear from view, as a few of them manage to hide in plain sight most of the time.
Pat Kelly
11
Posted 09/07/2021 at 15:13:38
I prefer the Pre-Raphaelite design.
Martin Reppion
12
Posted 09/07/2021 at 15:29:05
Frankly, royal blue shirt and white shorts is all I want to see. I stopped buying replica kits when the prices got so daft and the club started to turn out 3 (one of which is always completely unnecessary) every year.
The whole point of a kit is to discern between the playing teams. The fashion and money-making side of the game (ie, the fleecing of fans) sickens me.
Any real news to report, guys? Signings?? Departures??? Didn't think so.

Derek Moore
13
Posted 09/07/2021 at 15:30:22
After looking at the Red Echo and seeing it in all it's glory, it's worse than I thought.
Anyone who has watched the video at the Echo, can they tell me what the stripey Everton shirt is around the 55-second mark? Looked rather like a blind person's pyjamas or similar?
They're not going to attempt to sell those, are they?
Jeff Armstrong
14
Posted 09/07/2021 at 15:42:41
Stretches arms out wide and ..... yawwwwwwnnnnn.
Kim Vivian
15
Posted 09/07/2021 at 15:43:18
- Dazzle shirts?
- Is it going to make it even harder for our guys to pick out their team mates?
- Looks okay but nothing special.
- It's Everton so I will like it. Of course.
- I don't buy shirts so you won't see me in one.
- Nice to see James fairly prominent tho'. Hope the match goers get to see him for real.
- Nothing more to add really.
Edit: PS The goalie kit is abominable. Poor Jordan.
Tony Shelby
16
Posted 09/07/2021 at 15:44:42
After watching the launch video, I couldn't help but wonder whether any of the players that were featured would still be at the club next season.
Tony Everan
17
Posted 09/07/2021 at 15:49:38
Better effort, looks okay to me. But, as Tony @3 says, who gives a flying shite what they're wearing as long as it's blueish and they play good football?
Pete Gunby
18
Posted 09/07/2021 at 15:53:36
I ordered last year's kits for a special family occasion last year. Ordered the stuff in early October with a delivery date given as November 16. Received nothing by Christmas and, when I asked them to send what they had,, the whole order got cancelled.
Ended up getting half of the stuff in late January – missed the occasion and disappointed some young would-be Evertonians.
Meanwhile, my Red in-laws can get their kits off the rack here in the States within a bloody week.
Everton Store service could not be worse. I'm trying to add to the club's fanbase and, bottom line, they make it difficult. Buyer beware.
Iakovos Iasonidis
19
Posted 09/07/2021 at 15:54:02
Frankly, I don't like it but I don't hate it either. I think the away black shirt is super and I also like the goalkeeper's one.
Just a question though... in the 3rd second of the promo video for a moment it shows the Kallimarmaro Stadium in Athens. I used to live in the area behind it for many years in the past, is there a secret meaning that I miss?
Tony Shelby
20
Posted 09/07/2021 at 16:08:48
Iakovos (19) - Yes, the hidden message is that, like the Ancient Greek Empire, the all-conquering Everton are something you can only read about in history books.
Dennis Stevens
21
Posted 09/07/2021 at 16:22:23
Maybe the Club think Richarlison is going to Mount Olympus rather than the Olympics
Steve Brown
22
Posted 09/07/2021 at 16:27:57
Denmark's revenge.
Iakovos Iasonidis
23
Posted 09/07/2021 at 16:32:24
So true, Tony (20), unfortunately...
Brian Hennessy
24
Posted 09/07/2021 at 16:44:25
It makes Richarlison and Allan look like they put on a few extra pounds, so what hope do I have?
Barry Rathbone
25
Posted 09/07/2021 at 16:46:25
The blue one makes them look podgy.
Tony Shelby
26
Posted 09/07/2021 at 16:54:19
Pickford will look a right twat, miskicking the ball whilst wearing that monstrosity!
Dale Self
27
Posted 09/07/2021 at 16:55:30
Those shirts are pants!
Good thing that's happening as a visual marker to this whole episode.
And nice work Steve and Pat, well played.
Danny O'Neill
28
Posted 09/07/2021 at 16:57:15
That's what I like to say, Barry. It's not my body shape, it's just the colour doesn't do me any favours.
Bill Gall
29
Posted 09/07/2021 at 17:10:15
I hope making them look nice makes them play better, but it will take more than a new shirt to liven some of them up.
I must say, the video to promote it was crap, supposed to be advertising a new kit – not a history lesson that a lot of supporters don't understand.
Have to agree with Pete #18, he may find it hard in the States but you have a better chance of winning the lotto than get one in Canada. I have lived in New Brunswick, Canada, since 1985 and the only time I have seen an Everton shirt is when I look in the mirror to see mine.
Roger Helm
30
Posted 09/07/2021 at 17:11:38
Wearing replica shirts doesn't seem very popular at football, unlike rugby where every other spectator has one. Most fans don't even wear a blue and white scarf.
They are usually a nasty synthetic material so I won't be wearing one. Anything cotton would be okay.
Don Wright
31
Posted 09/07/2021 at 17:32:24
It might be be James front and centre, and Richarlison and Allan looking more weighty but Richarlison is in the photos and I think he is in Brazil so I am guessing a photo shoot at the end of last season?
John Kavanagh
32
Posted 09/07/2021 at 18:00:31
The double yellow lines on Pickford's shirt. Are they meant to stop Van Dijk from parking on him at the next derby?
Terry White
33
Posted 09/07/2021 at 18:27:22
Congratulations, Don (#31), on being the first to state the obvious.
Gerry Morrison
34
Posted 09/07/2021 at 18:45:47
How many of those three will still be with us when the season starts?
Bill Gall
35
Posted 09/07/2021 at 20:11:08
Worst looking keeper's shirt I have seen, the end of the double yellow lines look like they are holding his shorts up.
Don Alexander
36
Posted 09/07/2021 at 20:43:32
Would any other professional football club accept as we do big, full-length, yellow-stripes regardless of the cost?
But as for now putting them on our actual kit as well - Jeez!!
David Pearl
37
Posted 09/07/2021 at 21:09:25
What a mess.
Guessing the ref will have to wear green.
Minik Hansen
38
Posted 09/07/2021 at 21:09:41
Just happy to see James, Allan and Richarlison wearing them. All the best to all of them and especially James to get a lot more games than last season, and more goals and assists from Richarlison! COYB.
Derek Knox
39
Posted 09/07/2021 at 21:16:02
As much as it pisses me off to see the strip changed every year, and usually in three versions (money-making racket), I feel sorry for the Dads with a few kids who want at least two kits. I do like this one better than last year's one.
Like some have already mentioned, I would rather see them fully committed, from start to finish of the season, more than what they are wearing!
Paul Birmingham
40
Posted 09/07/2021 at 22:46:21
Lakovos, @19, hope eternal! But a good call out.
"Whats Our Name?"
Yep we can't live in the past and the future for Everton is now.
David Hamilton
41
Posted 10/07/2021 at 00:32:41
One truly awful shirt. How many shades of blue do you want when we play in royal blue? Who approved this? And the keepers' shirt is horrendous.
Derek Thomas
42
Posted 10/07/2021 at 01:27:45
Who signs off on this shite? Blind Pugh?
Two
colours; Blue, White, how hard can it be?
KISS.
Derek Knox
43
Posted 10/07/2021 at 02:38:28
Derek T, creased me there mate, that's commercialism for you, too much money in the game and treated as business first, football comes way down the list!
Eddie Dunn
44
Posted 10/07/2021 at 07:26:45
In the photo above, Allan looks very much like the keyboard player in Sparks.
Brian Williams
45
Posted 10/07/2021 at 08:17:41
This town ain't big enough for both of them, Eddie!
Justin Doone
46
Posted 10/07/2021 at 08:37:52
The Danes are getting revenge with another couple of awful kits.
The busy bee keeper kit dreadful, end of.
The blue home kit, oh no, more silly diagonal strips. Why do they insist on messing with it. I don't mind a subtle pattern, see the Danish red kit subtle stripes, but generally don't mess with our beautiful blue kit. Pesky Danes!
Brian Williams
47
Posted 10/07/2021 at 08:46:33
If you're pissed off about the kit, watch this it'll cheer you up no end:
https://www.youtube.com/watch?v=fTnBwmANTS8&t=594s
Raymond Fox
48
Posted 10/07/2021 at 09:11:42
The home kit fits in the category of okay. The functionality of the shirt is what matters: can your teammates see you well enough is the most important.
Did someone mention a black away strip? If that's true, I don't think that ticks many boxes.
Danny O'Neill
49
Posted 10/07/2021 at 09:39:21
Minik @38 & Derek Knox @39.
Looking at the players involved, including Pickford, this photo shoot was clearly taken prior to the Euros & Copa America and possibly even before Ancelotti's departure.
I agree on not changing the kit every year. Personally, I think every 2 years is sufficient. Always good to freshen up the look. If they want to introduce a new strip each summer, then keep the home and away for 2 seasons, but just stagger them in terms of release. That way, there is a new kit every year, but not two every year. And these days. they always have the irrelevant 3rd strip.
But then I'm no marketer or salesperson, so don't take my advice on how to make money out of a brand!!
Tony Waring
50
Posted 10/07/2021 at 09:45:28
It's not so bad but the goalkeeper's version is horrendous. Has anyone in authority informed the designer that his services won't be required next season?
Paul O'Neill
51
Posted 10/07/2021 at 13:02:44
A tsunami of complaining comments about everything from the shirt to our keeper's kicking ability. I absolutely love the black away shirt. These are ok but nothing special. I like Hummel generally though. Classy and retro. Far too many released but Everton no different from any other club there. I'm familiar with the term 'Dazzle Ships' for that design though. I love it when Liverpool city history is included. I'll bet that's where local band OMD got the title for one of their albums 'Dazzle Ships' as well.
Danny O'Neill
52
Posted 10/07/2021 at 13:43:46
I like Hummel to Paul. The black away kit is nice if I pretend that's not a red sash. I was a big fan of last season's Amber one.
Matthew Williams
53
Posted 10/07/2021 at 16:59:24
Not too bad,but not a patch on our '78 shirt...never bettered imho.
With the way sadly our club is heading,am just surprised it isn't red!.
Jack Convery
54
Posted 10/07/2021 at 17:16:27
Everton FC play in Royal Blue and White end of. So what's with the varying shades of blue and the yellow bits. So now Hummel don't get the fan base either.
Jack Convery
55
Posted 10/07/2021 at 17:18:30
I forgot to say that the goalies shirt looks like something they wear in Australian Rules Football - not a good look.
Barry Hesketh
56
Posted 10/07/2021 at 18:52:12
Below is a short video of Everton's first outing under Benitez, not an official game though so it won't count in the record books.
Si Cooper
57
Posted 11/07/2021 at 01:44:25
Barry, it would be great if the sight of Jean-Philippe putting someone through on goal with a nice inside pass became a common thing!
Matthew Williams
58
Posted 11/07/2021 at 19:30:05
Even now,I still think we should wear amber socks instead of white.
Maybe we should just change the shirts every decade...£65 notes for a long sleeved one...
Behave.
Terence Leong
59
Posted 16/07/2021 at 09:17:49
Compared to the 2020-21 season, I still prefer the season that had just passed.
My first reaction was probably a little underwhelming; though I suspect it could be one of those kits that grow on you...
I think little bits of yellow trimming can work out well, eg, the 2015-16 season, and the last season of Le Coq Sportif 2011-12, come to mind.
Ron Sear
60
Posted 19/07/2021 at 16:30:57
Ye Gods, these are truly horrible - an aesthetic nightmare dreamed up on a CSE art course by the severely untalented gigglers at the back of the classroom.
---
Add Your Comments
In order to post a comment, you need to be logged in as a registered user of the site.
Or Sign up as a ToffeeWeb Member — it's free, takes just a few minutes and will allow you to post your comments on articles and Talking Points submissions across the site.