Pickford penalty saves not enough for heart-broken England
Sunday, 11 July, 2021
Euro 2020 Final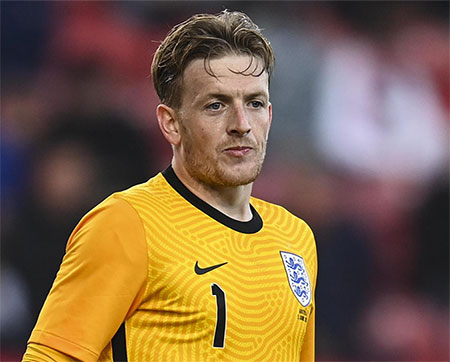 England endured yet more penalty agony as Italy triumphed in a shootout after the European Championship Final had ended level at 1-1 after extra-time.
Jordan Pickford, who had given England the edge when he saved Belotti's spot-kick, had kept Gareth Southgate's team in it by making an even better save to deny Jorginho but Bakayo Saka saw the decisive penalty saved by Bonnarruma to hand Italy the trophy.
England were one win away from glory in front of a fevered atmosphere at Wembley looking for their first major international trophy since 1966.
As the first current Everton player to play in a European Championship Final, Pickford started what will surpass the 2018 World Cup semi-final as the biggest game of his career so far. That day against Croatia in Russia ended in disappointment but there is hope in England, who look much stronger this time around under Southgate, have what it takes to triumph over Italy, a country that has had their number in recent tournament meetings.
Dominic Calvert-Lewin, overlooked for two of the last three games, was named among the substitutes tonight.
Article continues below video content
England got off to the best start possible, with Luke Shaw's unerring back-post volley flying inside the upright past Donnarumma with less than two minutes on the clock.
It took the Italians around a quarter of an hour to find their feet but they came to dominate the ball without really troubling Pickford.
The Everton keeper had a couple of routine saves to make off shots from distance but there were warning signs for Southgate's men that Roberto Mancini's side were by no means out of it despite being vulnerable themselves to England's counter-attacks.
Pickford was tested for the first time 11 minutes into the second half when Insigne latched into a deflected Chiesa shot but the keeper parried his fierce cross/shot from the angle.
Chiesa himself then forced an excellent stop from Pickford who saved his low shot with a strong, out-stretched left hand in the 62nd minute before Donnarumma tipped a John Stones header over his bar.
Italy's almost relentless pressure told soon afterwards, though, when a corner from the right wasn't dealt with, Pickford pushed Veratti's header onto the post and Bonucci banged home the rebound from close range.
The teams couldn't be separated thereafter and the game went to dreaded penalties where Italy prevailed.
---
Reader Comments (376)
Note: the following content is not moderated or vetted by the site owners at the time of submission. Comments are the responsibility of the poster. Disclaimer
Arild Andersen
1
Posted 11/07/2021 at 08:04:40
As a neutral tonight, I hope for a good match and to see Pickford and DCL do well. I really don't understand it if Southgate doesn't want another tall striker on the bench.
Danny O'Neill
2
Posted 11/07/2021 at 08:46:58
I'm not sure how much more of this I can take. The BBC's nauseating coverage is turning me into my grumpy Grandfather.
News broadcasters who clearly are not sports journalists attempting to pretend they're really into football, but clearly know very little.
This is going to be a long day. Sorry to be the Euro equivalent of the Christmas Grinch, but wake me up when it's August 14th.
Despite having a personal sweepstake interest in Italy, good luck to Jordan tonight. Sadly, I don't think Dominic will feature, but for him, I hope he does.
Jeff Armstrong
3
Posted 11/07/2021 at 09:08:46
Calvert-Lewin is way down Southgate's pecking order, I'm afraid… the likes of Rashford, Foden, Grealish, Sancho, even Bellingham, would all get on ahead of him, even if Kane had to come off.
He will probably miss out again as three out of the 26 won't be named, another ridiculous Uefa rule that alienates 3 guys from feeling part of a matchday squad, what's the point of that?
Rob Williamson
4
Posted 11/07/2021 at 09:42:07
Will the three who miss out (ie not on the bench) get a medal?
Jeff Armstrong
5
Posted 11/07/2021 at 09:58:46
Don't know Rob, that makes it even worse if they miss out, even a runners up medal would be wanted by most.
Don Wright
6
Posted 11/07/2021 at 11:41:11
Rob/Jeff the is 40 medals given to the winning team and they distribute them as they see fit probably the whole squad first then the manager down if the whole entourage is more than 40 then someone dips out
Bob Parrington
7
Posted 11/07/2021 at 13:12:50
From an Aussie (UK-born) perspective. I see the stars aligning in favour of England beating Italy in the Euro Final.
Both teams are well managed. Both teams have been successful particularly in defence. Both teams have those special players that can turn a game around.
Where the stars start to align are in the coincidentals. It is 28 years since Argentina won in the Copa. It is many years since they beat Brazil in Brazil. It is 55 years (I think) since England won a major final.
I have to put up with my accountant and my hairdresser being Italian but both seem nervous.
England 2-1 Italy. Shit, I have to get up before 4:30 pm to watch. Okay, I think I have convinced myself it will be worthwhile!
Danny O'Neill
8
Posted 11/07/2021 at 13:23:15
I definitely feel England have and have had that type of momentum that sees teams win. As well as the luck of the draw and a mostly home based tournament, but they've deserved to be one hand away from the trophy.
I think they will win it. It's going to be tough sat amongst the cockneys tonight watching my sweepstake going up in smoke but at least then I'm clear for the run into the new season.
Derek Moore
9
Posted 11/07/2021 at 13:47:23
I'd arb it out Danny, and just back England the other way at least for my stake back. Nothing worse than getting all the way almost to the bookies window before ripping your ticket up.
Jamie Crowley
10
Posted 11/07/2021 at 14:30:23
Sincerely hoping for an England win today.
Italy are no mugs, and are well coached. I feel that the loss of Spin-ah on Italy's left hand side is a massive loss for them, and I think Southgate will exploit that heavily.
It will unbalance a very otherwise balanced Italian side, and tip it to England.
Could be wrong, but I think England has the quality to take this down. I said before, and I'll stand by it, this is the best England team I've personally ever seen.
Praying Pickford doesn't cock something up. They (the press) LOVE to blame him, and they'll eat him alive if he makes an error.
It's coming home?
Justin Doone
11
Posted 11/07/2021 at 14:48:25
If England go for it they can overcome Italy. Don't allow Italy to pressure the defence any keeper by playing with a bit of crisp, sharp movements and passing forward quickly.
1-0 Italy or 3-1 England. The first 15 minute's could be crucial.
Kevin Molloy
12
Posted 11/07/2021 at 15:06:10
I wouldn't trust one of England's back five in a tight game, and I wouldn't fancy pens so I think they've got to just go for it. Don't play nip and tuck with the Italians, play Foden against Chiellini and see what happens.
Michael Barrett
13
Posted 11/07/2021 at 18:34:39
Jordan, if we do fall short, make sure at least you have a good game, so you're not the scapegoat.
Michael Kenrick
14
Posted 11/07/2021 at 18:37:31
I've avoided most of the coverage, watched an absolutely absorbing and incredibly hardly contested Men's Tennis Final at Wimbledon instead. But yes, Danny, the build-up on the news programs that I have caught has been nauseating.
Oh for the days when sport had its proper place as an adjunct to the News, almost an afterthought tacked on the end of proper news about the Real World. What possible justification is there to lead every news programme with the total non-news that is the asinine build-up to any game? But anticipating the news seems to be the new normal...
Danny O'Neill
16
Posted 11/07/2021 at 18:46:34
Michael Barrett. Order please.
We're on an Everton website as Evertonians commenting on international football. Just because I'm not an England follower doesn't make me a dickhead surely?!
Good luck to both teams, I hope we see a good game of football.
Michael Kenrick
17
Posted 11/07/2021 at 18:50:31
Calvert-Lewin on the bench.
Danny O'Neill
18
Posted 11/07/2021 at 18:54:16
Right, I'm going in. London pub. Here we go.
Good luck England (for the wife), forza Italia (for my sweepstake).
Most important, let's see a worthy final and game of football.
Shane Corcoran
19
Posted 11/07/2021 at 19:00:18
I'd like England to win for one reason only; so that I don't have to listen about how they haven't won in so long. It's akin to Liverpool winning the league. Get it over with, thrash your country, hear Boris admire the fighting spirit and life goes on.
On the other hand, I'd really like them to lose for every other reason.
Andy Crooks
20
Posted 11/07/2021 at 19:00:27
Michael @14,
I think it was Radio 2 who led their news bulletin with the "story" that Gareth Southgate said his players would try their best.
"War breaks out worldwide. First, over to the England camp where we understand the boys have been relaxing with a game of bingo."
Paul Smith
21
Posted 11/07/2021 at 19:01:09
Danny, it's London – not Kabul.
So nervous tonight, been on me all day. Come on, England, let's fucking do it.
Kim Vivian
22
Posted 11/07/2021 at 19:02:20
Dartmouth, Devon for me, Daniel. Whatever the result, it's a fucking good pub and partner's son works here... say no more. Beers flowing.
Jack Convery
23
Posted 11/07/2021 at 19:14:59
Good Luck to Jordan and DCL - make us proud and shut the doubters up once and for all.
Danny O'Neill
24
Posted 11/07/2021 at 19:33:11
Just had my first dose off Atomic Kitten. The irony, wasn't one of the an Evertonian?
And now I've got Sweet Caroline. A forever ruined Apre Ski song.
Darren Hind
25
Posted 11/07/2021 at 19:38:43
Tried avoiding all the shite. Avoided the telly and the radio. stuck to Alexa and my faves. Tidied the shed, cleared the gutters, cut the grass (and the neighbours ) Dug out a tree, Pressure washed the car and the patio.
I just wanted to see the match, nothing else, but I'm so knackered I'll probably be in a coma before it starts.
Havent even had a bevy - Probably the only one in our street...It's already getting messy. The women and the girls are creating that "Ladies day at Aintree" atmosphere. Half of them don't know what the party is about.
Engurland comes to Kirkdale

Tony Abrahams
26
Posted 11/07/2021 at 19:40:14
It looks like they'll thrash the country either way Shane, but good luck to England anyway, especially Pickford and DCL, if he's lucky enough to get on later in the game.
It's called experience that Darren, I've done exactly the same myself, although I've been getting a load of wattsapps, showing the England fans carrying on like divi's, from both my sons who have gone back for the final.
Jay Harris
27
Posted 11/07/2021 at 19:45:03
I think Southgate has been too defensive minded in his team selection but hey he has got us this far so Who am I to question.
Come on you Whites.
Robert Tressell
28
Posted 11/07/2021 at 19:47:29
It takes England getting to a final to establish who the true wankers on the street are. Have the people with the fireworks (it's light?) and the outdoor drumkit ever watched football before? Stay strong in that London pub, Danny.
On a football note, it's a really cautious line up from Gareth. Italy gone for a midfield trio and so likely to control possession. We've got a lot of defending to do.
Danny O'Neill
29
Posted 11/07/2021 at 19:47:53
With you Darren. I just want to watch the football.
Now I'm being subject to Cockney "hey Jude"
Come on kick off. Please
Peter Mills
30
Posted 11/07/2021 at 19:52:36
I want England to win because I think they have shaped up well, performed admirably and are facing tough opponents.
Everything else surrounding it is nonsense.
Jay Wood
[BRZ]
31
Posted 11/07/2021 at 19:56:32
I'm anticipating quite a chess game by 2 managers who have long been preparing their respective teams for this very day.
But sport being what it is, the game is just as likely to be won by an unrehearsed touch of brilliance or a tragic error.
Italy has looked the best all round team to me, able to press high, break at speed and attack in numbers, or batten down the hatches in stormy seas when necessary.
England by contrast has looked more functional rather than inspired.
I lean marginally towards Italy, but if England does it, it will be on merit because Gli Azzurri is a very good team sprinkled with lots of players with plenty of smarts.
Who Dares Wins.
Danny O'Neill
32
Posted 11/07/2021 at 19:58:52
Usual disrespect to the opposition national anthem. Pathetic.
Phil (Kelsall) Roberts
33
Posted 11/07/2021 at 19:59:13
Stuck in our cottage in France. Remote village - no VPN and at present a download speed of 2mps so not worth having one anyway. (Thank you Orange). Not going to English neighbour or the 7 miles to the nearest village with a bar.
And no matter what - DCL will be the only Englishman with a World Cup Medal and a European Championship Medal. Stick that up your Jordan Henderson and Harry Kane.
Darren Hind
34
Posted 11/07/2021 at 19:59:28
To be fair. I'm loving the party mood in our street. Suspect it will go on well into the night... Regardless of result.
Hope England do it. There will be such an outpouring of joy around this country

Dave Abrahams
35
Posted 11/07/2021 at 20:00:14
I don't think Southgate is all that astute in setting up England's team tactics and the actual choice of the team, he relies quite a lot on his assistant Steve Holland who learned his coaching skills under Dario Gradi at Crewe Alex. who was well regarded for coaching ability.
Phil (Kelsall) Roberts
36
Posted 11/07/2021 at 20:07:20
Dave #35 - but not his ability to identify a paedophile. 😥
Jay Wood
[BRZ]
37
Posted 11/07/2021 at 20:08:02
WOW!!!
Initial lousy start with Maguire's awful back pass. From the resulting corner, England excellent in turning the ball over and getting up the pitch in numbers.
EXCELLENT goal.
Jay Wood
[BRZ]
38
Posted 11/07/2021 at 20:58:45
Italy is probably bossing the possession percentage, but it is England that is in control of this game.
Southgate's game plan definitely working better than Mancini's, from front to back. Jordan only had one 'shot' on target all half, a dribbling effort on 46 minutes.
Rice and Phillips and the work they do is allowing England's back 3/5 retain their defensive shape better than the Italian defence is doing. England's 3 centre backs not being drawn out of position by the forwards thanks to Rice and Phillips, whilst on the offensive - as demonstrated by the goal - the wing backs Trippier and Shaw are finding plenty of space down the flanks to exploit.
Both Kane and Sterling coming deepish which is confusing the Italian defence but also running directly at them face on with the ball. England has created far better openings. Italy virtually nil. ALL players are looking to play in team mates in behind the vacant spaces England's play has created in the Italian defence.
1-0 is never ever enough, but England's set up and play is far superior to what Italy is offering. Good game and a deserved lead.
Robert Tressell
39
Posted 11/07/2021 at 21:05:47
I'm not a fan of Rice but he's having a good game. Lot of football still to play.
Darren - you win the prize for being less of a miserable git than me 👍
Jay Wood
[BRZ]
40
Posted 11/07/2021 at 21:30:40
Now, I wonder who will get the majority blame for that goal..?
England only have themselves to blame for allowing Italy to come more on to them this half.
Phil (Kelsall) Roberts
41
Posted 11/07/2021 at 21:44:07
Anyone memories of 2009?
Quickest opening goal - and then the other team dominate and win 2-1

Phil (Kelsall) Roberts
42
Posted 11/07/2021 at 21:59:55
Italy now up to 4 bookings. Is it racist to say that they are so good that they will make sure it is all 11 who get booked before one of them gets a 2nd card? You admire them for their ability to go to the edge and not fall over it.
Jay Wood
[BRZ]
43
Posted 11/07/2021 at 22:01:45
A very poor 2nd half by England. All they had to do was keep playing as they had been.
They totally surrendered 2/3rds of the pitch to Italy and the inevitable happened. The wind was in Italy's sails and the momentum has totally swung away from England.
England's subs haven't helped them. Saka just isn't up to speed to the pace of the game and isn't offering what Trippier gave. A threat going forward and snarling defence. Henderson likewise for Rice.
Get back to something like they played in the 1st half, England wins. Continue as they played in the 2nd half, Italy wins. And that's before we consider pens.
Tom Bowers
44
Posted 11/07/2021 at 22:18:01
Cannot fathom Sir Gareth. Bad enough not starting Grealish but waiting till the 99 minute to bring him on ?????
Jay Wood
[BRZ]
45
Posted 11/07/2021 at 22:33:04
Jorginho. Red card. All day. Every day. Ref bottled that one.
Phil (Kelsall) Roberts
46
Posted 11/07/2021 at 22:36:55
What do you reckon Jay. After the soft penalty against Denmark, if he had sent him off and England win it in ET with Italy a man down all done to please the home fans.
Too much controversy.
Jay Wood
[BRZ]
47
Posted 11/07/2021 at 22:55:37
Clearly Pickford's fault.
Chris Williams
48
Posted 11/07/2021 at 22:55:46
I blame Pickford!
Jay Wood
[BRZ]
49
Posted 11/07/2021 at 22:56:43
Beat ya to it, Chris!
Phil (Kelsall) Roberts
50
Posted 11/07/2021 at 22:57:58
So the two players brought on in the 118th minute because we knew it was going to penalties,,, , both missed them.
🤦‍♂️
Chris Williams
51
Posted 11/07/2021 at 22:57:58
I'm older than you Jay!
Robert Tressell
52
Posted 11/07/2021 at 22:58:24
Pleased to say Pickford dug us out and gave us a chance. Poor set of penalties apart from Maguire and Kane. Lee Dixon is a proper bellend.
Jay Wood
[BRZ]
53
Posted 11/07/2021 at 23:01:04
You're still sharper than me, Chris!
Very strange selection for the penalty takers.
Jordan did his job.
Tom Bowers
54
Posted 11/07/2021 at 23:01:59
I had called after the Semi that Jordan would be the hero in the likelihood of penalties and he could have been only for others bottling it.
Still, Italy despite the early setback were the better team overall and deserved to win although I hate to see penalties settle a game unless of course it's Everton winning.
Barry Rathbone
55
Posted 11/07/2021 at 23:07:07
England had an easy route to the final Spain, France and Belgium would have battered us absolutely no surprise Italy made us look second best we just don't produce top players . except Pickford of course
Mike Doyle
56
Posted 11/07/2021 at 23:07:38
Watched the game on BBC. Plainly, and despite Jordan's efforts in the shootout, Italy deserved to win.
Out of interest did Anyone find a stream with Jim Beglin as co-commentator?
Colin Glassar
57
Posted 11/07/2021 at 23:08:48
I've forgotten what it feels like to support a winning team.
Brian Williams
58
Posted 11/07/2021 at 23:09:13
The game was lost before the penalties IMO.
Southgate bottled it with the subs and kept Sako on who although had played well in earlier games was like a rabbit caught in headlights right from the start.
Southgate's subs were made trying not to lose rather than trying to win.
And if Grealish is our saviour fucking start the lad instead of giving him bit parts.
DCL must be pig sick too.
Kieran Kinsella
59
Posted 11/07/2021 at 23:10:02
FFS …. Jordan did his part. I think Gareth erred in being too defensive but Italy have been immense. Great job from Mancini. A team without stars playing brave football. They deserved it
Barry Hesketh
60
Posted 11/07/2021 at 23:10:38
Italy's greater experience helped to beat England tonight, there was only that first 20 minutes or so when England should have gone for the jugular. Mount was mostly absent, which is a shame, because he's a decent talent. Kane did what he often does starts well and disappears for long periods, possibly because there's no competition for his place.
The senior players should have been more involved in the shoot-out, and asking players to come on just to take a penalty is so hard for them. Italy was the better side and England have to accept that, but the opportunity was there to blow Italy away in that early period of the game.
Another 18 months until we begin the circus all over again.
Peter Gorman
61
Posted 11/07/2021 at 23:15:07
Sako and Sancho taking pens speaks volumes about the cowardice of some of the 'dressing room' bigboys. Utterly unfair on those lads.
Colin Glassar
62
Posted 11/07/2021 at 23:17:12
Spot on Bri, Southgate has a lot to answer for. His lack of ruthlessness cost us the game.
Steavey Buckley
63
Posted 11/07/2021 at 23:18:23
There was only one team who had the ability to win the game and that team was not England. England played far too deep, while Kane spent most of the match in midfield. Yet, Italy had 2 center halves in their mid-30's.
James Flynn
64
Posted 11/07/2021 at 23:19:26
Pickford was fine all game.
The 2nd half was embarrassing if that's the way Southgate sent them out to play. You're up 1-0 with 45 minutes to play, you force them to defend.
You don't surrender 2/3rds of the pitch. You come out with the accelerator pedal pressed to the floor. You're winning The other guy has the problem, not you.
Anyway, good boy yourself Pickford. I see a big hand for you first time you come out at Goodison.
Kevin Molloy
65
Posted 11/07/2021 at 23:20:28
we needed Sterling to be on fire, but he had a relatively poor game. Can't win em all
Kieran Kinsella
66
Posted 11/07/2021 at 23:24:40
Steavey
England had the ability to win, Southgate just chose to play it ultra safe. And yeah Barry/Colin Saka and Sancho dropped in to the shootout like that was too much. The latter I don't think even touched the ball before the shoot out. It's one thing lumbering some old has been like Waddle with that but FFS a teenager who Arteta overlooks frequently I think put him in an unfair position.
Jamie Crowley
67
Posted 11/07/2021 at 23:26:08
James Flynn -
The 2nd half was embarrassing if that's the way Southgate sent them out to play. You're up 1-0 with 45 minutes to play, you force them to defend.

You don't surrender 2/3rds of the pitch. You come out with the accelerator pedal pressed to the floor. You're winning The other guy has the problem, not you.
Perfectly said. Couldn't agree more. They turtled up, sat back, and paid for it.
Steve Shave
68
Posted 11/07/2021 at 23:29:56
Proud of Pickers, made a great save earlier, his initial save in the build up to their goal was excellent too, unlucky. Let's also remind ourselves he is the ONLY gk to save a Jorginho pen! huge performance and a good tournament for him, proud!
Bob Parrington
69
Posted 11/07/2021 at 23:30:44
Chris and Jay - It was Pickford's fault for delaying the inevitable by saving the two penalties.
Not sure of the sense in selecting a 19 year old to take the fifth penalty?
Mike Doyle
70
Posted 11/07/2021 at 23:31:07
Southgate's insistence on playing a largely defensive line up worked well - until he came up against someone who who knew how you to do it better. Felt sorry for the 3 x young lads who missed the penalties-
Less so for the experienced players who went missing. Overall no complaints as the
Game was won by the team who tried to win in - and who's senior players stepped up for the shootout.
Neil Tyrrell
71
Posted 11/07/2021 at 23:32:07
Italy were well the better team after about 25 mins so they deserved it overall.
Southgate is a coward, he's got a squad loaded with offensive talent but puts out a defensive lineup every time. Wonder how many one-nils a Pep or Klopp would play with that squad?
Glad Jordan did well, let someone else be the goat. I nominate Southgate but the last 3 penalty takers can have a bit of it too.
Danny Baily
72
Posted 11/07/2021 at 23:34:05
Poor and unfair selection of penalty takers. Really disappointing from Southgate.
Good effort to take it all the way though. Just a shame we couldn't hang on for the win.
Mike Connolly
73
Posted 11/07/2021 at 23:37:17
Look on the bright side we ve got Raffa Imagine us having that clueless Southgate.

Dave Abrahams
74
Posted 11/07/2021 at 23:43:49
Done a runner, the Italian goalie was voted player of the tournament.
John Raftery
75
Posted 11/07/2021 at 23:44:15
'Southgate is a coward'. TW never loses its sense of perspective, even in July!
Darren Hind
76
Posted 11/07/2021 at 23:44:47
Men against Boys.
Italy were more talented, more organised, had too much know how and experience. It would have been very harsh on Italy to lose on Pens... Thought Jordan did us proud
England would beat this Italian team in 3-4 years time...Their center back will be pushing 40 by then
Kieran Kinsella
77
Posted 11/07/2021 at 23:45:53
Mike 73
Thanks for reminding me. England have been my escape from Gomez, Kenshite and Benitez. Now you've reminded me of even worse things than watching England
Bill Gall
78
Posted 11/07/2021 at 23:46:55
Just glad to hear that Pickford had a good game to stop those Pundits saying " I told you so " if he made a mistake that led to a goal. Sounds like the manager is to blame with his negative tactics. Such a nice sunny day decided to go to the coast and have some fresh Lobster Rolls washed down with a couple of cold ones.
John Pickles
79
Posted 11/07/2021 at 23:48:29
You've got to feel for Kyle Walker, it's like being overlooked for a top Auditor job and it going to Diane Abbott.
Mike Gaynes
80
Posted 11/07/2021 at 23:49:35
Bill, that sounds like a truly lovely Sunday.
Oliver Molloy
81
Posted 11/07/2021 at 23:49:51
Normal service resumed then.
Italy were the better side tonight and were not really tested.
Could be wrong but the Evertonian in me is asking why Calvert Lewin was not fired on the last for 10 minutes for Engerland to just launch balls in there, fuck all else was working.
Hope the fans over there don't wreck the fucking place.
Colin Glassar
82
Posted 11/07/2021 at 23:53:08
Can't wait to see the Scouse Buddha take his seat in the director's box in August. It will wipe away the sadness I feel tonight.
Mike Connolly
83
Posted 11/07/2021 at 23:53:59
Kieran, watching some of our home games last season, England were playing the same Style as us. Lets hope we have a better season this year and it looks like Jordon is back to his best
Paul Birmingham
84
Posted 11/07/2021 at 23:54:50
Pickford done himself proud. For me there was no effective Captain on the park, taking a grip as after 18 minutes, for me England let it go.
The best team won, spirit, guile, skill and through the tournament we're playing football unlike Italian football of previous eras.
But England for me lost their belief in the most important game of the players international career.
But there's some optimism for the future.
Oliver Molloy
85
Posted 11/07/2021 at 23:56:27
Disagree Darren, if ever there was an opportunity for Engerland to win a trophy this was it, a big big opportunity has been missed.
I agree yous have some talented players and they will grow, but so have other many other countries.

Brent Stephens
86
Posted 11/07/2021 at 23:56:30
Colin " the Scouse Buddha".
Never, thought of it that way. But there is a likeness.
Mark Andersson
87
Posted 11/07/2021 at 23:57:38
Its the first time in years since I got up early to watch a live game..
Italy were a different class and deserved to take the cup Rome..
Im happy Pickford done him self proud..
Mike Doyle
88
Posted 11/07/2021 at 23:59:15
I didn't watch the ITV coverage, but I'm guessing Lee Dixon would have said it was Pickford's fault for not saving at least 4 of Italy's penalties? In other news I assume that St Harry of Kane ( who failed to turn up again) is expecting to be Knighted in the New Year's honours?
Stan Schofield
89
Posted 11/07/2021 at 00:00:40
Well, England have got a keeper who can save penalties, but they never choose players who can take them.
I'm pleased, and relieved given the bullshit of the media, for Pickford.
Colin Glassar
90
Posted 11/07/2021 at 00:01:35
Paul, I think Harry Kane is a brilliant player but he shouldn't be capt. The best captains are MF or defensive players. Henderson is a natural leader on the pitch as is our Jordan.
Since I can remember, every English manager has 1-2 undroppable favourites; from Martin Peters (Ramsay) to Bryan Robson (greenwood), Beckham, Rooney etc… always played if injured or out of form.
Brent Stephens
91
Posted 12/07/2021 at 00:02:31
Yes, didn't expect England to get that far. But it was an opportunity.
Mike "St Harry of Kane ( who failed to turn up again". Didn't deliver much, did he?! Would DCL done better?
Mike Connolly
92
Posted 12/07/2021 at 00:08:39
What made me laugh is the pundits on BBC said there is a lot of young players in the Squad they have got plenty of time to win a trophy. Something like another 50 years time.
Paul Birmingham
93
Posted 12/07/2021 at 00:12:09
Colin, good point.
This in my view is hopefully something that Southgate will grasp.
I was saying to my lad that the second half was light watching Everton quite often last season.
Well now hopefully full steam on getting some fresh blood into the Everton squad, but I have enjoyed this European Championship, and all in all the officials were decent.
John Boon
94
Posted 11/07/2021 at 00:15:17
Italy deserved to win because England took their clumsy feet off the gas after the first twenty minutes. To have two teenagers plus Ratchford take the responsibiliy for taking penalties is ridiculous. The three of them all looked nervous before they stepped up. Surely there are more seasoned vets who could have taken what is a challenging task.
Well done Jordan. England still have potential for the future, but I just don't think Southgate has what is needed. He has been described as a "nice man". Nice men should be selling ice cream or lollipops not managing England. We did "Okay" up to this game BUT ????? It just never ends.
Steve Carse
95
Posted 12/07/2021 at 00:31:15
Southgate's poor management cost England the game. The side played well for half an hour then adopted the sit back and watch approach almost right up until Grealish was brought on. Is there anyone in football today who would be playing Saka
and Sancho ahead of Grealish or Foden?
In proceeding to put a very inexperienced kid out front to take the fifth penalty was a disgraceful action. The lad will now have to live with his miss for the rest of his career.
Southgate through his penalty selections also cost Pickford, after his penalty saves, legendary status that too would have lasted for the rest of his career.

Simon Dalzell
96
Posted 12/07/2021 at 00:34:48
Southgate's negativity was always likely to prove fatal. Master tactician my arse.
Mike Gaynes
97
Posted 12/07/2021 at 00:39:17
As a non-Englishman, I asked during the Forum why the England fans seem to so actively despise Southgate, when he appeared to always put a well-prepared team on the pitch.
Now I understand.
Bob Parrington
98
Posted 12/07/2021 at 00:40:57
Steve #95. Agree ref Southgate. I just sent a message on stating that I thought Southgate had a bad game, possibly he was the worst performer on the team today. And his selection of peno takers really let Jordan down after two enormous saves.
Kieran Kinsella
99
Posted 12/07/2021 at 00:48:14
John Boon
Tricky thing with Southgate is that his record is second only to Alf Ramsey. So many great managers have tried and achieved less. But on the other hand did they have the talent? The so called "golden generation" had Joe Cole — good player but a shoe in even as a sub at Chelsea. Beyond the starting 11 we bulked out the squad with aging Carragher, King and Stewart Downing. I'd wager that Greenwood, Madison, Ward Prowse and Godfrey would've made that squad. Sven rolled the dice on a teen Walcott due to lack of options. Gareth had the luxury of excluding Ings, Watkins and Greenwood. Bobby Robson found room for the likes of Steve Hodge and the other Gary Stevens while TAA was Gareth's fourth best RB. Beyond the CBs and goalie, Southgate could switch out any player for some equally capable. I've never seen that depth with England before. So is runners up good enough? I'd say "no" but for the X factor: experience. Mancini was accused of being on easy street at Inter as his main rivals were initially docked points. At City it was said he had the most money. Now surely his doubters must stop dismissing his achievements as he won this with an average squad. Much like Germany in 96, a team better than the sun of its parts. Then you have the likes of Chielini — a serial winner and the kind of character you'd want in the trenches. Trippier was the closest we had to that but he's four years younger and less decorated. So overall I'd say we could have done better but the margins are small so we can't turn on Gareth yet for coming as close as close can be
Andrew Keatley
100
Posted 12/07/2021 at 01:06:09
The tournament and the occasion caught up with Southgate - who deserves a lot of credit for his off the pitch work with the players, but whose in-game management skills are poor. He is consistently too slow to respond to opposition tactical changes and momentum shifts, and is always more likely to persist in blind hope than do anything that might risk making things worse. In a demanding tournament format he didn't make enough substitutions - and the ones he did make were often way too late in the game. He has two systems; 352 or 433 - and will only ever rotate between them. Too defensive, too timid, too afraid to take certain players off even if they are not performing.
Pickford was outstanding. He was the one England player who can look back at the final and say that he had an excellent game. Maybe Luke Shaw as well. Both had brilliant tournaments in general.
Derek Moore
101
Posted 12/07/2021 at 01:08:27
Just read what happened. Gutted for the England Blues on here, and very glad that Pickford wasn't in any way culpable for the result now that the blame game has begun.
I think people are more hacked off at Southgate for this shootout than the one he actually missed a penalty in, judging from the early reaction I've seen. I didn't watch the game so can't really comment on how warranted a scapegoating search actually is, but it certainly seems as if one is well underway. And the manager seems to be front and centre.
The big tournaments are often decided by whom holds their nerve better. Very glad Jordan was able to hold his, even if England ultimately came up short. One can only imagine the opprobrium had he been in any way responsible for the ultimate outcome...!
Once again, just gutted for all the England Blues who had their hearts (again) broken tonight. When the dust settles I hope they can take more positives from Englands journey through the tournament than the somewhat predictable tragi-ending. It surely won't be anywhere near the same wait until the next final for them.
Ed Prytherch
102
Posted 12/07/2021 at 01:14:44
It was clearly Southgate's decision that Sancho and Rashford were to take penalties. I told my wife that Rashford would miss, his head is in too many other places. Saka was out of his depth and has Sancho taken penalties in other games?
Southgate has done well to lead the team to the final but he failed at the final hurdle.

We had hoped to toast to the England team at dinner but living in the States meant the we were able to drink to Sepp Kuss winning stage 15 of the tour.
Bill Gall
103
Posted 12/07/2021 at 01:15:37
Mike # 80 It was, and after reading some of the reports,i am happy I went.
Kieran Kinsella
104
Posted 12/07/2021 at 01:25:12
Andrew 100
Yeah Pickford had one sliced clearance and one miss placed pass v Denmark, both of which were way over hyped. Other than that he was excellent throughout.
I thought Sterling was phenomenal though ineffective tonight. I thought Mount was lucky to get the game time he did as he really did nothing through the whole tournament. Kane started slow, came good then faded tonight. I thought Rice showed tonight he's more than a tackler as Phillips did earlier on. Foden wasn't at his best this tournament but Saka and Sancho impressed. Honestly only Mount and Southgate (in the final) didn't impress me.
Paul Jones
105
Posted 12/07/2021 at 02:17:21
Southgate like Moyes is a very predictable manager. Score first against a good team and try and defend for the next 90+ minutes and concede a goal in your own six yard box.
Italy had the best team and manager in the tournament played to their strengths and won the competition. Overall were the best team and beat the other fancied teams.
The disappointment was that when it came to the penalty shoot out not good enough. Pickford made two good saves England had three bad misses. I would agree with others that the loss came down more to poor game management than bad luck.
Pickford overall has probably had the best tournament out of the England players. England should look at Italy who picked players for the first team from unfashionable clubs were as England seemed desperate to shoe horn plyers in from the usual suspects probably at the overall cost to the country.
Andrew Keatley
106
Posted 12/07/2021 at 02:28:37
Kieran (104)
Largely agree with that. Sterling was hugely effective at times - his direct and dynamic running caused problems for opposition defences all tournament. I do often find him hugely frustrating though, as he can lack the composure and decision-making to capitalise on his ability to beat a man and create a chance - either for himself or a team-mate, taking four touches when one or two will do - and that often allows the defensive cover to arrive. He does make great off-the-ball runs, and I understand why Southgate was so loyal to him, and he had a very good tournament but a very frustrating final.
David Currie
107
Posted 12/07/2021 at 02:49:47
Big opportunity missed for England and believe that Southgate should have been braver when we were winning 1-0 at half time. Take Trippier off and replace him with another attacker and get the next goal instead of dropping off and inviting Italy on.
Was like watching Everton under CA, will always believe we had the players to have won the game.
Surprised that Saka took the pen and that John Stones did not take one as he has a cool head.
Pickford had a very good game, would have liked Grealish to have replaced Mount at half time.

Si Cooper
108
Posted 12/07/2021 at 02:57:07
Like many I thought Southgate should have revved things up a lot earlier in this game; seems like he stayed too loyal to a few of the players who had served him well so far. Sterling was one who went back to his usual hit and miss performance in exactly the wrong game.
I think it's harsh to lay into him for the way the penalties panned out though. They've obviously practised them and had a specific order planned. It's tough on the youngsters (a life lesson) but they must have shown some prowess in practice. What happened to "if you are good enough then you are old enough!"
I think Rashford has taken plenty before although he is currently second fiddle to Bruno Fernandez and if memory serves me he loves to practically graze the post with them. Last night he was something like 8 to 10 inches from the perfectly placed penalty and if his goes in Sancho doesn't have half the pressure on him and Saka probably doesn't even have to take his. Sad thing is Rashford could have easily gone for a much greater margin of error than he normally does because Donnaruma went the wrong way pretty early on that one. Either Rashford was oblivious to the goalie's movement or the wide open net may have tensed him up with excitement and he snatched at it.
Well done to Pickers whose tournament performance should only boost his self-opinion despite the ultimate disappointment.
David Currie
109
Posted 12/07/2021 at 04:30:05
Si 108, Yes you are probably right and I think we had the second youngest squad in the competition.
Southgate has taken us to a World Cup semi and the final of Euros so deserves praise.
Mike Gaynes
110
Posted 12/07/2021 at 04:41:13
Rashford, Saka and Sancho have been subjected to vicious racial abuse online by some warped England "fans".
Statement from the FA:
"The FA strongly condemns all forms of discrimination and is appalled by the online racism that has been aimed at some of our England players on social media. We could not be clearer that anyone behind such disgusting behaviour is not welcome in following the team. We will do all we can to support the players affected while urging the toughest punishments possible for anyone responsible."
Followup tweet from the England team:
"We're disgusted that some of our squad – who have given everything for the shirt this summer – have been subjected to discriminatory abuse online after tonight's game.

We stand with our players ❤️"
Steve Brown
111
Posted 12/07/2021 at 05:05:56
Surprised Southgate didn't ask the ball boys to take the pens.
Pete Clarke
112
Posted 12/07/2021 at 05:08:24
Southgate will be proud of himself but in my view he fails when it comes to basic football.
As some have said, he will rely more on defensive solidity than creativity going forward.
Italy absolutely bossed the ball for large portions of that game whilst England just got deeper and deeper. Italy themselves could hardly get the ball off a Spanish team who had an average tournament so this shows how far behind England are with comfort and composure on and off the ball.
Mancini had his players playing the correct way whereas Southgate instructs his players on safety first.
Rashfords penalty was borderline cheating and Sako should never have been given that last penalty.
Have very rarely followed England because they are run by a bunch of suited up muppets.
I feel for the players however and just happy Pickford came through it safe from the pricks in the studio.
Bobby Mallon
113
Posted 12/07/2021 at 06:00:57
Jeff Armstrong
114
Posted 12/07/2021 at 06:02:40
I get that the pens order is predetermined, hindsight, etc, but surely there should be an element of in situ management coming into it, once Rashford and Sancho missed should Southgate not say to himself, I don't want Sako on the last pen, a more senior pro should have stepped up, but the story now is about "cold" players and kids missing pens, a great manager should have managed the situation better, and won it.
Danny O'Neill
115
Posted 12/07/2021 at 06:13:13
Wembley 2012, the underdogs go a goal up and look good. But then decide to sit back on the lead rather than have the belief or ability to go and win it. Sound familiar?
Unfair and flippant of me. As the game progressed, Italy's superiority started to show. Credit to England for staying with them, but in fairness, Italy were the team of the tournament. Forget the normal time score, the more the game went on, they started to control it.
England reflect English football. They lack the creativity in midfield. Lots of grafters but where is the creativity? Again, sound familiar? That's another debate, but England, like any other nation, will ultimately always be a reflection and product of its grass roots.
Varatti is some player. Unrealistic, but I'd love to have him. Chiellini; what a captain and leader.
Final point, well done Jordan Pickford. Not just the penalties, he made some crucial saves last night and had a fantastic tournament. Carry that into next season lad.
Brian Porter
116
Posted 12/07/2021 at 06:30:29
Gareth Southgate was the reason I never felt confident watching any of England's games in the tournament. His in-game management reminded me of Marco Silva, always too little too late.
His choice of penalty takers last night was a total joke. With a minute to go he desperately wanted to bring on two subs, specifically to take penalties in the shoot-out and what happened? They both missed! Add that to allowing young Saka to be the last to take, a big, big pressure moment and was anyone surprised when he missed? For a supposedly top class International team, to miss three penalties in the shoot-out was verging on criminal negligence from the manager.
Harry Kane had a pretty awful tournament overall and Southgate again must take the blame for not giving more game time to the likes of DCL. Other nations were happy to give some of their younger fringe players a chance to prove their ability but Southgate stuck with his favourites. I hardly saw Kane touch the ball last night.
Overall Pickford was one of the players of the tournament but his saves in the shoot-out will be soon forgotten because he was on the losing side.
Southgate carried the hopes of the nation into last night's final. Sadly, he dropped the ball, badly!
David Pearl
117
Posted 12/07/2021 at 07:19:23
Not much to add to the comments above. Southgate has done well but last night he cost England the victory. Too slow to make changes to wrestle back control.
Bringing on 2 cold players... a kid taking the biggest pen? Surely you give your pens to the best strikers of the ball such as Chilwell.
Alll that talent on the bench wasted.
Mancini knows how to win, Southgate doesn't. And the fact he chose the order is just mind blowing.
Danny O'Neill
118
Posted 12/07/2021 at 07:32:12
I don't want to be negative Danny and to reiterate, England had a great tournament without playing spectacularly.
But as with the pre-match build up yesterday, I'm watching the overly hyped media coverage of the "heroes" this morning.
They lost. Why do we celebrate plucky losers? No doubt as with the comedy breast wearing Gazza team who achieved nothing other than losing a semi-final, this lot will be afforded an open top bus for not winning?
If Germany (4 World Cups, 3 Euros) & Italy (4 World Cups & 2 Euros) are the international Manchester United & Liverpool, plucky England are the international plucky Everton. Big name but haven't been good enough or achieved anything in years.
That hurts to say it.
Robert Tressell
119
Posted 12/07/2021 at 07:51:22
Very fine margins. Although we had a bad 2nd half the Italians only just scrambled in an equaliser and I can't recall them carving out any other chances. Personally, I'd have put Grealish on for Mount on about 60 minutes (or from the start!) because he gives the opposition something to worry about. Indeed Jorginho should have been sent off for fouling him. And then came a crap set of penalties. So boring and slightly cowardly as it was, Southgate was very unlucky too.
Steve Shave
120
Posted 12/07/2021 at 07:58:00
Brian 116 I feel like we were watching a different game then, yes we were slow and ponderous and half and Gareth should have been bolder with subs and taken the game to them. However, you are way off in your criticism of Kane IMO, 1st half I thought he was brilliant, a total menace. He chased down balls, won headers, flick ons etc.
Ray Roche
121
Posted 12/07/2021 at 08:10:35
Steve@120
To be fair, Kane didn't win a header all night and became increasingly anonymous after half time.Only when England eventually stirred late on did he reappear.
Tony Abrahams
122
Posted 12/07/2021 at 08:23:08
A simple game they say about football, and after watching Italy, constantly pass the ball I'd have to agree. But England, or more so Southgate, will be criticized now, and rightly so imo, because he couldn't grasp that fortune favours the brave.
Jerome Shields
123
Posted 12/07/2021 at 08:27:01
Italy deserved to win on the football played. Pickford had a superb game. Southgate went defensive in the second half, allowing Italy to play, as they can.
Should have brought on Calvert Lewin to change things, Kane contained in the second half , fresh legs needed. . Too late with supporting substitutions, especially when a corner was in progress.
Allowing a 19 year old to take the fifth penalty, while other more experiences players, especially Sterling, where available was poor, given Southgate's own experience. It was a experience rather than a training ground ability situation. Rashford was totally sussed out by the Italian goalkeeper.
O Leary ( Arsenal) who had never took a penalty before in his unfield play decided he was taking the final penalty for Ireland in a previous Euros, scoring . He was right
Will a blatant collective disregard for Covid with large unregulated crowds and the whipped up 'Freedom. day' be worth it in the coming months?
David Pearl
124
Posted 12/07/2021 at 08:29:11
Ray, exactly. So if England had more of the ball and stopped just sitting back Kane would have had more of an impact. If any player is isolated what chance does he have? Mancini made his subs and kept his team fresh, Southgate didn't and in the end he cost England the game. We had the players.
Robert Tressell
125
Posted 12/07/2021 at 08:34:46
I thought Kane had his moments but seems to have become a Sheringham style playmaker forward who pops up very deep and has no pace whatsoever.
It helped us remain vaguely in the midfield battle but meant it was very hard to see how we (and Kane in particular) might score a goal.
Southgate has an absolute wealth of talent at his disposal. To win a tournament he's going to have to be brave enough to rotate Sterling and Kane and trust the likes of Sancho and even DCL. Grealish and Foden must also be used ahead of the more workmanlike Mount.
Pickford, pleasingly, should leave the tournament full of confidence that he's been just about faultless throughout. Neck and neck with Donnarumma for best keeper.
Finally a quick word for Stones who didn't put a foot wrong all tournament - and was inches away from connecting with a header that would have won it. He's matured.
Michael Lynch
126
Posted 12/07/2021 at 08:42:41
While Kane struggled to find form at the start of the tournament, I thought he was brilliant against Denmark, and again in the first half last night. When he drops a little deeper, he has an incredible passing range and vision.
Southgate hardly put a foot wrong in getting us to the final - although, to be fair, we were incredibly lucky to meet some average teams on the way to it, including the current Germany - but as he himself will admit, the final defeat is down to him rather than the players. He picked the penalty takers and - despite his cautious nature - took a huge gamble giving the final pen to a kid barely out of school who is not a regular penalty taker.
Sad ending to a great tournament for England. It was fun while it lasted, and it got the country going - even those who would normally ignore the game.
Michael Lynch
127
Posted 12/07/2021 at 08:55:02
Mike @110 incredibly depressing to see scumbag keyboard warriors posting their nasty shit on line, but there's no way of knowing who it is. England fans? Possibly, but just as likely it's a 12 year old in Moscow, or a bot in Mumbai. In my opinion, we should condemn it and move on. To give it too much attention is to suggest that anything other than a tiny minority of arseholes think that way. Certainly, I see no racism in the fans in the ground, or in the structure of the English game these days. The England squad was probably the most multi-cultural in the tournament, with players of not just British, but also Irish, African, and Caribbean heritage.
My only concern is that, considering the largest ethnic minorities in England are of Indian, Pakistani and Bangladeshi heritage, there are no South Asian players in the PL, let alone the England squad. I don't know if any work is being done to change that, but it should be.
Ian Burns
128
Posted 12/07/2021 at 08:58:00
Southgate changed the system for the second half of extra time against Denmark and handed the last 15 minutes to them but he got away with it.
Then, despite this he didn't learn the lesson.
He started with a defender (Trippier) and sacrificed an attacker. By the time he put it right in the second half it was too late - Italy's confidence was sky high. He had SIX senior players still available to take penalties - he put up 2 players who had no playing time and a 19 yr old kid who had played without any confidence whilst he was on the pitch.
Never rated his on field management and often despaired at his selections. How on earth could he use Grealish so little in the tournament is a mystery.
Danny O'Neill
129
Posted 12/07/2021 at 09:00:26
Stones has matured Robert. Just as he always was going to.
I wish that we fans had shown more patience with him and that the club had been in a better position to retain him.
As it is, I'm hoping we can replace someone like Keane or Holgate with someone like Stones.
Richard Lyons
130
Posted 12/07/2021 at 09:02:04
Anyone agree with me on this: Chiellini's disgraceful cynical foul on Saka got a yellow card - but I think such behaviour is worthy of a red card... time for a rule change to make such blatant fouls a sending off offence, I think.
Michael Lynch
131
Posted 12/07/2021 at 09:10:39
RIchard @130, yes I thought it should have been a red - but I'm not sure a rule change is needed. It was incredibly dangerous, he could have broken Saka's neck. I also thought the Jorginho foul on Grealish was worthy of a red card.
Overall, it was a poor refereeing performance on the night.
Jim Lloyd
132
Posted 12/07/2021 at 09:15:57
Danny (118) Why do we celebrate plucky losers?) I think it's probably because England very rarely win a competition.
I enjoyed watching Italy last night; and all through the competition, a "proper" excellent team. They had skill, pace, energy, aggression when needed (and sometimes when it wasn't) and they palyed good entertaining football.
I thought that England had begun to play a more adventurous, passing, pressing game throughout the tournament and began to look like a good team. We were passing well, plenty of energy, and looked the makings of a good side.
Why on earth they become like Everton in the second half, I haven't a clue. Well, probably because that's the tactics that the manager told them to play; and also because Italy never let up attacking them. Although Italy only scored one goal, they could have have more. It was stout defending and the brilliance of our Goalie, that kept the scores level.
I hope that Ancellotti's tactic of trying to pinch a goal and play it tight, is not going to be followed by Rafa. I think that's what England tried last night in the 2nd half, and all they did was to give Italy the chance they wanted.
Maybe Italy would have become the team more likely to win anyway; but I think the we handed them the space they wanted.
Andrew Clare
133
Posted 12/07/2021 at 09:18:33
England did very well. Italy have a fantastic pedigree and have been the team of the tournament. I thought that maybe England had a chance with the match being played at Wembley but in reality they did well to get to penalties.
As above comments have highlighted and foreign coaches have stated England play with a lot of heart. Unfortunately skill and guile are in short supply and always have been. Any player that has those attributes rarely becomes a regular. Yes we produce great strikers, goalkeepers and defenders but great midfielders are as rare as hen's teeth.
Mark Murphy
134
Posted 12/07/2021 at 09:24:41
I hope Jordan Pickford today announces his retirement from International football with a big f#ck youse to the media!
He's too good for that team!
Ian Burns
135
Posted 12/07/2021 at 09:26:04
Richard 130 and Michael 131 - even if Chiellini and Jorginho had both been sent off, Italy would still have won on penalties!
Rob Halligan
136
Posted 12/07/2021 at 09:26:38
Jeff # 114, as far as I know once the penalty takers and the order of the takers is submitted, it cannot be changed. I keep thinking, could Pickford have been one of the five? Remember the penalty he took in that Nations league 3rd / 4th place play off against Switzerland. A sweetly struck penalty which gave the keeper no chance. Then I think what if he missed, the media would have had him hanging from Tower bridge by now!!
Watched the game in our local, so obviously a mix of blues and reds, and I couldn't believe the stick Pickford got from the RS. Some think he should have saved the Italian goal. Unbelievable!! Anyway, well done Jordan, for me Englands player of the tournament, and about the only one to come away with any credit from last night.
Lynn Maher
137
Posted 12/07/2021 at 09:32:25
There was actually an extremely glowing report on Jordan Pickford this morning, on BBC breakfast tv at 7.56am. I have recorded it for posterity and also to make sure I wasn't imagining it!
Tony Shelby
138
Posted 12/07/2021 at 09:38:50
We'll get £75m for him now.
Robert Tressell
139
Posted 12/07/2021 at 09:42:19
Andrew # 133. Unfortunately, there is a cultural issue with England that we don't believe we can be the team that controls possession - hence we always have ball winners at the expense of ball players. It's our plucky underdogs mentality.
That is often understandable given the lack of quality ball players but this time it was different. Grealish and Foden are as good as any midfielders at that tournament yet featured very sparingly. They also work hard too - like Silva and Iniesta did for Spain.
As for the penalty takers, I expect they were chosen because they are the best at it. Although I do remember Stones beating, I think, Buffon / Juventus with a panenka in some tournament we played in the US years ago.
Andrew Keatley
140
Posted 12/07/2021 at 09:54:56
If Southgate had even an inkling that he was the sort of manager who would bring on a player in in the final minute of extra time to take a penalty then he should have taken James Ward-Prowse to the tournament. Squad size of 26 allows you that sort of flexibility, but Southgate wanted contingency after contingency. I'd have taken Ward-Prowse anyway - even in a 23 man squad - as his fitness levels, selfless stamina and energy are exactly what you need in tournament football, and his dead-ball ability is better than anything Southgate took to the tournament. Perhaps not a fashionable enough name - or young enough to be seen by the media as a cool gamble.
Danny O'Neill
141
Posted 12/07/2021 at 09:59:21
Richard @130. Didn't we used to have the straight red for a so called professional foul rule? Would need the referee's union to come out on that one.
Jim @132; I have this kind of debate with my youngest brother. The poor lad grew up only knowing the Moyes era, so his expectation of what represents success is having a decent season and getting to a final. Mine is very different even if some call that unrealistic. But from experience, I expect Everton to challenge.
Andrew @133; games are won and lost in midfield. You need grafters, but ultimately they will graft all day long. You also need creativity and skill.
The fans last night in the local London boozer. Again, a very different type of England following. Much more "student=ty" and BBC trendy types who arguably haven't really followed football too much but managed to book a table. The screams and screeches at every tackle were pretty annoying when you're trying to watch a game of football.
I'm nearly 50, allow me a grumpy pass!!
Alex Kociuba
142
Posted 12/07/2021 at 10:03:52
I'm amazed Southgate is getting flack. He took England to the final and edged out on pens. England as a whole, Southgate, and Pickford did well. The penalty takers should be hung drawn and quartered though. All that hard work thrown down the drain by shit penalties. I can't imagine in all their penalty preparations during the tournament that they were encouraged to take them in that manner. They single-handedly ruined it.
Ajay Gopal
143
Posted 12/07/2021 at 10:05:32
Commiserations to my fellow English TWers. This really was a once in a lifetime opportunity for the England team, but they didn't have enough tactical acumen to win it. I always pity the England team manager (past, present and future) - they always are under tremendous pressure, they appear anxious, scared to make bold decisions, lest it backfires. As the memory of the last England international success fades further away from memory, England needs a winning manager. Someone like Arsene Wenger - who has the stature in the English game to change things from the ground up. As Danny (118) and others have alluded, England reflect very precisely Everton on the international stage. A proud history, but fading glory. But, destiny can be changed - England have an excellent crop of players. The Back 5 is pretty solid. If the midfield and front line can be sorted out with a system that blends attack and defence, England can continue to be competitive, and with a little bit of luck, get back to winning trophies.
Brian Harrison
144
Posted 12/07/2021 at 10:08:23
I think Southgate has got a lot right but last night I thought bringing on 2 players with only 30 seconds left of extra time, and then expect them to take penalties was madness. I know he said that he had decided on the penalty takers because of what they had done on the training ground, but for 2 of them not even having time to even touch the ball and the other a 19 year old who to my knowledge hasn't even taken a penalty for Arsenal.
I think its quite obvious that he has an issue with Grealish as his lack of game time suggests this, and he has also been reluctant to play Foden. Yet it was obvious that Mount was having a poor game and how he played for as long as he did I was surprised. But then he brings Grealish on and plays him wide left not his best position by a long way.
Mark Ryan
145
Posted 12/07/2021 at 10:09:00
Pickford did himself proud and had a really solid tournament. At times he looks like his head is going is going to explode with all his shouting and remonstrating but what do I know.
Well done Jordan, top class
As for England and Southgate. Sat in my armchair I knew we would come out second half and invite them on and that's what we did. Fortune favours the brave. We should have had had the subs on far earlier, given us fresh legs and that is of course what Mancini did. He took off his world class strikers, Immobile and Insigne and allowed people to run themselves hard whereas us with Kane and Sterling, it feels to me as though Gareth Southgate won't take them off, they seem to be untouchable at times and whilst I think Kane played well last night, Sterling had his worst game and he should have made way for Sancho, Grealish or Rashford.
We sat back, allowed them to press, they scored and then we looked clueless.
Well done Jordan, Dom, I hope it's made you hungry to prove yourself again in the coming season and get to the World Cup next year

Dave Abrahams
146
Posted 12/07/2021 at 10:12:20
Robert (139), Actually Robert you made a very good point earlier on this thread(39) I think, when you said you couldn't understand Southgate taking Rice off, like you I'm not a big fan of Rice and I thought he was having a very good game, winning the ball and carrying it forward, he was replaced with Henderson who did very little, in fact he was poor, this switch turned out to be a very poor substitution and did nothing to help England. Truth is, IMO, Southgate hardly took the breaks off England throughout the tournament and played a safety first game and ultimately paid for it.
Ian Jones
147
Posted 12/07/2021 at 10:15:29
Alex, Southgate wouldn't be getting criticism if England had won on penalties. He would have been applauded for his tactics and the way his team played Italy.
In my opinion, the team played poorly, showed up their limitations, played too defensively. England need to play with alot more creativity in the future but hindsight is wonderful.
The pens are a lottery. Easy to say 'in all their penalty preparations during the tournament that they were encouraged to take them in that manner'
Can't imagine you can replicate the pressure of a penalty shoot out in training in front of 65,000 odd fans
Robert Tressell
148
Posted 12/07/2021 at 10:56:23
I agree with you Andrew # 140. Ward-Prowse was well worth a place in the squad.
As for playing with the handbrake on, Dave, I think that was a deliberate ploy to get us to the final. It worked. Unfortunately, it meant that come the final we lacked the courage to get the 2nd goal when the early momentum was with us.
Still, like I say, very fine margins and the Italians can count themselves lucky.
Kim Vivian
149
Posted 12/07/2021 at 10:57:38
All this talk of penalties would be non existent if we could score goals against decent teams. Besides picking the ball out of the net on 3 mins did Donnarumma actually have anything to do for 120 minutes. I said at the time it was too early to try and sit on a one goal advantage.
As others have said I am astounded at the lack of game time given to Foden and Grealish, and it would have been nice to see DCL on the pitch instead of Rashford.
Bit pissed off really. So Everton like.

Ernie Baywood
150
Posted 12/07/2021 at 11:03:58
Natural to dissect every element and find pros and cons in everyone's (including the manager's) performance.
The reality is that England were 1-1 AET in the final in one of the three biggest tournaments in international football. At that level, you're right at the top and it's very fine margins that decide where the trophy actually goes. Bad or average teams don't get to that point, it's reserved for the best.
Arguing who was better on the day isn't worth much either. One team was leading from the 2nd minute - the game was changed from the start and the stats mean nothing. Overall through the tournament it ended about right. Italy and England were the best two teams and Italy shaded it.
My sense is that in the end the Italians were just a bit older and wiser. Mancini got a slight edge in the end over Southgate with his subs and approach to the shootout. The penalty takers had a few more years of life experience.
On the positive side, this is a young team that has just gained a lot of experience they can use.
Hopefully someone tells them what we all know. The stutter run up doesn't benefit you. And if you miss that way you give people something to point at. Pick a spot you're comfortable with and hit it there firmly.
Last note, I was relieved for Pickford and for Everton. He comes out with great credit, and we all know what could have happened. Again, very fine margins.
Raymond Fox
151
Posted 12/07/2021 at 11:09:19
England can have no excuses, we score within two minutes and then cant score again in normal time plus extra time.
This is why I cant watch a game in real time now, all this backwards and sideways passing that doesnt actually achieve anything is too boring.

Tony Shelby
152
Posted 12/07/2021 at 11:16:47
Steve Brown
153
Posted 12/07/2021 at 11:23:05
England score within 5 minutes, but gradually begin to lose control of possession. It is evident that the team need to change formation to regain impetus, however Southgate hesitates until the opposition equalise in 68th minute. England fail to regain control and end in defeat. Anyway, enough of the 2018 World Cup Semi Final defeat to Croatia, as I am sure the manager learned a lot from that game.
England had actually won their last two penalty shoot outs in wins over Columbia and Switzerland, when the experienced players had shouldered responsibility. So, I simply don't understand why Southgate decided to place our destiny in our first major final for 55 years on players aged 23, 21 and 19. I actually felt really sorry for them.
Southgate said the defeat was down to him and he was absolutely right. He is too cautious and slow to respond to what is happening in the game. Worst of all, he doesnt learn from his mistakes.
Jay Woods [LAT]
154
Posted 12/07/2021 at 11:24:51
Fortune favours the brave aka "who dares wins", so naturally, with Southgate's cowardly approach to the game, especially in the second half, England's odds of winning were greatly reduced. He's a very limited manager, but he says the right things and goes along to get along, so for the FA he's a perfect fit.
Christine Foster
155
Posted 12/07/2021 at 11:25:37
Totally predictable. Poor team selection, poor tactics, awful game management, poor substitutions, utterly dreadful decision making over the penalties ( Saka should never have been allowed to take the final penalty, not when there are so many senior players) Sadly just about all of that is down to Southgate. For all of the above, he bottled it.
I was shouting at the TV when I saw Saka step up. Scarred the lad for his career.. Southgate? Tosser.
On a flip side, brilliant game by Pickford. He didn't deserve to be on the losing side.
Steve Brown
156
Posted 12/07/2021 at 11:29:20
Also, can we finally put to bed this "football's coming home" shit as it's making us look like deluded dicks. I would have thought 50 years of failure would have taught us a bit of humility, but apparently not.
Danny O'Neill
157
Posted 12/07/2021 at 11:45:44
Not the ones who continuously boo other nations' national anthems and were singing "you can stick your calzone up your arse" during the Italian national anthem last night Tony. I appreciate that is a particularly London brand of England support, but it was just awful.
Agree Steve. I have no idea where this righteousness comes from considering how poorly England has performed on the international stage in comparison to others.
Christine, I mentioned earlier, but the approach on the field comes back to what England have available. What they have available is a product of the grass roots bar the odd one or two players. And yes, putting a 19 year old lad in that position was a huge gamble. You could argue it will make or break him. I hope it hasn't broken him as he looks a talent.
Fix the grass roots.
I'll get my coat.
But be back later to continuously repeat myself.

Barry Hesketh
158
Posted 12/07/2021 at 11:49:04
Steve @156
David Baddiel and Frank Skinner had no intention of using the 'it's coming home' line as a claim to portray England's superiority over other nations, rather it was a nod to the fact that the 1996 Euro's were being hosted by England for the first major tournament to be held by the country since 1966.
I do agree that It's a tiresome song, in much the same way as 'it's a grand old team' is.
Danny O'Neill
159
Posted 12/07/2021 at 11:50:45
I concur on the "Grand Old Team" thought Barry.
Put it to bed and make new history Everton.
Allan Board
160
Posted 12/07/2021 at 11:58:22
In fairness, Italy had already started to take a grip of the game before half time. They just don't panic in midfield and keep probing and run you out of gas.
Mancini very obviously had a word at half time, Italy were passing over too great a distance from defence into midfield which allowed Rice/Phillips to get out and close it down or pinch it in the 1st half.
As soon as the 2nd half started, they closed that gap between their defence and midfield, which meant they could play quicker, shorter passes in, which Rice /Phillips couldn't get out to anymore. This went on for 5 mins or so, Italy began to break the lines and got player's between our midfield and defence, so our whole team back tracked thinking by protecting the space we would be OK. However, that is exactly what Italy wanted and Mancini knew would happen, thus the entire game shifted. Southgate should be able to see that(or one of his various coaches) and told our players to squeeze up and congest the midfield. Italy would have tried a couple of balls over the top, but Walker would have dealt with those. Italy would not want to play a high line in a congested midfield because they lack pace at center half and any flick through and we were in. They would have reverted and dropped off, and played out wide instead, which suits us.
Logically, their issue was Rice/Phillips nicking ball, so instead of by passing them completely, and not going through midfield, he got his team to play shorter, faster balls, knowing this would play around the problem.
Just brilliant coaching. It's alright me seeing this after the event as its happening, but quite another to see the issue firstly and implement the solution quickly and successfully.
If you watch it back, in the first half hour, Mancini was urging his player's to play closer to each other because he could see them being picked off.
That strategy goes back to youth football on the continent, small sided games, no goals, just keep ball in tiny areas, in employing 2 or 3 player's to each phase and constant movement.
Ultimately, we refuse to coach kids like this over here, I've tried and been ostracised for it, with idiot's telling me I am taking the fun out the game by removing goals in sessions - 'the kids just want to score mate' is the trotted out favourite.
Fine margins in this game I agree, but it's not coincidence that Italy have now won 6 major titles, Germany 6,France 4 (I think) and Spain 3.
It has to be down to how they teach their kids.
Peter Gorman
161
Posted 12/07/2021 at 11:59:24
Three lions is about blind optimism in the face of 55 years (and counting) of failure.
No idea how it is construed as arrogant, deluded or righteous. Only people who don't speak English as a first language could think that.
Jim Lloyd
162
Posted 12/07/2021 at 12:03:29
Yep! England is a magnet for cretins alright.
James Newcombe
163
Posted 12/07/2021 at 12:08:19
Pickford was fantastic and unlucky to be on the losing side. Saving two penalties and still losing the shootout is hard going!
Robert Workman
164
Posted 12/07/2021 at 12:13:21
I agree with the criticisms of Southgate and his poor use of the squad.
I have one other criticism to make. How dangerous was it to bring the penalty takers on, in the 119th minute, just when Italy had a corner. I thought there was a maxim that you never make substitutions before a corner, if you are defending it. Worse still he took off Walker, one of our main and tallest defenders. Remembering that their goal came from a corner, just imagine the reaction if they had scored the winner. Southgate must have known that there would be additional time, because of what had happened during extra time. That would have been the time to bring on, however misguided, his penalty takers - who I imagine looked great taking penalties in practice when warmed up, not just one kick in a pressurised situation.
Danny O'Neill
165
Posted 12/07/2021 at 12:15:35
Great assessment Allan @160. One of my favourite exercises as a coach was Brazilian grids / squares. Literally 4 squares, no goals. 12 players broken into 3 groups. At any one time two of the 3 colours (8) keeping possession with 2 players restricted to a square. The other 4 "hunting" the ball with freedom to move between the squares on the grid. Then rotate them.
It teaches possession as well as pressing. And is good for developing fitness too.
Germany's system is fantastic. I lived it and experienced it and it is not a coincidence they have 4 World Cups and 3 Euros to our one and runner up. And that's without counting their runner up appearances.
Derek Moore
166
Posted 12/07/2021 at 12:23:42
I said beforehand I hoped they would give the best account of themselves and not go into their shell.
Sounds like old habits die the hardest.
Great post Allan Board (#160) and very interesting. I didn't watch it, but it sounds like the Italians just played it shorter and shorter so they could push England right back into their third thus negate the counter and potential killer second goal?
Pretty disappointing from the English brains trust if that is the case. Mancini is a wily one, but he didn't really have to stretch the old grey matter much outhinking Southgate there.
Tony Abrahams
167
Posted 12/07/2021 at 12:30:38
It's obvious that England are getting closer though, even if they have had very favorable draws in their last two major competitions.
I think Allan makes some great points, but England were the more powerful team during the first half yesterday, and then when Mancini, was the more powerful coach, Southgate, was still concentrating on holding the lead, which played right into Italian hands, imo.
I was asked countless times about the game by different people, and my answer was that I couldn't really call it, but if England were to win, they couldn't afford to let Italy, dictate the pace of the game, and this is were I think England ultimately fell short, with Kane, coming way to deep, which also meant they stopped posing a threat, once the Italians began to dominate possession?
Danny O'Neill
169
Posted 12/07/2021 at 12:36:32
Yes Tony. And it allowed them to dictate the midfield I thought. If you control the midfield, you generally control the game right? I don't like getting carried away with tournament performances, but Verazzi?
Derek Moore
170
Posted 12/07/2021 at 12:38:23
The key to the strategy Allan describes so adroitly is pushing the English players entirely behind the ball. If England were prepared to concede Kane and Sterling behind the ball then that is the green light for the Italians to just camp in your half, and if that is indeed what happened, my sympathies it must have been a long second half to watch if you're an England fan.
You must continue to have the the outlet or threat up top ahead of the ball - no matter how isolated that player may be - to get behind them quickly when you can get hold of the ball. Otherwise you'd just be inviting one of the best teams in Europe onto you for an entire half or so of football. Is that what happened? If so, oh dear, no wonder Southgate is getting a right bricking.

Michael Connelly
171
Posted 12/07/2021 at 12:42:46
If the England players had been better coached to take pens, then the result might have been different. Hitting the ball 3 foot off the ground at a moderate pace invites the save from the keeper. To me, If you are not going to hit the ball hard, then you should be placing it in the upper half of the goal, over the keepers dive. Rashford was unlucky with his. At least it was on the floor, and away from the keeper; it was just a couple of inches off target.
Danny O'Neill
172
Posted 12/07/2021 at 12:45:46
This is the point Derek. You can build a winning team on defensive foundations, but you don't win by focussing on defending and sitting in your own half. That get's you so far; to the glass ceiling as we Evertonians know too well.
Successful teams, Everton included, have been built on solid defensive foundations. But they win stuff by attacking with intent and being on the front foot, knowing they can defend when they need to.
I can only think of George Graham's "1-0 to the Arsenal" as being an exception. But even then had attacking flair like Merson. He may be a gobshite of a pundit, but what talent, albeit wasted in a sad kind of way.
Jerome Shields
173
Posted 12/07/2021 at 12:51:33
Allan#160
Great analysis of the problem.
What we did was have the goal only the side that a ball could go through, with a no go area of a metre square around it. It was a penalty if a defender stood in the area. We did this because noone wanted to be a goal keeper. Our passing, movement and shooting accuracy skills really improved though. , We could even play with one goal, with two teams interchanging defence and attacker according to possession. Didn't need alot of players to have a game either. If a team got ahead they might try keeping the ball further back with the one goal mouth which meant alot of chasing. For training t worked well. We use to have competitions and interchange team players to increase competitiveness.
Derek Moore
174
Posted 12/07/2021 at 12:52:35
Even George Graham was finished once they outlawed the backpass Danny. My commiserations on the result but I immediately thought of your sweepstake when I heard the final result oddly enough, and I'm glad you got a few quid at least.
Three points for a win, the level offside law, outlawing the back pass - it's almost as if the rules makers were trying to encourage teams to play more attacking football? Doesn't sound like the FA have gotten the memo though. (Or group email these days I guess!)
Danny O'Neill
175
Posted 12/07/2021 at 12:57:54
Whatever happened to the "daylight" rule regarding offside?
I get there will still be borderline interpretations, but wasn't that supposed to give advantage to the attacker? Now it seems if the entire body of the striker is behind the defender but his right shoelace isn't, it is offside.
Don't get me wrong, we've benefited and all you ask for is consistency, but I'd like to see the rules benefit and therefore promote more attacking football.
Allan Board
176
Posted 12/07/2021 at 13:08:04
Danny@165, yes, the session set up without goals avaliable should show the coach the quality of player at his disposal. I don't mean adult players, this should be aimed at kids 8 and above. Children are like a sponge in relation to taking on concepts, their brain storage is pretty much empty and this is why they can absorb so much information.
You have to be innovative with the set up of your sessions, because ultimately the kids have turned up to play footy! I always start with an arrival game on a tight pitch, with players joining as they arrive, so, 1v1 into 2v1 into 2v2 etc. This we play for 5 or 10 mins with switches in set ups, could be one side plays 2 touch, the other open game, into say 1 touch v 2 touch. I am trying to get kids to understand the difference between the set ups, their positives and negatives, when to play 1 touch, when to protect the ball etc. I am a huge believer in the mobility of players and set up practices to instill/implant the core basics of fluid movement.
You can't play footy if you have poor mobility.
It is difficult and it is not the easy route, so easy just to let them play a game all the time in sessions, but with that not all of your players are getting the full benefits as some are just naturally better than others and will dictate, and the not so naturally gifted will become disillusioned quickly.
This is why practices without the pressure of scoring to be 'successful' are so beneficial to all. You can stress the better player's, which they always except, but improve the others by simplifying it for them.
However, with grass roots being virtually exclusively
Volunteers, coaches won't do badges or Youth Modules because of time constraints, which I get, but it only leaves a few to take on the burden of trying to teach these kids the right way. Therefore the pool of properly coached youth players is small.
Got to say though, when the session work pays off in a game, it means a lot.
Tom Bowers
177
Posted 12/07/2021 at 13:09:55
Getting to the final is a great achievement no matter how it's done but on reflection Denmark and Italy were better teams.
However, England played to their strengths and did well only losing on three twelve yard kicks in the end.
I had my doubts after the Scotland game when England couldn't score that they lacked the offensive diversity once Kane and Sterling were contained and so it proved yesterday with only a goal from a full-back and then being ineffective after the first 20 minutes.
There were other failures after, that others have alluded to but they were mainly the fault of Southgate's decisions.

Joe Corgan
178
Posted 12/07/2021 at 13:17:50
I don't do social media, but a lot of the news outlets do. In fact, much of their reporting today has been to relay "the reaction on social media." I don't necessarily think social media is a good barometer for public feeling on any subject, but least of all sport.
The racist abuse towards the players is disgusting. I hope it's just a few cowards hiding behind a shield of anonymity.
News outlets are also talking about a general feeling of negativity after last night. I have to say, I don't have that myself. We were beaten on penalties by the best team in the tournament and the best side in Europe. Penalties are little more than a lottery at best anyway.
They were the better team on the night too. In my opinion their superiority didn't come from being faster, fitter or even technically better with the ball. They just looked calmer and more assured. The longer the game went on, the more scared of losing we seemed to become. We stopped playing football and doing the things that'd served us well. In simple terms, I think we bottled it. Yes, Southgate made some dodgy calls but he'll learn from those.
Yet despite all that, Italy couldn't beat us in 120 minutes of football.
I couldn't be prouder of the lads. We were there right til the end. And while they don't always play exciting football, it's been effective. With another 18 months experience, this England team are only going to get better. Will we win the World Cup? Probably not. But with two semi finals in three years, after two in the previous 28, we should be hopeful that our day will come.
Gary Smith
179
Posted 12/07/2021 at 13:23:39
What's the worst decision:
a) letting a 19-year-old take a penalty with that much pressure?
b) thinking of paying £60m for a Newcastle reserve winger called Saint-Maximin?
Danny O'Neill
180
Posted 12/07/2021 at 13:36:37
Allan, I feel like we could talk and white board this all day!!
Totally talking about youth coaching and development. Teach them to look after the ball when they have it and go and win in back when they don't. No interest in results. I always used to give them 15 minutes at the end to play a match but the 1 hour and 45 minutes before that was all about sessions. Warm ups too. I always focussed my warms ups with a football, not the side-to-side shuttles or laps of the pitch we often see on the parks throughout the country.
Allan Board
181
Posted 12/07/2021 at 13:45:32
Agreed Danny! Just don't get me started on the lack of two footed players in the game! Had some very interesting discussions with FA Tutors on that!
In short, it takes a lot of time and time is money, so its not a priority!!
Ian Jones
182
Posted 12/07/2021 at 13:48:53
Allan, in my world of football, two footed players should be a given. I rate Ronaldo higher than Messi for that reason.
Tony Abrahams
183
Posted 12/07/2021 at 14:16:45
Brilliant Allan, I despair at the lack of two footed footballers, especially when you hear a twenty year old kid, say he's been at the academy since he was eight, and he can't even kick with both feet. (It's also why I'd never play one touch football with kids!)
The clubs are spending fortunes on their academies, so I'd say it's a lack of good coaching, dressed up as a lack of time, and to many people in these privileged positions, (that's how they must view it) just toe the party line.
It's not easy learning kids to kick with two feet, because it requires time and patience, and isn't really enjoyable for young children, who just want to kick the ball hard, and are also not aware of the benefits such a skill will bring them in later life, as they get rinsed out through the ringer, because these clubs, have already invented the survival of the fittest, which is the bigger asset for to many IMO, unfortunately.
Alan McGuffog
184
Posted 12/07/2021 at 14:19:54
I feel neither pity for or anger towards those who missed those penalties. Every member of that team was capable of scoring or missing.
But consider this: In the 1960s, keepers were called Bert or Ron or Tommy. Sometimes Lev. They stood, usually, below 6' in height. Ron Springett was under 5' 10". Banks about 5' 10". In general, they were never famous for their suppleness or agility.
At a penalty, they had to stand on the line, like one of Lewis's. No gurning, sledging, dancing or twerking allowed. A penalty decision in those days was as good as a goal… if the taker hit it hard and low and aimed at the stanchion.
The first I saw missed was when Dunlop managed to sit on the ball from a West Ham penalty. The first Everton miss I recall (thanks to The Golden Vision) was Ball against Man City in 1967-68.
Today keepers are massive. Donna Murray stands at 6' 6". But the goal is still 8' high. We moan that Pickford is only just over 6'. So the Italian keeper can jog up and down impersonating a windmill whilst the lad who is waiting to take the kick. He is a proper athlete and has studied the methods of the taker on video. The Argie keeper was giving Mina loads the other night and put him off.
My point is that it's not just to do with "bottle". The keepers today are far more likely to save than 50 or 60 years ago… Like I said, anyone of that squad could have scored. Or missed.
Tony Abrahams
185
Posted 12/07/2021 at 14:34:32
The keepers are bigger Alan, but it's a free shot from 12 yards out, and I reckon the biggest obstacle to the penalty taker is, and always will be, nerves.
I'd say that, if it was a training session, that every single player would score, if they took it seriously and really concentrated. That's why I could not understand how Southgate, who has experience of such a difficult environment, could actually bring two young players on with a minute left, especially considering how little football either had played in the last month.
Mike Gaynes
186
Posted 12/07/2021 at 14:36:57
Robert #139, it was a top corner chip rather than a Panenka, and the victim was Juve's backup keeper, not Buffon.
But yes, I too was shocked that Stones wasn't among the penalty takers yesterday.
Derek Moore
187
Posted 12/07/2021 at 14:42:08
Tony, when I first read Southgate subbed Grealish on in the semi to give England some thrust and drive. Presto, they get a goal, he takes him off for a defender? Luckily Denmark were knackered, but even then they spent the rest of the game in England's half?
When I read that, I thought "Sweet Jesus, Gareth is managing England like you'd manage your computer team mates on the Xbox FIFA." (Bringing two fresh and non-fatigued forwards on in the last minute of a computer game to take penalties is probably really smart strategy by the way.)
Even then, it probably shouldn't have mattered – professional footballers ought to be able to hit a penalty? But in the end, yeah, it did matter.
Dave Abrahams
188
Posted 12/07/2021 at 14:47:06
Reading your posts, Danny O'Neill and Allan Board, I think the kids you coached had a lot of fun, enjoyed the sessions and learned how to play football properly, it would be interesting to know who you taught, the age groups and if you still coach young players. I know from the outside looking in how much pleasure coaches get from forming a team of young players of say ten years of age and see how they progress year to year until they are about fifteen and how see how they have improved as footballers and also see how they have changed growing into adulthood.
It's not just about winning, although that's great when it happens,it's about the togetherness, playing for each other and enjoying the time together as people as well as teammates, it's great to see from the outside looking as well and the coaches are much appreciated as well for the purely voluntary work they do, or they should be anyway. I know I always did when I watched.
Kieran Kinsella
189
Posted 12/07/2021 at 14:49:18
Tony,
Yeah, I felt it was a risky strategy to sit back and invite Italy to relentlessly attack us for 80 minutes after the goal.
I also feel with the subs that Southgate expects too much of Grealish. In a couple of games, he has come on and made an immediate impact, helping to create a goal. But, for the last few games, Southgate seems to have it in his head that he can drop Jack into any game for a few minutes and expect a goal to quickly follow. He's not superman. He is going to have times when that happens and other times when 90 minutes prove unproductive.
Tony Abrahams
190
Posted 12/07/2021 at 14:49:50
It's just Southgate's strategy I'd say Derek, and many people will say it wasn't a bad strategy, because of how close England came to winning the European championship.
I was at Wembley against Denmark, and thought that England had it in them to blow the Danes away, and felt the manager was too conservative, even though they won.
Play to your strengths, they say, but with so many good offensive players in their squad, I'm just not sure that England did!
Mike Gaynes
191
Posted 12/07/2021 at 14:57:45
Enjoying your conversation, Allan and Danny. I was never a youth coach myself, but I have refereed many youth games over the years, and always took note of the coaching techniques and approaches. It was always pretty easy to tell who had their priorities straight... and who didn't.
Nicholas Ryan
192
Posted 12/07/2021 at 15:02:57
Andrew [140],
I think you're right, James Ward-Prowse might have been worth a place in the squad, as a 'nailed-on' penalty converter!
Rob Halligan
193
Posted 12/07/2021 at 15:03:19
Reports that Pickford was to be the next in line, after Saka, to take a penalty for England. I said earlier on that he could well have been one of "The Five" penalty takers, having previously scored for England in a shootout. A good run-up and blast the ball straight down the middle, unlike that fanny run-up, stutter, or whatever the fuck it was, by Rashford.
Jerome Shields
194
Posted 12/07/2021 at 15:07:52
Gary Neville said after the Scotland game that Rice and Philips where selected to provide cover for the back four rather than as attacking midfielders. Gary elaborated further by saying that to play differently would expose England.
The weakness of this was exposed in the Scotland game by Billy Gilmore who was able to keep possession and pass forward.
England continued this same plan throughout the tournament, only bringing Grealish on for limited periods. In his post-match interview, Southgate came out with a similar explaination to Gary Neville for not changing things in the second half.
The Italians exploited the same weakness that Scotland had exposed.
David Pearl
195
Posted 12/07/2021 at 15:17:53
We had many good technical players on the bench. I wonder what a Martinez or Pep would do with them.
Brian Harrison
196
Posted 12/07/2021 at 15:23:34
Considering yesterday was only the 2nd time ever this country has reached a tournament final, it just highlights how very poor we are at producing top-quality national teams. We seem to be regularly able to reach the Champions League finals and have a good record in this competition, but maybe because we have so many players from outside this country is the real reason why we are successful in this competition.
The national side has also employed top-quality coaches from abroad to coach the England team but all to no avail. France, Germany and Italy have produced top-quality teams that have won both the European Championships and, even more important, they have all won the World Cup on a regular basis, yet we struggle.
Also, given that the majority of the French players don't play in their own league, this makes their successes even more remarkable. Despite our own Premier League being hailed as the best league in the world, well it certainly doesn't help us produce top-quality English players.
David Pearl
197
Posted 12/07/2021 at 15:32:28
Brian,
Southgate kept the handbrake on. I was impressed with the back 5. Further afield… hit and miss.
Why did England play so deep yet Italy, with a 34- and 37-year-old, play a much higher line?
Brian Harrison
198
Posted 12/07/2021 at 15:54:41
David,
I am surprised you were impressed with our back 5 as it was meant to be a back 3, which allows the wingbacks to push forward when we have the ball, as happened for our goal. But we didn't see Tripper forward too much after that and, in the 2nd half, we played 10 men behind the ball and tried to hang on for dear life.
I thought Mount was totally ineffective and for me he isn't in the same street as Foden and Grealish. I know Foden was injured but Southgate has been reluctant to play him or Grealish. If my memory is correct, I think something happened between Southgate and Grealish when Southgate was managing the England U23 team.
Tony Abrahams
199
Posted 12/07/2021 at 15:55:00
England have had a few foreign managers, but the players are usually set in their ways by then, and it's probably much harder to implement your ways when coaching seasoned professionals, which is probably what Ancelotti is telling everyone in Madrid right now!
England don't lack much now; they have got a lot of very talented young footballers… but until they have a coach who doesn't worry more about the opposition, this will continue to be their downfall imo. To be fair to Gareth Southgate, he his getting closer with a squad of players that have nowhere near peaked.
Charles Brewer
200
Posted 12/07/2021 at 15:57:54
Last night was a game of two managers. Both had teams of pretty uniform strength – no real stars on either side – and both understood how to negate the standard approach of the other side.
In Italy's case, put a couple of big slowish centre-halves on big slowish Kane, and invite Sterling to run into a group of five or six defenders, which he will do consistently, and then wait for him to cough up the ball and don't worry, he's never going to pass the ball. In England's case, eliminate Chiesa and outrun the ancient Italian side.
Mancini saw that the first half configuration wasn't working, so not only did he change the style of play, but he changed the players for more effective ones. This led to a much better second half but, even so, only the width of a post deflecting the ball back after Pickford's save allowed Italy to score.
Southgate – like Ancelotti and Everton's recent managers – did not have a Plan B, and came up with a series of far-too-late and spectacularly wrong substitutions, Saka for Trippier (who had been very good), Henderson (Henderson? Henderson… why, for God's sake?), and then the weird introduction of Rashford (who has been useless since around last December) and Sancho (who failed to impress as much as either Foden or Grealish in previous games).
Since Kane had been blotted out by two other agility-of-an-oil-tanker players, doubling the centre-forward position with Calvert-Lewin replacing the totally ineffective Sterling, or the equally useless but even less involved Mount, might have been a smart idea, especially given the number of crosses Trippier, Shaw and Philips got into the box.
For the penalties, I'd have gone with the England midfield/defence long before the dubious and/or inexperienced attacker. Philips, Rice (if he'd stayed on), Walker, Stones, Shaw (who probably produced England's best goal of the competition), even Pickford would have been better bets than the three who followed Maguire.
Conor McCourt
201
Posted 12/07/2021 at 16:04:12
I have a little different outlook to the majority on here as I freely admit to be cheering on the Italians last night. My reasons were not only because, as an Irishman, I didn't want to listen to your press for the next 40 years… but also I felt either the Italians or Spaniards deserved it on a purely footballing standpoint whereas England I felt benefitted from a favourable draw and a scandalous penalty decision against the Danes.
On this thread, many seem to be arguing the Italians were too good on the night, that England were in control for long periods, or that Southgate picked the wrong team or made the wrong choice in penalty takers. My take is different from all of the above.
I was very worried by the opening 15 minutes as I thought England were excellent and thoroughly deserved their lead with the full-backs central to everything and therefore Southgate fully vindicated with his tactics and selection. From then on, I felt Italy were in total control and their superior quality in midfield clearly evident with Verrati totally running the game. The equaliser was only a matter of when… not if.
If I were Southgate, however, after 80 minutes, I would have been ecstatic as they were still level in a game they had been second-best and I was amazed at what followed. With every Italian sub, I became more and more worried. From bossing the game, they looked out on their feet.
Off went real quality – starting with Barella, then Verrati, Insigne and then Chiesa… with Verrati going off the key tide-turner. Their replacements were all no better than journeymen and it was Mancini and the Italians who needed penalties in my opinion. I couldn't believe Southgate's negativity. This Italian team had run its course and were ripe to be torn apart by energy and dynamism with many of England's reserves arguably better than some starters, especially from an attacking sense. For me, Southgate couldn't have planned it better in his head and now all they had to do is let the handbrake off and become legends.
England got what they deserved and more importantly what they wanted. They wanted penalties. The respect he had for what became a very mediocre Italian team in extra time was mind-boggling. I would have gone 4-4-2 immediately in extra time, dropped Saka to left-back with only Rice (or Phillips) holding and Grealish central. Rashford left, Sancho right, Sterling and Kane up top.
The manager spoke of balance but the Italian threat and creativity were all sitting in the stands and the English now had all the talent at their disposal – a far cry from the beginning of the game.
This encounter was like a boxer who ran away from his stronger opponent for nine rounds, who had now punched himself out, amazingly deciding to continue running for the last three and putting fate into the lap of the Gods. Italy won. Football won.
Barry Rathbone
202
Posted 12/07/2021 at 16:14:42
There are insurmountable problems with the England team which virtually guarantee we will never win anything.
Firstly, fans demand a British style in domestic footy, meaning possession footy played by elite countries is a change for us, immediately putting us at a disadvantage once we play the top sides.
Secondly, we just don't produce quality footballers. We delude ourselves about a 'golden generation' and people like Kane and Sterling who rely on strength and pace rather than guile and skill.
England winning something is as likely as Greece winning the Euros again…
Kieran Kinsella
203
Posted 12/07/2021 at 16:19:29
Conor,
"I didn't want to listen to your press for the next 40 years."
There's no avoiding that fate, win, lose or draw. 35 years on from the Hand of God, we still hear about it. 25 years on from an ironic song about losing, we still hear about it.
David Pearl
204
Posted 12/07/2021 at 16:28:20
Brian, sorry l meant to include Pickford along with Maguire, Stones, Shaw and Walker. Those 5 had an excellent tournament in my opinion. Trippier did a job when called upon also. They lost control of the game and sat deeper and deeper. It could have been Everton we were watching.
Foden, Mount, Grealish, Sterling are all more than capable of playing a possesion based game. I had no problem with how they set up first half but, as soon as it needed to be tweaked, Southgate lost his bottle... and the penalties really highlighted how poor he was under pressure.
Anyway, now for Everton. What players will we sign before the Florida Cup?
David Currie
205
Posted 12/07/2021 at 16:48:04
Barry 202,
England have produced lots of good footballers; in the last 4 years, we have won the U17 and U20 World Cups. The National team have got to the Final of the Euros and to a World Cup Semi-Final.
We had the second youngest squad in the Euros so the future looks bright. The frustrating thing for me as a fan was that, in the second half, we did not attack them and kill the game off, because we did have the players to do it.
Also, I disagree about your opinion on Kane, he does not rely on strength and speed. He has guile and skill and is a fine goal scorer. Sterling also has guile, skill, pace and had a terrific tournament.
Jim Marray
206
Posted 12/07/2021 at 16:53:59
Grealish is Southgate's Owen, should have been brought on in the 60/65th minute to have reduced the defensive focus on Sterling and Kane.
The penalties discussions I have seen, however, all seem to overlook the fact that, in the modern international game, keepers study the most likely penalty takers to give themselves a chance. Apart from Rashford, Sancho and Saka are relatively unknown in the area of penalty taking so Southgate could well have been trying to gain an advantage by choosing them over others on the bench. Unfortunately dropping two of them into the fire right at the end was not good management in my view.
Mike Gaynes
207
Posted 12/07/2021 at 16:55:04
David #206, today's rumors have us in for Zouma and Saint-Maximin. Basically the same headlines from a year ago.
Tony Abrahams
208
Posted 12/07/2021 at 16:55:23
Good post, Conor,
I'm not sure how you saw the game differently, though; it was obvious that Southgate wasn't brave enough, which is what loads of people are saying I think, mate.
Also good points made by Barry, but I'd argue that England had better players on the bench rather than out on the pitch at times. They've still managed to get to the final, which is still a really good achievement, in arguably the hardest tournament in world football, even though they had a very favourable route to get there.
Football and life have been the real winners imo, though, because when football came home, life came back, in many different countries throughout Europe.
Dave Abrahams
209
Posted 12/07/2021 at 17:02:12
Tony (208),
I didn't think Southgate was brave enough either. Didn't he watch Italy when they played Switzerland and Spain? They visibly wilted when those two teams attacked Italy and relied on penalties to get through.
Maybe Southgate will learn for the next World Cup, although he never learned from the last one.
Michael Kenrick
210
Posted 12/07/2021 at 17:07:10
"Football and life have been the real winners imo, though, because when football came home, life came back, in many different countries throughout Europe."
Any chance you can explain that one, Tony? Did football come home? I don't think so…
And what exactly changed in these many different countries throughout Europe? Or are you doing your 'non-literal' thang again???
Paul Swan
211
Posted 12/07/2021 at 17:20:29
If it's true Pickford was next in line for a penalty in the shoot out, then he must have balls of steel. Fair play to the guy to be prepared to step up on that stage given the dog's abuse he has received for the attempted murder on St Virgil.
As for the vile scumbags abusing the players who missed, I hope they get named and shamed. There were many senior players not willing to take that responsibility last night.
Tony Abrahams
212
Posted 12/07/2021 at 17:23:04
Literal Mike, couldn't you comprehend that I was insinuating that football belongs to everyone?
And if you couldn't see the difference that having a crowd made, Michael, there really isn't nothing more to say.
Craig Walker
213
Posted 12/07/2021 at 17:23:33
On the coaching of kids, my late dad was great at getting my brother and I to play with a ball. He instilled my love of football and I still play each week at 47 years of age. I owe him the gratitude of being an Evertonian. I grew up watching the Brazil team in 82 as the first World Cup I can remember. England had Bryan Robson etc. and have had many good players down the years but it was the Brazil and France teams of 82 and 86 that inspired me. They seemed to be playing a different sport to our national team. I can hear my dad now talking about "not giving it away". About kicking with both feet. His words are still true in 2021 - when it matters, England surrender possession too easily. Whenever we face a better footballing nation, we revert to giving the ball away cheaply and then have discussions about kids' coaching.
My lad is now 10 but started playing when he was at school around 6 - we live in the Midlands now. A popular coaching scheme run by a local bloke was booked by the school to run after-school sessions. I was against my lad playing there because, I suspected and was proven right that there would be an emphasis on playing matches, scoring goals, winning games and getting the weekly man of the match award. I once went to see what they did after finishing work early. I saw a bunch of kids, running around, never further than 10 feet from the ball. Parents on the sideline telling them "to get stuck in". Each kid trying to run with it, then shoot. Not one of them got their head up, once. None of them could play with their head up. Nobody was in space. The coaches stood around, praising the bigger kids who looked the better players owing to their size then doling out the man of the match, invariably to the coach's nephew, each week. Not sure whether this is a measure of coaching in this country but it seemed a far cry from the coaching that I've read about at Ajax and Barcelona where kids are taught ball control etc. and how to play.
Youngsters need to learn how to play the game, not to be drilled in competing and winning meaningless trophies from the age of 5.
Jerome Shields
214
Posted 12/07/2021 at 17:25:28
Charles #200,
I agree doubling the centre-forward position with Calvert-Lewin and going full English in style with high balls and crosses would have made a big difference. Sterling was predictable.

Roger Helm
215
Posted 12/07/2021 at 17:30:30
It really was like watching Everton, get a narrow lead then defend deeper and deeper until you are in your penalty area, where any cute pass, lucky deflection or refereeing error can undo you. Unlike Everton, there was no need for it as there was enough pace in the defence to play a higher line. They were passing us to death in midfield, so get more bodies into midfield to cut off the angles. I said their goal was inevitable ten minutes before it arrived.
However, we didn't have the quality to deserve to win it, either with our players or the tactics (or lack of tactics). As usual, the continental side was technically better and mentally stronger.
Even our best players don't seem that comfortable on the ball. One holiday in a non-tourist area of Spain, our bedroom overlooked a local football club and their evening training session looked great - Kids of all ages and both sexes in small groups, doing drills and technical exercises with the ball, then 4- and 5-a-side games, all having a great time. A lot different from our kids' football matches.
Mike Gaynes
216
Posted 12/07/2021 at 17:40:44
From The Fiver:
And while the team that follows Southgate was coming to terms with defeat in the shell of Wembley Stadium, another team was setting fire, often literally, to whatever goodwill these footballers had created. It was storming Wembley, it was drowning town centres in seas of debris, filling A&E departments with the victims of senseless punch-ups, defacing murals, and then blaming it all on people who look different behind the anonymous cloak of social media abominations. Boris Johnson's subsequent criticism of online racial abuse on Monday morning was not great leadership, it was rank hypocrisy.
Michael Kenrick
217
Posted 12/07/2021 at 17:41:54
Football belongs to everyone? That's not what you said. You said "football came home". I say it did no such thing. But of course that's me being 'too literal'.
A crowd? What has that got to do with anything you said? No mention of a crowd...
And I ask again: What exactly changed in these many different countries throughout Europe? I'm really curious as I think I really must have missed something?
Tony Abrahams
219
Posted 12/07/2021 at 17:51:46
Seriously Michael, seeing is believing, (the crowd) and the way you dived in then, was quite embarrassing, but you carry on, but be careful because being so literal might just make you trip yourself up boss!

Tony Abrahams
220
Posted 12/07/2021 at 17:53:51
Football came home to many different countries, because football is the world's game.
Barry Robson
221
Posted 12/07/2021 at 17:54:02
Double disappointment for the horrible English media. Their beloved England lose the Euros Final and they don't have an excuse to blame Jordan Pickford for their beloved England losing the Euros Final.
That's a double delight for me. UTFT
Brent Stephens
222
Posted 12/07/2021 at 18:16:17
Tony #208, I agree with the sentiments you expressed. The world is getting its game back again, with crowds very gradually coming back.
I was at the Everton home game against Chelsea just before Xmas – there were only 1,500 fans there but being back even with just that small number was emotional. The bigger crowd at Wembley gave an even bigger buzz; almost half the population of England tuned in to the game; and I don't know what the numbers were across Europe.
Darren Hind
223
Posted 12/07/2021 at 18:17:06
Did football come home?
Well, it certainly came around to our house for a few weeks. This has been the best closed season for years. A triumph of a tournament.
I was slightly disappointed last night. Not the gut wrenching That's-my-week-fucked feeling you get when Everton lose, but I was a little saddened to see this group of players come up short... and I was sad to see the end of the tournament too.
I've loved seeing players (some of whom play right under our noses in the Premier League) really surprise me. I have really enjoyed the pride and passion of playing for their country.
Congratulations to Italy. If I was staying in Milan or Rome or Naples, I would have invited myself to their party.
Enter Rafa…
Tony Abrahams
224
Posted 12/07/2021 at 18:18:33
Man Utd pre-season game has been moved to a 12:45 kick-off, possibly because it will keep people off the ale, now the crowds are hopefully coming back to the game.
Danny O'Neill
225
Posted 12/07/2021 at 18:25:01
I stepped away for a bit.
Allan, Tony, from a very young age, we should be teaching young players to use their lesser foot. There are plenty of sessions you can use to introduce it. I taught myself simply by kicking a ball against a wall only allowing myself to use my wrong foot! If I could masquerade as a left sided central defender later in life, then I find it astonishing someone can get the highest level and not have the confidence to swing the left peg when they need to.
It is something coaches should pick up on though and spend time on. To the point.
Like all coaching of most things in life, it takes a bit of thought, a bit of patience and a bit of planning based on the teaching point. A coaching session should be phased and progressive based on the drill or skill you want to teach and draw out. Not just stick players on a pitch and tell them to play and shout at them. But always give 15 minutes "free style" at the end. You still have to let the kids enjoy it right?! But if you get the session right, the players will put into practice what they've just spent the last hour doing; without thinking or realising it. Thye've learned.
Dave @188, I spent 6 seasons coaching a team of mainly the same group of players at Hayes & Yeading. I took them from U11s through to U17s. It is absolutely rewarding to see them come good. Being in west London, they came from very diverse backgrounds, some of them very deprived and football was their escape. It was a joy to see them come together on a football pitch.
To see them bond as a team was as humbling as it was watching them develop as people just as much as they did as footballers. They had me nearly in tears when they gave me a send off before deploying to Afghanistan. On other occasions, watching them in my garden at Barbecues I hosted, made me proud. Lads from privileged, affluent backgrounds alongside west African boys who I had to personally pick up as they couldn't afford to travel and then pay for them in terms of fees and fines (yes the FA actually fine youth players for yellow and red cards - never liked that). All mates and together because of their connection through the beautiful game.
Did I succeed? I didn't produce a professional, but a couple ended up playing semi professional with the likes of Staines. One flirted with Watford and another had trials with Tottenham. But I like to think I taught them life values as well as help them enjoy the game of football that continues to give me so much enjoyment. Another who remains a close friend of my son, coaches as part of a scheme for under privileged kids in east London sponsored by West Ham and runs his own football foundation for kids out in Zambia.
My coaching days are behind me now. After all those years away, I'm waiting for my season ticket again. Mr's O'Neill doesn't read ToffeeWeb, so doesn't know my intent!!
Geoff Lambert
226
Posted 12/07/2021 at 18:26:25
Onwards and upwards… new season just around the corner.
I enjoyed the Euros. I thought Jordan was excellent. I wonder if there will be any incomings for us in the weeks ahead?
Okay, Raffa man, let's see what you've got.

Stan Schofield
227
Posted 12/07/2021 at 18:27:09
Barry@221:
Spot on. I have supported Everton for 59 years, and it's some time since I felt real intense pride in an Everton player. But Jordan Pickford has done that for me in this tournament, and also prior to that in the way he handled the pressure he's been under, especially the disgraceful treatment of him by broadcast and social media in the wake of the incident with Van Dijk. I believe he has shown incredible mental fortitude and maturity.
I'm not normally too bothered about how England do but, when Pickford pulled off that second save in the penalties, the feeling was just pure visceral joy and pride, and very emotional.
Jordan Pickford is brilliant, he's a hero, and he plays for Everton.
Barry Rathbone
228
Posted 12/07/2021 at 18:49:11
"Football coming home" is meaningless pap designed to potentially celebrate England winning the euros in the 90s and remind the world who invented the game. But of course we fucked up as per and have done ever since but being a catchy little number every man and his dog snaffled it (presumably the sentiment lost in translation) - even the Germans!!
Nothing has changed we still can't produce elite players, we still can't play possession football to match those brought up on it and hooligans not policed adequately go on the rampage and holler racist abuse.
Facts shatter media hype and gullible delusion I'm afraid.
Charles Brewer
229
Posted 12/07/2021 at 18:51:01
Stan, if Southgate hadn't made a series of catastrophic decisions, Jordan Pickford would be the man who won the competition for England. Saving two penalties in a penalty shootout – from decent shots – should be more than enough to win any match.
The only thing that could have improved would have been scores equal at 5 pens each, then Pickford – who was scheduled to be the next penalty taker – scoring from the 6th and saving the next one.
Allan Board
230
Posted 12/07/2021 at 18:52:06
Tony @183. You are so right! It does take an inordinate amount of time and patience to coach two-footed work with a ball. I had a great older brother who whilst technically good, didn't have that bit of nark I had and always asked me 'can you try that with your other foot? "' I'd have been 8 or so I suppose and because of the way he worded it, it didn't seem negative - if he'd said' can you try that with your weaker foot or your wrong foot'., I would have interpreted that as something being wrong with that foot and not be confident to try it. Looking back, what shrewd thinking from a lad who was only 17 at the time.
It helped me be near as damn it comfortable on both sides, but oddly it wasn't until I was much older, probably 30 before it was 2nd nature. I put this down to just being more relaxed about my football by then.
When my kids came along, they had a ball shape of some sort placed in front of them soon as they could walk. By the time they were 3 or so, it was in the back garden with a small soft ball, so as not to have to lash at a heavier ball, you caress a football not obliterate it! I just followed the same regime I had done with my brother and always stayed positive and praised their efforts the same for both feet. Both my kids are 2 footed now, so I know it can be done.
My only advice to coaches would be keep your nerve, keep it simple on instruction at under 6 and you can't praise enough.
Michael Kenrick
231
Posted 12/07/2021 at 18:54:20
"Football came home to many different countries, because football is the world's game."
Is that it? … you do talk some utter shite, Tony.
Football has always been there. It was there throughout the pandemic, once they started playing again... But, as I recall, you were one of many who didn't want it to "because people were still dying".
Sorry to burst your little bubble but it's really not that special. It's only a sport. There are many others. Nothing has really changed.
"Football's coming home" – if three words could jinx a nation. It's the entitlement exuding forth from so many in anticipation of expecting to win... and then pretending "we are all winners" when we fucking lost by being absolute cowards for most of the match and with 3 of our 5 penalties taken in a manner that even Darrren would normally be all over.
But don't let this glimpse of reality stop you being our little ray of sunshine, Tony.
Michael Kenrick
232
Posted 12/07/2021 at 18:57:30
Barry @228.
Now that's a post I can fully understand.
No non-literal word games and shite.
Just spot on the truth. Well said.
Dave Abrahams
233
Posted 12/07/2021 at 19:02:40
Danny (225), " Did I succeed ?" You asked yourself, well I've never met you, but I know you succeeded, just from reading your post, stating how you coached the young lads from eleven to seventeen years of age, seen them grow and mature as footballers and people, no bragging or boasting from you, just stating how it was, even how you stated the cost of coaching from your own pocket came across as a normal thing to do, as it is with many people who coach kids at boxing as well as football and keep them off the streets as well as learning them how to behave as responsible human beings, brilliant, you can't beat being nice to other people and you got your reward, which you didn't expect or want, I bet, with the send off they gave you when you went to serve your country.
I'll tell you Danny, those kids lives were all the better for meeting you and you got your real reward in seeing them growing up to become nice people themselves. Give yourself a pat on the back, well done.
Tony Abrahams
234
Posted 12/07/2021 at 19:04:17
I'm sure those fines were all the same standard price Danny, regardless of if you played professionally in the top league in England, or the lowest league in the country mate.
Craig's final paragraph @213, is exactly how I view quite a lot of kids football, because the kids who want to listen and "work really hard" are definitely in the minority, and football played the right way, is really hard work imo.
Hard work isn't easy to get the kids to do, such is the influence of a lot of parents, who make excuses for their children, and then you've got the kids who are not so lucky, because although nobody makes excuses for them, it's only because they have to do everything for themselves, which usually means life is already hard enough in a lot of cases, and is probably why you must have been like a real father figure to a few of those kids Danny👏👏

Mike Gaynes
235
Posted 12/07/2021 at 19:06:05
Danny, I wish there had been more coaches like you on the sidelines when I was reffing youth games.
Barry Rathbone
236
Posted 12/07/2021 at 19:12:05
Michael 232
I sometimes feel guilty speaking the unvarnished truth because in reality the game lives and breathes on myth and fantasy and people don't like it being pointed out. But watching hoodlums charge the barricades at Wembley with the accompanying racism over penalties maybe a dose of reality is needed.
Not holding my breath given the vested interest of English media frenzy.
Dave Abrahams
237
Posted 12/07/2021 at 19:22:28
Tony, take no notice of that wicked man @ (231),
You'll always be my little ray of sunshine, and you can take that literally!! I'll serve you in Michael.
Brian Harrison
238
Posted 12/07/2021 at 19:23:00
Mike Gaynes 216
I agree wholeheartedly with the sentiments that you took from the Fiver.
I have just looked through some footage posted on Twitter showing the scenes inside the stadium. It shows people being ejected into the concourse, but it shows people being kicked and hit and one Asian guy is pulled to the ground and kicked by 4 or 5 people. Seems this country can't celebrate anything unless they have consumed an inordinate amount of alcohol.
Just seen the scenes back in Italy of the players returning with the cup, no drunken louts to welcome them, just really happy football fans.
I see in tonight's press conference, Johnson is talking about applying to host the World Cup along with Ireland in 2030, let's hope Fifa have got more sense. The scenes in Leicester Square last night were appalling again, a mob of drunken yobs had littered the whole place with bottles and beer cans. How the rest of Europe and the World view this behaviour, I have no idea.
Stan Schofield
239
Posted 12/07/2021 at 19:24:46
Barry@228: In the late 60s and around the 70 World Cup, Everton played in a very un-British way, different from other British teams. We played the 'beautiful game' as it should be played, with intricate patterns through midfield, via the world's best midfield of Ball, Harvey and Kendall. It was an absolute pleasure to watch, and on a par with the great and much-vaunted Brazil side that won that World Cup.
As a teenager, I could never get my head round the fact that only Everton played like this. Leeds were a close second, but spoilt it by being cynical and dirty. I always thought, if the Brazilians can play lovely football, so can the British, and of course Everton provided evidence of it. But at the same time I knew it was to do with how kids are coached. I wasn't talented at footy, but wanted to be like Colin Harvey, so practiced for hours doing ball juggling and shooting and passing with my other foot. But when I played in teams and tried to do something 'fancy', I was told to get it up the field, long balls all the time. Fancy stuff wasn't tolerated.
I think things have improved since then, probably with exposure to skilled ball-players from other countries, but at the same time British football is still characterised by more direct play, and less intricate technicality. The England team has consistently shot itself in the foot by selecting technically less talented players.
I don't think things have been helped by the successes of Liverpool and Man Utd, teams that have consistently been more direct in their style. Shankley built an empire based on supreme fitness rather than fancy footwork, and that empire continues under Klopp. Perhaps if Everton had been more successful, and had dominated the 70s and beyond with our 'School of Science', British football would have been better technically, and England might have fared better?
Colin Glassar
240
Posted 12/07/2021 at 19:28:43
Can we now offer the job to Signor Mancini before it's too late?
Conor McCourt
241
Posted 12/07/2021 at 19:43:15
Tony@208- my point about viewing it differently was chiefly because I was looking at the game through Italian eyes and looking at how the game was going from their end rather than most who were taking the opposite view.
I feel many who were saying Southgate wasn't brave enough were speaking largely from the thirty minute mark and arguing that he wasn't proactive then. Personally I wouldn't be too critical at that point because Italy in my opinion were superior in all departments.
The game was reminiscent of the 2012 game in my mind where Pirlo and co were running Gerrard and the like ragged and for me Italy were operating on a different level. I felt Southgate and the English lads were just trying to hang in there and keep things tight as possible. I felt it was more reflective of Italian quality than England failing to be progressive and believed logically that Italy would go on to win 2-1.
However I was amazed at how Italy went from full to empty so quickly. Against Spain as Dave mentions was understandable because they were without the ball for so long. Here the ball seemed to be doing the work. My criticique of Southgate was from this point onwards only. I felt saying he should have changed things after 30 mins or different penalty takers wasn't where their chance of glory was lost. From my standpoint I could see why he couldn't afford to open up earlier due to the threat from the opponent, however in extra time that threat was gone and it was like he was defending against an imaginary threat as opposed to a real one. The game was there to be won from that point and an historic opportunity to be seized.
Don Alexander
242
Posted 12/07/2021 at 19:44:01
I doubt we'll ever have a better chance of winning one of the two international trophies than this year. We had a favourable group draw, home advantage again except against Ukraine, a sound defence and a squad stuffed full of vibrant ability with ball at feet.
Italy had two central defenders sharing over 70 years and in my opinion no great players, and just a few with the sort of vibrancy our bench had.
And yet....... the dreaded stats say we had one attempt on goal in two hours, taking the lead.
I'd bet the Italians would've paid to keep our brilliant-in-the-air centre-forward on the bench throughout the entire match, leaving those with an ability to cross to aim at Kane, with Slab'edd and the average-in-the-air Stones to join in on set pieces. What a waste.
And for what it's worth I fully agree with Tony A on players being one-footed throughout their years-long journey from child to adult amid our nationally mediocre coaching set-up, unlike the countries who win tournaments all over the world.
Chris Hockenhull
243
Posted 12/07/2021 at 19:44:02
Brian (238).
From experience in the 'field', I've seen the films etc and the big issue is the 30+ assholes who are pissed and coked up. That issue is screwing up Merseyside nite life week after week.
I've seen these "dads" in their "let's be lads" mobs causing absolute nightmares while wired on alcohol and bashed up "beak"… women too. It's not kids. They can't afford the £20 bag of crap and go for the also crapped mixed-up stuff. It's the older fuckers who can afford this and it's fuckin dangerous stuff….
I don't give a fuck what they do to themselves but these years on alcohol and the white shite think they are indistructable… and will twat the very life out of you and not have a clue what they are doing. I've seen the fuckers snorting the shite in the toilets at Goodison on many occasions. Yesterday was not …. sadly… a surprise.
Tony Abrahams
244
Posted 12/07/2021 at 19:55:02
That wicked man talks more shite than anyone, Dave, and if anyone doesn't see the sentiments of what I wrote in that last paragraph, considering how shite life has been since the lockdown, it's because they want to argue.
Michael, do a ToffeeWeb survey and ask if crowds being allowed into stadiums across Europe has been good for life and made watching the football more enjoyable, and we will see who talks the most shite.
Barry Rathbone
245
Posted 12/07/2021 at 20:01:27
Stan 239
Agree entirely.
I've said elsewhere I put the dumbing down of English football at the door of LFC with their graft over elegance success. And as you rightly say the ogre has returned with "run 'em hard, run 'em fast" Klopp, however, it must be said their recruitment over the years has been at a level we can only dream of.
Tony Abrahams
246
Posted 12/07/2021 at 20:03:34
Through Italian eyes is different, Conor, but I've just read that it might have been because a song jinxed a nation, although I'm sure that same song might have made you smile a few times today!
Christy Ring
247
Posted 12/07/2021 at 20:08:17
In my opinion, as an outsider looking in, from Day 1, Southgate was way too negative. He played two defensive midfielders in every game, and again last night he had only three offensive players in his team.
When either Rice or Phillips were substituted, he replaced them with Henderson, another defensive midfielder. All the young talent on the bench, and never given a chance. For two games, Calvert-Lewin didn't even make the bench, the only target man in the squad other than Kane.
Mancini didn't hesitate to take off his star players, while there was certain players who were never going to be subbed all through the tournament by Southgate.
Stan Schofield
248
Posted 12/07/2021 at 20:08:37
Barry @245:
True! It's an odd thought, given the level of Everton these days, that in 1970 the entire Everton side could have been the England team in Mexico and might have fared better than the actual England team with regard to World Cup success. From the then sublime to the current mediocre.
Colin Glassar
249
Posted 12/07/2021 at 20:10:26
Don 242, dead on mate. That was the chance. It will probably never happen again. The table was served and Southgate (not the players) bottled it.
I don't accept the "it's a young team that will come good in the future". That's not a given. Like their predecessors, eg, Keegan, Robson, Gazza, Beckham, Rooney, Gerard, Lampard etc… they are now losers. It will weigh on them like the players of the past and, unless they win the next World Cup, that weight will become heavier and heavier.
And for our owns sakes, let's ban "It's coming home". Skinner and Baddiel have lived off that shite song for over 30 years and it's won us fuck all!!!!
Kevin Molloy
250
Posted 12/07/2021 at 20:27:30
Dave 237.
God that made me laugh.
Derek Moore
251
Posted 12/07/2021 at 20:28:54
I understand the frustration by England fans with the apparent spurning of opportunities to finally breakthrough, both in this tournament and in Russia. But I still think the glass is very much more than half-full for the English national team.
England have finished in the final four in consecutive major tournaments for the first time in their history. Foden and the unfortunate Sancho won the U17 World Cup a mere 4 years ago and now they've both been part of the most successful English Euros campaign ever.
The womens national team has made consecutive World Cup semi-finals, and the U20s and U17s as mentioned have had historic success. The FA finally seem to be running a cohesive and high-level performance program that is yielding tangible results, across the board.
England just held the numerical edge in the penalty shoot out of a major final if you please! Yes, they sadly, criminally, unforgivably, stupidly, predictably, horribly, tamely let it slip. But you've got to get to the prom to find out you're not her type, as they say.
England failed to qualify at all for the finals of the 2008 Euro tournament in Italy – the wally in the brolly, you may recall. That was the catalyst for what has now been this, the most sustained period of success in the national team's long history.
There's a laundry list and a half of alleged deficiencies on this thread, minutely detailing the problems with the England team. The truth is, they just cruised to a major tournament final, with a very young team, and didn't even really ever extend themselves. This was after getting to a World Cup semi-final, with a youngish team that never really extended itself.
I think England supporters can expect more tournaments like this one in the short- and medium-term, to be honest. Many of this playing group have now been at the sharp end of tournament football for virtually all of their playing careers, and with most of them reasonably expecting to play most of their best football in the future. There's not really any reason for any England supporter to feel negative about the future, quite the opposite.
Your feelings on what happened the other night are an entirely different affair obviously. The whole point of working assiduously to receive opportunities like England just had is, of course, to seize them. I do get that. But I take the view this tournament will give this group both the confidence and desire to really seize the next opportunity they are given. This will make England even more difficult tournament fodder, I'd wager.
But maybe dump Southgate too, just in case.

Tony Abrahams
252
Posted 12/07/2021 at 20:31:16
I went to Wembley last Wednesday, Brian H, and thought it was a really good crowd. Chris H is correct about the snorting, which is something I can't get my head around, with regards to people watching football, but this white stuff seemed to be going up a lot of noses, because it's unfortunately the culture of modern-day England.
My mate and my sons went back yesterday. One of my lads phoned me and said it's totally different, it's horrible, and he couldn't even begin to understand why people carry on the way they were doing, saying it was full of absolute gobshites. He said today there was firms of little street gangs everywhere, and it just looked like they were trying to roll anyone who they felt they'd get away with rolling. My mate just said that Wembley was full of vultures, and he's a lad who has seen a lot of life.
But that's the reality of life sometimes, and experience had already taught me that yesterday was going to be like that, if England got to the final, and is exactly the reason I chose to go to the semi-final instead, and saw that little ray of sunshine that literal Mike must have been alluding to.
Jay Wood
[BRZ]
253
Posted 12/07/2021 at 20:47:08
Like others, I enjoyed Allan Board's contribution @ 160, although I don't agree that Italy had already started to take a grip of the game before half time.
For me England (and Southgate specifically) clearly bested Italy (and Mancini) in the 1st half. England's early goal was a summation of a perfectly executed tactical plan.
Yes, Italy had the best of the possession percentage, but it was England that controlled the game, playing it on their terms. Jordan only had one 'shot' on target all half, a dribbling effort on 46 minutes.
England's 3 centre backs kept better defensive shape than Italy by not being drawn out of position by the Italian forwards thanks to Rice and Phillips work in midfield. The defensive line was further bolstered by the wing backs Trippier and Shaw, who on the offensive - as perfectly demonstrated by the goal - found plenty of space down the flanks to exploit.
Both Kane and Sterling coming deepish confused the Italian defence and further made life difficult for them by their direct face-on running directly at them.
The result? In the 1st half England created far better openings than Italy with ALL players looking to play in team mates in behind the vacant spaces England's play has created in the Italian defence. The stats and actual play confirm this.
Trippier and Shaw's advanced play kept both Italian marauding full-backs 'honest' and at home, as well as forcing Italy's wide attackers Insigne and Chiesa to track back defensively. A further result of this was both attackers had to start their runs from deeper against TWO lines of English defence, far from the England goal rather than play on the shoulder of the last defender as they had done all tounament. Between them in the opening half the Italian pair had just three shots all from 30 plus yards and a mere three touches inside the English penalty area, easily dealt with.
All England had to do was repeat the performance of the 1st half for the rest of the game to not just see the game home, but in all likelihood add to their score. But of course, Mancini and his street-smart team were never going to go quietly into the night.
Ten minutes into the 2nd half Mancini had seen enough and switched out the anonymous Immobile and Barella for Beradi and Cristanti. As Allan wrote, Italy started squeezing the space between their defence and midfield which England had played through and around in the 1st half.
Southgate and his coaching staff and senior England players on the pitch did not react to this. Increasingly, ALL England's players started dropping deeper and deeper, ALL behind the ball, ALL the play in their defensive half. In truth, the only English player who visibly and audibly was shouting at his team mates to play further up the pitch was...Jordan Pickford.
No longer were Rice and Phillips winning the ball in Italy's half and setting up advanced counters. They were struggling to get a foot in just beyond the 'D' of their own penalty area. No longer were Kane, Sterling or Mount availabe in advanced positions between Italy's midfield and defensive lines. They were back behind the centre circle in their own defensive half, so no easy out ball.
England then facilitated Italy in their high press. Apparently, Kane had 24 touches in the first half of the game. Just 12 in the second half. And NONE all game - NONE! - in the Italian penalty area. In 120 minutes of football England's main striker didn't touch the ball ONCE in Italy's penalty area. That is seriously flawed.
Unlike some I have absolutely no issue with Kane playing from deep as he does. The vision, the accuaracy and the perfect weight of his crossfield pass into the path of Trippier for England's goal was testimony of the merit in him doing that. Trippier didn't even have to break stride or take a touch before putting in his cross for Shaw to score. But you also need to have Kane running onto balls from the flanks in the penalty area as he did to score earlier in the tournament. That didn't happen Sunday.
The turnabout was best illustrated in the 2nd half when you saw the soon-to-be 37-year-old Chiellini almost constantly playing 10-15 yards beyond the half way line with the 34-year-old Bonucci comfortably 'defending' the chicken coop alone.
Increasingly, again as Allan wrote, the game in the 2nd half was played on Italian terms, as the 1st half had been played on England's terms. With the introduction of Berardi together with Insigne and Chiesa their movement and interchanging of positions gave England's defenders problems they didn't face in the 1st half.
Southgate's 2nd half substitutions did not alleviate the growing momentum Italy gained. I see in some quarters that Jordan was blamed for 'only' pushing the original goal attempt against the post, thus keeping the ball alive. This ignores the England defence failing to adequately deal with the near post ball from the corner; Stones being the wrong side of Chiellini which enables the ball to get to Verratti who has got goalside of Mount. Verratti's header is valiantly defended by Jordan who gets really unlucky that it bounces back off the post to Bonucci who has ran straight past the flat-footed Maguire to force home the equaliser.
But let's blame Jordan, eh?
The equaliser came on 67 minutes. Three minutes later, Southgate made his 1st change. And it wasn't a good one. Saka for Trippier (who had continued to play well). The 19-year-old played well in earlier rounds, but even so, I don't understand how he was a starter ahead of the likes of Foden (under utilised for me after the first couple of games) and Grealish. Foden being absent yesterday hurt England a lot. He would have been an ideal 1st substitution. Saka never got up to pace with the game.
Another 4 minutes played and whilst I understand withdrawing Rice who had ran himself into the ground, replacing him with 'Hendo' would have got a big 'grazie' from Mancini, I'm sure.
In the final 5 minutes of normal time, the dangerous Insigne and Chiesa had ran their race and were replaced with the lesser Bernardeschi and Belotti. OK. Neither can win it in normal time, but with Italy's creative players withdrawn - followed by Verratti on 96 minutes - it SHOULD have been advantage England with FOUR subs still available to stretch and test an exhausted Italy.
Instead, Southgate's sole changed was 5 minutes before the half time in extra time, giving Grealish just 20 minutes to influence the game replacing Mount. Plus, of course, the 120 minute subs of Sancho and Rashford to take the pens.
Throw in that Jorginho should definitely have seen a straight red card for his awful challenge on Grealish, Jordan's heroics in the penalty shoot out and the unfair responsibility thrust on young shoulders thrown into the mix at the death, and Italy's margin of victory was very, very fine.
As was Donnarumma (unjustly, IMO) winning the player of the tournament award. If he truly merited the award, if England's penalty takers had done their job, then surely there was a case to be made that it would have been Jordan Pickford named as Player of the Tournament.
Fine margins, as I say.
Oh! And I have to add I can't agree with the sentiment expressed by some that England is incapable of, and does not, produce elite footballers. Yes they do. A semi-final appearance at the last WC and a final appearance at the Euros in the last 3 years is evidence of that.
The ingredient that is curiously missing, perhaps, is the one traditionally attributed to English football. Doggedness. Resilience. The ability to get through bad passages of play, keep yourself in the game, and win it when your overall play doesn't necessarily merit it.
That attribute more than anything else is what got Italy over the line yesterday, IMHO.
Kieran Kinsella
254
Posted 12/07/2021 at 20:50:01
England has always had violent mobs of hooligans. The idyllic world of Miss Marple was somewhat real but limited to smaller villages. I think you have to look at history for the reasons.
We had these violent barbarians roaming around here when the Romans showed up. Then the Picts who were so savage we built a wall to keep them out. The Danes, and Saxon marauders came over, raped, pillaged and took over by brutal force. Then the Vikings… then the Normans.
The people today are the descendants of a bunch of violent psychopaths from all over Europe. I imagine the nicer Vikings didn't want a ruckus so they stayed behind in Tronheim and evolved into today's socialist pacifists. The laid-back Normans stayed in France and became wine connoisseurs. All the nutjobs came over to England, although we helped export some to the USA and Australia.
Justin Doone
255
Posted 12/07/2021 at 20:58:44
Some good posts about youth football. In general, as a young lad and now a parent, the most important thing is enjoyment. This is true of any sport and life in general.
Then there's respect. Sadly lacking in many people of all ages.
Generally encouraging young kids to practice using both feet is hard in larger groups, possibly due to feeling embarrassed or simply not as fun. Small or one-on-one sessions of just 5 to 10 minutes practicing can quickly encourage them to keep it up.
But winning, no matter how, is always more fun than losing. So plans to concentrate on improving skills get overlooked for results. Bring in the big, strong, fast athletes.
We are all to blame in a way. But skills, passing, teamwork is far more encouraged than it was 20 years ago. It's a long journey but it's going in the right direction.
Andy Crooks
256
Posted 12/07/2021 at 21:09:31
A really good thread with some excellent analysis. I think, Jay, you make a good point about resilience. Italy were briefly being run ragged but they didn't panic. They made the necessary adjustments but most importantly they had patience. Their intricate passing and retention of the ball was superb.
If Ireland tried to play like that, I'd be screaming "For fuck's sake, shoot!" Supporters like me need some coaching too!
Kevin Prytherch
257
Posted 12/07/2021 at 21:26:47
I think one of the biggest issues with this England team is Harry Kane.
The Kane of 2 years ago would have been in the area a lot more, but Mourinho seems to have coached that strikers instinct out of him. He is still a brilliant player, but he drops too deep, thus taking the space where our attacking midfielders would usually exploit, hence Mounts ineffectiveness. A further result of this is when we have the ball in wide areas, we have no options in the box as Kane is still 5-10 yards outside the box and not making any kind of effort to get in there. Foden and Grealish look better for their clubs because they actually have someone in the box to finish their moves off.
If England persist with Kane, we need to sacrifice a midfielder for a second striker and let Kane play the way that Sheringham used to. I still think that Calvert-Lewin would be the perfect partner for Kane, Kane would drop deep, dictate some of the attacking play and arrive late into the box while DCL would be that target that is always there for the likes of Foden and Grealish.
Tony Abrahams
258
Posted 12/07/2021 at 21:39:49
Interesting point, Kevin, with my own thoughts being that England needed more pace coming in from the wider areas once it was obvious that Kane was going to keep drifting towards the ball. This effectively meant that England were also playing with the same false Number 9, which Southgate, said was a system Italy played with at times yesterday.
There's was different though, more considered imo, because they knew they were getting no change out of England's three centre-backs, so they just started getting more bodies out wide, and started attacking from a different area of the pitch.
Attacking seemed to become an afterthought for Southgate, even though, if he had done his homework, this was the only obvious way to play against a team that love to dictate the pace.
Barry Hesketh
259
Posted 12/07/2021 at 21:48:23
I don't know how old Theo Squires is, and to an extent, I can understand what he's trying to say, however, there is one huge omission in his article, which I'm sure many TW's will be able to work out for themselves.
He may, of course, be one of many that believe that the European ban can be laid firmly at the door of non-scousers who attended a fateful night in Brussels.
Jay Wood
[BRZ]
260
Posted 12/07/2021 at 21:55:45
Further to the debate about the Player of the Tournament award going to Donnarumma, here's a head scratcher for you. Rob Halligan from the goalies union in particular may enjoy this!
On UEFA's very own Euro 2020 site there is a page dedicated to the ranking of ALL the players at this year's tournament.
UEFA's Official Euro 2020 Player Rankings
THE top ranked player is Italy's Marco Verratti.
The top ranked goalkeeper across all teams at #12 is...Everton and England's Jordan Pickford.
Jordan Pickford Official Stats
Gianluigi Donnarumma is only ranked #85.
Both keepers played 7 games.
Jordan conceded just 2 goals to GD's 4.
JP had 5 clean sheets to GD's 3.
JP made 16 saves to GD's 9.
Both claimed the same number of balls - 27.
JP made 7 punches to GD's 6.
GD only bettered JP on pass accuracy 87% to 73%.
Even another keeper, Belgium's Thibaut Courtois at #63 is ranked higher than the Italian.
Hey-ho. Go figure.
Mike Gaynes
261
Posted 12/07/2021 at 22:06:21
GD only bettered JP on pass accuracy 87% to 73%.
And that statistic is deceptive because Donnarumma was mostly playing short balls out to his defenders under no particular pressure, while Picks was distributing to teammates 40-50 yards up the pitch and triggering attacks. Donnarumma's distribution beyond 20 yards was actually pretty crappy.
Barry Rathbone
262
Posted 12/07/2021 at 22:13:06
Kevin 257
Kane dropping deep seems a Southgate ploy he had him doing it in the last tournament (pre Jose at spurs) with the same "shagged out" by half time result.
Undoubtedly an effective finisher he's too bulky to be dashing backwards and forward from midfield and his limited ball control means a constant scrapping for possession when trying creative stuff in midfield.
He is like Gary Lineker one or two touches and a shot is his game anything more and he's a fish out of water. Southgate's biggest mistake was not spotting this in the last world cup.
What he could have done is play Dom in the first half for this sort of work then bring Kane on later when the opposition were tired. Bit of a nob'ead is Southgate
Don Alexander
263
Posted 12/07/2021 at 22:16:17
Jay (#260) I don't know if Dunnarunna has a penchant for assaulting lesser mortals (in the manner of our "hero"/thug coach) but standing as he does at 6'5" with shoulders made at Cammell Laird it might be that the awards committee decided to cover their arse and ignore the truth.
Jay Wood
[BRZ]
264
Posted 12/07/2021 at 22:19:41
Exactly Mike @ 261.
I didn't see any other keeper in the tournament other than JP attempt and consistently make telling and deliberately played long balls to team mates that a ball playing defender would be proud of, whereas GD's passing stats are inflated for the reasons you mention.
Hugh Jenkins
265
Posted 12/07/2021 at 22:43:35
Jay (260) - on the basis of that information the choice is farcical.
However, I have to ask the question - who chooses the "player of the tournament"?
The reason I ask is that whioslt those stats you quote are from UEFA, often the awarding of the accolades is passed out to the press group or some other unofficial body - who often, for unfathomable reasons, - do not go for the obvious, based on stats such as those you quote.
Ernie Baywood
266
Posted 12/07/2021 at 23:35:42
The English team's supporter group has people capable of racism, violence and anti social behaviour.
Guess who else does? Every single country in the world. During every minute of the day, 7 days a week.
I just read a post on here saying that they saw English violence on Twitter, then saw a scene of Italian celebrations with no drunkenness or violence.
That's not because the English are bad and all Italians are pure, it's because you're getting the 'news' you want and deserve. They are showing you what you wanted to see.
Not for one second will I defend or excuse those who racially abused our penalty takers on social media. But the actual media were pushing that story within minutes of the last kick. It wasn't because they became aware of it, it's because they went looking for it. A couple of dickheads post on Twitter and they have the story they wanted and that their followers will react to. Fake account names gain infamy and guess what? The racial abuse increases as more morons seek their 5 minutes of internet notoriety.
Today there are no stories of racism in other countries. And racism is posting pictures of monkeys on social media. It's not institutional, it's not a deep rooted problem that limits access to education, equality and opportunities. It's media clickbait because clicked links are what really matter.
Dealing with a few morons posting monkeys on a footballer's Twitter account is pretty easy. Find them, charge them. Don't give them the notoriety they are claiming. The bigger issue of media control is still at large. And I genuinely despair for our future.
Mike Jones
267
Posted 12/07/2021 at 23:55:02
Off topic but as this is a 'Merican website I love how the Southern Hicks pronounce vehicle ( ve ick el - on Merseyside). Confrontational enough for you Derek Thomas, Boys Pen Scal?
Don Alexander
268
Posted 12/07/2021 at 00:05:05
Ernie, you touch reality with your observations. The UK and the US have been way too heavily swayed these last few years by the likes of the demonic Steve Bannen's ability to shape many forms of media, and dangerously demented, self-serving sycophants like Trump and Johnson to boot.
Most mainstream media are treating us with disdain when it comes to analysis and reliability of events. They need the money from advertisers or, in the Beeb's case, government to even survive. They all therefore pander to the dollar/pound/rouble (yes, rouble) to endure. It's a helluva mess and I don't see a glimmer light that's gonna change things for the better I'm sad to say.
Still, it could be worse. Everton might appoint a past-it ex-Red manager to take control - hah-hah!

Peter Gorman
269
Posted 13/07/2021 at 00:22:15
Ernie - well said.
Derek Thomas
270
Posted 13/07/2021 at 00:34:05
Mike Jones @ 267; I refer the honourable gentleman to Queen Gertrude's opinion in Mr Shakespeare's Hamlet: act III; scene II.
And to his Henry V. act I: scene I; line I.
Pete Clarke
271
Posted 13/07/2021 at 01:56:27
It's almost laughable how England get done every time by smarter teams or by their own lack of smarts.
Both Chiellini and Jorginho should have had red cards. The England players made very little of these incidents and put zero pressure on the ref. If this were the Italians on the receiving end, then the theatrics would have drawn a world wide outcry and VAR for sure.
Southgate has a brilliant squad but only knows how to use half of it. He should have countered Mancini's changes and put the pressure on them but, just like other dinosaur managers, he hoped the strong defense would hold out.

Robert Workman
272
Posted 13/07/2021 at 05:43:48
When I was starting to play football in the late 50s, my father, for a time, would have a kick-about with me if I only used my left foot. This used to frustrare me, as I just wanted to smash goals past him (or over the wall into the neighbours garden), with my right foot.
Needless to say it paid off and, although I wasn't a great footballer, I did have one advantage over my purely right-footed friends (left leg just for standing). I also scored a few goals with my left foot, which became more accurate than my right thanks to my father's drilling.
Frank Wolfe
273
Posted 13/07/2021 at 06:29:44
Ernie (266) - Maybe the media do tend to sensationalise things and are always looking for an angle but that cannot disguise the fact that the behaviour of some (many?) English supporters has been disgraceful. Booing other teams anthems, attacking other supporters (not just italians, Danes in the previous game), trying to storm Wembley and attacking stewards, vandalising after the game etc. is unacceptable.
Colin Glassar
274
Posted 13/07/2021 at 07:46:09
Totally agree, Frank. We have a racist scum element that gets bolder by the day and need to be called out, and exposed, constantly. We can't afford to let our guard down and hide under 'whataboutism'.
England will never hold another major tournament until these louts are rooted out and neutralised. We embarrass ourselves with the booing, the boorish, jingoistic shite the media provide. I love my country just as much as anyone but these racist shits have no place in a modern, vibrant society.
Education. Education. Education. Death to fascism!!
Danny O'Neill
275
Posted 13/07/2021 at 07:53:12
Every nation and club has idiots. I think the Russians currently hold the English 80s mantle. But, I do agree, there is always a sinister side to the English football team support base. That's a collective stereotypical view. As always, sadly the vocal minority give the vast majority of good followers a tag and label.
Anyway, thanks for the kind words on the coaching stuff. We all do it for love of the game and to give young people a channel to learn, develop and express themselves. It brings together people who otherwise would never mix and realise they're not that different after all regardless of background. Football and other sports can be a leveller.
Don @242, good point on the Italian centre backs. We obsess about youth. "Young and hungry" is an often coined phrase on these pages. If there is one position outside of the keeper on the pitch where experience and a wise head comes into play, it is the centre backs. Give me a 30 year old established and experienced player to stand next to Ben Godfrey all day. Even in the modern game, a centre back can sustainably play at the top level into their mid 30s. And arguably, you won't see the best out of them until they hit 28 - 30.
Barry @245. Their recruitment strategy has mostly been impressive. Very interesting point about Klopp's philosophy though. How sustainable is it? I know that his last season at Dortmund wasn't the best. Eventually it runs out of steam; literally. It's like asking 100 / 200m sprinters to run a marathon in the context of several seasons.
Not jumping on the Euros bandwagon, but I do wish we'd have waited to see if Mancini was available. Hindsight wishful thinking and I suppose with a World Cup next year, he will be committed to Italy anyway.
Interesting view on Kane. That point by Kevin would suggest the reverse of what Ancelotti done with Calvert-Lewin in that he has been instructed to be less offensive and concentrate more on defensive aspects of his game and drop deeper.
Last point on width and 3 at the back. Great point on two counts. Like you Tony, I love width as it stretches the opposition and will eventually pull even the most Sean Dyche formation out of shape as they will have to come and get it at some point. I believe we are of a similar age, so grew up on it. On the defensive flip side, 3 at the back. Without the right players, it exposes the flanks to exploitation. Mancini spotted that.
Tony Abrahams
276
Posted 13/07/2021 at 08:19:14
Barry @362,
I know you always tell the truth, mate, so do you think Lineker could have helped create England's first goal in a similar way that Harry Kane did on Sunday night?
Totally different players imo, and most things England did well usually came from Harry Kane being involved the other night, although I agree he's too bulky to be constantly dashing backwards and forwards, and this definitely suited the Italians in the end, because England began to lose his presence further forward, the longer the game went on the other night.
Shows you the different mentalities across the board in football, because Duncan Ferguson dragged Moise Kean off when he wouldn't stay up front and play centre-forward, whilst Southgate refused the opportunity to replace some very tired players with fresher legs. This can only mean he's either conservative by nature, or he just didn't trust the players he had on the bench. That would obviously be a massive contradiction, considering he brought them on at the very end to go and take a penalty kick.
Pete Clarke
277
Posted 13/07/2021 at 08:30:34
Robert.
I went to St Joseph's junior school ( actually lived next door to it ) in Grosvenor St.
There was a headmaster there whose name was Bill Costigan and he had a nasty reputation.
He saw me kicking the ball against the school yard wall one day and ordered me to kick it with my left instead. I did so out of fear while he watched for 10 minutes or so.
Like yourself, I only played for pubs and stuff but nothing special and because I could play equally with both feet I always played left back or left midfield because these positions were not taken.
On the subject of the football supporters. I agree that England have a shocking element of drunken dickheads. They are not even fighters or hooligans but just pure wreckless drunks who embarrass the nation constantly.
The hooligan side of things is worldwide though and I remember being at a game at the Maracana in Rio one night. Flamingo were playing a team from Chile.
I went along hoping to get in somehow but didn't hang around for long after what I saw.
There was a mob of about 400 Flamengo supporters just smashing anyone in front of them including their own supporters taking anything valuable including clothes, trainees etc. The coppers actually shit themselves and just got out of the way. Luckily I was staying local and ran for my life.
They often fight between themselves because of drug rivalries and son in. Real crazy stuff.
Danny O'Neill
278
Posted 13/07/2021 at 08:35:39
Typically cautious approach from Southgate with trusted troops rather than being bold and going for the win.
Interesting call out on Linekar. For me, not the best footballer. Couldn't beat a player with the ball at his feet and I don't remember him being the best passer of the ball or having a great touch. Sound familiar to some of the criticisms aimed out our most recent 20 goal a season striker?
But, when we put the ball in behind the opposition defence, Linekar's pace and natural goal scoring instinct spoke for itself. Forwards are there to score goals, not tackle corner flags or track midfielders. Linekar's only season at Everton; 40 goals.
1985-86 was a change of tactic from Everton 84-85. Less easy on the eye in my opinion. Then to change again in 86-87 with the adversity of injury challenges demonstrated Howard Kendall's versatility as a coach and manager. Two league titles, a European Trophy, and FA Cup, a near miss on the double and two cup final runner's up appearances in 3 all too short seasons.
I don't want to make exact comparisons and not just because of the Leicester link. But there are parallels between Linekar and Vardy I think?? Vardy is probably more aggressive and tenacious. Linekar was a bit "nicer". But it was all about leveraging the pace and finishing ability by getting the ball behind the defence.
Mark Louch
279
Posted 13/07/2021 at 09:08:08
Colin (274).
100% agree, we all need to call out the mindless minority; booing national anthems, storming ticket points, social media abuse and defacing murals has no place in a modern society.
Shamefully, they have been encouraged by the mealy-mouthed words of Johnson, Patel and others.
We are not alone in Europe in having this problem but we have to clean our own house first.
Re the footy: I think as a squad, led by a very impressive Southgate, they represented our country really well.
We got what we deserved, a place in the very late stages but Italy were the best team in it.
Pickford showed that he is one of the best in Europe and he is maturing rapidly.
Dave Abrahams
280
Posted 13/07/2021 at 09:24:52
Peter (277),
Was St Joseph's also known as Bishop Gosp? I moved to Chaucer Street in the late fifties when the area was changing, old houses demolished and new, mainly flats, introduced, I went to Netherfield Road RC school, better known as The Friary, the Friary church, St.= Mary of the Angels in Fox Street was very close to St Joseph's parish, both relatively small parishes with plenty of lively characters in a very lively area.
Andrew Clare
281
Posted 13/07/2021 at 09:35:08
Colin# 274,
I am with you. Education is so important not just the three R's but life education – the way you should comport yourself, respect for others, how to appreciate the arts and the good things in life.
How to be a good person.
Andy Crooks
282
Posted 13/07/2021 at 09:58:01
Frankly, I find the idea of having a national anthem and playing it before a football match even more strange. However, if they must be played then I consider myself open minded enough to boo both of them.
Danny O'Neill
283
Posted 13/07/2021 at 10:03:51
In fairness Andy, on the international stage, the players are representing their nations.
But on the national anthem thing, England could well do with having its own, not borrowing that of the UK.
George McKane
284
Posted 13/07/2021 at 10:36:13
Dave - lovely memories - The Friary was my Mums last Parish - we lived in The Brow for a few years - I am a St.Ollies/Daisy Street/Cardinal Godfrey scallywag - seeing Ruperts Tower everyday was special - walking to Goodison with mates - those were the days indeed - God Bless AnneMcKane/MaJoad - and everyone - "you can't please everyone so just please yourself" - take care and keep cosmic.
Ernie Baywood
285
Posted 13/07/2021 at 10:46:45
Frank 273 - no disagreement from me. There's an element of England's support that does those things.
But I suspect they're shocking people outside of football too... racist, disrespectful, violent, pack animal drunks.
So why do they attach themselves to England in such numbers? It's either the team that makes them that way, or they are simply representative of the population, or they are an over-representation of the worst elements of the population.
My question is... if you're a racist, disrespectful, violent, pack animal drunk... what have you seen recently that might provide you with a vehicle for your worst tendencies?
When the media make a big deal out of a handful of dickheads on Twitter, as they regularly do, they're promoting their cause. For an event that is illegal but barely newsworthy. And the worst bit is that they know they're doing it. They're deliberately appealing to extreme views to get a reaction, because that's what gets people on their site.
Ernie Baywood
286
Posted 13/07/2021 at 10:48:18
I couldn't care less if someone boos an anthem. I'd never do it, I'd prefer people didn't do it, but it's not a big deal. I think that's going looking for things to be outraged about.
Danny O'Neill
287
Posted 13/07/2021 at 11:01:42
Very good point, Ernie. Don't give a voice to the overly vocal minority.
I'm not one for burying my head in the sand or ignoring genuine problems, but sometimes when you overly report on what a few dickheads do, it overrides how the vast majority of us actually behave and act.
Giving it the limelight may, in the media's eyes, be seen to be highlighting a problem. But my mother's tactic of ignoring me when I was being a dick was often more effective in teaching me right from wrong. As well as the odd backhander.
I'm not promoting ignorance, but like you say, don't rise to he bait. Ignore ignorance and they don't get their platform. Promote tolerance and debate. I blame the BBC and we all pay for them!!
Pete Clarke
289
Posted 13/07/2021 at 11:46:19
Dave.
My Mam had the Denbigh Castle pub next door to the rear entrance of the school in Cazneau Street. Bishop Goss was actually the name of the infant section of the school.
The pub (solicitors for the past few years) and the school got bowled over recently to make way for what will be the new Police station.
We all went to school there and then onto St Greg's before me Mam gave the pub up in 1977 and we moved up to Sparrow Hall. Funny enough, we would often go to the Friary if St Joseph's was chocker.

Kev Jones
290
Posted 13/07/2021 at 12:13:54
Mark #279 Colin #274
Totally agree! Southgate and the players have been brilliant in calling racist behaviour out.
I only wish Southgate had got the team to be so direct in attack as you too are in your posts!
Danny O'Neill
291
Posted 13/07/2021 at 12:55:08
And Marxism Colin, not just Facists. Extremists are extremist either end of the political spectrum. Ironically, extreme left and extreme right don't realise how much they have in common. They polarise, target and victimise people they don't like and who's opinions they want to shout down..Both of them.
Tolerance and understanding of different views is my view. In football and in life.Most of us are tolerant normal people who respect that and do not like discrimination of any kind..
Kevin Prytherch
292
Posted 13/07/2021 at 14:25:55
Ernie, Danny - it's like any bully, they want a reaction. If they don't get a reaction, they'll give up or go somewhere they can get one.
The media and police would be far better off not reporting this, but working with social media companies and making a big deal about it when the perpetrators are caught. Imagine if the posters didn't get any coverage for the comments, but their faces were plastered all over the media weeks later once they were caught, anyone else would think twice in future. That would be more of a deterrent than anything currently in the media. By making a song and dance about the comments, they are giving them exactly what they want.
Andrew Ellams
293
Posted 13/07/2021 at 14:30:59
The company I work for has sent an all employee email out today on zero tolerance to racial abuse as they have received information that employee is one of those revolting people from Sunday night.
Not sure if it's even anybody in the UK and we are a large company (70,000+ employees) but it does make it that bit more real.
Brian Harrison
294
Posted 13/07/2021 at 15:06:01
When we have a Prime Minister who quite casually tosses out racial comments, and a Home Secretary who thinks it's okay to boo England players taking the knee against racism. Then why is anybody surprised that black players were racially abused after the game on Sunday?
John Barnes was interviewed a few weeks back about racism and he said wait till a black player misses a goal or misses a penalty and then you will see if racism is still relevant.
Mind as our US posters will be even more aware that racism is on the rise in some countries, or at best it's still the same as it's always been, just that it's not as openly portrayed as it used to be.
As for the likes of the main media sites, they will pay lip service to taking down racial comments, but all they need to do is expose the people who use their sites to publish these things.
Andy Crooks
295
Posted 13/07/2021 at 16:21:22
I don't use Twitter or Facebook so maybe someone could tell me. If someone is banned, can they not just create another fictitious account and start again? Kevin @ 292, that seems sensible.
Also, I think if I was booed for taking the knee, I would do it after the match as well as before, because it obviously still needs doing.
Jay Wood
[BRZ]
296
Posted 13/07/2021 at 17:18:14
Hmmm...curious suggestions that an effective way to combat racism is for the media not to report it.
Thankfully, that doesn't happen. I like the fact that the taking of the knee continues and causes some such discomfort that they boo it. It means the conversation continues and the issue isn't swept under the carpet and ignored. Genuinely, if I sat at a live footy game and someone near me booed I'd be curious in a polite way and ask them why they were booing.
Tyrone Mings has come out today criticising the UK's Home Secretary for her evident hypocisy in describing, at the start of the tournament, that the taking of the knee by the England team was 'gesture politics', then yesterday being 'disgusted' at the racial abuse directed at 3 young black men representing their country.
It's worth checking out the BBC piece for two embedded videos it contains.
Tyrone Mings Rebukes Home Secretary
In the first of the embedded videos, it shows a 'good feel' story of how the community rallied around to cover the racial abuse graffitied over a distinctive wall mural to local boy, Marcus Rashford. Loads of positive, proud and loving messages to Marcus which blotted out the minority racist view. The street artist has already restored the mural to its former glory.
In the second video to young lower-league professional black footballers are interviewed. Like many others on Sunday one of them was out with his mates, viewing the game. When the penalties went tits up with 3 failures by 3 more young black men, one of them mentioned how he and his mates first thought was: 'we need to get out of here and get home safely.'
Are these the sorts of stories on racism and what non-caucasian people live with daily that the meedjah should suppress..?
Not for me they aren't. I take delight if such coverage causes 'discomfort' to others in the same way that the continued taking of the knee does.
Dale Self
297
Posted 13/07/2021 at 17:37:41
Then let's give them all the attention they want, fully identified and "owning" it all. You see, some of us believe that this is all a bit theatre and they're trying to be intimidating in some sad way without the numbers to pull it off. Don't look away, do something in response with eye contact preferably.
Dave Abrahams
298
Posted 13/07/2021 at 17:51:25
No way should black players be abused because of the colour of their skin but I'm curious why they have thousands of "followers" on these sites, do they earn money from it? Why do they court publicity? I am being honest, don't have a clue about these sites, not trying to be funny or anything.
The only site I go on is ToffeeeWeb and I go on it to exchange views with other Everton supporters, not abuse other fans, and I learn lots of interesting things about lots of subjects, get plenty of laughs and enjoy the site nearly every day.
If I was famous, I doubt very much I'd be on any site, that's why I'm asking why do they use these sites – famous people that is?
Kieran Kinsella
299
Posted 13/07/2021 at 17:59:46
Dave
Money. They get cash when people click adds they get money for showing off branded goods etc
Michael Lynch
300
Posted 13/07/2021 at 18:10:19
I'm not sure why it's hypocrisy to describe footballers taking the knee in the UK as "gesture politics" and subsequently voice disgust at someone who posts a banana emoji tweet to a black footballer. Do you mean that anyone who believes the former, can't deplore the latter? Sounds a bit reductive to me.
Personally, I think the issue is broader than racism. It relates to online bullying of all types. Someone should be able to have a social media presence without being trolled, whether its for the colour of their skin, or anything else.
Jay Wood
[BRZ]
301
Posted 13/07/2021 at 18:11:45
In answer to you question about why famous people do social media, read and weep, Dave.
CR7 Paid $1.6 MILLION Per Instagram Post
You need to work a deal with Michael and Lyndon, Dave. They're getting all your wisdom on the cheap!
Barry Rathbone
302
Posted 13/07/2021 at 18:14:35
Tony Abrahams 276
Sorry for the delay in answering had a real busy one today.
Regarding the Kane and Lineker question may I answer by saying I would rather the ball be at Kane's feet OUTSIDE the box but at Lineker's tootsies INSIDE. Shit answer I know but how to definitively answer a hypothetical??
Was it Southall or Ratcliffe who said Everton went long when Lineker played because they didn't want him trying stuff he couldn't do ie play football. Therein lies my point about English players - they are lacking as all round footballers leaving them exposed at elite level. Cruyff put Lineker on the wing at Barca to get him out the way
But George Best nailed it when describing an English icon held up as the greatest of a generation by some - David Beckham
"He cannot kick with his left foot, he cannot head a ball, he cannot tackle and he doesn't score many goals. Apart from that, he's all right."
We just don't produce top quality players simple as that
Danny O'Neill
303
Posted 13/07/2021 at 18:18:36
It's not about ignoring. I just think sometimes there is a case for creating more of an issue than there actually is.
Personally, I believe the UK to be one of the most tolerant societies I have lived in and experienced. And I've experienced some terribly intolerant ones.
Can we get better? Of course we can. No, don't ignore intolerance, but equally, don't give attention to a shouty vocal minority who thrive off said attention. In that sense, yes, ignore them. They are a minority who don't represent the majority.
I think Michael Lynch makes a valid point. It's broader than racism.
Dave Abrahams
304
Posted 13/07/2021 at 19:12:20
Kieran (299) and Jay (301) thanks for your replies: Ah money, well at least they are getting something out of it, and in the case of the really big stars I suppose it's worth it, most of them have thick skins anyway, mind you I would rather have peace of mind rather than indulge these sites and leave myself wide open to the many nutcases out there.
Kevin Prytherch
305
Posted 13/07/2021 at 19:18:14
Michael is absolutely right in terms of online bullying and social media. Whatever any of us think about the merits of highlighting racism or not giving it the attention it's seeking, it should not be so easy to create an anonymous account with a VPN and post this crap. Social media companies need to be held to account in one way or another.
Could they prevent people from posting for 48 hours after creating an account? It might stop some of these pricks who undoubtedly created an account purely to post one message.
Could they insist on ID to create an account so they can be traced back? If it works for online bookies having to verify people by ID why can't it work for social media.
Unfortunately a lot of these will be keyboard warriors who wouldn't dare say any of this to peoples faces, they just get off on their tweet being in the press.
Dale Self
306
Posted 13/07/2021 at 19:33:42
There seems to be some wordplay that doesn't quite hit the right note. We aren't giving attention to racism, we are opposing it in every move. We don't care if it is part of something larger, we're fighting that part. If this is a bit uncomfortable put yourself in the victims of racism's shoes. From what I'm reading they are okay with the overall approach. It isn't clear what the actual objection to outing racists and fighting them is.
Tony Abrahams
307
Posted 13/07/2021 at 19:50:49
Can't argue with that Barry, although I do think it's gradually changing, which is something Gareth Southgate also needs to learn to do, if he's going to get the best out of some very talented young footballers imo, mate.
Kieran Kinsella
308
Posted 13/07/2021 at 20:07:15
Kevin
Funnily enough former RS David James made some very reasonable similar points IMO today. He said in his day, you got bags of mail with abusive letters from fans. He never expected the post office to prescreen them so he doesn't think we should solely rely on FB, Twitter etc doing the same. But he did suggest having some kind of ID verification as optional. If your account is ID validated, then you could interact with whoever. If it isn't then you couldn't so therefore you couldn't anonymously tag Rashford etc with abuse. Sounds pretty reasonable to me. Full proof? No, you'll always have hackers and even "pranksters" posting on their friends accounts etc but it would be a step in the right direction.
Kieran Kinsella
309
Posted 13/07/2021 at 20:11:22
Danny/Michael
I get your points. But, don't entirely agree in this instance. I'd say not giving press to problems does avoid things like copycat attacks, it helps reduce the chances of psychos glorifying other school shooters etc and trying to emulate them. But in this case what we have is people who by day are estate agents, PTA Dads etc but on the sly are odious racists. I say, shame them.
On the cyber-bullying, yes it's a bigger issues certainly, I totally agree. But here we have another broader issue overlapping with it: racism. So, where the two issues intertwine, I would say it deserves more attention.
David Pearl
310
Posted 13/07/2021 at 20:24:16
Racism is a problem in society not sports. If a white player missed a penalty he would also have gotten abuse on social media.
I received racist abuse growing up but l didn't need that experience to know it's wrong.
Taking the knee, l am torn. The minority it's actually aimed at won't be changed by anything other than public shaming and stricter punishment.
Barry, how would you like Lineker in our team now? I think the state of the pitches kids play on has an effect on skill levels but the biggest change is the weight of the balls.
Barry Rathbone
311
Posted 13/07/2021 at 20:59:33
The danger with the over use of political gestures is how fast it becomes tokenism and loses the original impact.
Taking the knee has now fallen into that trap with none to subtle inferences that people MUST comply or be labelled racist a notion as mindless as racism itself.
DO NOT provide your enemy with a flag to rally around which is the present state of taking the knee.
No wonder Zaha, Les Ferdinand and John Barnes amongst others are calling it an "empty gesture".
It needs stopping NOW!!
Phil (Kelsall) Roberts
312
Posted 13/07/2021 at 21:08:54
So what is worse - or which gets the most coverage.
Idiots and Low lifes hiding behind the anonymity of a Social Media profile writing racist abuse at people of their own nation who happen to have a different skin colour
OR
Idiots and Low lifes who physically kick and beat people of roughly the same skin colour but are from a different nation.
Not sure which shames our nation more.
There are times when I wish I was 20 years younger and could afford to spend 3 years living in Sweden and get Swedish nationality because of my wife. Then I would never have to admit being English.

Jay Woods [LAT]
313
Posted 13/07/2021 at 21:41:43
Sweden is one of the worst leftarded, lawless hellholes this side of Mars. I can see why some Evertonians would regard it as paradise.
Colin Glassar
314
Posted 13/07/2021 at 21:46:53
Our resident blackshirt is back.
Danny O'Neill
315
Posted 13/07/2021 at 22:15:59
That's fair comment Kieran @309.
Personally and through personal experience, I've always believed in equality. So I treat everyone equal in the sense of true equality.
I took immense pride in coaching football teams with players from very diverse backgrounds. White privileged lads, white lads from similar estates to Speke (West Drayton for those who know west London), British Asians and west African boys who's parent are the strictest I've ever known! If they didn't perform at school, I would have to plead with them to let them play on a weekend and promise I'd sort them out!
It's not about ignoring a problem, It's more not making a problem bigger than it is in my personal experience and opinion.
I say this having lived in London since 2005 where the white percentage of the population hovers around the 60% mark. As opposed to Liverpool, where I was born and lived and it is more in the 90% plus mark.
We don't and shouldn't ignore intolerance. But at the same time, don't make it out to be something it isn't. I live in a multi cultural area where the is nothing other than tolerance. The BBC would have you think otherwise.
Aidan Baker
316
Posted 13/07/2021 at 22:42:25
I have waited a little before making comment on this match.
Having lived nearly 50% of my life in Italy (having married a Sardinian girl) and 50% in England, I looked at this game as a win-win, as the better side would prevail and I wanted to be entertained. Yes, my family in the UK wound me up and some Italian friends and family sort to make digs sending me messages well into the night after the match but it was all good humoured stuff.
I've always thought that reading both sides' press gives you a better, more rounded view. In the build-up to the match, there was a common belief in Italy that England would have an advantage of playing at home and the Italian team would have to play with a mentality of blocking out and counteracting the opposition and its support. This was clearly visible in the reaction of Bonucci after his goal and his comments after the final whistle about the English having to continue eating pasta.
Much had been made of the English belief in fair play but the Italians were annoyed at the booing of the Inno di Mameli (the Italian National Anthem), which they sing with gusto, and at the gestures of some English fans. Attacks on Italians after the game have also been reported in the media here. There was also a belief that the English song 'Football's Coming Home' was a stupid provocation as any Italian could tell you that football started life in Florence in the middle ages and not in England (https://en.wikipedia.org/wiki/Calcio_Fiorentino).
(Actually I was born in Chester and there is evidence that football was played between the city walls of the city in the Middle Aages, so whether Florence was before Chester or Chester before Florence… it doesn't matter and nobody should be worried. The rules of Association Football were written by the Victorians and the oldest club in Italy, Genoa Football and Cricket Club, and then Milan, were founded by British merchants.) All this said, it irked the Italians who held banners up at Wembley that they had 4 stars on their shirt to England's one.
Comments about Italians playacting (the video of Immobile on the BBC) was shown but Italian TV, while accepting the non-sporting behaviour of their forward, showed examples of Sterling going down very easily on a few occasions, including the penalty against Denmark, which they implied was soft. They indicated that the English press viewed foreign teams in one manner and their own Three Lions in another.
England started the game very well and had Italy on the ropes for the first 30 minutes. The Italian commentary were captivated by the ability of Kane, Sterling and (the surprise) Rice who possibly had his best game in an England shirt until he went off in the second half. Arguably the removal of him and the excellent Chiesa for Italy changed the nature of the game and meant that penalties were inevitable.
Ironically it was England who were setup like Italy and Italy more open like a typical England team. England have used their defence as a shield and have mainly attacked on the counter, as a typical Italian team would do (Catenaccio). Mancini doesn't play that way in part because of an elderly backline, in part because the players he has available are better as attackers than defenders. That said he lost his two attacking fullbacks – Florenzi in the first game and Spinazzola in the Quarter-Final.
Having watched Italy under Mancini for the last 3 years, I have seen how Insigne and Spinazzola have a natural chemistry which reminds me of Baines and Pienaar for Everton. Without Spinazzola, Insigne was not as productive as he had no one to run beyond him and provide him with the space to cut inside from the left.
However, even without the full-backs, it was clear that England's traditional back 4 had problems with Italy and their team sunk deeper and deeper (like Everton). Mancini took off a centre-forward (Immobile) but didn't automatically replace him with another centre forward, eg, Belotti, meaning that Stones and Maguire were facing much smaller but more technical players in front of them and in trying to help Phillips and Henderson were often getting in the way.
A lack of possession for long periods and a back line who were often missing tackles put England on edge and they eventually buckled. Mancini was showing up the same weakness in the English defence that he had seen with the Belgians earlier. Yes, Italy's defence were also having problems but not as much because Kane was basically playing in midfield.
Though one could argue whether Southgate started with the best eleven, he got most of his substitutes right until the last few minutes. Pickford, who the Italian press regarded as a weak link before the game, showed himself to be up to the task and his two saves in the penalty shoot-out were seen well but overshadowed by the agility of Donnarumma, who is probably the best keeper in world football and still only 22.
At the end, there was further criticism of the English players for taking off their medals straight away. This was seen by the Italians as poor sportsmanship and a reluctance to accept the defeat. Actually, an Italian friend pointed out to me that Totti and his Roma companions did the same thing in a Coppa Italia Final a few years ago.
It was also reported that Prince William snubbed the Italian President Matterella but again I think this was conjuncture as William is clearly seen on video trying to get to Matterella who is surrounded by his guests.
The racial comments of fans towards players has also been shown in the press with comments such as England are a good team with crap fans. There is also the belief that the 2030 World Cup will not be awarded to England... so BMD won't be needed any time soon.
Basically it was a great tournament and shows that, 3 years after the World Cup in Russia, football has moved on. England have got a step closer with a young squad and Italy, who failed to qualify for Russia, are back. Also the Azzurri were missing a few of their young stars through injury – Zaniolo, Tonali and Pellegrini.
Ironically as I mentioned in a previous post the Daily Telegraph before the tournament compared each country to a Premier League team. ....
If ITALY were an English team they would be…
Everton. Aristocrats of the game with a glorious past and too many recent mis-steps.
Hopefully a good omen from one set of Azzurri to another.
David Pearl
317
Posted 13/07/2021 at 23:01:17
Danny, depends where you live and its community spirit. Whether its grown naturally or been forced. I had a kitchen installer that worked for me in Toronto, who was Polish, who moved over from London and held resentment for the Romanians who moved in to London and took all there jobs. Which is quite funny in a way. Majority of people are nice, with values but on both sides there are groups that ruin it for the rest of us. We don't live in a perfect world. We all knew what the headlines would be the next morning. But that minority of idiots don't half get a lot of publicity
David Pearl
318
Posted 13/07/2021 at 23:06:44
Aiden, interesting stuff. Thanks for that
Jay Wood
[BRZ]
319
Posted 13/07/2021 at 23:08:24
Most educational how some are interpreting and applying the words
'Gesture Politics
' to the England national team and the Premier League taking the knee before kick-off.
A quick timeline recap. Taking the knee pre-dates the murder of George Floyd and how that was taken up by the Black Life Matters movement in first the US and very rapidly globally. It started 5 years ago with the American footballer Colin Kaepernick choosing to kneel before games at the playing of the US national anthem. An individual and discreet silent protest intended to call attention to the issues of racial inequality and police brutality. He has endured extreme persecution as a result.
The practice in the Premier League started in June last year when the delayed fixtures were completed. It is NOT a political statement. It is quite simply a body of professional sports people of an extremely diverse ethic and national mix presenting a united front in quietly and discreetly opposing the perversities of racism. Just like Colin Kaepernick did. The English national team also opted to take the knee.
Ahead of the Euros in two friendly games, some fans booed their own national team for taking the knee. Following this, the UK's Home Secretary, Priti Patel, scoffed at what she described as 'gesture politics'. She considered that: 'football fans had a right to boo the England team for taking the knee in protest at racism' because 'the anti-racism protest is associated with the Black Lives Matter movement and amounted to gesture politics.'
Less we forget, the role of the UK Home Secretary is primarily concerned with immigration, policing and keeping the country safe.
Prime Minister Boris Johnson just hours later refused to condemn either Priti Patel or the fans that booed taking the knee. He used similar language as Patel, saying 'I want to see fans cheering and not booing. I am more focused on action than on gestures.'
By contrast, the England manager, Gareth Southgate, his players and the Football Association all made clear at the time that the team decided to take the knee FOR EACH OTHER rather than expressing support for any political organisation or ideology, as implied by Patel and Johnson.
In essence then, the players take the knee as an out-and-out gesture against racism and in support of each other. It was the politicians that very explicitly labelled it political and associated it with the BLM movement. Not the players, the clubs, nor the governing body.
The very phrase 'gestural politics' as used by Patel and Johnson scoffs and sneers and dismisses what is a very passive, very brief and very discreet demonstration of unity by young adults who personally, or have team mates that, continue to be the direct targets of grotesque racism.
Quoting single examples of footballers and clubs that no longer take the knee whilst the overwhelming majority of footballers and clubs continue to do so is a very poor basis to claim the practise should now stop. Says who, and why?
Personally, I have no qualms that some fans choose to boo taking the knee. I don't assume that automatically labels them as racist. You can only discover why some are booing by asking them. And as far as I am aware, there has been no study into that.
For me, taking the knee is working as time and again it gets discussed in pubs, homes, places of study, worship, the workplace and on social media. The discussion is a very open one. And that, seemingly, makes it very uncomfortable for those who would rather not have such exposure on the subject of racism. That would not necessarily be the case if there was no taking the knee.
As for the line used by a couple of posters that 'the problem is broader than racism'. I rather think that the issue of racism is quite a broad one in its own right, don't you?
Ernie Baywood
320
Posted 13/07/2021 at 23:22:31
Just to be clear, I'm not advocating sweeping racism under the carpet.
I'm alleging that the media go shaking carpets trying to find a couple of instances, which then gives others the motivation to emerge.
Education is the long term solution to racism. And it's amazing to see what has been achieved in just a few generations.
Shorter term I agree that racism needs to be called out where it is happening.
But I don't think that's what the media is doing. They weren't looking to out racists and improve anything, they were looking to out football fans based on racist posts by a few people. Which then generates more posts. And more outrage followed by more extreme opinions and, crucially, interaction with their online presence.
English football fans are now the greatest racism issue in Europe. That's not right. Black people are over represented in just about every negative social statistic. This does very little to help that.
Michael Lynch
321
Posted 13/07/2021 at 23:32:20
Jay, I don't actually understand your last paragraph. Saying this particular issue is broader than racism doesn't mean racism isn't a broad issue. It's not a competition.
However, as I said, I think the wider issue in this particular context, is online bullying or trolling. Perhaps what's gone on is best described as "racially aggravated trolling". It's an area that needs proper, enactable legislation.
It's all well and good trying to catch the individuals responsible, but as Nicole Roberts from Girls Aloud said: rather than chasing the rabbit, we need to fill the hole.
Mike Gaynes
322
Posted 13/07/2021 at 23:41:12
Aiden #316, great post, and I would only disagree that Donnarumma is the best keeper in the world.
Best shot-stopper I will grant you -- in fact he's one of the best I have ever seen in my life -- and he's tremendous in the air. But his distribution is absolute crap, he's not great with the ball at his feet, and nobody has any idea if he can command a defense, because at Milan he had Kjaer to do it for him, and of course for Italy he's had Chiellini and Bonucci. And now at PSG he'll have Sergio Ramos. So his leadership ability is unknown.
Give him a couple years and he may well be the best, possibly among the best ever. But not yet.
Jay Wood
[BRZ]
323
Posted 13/07/2021 at 00:04:37
Michael @ 321.
If as you claim you don't understand my last paragraph, then perhaps it is you that better needs to explain your own quoted words, not me.
It ain't me making 'a competition' out of different social issues. I've stuck to one. Racism.
There are many causal reasons as to why racism exists and manifests itself in many forms, across diverse media and in person.
Neil Cremin
324
Posted 14/07/2021 at 08:16:09
Did anybody pick up on Southgate's interview where he claimed that much of the social media abuse was from outside the country. This, along with his reference to the Playing against countries which tried to invade is the sort of loose talk that cultivates racism. Don't get confused: racism is not only about BLM but respect for all nations and peoples, including their National Anthems.
Danny O'Neill
325
Posted 14/07/2021 at 08:27:20
Aidan @316, thank you for that very balanced view and analysis. I said previously that I lived and worked in Italy. Not fortunate to have spent as much time there as you, but it was a wonderful 2 years that left and impression. We visit every year, both to the old stomping ground and in the winter when we go skiing. Although that is Sud Tyrol, so more Austrian culturally, even though it is part of Italy. Always have a soft spot for Italians & Italy.
I've gone on about the anthem booing. It's an English thing. They didn't even boo it in my local, just drowned it out by chanting "you can stick your Calzone up your arse". Classy.
I agree with your point on technical over graft. England's midfield had grafters but little guile. Until the English game realises that hard work alone doesn't win things, they will stay the same. It starts at grass roots, but don't start me on that (again)!!
Other nations and teams work hard. But they are technically superior. As the Italians point out, 4 stars on the shirt, like Germany. And if there were stars for Euros, another 2 for Italy and 3 for Germany. England would still have one.
Donnarumma only 22? That has surprised me.
I concur, great tournament. I really enjoyed it.
Andrew Ellams
326
Posted 14/07/2021 at 08:41:08
Neil, Southgate's comments are in line with a lot of the social media accounts that were traced by police after the huge issue of racist abuse that we've had all season with players in the domestic leagues.
Many were linked to countries in Africa and Asia.
Brent Stephens
327
Posted 14/07/2021 at 08:54:38
Andrew #326, yes, and apparently in this case as well - the vast majority of posts this week that could be traced have been traced back to other countries.
Neil Cremin
328
Posted 14/07/2021 at 08:59:56
That may be the case in the PL but that is related to inter club rivelary. You only have to look at most TW threads to see that level of disrespect. However, to say that the racial abuse directed to English players for missing those penalties is mostly from outside the country stretches the imagination. Why?
Still doesn't address the second point.
My view of Southgate has taken a nosedive as a result of those comments, along with the fact that he handed the responsibility for the penalties to 3 substitutes, two who had hardly broke a sweat and could not have been fully immersed in the collective of the game. Secondly, he handed the final penalty to a teenager!
Where were the experienced players, the leaders? Stones, Shaw, Sterling even Grealish??? Either they didn't step up or Southgate made very poor calls. All this talk on how his own penalty miss affected him, did he learn nothing or did he care how it could affect a 19-year-old?
Andy Crooks
329
Posted 14/07/2021 at 09:57:27
Neil, maybe Southgate thought he had borne that cross long enough!
Grealish has said that he was up for taking a penalty but the order had been decided. I would have thought surely this was a time for flexibility.
Pete Clarke
330
Posted 14/07/2021 at 10:01:22
Aiden. That was an excellent and well thought out post.
I have little affinity with The English team because they have performed so poorly on the big stage throughout my life and the obvious connection to the few horrible supporters they have.
However, deep down I would love it if a manager could just let the players go and play attacking football that could get me off my seat. The players are there for sure but this current manager is not for expansive football as we have seen.
Paul Gascogne was very gifted with the ball at his feet and the opposition would back off when he had the ball as they knew he could dribble and pick a pass. Gascogne just took no notice of the manager and that's why we saw him play that way I suppose but he gave us a bit of enjoyment until he lost the plot. I feel Grealish would have added a similar angle to England's play but with a bit more discipline.
My eldest lad was born in Australia but wanted England to win because of me, Everton and he follows the EPL. His Mum who is Brazilian but of Afro Italian descent was cheering for England because she wanted her son to be happy. Funny old world we live in.
Neil Cremin
331
Posted 14/07/2021 at 10:47:35
Maybe, Andy.
Now, when the issue of missed penalties is brought up in future, Southgate will no longer be the first name on everybody's lips.
I read his description of how he felt, stepping up to take that penalty, and wonder on what basis he was putting that same responsibility on such young players starting their career rather than seasoned campaigners like Shaw, Stones and Sterling. Mind boggles.
Danny O'Neill
332
Posted 14/07/2021 at 11:28:23
But then many call to play the kids and "young hungry" players Neil?
Flippant and not aimed at you in the slightest. I understand what you mean though. I'm an advocate of balancing youth with experience. And the experienced players England had on the pitch didn't step up when it mattered, leaving the final responsibility to a 19 year old. Talk about hero to zero. I hope the lad get's over it and doesn't let it effect him too much.
I rate Grealish Peter, but he's no Gascoigne. You draw out a good point though. England lack the creativity in the centre of midfield to bother the good teams. Grealish is talented, but plays more of a wide role, better suited in a 4-3-3 or 4-2-3-1. He could have had an impact, but I think the Italian defence would have had his number. England's central midfield engine room was just that. An engine chugging along.
Until we start teaching kids different, England will continue to be technically inferior to the better international teams and just hope for the best every now and then when a few good players coincidentally come along at the same time. Look at the statistics of the major European footballing nations:
Germany: 4 x World Cup winners. 4 x runners up. 3 x Euro winners, 3 times runner up.
Italy: 4 x World Cup winners. 2 x runners up. 2 x Euro winners, 2 x runners up.
France: 2 x World Cup winners. 1 x runner up. 2 x Euro winners, 1 x runner up.
Spain: 1 x World Cup winner. 3 x Euro winners, 1 x runner up.
England: 1 x World Cup winner. 1 x Euro runner up.
And let's not forget Holland with just over a 3rd of the population of England; 1 x Euro winners and 3 x World Cup runners up.
There is no coincidence in those statistics. Until we fix it at the bottom, England (of little interest to me by the way), will continue to be the nearly team, despite their own arrogance. The talent is out there. We just don't identify it or coach it correctly.
Steve Brown
333
Posted 14/07/2021 at 11:43:13
Tony Abrahams
334
Posted 14/07/2021 at 11:45:29
Enjoyed that post Aiden, although it did show up something that is wrong with this modern world, because it seems so many people are more interested in point scoring, rather than doing what Danny said, about not trying to make problems any bigger than they have to be imo.
The Liverpool echo have wrote a piece trying to say why scousers don't like England, but then in their descriptions of why, it's obvious that quite a lot of Liverpudlians, have behaved in a similar way down the years, possibly even worse when you think of what happened to Man City's coach!
Worse than the racism, imo anyway, was that these kids had been brave enough to step up and take a penalty, and will all be absolutely distraught because they haven't scored, and will also definitely be hurting at least 1000 times more, than the ignorant bastards who have gone on line to abuse them…But with the invention of the internet, life is full of keyboard cowards, unfortunately.
Michael Kenrick
335
Posted 14/07/2021 at 12:01:17
I see you're still going on and on and on about this... I was done with it Sunday night.
It's now fricken Wednesday!!!!
I keep reading how Southgate messed up with his choice of penalty takers. But step back a moment. They practised taking penalties at every session, we were told.
Don't you think Southgate would have studied and documented the performance of every one of his team in training?
Don't you think there would have been one and only one reason why those 5 were chosen to take the penalties?
Don't you think that that reason was a very simple one: they had proved they were the best at talking penalties – irrespective of age, experience, and, yes, fucking skin colour??? So sick of this now – although what it has to do with anything here is what is really mind-boggling.
No, wait – the players themselves decided to prolong their 'empty political gesture' (that should have absolutely no place in football), along with its unfortunate racist triggering that had (no doubt) been fully explained to them. But no, they wanted to carry on making race a fucking issue at the beginning of every single game... Why?
The gesture was something imported from America in the first instance, in response to a very American problem.
This is not America. We are not American. Every indication here, right through society, is that racial integration in the UK has come an awful long way. Some remains, it's true, but as a country, we have come an awful long way.
But for some, it's not far enough. (Will it ever be far enough?) I thought the UK championed equality of the races and that's what I was brought up on – in direct and very sharp contrast to the rampant racism of our parents' generation.
No, instead of striving for complete racial equality, we are now bombared with a bizarre form of inverted racism. People talking of 'white privilege', telling us that all-black choirs somehow represent 'diversity', that any black person doing something special has to be celebrated and made into a news story...
Sorry but what the hell happened to racial equality???
So, sadly, it should have been no surprise when I woke up Monday morning and suffered them showing it again countless times as headline news, that yes, it was true: all three missed penalties were taken by black players. And utterly terrible penalties they were – especially Rashford's.
But, No, it's Southgate's fault for putting such an awful responsibility on young (black) players just starting their careers? Sorry, but that is just rubbish. The players themselves had proven they were the best – and in the end, they totally bottled it.
Tony Abrahams
336
Posted 14/07/2021 at 12:08:55
Agree that Grealish is no Gazza, Danny, but I watched England play Belgium, a few months ago, and the kid was the closest thing I'd seen to him, or a young Rooney, in an England shirt, and Belgium had a lot of their top players on the pitch at the time, who could only stop him with fouls.
I didn't realize that Grealish was that good, but the team is more important than individual flair, work-rate will always overshadow skill in this country, and until we get a manager that can combine the two, (with an equal focus on both) then gallant losers it will remain!
Brendan McLaughlin
337
Posted 14/07/2021 at 12:17:15
I didn't/don't feel any particular sympathy for Saka. I mean 19, playing for one of the top English Premier League sides, earning a fortune and will probably represent his country for the forseeable. Penalty miss angst or not, what other 19-year-old kid wouldn't trade places with him in a hearbeat?
Tony Abrahams
338
Posted 14/07/2021 at 12:17:53
It wasn't the responsibility Michael, especially if they accepted that responsibility, but I'm not sure it's been thought through properly, especially considering how little football both Rashford and Sancho, had played.
Let's bring the afterthoughts on with a minute to go for penalties, no pressure boys I've been there myself, just listen to ex players like Shearer, who described it as the longest 40 yard walk in his life.
Danny O'Neill
339
Posted 14/07/2021 at 12:49:33
Hopefully Everton can give us something else to talk about soon Michael!! I agree with a lot of what you said by way. Once I'd read it a few times!! It took a few takes but I've no doubt you could say the same about my ramblings!!
Penalties. Hated them. Was never confident taking them, so I can sympathise with any player who has to. And many don't want to or will refuse on the big stage when the moment comes, so some other poor soul has to pick up the mantle. The pressure at any level raises the heartbeat to say the least. No matter how much you practice, it won't condition you for the main event, especially on that type of stage. The longest walk as Tony / Alan Shearer say! You are on your own and everything goes into slow motion.
Tony, I too underestimated Grealish and wasn't totally convinced in earlier seasons. I've said before, the wife and inlaws are from the West Midlands. Mostly Villa followers with the odd Wolves stragglers and annoyingly the inevitable token Dudley kopites! So I've watched him a fair bit since he came on the scene.
He has definitely developed into a fine player and can get even better. Personally and not just family ties, I hope he gives Villa another season or 2 and continues his development. I don't see how he fits into United or City on a regular basis right now. Stay being the big fish and ensure he gets regular game time. Jack has time. Too many young players jump ship too early at the first turn of the head, when the important thing for them is to play regular.
Neil Cremin
340
Posted 14/07/2021 at 12:54:37
Mikel
If you are referring to my thread, please refer to #328 on why I question Southgate's decision making, plus the fact that taking penalties in practice is completely different than in front of 65,000 people. Refer to Tony 338.
As for the rest of the thread on racism, it is not relevant to the decision on who should be taking the pressurised spot-kicks.
Michael Kenrick
341
Posted 14/07/2021 at 13:38:58
So what exactly was Southgate supposed to do?
You don't think they would have had extensive discussions about who takes the penalties?
You don't think the players who did take them were the ones who were up for it the most, and had convinced Southgate of that fact?
The pressure is there, no doubt, but that was always the case, part and parcel of the whole business. If they didn't really want to take them in the end, I'm sure they could have told Southgate and he woud have changed the list, Mr Nice Guy that he is.
But no, you're doing him down because he did his job to the best of his abilities, and you're making totally unfounded assumptions about the choices he made with far better knowledge of the players' individual strengths and abilities?
Sorry, Neil, I'm not buying any of that.
Peter Gorman
342
Posted 14/07/2021 at 14:02:43
To boo or not to boo the gesture was a debate done to death on TW a while ago. Little was learnt, accepted or conceded by those of either stance.
The current word on the street is that the abuse sent to the England players was overwhelmingly from abroad. Perhaps 4 posts originated in the UK.
It also turns out that the defacement of the Rashford mural didn't contain any racial abuse, just regular vulgarity.
The conflation of the racial abuse and the yobbish behaviour at Wembley is a barely subtle trick by the media but a trick nonetheless. Will anybody backtrack on it? Is Priti Patel to blame for the legions of racists posting abuse from India and the Middle-East and Africa?
As usual, stereotypes are acceptable in certain circumstances, especially if it involves pissed-up, red-faced white folk.
Any chance at all that Mings, Kane and the like will row back on their comments? Let's not hold our breath.
As Ernie stated, there is the small matter of media censorship to play for so we can look forward to many more days of hand-wringing and petitions to force the social media platforms to do what they already want to do.
Tony Abrahams
343
Posted 14/07/2021 at 14:12:30
I watched a clip of Ronaldo, shouting at one of the Wolves players, (for Portugal) during a penalty shoot-out, and I thought it was very revealing as to what goes through players minds at such a time. I thought Cristiano, was fucking brilliant, (because it's a side of his character I'd never seen before) and also very inspiring, shouting the words, " you take a good penalty, so go and show some personality, and so be it if you miss, only worry about that then, just go and take the penalty" and how could he miss after that!
It would have been hilarious if the players refused considering he'd only just brought them on the pitch. Good old Gareth, is protecting some of his players would be my own guess.
Neil Cremin
344
Posted 14/07/2021 at 14:15:03
Michael
I'm not buying it that he did the job to the best of his abilities. Anybody manager who would put such pressure and responsibility of the last regulated penalty on a 19 year old and the potential hopes of a nation did not think this through. Particularly when he had experienced the pressure himself.
Michael, having read many of your Everton match reports, you do not spare mediocracy, lack of effort or poor decision making so it surprises me you are making excuses for Southgate.
Let's agree to differ.
Michael Kenrick
345
Posted 14/07/2021 at 14:20:29
Neil,
Can you answer the specifc point that Southgate had chosen the best 5 players who had proved their penalty-taking ability to him?
Or was that not the case?
Michael Lynch
346
Posted 14/07/2021 at 14:20:40
When I last took a penalty in a shoot-out, I didn't worry about any of the mind games or silly run-ups, I just aimed for the top right corner and hoped the goalie wouldn't get up to it. He guessed the right way but got nowhere near saving it, even though he was a tall fucker for an eleven year old.
Michael Kenrick
347
Posted 14/07/2021 at 14:22:26
Micahel Lynch,
Exactly my thought as I watched the pathetic efforts of the last three players. Bang the fucker in the top corner. End of.
Colin Glassar
348
Posted 14/07/2021 at 14:25:07
If it's true that Pickers has really grown up and matured, then I think he'd make good captain material. He's very vocal, unlike Coleman, and will fight his corner.
Iain Latchford
349
Posted 14/07/2021 at 14:26:33
Michael,
Saka may well have been great at penalties in training, but he's never taken one at senior level. That's one hell of a first penalty to be given.
Rashford had scored 15 from 17 at club level so I can see why he got one. I just thought it was a bad decision to leave it so late to get him and Sancho on the pitch.
Even if I was playing in pub team Cup Final, I can't imagine standing on the sidelines for 120 minutes then literally my first kick of the ball is a penalty. That can't be good preparation, can it?
Andrew Ellams
350
Posted 14/07/2021 at 14:27:23
If the penalty takers were decided purely on what happened in training, that was a huge risk. There's a huge difference with taking a kick and dealing with the pressure of the actual occasion.
Brendan McLaughlin
351
Posted 14/07/2021 at 14:28:24
Indeed, Michael #345,
The penalty takers were quite correctly selected on merit... any other considerations were irrelevant and quite correctly ignored. Perhaps the old adage, "If you're good enough, you're old enough" does not apply to penalty shoot-outs?

Barry Hesketh
352
Posted 14/07/2021 at 14:40:25
I too think that Jordan is very vocal, but I don't think that enough of his teammates listen to what he says, particularly the England players, therefore I would want somebody else to be Everton captain, somebody who the others will take heed of and who will garner respect from all of the players.
Robert Tressell
353
Posted 14/07/2021 at 14:41:29
Tony 434 Ronaldo went up massively in my estimation at the last Euros final where his passion to win and motivation from the sidelines was apparent throughout. The words you quote, coming from a national hero, take a lot of pressure off the taker. He looks like a bit of knobhead - but he's a good guy.
As for the penalties, great players miss them too - Messi, Zidane, Ronaldo and even Baines. Well done to all the players who stepped up. They are all cracking players - and young Saka did a brilliant job when asked to get us to that final.
Finally, it is an absolute disgrace that that we're still even talking about racism in 2021. Lot of soul searching to do as a country.
Tony Abrahams
354
Posted 14/07/2021 at 14:48:50
I missed loads of penalties when I played Michael L, but only ever one in a penalty shootout, and I was honestly not bothered because it was only to see if we come third or fourth. I thought I found the secret, I just used to stand alone and visualize over and over again, were I was going to put my penalty, knowing if I put it where I wanted, that the keeper "couldn't" save it, even if he went the right way. It worked for me anyway, although it's not easy being quiet and shutting yourself off, when everyone around you is screaming and shouting!
Brendan McLaughlin
355
Posted 14/07/2021 at 14:49:15
Iain#349
I accept that when a player comes on as a substitute it can take them a little while to get up to speed. I'm not so sure it's equally true if you are simply coming on to be one of the penalty takers. Bringing players on in extra time simply for the penalty shoot out is not uncommon.
Iain Latchford
356
Posted 14/07/2021 at 15:03:28
Brendan, of the players available (after Kane had taken one), Rashford (17/15) and Sancho (11/10) had the best penalty stats.
I appreciate that they don't need to be up to speed physically for the penalties, but surely a few touches of the ball is going to help. If they'd been on for 10-15 mins, I think it would have been better for them.
Rashford has said he wasn't feeling confident when walking up, so why he went for the "stutter" approach, I really don't know.
Andrew Ellams
357
Posted 14/07/2021 at 15:10:48
Brendan @ 355,
I've said the same thing this week. There have been loads of incidents of managers bringing players on at the death so they can take a penalty.
It's not that long since the Dutch brought on a keeper to save them in a World Cup match.
Tony Abrahams
358
Posted 14/07/2021 at 15:58:09
I think bringing a keeper on for penalties, is a totally different psych, simply because players are expected to score, whereas it's just a bonus if your keeper saves one.
I remember being at a playoff final between Palace and Leicester, and Leicester did the same thing, bringing on a keeper in the last couple of minutes of extra time, because the game was going to pens, and it definitely worked because whilst everyone was waiting to see if this bold move was going to pay off, Steve Claridge scored a goal that took Leicester into the Premier League.
Wembley Stadium, I preferred the old one if I'm being honest, but being an Evertonian, I've witnessed a lot more heartache than joy, at one of my favourite places. So come on, Benítez, go and sign some good players, and then take us to Wembley to celebrate, singing "We Shall Not Be Moved, Everton!" (Fuck England!)
Robert Tressell
359
Posted 14/07/2021 at 16:07:47
The dilemma for Southgate was that if he brought Rashford, Sancho on earlier to give them a kick - he might concede the game in normal time. Rashford was basically playing right back for the few minutes he was on.
Personally, I'd have gone for it a bit more at 1 nil. And I'd have gone for it a bit more in extra time. And I might have had the balls to bring Kane off once he was completely knackered.
But that tremendous bravery might also have bitten us on the arse with everyone then saying - why oh why didn't Southgate just plod his way through the final in safety first mode.
The game was lost on such fine margins - that we'd all be saying bravo Southgate mastermind for holding your nerve if Saka had scored the final penalty.
Frank Crewe
360
Posted 14/07/2021 at 16:10:01
The only thing that surprised me was the difference in height between Pickford and Donnarumma. When they were standing together he was both wider and much taller than Pickford. Apparently Donnarumma is 6' 5" yet appeared to have no problem getting down to low penalties.
Tony Abrahams
361
Posted 14/07/2021 at 16:32:55
That "dilemma" tells me exactly how Southgate approached the whole tournament Robert, but I do wonder if he'll change, once a few of his flair players gain that little bit more experience?
Andrew Ellams
362
Posted 14/07/2021 at 16:38:01
I think what we saw from Southgate was proper tournament football. Playing it safe and taking your chances.
Now it's back to qualifiers and bread and butter stuff things will be different.
The next home game is Andorra so don't expect to see Rice and Phillips playing together in that one.
Tony Abrahams
363
Posted 14/07/2021 at 16:55:11
Fair enough Andrew, I'd say we just played decent tournament football, with my reason being that although I thought England were a very strong team, how can you say he got the best out of his squad, when Rashford came on as a sub in the final, filling in at right back, and just so he could be on the pitch to take a penalty.
Andrew Ellams
364
Posted 14/07/2021 at 16:59:19
Tony, bringing players on in the last seconds isn't a new thing. The media seem to have made far more out of this than they need to.
The only difference I guess here is that he could use 6 subs overall so had the extra option of bringing 2 penalty takers on.
Tony Abrahams
365
Posted 14/07/2021 at 17:30:19
It's just personal points of view Andrew, nothing more mate, but the last thing I'd do is listen to the media. (Showing my arrogance, maybe?) I listened to Shearer, because he was an ex player talking about his own personal experience of the situation, but otherwise I don't think I've ever learned a thing from listening to him in the past.
My own view is that even if it's been done before a million times, it's not something I agreed with, and watching England live at Wembley in the semifinal against Denmark, I had exactly the same feelings, with my thoughts being that if England had been more positive with their team selection, I personally thought they would have blown Denmark away.
You can't argue with England getting to the final though, but you can argue that Southgate left some of his more talented players on the bench, and if he is to take the next step and win something, he will surely have a better chance, once he learns to ask the better teams a few more questions, and also have a few more answers, when the better teams begin to gradually get on top?
I enjoyed the tournament, and it's good to talk and learn, but now I'm finally agreeing with Michael Kenrick, and I think it's time to move on.
Bill Gall
366
Posted 14/07/2021 at 17:59:11
Penalty taking sounds and looks easy to spectators and viewers, but to actually take one in a critical time, you have to have a steady nerve to do it, and that is why teams in the Premier League have a dedicated penalty taker.
I believe it was Ray Wilson who said he had never missed a penalty kick in training and friendly games, but would never take a penalty in a league or international game as he would be too nervous.
Southgate is taking all the flack, but days before the final, players had been practicing penalty kicks, including the keeper, so he must have had a good idea who was qualified, and we are talking about players who are worth millions in the transfer market, and are considered strikers.
Take it what it was: nerves.
Neil Cremin
367
Posted 14/07/2021 at 18:38:45
Michael,
i had left the thread to get back to earn my living with the comment to agree to disagree but I see you posed me a question.
I will respond that, if that was the case of accepting your premise, my question is:
1. Why did he leave it so late to bring on Rashford and Sancho? He was lucky that the ball went out for a corner – otherwise, he might have been embarrassed. See also my comment of being up to the intensity of the game when taking the penalties.
2. Why would you put Sako in 5th position considering he had never taken a penalty at senior level?
That being said that if as is maintained
1. Did Jack Grealish claim he offered to take a penalty but Southgate decided otherwise?
2. Why was Jordan Henderson watching on so intently as Southgate was preparing the list if it was already decided who they were?
Just to be clear, I think Southgate has done a brilliant job but, on the penalties, he made a number of bad basic decisions.
My final word on the matter. It's all history now. Roll on, 14 August. COYB

Brendan McLaughlin
368
Posted 14/07/2021 at 19:19:04
Strange, Neil #367
You took the bother to return to the thread because Michael posed you a specific question and then opted not to answer the question actually asked?
Danny O'Neill
369
Posted 14/07/2021 at 19:52:12
Tony, I am blessed as I too enjoyed the old Wembley and never saw Everton lose there. Milk Cup 1984, FA Cup 1984, Charity Shield 1985 & 1986. I couldn't get to the 1985 and 1989 Cup finals.
I've yet to see us play at the new Wembley as I gave up my ticket(s) to my son and young brother for the 2009 FA Cup Semi-Final and Final. I went along to enjoy the occasion, ending up in a random pub down the hill from the Green Man for the semi-final and then in a bar closer to the stadium for the final. I can't remember what it was called but it was just across from a hotel on Empire Way and had 'blue' in the name and was full of other ticketless Evertonians who travelled, so it done for me!
I done the same for the other Liverpool and Man Utd semi-finals.
Next season, I need to attend inside the stadium to continue my record of having never seen us lose at Wembley!
Neil Cremin
370
Posted 14/07/2021 at 19:55:26
Brendan,
I feel as if I am being ganged up on here. But, in response to you, I believe I did answer the question fully.
On "Or was that not the case?" – I believe I queried that assertion with re Grealish & Henderson, if takers had already been picked. If we are to ignore Henderson's curiosity or Grealish's claim that he offered to take one and the penalty takers were decided long before the night, then his execution of that decision IMO was seriously flawed.
Two of the penalty takers had no taste of the battle when expected to take the penalty and the final and potentially most pressurised responsibility was handed to a teenager who had never taken a senior penalty. Hope this clarifies my view, my opinion, but others may disagree. Their prerogative.
Definitely my last comment. Life is too short.
Brendan McLaughlin
371
Posted 14/07/2021 at 20:34:19
Sorry Neil #370,
Certainly wasn't my intention to make you feel that way. I just felt that Michael K's view on why the penalty takers were chosen (on merit) was correct so I suppose I couldn't really grasp your argument. Perhaps I read it wrongly – that even if Saka was 5th best on merit, he shouldn't have been picked for that particular task.
So no, you haven't particularly clarified your views for me, but anyhow thanks for taking the time to reply.

Kev Jones
372
Posted 14/07/2021 at 22:36:25
Neil #324
You are right that respect is important to BLM. Unfortunately that respect is not extended to black people whether that is brutal slayings by the police or the disadvantages they suffer in all sections of society. Your argument sounds like a version of all lives (all nations and people) matter but it is a fact that every social indicator shows that black lives matter less than that of white lives.
Michael #335
Is BLM an empty political gesture? As Jay Wood says earlier, BLM highlights and provokes discussion on the racist divisions in society which divide us. It is a curious inversion to accuse the England players of triggering racism: they have taken their action because of racism they have suffered! They also make race an issue in every single game because it is an issue in and after every single game. Black footballers have been getting racist abuse all of this season, not just after the Euro's.
The fact that an England manager could back his players in the brilliant way that he has shows that racism may not take the form that it did in previous generations but it also highlights that it is still unforgivably here in new forms. While BLM did start in the states, it caught on world wide because of the recognition that the issues raised in the USA are the same racist issues that exist in the UK and across the world.
The importance of racial equality is that there is less equality for black people and a lack of recognition of diversity in comparison to white people. This is why we make positive efforts to celebrate black culture and achievement. If you don't like opening the newspapers everyday and being reminded of the advantages that white people have then can you imagine what it must be like to go out of your door to suffer many different forms of racism everyday?
And yes you are right that the players missed the penalties not because they were black - and they paid the penalty afterwards when the abuse they got afterward was aimed at them racially - white footballers who miss penalties are abused but not because of the colour of their skin.
We can't move on from this debate because of a background of white advantage that people find hard to acknowledge, because sport is political and racism is still the name of the game.
Pete Clarke
373
Posted 14/07/2021 at 23:58:11
This racism issue has been going on forever and it's not just about color but also where your from. All football clubs have their element of idiots but the fact that everything that is said and done is now looked at under a microscope and then put onto all media outlets makes the issues worse than they are.
An example of how twisted things can be is how Man Utd supporters would sing " if you all hate Scousers, clap your hands" at every home game.
This went on for years and probably still does. It happened when Ron Atkinson was manager with John Gidman in the team and even when Rooney was banging goals in for them. The fact that the word 'Hate' was in that song makes it worse but it showed a level of idiocy that exists on the terraces in general. We certainly have our own element and it's just disgusting behavior really and only education at a young age can solve this.

On the subject of social media, cameras being everywhere and with VAR available at every game, how on earth was Chiellini not sent off and even charged with assault for what he did to Sako ??
I'm no England fan but only Italy could get away with that one plus Jorginhos attack !!
Kevin Prytherch
374
Posted 14/07/2021 at 00:02:06
it is a fact that every social indicator shows that black lives matter less than that of white lives and We can't move on from this debate because of a background of white advantage that people find hard to acknowledge.
It's not a fact unfortunately, a June 2021 committee paper on education for disadvantaged pupils highlighted that Roma/Gypsy and Irish traveller were the most disadvantaged in children's education whilst black ethnic groups had more access to higher education and performed better in school than other ethnic minorities, including white British pupils.
https://committees.parliament.uk/committee/203/education-committee/news/156024/forgotten-white-workingclass-pupils-let-down-by-decades-of-neglect-mps-say/
The below are stats for access to Higher Education: (There are plenty of other stats on attainment, progress etc that show similar results)
The proportion of White British pupils who were FSM-eligible starting higher education by the age of 19 in 2018/19 was 16.0%, the lowest of any ethnic group other than traveller of Irish heritage and Gypsy/Roma. FSM-eligible White other pupils had a participation rate of 37.2%, FSM-eligible Chinese pupils had a participation rate of 72.8%, and FSM-eligible pupils from a Black African background had a participation rate of 59.0%.71 FSM-eligible pupils from a Black Caribbean background had a participation rate of 31.8%.
Racism exists, it's wrong, it's also not as bad in England as people make out and kids these days from disadvantaged backgrounds are not disadvantaged because of the colour of their skin.
Dale Self
375
Posted 15/07/2021 at 00:42:48
Please use quotes when slamming someone else's point. This is an extremely flimsy argument for the case of "it's not that bad".
Perhaps the minorities are particularly motivated to perform well in studies since this is one of the only ways to minimize or escape discriminatory work practices and racism in general. Do well in school, move someplace nicer, problem partially solved.
And rather than just throw some stats up and claim something as the conclusion please lay out the reasoning so as to avoid misunderstandings. This simply doesn't make the case you presume.
Peter Gorman
376
Posted 15/07/2021 at 01:33:38
So basically, Dale, there must be a difference between racism and discrimination.
Those who are doing the racial abuse are not in a position of influence or power, if anything they tend to be as close to the bottom as you can get. There is nothing systemic or institutional about it.
On the contrary, the institutions are showering the ethnic minorities with opportunities that poor whites can only dream of. Kevin could have linked even more examples to highlight this point but I suspect you'll continue to convince yourself that it doesn't make a case.
Dale Self
377
Posted 15/07/2021 at 03:24:00
Peter, my point could have been more direct rather than discounting the other side, sent that as I was leaving and maybe an edit was needed.
On the matter itself, while conceding that some can be seen as individually driven due to socioeconomic factors there is little doubt that their racist tendencies are activated by the rhetoric of public figures who sit in institutions. A back and forth on specific examples of systemic discrimination is easily done. The only question is whether the source could be slandered I guess.
And honestly from an admittedly unscientific first person take I can no longer believe that racism is concentrated among the least well off.
Neil Cremin
378
Posted 15/07/2021 at 07:19:30
Breakfast visit to TW
No problem Brendan,
Time to focus on August
NSNO
COYB
Neil Cremin
379
Posted 15/07/2021 at 07:37:22
Kev,
Not my intention.
Comments made regarding my opinion on the booing of foreign anthems which for me is also racism.
Peter Gorman
380
Posted 15/07/2021 at 08:59:27
No worries, Dale, it is honestly exhausting debating this and I'm happy to agree to disagree. We should all be feverishly speculating on which signings Benitez will make.
---
Add Your Comments
In order to post a comment, you need to be logged in as a registered user of the site.
Or Sign up as a ToffeeWeb Member — it's free, takes just a few minutes and will allow you to post your comments on articles and Talking Points submissions across the site.