Gbamin scores in second training match
Saturday, 17 July, 2021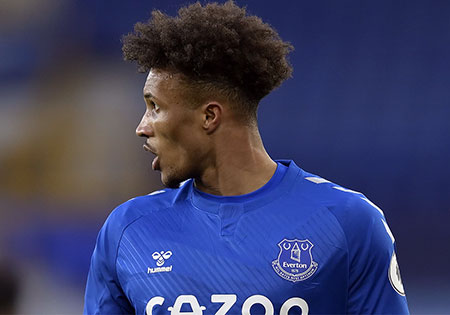 Jean-Philippe Gbamin's latest injury comeback continued today as he scored in a behind-closed-doors practice match with Blackburn Rovers at USM Finch Farm.
The Ivorian midfielder has endured a nightmare time at Everton following his £23m move from Mainz in 2019, suffering a serious quad muscle injury shortly after making his debut, rupturing his Achilles just when he was due to return in the spring before injuring his knee in training after just one match back earlier this year.
Fit again and hoping to finally get his Everton career off the ground as the 2021-22 campaign draws near, Gbamin scored the only goal against Rovers.
Gbamin, who played the first half of the game, won the ball in midfield before setting up Moise Kean and when Italian's shot was parried by the Blackburn goalkeeper, Gbamin fired home the rebound.
Article continues below video content
Anthony Gordon and Andre Gomes had opportunities charged down or were foiled by Rovers defenders, while James Rodriguez's 20-yard effort was tipped behind.
Everton made a raft of changes at half-time with Abdoulaye Doucoure and Allan seeing their first action of pre-season in the second half after returning from quarantine, as Fabian Delph and Charlie Whitaker both came close to adding to the score.
Everton: 32 Virginia, 2 Kenny, 48 John, 5 Keane, 4 Holgate, 21 Gomes, 17 Iwobi, 25 Gbamin, 24 Gordon, 19 Rodriguez, 27 Kean;
2nd half: 53 Tyrer, 2 Kenny (7 Joe Anderson), 23 Coleman, 22 Godfrey, 37? Gibson 16 Doucouré, 8 Delph, 26 Davies, 6 Allan, 30 Baningime, 9 Whitaker (34? Broadhead)
---
Reader Comments (49)
Note: the following content is not moderated or vetted by the site owners at the time of submission. Comments are the responsibility of the poster. Disclaimer
Sam Hoare
2
Posted 17/07/2021 at 16:48:40
Finished 1-0. Gbamin the match winner! Not sure there were any links though I heard Delph was the best player in a disjointed second half. Am sure someone who attended may give us more details.
No idea what sort of a team Blackburn had out but I remember them outplaying us in pre season not that long ago!
Danny O'Neill
3
Posted 17/07/2021 at 16:54:41
I never read into pre season too much but good to see Gbamin playing.
Thanks for the updates Sam.
Brent Stephens
4
Posted 17/07/2021 at 16:55:03
Sam, I see nothing on the EFC website about this friendly! Am I looking in the wrong place? And why didn't you text me?!
Geoff Lambert
5
Posted 17/07/2021 at 17:03:31
Brent it's here mate:
https://www.evertonfc.com/news/2192038/gbamin-on-target-as-evert,on-beat-blackburn-in-practice-match
Brent Stephens
7
Posted 17/07/2021 at 17:14:56
And I see Moise Kean played.
Danny O'Neill
8
Posted 17/07/2021 at 17:22:37
I'd like to see him back and come good Brent.
Still young with potential.
Jay Harris
9
Posted 17/07/2021 at 17:28:37
Highlights on Evertontv later today. Pity they couldnt broadcast it live or at least give us audio commentary.
Dave Abrahams
10
Posted 17/07/2021 at 18:54:00
The Blackburn game highlights are on YouTube now, Kenny having a good first half. Rodriguez having a couple of shots, Gbamin scored, crashed it in after the 'keeper saved from Kean, Iwobi seeming to bully a player, must have been someone else.
Lots of changes at half time, a win and and a clean sheet!!
David Cooper
11
Posted 17/07/2021 at 19:14:45
Must admit I never thought I would see Moise Kean playing for EFC again. Does this any something about Rafa's man management? Or does it mean there will be a vacancy in our attacking personnel?
Derek Knox
13
Posted 17/07/2021 at 19:52:23
Jay @ 3, you would think in this day and age, Everton FC would be a bit more organised, when it comes to The Club TV side of things. As long as I can remember it has always been a shambolic affair. How many times has there been a pre-season set of matches, everyone signs up and pays their dues, yet there are so many cock-ups to follow? Sorry due to Technical Difficulties etc.
Nearly every other club of standing has their own channel, even the 'lesser clubs in Scotland' on a tight budget, are way ahead of us! This is a point I seem to have made or brought up ad infinitum, yet little changes. Even when the U23s & U18s have an important match it is usually the away side's TV who has coverage, and we are at home in Southport! Shameful and ridiculous in my book.
David Pearl
14
Posted 17/07/2021 at 20:07:12
David, who knows. He wants to be in Paris, not here. James has kept his mouth shut and is getting on with it but those 2 plus Bernard means question marks around what squad we will have available to start the season. Surely our new boss wants to form his formation and build his team around certain players.
Plus we have 6 central mids, 4 centre backs then Branthwaite and Gibson. Then there is lwobi. Delph and JP (can they stay fit).
If we can move a few on then Brands has to get the recruitment right. Doesn't look likely before the Florida trip which is a shame. I think our squad is way too big. Too big for the likes of Gordon, Smalls and Simms to progress into. We do have good players but still reshaping, which is hard to understand.
Michael Kenrick
Editorial Team
15
Posted 17/07/2021 at 20:13:29
I've had a shot at piecing together the line-up for each half (see end of story above) but there's a few that stumped me.
Mike Gaynes
16
Posted 17/07/2021 at 20:15:48
Great watching the highlights, particularly Gbamin powering forward on the run through midfield before the goal. Could he really come all the way back? What a miracle that would be. Can't imagine what that goal must mean to him after all that rehab and physiotherapy. Just practice, yeah, but I still remember my first practice game goal after a long injury absence, and that was 30 years ago. Special.
Now a couple of sheepish confessions:
1. I completely forgot about Anthony Gordon being on this team. Completely. Looked pretty sharp.
2. I have never heard of Charlie Whitaker. Details, someone, please?
Minik Hansen
17
Posted 17/07/2021 at 20:25:57
Why is James wearing the No 19 again? Good to see them playing another friendly match.
Brent Stephens
18
Posted 17/07/2021 at 20:28:57
Mike,
Whittaker and Warrington both got game time for U23s earlier this year and neither looked out of place. Both midfield, Warrington (I think) the more defensive.
Andy Crooks
19
Posted 17/07/2021 at 20:35:13
Imagine this; Gbamin gets fit and is a star, Delph returns to his best and stays injury free, James suddenly adapts to the Premier League, enjoys the adulation of Blues and plays the best football of his career. Kean realizes what he has been missing and bangs in goals. Richarlison comes back with a gold medal and a smile on his face. Mina proves Mike Gaynes right. We have better luck than usual.
Champions League here we come!
Terry White
20
Posted 17/07/2021 at 20:49:01
Mike (#16), you need to spend more time looking at the OS in order to inform yourself about the younger players like Whitaker who has been pretty prominent in the junior teams last season.
Neil Copeland
21
Posted 17/07/2021 at 20:56:08
Andy #19, have you been on Jamiesons?
David Pearl
22
Posted 17/07/2021 at 21:00:59
Michael, 15
You could do that from those youtube highlights?
Andy, l was actually wondering if our best midfield duo could actually be Delph and Gbamin. How mad would that be.
Bill Gienapp
23
Posted 17/07/2021 at 21:43:03
There's a ridiculous #FreeKean hashtag circulating amongst PSG fans on Twitter. Tell your club to make us a fucking offer. The idea that we're supposed to just roll over and make life as easy as possible for one of the richest clubs on the planet by sending him back on loan is beyond ludicrous.
Paul Birmingham
24
Posted 17/07/2021 at 21:48:04
Made up for the lad and hopefully this is where his luck with injuries and fitness changes and a well taken follow up, and injury free season.
How many times have we seen Everton players pass the ball around rather than taking responsibility and getting a shot in? Well done, Jordan Pickford. That augers for me belief and positiveness and well done.
Seen the RS hydras, out their depth at Crosby beach today, whilst goading James.
But let's hope this season is a Renaissance for Everton, and a unity on and off the pitch, across EFC.
Bobby Mallon
25
Posted 17/07/2021 at 21:48:58
Bill @23, well said.
Brian Wilkinson
26
Posted 17/07/2021 at 21:51:44
I like the fact Moise Kean is back with Everton maybe now it sends a clear signal to PSG that they either pay up, or if no-one else comes in for him, he stays at Everton, rather than another loan.
About bloody time we stopped rolling over, having our tummies tickled, while all those around us see us as a soft touch.
Brian Wilkinson
27
Posted 17/07/2021 at 21:53:47
Sorry, Paul @24, I was already typing my thoughts, seems we both have simular thoughts, in regards to not getting taken for a ride by PSG.
Brian Wilkinson
28
Posted 17/07/2021 at 21:55:49
Bill@23 above comment was for, ignore Paul, damn edit button not working for me, hilighted in Blue, but not letting me edit.
Rob Halligan
29
Posted 17/07/2021 at 22:02:30
Bill, Moise Kean has 3 years left on his contract. For every season he's sent out on loan, his valuation decreases until we are forced to accept whatever offer we receive as he enters his last 1 or 2 years of his contract. PSG know this, and it's the reason why they want him on loan again, so that eventually they can get him on the cheap. As you say, if they want him that badly, make an offer to match that of what Everton value him at, otherwise do one.
Mike Gaynes
30
Posted 17/07/2021 at 23:44:25
Andy #19, you were one of the kids who clapped for Tinkerbell to come back to life, weren't ya?
Terry #20, you must be joking. I can't find the shoes I wore last night. I can't even remember Anthony Gordon. Trust me, my brain's hard drive is maxxed out.
Rob and Bill, can't blame those PSG bastards for trying. They've already had an insanely great transfer window, and the only player they've spent real money on was Hakimi. So of course they think they can get Kean for free. Fuck 'em.
Nicholas Ryan
31
Posted 18/07/2021 at 01:11:13
The Blackburn defenders, lining up against James Rodriguez and Moise Kean, must have thought they'd strayed on to the wrong planet!
Bobby Mallon
32
Posted 18/07/2021 at 05:40:07
We should keep him unless he kicks up a real fuss. Then loan him back for no less than £10 million a season with clauses put in that they pay all his wages and half if he gets injured. Also, if we want to call him back (say we have a striker injury crisis), then he has to be let go. I want the club to offload Tom Davies to Saints and get Ings as part of the deal.
Danny O'Neill
33
Posted 18/07/2021 at 06:54:20
Just watched the highlights.
It's a pre-season match against Blackburn, so we can't read too much into it. And I know it doesn't always reflect who is staying and who is going, but it was interesting to see the players who were on the pitch.
I thought Kean looked much more positive. And Gbamin for the goal; good positive forward running from a midfielder and he kept running forward after releasing Kean to be in place for the rebound. Kenny looked good as well. I still hope we sign a right back, otherwise he may have to prove me wrong.
One phase of play and 3 minutes plus of highlights doesn't give you the full picture, but some positives to take.
Dave Abrahams
34
Posted 18/07/2021 at 08:25:59
David (22),
I once saw a central midfield pairing of Claus Thomsen and Gareth Farrelly in a derby game at Anfield, nothing could be more mad than that, and we drew 1-1. If Mick Madar hadn't missed the sitter of all sitters at the Kop end, we might have even won!!
David Pearl
35
Posted 18/07/2021 at 08:51:06
Dave, that is mad. Is that the game Madar tried his luck from 40 yards out? Gravesen was probably maddest and would captain our mad 11. With Pat van den Hauwe as vice-captain.
Justin Doone
36
Posted 18/07/2021 at 09:57:57
Gbamin is the cherry on the cake.
We need several more ingredients before we can bake a cake.
Hope he stays injury-free but it's a big ask and not someone to rely upon.
Dave Williams
37
Posted 18/07/2021 at 10:29:23
Dave #34,
hat really takes me back to days which were far more bleak than now. How could anyone ever think that a partnership like that could compete in midfield in a derby? It makes me feel quite ill to think of it.
I have watched the highlights and the training clips and Gbamin is looking fit and strong. The training clips indicate an emphasis on moving the ball very quickly with one touch to control and one touch to pass. Interestingly Kean and James appear to be enjoying themselves and James looks a lot sharper. Gordon is also looking good.
Early days and regardless we need some new blood but maybe Rafa can turn things around for some of these players.
Danny O'Neill
38
Posted 18/07/2021 at 11:42:32
That thought went through my head on many occasions last season when people were saying it's the worse they've seen.
It got bad, but my word, sadly we've had worse!!
Michael Kenrick
39
Posted 18/07/2021 at 11:45:48
Okay, more teasers here for the Identity Parade:
Gallery: Everton 1-0 Rovers at Blackburn Rovers' website.
Who's that wearing #48 for the Black Watch?
I think it must be Kyle John...
Barry Hesketh
40
Posted 18/07/2021 at 11:56:27
Michael according to this list of the squad number 48 is Kyle John?
Current Squad
1 Jordan Pickford (G)
31 Joao Virginia (G)
53 Harry Tyrer (G)
63 Zan-Luk Leban (G)
NA Lewis Gibson (D)
2 Jonjoe Kenny (D)
4 Mason Holgate (D)
5 Michael Keane (D)
12 Lucas Digne (D)
13 Yerry Mina (D)
18 Niels Nkounkou (D)
22 Ben Godfrey (D)
23 Seamus Coleman (D)
32 Jarrad Branthwaite (D)
38 Ryan Astley (D)
48 Kyle John (D)
51 Thierry Small (D)
64 Reece Welch (D)
6 Allan (M)
8 Fabian Delph (M)
10 Gylfi Sigurdsson (M)
16 Abdoulaye Doucoure (M)
17 Alex Iwobi (M)
19 James Rodriguez (M)
21 Andre Gomes (M)
25 Jean-Philippe Gbamin (M)
26 Tom Davies (M)
34 Beni Baningime (M)
34 Nathan Broadhead (M)
60 Isaac Price (M)
62 Tyler Onyango (M)
NA Ellis Simms (F)
NA Shani Tarashaj (F)
7 Richarlison (F)
9 Dominic Calvert-Lewin (F)
14 Cenk Tosun (F)
20 Bernard (F)
24 Anthony Gordon (F)
27 Moise Kean (F)
Tom Bowers
41
Posted 18/07/2021 at 12:35:06
When you look at the squad you would think there was enough there to pick from to have a solid staring eleven every week.
Having Gbamin fit again and the likes of Doucoure etc. could be the basis of a more competitive midfield but of course it depends on consistency and injuries.
Alan, Gomes, Davies and Delph have all had opportunities to establish themselves but just don't seem to cut it o a consistent basis and on reflection they all seem a yard off the pace necessary to be top class.
Up front is still a big problem with too much on the shoulders of DCL who really improved over the previous season but lacked real support far too often from James and Richarlison who we all know have lots of talent but who both faded in too many games.
Whether Kean will be a factor this season we can only guess but this may be his last chance to prove himself worthy of the Prem.
Michael Kenrick
42
Posted 18/07/2021 at 13:08:00
That's nice, Barry, Thanks. Is that from Soccerbase?
It does seem most players were wearing their correct numbers, which is nice of them for a training game.
Pretty confident of calling out Baningime at 30 in this game. Some sources had him at 36 last season, not 34, so I think 30 is his new number going forward. That means Broadhead must have been 34.
Also, in the second half, someone played wearing 7… which could be a worrying sign that Richarlison is not coming back!!!
Look at this nonsense from the Echo: "this was technically Gbamin's first goal for the Toffees though the match isn't being considered as an official friendly."
Err... I know he's missed a lot of training but I would happily wager that 'technically' he has scored at least one goal in training before now. How stupid do you have to be to write for the Echo?
Bob Parrington
43
Posted 18/07/2021 at 13:45:45
Michael,
Strange thing but I also have a gut feel that Richie will be gone from our squad. Great individual player but does he fit in to the kind of gutsy team we need to build? For that matter does James fit?
This is a quite difficult conundrum IMO. During my coaching days I have always felt it necessary to have a point or points of difference in the team. Strangely enough this has meant a mixture of speed and football brain in the defence and good sense and speed in position of the attack, particularly wing or wing back to accept the pass(es).
Can't be too difficult to create if you can buy the right players????!????
Put a hard working and creative midfield pairing in there and we should have the right mix. Shouldn't mean we must pay big bucks. Just buy or have the right defenders already.
Brian Williams
44
Posted 18/07/2021 at 14:06:47
I wouldn't put too much stead on the numbers, Michael, not all of them anyway.
Some players that haven't actually got a number, merely used the numbers of those players who were absent.
Calvert-Lewin's No 9, for instance, was worn by a youngster.
Si Cooper
45
Posted 18/07/2021 at 14:21:11
Michael (42), would it be unreasonable to assume that they mean 'for the toffees against another club's team'?
Derek Knox
46
Posted 18/07/2021 at 14:57:54
Michael @ 42, " How stupid do you have to be to write for the Echo?"
You mean there is still hope for me getting a job there? Mind you, I would be too Blue biased, and probably wouldn't last the week out! 😜😂
Barry Hesketh
47
Posted 18/07/2021 at 15:08:06
Michael @42
Yes, that list is from soccerbase.com

David Hayes
48
Posted 18/07/2021 at 17:13:43
Bob #43,
Richarlison and James are the two real quality players that we have, they both enable so much of the play that gives us an edge and a threat. James, although not an 'every full game' player, is still a quality asset when used properly. Richarlison, although loco, is feared by every team he plays against and they have to adjust to try and deal with him.
Gutsy hard-working team effort with the aforementioned type of quality is Moyes-era football which is gone and past… the game has moved on. We are always playing catch-up with the real money boys but gutsy is gone for good, remember never winning against anyone in the Top 4… forever, that's what gutsy gets you.
Phill Thompson
49
Posted 18/07/2021 at 17:19:51
Michael, the No 7 was Joe Anderson, odd one I know for a left-back.
Phill Thompson
50
Posted 18/07/2021 at 17:37:06
Mike #16 re Charlie Whitaker:
17-year-old, now a 2nd year Scholar who's really an attacking midfielder, No 10 type player. He had a breakthrough year last season, scoring goals, playing behind the striker at U18s and moving up to the U23s, scoring more goals, including a hat-trick in one match against Southampton.
I was surprised to see him with a No 9 on his back, I don't believe he's ever been asked to "lead the line" as a No 9, but great that he's getting game time with the first team. He's likely to be a standout performer in the U23s this season.
Robert Tressell
51
Posted 18/07/2021 at 18:05:38
Whitaker seems like one of those players that continental sides have who picks up good positions between midfield, the flanks and attack but isn't really a number 10 a winger or a striker. Just good movement and finishing.
Michael Kenrick
Editorial Team
52
Posted 18/07/2021 at 18:15:48
Thanks for everyone's help, I think the 24 players listed up top are now correct, with some guesses remaining on the shirt numbers they wore.
This is information (names and numbers in full) you just won't find anywhere else! If I was the Echo, that would qualify as an 'Exclusive!'
---
Add Your Comments
In order to post a comment, you need to be logged in as a registered user of the site.
Or Sign up as a ToffeeWeb Member — it's free, takes just a few minutes and will allow you to post your comments on articles and Talking Points submissions across the site.