Reports: Everton close to adding Gray and Townsend to Benitez's squad
Sunday, 18 July, 2021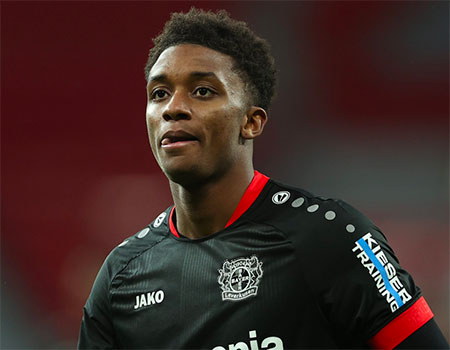 Everton are said to be closing in on the signings of wingers Demarai Gray and Andros Townsend while confirmation of Asmir Begovic's arrival from Bournemouth is expected soon.
Paul Joyce of The Times is the most reputable of the sources suggesting that the Blues will land Townsend on a free transfer and pick up Gray from Bayer Leverkusen for a cut-price £1.5m, although while Fabrizio Romano of The Guardian reports talks are at an advanced stage, Alan Myers of Sky Sports says that the former Leicester City man isn't as close to signing as claimed.
Begovic is also expected to arrive on a free to provide competition for Jordan Pickford after Robin Olsen returned to AS Roma.
New Everton boss Rafael Benitez is believed to hold a good deal of trust in Townsend whom he managed in the latter's short time at Newcastle.
The 30 year-old only made 17 league appearances for the Magpies before they were relegated in 2016 but has played over 168 Premier League games for Crystal Palace over the last five years.
Gray, meanwhile, was strongly linked with the Toffees, also in 2016, prior to his move from Birmingham City to Leicester that year. He played 133 league games for the Foxes scoring 10 goals before joining Leverkusen on an 18-month deal this past January.
The suggestions are that the new outfield arrivals are intended to augment the squad while offsetting the proposed departure of Bernard who is once again being linked with a move to the Middle East.
---
Reader Comments (304)
Note: the following content is not moderated or vetted by the site owners at the time of submission. Comments are the responsibility of the poster. Disclaimer
Alex Gray
1
Posted 18/07/2021 at 18:29:48
Christ, we must be skint through Financial Fair Play. Gray for £1.5 million could be a low-risk gamble but I wouldn't take Townsend – even on a free.
Ed Fitzgerald
2
Posted 18/07/2021 at 18:33:16
Looks like the days of shopping at M & S and Waitrose are over; it's Lidl and Farm Foods from here on in, perhaps!
Soren Moyer
3
Posted 18/07/2021 at 18:36:21
Andy freaking Townsend!? The Palace cast-off?
Surely some sort of a sick joke!
Peter Thistle
4
Posted 18/07/2021 at 18:38:36
Not impressed.
Nathan Ford
5
Posted 18/07/2021 at 18:42:51
Gray as a one-to-one replacement for Bernard should be good business. Getting his wages off the books is needed asap. I'm sure Gray will only be on max £50k p/w compared to Bernard's £120k per week and will offer more to the squad.
Not sure on Townsend but maybe a 2-year contract ain't too bad. Could they actively be looking to get rid of Iwobi or push him to a central position and get rid of Sigurdsson or James?
Hoping we will hopefully still be looking for a first-choice right-back and right-sided midfielder… fingers crossed.
Robert Tressell
6
Posted 18/07/2021 at 18:42:54
I start from the position that we should only buy Champions League quality players. Since we have a limited budget, that will sometimes mean taking a punt on very talented younger players.
But Begovic? Fine... He's just back up. Townsend? Okay, he fills a position we're short in. But Gray too? – starts to look like we're acquiring more of the mid-table, low motivation deadwood we already have too much of.
I'd rather see us rely on Gordon (accepting he's still learning) than stock up on players like this.
As we saw with King, buying average players might give you numbers but it doesn't improve the team in practice. And you're robbing yourself of wages and transfer kitty that can be better spent elsewhere.
Hugh Jenkins
7
Posted 18/07/2021 at 18:44:07
I remember Rafa being pilloried by the RS support when he wanted to sell Xavi Alonso to fund a move for Gareth Barry. However, having seen how influential Gareth Barry was for us, after he made his move from Man City, I think I would have to acknowledge that Rafa knows a bit more about players and who will fit where, than I do.
So, if he thinks these two can do a job for us – albeit in the short term – who am I to argue?

Alex Gray
8
Posted 18/07/2021 at 18:47:11
That's my fear too, Robert. Three players – none of which will improve us – and all taking up wages. If we're low on cash, then look at being creative from the foreign leagues. I get Begovic and maybe even Gray for Bernard, but Townsend makes no sense to me. He scores one screamer a year and you don't hear a word about him apart from that.
Derek Knox
9
Posted 18/07/2021 at 18:48:37
I remember Demarai Gray, when he was a stand-out performer at Birmingham City, and we were interested (allegedly) for £7M, but he went to Leicester City instead. Right, here we go; he has blistering pace (usually on the left) similar to Traore at Wolves (on the right) but the similarities that I have perceived is lack of end product in both players.
The sort of player you almost drool over, and then are collectively shouting, "Shoot!" or "Cross!" and they do neither. At the price mentioned, I can't see it being a bad move, and he is still fairly young, so may have something left in his locker as well as Premier League experience.
Andros Townsend? I think he could prove to be a bargain on a free, but just hope he hasn't lost that early promise when he was tipped to be a player for the futuzre. Rafa, at long last, getting players (grafters) in, even though he is scouring Boot Sales and Bargain Basements. Still, I would like a couple of quality signings and Dumfries, being offset by misfits departing.
I won't start singing "We Love You, Rafa, We Do" – that would be taking things too far! 😜
Dave McDowell
10
Posted 18/07/2021 at 18:50:40
My recollection of both is that they are 1 in 5 good game players.
It's like reverting back to when Smith was in charge and we became a home for waifs and strays.
The saying "no deal is better than a bad deal" has suddenly lodged in my mind.
Geoff Lambert
11
Posted 18/07/2021 at 18:52:19
Scraping the barrel at best, looks like we are pushing for mid table mediocrity again.
Andy Crooks
12
Posted 18/07/2021 at 18:56:52
A new day dawns. Like Viv Nicholson, we blew it.
Tony Abrahams
13
Posted 18/07/2021 at 18:57:28
Not sure about these two, but one thing Benitez will definitely do that Carlo Ancelotti never did, is he will use his squad of players. He believes in rotation, and one of the problems we seemed to have had over the last few seasons, is that certain players don't get rested, and it eventually catches up on them.
I expect him to try and sign a couple of midfielders because other than Gomes, none of them can really pass the ball, but it's not easy getting rid of players from Everton, because a lot of them are on absolute fortunes. Money which very few of them will ever receive again in their careers.
Robert Tressell
14
Posted 18/07/2021 at 18:59:04
Dave # 10, grimly reminiscent of the Walter Smith era, indeed.
These are not better players than Iwobi. And they are not the calibre of player to make DCL, Richarlison, Digne and Godfrey think their futures lie at Everton.
A bad deal is absolutely worse than no deal.
Paul Whittaker
15
Posted 18/07/2021 at 19:01:04
And round we go again with the same old type of players. We struggle to get rid of Lennon and Walcott and then immediately go in for these two copycats?
You can't make this ineptitude up.
Presumably we are scouring the market for the slowest midfielders in Europe, just in case someone will take Gomes and Sigurdsson off our hands.
Rodriguez has frustrated the board by not being available to play enough, let's swap him for Coutinho then!

Steve Shave
16
Posted 18/07/2021 at 19:03:30
Oh dear oh dear. If true this is not very promising at all. I have nothing against either player as a squad edition as we are light on wingers. However, both would suggest several things a) we are skint b) we won't be getting the international explosive winger we are crying out for and c) we are now officially a busted flush. No wonder Mosh went for Benitez, it's all starting to make sense now. Very, very disappointing. I also wonder if Benitez talking up Coleman the other day was his way of telling us a new RB won't be coming either. Bugger.
David Pearl
17
Posted 18/07/2021 at 19:08:50
lo siento, no entiendo Rafa
Derek Knox
18
Posted 18/07/2021 at 19:09:04
Andy @ 12, " Viv Nicholson ?" That was Spend, Spend, Spend! Can't accuse Rafa of being that profligate, but you do wonder what has been his remit! I can't see us making a serious assault on the Premiership thus far from the way things are seemingly shaping up. (or down)
Although, Leicester won the Premiership with a good hard grafting side of unfashionable names under Ranieri, they weren't particularly playing great scintillating football, but nevertheless very effective, and hard to beat! 1-0 gets 3 points as well as a 6-0 does, but possibly a lot less entertaining.
John Crook
19
Posted 18/07/2021 at 19:09:33
Holy Mother of God!! There can't be too many worse possible signings, in terms of getting the fans on the side of the new management team, and getting the fans geared up for the new season and building for the future?
Whilst the sub keeper makes perfect sense, the other two are unbearable news. I'd rather just put faith into Anthony Gordon. If these two come in, then you know Gordon is off out on loan again which will eventually end up in a career in the lower divisions.
This is absolutely shit news!!!
Tony Everan
20
Posted 18/07/2021 at 19:13:10
What's going on, Brands hasn't suddenly gone stark raving bonkers ? There's got to be a method in this madness. I am an optimist so it has to be we are putting some depth into the squad in a cheap, bargain basement way. The main, first choice signings will follow in the weeks ahead, but there will likely be sales first before that happens. There seems to be a genuine fear that we are sailing close to the wind on FFP.
Ian Riley
21
Posted 18/07/2021 at 19:13:34
Actually the money we have spent in the past 5 years and got nothing for it! Everton are no different pulling the belt in! Just perhaps lowering expectation may help us. I feel more confident with the manager we have to get positive results. He has obviously assessed the squad and feels these plays can do a job for us!
Let's be positive going forward!
Phil Smith
22
Posted 18/07/2021 at 19:15:52
Gray needs someone who believes in him. Could shine. Could fall on his arse but he's no worse than Iwobi at a fraction of the cost.
I really like Townsend. Puts in a shift and has bags of Prem experience. Can get back and defend and can create. Needs to score more though.
Tony Abrahams
23
Posted 18/07/2021 at 19:17:37
If Gordon goes out on loan, it will be because the manager will think he's not ready. If Gordon ends up playing in the lower leagues, it will be because he hasn't got certain things that are needed to play consistently in the top league. If Gordon turns into a world beater, I will be made up for both Everton and also for Anthony Gordon!
I don't think it's a time to make judgments, because I'm sure Bernard is going, and hopefully a few more will both come and go as well.
David Pearl
24
Posted 18/07/2021 at 19:20:45
Tony, there there it will all be fine, Leon Bailey will be following as you say in a couple of weeks, followed by Dumfries and the sugar plumb fairy. Bernard and James look sure be going now, please also Iwobi. I think it's called balancing the books. Although I think a lot of things. We need to get shut of a few more too actually. No space for Gordon that I can see. Oh to be a blue. I forgot about Kean.
oh well, lets see if they can do a job and surprise us.
Mal van Schaick
25
Posted 18/07/2021 at 19:23:23
I'm dumbfounded by the Townsend transfer. It's another backwards step.
Kristian Boyce
26
Posted 18/07/2021 at 19:26:56
Other than magically growing a full head of hair, what has Townsend done in the last 5 years?
Sam Hoare
27
Posted 18/07/2021 at 19:29:48
I get signing one of these wingers as a very low-cost squad option to make up for the presumably departing Bernard. But it worries me a bit if we are signing both. Surely neither are the first team goal-scoring right-winger that we so clearly need?
To be fair, getting the premium players often requires waiting till the window is near closing so let's see what happens before we all make our judgments.
Joe McMahon
28
Posted 18/07/2021 at 19:30:53
Gray yes. But Townsend I'm not so sure. Can he pass forwards?
Barry Rathbone
29
Posted 18/07/2021 at 19:33:42
Never heard of Gray but his youtube show-reel shows a lightening fast tricky player who needs to learn how to conserve energy at the last to effect a good cross or shot. Ring Anders Limpar and get him over for a week to show him.
Townsend is an enigma he has all the skill in the world but the penny hasn't dropped. If both come off they will make a hell of a difference - big "if" of course
Brian Williams
30
Posted 18/07/2021 at 19:36:46
Never heard of Gray, Barry?
He looked a very very promising young player at Leicester then seemed to drop off the map.
Almost certain he's scored against us.

Alan McGuffog
31
Posted 18/07/2021 at 19:37:31
All very sad. In football, like so many areas of life, you get what you pay for. So to succeed you need to spend big on fees and salaries. Look at the success Siggy, Iwobi, Gomes and Bernard have brought us. Those heady days will vanish.
Gray and Townsend will transform us into an underachieving, "make up the numbers" mediocre club.
Paul Swan
32
Posted 18/07/2021 at 19:38:12
We should be getting rid of the deadwood but instead we seem to be getting everyone else's. What the hell is going on with Brands?
Brent Stephens
34
Posted 18/07/2021 at 19:43:53
Brian #30, yes Gray should be reasonably well known to Everton fans as he scored for Leicester against us.
Gary Smith
35
Posted 18/07/2021 at 19:54:30
Oh my fucking god... what are we doing? Townsend is not good enough for Palace to offer a wage to, and Gray has failed at Leicester, Leverkusen, scored an average of 3 goals a year and has the only highlight real that includes continuously getting past someone to then balls it up.
This is filling the squad with potential shit after spending years trying to get rid of the shit. I can see benitez starting with Delph, Allan, Sigurdsson and Townsend next season for experience (Richarlison won't want to be left-mid in a 5, so that's what Gray will do). Depressing.
Alex Gray
36
Posted 18/07/2021 at 19:56:06
Sorry, Gary, I've only seen various Twitter posts. Could be rubbish; I was wondering if anyone had heard anything more, that was all!
Ralph Basnett
37
Posted 18/07/2021 at 19:56:37
So this is where we are now, fresh from the Euros and some talent to looking at signing three duffers.
Begovic beggars belief.
Andros Townsend? The clue is in his name - dross!!!!
Demarai Gray, if he was so good why didnt Rafa chase him when he was at NUFC and LCFC wanted rid?
Conspiracy theorist here but is he just here to shaft us?
Yesterday we where buying Kulibaly and Dumfries - WTCF..
Andy Crooks
38
Posted 18/07/2021 at 19:58:02
Sam, hope you are right.
Danny O'Neill
39
Posted 18/07/2021 at 19:59:35
Read through all the posts. Share the concerns and reservations but as always, I'll try to see through the fog of frustration and look through my optimistic goggles. I don't think these two signings improve us, but neither do I think they weaken us.
We have underperforming players in those positions on high wages who basically haven't cut the mustard so to speak.
So potentially, we bring these two in and ship Bernard and Iwobi out. One thing they give us is what the latter didn't and what many have been calling out for. Pace and directness. Even at 30 in Townsend's case and he would be part of a rotational squad.
It replaces what we have and what hasn't performed, but then given the low transfer / lower wages, we still have scope to bring in a Dumfries (for example) and we do that, then we have improved the squad.
On Gordon; not yet seen enough from him when he's played. Obviously he's still young. Too good for the U23s so I wouldn't be surprised to see him back on loan again as I'm not sure he's ready to improve us yet.
As always, all about opinion and views.
Andrew Ellams
40
Posted 18/07/2021 at 20:02:33
Alex I've heard the rumours and they're not pleasant. I hope to God it's nothing more than malicious gossip.
Barry Hesketh
41
Posted 18/07/2021 at 20:04:10
Who reckons that Rafa will leap from Everton to Newcastle if the Saudi consortium is allowed to buy the Magpies? Usually, these types of players, Townsend and Gray, are signed in January, not as the first signings of a new ambitious manager who is hoping to gain the trust of the fanbase.
I think that Rafa will take the fun out of functional, I also fear we will lose either Richarlison or Dominic before long too.

Danny O'Neill
42
Posted 18/07/2021 at 20:07:12
That's what my Newcastle supporting mates were predicting & hoping for Barry. But that was before he signed up for the Everton gig. They were telling me he would hold out for the takeover. And they really wanted him back.
Barry Rathbone
43
Posted 18/07/2021 at 20:08:13
Brian #30,
I can just about stomach Everton highlights because footy in general is as exciting as watching paint dry so my knowledge of contemporary players isn't up to much. But what I can say is, from limited snippets I've seen, the standard of today's footy player is truly abysmal.
The idea this guy is memorable for scoring against us is a good laugh because that list is very, very long
David Hayes
44
Posted 18/07/2021 at 20:09:05
Not that anybody's noticed but neither of these two have actually signed yet. I reserve justifiable outrage and disgust for it if it actually transpires.

Phil Wood
45
Posted 18/07/2021 at 20:13:29
I'll keep my powder dry and see who we have got and how they play and blend in when the season starts.
I remember people scoffing when Paul Power (too old), Andy Gray (finished), Peter Reid (a crock) all joined Everton.
Never make a judgement too soon. I hope it all works out well but some others will pray for the worst.
Karl Jones
46
Posted 18/07/2021 at 20:14:08
The "has-been" manager is bringing in "has-been" players to the Everton retirement home...
So glad I gave up my season ticket. New deals for Delph and Sigurdsson next?
Derek Knox
47
Posted 18/07/2021 at 20:15:30
Barry @ 43, Be positive, look on the bright side, if he does sign, he will not score against us again!
Mind you, it could be an own goal ! :-)
Brian Williams
48
Posted 18/07/2021 at 20:19:41
Barry, I guess if you look at things your way then there's no point in me trying to persuade you otherwise. Each to their own.

Bobby Mallon
50
Posted 18/07/2021 at 20:20:36
Stop the bloody bitching. Remember when we signed Andy Gray? Remember when we signed Reid? They were supposed to be past it not good enough. Shows what we know, eh?
Barry Rathbone
51
Posted 18/07/2021 at 20:27:32
Brian 48
I have absolutely no idea what it is you need to convince me about
Gray has a flaw that could be remedied and Townsend is a good player who hasn't fulfilled his potential - that's all I said
Danny O'Neill
52
Posted 18/07/2021 at 20:30:30
Past it and injury prone duds Bobby.
Being an 80s veteran, I'll try to bring it closer to home for the younger generation. We bought in a cut down priced Tim Cahill because he'd had a bad knee injury. I think Palace cooled on him opening the door for us? And many scoffed at us buying Gueye from the relegated Aston Villa.
Truth is, you can never tell how a player will fair in a different set of players at a different club. If they arrive, lets judge them as Everton players, despite previous perceptions and views, myself included.
Ray Said
53
Posted 18/07/2021 at 20:32:37
I am not jumping off my seat with excitement at this news but either of these players will increase the amount of crosses into forwards in DCL and Richarlison who can out jump most centre backs but who was starved of decent crosses. I think either or both could be useful to have as an option off the bench and for squad rotation
Peter Gorman
54
Posted 18/07/2021 at 20:32:49
Must admit that I've always liked Townsend. A bit like Nathan Redmond, they never set the world alight but are what I'd consider decent, solid professionals.
Mind you, I thought Walcott fit that bracket but his performances were quite hit and miss.
Danny Broderick
55
Posted 18/07/2021 at 20:33:17
I can see the sense in all 3 signings to be honest, assuming they happen.
We need a back up keeper to challenge Pickford. While we have a dearth of wide options. Last season, we were even playing Coleman right midfield at times! These two are low risk buys who will fatten up the squad in areas where we are weak. Hopefully Bernard is a goner, and if we can get rid of the likes of Gomes and Sigurdsson also, and bring in some more mobile midfielders, we are on the right path.
We obviously haven't got much money. Dropping down the league at the end of last season hasn't helped. I just hope we have enough to make one top signing, plus a few bargains. I'd be happy with that.
Kenny Smith
57
Posted 18/07/2021 at 20:39:49
Nothing like getting your business done early !
The 2 lads don't excite me but they'll no doubt replace the likes of Bernard and hopefully Iwobi. They're big earners and Townsend and Gray won't be on anywhere near what they are and to be fair they're an upgrade if only a slight one. These 2 are no more than squad players.
Deals for top players take a while to complete so surely we are working on at least 3 to come in before the season starts.

Brian Williams
58
Posted 18/07/2021 at 20:40:24
Barry#51.
Barry that's not what you said at all mate. Reread your own post#43.
Having said that it's not important, forget it. 👍

Barry Hesketh
59
Posted 18/07/2021 at 20:44:14
Brian @57
There is absolutely no reason that the big tech companies can't come up with a method that can identify the individual posters if and when lies and disgusting allegations are made about people. Anonomity isn't necessary for everyday interaction, unfortunatley the more malicious members of society use the anonomity to further their own spiteful views and in some cases there is a political or financial gain to be made from posting such rubbish.
Peter Gorman
60
Posted 18/07/2021 at 20:52:25
Barry, given that 'big tech' already imposes its own censorship on opinions and rigs elections, I'd be amazed if they don't have the means to identify individual posters (at the very least, the household).
What amazes me is that some people would welcome this.
Jim Potter
61
Posted 18/07/2021 at 20:59:28
I think some are being a bit premature- especially as none of them have signed as yet.
Begavic- a good keeper.
Both the wide men have pace. Something we are crying out for.
Townsend was actually the best player on the pitch when I went to see England a few years ago. He's still 20 times better and more positive than Iwobi.
Gray was a top player just 18 months ago. He's still young. He's very quick and has skill.
FFP has us by the short and curlies until we off load some very expensive garbage.
I'll reserve judgement until they are here and been given a chance.
Chris Stevenson-Pugh
62
Posted 18/07/2021 at 21:00:44
I think this might be a couple of shrewd signings. Not the signings I was expecting or hoping for but, what with the FA Cup, League Cup and Premier League all taking its toll on a smallish squad, having the likes of Gray and Townsend, who are experienced in these competitions, playing and giving James, Richarlison etc a rest for more important games might be a good thing.
Plus who knows – we might get a marquee signing or two nearer the start of the season.
Anthony Dove
63
Posted 18/07/2021 at 21:01:35
Benitez Townsend and Gray. How long has
this nightmare got to run?
Barry Hesketh
64
Posted 18/07/2021 at 21:03:14
Peter @61
There's the rub is it not? I can understand the calls for less surveillance and intrusion on the individual, but the price to be paid for that freedom is that anybody can post absolutely anything anywhere in a public arena, which can, even it is found to be a falsehood do untold damage to another individual or organisation.
There isn't an easy solution, and the malicious posters are only helping to undermine the freedoms which we currently enjoy.
Neil Copeland
65
Posted 18/07/2021 at 21:06:23
I don't think we will sign a "big name" until Bernard and James have been sold with that money funding Dumfries or similar.
Regarding other sales, although Siggy is slow he is still a decent player for a bottom half Prem team, depends whether or not he will accept a pay cut.
Gomes may be difficult to move on unless he goes to somewhere in Europe.
There may still be a player hiding in Iwobi, perhaps Rafa can get the best out of him.
The rumours about Koulibally seem to persist, can't see that happening unless Michael Keane or Mina are sold.
Mason Holgate is a strange one, he played well in midfield under Duncan and I can't help thinking that may be his best position. As he showed against Firmino at Mordor, he won't take any crap of anyone which is hard to find and makes me think he is worth keeping for at least another season.
Considering the apparent financial plight we find ourselves in I find it difficult to believe we are bringing in any other big names unless of course we sell Kean or another.
Kieran Kinsella
66
Posted 18/07/2021 at 21:07:06
I thought it was Andre Gray I was about to call it quits
Bill Gall
67
Posted 18/07/2021 at 21:10:55
Another 2 in the long list of players we are supposed to be either buying or are interested in. Save my comments until we have actually signed someone else like Begavic, who seems a good keeper as a back up.
The news I would like to hear is we have transferred a number of players who are no longer needed.
John Malone
68
Posted 18/07/2021 at 21:24:12
Clear out the dead wood!
Bring in other teams' dead wood!
Everton that!
David Hallwood
69
Posted 18/07/2021 at 21:28:02
Perhaps we're splurging all our money on a right back. Always the optimist. I wonder what Digne and Richie and DCL think of the transfers. Does it Look like ambition?
Brian Murray
70
Posted 18/07/2021 at 21:29:54
Remember that idiot Koeman red Xmas tree. Well this catering kopite still has a big red door over in the Wirral. Might sound petty but he is up against it from the start. Especially if these signings are our limit. Really need Brands to help him big time by getting buyers for the usual suspects Gomes Bernard etc. Surely some yanks or Arabs will be as gullible as us and give them obscene contracts.
Steve Shave
71
Posted 18/07/2021 at 21:31:19
What really grates my cheese is that we are supposed to be ambitious. FFS Palace buy one of the youngest and brightest stars of the Championship (Olise) for a bargain (£8M) and we take Townsend off their hands. Everton that.
Michael Burke
72
Posted 18/07/2021 at 21:32:04
I really don't understand all the negativity with these 2 signings. We lacked wide players last season. We (potentially) sign 2 early in the season for a combined fee on £1.5m, probably on reasonable wages. Compare this to the £60m we spent on Walcott and Iwobi. How is this not good business? . We have been burnt so many times in the last 5 years. We are not a champions league team, we need to align our sights to where we actually are in the pecking order we do not offer european football!
Tom Bowers
73
Posted 18/07/2021 at 21:32:48
Townsend on a free is okay. He has the experience and delivers great crosses from either flank which is what DCL needs more of. Will probably only be used as a necessary sub.
Will Mabon
74
Posted 18/07/2021 at 21:37:26
Barry, @ 65,
if someone posts something that requires investigation, the source is easily traceable in most regular cases, and has been for a long time... at least to the address/device.
If someone is a bit more savvy/knowledegable about how to "Hide" themselves while posting, they will not be deterred by changes that would impact the vast majority across the board.
Genuinely malicious posters are not intending to undermine freedoms, they simply provide the excuse.
Brian Murray
75
Posted 18/07/2021 at 21:48:43
Michael post 73. Missing the point a bit kidda. Brands strength apparently in Holland was unearthing gems or not so well known younger players and then selling them at a profit. If this is just the work of the manager then waste of time having him here or define his role to get rid of these big earners. Somehow.
Paul Hewitt
76
Posted 18/07/2021 at 21:49:34
Two good squad signings, not first team signings. Calm down people.
Chris Hockenhull
77
Posted 18/07/2021 at 21:49:42
10pm UK TIME BOB DYLAN VEEPS CONCERT I know there's a fair amount of Dylan fans on ToffeWeb. I've linked into it now to tats my links etc and already ….on the chat box ahead???? of the gig…. 2 mentions of ….Everton FC!!! Tangled Up In Blue folks!!!! Maybe this can be a separate thread moderators??
Ian Riley
78
Posted 18/07/2021 at 21:50:15
Michael#73 thank you! Some reality to Everton and their plight! We have not won anything since 1995 and then we fought off relagation that year. Last 5 years £400+ spent and paid off numerous managers.
I am tired of expectations. I have none and I am a see what happens chap. Why? I had expectations with this club and it either makes you ill or seek therapy. Stop the negativity. Your alive and we have rafa. I feel lucky to have both!!!
Gary Smith
79
Posted 18/07/2021 at 22:06:30
"They're better than Iwobi and Bernard"
"Good squad players"
……the glass half full brigade losing their marbles tonight. Why not buy me this summer (fat, 44 year old). Give me a couple of games, I'll stink the place out, then you can happy clap replacing me with Oumar and Magaye Gueye out of retirement this summer. Both of them once had promise too.
Andy Crooks
80
Posted 18/07/2021 at 22:06:42
John Malone@ 69, I like that post. I have a horrible feeling that the "get rid of dead wood", thread is a constant on every fan site in the premier league. I suspect that the astute posters on those( shit, second rate, derivative, envious, sites, )MK take note think" fuck the dead wood, Moshiri, Kenwright, Everton, my God, they will offer them a home. We thought their best days were behind them. Their pace was gone but..
Everton have Marcel a "DIRECTOR of FOOTBALL", he knows better, our dead wood is their dead wood.
Alan Corken
81
Posted 18/07/2021 at 22:08:25
Paul H @77 - I wish I had your faith, this might be good as it gets! Oh and congrats on St H win yesterday, at least you have something to cheer about
Andrew Bentley
82
Posted 18/07/2021 at 22:11:11
Really trying to tell myself to give them a chance if they do sign but not excited by these 2 at all. Really hope they prove me wrong but this isn't the quality that is going to help Rafa keep in the hot seat!!
Litmus test for me is would any other club with European ambitions be looking at either of these 2 players, let alone both! The answer is a big fat no!
I'm all for squad depth but we need squad quality first! This has the hallmarks of a bottom half squad for next season…..
Kunal Desai
83
Posted 18/07/2021 at 22:14:40
So we're taking Leicester and Crystal Palace cast offs. My expectations of we're we are likely to finish with these kinds of signings will be probably around 11th/12th at best.
I choosd not to bave any have expectations of this club, that way i'm not disappointed when it's a bottom half finish next season.
Gavin Johnson
84
Posted 18/07/2021 at 22:26:46
My immediate reaction was negative to say the least. At face value neither are exciting acquisitions. But of you look at it, that our bench looked very thin at times last season, Bernard is on his way out and Iwobi is not a winger, then the signings actually make sense. These two are actually an upgrade on Bernard and Iwobi which is a pretty sad indictment.
FFP is a concern and besides Bernard we also need to offload the the likes of Tosun, Delph, and Gomes. To me, these signings are a good indicator that we are going to be actively offloading some of the deadwood and Gray and Townsend and coming in to fill out what is currently a very unbalanced squad.
Townsend shouldn't be anything more than a 2 year deal and won't commend big wages. Gray for £1.5m could be pretty shrewd business. He's still young, and he's done ok for Leverkusen when he's played. Don't be too concerned about lack of games. He's behind Bailey and Diaby so was never going to be a regular starter for them. Like I say, neither signing is nothing to get excited about but with FFP a consideration and our need to offload high earners that don't play, I understand why we're doing this business.
Paul Birmingham
85
Posted 18/07/2021 at 22:31:27
Faith, hope and loyalty.
If true then these players may be more than padding out the squad, but let's see.
There will be exits before this season starts, and alas not all from the deadwood.
But every day is a good day. Hope eternal.
Bill Gienapp
86
Posted 18/07/2021 at 22:32:11
These guys are fine as squad players, particularly Gray. If they turn out to be the centerpiece of the entire transfer window, well that's not so hot. I'll reserve judgment until I see where things stand.
Dan Nulty
87
Posted 18/07/2021 at 22:33:03
Gavin, Mr positive, you are forgetting our brand new central midfielder Gbamin from Mainz for 23m and some young lad we've signed from PSG who scored a goal every other game. We're going to win the league!
Alternatively, at least we aren't going into the season thinking we have a chance of top 6 only to be left disappointed and crushed like usual.
Dave Williams
88
Posted 18/07/2021 at 22:40:09
Makes sense. We can't afford to splash out on everyone and these two are far more likely to create chances for DCL than Bernard. Good squad players to come off the bench with plenty of pace, no fee/ tiny fee and I imagine modest wages. A good move.
Sam Hoare
89
Posted 18/07/2021 at 22:50:52
What we may be seeing now is the eventual answer to all those people who ever said "it's not our money, so why do you care if the club is spending x amount on player z?"
I hope no one ever, ever asks that question again.
Tom Harvey
90
Posted 18/07/2021 at 23:01:59
Now we know why Senor Benitez got the Job, he was that desperate to get back into the prem, he agreed to working within any budget the club sets and be enthusiastic.
And remember the new objective is to stay in the prem, 17th and above is plenty good enough for this club now, we're no longer competing with Tottenham, Leicester, WHU, Leed or Villa, we just need to do well against 10th and below.
Andy Crooks
91
Posted 18/07/2021 at 23:18:38
Wow, Sam, that is spot on. We are now, actually buying dead wood. The tra la days are over.
Michael Lynch
92
Posted 18/07/2021 at 23:29:43
Cheap mid table rejects instead of expensive top table rejects like iwobi. Is that progress? Possibly, if you're the club accountant.
Rafa still thinks we're a small club with small club ambitions and he's probably right. All a bit disappointing if true
Steve Shave
93
Posted 18/07/2021 at 23:32:21
I am really deflated by this if truth be told. I have been mulling it over and the greater meaning of such meagre signings. I am left hoping that Benitez's plan is actually for us to go 352 and the marque signing will be the RB. So we play Dumfries/Aaron's on right, Digne on left, 3 across the middle and Richy and DCL up front. It would make the best of the personel we currently have. Iwobi, Gray and Townsend could come off the bench when we need to change things up. We'd need a decent back-up striker though. Clutching at straws now, I actually just feel down about it. As others are pointing out, we had the treasure chest and we blew it, completely spunked it. Moshiri may be a decent man and he may well want what's best for us but my word could he have mispent £500m any better if he'd tried?
James O'Connell
94
Posted 18/07/2021 at 23:32:21
And I was hoping we would sign Sterling.
Seb Niemand
95
Posted 18/07/2021 at 23:35:24
And this is the best we can do? Oh dear me. Oh dear, oh dear me.
Gavin Johnson
96
Posted 18/07/2021 at 23:45:30
These signings remind me of the days pre-takeover when were skint and every penny counted. The Townsend deal reminds me of when we signed Aaron Lennon.
Unfortunately If we don't sell Moise Kean or someone like Holgate, Keane or Mina, we'll get small change for the deadwood like Delph, Kenny, Tosun and Bernard. I'd expect us to bring in Dumfries and that might be the only summer business unless there's a couple of loans with options to buy. Our hands are tied with FFP this summer.
It's not ideal, and some people are moaning saying Gray and Townsend are just deadwood. Yes, they aren't first 11 singings but they'll be an improvement and will only be on about half the wages of squad players like Bernard and Delph. If we offload 3-4 deadwood squad players we need to bring in a couple of squad players. The squad was already very unbalanced with Bernard the only recognised winger. They're sensible signings for me, in particularly Demarai Gray for £1.5m.
Colin Glassar
97
Posted 18/07/2021 at 23:47:38
Is this the beginning of a toon old boys reunion? Who next, Rondon, Robert Lee, Shearer?
Begovic? What's the point in him? Well past his best, if he ever had a "best".
Townsend? Average at best and that's stretching it.
Gray? Great prospect but has a reputation for being an arrogant, know-it-all, little shit. I wanted him when he was at Birmingham but he went to Leicester and Brendan was unable to control him.
Does this all mean we are back to shopping in Poundland? Perhaps if Brands can get rid of Delph, Iwobi, Mina, Holgate, Iwobi, Bernard and Besic we can afford 1-2 B-list players
Gaute Lie
98
Posted 19/07/2021 at 00:11:54
Preparing for play in the championship?
Not happy...

Colin Glassar
99
Posted 19/07/2021 at 00:12:05
And, btw, goodnight Tom O'Connor. Rest in peace mate.
Tony Twist
100
Posted 19/07/2021 at 00:22:18
Brave new world. I've got that sinking feeling again. 2 billionaires at the sharp end of the club looking like true amateurs and people in the past complaining about blue bill and his running of the club. Talk about making mistakes and then repeating them time and time again. The sign of madness. Clueless purchases if they happen. What is it with managers and wanting past players. Brands might as well go and we save money on him if this is him directing football. Looks like we have brought in the Newcastle Benitez rather than the Valencia / RS version if these signings are anything to go by.
Gavin Johnson
101
Posted 19/07/2021 at 00:33:35
Tony Twist, I disagree, you're saying the two billionaire owners are laughing stocks for keep making the same mistakes. I'd say a possible £1.5m mistake on two players is progress from £30m wasted on Iwobi, £23m on Bolasie, £20m on Walcott, £26m on Tosun, £23m on Schneiderlin, and £8.5m on Delph....I'd say they're learning.
Kieran Kinsella
102
Posted 19/07/2021 at 00:36:37
Sam Hoare
Best post of the summer
Steve Brown
103
Posted 19/07/2021 at 00:43:41
David Ginola has restarted his stretching regime.
Lester Yip
104
Posted 19/07/2021 at 00:47:58
Perhaps it's just the club trying to send a signal out that we do not have the pot we once have because of the stadium built? Playing some mind games perhaps?
So if Crystal Palace wants to hold out Zaha for $30m or $40m then good luck, we will get Townsend and Gray instead for free.
Tony Twist
105
Posted 19/07/2021 at 00:51:39
Fair point Gavin but they don't play for free. Time will tell, they may change their ways and become instant and consistent successes but I somehow feel that we are going backwards.
Sukhdev Sohal
106
Posted 19/07/2021 at 00:54:26
I'm not excited by this but it makes a bit of sense.
Townsend has the best defensive stats for a winger in Europe as well as having 0.25 g&a per season for Palace, which is the same as Adama at Wolves. Gray has 0.31 g&a, that's the same as Zaha, and Gray also completes as many dribbles and carries as Adama. £1.5M for both could be sly deals in the long run.
Rafa plays very defensive at times too and both of these players are a lot more suited to the Premier League than Iwobi and Bernard (especially Townsend, who works very hard and has decent end-product).
Sukhdev Sohal
107
Posted 19/07/2021 at 00:55:26
Does anyone remember the Townsend goal for Palace where he carried the ball from one end of the pitch to the other and scored? That's something good.
Jamie Sweet
108
Posted 19/07/2021 at 00:56:24
If you watch the Townsend goal against Man City, and the Gray goal against Man Utd, on repeat, a thousand times each, and then completely disregard the rest of their careers, there is a small chance you could convince yourself that these could be the two most exciting signings of this millennium, and we're going to win the league.
Derek Thomas
109
Posted 19/07/2021 at 01:05:07
I for one welcome this move from our new wirral overlord...note to self; look up the words to that Danny Kaye song about kings and new clothes for later use.
Still, you never know, this wirral bloke could turn into a swan.
#underwhelmed
Gavin Johnson
110
Posted 19/07/2021 at 01:38:36
James Ducker of The Telegraph says the Townsend and Begovic deals are for one season with a second season optional. While Demarai Gray will be a 2-year deal with the option of a 3rd, so if true, we're not going to get lumbered with any of them long-term if they don't work out. It's pretty shrewd business for me.
John Boon
111
Posted 19/07/2021 at 01:54:47
For those who were expecting Messi or Neymar, it must be frustrating. We have wasted so much money on dross over the past few years that there should be no surprise that we are spending very little on three players who can only be as good as the manager makes them.
While I did not welcome Benitez with open arms, he may be able to get something out of under-rated players. I really do not think we have much choice other than to hopeful these players may be able to add something that we don't have: "Speed".
Benitez had nothing to do with spending £50+ million on Walcott and Iwobi, just to mention a few. And there are others to add to that list of expensive under-performers.
Bob Parrington
112
Posted 19/07/2021 at 01:59:28
There must be something more interesting than these rumours around the corner. Like, something that brigs out some positivity, hopefully.
Rick Cole
113
Posted 19/07/2021 at 02:54:20
Gray will provide pace and width. Just turned 25, so will be hungry to prove himself. Could be a great signing if he can find consistency.
If not a good bench option at the very least.
Townsend is a seasoned pro. Just turned 30, so not over the hill, and is still quick. Also willing to work hard for the team. Most importantly, he is comfortable on the right wing and can actually put in a good cross. Thus, fills an obvious hole in the squad.
All good news as far as I'm concerned.
Paul Kernot
114
Posted 19/07/2021 at 03:02:17
Jamie #109. Like me mate, you're obviously keen for the season to get underway. God knows what we're gonna get this season but I'd rather be commenting on how we played on Saturday. I'm well over the new manger, incoming & outgoings palaver.
Jay Harris
115
Posted 19/07/2021 at 03:23:45
Extremely underwhelmed if true.
We need to be bringing in better than what we have — not worse.
Steve Brown
116
Posted 19/07/2021 at 04:05:50
So it will be James Rodriguez out and Android Townsend in - welcome to Benitez's Everton.
Alan J Thompson
117
Posted 19/07/2021 at 04:21:19
I'm worried that the major shareholder raved over being shown by this manager at his interview a list of 3,000 players.
I can only hope that the other 2,997 inspire more confidence and excitement rather than why the person responsible for HR was appointed to the Board.
And does this mean we are not going to waste any more money or that we don't have any more money?
Danny Broderick
118
Posted 19/07/2021 at 04:50:29
We just don't know how these 3 will turn out.
Paul Power was an uninspired signing, yet he went on to play over 50 times and win the league with us!
Knowing Rafa, there'll be more ins and outs before the season starts. The time to judge is when the window shuts.
Albert Perkins
119
Posted 19/07/2021 at 05:55:55
Seems to me, trying to be positive, sorry, that Rafa is looking for players that will play the way he wants them to.
What makes a winning team? Maybe quite good players, (a few very good), a good system, and a good fighting spirit. Rafa is a system manager and is looking for players that will utilize his system and make the team more than its constituent parts.
Gray and Townsend might turn out to be very important cogs in the Blue Machine. Moving the pawns first, I hope.
Danny O'Neill
120
Posted 19/07/2021 at 06:18:43
If that's accurate, Gavin @111, it would make sense, especially with squad players such as this, which I still think is the case. Fingers burnt, lessons learned and all that, a far cry from the types of contract awarded to the likes of Bernard.
It's only one of those BBC Gossip column reports, but I see we are linked with Barcelona's Clement Lenglet this morning. As always, taken with a pinch of salt, but the centre-back rumours persist.
John Dingle
121
Posted 19/07/2021 at 06:28:35
Townsend is an excellent signing. He's free, won't be on big wages, fast, direct and can cross the ball what's not too like. He may only have 2 years left at the top but is a good start for Raffa's Revolution. I remember that twat Merson slagging him off saying he wasn't good enough fo England. Andros certainly proved him wrong and will prove all you doubters wrong.
Gary Smith
122
Posted 19/07/2021 at 06:47:36
Gavin@111 - Nicolo Schira reporting Townsend has signed until 2024. 3 year deal for a 30-year-old Palace reject. It's not "fingers burnt learning", Danny @121, it's stupidity repeating itself. The Delph deadwood of the next 2 years….
Eddie Dunn
123
Posted 19/07/2021 at 06:52:29
The main problem, if these rumours are true, is that we have had to stomach the exciting new coach… and now we have all recovered, we are rewarded with a couple of nearly-men.
It's all so uninspiring.
Paul Dewhurst
124
Posted 19/07/2021 at 06:55:38
Both have pace, with the us having DCL and Richi being good in the air I'm thinking Rafa is going 4-4-2
Dan Nulty
125
Posted 19/07/2021 at 06:58:09
Just checking, John, when did Townsend prove Merson wrong that he was not good enough for England?
Colin Glassar
126
Posted 19/07/2021 at 07:04:39
Take your medicine, John, and lie down.
Andrew Ellams
127
Posted 19/07/2021 at 07:46:52
Struggling to find a positive with this story. Not sure we need a DoF anymore, that's for certain.
Tony Shelby
128
Posted 19/07/2021 at 07:52:38
Christ on a bike.
Jerome Shields
129
Posted 19/07/2021 at 08:12:39
These two appear to be Rafa's choice. I don't know anything about them. But I suspect they will have pace and be workmanlike. The work ethic I guess is going to be a big part of Rafa's approach. Tracksuit on, leading by example from the front, putting in the hours and work, selecting and favouring players who are prepared to do the same.
The team on the pitch will be expected to have the same ethic. Some of our big-money signings could find themselves under selection pressure from a £1M player who is prepared to work harder. I don't expect any big expensive signings. I expect similar type signings. We will know soon enough, because they will be early transfers.
In addition, one thing for sure is if a Gareth Barry type player is out there, he will be in and one of our 'stars' will be sold to pay for him. For some reason, I don't expect players joining on loan, doesn't fit in with what I perceive as Rafa's ideas on commitment.
A low-cost, hard-working, committed side can achieve a midtable finish, maybe even higher than 10th in the Premier League, and be a good base to build from. It would have the bonus of being great financially.
Danny Baily
130
Posted 19/07/2021 at 08:19:18
Gray would be a great signing at that price. I'm glad we're back in the hunt for bargains to be honest.
Brands should go though, along with his role being abolished. I doubt he's had much input on the Gray transfer and the Director of Fooball role has done nothing but damage to the club's prospects.
Vijay Nair
131
Posted 19/07/2021 at 08:28:14
Not the least bit excited about the potential signings of Begovic and Townsend, but they are coming on a free and low risk. If they end up Everton players, I will back them regardless. Demarai Gray I think has immense potential, and is a snip at £1.5M.
If murmurings are correct and we dispense of our two highest wage earners, Mina and Bernard, and bring in a top right-back (Dumfries, Aarons?) and centre-back (Koulibaly, Demiral, Lenglet?), then it would be a good transfer window overall IMHO.
Personally I would also loan out Holgate and Davies to a bottom half Premier League side. If we could flog off Kenny, Delph, Gomes and Tosun, all t,he better.
Jerome Shields
133
Posted 19/07/2021 at 08:29:53
The one telling addition I would make to my post would be a hardworking £1million player is 'with pace'.
Steve Shave
134
Posted 19/07/2021 at 08:30:42
The Athletic are reporting we are in for Bailey not Gray, let's hope they are right, now that is the sort of signing we should be after. If true it's panic stations over, Leverkusen have a lot of quality on the wings. Gray is not one of those but a good back-up option for someone, we don't want or need two back-up options. As others have said, I'd like Gordon to get some minutes this season off the bench.
Pat Kelly
135
Posted 19/07/2021 at 08:52:20
Spend another £10M and we could replace the whole team.
Danny O'Neill
136
Posted 19/07/2021 at 08:59:55
I've seen too many high profile signings that I / we get excited about and then not justify the outlay. I've seen low profile, underwhelming ones prove me / us wrong.
The truth is, until we see them in an Everton shirt, we can't judge them as Everton players. Until then, we don't know if this will become Howard Kendall like astuteness with his Paul Power signing or another Delph moment.
Underwhelming? Yes. But maybe it's squad building. Don't forget, as well as adding better first team players, we still need to shift some out and given our squad was lightweight last season, which bit us on the arse, we need to add squad depth too or at least replace them.
Vijay, despite my previous doubts and uncertainty about Kenny, and I watched him for Schalke, I kind of always hope there is something in there. I don't think he's quite the level we want to be (don't mix that up with where we are), but with Coleman's days numbered, maybe keep him for squad depth alongside signing a better right back?? I know, I want everything!!
I could be going all Blue Bill-esque because he's one of ours, but as back up, not a bad option.
Brian Williams
137
Posted 19/07/2021 at 09:06:18
I see there's still a dose of realism missing from a good number of posters who may be expecting £30M, £40M, £50M signings right, left and centre. We may well yet get one or two in the higher price bracket but there certainly seems to be a cost snobbery at large.
Townsend on a free represents a real improvement on King, though not a direct replacement. A very-low-cost squad player who can still provide very good crosses, and should make a very good backup to a first-choice player.
Gray, for those who have never heard of him or know nothing about him (I find that strange for anyone who watches football) was a very, very good prospect at Leicester City. Very skilful and rapid. Seemed to lose his way and didn't kick on as expected but certainly gave us a hard time when we played Leicester and he scored against us.
Again, at the reported £1.5M, he's well worth the gamble. The lad's 25 and still has the potential, in the right environment, to flourish. If he doesn't at least we haven't done an Iwobi and wasted £25M plus.
Jerome Shields
138
Posted 19/07/2021 at 09:15:12
I suspect Brands's job is keeping the stars on board or finding someone to pay out big money for them. In addition, keeping the deadwood clearout going. He will of course be brought in if Benitez finds and feels he can afford a worth-it big-money signing. I won't be holding my breath on the latter though.

Andrew Bentley
139
Posted 19/07/2021 at 09:20:11
Why do we all assume that these two won't be on big wages?!? Typically when someone signs on a free, then they are paid bigger wages as there is no transfer fee, and the player can choose where to go by running their contract down. Let's not assume these two really will be cheap…
Les Green
140
Posted 19/07/2021 at 09:24:13
So Benitez has a database of 3,000 players on his laptop? If Andros Townsend is anything to go by, then I'm thinking it's an old version of Championship Manager!
Andrew Ellams
141
Posted 19/07/2021 at 09:25:48
Does anybody know how Gray performed at Leverkusen? He's only been there 6 months, has 12 months left on his contract so shipping him out for £1.5m seems like he didn't set the world on fire.
He's 25 and never really made it past the "up-and-coming, off-the-bench" type player.
Dave Abrahams
142
Posted 19/07/2021 at 09:39:48
Andrew (142),
He made ten appearances, don't know how many were as a sub, and he scored one goal. He joined them on an 18-month contract. We have paid £1.5M for him, maybe we will sell him on for a quick profit, or possibly use him and see if Benitez can make a decent player out of him.
Ralph Basnett
143
Posted 19/07/2021 at 09:45:24
How underwhelming.. Yawn, fuckin yawn. Drivel, bollox Everton.
Wayne Read
144
Posted 19/07/2021 at 09:47:53
Just seen Andy Caroll has been released… what a trio of free transfers that would be…COYB.
James Davies
145
Posted 19/07/2021 at 09:59:29
Have I slipped into a parallel universe, in which we're chasing promotion to the Championship?
Peter Roberts
146
Posted 19/07/2021 at 10:05:34
I don't know about anyone else but I'm worried about the Lenglet rumours. He can't get.in the French side at centre half and seems to be a disaster waiting to happen every time I've ve seen him play.
People moan about the cheap signings who will act as squad rotation, when we run the risk of blowing more money on utter dross..
Dave Lynch
147
Posted 19/07/2021 at 10:18:08
Ahhh, the naysayers and managerial experts are out in force on TW. I well remember similar posts regarding Barry, Gough and a few more, all who served us very well.
Let's see, shall we? It cant get any worse IMO as we are bang shite at the moment.
Steve Brown
148
Posted 19/07/2021 at 10:19:29
Raffa's revolution! Never heard it called that before.
Mind you Benitez does have Kim Jong-Uns waist-line pre the North Korean's enforced COVID slimming treatment. And his charisma.
Derek Wadeson
149
Posted 19/07/2021 at 10:23:40
Why not go after some big names who we know we cannot get. Wait until deadline day and say at least we tried.
Many on here would then be saying "Townsend and Gray were available but we let them slip by, typical Everton that."
Reminder: Barry Horne, Kevin Sheedy, Paul Power, Richard Gough, Gareth Barry and more – all not good enough at the time.
Steve Brown
150
Posted 19/07/2021 at 10:25:29
David @ 148, I'll see your Gough and Barry and raise you Mark Hughes, David Ginola, Paul Gascoigne and Fabian Delph.
Dave Lynch
151
Posted 19/07/2021 at 10:29:54
Steve@151.
See post 150. You cannot judge until the season has started.
People moan we have no width, he brings in wide players and they still fucking moan.

Dave Lynch
152
Posted 19/07/2021 at 10:33:48
And Steve.
Tell me a football club that has not bought dud players.
That lot across the park have bought more than their fare few.
Camara, Dundee, Caroll... the list is long.

Joe Francis
153
Posted 19/07/2021 at 10:41:30
For a long time we've needed someone left-footed with pace to play on the right wing as it has limited what formations we can play. Townsend fills that gap for a year or two at least, especially as he has a decent injury record. Seems quite shrewd.
Kim Vivian
154
Posted 19/07/2021 at 10:43:17
Andros (read it as Andy) Townsend - Demarai Gray rolled into one = Andy Gray.
Anything in the runes?
Tony Abrahams
155
Posted 19/07/2021 at 10:53:35
How can you seriously know that poor Kim Jong Un hasn't got any charisma, Steve B!
John Hammond
156
Posted 19/07/2021 at 10:56:11
We're skint. We need to sell.
Rafa obviously knows and trusts Townsend. He has the desired pace we crave and costs nothing while he's actually very good defensively. (Top 15 last season for tackles; 25 starts, 9 sub.) He's also good for at least one 40-yard screamer a season.
Gray, on the other hand, I'm not so sure about. Has pace and age on his side. I've always seen him as a player to come on with 15 minutes to go to run at tired defenders. Signed for Leverkusen in January and played 10 times, scoring once and assisting twice (5 starts, 5 sub).
Martin Reppion
157
Posted 19/07/2021 at 11:00:49
It looks like the level-headed brigade had a lie-in as the more rational comments have come in later. The obvious one is on width. We add wide players with pace, who can cross, for the price of a League Two left-back and people moan because we haven't signed Lionel Messi.
I remember when we signed a fading Paul Gascoigne. In itself it was underwhelming. But we had already added to the squad that summer and he was a bit of bunce.
It looks like we have got the bunce in early without breaking the bank. We have to reduce the wage bill, and there are a few who will leave or have their contracts paid up. After that, we will be in a position to fulfil the demands of a top player or two.
When the window closes – or as the media put it, slams shut! – we can moan if we haven't made any exciting signings and still have Bernard and a team of pedestrian No 10s. But, until then, l will keep my powder dry and see what develops.
Dave Evans
158
Posted 19/07/2021 at 11:07:21
These two are fast players who don't shirk on the track back. They could link quickly with Calvert-Lewin and Richarlison… Could be formidable.
Rafa will have the whole team defending with all heads clued up for the counter-attack.
As a plan, it is not the Ardennes… but at least it is a plan. I am looking forward to watching our players drilled so that they know what to do when we have the ball.

Andrew Ellams
159
Posted 19/07/2021 at 11:08:01
We are also being linked with Samuel Chukwueze and Leon Bailey elsewhere this morning so you never know.
And if we brought all four of these players in, it surely means Iwobi is on the way out.
Vijay Nair
160
Posted 19/07/2021 at 11:08:44
Danny (137),
Fair point on Kenny. I also thought he would be a natural successor to Seamus, but it doesn't look like he's kicked on after his two loans. If we do get Dumfries or Aarons in, three right-backs might be one too many..
Teddy Draper
161
Posted 19/07/2021 at 11:08:50
This has got to be a joke; to me personally, it's worse news than I got when diagnosed with cancer.
Dross Townsend and Gray… now it would be good news if it was Andy Gray. Where's the so-called money?
I haven't quite got round to enquiring how much a season ticket is at Anfield but the thought is creeping in. Not a word from Blue Bill, Mmmm.
Like many of us who have suffered the garbage offered over many years, I am thinking are we resorting to becoming a mid-table team without ambition?
Something obviously not right at boardroom level. Please sort it out or I can see this guy taking us down. Sorry guys for being such a ballache but I did expect a lot better than what's on offer at the moment.
Derek Knox
162
Posted 19/07/2021 at 11:24:13
Vijay, with all due respect mate I would be very surprised if we were to land Dumfries and Aarons, by early indications unless we balance the books, and get some high 'earners (?)' out of the door, I can't see too many high profile/high cost players coming the other way.
Plus I think Rafa has a major rebuilding and assessment project on his hands. Having said that, once he has identified who he wants, and who he wants gone, it is another uphill task for Marcel Brands to find new homes for them, and then assuming the players in question agree to go!
Jim Jennings
163
Posted 19/07/2021 at 11:26:22
Andrew (142)
Gray has been mostly used off the bench late in games. He started 4 or 5 and was taken off at half-time in a couple. He did get one goal late in a 5-2 win and finished a couple of games but fair to say he didn't pull up any trees. I don't think we should be talking about potential as he's now 25 and should be at his peak.
Bailey is a much more direct and fast player who gets his share of goals but can also be anonymous. He's not the world beater some of the TW community seem to think he is but would be a far better buy than Gray or Townsend.
Having said all that, I haven't seen Gray in the flesh due to Covid restrictions but I have seen Bailey a few times, since I live under an hour away from Leverkusen.
Sam Hoare
164
Posted 19/07/2021 at 11:31:30
For those without access to The Athletic, this is good (and usually accurate) transfer update:
It was business as usual for Everton's recruitment team this summer as the club sought a replacement for Carlo Ancelotti.
While the Goodison hierarchy whittled down a long list of candidates for the vacancy, eventually arriving at Rafa Benitez, Marcel Brands and his staff were busy assessing transfer targets and speaking to agents before a pivotal transfer window.
Despite the managerial upheaval, there is full acceptance at Everton that the first-team squad must be improved ahead of the new season. And while the change from Ancelotti to Benitez does represent a stylistic deviation, most of the needs remain abundantly clear.
Regardless of the regime change in the dugout, Everton will target key additions in several areas, including right-back and along the forward line.
As in past windows, they will need to do so diligently, recouping money from sales where possible and trimming the squad.
In his first press conference as Everton manager on Wednesday, Benitez referred to "financial restrictions" after sustained heavy losses in recent seasons. He is under the impression he will be backed where possible in the market, but that the lavish spending of some previous windows is no longer a viable option in the short term. In other words, Everton know they cannot continue to stockpile assets, paying sizable wages to players who make little contribution on the pitch.
"We must manage the financial restrictions while still being ambitious," Benitez said — an acknowledgement that, to one extent or another, financial fair play regulations still linger in the background.
Although planning permission for the proposed new stadium at Bramley-Moore means costs of around £50 million can effectively be written off from the accounts, reducing some financial pressure, the understanding is that Everton are keen to forge a more sustainable way of being. There will be some money to spend but not the kinds of net sums seen earlier in the Farhad Moshiri project unless vast resources of cash come into the club.
The aim is to cut down the squad where possible, with particular attention paid to high-earning fringe players such as Bernard, Cenk Tosun and Fabian Delph. As reported by The Athletic, the club are also willing to sell Moise Kean if the right bid comes in although they would happily keep the Italian if their valuation is not met.
After a successful season on loan at Paris Saint-Germain, Kean is a rare commodity among those currently on the periphery of the Everton squad in the sense that he is young, full of potential and has resale value. Cashing in on him would offer Benitez greater wiggle room in the transfer market, but so far, no club has indicated they would be willing to match Everton's valuation.
With so many of those available for sale playing in advanced areas, Ellis Simms recovering from surgery and Richarlison on course to miss the start of the season because of his participation in the Olympics, a new centre-forward will be a priority. Benitez hopes to keep Richarlison for at least another season and would ideally like to recruit a target man comparable in build and profile to Dominic Calvert-Lewin.
In his press conference, the new manager lauded Calvert-Lewin and hinted he would focus a decent part of his side's attacking blueprint on providing service from wide areas.
"It is very easy to see that we have a great centre-forward," Benitez said. "He's very good in the air, he can score goals. But we have to provide him with good crosses, good passes."

(Photo: Mike Hewitt/Getty Images)
Before his departure, Ancelotti's goal was to make Everton more attractive on the eye, adding creativity and pace in forward areas. With James Rodriguez's future uncertain, the early evidence is that will almost certainly be a preoccupation for his successor too. Sources close to AC Milan have played down talk of an imminent move for the Colombian, but the departure of long-time mentor Ancelotti has left him considering his future.
For the last couple of years, Brands and his recruitment team have scouted dynamic wide players intending to make Everton more effective in transition. Bayer Leverkusen's Leon Bailey, Villarreal's Samuel Chukwueze and RB Leipzig's Hwang Hee-chan have all been extensively assessed and have garnered positive feedback. The Athletic understands the former two feature on Everton's shortlist once again this summer. The club are also on course to sign Benitez favourite Andros Townsend on a free transfer after his deal with Crystal Palace expired. Townsend is expected to provide trusted cover in wide areas with Bernard likely to leave.
Right-back has been another area of focus for the recruitment team in recent seasons.
Last summer, Manchester United's Diogo Dalot and Atletico Madrid's Santiago Arias were both on the shortlist, only for Everton to pull back on formal bids. The understanding is that Jonjoe Kenny, deemed surplus to requirements during the same window, needed to be moved on before a new name came in.
Dalot remains a player of interest but others have also caught the eye in the interim. PSV Eindhoven and Netherlands right-back Denzel Dumfries has long been admired by countryman Brands and is one possible option. Everton are yet to make a formal move, with Dumfries' agent Mino Raiola handling initial negotiations with interested parties. After long-standing interest, there was some fear that the Dutchman's excellent performances at Euro 2020 could spark a bidding war. So far that has not materialised but any deal would also need sign-off from Benitez, who is still assessing other potential targets.
Everton scout extensively in France, both at senior and youth levels, but have not shown much interest in Lille's Zeki Celik despite some reports to the contrary. Equally, there was surprise internally at the strength of the speculation around a potential move for Norwich City's Max Aarons earlier this summer.
If Everton's search for Seamus Coleman's long-term successor is finally successful, Kenny will almost certainly be forced to look for a new club. With one year left on his deal, the former Burnley and Schalke target is waiting to see what the future holds for him under Benitez before deciding his future. Wherever he lands, he will want regular minutes to push on his career.
On the other side of the defence, Everton will continue their attempts to tie down promising England Under-17 international Thierry Small to a professional deal amid interest from a host of top clubs and promoted Watford. Fellow youngster Niels Nkounkou had been set to push for a loan move under Ancelotti but is another currently waiting to see if he will be afforded more opportunities by the new manager. The Frenchman, recently selected in his country's squad for the Olympics starting this week, is attracting interest from top-flight clubs in France, Spain and Belgium.
In the centre of defence, decisions need to be made over youngsters Jarrad Branthwaite and Lewis Gibson. The duo face strong competition from a quartet of senior defenders, all of whom want regular football. Keeping everyone happy will be a tall order, and Everton do have a list of central defenders to fall back on should anyone push to leave.
The need in central midfield is less abundantly clear, and will ultimately depend on who departs this summer. Sporting Lisbon's Matheus Nunes has been one name monitored by the recruitment team, and was offered by intermediaries Gestifute earlier in the window.
At that stage, Gestifute were also involved in talks between Everton and client Nuno Espirito Santo over the vacant manager's role. Sources stressed the need to treat those two cases separately, but momentum has stalled, with those close to the deal less confident than before that Nunes will end up at Goodison. Again, Benitez would also want a decisive say in whether the young Brazilian ended up at Everton. Highly-rated Metz defensive midfielder Pape Matar Sarr, 18, is another who has been watched, although immediate priorities are elsewhere for now. As was the case under Ancelotti, a lot will also depend on how Jean-Philippe Gbamin acclimatises after a lengthy spell on the sidelines.
With just over three weeks to go until the season opener at home to Southampton, Everton will focus their efforts on furnishing Benitez's squad for the big kick-off while also cutting their cloth accordingly elsewhere.
It is always a big summer at Goodison, but this one feels particularly important as the new manager looks to add some belated momentum to their overarching pursuit of the top six and silverware.
Jim Harrison
165
Posted 19/07/2021 at 11:32:27
Begovic is a good back-up keeper.
The other two? Hardly like getting James and Allan, is it?
If they are squad fillers, we get some current players off the books and make two significant first-team signings I would be happy.
Derek Knox
166
Posted 19/07/2021 at 11:35:26
Hi Teddy, great to see you posting again, albeit through gritted teeth and flared nostrils, I just hope it all works out in the end for the better but like many, I have my doubts. He has to be given the chance to succeed, or fail, before we can order the tumbrel, and brandish lighted torches and carry pitchforks round Finch Farm and Goodison Park. Seems a bit silly in the daytime, but there you go.
I always thought a 'ballache' was a delicate ballet movement performed by those who are light on their feet, so I have now learnt that is a severe and irritating pain in the testicles. Who said TW wasn't a continuous effervescent fountain of knowledge? :-)
Mark Ryan
167
Posted 19/07/2021 at 11:42:25
Jim @166 sums up my thoughts.
They are both hard-working players, albeit not marquee signings. If this allows us to lose one or two of the deadwood and we make a couple of decent young hungry quality signings, I'd be happy.
I'd be even more happy if Moise Kean stays. I think he's the right fit for us.
Gavin Johnson
168
Posted 19/07/2021 at 11:43:02
Danny #121;
Yes, the Barca situation is interesting and it may inadvertently help our FFP. Maybe we will bring in Clément Lenglet and sell one of either Mina, Keane or Holgate.
If we brought in around £20M and then had a try before you buy on Lenglet, or even Demiral from Juve, then that would be very good business.
Derek Taylor
169
Posted 19/07/2021 at 11:46:44
As warned previously, I suspect the demands put on Rafa are nowhere near as challenging as those set for previous Moshiri appointments.
His cash provider, Usmanov, is a bit more realistic and will just be happy to see Everton move safely to Bramley-Moore Dock as a Premier League side. Only then will the purse strings be released. Lapdog Moshiri had his chance to lead the 'project' and 'blue' it. Excuse the pun!
Bernard Dooley
170
Posted 19/07/2021 at 11:49:20
Maybe we have misunderstood the mandate Moshiri handed to Benitez, a man our owner was determined to appoint despite the collective groans from so many of our supporters.
We have a serious Financial Fair Play issue to resolve; we have a stadium to pay for. Moshiri has only committed to paying for the first phase, not the subsequent main build.
So maybe Rafa is here to steady the ship, keep us halfway up (or down) the Premier League, and see where we are in a couple of years in respect of the two elephants in the room. If so, no wonder Moshiri was somewhat ecstatic about the new manager's 3,000-long list.
I have no real expectations for the Blues this forthcoming season but, after 66 years following them, I am well and truly hooked, though trying to take a more detached view for the time being.
Danny O'Neill
171
Posted 19/07/2021 at 11:50:20
Brian @143, I agree. Until we are in a position to attract those types of players, we need to avoid getting seen off paying £40M for "decent" players. Although I thought we done good business last summer, we've had too many years being exploited by agents knowing our willingness to spend compounded by a rather flimsy transfer strategy or plan.
I hoped for a repeat this season along with a strengthening of the squad. Maybe up the game & level of targets a little, but I based that on having Ancelotti and qualifying for Europe. Different situation requires different perspective.
I don't mind this type of squad adding and still think (hope) we will add a couple of quality signings that will get the expectation flowing again. I guess it's a dose of realism after the disappointment of last season.
But I think the space we're in, we need the Leipzig model. Shop around for those uncovered gems, only spending between £15 - £20M. I thought that was the DoF job?
Dare I say, and we've all discussed this before, when they were average a few years ago, it's what served Liverpool well. Torres for £20M, Suarez for £20M, Coutinho for £8M. Turned them into superstars and even when they did have to sell, did so at profit, found replacements and gradually improved themselves to a point they were challenging. Ironically, where it didn't work for them was when they splashed over-the-top money on the likes of Carroll. It's not what you spend, it's how you spend it.
Not until you get yourself into a position to challenge Man City and Chelsea.
Mick O'Malley
172
Posted 19/07/2021 at 11:59:46
We are on our arse and about to start building a new stadium, so why fans think we've got tens of millions to splash on signings and wages is fanciful. I'm reasonably happy with these two for not much outlay, we've had our fingers burnt splashing the cash and lumbering ourselves with players we're struggling to shift.
We might only be able to afford one or two multi-million pound signings so signing these two, one on a free and the other for a couple of million, then it makes sense to me. They know what the Premier League is all about instead of signing players from abroad who will take time to get up to speed and usually end up flattering to deceive.
Brian Williams
173
Posted 19/07/2021 at 12:08:46
@162.
I have to say, from someone who's living with the big C after being diagnosed 10 years ago and having every treatment and surgery I can have, I find your post a fucking disgrace.
As if your misguided reference to cancer wasn't enough to show just how "pissed off" you are, you continue by suggesting you may look at the season ticket prices across the Park. You should.
If you're short of a few bob, I'll help you out.
If the post was an attempt at being funny, you failed miserably, but nailed "really offensive".

Minik Hansen
174
Posted 19/07/2021 at 12:32:58
After I gave it a thought, these signings seem like just a piece of the puzzle, that not necessarily are priorities we're making in this transfer window. For some, it would make more sense if we've bought one or two top players, and signings of Townsend and Gray happened on the last days of the transfer window.
We've yet to sell anyone (maybe Kean, Mina, Bernard…) and time will tell how Rafa and Brands cope with it. I have yet to be disappointed with Brands, as his signings have been promising and it's been pretty much up to the players to step up and show their worth.
Brendan McLaughlin
175
Posted 19/07/2021 at 12:40:14
Brian#174
Agree 100%
Ian Horan
176
Posted 19/07/2021 at 12:42:22
Underwhelmed? Yes!! Understandable ? Definately. We are about to build a new stadium at BMD, something needed to give!! Or shall we forget BMD and play fantasy football manager. We will be back to a more sell to buy club. I believe Moshiri has backed his managers blindly, it appears to me the brains behind the business Usmanov has now stepped in to stop the stupidity of sponking money away. Cheap replacements will keep us in the premier league. We have to accept the BMD project is the golden bullet, Arsenal spent fuck all during the Stadium build, Spurs similarly even though they got good gate receipts from their time at Wembley. We need pragmatic realism. Am I happy no can I see the bigger picture? I think so. Lets get real the wasted money is gone!!!
Michael Nisbet
177
Posted 19/07/2021 at 12:49:48
What is the point in signing Gray and Townsend. We already have wingers with little or no end product. We are stuck with them for a few seasons til their contracts run out. Why add more? I can't see a single reason for signing either of them. They are literally no better than Bernard, Iwobi, Gordon, Sigurdsson, James etc. Absolutely no point adding these mid table players to the squad. Can we not save those 2 wages, and sign a player who actually improves the squad??
Mid table obscurity is obviously the target this season. I'm putting a bet on now for a 14th place finish.
Teddy Draper
178
Posted 19/07/2021 at 12:53:33
Brian@ 162. I apologise most sincerely if I have offended you so deeply. After reading your post then re- reading mine yes it was as you put it really offensive. So so sorry Brian. Your right my feeble attempt to be humorous about L.F.C. Failed miserably. Before writing this I read and re-read your post ( with a tear in my eye mate ) to try and find words to apologise but none will suffice for obvious reasons. Wow what a punch in the gob, I am not like that normally as I think people who know me will vouch. This has given me a hell of a shock Brian and I do thank you for the wake up call respect Teddy
Andrew Ellams
179
Posted 19/07/2021 at 12:54:26
Ian @ 177, problem is Arsenal suffered but didn't start the process from mid table.
Southampton dropped two divisions because their stadium sucked up all other available funding. Leicester are in a good place now but they had to endure time in the Championship first. Are we prepared to accept as a consequence of slashing squad funding to build a stadium?
Ajay Gopal
180
Posted 19/07/2021 at 13:00:22
I am more worried about the lack of outgoings than the quality of the incoming players. As it is, we have a bloated squad, and unless we get rid of the likes of Bernard, Delph, Iwobi, Kenny, Tosun, Gomes - I actually get anxious about more players coming in. And, talking of the quality of the these 2 who we are rumoured to be after - if you compare to what Man United have already signed or close to bringing in - Sancho for 73 million and Varane for 50 million, then Moyes' much maligned "knives to a gunfight" quote comes to mind. I have a strange feeling that we are about to enter a Moyes-Kenwright Mark 2 era with Benitez and Moshiri as the main protagonists. Low expectations, waiting for our rich benefactor - in perpetuity.
Steve Shave
181
Posted 19/07/2021 at 13:01:09
Teddy 179 fair play to you for taking responsibility for your actions and for making such a heartfelt apology. I was not the one who took offence so it's not my forgiveness you seek but I just felt a need to acknowledge your authenticity. There are many on here who can't acknowledge a mistake and don't have the courage to admit when they have done something regrettable or got it wrong somehow. I hope you are ok too Brian.
Gavin Johnson
182
Posted 19/07/2021 at 13:01:29
I've just seen a Kevin Campbell interview on Sky where they're asking him about the Townsend/Gray signings. They go on to say we're also interested in Dwight McNeill. Now Dwight McNeill is a good player but the guy is very slow. He hardly fits the pacey winger who scores goals profile. I'd be very concerned if we paid a big fee for him.
I'm fine with Townsend and Gray if we also bring in someone like Matheus Pereira, or Leon Bailey who will score goals cutting in form the wing. Townsend, Gray and McNeill won't!
Andrew Keatley
183
Posted 19/07/2021 at 13:27:19
Teddy (179) - Respect to you for that post.
As for the issue of being linked with players like Andros Townsend and Demarai Gray - that's where we currently are as a club. No European football, an ongoing FFP problem, a new stadium in the offing - and all in this Covid and Brexit landscape.
We have to be creative about the fact that we need to add attacking players to our squad - and we need to find a handful of players that can come into the matchday squad and contribute immediately. Rafa has identified service to DCL as a major priority – and I think he's bang-on with that; wingers who might actually beat a defender and get to the byeline to put a cross in. Remember those? If we can bring in two of those, on reasonable wages, for an outlay of under £2 million, then it allows any existing transfer kitty to be prioritised for the other holes in our squad.
Shopping in the free transfer aisle is always a risk (Sandro and Bernard being two recent misfires), as is bringing in promising young players who are bargains because they haven't really kicked on as expected (Drenthe anyone?) – but I hated looking at our bench last season and regularly seeing 2 goalkeepers, a ragtag collection of central midfielders and central defenders, and a handful of youngsters... with no real viable attacking options at all. Another season like that does not bear thinking about.
Francis van Lierop
184
Posted 19/07/2021 at 13:29:27
As I wrote on the last post of the rumoured Richarlison to Madrid thread, Inter Milan are still interested in Denzel Dumfries, but (also..) don't have the money to buy him.
They want him on loan. Now that is something PSV will never agree to.
So if we're really interested, get moving, I'd say.
Although it now appears our finances seem limited.
Andrew Keatley
185
Posted 19/07/2021 at 13:31:17
Gavin (183) - Look at the goals Demarai Gray scores. Just from memory I would say that a very high percentage of them are him cutting in from the left wing and shooting from outside (or the edge of) the penalty area.
Ian Burns
186
Posted 19/07/2021 at 13:51:45
Brian - 174 - I absolutely agree 100% with that complaint. When I read the original post I had to stop and read it a second time to see if I had misunderstood what was said. I didn't respond immediately because I still thought I was misreading the poster's intent.
Teddy - 162 - you might wish to re-read your post and try again.
Ian Burns
187
Posted 19/07/2021 at 13:54:51
Teddy - profuse apologies - I see you haves already responded - my system was slow to update.
Well done!
James Newcombe
188
Posted 19/07/2021 at 13:56:36
I don't understand when fans moan about Moshiri on here, or Twitter for example. He hired people who were supposed to know the game inside out, and he did his part by backing them in the market. We also have a stadium project that appears to be happening.
One good thing about appointing Rafa is that he won't accept any passengers. Maybe we will see a different side to some of these misfits. Or maybe i've been in the sun too long.
Derek Knox
189
Posted 19/07/2021 at 14:03:02
Ajay @ 181, a very valid point that many don't or won't seem to grasp. Okay we should never have bought most of them in the first place, let alone the silly contracts most enjoy. We as fans have little or no say who we want to improve our team, or indeed in any recruitment of Players and Managers alike.
That has been proven recently with our latest Manager, but it has also revealed, sort of reassuringly, that Usmanov is a lot more involved than we were led to believe.
Only time will tell, but I don't envy Marcel Brands being tasked with moving many on. Although a degree of ambivalence in me also, saying he must have been complicit in their Arrivals and Contracts in the first place. (Not all, but many recent ones)
Brian Murray
190
Posted 19/07/2021 at 14:04:29
Always remember a 31 year old Kevin Campbell getting a a 3 ( or was it 5 year new contract. Wouldn't surprise me ) from us. While our best player don Hutchison was allowed to slip away. We are starting to be a lot more savvy and pro like now. It's all about getting wages off the books and we may still see a quality like Bailey and Dumfries if that happens. We all know this but getting it to happen might take most of the windows Everton style.
Barry Rathbone
191
Posted 19/07/2021 at 14:09:57
Fair play to Beni the Blue at least he is making changes the quality might be debateable but at least he is "busy" unlike our erstwhile Italian. It is possible the urgency of the situation has dawned upon him unlike recent sloth-like creatures who loafed around the GP hot seat.
Makeweights like Everton need to turn the majority of the squad over every 2 years to avoid comfortable mediocrity as per the Moyes era a challenging team MIGHT evolve
It is a gamble but as the Richard Branson of Peckham Market once said "he who dares, Rodney"
Dan Parker
192
Posted 19/07/2021 at 14:11:04
Decent players with Premier League experience probably happy with any game time they can get at the highest level. I'm hoping this means the funds are being pooled into getting a key signing that improves the starting 11.
Alan J Thompson
193
Posted 19/07/2021 at 14:14:17
James(#189); May be because we expect leadership to come from the top having experienced what a lack of it has done, or more accurately not done, for the last quarter of a century but then again this was the preferred buyer the Chairman was looking for for how many years and turned down other options of which at least one has made a club that which we partly experienced under Sir John Moores.
I won't list them all but you do mention the stadium that appears to be happening not the one that was ring fenced, nor the most talked about footballer in the last 20 years. And now the frittering away of what seems all the transfer kitty and the appointment of an unpopular manager possibly as a result.
Eddie Dunn
194
Posted 19/07/2021 at 14:26:22
Barry- good point. it does seem that once players arrive with a long contract on big money, the lack of competition allows a relaxation. The top clubs have lots of pressure on the remain in the top 6, and those that underperform get replaced.
I noted that whilst Siggy seemed to put in a decent shift in every game, when Spurs visited he upped his game by 10%. Next game, he relaxed again, still working hard but not quite at that level.
These small margins are the difference between success and failure.
Every time the team were within reach of a European slot during the last couple of months of the season, with games in hand, it was clear that the players lacked the fitness, belief and ability to close in on the target.
Rafa will need to weed out the lazy ones and must not allow complacency or the usual comfort zone will be occupied by the usual suspects.
Andrew Ellams
195
Posted 19/07/2021 at 14:30:27
Sky Italia have us in advanced negotiations with Denzel Dumfries.
Don't the proper pre season games start this weekend?
Billy Bradshaw
196
Posted 19/07/2021 at 14:31:19
Off topic, e season tickets to be dispatched by email link from club 10 days before season starts.
Bill Hawker
197
Posted 19/07/2021 at 14:31:43
I'm ok with Gray if it's dirt cheap. We already have a Townsend in Iwobi so that one makes no sense at all, especially if we're trying to whittle the squad down OR improve the squad. Townsend does neither.
Bobby Mallon
198
Posted 19/07/2021 at 14:32:54
Lewis Dobbin, could this lad save us a fortune ?
Peter Gorman
199
Posted 19/07/2021 at 14:36:18
Bill, I'm not sure Townsend is as useless as Iwobi when it comes to end product, though admittedly it has been a while since I've seen him play.
Speaking of Kevin Campbell, his son might be worth keeping an eye on. I think he is at Stoke.
Derek Taylor
200
Posted 19/07/2021 at 14:38:48
Typical Davey players, those two. I bet he mentioned them at interview and Brands pulled a fast one by signing them up !
Barry Hesketh
201
Posted 19/07/2021 at 14:46:41
According to Corriere dello Sport, via ToffeeTV
Inter Milan have informed the organizers of the Florida Cup that they want to withdraw from the friendly tournament this summer due to the spread of the COVID Delta Variant.
Ian Burns
202
Posted 19/07/2021 at 14:50:45
Barry - 202 - knowing our luck Accrington Stanley will probably take their place!
Peter Warren
203
Posted 19/07/2021 at 15:05:05
Signings don't make you go "OH YES" but wingers with pace are needed and more importantly building a team just like Moyes did in his early years with us when we finished above Rafa. He had a pretty shit team at the time too but had Gerrard in his ranks whilst we had lost Rooney.
I think our managers have been rubbish since we won something except for Moyes who was okay.l and Ancelotti hard to judge in Covid times although was undoubtedly negative
Ashley Roberts
204
Posted 19/07/2021 at 15:14:44
Both pretty uninspiring. Squad players maybe but we need some quality in the first team and these 2 definitely do not raise our expectations of a top 4 finish. Looks like another season of mediocrity. What happened to Nunes from Sporting Lisbon? We need some energy and inspiration from midfield. Not sure why there is so much talk about Demeril from Juve. He was crap in the Euros and can't make their first team. Also how many centre backs do we need. Get rid of the dead wood and make 2 quality signings and then give the youngsters at least a chance. Townsend is no better than Walcott, this just does not make any sense. If Benetiz wants to get us all on side he will have to do better than this.
John Boon
205
Posted 19/07/2021 at 15:18:07
Ian 203.. It will not be Accrington because "Marine" have already been contacted and agreed. It was based on last season's FA cup exploits.
Soren Moyer
206
Posted 19/07/2021 at 15:21:46
At last some needed better news as it appears we are being linked with Leon Bailey and Dwight McNeil!
On the other hand, Townsend is having his medical as we speak (hæmorroide probably) lol.
Justin Doone
207
Posted 19/07/2021 at 15:29:01
Positives they both bring are much needed pace, Premier league experience in an unresolved 'problem area' of the pitch that has lacked creativity and competition for places for many seasons.
Negatives being they are not an improvement to the current squad standards needed to challenge the top 4.
A decent start to finding a right winger / forward that we badly need. Townsend has a few goals and assists in him. Grey unfulfilled potential.
Allen Rodgers
208
Posted 19/07/2021 at 15:31:29
Barry @202 I can see this comp.being cancelled or a US based team taking the place of Inter. How would any European club organise a trip when the first game is in a matter of days ?
Tom Harvey
209
Posted 19/07/2021 at 15:36:50
Allen,
Wouldn't one of those MLS teams like to test themsleves against premier league outfit?
Derek Knox
210
Posted 19/07/2021 at 15:37:25
Soren, stop Piling on the Agony, just because the Nurse doing his Medical is called Emma Royd, no need to jump to conclusions. :-)
Raymond Fox
211
Posted 19/07/2021 at 15:53:19
Two decent players but not an improvement on what we already have.
Looks like we have given up the ambition to be top four club at least for the time being, although its early days yet.
Looking on the bright side our away form last season was exceptional, that is why our home form was so disappointing, so there is some hope.
I think nevertheless we are shaping up to be a good but not great middle of the table side, it could be worse I suppose!
Lets see what Rafa can make of our squad.
Mike Gaynes
212
Posted 19/07/2021 at 16:26:48
John #206, I just booked a flight from Seattle to Orlando to watch Marine play!
It's a nonrefundable ticket, so I hope you weren't joking.
Mick O'Malley
213
Posted 19/07/2021 at 16:27:28
I love the way fans say let's get rid of the deadwood, who to? Clubs are on their arses so I can't imagine to many being interested in our plethora of very well paid "deadwood". Andros Townsend is a solid reliable experienced premier league ex England international who I'm made up with for free, and as for Gray if he only costs 1.5 million what's the problem? He's fast direct and can only get better, we've wasted an absolute fortune over the last 5 years so maybe we have to tighten the purse strings
Mike Gaynes
214
Posted 19/07/2021 at 16:36:00
Barry #202, a story just posted ten minutes ago quotes a Gazzetta.it article saying Inter will play.

Dale Self
215
Posted 19/07/2021 at 16:50:04
McNeil is crafty enough that with some speed around him can cause considerable trouble on the flanks and is decent at advancing the ball through midfield. Townsend, yeah well, who is he replacing then? And Gray, well, his potential partnership can't be any more impotent than the present duo. Okay action for a start.
Terry White
216
Posted 19/07/2021 at 16:51:38
Isn't McNeil a left-sided midfielder rather than a "winger"?
Andrea Jacobs
217
Posted 19/07/2021 at 17:01:47
These are good signings, and reflect where we're at. Iwobi is a garbage wide player, these two are actual wide players who can beat their man and put a cross in to Calvert-Lewin, a striker who is good in the air.
This is not rocket science, this is clear thinking and a sign of good management.
Ancelotti is the worst manager we've ever had, he had no intention of building a functioning, hard working side because he has no clue how to do this, ask intelligent Napoli supporters, who also say he was a non-existent coach, one of the worst managers they've ever had.
At least Benitez seems to actually be identifying something that has been missing from this squad for years.

Kristian Boyce
218
Posted 19/07/2021 at 17:04:55
Allen, rumours are that Orlando SC are lined up to replace Inter if they do pull out. I highly doubt they will cancel the event at this late notice, as there are thousands of fans of all clubs from all over the States descending on Florida this weekend. Most people are making a week of it, like myself and have booked hotels and some with flights.
Jason Li
219
Posted 19/07/2021 at 17:17:23
I don't mind Townsend on the left. Very good left foot on him.
Maybe his assists stats got watered down by crossing to the goal-shy Benteke? And Zaha takes the ball off the other side of the pitch on the grass, so the manager wouldn't want balls pinged over to Zaha in the air - so no assists this way either.
Richie and Dom would be very happy if good balls come in like Rodrigeuz does from the right all the time, as Iwobi is never going to put in 5 good crosses a game... even if we paid David Beckham 12 million a year to be his coach. Move Iwobi centrally whenever called upon. Townsend on the right - let's try it out.
Mike Gaynes
220
Posted 19/07/2021 at 17:18:18
Kristian and Allen, now
football.italia
has weighed in to support the report that Inter is pulling out:
https://theshortfuse.sbnation.com/2021/7/19/22583560/inter-milan-florida-cup-withdraw-arsenal-new-opponent
Kristian, it would be hard for Orlando FC to jump in. They have league games scheduled Thursday, Sunday (in New York!) and the following Friday. MLS is playing a compressed schedule because of the late start due to COVID, and I don't think MLS would tolerate their putting out a light lineup for a league game, so they'd probably have to serve up a reserve squad for the Florida Cup.
A three-way round robin seems more likely.
Dale Self
221
Posted 19/07/2021 at 17:22:41
Terry, good eye. He usually sets up outside and looks to cut in in the final third but does mostly left mid shift.
Julian Exshaw
222
Posted 19/07/2021 at 17:24:11
Not exactly marquee signings are they, more like a leaky tent!
While I don't doubt these players will add value to the squad, is the club showing enough ambition? I know times are hard and football clubs just don't have the cash but fans need to get excited at this time of the year.
In Rafa and Marcel we need to trust.

Dave Lynch
223
Posted 19/07/2021 at 17:26:04
Those who are saying they are not an improvement on our current squad... have you forgotten the shite we put up with in the last 10games of last season?
No passion, no commitment and a can't be arsed attitude by our so called marquee players, anything would be an improvement on that.
IMO if we can play with wide players with pace and provide service into the box then DCL will show his true potential, that will be either great striker or big time Charlie.
Lets wait and see.
Mike Gaynes
224
Posted 19/07/2021 at 17:26:59
I would just like to add at this point that I think Everton should consider pulling out as well.
As difficult and painful as this would be for traveling US Blues like Kristian and Steven, as well as the hometown Floridians like Jamie, the club should be prioritizing keeping players safe and healthy.
US COVID cases rocketed up 70% last week, according to the CDC -- and one in five of those new cases were in Florida.
Bill Gall
225
Posted 19/07/2021 at 17:38:21
Good call Mike, Florida is one of the hot spots in the states for increases in Covid 19 cases, and I would not be surprised if Everton were put into quarantine when they return, as there is bound to be some sort of interaction with the fans, as it is not only preseason games but a chance for the club to increase their exposure in the states.
Terry White
226
Posted 19/07/2021 at 17:41:12
I'm with you, Mike (#225) although Governor DeSantis and Jamie Crowley might disagree with your thinking.
Allan Board
227
Posted 19/07/2021 at 17:45:14
Cash strapped perhaps, but his use of the word 'pace' in training would answer any questions concerning 'Townshend and Gray.' Sounds like an 80s soul band too! You can solve a few issue's in your team if you have a lot of pace also.
And Everton are very ponderous. More the merrier on the pace front for me.

Kristian Boyce
228
Posted 19/07/2021 at 17:46:44
Bill, the players are going to be in a bubble the whole time they are there. No fan interaction at all is planned. Only club member interaction is going to be Darren Griffiths and Graham Stuart coming out to the fan pub on Saturday night. I guess they are wheeling out Tim Howard on Sunday afternoon for a brief moment during the tailgate.
John Keating
229
Posted 19/07/2021 at 17:47:08
These two may well be shite.
But lets just think if the crap we signed in the past for very little money
Alan Harper, Kevin Sheedy, Andy Gray, Peter Reid to name but a few
Let's give them grief when they've earned it but until then what a bit of benefit of the doubt
You never know they may surprise us, doubtful, but give them a chance
Iakovos Iasonidis
230
Posted 19/07/2021 at 17:48:31
Good for back up wingers and almost for free. We certainly need more quality though.
Winston Williamson
231
Posted 19/07/2021 at 17:54:59
Signings like these were inevitable. We're restricted by FFP rules, and without a major sale or two, it's bargain hunting for now,
It couldn't continue, us spending 60+ mil every season. Not without major improvement to sponsorship and commercial income. Top it off with reduced income due to covid, and a summer spending spree was never on the cards.
I'd imagine this is why Ancelotti really left. I'd also imagine this is why a pragmatic Benitez accepted the job.
It'll be most likely two to three years before we can go on another spending spree. Unless there are major sales. Doesn't FFP run on a three year rolling arrangement?
I can't see major sales, due to covid financial loses. Only clubs with massive sponsorship and commercial income will be able to spend Willy Nilly. And those clubs probably aren't interested in our 'top' players.
This could actually be a turning point in the game, as the transfer fees and wages on display really aren't sustainable long term.
Time to cut our cloth accordingly. Past wastage just makes it feel worse. Imagine what Sam and Robert could of scouted with 500mil to play with!! 😁
Alan McGuffog
232
Posted 19/07/2021 at 18:19:16
Can't argue with you Winston but I've also heard a rumour that we are looking at a new ground. Probably cost a few bob, even in Kirkby. You heard it here first.
Mike Gaynes
233
Posted 19/07/2021 at 18:23:23
Kristian, please tell me you're vaccinated.
Winston Williamson
234
Posted 19/07/2021 at 18:25:09
I heard that too Alan, but I thought I'd leave that particular expenditure out of it, as, as far as FFP goes costs on infrastructure aren't included.
However, I get your point. Plenty of lawn mowers etc to buy.
Soren Moyer
235
Posted 19/07/2021 at 18:33:17
Finch deadwood & lumber Center!
Mike Gaynes
236
Posted 19/07/2021 at 18:42:50
Here's another perspective on Townsend, just posted by Prince Rupert's Tower:
Last season, Townsend scored 1 goal, provided 5 assists and created seven big chances. In contrast, Bernard and Iwobi together managed two goals, two assists and just three big chances created. Townsend can enhance the service rate to Dominic Calvert-Lewin and Richarlison in the middle.

Townsend also works meticulously in helping out the defence. In the 2020-21 season, the 30 year old made 2.73 tackles per game, 2.51 blocks and 1.81 interceptions per game, putting him in top 1% of forwards in Europe's top five leagues.

The same writer posted a few days ago that we were interested in the Swiss striker Seferovic of Benfica.
Tom Harvey
237
Posted 19/07/2021 at 18:44:13
Mike Gaynes @ 225
This little island country is "Deltavariantville".
The Delta variant is exploding exponentially and the government is encouraging everyone to take their masks off and go partying.
The chief medical officer has publicly stated: "The numbers will get scary".
The squad are better off anywhere else but here.
Lyndon Lloyd
238
Posted 19/07/2021 at 19:00:08
Bill (226). There won't be any interaction with fans. The players are going to be in a bubble throughout their time in the US.
It seems as though reports of Inter pulling out were premature.
Mike Gaynes
239
Posted 19/07/2021 at 19:03:08
Tom #238, yep, I sympathize, but hey, 90% of UK adults have had at least one shot. In Florida that number is around 55%. And their governor is so pro-party that he suspended all local COVID restrictions (spring break beach parties produced a huge surge in cases) and prohibited cruise lines from enforcing their own rules about vaccinated passengers. (The cruise lines won in court yesterday and can still require shots.)
I'm no expert, but it seems to me that traveling there increases the risk for the players.
Jay Harris
240
Posted 19/07/2021 at 19:06:39
Each week, the Florida Department of Health will provide updates on the number of coronavirus cases, changes in positivity rate, vaccinations, and other statewide and county-by-county data.
Following is a summary from June 4-10, 2021.
UPDATE: Weekly Situation Report From The Florida Department Of Health
Cases: 2,300,786 new positive cases, an increase of 12,157 from the previous week.
Vaccinations: 10,460,797 Florida residents have been vaccinated, a weekly increase of 183,946. In all, 55% of Florida's population has received a vaccine.
Positivity Rate: The positivity rate for new cases was 3.4%, down from 3.6% the previous week.
Deaths: A total of 37,265 Florida residents have died from a primary diagnosis of COVID-19, an increase of 40 from the previous week.
65000+ were at Wembley, almost 500,00 at Silverstone over the weekend and youre all worried about 10 to 20000 people in the open air in Florida.
I understand that this Covid pandemic has a lot of people spooked but lets have a sense of perpective over a friendly game (especially since Ive already booked the Tickets !!!)
Dale Self
241
Posted 19/07/2021 at 19:29:10
This is the official update from a state that prosecuted their data analyst and stopped reporting numbers right? Just getting some perspective there.
Terry White
242
Posted 19/07/2021 at 19:53:15
Jay (#241), I think more current stats, not just from one month ago, will tell a very different story. And, as Dale says (#242), I don't think we can count on the state of Florida to be giving us all the truth. Governor DeSantis will not want to be seen to be backtracking on his Covid mandates that have opened up Florida, in many people's views, much too early. It's a political thing.
There has been a big increase nationwide in the US within the past month in the numbers of positive cases, hospitalizations and, sadly, deaths from primarily the Delta variant and the vast majority of these are from unvaccinated people.
Like Mike G. and Tom H. I think the club will be very unwise to come to Florida now. Shame about your tickets, Jay.
Tony Abrahams
243
Posted 19/07/2021 at 20:11:24
Going back to when COVID first reared it's very ugly head, I'm sure it was Valencia, who ended up with 5 members of their traveling staff contracting the virus, whilst visiting Atalanta, who never had any COVID amongst their staff around this time, just before Northern Italy, became the epicenter of the world for COVID-cases.
I'm trying to say traveling can be dangerous because it's harder staying inside your bubble..
But, it looks like the English government are taking the biggest chance, by deciding to ride with the wave, so I think the next couple of months are going to determine how we are going to fare against this virus in the future, especially because cases are supposedly rising rapidly in England right now, whilst the government has decided to just let us try and get on with it🤞
Fran Mitchell
244
Posted 19/07/2021 at 20:16:39
While neither of these players are going to set the pulses racing, nor get us to the Champions League, they are not terrible signings.
We should only really evaluate such signings by the end of the transfer window.
If these are the two main signings, and are set to start the season in the first 11 then yes, not a pretty picture.
But if they are seen as decent, cheap and readily available squad players then they could we'll be decent acquisitions.
For example, when Richarlison is not performing, bring on Gray. Gray as competition to Richarlison could actually force Richy to up his game. Cause currently there is absolutely no one to challenge and replace him. But similarly, we can seldom afford to go and spend 15-20 million on a bench warmer either. So Gray for minimal outlay isn't a bad shout.
Similar with Townsend. He's not a world beater, but much like.when we had Lennon, a decent player with a good work rate. He'd be a decent player to call upon from the bench.
He's free, and available now and can start working with his new teammates immediately. But if he's the only right sided midfielder to come in, then we have a reason to be disappointed. But the fact is, we don't know yet.
Quite often, it is the much underwhelming and maligned signings that turn out to be the best ones.
But considering we were ending the season without even filling out bench, such squad fillers are required.
Martin Mason
245
Posted 19/07/2021 at 20:21:38
The ridiculous thing is that with Gbamin back, Delph fully fit, JJK at his potential we could be top 6 without buying anybody?
Mike Gaynes
246
Posted 19/07/2021 at 20:30:37
Are there any vaccination requirements for Prem players?
Do we know how many Everton players have gotten their shots? Has the club put out any statements regarding vaccination percentages? I know individual medical information is not public, but I sure do wonder how many unvaccinated Blues are headed to Florida.
Derek Knox
247
Posted 19/07/2021 at 20:40:03
Martin, I admire your optimism mate, I really do, but can you tell us what 'happy pills' you are currently taking? I will Order a Wagonload for TW subscribers. Mind you, it is understandable in many ways, we have had so many false dawns, and expectations that have been dashed against the rocks. Surely something has to change for the better. :-)
Dave Abrahams
248
Posted 19/07/2021 at 20:47:23
Fran (245), a post full of common sense, I think Townsend and Gray will, at the very least, improve the team from last season.
Nicholas Ryan
249
Posted 19/07/2021 at 20:47:44
OK, these are not the 'lick your lips' 'go and crow to your LFC mates' signings we might have hoped for.
However, I have always said, that we should sign players who 'have something to prove'. Gray was 'the coming man' about 3 years ago, but hasn't shown it yet; he will be 'busting a gut' to prove Leicester etc. wrong; and it might just be the motivation, to unlock his undoubted raw talent.
Townsend, will be stung by those saying he is 'a journeyman' and 'past it' and will hopefully be desperate to prove his doubters wrong.
Marquee signings they are not; but what they are, is cheap, solid grafters, with a chip on their shoulder; that RB just might be able to unlock.
Danny O'Neill
250
Posted 19/07/2021 at 20:49:18
Some will laugh Martin and some will sneer, but we only just fell short of the European placings last season. When you cut through the frustration and turgid performances, we had a squad that wasn't far off. A combination of the manager not being bold enough when it mattered at the end, but then also not having the right tools fit and not enough of them.
We do need to add both quality and depth, but I get your sentiment.
Not qualifying for Europe and Ancelotti's walkout has changed the landscape, but we were a game away. And it shouldn't have come down to that. So maybe we don't need the major surgery many suggest. Depth of squad and one or two quality signings.
But now we have a new manager, so we go through the cycle again. Hopefully that's where Brands comes in to keep the good ones, add stability and build on last seasons near miss* / own goal*
*delete according to opinion.
Mike Kehoe
251
Posted 19/07/2021 at 20:53:07
If we use the same pissed up pricing matrix that values Iwobi at 35 million I reckon gray is worth 45 million.
Not bad but nothing to raise the heart rate.

Mike Doyle
252
Posted 19/07/2021 at 20:56:33
Nicholas #250] Good points. Almost 40 years ago many blues (myself included) were fairly underwhelmed by the signing of 2 crocked/past it players - Peter Reid and other Gray (Andy).
As I recall We weren't too impressed by when Howard signed a former binman from Llandudno either.
All three had something to prove.
Hope our new signings arrive with a similar determination.
Tony Abrahams
253
Posted 19/07/2021 at 20:57:55
I honestly thought Ancellotti, was actually too bold Danny, but it's just going over old ground really, and is also still painful when you consider the teams that footballed us off the park at Goodison, when he moved us away from that awfully defensive system that was getting us results!
Ian Riley
254
Posted 19/07/2021 at 20:58:48
The virus is spreading and our government is going with it. Enjoy and party!! It's our choice, be careful, be sensible. Sorry but it's all crap! Humans are inherently selfish left to their own devices.
This is how it is. The death rate is not as high as previous months but people are needing hospitalization. That means taking up a bed for days or weeks or worse needing intensive care. If beds are occupied with a contagious virus. No elective surgery can happen for cancer, heart, surgery for painful joints such as hip or knee replacement simply will be delayed further. The reports state the NHS has a waiting list of 5 million plus nationwide for elective surgery. How many deaths are caused by waiting for surgery?
Oh yes!! No flu virus for 18 months and expected back this winter as people gather. This with covid on top of that! I fear for my health service over the next 12 months and patients waiting. It's a gamble today as the world watches the outcome. Let's hope luck is on our side!! Please be mindful of others!!
Mike Gaynes
255
Posted 19/07/2021 at 21:13:58
Mike #253, agreed, and Rafa has seen these two guys play many times over the years, including their recent difficulties. He wants them for a reason. They are no-cost, low-risk signings that excite nobody, but let's see how they work out.
I still remember the grousing here about our signing a couple of Manchester United "dumpees" 15 years ago. Pip Neville was "past it" and Tim Howard had some kind of "mental condition" that meant he'd never be able to handle pressure.
Turned out OK, as I recall.
Mike Gwyer
256
Posted 19/07/2021 at 21:31:36
Mike Kehoe #252
I laughed, funny as. Now if Brands could market that "Iwobi pricing matrix" then Everton could be onto a winner.
Danny O'Neill
257
Posted 19/07/2021 at 21:39:24
Touted by many as United rejects Mike Gaynes. Neville was 28 bordering on 29 yet went onto be an influential player in that Moyes team.
The most gifted? No. But his leadership and presence was always missed when he didn't play.
Tom Harvey
258
Posted 19/07/2021 at 21:43:23
Mike Gaynes,
Money! Money! Money!
They (the various establishments around the world) have decided it's life (people) or economies and economies has won.
They also realise that we the lower orders are by now very confused and tired of this virus and as such are much more malleable to their will.
To sum up, it's every man for himself now.
Derek Knox
259
Posted 19/07/2021 at 21:53:35
Tom @ 259, Unerringly accurate assessment mate and unfortunately so close to reality. I have never trusted Governments irrespective of which Party is in power, but I'm afraid this shower do take the Political Biscuit. They must think we as people are still in the dark Ages, and will believe the mountains of detritus they spout on a daily basis.
Tom Harvey
260
Posted 19/07/2021 at 21:55:14
Jay Harris @ 241
Hello Jay,
I fully understand you wanting to enjoy life and "get out there", but on the other side of the coin there's the likes of myself who's sheilding some that is extremely susceptible.
If I were to sit next to someone at a match and catch it, there's a good chance there would be tears within my family.
It's not a case of being spooked, this thing exists and it's exploding much faster than the first really big wave we had in the UK.
I'm just being realistic not spooked.
Dave Lynch
261
Posted 19/07/2021 at 22:05:59
Boris knows he's fucked up.
Never closed borders, lifted restrictions to early, hasn't underpinned an already overwhelmed health system and is now playing Russian Roulette with peoples health.
Hands up he rolled out the vaccine quicker than anyone else but the winter will take it's toll.
AED is seeing a steady increase in Covid patients daily where I work, this is gonna get scary.
Mike Gaynes
262
Posted 19/07/2021 at 22:08:49
Teddy #179, took me a long time to post this... because it took a long time to formulate it in the right words. I did a lot of deleting.
Respects to your apology. It takes strength to openly post one's regrets in a forum like this... much the same kind of strength it takes to deal with that big C.
The cancer community here on TW is larger than you'd think... only a few have gone public. The courageous and empathetic Brian W. being one.
Best wishes for your own battle.
Dave Lynch
263
Posted 19/07/2021 at 22:09:17
On with the thread... the one thing my Kopite mates are saying about Raffa is that he gets players to play to their strengths, that IMO is what we've been lacking.
Square pegs in round holes and all that.
Tom Harvey
264
Posted 19/07/2021 at 22:12:30
Derek @ 260
Apathy!!!
All pervading and crushing, we really are the great unwashed. maybe not in a literal sense, but not much has changed.
The enlightenment, the great depression, two world wars, Vietnam war and Covide came and went, we're still eating bowls of gruel and they're still in their palaces.
Danny O'Neill
265
Posted 19/07/2021 at 22:17:26
Possibly and probably Tony. We had the problem when the midfield went to far froward from the defence creating that gap that could be exploited. Then we switched that to closing that gap but leaving Dominic isolated.
I think big problem we had or have is we have central defenders who are comfortable on the edge of our own box in open play. But they don't like coming out.
So I agree, we got results when we played to that, but it wasn't pretty. But if it had gotten Europe, I'd have been happy. Like you say, old ground now. That was last season.
Back to the tools and why I've been in disagreement with many who don't see centre back as a priority. If we get centre backs who are more comfortable coming out and pushing up the pitch, it helps the midfield push on and get closer to the forwards.
We all have opinions and I know I'm in the minority, but centre back would be a priority for me. This may sound contradictory but a Stones or Koulibaly type defender would make us more attacking. Their style, would give the midfield confidence in not having having to worry about the defence so much in terms on sitting on top of them and collectively, the team better supports the attack.
I'm probably over simplifying the game of football there, but I always think of it as a simple game!!
Tom Harvey
266
Posted 19/07/2021 at 22:20:26
Dave Lynch @ 262
Boris Johnson is a very intelligent man who had the best advice possible to hand, he didn't fuck up, he just had other motives and did what he did.
He did what he did knowing the consequences, the scientific people around him would have laid out all the scenarios due to his actions, before he did them.
He's many things, but innocent isn't one of them.
Danny O'Neill
267
Posted 19/07/2021 at 22:26:13
I'll join the C club Mike Gaynes. Not me personally but I lost my mother at 59 and father at 63. I buried my mother 2 weeks before deploying to Afghanistan & leaving the family behind for 7 months having spent the previous 6bin build up training away from them. Not proud, its how it was.
And my wife was diagnosed in December. She's recovering now and it's looking positive.
And Terry, great humility mate. We all say things we shouldnt, don't mean or gets taken out of context. Being able to acknledge and apologise shows the strength of a person.
Anyway, let's get back to Everton.
Dave Lynch
268
Posted 19/07/2021 at 22:33:42
Tom@267.
Erm... I think that's what I was getting at.
The fact he never listened to his experts means he's fucked up.
Christy Ring
269
Posted 19/07/2021 at 22:41:27
I believe Townsend is a decent player and definetly worth having on the bench, especially as he's a free agent and not injury prone. Likewise Gray had potential at Leicester, and maybe his stint in Germany has made him a better player. We are totally lacking in wide areas, linked with Bailey, would be a massive signing.

Tom Harvey
270
Posted 19/07/2021 at 22:42:02
Dave @ 271
No dave, the opposite is true, he did listen to his experts and was told of the possible results of his actions, but then did his own actions?
He also hasn't fucked up because he did what he meant to do and he will also never be punished for any of this.
Phillip Warrington
271
Posted 19/07/2021 at 22:42:23
Townsend!!! This can't be happening again... Don't Everton ever fucken learn? Why are we signing a 30-year-old has-been, who no doubt will be on big wages to make him sign for Everton which means we will be stuck with him until his contract runs out.
Let's be honest, he's only going to be a squad player who will mainly be on the bench. Surely we have a youth player or U23 player who can do the same thing? If we don't, there is something seriously wrong with our development squads if we have to turn to 30-year-old players for squad players.
It might be different if he was a game-changer but not in your wildest dreams is he now. I was really thinking with Rafael Benitez things might change. And Brands – is this the best new talent he can find? – a fading 30-year-old bench player!!
Dave Lynch
272
Posted 19/07/2021 at 22:53:59
"No dave, the opposite is true, he did listen to his experts and was told of the possible results of his actions, but then did his own actions?"
There is a massive difference between listening and hearing Tom.
He may have heard what they said but he sure didn't listen.
Paul Smith
273
Posted 19/07/2021 at 23:21:38
Kieran you have no idea it's true or the context of the allegation. Calling him a sick son of a bitch and a criminal. Leave it out mate.
Soren Moyer
274
Posted 19/07/2021 at 23:23:54
Danny 268. Glad your wife is recovering. Tough times!
Danny O'Neill
276
Posted 19/07/2021 at 23:59:25
Thank you Soren.
Mike Gaynes
277
Posted 19/07/2021 at 00:00:02
Danny #268, condolences on your family struggle... and best wishes for your wife's continuing positive outcome.
Now, as to the CB debate... I disagree with you completely. I don't think that position should be anywhere near the top of our priority list. We have quality and depth at CB, and far greater needs in midfield and wide. Godfrey has tremendous pace, Keane is a superior passer out of the back, Mina has steadily matured and rounded his game, and all three are highly capable defenders. Yes, it would be great to get a true attacking CB who can carry the ball, but right now he'd have nobody to pass to.
There's no point in shopping for new tires when the car doesn't have a decent engine. Time enough to upgrade the tires when you can generate some highway speed.
Attack first, please.
Danny O'Neill
278
Posted 20/07/2021 at 00:27:45
Thanks Mike, appreciate the kind words. She's been a rock. But then again, she's had to be living with me all these years, having to compete with Everton, the dogs and the small matter of me spending so much time away. At least now I'm able to be here.
I love Godfrey and I'd like to keep Mina. Holgate; maybe he can still develop and in fairness to the lad, he was played out of position frequently last season. For me, and this is where we will disagree, I think Keane is the weak spot. I get your call on his distribution, but the moment he gets higher up the pitch, we risk being exposed as he is not good at that. So with him in the team, we have to sit deep. Some may like that. I don't, but that's all down to opinion on how we want to see Everton play.
To be fair, Keane had a really good season last time out. But at 28, I don't see him improving now. He is what he is. A decent centre back with good distribution. But one who lacks defensive concentration and often allows a ball to drift over his head without having the recovery power to compensate for lack of pace. So he instinctively sits deep and the team will if he plays.
I can see why people don't think it's a priority, but for me, with the right signing, it would change the dynamic of the team if we get a better centre back alongside Godfrey. But then I think Mina is a footballing centre back, so a sustained period of those two could work? Both young in terms of centre back age.
I was interested in your comments on Florida earlier. My house has been booked back to back for the past month and into August by North American visitors. I'm hoping to get out there myself in October for Halloween, so hope the situation settles down.
John Dingle
279
Posted 20/07/2021 at 01:10:06
Dan (126) when he scored a screamer for England under Roy Hodgson. I remember him being very keen to know Mersons opinion of the goal.
Quote from Wikipedia
His next appearance marked his third England goal; on 31 March 2015 he scored the equaliser in the 79th minute against Italy, having come on as a 70th minute sub in a friendly match which ended 1–1.[76] The 20-yard strike was described as a "sweet right-foot drive into the bottom corner"; Townsend took to Twitter immediately after the match to respond to Paul Merson after he had said Townsend's club form did not justify him being anywhere near the England team.
Alex Gray
280
Posted 20/07/2021 at 02:03:56
It looks like Gray is having a medical tomorrow. I expect all three to be revealed at once at some point this week.
Jack Convery
281
Posted 20/07/2021 at 03:32:11
I have to say underwhelmed and leave it at that.
As we appear to be struggling with the cash again - no wonder BK wanted Moyes !! Heres a few signings that won't break the bank - signed on their free status not current form mind you ! All available now !!
For the defence we could Sign Begovic and Wayne Hennessy both freebies, as are Nathaniel Clyne (RB), Patrick Van Aanholt (LB), Jerome Boateng (CB), James McCarthy - one of the family after all (CM), Robbie Brady (LM), Hal Robson Kanu (CF).
Sell Pickford, Keane, Mina, Gomes, Delph, Tosun, Richarlson, James, Kean and Bernard.
Line Up v Southampton
Begovic, Clyne, Boateng, Godfrey, Van Aanholt - Digne is injured.
Townsend, Allan, Davies, Doucoure, Brady, Robson Kanu. Cheap as chips XI.
On the bench Hennessey, Coleman, Holgate, McCarthy, Iwobi, Gordon and Gray. and keep our fingers crossed for the season.
Of course I would not sell Pickford but knowing EFC if a club comes in offering good money they will sell - they always do.
Mike Gaynes
282
Posted 20/07/2021 at 03:45:06
Jack #312, you've made some terrible oversights there.
Bainesy, Jags and Vaughn are all out of contract as well, and we can be absolutely certain they'd give up retirement to come back and give their all for the Blues just once more. And Timbo Howard is only 42 -- prime for a keeper.
Danny O'Neill
283
Posted 20/07/2021 at 06:24:53
I see the red echo has us linked with a £25M move for McNeil. I saw that on the BBC, the Echo's website is annoying.
Champion's League qualifiers today too. Celtic playing as well as our fondly remembered Rotterdam opponents Rapid Vienna. Oh and Lincoln Red Imps. I had to take a double take on that one; they're from Gibraltar, not east of Newark and Grantham!
Steve Shave
284
Posted 20/07/2021 at 07:13:15
Shit, could this pre-season get any worse. I am behind Rafa and will support him with all I have but still the appointment was a shock. I was dreaming of Buendia, Romero, Edouard and Dumfries but our first signings are going to be Gray, Bergovic and Townsend!!!
Bill Gienapp
286
Posted 20/07/2021 at 08:19:38
Jack (312) - how does DCL fit into this scenario? Has he been banished to the U23 side?
Derek Taylor
287
Posted 20/07/2021 at 09:29:22
I don't know if B S Billy still has a say in player trading but, if he does, I bet he thinks,'What would Davey have thought about these bargain basement signings 'before giving Mosh the nod.
These two would have been big business in times of Moyes.' Back to the Future' sort of thing !
Laurie Hartley
288
Posted 20/07/2021 at 09:45:28
Or Mike @299 to put it another way, there is no point in having a V8 engine and brakes if you don't have front wheels ( with tyres ). See what I did there ;)
Bill Gienapp
290
Posted 20/07/2021 at 12:25:34
Jack (previously 312, now 281) - also, Hennessey just signed for Burnley, so back to the drawing board!
Brian Wilkinson
291
Posted 20/07/2021 at 13:25:31
It now makes sense snapping Townsend up so quickly and possibly Gray.
With a police investigation going on, sounds like we are ensuring we have all bases covered.
I will say no more.
Derek Cowell
292
Posted 20/07/2021 at 13:51:24
Rafa has certainly got his work cut out trying to make a silk purse out of our sow's ear but squad players such as these are always necessary, as long as that is what they are of course! Better than paying over £20 million for Walcot and Tosun anyway.
Steve at 284, and player under suspension will still have to paid in full until either a court case or the contract runs out. The Met Police have only just been able to sack, and stop paying, the ex PC who murdered Sarah Everard as until being found guilty he was a suspended employee.
Andrew Ellams
293
Posted 20/07/2021 at 13:56:37
The Dumfries deal seems to be one of those that is constantly in the final stages. But then you see who is agent is and you realise why.
Alan J Thompson
294
Posted 20/07/2021 at 14:38:02
Andrew (#293); I thought the same thing, the bloke who said that had he been his Agent at the time then Lukaku would never have been allowed to sign for Everton but I notice that now he has neither Riaola(?) nor his father acting for him. But wasn't there talk at one time of Moshiri using him as a consultant?
Michael Connelly
296
Posted 20/07/2021 at 15:05:57
Think they are 2 astute signings, Gray and Townsend for no money effectively. Pace in midfield is what we are crying out for. Their Premier League stats hold up fairly well also:
Gray: Goal Involvement (GI) every 2.9 games.
Townsend: Goal Involvement (GI) every 3.3 games.
This compares against Andre Gomes who has a GI every 13.9 Premier League games, which basically highlights how little he offers, as he is dog useless when we don't have the ball also.
Surprisingly, Iwobi had 30 GI in 100 Premier League appearances for Arsenal which equated to a GI every 2.2 games, whereas at Everton it is a GI every 8.7 games. Not sure what the reason for that disconnect is, but he sure as hell has looked shit in a blue shirt.
Source: Transfermarkt.co.uk
Fran Mitchell
297
Posted 20/07/2021 at 15:07:36
These seem set to be confirmed, and I stand by my original feelings, they ar decent signings.
We are not loaded, we can't afford to have 30 million pound players sitting on the bench (yes Iwobi, I'm talking about you).
But Premier League experience, with pace, work rate and something to prove - yeah, that'll do nicely on the bench.
Just cause they're our first signings, doesn't mean they're our only ones. Just that they are readily available, so join quickly and rather pain free - unlike more expensive, more ambitious signings that require negotiations both on fees, wages, and beating off competition.
Benitez has always worked with big squads, and we currently don't have that - deadwood we have, but too often last season our bench had 2 keepers and 3/4 teenagers just to make the numbers.
So two quick, attack minded, wide players on the bench will do nicely.
Sukhdev Sohal
298
Posted 20/07/2021 at 15:08:19
Rondom has been linked as a back-up to Kean. I reckon he'd score more than Kean as a back-up as he's much physically stronger and is a proper target man. This is the type of back-up striker we need, someone who can make an instant impact. Rondon in for free or a small fee, Kean out for £30+ mil if Icardi goes to Juve and I'll be happy.
Barry Hesketh
299
Posted 20/07/2021 at 15:09:34
Kieran @295
I usually like your witticisms but I'm afraid this one isn't funny or appropriate. Sorry mate.

Derek Moore
300
Posted 20/07/2021 at 15:21:03
Nothing this club does makes much, if any sense anymore Brian. (#291)
The hobb err Bernard would actually have to you know, leave, before I actually will believe he has left. He's been headed to the Middle East for what? A year?
What's he waiting for? A magic carpet to take him there?
Adding three uninspiring premier league castoffs, on top of Benitez and now a destabilising tabloid scandal has me reaching for my bottle opener in despair at Everton. And it's July for chrissakes.
I feel like I'm in a slow motion nightmare I can't wake up from at times. As the arl fella said earlier by text, HTF do you get a billionaire owner, bring in the likes of Brands, spend the money we have and end up with this? Like this?
If Everton was a horse, you'd shoot it. If it was a hospital patient, you'd usher the family into a side room and ask them to think about organ donation.
I'm shaking my head here. It's almost impossible to really take anyone at the club seriously at this stage. It's a farce.
Peter Neilson
301
Posted 20/07/2021 at 15:21:28
Michael (296) I think the Arsenal stat for Iwobi is 11 goals in 100 league games. He wasn't that great with them. Thankfully we got him for a bargain £35m!
Brian Williams
302
Posted 20/07/2021 at 16:09:56
Teddy#178.
Teddy, only just read your post@178.
I have the utmost respect for anyone who accepts a mistake and comes out with an apology like that.
Forgiven and forgotten mate!
Christy Ring
303
Posted 20/07/2021 at 17:07:30
Danny#267 Sorry to hear of Your wife's tough time, a horrible disease, it took my mum too, delighted that she's on the road to recovery, light at the end of the tunnel.
Dave Abrahams
304
Posted 20/07/2021 at 19:05:32
Danny (267), very sorry to hear about your wife's illness, glad she is getting over it, best wishes for the future for both of you.
Brian Wilkinson
305
Posted 20/07/2021 at 21:45:53
Derek@300, I hear what you are saying, but I think we are doing the right thing, under circumstances at the club.
These three players will offer very good options, with no outlay hardly.
If as we believe may happen, with Richarlison, Rodriguez, Bernard and Moise Kean, looking to leave, better to have back up in already.
Then go out and try and sign like for like players, from any incoming transfer fees we get.
The ones who have come in now will offer our squad something.
If we do not have any outgoings, then our squad will be so much better, with the three arrivals.
Jack Convery
306
Posted 20/07/2021 at 23:26:22
For those wondering why DCL was missing from my Cheap As Chips XI, its because he's been away with England and may not be ready.
Knowing EFC we won't sign the bigger names until late in the day, to save on wages !!
Danny O'Neill
307
Posted 21/07/2021 at 00:33:03
Christy & Dave Abrahams. Thank you, appreciate your kind thoughts. Genuinely appreciated and humbling.
Michael Connelly
308
Posted 21/07/2021 at 10:56:34
Peter (301), he had 19 assists in those 100 games for Arsenal also. Goal Involvements = goals + assists. He has been nowhere near that level for us.
Nicholas Ryan
309
Posted 21/07/2021 at 11:01:01
Please allow me to attempt to lighten the mood a little, with a story about my University student stepson.
Wanting to 'earn a few bob' during the summer holiday, he got himself a job as a steward at the Royal Horticultural Society show at Tatton Park.
[Ed... for our American readers, Tatton Park is a very posh country house and estate, formerly home to the Dukes of Bridgewater]
He then got a text, asking him to come in early for his 'Terrorism training'!
My God, if Isis etc. are going to attack a flower show in leafy Cheshire, there's no hope for any of us!!
Soren Moyer
310
Posted 21/07/2021 at 23:14:11
This article explains why everyone is saying that Benitez is not a modern, forward thinking coach.
Link
Yes. Its a Liverpool fc related link but still...
Dale Self
311
Posted 21/07/2021 at 23:17:56
Just checked it out and no it doesn't. Thanks for the update Soren, read it so others don't have to.
Don Alexander
312
Posted 21/07/2021 at 00:20:47
It disappoints me to read fellow fans extolling the virtues of the likes of Gough, Weir and lawd knows how many other bog-standard professional, repeat, (merely) "professional", footballers who admittedly stood out amid our shower of Finch Farm shite, as still being a basis for hope for players such as Gray and Townsend.
This pie-in-the-sky thinking is what we've been reduced to after decades of rampantly ruinous "leadership" in our club, and it's bonkers for a club still claiming, with futility, to be seeking regular European football.
I predict several more seasons of mind-numbing inertia for us fans, extending well after the White Elephant (and no, Unsy, I don't mean you) Stadium ever opens.
Since a brief period in the mid 80's it's been the "Everton That" way after all..... "If..... Yer Know..... Yer 'Istory".
Fuck all in the past five years has identified even a glimmer of light at the end of our Kenwright-built tunnel has it?
---
Add Your Comments
In order to post a comment, you need to be logged in as a registered user of the site.
Or Sign up as a ToffeeWeb Member — it's free, takes just a few minutes and will allow you to post your comments on articles and Talking Points submissions across the site.