Liverpool Waterfront loses World Heritage status
Wednesday, 21 July, 2021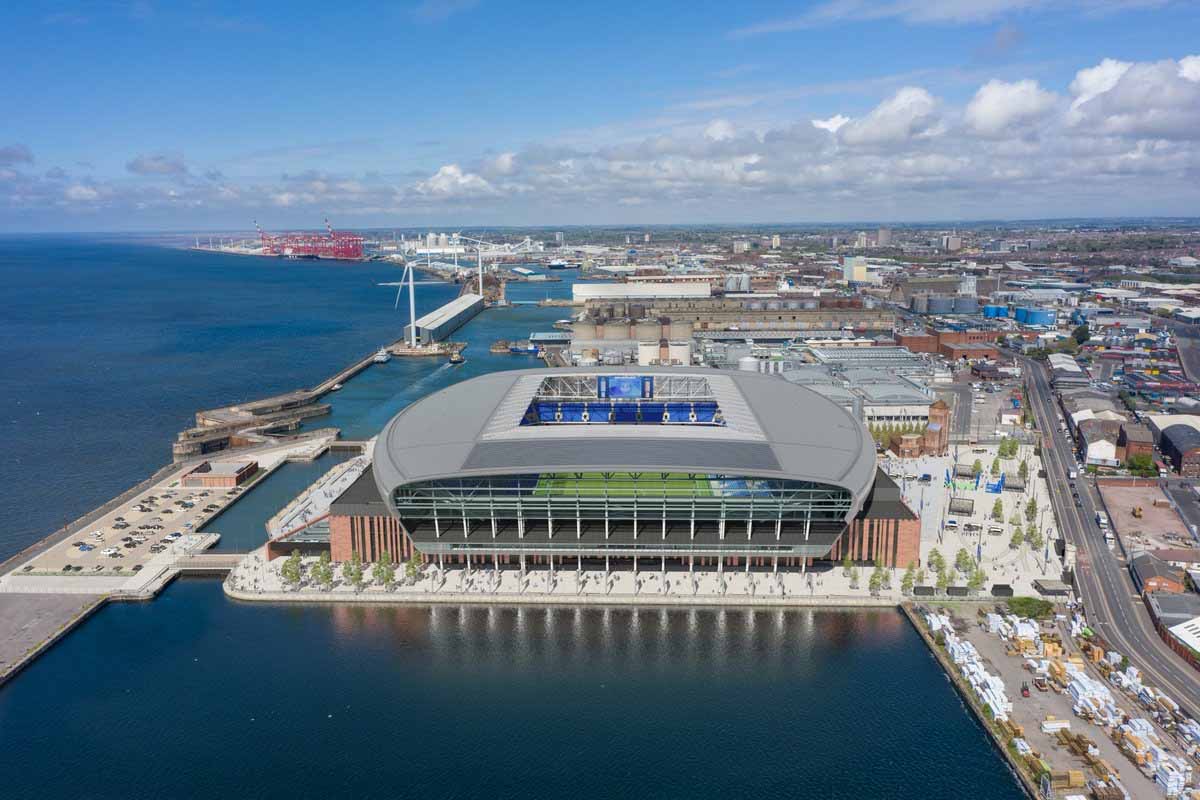 In a move that has been anticipated for a while, Unesco, citing years of development for an "irreversible loss" to the historic value of its Victorian docks have removed Liverpool's waterfront of its World Heritage Site status.
Following a secret ballot at the latest session of the World Heritage Committee China today, the heritage body declared that the "outstanding universal value" of Liverpool's Maritime Mercantile City has been irrevocably compromised by new construction, including plans for Everton's new 52,000-seater stadium at Bramley-Moore Dock.

The decision is seen by many as a blow for the city's prestige and tourism, particularly as Liverpool is only the third place to lose World Heritage Status in nearly 50 years while others have long regarded Unesco and the heritage site designation as holding back progress and development on the waterfront.
Liverpool's waterfront has held World Heritage Site status for 17 years in recognition of its role in the Industrial Revolution and the rapid expansion of Britain's maritime power but in the wake of redevelopment of the southern docks, and Peel Holdings' plans for a £5bn redevelopment scheme on the city's north docks, Liverpool has been under threat of being delisted for almost a decade.
Everton went to significant lengths in the plans and designs for Bramley-Moore Dock to propose a structure that complimented the surrounding docklands and consultated domestic groups like English Heritage whose concerns centred on the infilling of the Grade II-listed dock as well as the existing structures at the site.
The club have included measures in their construction plans aimed as minimising the impact on the dock walls and plan to refurbish the old bell tower that stands at Bramley-Moore Dock.
---
Reader Comments (194)
Note: the following content is not moderated or vetted by the site owners at the time of submission. Comments are the responsibility of the poster. Disclaimer
Chris Williams
1
Posted 21/07/2021 at 10:54:21
I see UNESCO has cancelled World Heritage Status for the City
Tony Shelby
2
Posted 21/07/2021 at 11:04:44
Stadium News:
Unesco has just voted to remove Liverpool's World Heritage Site status.
Good news.
It removes a millstone from around the city's neck and means we should be able to develop Bramley-Moore Dock more easily.
Barry Rathbone
3
Posted 21/07/2021 at 11:23:34
So Unesco have thrown their toys out of the pram over waterfront development, including the new stadium at Bramley-Moore Dock, in Liverpool.
I love history but these clowns seem a typical Ivory Tower organisation full of temperamental trust-fund wallahs without a day's work among them. Won't make a jot of difference to the vast majority of tourists looking to visit the city.
At least they can't be poking around the new stadium now – infantile brats!
Danny O'Neill
5
Posted 21/07/2021 at 11:32:18
A good thing for me. It will better enable the subsequent redevelopment of that part of the city beyond the stadium. Along with Historic England, it seems they would rather preserve decaying dockland because they "tell a story" rather than see the birth of a new chapter and make future history.
When they built the 3 graces, I doubt there was concern that it was, in the context of time and history, bold and ambitious or replaced whatever was there previously. They made history and and a landmark waterfront now known the world over.
I have for long been concerned that, whilst it is positive Liverpool capitalised on its history to promote tourism, it was in danger of becoming a one trick pony and over reliant on the hospitality industry.
35 miles down the East Lancs, Manchester has reinvented itself as the UK's default 2nd city. Financial services, business, media, prominent Government agencies including intelligence setting up satellite locations there. And yes, hospitality alongside a major international airport.
They are 30 years ahead of us, but I see this as an opportunity to reinvent and realise the potential of our great city. Just as Everton need to stop being plucky little Everton, the city of Liverpool should shed the shackles and be confident. We didn't become the second city of the British Empire, let alone the UK by standing still.
Sorry, I can get almost as passionate about the city as I can Everton. Almost.
Michael Kenrick
6
Posted 21/07/2021 at 11:36:53
Some of the new buildings to the north of the Royal Liver Building are an absolute disgrace architecturally. What were they thinking?
Tony Abrahams
7
Posted 21/07/2021 at 11:38:45
This can only be viewed as positive news for the City, because this was an award that Liverpool was always going to be in trouble of losing, unless it chose to leave the waterfront alone, instead of looking to move forward by starting to redevelop miles of derelict land.
Danny O'Neill
8
Posted 21/07/2021 at 11:41:18
Interesting point Michael. Many voiced those concerns over some of the developments in the City of London that now overlook historical buildings such as St Pauls.
It's fair though, there's always a balance between progress and respecting historical landmarks.
Good lord, we're sounding like Prince Charles circa 1985!
Chris Williams
9
Posted 21/07/2021 at 11:41:22
I think there has been a festering argument between the City and these folks for years, by all accounts. This is just the culmination of that I guess. There have been a lot of development all around the site, going both ways, much of it a lot more dubious, at least to my eyes.
Bill Fairfield
10
Posted 21/07/2021 at 11:42:45
As a city, we can't afford to stand still. Unesco has become a millstone around our neck. I see this as a positive.
Graeme Beresford
11
Posted 21/07/2021 at 11:47:15
Let's have it right it's not just placed like our stadium. It's other things probably including the likes of the Titanic hotel. You can just imagine people sitting around a table going 'oh my god they are turning that old, run down, derelict building into a hotel!!!! We are not having that!'
It's a joke. These people are happy to see parts of the city stay the way they have for decades. I hope the city wipes it's hand clean of this and realises we may be better off without it.
Tony Shelby
12
Posted 21/07/2021 at 11:47:31
Who gives a flying fuck?!
Nobody goes to a city because of UNESCO status.
I'm sure this will lead to even more new investment in the city and we'll see the sort of impressive developments it so richly deserves.
Mabey Usmanov fancies building a new skyscraper with royal blue glass? That'd be nice...
Tony Abrahams
13
Posted 21/07/2021 at 11:49:16
They were probably thinking about money Michael. Big glass towers full of apartments, on prime waterfront land equals loads of money, although my own opinion is that most modern buildings would look tacky, getting put alongside those magnificent buildings in front of the pier head.
Brent Stephens
14
Posted 21/07/2021 at 11:50:59
Removing World Heritage status does not remove the world class buildings (3 graces etc) that were already there. No loss to us, then.
And we get to embellish what we already have north of the Pier Head. All gain to us, then.
Jack Convery
15
Posted 21/07/2021 at 11:51:37
Unesco - get over yourselves. Any of you ever had plastic surgery ? Replaced an old car with a new one ? Changed your wardrobe from time to time ? History is history but not all progress is negative. The new stadium and all that it will bring to that totally run down area must be an improvement and a chance for the area to rise from the doldrums its been stuck in for decades. Never mind the prosperity, employment and business opportunities it will bring.
How come you were in China to make this decision ? Did you ask about the Weigur people whilst you were there by any chance. They have a heritageand culture that needs to be be preserved or don't people count in your line of work ?
Danny O'Neill
16
Posted 21/07/2021 at 11:53:23
The Usmanov Tower Tony Shelby?
That made me think Donald Trump and Biff Tannen from Back to the Future II!!
Nick Page
17
Posted 21/07/2021 at 12:01:02
Another unelected group of apple polishers, fart catchers and general hucksters who think they rule the bloody planet. Can't stand them. Who cares what they think? It's a bunch of derelict buildings that generate zero income. And you can't tell me it brings tourists to the city! It's a very simple decision at the end of the day - create some jobs via infrastructure investment OR do as the faceless, self-appointed desk jockeys down at UNESCO say. Tell them to fuck off
Tony Abrahams
18
Posted 21/07/2021 at 12:01:12
In this fine weather, it's sometimes nice to walk from New Brighton to Seacombe, and look across the water towards Liverpool. The ferry is even better, especially the one that also incorporates a little river tour, because it really shows the scope of how much land there is to both develop or re-develop, and to take a photograph now, and maybe another in 25 years, might just prove how much better off our City will become, now this World Heritage Status, has finally been removed?
Alan McGuffog
19
Posted 21/07/2021 at 12:01:15
I'm surprised, in the present climate, that the city wasn't stripped of this status long ago given that so much of the historical wealth was gained from the slave trade.
Brian Williams
20
Posted 21/07/2021 at 12:09:55
Losing WHS is the equivalent of losing the "pupil most likely to be imprisoned" 1973 title.
Sounds great at the time but in the grand scheme of things utterly pointless.
Tony Shelby
21
Posted 21/07/2021 at 12:10:06
Danny (16) - That or "The Kopites Are Gobshites Centre"
It could be a phallic shape symbolising why we're the daddy of Merseyside.
John Pickles
23
Posted 21/07/2021 at 12:22:16
Come on UNESCO what's the problem? We are only replacing one crumbling relic whose glory days are long in the past with another one.
Kevin Molloy
24
Posted 21/07/2021 at 12:24:08
Stan Schofield
25
Posted 21/07/2021 at 12:25:58
What matters is that the City of Liverpool progresses for the benefit of its people and beyond. Everton's new stadium is a piece of architectural art, and will be a significant landmark addition to the waterfront.
Compared with such positive progress, the opinions of a few blinkered individuals in organisations like UNESCO matter little.
Derek Thomas
26
Posted 21/07/2021 at 12:26:32
Organisation that never invested a penny in the rotting and rusting docks... or The Albert Dock redevelopment as far as I know.
Which can, on its own, tell you everything there is to see about the original 7miles of docks...sees its arse and symbolically removes its metaphorical 'Blue Plaque'.
Leaving the docks to still rot and rust – thus freeing them up for others to invest and repurpose them.
John Graham
27
Posted 21/07/2021 at 12:29:02
Great news in my opinion.
As mentioned previously without being held to ransom by the World Heritage Organisation our great City will now be able to grow and develop and not stagnate.
To choose to leave a derelict run down dock site in such a state would have been a crime. To develop and grow it into a thriving area will be a triumph.
We can now look forward to what will be an area that we can be proud of with the work being completed on the Strand followed by a new cruise terminal, the great site of a new stadium and lots of new developments from Peel Holdings in the area.
Liverpool will be a magnet for tourists and a great sight to see from the many cruise ships which will be coming to our port.
Will we get fewer visitors because of their decision? NO
Will our great city be thought of differently by people around the world? NO
Will we lose out on a money contributions from UNESCO? NO
Will they come back cap in hand in the future to ask us to become a UNESC site again? DEFINATELY YES

John Keating
28
Posted 21/07/2021 at 12:33:46
Norway wanted a secret ballot which was endorsed by Guatemala and Uganda. Not much to say there then.
20 votes cast. Thirteen votes to take away status, five against and 2 votes invalid? Possibly the 2 invalid votes show the intelect of these halfwits
Really in the scheme of things who gives a shit?
I've not met a single person who told me they were visiting because of our World Heritage Status.
Would they really prefer the City not to progress and allow buildings and areas to crumble.
We allowed our own council to ruin our City in the 50's and 60's we don't need a bunch of whoevers from wherever doing the same today.
Danny O'Neill
29
Posted 21/07/2021 at 12:41:33
It's almost like they've been pedantic. When you look at the geographical outline of the actual (now previous) World Heritage Site, it was mainly the area from the Liver Buildings stretching out through the original commercial district (Cotton Exchange), to St George's Hall and William Brown Street. It also included the Albert Dock.
Then there was literally a thin line along the road to where BMD is with the dockland area then included. Literally a road and then some derelict docks detached from the main site.
Not that I'm bothered as I don't think it matters, bit they could have cut that bit out I'd so bothered by redevelopment that doesn't impact the centre itself?
And as Michael said, they didn't seem bothered by all the new hotels and offices that sprung up in the 2000s.
Victim mentality here, but Everton's stadium seems to have caused big objections for some reason??
Tony Waring
30
Posted 21/07/2021 at 12:42:45
U nited
N ations
E asily
S wallows
C rap
O pinions
Have any of those voting against ever been to Liverpool on a freebie and - if so - was a cruise trip to Bramley Moore dock on their itinerary ? Thought not!
Tom Harvey
31
Posted 21/07/2021 at 12:44:03
Michael Kenrick @ 6
The talented mindsets that designed and built the Three Graces have long since gone.
All designs now are formulaic, spreadsheet dominated and have been done somewhere else previously, but with a few slight changes for the new location.
Soulless and effortlessly thoughtless is the only way to describe most of what rises up these days.
Aidan Baker
32
Posted 21/07/2021 at 12:47:46
Hope the club now put in an amended planning application for a 60k capacity ground.
They only amended their previous application to lower the height to appease UNESCO. As some of you may remember the old Clarence Dock power station was taller than the proposed BMD stadium.
Dennis Stevens
33
Posted 21/07/2021 at 12:53:15
Isn't the proposed stadium outside the designated area anyway, but in the "buffer zone"??
Brian Williams
34
Posted 21/07/2021 at 13:05:24
The Telegraph, in addition to Sky are saying the loss is down purely to BMD, which is totally untrue but hey never let the truth get in the way of a story eh?
Laurie Hartley
35
Posted 21/07/2021 at 13:05:33
Tom#31 -
"Soulless and effortlessly thoughtless is the only way to describe most of what rises up these days."
That is very true but they won't be able to say that about our new stadium. Dan Meis has done us and the City of Liverpool proud.
Hopefully it will set the standard for the rest of the development.
Alan J Thompson
36
Posted 21/07/2021 at 13:11:01
For posterity let them take photos and show measurements for those who may be interested but really can they justify not developing the area other than it is unlikely that the like will be built again especially given the changes in shipping and the way cargo is now moved. It might be interesting to know when any of this UNESCO committee ever visited the area or even Liverpool, Norwegian members excepted.
Ian Burns
37
Posted 21/07/2021 at 13:12:46
When I saw the headline I just knew what was going to be reading with regards to the TW posters.
"Infantile brats" - "who gives a flying fuck" - "it's a joke" - "UNESCO get over yourselves" - "apple polishers and fart catchers" - "tell them to fuck off" - "great news in my opinion".
I think UNESCO might have underestimated the impact their decision would have on the blue half of Merseyside - especially the RS supporting Norwegian who called for a secret ballot - what was he trying to hide?
Left my home city many years ago but it still fills me with pride to tell people where I am from.

Derek Moore
38
Posted 21/07/2021 at 13:13:44
Wow, when you're hot you're hot.
And when you're not you're not.
Justin Doone
39
Posted 21/07/2021 at 13:13:45
I've no problem with Unesco or their decision. In my view, if the listed area is not accessible or at least still viewable as a world heritage site then there is no point in it.
Large area's have been closed off for decades. Some parts have been tastefully reinvented for public access. Unfortunately many parts remain off limits, decayed, dangerous and or used for industrial activities.
If it now means the area can be cleaned up, invested in and opened up to the public then great.
It should be a co-ordinated plan to ensure it is tasteful, fitting and kept open and spacious so it's history can be remembered but more importantly used for the next 100 years.
I believe our BMD plans fit in well. What I don't want is a dozen sky scrapers being built which would lose the maritime feel and open views that are special to the area.
Kieran Kinsella
40
Posted 21/07/2021 at 13:21:45
UNESCO is great for an ancient city that millions of tourists want to visit as they bring in money. No one wants to visit old warehouses. London had the East End docks in a similar state for years. Now it's redeveloped as a thriving area for people alive today plus it now even attracts tourist dollars
Tony Everan
41
Posted 21/07/2021 at 13:22:28
This decision says more about UNESCO than the city it has demoted. Have any of them a been to the Bradley Moore dock and it's surrounding area ? They should be laying flowers at the feet of Everton FC and lauding the City of Liverpool for this exciting and sympathetic development. The benefits to the local economy and people are manifold and long term.
Shame on them for being myopic in the extreme, and good riddance.
Dave Roberts
42
Posted 21/07/2021 at 13:31:20
Ever taken a photograph of the Giza Pyramids? I have. You have to walk a mile into the desert to avoid getting the slummy and encroaching suburbs of Cairo and the giant Macdonald's in the shot. Florence from the Piazza Michalangolio? Beautiful if you can ignore the grey ugly bastions of a living city beyond the old town limits.
The northern docks are derelict and ugly. Most of the old dockside warehouses and workplaces have gone, replaced, if at all, by plastic coated aluminium monstrosities. The architecture of Princes Dock may not be outstanding but it is clean and not unpleasant. I quite like it. A city is a living organism and cannot be preserved in aspic. The new stadium will breathe life into an area of the city which at present offers nothing to the people who live there.
In other words, fuck off UNESCO, who cares!
Phil (Kelsall) Roberts
43
Posted 21/07/2021 at 13:31:46
Mayor Anderson added: "I find it incomprehensible that Unesco would rather Bramley Moore Dock remain a derelict wasteland, rather than making a positive contribution to the city's future and that of its residents".
Well said - and I think that sums it up perfectly and probably leaves nothing more to be said.
Andrew Ellams
44
Posted 21/07/2021 at 13:37:01
I used to love driving down the Dock Road, seeing the old docks and trying imagine what they were like in days gone by and the incredible amount of history, but to want to hold an entire region (because this can drive more than just one City) back for nothing more than some romantic notion is beyond insane.
Matt Byrne
45
Posted 21/07/2021 at 13:39:10
Well said Aidan. The club bent over backwards to appease these half wits including scaling down the size of the stands. Upgrade application to 60k. We could fill it and it would be magnificent. ,P.Unesco... Goodbye... close the door on your way out!
Barry Hesketh
46
Posted 21/07/2021 at 13:42:08
Sake, Everton you've ruined the city of Liverpool!
What a bunch of reactionist buffoons, posing as experts and journalists, we have in this country. Stuck in the 19th Century, trying to pretend that progress is only acceptable in the capital city and worried that every pound invested in our city is somehow detrimental to their precious London bubble.
A fact that was emphasised by Boris Johnson when he had to reassure the richer counties that his policy of 'levelling up' wouldn't automatically make their areas poorer. According to some, the South East pays the taxes and the North West shouldn't get to spend any of it.
Can anybody name five places in England that have World Heritage status? and more importantly what this 'honour' actually adds?
I bet there are hundreds of places including Buckingham Palace, that attract tourists and investment in England without having some faceless bunch of people bestow a meaningless honour on them.
Bob Parrington
47
Posted 21/07/2021 at 13:44:58
Bunch of woke fuckwits making the decision, of course. Best thing to do would be to disband the useless World Heritage organisation and in particular tell bully China to go take a hike!
Neil Copeland
48
Posted 21/07/2021 at 13:45:56
Tony #21, with NSNO tattooed up one side and UTFT down the other
Dale Rose
49
Posted 21/07/2021 at 13:50:16
I remember when they dropped the warehouses. Was driving home in the wee small hours when the road moved. Curb to curb, rats tens of thousands of them running along the road towards Bootle.
Nothing like the good old days is there. . Maybe we can bring back ringworm and smallpox.
World heritage pricks.
Joe McMahon
50
Posted 21/07/2021 at 13:52:11
Barry @46 fully agree. Just think of the many visitors (including from overseas) to Northumberland and the many fantastic castles, the Lake District etc, Plenty in the North.
Tony Shelby
51
Posted 21/07/2021 at 13:55:26
Neil (48) - Sounds good.
Add a pair of giant pink glass spheres, one either side of the base, with KISS written on the first one and THESE written on the second.
Alan J Thompson
52
Posted 21/07/2021 at 13:59:14
Barry(#46); If BMD is in there then probably the shitworks next door, only need 3 more now, does Speke Hall or the Prefabs count?
Robert Tressell
53
Posted 21/07/2021 at 14:04:46
I'm all for conservation of heritage - and it's heartbreaking to see once grand towns and cities reduced to concrete boxes. However, I just can't see this applies here. The once grand docks are derelict. They're being preserved for no-one to see or use. Upgrading them with a stadium or some other purpose at least rescues the area. The Liverpool docks and regeneration of the area is already hugely impressive - and BMD just extends the project. If it means that a couple of academics / researchers of Victorian docks will be unable to view the genuine article then so be it. Liverpool the city will benefit.
John Kavanagh
54
Posted 21/07/2021 at 14:17:31
For far too long we in the UK have propped up the UN with hefty taxpayer donations towards its upkeep and the employment of various experts and dignitaries who would be unemployable in any other environment. The days when the UN really made a difference are long over - it's now a gravy train and talking shop, with a well documented sideline in the organised prostitution and child abuse of vulnerable people.
I look forward to their future decisions on World Heritage sites in Guatemala and Uganda where visitors can experience the joys of having their limbs chopped off or their heads blown off. Or maybe a UNESCO tour of China's purpose built re-education facilities with state of the art interrogation rooms.
We should cut our UN contributions to a level commensurate with those of economies far bigger than ours and spend the money saved actually preserving our own heritage rather than the lifestyles of this bunch of crooked wasters. Time to trim the UN squad.
Bob Parrington
55
Posted 21/07/2021 at 14:28:31
Bang on Robert. We now live in Australia but my Geordie wife and I made a point in late 2019 to check out the BMD area. The only word we could find to express how it is . DERELICT. So, if these World Heritage dick-brains want to say No to Liverpool then so be it.
The proposed development, including the new EFC stadium, will brighten the entire area.
So, China and the lilly-livered group that weaselled out to support them, GGF from my wife and me.
The City of Liverpool will rise from the ashes on the back of this and other derelict keepsakes to become the great city it was always in the past.
C'mon Everton, you are leading the way!!!

Jim Harrison
56
Posted 21/07/2021 at 14:48:42
They have a role in preserving culture, but sometimes development is more important.
Having a lovely bunch of old buildings is fine, but people need jobs, places to live and work.
Preserve as much as possible through considerate planning. But not to such a degree that it prevents development.
Tony Abrahams
57
Posted 21/07/2021 at 15:04:10
Kevin@24, that was a good article that, but the man writing the article mustn't have been to Liverpool in years, because it's the newer Liverpool one, and the Baltic triangle areas that are breathing a lot of new life into our city, which might just even overtake Manchester once again in the future, because of the vibrancy, imo mate!
Dennis Stevens
58
Posted 21/07/2021 at 15:06:50
If only we'd proposed building the new stadium out of reclaimed original Victorian bricks!
Mike Gaynes
59
Posted 21/07/2021 at 15:09:11
Michael, not sure I would call it a "humiliating blow". Dresden was delisted for building a butt-ugly traffic bridge across the valley that more than 2/3 of the residents had voted for. Dresden was pissed off, but certainly not humiliated -- 65,000 people showed up to celebrate the bridge opening.
Kevin #24, thanks for posting that article. It's a very illuminating commentary.
John #54, nice anti-UN rant, but UNESCO is a financially tiny agency, with a pocket-change annual budget of around $600 million, most of it raised from its member states and donations from NGAs like the World Heritage Fund. Your tax dollars aren't supporting UNESCO.
Brian Wilkinson
60
Posted 21/07/2021 at 15:09:14
Best thing that could have happened to be honest.
Liverpool is a thriving City, let us not forget, they have only had the Heritage tag since 2004, people before 2004 were visiting Liverpool in large numbers, for the City, the Football, the music, you name it.
People did not just turn up in Liverpool after 2004, because it suddenly had a title.
Be thankful the City only got the status in 2004, can you imagine the Albert docks back then, not getting the go ahead in the eighties, to be restored with the threat of losing its World heritage status.
Now the City has lost its Albatross, hanging around their necks, the City can now revamp a run down area of the docks, and beyond.
One final thought, Everton had to do a slight modification on the stadium height, if I remember, so does this now mean we will no longer have to abide by them, and build it higher if needed.
Larry O'Hara
61
Posted 21/07/2021 at 15:14:36
I agree with Tony Abrahams (post 57)—the article does not concede the fact that the new stadium will be reviving a derelict space and be sensitive to the history in its design, and should be.
Mike Gaynes is right that UNESCO has little money: presumably why they have not visited to see how needed the stadium is. And of course they (and the likes of Jenkins) will not give Liverpool a red (or blue) cent to improve our lot.
Bill Gall
62
Posted 21/07/2021 at 15:15:01
It is fine to recognize history, but in recognition of history, as in a Unesco World Heritage Site they should be responsible for maintaining these sites and not allowing them to become derelict and dangerous.
It seems strange that since Liverpool has been given this title in 2004,there has been a number of redevelopments along the dock areas but it has taken the design of a football stadium with a number of heritage sites on it preserved, for this society to remove the title of a World Heritage Site.
Why a secret vote, ? and why so close to the start of the construction of this stadium ?
It sounds like the British Historical Society are still upset they never got their own way and have asked big brother to step in.

Colin Bell
63
Posted 21/07/2021 at 15:31:50
UNESCO? They're having a laugh.
a) the stadium is a good 3/4 mile from the Pier Head
b) the site is derilict and an eyesore,
c) the Liver Buildings, Cunard Building and the Mersey Dock and Harbour Board Building were built on a filled-in St George's Dock and are "new" and not related to Liverpool's maritime history.
St Georges Hall, Picton Library, Walker Art Gallery: fabulous buildings. Are they not, in themselves, deserving of some kind of blue plaque?
I could go on and on…..
Short sighted. It's not BMD that's the issue: the waterfront is developing to meet the needs of Liverpool in C21st. I do think the museum next to MDHB is a carbuncle though!
Laying the blame at BMD is a cheap shot, why are we not blaming the building of a Crowne Plaza next to the Liver Buildings? Back in 2012, Liverpool was threatened with loss of its UNESCO designation when 'BMD' was really going to be the edge of a Tesco car park in Kirby.
Is anyone really bothered by this?
John Skelly
64
Posted 21/07/2021 at 15:35:09
That's great news let's build a bigger stadium UNESCO has been holding the city back for years.
Dave Waugh
65
Posted 21/07/2021 at 15:49:16
I don't see this as bad news. Allows the city to continue progressing / developing. Additionally, may allow some of the heritage initiatives (are we bothered about them?) to be stripped out of the cost plan now, to be spent on other things - how about a matchday ferry landing stage !
Mark Daley
66
Posted 21/07/2021 at 15:57:46
Couldn't we offer UNESCO Birkenhead as a like-for-like replacement? If you extend it down the New Chester Road you've got Port Sunlight, the Cammell Laird site, the entrance to the tunnel, the floating landing stage, and Prenton Park all within a stone's throw. It's a no-brainer isn't it?
Paul Jones
67
Posted 21/07/2021 at 16:06:45
A derelict non working dock serves no purpose to history or the well being of those who live in the City.
The city has reflected and acknowledged its maritime history the good and the bad.
Most tourists seem to visit Liverpool with regard to its history of popular culture the main attractions being football and music.
The docks fell into disrepair mainly because of the "managed decline" by successive governments coincidental to our increased trade with Europe rather than former colonies.
The local community is in need of investment this will have wider economic benefits for the people from that area.
Trevor Powell
68
Posted 21/07/2021 at 16:09:23
Stuff'em! All cities are developing and evolving just the same as architecture and structural engineering.
Just how much of the Victorian Docks should be saved as against the economic revival of the city in general?
The city belongs to its inhabitants and they have given the new stadium their support [even many koppites]. They have spoken!
Kristian Boyce
69
Posted 21/07/2021 at 16:17:41
It's ironic that the Unesco committee meeting was in China to make this decision. The country whose cities have grown so rapidly over the last 20 odd years, they've knocked down countless historic areas just to build ridiculous skyscrapers.
Also, having decisions being made by countries like Guatemala, who weren't even a country when the docks were originally built.
Trevor Powell
70
Posted 21/07/2021 at 16:22:56
Further to my comments above, I would like to add that perhaps the government could set up a British Heritage Heritage Site status as part of the Department of Culture? A British Educational, Scientific and Cultural Organization, ie BESCO which should be promoting tourism for the whole of the country instead of the Stratford, London, Oxford and Cambridge elitists!
Ian Horan
71
Posted 21/07/2021 at 16:24:55
Shame about losing the WH status, but on 5he plus side the stadium redevelopment will no longer need to protect and keep the dockside walls. Just fill it in and save millions of ££s. The WHO status is of no benefit to Liverpool or Merseyside if the land lies empty and derelict. At last it can be redeveloped providing jobs, homes and breathing new life into that part of the City
Steve Ferns
72
Posted 21/07/2021 at 16:55:44
Agree with the general gist of all of the above. The world heritage status means little. Would we rather Liverpool be a museum or a thriving city like Manchester? It would be nice to retain as much as possible and keep the character of the city, but Liverpool has fallen a long way from it's status when most of these buildings were built, namely the most important port in the world, and once the richest city in the world. Those days will only come back if we ignore World Heritage status and invest and rebuild.
Don Alexander
73
Posted 21/07/2021 at 17:06:53
As far as I and most if not all of my maternal family are concerned, all of whom were born and brought up in a terraced house, all the males working on the docks, the need to transform the entire north end of the city has been screamingly obvious for decades.
It's derelict in terms of growing prosperity and has been for far too long. Yes, some of the architecture of the new buildings may not be glorious but they stand where emptiness once thrived.
Hell, I'm sick of Westminster sticking denigrating the city so to have some committee sitting in China now try to do us down is like water off a duck's back to me.
Paul Swan
74
Posted 21/07/2021 at 17:17:57
Unfortunately it's one more thing the media with their own agendas can blame on Everton.
As some have said this threat has been hanging over the city like the sword of Damocles for many years before the Everton development was even thought about. These pricks would sooner have a rotting eyesore preserved in aspic than allow regeneration.
Ironic that these types of people would probably have been the types to block the original development of the waterfront in the first place.
Joe Corgan
75
Posted 21/07/2021 at 17:20:49
This has more than a whiff of politics about it. Somebody at Liverpool City Council piss UNESCO off? Did the city not pay its annual subs?
See, no-one's put a spade in the ground at BMD yet. No heritage has been destroyed (yet!) If the World Heritage status really has been stripped because of the BMD development, surely it would have made sense to wait until building works actually damaged the remains of the dock.
I'm not buying the public story. The three graces are still there. Albert Dock is still there, and better than it over was.
Surely the Museum of Liverpool damaged the waterfront much more than BMD will, given that it's so close to those famous buildings. Also, the onyx black Mann Island development. Or how about Atlantic Tower? All of these huge developments are much more central than BMD - which is a respectful design being built on the ruins of a dock which has lain empty for decades.
And, as other have said, if World Heritage Status is more of a millstone around our collective necks than a platform for regeneration then sod it. UNESCO can shove it where Amon-Ra doesn't shine.
Jay Wood
[BRZ]
76
Posted 21/07/2021 at 17:25:39
EFC missed a trick.
See how Edinburgh retained its World Heritage listing, even with the building of a hotel seen from any angle shot of the memorable city, lovingly nicknamed by locals as...
Mike Gaynes
77
Posted 21/07/2021 at 17:51:45
Best line of the day about this, from The Fiver:
"Apparently, then, Unesco did not buy into the view that Everton have demonstrated their eagerness to preserve history by signing Andros Townsend and Asmir Begovic."
Kieran Kinsella
78
Posted 21/07/2021 at 17:56:01
Chris Williams
79
Posted 21/07/2021 at 18:07:54
Joe,
Spade went into the ground today. On site presence, deliveries etc. Photos online for those who want to see them
Jim Lloyd
80
Posted 21/07/2021 at 18:11:54
I can't get any nearer to the North End of the City, unless I lived next door in Bootle. Both areas got battered during WW2 ( I think Bootle had something like 90% of their housing stock damaged)
As I grew up, like many other kids, we went down Sandhills and played around all the derelict warehouses, ollers and the canal. What was left of the docks after, a) the bombing and b) Seaforth Container base opening up for the much bigger Container ships, then Clarence Dock Power Station getting flattened, Tate and Lyle refinery going, and the Warehouses being left empty, the North End of the Dock system had bits and bobs (one dock had a yacht club, the dock area was just left for scrap yards sending metal to China and not much else.
When Liverpool got Objective money from europe, most of it got spent down the South End and Town. The North end got scruffier, with car boot sales, small businesses and not much else providing employment.
Because of the proposed development by Peel holdings and Everton football club, the biggest, brick built building in Europe (the Old Tobbacco warehouse) which had trees growing out the top, is now being developed and aopartment are being offered for sale and the starting prices begin at £250,000. If anybody isn't aware of the site of the old warehouse, it's right across the road from our ground!
So money, big money, is pouring into the area around the proposed development. and the title "world heritage" means Sweet Fanny Adams to the buyers queuing up to buy properties around our ground.
The City Councils, Liberal or Labour, have ruled the city for decades. If you want to see the difference between the South End and the North End of the City, just look at the differnce.
As far as the benefit that World Heritage has given the North End of our city. It has meant absolutely Nothing!
I read the article in the Guardian, and he can go and piss off as well.
The people of Liverpool have voted massively for our new stadium to be the cornerstone of the Liverpool Waters development.
Just ask us what we think about the bloody middle class pricks wittering on about our world class heritage! I am sure we will be polite and tell them to piss off as well!
Danny O'Neill
81
Posted 21/07/2021 at 18:18:15
The World Heritage Status means little to me. They seem to be sulking because they can't and haven't been able to dictate what happens to develop our city. Or rather not as the case may be.
I'm no architect or artist, but I'll have a go. If anything, Everton has pulled a blinder with that design.
Not only will it trigger further redevelopment for a neglected part of the city that has been screaming out for it for decades, if they'd have bothered to study closely rather than throw their dummy out of the pram, whilst futuristic, it respects the city's heritage. It appears like a ship pointing out to the Irish Sea like many that departed the port of Liverpool. And the brickwork resembles that of the dock warehouses that were once resident on that dock and many others apart from the renovated Albert Dock.
Who cares. It's our city. And I'll caveat again, I'm no architect. It's probably based on a spaceship!!
Jerome Shields
82
Posted 21/07/2021 at 18:23:08
Don't really understand why they where not able to work with Liverpool Council to retain the status. They have worked in the pass with the Council to get this status. Seems a total failure on Unescos part to work with Liverpool Council and an abandoning what was previously achieved. Whats more things will continue as normal anyway and move on.
Those that raised and supported objections, have achieved nothing as regards influencing the future dock development. They could be described as redundant.
Tony Shelby
83
Posted 21/07/2021 at 18:25:12
I don't give a shite about UNESCO's decision but you've got to admit, from a PR perspective it's not been a good week for the blues.
Even our signings have been uninspiring.
I fully expect to see the headlines tomorrow and find out that we've been laundering drugs money, sending the youth team to sweep chimneys, and using dog food in the scouse pies.
Everton (all of) that.
Barry Hesketh
84
Posted 21/07/2021 at 18:32:31
Tony @23
All of the things that have happened recently, apart from the new manager and the new signings, Everton has had no control over, much the same as the European ban and many of the other misfortunes that have beset the club over the years. I would be surprised if the scouse pies were laced with dog food though, it's pretty expensive these days.
Jim Lloyd
85
Posted 21/07/2021 at 18:33:49
Jerome, (82) I think the statement is a warning shot to the council and the developers about the number of stories that Peel Holdings want for their High Rise apartments/ offices. It might also involve our Stadium but can't say I've read the reasons for the threat.
I guess the academics may want to see less intrusive (as they see it) development. I think that Peel Holdings, and other developers and investors, including our owner, want to see a thriving North end. So do I.
I think it's gone past the stage of working together, there appears to be fundamental differences. So I hope the Council go ahead with the developers and if UNESCO don't like the plans...then they can do one!
Chris Williams
86
Posted 21/07/2021 at 18:38:27
Jerome,
Have you not seen some of the stuff in the papers that Liverpool Council has been accused of? They've got independent people, appointed by the government heavily involved in its running now.
People have been arrested and have not been charged. But it's possibly not been a model of good governance and operating properly at acceptable standards for a while.
Good article in the Guardian covering all this.

Ray Robinson
87
Posted 21/07/2021 at 18:40:04
Some of the existing developents along the waterfront are indeed an eyesore but they are in place already. However, why on Earth would anyone want to preserve the current dereliction to the North of the city? It resembled a war torn site last time I visited pre-pandemic. As long as an "Anything Goes" regeneration isn't pursued, let's move on. We'll survive.
Colin Glassar
88
Posted 21/07/2021 at 19:00:07
Well since 1945 (when UNESCO was founded) UNESCO didn't give a flying fuck about the destruction of Liverpool and its inner-city neighbourhoods which we're torn down by LCC urban planners and it's inhabitants scattered to dumps like Kirkby, Skem and Cannibal Farm.
Where was UNESCO when some of our finest buildings were torn down eg The Cavern, St. George's Place, the Goree Warehouse, Bibby's Warehouse, Central Station etc…. Nowhere to be seen!! But as soon as the city wants to redevelop in a positive way ie The Scouse Manhattan, then all these useless, worthless, do-gooders pop up from the Gobi to the fucking Sahara deserts!
They can all do one as far as I'm concerned. Onwards and upwards!
Forgot the Mahdi Gras club and the David Lewis theatre.
Ian Horan
89
Posted 21/07/2021 at 19:21:56
The council can now also proceed with a bigger cruise liner terminal as well now as WHO opposed that as well
Roger Helm
90
Posted 21/07/2021 at 19:34:39
OMG what have we done? How will I sleep at night?
Simon Jenkins in the Guardian got it wrong about West Ham United's use of the Olympic Stadium "sucking the life" out of the Stratford area. In fact it is the centre of a massive multi-billion pound regeneration of a deprived area, with plans for flats, recreation facilities, art galleries and a university.
If UNESCO think redeveloping a derelict dock miles from the Three Graces is wrong then it just shows how little they know.
Philip Bunting
91
Posted 21/07/2021 at 19:59:25
Well, maybe we should save the effort and 50m cash earmarked for conversation seeing as the efforts the club made to satisfy Unisco make absolutely no difference. Fill the Dock in with concrete now and knock down the water tower, raise the roof of the stadium and make it bigger. 😀...only kidding about the water tower though as I like that 👌
Rob Halligan
92
Posted 21/07/2021 at 20:04:19
Philip # 91. I was thinking similar, does this mean the wall between the dock and Regent road can now be demolished?
Paul Smith
93
Posted 21/07/2021 at 20:34:14
Just think when the docks and the 3 Graces were conceived people said they were eyesores and spoiling the gaff a bit like now hey.
Phil Gardner
94
Posted 21/07/2021 at 21:06:30
Alan McGuffog (well named) @19….hang your head in shame.
Don Alexander
95
Posted 21/07/2021 at 21:20:06
Phil, our Slave Trade history is a well known fact. I suggest Alan was being ironically PC to the ultimate, as is the Scouse way.
Jerome Shields
96
Posted 21/07/2021 at 21:29:37
Jim, #85
Is there a appeal progress. I can't believe there is no come back.
Chris #86
Read Jims post first. No I am not familiar. Did know the leader of the Council that was going to help Everton fund the Stadium, went down arrested. Did not known it went further as you describe. Thank you for the info and link. Starting to make more sense.
A!an#19
I am not in favour of sanitised History. What has happen has happened, learn from acknowledge redress appropriately and move on , allowing others in the future to do the same. But do not pretend to eradicate as if you are helping someone today.
Alan McGuffog
97
Posted 21/07/2021 at 21:49:29
The mercantile wealth of Liverpool was built on the profits of the slave system.
Simple as.
We provided the shipping to transport Africans to the New World. In return we imported cotton, sugar, tobacco etc.
Hence Tate and Lyle, BAT, etc having huge plant in Liverpool.
During the Civil War Liverpool merchants supported the Southern slave owning plantation system. Liberal Manchester supported the Union.
Probably over simplified, but hey
Si Cooper
98
Posted 21/07/2021 at 21:56:55
I presume World Heritage status means they don't like existing buildings changing their appearance too much because EFC obviously worked very hard to retain features and keep faith with the existing character.
Would UNESCO only be happy with converting the interior and leaving the dock and surroundings untouched? That seems restrictive in the extreme. At the end of the day it was always going to be a football stadium replacing warehousing, albeit done to be far more in keeping with the heritage environs than many of the new developments, so it should have been made clear that approving the stadium would lead to this outcome. If that was made clear then it doesn't seem to have been well communicated, leading to our club very unfairly being portrayed as the villain of the piece. Has the club hit back by making clear all the effort it made to deliver a sympathetic development?
Mick Conalty
99
Posted 21/07/2021 at 22:00:00
What a joke, the decision made in China.
Maybe Liverpool is being replaced by Wuhan!!!
World Destruction Site.
Jim Lloyd
100
Posted 21/07/2021 at 22:03:26
Hello Jerome (96)
As far as the ex mayor and his involvement with any part of the planning process, I don't know. I would guess that the Police are fine tooth combing all available evidence in the planning department; and it's reasonable to think there's sufficient evidence for the search. This may take months to complete.
My view is that the planning processitself would have to be scrupulously methodical, to pass through all the hurdles it had to go through.
Your point regarding the appeals process. I just don't know, my friend. I would think that a presentation might well be discussed by the Council, to see what objections have been raised and what the Council could, or would want to, do to appease the decision makers in UNESCO.
I would say, that as far as our Stadium is concerned, it has been given the go ahead and will not be stopped now. There is an awful lot of develoment along the whole North end of the city from The Liver Building onwards.
I think UNESCO withdrawing the "World Heritage " label from the city will be met with Oh well, lets get on with the development. There are Billions of pounds in investment that will be threatened if there is a delay.
Jack Convery
101
Posted 21/07/2021 at 23:03:33
Talk about putting the boot in when your down - From Oliver Wainwright of the Guardian
The jewel in Peel's cut-price crown is intended to be Everton's new stadium, sadly of much the same quality, conceived as a great silver slug marooned on top of a vaguely warehousey brick box – a strained "contextual" nod to its surroundings.
They don't like us do they !!!
Barry Roberts
102
Posted 21/07/2021 at 23:08:57
In 100 years people will wail and gnash their teeth that the lovely old stadium at Bramley Moor is being pulled down for a new development.
Jerome Shields
103
Posted 21/07/2021 at 23:55:04
Jim #100
Thank you for the information. . As you say the developments will go ahead anyway. The Council and it's fault will get the full support of the government to press ahead developing the docklands. I remembers in the 70s while cycle touring going through acres of cleared derelect docklands in Liverpool. , having to wake up a guy worse for drink for directions to get out of it. . There has was real progress in a visit in 2012, though Goodison looked the worse for wear. The Docklands have probably provided the incentive for the largesse that Moshiri has spent on Everton learning about Football the hard way. It will be some City when all the Development pulls through and really prosperous with it. At the end of the day there is only one city called Liverpool with a great team called Everton.
Jerome Shields
104
Posted 22/07/2021 at 00:23:02
Alan#97
Thats may well be the case and few would deny that. But the Mercantile History if Liverpool. was far vast
rather than being than a second Bristol, which was a back water in comparison. Sea transportation, commodity trading, wool cloth export, Banking, canal system terminal made Liverpool. one if the worlds largest ports. I recently researched a friend of mines family tree. He was of the Pickford Removals family who started in the Canal Age and where operated in liverpool and where connected to the Todd Naylor family one of the most prominent Merchant Families in Liverpool. Neither family was involved in the Slave trade, but built vast businesses and traded extensively. I have known him over 40 years and found him to actively promote equality as second nature. Hugh Gaitskill's mother was a Todd Naylor. Gaitskill name was Hugh Todd Naylor Gaitskill.
Alan McGuffog
105
Posted 22/07/2021 at 00:41:52
Hi Jerome...you are right of course in that not every mercantile family was directly involved in the disgraceful trade.
My point is that a huge amount of Liverpools wealth was based on the slave triangle. Goods to West Africa, slaves to the Americas and West Indies and then cotton, tobacco and sugar to Britain.
Now I was being ironic earlier. I wasn't advocating a sanitising of history...I was saying it wouldn't surprise me if the " cancel culture" hadn't attacked Unesco for its support for World Heritage status.
Statues are being felled, of anyone with a hint of connection to slavery. Unesco gave Heritage status to Liverpool on account of its magnificent Georgian buildings near the Anglican, for the magnificent sweep of William Brown Street and for the Victorian Dock complex. Much, maybe not all, of this was built from the profits of the. trade with the new world.
I was suggesting it would not have surprised me if Unesco hadn't been attacked by the cancel culture movement because of this. I wasn't suggesting it should be.
And I concede that many people in public life in Victorian Liverpool were vehemently anti slavery.
Jim Brien
106
Posted 22/07/2021 at 00:47:49
Don't lose any sleep over this. China chaired committee has also caused similar controversy here in Australia about the Barrier reef listing too. Another politicised body.
Andy McGuffog
107
Posted 22/07/2021 at 01:40:53
And let's not forget (I'm sure some of us were around at the time) how ships from Liverpool carried arms to the Confederate states. (Don't get me started on the sufferings of the Plains tribes at the hands of scallies from Norris Green.)

Bill Watson
108
Posted 22/07/2021 at 01:50:33
On the 20 November 1971 I attended a T&G, 612 branch, meeting at the Baltic Fleet pub. I remember the date because later that day we beat Southampton 8-0.
The pub was an oasis in a desert of dereliction. During a break myself and a couple of the guys crossed the road to have a look around the Albert and Salthouse docks. The docks were full of mud and the Albert Dock, itself, was derelict with broken down doors and many broken windows. Various schemes had been mooted including complete demolition and building a skyscraper office block. The whole site was a complete eyesore.
Fast forward a decade to Michael Heseltines appointment as 'Minister for Liverpool' in the wake of the Thatcher government's panic following the Toxteth riots. Much as I may hate to admit it but he was the catalyst for the regeneration of the Albert Dock into the major tourist attraction it has become today.
If UNESCO had been on the scene, at that time, they would have fought this regeneration tooth and nail as they would have seen it as compromising the original integrity of the docks. They appear to prefer rotting Victorian buildings with no public access to regeneration.
In years to come I can see a rejuvenated north docks area, anchored by our stadium, becoming as big an attraction as the south docks are now.
History is my bag but you cannot live in a rotting museum. As far as I'm concerned UNESCO can do one.
Kieran Kinsella
109
Posted 22/07/2021 at 01:59:30
Bill Watson
Great post mate. Earlier Barry Hesketh wondered how many UNESCO sites there are in the UK. There are 32. Some obvious like Stonehenge, others less so. One is The Industrial Landscape in Wales which is basically a long abandoned factory and the squalid housing surrounding it. There's nothing aesthetically appealing about it. The site serves as a reminder of a time when poorly paid workers labored in monstrous conditions. It's not a joyful legacy, it's an albatross around the neck of another area left to fester. You can't trap people in economic decline so a few historians can waffle about the hardships of old. It's time to rejuvenate Liverpool for the people of today instead of keeping at as a museum of its hard fought past.
Si Cooper
110
Posted 22/07/2021 at 02:52:04
Bill (108), are you sure UNESCO are anti-regeneration rather than just preferring re-vamping over demolishing and building something different.
I'm asking, because we were always going run foul of them if they oppose any regeneration but if they are saying we have crossed a line by obliterating original features, such as the dock itself, then they really should have made that clearer when planning permission was being sought.
I really object to the way the stadium is being singled out for attack at this point considering the effort that was made to be sympathetic to the setting.
Jack (101), that journo obviously has some axe to grind. He must understand that the design of the stadium was mainly driven by making it appropriate to it's site, which was presumably seen as essential.
Kieran Kinsella
111
Posted 22/07/2021 at 03:08:14
Si
The UNESCO statement was very broad talking about years of development. Only the UK press pinned it on Everton.
Eric Myles
112
Posted 22/07/2021 at 04:09:23
Now maybe the Club can go back to a simpler cheaper design that doesn't have to accommodate heritage considerations. Or maybe put the money "saved" into improved fan facilities.
I do hope they continue with the preservation of the tower and the outer wall though.
Eric Myles
113
Posted 22/07/2021 at 04:16:52
Bill #108, I didn't see Albert Dock beforehand but to me it looks like they have preserved the old warehouse buildings and dock basins?
And I'm all for that. Liverpool had a history in the 60's and 70' of tearing everything down and replacing it with ugly modern buildings. When I went to Newcastle in the late '70's they had preserved the façades of the old Victorian streets and built modern shopping facilities behind them.
Great foresight from the infamous T. Dan Smith, and I think our own Trevor Skempton might have had a hand in it?
Mike Gaynes
114
Posted 22/07/2021 at 04:30:48
Kieran, the UK has 32 Heritage sites? The USA has only 24.
Of course, English history and culture go back about 50 centuries farther, but still...
We do need to get to work on developing a culture.
Bill Watson
115
Posted 22/07/2021 at 04:54:32
Andy #107.
Not only did Liverpool ships carry Confederate arms but we built their ships in Liverpool and Birkenhead when the UK was supposed to be neutral. The Confederate Navy HQ was effectively at 10 Rumford Place.
I can never get links to work on here but if you search for "Liverpool Confederate Navy" it brings up lots of interesting stuff.
Danny O'Neill
116
Posted 22/07/2021 at 06:48:32
Interesting discussion as always on ToffeeWeb!
I too love history Bill @108. We should respect it, learn from it but move on from it too. The Liverpool I now go home to when I visit family is the same but a different one than I lived in during the 80s and later in the mid 90s. But for the better as it has progressed. With the redevelopment of the northern dock area, it can make another leap forward.
I find the Confederate - Union links fascinating. I suppose you have to put it in the context of time to a degree. Has any country ever been truly neutral in a conflict? Often they will make an official stance but there tends to always be a hidden agenda delivered by proxy.
To use an example from above' "liberal" Manchester supporting the Union. I don't know if that was the case but won't doubt they did. If so, that's the official stance. But then they thrived off the cotton from the south that was being shipped to "confederate supporting" Liverpool to fuel the surrounding mills that Manchester businesses thrived off! Typical Liberals; be outraged about most things, but do as I say, not what I do!
Mike Gaynes
117
Posted 22/07/2021 at 07:23:27
What we've been taught in our history was that the British essentially stayed neutral in the Civil War because they still hated both sides from the Revolution and the War of 1812. The upper crust tended to support the Confederacy but the working class supported the Union, and there were a significant number of English volunteers for the Union Army.
The Confederacy expected British support because of England's dependency on King Cotton, but it didn't happen that way. The Union would have declared war on England if it supported the South, and England didn't need cotton as badly as it needed grain and other trade from the Union, and so (please note Danny #116) the Confederate cotton trade to England essentially stopped early in the war. The South thus had no chance of help from overseas. England and France had other issues to worry about.
However, Liverpool shipyards were notoriously pro-Confederacy, and they built three warships for the South, one of which (the Alabama) attacked and sank Union shipping in the Atlantic. The second never accomplished much, and the third was seized by the contrite British government before it was launched. The victorious Union sued Britain after the war and collected what was then a huge settlement. But the Liverpool-built warships never really had any impact on the war itself, and everybody was friends again afterwards.
That's what I learned in my Civil War History class in high school, circa 1973.
Rick Tarleton
118
Posted 22/07/2021 at 07:37:36
The conflict between developing and modernising the Liverpool waterfront and the historical preservation of relics of, in particular, our 18th Century (shameful) history, has been ongoing.
If the Agra authorities built a modern shopping mall or a block of luxury apartments next to the Taj Mahal, there'd be an outcry. Quite rightly. However, it is slightly different for Liverpool.
This is a modern city and must be an organic entity, growing and changing. It is not a one-off historical site, but a reminder of the trading and industry of the 18th and 19th Century. The whole entity cannot and should not be locked in aspic.
I'm not sure that the development of Bramley-Moore stadium will add much aesthetically or architecturally to the Liverpool waterfront, but I'm sure that preserving it as a derelict piece of ground is not exactly an answer.
Losing the Unesco listing will not deter the vast majority of tourists who visit Liverpool. May I suggest that rebuilding the overhead railway and reopening the New Brighton Ferry service would be steps in the right direction, both of which could stop at our new stadium.
Eddie Dunn
119
Posted 22/07/2021 at 08:06:35
Mike @114, very funny, but don't forget that there is a wealth of history in your country from way before the invasion from Europeans.
A bit like there was Football before the Premier League.
Danny O'Neill
120
Posted 22/07/2021 at 08:20:06
Oh, although no expert, I am pretty read up on US history Mike and understand. My point was more that the official stance will often, and to this day, be contradicticted or underpinned by proxy influence games in the backgroumd. All politics right? No change there!
Always said that Eddie. I have close affiliation with the US both personally and professionally. I have many "colonials" (affectionate term) friends and colleagues. Yes there is much Chelsea like "you've got no history" type banter, but North America has a fascinating and rich history.
You're still a baby nation though Mike and don't forget, Us Brits invented everything, including America!!!
Bill Watson
121
Posted 22/07/2021 at 10:01:56
Mike #117
The Confederate navy started from virtually scratch but became a very modern, powerful, force very quickly.
www.archives.gov/publications/prologue/2001/fall/confederate-fleet-1.html
Liverpool must have been a hotbed of spies at that time a bit like Lisbon was in WW2.
Danny, history makes us what we are today but I agree we must learn from it and we should certainly move on.
I'm finding this thread far more interesting than the footy!!
Jerome Shields
122
Posted 22/07/2021 at 10:02:28
Alan#105
My comment regarding Santised History was general and I apologise if it appeared personnel to you. Being active in researching articles for Publication in a Historical Publication I am a bit sensitive about coming across research and publication that gloss over the reality. I find that I have to revise alot of what is put across as fact. I see the distruction of historical relics as you say as Cancel culture and a attempt to cover up discovery of the truth, which is the opposite of the parties involve intent. It inadvertly santises history. e. g I was in Bristol and looked at the Coulston Statue and was able to unlock Bristols Slavery past, which was not that accessible. If I went to Bristol now I may not get that Key of Entry. In the case of Liverpool I think it is better to openly live with, understand, intiating learning and discussion and expose any cover ups. As T S Elliot said 'To learn is to live'.
I see you have started a discussion on the American people Civil War. I have a friend who has researched tbe American Civil War for over 40 years and on a flight to New York I was talking to a Lawyer from Baltimore who was a similar nut. I put them in contact and they are in constant discussion for this pass 15 years. Good luck to anyone who is trying to sort out the American Civil War, I stay clear. The English Civil War is as bad.
On reading your post I thought you would acknowledge any attempts at balance.
By the way my Posts on ToffeeWeb are purely opinion and emotional regarding Everton. . A totally different medium. Though there are attempts at sanitation.

Alan McGuffog
123
Posted 22/07/2021 at 10:36:15
No apologies needed Jerome. The beauty of ToffeeWeb is the eclectic discussions generated on a range of topics.
If you are interested in Civil Wars have you checked out any of the works of Paul Preston other Spanish ?
Fascinating stuff..he is a true authority. Also an ex St Eddie's lad and a blue nose to boot.
Cheers
Len Hawkins
124
Posted 22/07/2021 at 11:55:44
Mike Gaines the Chinese are beyond compare when it comes to developing cultures they have just killed millions all around the world with one of their cultures.
Perhaps the World Heritage agenda runs to flora (No not margarine) there may be some of the rarest weeds in the world around BMD and one of the workmen found an empty baked bean can produced by Heinz 57 in the 60's very rare. Also I'm led to believe several crates of empty Higgies Brown Ale bottles were pulled out of the water along with skeletons of cats tied to a heavy weight alongside an old pigeon racing clock.
The main issue was the view of the sewage facility was going to be blocked by the stadium some very rare tomato plants grow in there from seeds shat by tomato lovers all over Liverpool.
A devastating loss to the world.
Kev Jones
125
Posted 22/07/2021 at 13:41:27
There's been some great discussions about 'place' on ToffeeWeb recently and this is another one.
Liverpool acknowledges that a large part of its wealth is built on slavery. The museum of slavery is part of the south docks development and is currently expanding. A great example of acknowledging the past in order to learn the lessons for the future.
Mike #117 the Alabama was built in secret at Cammel Lairds shipyard in Birkenhead and went on to sink 65 union ships. The northern blockade ofSouthern ports meanwhile caused a 'cotton famine' in the UK, resulting in cotton mill closures and unemployment between 1862-63. Perhaps your history lesson reflected a need to maintain the idea of ' a special relationship' with the UK. A bit similar to some UK versions of the British Empire as solely a force for good. History is written by the winners and all that.
Interestingly Alabama St in Wallasey Birkenhead was/is being reviewed for renaming because of its connection with the CSS Alabama. I'm originally Birkenhead born but not sure where the debate has landed - does anyone know?
A storm also broke over the Guardian newspapers past links with to slavery. Apparently the Manchester Guardian criticised Lincoln and supported the south! Liberals eh?
Mike Gaynes
126
Posted 22/07/2021 at 14:53:03
Bill #121, the Confederate Navy commissioned and built what were then very modern ships, but they never had much effect in the war itself. The Union Navy blockaded Southern ports -- among other things preventing the new ships from actually reaching the Confederacy -- and assumed control of the rivers, and that domination helped turn the tide of the war. The Confederates' greatest naval success was in attacking Union shipping in the Atlantic, but that couldn't seriously hamper the Union's economic advantages.
Kev #125, I didn't know that about the cotton shortage and the closings -- obviously that wouldn't be part of a US history course -- but I do know that our "special relationship" almost devolved to open combat between the Union and the British early in the war. The Union stopped a British ship carrying Confederate envoys to England and arrested the envoys, and the British were so outraged they contemplated military action from Canada. Who knows, if you'd won we might all be Canadian today.
Mike Gaynes
127
Posted 22/07/2021 at 14:59:39
Len #124, your sense of humor isn't one bit humorous. Kindly stow your bigoted BS where the sun don't shine.
Eric Myles
128
Posted 22/07/2021 at 15:14:36
From what I remember of US history from 50 years ago at school
The Republicans used to be Democrats?
The Democrats used to be Republicans?
Washington and Lincoln owned slaves?
New York was originally called New Amsterdam?
Dan Murphy
129
Posted 22/07/2021 at 15:26:09
Yes, Rick @118. The stadium should be served by a new overhead railway/dockers'" umbrella. I've been thinking the same for a while. Could be a bit of a wow factor while giving a nod to history
Mike Gaynes
130
Posted 22/07/2021 at 15:40:27
Eric #128, more or less. In the Civil War days the Democrats were the conservatives and the Republicans were the liberals. Washington and Jefferson owned slaves, Lincoln did not. And yes, New York in the 1600s was New Amsterdam. Give you a B+ on that one.
John Pendleton
131
Posted 22/07/2021 at 15:44:56
Has the
Palace of Westminster
modernisation programme 'protected its historic legacy'? Not with WiFi, disabled lifts and air conditioning it hasn't.
Sympathetically repurposed to meet modern demand? Yes! UNESCO objection? No!
Has Saltaire preserved its gritty, industrial fabric mill roots? Not now it's a trendy shopping and dining experience it hasn't.
Sympathetically repurposed to meet modern demand? Yes! UNESCO objection? No!
Have the Welsh castles maintained Richard the First's oppression of the Welsh people? Not now they are tourist-friendly cash magnets they haven't.
Sympathetically repurposed to meet modern demand? Yes! UNESCO objection? No!
Will BMD continue as a derelict and permanent record of our merchant shipping's decline? Not now it's got ambitions to house a football team and regenerate a long-neglected area it won't.
Sympathetically repurposed to meet modern demand? Yes! UNESCO objection? Err, Yes!
Wonder what the difference is?

Barry Hesketh
132
Posted 22/07/2021 at 16:15:02
It looks as if this withdrawal of World Heritage status malarky could run longer than the inquiry into VVD's injury, with of course Everton FC getting the blame (emphasis added):
What first forced Unesco to act, putting the city on its danger list in 2012, was the granting of outline planning permission for the Peel group's Liverpool Waters plan. The developer told me their vision was inspired by Shanghai, "the way the skyscrapers of Pudong stand across the water from the historic Bund", but it was a pound-shop Pudong at best. The ambition has since been dialled down a few notches, leaving a collection of drab, faceless slabs, set to march for 2km along the waterfront. The jewel in Peel's cut-price crown is intended to be Everton's new stadium, sadly of much the same quality, conceived as a great silver slug marooned on top of a vaguely warehousey brick box – a strained "contextual" nod to its surroundings./
John Pendleton
133
Posted 22/07/2021 at 16:39:08
We need UNESCO about as much as we needed Bill's NU-TESCO.
Tony Abrahams
134
Posted 22/07/2021 at 17:18:11
Only Bill could go through a court case and say he was glad we lost. Honestly, no disrespect to Kirkby, but thank god Everton had fans with vision, who love their club. I'm certain that desperate move would have destroyed Everton Football Club, although it did have very good motorway links, and was going to really increase our chances of getting loads of new fans because of the footfall😭 words uttered by Keith Wyness, around this time!
Stan Schofield
135
Posted 22/07/2021 at 17:19:08
Barry@132: I'm given to understand that the writer of that Guardian piece, Wainwright, is a red.
John Pendleton
136
Posted 22/07/2021 at 17:19:19
What are you saying Brian, kick him out ALFRESCO?
Charles Brewer
137
Posted 22/07/2021 at 17:20:43
Any organisation which is housed in a 1950s concrete atrocity in Paris is poorly qualified to criticise any architectural undertaking. Unesco, like everything to do with the UN, is nowadays completely corrupt and of minimal worth and almost certainly run by means of Chinese bribery (like the current German and US governments and the World Health Organisation - motto "No, it was a pangolin – not a lazy third rate Wuhan plage research staffer."
Paul Hughes
138
Posted 22/07/2021 at 18:42:16
The British press seem to have by and large blamed Everton for the Unesco decision. A notable exception was the Leader Column in today's Times. It agreed with Mayor Anderson's criticism of the decision and said that a vibrant city such as Liverpool will thrive, with its football stadium and glass towers as well as its heritage.
Amen to that.
Colin Glassar
139
Posted 22/07/2021 at 18:56:36
If this Wainwright dickhead thinks the present day Pier Head is worse than the old Pier Head, then it's obvious the snotty nosed gobshite toff knows sweet fuck-all about the city of Liverpool.
Stan, I wouldn't doubt it one little bit. He's probably one of those north London reds who've never been further north than the Watford Gap.
Stan Schofield
140
Posted 22/07/2021 at 19:50:23
Colin, he's probably never heard of Bill Shankly.
Len Hawkins
141
Posted 22/07/2021 at 20:02:46
Mike Gaines - Bigot
Well we'll put that one to bed if I was a bigot I'd be at Church on a Sunday and in the Orange Lodge. The only humans I hate are from the hole across the park, that I admit.
As you mentioned Humour, we are a long time dead. For the last 2 years, I have been caring for my Mrs 24/7 as she is suffering from a terminal illness, so I like a little bit of humour. You have to laugh at something or you might as well top yourself.
You mentioned Chinese Culture and the biggest pandemic the world has ever seen started in Wuhan, funnily enough in China. There are two theories that the World Health Organisation put forward but were not allowed access to the Laboratories to inspect them for quite some time. So if it started in the lab as a culture in a petri dish, we will never know.
The other theory was the market at Wuhan selling everything that walks, flies or swims and a bat being responsible for the coronavirus kicking off.
Right, so we are agreed the whole damned thing started in Wuhan, China.
If it was Cultured in the lab in Wuhan, it becomes a Chinese Culture, right? Therefore, even if your sense of humour is sensitive to the 'facts', then there is nothing I can do about it.
Anything else that touches a raw nerve so I won't mention it in future, being the considerate bigot that I am.
Also, if these Heritage clowns had not met in China, we wouldn't need to be explaining each others viewpoint, would we?
Paul Birmingham
142
Posted 22/07/2021 at 20:59:01
Let's use the adversity this decision and the prejudiced press and media coverage, to drive on Everton, Bramley-Moore Dock and the North Docks regeneration to better times.
This was always on the cards and was done in a cowardly manner by Unesco, and this will do Liverpool a favour and enable the regeneration plans now and in the future to prosper.
Life's full of ups and downs and this has been a tough week but Everton will be stronger out of this week.
Hope eternal.

Bill Gall
143
Posted 22/07/2021 at 21:26:38
I wonder if Unesco will give it back if we build another Dockers Umbrella from the Pier Head to Bramley-Moore Dock?
Ian Linn
144
Posted 23/07/2021 at 05:37:10
Crock of shit.
Decision made in China says it all.
Have any of these goons taken the time to visit the city and see for themselves?
I think not.
They can all fuck off.
Mike Benjamin
145
Posted 23/07/2021 at 07:49:58
Kevin #24.
The problem with some of the journalists writing on this subject is they have little connection with the city and are writing from afar. Simon Jenkins was heavily involved with the National Trust and comes from a standpoint of heritage without any practical benefit. Unesco made a decision from thousands of miles away having not even visited the city and contributed nothing to maintaining the assets.
We all know what a shit heap the area is and it was only a matter of time before Bramley-Moore Dock descended into so much disrepair that the City would have been stripped of the status anyway.
I wonder what Unesco said about the McDonalds and KFC that are literally a few yards away from the Pyramids in Cairo?
Ron Sear
146
Posted 23/07/2021 at 20:41:27
While the diversion into the dock issue it might be of interest to some our American fans that the very last act of the American civil war took place in Liverpool when the CSS Shenandoah surrendered after sailing up the River Mersey. She was berthed in the Herculaneum Dock. Guess what we did to the dock? We filled it in and turned into a car park in 1972. Interesting read if you choose to.
James Flynn
147
Posted 23/07/2021 at 22:27:29
Ron (146) - Thanks for the anecdote. Didn't know about the CSS Shenandoah.
You're wrong stating ". . . . . the very last act of the American civil war took place in Liverpool when the CSS Shenandoah surrendered. . "
Our Civil War ended when Lee surrendered to Grant in April. There was a battle or two fought in the next couple months, as news traveled slow back then. What happened 6 months later at Liverpool wasn't a surrender, since the rebels weren't at war with England.
It was a rebel privateer whose captain was worried (with good reason) about being arrested and hung for piracy if he sailed back to the States.
Jerome Shields
148
Posted 23/07/2021 at 23:53:51
Alan#123
I will check Prestons works out. I did recommend a book to the Lawyer from Baltimore and would similarly recommend it to you ' The Great Siege of Malta 1565 - Ernie Bradford.
Jerome Shields
149
Posted 24/07/2021 at 00:05:04
Alan#123
My friends Father fought in the Spainish Civil War.
Don Alexander
150
Posted 24/07/2021 at 01:01:44
Due respect, genuinely, to commentators on the history of us and The States. Such issues have long fascinated me and I admire the States for what it's said, repeat, "said", since declaring independence. Unfortunately the likes of Trump and his use of the "fake news" mantra has revealed that there's still way too many US citizens all too ready to believe him and the racist antagonism he propounds. He, and they, need to be markedly dealt with in America.
Moving on, the city of Liverpool has had engravings on its significant buildings for a hundred years and more acknowledging the history of it and the Slave Trade. These days a basically sentient being should be aware of it, and be willing to fashion a better future.
And, getting back to the titular subject of this piece, wouldn't it have been a great thing if some liberal wazzock in the late nineteenth century had decided to design and deliver a preposterously vulgar enormous statue to a dilapidated shameful island with an appalling history of humanitarian welfare in a bid to recognise hope, ambition, nourishment and good life itself in the country that shabby island was part of?
Yeah it would've been, and The Statue Of Liberty shows it can be done.
Chris Williams
151
Posted 24/07/2021 at 06:14:37
It seems that the City of Liverpool could soon be in august company. The WHS of Stonehenge is now under threat from UNESCO.
Along with several others seemingly.
Derek Thomas
152
Posted 24/07/2021 at 06:21:11
I see reports that after a two week all expenses paid trip to visit and snorkel the Great Barrier Reef a UNESCO team did not carry out their threat to change its status - there's a surprise.
Charles Brewer
153
Posted 24/07/2021 at 10:30:04
It looks as though Stonehenge might also go. Looking at the UNESCO site, it appears the Dundee, Blaenavon Industrial Landscape, Saltaire, and a bit of Hadrian's Wall and the Antonine Wall are world heritage sites. Glasgow is listed as a music world heritage location (eh?) for having a couple of orchestras which do not rank anywhere in anyone's listing.
It's almost as if the UNESCO delegates first question was "How much do I get if I list your location?"
Given the main pastime of the UN is to pass resolutions attacking Israel, while its troops in disaster areas are best known for their contribution to the child prostitution industry (UNICEF it pretty good at this too), and that China dominates most of the UN activities, I doubt that anyone with any sense would take anything emerging from anything to do with the UN seriously.
Tony Waring
154
Posted 24/07/2021 at 11:12:30
If they can scrub Stonehenge, they'll almost certainly be after The Grafton next!
Brian Wilkinson
155
Posted 24/07/2021 at 15:51:12
The biggest winner to come out of this is Peel Holdings. They will now be able to build along the docks without any intervention from Unesco.
Fair to say blaming Everton is shameful from Unesco, other hotels and buildings have been built around the three graces, all done with no thought of style.
Meanwhile, Everton bent over backwards, speaking to the heritage people, ensuring they would carry out work on the dock wall, maintain the hydraulic tower, and blend the ground in with brickwork at the bottom half of the stadium, also draining the dock and filling with sand, instead of cement.
Fair to say, Everton was the only ones that negotiated and tried to carry out everything, that would be in agreement with the heritage people.
Now watch Peel Holdings reep the rewards, with the land they own and expect hotels shops and all sorts to be built on the derelict land.
Tony Abrahams
156
Posted 24/07/2021 at 16:01:56
If I got a free bet Brian, It would go on Usmanov and Moshiri, being second and third in the queue behind Peel, mate!
Paul Tran
157
Posted 24/07/2021 at 17:37:54
34 years since I lived in Liverpool. Never met a soul who ever went there because of World Heritage status. Never met anyone who has mentioned it
Peel will clean up.
Stan Schofield
158
Posted 24/07/2021 at 17:44:22
I'm from Liverpool, but I didn't even know that Liverpool was a World Heritage Site, until I started reading about the planning process for the new stadium on ToffeeWeb. I don't recall anyone, including anyone from Liverpool, ever mentioning the fact.
I can't imagine many people being too bothered by it.
Ray Roche
159
Posted 24/07/2021 at 18:45:18
You don't think that Peel may have dropped some corrupt bugger in UNESCO a few Bob to delete Liverpool so that Peel wouldn't have to adhere to planning….nah, too far fetched.
Chris Williams
160
Posted 24/07/2021 at 19:05:30
Ray,
That sounds like a conspiracy theory. So eminently possible!
Charles Brewer
161
Posted 24/07/2021 at 19:14:13
Ray, that reminds me of a Soviet era joke.
Vasya Pupkin is told he's won a Hero of Soviet Labour award and it will be presented in front of the whole factory workforce.
He goes up on the platform and asks the factory chairman "How much money do I get?"
The FC says, "Nothing just the medal"
VP replies "What, you mean I get no money, just the shame of getting a government award?"
I suspect that getting anything from the UN as an award, like a non-science Nobel Prize, is just indication of something very dubious going on.

Stan Schofield
162
Posted 24/07/2021 at 19:43:59
Charles, during Perestroika, when there were queues for everything, Vladimir and Dimitri got really pissed off when it got so bad that they had to queue for vodka. They'd been in the vodka queue for ages, and suddenly Vladimir says "I've had enough of this, I'm going to kill Mikhail Gorbachev!", and then he marches off towards the Kremlin. After ten minutes, he returns, and Dimitri says "Did you kill Mikhail Gorbachev?". Vladimir replies, "No, that queue was even longer!".
Eugene Ruane
163
Posted 24/07/2021 at 20:42:03
This does provide Everton supporters with the opportunity to take part in a unique, original, almost certainly never heard before at any football stadium in the world chant along the lines..
"You can stick your Unesco up your arse, you can stick..."
Well, you know how it goes.
Ed Prytherch
164
Posted 24/07/2021 at 20:44:26
Good one, Stan.
Chris Williams
165
Posted 24/07/2021 at 21:15:31
Sitting out al fresco
Pissing off UNESCO
Brent Stephens
166
Posted 24/07/2021 at 21:43:33
Breathing in the air
UNESCO, grow a pair
Derek Thomas
168
Posted 25/07/2021 at 01:20:43
It's a 2 stage process, they stick it on a list, but It doesn't
really
becomes a heritage or sacred site until somebody wants to do something on it, access it, or use it in some way. Then, and only then, is it a True Heritage Site.
You used to be able to walk, stagger or climb up Ayres Rock (Uluru) for nothing. But it was 'damaging' it... but you can still be 'accompanied by a 'guide' for a (substantial) fee.
There was a cartoon years ago in an Australian paper... it could have been about anywhere... yeah right.
2 guys round a fire and in the far, far, distance, on the horizon there's an oil derrick spewing oil – a gusher. 1st guy says to the other "I see they just found another sacred site then."
Dermot O'Brien
169
Posted 25/07/2021 at 01:41:53
UNESCO me arse.

Eric Myles
170
Posted 25/07/2021 at 04:47:09
Thanks Mike #130, that's better than I ever did in school !!!
Brian #155, there's no way they would fill the dock in with 'cement' (I assume you mean concrete) it would cost too much and take too long but the sand they will use will be free, they just have to transport it.
Derek Knox
171
Posted 25/07/2021 at 08:31:21
Dermot, " UNESCO me arse. "
Sounds like a Universal Cure (Available in Cream or Suppository Form) for Anal Related Ailments !
Ron Sear
172
Posted 25/07/2021 at 19:17:55
James (147) according to virtually every British interpretation and document of the period, The CSS Shenandoa was surrendered to the British Government in Liverpool Town Hall and since the confederate flag was taken down on the ship it was interpreted as an official act and most accounts here call it the last act of what was an active combatant in the war. Nothing much more than a matter of literal interpretation by the interested parties.
Dermot O'Brien
173
Posted 25/07/2021 at 19:19:44
Haha Derek. I think sudocrem is best for the ol' itchy hole. We're going to need a lot of it.
Don Alexander
174
Posted 25/07/2021 at 19:44:52
I like it Eugene (#163), Some might say you can take the lad out of Huyton but you cannot take Huyton outta the lad, and the world's a better place for that!
Terry White
175
Posted 25/07/2021 at 20:09:26
For once I find myself in agreement with Don. A. ----regarding Trump.
Brian Wilkinson
176
Posted 25/07/2021 at 20:12:35
Eric@170,
Yeah, probably sand, got a bit carried away with my rant. Unesco got the better of me, the cheeky gets.
Brian Wilkinson
177
Posted 25/07/2021 at 20:15:31
Dermot, so I do not sing the wrong song, are we going with Unesco my arse, to Ottawah's D-I-S-C-O.
Brian Wilkinson
178
Posted 25/07/2021 at 20:22:43
They are U – unbelievable;
they are N – not negotiable;
they are E – anti-Everton;
they are S – stuck in the past,
they are C – cheeky bastards,
oh oh oh
Unesco, me arse
Unesco, me arse.
Colin Glassar
179
Posted 25/07/2021 at 21:30:37
We get the keys to heaven tomorrow!
Jim Lloyd
180
Posted 25/07/2021 at 21:50:02
I'd love that world class architect from the Guardian, who's so rich he doesn't have to practice his profession, have a public debate, with the poor journeyman who, with the help of thousands of Blues, designed our humble home! The pompous prick.
Dermot O'Brien
181
Posted 25/07/2021 at 22:51:41
Perfect Brian 😄
Terry McLavey
182
Posted 26/07/2021 at 01:43:59
I'd rather have a new stadium than a worthless piece of paper!
Michael Barrett
183
Posted 26/07/2021 at 11:26:21
Terry mc, the contractor's start today mate I will walk the dog down there this week and have I little look se what's happening and keep people posted.
Billy Bradshaw
184
Posted 26/07/2021 at 18:36:26
Anybody been past today?
Barry Hesketh
185
Posted 26/07/2021 at 20:30:59
Colin Chong has issued an update about the stadium, among other things he says:
There has been a lot of talk about heritage this week, but we have been clear throughout our planning that respecting and enhancing heritage has always been one of our key principles.

Our commitment to bringing the dock's heritage features to life has not changed and we will be investing more than £55m to preserve, restore and celebrate the heritage assets at Bramley-Moore Dock. Indeed, this process has started already by repairing the listed dock wall and, in the coming days, we'll begin stabilising the hydraulic tower.

Once construction is complete we will be opening the inaccessible site up to the public for the first time in decades – allowing people to appreciate its heritage.
Colin Glassar
186
Posted 26/07/2021 at 20:40:38
Just read Chong's letter. I must admit I never thought we'd get here so I'm starting to feel excited now.
As for any potential peeping-toms forget it, the site is going to be closed to the public for a few weeks.
John McFarlane Snr
187
Posted 26/07/2021 at 21:19:40
Hi all, I too have just read Colin Chong's, letter and at my advanced age, it's quite likely that I will be denied the pleasure of seeing the ground in it's magnificence. My Grandson Josh however, will carry on the family tradition of watching Everton from the days of Anfield Road. I can't prove it, but I believe my own Granddad at the age of 13 was attending the initial games of the Football League, while I have been taking Josh to the match since he was 6 years old and he'll be 17 in September. Things have gone along at a slow pace, giving the doubters cause for ripping into the club, and making claims that a new ground was a 'Pie in the sky' dream, the only pie will be of the humble variety.
Brendan McLaughlin
188
Posted 26/07/2021 at 21:53:11
John Mc (Senior)#187
I really hope that you get to be there but if not when I make it for the first time I'll certainly take a moment and think of you...
"We've got some difficult days ahead but it really doesn't matter with me now, because I've been to the mountaintop … I've seen the Promised Land. I may not get there with you. But I want you to know tonight, that we, as a people, will get to the Promised Land"
God bless
Brian Wilkinson
189
Posted 28/07/2021 at 08:50:13
It looks like the slate mines of Snowdonia might be getting a world heritage status soon.
Meanwhile back in the City of liverpool, I can honestly say, I can still see the beauty of the liver buildings, the three graces, the two cathedrals, the Albert docks,Mathew Street, the pubs and feel the warmth of the people of Liverpool, nothing has changed, apart from a title.
In ten years time, long after our new ground has been built, that area and beyond, will be turned from a decayed dock, to attractions that will bring people to that particular area, and link up with the rest of the landmark waterfront.
Every so often something has happened that has brought the people of Liverpool together, Blue and Red, a togetherness, most Reds fans I know are on the side of progress, they may not like Everton having a new ground on the water front, but at the same time they have slated UNESCO, for the way they and the press have headlined it being down to Everton football club, that the City of Liverpool, have lost their heritage status.
We may have lost the Heritage status, but once that area has been regenerated, it is going to be one hell of a sight to behold.
As others have said, Unesco my arse, do one.
Danny O'Neill
190
Posted 28/07/2021 at 08:57:35
We've lost a title. Our heritage is lasting and we will add to it in the future. Noone takes heritage away.
Ron Sear
191
Posted 28/07/2021 at 09:26:02
The problem UNESCO have is that the people involved have no understanding of the term. Liverpool docks have alway been in a state of rapid transistion, anybody who even takes a cursory look at the maps of Liverpool from 1500 on will recognise docks being created, destroyed, moved to different locations and carrying out different functions; the same applies to the buildings along the waterfront. Even the origin of the people working on the docks have been in transition. The new buildings that Peel are putting up won't even exist in fifty years and will almost certainly have ben replaced. That fits far more closely to the definition of the word 'heritage', certainly not a narrow view of the unchangeability of a few buildings built at the turn of the last century. From a personal point of view what I most despise is the pomposity and lack of imagination of the supporters of UNESCO.
Danny O'Neill
192
Posted 28/07/2021 at 09:46:04
You will be there John Senior.
You're not going anywhere until you've sat in BMD and watched Everton win the league again to take us to double figure titles!!
John McFarlane Snr
193
Posted 28/07/2021 at 12:43:29
Hi Danny, [192] I hope that you are correct in your prediction, and if that's the case I would love to share a bottle of Guinness with you in the "ToffeeWeb Lounge", while reminiscing about the personalities and achievements, of Goodison Park.
Rob Halligan
194
Posted 28/07/2021 at 13:27:38
I think I read somewhere that Liverpool losing this World Heritage Site listing would affect tourism. Well, from what I've seen so far, tourism has in no way been affected, particularly with regards to the Beatles tour.
I live in-between Penny Lane and Mendips, John Lennon's home where he lived as a child, with Strawberry Fields in-between as well, and the crowds have been flocking to all three destinations, be it by the Magical Mystery Tour Bus, the city tourist buses, mini buses or Hackney cabs that do private tours.
I know that these sites are not as a result of Liverpool being granted World Heritage Site listing, but don't all Beatles tours start off at the Albert Dock, part of our famous waterfront?
Tourism in Liverpool is alive and kicking, and will be for many years to come, with or without Unesco and their ridiculous World Heritage Site listing!!! So Unesco, shove that piece of paper right up your jacksie!!
Danny O'Neill
195
Posted 28/07/2021 at 14:10:14
It was also building and thriving way before UNESCO came on the scene in 2004 Robert. A bit like English football existing before the Premier League. And, without getting political, like the UK being a successful country before belatedly joining what eventually became the EU.
I often find these institutions very politicised and self-licking. Like FIFA and the Olympic Committee they want you to wine & dine them, make you feel subservient and then grateful for them giving you a rubber stamp or a hand out that you're probably already paying for anyway.
Apologies, these organisations really bring out the cynic in me!!
Don Wright
196
Posted 28/07/2021 at 14:32:17
Liverpool might have lost its Unesco World Heritage status but look on the bright side – a piece of slate in North Wales has gained it!
Ray Roche
197
Posted 28/07/2021 at 14:36:01
Just a couple of observations,
If Unesco had been around in 1981 we'd never have seen the Albert Dock, sorry, the Royal Albert Dock restored. They'd have used the same argument as they're using now, surely?
Has anybody been to Paris? I've been a couple of times, wonderful place, magnificent architecture etc., eye watering bar prices, but, I didn't go because of Unesco. I went because I wanted to see Paris and breathe in its culture, its atmosphere... I have just had to check. Paris has, apparently, five Unesco sites. But I didn't know until Wiki told me 5 minutes ago.
---
Add Your Comments
In order to post a comment, you need to be logged in as a registered user of the site.
Or Sign up as a ToffeeWeb Member — it's free, takes just a few minutes and will allow you to post your comments on articles and Talking Points submissions across the site.