Bernard makes UAE move
Thursday, 22 July, 2021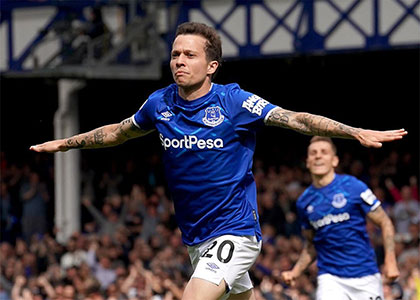 Bernard has left Everton after signing for Sharjah in the United Arab Emirates.
A year after a switch to Nasar fell through, an agreement to transfer the Brazilian has been reached as first reported by Greg O'Keeffe of The Athletic.
Bernard was signed on a free transfer from Shakhtar Donetsk but struggled to hold down a first-team place under Marco Silva and Carlo Ancelotti.
His move to the UAE Pro League is believed to have garnered Everton a nominal fee of around £1m as well as freeing up between £120,000 and £150,000 a week in reported wages.
---
Reader Comments (224)
Note: the following content is not moderated or vetted by the site owners at the time of submission. Comments are the responsibility of the poster. Disclaimer
Gavin Johnson
1
Posted 21/07/2021 at 23:54:17
Along with Delph, Bernard is at the top of the list of players we need to offload and his exit will suddenly make the signing of Demarai Gray look astute business.
Jack Convery
2
Posted 22/07/2021 at 00:12:03
Bernie has bolted ! Best of luck. His wages will pay for 2 players at least.
Dale Self
3
Posted 22/07/2021 at 00:15:25
Yeah, we'll take that damn nominal fee too thank you very much!
Ben King
4
Posted 22/07/2021 at 00:17:17
I bet we'll still have to pay a portion of his wages. We hoped for a Coutinho instead we got a lightweight Stewart Barlow
Can't wait for this guy to go
Bill Watson
5
Posted 22/07/2021 at 00:57:25
The only time you ever hear of Delph is the latest reason he isn't available. What a complete waste of a squad number he is.
Kieran Kinsella
6
Posted 22/07/2021 at 01:13:21
Bernard was good but he just hung on at Everton for three years too long. If he'd been turned away upon arrival he'd have the same kind of cult status as his compatriot Muller. Had some nice touches but nothing more like a latter day Preki although unlike the Serb, he was obscenely paid. Pound for pound one of our worst signings. Good luck in the UAE, you're a brilliant money acquirer if nothing else. You'll love it there.
Mike Gaynes
7
Posted 22/07/2021 at 02:01:47
Kieran #6, I liked the guy, always gave his best, and to me Everton 5-4 Spurs made it worthwhile.
But Ben #4, not sure who was hoping for a Coutinho. If you were, you'd never seen him play at Shakhtar. I thought he'd be a better contributor, but never expected anything close to that level.
All told, 84 appearances (43 as a starter), 8 goals, 7 assists. Hardly dazzling but we've had worse.
Kieran Kinsella
8
Posted 22/07/2021 at 02:11:44
Mike
If he was paid like Dennis Straq or Cadamarteri I'd like him too based on that goal but 15 million plus in wages for one moment that ultimately led nowhere? Not for me.
Mike Gaynes
9
Posted 22/07/2021 at 02:15:27
Kieran, as I've said many times before, I couldn't care less what a footballer is paid. My opinion of a player is based on what he does on the pitch, not at the bank. I realize that's a minority perspective, but honestly I don't give a shit about his paycheck.
And that goal actually made me jump up and down like a little kid, so I have that fond memory. I cherish Oviedo for the same reason.
Kieran Kinsella
10
Posted 22/07/2021 at 02:22:10
Mike
I'll agree on Oviedo. Not only a meaningful goal but also a brilliant one. Plus my Yankee mate on ToffeeWeb had been saying he was a quality player for ages and was proved right :)
Mike Gaynes
11
Posted 22/07/2021 at 02:25:21
You've got me grinning, KK.
John Maxwell
12
Posted 22/07/2021 at 02:43:53
Everton pay a player over 100k a week and his next move is to the UAE ?
Shocking recruitment policy, sounds like one more will have his contract terminated from the recent stories in the press... Lets hope we can get rid of several other "dead wood" players this summer...
Ajay Gopal
13
Posted 22/07/2021 at 03:56:55
He had a few good moments under Marco Silva, but was never a consistent performer. I think there is a good player there, but the move to UAE (no disrespect) must surely signal the twilight of his footballing career. He won't be a poor man though, for the rest of his life.
Mike Gaynes
14
Posted 22/07/2021 at 04:24:08
Ajay, he's only 28 and has been mostly injury-free. He's got years ahead of him if he wants them.
Mick O'Malley
15
Posted 22/07/2021 at 07:10:33
I thought he was really good under Silva, linking up with Digne but, under the defensive boring shite Carlo served up, he was about as much use as an ashtray on a motorbike, good little skilful player who is not suited to the Premier League.
Lee Courtliff
16
Posted 22/07/2021 at 09:09:48
I liked Bernard and for, a little while, it looked like he and Digne could be our modern version of Baines/Pienaar.
That obviously didn't work out but he's clearly got some talent. Bit like Osman, he would have done better in France or Italy or somewhere like that.
Definitely should have been used more under Carlo. Good luck to him.
Alan J Thompson
17
Posted 22/07/2021 at 09:31:13
Bernard, Richarlison, Jo, Rodrigo... what is it about Everton and Brazilian players? Or is it all South Americans Castillo, Funes Mori, Alcaraz, Oviedo… and now rumours of Mina and James being let go???
And we don't seem to do much better with Scandinavians. Perhaps we should stick to the Welsh as we always seem to do well with them: TG Jones, Vernon, Neville Southall, Pat van den Hauwe.
And to think, it used to be the Jocks and Irish.
Derek Knox
18
Posted 22/07/2021 at 09:44:22
Jack @ 2, 'Bernie The Bolt' ! I like that, but if memory serves he only had one 'Golden Shot' (and not assisted by Anne Aston either, against Manure) don't think anyone in all honesty, could say they didn't like the little fella.
That was one of the main problems, he was 'bullied off the ball too easily' players of a similar stature generally put up more resistance or refuse to yield, he had sublime skill at times, but the Premiership is not a place where you get time on the ball.
The amount of money he has trousered is bordering on immoral, not his fault admittedly, but like a few have alluded to before, this sort of profligacy with Contracts and Wages surely has to be cauterised. " You work for your ill-gotten gains here lad, or sling your unbaited hook, the Gravy Train left an hour ago and you should have been on it! "
Robert Tressell
19
Posted 22/07/2021 at 09:59:20
Very good in a well drilled Shakthar side where he linked up well with Ismaely the Brazilian LB. Not bad doing likewise with Digne but a bit too little, not much end product and a victim of too much chopping and changing of managers, tactics, players, formations etc.


Tony Everan
20
Posted 22/07/2021 at 10:00:20
I thought he was a good signing at the time, but it soon became clear that he was not cut out for the Premier League. Even in the games he showed some of his sublime skill he disappeared for long periods. The UAE will be a good move for him to show off his talent in a more benign environment.
His salary was astronomical but that reflected the zero transfer fee. There were other options for him and we took the plunge. A bit like Sandro Ramirez. A bit more thought has to be given as to whether paying astronomical wages on a free deal is good business or not, as the inflated wages can make it a struggle to move a player on if things don't work out.
Salomon Rondon linked in a spurious rumour today , think he was playing for Benitez in China. They are thinking of back up to DCL on another cheap deal?
Phil (Kelsall) Roberts
21
Posted 22/07/2021 at 10:04:32
I repeat - he will have cost £18m.
2018 - Everton have announced the signing of a Brazilian International for £12m and on £40k a week wages. You would have said brilliant business. Not a huge fee - not huge wages.
That would have cost £18m
Turns out not as good as we hoped - but it was worth the punt.
Yes we all know it was not the bargain we hoped it was.
PL Stats
Started 43 games - and 30 from the bench.
Played 3865 minutes
Scored 5 goals.
Bill Gienapp
22
Posted 22/07/2021 at 10:33:05
Not a bad signing, just never quite worked out. As others have said, his inflated salary was offset by his lack of a transfer fee... but we can't continue to justify paying it for a guy who can't nail down a starting spot.
Eric Myles
23
Posted 22/07/2021 at 11:02:08
Sharjah?I hope he doesn't like a drink, it's the dry state!
Unless he gets a chance to get a game for Sharjah Wanderers!
James Newcombe
24
Posted 22/07/2021 at 11:02:47
Good little player actually, but couldn't put it together often enough in the PL. Not convinced his best position is a wide-man!
Tony Shelby
25
Posted 22/07/2021 at 11:22:20
Even better news, Connahs Quay Nomads have made a move for Iwobi…
Sam Hoare
26
Posted 22/07/2021 at 11:40:27
I think Bernard was criminally underused to be honest, especially by Ancelotti. He's a good player and even last season when unable to build an consistency he was one of our best creators from open play.
It's also a shame we couldn't sell him to Roma for £6m in January as that might have given us some more wiggle room in FFP.
We've made almost no money from player sales in last year or two which is problematic.
Henrik Lyngsie
27
Posted 22/07/2021 at 11:51:36
Agree Sam. Particularly when seeing Iwobi ahead of him in the pecking order. I never understood that.
Eddie Dunn
28
Posted 22/07/2021 at 11:55:20
I honestly think the guy is very talented but out wide or in midfield he was outmuscled by the PL athletes. Perhaps at 10 with a busy midfield around him he could have done what James does.
There should be a place for little artists like Bernard but the PL is unrelenting. Spain, Portugal or France would suit him but he will earn more dosh in the Middle East.
Tony Shelby
29
Posted 22/07/2021 at 11:57:45
Don't they call Sharjah
The Flintstones
?
I think it's because they don't have any good players but Abu Dhabi do.
I'll get my coat…
Chris Williams
30
Posted 22/07/2021 at 12:09:01
Gray signing announced. Wearing number11
Brian Harrison
31
Posted 22/07/2021 at 12:09:21
I think our transfer budget will be determined by what money we can generate through player sales. The players who don't feature but are on fantastic money wont leave before their contract is due to expire, they know they will not get this sort of money anywhere else so there is no incentive for them to move on. The one player they were hoping would swell the coffers of the transfer budget was Moise Kean, but PSG have no interest in making it a permanent deal this season, as they need all the money to satisfy Mbappes wage demands. Our only hope is that Juventus might want to buy him back but it will be massively less than we paid for him. The only other alternatives are the sale of James or Allan or maybe Richarlison which are all quite feasible, but these players will have to be replaced but probably more journeymen on less wages will fill the void.
Tony Everan
32
Posted 22/07/2021 at 12:10:59
Porto now interested in signing Bernard , it would be interesting to see how he gets on with them.
Other rumours Besiktas want Tosun, but Tosun wants us to pay him off to leave as Besktas will be offering appx 25k pw plus bonuses.
Ben King
33
Posted 22/07/2021 at 12:18:20
@Eddie #28
Exactly - why not continue what should be his best years in a proper league?
Strikes me he's a man that's motivated by money
Yes he has some skill and nice touches but he's just not good enough
Someone on this thread mentioned Leon Osman…..if Ossie had Bernard's talent, given Ossies's heart, he'd have achieved far more than this little money grabber
Robert Tressell
34
Posted 22/07/2021 at 15:27:42
Sam # 26 - almost no revenue from sales in the past couple of seasons. Beggars belief. So after being the 5th biggest spenders in the Prem in the past 5 years we're left with a deteriorating patchy squad and have nothing to reinvest into new players.
For those who dismiss the sell on value of players, this is why it matters.
We've materially outspent sell to buy clubs like the RS and Leicester to get where we are and have nothing to show for it.
Dave Williams
35
Posted 22/07/2021 at 15:36:52
Way too lightweight and on ridiculous wages. Get rid- the new boys will be a much better option especially Townsend who can defend a bit too!
Tony Abrahams
36
Posted 22/07/2021 at 15:41:26
Criminally underused is also how I'd view this talented little footballer, who rarely got a run in the team, especially under Carlo Ancellotti.
Bill Gienapp
37
Posted 22/07/2021 at 19:22:02
Deal's official - announced on Twitter. Pics of Bernard in his new Sharjah FC threads and everything.
Barry Hesketh
38
Posted 22/07/2021 at 19:34:38
Bill @ 37
A likeable guy but he just couldn't perform consistently in the rough and tumble that is the Premier League. I wish him well for the future and it seems he reciprocates the same for Everton, in his outgoing message.
"First of all I would like to thank the fans, and all the players who were with me and always supported me at all times, since I arrived I was always well received and treated as if I was really a member of the family.
"Unfortunately you who support me and not those who appear here to spread the words of hate DON'T KNOW HALF of what happens behind the scenes, I wanted to be more clear but unfortunately TODAY I can't, the message I leave today is of gratitude and you will always be special.
"Everton is GIANT, has an incredible history and has the structure and capability to return to be and to conquer everything that it has been and conquered.
"I'm satisfied about how much I dedicated myself and did my best to be the best of me in all training and games, and I ask God to continue blessing all the friends I left at the club and hoping that Everton returns to the glories that it deserves."
Derek Knox
39
Posted 22/07/2021 at 19:39:50
Tony @ 32, What? Straight up! Cheeky bastard want's a kick in his Turkish Delights, not his fault I know, but these fellas not only milk the Gravy Train once they get on it, but also want compo as well, while people are starving in the World and his own Country.
Greed manifesting itself, he has had one of the biggest stages in the World, to display his worth, albeit in limited appearances, and what has he done only get fatter and richer?
Dale Self
40
Posted 22/07/2021 at 19:56:37
That's a load of Rubble, Tony (29)!
Ian Bennett
41
Posted 22/07/2021 at 19:58:20
Bernie's gone – confirmed.
Tony Everan
42
Posted 22/07/2021 at 20:03:18
Bernie's Out.
His Everton career has been cut short.
Darren Hind
43
Posted 22/07/2021 at 20:18:50
Just when he was getting into his stride…
Colin Glassar
44
Posted 22/07/2021 at 20:20:07
To paraphrase the much maligned Bay City Rollers (my sisters were fans), Bye, bye Bernie, Bernie bye bye….
Pat Kelly
45
Posted 22/07/2021 at 20:21:07
He brought a little magic.
Barry Rathbone
46
Posted 22/07/2021 at 20:22:16
Thank you, Bernie, so sorry it didn't quite work for you here.
A true footballer with genuine mastery of a football is a rare gift in these days of pace above all else. Your quick feet and shoulder-dropping magic were a joy to behold when the force was with you.
The very best of luck in your new adventure.
Duncan McDine
47
Posted 22/07/2021 at 20:29:23
Favourite memory of his time at Everton was explaining to my kids that he wasn't one of the mascots. In fairness to him, he did produce a few moments of magic, but lacked the ability to do the simple things well. Both he and Gomes are two talented but highly annoying players to watch! Best of luck in Sharjah.
Phil (Kelsall) Roberts
48
Posted 22/07/2021 at 20:30:32
We have all this social media hate based on gender or race. Oh wait, no we don't – we also have it based on how much someone earns when their employer was prepared to pay it.
"Unfortunately you who support me and not those who appear here to spread the words of hate don't know half of what happens behind the scenes, I wanted to be more clear but unfortunately today I can't, the message I leave today is of gratitude and you will always be special."
Good job he never missed a penalty for us.
John Chambers
49
Posted 22/07/2021 at 20:33:49
Tony #25,
I can just imagine Andy Morrison's comments if Iwobi ever graced the Deeside Stadium. All children within a mile would have to have earplugs!
Andy Crooks
50
Posted 22/07/2021 at 20:37:35
Absolutely superb player in my view. With a run in the side, I think he could have been a star. Of course I am prejudiced because he played a part in one of my happiest days. Easter Sunday 4-0 v Man Utd
So much depends on fine margins, fate, luck, luck again and the indefinable pixie dust that lands on champions.
Derek Knox
51
Posted 22/07/2021 at 20:46:26
Not his fault but he milked us for £120k/week, now he's into Milk Sheiks!
Gordon Bennet, where do we find them?
David Pearl
52
Posted 22/07/2021 at 20:47:00
I thought he was a very good player who just didn't get the starts. He also worked hard and tracked back. His fault was giving the ball away cheaply but he wasn't the only one.
We really do still have way too many players, loaned the unwanted out instead of selling them till they left for nothing. And only sold the younger ones that couldn't get game time. The mind boggles.
Shane Corcoran
53
Posted 22/07/2021 at 20:52:04
I don't see this as confirmed anywhere?
Pat Kelly
54
Posted 22/07/2021 at 20:57:07
Shane, Google 'Sharjah FC' and you'll see him holding his new shirt.
Trevor Powell
55
Posted 22/07/2021 at 21:02:15
Just think what trauma Bernard suffered in the World Cup mauling by Germany? Surprised he could ever pull a football shirt again! Still, we have helped to pay his psychotherapist bills!
Shane Corcoran
56
Posted 22/07/2021 at 21:03:03
Thanks Pat. Strange the club didn't confirm it first.
His wages will probably cover those of the three signings.
Good to have God on our side now too although I assume he'd made the same request when he was still with us.
Derek Knox
57
Posted 22/07/2021 at 21:03:24
Shane, if you look very closely at some photos you should be able to see him on a Camel (hard to, I know) but he is somewhere in between the humps! Even contemplated changing his name to Humpfree! :-)
Eddie Dunn
58
Posted 22/07/2021 at 21:06:24
Like Mr Gaynes I don't mind his wage packet and as far as I saw, he tried very hard. He needed the right system. I just don't think our coaches got the best out of him. Good luck little Bernie.
Oliver Molloy
59
Posted 22/07/2021 at 21:09:23
Thank fuck, and about time. He was just too lightweight for the Premier League and never fancied a tackle. Somebody who knows somebody told me last week that the club would be paid around £1 million and Bernard would be paid £1.5 million by his new club – hard to figure!
But his wages have been freed up, which means we will have at least one big signing to come.

Brendan McLaughlin
60
Posted 22/07/2021 at 21:12:48
About as much use to the team as a man short... another bit of the expensively assembled deadwood gone. Good business.
Dale Self
61
Posted 22/07/2021 at 21:16:34
Derek you are really working it. Please don't stop.
Signed.
Emma Rati
Rob Halligan
62
Posted 22/07/2021 at 21:18:17
Great little player. We should have kept him. Will be sorely missed.
Shane Corcoran
63
Posted 22/07/2021 at 21:22:12
I have nothing against him but I can't see the argument for keeping him on the wages he's on.
Paul Swan
64
Posted 22/07/2021 at 21:27:45
Unfortunately a signing indicative of our disjointed transfer policies over the last few years. Coupled with poor management including by the Italian messiah and all in all it ends predictably. Good luck to him, never got a full run of games for whatever reason.
Jeff Armstrong
65
Posted 22/07/2021 at 21:30:03
Please no, latest rumour, Rondon. ffs,
Paul Birmingham
66
Posted 22/07/2021 at 21:31:14
Bernard was a very skillfull footballer but arguably never got enough game time and was for me often played out of position by Silva and hardly used by the last manager.
Hopefully Everton are learning from their past transfer mistakes and will cut their cloth accordingly and won't be getting screwed over on buying some rank poor players as we've seen at Goodison the past 5 years.
Jay Evans
67
Posted 22/07/2021 at 21:37:07
Not suited for our league unfortunately but had some great feet n shoulder skills at times. Also far too lightweight - I lost count of how many times he got pushed off the ball.
Still twice the player Iwobi the will ever be though.
I suppose the question is will Gray or Townsend be much of an upgrade on little Bernie or the 'looks permanently stoned' Iwobi.
My guess is no.
Mike Gaynes
68
Posted 22/07/2021 at 21:44:29
Not worried about us signing Rondon. We'd never want his pay packet, and he wouldn't want anymore of our league. He's being paid a fortune by that Chinese club Dalian, and he's now on loan to Moscow, where he's scoring regularly. So nothing in this one for either side. Apparently.
Colin Glassar
69
Posted 22/07/2021 at 21:50:34
Rondon today, Carroll tomorrow? Who other ex-barcode players can we expect to join the Rafa Revolution?
Christine Foster
70
Posted 22/07/2021 at 21:51:19
Great little footballer who never fitted into any subsequent managers' plans. I wish him well amongst the sand dunes.
Yet again, the posts of ToffeeWeb are littered with those who think him crap and paid too much, The blame for his wages sits with the club not the player. Let it go, wish him well and move on.
Ian Burns
71
Posted 22/07/2021 at 22:00:40
I was mistakenly excited when little Bernie joined us because one of my three all-time favourite EFC players was wee Bobby Collins (5ft 3ins in high heels!) but as skilful as he was, Bernie was far too lightweight.
I do however wish him well in his latest venture.
Christine Foster
72
Posted 22/07/2021 at 22:08:50
Will say this too, James, Moise Keane, Richarlison, all very, very good players but will all likely be on their way out of the club because they don't "fit" either. It's a shame but it's life. It was always going to happen under Benitez, and another indication of a team being assembled and more emphasis on work rate and "fit" than individual ability or quality.
Barry Rathbone
73
Posted 22/07/2021 at 22:09:49
I remember Rondon ripping us to shreds playing for WBA and wanted him then but I also remember Kone doing the same thing for Wigan.
The message is don't judge players on what they do to overrated Everton defences
Terry White
74
Posted 22/07/2021 at 22:13:05
Kean, Christine (#72).
Tom Bowers
75
Posted 22/07/2021 at 22:23:06
No surprise regarding Bernard. A busy little player but apart from the rare goal never sparkled an awful lot.
Others will follow.
Soren Moyer
76
Posted 22/07/2021 at 22:23:09
He wasn't the worst of the lot tbf. I thought we'd get rid of Delph, Iwobi, Tosun, Holgate and a few others before him!
Kieran Kinsella
77
Posted 22/07/2021 at 22:30:00
Soren
That's why he went before them. Who the hell would want Delph?
Dave Williams
78
Posted 22/07/2021 at 22:37:14
Ian- give him the guts that Collins had and he would have been close to world class!
Terry White
79
Posted 22/07/2021 at 22:38:37
There seems to be a misunderstanding on TW, Soren (#76) that we just snap our fingers and the players that we no longer want on our books just disappear.
Kieran Kinsella
80
Posted 22/07/2021 at 22:43:25
I see a lot of rose tinted glasses here. Osman did far more for us yet was roundly criticized. This guys had three years, plenty of chances, delivered little and people are waxing lyrical about him. There are lots of diminutive guys with some nice moves having a kick around at the park but they're not getting paid to play for Everton. Whatever the whys and wherefores he was a flop.
Jim Lloyd
81
Posted 22/07/2021 at 22:47:36
Terry, I had a look. Thought I'd spelt Gomes right. sorry if I didn't. I thought he was a lovely player to begin with, but that ankle injury did for him. I wish him the best of luck if he goes.
It's going to be hard to get shut of the players we don't want; and hard to keep the players we want to keep, especially Richarlison. So in my view, it's pointless throwing large sums of money out for individuals, until the club can basically begin again and build a team.
Ian Horan
82
Posted 22/07/2021 at 22:49:26
Bernard was a quality player, technically excellent. He was not suited to the premier leagues physical nature... his wages are bog standard for the top end of the premier league. We tried to piss in the big boy pot and it didn't work. Good Luck Bernard
Rob Dolby
83
Posted 22/07/2021 at 22:50:21
I actually enjoyed watching Bernard on the ball. Such a cultured footballer. I would hate to play a 5 aside against him. His booking for flooring Rudiger was comical given his size. He also scored a classic in the best game at Goodison for a long time with our win against spurs.
Decision making separates decent footballers from great footballers. I just didn't see enough quality with his final ball.
Hopefully he goes on to enjoy a long career.
Peter Mills
84
Posted 22/07/2021 at 22:55:47
It's a shame that such a talented but diminutive footballer can no longer command a place in the fast, muscular, often robotic top flight game.

Andrew Keatley
85
Posted 22/07/2021 at 22:56:19
Talented, capable of moments of impudent brilliance - but it was too little and not often. We sadly saw more misplaced simple passes, lightweight challenges and powderpuff shots from Bernard than anything that was worthy of cheering. Frustrating.
And the wages thing matters a great deal because it has the potential to cause problems in the dressing room. Top earners really need to be showing their worth by contributing on the pitch; when it comes to our top performers negotiating new contracts, they are going to want parity with the top earner at the club, especially if that player is contributing very little and they are starting each week and earning plaudits and admiring glances from other clubs.
Cannot blame Bernard for being on those wages, but the club will be relieved to get him off the books because it'll give the other players' agents less leeway when it comes to potential salary increases.
Brendan McLaughlin
86
Posted 22/07/2021 at 23:00:42
But Peter #84
Other "diminutive" (less talented ?) players manage to do so very successfully...
John Raftery
87
Posted 22/07/2021 at 23:03:32
I am not sure why some seem to be blaming Bernard for signing a contract worth £120k per week. That is not milking the club. He simply accepted the best offer available to him as an out of contract player. Who wouldn't?
As for his performances initially he promised more than he ultimately delivered. He was effective in home games in his first season when he linked well with Digne in a team able to control possession from midfield with Gana Gueye working his socks off. Once Gueye left in the summer of 2019, Bernard found himself spending more time pedalling back to help the defence than in the opposition half. That was never his forte.
In away matches he usually struggled with the physicality of opponents. He was not a player equipped with the pace and power to impose himself in a struggling team. I never believed that was owing to a lack of effort. He was just a player in the wrong team at the wrong time, arguably in the wrong league. But it wasn't his fault he was on £120k per week.
Mark McDonald
88
Posted 22/07/2021 at 23:20:05
All the best Bernard. Skilful player but too lightweight for Premier League as many have said.
I remember Juninhio at Boro and then Celtic another small skilful player. Perhaps a little smarter than Bernard. He knew to avoid the tough tackles.
Reported mental issues may have hampered his progress. I wish him well and its nothing too serious.
A joy to watch on his day. Used better by Silva ( linking with Dignie looked promising) only to be forgotten by Ancelloti.
Christine Foster
89
Posted 22/07/2021 at 23:43:14
Terry 74# darn predictive text.. Apologies but I cant seem to find the right button to turn it off! Mind you it wouldn't suprise me if his namesake went too..
Ciarán McGlone
90
Posted 22/07/2021 at 23:50:50
Top of the list of deadwood? Really?
Cultured, technical and talented player who was criminally mismanaged should be out the door ahead of some of the utter dogshite we have on our books?
Between welcoming the Benitez appointment and fawning over the unimaginative second rate plodders he is signing.. not to mention this latest fascination toffeweb pundits have of celebrating how fucking great the new misfits first fucking interview is.. this club really is reaching the depths of despair.
Lester Yip
91
Posted 22/07/2021 at 23:53:11
I think he's a decent signing. He did try his best when he's on the pitch.
Honestly I think he's not a winger and being played out of position. We just have too many players who operate in the same area. With good skill but cannot defend. Same goes with Iwobi.
Soren Moyer
92
Posted 22/07/2021 at 23:59:01
Terry 79, Thanks for the insider info 😉.
Jerome Shields
93
Posted 23/07/2021 at 00:10:51
Bernard played well under Silva. Intially under Ancelotti he seemed to be the one player who really bought into Ancelottis coaching, but faded away badly inthe next season. . I was not aware that a transfer to Nasar fell through. Maybe explains him fading so much. He was on one of the highest wages at Everton and did not produce in line with it. Glad he is off the books.
Jack Convery
95
Posted 23/07/2021 at 00:31:13
I suspect Queenie will be annoyed and Black Adder was the agent who made money from the transfer.
Apart from the Spurs winner, the rest was rather underwhelming. Which was a pity as I was made up when we signed you. Good Luck.
Bob Parrington
96
Posted 23/07/2021 at 00:51:22
Well, at least another club was interested enough and was prepared to pay enough for them to take Bernard off our hands . unlike several others on the wage bill.
Great little player but, as mentioned by several on here, not suited to the EPL.
Good luck to you Bernard.
Jim Johnson
97
Posted 23/07/2021 at 01:15:05
Good luck to you Benard, you weren't a shirker !
Dale Self @ 25, on the previous GRAY transfer post :--
Well said cobber, agree completely, also I believe most of the positive comments made there are spot on; possibly following the interview for Rafa; I believe he would have convinced the 'firing squad' with this type of argument to improve the squad (especially attitude) by drafting players who will most likely have no ego to 'play' with. Hopefully just good grafters who will give their all to prove their worth. No point in having players valued at 40 mill big ones if they only give 10% most games. Question:-- Will Richie score a hatrick for us on opening day. Send your answers and cash bets in an envelope marked 'private' to me pronto; I'll await with bated breath.
Dale Self on GRAY post :--
"I was going to lay out on that but if some are determined to stick it in Gomes as he is making what I assume will be a graceful exit I may as well have a go. He's shown character by trying to come back early and you decide to have a bit of fun with it because the whole team is struggling and he wasn't fit enough to have a chance at spearheading any kind of attack that couldn't be snuffed out by a faster opposing midfield.
Gomes was the only one who could find that forward pass and too much of our playbook of getting out of the defensive third depended on him. Others tightened up on the ball and he at least would come deep to try and get something going and was lambasted for it. Have that laugh, he's likely going to take the gentleman's route and resist returning the favor.
Dale Self :-- Re:-- Gray post,
"We are in a bit of a mess and kicking some of these on their way out the door is not a good look. Just sayin'. "
I was going to lay out on that but if some are determined to stick it in Gomes as he is making what I assume will be a graceful exit I may as well have a go. He's shown character by trying to come back early and you decide to have a bit of fun with it because the whole team is struggling and he wasn't fit enough to have a chance at spearheading any kind of attack that couldn't be snuffed out by a faster opposing midfield.
Gomes was the only one who could find that forward pass and too much of our playbook of getting out of the defensive third depended on him. Others tightened up on the ball and he at least would come deep to try and get something going and was lambasted for it. Have that laugh, he's likely going to take the gentleman's route and resist returning the favor.
We are in a bit of a mess and kicking some of these on their way out the door is not a good look. Just sayin'.
, ,, 5 stars from Uber there Dale !
Derek Thomas
98
Posted 23/07/2021 at 01:23:01
A really good ball player and he started off well, he'd be a nightmare to play against in beach footy or 5 a side...but probably not in the Premier League.
Big wages off the books, maybe even a small fee back in??
His presumed replacement...Grey? Will be much cheaper, which is the name of the game just now I think. Time will tell if he's any better.
Bernard's odd flashes aside, it would hard to be worse...but this is Everton, so who knows.
Don Alexander
99
Posted 23/07/2021 at 02:04:15
Nevin, Oster, McFadden, Bernard (and plenty more besides - including the 6'2" Barkley regrettably), cause me to ask will we for once learn that signing such physical/mental weaklings is no way to try to progress to bog-standard European football, never mind the Champions League?
Tell me a top six team who regularly play, or even sign, a physical/mental wimp please, regardless of moderate "achievement" (as per the five cited above) as a mainstay of their squad?
Kieran Kinsella
100
Posted 23/07/2021 at 02:38:15
John
I'm very happy to blame him for his wages. I seriously doubt he came to Everton and said "treat as a paid farm hand" and we said "no way Jose we will kill the fattened calf and pay over the odds to you." Either he or his agent or his agent who employs asked for that wage and we foolishly either agreed or talked him down some. If he wasn't about money he could have found a new club on a more reasonable wage about two years ago. I don't know about you but if someone in my workplace demanded top wage and did nothing I wouldn't say "poor guy you can't blame for his wages. Maybe the managers to blame, then the caretaker manager, then the next manager, and the next one." I would "this guy sucks at his job." And I would be delighted when he left. Doesn't make a bad person, I'm sure he's a nice man who can do well at beach soccer but he was paid a lot of money and did a lousy job.
Phil Wood
101
Posted 23/07/2021 at 02:44:45
Overpaid but that is Everton's fault.
Has great ability but never regularly shown.
A player who was never given a proper run in any one position to establish himself.
A player who suffered through our line of mis management.
Familiar story at our Club.
Not afforded the patience given to golden cows like Rodriguez who produce bugger all effort but get fawned upon by sheep.
Derek Knox
102
Posted 23/07/2021 at 03:17:20
Always a Featherweight in a Heavyweight Contest ! 🐥🐘💪
Alan J Thompson
103
Posted 23/07/2021 at 04:40:08
Some of you think he had the nerve to accept the £100-120k per week offered to him. Has it ever crossed your mind that the fault lies on the other side, ie, whoever offered and/or agreed such a salary?
Or did you expect him to say No, unless he only got paid half the money. There must be more philanthropy in Liverpool than I remember...
David Ellis
104
Posted 23/07/2021 at 04:56:47
Skillful player. Tried hard. Didn't quite suit the Premiership and ultimately a disappointing signing. Will be a super star in UAE. We didn't blow a huge amount on him. Good that we've moved him on to free up the wage bill.
Can't understand the anger towards him from some on here.
Derek Moore
105
Posted 23/07/2021 at 06:14:22
I'm 5ft-9in, eleven stone and would have absolutely clattered the lad on a pitch. That was a big part of the problem.
As a club, we only have so many resources. As such, Bernard's – and indeed all the players' – wages "matter". Logically, resources we're giving to a hobbit-sized luxury player on the fringe of the squad could probably better be deployed elsewhere.
The fact the club ultimately recoups its money from us, the long suffering support, probably colors my view on six-figure-a-week footballers with arsefulls of splinters also. Quite astonishing to suggest folly like Bernard doesn't matter or doesn't affect us specifically though, for these and many other reasons.
Good luck to Bernardo Baggins, here's hoping he can cast the ring into the volcano out there in the desert somewhere.
Steve Shave
106
Posted 23/07/2021 at 06:31:37
It might get very interesting if we could now ship Delph on a free, Gomes for some half decent return (I remain one of his few fans on here so hope he stays) James goes for say £10M and the contract for ********** is terminated. That is a lot of salary. I'd argue though (despite my continued appreciation of Gomes) that James is only one of those we'd actually really miss! A sad reflection on our recruitment that.
Darryl Ritchie
107
Posted 23/07/2021 at 06:36:33
I always liked him, but the fact he couldn't get into the squad last season, even with the midfield decimated with all the injuries, speaks volumes.
Brian Murray
108
Posted 23/07/2021 at 07:03:21
Being now such a savvy switches on even professional club we I'm sure ha e a cut off point that after a certain date non of our jewels is Richy can move. Unless we are nailed on replacements of same or better quality.Im sure Brands knows all that. ?
Mick O'Malley
109
Posted 23/07/2021 at 07:48:36
John @87,
Totally agree with you, who wouldn't sign that contract?
Eddie Dunn
110
Posted 23/07/2021 at 07:54:30
Don @99 How about David Silva, City used that little "wimp" rather a lot. There is a place for this kind of guy, if the coach can fit him in and wants to play football.
To all of the Bernie-knockers on here...just wait. a few months of workmanlike Rafa football will make you all rue the day that we could watch a player dribble!
Tony Abrahams
111
Posted 23/07/2021 at 08:03:12
Spoke volumes about the player or the manager Daryl? He was our best player for an hour against United at home, scored a decent goal, and was our only real threat until he tired, which is quite normal when you haven't got any real match fitness, and how could he build upon this, when he was back on the bench for the following game.
It was obvious that Ancellotti didn't want Bernard, so he should have left last January, when it looked like there was a lot more money on the table for Everton, and they would have also saved another £3 million in wages
Bill Fairfield
112
Posted 23/07/2021 at 08:05:41
Good luck, Bernard. A piece of china in a squad full of mugs.
Bob Parrington
113
Posted 23/07/2021 at 09:03:37
To those on here who have liked Gomes and respect him, I give a thumbs up!!
Occasionally, it becomes easy for people to pick a scapegoat. But, to those who are crazily critical of Gomes, I give a thumbs down!
He's never struck me as being lazy. Maybe a little slow after his devastating injury. Very much the gentleman (although could get a little prickly in a game??) he deserves recognition outside of the collection of misfit, lazy group.
If you do leave, André, you go with best wishes from the majority of Evertonians, I believe. Good luck.
Mike Allison
114
Posted 23/07/2021 at 09:27:55
Eddie @110, the first two outfield players we've signed are primarily dribblers.
Les Green
115
Posted 23/07/2021 at 09:45:52
I liked Bernard, I could see there was a twinkle-toes player in there somewhere, but the PL is more suited to athletes and Bernard couldn't cope with the physical aspect. He will do well in a league where it's a bit more open and the defenders are less likely to flatten him
Jim Lloyd
116
Posted 23/07/2021 at 09:49:49
I think we could have used Bernard more effectively. I understand that he may have had some problems but when he played, it was clear he had a lot of skill. Quite possibly, the players we had, still have some of them!, didn't allow him to use his skills more effectively.
He's gone and good luck to the little man. It was interesting to read his farewell address, and nice that he thanked the fans. It was a short sentence that caught my eye about what was going on behind the scenes, that he couldn't talk about.
In the end, I think it was poor judgement by Brands, as it was with Iwobi and sicknote. My guess is, we're going to find from now on, that we buy players who will do a job for us, within a team framework.
Within that team, I hope that Rodriguz has a part to play in it. I know he may well leave but I could see him being the brains to make the team tick in attack. We couldn't afford to buy someone with his skill, so I hope he stays.
Gomes looks like he's lost a couple of yards after that dirty tackle by Son and the full back. It looks like we might well lose 2 at least, maybe 3 of our midfield, and all "creative". So it will be interesting to see who comes in.
John Graham
117
Posted 23/07/2021 at 10:03:35
Good luck and all the best.
Looked a good acquisition when we first signed him, but didn't have the physique for the Premier League. Always gave his best, whether a starter or from the bench. Had a few decent games and scored a few good goals, but just too inconsistent.
Yes, good to have him off the payroll as he was one of the highest-paid players. Hope it all works out for him and his new team.
Again, Good Luck and thanks.
Steve Ferns
118
Posted 23/07/2021 at 10:13:54
Sad to see the lad leave. Totally understand why, with his wages and being a fringe player and a square peg for Benitez. I'll remember the clever little player who was so important in Silva's purple patch as we beat Man Utd, Chelsea and Arsenal in a row. One of his best moments must be that time he walked around the entire pitch, mid-match, and the entire crowd serenaded him as he walked. I hope that he remembers things like that and takes them back home to Brazil.
As for his wages, some of you fail to understand that he was a Bosman signing. That is a free transfer out of contract. You have to give him a competitive salary (the likes of Chelsea were in for him too) and you also have to give him an uplift for there being no transfer fee. This happens with all Bosmans unless no one wants them and they become free transfers on expiration of the contract.
Danny Broderick
119
Posted 23/07/2021 at 10:17:16
The fact he is now signing for Sharjah FC says it all. Disastrous signing. Not necessarily his fault, but he just wasn't cut out for the Premier League.
It reminds me just how disastrous the Director of Football role has been for Everton. Look at our recruitment these last 5/6 years. How many players have we given bloated contracts to, who we can barely give away afterwards?
It seems that Rafa (and Ancelloti to be fair) have taken charge of recruitment, and our recruitment seems to have improved since the days of lavishing top wages on the likes of Niasse, Ashley Williams, Schneiderlin, Sigurdsson, Tosun, Sandro, Walcott, Besic, Klaassen, Bolasie, Bernard, Gomes etc. I've missed out several others I'm sure. We gave these players more money than they could ever hope to earn elsewhere. Of course they sat on their fat contracts and ran them down!
I am not sure Moshiri would appoint another DOF if Brands leaves. Not unless he wants to blow another £500 million anyway…
Steve Ferns
120
Posted 23/07/2021 at 10:37:06
Danny, I'm not sure you understand what a Director of Football and a manager (really now just a head coach) do if you think Ancelotti in particular took charge of transfers.
All the players you name, except the last two were not signed by Brands. Bernard, as I detail above was a Bosman. Gomes earned more money elsewhere, or did you forget he played for Barcelona? A guy with 30 caps for Portugal and a European Champions medal is not going to come cheap.
And I am certain Moshiri will appoint another Director of Football. No club in the top flight operates without one. If you can find one, then you will find that they actually do have one they just call it something else.
Some clubs have a Director of Football, a Sporting director, a technical director and a head of recruitment. That's how complicated football is becoming as it is big business and you cannot run it like an amateur show from the 1970s.
Here is a useful video: Link
Richard Parker
121
Posted 23/07/2021 at 11:18:40
So far we've done decent business. Sadly, I don't think it will improve much on the pitch unless Gray seriously turns up. But we're 2 players up and probably not far off breaking even financially after offloading Bernard
Nothing to get excited about but sensible and logical... now time to sign those 3 number 10s.
Robert Tressell
122
Posted 23/07/2021 at 11:24:07
Steve, I agree. When we were last a successful club in the late 1980s, football was different. Recruitment almost exclusively from the british isles, much smaller gap between wealth of top flight clubs and the manager being in control of everything.
Ferguson and Wenger often get looked at as the last of the 'managers' under the old system. But in many ways they pioneered the new - becoming more along the lines of a DoF for the latter part of their reigns.
Moyes, who was in some ways a relic of the old system, found the job far too big for him at Man Utd because he tried to take charge of everything including the coaching as he'd done at Everton.
They key to the DoF model is a common goal with owner and coach / manager and everyone being left to get on with their job without interference.
That's why I preferred Santo or Potter. Benitez is more of a control freak and seems to perpetuate the misalignment and interference that is holding us back. Hopefully he at least delivers as a coach.
Steve Ferns
123
Posted 23/07/2021 at 11:30:28
Yeah Robert. I wanted Gallardo or Galtier for the same reasons.
If you examine the role of Alex Ferguson at the end of his Man Utd tenure, he was a director of football. He never took training. He rarely watched training. He simply oversaw others and trusted Mike Phelan to get on with then coaching, so much so that Phelan was claiming that it was him who won the league and not Ferguson.
Jerome Shields
124
Posted 23/07/2021 at 11:46:28
Mark #88
I remember something about mental issues. Glad you reminded me. In the first game for Ancelotti, he was outstanding and I will always remember the Sigurdsson lay-off and perfect positioning and finish by Bernard.
Good luck to him, maybe this is a good move for him.
Robert Tressell
125
Posted 23/07/2021 at 11:50:15
I know you liked Silva for similar reasons Steve. Now unfortunately Silva lost his nerve once the shit hit the fan - but by the end of his penultimate season he'd worked with Brands to shape the makings of a good side, finishing 8th and looking up.
He was unfortunately hung out to dry by crap recruitment (failure probably by Brands to sign Zouma and Zaha or adequate alternatives) and by bad luck (very serious injury to Gbamin and Gomes). He was left with no midfield and a blend of often poor players ill-suited to playing together.
He needed to be sacked when he was, but it should never have got to that.
Tom Harvey
126
Posted 23/07/2021 at 12:03:30
Bernard tried his best, he was a tricky little player, he had some good moments, but ultimately not enough of them.
We got him for nothing, good business and good luck to him.
Jerome Shields
127
Posted 23/07/2021 at 12:11:37
Steve #123
Moyes's first act at Man Utd, as the 'Chosen One', was to bring in his own coaching staff, getting rid of Whelan. Alex Ferguson's only comment on David Moyes's tenure was his disbelief that Phelan was got rid of. Moyes later admitted this was a mistake; Ferguson probably had had a word in his ear.
Tony Shelby
128
Posted 23/07/2021 at 12:25:07
Robert (125) - Employing zonal marking probably contributed at least as much to his downfall.
Nicholas Ryan
129
Posted 23/07/2021 at 12:54:34
As to Bernard being too 'lightweight' for the Premier League; I remember Tony Pulis when he was Stoke City manager, saying something like:
"We have plenty of young players who can do it; the question is: Can they do it with Robert Huth hanging on to one arm and Wes Morgan hanging on to the other"!!
Robert Tressell
130
Posted 23/07/2021 at 12:55:21
I know what you mean, Tony, but it didn't stop us looking like a good side the previous season.
If Gbamin had picked up where Gueye left off, Silva would probably still be manager, with us hovering around 7th place.
John Crook
131
Posted 23/07/2021 at 13:29:51
Bernard is a quality player. But not a premier league standard player in terms of the hustle/bustle required in games at frantic pace. I wonder if he has ever completed 90 minutes within those 3 years he was hear? However, I wish him well. From the remaining crop of dire I would like to see the following leave: Tosun, Delph, Kenny, Iwobi, Kean and the player at the centre of recent allegations (if true he simply has to sacked with immediate effect). True or not I think he should be sold regardless.
Denis Richardson
132
Posted 23/07/2021 at 13:47:38
Bernard tried his best but ultimately just wasn't good enough imo. The fact that he'll have spent most of his career in Ukraine and now UAE probably says something. If he was a top player he'd still be in one of the top leagues at 28.
He was vastly overpaid by Everton so glad he's moved one so we can (hopefully) use his wages on someone better. Same goes for the likes of Mina, Delph and Iwobi. All on massive salaries for very little product.
We've massively overpaid numerous average players recently - not sure if it's because we're crap at negotiating (always assuming we have a bottomless pit) or we need to offer top dollar to persuade people to come to us. The likes of Leicester, West Ham, Villa, Wolves etc haven't got loads of people on six figure weekly wages. (Yes, I'm comparing us to them as we're not in the same money league as the top six.)
We have the 7th highest wage bill, miles ahead of the 8th, thanks to paying too many average players £5m+ a year each. Don't mind the wages if they're on decent players but we've been the career pension stop for too many players for far too long.
Denis Richardson
133
Posted 23/07/2021 at 13:56:58
I never rated Martinez but I'll credit him with bringing Lukaku to us. A young top class talent frustrated at not being given a shot at a top team.
Why can't we sign more players like that? Young, top class/bags of potential, hungry, frustrated at not getting enough first team football. Bring them here at 19-22 years old, on a 3-4 year contract and give them a shot in the shop window.
If they use us as a stepping stone, fine by me, we'll get a massive transfer fee if they perform. At least we'll have a decent couple of years out of them.
Beats the hell out of half our signings in the last few years. We seem to just mostly sign bang average journeymen looking for a decent pay-check.
Townsend excepted, I actually think that is a decent signing.
Shane Corcoran
134
Posted 23/07/2021 at 14:31:17
Still nothing official from the club. Very strange.
Per Stumo
135
Posted 23/07/2021 at 14:42:11
I like Bernard as a player, but he's been far too inconsistent to make much of an impact. If I remember correctly he's been struggling with mental issues, which might explain some of the inconsistency.
Parting ways is likely the best solution for both parties. Best of luck to him though.
Bill Hawker
136
Posted 23/07/2021 at 15:23:55
That leaves Tosun and Delph as wages I'd like to see off the books. Who am I missing?
Michael Burke
137
Posted 23/07/2021 at 15:58:07
Denis #133, Moise Kean! It doesn't always work out though.
Bill Gienapp
138
Posted 23/07/2021 at 19:26:14
Ciaran (90) - I'm not sure I've seen anyone "fawning" over Townsend and Gray. I've seen a lot of people analyzing their potential upside and the positive impact they might have on the team. Contrary to popular belief, you don't *have* to wallow in misery 24/7 on here.
John McFarlane Snr
139
Posted 23/07/2021 at 19:49:41
HI Bill [138],
I can never understand how some fans can be so dismissive of players. I have on more than one occasion, said that, "Anything can happen in a game of football". It's not impossible for Everton to get more value from the signing of Andros Townsend on a free transfer, than Manchester United get from the signing of Sancho for £73M. The pre-judgement of players is not something I will ever be guilty of.
Phil Smith
140
Posted 23/07/2021 at 19:52:10
Wait, wait, wait… So Kean is good enough for PSG but not us?
Reality check, people: He should be starting as partner to Dom, in my opinion. I agree with Tosun, who I like as a player and Delph – taxi to Villa on me, la'.
Barry Rathbone
141
Posted 23/07/2021 at 20:30:20
Phil Smith @140,
Evidently he is not good enough for PSG; otherwise, they would have bought him and had him starting in the Champions League semis. His dreadful shot into the stands from a clear opening when brought on against Man City doubtless confirmed the idea he might just be a flat-track bully.
Lucky to break even on "Kean the clumsy".
Shane Corcoran
142
Posted 23/07/2021 at 20:38:19
Yeah. Good enough for PSG doesn't cut it. Poor league and was shown up in higher class European games.
He might of course improve but I imagine he won't wait around as he probably rates himself very highly.
But who'll take him? Maybe low-mid table Italian club.
Anthony A Hughes
143
Posted 23/07/2021 at 20:47:33
Talented and skillful player, just lacked the pace and strength for this league.
Steve Shave
144
Posted 23/07/2021 at 20:58:31
So I've been pondering our predicament(s) and have turned a corner of optimism for the new season, after feeling rather down about all things Everton recently. Assuming we have no James or Sigurdsson this season, and it seems unlikely Kean will be sold for what we want for him, I wonder if Rafa might try a 4-4-2 (I know he prefers other formations such as 4-2-3-1). We absolutely need a right-back, we all know it, even my dog knows it. So, if we sign one and that is the only signing we make, we could set up like this:
Pickford
Dumfries or Aarons Mina or Keane Godfrey Digne
Townsend Allan Doucouré Richarlison Calvert-Lewin Kean
Aside from Kean, that is a hard-working side, we absolutely need pace to come from Richarlison and the right-back, with overlapping runs from Digne, but, on paper, that doesn't look too bad,; it has some bite to it.
I just watched a YouTube vid of all of Kean's 20 goals last season. I know I was slagging his attitude the other day (and boy does his sulking get on my nerves) but we are unlikely to be able to afford a better replacement, so why not play him a lot and build his confidence?
Denis Richardson
145
Posted 23/07/2021 at 22:31:47
Michael 137 - Kean is a fair example but not 100% sure if he got a fair crack with us as he mainly got just a few mins here and there. He's also still only 21. If PSG don't sign him I wouldn't mind Benitez taking a look at him. Remember how crap DCL was just a couple of years ago. Too early for me to call it on Kean.
His stats with PSG show 13 goals in 26 appearances so he knows where the net is, in France anyway. We're unlikely to lose money on him given his season in Paris and his age. I think also maybe his heart was never really in a move to us in the first place. Always seemed a bit unhappy.
I'd prefer us to land a few like these than sign the likes of Bernard, Iwobi, Tosun etc.
Ciarán McGlone
146
Posted 23/07/2021 at 22:38:21
Bill.
Sticking on a hula skirt and dancing the fucking Congo I am.. the club is still a ragin shit show.
James Flynn
147
Posted 23/07/2021 at 22:46:30
Wish he'd of come to MLS. Would have been terrific over here.
Laurie Hartley
148
Posted 23/07/2021 at 22:56:00
I like Bernard because I always felt he gave everything when he got a game.
The memory that sticks in my mind of this very skilful footballer was when on the left wing he brought down a 50 yard cross field pass with the outside of his right foot like it was a ball of cotton wool.
All the best to the lad and thanks Bernard.
Justin Doone
149
Posted 23/07/2021 at 23:44:00
He could have been a good player, but inconsistent and just not up to Premier league standard.
The free transfers was worth the risk but other that a few highlights never looked likely to find the level needed.
Each game he looked really sharp and threatened to run the show. 15 minutes later he was pretty much done.
In a better quality side he could have been a useful impact sub but sadly I just don't think he put the hard yards into training. Not strong enough, not fit enough and ultimately not good enough.
Conor McCourt
150
Posted 24/07/2021 at 08:48:09
Ciaran @90- spot on, great post. Bernard was critically mismanaged since Silva and should have been used more frequently, especially in home games against lesser lights to help us control games. He has a great football brain and relies on combinations and movement so it's no wonder like most of our creative players he struggled under the turgid Ancelotti.
I can't believe some on here are so prejudiced against Kean's time here that they are dismissing his impact at PSG. Some are posters that were predicting he wouldn't get a kick there with so many big stars.
The kid was bought by Tuchel who is clearly no mug. In his first thirteen games he scored nine goals and was on fire, entrusted as their main man. Pochettino doesn't seem to have the same faith preferring his compatriot Icardi and Mbappe at times up top. Even under the Argentine his goals to minutes ratio is excellent despite not often being the focal point, often played out of position, filling in on the left and right.
If we were signing a new striker from PSG with his goal to minutes stats last season, those who are hammering Moise, would be waxing lyrical. Instead unfortunately many are unbelievably doing handstands over Gray and Townsend. You couldn't make it up.
Phil (Kelsall) Roberts
151
Posted 24/07/2021 at 09:02:14
Dennis #132. Read my post #21.
Puts his wages into context in the bigger picture of the cost over 3 years. I am sure the rest of the management at Goodison did the same thing and financially it made sense to get him.
Oh for the days of the Maximum Wage. Real Football wasn't it.
Brian Murray
152
Posted 24/07/2021 at 09:19:26
Steve post 144. We could certainly live with that scenario as a team. Final push for top four is getting Bailey or am I getting delirious again. The toffs do that to you.
Andy Walker
153
Posted 24/07/2021 at 09:23:53
At least we won't have to cringe at the 'Bernard will tear you apart' song anymore, thank God.
Annika Herbert
154
Posted 24/07/2021 at 09:29:59
Danny @119, our recruitment has now improved with Benitez and Ancelotti? Really?
I am afraid I don't see Townsend, Begovic and Gray as any kind of improvement whatsoever. Whilst many on TW feel these players will improve us, I am emphatically not one of them.
I am prepared to be pleasantly surprised but I won't be holding my breath
Dale Rose
155
Posted 24/07/2021 at 10:09:38
Brian 152. Your suffering from Everton euphoria. Very common at this time of year. Don't worry though you'll be reaching for the Prozac in November when all will be back to normal.
Peter Gorman
156
Posted 24/07/2021 at 10:48:12
Some mind-boggling criticism on here. Bernard didn't work out but he seemed to hard.
Worst player ever signed? He isn't even the worst at the club now, let alone worst compared to complete wastes like Klaasen and Koldrup.
Just wish him well and be done with it.
Peter Gorman
157
Posted 24/07/2021 at 10:53:08
Here is a compilation of Bernard being 'useless'
Sorry I couldn't find one for Stuart Barlow for comparison.
Steve Shave
158
Posted 24/07/2021 at 11:05:40
Brian 152 agree. I think Townsend and Richarlison on either flank in a 4-4-2 with Allan and Doucouré (Gbamin, Davies and Gomes as back up options if we switch formation) in the middle then that is a very hard working midfield with two tracking wingers.
Robert Tressell
159
Posted 24/07/2021 at 11:28:47
In fairness, I think the recruitment of Townsend and Gray definitely gives us something we were lacking last season, and plays well to the strengths of DCL and Richarlison - both of whom attack crosses well.
They're not great players by any stretch - less talented than Bernard probably but maybe more along the lines of what the team needs. A bit like the Marcus Bent signing all those years ago.
That side did well because of hard work, togetherness and each player having a clear role and sticking to it. All the players in that side were grateful to be at Everton and worked their arses off in return. A bit like Doucoure last season but at rock bottom prices.
So I don't think anyone can get carried away - because the new recruits are not in the same league as players like Bailey - but this isn't a bad way to sort out a mess.
If we can get in a striker and right back who seem as grateful for the chance as Townsend and Gray - then we could have a decent season - albeit competing for 6th rather than 4th.
Eddie Dunn
160
Posted 24/07/2021 at 11:30:20
Peter- great stuff.
Mark Murphy
161
Posted 24/07/2021 at 11:39:33
Peter thanks for that - the beautiful game right there. Pity we couldn't have utilised him properly.
Sam Hoare
162
Posted 24/07/2021 at 11:42:24
One of the most frustrating things with Bernard is that, according to a few reasonably reliable sources, there was some strong interest in him last summer, especially from Roma who were rumoured to be prepared to spend around £10m to re-unite him with his previous manager, Fonseca.
Apparently Carlo said no, he liked the look of him. And yet he hardly ever played him! Preferring to try the likes of Coleman, Digne and Siggurddsson on the wing. £10m is no jackpot but it would really have helped us with FFP and our ability to spend this summer.
More poor management of resources at Everton Football Club.
Brian Harrison
163
Posted 24/07/2021 at 11:43:29
5 league goals in 75 appearances, I think even his biggest fans would have to admit that is a very poor return.
Steve Shave
164
Posted 24/07/2021 at 11:50:35
Thought exactly same Sam last summer!
Steve Shave
165
Posted 24/07/2021 at 11:54:56
Thought exactly same Sam last summer! Peter 152 thanks for posting that vid, I remember that game against Leicester, early in his Everton career that and at that point many thought he would be a great signing for us. Shame really, I quite liked him.
Tony Abrahams
166
Posted 24/07/2021 at 12:03:18
I'm backing Everton for the top four Robert, although I'm also worried that things could get very toxic, so I'm going to see what the price is first, before I see how much money I'm going to bet!
Christine Foster
167
Posted 24/07/2021 at 12:05:04
Peter, great compilation! It's why so many actually liked the guy. I just wish we had a team and a manager who had faith in him and could utilise the skills..
In a time where effort is thought more of than skill by some, it's a reminder why Evertonians still believe in the School of Science. Good luck to him, wrong time, wrong team, right player in the right team.
Jim Harrison
168
Posted 24/07/2021 at 12:09:13
Half decent player.
On a free, so no big shakes.
Not a huge loss.
Tom Bowers
169
Posted 24/07/2021 at 12:17:39
I think we all wish the lad well.
It's hard to compete when a manager keeps preferring others as starters especially when those other don't put in a shift.
We now are in the familiar position of a new manager with maybe a change in set-up and style of play which we only hope will produce a competitive team capable of getting command of many games.
Last season saw only a handful of satisfying results with many games being a struggle against ''poorer'' squads.
If the midfield is not up to snuff then it will be more of the same.
We would all like to see Gomes, Gbamin, Doucoure, Davies and James really be more consistent and tighter as a unit.
With the new additions things may change offensively but keeping a tight rein in the midfield is crucial.
Robert Tressell
170
Posted 24/07/2021 at 12:18:15
Tony, I admire your optimism. To achieve top 4 would require Benitez to exceed his recent track record by some measure - along with serious underperformance by some much better equipped and well managed sides.
The reality is we have the 8th best squad in the division - and through turgid football came within 3 points of 6th. 6th remains doable.
To finish 4th this season would be to achieve something we've done only twice since we last won the title.
Geoff Lambert
171
Posted 24/07/2021 at 12:21:44
Peter, well done, mate – great compilation of his ability.
If we were lokking at signing him now and that was his audition Io wold be over the moon. Should have been used as the No 10 great touch and could pick a pass out of nowhere.
Good luck to him at his new club.
Brian Murray
172
Posted 24/07/2021 at 12:32:23
Tony post 166. Save your coin kidda. I have hired a sniper to really bring the curtain down on Lloyd Webber's mate 😳
Christine Foster
173
Posted 24/07/2021 at 12:48:26
Hmm, just a little point, in his r weer saying thank you, he refers to an external factor at play. I think that's the second time he has inferred something or someone had influenced the decision and taken it out of his hands. His first comments said people don't know half the story and he cannot say more…
Conor McCourt
174
Posted 24/07/2021 at 12:48:27
Robert I agree with you as it stands we will probably have the seventh or eighth best squad in the division come the start of play (depending on acquisitions) but yourself and others using how far we were away from finishing sixth as a guide will be totally irrelevant this up and coming season.
Last campaign was a total anomaly with the big six all massively struggling due to a hectic schedule right through to November with the Covid congestion period ensuring they played every three days. Our performance is more accurately looked at with regards to Villa,Leeds and West Ham who had similar advantages. I had suggested that we were likely to fall away based how many of our victories came about and so it proved.
The idea that this extra depth to our squad will make a difference is fanciful in my opinion. Players like Allan, James, Godfrey and Digne missed parts of our winning runs and were fresh coming to the business end. For me our collapse was more to do with players having had to do more work because of continually not having the ball, the fixture scheduling and that we were levelling out results which were more favourable than our input merited.
In my opinion we will need much better additions to be breaking the top six stranglehold.

Allan Board
175
Posted 24/07/2021 at 14:00:46
Don't agree with this 'he was too small /not strong enough' comments in respect of playing in the Premier league.
None of us on here would get near enough to him to get the ball off him on a pitch! Very talented, but completely utilised wrongly.
But hey, keep picking 11 athletes and finish 10th,-again.
When is the penny going to drop on the British mentality on football? Nearly all the best player's in the Premier league are continentals, lovely technique, play short, nice movement. And we still go on about endeavour and physicality.
We are light year's behind with the coaching of our children at Grassroots level in relation to ball protection, retention, rotation and player movement.
Size didn't seem to bother, David Silva, Luca Modric etc in our roughty toughty Premier league. The reason being there movement, touch, and shortness of pass. You can't out muscle a technically gifted player, only kick them as they are never stationary for long enough.
Football is a beautiful game to watch when performed by a team of gifted technicians - we just need to start to teach our kids properly over here, then you might see it more and appreciate it.
I wish him well in his career.
Ben King
176
Posted 24/07/2021 at 14:05:52
Christine @#173
Yes I picked up on the 'external factors' and 'not knowing the full story' comments
I assumed he was referring to mental health issues that surfaced last year but maybe there's something else at play
True that we don't know the full story ever
But general opinion on here seems to be 'great player on his day, nice touches, seemed to fade after 15 mins. Wish him well but, on the pitch, he didn't do enough or often enough'. It's on the pitch that we can judge him on and he didn't deliver enough.
John Cook
177
Posted 24/07/2021 at 14:06:38
Bernard ? A cracking little footballer in a white team,under Managers who played him out of position and probably with us at the wrong time...He would have been a legend playing in the 60,s and 70,s even with all them hard fuckers about.Thanks for the memories lad,good luck for the future.
Robert Tressell
178
Posted 24/07/2021 at 14:23:08
Conor, I think we're making much the same point.
Last season was weird but the table didn't really lie in the end. It basically says we're in a cluster of also-rans not good enough to break into the top 4 but competitive for 6th place. The squad values table says we have the 8th best squad – so anything above that would require Benitez to outperform relative to the squad at his disposal.
Conor McCourt
179
Posted 24/07/2021 at 15:07:44
Robert I agree with everything you have said in your last post but the point many were making was that we have only a three point deficit to close on the top six. I am not suggesting the League positions were false, just that they won't be repeated.
Personally I feel that the sky 6 were really vulnerable last season and the gap between us and them is much greater than the table would suggest.
City and Utd both really struggled early and I would imagine both will eclipse this years points tally.
Chelsea look to me much better under Tuchel and if they sign a striker could challenge for the title.
Liverpool will definitely improve for having their key defenders back.
Arsenal I believe are really interesting because after Arteta's honeymoon period they really struggled early as besides fixture congestion he had problems with fringe players, injuries and trusting players who were letting him down and nearly cost him his job. In the second half of the season he addressed those problems and I think they came out second in the league (from Jan) and without Europe I can see them improving enormously.
Spurs will also probably improve as I'm sure many players will have a new lease of life under Nuno after the unpopular Mourinho, though they could be vulnerable if Kane goes and isn't adequately replaced.
Leicester will probably be the only side who will finish roughly with the same points but may finish lower.
I don't think the position of West Ham, Leeds, Us and Villa were false but I will be surprised if any will improve their position or points tallies without serious strengthening of their squads as this was a freak year where proximity and points totals may prove to be flattering.
Robert Tressell
180
Posted 24/07/2021 at 15:28:17
I see what you mean Conor. Yes, just as we have 'only' a 3 point gap to close to get 6th place, about half a dozen clubs are in a similar position!
Tony Abrahams
181
Posted 24/07/2021 at 16:08:10
I've been saying for years that we will win the cup once the saviour goes Brian, and with you telling me your kid is a door-hinge, I think I'm gonna go for the double, to pay for our three day bender mate!
Peter Gorman
182
Posted 24/07/2021 at 16:28:36
Ben King @176 - I had no idea about the mental health issue but found the following interview and it is quite illuminating;
Watching until the end, I can't help but feel Everton are slighty poorer without Bernard around the club. It certainly makes some of the less charitable comments here seem unworthy.
Brian Murray
183
Posted 24/07/2021 at 16:37:34
Tony post 181 term of endearment really ha ha. I'm the youngest so just a bit of sibling carry on. Whats your gut feeling on his going ? Seems he will try and hang on for grim death. See you before or after saints game all being well eh !
Paul Tran
184
Posted 24/07/2021 at 16:38:29
Seemed like a top bloke. Very talented, largely ineffective, which sums up most of our recent player recruitment.
Best of luck to him.
Jay Wood
[BRZ]
185
Posted 24/07/2021 at 16:41:43
Next!
Jay Wood
[BRZ]
186
Posted 24/07/2021 at 16:42:57
Bernard is a nice man and a tidy little footballer.
I don't agree that he failed because of his physique. I don't recall him being constantly bullied or out-muscled off the ball. I do recall him being surprisingly robust in riding challenges, as well as regaining the ball from bigger opponents and drawing fouls on occassions.
In his first year his pairing with Digne recalled the near telephathic halcyon days of the Baines-Pienaar pairing down our left flank. Peter's Bernard YouTube highlights clip shows this well, with the wee Brazilian being a master of the one-touch back-heel lay off.
But as with all highlight clips it doesn't show the full story, does it? Because you could compile a contrary video showing the number of times he miscontrolled an easy pass, allowing it to go into touch or cough up cheap possession as the ball bounced off him. The missing-by-a-distance pass over 5-10-15-20 yards which as a result badly exposed his team. The number of spurned shooting opportunities as he checked-stopped-twisted and turned until the chance was gone. The number of times he was subbed out.
I said when he joined he needed to be played in an advanced, more central midfield role, rather than played wide as a 'false winger' to get the best out of him. Very rarely did any of his Everton managers do so.
Tricky in close possession as he can be, he is not a speed merchant who could hurt the opposition by getting in behind them to the touchline and wreak havoc. He is best in that quadrant from the imaginary line across the pitch from the opposition's extreme point of the centre circle to their goal line with movement and runners around him he can play in or play 1-2s off, advancing the ball into the danger zone or drawing fouls in promising positions.
Ahead of the 2014 World Cup in Brazil his national manager Felipe Scolari talked him up and described him as having 'alegria nas pernas' - joy in his legs.
Unfortunately for Bernard, he is largely associated in Brazil with being the very poor substitute for the injured Neymar in their 7-1 thrashing in their home WC to Germany. He has never been selected for Brazil since and is largely a forgotten man in his homeland.
Yes, he gave us a smattering of memorable moments. But for me, overall, his actual return on the football field at Everton was minimal. Using the excuse that he would have been a better player with better players around him highlights that he himself is not one of those better players we could count on to improve us.
Good luck to the lad, but for me it's a sensible move to let him go and replace him with players who can hopefully better deliver for the team what he couldn't on a more consistent basis.
Steve Shave
187
Posted 24/07/2021 at 17:41:08
Agree with Jay 186 - I always thought he looked dangerous in the brief cameo's he got in the advanced 10 role, always looked his best there. Maybe we have been hasty what with the Sigi situation and James potentially going, Iwobi may well be our only no 10 this season! If we shift another big earner ala Gomes (hope not personally) or Delph (absolutely hope so) I can see us taking a big name loan like Coutinho or Isco.
Tony Abrahams
188
Posted 24/07/2021 at 18:41:13
Put it this way, I haven't even contemplated saving up Brian, even if I know it's gonna be an expensive few days for all of us mate!!
Christy Ring
190
Posted 24/07/2021 at 19:38:55
Wish Bernard all the best, skillful little player who should have had more game time especially in the no.10 role instead of Sigurdsson, but never given the chance.
Shane Corcoran
191
Posted 24/07/2021 at 19:41:27
Dog with a bone I know but the club just confirmed the transfer highlighting that the paperwork was finalised today.
Danny Broderick
192
Posted 24/07/2021 at 22:26:45
Steve @120,
The Director of Football model has been a disaster for Everton. Never mind how it works at other clubs, we have spunked £500 million! You are right that half of the players I mentioned weren't signed by Brands – they were signed by the previous DOF, Walsh!! Brands brought in Josh King, and Ancelotti didn't play him. It's a mess, mate.
One of the roles of a Director of Football is to unearth gems. While we are buying Premier League players – which Begovic, Townsend and Gray are – I remain unconvinced by the value Brands or any other DOF is adding. Most 13-year-old kids could identify Premier League players as targets! Why do we put in deadline day bids for Man Utd flops like Rojo if we have a much-vaunted DOF?
I'm not sure Brands has had too many successful signings. Maybe Godfrey, Digne and Doucouré. Richarlison was Silva's man. Mina has been average. Gomes, Bernard, Kean, Lössl, Delph, Iwobi, King etc give me massive misgivings about the way we are identifying talent and signing such talent. All on megabucks as well.
The jury is out on the DOF model, and Brands in particular as he is the current custodian. He certainly has to add much more value than he has currently if he is to justify his role.
John Pickles
193
Posted 24/07/2021 at 23:13:21
The Dark Side have just flogged an academy player with 2 first team appearances to Fulham for £12M. That's about £11M more than all the players we've ever sold from ours.
Don Alexander
194
Posted 24/07/2021 at 23:27:36
Hey John, Unsy gets Everton though, so what's your point? :)

Peter Gorman
195
Posted 25/07/2021 at 08:27:38
John Pickles - you cheeky little liar
Were you aware that this '2 first team appearances' player was on loan in the Championship, a full international and played in the Euros just gone?
Of course you were, but don't let facts get in the way of a good huff and moan.
Conor McCourt
196
Posted 25/07/2021 at 08:42:15
Robert you can argue our season wasn't that bad because we had 59 points and only 3 points off sixth or it was poor because we finished tenth. I would be in the latter camp. I would judge it around the teams financially we dwarf and we finished bottom of this second tier group. We finished seven points behind our closest squad in ability Leicester, we finished six points behind a vastly poorer squad West Ham and behind a team in Leeds, who should not be close to us, let alone finish above us. I think there was a real chance which we were unable to take because Liverpool,Chelsea, Spurs and Arsenal all struggled for different reasons with the unique nature of the fixture concentration.
On paper (points totals) it looks like the top teams are getting worse, and the second group are closing the gap while the bottom half has stayed constant. This is partly true though my guess is that next season if normality returns to the fixture schedule a bigger gap between the two groups will once again re-emerge and so it will take decent squad improvement and better management to bridge that barrier. I don't think we are as close as the table this season suggests.
I could see a scenario with a non Covid affected campaign where we could improve past Leeds and West Ham finishing eighth but be much further away from sixth place and with a lower points tally to boot such was the unique nature of this season.
Robert Tressell
197
Posted 25/07/2021 at 09:14:14
Conor, I look at it all as being relative to the transfermarkt squad values list. This tells you broadly where you should finish each season. This time last year we were 7th, ahead of Leicester. We therefore underperformed along with Arsenal & Spurs. At the end of the day, just as you say, we finished 10th and that's not a quirk of 20/21 because we finished 12th the previous season. So we're consistently at the bottom of the group challenging. Which basically means we're not really challenging. Certainly not for top 4 anyway. We're absolutely miles off the top 4.
Out of our mini league of 5th to 10th Leicester have improved a squad which was already much better than ours. They also have an excellent recruitment strategy and manager. Spurs have a much better squad too.
We're currently 8th in the transfermarkt squad values table - £50m behind Arsenal in 7th and £50m ahead of Villa in 9th. That looks about right to me.
If you look at the first XI and squad depth of teams around us we're really nothing special at all. But West Ham have shown that you can outperform through hard work, discipline and the momentum it brings. That's what we're looking for this season. And it can conceivably sneak us 6th place but that will be a really big achievement by Benitez given the tools at his disposal.

Tony Abrahams
198
Posted 25/07/2021 at 09:43:39
I think it's how Leicester have improved since the end of Silva's first season, which gives the biggest indication that senior figures don't appear to be on the same page at Everton.
Tony Everan
199
Posted 25/07/2021 at 09:55:47
Robert, Conor I look at the spread markets and betting at the start of a season. Where people are putting their money where their mouth is. It gives a useful picture of how to gauge the season. It is quite clear that the betting has split the top 11 clubs into three groups based on best prices available.
Top 4
Man City RS Chelsea and Man Utd 4/6 - 8/1
Then a big gap to positions 5 to 7
Tottenham Leicester Arsenal 54/1 - 84/1
Then another gap to our group, positions 8 to 11
Leeds Everton West Ham and Aston Villa 159-1 - 239/1
Then a big gap to 12th and lower of 750/1 +
Realistically if we make a jump to the 5-7 group we will have made progress beyond the consensus of expectation. As at the moment we are being firmly lumped inside that third tier with an expected 9th place finish.
Robert Tressell
200
Posted 25/07/2021 at 10:14:04
Tony E, that spread betting analysis puts a bit more science into my crude Transfermarkt rule of thumb. It makes sense though and it shows just how far we've fallen through having an appalling recruitment strategy (and the misalignment Tony A mentions).
By spending more than half a billion in five years we've dropped into the third group of Premier League clubs. West Ham, Villa, Leeds and maybe Wolves.
Personally I think we now have the best squad on paper out of that group - but it's fairly marginal. And each of them (bar Wolves) has an established manager who looks like a good fit for the club. So it's going to be tight.
Derek Taylor
201
Posted 25/07/2021 at 11:44:11
However you measure Bernard's contribution, he didn't spend his time here falling on his arse and screaming in pain like some we have to suffer.
He certainly tried hard and we wish him well with his new club.
Like many others, I suspect, I find myself comfortable rather than excited by the signings made so far and am beginning to develop a Moyes-like acceptance of the return to common sense in respect of signings and general aspirations. Top eight, maybe ?
At least, I have come round to wishing Benitez all the best and will no longer be wasting energy on mithering about how his appointment could ever have come about !
John Pickles
202
Posted 25/07/2021 at 12:57:02
Peter #195,
Sorry, which part of it was lies? He has played twice for Liverpool (something I read in the SkySports article regarding his sale). I'd never heard of him, now I have noticed he played 30 Premier League matches 2 years ago, on loan at Bournemouth and many appearances in the Championship. He is an International, yes, but that's a lot easier for Wales than a lot more populous countries.
He has played most of his matches in the Championship, he is moving to a Championship club, he may excel there but I would describe his current level as Championship.
Liverpool have sold a player who has hardly ever played for them, to a Championship club for £12M. We haven't and I doubt we could.
Jay Wood
[BRZ]
203
Posted 25/07/2021 at 13:47:01
On the sub-discussion in this thread on the causes of our poor 10th place finish last season, I said right at the start of last season there was an opportunity for Everton in the Year of the Pandemic to break into the European places.
I based this view on the challenging fixture congestion the perennial top PL teams would inevitably face going so soon into a new season having just finished the protracted previous season.
Uncharacteristically, away wins in all PL fixtures last season outnumbered home wins by 153-144. Nevertheless, by season's end the usual suspects (for the most part) occupied their usual positions at the top end of the table.
Everton was a pronounced benefactor of this phenomenon, registering an impressive 11 wins on the road, but a miserly 6 at home.
In mid-February I penned an article Everton's Double Dichotomy which looked at not just our results, but those of the 'Sky Top Six' both against each other and against the bottom six in the live PL table at that time.
The Double Dichotomy of course was that we were winning away, but not at home, and getting a respectable points return in games against the top six, but a miserable return against struggling sides.
The comparative data showed that in a mini-league table based on games between the 'Sky Top Six' plus Everton we were second on points, only behind the all-conquering City.
By stark contrast, in games those seven teams played against the PL's bottom six, only Liverpool had a poorer points return than Everton in such games with the other teams being far more efficient in harvesting points from lowly opposition.
That data covered the first 22-23 games of the season so offered solid pointers as to how poor results against the lesser teams would continue to negatively impact on our finishing position if not improved.
This very much proved to be the case. At the completion of the 38 game season, in the mini-league table of fixtures between 'Sky Top Six' plus Everton, the table from 12 fixtures reads:
1 Man City 23 pts
2 Liverpool 21
3 Everton 18
4 Man Utd 15
5 Chelsea 15
6 Arsenal 13
7 Spurs 11
More than decent by Everton. We drew at home and won away to 'them'. Won at home, lost away to Chelsea. Doubled Arsenal. Won away and drew at home to Spurs.
However, what really torpedoed Everton was of course our home form, particularly against the lesser teams. In the mini-table of results by the 'Sky Top Six' plus Everton v the bottom six (Palace, Brighton, Burnley, Newcastle, Fulham, WBA, Sheff Utd), we get this points return from 14 games:
1 City 37
2 Chelsea 35
3 Arsenal 33
4 Spurs 31
5 Man Utd 30
6 Liverpool 22
7 Everton 21
Getting wins v the 'Sky Top Six' is important as potentially a win constitutes a six point swing. However, even if you do well in those games as Everton did, that points swing is nullified if you don't put away the lesser teams.
Historically in the PL era Everton has been efficient in doing the latter and poor in the former. Frustratingly, in the season they improved results v the 'Sky Top Six', they triple bogied v the lesser teams.
Just look at how nearly every other team ruthlessly took points off lower placed teams compared to Everton.
City, 16 points better off.
Chelsea 14.
Arsenal 12.
Spurs 10.
United 9.
That annulled any points gain we made against such teams and then some.
Make no mistake. Finishing 10th was a failure. Ironically, we saved the final game of the season to fall to our lowest placing ALL season. How many spurned opportunities were there last season to cement a higher league position than was achieved?
But as the two mini-league tables show, which will be easier to achieve in the new season? Further improving results v the top six? Or improving results v the lesser teams? Further improving the away form? Or further improving the home form?
I know which way I lean.
Andy Crooks
204
Posted 25/07/2021 at 14:21:04
Tony @ 199 and Jay @203, two really good posts that give a very interesting preview of what lies ahead.
Last season was a freak for many reasons. An opportunity arose for us and we didn't take it, exactly as Jay demonstrates and for reasons we could analyse at length.
The spread that Tony discusses is absolutely spot on and will be accurate unless we have another freak season with Covid or a Leicester-type rare event. This just will not happen.
Progress is to some extent out of our hands, at least Champions League-type progress. We would require too many teams to regress. We are more likely to move to the lower end of the spread than the top, ie, Bottom 3 is much more likely than Top 3.
However, facts aren't for the likes of dreamers like Evertonians. I will have my usual small each-way bet on Everton at criminally skinny odds (at least half the teams in the Premier League should be 1000/1 plus).
We will need to improve just to hang around mid-table.
Jim Jennings
205
Posted 25/07/2021 at 15:18:33
The measure of how good Bernard is can be seen by the standard of club trying to sign him. No club from a decent league was beating our door down and he's gone to play in a fifth rate league at what should be the peak of his career.
Absence makes the heart grow fonder with some fans. A few tidy passes, the occasional pivot and overhit through ball doesn't mean we are somehow letting an underused talent slip through the net.
Bernard on 120k a week (yes that does matter) is exactly the type of player the club should be looking to offload, followed by similar high wages / low output squad members such as Gomes, Delph, Tosun and Iwobi.
John Boon
206
Posted 25/07/2021 at 17:39:09
I just hope we can have a season where we win far more
home games and provide exciting football. It is unlikely that we will have an away record like we did last season, so we will HAVE to improve at home.
I feel it may have been a blessing in disguise that Ancelotti left. I think the job became too big for him and Real Madrid may have made a move that they will regret. Due to the very obvious circumstances I was not in favour of the Benitez appointment. However now that it has happened I will ALWAYS support Everton and sincerely wish him the best of luck.
The only other alternative is to continue to disagree, to moan and complain and tell posters what you would have done. Then if the appointment is unsuccessful you will have the pathetic line of "See I told you so !" Hardly satisfaction !!!
Conor McCourt
207
Posted 25/07/2021 at 18:29:58
I don't subscribe to the theory that we were better against the top teams even though our counter attacking style at times worked well as I feel that is too simplistic an approach. We took only seven points from our last six games against them when others were predicting a points tally overall of twenty two, we didn't come close. I felt at the time that apart from the excellent Spurs victory on the opening day we had got the better of some vulnerable teams and so it proved in the second half where we picked up only 1.17 points per game (and only one point if you include the cup) a far cry from the 1.83 we had done in the first six fixtures. The top two teams who we played when in full flow gave us only one point from four matches and two cup beatings to boot.
The last six fixtures resulted in three hammerings, a brilliant victory over our frail neighbours, a daylight robbery smash and grab over Arsenal and a plucky draw against Spurs, in addition to the Cup reversal. Seven games with six goals scored and fourteen against. As I said mid season the excellent points tally first half against the top teams was due to vulnerability and how the fixtures played out and normality largely resumed in the second round of matches against the top teams.
Indeed had the theory been proven correct and we had taken 22 points as predicted then those who were confident of a top six finish would have been fully vindicated, as it were we inevitably faded away both against the top and bottom sides.
Tony Abrahams
208
Posted 25/07/2021 at 19:23:15
Argument for both sides Conor, but we lost at home to Newcastle, Fulham, Burnley and Sheffield United, playing a narrow 4-4-2, and also looking totally out of our depth, and getting comprehensively outplayed in a couple of those games, when we looked as bad as any team in the league.
The away record was as good as any time since we were last champions I think I read somewhere, but our home points tally was a complete embarrassment, and it was also very hard to fathom Ancellotti constantly changing something that was working (his pug-ugly system) to something that never worked, considering how easy we were to play against at Goodison, once we stopped getting eleven men behind the ball.
It doesn't really matter though because we just weren't good enough, especially on the eye, but ultimately out on the pitch, and this year might not be any different unless we learn to defend with a higher line, or maybe we carry on defending deep, but hopefully become a much better team on the counter attack, maybe?

Ian Horan
209
Posted 25/07/2021 at 20:23:33
Has there been any mention of a transfer fee for Bernard?
Shane Corcoran
210
Posted 25/07/2021 at 20:29:40
I read 850k somewhere Ian but couldn't confirm it.
Brendan McLaughlin
211
Posted 25/07/2021 at 20:47:49
No Ian #209
Thankfully we don't have to pay anything!
Ian Horan
212
Posted 25/07/2021 at 21:15:59
£850k! Crazy… won't even pay off the final year of his contract.
So Everton.
Colin Glassar
213
Posted 25/07/2021 at 21:27:09
Apparently, Bill is willing to accept Bitcoin.
Don Alexander
214
Posted 25/07/2021 at 21:32:34
So the Reds sell a sprog who's never even played for them for £12mill whilst we sell for £850k a 28 year-old Brazilian international with more than 70 appearances for us.
Are we sure we're being run by an accountant?
Brendan McLaughlin
215
Posted 25/07/2021 at 21:48:26
Yes Don#214
Bernard was costing us money and giving very little in return. The Accountant also probably figured that what the Shite do with their players doesn't affect the Everton bottom line...pretty basic stuff though?
Don Alexander
216
Posted 25/07/2021 at 21:57:12
Pretty basic if you accept the shit-house football and ownership delivered to us ever since the EPL began Brendan.
Some of us don't.
Paul Hewitt
217
Posted 25/07/2021 at 22:00:51
Toby Alderweierd is 33. He's signing for a team in Qatar for 13 million. We get 1 million for Bernard. Levy is one hell of a business man.
Peter Gorman
218
Posted 26/07/2021 at 01:40:49
Don, you're as bad as John Pickles.
Harry Wilson (of whom you speak) is a 'sprog' aged 24 with almost 30 caps for Wales, including a few at the Euros, and 2 full seasons in the Championship and 1 in the Premier League under his belt.
There is no equivalent player at Everton to make a valid comparison. Calling Wilson a 'sprog' or an 'academy player' is laughably disingenuous.
However, if neither of you actually bothered to take the 3 secs required to check the facts before you posted your drivel, then I wholeheartedly retract my criticism.
John Pickles
219
Posted 26/07/2021 at 04:23:43
Peter, drivel – what is your problem? He is, at the moment, a Championship quality player, Wales has to use Championship players due to so few eligible players in the Premier League.
We have loaned out many players from our Academy to Championship clubs, none of which forked out £12M to buy them. Just recently, Matthew Pennington spent 3 seasons on loan in the Championship, we didn't get anything for him.
Conor McCourt
220
Posted 26/07/2021 at 07:23:42
Tony I agree with you that the key failings were with the also rans and and you are spot on in pointing out that the four points should have most easily been attained from the likes of Burnley and Sheffield Utd. That is indisputable.
However Jay has now presented his February piece as evidence his projections were borne out. Since Jay penned his article we played seven of the bottom eight who finished in a heap below Newcastle (whom we had already played twice) averaging 1.57 per game, 1.33 against the rest and only 1.17 against the sky 6. By achieving better results against any of these three groups would have garnered a top six position.
Incidentally the overall 18 point tally against the sky 6 consisted of 10 points taken from the 7th- and 8th-placed finishing teams. This fuels the argument that they weren't exactly "the better teams" which was the central argument to Jay's hypothesis "good results and points return v better teams". Our record against the actual top six stood at 12 points from 12 games coming out at 1 point per game alongside 2 comfortable cup defeats which further diminishes the argument of the dichotomy between good versus bad.
Tony Abrahams
221
Posted 26/07/2021 at 08:15:19
I get lost with all this stuff, Conor, but looking at West Ham last season shows me that David Moyes knows how to implement a system that can take a club so far.
First off, you have to win the games you're supposed to win; if Everton would have done that last season, then those 12 points dropped at Goodison Park to the teams I mentioned before would have got us in the Champions League, which is incredible really, because for most of last season, Everton were absolutely horrible!
Jay Wood
[BRZ]
222
Posted 26/07/2021 at 22:01:29
Again Conor, you've done that 'thang' of yours and not read (or understood) what was actually written, but projected over very clear and unambiguous words what you wish to believe.
My compilation of Everton results against both the (clearly stated) 'Sky Top Six' (NOT the far more fluid and thus more difficult to predict 'actual' top six you write of), and the bottom six (as at the time of writing the original article in February) was not done in isolation.
That is, I DELIBERATELY made a comparative study of ALL THE 'SKY TOP SIX' (plus Everton) in ALL fixtures played between those clubs to create ONE mini-league table. I did likewise with ALL THE 'SKY TOP SIX' (plus Everton) in ALL fixtures played against the bottom six sides in the PL to create a SECOND mini-league table.
As I more than reasonable demonstrate in this thread, the complete season form in those selected fixtures and the results they generated resulted in a near like-for-like final mini-league table in both categories as was revealed in February.
In February, the top 6 + Everton table read as follows:
1 L'pool Played 8 - 15 points
2 City P 7 - 14 pts
3 EVERTON P 6 – 11 pts
4 Spurs P 9 – 10 pts
5 United P 8 – 8 pts
6 Arsenal P 7 – 7 pts
7 Chelsea P 7 – 5 pts
At season's end that same table read (with 12 games played by all teams):
1 City – 23 points (added 9 pts in 5 games since the February data)
2 L'pool – 21 pts (added 6 pts in 4 games)
3 EVERTON – 18 pts (added 7 pts in 6 games – 2 home games v City and Spurs, 4 away games to L'pool, Chelsea, Arsenal and City)
4 United – 15 pts (added 7 pts in 4 games)
5 Chelsea – 15 pts (added 10 pts in 5 games after Tuchel joined)
6 Arsenal – 13 pts (added 6 pts in 5 games)
7 Spurs – 11 pts (added 1 pt in 3 games)
Ergo, across the ENTIRE SEASON in these select fixtures, Everton was the 3rd best performing team of this Sky-anointed (and self-anointed based on the ESL episode) 'elite', as they were in February.
You repeat in this thread what you attempted in February: resenting and devaluing actual victories as unmerited, even throwing in the unrelated cup defeats to City and United which has no bearing on this particlar data, whilst ignoring the thrilling cup defeat of Spurs.
I personally don't consider that any Everton victory or any Everton defeat was unmerited last season. That is, we won when we deserved to. We lost when we deserved to. No 'what ifs' or 'buts' from me as you constantly play at Conor.
Indeed, in February you boldly predicted that in the final six matches that we would inevitably lose at perennial bogey grounds away to L'pool and Arsenal. We all know how those results went, unbeaten in four games against the pair, 3 wins and a draw.
Then we have the before (February) and after (season's end) comparative tables of the 'SKY TOP SIX' (plus Everton) in ALL fixtures played against the bottom six sides (Palace, Brighton, Burnley, Newcastle, Fulham, WBA, Sheff Utd):
1 City P 9 – 25 pts
2 Chelsea P 8 – 22 pts
3 Man Utd P 9 – 19 pts
4 Spurs P 8 – 17 pts
5 Arsenal P 7 – 16 pts
6 Everton P 9 – 16 pts
7 Liverpool P 8 – 10 pts
By season's end it revealed the following points return from 14 games:
1 City 37 (added 12 pts in 5 games since the February data)
2 Chelsea 35 (added 13 pts in 6 games)
3 Arsenal 33 (added 16 pts in 7 games)
4 Spurs 31 (added 14 pts in 6 games)
5 Man Utd 30 (added 11 pts in 5 games)
6 Liverpool 22 (added 12 pts in 6 games)
7 Everton 21 (added 5 pts in 5 games)
The February to end-of-season results clearly reinforced the 'Double Dichotomy' theme of my original data compilation. We held our own in fixtures v the 'Sky Top Six'. Any marginal gains we won in that mini-league table was nullified by those same teams considerably greater efficiency in putting away the bottom dwellers.
So, the thrust of the article in February was spelt out again in this thread and the updated season's end results and mini-tables confirmed the hypothesis, if you had but paid more attention Conor.
Good form v the 'Sky Top Six'. Poor form against the bottom dwellers. Good form away. Poor form at home. That same discrepancy continued through February right until the end of the season. Thus the title of the February piece: 'Everton's Double Dichotomy.'
A further slight of hand you attempt Conor is to totally ignore (again) the clearly stated aim of the comparative results of the 'Sky Top Six' and NOT 'the better teams' as you define them. That is, those that actually finished in the top six places. Some observations on your claims in that regard:
1) We took 15 points, not 12 points as you stated, off the teams that finished top six
2) Of the nine teams that finished above us our combined home and away record reads:
P 18 W 8 D 4 L 6 Pts 28
3) Our home form in those fixtures reads:
P 9 W 2 D 3 L 4 Pts 9
4) Our away form in those fixtures reads:
P 9 W 6 D 1 L2 Pts 19
Yet further affirmation of the 'Double Dichotomy' (as if any more was needed) embracing half the league table and not just the 'Sky Top Six' or the bottom six clubs. Against the PL's 'better teams' (your words, Conor) we won 3 times as many games away than we did at home; lost twice as many games at home than we did away.
Conor McCourt
223
Posted 27/07/2021 at 17:25:55
Dear God Jay are you still rabbiting on about your irrelevant pointless article.
Jay it was YOU who entered the discussion on THIS thread as to our collapse, as to why we failed to make top six and if finishing 3 points of 6th wasn't that bad. NOBODY was disputing we performed poorly against lesser teams, a blind man could see that so you could have saved yourself a few hours, that was never likely to improve under Ancelotti (a blind man could have told you that as well, maybe not you though).
NOBODY argued against being better away than home. Again NOBODY is arguing that we failed because of our OVERALL record against the 'Sky 6' which you are continuing to present. But what was clearly stated is that we obviously failed against BOTH the top and bottom teams of that there is no doubt. As you clarified 1.25 points per game tells you so.
The reason YOU introduced your February piece to THIS discussion was to show your article validated. At that time, we were doing excellently pointswise against the sky 6 (11 points from 6 games) which you expected to continue (by your column; PREDICTION 22). As previously suggested we did well initially due to vulnerability and fixture scheduling and so it proved.
Yes, I would have predicted only 5 points from those fixtures, You predicted 11, we got 7. That's football. Even if my prediction of 5 points had played out we would still have 16 in total, still high overall on your list v the sky 6 so win/win in terms of now CLAIMING overall validation.
Why on earth would you NOW bring the Sky 6 results into THIS discussion when with hindsight you can clearly see they weren't Top Six? Totally pointless. Would it not be more logical NOW to do a direct comparison between the 'Top Six' versus the 'Bottom Six' as oppose to cherry picking opponents to NOW reach the illogical conclusion that we performed better against this seasons top teams? Latterly adding second tier teams (Arsenal, Leicester and Leeds) form to the discussion is another red herring of yours and only shows we did well against the teams around us, not the top teams.
Again it is YOU who is doing your 'thang" of backtracking, taking pre-February's work and lumping it in with the rest to make a typically pointless point regarding how our season panned out which we are all aware of essentially 'we did badly against poor teams unlike others did + badly at home'. Bravo.
What you did say in THIS thread "The data covered the first 22 or 23 games of the season or so offered solid pointers as to how poor results against the lesser teams would continue to negatively impact our finishing position if not improved. THIS VERY MUCH PROVED TO BE THE CASE." (correct)
You also NOW have presented an OVERALL table highlighting how we CONTINUED to perform well against the sky 6 (7 points from 6 games suggests Not Correct).
At the time you penned your article we WERE on course for a top six finish based on points per game. We could have continued to underperform against the bottom six and still achieved Europe.
The ONLY difference from your initial offering was the points per game against the 'Sky 6' went from 1.83 per game to 1.17, falling way short of your prediction of 22 points. Our inevitable foreseen collapse came about against all manner of sides since your previous work including the Sky 6.
We had already seen your article in February, we didn't need to see it again. Guess what; we continued to perform poorly against the poor sides, the sky 6 obviously did better against them without congestion HOWEVER we did not continue with our excellent points tally against the Sky 6.
Liverpool also did badly against the bottom six but they still made Champions League, go figure.
Darren Hind
224
Posted 27/07/2021 at 20:26:04
The trouble with you Conor is that you want to talk about the bigger picture and how things actually panned out.
You've never really understood the importance of the meaningless snap shot
Jay Wood
[BRZ]
225
Posted 27/07/2021 at 21:08:22
Goodness Conor. You do get yourself in such a fluster over nothing, don't you?
I joined in the sub-discussion on this thread of how and where the team needs to improve from last season that YOU and Robert (and others) had engaged in over a couple of days. It's allowed.
Now, until THIS post I haven't referenced Ancelotti AT ALL in this thread. You did. Your position vis-a-vis Ancelotti is known so that is always going to obscure any reasoned exchange with you on his time at the club. You resent anything that can be even remotely regarded as positive about the man.
I mean, it so irked you that you announced your withdrawal from TW. But of course, you continued to rubberneck at the site and pop back to occassionally comment before slinking away again.
If you weren't so quick to take offence and rage when you do comment Conor you would note that many a poster on TW takes a more balanced opinion than the absolutism you are given to which, once committed to, you refuse to taka a backward step on even when reasoned alternative views and evidence are presented to you.
For myself, I neither went ballistic when we lost, nor turned into a Woozy Woodstock Child when we won. I called each game as I saw it. And I have repeated many times over many months, IMO there wasn't an Everton result that wasn't fully merited last season. Every win was deserved, as was every defeat. There was no middle ground.
I was never one claiming 'give Ancelotti time to get his own players in before judging him.' I was very much in the contrarian camp. That he was Everton's manager. It is his team and his players. It is for him to get a tune out of the players at his disposal NOW.
I criticised team selections, formations and his substitutions as I saw them. I acknowledged when his game plan worked, and when his options were drastically reduced due to injury.
I did not excuse him for our dreadful home record. I very much stated it befalls to him to find a way to win at home, with or without supporters.
I openly stated I consider our 10th place finish a failure.
I did not care for how he left Everton, even though I acknowledge that intimate personal events possibly impacted on and influenced his decision. Namely, the house break-in and the death of his first wife.
A blind Ancelotti acolyte - or any Everton manager for that matter - I have never been. An easily swayed fan of a transient celebrity at the club I'm not. First and last for me is Everton FC. Always.
For you to take umbrage at the comparative data I compiled (as you did in the original February article) is to continue to misunderstand what I have CLEARLY stated several times now. It was done to look at SEVEN TEAMS comparative form at both the top end and bottom end of the table. NOT to 'big up' or 'belittle' Everton's form IN ISOLATION.
You Conor have concerned yourself largely with semantics and conditionals, 'yeah but' and 'what-iferies'. You previously described the original February article as a 'photosnap' view of the season.
It wasn't then (it covered multiple results of about two-thirds of the season). It isn't now as it embraces the entire season.
I joined in the afore mentioned sub-discussion in this thread which you were a major contributor because:
1) I'm allowed to
2) to present relevant data on what the team needs to do to improve on next season
I'm an eternal optimist, so I'll take a contrarian view to TW's pessimists whose starting position is: 'Yeah-well. We're not going to match last year's away record again and I can't see us doing much better at Goodison, so relegation is on the cards.'
My optimism, as I've already written in this thread, considers that:
1) of the nine teams that finished above us:
* Only the top two (City and United) took more points of us than we did off them
* We achieved parity against 3 other teams (3 points each from the games v Chelsea, WHU and Leeds)
* We gleaned 4 points to 1 point from 3 teams (L'pool, Leicester and Spurs)
* We took a maximum 6 points from Arsenal.
That equates to parity or better against 7 of the 9 teams that finished above us. That shows us being clearly competitive with the 'better teams' as YOU described them Conor.
2) historically in the PL era, Everton has harvested the majority of our points from bottom feeder clubs in particular. Moyes was a master of this. Last season was an outrider to this norm. We missed our mark too many times in this category which ultimately cost us a European place.
3) similar to 2), in the PL era our home form has been where we glean the bulk of our points from. This too was an outrider last season. I expect our home form to be considerable better this coming season.
4) our away form was exceptional. Logic, for many reasons, suggests we won't achieve such a rich harvest from trips on the road as we did last year. However, why go to the pessimistic extreme and believe that excellent away form will collapse completely this year? This group of players discovered last season that they CAN go to difficult away grounds and get a result.
As always, I'm eagerly looking forward to the start of the new season, full of positivity as to what we can achieve, regardless of who the manager is, the players at his disposal or the quality of the opposition, good or bad.
Try it Conor. You might surprise yourself and actually derive some pleasure from such upbeat positivity.
Conor McCourt
226
Posted 28/07/2021 at 22:09:56
Jay I would class the top four as genuine top teams. As I see it we played 3 times against City, 3 times against Utd, a full strength Liverpool at home and Chelsea under Tuchel, eight games and got two draws. These were tough games against teams who were a step up in class and we found it really tough going, only competitive in two games (2 cup games but relevant to my point). I believe we beat two top teams Chelsea under Lampard and Liverpool with their defensive issues but they were a lot more vulnerable on the day and a level below the others and that's not taking anything away from us.
We took four points or more off Liverpool, Leicester, Spurs and Arsenal which were excellent results as well as the win over Lampards Chelsea, all really fantastic returns in which we had an opportunity to exploit and we did just that. All credit to Carlo and his boys for the magnificent points tally here.
The issue I have with you is that you get so carried away in trying to prove your assumptions in search of gratification that you lose sight of reality because you so wish them to be true. In your February piece when you produced the table against the sky 6 I could see your thinking with Chelsea, Liverpool and Spurs all looking vulnerable, if we maintained a healthy advantage over the sky teams in our mini-league and began to put away the poorer teams then even a Champions League placing wasn't in theory beyond reach. In fairness to you I was interested to see if how you envisaged it could come to fruition even though highly skeptical myself.
What does frustrate me is that when you get questioned on what transpired you resort to accusing others of 'sleight of hand' when in fact there is no better proponent of this skill-set than you. Since your original article your assertions didn't really come to fruition as the overall table shows despite being in prime position to do so.
Table of Sky Six and Everton
PreFeb 16 Post Feb 16. Total
Points per game Points per game Points per game
Man City 2.0 Chelsea 2.0 Man City 1.92
Liverpool 1.87 Man City 1.8 Liverpool 1.75
Everton 1.83 Man Utd 1.75 Everton 1.5
Spurs 1.11 Liverpool 1.5 Man Utd 1.25
Man Utd 1.0 Arsenal 1.2 Chelsea 1.25
Arsenal 1.0 Everton 1.17 Arsenal 1.08
Chelsea 0.71 Spurs 0.33 Spurs 0.92
Note the second column which you didn't wish to present where we essentially went from the coattails of Liverpool and City with 1.83 to second bottom at only 1.17 per game during this time period.
As we can see it was here that Chelsea and Liverpool eroded our previous advantage in the quest for Europe with Chelsea significantly getting a three point swing despite playing one game less putting them really on the front foot. Liverpool we beat but amazingly still only gained one point despite playing two extra games which shows the ground they made on us.
I was however genuinely intrigued to see how your February hypothesis that there 'were gains against the better teams being offset by our poor record against the poorer sides' would manifest itself to the actual assault on a European position. However you seemed reticent to repeat your workings now that we know who the actual players in the European shake up so I had a look to assess merit.
Table showing Everton and Results against finishing top six
Total Points
Man City. 20
Chelsea. 20
Man Utd. 19
Liverpool. 18
Everton. 15
Leicester. 14
West Ham. 10
As we can see from these results it was here where;
Chelsea made the bulk of the points difference over us (finished 8 points ahead of us, 5 points here)
Liverpool had a three point cushion despite losing four to us
Leicester was the disappointing one because we took four points off them but still didn't gain any real overall advantage
West Ham was the team that we had a real advantage but were let down by all other results.
The only team who actually subscribed to your hypothesis was West Ham between the teams that finished in those spots. Surprisingly, it was our performance in this mini-league with regards to Chelsea and Liverpool that had dire consequences on our quest for Europe despite decent returns against them.
Incidentally I begun by suggesting that we took full opportunity of exploiting those teams involved in fixture congestion and had kinder fixtures and this played out with 7 points from the four matches against the European teams and only 5 points from the six matches against them post Christmas.
Unfortunately Jay when faced with the actual European placings your hypothesis which you were so desperate to present didn't actually ring true.

---
Add Your Comments
In order to post a comment, you need to be logged in as a registered user of the site.
Or Sign up as a ToffeeWeb Member — it's free, takes just a few minutes and will allow you to post your comments on articles and Talking Points submissions across the site.