Everton win the Florida Cup on penalties
Everton 1 - 1 Millonarios [10 - 9]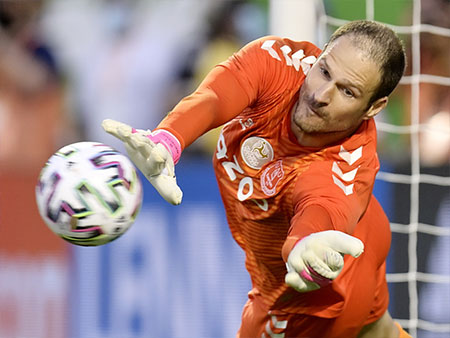 Everton took on Millonarios in the first pre-season friendly for the honour of claiming the modified Florida Cup tonight in Orlando and triumphed in a penalty shoutout after the game had ended 1-1.
New signing Demarai Gray had levelled the match for the Toffees with a second-half penalty after Nathan Broadhead had been felled in the area but neither side could find a winner inside the regulation 90 minutes.
That prompted spot-kicks and Asmir Begovic gave Everton the advantage when he saved the Colombians' second penalty but when Anthony Gordon failed to convert, it went to sudden death and finally to the two goalkeepers to face off with the scores on penalties at 9-9.
Begovic buried his and then saved from his opposite number Murillo to hand the Blues the trophy.
Matchday Updates
This match represented the first of three pre-season friendlies for Everton under Rafa Benitez, and it had been elevated to being the final of the tournament after Arsenal and Inter Milan both withdrew. The organizers have been successful in arranging for additional international sides to step in at short notice, but the kudos of winning the trophy has been reserved for the original participants to contest.
Everton were still heavily depleted with their international stars of Euro 2020 and Copa America absent: Calvert-Lewin, Pickford and Mina are on extended leave, while Richarlison and Nkounkou are competing at the Olympics in Tokyo. Another senior player (unnamed) is suspended under investigation by police while Fabian Delph remained in the UK after possible exposure to COVID-19.
André Gomes completed his self-isolation programme and flew out to join the rest of his teammates, along with the three new signings, Begovic, Andros Townsend and Gray.
A modest crowd of enthusiastic fans occupied the lower tiers of the Camping World Stadium, capacity 65,000, as Moise Keane finally kicked off at 6:08 local time.
Article continues below video content
Townsend was lively early on, crossing in from the right, then having the first shot of the game, pretty easy for Vargas to collect. At the other end, a neat move saw a snapshot from Llinas heading just inside the post but Begovic got down well to turn it behind for a second corner.
Millonaros started to control possession as the heat quickly had an effect on the tempo. When Everton did have possession, long balls to Townsend or Kean were frequent.
Everton gave up a very soft goal from a corner in the 19th minute, Begovic electing to stand on the line and not come for the ball, which hit the post and was then bundled in off Llinas.
Everton tried to respond through Kean but he was dispossessed a couple of times but James was hanging back a lot in midfield rather than playing up with Kean. Everton finally got some better involvement, Townsend, crossing well again but James running in front of Kean and deemed to commit a handball offence before the drinks break.
Digne whipped in a great cross for Kean but he headed over, with the goal gaping. At the other end, a fierce strike fired on target with power, Begovic across well to beat it away.
As the shadows lengthened, the ball came across from Digne to Townsend and he ducked back inside to fire off a tremendous shot that rattled off the crossbar near the angle of the goal. Coleman clumsily dragged Silva down from behind and was shown a yellow card.
A number of changes at the break, with Kenny, Gomes, Gordon, Broadhead and Gray coming on. Broadhead got a chance to shoot but drove it wide. Some decent attacking play looked attractive but Gray elected to pass when he should have shot and a rare chance on goal was wasted.
Gordon almost got through but lost the ball to a determined tackle. But Iwobi's passing repeatedly was a few feet off target as Everton kept attacking.
In a good attack, Broadhead was chopped down by the keeper, Gray lashing home the penalty kick with style, power and accuracy. Iwobi again completely fluffed an excellent move and scoring chance.
Gbamin made a few mistakes that suggested he still needed more time to get match-fit. Gibson and Davies came on at the drinks break.
Broadhead did well to escape his man and run a long way to goal but he chose to make a dreadful shot straight at the keeper.
Gomes had been his usual self, making poor tackles, and taking a poor free-kick that was lofted into the arms of the goalkeeper as the game looked to be heading for penalties to decide the Florida Cup.
A free-kick in added time was delivered well by Gray but headed clear. Gray tried to win it from long distance but fired well over when he should have carried the ball closer first.

Penalty Shoot-Out:

Keane — Scored: 1 - 0
Pereira — Scored: 1 - 1
Gray — Scored: 2 - 1
Marquel — Saved! 2 - 1
Gordon — Hit the bar: 2 - 1
Vargas — Scored: 2 - 2
Gomes — Scored: 3 - 2
Abadia — Scored: 3 - 3
Broadhead — Scored 4 - 3
Ruiz — Scored: 4 - 4
Gbamin — Scored: 5 - 4
Guerra — Scored: 5 - 5
Gibson — Scored: 6 - 5
Garcia — Scored: 6 - 6
Kenny — Scored: 7 - 6
Martel — Scored: 7 - 7
Davies — Scored: 8 - 7
Mario — Scored: 8 - 8
Anderson — Scored: 9 - 8
Roman — Scored: 9 - 9
Begovic — Scored 10 - 9
Murillo - Saved!

Everton: Begovic, Coleman [Y:42'] (46' Kenny), Holgate (61' Keane), Godfrey (72' Gibson), Digne (61' Anderson), Allan (61' Gbamin), Doucouré (46' Gomes), Iwobi (72' Davies), Townsend (46' Gray), Rodriguez (46' Gordon), Kean (46' Broadhead).
Subs not Used: Virginia, Tyrer, Whitaker.

Millonarios: Vargas (46' Moreno), Roman, Llinas, Vargas, Perlaza, Pereira [Y:43'], Mojica, Vega, Rengifo, Uribe, Silva
Subs: Murillo, Rosales, Marquez, Guerra, Valencia, Ruiz, Abadia, Garcia,
---
Reader Comments (226)
Note: the following content is not moderated or vetted by the site owners at the time of submission. Comments are the responsibility of the poster. Disclaimer
Derek Knox
1
Posted 25/07/2021 at 20:08:34
Looking forward to this if just to see how the new recruits fare. A pity in some ways we didn't have a few more through the door, to bed them in too. Still, with little outlay, hats off to Rafa & Maecel on the incomings thus far and offloading some high earners.
Gary Smith
2
Posted 25/07/2021 at 20:24:02
Rangers just slapped Carlo's Madrid…
I wonder what odds he's got of lasting a full season?
Ed Prytherch
3
Posted 25/07/2021 at 20:28:19
The game is on ESPN2 in the USA at 6:00 pm ET.
Gary Smith
4
Posted 25/07/2021 at 20:30:39
If it were me….
Virginia
Coleman Godfrey Keane Kenny
Gbamin Doucouré
Townsend James Gordon
Kean
Assuming 5 subs?
Allan for Gbamin
Gomes for Doucouré
Gray for Gordon
Iwobi for James
Young cb (Gibson?) for Keane.
Shane Corcoran
5
Posted 25/07/2021 at 20:31:07
Digne on leave?
Dale Self
6
Posted 25/07/2021 at 20:32:53
Thank you Ed. I'll be seeing you tomorrow then. UTFT!!!!!
Mike Gaynes
7
Posted 25/07/2021 at 20:48:36
And right after this game is over, it's the Gold Cup, USA vs Jamaica. If you've never seen Leon Bailey play (our rumored transfer target), here is your chance. Fox Sports 1, 10pm ET.
George Freeman
8
Posted 25/07/2021 at 20:50:28
Digne trained in the first session last Wednesday so surely not on leave.
Steven Sturm
9
Posted 25/07/2021 at 20:58:39
I will be watching from the pub. Had tickets, hotel, airline to be there in person and then it all hit the fan with Arsenal pulling out and the uncertainty of who would actually be in this tournament. Got everything refunded. I'll put the money towards attending a game at Goodison Park.

Paul Hewitt
10
Posted 25/07/2021 at 21:02:10
Looking forward to this game. Hopefully it will shut a few doubters up.
Geoff Lambert
11
Posted 25/07/2021 at 21:15:23
Did I read somewhere that Gbamin has another injury?
Derek Knox
12
Posted 25/07/2021 at 21:24:13
Paul H, Doubters? On TW! Get away. 😂
Jim Lloyd
13
Posted 25/07/2021 at 21:29:40
Derek, Did you get a "Official Membership" so that you can watch the match. I'm going to try and get on Everton Tv to watch it.
Jim Lloyd
14
Posted 25/07/2021 at 21:44:04
That's it, I'm now a member. does anyone know how the match is shown when "streaming" Do you just get on to Everton TV?
Brian Wilkinson
15
Posted 25/07/2021 at 21:50:07
Hi Mike, I watched a couple of the Jamaca games, looks a very decent talent Bailey, would be a very good signing if we got him.
Gavin Johnson
16
Posted 25/07/2021 at 21:59:35
Pity there's not a free stream. I thought there might have been one on FrontRowSport which is my usual go to.
I hope we see the new signings make an appearance and lets hope Gbamin continues his stand out form and Moise Kean can get some goals.
Steven Sturm
17
Posted 25/07/2021 at 22:16:57
http://www.hesgoal.com/news/83575/Everton_vs_Millonarios.html

David McMullen
18
Posted 25/07/2021 at 22:25:47
Thought Hesg was taken down?
Mike Gaynes
19
Posted 25/07/2021 at 22:26:01
Brian #15, what we need most is pace, and Bailey brings that along with a great deal of skill.
Kevin Dyer
20
Posted 25/07/2021 at 23:16:37
hesgoal.com or fpstreams.weebly.com
Kevin Dyer
21
Posted 25/07/2021 at 23:28:10
Uh oh lads we are 1-0 down, corner kick, our zonal defence a bit static there
Danny Broderick
22
Posted 25/07/2021 at 23:41:12
The game is on Premier Sports 2 if anyone has that channel and wants to watch it.
We've conceded a bad goal. Zonal marking from a corner. Their player had a free header while our players (particularly Andros Townsend) were concentrating on just marking space.
Iwobi seems to be playing too far forward on the left. Townsend has struggled to get into it on the right but has had a couple of good moments (a shot after 2 mins and a good right footed cross).
Rodriguez has looked class but he doesn't seem to know where he is playing. He seemed to start up front but is now playing behind Kean and is more involved consequently.
I have to say that Kean has looked hopeless up front. He's just missed a free header 6 yards out. He handled a good cross from Townsend. He's lost the ball several times when it has been played up to him.
Begovic has looked ok.
Steve Griffiths
23
Posted 25/07/2021 at 23:50:22
The game is on YouTube
Alex Gray
24
Posted 25/07/2021 at 23:58:09
We look all over the place and unfit, as expected, to be honest, but to be losing to these is a bit embarrassing. James has had flashes, Townsend looks good when he's on the ball but Doucouré and Allan look miles off it.
Kevin Dyer
25
Posted 25/07/2021 at 00:12:42
You can see the difference in match sharpness and fitness, with Millionarios having started their season already.
Looks like a 4-4-1-1 or maybe a 4-2-3-1 with Rodriguez in a roaming role. We are trying to be quick in transition but they are pressing us well. We've had quite a few miscommunications and overhit passes.
2 good saves from Begovic. Townsend is getting forward well and is looking to get crosses in, not just cutting inside on his left which is encouraging. Cracked the bar with our best chance of the half. James looks fit and our best player by some distance, nuts if we let him leave the club. Iwobi has looked OK, trying to pass forward.
Gotta disagree with Danny, I thought Kean player well. Making some dangerous runs, looks quick and strong and fitter than last time he played for us. He's improved a lot at PSG.
Danny Broderick
26
Posted 25/07/2021 at 00:12:50
First half, we've had about 40% possession. They are halfway through their season, this is our first proper friendly and it has shown. They have edged the first half.
Coleman has played a much more disciplined role at right back.
We've struggled to get the wingers into the game. Townsend hit the post with a cracking effort just before half time though - he has looked good when we have managed to get him involved. Allan has worked hard and made several interceptions. Doucoure has been anonymous.
We seem caught between 4-4-2 and 4-2-3-1. Broadhead, Gomes, Gordon, Kenny and Gray on at half time, so let's see how we perform second half. Pitch is now completely in the shade - it looked red hot out there first half, particularly on the left side.
Danny Broderick
27
Posted 26/07/2021 at 00:33:34
1-1. Penalty converted by Demarai Gray. Broadhead won the pen with a great run and was brought down as he went round the keeper. We've looked much better with the subs on. Anderson has come on at left back - I don't know him! Keane and Gbamin have also come on. 30 mins left.
James Flynn
28
Posted 26/07/2021 at 01:27:21
Fun game.
Jamie, you were on camera twice!!
Jay Wood
[BRZ]
29
Posted 26/07/2021 at 01:33:07
Well, that was a lot of fun in the end.
Anyone ever played football in 88°F (31°C) under a glaring sun and high humidity? I have. It's suffocating, so I'll give the players a pass on their apparent lethargy in the first half.
The entire team changed in the 2nd half, bar the keeper, and it was a better half for the Blues.
Some top quality penalties by both teams. But what about that scally Jonjoe Kelly and his cheeky wink and smile?
Well done, Begovic, both in the game and in the shoot-out.
Can't read too much into a game like this, so I won't.
Silverware for Benitez in his first game. Who'd'av' thunk it?
Bob Parrington
30
Posted 26/07/2021 at 01:35:50
I hope the England (Euro final) team were watching this peno shoot-out!!?
Albert Perkins
31
Posted 26/07/2021 at 01:36:49
For those looking for streams in the future, I watched the game on this Vietnamese channel. Thanks to them. You can try to get English commentary also. My go to from the States.
http://phatgoc.cc/truc-tiep-bong-da
Kieran Kinsella
32
Posted 26/07/2021 at 01:47:19
Everton quickly sussed out that keeper would dive early to the right every time. Nice to see some running and attacking from Broadhead and the new guys. Gbamin looked in decent shape but, even against modest opponents, Tom kept giving the ball away while Gomes was slow and petulant. Hopefully Rafa weeds them out.
James Flynn
33
Posted 26/07/2021 at 01:47:26
Jonjoe Kenny knew it too, didn't he?
Found myself sending positive waves towards my TV every time Gbamin was on-camera. Couldn't help it.
Peter Gorman
34
Posted 26/07/2021 at 01:47:31
Who would have thought that Begovic was so cunning? Diving to his right for all the penalties except the last, to lure their keeper into a perfect trap.
Danny Broderick
35
Posted 26/07/2021 at 01:50:33
Missed the end of the shoot out as I had to work!
Second half did look better. Our changes worked for us and theirs didn't work as well. Midfield looked a lot better. I thought Gray looked dangerous, and so did Broadhead. He started quietly but really grew into it and really should have put us 2-1 up.
The heat was obviously a big factor, but I would say all 3 new signings made solid starts. I thought the young lads all played well. We'll look better with Calvert-Lewin up front and Richarlison playing wherever he plays. A useful game in the circumstances, although we'll need to work on the balance in midfield - a perennial Everton problem. For me, Iwobi and Kean looked lost also, but it's early days…
Kristian Boyce
36
Posted 26/07/2021 at 02:13:37
Just left the stadium, I'm very very burnt from the Florida sun. Had a good mini ToffeeWeb meet up with Jamie, Alan, Lyndon & Dr France.
Very ponderous first half due to the heat and we picked up the game in the shade in the second half along with personnel changes. If we can keep Gbamin fit, he's an absolute unit and ran the midfield along with Gomes.
Superb turnout of blues both English/Scouse and locals. Obviously James was the big draw for many of the Colombians and newer Everton fans. One thing that irked many of fans was the lack of acknowledgement from the new boss. The players came over to show their appreciation, but he stayed over by the dugout.
Kieran Kinsella
37
Posted 26/07/2021 at 02:38:39
Jay Wood
I was surprised Kenny didn't take one sooner. Remember he was 16 and scored the crucial pen for England U17s in the final?
Always had a soft spot for the lad. A true Evertonian.
Mike Gaynes
38
Posted 26/07/2021 at 02:40:06
Kristian, glad you had a good time -- I'm sure it was worth the sunburn.
You got to hang with Dr David? And Lyndon? That's some classy company, mate. Delighted that David is feeling well enough to travel for an event like this.
Danny Broderick
39
Posted 26/07/2021 at 03:00:34
Kieran (37),
Same for me. I thought Kenny had a good game when he came on. He's well worth keeping, in my opinion, if only as back-up for Coleman. Good to have some Evertonians in the dressing room, and he can't be a bad player if he has captained England U20s and won the World Cup at his age.
Phil Smith
40
Posted 26/07/2021 at 03:34:19
Iwobi looked quick and up for it, as was Broadhead. Needs to work on his finishing but quick as. Gomes looked composed but midfield gave the ball away, especially James. Kean looked rusty but got into good positions. Disappointed with Gordon and his pen miss was the icing. Godfrey was awful, I thought. Promising from Gray and Townsend. Kenny was class and surprised me. Encouraging.
Phil Smith
41
Posted 26/07/2021 at 03:49:05
Oh and Gbamin looked beast-like. He could be very useful if he stays fit.
Lyndon Lloyd
42
Posted 26/07/2021 at 04:03:18
It was damned hot in the stadium. Plenty of burned faces for those not used to it I would imagine!
Had the good fortune to watch the match with the Crowley clan having caught up with the Good Doctor and the lovely Elizabeth beforehand and a good time was had by all... especially the concession stands selling water!
As for the game itself, the first half was massively underwhelming but I was encouraged by the second half, Demarai Gray and JP Gbamin in particular. Amazing what a bit of pace and physical presence can bring, eh?
Some very good penalties on display from both teams as well.
Mike Gaynes
43
Posted 26/07/2021 at 05:01:17
My apologies to those who stayed up to watch the Gold Cup game... the Leon Bailey vs Daryl Dike showcase was a bust. Bailey never got off the bench for Jamaica, reportedly not yet fit after a broken toe. Dike was ineffective for the US, starved of service by the Jamaican pressure on the inexperienced US midfield, and came off after 61 minutes.
The US won on a late goal by Matthew Hoppe of Schalke.
Dave Long
44
Posted 26/07/2021 at 05:39:35
would love JJK to make the grade. Seems a very nice, local lad in interviews.
Colin Glassar
45
Posted 26/07/2021 at 06:58:21
I hope this cup fits in our trophy room.
Danny O'Neill
46
Posted 26/07/2021 at 07:14:17
It should do Colin, there's plenty of space!
Thanks for the reports. I tried to stay up, but after a long weekend, I was long asleep on the couch with 2 Rhodesian Ridgebacks by the time kick-off came around. It's not even a particularly big couch, so I don't know how I managed that one!
Good to hear Gbamin played and impressed, especially after some tentative rumours of another injury last week.
Positive feedback on Jonjoe Kenny. I have watched him at Everton and Schalke and long wanted that lad to show me / us he can be an option but have always felt he's quite not there in terms of where I'd like to see us. Maybe he can prove me wrong; after all, I and many others, do bang on about young players maturing and developing at different stages.
It's pre-season, so the important thing is game time and fitness for the players.
I haven't played in the humidity, but I played regularly in the searing heat of Cyprus for 2 years. You become conditioned, but a shock to the system at first. Mid-half water breaks were an absolute necessity.
Great to see Hoppe get the winner Mike Gaynes! Hopefully he can be a key part in getting Schalke back into the Bundesliga.
Paul McGinty
47
Posted 26/07/2021 at 07:16:28
Second half so much better. More pace up top and link-up play much in evidence between the assorted front four. Gomes and Gbamin got hold of the ball and we were able to build play back to front.
In the first half, a lot of long ball to Kean who is no Calvert-Lewin in the air so the ball came right back at us.
have witnessed some shocking preseason performances stateside over the years. Maybe because two sets of supporters were solidly behind their teams, there was more bite to the game.
Finally some great penalties. Benitez did participate in the lap of honor prior to the trophy presentation, side by side with Ben Godfrey.
Lastly, the marketing team did a fine job – Everton anthems were played: Spirit of the Blues, Z-Cars, and Grand Old Team. There was a promo for derby tickets and a flight to England.
Even the half-time interviews were directed to Blues, though there was more fans in the stadium of our opponents
A good day for the club and the manager.
Steve Shave
48
Posted 26/07/2021 at 07:43:09
Dear football Gods, I know I am asking a lot and it is neither fair or realistic to expect too much from him after two years out but please let Gbamin have an injury free season and let him fulfil his early promise at Mainz!
Conor McCourt
49
Posted 26/07/2021 at 08:05:33
Wow can't believe the report on this game with criticism of both Gbamin and Gomes. Someone was watching a totally different game to me as I thought they dovetailed brilliantly with Gomes technical ability being complemented by Gbamin's power and athleticism.
I also thought the young lads Broadhead and Gordon made a big impact when they came on with their energy. Really enjoyed that second half.
Jerome Shields
50
Posted 26/07/2021 at 08:12:37
Wasn't able to watch the match. Glad the hear to good reports of Gbamin, Townsend and Gray.
Benitez was never a man who put himself forward to Fanfs, he always appeared shy to do so.
Steve Shave
51
Posted 26/07/2021 at 08:30:30
Conor 49,
I didn't watch the game bud but really pleased to hear you say that. I still think (hope, pray) Gomes can find his feet on a consistent basis again.
Mike Gaynes
52
Posted 26/07/2021 at 08:39:54
Conor #49, most of the above play-by-play commentary on the game was so ridiculously wide of the mark that I didn't bother to acknowledge it, but the blaming of Begovic for the goal, ignoring that it was Gomes' lovely pass that sent in Broadhead for the penalty, and the mischaracterization of Coleman's yellow card (he didn't drag down the player, he stomped on his heel) are three of the obvious factual blunders.
Derek Knox
53
Posted 26/07/2021 at 08:45:51
Colin G, I bet you are gutted that Iwobi didn't win Player of the Tournament (one match) but unfortunately he was shite again. Ah well there's always time. Very disappointed watching the OS TV Coverage having paid, it kept buffering, sound problems, going off, wouldn't let you Log In again easily!
I missed most of the second half and Gray's penalty because of it, I know it's an old hobby horse of mine, but when the fuck is this Club going to get it's act together and have a proper Everton TV. It's a joke and a disgrace, nearly every other Club even some tinpot Clubs are streaks ahead of us, with our Laurel and Hardy Footy Productions, engineeered by Curly, Larry and Mo, and directed by Frank Spencer.?
Having said all that, pleased with our win overall, a better second half by all accounts. I thought Townsend (1st half), Gray, Broadhead, and even Gomes made a difference 2nd half (must have changed his oats at the Sanctuary) .
Kevin Dyer
54
Posted 26/07/2021 at 08:55:18
Regarding Benitez, I'd rather he was just a methodical pro and putting 100% into preparation and tactical adjustments, rather than trying to endear himself to the fans. As Jerome suggests, it may not be his style.
I enjoyed the match. Other than our sloppiness and clear lack of match sharpness, it resembled a competitive game rather than a pre-season stroll. No doubt the presence of noisy and motivated fans helped a lot.
First half they were much the better team, dominating possession and chance creation. Their right-winger was particularly impressive and gave Digne all the trouble he'd want. After a bright first 5 minutes, we struggled to get on the ball and to play out from the back, which I believe Benitez wanted. No doubt the energy levels of Millionarios and the fierce conditions played a major part in this.
Our best player 1st half was Begovic, who kept us in the game with a couple of smart saves, looked to dominate the box and to get the ball out quickly. He's as good as I remembered from Stoke and will be a more than able deputy to Pickford. I'd have no issue in slotting him in if necessary.
Digne was the sharpest of our defenders. Godfrey didn't look at it and Holgate's passing was pretty poor. Allan and Doucoure struggled to have an impact, except for Allan's fouling! Both will benefit from the 45m they played.
We were listed on TV as 4-4-2 but no way was James playing up top, he had a free role and roamed about. He looked physically fit and used the ball intelligently. Like I mentioned earlier, he's our best footballer by a country mile and should be retained. With a proper pre-season and a normal game schedule, I feel he will play more games this season.
Iwobi and Townsend looked proactive, even if moves often broke down. Townsend played as a conventional right-winger, whereas Iwobi cut inside and tried to look for an incisive pass.
Kean, despite some criticism on here, has improved a lot at PSG. Looks slimmer but stronger, battling away to retain the ball, quick and technically improved. If we don't sell him to PSG he will have a major impact for us.
2nd half was a different game. They made no changes whereas we made a number. Conditions were much more conducive to our play as the pitch was now in shade. I also think (which the commentators picked up on) that Benitez shifted the positions of the midfield two, who were very flat in the 1st, but asymmetric in the 2nd, with Gomes playing further up than Gbamin. It gave us more options to play the ball through the centre, so a big tick for the manager there.
Of note: Broadhead looked a much better player than I'd imagined, quick and took up some good positions. Should have scored when 1-on-1 with the keeper, through his own efforts as he mugged their defender and a couple of loose touches. Good driving run for the penalty.
However, he is now 23 and hasn't played above League 1, so I think he is not at the required level and is unlikely to play himself into the team, but fair play to him last night.
Gordon, by contrast was well off it and will need to show a lot more to be retained and used this season.
Gray looked very fast and mobile and could be a major asset.
Gomes looked fit and had that little bit of quickness back, progressive with his passing and showed for the ball. He'll need to kick on from this as I believe Benítez has doubts about him.
Gbamin is a strong guy, exactly what we need in the engine room, confident on the ball and pinged it about a bit too, which I didn't expect. More mobile than I'd expected also. Great seeing him out there playing football, let's hope he can avoid injury.
Of the others, Davies came on for Iwobi (who played right side 2nd half and faded out of the game) and struggled to get going, a bit slow and negative with his passing, looked uncomfortable out there, which is to be expected.
Kenny, industrious as always but his crossing was poor and I don't think he has the quality in the attacking third, still. Unfortunately, I think he's as good as he's going to get and that means he will be sold this summer.
All-in-all, a very worthwhile match. Hopefully the game against Pumas on Wednesday will be on TV!
Kevin Prytherch
55
Posted 26/07/2021 at 08:56:17
Feel free to ridicule, but if we didn't sign another player would it be all that bad? We seem to have multiple players for every position at the moment.
Is it worth sticking with what we have for another season and giving them the chance to improve?
Colin Glassar
56
Posted 26/07/2021 at 09:00:21
Iwobi shite, Derek? And there was me thinking perhaps I've been too harsh on him and have failed to cherish his hidden qualities. Oh well, there are more friendlies to come so we can see the Real Iwobi step up.
Are you watching, Rafa?
Kevin Dyer
57
Posted 26/07/2021 at 09:03:12
Derek #53 I considered paying for membership but was a bit irked, considering that Leicester's pre-season match the other day was streamed live for free on YouTube. I saw that it was being carried by ESPN2 in the US, so figured I'd be able to find a good stream, which I managed, no problem.
I watched on fpstreams.weebly.com, a guy posted the link on Twitter. Clear picture (on my 20" monitor), good audio, no buffering. I think I had to refresh it a few times, which is not unusual for streams, but it reconnected immediately. I was that pleased with it that I joined the guy's Discord, so hopefully he'll stream the Pumas and Man United matches.
Martin Nicholls
58
Posted 26/07/2021 at 09:07:32
Didn't get to see the game but wonder if any of you guys that did spotted any potential "hidden gems" in the Millionarios line up? I know that Kevin has already commented on their right winger.
Steve Ferns
59
Posted 26/07/2021 at 09:11:29
Conor, you're spot on. Our midfield in the first half, Allan and Doucoure, were terrible. They were outclassed. Gomes came on and instantly we controlled the ball. People don't seem to realise how much better we play when he's on the pitch.
So what if he makes mistakes, we play better. It was evident last season when he was in the team for nearly all of our best performances. Gbamin also had an impact, but he wasn't even on for a full half hour. I'd prefer to see us go 4-3-3 rather than the 4-4-1-1, but let's see how it develops.
Kevin Dyer
60
Posted 26/07/2021 at 09:20:21
Kevin #55,
Yeah, it'd be pretty bad. Gray and Townsend give us actual wide options (though Gray played off Broadhead last night, with Gordon wide left and Iwobi right, 2nd half) and so we have players than will run at defenders and get crosses in and (in Gray's case) pace.
However, it is unconscionable that we do not replace Coleman. He has to be the backup option this season. Kenny is not at the level of a top-half Premier League team, sadly.
I think right-back is where we should be aiming most of our available funds, it is vital we upgrade that position. Other than that it is down to replacing players that are being linked with moves out (James, Richarlison, Kean) if any of those actually happen and those players that Benitez may not rate that have been 1st team regulars. If Benitez doesn't fancy Mina, or Keane then we likely will try and buy a centre-half.
Personally, I would look to sell Gomes and replace him with someone who offers more mobility and creativity, or ball-carrying ability. I've about given up on Iwobi and would sell him, buying a starting-calibre wide player. That would give us Richy and new fella as starters, with Gray and Townsend providing competition.
I would look to retain Richarlison, Rodriguez and Kean – unless PSG stop pussyfooting about and come in with at least £40M.
Ray Roche
61
Posted 26/07/2021 at 09:20:41
I watched the whole match on my TV, thanks to my DG*. Kevin Dyer's report is pretty accurate although I thought Kean was pretty isolated up front and would have benefited from the likes of Gray playing off or with him.
I also thought that the introduction of Broadhead, Gordon and Gray at HT really livened us up and we played with more attacking intent and verve. I also thought Gordon did reasonably well, always prepared to run at them.
Millonarios were, as you'd expect, no mugs and looked fitter and sharper than us, especially first half. When's the open-top bus parade?
DG* Dodgy Box
Dave Abrahams
62
Posted 26/07/2021 at 09:34:27
Steve (59),
I never saw the game last night so I can't comment on the performances but, if you are telling me we played better last season because of Gomes playing, then that surprises me.
"So what if he makes mistakes?" you ask; yes, every player makes mistakes. Gomes is brilliant doing that… and very often. I've heard that Benifica are interested in him. I just hope it's true.
Kevin Dyer
63
Posted 26/07/2021 at 09:35:48
Steve #59 as I've already written, I thought Gomes had a good match. I will note that Millionarios made no changes until quite a way into the 2nd half (as their players are match fit) and it's unlikely they have great squad depth, though they looked a decent outfit 1st half.
However, what he showed last night has to be the baseline if he's to have any chance of playing for us this coming season. Anything less and he's a liability.
Last season he put in similar performances to last night, the odd game or sub appearance but couldn't string together any sort of form. At his best he's good at retaining the ball under pressure and linking the play, but too often he's slow at moving the ball on and kills our tempo.
His metrics last season were awful. Defensively, he's a liability. Offers no goal threat or creativity. So his value is in progressing the ball and retaining possession and I just don't see enough of that to retain him. He's had 3 seasons at the club and is yet to convince. If we get a bite from Benfica or wherever we should take it and give a new player a chance.
Derek Knox
64
Posted 26/07/2021 at 09:40:45
Ray, as you know I also have a DB (dodgy box) not a DBB, Business Woman of the year and yet we have Mickey Mouse coverage of matches, bet that wasn't on her list for recommendations. Couldn't believe I paid to watch the OS when I could have got it buffer-free, perfect sound, and no interruptions, must be the onset of some age-related mental weakness or impairment.
Forgot to mention the impact too of the much-awaited JP Gbamin, he was commanding, strong, broke up potential opposition moves, and distributed well too, long may that continue, and his injuries are well behind him.
Metal Polish back on the Goodison Park Order Sheets again, that was a gruelling competition but thankfully we managed to get through all the rounds (?) and came out on top. 😜😂💙
Kevin Dyer
65
Posted 26/07/2021 at 09:44:35
Ray #61 I will add the codicil that it is pre-season, our first genuine full match, against much sharper opposition to temper any criticism.
Some players looked more at it than others. I mean, Allan and Doucouré had poor matches, but they will be far better in 3 weeks. First half we did have that wide-open spaces in the midfield look that would be familiar from last season.
Gordon did indeed try very hard, wanted the ball and tried running at them. I do think he lost the ball a lot and was loose in possession. He'll get more chances to impress no doubt, but my initial thoughts are that he needs a good high-level loan to round-off the rough edges and get physically stronger; I think he's 20 now but looks a couple of years younger.
Ray Roche
66
Posted 26/07/2021 at 09:47:33
Difference is, Del, my dodgy box works!😁
Yes, Gbamin looked pretty decent for the relatively short time he was on; let's hope he can make an impact this season.
Conor McCourt
67
Posted 26/07/2021 at 10:24:02
Steve F and Kevin D make great observations that I just want to touch upon.
Kevin suggests Rafa doesn't fancy Gomes and I fear the same as he never even really valued Xavi Alonso at his pomp and who he sells and brings in midfield will really tell us if he wants to play good football.
Kevin makes the point about Gbamin playing deeper and that's why I was so intrigued as to how he would perform last night. I'm hoping he will be our Mascherano this season. For me this player could be critical.
Part of the problem with our midfield is that we have a collection of individuals who don't fit the brief. The likes of Davies, Gomes and Sigurdsson are continually lambasted because they are often thrown in together or partner the equally pedestrian but uncriticisable Allan. If we keep Gbamin fit as well as Doucouré, then athleticism no longer becomes an issue. Davies was a big upgrade on Allan who is a liability when playing the defensive role but Gbamin is able to get about the pitch quicker and more imposing physically than both. He will be able to play with any of our midfielders in a two or three.
The other reason Gbamin will hopefully be so important is because he is the only natural defensive player in the midfield. Allan, Doucouré and Gomes are all suspect when playing even in a two and as we seen with Rafa's view of Gerrard he pushed him into the Sigurdsson role as structure is key to how the Spaniard operates. Last night, Gbamin was charged with minding shop so Gomes could get on with dictating the tempo, as Kevin points out.
Personally I agree with Steve that Gomes is really important to us and I hope that he can rediscover his match edge as, although I agree our best performances and results came when he is on the pitch, we need much more consistency and sharpness this season.
Allan in my opinion brings nothing to us and is positionless and so I would bring in someone like Bissouma who is quite athletic (if Gbamin gets injured) and brings quality (only Gomes whose not dependable) and can also play in a two or three box to box.
Gbamin could be a big player for the team because he could improve others around him due to his unique attributes.
Steve Ferns
68
Posted 26/07/2021 at 10:29:00
Dave, Benfica can't afford half of his wages never mind the fee. Forget that. No Portuguese side pays ¼ of his wages normally.
Without Gomes, the midfield offers nothing going forwards. You saw a glimpse of how Rafa wants to play. He wants someone to get it forwards from deep and that's what Gomes does. He positions well to receive the ball and the team pass the ball easier because of that alone.
I repeat again, there were very few good performances last season where he was not on the pitch. Gomes misfiring offers more than any other central midfielder on our books. None of the others can pass the ball accurately over distance. They're incapable of it.
Benitez is manager now and he needs a passer. He's always had one. Even at Newcastle he gave Shelvey an important role and looking good at times. Gomes is the only one we have to play this role. It's easier to teach Gomes to defend better than Allan or Doucouré how to pass better over long distances. They lack the natural vision.
Gomes ain't going anywhere and a lot of you will be eating your words on him.
Andrew Ellams
69
Posted 26/07/2021 at 10:29:04
I've never been sold on Gomes. He always looks like a mistake likely to happen and gives too many cheap fouls away in dangerous positions.
I see the links to the fantastically named Marvelous Nakamba aren't going away.
Danny O'Neill
70
Posted 26/07/2021 at 10:52:46
I think there have been two problems with Gomes. Firstly, he did struggle after the injury. I don't think there is any doubt in that and I was surprised he came back as soon as he did.
Second, it goes back to a lot of our midfield. It's easy to point the finger at them but in their defence, if they look up and there are no runners in front of them, they will hesitate and maybe go backwards or sideways to retain possession. It's not an excuse, but movement and availability is required in front, because most players will instinctively want to keep possession rather than aimlessly punt it to the opposition defence or a corner flag. Against a pressing team, that will obviously result in players getting caught. You can argue it's better to give the ball back to the opposition in their own half, but then you're into early 80s Graham Taylor percentage football. Modern top flight players and teams want to keep the ball.
We need better options in front of our midfield and defence. I had hoped that Gomes could sit deeper between Doucoure and Allan last season, but it didn't seem to work. Tom Davies done a very good job though.
And in fairness, there is another player who when he has the ball, is always looking to go forward. Allan. I recall the patience he demonstrated for the goal against Southampton (I think). Waited and waited close to the edge of our box until the runner presented himself. The easy option would have been to go back to the keeper or sideways to a full back.
I think we underestimate how much we missed both Allan and Doucoure last season. Combined with the tactic of having our midfield camped on top of our defence leaving the forward(s) very isolated figures.
Mind the gap. Close the gap. I rate Gomes. Like any of our midfield, he needs more options and runners in front of him.
Derek Thomas
71
Posted 26/07/2021 at 10:54:32
Steve @ 68; If Benitez can get him doing something that actually contributes by playing him in the 'Shelvey Rolé' and stop him giving away soft freekicks, then Gomes might just be worth his wages - because nobody else is going to pay them and take him off our hands.
Tony Abrahams
72
Posted 26/07/2021 at 11:18:04
The fact that Gomes is our best midfielder at passing the ball, shows me how deficient we are as a team in one of the most important aspects of football.
I'd say he's average at best with regards to passing the ball, and very average when you consider he's got loads of technical ability, because I've honestly never seen a player over hit the ball so often, which is actually hard to comprehend, especially when you consider the pitches they play on nowadays.
Steve Ferns
73
Posted 26/07/2021 at 11:20:49
Andrew, Marvellous does not live up to his name and why give Villa the funds with which to outbid us for Bailey? At best, Nakamba is a poor man's Doucoure. We've got Allan, Doucoure, Davies and Gbamin, we don't want or need another. If Benitez does not rate Gomes, then he needs to sign another passer as we don't have an alternative on our books.
Danny, you make some good points. I would also add the word "touch". Too many of our players lack a decent touch. Case in point is the captain. Watch Gomes smash a diagonal straight into the stride of Digne. The French international doesn't break stride and takes it perfectly. Our captain usually watches the exact same pass bounce out of play. So, Gomes has to play within himself and hit inferior passes to players such as Coleman, because they aren't good enough to control the ball and aren't aware enough to make the run.
It's very easy to make a passer look poor. You just need players who stand stock still and can't control the ball. Repeat this over a couple of seasons and you'll soon destroy the confidence of even an European Champion.
I'm certain that Benitez talked his way into this job by professing to be the manager I want. That is someone who will work with the players we have and get more from them. I think you are in for a lot of disappointment if you expect wholesale changes. Changing players, even where we "spend no money" does actually cost money. Moshiri wants someone to work with the players he bought, Brands wants the same.
Like it or not, but all of our players have qualities, including the much maligned Iwobi and Delph. I do not want a coach because I think that someone can wave a magic wand and make Iwobi into a world beater. The coach just needs to get the players to understand what each other does well and coach repetition of movement to make the most of this and to get our players to link up better going forwards. Even the likes of Iwobi are not a lost cause. I hope Benitez gets a proper attacking coach in, or shows that he knows what he's doing himself (he has employed a lot of top class attacking coaches over the years to pick a lot up).
Marc Hints
74
Posted 26/07/2021 at 11:23:54
I think Rafa is spot on with James, he has the qualities but has no fitness. May work in the European league but you need a high fitness level for the Premiere league. Not sure if James will ever reach that fitness level
Christy Ring
75
Posted 26/07/2021 at 11:24:18
Watched the game and agree with Steve and Conor, Gomes and Gbamin worked really well together. Gbamin is a defensive midfielder and playing Gomes ahead of him is the perfect role for him. A full preseason for Gomes and hopefully Gbamin will make a huge difference. Gomes is the best passing midfielder we have, his vision and accuracy are his biggest asset, and not having to concentrate on defensive duties with Gbamin behind him, he'll be a lot more effective in my opinion. I thought Iwobi's passing was very poor, Davies looked a better threat. Gray for €1.5m could be a steal.
Tony Abrahams
76
Posted 26/07/2021 at 11:37:45
Steve@73, it's why I prefer a verbal conversation sometimes with regards to football, because although I understand what you're saying with regards players can make a passer look poor, especially with the examples you use, I just don't see any excuse whatsoever for constantly over hitting a pass, especially if you haven't got much confidence in the man who's going to receive the ball, to begin with?
Steve Ferns
77
Posted 26/07/2021 at 11:40:10
Tony, he rarely overhits the pass to people like Digne who can read them. It reeked to me of the team not being coached. Players aren't used to the passes from Gomes. It says everything about the way Ancelotti coached the side.
Tom Bowers
78
Posted 26/07/2021 at 11:55:41
We cannot read to much into this game as quite naturally it was a training exercise in tremendous heat even at 6 p.m. local time.
With a strange starting eleven Everton were second best for half an hour and did well to keep the score down and poor passing out of defence didn't help matters.
Alan, Kean and James looked poor at times.
The half-time changes made quite a difference and the opposition looked surprised at Everton's quicker approach until they made their own changes later on.
Although the result was academic it's always nice to be on the right end of it albeit penalties.
Steve Ferns
79
Posted 26/07/2021 at 12:04:45
Why do you say it was a strange starting XI Tom? Only surprise for me was Keane on the bench. Other than that it was as I was expecting.
Danny Broderick
80
Posted 26/07/2021 at 12:13:04
I think some of you are getting a bit carried away with what Gomes did last night. He came on in the second half of a friendly played in searing heat - the pace dropped, and this was always going to be his sort of game. He was neat and tidy but he still gave the ball away a few times - which isn't a massive deal for me, no player keeps 100% possession. But when he loses it, it's his fault not the other players! Let's get it right!
We were better in the second half because the whole midfield improved. In the first half, we struggled to get the wingers involved. We had Kean and Rodriguez up front who weren't great at pressing. Allan and Doucoure had too much ground to cover and were chasing shadows, although Allan did better than Doucoure.
I was disappointed with Iwobi, Doucoure and Kean, but I thought pretty much every other player contributed positively. The new signings and young lads did well in particular.
Justin Doone
81
Posted 26/07/2021 at 12:30:08
I didn't watch it and we all have different opinions on players but JJK is very good at all the basics.
Touch, control, passing, crossing. What he hasn't got is pace and for a modern attacking full back that's crucial.
However, if we actually have and play a pacey, hard working wide midfielder or winger they can help out defensively by forcing the opposition back.
Mo Kean. Is he simply a younger version if Niasse? Pacey, will score a few goals but looks clumsy running with the ball and struggles to hold the ball up and link play.
Forget age and potential for a minute. In a choice between Kean and Niasse for the opening game, who would you pick to start?
I lean towards Niasse for his work rate. That tells you what I think of Kean. Yes I know Niasse has gone and I know Kean is young enough to improve but right now, he's not good enough to play for Everton.
Steve Ferns
82
Posted 26/07/2021 at 12:45:47
Justin, so he's not good enough for Everton, but he is good enough to play in an attack with Mbappe and Neymar? Their other options include Icardi, you know the Argentine international who scored over 100 goals in Serie A for Inter Milan. Kean scored 17 goals in all comps for them. He average 1 goal every 2.0 games in the league too.
It's not a question of whether he's good enough for Everton, it's a question of using him properly and playing to his strengths. As always, it all comes back to coaching. Pochettino got him firing for that reason. We need to do the same.
Danny O'Neill
83
Posted 26/07/2021 at 12:52:41
I see your point, but will slightly disagree with you on the losing possession thing Danny B. I don't always blame the player on the ball for losing possession, although yes, ultimately, they hold the keys and therefore lose the keys so to speak.
If they don't have options, then in an attempt to keep possession, they will wait. That can see them get pressed and lose it, but they had no options. You could go safety first, but you're just giving the ball away anyway; maybe in a less dangerous position admittedly. You could go sideways and backwards, something often criticised, but is that actually the player on the ball's fault all of the time if there are no options?
Then there is the stray pass scenario that actually wasn't a bad pass, it's just the intended recipient wasn't on the same wavelength. Poor Peter Beardsley often suffered from that. I genuinely felt for him in that team.
I'm not saying a player on the ball is never at fault for losing possession; often they are. I'm just saying that a lot of the time, lack of options or players not reading the intent contribute to that as well.
I've always been a big believer that, both attacking and defensively, it's more important what you do off the ball than what you do on it a lot of the time. Even if that is making a lung busting run not to receive the ball. But you've opened up space for someone else to. Good players find and create space.
Easy this football malarkey!! I'm probably over-analysing but know what I'm trying to say. As Tony says, sometimes better to say these things rather than try to write them down!
Conor McCourt
84
Posted 26/07/2021 at 12:57:07
Danny@70- Are you having a laugh? We missed Allan when he was out injured?We won 5 of the 8 games he was unavailable for selection and drew with Leicester and Man Utd. I think your eyes are deceiving you.
Nicholas Ryan
85
Posted 26/07/2021 at 13:03:26
Steve [73]. You make one very interesting point about Gomes and his passing. Both myself and my son noticed [independently] that Gomes hits very long, bullet-speed, passes to Lucas Digne, but to no-one else. Why? Because he knows that, due to Digne's Barcelona [and PSG] pedigree, he will have the technical ability to receive and trap the long pass.
Digne often receives and recycles waist-high passes, at speed, from Gomes. The fact that he [Gomes] doesn't pass like that to others, is an inadequacy of the receiver, rather than the passer.
Barry Rathbone
86
Posted 26/07/2021 at 13:06:11
Justin Doone 81
Agree with that summation of Kean he just hasn't done enough in any of his cameos and quite easy to see why PSG aren't pushing the boat out for him.
Danny O'Neill
87
Posted 26/07/2021 at 13:13:38
More from a disruption to the team Conor. That's a snap shot of 8 games from 38.
Individual ratings are always exactly that. I rate Allan.
I also thing our season and midfield was disrupted by injuries to a thin squad. My concern from the onset. I actually think the Doucoure one hit us harder.
Anyway, the past is the past as they say. Next season is fortunately nearly upon us.
Steve Ferns
88
Posted 26/07/2021 at 13:16:27
Thank you Nicholas. I thought I must be seeing things as no one else seemed to comment on this. It's also rare that he overhits the pass to Digne as well, as Digne anticipates the pass and moves for it.
Barry Rathbone, like us, PSG have FFP handcuffs on. They cannot afford him. They want to do what they did with Mbappe (which led to the aforementioned FFP handcuffs) which is loan to buy with an obligation to buy. Everton would pocket a little bit extra in 12 months time for helping them out.
Tony Abrahams
89
Posted 26/07/2021 at 13:25:30
So when he hits them out of play that must also be down to the inability of the receiver, Nicholas, because he also definitely over hits way to many passes for a player of his pedigree, and this is possibly the reason why he his such an inconsistent footballer.
He's definitely not fulfilling his talent, for whatever reason and my own opinion is that he lacks concentration, which is usually the case with most up and down footballers?
Bill Gall
90
Posted 26/07/2021 at 13:25:52
Team selection and formations were not really the object of this game, it was to see how the fringe players and new signings fitted in against a better level of opponent.
There were good signs from the new signings that show that they will either be pressing, or most likely starting when the new season starts. The one who has shown his desire to get back into the team is Gbamin, and he may force himself into the midfield selection, or at least force the present players who were the usual midfielders to up their game.
Overall with the heat and the opposition it was a good preseason workout for a new manager to get a better idea of the squad in a more competitive game.

Steve Ferns
91
Posted 26/07/2021 at 13:32:47
So it's not the lack of coaching Tony? The "just play" attitude of Ancelotti and his novice son who led the coaching?
There was no attacking build up coached at all. Or is it just coincidental that the players did not anticipate such passes? Whenever a team sat in a low block, the players stood around and scratched their heads. No one moved. There was zero coaching done on this at all.
Andy Crooks
92
Posted 26/07/2021 at 13:44:58
Steve, that is a good point @73. I think Iwobi certainly has quality. Unfortunately, his constant denigration by many on this site creates a narrative wherein their is a reluctance by some to acknowledge any good points.
He was, like a few players, hung out to dry by a superstar manager who, if he ever was a coach, certainly wasn't at Everton. To me, Iwobi has the ability to make short passes in tight areas under pressure and to make himself available for returns. That is the key of possession. He is never going to bomb down the wing and plant crosses on the head of DCL.
Too many of our players, at the end of last season, were allowed to freelance whilst the manager stood on the touchline like a bewildered relic, feigning that this was an air of calm control, when all he could hear was a voice in his head screaming" how the fuck did I get into this".
Sadly, I fear that Rafa may be the same, but without the feigned air of control. But, who knows.
Danny O'Neill
93
Posted 26/07/2021 at 13:50:15
I've accepted he's here Andy and I was in the disappointed camp rather than the gutted or outraged.
But it's Benitez for me. Still too soon to go familiar with the R name. I get a bit of a gag reflex if I try!!!
I do hope this is the moment we see Gbamin come good.
Tony Abrahams
94
Posted 26/07/2021 at 14:09:37
I'm not dismissing anything Steve, including Gomes, but I'm not going to make excuses either for a technical player, who over hits way to many passes for my liking, and I'm sure it's something the player will be aware of more than anyone, because I don't think it's a criticism, more just stating a very obvious fact, which is not very difficult to observe imo mate.
This is something I read on these pages before Gomes, suffered his serious injury Steve, and although I'm all for hitting the ball into a teammate with pace, Andre never seems to try and take the pace out of his pass, and it's why he puts to many balls into touch imo.
This is a crime for someone as talented as Gomes, and something he definitely needs to rectify, because it's very wasteful, and his game is suffering as a result, simply because his game is based on passing the football.
Steve Ferns
95
Posted 26/07/2021 at 14:19:55
Danny, I was in the outraged camp. But I cannot switch off, even if I wanted to. And slowly Everton claw their way back into your mind. The transfer talk, the new signings, the games coming up, and before you know it, it's as you were.
Like I said with Ancelotti, Benitez can be a success. Ancelotti needed to boost the coaching ranks, and hire the then unemployed Paul Clement who had done his main coaching since he was Chelsea manager. Carlo was never a coach himself, and relied on big clubs like Bayern Munich having a roster of top coaches like Hermann Gerland waiting from him. Carlo was always at his best when he inherits such a setup and then just needs to whisper sweet nothings into Prima Donna's ears and use his undoubted tactical ability to change games on the fly.
So other to Benitez. Now he is a coach, but a tactical one. He was a pioneer of video analysis. He did it before most others. Him and Bielsa were the main ones getting their hands on VHS of anything on the opposition and analysing it to death. Fast forward 20 years and every Premier League club employs an army of video analysts. But Benitez is still up there with Carlo at understanding how the opposition will play and finding flaws within it. Both great at tactics, but Benitez better at analysis because of the extra work he puts in.
Where Benitez is much better than Carlo is setting a team up. Simply because he does this himself. He is a tactical coach so he drills the shape and he shows them the tactics and what he wants to exploit. So the bit lost by Carlo, by his son being a novice coach is gone.
What Benitez needs help with though, is everything else. He's always taken a small army of coaches with him, from club to club. These coaches are of undoubted quality. Not least as quite a few of them left to become managers in their own right. The best of them was his assistant at Liverpool and Valencia, Pako Ayesteran. Recently, Benitez lost Ian Cathro from Newcastle. The reputable young scot was hired by Hearts only to get poor results and dubbed the "laptop manager" in the Scottish press. He joined up at Wolves and now Spurs with Nuno (who he met when getting their badges together). I had hoped that Cathro might be persuaded to come to Everton and reunite with Benitez, but no.
Benitez left Newcastle to go to China with Paco de Miguel, Antonio Gomez and Mikel Antia. Sadly, for us, Antia is now the manager of Charlotte FC. So Benitez is down to just two of his long term assistants. Paco de Miguel is a fitness coach, so he is not going to give attacking ideas to our players. Antonio Gomez is another analytical coach, meaning he transfers what he sees on tape into things to exploit in the next game via the training pitch.
So, as I was in Ancelotti's first season, I am optimistic, but that all depends on the hiring of some adequate coaches, because right now, we do not have them. There is no one who specialises in, or who has a reputation, for coaching attacking phases of play. I hope this will change, afterall Benitez has just stolen the Head of Medical from Newcastle, so he is still looking for additions.
Steve Ferns
96
Posted 26/07/2021 at 14:21:38
Tony, it's more of a crime to me that Seamus Coleman cannot control the ball. He's captain of his country! Why not direct the same ire at a talented player who cannot do the basics rather than direct everything at Gomes?
Tony Everan
97
Posted 26/07/2021 at 14:39:54
Steve there was an article on Jamie Harley's appointment a couple of days ago
https://www.liverpoolecho.co.uk/sport/football/football-news/everton-backroom-staff-rafa-benitez-21123315
It looks like he physical fitness, conditioning, nutrition and recovery etc etc has been strengthened. Harley talks well in his interview and seems very motivated and excited to be working with his colleagues.
The 'attacking phase' coach which you speak of could be the last piece in the backroom jigsaw.
Steve Ferns
98
Posted 26/07/2021 at 14:50:12
Nice one Tony.
The only issue with Benitez and fitness comes back to the philosophy of Paco de Miguel. I am not the expert Paco is, for sure, but I do raise a Carlo type eyebrow at the philosophy as reported in Marca when he was Real Madrid manager:
Paco de Miguel has a very simple theory: "The closer a player is to peak physical fitness, the higher risk of injury there is". That is why Benítez's right-hand man prefers to have his players at around 85% of their peak fitness levels.
Derek Knox
99
Posted 26/07/2021 at 14:51:37
Steve, I think that is fairly easy to answer, Seamus arrived basically as an unknown from Gaelic Football, and also for an absolute retrospective bargain at £60K. He has not only excelled but has been an exemplary character both on and off the field, but even after his own horrific injury which could have been career ending, he battled through it and almost got back to his best. Unfortunately age is beginning to catch up and it is slowly having an effect on his performances in the ever demanding Arena that is the Premiership.
Gomes arrived from Barcelona, initially on loan, and did enough to impress and invoke demands for his move to be made permanent. Again a horrific injury had everyone rooting for his recovery, but alas in most people's eyes he has failed to deliver apart from a few minutes in certain games, or not at all. Plus the Fee he arrived for was not exactly 'chicken feed' and I feel as many others possibly do he has rarely justified it, even taking everything into consideration.
Shane Corcoran
100
Posted 26/07/2021 at 14:57:17
Derek, as much as your opening line brings a tear to my eye, Seamus was playing top level Irish soccer when he signed, as modest as that might be.
It's not like Moyes spotted him plucking balls from the sky in Croke Park :-)
John Raftery
101
Posted 26/07/2021 at 15:02:57
Now that we have a few more players with the pace to make forward runs, I can see a positive role for Gomes. The problem has been too many of our midfielders have been ponderous, wanting the ball played to their feet and then looking up to find few options other than a square pass or one back to the defenders.
Jamie Crowley
102
Posted 26/07/2021 at 15:05:06
Last night upon my return from the game, I was absolutely spent. The heat and the sun - which was blaring directly at us the entire game - just sapped everyone.
As others have mentioned, we (the family 4/7th of it) met up with Kristian Boyce, Jay Harris, Lyndon, and Dr.France and Elizabeth France.
I'm going to write an article on the experience, so I'll be brief regarding my interactions with the above folks, but every single one of them were fantastic people, wonderful to meet, and an honor to meet. The Blue family, I can attest, is chalk full of very nice, decent folk. More to be said on that later in the week with an article.
I HAD to comment about the players. Seeing them live really, really opens yours eyes to some things.
Briefly, as again I'll be writing a treatise later in the week:
Kean - just get rid. Get as much money as possible and ditch.
Iwobe - Iwobe is just awful. Colin Glassar has been 100% spot on. 25 million is just UNREAL to pay for this guy. It's like Marcel got shitfaced and couldn't guess which cup the ball was in with an Arsenal street vendor, and this was the result - paying 25 million for Iwobe. At one point someone played a GREAT ball into space on the right hand side for Iwobe. My 12 year old got excited and stood up and said something like, "C'MON!" as there was a real attacking opportunity. I simply said, as Iwobe was on the ball, "We'll see." and didn't even get excited. Sure enough the play shit out. Enough about that.
Tom Davies - this one hurts, but he's simply just a squad player.
Gray - Electric. This guy is lightning fast. He and Gordon in the 2nd half completely changed the complexion of the game
Gbamin - STAY HEALTHY. This guy is a beast and what you don't see on TV is the ground he covers. Really a beast of a player.
Godfrey - Enjoy him while he lasts. He'll go for 75 million in 1-2 years to a big-spending club. He is brilliant.
I'll say a lot, lot more later in the week, but goodness what a few days the Crowley's have had.
We've seen Everton win in PKs and lift a Cup. Next time someone tells the Yank he's a bastardized Blue, I'm chucking that in their face. 😂
Seeing Everton live was just wonderful.
Steve Ferns
103
Posted 26/07/2021 at 15:06:27
Sounds like a cracker of a time, Jamie. Glad you enjoyed it and looking forwards to the full article.
Brian Williams
104
Posted 26/07/2021 at 15:35:41
Jamie, great to hear you so excited and made up you had such a good time doing something we home grown Blues can often take for granted.
Agree with your calls on the players too, especially Colin's pinup boy!
Danny O'Neill
105
Posted 26/07/2021 at 15:43:52
I look forward to the write up Jamie and glad you had a memorable occasion!
Kevin Dyer
106
Posted 26/07/2021 at 15:50:37
Justin #81 when posing that sort of question, the answer is never Niasse!
You didn't watch the match, fair enough. I thought Kean hugely overrated two seasons back and the few PSG matches I saw I thought him easily the worst of their available attackers, despite racking up nice stats.
But believe me, I was surprised last night how much he's come on as a player. His speed and agility with the ball are impressive. He showed good movement and took up nice positions, was strong on the ball and technically improved. He looked fitter and worked harder. He looked every bit an elite prospect who may be entering a period of sustained improvement.
Tom Harvey
107
Posted 26/07/2021 at 15:56:42
Jamie Crowley @ 102
Yes there's nothing like being there live to track a player and see how good or bad his overall game is.
As for Iwobi, Brands might or might not be resposible for him? If I recall correctly he was bought deadline day and was not a top target for us, I suspect Moshiri connections in the Arsenal boardroom motivated this transfer and Brands may have gone along thinking it wasn't an unreasonable buy for the money.
He certainly wasn't a target until last day, which to me says Brands was looking elsewhere? We'll probably never know the truth, but one thing is for sure we have an expensive lemon on our hands.
Tony Abrahams
108
Posted 26/07/2021 at 16:03:21
If I was going to criticise Coleman, Steve, it would be more for his final ball, and if you think I'm criticising Gomes, you are reading me all wrong mate, because it's nothing more than an observation. If I was ever talking football, with Andre Gomes, it's genuinely the first thing I would ask him if I was being honest, because he seems to power most passes, and it's rare to see him clip a long pass, or suck his foot under the ball which creates that little bit of backspin.
Hopefully the best thing about Benitez, will be that he his honest enough to point out were players can improve, because there is nothing better than when your manager takes a genuine interest in you imo, just as long as it's done in the right manner, because everyone just seems a little bit to sensitive in this modern world!
Tony Everan
109
Posted 26/07/2021 at 16:04:12
Jamie 102, sounds like you've been microwaved and rendered half man half baked potato! Great taster post and looking forward to the full report.
Mike Gaynes
110
Posted 26/07/2021 at 16:11:44
Jamie #102, congratulations on having such a great day out with the family. You certainly spent part of it in the presence of royalty, with David and Elizabeth France, as well as the Chancellor of TW.
Glad you took home some memories to cherish, and I'll also be looking forward to your article.
Kevin Dyer
111
Posted 26/07/2021 at 16:16:46
One thing I will add about Gomes, is that he is very limited in the role and position he can play. In a central two his lack of mobility and positional defending will kill his partner, who will be carrying150% of the load out of possession. His defensive stats are appalling for a central midfielder. Iirc last season he ranked dead last in the league for getting beat 1-on-1 out of players with appreciable minutes. He is far better defensively when pressing, which means to me he has to play further forward, like last night, though his tacking success rate is still poor. So, I can see him in a 4-3-3 with someone like Gbamin behind him, but that's it.
I also think it's a risk to include two slow players, so it's him or James. One of those racked up outstanding metrics last season, comparable with the best central attacking mids in Europe, very difficult to replace. The other was Gomes, who for a supposed ball-player did very little with the ball. His progressive passing, chance creation numbers were mediocre and this is allegedly his strength.
OK, Seamus has his limitations and we all know he has to be replaced, but will Gomes be able to connect with Dumfries or someone similar? If he can only pass accurately and consistently over distance to elite players then he's in the wrong team.
Ian Burns
112
Posted 26/07/2021 at 16:18:36
Jamie Crowley - you got me excited just reading your post!! Bring on the article!!
Wednesday's game might give us more of a clue as to Kean's future because although he is not the most elegant of footballers, I tend to agree with Kevin Dyer's view of his improvement.
However, I completely agree Jamie with your reference to Colin's whipping boy - he plays without an ounce of confidence.
Tony Abrahams
113
Posted 26/07/2021 at 16:25:00
I can't wait for this article Jamie, because it's obvious you've just had a great time meeting new people, and also watching the blues!
Steve Ferns
114
Posted 26/07/2021 at 16:30:25
I was misreading you Tony, sorry. As you said easier to discuss things with you face to face. Too many just dismiss the likes of Gomes, when as I said above, they are talented and just need coaching into a team. If players' movement is orchestrated, then the passing will improve with the increased movement.
I fail to see it as a positive when we lose a Brazilian international like Bernard and replace him with a player cut by Crystal Palace. For me, some of these players need to be polished, they are not all turds. There's a reason they are paid big money, even if it is not evident at the moment. Few of them are over 30, and so, for me, it's not a lost cause to coach them properly.
As for Coleman, I don't want to criticise him. He's been great for us. Just you need to bring the recipient of the pass into the criticism too. Otherwise, you just end up with the mind-numbingly boring sideways football we all hate.
Is Benitez one to be "honest" with players? I'm not so sure, for all that I read he's ruthless, there's more stories of him being cold and simply freezing players out without explanation. Gomes is certainly an intelligent guy, reportedly so anyway, and he should get on with the manager and hopefully take things on board.
Hopefully, there's some clear communication and the team gets coached properly.
Danny O'Neill
115
Posted 26/07/2021 at 16:31:22
Interesting observation Steve (@95).
I did say at the time of appointment, in a lot of ways, Benitez is more of Ancelotti, so fitted with the model the owner seems to be adopting and wanting to follow. Big name, past success etc. But that ironically he is more suited for where Everton are now given his past history with clubs and squads not really in the top drawer as opposed to Ancelotti.
The coaching analysis gives food for thought. I know it was only a video clip of the first day back at Finch Farm, but he appeared very hands on and seemed to be running the show himself. Is he not endeared with the coaching staff he has inherited? Is he looking for his own as you allude to in his past? Or does he just like taking control regardless?
I honestly don't know.
Christy Ring
116
Posted 26/07/2021 at 16:41:57
Steve @96 Seamus Coleman can't control the ball? He's been an outstanding fullback and probably one of the bargains of the century for €60k, for someone who can't control the ball, utter crap.
Barry Rathbone
117
Posted 26/07/2021 at 16:43:28
Steve Ferns 88
"PSG have FFP handcuffs on. They cannot afford him."
They bought a right back for £54 mil if they REALLY wanted him (Moise Kean) they would have bought him - they didn't.
They can see what most can after having him for a season that he's ok but nothing more
Robert Tressell
118
Posted 26/07/2021 at 16:55:25
Kevin @ 111. You're right, Gomes is immobile and poor at certain things many centre mid players are often expected to do. However, if he's allowed to sit quite deep and stay close to a similarly deep partner then he will have an opportunity to show passing ability and ball control without being too exposed. Wolves play a bit like this with Moutinho and Neves. If we also have good movement and pace in the final third then he will have players to reach with his good passing range.
Essentially we have tended to set up in a way which makes him look crap. He's not crap, but he is a bit unorthodox and he has his limitations. Unfortunately we've been exposing his limitations instead of playing to his strengths.
Alongside Allan, we could have our poor man's Mascherano and Alonso. Which is at least sort of ok. Gbamin and Doucoure offer additional physicality.
It might mean we've got just about enough for a 2 or a 3 in midfield.
John McFarlane Snr
119
Posted 26/07/2021 at 17:02:32
Hi Steve, [96] I find it 'more of a crime' that you can suggest that Seamus Coleman cannot control the ball, you make it sound as though it's a waste of a pass to give him the ball. I'm sure that the selectors of the Irish team don't share your 'appreciation' of him, hence the fact that they made him [as you rightly say] team captain.
Tony Abrahams
120
Posted 26/07/2021 at 17:11:44
The conversation would be very different if we were speaking verbally Steve, because it's rare for me to really criticise professional footballers mate, although I often try to give an observation on why I think a player is not doing so well, and probably because most of us are experts, watching from the side!
I think football is only really easy around 20% of the time, because it's such a hard physically demanding sport, which means that one of the best things a coach can do, is to get his team as fit as possible, so nothing becomes a chore!
Mike Gaynes
121
Posted 26/07/2021 at 17:23:16
Kevin #111 and other posts, exactly the same case I've been making about Gomes since his first season. If there's a role in the side for elegant passes, there's a place for him. But that's all he brings, and unfortunately some folks here get overly swept up in the elegance. Overall he's a singularly unproductive player.
Robert #118, I would point out that the best attacking side in the world spent three years trying to find a setup in which Gomes didn't wind up looking like crap. They tried him in three different midfield positions and even at right back a few times, trying to max out the effect of those elegant passes. He produced four assists in 78 games. They were all brilliant, as his five assists for us have been, but Barcelona finally realized that the brilliance was an occasional shooting star, not a consistent light that could be reproduced with regularity. And they gave up on Gomes.
Steve #114, Bernard is not a Brazilian international. He was, very briefly, 7-8 years ago. The last of his handful of fruitless appearances for his country was in their 7-1 massacre by Germany at the 2014 WC. He never wore the national shirt again. And he has been replaced in our club by a better player, regardless of who cut him.
Jay Harris
122
Posted 26/07/2021 at 17:28:55
Just surfaced after a gruellingly hot day and even though I am used to the Florida sunshine the stadium was unbearable. All credit to the players and their fitness.
I had the pleasure and the privilege of meeting Lyndon, Dr France, Kristian Boyce and the Crowley clan and cold not have met nicer Evertonians in my 60 years of following the Blues.
The organizers got it badly wrong putting all the supporters on the sunny (rather than the shaded side) of the stadium although Jamie theorized this was so they could sell a small bottle of water for $5 a pop.
Onto the game. They played like a team and their 27 (central MF) looked top notch and drew a number of fouls from Allan which in the Prem would have ended in a RED.
We by comparison played like a bunch of individuals with only Digne and Godfrey looking the part. Moise Kean took the opportunity to show why we need to get rid of him with a very limp showing and failing to head the ball which came in for their goal and putting a gilt edged opportunity over that bar at the other end. He was rightly subbed at HT. The other big disappointment for me was Tom DAvies when he came on. He looked like a lost soul and played like one. Special mention for Broadhead who looked the part throughout the game and has surely made an impression. It is strange we did so well with pens as throughout the game we never looked like scoring despite creating a number of chances. We desperately missed DCL, Richy and dare I say it Siggy. lets hope we are in better shape for Southampton.
Justin Doone
123
Posted 26/07/2021 at 17:33:48
Glad to read a few fans can see progress with Kean. He can certainly strike a ball and obviously score goals
I'm hopeful he can continue to progress. Maybe mentally he's more motivated to show his talent to help the team and or get a move away.
Gomes offers an option, make himself available, is generally comfortable on the ball and is a good passer. But like a few other midfielders we have and have had in the recent past, it's not enough to be at a top 4 club.
Midfield for me is the key battle ground. We have some good Premier league players but they are all limited with similar tools and flaws.
What makes Davies important is his attitude and commitment. He's not top class, he isn't going to play every week, he accepts it. But he is young and improving.
Too many others believe they are better than they are and should start every game. They cost more, earn more, but are less consistent and thats what annoys me.
I watched a lot of talent at the Euros. Good, hard working player's that seemingly have more talent and fight in them than several of our players.
This highlight our poor recruitment and talent spotters. Too many midfielders that can't tackle, track back, lack movement and pace.. it's footballing basics.
Anthony Jones
124
Posted 26/07/2021 at 18:01:50
Unnamed? Seriously?
It is of no legal consequence to name a player who has been suspended pending a police investigation. He may very well be found "not guilty".
The mistake is to conflate guilt with suspicion.
Christy Ring
125
Posted 26/07/2021 at 18:18:38
Steve #114 Bernard WAS a Brazilian international, who has played very little and on a massive salary. Townsend was an English international, who was a free agent and cut his ties with Palace, does that make him a lesser player, just because he's not Brazilian?
Brian Williams
126
Posted 26/07/2021 at 18:19:51
It is of no legal consequence to name a player who has been suspended pending a police investigation.
Anthony, that's not correct. In the case that you're referring to one of the main reasons the suspect can't be named is that by doing so his/her alleged victim could be identified, a victim that may possibly be under the age of legal consent.
Robert Tressell
127
Posted 26/07/2021 at 18:30:17
Mike at 121 # I don't disagree but the point I'm making is that he's not crap. I've said on different threads that he's overrated because he played for Barcelona - and may be no better than a player like Milovojevic at Palace. But he has enough quality to play a part, especially when used properly, and will probably need to because I doubt any club that would want to buy him has the money to do so.
Darren Hind
128
Posted 26/07/2021 at 18:34:00
Wow
A lot of players being wrote off after a pre-season friendly played in what seems like freak conditions.
I believe that anyone prepared to give the Ancelotti appointment a bit of thought instead of being carried away with the name would have known he was a very bad fit for this club. He spent his entire tenure proving it. What a relief he is gone.
Several of these players were made to look exceptionally poor by Carlos special brand of anti football. I simply refuse to believe some of these players are as bad as they were made to look last season. Iwobi cant possibly be - Bet Rafa doesnt ask him to play left wing back
Carlo has gone. His departure will have presented quite a few players with a second chance to prove worthy of the Royla blue shirt
Rafa would not have been anywhere near my top 50, but I'm more than happy for him to prove me wrong. Blank canvas for him too
A great thread, illuminated by the Crowley boy - The arl one
Look forward to his article
Christy Ring
129
Posted 26/07/2021 at 18:46:06
I see rumours we're linked with Phil Jones, oh my god I'd take Tom Jones he couldn't be any worse.
Ray Roche
130
Posted 26/07/2021 at 19:02:36
Or Bridget Jones 😳
Andy Crooks
131
Posted 26/07/2021 at 19:08:26
Darren @ 128, I think right now that writing off players is totally understandable. Wrong, but, for me, this will be a hangover from the Ancelotti experiment. Reserving judgement was right at the core of his reign. Time, patience, another window, too soon etc, etc. I know this, because for a while I believed it.
Well, the good ship patience has sailed. Looks to me as if few will be allowing Rafa a couple of windows. The players, now his players, will get it right along with him. There will be patience for those who refuse to hide and who give their all. However, as is the way, there will be scapegoats. Any guesses as to who they will be?
David Cooper
132
Posted 26/07/2021 at 19:15:51
For some reason 45 minutes of André Gomes has got a few thinking he can be the answer to our midfield creativity problems. When he first arrived, I was really impressed and thought we had got a "real" player. My Portuguese friend warned me that he flatters to deceive and when he gets comfortable, I.e. his contract is renewed, he often disappears for parts of the game. However I was prepared to believe what I saw rather than believe what others said about him.
Then came his horrific injury and a long period of rehab. What I saw last season was a player who offered no goal threat, rarely shot from midfield, preferred to play the easy ball sideways or backwards, often lost his player and had to resort to fouling around the edge of the penalty area. Oh I forgot he is slow as well!
So I'm really glad that his second half performance in a pre-season friendly has convinced some that he is the answer to our creativity problems. He may well be the best in that department of what we have as with JPG, Doucoure, Allan, Davies etc. we are full of defensively minded players. It will be interesting to see what Rafa makes of this and if there is no one out there that we can afford, then we make do with Gomes or play with solid midfield 3 and rely on James, Richi, DCL and Townsend to provide our attacking threat.
Brian Murray
133
Posted 26/07/2021 at 19:17:54
In the eyes of the media (journos) we are still gullible gobshites who are fair game for Man Utd nearly men or any player wanting to kick start their careers thanks to Bill with Gazza, Ginola and then Rooney and that Ilk. I'd rather see if the likes of Whitaker and Broadhead given a chance if we still can't get it right despite a lauded Director of Football..
Danny O'Neill
134
Posted 26/07/2021 at 19:18:43
Darren, you called him R.
I never read into pre-season. Half the time, we play these games with half a team, mix it up to give players time on the pitch and last night were missing a couple of few first team regular starters.
It's a valid point though. Different players can thrive or fail under different managers. I don't see many of the ones we still have leaving now, but I'm still hopeful we might get one or two more in.
Anyone who has been to Florida will know, it's not just the heat. It's the humidity. It borders on unbearable at times, especially when you're not acclimatised to it. I've gone on many an early morning run out there and felt like I've lost most of my body fluids within the first mile. That would have been tough on the players last night; players acclimatised to a Northern European climate. It will have drained them very quickly.
Justin Doone
135
Posted 26/07/2021 at 20:13:41
The extreme climate affects everyone but I get the point some people, nations, areas are more used to it. But generally, the fitter you are, the less affected you should be.
In of terms of playing football in it, being able to keep possession, small, quick, frequent movement whist still probing and threatening the opposition defense is key. Make them chase, draw them out of position – all helps tire the opposition out.
Sadly we and, in general, British teams don't have the mentality and skill set to play like this.
Jay Wood
[BRZ]
136
Posted 26/07/2021 at 20:15:11
A lot to take in about Steve Ferns' evaluation of Andre Gomes. To sum up:
• Everton plays better when he is on the pitch, even if he makes mistakes
• Even a misfiring Gomes offers more than any other central midfielder on our books
• No Everton player other than Gomes can capably pass the ball accurately over distance
• Only Digne is capable of reading and perfectly collecting the wonder passes Gomes is capable of delivering. It is beyond all other Everton players to do so
• Because of the previously mentioned shortcomings of all other players with the exception of Digne, Gomes has to play within himself and hit inferior passes to all other players because they are neither good enough to control the ball nor aware enough to make the run
• It is all the fault of every other player (bar Digne) for standing stock still and failing to control the Gomes' passes that make some of his passes look poor
• Gomes rarely overhits a pass to people like Digne who are capable of reading them. That, or it is evidence of the team not being coached properly if players aren't used to receiving the quality of passes Gomes delivers
• The bigger crime is that Seamus Coleman cannot do the basics and control a football and he should be the target of blame rather than Gomes
Now I for one don't have particularly strong feelings one way or t'other about Gomes because, quite simply, I don't have any great expectations that the lad is going to be a player that takes us to another level.
When Andre arrived at Everton on loan from Barcelona I recall a number of 'half good games' from Gomes, be it the 1st or 2nd half, but very rarely a good 90 minutes performance. He achieved that in the painful Pickford-Origi derby game at Anfield. But that was followed by a lot – and I mean A LOT – of extremely mediocre performances by Andre.
In his early games with Everton he displayed excellent close control and an ability to draw in 2-3 opposition players unable to win the ball from him. Doing so created space for team mates around him. A plus. But a wonderous range of short and long passing, consistent and accurate? Nope.
I for one would not have shed tears if we had not turned the loan into a permanent transfer, but we did and as an Everton player I support him. His 2nd season form continued as his loan season had. Technically gifted. Capable of a decent passing range. Strong at shielding the ball at close quarters. But not a lot of genuine game changing moments. Rather, he became less adept at retaining the ball. Gave away cheap fouls in trying to regain the lost ball. And most frustratingly a woeful inability on many occasions to play either a short or long ball with the necessary care, accuracy or weight, even when in ample space and not being pressured. Usain Bolt on a 1000cc motorbike would need to go some to catch some of Gomes' most woefully overhit balls.
Yes, his recovery from his dreadful injury v Spurs, returning within 100 days to come on as sub away to Arsenal, was hugely commendable. Much in the same way that a player Steve maligns when talking up Andre's skills, Seamus Coleman, did on his own return from serious injury.
Who can still recall Seamus' absurd full 90 minute game in a 2-1 win at home to Leicester when he played like a man possessed and was the standout MoTM? Andre did likewise in his 30 minute cameo as sub v Arsenal on his own return from injury. IMO, that was the best concentrated 30 minutes of football Andre has played in the blue of Everton.
No question. IF Andre Gomes could bottle and reproduce that 30 minute cameo v Arsenal on a consistent basis, we would genuinely have a player to build the team around. He doesn't, so we don't.
By coincidence comparing Andre's entire Everton record against Seamus' since the Irishman returned from his own awful injury, both have played 81 times for the club. My recall is that in those respective records Seamus Coleman has had more memorable games and contributed a great deal more to Everton's cause than Andre Gomes.
Finally, another note on Steve's observations when he gets sniffy about 'failing to see the positive in losing a Brazilian international like Bernard and replacing him with a player from Crystal Palace (Andros Townsend).'
1) There is barely a year's age difference between them
2) We got Bernard on a free from Shakhtar of the Ukranian league. Townsend on a free from Palace of the English PL
3) Bernard's very last game in his very short-lived Brazilian international career was v Germany in THAT 7-1 semi-final in July 2014. Townsend last played for England in November 2016
All very subjective, but it's a stretch to say Bernard's time with us was 'a success' and way, WAY too premature to conclude anything at all about Townsend in an Everton shirt.
Ian Bennett
137
Posted 26/07/2021 at 20:22:33
Gomes looked good with Zouma behind him and Gana by the side of him. It was also pre-injury, and I'll be honest, Son has robbed him of any pace or bravery. We've got a £110k a week dud.
You put Gomes with Mina, Davies, Allan, Sigurdsson, James and you've a side with no pace at all.
I liked him when we signed him, but he needs moving on.
Jim Jennings
138
Posted 26/07/2021 at 20:34:12
Mike Gaynes is spot on regarding Gomes. A completely unproductive player in an attacking sense who opposition attackers stroll past like he wasn't there. He might look the part but he certainly doesn't play it.
Jay Harris
139
Posted 26/07/2021 at 20:48:24
Gomes has never been the quickest and to me like Bernard is a great player for the Spanish or South American leagues where the game is a lot slower.
It was very naughty of Steve to criticize Seamus because I am sure if we had a poll on which player to keep it would be a landslide for Seamus who has defied his aging and battered body time and again.
Having said that our MF is still very weak especially in the goalscoring dept. and more so now one of our goal contributors has been suspended.
I used to say one of the great qualities of the HK 80's side was their ability to get on the end of passes and make them look good but some of the Hollywood passes of the current side leave a lot to be desired.
Simon Dalzell
140
Posted 26/07/2021 at 21:12:26
With only two and a bit weeks to go go before the Southampton game, I can't find any info regarding tickets. I would really like to be there with my son. I would be very grateful if someone could enlighten me.
Phillip Warrington
141
Posted 26/07/2021 at 21:25:54
A good hit out for the team, and once again Everton showed they can be a good team when they play with pace. By that, I mean the movement of the ball and movement off the ball. If Rafa can get them to continually do that, we should have a good season. It's when Everton's movement off the ball becomes slow and indecisive, they look vulnerable.
But, at the end of the day, that is just basic football. When I was playing football, we were always told the responsibility of your teammates is to always give your teammate a minimum of two options to pass to; you do that and it doesn't matter how gifted the opposition is.
Geoff Lambert
143
Posted 26/07/2021 at 21:37:37
Is there any pictures of us holding up our first trophy in 26 years?
Tony Everan
144
Posted 26/07/2021 at 21:44:29
Here you go Geoff
https://mobile.twitter.com/Florida_Cup/status/1419463908432175104/photo/1
Barry Rathbone
145
Posted 26/07/2021 at 22:02:12
Why isn't Moise Kean in that photo?
Bill Watson
146
Posted 26/07/2021 at 22:33:01
Good to see you back on these pages, Steve (Fearns), even if I don't always agree with you! On Coleman I do agree. His commitment and determination can't be faulted but that seems to blind many, on these pages, to his shortcomings as a footballer. His first touch is poor but when he does get down the wing his final ball is often very disappointing. After all these years he still can't put in a decent cross.
After 30 minutes of trying, and failing, to get the Everton stream I finally took the advice on the Live Forum and logged into You Tube. A perfect stream with no buffering! Everton TV is just an ongoing embarrassment including the often inaudible questions at the pre game press conferences.
I did a trial run today to time the home (Huyton) to BMD journey. A ten minute walk to Huyton station and five mins or so walking across to Central from Lime St., (although I could have used the underground). Central to Sandhills station and then an easy 15 minute walk to BMD. 65 minutes in all.
Lots of trucks and vans coming and going at the dock.
It was such a nice day that I walked along the dock road to James Street station. Again just at strolling pace but, at 33 mins, was a lot quicker than I thought it would be.
Jamie Sweet
147
Posted 26/07/2021 at 22:36:46
Moise Kean must have something about him. PSG fans have started a #FreeKean campaign, begging for us to sell him to them.
This is a fan base which has had the pleasure of watching Neymar, Mbappe, Icardi, Cavani, Ibrahimovic, and yet they are pushing hard to get our boy to join their ranks.
Personally I'd like to hold on to him, give him a decent run of games and see what he can really do.
Stan Schofield
148
Posted 26/07/2021 at 23:51:33
Regardless of who the manager is, whether the current incumbent or any of his recent predecessors, we aint going anywhere in terms of progress unless we have adequate strength-in-depth in the squad.
At the start of last season under Ancelotti, the 1st 11 looked like they could beat anyone, and there was some sparkling football. But then our fragility with injuries took hold, showing the usual lack of depth in the squad, and from then on we were too often shite.
This shitshow is likely to continue unless we both retain our best players and add quality players, no matter who the manager is.
Christy Ring
149
Posted 26/07/2021 at 00:05:33
Can't believe the criticism of Coleman, signed in 2009, a class act on and off the field, and now 12 years later Steve Ferns says he can't control a ball, and Bill Watson #146 says he was never a footballer. I would never claim to be a football expert, but a player who always wears the jersey with pride and guts, if we had 10 other team mates who gave his heart and soul in an Everton shirt as Seamus, maybe we'd have a few trophies under our belt. Unbelievable
John Boon
150
Posted 26/07/2021 at 00:29:20
I do not pay too much attention to pre season games. Players are usually at different levels of fitness and some are so desperate to make a good impression that they fall flat on their faces. I watched the entire game and was pleased by some of the action considering it was the first complete game of the season. They are all new faces to a new manager who comes to Everton with his red suit cases trying to please a lot of very suspicious supporters. We have had so much rubbish for too long. I wish him the best of luck mainly because I want Everton to win no matter who is in charge.
Kieran Kinsella
151
Posted 27/07/2021 at 00:31:32
Christy
Steve Ferns is a smart guy but his judgment of Coleman seems rather like his views on Marco Silva: misguided
Terry White
152
Posted 27/07/2021 at 00:48:12
Christy (#149) your views on Coleman could not be biased as he is Irish, could it? I found Bill's comments to be quite balanced and accurate.
"His commitment and determination can't be faulted but that seems to blind many, on these pages, to his shortcomings as a footballer. His first touch is poor but when he does get down the wing his final ball is often very disappointing. After all these years he still can't put in a decent cross."
He acknowledges the positives but makes the points that he now has weaknesses and he is quite right, his final balls are disappointing and he does not put in many decent crosses.
Are we not allowed now to be critical of our players (most people on TW seem to have no problem with this) and point out current weaknesses just because a player has been a good servant to the club for many years? Seamus is nearing the end of his time as first choice right back and Bill is pointing out his current failings that have led to that situation.
Can you not accept that?

James Flynn
153
Posted 27/07/2021 at 00:56:42
Christy (149) etal. "Steve Ferns says he can't control a ball". I wasn't going to comment re: Seamus can't control a ball. Ferns has a history of stupidity in here.
Anyway, I view Ferns' various player/manager/tactics "analyses" with bemusement. Fun reads not to be taken seriously.
I always keep in mind his certainty that Schneiderlin wasn't actually shit. He just "looked" shit because of either our center-backs or (my favorite of Ferns') Gana Gueye "wandering off".
Regarding Gomes, he can and does make a nice pass. He has 2 years left on his contract. He's going nowhere. Hopefully Rafa can get the best out of him. . . . . consistently.
Andrew Keatley
154
Posted 27/07/2021 at 01:21:30
Steve (68) - "Gomes ain't going anywhere and a lot of you will be eating your words on him."
I hope you are wrong on your first point, but if not then I hope you are right on your second point. I'd love for Gomes to find some real form and make consistently positive contributions to the team, but I really cannot see it happening for all the same reasons that others on here have outlined. I'm speculating here (based on watching training footage) but Gomes strikes me as someone who may struggle to replicate the ability he shows in training come match-day. When the pressure is on, and the opposition challenges are fast and full-blooded, I do not trust Gomes to rise to the occasion; he prefers it when the opposition do not press him and he can sit deep and have as long as he wants to pick a pass. There are so many parts of his game that I think are sub-standard - his general defensive work and positioning, his slow distribution, his lack of ability and strength in the air, his propensity to jog slightly behind his opponent, his shooting, his engine, his inability to get himself into goal-scoring positions, his lack of speed, his tendency to get square-on to his opponent and get either dribbled round or passed round leaving him unable to turn and track his man. The parts of his game that are good are not sufficiently good enough to make up for these shortcomings. Not for me anyway. If a creative player is regularly contributing goals and assists then turning a blind eye to their shortcomings is easier - but Gomes contributes so little in that respect that I cannot understand the patience that some people have with him. Maybe there is such a strong desire for him to come good - especially after his horrific injury - that the shortcomings I see are just not registering for others.
It will be interesting to see how Gomes fairs this season - and if he does stay then it feels like your "eating your words on him" line has seen you double-down on your Portuguese affiliations and given everyone a new stick to beat you with - just as some of us were finally ready to put down the Silva stick. My best guess is that Gomes is going to let you down and leave you exposed. Sorry.
Frank Wolfe
155
Posted 27/07/2021 at 01:55:49
I must say that I was impressed with Rafa's post match interview. He seems very grounded and realistic and knows his stuff. He's obviously a details man. He has a lot to deal with coming in late, inheriting issues etc so we need to give him time but I'm impressed so far.
Kieran Kinsella
156
Posted 27/07/2021 at 02:02:12
Andrew
Yeah I have to agree on Gomes. Three years at Everton and, as Mike Gaynes points out, Barce prior so five years of not performing under various managers and multiple team mates but evidently it's because no-one uses him correctly? Robert Tressell said "he's not crap" but I'd say that is semantics. The Olympic Stadium in London is not a crap stadium but is it a good football stadium for WHU? No, it's a crap one as it's. Not fit for purpose.
Is Gomes crap at football? No but he's a crap Everton player as he's not fit for purpose. If he can't figure out how to make suitable passes to "lesser" players than Digne after three years that is an issue.
His slow movement, tendency to get caught in possession and his petulant fouls are also a bigger issue. Good player? In the perfect environment, maybe; good Everton player? The last three years suggest not.
Mike Gaynes
157
Posted 27/07/2021 at 03:02:47
"Gomes contributes so little in that respect that I cannot understand the patience that some people have with him."
It's pretty simple, really. Gomes has an elegance that nobody else on the club has, and he's capable of momentary, casual brilliance... the touch pass to Broadhead last night for the penalty, the sensational left-footed cross for Keane's winner at Wolves in January, the routinely majestic switches of play, those classy little turns on the ball. People just can't give up the hope that those rare moments of magic will become less rare.
But...
Everton: Three seasons. 81 games. One goal, five assists.
Barca: Two seasons. 78 games. Three goals, four assists.
That's all there is.
Darren Hind
158
Posted 27/07/2021 at 03:39:35
Christy
Seamus has all the qualities you mention and more beside he is a fantastic servant to the club. His bravery (both types) and swashbuckling style have made him a very firm favourite down the years. We love him...But Steve Ferns is right.
He overcooked the point by saying Coleman can not control a ball at all, but our boy Seamus is not a natural born footballer. His first touch can be very suspect.
Seamus is the very epitome of what you can become with hard work, dedication and sheer bloody mindedness. Down the years he has learned to allow passes out from the center backs or the keeper to run across his body and take it in his stride. It's when the ball isn't hit crisply enough to run across his body and he has to take a touch that his limitations are exposed. He is not comfortable with balls fizzed into his feet either.
I agree with you when you say we would have probably won a trophy if we had another 10 Seamus's, but you should not be offended by Steves analysis. He is simply stating the obvious. A bit like saying Peter Reid was crap in the air. Very few players tick ALL the boxes
Seamus has shown he can run with the ball and drive at defenders once the ball is under his spell, but he will never be a player who can think about what he will do WHEN he gets the ball under control.
Terence Leong
159
Posted 27/07/2021 at 03:58:56
On Seamus, I think #158 Darren Hind has said it best, in terms of how our captain has (or has been given the chance to) played to his strengths.
We do have to think about replacing him soon, much as we want him to stay on. Both as a result of ageing and his horrendous injuries, he doesn't have that same burst of speed or power as before.
In the recent season, our play has been alot of playing to feet, rather than playing into space. Seamus thrives with that, as Darren has very aptly put it.
And while the club looks to bring in reinforcements at right back, I guess hopefully, Benitez can harness the best of Seamus, because at his best, the attacking threat is there and he contributes alot to our team's fluidity.
Kieran Kinsella
160
Posted 27/07/2021 at 03:59:43
158
Says the man who continually defends Tom Davies? Nice lad, tries hard… but, on a physical or fitness level, not fit to lace Seamus's boots. If Seamus can't think what he will do when he gets the ball then Tom can't think, period.
It's easy and cowardly to knock a guy in his thirties whose leg was broken in half: The fact remains that Seamus has shown over the last 12 years that he has quality and character far beyond most of his team mates.
Steve Ferns is an honorable man but while he knocks Seamus he praises Marco Silva and Gomes. Darren meanwhile celebrates a felon who was banned from traveling to the US and performing the basic functions of his coaching job but wants to have a go at a real Evertonian like Seamus. I guess that's why he says he misses the pub "bullshit" more than the games. Cause he hasn't been watching.
Darren Hind
161
Posted 27/07/2021 at 05:37:45
Get over your obsession, Kinsella, or at least try to understand what you are reading.
You have made a complete mug of yourself fawning over "Carlo Fantastico" and an even bigger mug of yourself posting a toxic article bashing Arteta when Carlo was 15 points clear of him. Get over it.
Now you are at it again. Nobody with a grain of intelligence could read my post about Coleman and say I was "having a go at a real Evertonian".
Fool!
Danny O'Neill
162
Posted 27/07/2021 at 07:07:26
Nothing wrong with pointing out positives and negatives in a player. Every player will have their attributes, every player will have areas they can improve in, or never really have. As said above, very few tick all the boxes.
Messi maybe. And Sheedy obviously!
Taking my Sheedy tinted glass off, even my beloved Kevin had his weak spots. Not blessed with pace and, according to my best mate and many around me in the Gwladys Street, didn't always fancy a tackle or messing his hair up for a header. I did used to point out that goal in the 5 - 0 demolition of United when he split his head open!
The point being, you don't need 11 Sheedy's or Messi's. You don't need 11 great players to make a great team. Look across the Park. Several years ago if you'd have told me Jordan Henderson was going to lift the Champion's League and Premier League in successive seasons I'd have raised my increasing thick eyebrow. Hard work and a blend of attributes make a team. It's a team game.
You need the ingredients. Each player brings their own individual attributes that go into the mix. Like any good recipe, it's about getting the ingredients right. We haven't quite yet.
Stan @148. Exactly that. I was saying it from the onset of last season, I was saying it throughout and I've been saying it since. Very decent first 11 when all fit and not fatigued. But scratch the surface and the squad is thin and takes us back to selecting from the options the random transfer (non) strategy has provided us with in recent years.
Christy Ring
163
Posted 27/07/2021 at 07:45:11
Terry #152 Your comments about me being biased because I'm Irish are a bit insulting to say the least. I'm talking about Coleman's career over the last 12 years, his pride of being Captain and wearing the Everton jersey, and what he gave to the club. In his prime, there wasn't too many wingers who got the better of him.
I know we need a new right-back, unless Kenny can step up to the mark, and Seamus hasn't got the legs to play every game, but still deserves to be in the squad. But what gets me is for someone to say he can't control the ball, and he's not a footballer, is an insult to a footballer who gave his all for the club, and nothing to do with his nationality.
Dave Abrahams
164
Posted 27/07/2021 at 09:07:22
Steve (68), sorry for a late reply, I was out all day yesterday.
Briefly about Gomes, if he makes me eat my words, I'll be the first to accept it, but feel like I will lose a lot of weight while waiting to eat them!!
Andy Crooks
165
Posted 27/07/2021 at 09:24:41
Good point, Christy. I love to see Irish lads doing well at Everton. Perhaps it is irrational but I just do. However, I hope I am not blind to their faults and limitations.
Tony Everan
166
Posted 27/07/2021 at 09:51:22
Seamus has been one of Everton's best buys in the club's history. He's always had certain limitations, but his heart desire and commitment have always been unlimited towards Everton. As he ages this remains but his limitations become gradually more exposed. We needed a right back a year ago, I thought our recruitment team failed us and Seamus in this respect.
Andrew's post #154 on Gomes is right on the money and Mike's stats don't lie. But, Steve's faith in Gomes is not forlorn. We can all see that he has talent and is a graceful player and because of his long contract the club continues to try to improve his shortcomings.
Benitez has recently hired sports scientists and a fitness coach that could well give a player like Gomes a career changing important boost in agility and fitness. He needs to find that extra 5-10% to cut it in a top six PL central midfield. On top this Gomes will need the right players around him in midfield to really push on. If Gomes can find that extra fitness and speed things could change up.
OK it's really clutching at straws but I like to see threads of positivity and possible solutions.
Brian Harrison
167
Posted 27/07/2021 at 10:02:10
There still seems to be no clarity as to who is buying first team players, obviously Townsend was bought by the manager with their past connections, and presumably our DOF bought Gray. Seems Moshiri has learned absolutely nothing in the 5 years he has been in control of the club, still allowing this nonsense to continue. you would have thought the debacle of our previous manager and DOF buying players highlighted this resulted in the club going backwards.
I have to admit I am not a fan of the DOF and if we are to employ one he should be concentrating on bringing youth in and have nothing to do with buying players for the first team. I remember Daniel Comolli being the DOF at Spurs till they realised their mistake, but Liverpool decided to make him their DOF but soon sacked him.
Danny O'Neill
168
Posted 27/07/2021 at 10:18:03
In my opinion Brian, the DoF model works as long as you totally buy in and implement it. You can't go half way house.
The problem we have now with Benitez and previously with Ancelotti is you have "alpha" managers who will profess to being bought into working with a DoF, but really want control themselves. In that context, the DoF model will struggle.
Very brief glimpses, but Benitez seems to take it a step further in wanting to do the coaching as well. No he's either an absolute top to bottom control freak or he doesn't trust the coaching staff he currently has at his disposal? I'll caveat that presumptious view being on the back of a club released video, not inner knowledge of the inner workings of Finch Farm!
All old ground, but if we are to keep the DoF framework, that's why I'd have preferred a different structure and multiple appointments, which would have seen a younger head coach in charge of the first team, overseen by a DoF / Manager with Brands taking on more of his board room responsibilities.
Tony Abrahams
169
Posted 27/07/2021 at 11:08:23
Enjoyable thread this one. I was to busy memorizing Bill's trip, to see him having a go at Seamus, (for those who thought he was) and thinking how lucky I am to live by two train-stations, that are both only two stops from Sandhills!
I think people are being harsh on Steve Fearns, and would have a different opinion once they have met and talked about football with him, and also think the world is going mad, and people are so defensive nowadays, which seems to make a lot of good points get brushed under the carpet. It's sadly how I see a lot of things these days anyway.
I didn't know that the PSG fans had started a campaign for Moise Kean, Jamie, but I was reading about the banner they made for Pogba, the other day. LISTEN TO YOUR MOTHER, BECAUSE WE DONT WANT YOU TO COME HERE EITHER!!
Brilliant that, and although I'd agree that Pogba, has all the talent in the world, would it make me sound stupid in saying Henderson (only because he's been mentioned on this thread) is probably more important to Liverpool, than Pogba has ever been for Man Utd?
Stan Schofield
170
Posted 27/07/2021 at 11:37:59
Mike@157: That's a good post, accurate in my opinion. However, I always think it's difficult to assess individual players outwith the overall 'gelling' of a team. A player can be ineffective in a dysfunctional side, but very effective in a consistently functional one, and the problem with Everton is that we have not been consistently functional for some time.
For me, football consists of memorable moments, and players like Gomes and Rodriguez provide such moments, moments of great elegance that give football part of its pleasure. Colin Harvey used to do the same in one of the greatest midfields of all time (within a consistently functional team) and there is a statue to them outside Goodison even though we won only one trophy with that midfield. I believe that statue recognises a certain unique quality that is legendary, and that quality is elegance, the elegance of beautiful football that pleases the soul.
So with the elegance that Gomes has, which is remarkable, and without overly-comparing him to the great Colin Harvey, it would be very interesting to see how he performs within a setup at Everton where we have the necessary strength-in-depth to provide consistently functional team performances.
Chris Locke
171
Posted 27/07/2021 at 16:14:29
Definitely an interesting thread with many very valid points made.
My opinion is that the biggest issue Everton have as a team is the inability to pass the ball forward.
We spend so long going nowhere with the ball that our players weaknesses are exacerbated beyond belief.
The best ball players on the Everton team seem to have much less possession than our defence and goal keeper during 90 minutes.
Coleman for example will continually be put under pressure by nothing passes from his teammates and then we all wonder why he ends up giving the ball away with a rubbish bit of control.
Gomes will regularly show for the ball in midfield but with little or no movement from anywhere ahead of him he ends up taking the extra seconds on the ball and losing it.
The tactics and mindset need to change massively if the majority of this squad is to have any chance of improving their performances and the teams league position
Steve Ferns
172
Posted 27/07/2021 at 17:01:11
Chris, it comes down to coaching. They had 18 months of Carlo Ancelotti and his "just play" mantra. This was no better than Sam Allardyce who drilled tirelessly on defensive shape and tactics, but did non work on attack, saying the players should just figure it out for themselves.
I'm not saying we should go too far the other way and neglect defence or that we should over train the players. Simply that we need to spend time on attacking movement. Get the players to make set runs and practice the passing so it becomes more measured. Benitez loves his rapid counter attacks, so I fully expect him to work on that. He just needs to finalise his coaching setup, as he is still two coaches down by my calculations (on what he had at Newcastle).
Stan Schofield
173
Posted 27/07/2021 at 19:04:14
Steve@172: I don't think there's any evidence that Ancelotti adopted a 'just play' mantra. On the contrary, at the start of last season with a full-strength 1st 11 we played some very nice attacking football with neat and coordinated interpassing moves, and when injuries occured the tactics were changed to try to adapt to different personnel, obviously with very limited success.
Despite the ultimate disappointment at the finish, last season was marked by an unusual number of very cleverly-worked goals, a fair few of them world class.
Ancelotti did say a number of times that football is a simple game, but that's not the same as adopting a 'just play' mantra.
Steve Ferns
174
Posted 27/07/2021 at 19:13:28
Stan it was widely reported.
Stan Schofield
175
Posted 27/07/2021 at 19:15:32
Steve, if so, probably wrongly reported.
Jay Wood
[BRZ]
176
Posted 27/07/2021 at 19:29:50
I'm with you Stan. Never read or heard anything from the ex-manager remotely close to the 'just play' mantra Steve claims for any area of the park, be it defence, midfield or attack.
I did see plenty of evidence of clear schooling which most certainly was not 'just play' off the cuff stuff.
Steve Ferns
177
Posted 27/07/2021 at 19:32:59
So, Paddy Boyland and Greg O'Keefe are both wrong Stan?
Jay it was about attack, not defence.
Stan Schofield
178
Posted 27/07/2021 at 19:38:23
Looks that way Steve.
Steve Ferns
179
Posted 27/07/2021 at 19:45:26
Based on what evidence Stan? Do you have access to Everton and their staff? Do you have sources you can quote as well? Are you respected enough that it's then referenced by other journalists?
David Cooper
180
Posted 27/07/2021 at 19:56:04
It is very very naive to think the best tactics that Carlo could come up with last season was a "just play" approach. Apart from the last 5 games we had better results than in previous years. Yes we fell apart at the end but for the majority of the season we playing matches that mattered. I guess we just went to Anfield and Carlo said "OK guys let's just go out there and play"!
Stan Schofield
181
Posted 27/07/2021 at 19:56:12
Steve, just going on what I saw last season, and I'm not really concerned about how respected I am, since I'm only a supporter.
Steve Ferns
182
Posted 27/07/2021 at 20:07:07
David, they quoted a player asking Carlo for some particular guidance and he was told to "just play".
Our attacking setup was terrible last season. We could not beat teams who sat deep and let us have the ball. We were not coached well enough. However, when we sat deep and hit better sides on the break, we got good results. We were perversely better against the top half of the table than the bottom. This shows up the coaching. Carlo can pick apart an opponent and explore their flaws, but he did not work on attacking movement enough. So when teams were in the low block, we stood stock still and surrendered the ball and got hit on the break. I do not need to remind you which teams beat us last season. It was embarrassing enough you will not have forgotten. The lack of decent coaching and the inexperience of our main coach was very evident to me.
David Cooper
183
Posted 27/07/2021 at 20:22:21
I would like to know in what context that the conversation between Carlo and the player that was reported third hand and you have cited as evidence of Carlo's coaching approach.
If you are going to criticize his coaching in games when we could not break down teams that sat deep, then surely you should commend him for his tactics against teams that did not do this and we won?
Maybe if Gomes had performed against lesser teams and provided the creativity to break down teams who sat in the low block, then maybe we would have won some of these games.
I think there were many reasons for our abysmal record at home not just our inability to breakdown teams, I would argue that playing in an empty Goodison contributed more than we realized.
Steve Ferns
184
Posted 27/07/2021 at 20:34:41
David, I have commended him for his ability to beat that top sides. In that regard Carlo was a superb tactician. As a coach, he did not bother and left it all up to his novice son. His approach was wise words from the sidelines not in the thick of it. Something that echoes from his tenure of Bayern when he was heavily criticised and that was when he had the assistance of Paul Clement as opposed to his son
Playing in an empty Goodison was a big factor, but so was our lack of invention at breaking teams down. If a team got into their rhythm sitting deep, we would rarely find a way through. You have to accept the deficiencies from Carlo's coaching that led to this as much as I have to commend him for his successes in obtaining results against better sides.
David Cooper
185
Posted 27/07/2021 at 20:46:06
Steve - I do accept that Carlo or his son's inability to work out how to beat teams who sat deep against us at a Goodison was very frustrating and maybe identifies a weakness in his coaching ability. But I don't believe it was because he did not try to coach our players to be more successful.
I think giving in to Richi's desire to play in a more central position reduced our effectiveness in getting behind teams. Plus no matter who he tried to give us this important attacking option also failed. So I criticize Carlo et al. for bowing to Richi's demands in putting one player's personal ambition ahead of the team, though maybe he was trying to keep him at Goodison. Also he is to blame for not finding a way to coach our players to defeat the low block.
But never for apparently saying "just go out and play".
Steve Ferns
186
Posted 27/07/2021 at 21:33:23
"Where many had tweeted or posted following the exit of previous manager Marco Silva in early December 2019, only academy left-back Thierry Small posted on Instagram to thank the Italian for "giving me the opportunity to make my first-team debut" and wished him good luck for the future.
It was also noticeable that of the first team, only a small number, including Richarlison and Rodriguez, still followed Ancelotti on Instagram 24 hours after his departure.
The players had largely been united behind a coach who has won the European Cup with AC Milan (twice) and Madrid, even as he struggled to solve the puzzle of their home form that undermined their targets for the 2020-21 season. A couple had, on occasion, grumbled about being played out of position, but the majority were always prepared to do whatever Ancelotti asked, such was their belief in his credentials.
Those credentials, although not disputed, were not always as readily visible and consistent on the training pitches in Finch Farm, according to one source, who said that direct advice and coaching on specific game situations and mistakes were not forthcoming from Ancelotti Snr.
Although son and assistant Davide, a popular and respected figure, would run regular analysis sessions, the source said the message from his father could occasionally lack specificity — "Just play", was one generic instruction."
**************************************
This is not the first time carlo's methods have been questioned. I raised the Bayern issues before he came. That is the players being so unhappy with Carlo's lack of coaching (following on from Guardiola) that they met in the local park and did extra themselves.
I think it was Conor McCourt who raised issues from Napoli too.
Carlo is still great at many things, man management and tactics for example, but his coaching has been criticised for a while now and "just play" fits right in with everything wrong with Everton under Ancelotti.
Jay Wood
[BRZ]
187
Posted 27/07/2021 at 22:08:29
Steve @ 179. This.
'Based on what evidence Stan? Do you have access to Everton and their staff? Do you have sources you can quote as well? Are you respected enough that it's then referenced by other journalists?'
Right back at you, Steve. Do you?
If you are going to apply that as a minimum requirement on TW before being allowed to post, they'll just be tumbleweed and the prarie wind whistling through the blank TW landscape.
A silly, petulant and unnecessarily aggressive retort.
Steve Ferns
188
Posted 27/07/2021 at 22:17:11
Jay, he dismisses a journalist as wrong. I am not dismissing someone who has a source as being wrong.
Jay Wood
[BRZ]
189
Posted 27/07/2021 at 22:37:45
As David Cooper has already replied to you Steve, context is everything.
You have a surprisingly low credibility threshold if, as implied in your posts, your rationale runs along the lines of 'A.N.Other is a journalist with access to people who work at XYZ company, so anything and everything the said journalist writes, publishes or broadcasts about XYZ is indisputably factual and credible.'
I think Stan (and myself for that matter) lean towards a tad more critical thinking than the passive acceptance of such 'reporting' that you are seemingly willing to embrace Steve.
Kevin Prytherch
190
Posted 27/07/2021 at 22:47:52
Whether Carlo ever said "just play" or not doesn't excuse the mind numbing negative tactics of the last 12 months. The guy was just as much a failure as Marco Silva, but with a much better team.
Anyone who points to a victory against Liverpool needs to look at some context, they were on the biggest losing streak that I can ever remember, my local Vets team could have beaten them. That was lucky timing, not a Carlo master stroke.
Carlo took a team at the start of the season that looked like it could steamroller 75% of premier league sides and turned them into a team that could barely muster a shot on goal. As nice a guy as he was, he was a failure.
Dale Self
191
Posted 27/07/2021 at 22:48:48
Get a Carlonoscopy, really.
Steve Ferns
192
Posted 27/07/2021 at 22:57:06
What's your critical thinking that Everton were well coached to 10th place, and defeats home and away against Newcastle was not down to bad coaching. that it was fair enough to lose at home to dreadful Sheff Utd and Fulham sides, that losing to Villa and Burnley at home was also acceptable.
My eyes told me after Christmas that the team was not coached properly. They were clueless when the opposition sat back and Carlo was doing nothing to rectify it. It entirely fits in with the "just play" mantra. It entirely fits in with Bayern players taking themselves off for coaching sessions in the park away from Carlo.
What's your reason to doubt messers O'Keefe and Boyland by the way? When have they been factually incorrect before?
Kevin Dyer
193
Posted 27/07/2021 at 23:03:45
I was always puzzled by those stories about Ancelotti that came out of Bayern; I think it was Robben who complained about the lack of intensity in training. But surely his coaching methods had been the same at Milan etc, and if so, why no tales of dissent from back then?
Anyway, at EFC it appeared that we struggled to put together sharp attacking moves on a consistent basis and 100% were useless at dictating play and breaking down compact defensive teams. This is suggestive of either poor attacking coaching or lack of emphasis. Conversely, I've seen this with all our managers post-Martinez, an inability to play on the front foot and open up compact opposition.
Robert Tressell
194
Posted 27/07/2021 at 23:07:30
Kevin, by strange coincidence, I've noticed that we have often had very low quality or flawed attacking players since Martinez. I know the coaching makes a difference, but the team sheet usually explains why we struggle to break opponents down.
Steve Ferns
195
Posted 27/07/2021 at 23:13:39
Kevin, AC Milan ended in 2009, with Chelsea similarly still great up to 2011. Guardiola changed the approach to coaching at Bayern with his tenure from 2013 to 2016. The players found the change from one to the other a massive step. They clearly preferred the Guardiola approach. But sure, Carlo's ways at Real were good enough for a Champions League. He had a side that needed his arm around the shoulder rather than firm guidance and intensity. Real Madrid is a different beast now though and we will see if he can adapt to the situation he finds himself in as third best when nothing short of winning everything is acceptable there. I expect him to crash and burn, if he wins the lot, I'll hold my hand up for sure.
Chris Locke
196
Posted 27/07/2021 at 23:16:26
Jay, I think you're being a little harsh on Steve.
He was questioned on the validity of his comments regarding Carlo and so he provided some
I know that the world is all about the 'fake news' these days but I'd ask the question as to why said journalist(s) would bother making it up?
An article about Everton is never going to be read by the masses and shoot them to stardom.
I agree that Journalists can go both ways with the truth but on this occasion I have several examples from last season that suggest that this could be true and a viable explanation for the poor attacking play.
From what I read on here Steve and you both try to form an opinion on more than just the two minute highlight real on MotD.
I don't always agree with what Steve writes but I do appreciate the detail he provides as explanation for how he formed his opinion.
It's certainly better than the miserable uninformed reactionary BS that some like to post on here.
Jim Jennings
197
Posted 27/07/2021 at 23:22:56
The so-called widely reported "just play" instruction from Ancelotti amounts to two journos co-penning an article on The Athletic with "the inside track" on his departure.
Jay Wood
[BRZ]
198
Posted 27/07/2021 at 23:50:50
Goodness, you do make silly presumptions very quickly, Steve.
Where have I said ANY of your spluttering first paragraph @ 192?
You've been off TW pretty much all of Ancelotti's time at the club, Steve. I've no idea if you went totally 'cold turkey' and completely avoided TW, or you've been a voyeur on TW in that time. Reading, but not posting. Frankly, it doesn't interest me. Either way, I feel no need to correct you on your false presumptions.
Why since your TW return you are only now banging on about the Italian when he's been gone two months and replaced, heaven only knows. Who cares? He's gone!
As for the journalists O'Keefe and Boyland, I have ZERO opinion on them. Recognize the first name. Vaguely familiar with the second. The little I've read by them they ain't winning the Pulitzer Prize for Journalism any time soon.
They are job-lot reporters, writing snippets from the club and spinning it out to fill column inches. Nothing deeper beyond the superficial. Certainly nothing investigative or revelatory to make you sit up and take notice.
I certainly won't be propping up my own views and opinions by referencing them as you evidently have as if that negates all counter views to your own.
Lyndon Lloyd
199
Posted 27/07/2021 at 00:00:11
As journalists go, Messers Boyland and O'Keeffe are as well-sourced, well-researched and measured as they come. Regardless, what they wrote in that particular piece rung very true with me.

Having watched on mystified at how an expensively-assembled team under one of the game's most decorated coaches could take to the field at home (where they were expected to take the initiative rather than sit in and hope to nick a goal on the break or off a set-piece), and look so bereft of any clue or attacking ethos, I found "just play" to be as succinct a summation of the coaching under Ancelotti as you could get. Based on the evidence, it would not surprise me in the least if he expected the players to largely get on with it and exhibit their (in some cases questionable) talent rather than coach a specific game-plan for matches at Goodison in particular.
Kieran Kinsella
200
Posted 28/07/2021 at 00:11:05
True or not, I think Steve is guilty of running with it and branding as a mantra when the journos said he "occasionally" made such remarks. They didn't say it was his philosophy or his game plan they said he said it "occasionally"
Dale Self
201
Posted 28/07/2021 at 00:16:35
Again, the reference to some mythical functional team B.C. (before Carlo). They were dysfunctional at best before he got here and it was certainly not a balanced squad. The deterioration could be equally laid at the door of the owners who bought a Carlo and roughly said "just coach these into quality".
What happened after the King buy tells the story if I may speculate the way others are doing. Once he saw that as the response of a club with OSTENSIBLE ambition for Europe it looks as though he was making other plans. That is as believable as the other version being offered here.
Don Alexander
202
Posted 27/07/2021 at 00:29:48
The squabbles above go right under my head if I'm honest.
What's been in my head for decades is just why we, as a squad, seem so bereft of pace, heart, and accuracy/control when it comes to playing football?
In our league pace and heart are key components, like it or not. It's what our scouts, managers, DoF's, self-serving Chairman and owner should recognise as fundamental. But, visibly on match days, they've regularly failed to acquire these key components in sufficient quantity.
Accuracy/control is another key component but this, in my opinion, is coachable. Unfortunately, as above, we've only "succeeded" at regular failure in terms of winning anything or producing exciting football so for me the coaches have a helluva lot to answer for as well.
Andrew Keatley
203
Posted 28/07/2021 at 00:34:53
This contentious discussion pretty much seems to derive exclusively from this paragraph?
"Although son and assistant Davide, a popular and respected figure, would run regular analysis sessions, the source said the message from his father could occasionally lack specificity — "Just play", was one generic instruction."
Carlo may well have given the instruction "Just play". It's quite common for managers to offer their players the freedom to express themselves. Such a command is often seen to be an attempt to throw the shackles off of players, in an attempt to unleash their confidence and encourage them to take risks. If that was all Carlo ever said than I could understand some of the contempt, but the quote is that his coaching "could occasionally lack specificity" - so we have no idea how occasional this was, but must infer that much of his coaching contained specificity (or why reference the fact that occasionally he lacked specificity). Anyway, fat little good any of his specific or non-specific coaching messages made in those multiple abject home performances against teams we should be dominating. I do take issues with Steve Ferns for referring to Fulham and Sheffield United as "dreadful"; they both played very well in those games, and fully deserved their victories. They may have been dreadful in other games over the course of that season - but not at Goodison Park, where the only dreadful team played against them in blue.

Jay Wood
[BRZ]
204
Posted 28/07/2021 at 00:49:57
Lyndon, I can perfectly understand you speaking up for the two named journalists. Aren't they associated with, or at least have contributed to, your TW partners The Blue Room podcasts?
Steve brought the journos into the discussion that HE raised by claiming Ancelotti didn't coach attacking during his time at Everton, that he simply instructed his players to 'just play'. Steve labelled this as a 'mantra', implying that is ALL the Italian did to 'improve' Everton's attacking play.
Until Steve's comments today I for one (and I don't appear to be alone in this) had never heard this 'widely reported' (Steve's words) claim before. That suggests it wasn't in fact THAT 'widely reported' because like many Blues I chase up any news story about Everton. A variety of keyword Google searches has failed to return one single link to this 'widely reported story.'
Doubting my own recall, I delved into my memory bank and the closest I remember anything approximating to that phrase was following the January FA Cup tie v Sheffield Wednesday when both Tyler Onyango and Thierry Small were given their first team debuts in the closing minutes.
Post-match Small said his Italian manager told him 'to keep things simple, to just express myself and be calm.'
That's it.
There was plenty of evidence last season that some of Everton's attacking play was most certainly not 'off the cuff', but deliberately, structured and - yes - coached.
Did things unravel in the closing weeks of Carlo's tenancy? Yes.
Did I expect more from him in addressing that? Yes.
Did Carlo successfully address our impotency at home? No.
But it doesn't naturally follow from that, that Steve is correct in his claims that Carlo's sole contribution to his attackers was 'just play'.
Way too simplistic.
Kieran Kinsella
205
Posted 28/07/2021 at 01:32:08
Jay Wood
I read it in The Athletic at time as my brother in law — a journo works for it. But I thought it was a bit of a nothing story to be honest. The Bayern allegations were much more specific and extensive but also later denied by the players. Obviously we were crap at home and Carlo has be accountable for that but this "occasionally" reference didn't shed much light in life at FF from my point of view.
Kieran Kinsella
206
Posted 28/07/2021 at 01:37:53
Christy/Andy
I don't want to speak for fellow Irish blooded individuals but while I love Seamus for club and country I'm not blind. My own Wexford born cousin was in the academy but ultimately he was good enough. As a fan and relative I'd have been very unhappy to see him playing for the first team with his limitations.
Lyndon Lloyd
207
Posted 28/07/2021 at 01:38:37
Jay, you've become incredibly cynical of late. I'm not a sycophant by nature; I don't dole out praise or offer support for people just because of some association, tangential (in this case) or otherwise. (I imagine there are some past or even present guests/associates of The Blue Room whom I wouldn't defend as readily and that might apply to all sorts of media.)
The assertion by Paddy and Greg wasn't based on anything Ancelotti said publicly; it came from sources within the club with regard to training. They do have their sources and I'm inclined to believe them, not least because, as I say, this particular intel explains a lot about last season.
How much it explains it, we'll never know
Jim Harrison
208
Posted 28/07/2021 at 01:39:30
Carlo came up with a game plan. In the early season it worked. Get the ball to DCL in the six yard box. Once this was countered by packing the area around him there didn't seem to be a plan B.
Sure, injuries had an effect.
After Christmas he looked disinterested. Perhaps worrying about his daughter after the break in and her well-being. Perhaps the death of his ex wife, parent to his children played into it.
Either way, the football was crap and the results average.
That said, the difference between getting into Europe and finishing tenth was only actually a few goals.
Started well, faded.
New manager now. Crack on.
Ron Marr
209
Posted 28/07/2021 at 02:02:57
I remember Peter Green saying "Then Play On" that turned out pretty good.
How about the game? First half mostly crap. Midfield ineffective. Same old same old. I know, first official pre-season game. Goal conceded was enough to give one flashbacks of the Marco Silva era. Second half better playing against Millonairos reserves. ESPN2 commentators were dreadful had to mute the sound.
Hoping for a better performance from the players against Pumas.
Danny O'Neill
210
Posted 28/07/2021 at 06:23:13
Well, I woke up to see this one had taken a diversion! My take on some of what I've read.
I subscribe to the Athletic and use it to read up on many football topics, not just Everton. Greg O'Keefe is a very balanced, informed and well sourced journalist; particularly when it comes to Everton. So, whilst there is never a 100% guarantee, I tend to take note of what he writes with interest.
On the "just play" remark. I was a big Ancelotti fan. I wouldn't have put myself in the complete "happy clap" category as many were labelled, but I was "happy" we had a big footballing name at the helm and thought it would propel us over the course of 3 seasons or so. Hugely disappointed in him leaving; more so in the manner in which he did.
But that remark would make sense if you take the criticism labelled at Ancelotti as being someone who has only achieved with a ready made team of top drawer superstars. In that context, he probably is used to the only necessary coaching instruction being "just play".
Darren Hind
211
Posted 28/07/2021 at 06:30:01
Carlo is not a track suit manager. He expected his son to coach. That's what he brought him here to do. Carlo took control on Match days. He dictated the tactics and selected the team. He spoiled all of those games.
Very little attention was given to attack. That was evidenced by the lack of intent. It's why our forwards who had hit the ground running faded so badly. Carlo's contribution to the development of our attackers was demonstrably lacking. Pearls of wisdom like "watch the great strikers".."finish with one touch"..and yes, Whether you like it or not, "just play" could have been given by anybody in The Chepstow. He had only ever inherited or bought world class. He had no idea how to develop them
I find it highly amusing that somebody who has for years gleaned his information and stats from fan-boy magazines should dismiss a couple of well connected ITK reporters like Boyland and O'Keeffe as "Job-lot reporters"
Andrew Ellams
212
Posted 28/07/2021 at 07:36:47
I see this thread has turned into the clash of ToffeeWeb's two biggest I know more than you know merchants.
Danny O'Neill
213
Posted 28/07/2021 at 07:45:01
That's what intrigued me about Benitez. To repeat myself, it's only an observation off the back of the club's video release of the first day back at training.
But, whilst I can see similarities in why the club opted for Benitez (big name, past success, albeit some time ago etc), the difference was that he was absolutely in the mix controlling the session; to your tracksuit manager point Darren.
To repeat myself again. Is he a complete top-to-bottom control freak, or is he not endeared by his coaching staff? As I understand, it is quite common now for the manager to dictate the coaching sessions, but then sit back from afar whilst the coaching staff deliver and only step in when necessary.
Again, difficult to tell from a 5 minute video clip, so maybe we only saw those bit when he was involved. Marketing type stuff?
I've been avoiding the subject, but might need to discuss our new manager with a couple of my red cousins and brother-in-law to get a flavour. Pointless asking my Newcastle mates as they loved him, but that tends to be tainted by their recent low expectation, hatred of their owner and dislike of their current manager.
Danny Baily
214
Posted 28/07/2021 at 07:52:37
To those who suggest that Carlo only does well when inheriting quality players, he had our best win percentage of any permanent manager since Kendall MK1.
There's no sugarcoating the fact that him leaving was a big blow. Benitez is a good choice for his replacement though.
It's not rocket science. Get the best manager you can and support them in getting in the best quality players they can.
Danny O'Neill
215
Posted 28/07/2021 at 08:07:15
Nowhere else to put it yet but I'm sure the Editors will sort it.
3rd kit. Is Calvert-Lewin smiling with joy or is it a nervous laugh at the state of the design?
Peter Gorman
216
Posted 28/07/2021 at 08:40:38
Danny, I doubt DCL has any qualms over the state of the design. That kid would wear absolutely any old shite.
Danny O'Neill
217
Posted 28/07/2021 at 08:59:16
I guess it's called fashion Peter? That link just made me feel old!!
Eddie Dunn
218
Posted 28/07/2021 at 09:27:35
Finding out exactly what goes on in training or in the dressing room is much harder these days. The distance between fan and player is light years. A mate was ghjost writing a book for one of our old players and getting anyone at the club to say anything interesting was impossible. The odd nugget was immediately followed with "but you can't put that in".
The contracts probably have non-disclosure clauses, and many ex-players are keen to explore media jobs or coaching roles and exposing former employers/colleagues as they really are just doesn't get you anywhere...unless you're Roy Kean !
I wonder what Davide brought to the table, how much actual input Duncan had and what really ruined Carlo's love affair with the club?
We can all put the pieces together and sumise the likely answers but only first hand information can give you the real truth.
Danny O'Neill
219
Posted 28/07/2021 at 09:58:16
They have become increasingly detached from the fanbase Eddie, so most of us have no idea what goes on in reality. Maybe with good reason as they can be easily exploited, especially by the media.
That's what I enjoy about my trips out to Gelsenkirchen to watch Schalke. Not the first team admittedly, but I've spent mornings strolling around the academy pitches watching the youth teams before the match. You can stand within reach of the coaches, listening to them (if you speak German) and some of the young players stand talking to supporters if not involved. The latest Sane brother to come through was very popular on my last visit.
Really refreshing as opposed to our "Fort Knox" style lockdown. And that's not just directed at Everton. Again, I accept there is some degree of necessity for this, but although we tout ourselves as a community club, we have a tool for that (EITC). The reality is the club is behind locked doors.
David Midgley
220
Posted 28/07/2021 at 11:06:22
" Just cook will ya ? "
Re. Gomez. Would we have achieved the
success we've had in the last three seasons i.e.
Champions League , Cup Finals etc. If he hadn't
been here ?
He hasn't made a difference.
Carlo et al have gone. Like it or lump it.
He, like the Special One were far better ten
years ago. We/ they all lose it over time.
Kites don't fly with yesterday's wind.
Let's concentrate on the here and now.

We have a new manager now. He has ability and he has a point to prove to himself and the wider football community. He will do his utmost to succeed, and I expect him to. He won't want to be a failure.
" Jut play " I can't believe all the comments, has
it any relevance ? He said ! You said ! I could tell the way you were looking at me what you were thinking !
It's like reading ' The Bunty '.
Jim Harrison
221
Posted 28/07/2021 at 11:07:13
Eddie 218
Love affair? Fleeting clinch?
I think it's obvious why he left. Real Madrid. One of the top 5 jobs in world football.
To echo a point from another poster, he did manage to get a decent win ratio. But he didn't do much more than Silva or Koeman in terms of providing entertainment! I would argue that there was a couple of spells in beer Silva that showed real promise and some really good performances. ThT would be the very least to be expected of Carlo given his pedigree and salary!!
Anyway, someone said crack on, can't remember who.. . .
Phil Bellis
222
Posted 28/07/2021 at 17:29:33
The "Bunty", David - was a "Judy" man, myself 😉

Steve Brown
223
Posted 28/07/2021 at 17:42:04
If Ancelotti took a 'just play' approach to coaching, it yielded away victories over Spurs, Liverpool, Arsenal, Leicester, West Ham and Leeds (who all finished above us). The same approach yielded relegation-form results at home. It doesn't ring true as a root cause given the huge delta in home and away results.
It is more likely that his advice was situational, aimed at a striker who perhaps was over-thinking his play who he wanted to trust his instincts. As for credible football journalists quoting credible sources, just read the daily (and often contradictory) transfer rumours. They just make shit up on a daily basis.
Kevin Dyer
224
Posted 28/07/2021 at 17:57:51
Tony #222 Yeah just seen that. No problem with that, so long as he's our backup RB the next 2 seasons.
Tony Abrahams
225
Posted 28/07/2021 at 18:51:00
That was the hardest thing to fathom about Ancellotti, Steve, because Everton looked well drilled away from Goodison, and yet looked the total opposite at home. I thought it was because we usually played a different system, and it was something the players just couldn't get to grips with, with the hardest thing to work out, was why he kept changing things at home.
Just play, sounds very similar to what Brian Clough, used to say to his players before every game. Pass the fuckn ball, or get it and play it until it comes out your fuckn ears. It was always very simple instructions, although I remember being at Bramhall lane once, and the changing rooms were massive and looked like they'd just been refurbished. Clough was made up, saying it's like a five star hotel. Then it was that's it lads get out there and play like a fuckn five star hotel, although I think he'd ordered room service a few times!!
Ed Prytherch
226
Posted 28/07/2021 at 19:19:04
"just play" is probably related to "don't think about it, just do it" which is almost always the best advice to any athlete who has become expert in his skill.
"Perfect practice makes for perfect performance",
Once a skill has been mastered and is performed automatically, probability of error is low but as soon as the athlete starts thinking about what he is doing the error rate increase rapidly.
A good example is Jamie Vardie's finishing. It is usually so fast and instinctive and his succes rate is high, same with Harry Kane. Then see a less confident player get one on one with the goalie and he usually misses.
If you watch track and field (athletics) you will see high jumpers who jump with perfect technique until the bar reaches a height which they have not often cleared and their technique falls apart and they don't come close to clearing it. It is because they started thinking about. My advice was always to forget about the height and just jump the way that you did at the lower height.
Some years ago in a women's singles final at Wimbledon a player was within two points of a straight sets victory then she suddenly started playing badly and did not win another game. She had played naturally until she was close to victory and then started to think about what she was doing and it went south from there.
I believe that this ties in with Carlo's advice to DCL to get into positions where he could score with one touch, situations where he did not have time to think about where he was going to place it.
"Just play" does not apply in practice where the learning process is taking place but it may often be the best advice for the game.
Steve Brown
227
Posted 29/07/2021 at 15:40:24
Tony, nice story about Cloughie. Thanks for sharing!
---
Add Your Comments
In order to post a comment, you need to be logged in as a registered user of the site.
Or Sign up as a ToffeeWeb Member — it's free, takes just a few minutes and will allow you to post your comments on articles and Talking Points submissions across the site.