Everton take ownership of Bramley-Moore Dock
Monday, 26 July, 2021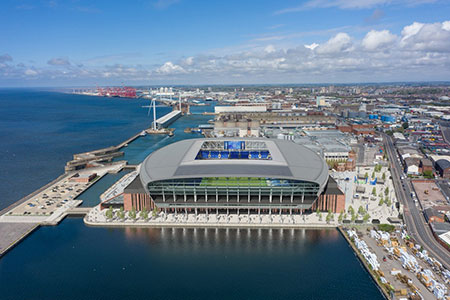 The projected three-year construction phase of Everton's new ground at Bramley-Moore Dock can officially begin after the club were handed the keys to the dockland site today.
Together with Laing O'Rourke, as explained in an email to supporters from Stadium Director, Colin Chong, the club is beginning "enabling works" which will, over the next few weeks, prepare the site for the actual build.
The job of infilling the dock with sand from the Mersey estuary won't start for several weeks — repairs to the dock wall which will be preserved underneath the stadium and the careful removal and rehoming of any wildlife and other organisms in the water will be undertaken first — but Chong expects that ground will formally be broken on the eastern quayside in the early part of August.
There will, of course, be no public access to Bramley-Moore Dock while construction is underway but Everton will be installing a webcam to broadcast live images of what is happening at the site as well as launching a new project website to house the latest news and which will act as the portal for any questions supporters may have on the process of building out the new ground.
The club hope to have finished construction of their new home by the summer of 2024.
---
Reader Comments (136)
Note: the following content is not moderated or vetted by the site owners at the time of submission. Comments are the responsibility of the poster. Disclaimer
Colin Glassar
1
Posted 26/07/2021 at 21:14:55
I can't wait for the webcam to be up and running. I will be glued to it 24/7 as I still find it hard to believe after so many lies, missteps, bungling etc… is this really going to happen?
Mike Gaynes
2
Posted 26/07/2021 at 21:23:50
Me too, Colin. It'll be my new favorite show!
Geoff Lambert
3
Posted 26/07/2021 at 21:34:01
Were they expecting us to lose in the final last night.
Or is this really happening? The start of a new beginning.
Tony Everan
4
Posted 26/07/2021 at 21:41:33
If I was 16 again I'd be tempted to climb up the Hydraulic Tower and plant an Everton flag on top. One giant step for Evertonkind.
Peter Mills
5
Posted 26/07/2021 at 21:42:33
I drove past the site today. There was quite a bit of quiet activity, people familiarising themselves with the place, entrance security starting to be established.
Soft sod that I am, I found it emotional, thinking of the 100 years or so my grandad, dad, I, son and daughters, grandsons and many other family members and friends have been attending Goodison.
I've promised one grandson my ticket for the 1st match there, I look forward to my first visit shortly after.
A little piece of history.
Phil (Kelsall) Roberts
6
Posted 26/07/2021 at 22:02:39
Just hope the webcam is not being done by the same people responsible for the broadcasts of the non-1st XI games. If so the place will have been built, opened, hosted a lap of honour by our players with the PL trophy before we get a feed.
Ian Burns
7
Posted 26/07/2021 at 22:08:02
Having my first game at GP in 1959 this still seems surreal.
I can't wait to start my daily visit to the webcam - well done to all who are making this happen.
Jim Lloyd
8
Posted 26/07/2021 at 22:12:05
It is so overwhelming that we're moving inrto our new home. You're right Peter, it is emotional, tremendously so and that emotion will become a cauldron as the time comes to pick up our tickets, go and meet our mates before the match...and have the walk through those Dock Gates!!
My Dad told me that he biked it down from Haydock to watch Dixie Dean and co, win when he got his 60th goal; and stars for Everton before him. And there's Evertonians who have been going the match since the late forties, Wow!!
And Useless&co, can weep and moan of the loss of their heritage, while we'll be seeing it rise' to bring the North End of our City, to life!
I'll be taking regular walks along the canal and get off at the great Tobacco Warehouse and see the progress of the building of our new home.
Dave Lynch
9
Posted 26/07/2021 at 22:18:44
OMG... I admit at 60 yrs old I never thought I would see this happen.
Well done blues.
Jerome Shields
10
Posted 26/07/2021 at 22:25:16
I never thought a Stadium Project would get off the ground after years of undeliverable promises. It is a Great day that it is finally happening. I can only imagine the feelings of those that have supported for generations. Good luck to them, and well deserved.
Kevin Prytherch
11
Posted 26/07/2021 at 22:25:41
All well and good having ownership, but has anyone actually seen a spade in the ground?
Anyway, good to see that Kenwright has finally delivered on the stadium. I for one never doubted him for a minute.
Once Unsworth gets the U23's sorted in his new role, we'll also have a team half full of scousers to kick off in it.
Congratulations all round.
Danny O'Neill
12
Posted 26/07/2021 at 22:29:43
Strategically, one more step forward.
Gordon White
13
Posted 26/07/2021 at 22:35:00
Woo hoo. Like Colin, can't wait for the camera. Hopefully more Hollywood than bird nesting box quality.
Justin Doone
14
Posted 26/07/2021 at 23:29:16
Get in!
Happy to wait until 2025, 3 years is do-able, but pushing it a little for an August kick off with Brexit still causing supply issues along with a global pandemic.
Christy Ring
15
Posted 26/07/2021 at 23:39:31
One giant leap for mankind!!
David McMullen
16
Posted 26/07/2021 at 23:51:38
One middle finger to Unesco WH
Bill Watson
17
Posted 26/07/2021 at 00:00:41
Peter #5
I walked from Sandhills station (a 15 min stroll) and then past BMD and on to James Street station (about another 32 mins). I too, noticed a lot of coming and going of vans and one lorry with 20, or so, portable bogs on it!
My first game was in 1958 and my ambition was to, at least, see the first game at BMD. All the delays have meant I've scaled that back to seeing work start and then the actual construction to begin. The first box is now ticked; now I just hope Moshiri doesn't fall under a bus!
John Gorham
18
Posted 26/07/2021 at 00:04:44
WOW, very proud day, can't wait for the first match in the new stadium.

James Flynn
19
Posted 27/07/2021 at 00:23:59
Exciting times.
Mike Gaynes
20
Posted 27/07/2021 at 00:27:03
Tony #4, we'll call it Mt. Everan.
Ed Prytherch
21
Posted 27/07/2021 at 01:30:58
I used to go to Goodison Park when I was a kid, First game was 4-0 over Blackpool (with Stanley Matthews), attendance 65,000 in 1960.
I moved to the states in '82 and I have only been back once when Roberto was manager and it wasn't the same. For me, the old Goodison Park went a long time ago. I can't wait for the new stadium.
Kieran Kinsella
22
Posted 27/07/2021 at 02:10:15
We've built nothing yet. There's a brown site near where I live that's been on the verge of development for 11 years. 18 months ago a company finally began work on a mixed commercial site. The infrastructure of apartments, shops, movie center sprung up then one day it stopped. 80 percent done and some financial issues of the investors caused the banks to call in the loans.
I'm not in the Tony Marsh camp of "it will never happen"; but I am putting the champagne on ice. I'll crack it open when it gets the final safety inspection approval. Until then, Goodidon it is.
Paul Jones
23
Posted 27/07/2021 at 04:27:03
I'm still sceptical whether this will happen? Still remember when the first spade was planted when our deadly rivals were going to build their new stadium where I subsequently parked for a number years. I hope I'm wrong but wary of recent events like loss of World Heritage status?
Derek Knox
24
Posted 27/07/2021 at 05:32:25
Good news that this has all come together quicker than expected, I know there have been hitches but these things can and generally drag on for ages before someone makes a decision. Just hope that al goes smoothly from now on with no red tape intervention, material shortages, labour and company issues etc.
Colin @ 1, Don't be getting any fancy ideas about getting Finch Farm, doing the same and setting up a webcam for your favourite player, Iwobi-Cam! :-)
Alan J Thompson
25
Posted 27/07/2021 at 05:50:04
"Rehoming of any wildlife and organisms in the water"? I hope they haven't come over the fence from next door, the old Mersey Goldfish.
Derek Knox
26
Posted 27/07/2021 at 06:07:10
Alan, or a shoal of Garston Trout, or Seaforth Salmon ! I believe the one-eyed variety are a protected species.
Alan J Thompson
27
Posted 27/07/2021 at 07:35:28
Derek (#26);
Would that be the fabled one-eyed, red-skinned monster to the north of Albert Dock?
Kenn Crawford
28
Posted 27/07/2021 at 07:39:16
Alan #25,
I have not heard that term 'Mersey Goldfish' in 47 years – that is the exact amount of years I have lived here in Sydney, Australia. It sure made me smile.
My aim now is to live long enough to come home and see a game at our new ground. Considering it could be 2025 before they play there, I will be 73, so fingers crossed.
John Zapa
29
Posted 27/07/2021 at 07:58:41
I'm still waiting to hear about how they will raise the funds to pay for it. Reputable Financial institutions will not lend money to a business that has been making losses for the last few years and is projected to continue making losses. I can see the club being burdened with usurous loans, similar to the type the Glazers took to buy Man United. Nothing but bad news for the long term.
Colin Glassar
30
Posted 27/07/2021 at 08:03:52
Usmanov, John, Usmanov.
Danny O'Neill
31
Posted 27/07/2021 at 08:22:00
I'd say so Colin. And to be honest, not really my concern who or how they are funding it. I'm sure as business people, they've figured this out.
Derek, my Dad's family are natives of Garston, but the thought of a Garston Trout has put me off my breakfast!
Derek Knox
32
Posted 27/07/2021 at 10:04:57
Danny, was he an 'Under the Bridge, Mud Man' ?
Bill Watson
33
Posted 27/07/2021 at 10:17:37
John #29
International interest rates are at their lowest in history and Usmonov is co owner of Metalloinvest one of the largest steel/iron/concrete conglomerates in the world. The stadium will need steel and concrete.
Everton turned down the council's offer of access to government funded loans, at very low interest rates, saying they would pursue finance on the international money markets.
Moshiri needs this stadium to happen to realise his investment. The only danger I see is Usmonov and Moshiri falling out, or one of them falling under a bus.
Brian Keating
34
Posted 27/07/2021 at 10:27:44
Whoever used the "Is there a spade in the ground" cliches needs a serious shake.
They've to fill in a dock! Not dig foundations. There hasn't been a doubt for months that it's going ahead, I don't get the negativity.
Danny O'Neill
35
Posted 27/07/2021 at 10:33:14
Tenements family Derek.
Although you have just reminded me of one of my earliest memories. My Grandad (Dad's side) offered to take me for a haircut. My mother agreed and gave him the money. He took me to his mate's house "under the bridge" and I had my hair cut in the kitchen. No exaggeration, true story etc; I had a colander placed on my head and he used the kitchen scissors to trim me.
I had no issues and was ignorant to the new look I was sporting as we went to the pub that used to sit at the top of the village as you entered Garston from Speke. I got a few bottles of coke and some crisps to sit outside with, so I was happy.
Mum was mortified and angry when we eventually got home.
I got taken for a haircut again the next day.
Derek Knox
36
Posted 27/07/2021 at 10:51:27
Could have been The 'Cavalier' Pub (on the right going in), not there now of course, it became Budget Tyres the last I remember, or The 'Alexandria' (on the left going in to the main drag)!
Danny O'Neill
37
Posted 27/07/2021 at 10:59:40
The latter, Derek. Not the one that used to be right next to the Tenements, the one as you entered the village once you'd. Now, if still there, it would be at the top of the village, right of the bypass and left of the main drag just up and opposite the baths. Seem to remember green signage.
We went to the Cavalier on my 18th. In typical style, it was the first time my dad allowed me to buy him a drink rather than vice versa!!
David Hayes
38
Posted 27/07/2021 at 11:06:23
I can more readily invisage a financial catastrope internally or a departing of the owner and his lurking backer, if in reality Usamov is a backdoor funding this and not just wishful thinking from fans forums, than the actual stadium materializing. I sincerely hope not, but dread the collapse of this project.
Jimmy Hogan
39
Posted 27/07/2021 at 11:19:42
ToffeeWeb remains fascinating. You get a real glimpse into who are the pessimists, who are the optimists and who are the dreamers. Me, I'm already stressing about securing a season ticket for BMD.
Tony Shelby
40
Posted 27/07/2021 at 11:22:26
I'm literally sat here with a lob-on.
Danny O'Neill
41
Posted 27/07/2021 at 11:30:18
I wouldn't go that far, Tony Shelby, but I am dripping with excitement and emotion. The dogs think I'm okay, but are keeping an eye on me.
This is a time to be optimistic, not pessimistic. Headquarters in the blue illuminated Royal Liver Building that looks towards our iconic stadium on the banks of the Mersey.
What is there not to like about that?
The City's all ours.
Barry Hesketh
42
Posted 27/07/2021 at 11:30:24
I agree with Brian @34... Why all the negativity?
There is always a chance that something might go wrong, even the most optimistic supporter would recognise that in these challenging times, but to keep trotting out the same tired "what if?" questions shows how brow-beaten some of the fanbase has become.
Moshiri and company might be useless when it comes to football knowledge, but to spend as much time, effort and money to get to this stage of the stadium project has been no mean feat. Of course, they might see this flagship project as a chance to ultimately enhance their individual personal wealth one way or another, but without Moshiri, we'd be looking forward to spending the rest of our time at Goodison with no hope of a replacement being built.
I think that a new syndrome should be put into the medical journals, Everton syndrome – symptoms include: The art of seeing the hidden pitfalls, when there is little evidence on view to support it. Showing a total mistrust of anyone at the club in a senior position and an inclination to be the first to say "I knew it would go wrong" about anything connected with the club.
Andrew Ellams
43
Posted 27/07/2021 at 12:29:05
How Everton would it be for Usmanov to finally get his collar felt at this crucial point.
Only kidding (just), I have no doubt the stadium will built and will be a success. I just worry that will we have a squad that can match that when the time comes?
Mal van Schaick
44
Posted 27/07/2021 at 12:59:57
Thanks for the update, Lyndon.
We've had a few problems with managers, transfers and building a team, but people absolutely cannot fault the commitment of the owner and the board. All we need in the near future is to build a trophy-winning team to complete the dream.
Well done, Everton.
John Zapa
45
Posted 27/07/2021 at 13:02:28
Bill #33,
Interest rates are low for those who qualify for them. Profitable businesses with a sustainable income/expenditure. Not like the way the club has been run the last few years with record losses and also projected losses for the current year.
Regarding Usmanov ownership of concrete and steel companies that you mentioned, most of the concrete used in the project has to come locally, it's not feasible to transport it from overseas or even from far distances within the country. Steel prices have risen sharply in the last few months, as has shipping costs and many other expenses, which means that it's actually the worst time to build from a cost perspective.
Then some people are saying things about the new stadium like ' "I don't care who pays for it", or "I don't care how much it costs" – I'll remind you that some people also said similar things when big fees got wasted signing players like Tosun, Walcott, Iwobi etc... Eventually, the financial mismanagement will catch up, disaster will strike and the fans and club will suffer the consequences.
Mike Galley
46
Posted 27/07/2021 at 13:04:18
Exciting times for us all.
As anyone given a thought to how emotionally gut-wrenching our last game at the Old Lady will be? I expect I'll be a gibbering wreck, but I think this needs to happen for the future hopes and dreams we all have for our club.
On a different note, has anyone any experience or knowledge about projects of this size? How feasible is it for it to be ready by 2024?
Tony Abrahams
47
Posted 27/07/2021 at 13:33:57
Being an optimist where Everton are concerned, my own thoughts would be that, if I owned all the steel, I would actually be making money whilst building this stadium. I'm sure this is where Moshiri will recoup huge amounts, and will probably make the money he's lost trying to play football manager, seem like chicken-feed.
Kevin Prytherch
48
Posted 27/07/2021 at 13:35:46
Colin Chong….
It is our intention that we'll be formally breaking ground on the eastern quayside in the early part of August.
Look out for the spade in the coming weeks!!
Kieran Kinsella
49
Posted 27/07/2021 at 13:36:01
John Zappa
You make some good points. But as far as financing, the mayor already offered very favorable terms which the club rejected. If necessary, I imagine LCC would reopen such an avenue as it's in the city's interests economically to get this built.
Derek Thomas
50
Posted 27/07/2021 at 13:42:52
Mike @ 46; The usual thing is later than they originally say and well over budget...but who knows.
Bill Watson
51
Posted 27/07/2021 at 13:45:35
John #45
Steel prices rose in the first half of this year mainly because of capacity restrictions imposed because of Covid. The rise also has to be seen from the context of an historically low base.
Most analysts predicts prices will fall in the 3rd and 4th quarters of 2021 as China, and others, bring mothballed capacity back into production.
IHS Markit; global market analysts;
When should you make a steel purchase?

'We retain "wait" buying advice for steel, or at least be sure your contract has an automatic price adjustment. Prices will start to ease by late in the second quarter and fall over the second half of the year. Declines were delayed by bad weather—but only delayed, not prevented. The exception remains sheet in North America, which is on allocation and should remain so through May, perhaps June. Ensuring availability is more of a concern than price. Furnace restarts and sharply increasing imports are starting to alleviate the supply crunch but the first step is to replenish inventory'.
'Steel markets are the worst for buyers in at least a decade, and for US sheet the worst ever. However, markets should turn soon as increased production and imports alleviate supply shortages. There is no shortage of capacity; the problems were caused by capacity remaining idle too long after demand started to recover from COVID-19 lockdowns'.

Steve Ferns
52
Posted 27/07/2021 at 13:49:48
Tony, Roman Abramovich has spent a small countries GDP on Chelsea (slight exaggeration before I get accused of stupidity again) and yet he was rumoured to be getting every penny back and turning a profit last summer when he was looking to pull out.
The relevance is, if you invest heavily and play the long game, you will turn a profit. Granted, Roman Abramovich was around 40 when he bought Chelsea and Moshiri and Usmanov are both over 65, but the point remains, invest wisely and wait long enough and you will make money. This is exactly what the Arabians are doing with Man City, whereby the club fits in as part of the Royal Family assets, along with all the land they are buying in and around the ground and sports complex. They too will be turning a profit if they wish to sell.
Mark Ryan
53
Posted 27/07/2021 at 14:23:04
Bill @ 33 that last line had me chuckling. I had a vision of a million Evertonians watching in slo-mo as Usmanov trips on the kerb just as that bus arrived and shouting nooooooooo...so funny but you're so right...fingers crossed that never happens
Alan J Thompson
54
Posted 27/07/2021 at 14:41:32
Kenn(#28); I could talk all night about Sydney, lived there 15 years+ until work took me west and now in Perth. I'll be 74 if BMD goes to schedule but would love to make the trip.
John Skelly
55
Posted 27/07/2021 at 14:59:17
Great news I wonder will I be able to buy a brick from the old lady and have sent to Dublin ?
Colin Glassar
56
Posted 27/07/2021 at 15:17:17
I see the (Manchester) Guardian are continuing their campaign against BMD and the regeneration of the north side.
Letters from erudites from architectural wonders such as Birmingham (shithole), Cardiff (dump) and Bath (snobby bastards) are all chipping in telling us what is best for the city in their opinion. I would just like to say to them - go fuck yourselves!!!
Chris Williams
57
Posted 27/07/2021 at 15:23:17
Colin,
I don't think it's been the Manchester Guardian for quite a long time.
Danny O'Neill
58
Posted 27/07/2021 at 15:26:33
The Guardian stirs emotion in me Colin. They may be on different sides of the political spectrum, but like the Mail, its like having your Aunty tell all the naughty stupid people what to do because they apparently don't know any better.
And they broke national security rules many years ago in my opinion so I have little respect for their opinion.
Narrators of this opinion would rather let rotting dockland rot further in the name of preservation? Preservation of what? No thanks, we'll turn it into something special and give the historical setting and backdrop a future to be proud of in the name of progress.
Steve Ferns
59
Posted 27/07/2021 at 15:41:17
Colin, I don't see much of it as criticism of the stadium plans. I see it as more of a criticism of the previous mayor's tenure. They seem to be mentioning the plans for yet another boutique hotel more than the stadium and no one seems to be making any effort to halt production of the stadium.
For me, the real baddies of the loss of the UNESCO world heritage are Peel. Peel's plans are those that UNESCO are really opposed to and those plans go right up to and include conservation areas. However, not much of their plans have even started and the shanghai tower has already been downgraded, so why have UNESCO not issued a warning, a red line if you please, and then waited to see how Liverpool react, rather than simple withdrawal which means the City now has no obligations towards conversation and can allow developers to encroach onto the real areas of conservation right in the city centre and not as far out as Bramley Moore Dock?
Peel holdings have been playing the long game in Liverpool. They buy up land and leave it derelict. So much of the criticism that areas of conservation are derelict and unused is due to their ownership. The city should have been taking ownership themselves and trying to then sell them off to developers with conservation more at the forefront of their minds, if they really wanted to keep the UNESCO badge. Peel's plan has always been to derelict parts, to allow them to keep buying it all up and then to develop something like Liverpool Waters and maximise profits. But it's Everton's plans and not Peel's that are attracting the negative publicity.
John Skelly
60
Posted 27/07/2021 at 15:56:35
Since when have we been concerned what the press think about us,this a progressive step to regenerate an area that has been needing it for a long long time.
Mike Benjamin
61
Posted 27/07/2021 at 15:59:43
Steve, LCC had no choice as they haven't had the finances to do the necessary restoration. They also probably realised that there would not be the investment and jobs brought to the City if they were left as monuments.
Colin Glassar
62
Posted 27/07/2021 at 16:00:14
Steve, I'm one of LCC's biggest critics when it comes to their indifference regarding our architectural heritage. For decades they turned a blind eye to the tearing down of some beautiful buildings only to replace them with some concrete monstrosities.
On this matter though, I agree with their decision to redevelop the north bank to breathe life back into devastated (drugs, unemployment) communities. Yes, it's a Faustian deal with Peel but what are the alternatives?
Will UNESCO, Heritage England, The Red Brick Society, Save the Mersey Tadpole Liberation Army etc…find the monies to redevelop this abandoned part of Liverpool? Probably not
Chris Williams
63
Posted 27/07/2021 at 16:05:54
Steve,
As far as I can see the loss of WHS has been a long time coming, long before Everton were involved, and has finally arrived. The developments that have already taken place over a number of years are the ones that have been criticised the most in the articles. UNESCO, effectively warned the City several years ago as I understand it, when they put it on the at risk list. (They've just done the same to Stonehenge)
Peel are the real winners in this, although it will be interesting to see how the new Council officers and the Commissioners will play it.
I'm not convinced that this is even about the Stadium, which will go ahead regardless.
I'm not sure that the opinion is that of the Guardian, and I've not seen an Editorial on the subject as yet, although I've not been looking for one, nor have I seen any rebuttal articles, from anybody so far. I'm sure they would be happy to print one.
Steve Ferns
64
Posted 27/07/2021 at 16:05:58
Hey guys, don't get me wrong here, I don't disagree with what the council has done, but wanted to highlight Peel's role in all this. It's Everton taking the flak in the guardian and Peel hardly gets a mention. As for the council, let's see how it all looks once the dust settles on what the previous mayor may or may not have been up to in the allegations that led to his political demise.
John Keating
65
Posted 27/07/2021 at 16:31:51
Ed 21
Funny that Ed I remember being in Goodison Road and my dad saying
"There he is, that's Matthews" really with reverence in his voice
As I got older and realised we stopped off at every pub from the Friary, along Gt.Homer St on to Goodison. It wasn't reverence it was more, well he doesn't play for us so he's shite!

Bill Watson
66
Posted 27/07/2021 at 17:18:16
I hope the webcam is better than the not fit for purpose Everton TV. If not we're in for a very frustrating 3 years!
I've complained about Sunday's streaming debacle. I've had a response and the complaint has been passed to the relevant people. The reply will be interesting as Everton TV has always been dreadful.
One ongoing example is the weekly pre match press conferences where the journos' questions have always been virtually inaudible.
John Skelly
68
Posted 27/07/2021 at 17:43:43
But can I still get my brick.
Allen Rodgers
69
Posted 27/07/2021 at 17:53:33
Been down to BMD today, very little going on but plenty of cars and vans in and out. Security is a bit casual and I thought of strolling in but it began to chuck it down. So I dodged into the pub instead but that was also quiet, although quite friendly. Needs a refurb though it's a bit 1970s. Having said that, the pub has done well to last.
My second option was to go in The Titanic for a beer and sarnie but they were queuing for the car park. Some other time.
I did notice a terrible smell of burning rubber etc but this is normal for the dock road.
Phil (Kelsall) Roberts
70
Posted 27/07/2021 at 18:15:22
Steve, your last point is the most valid. All the media is
Liverpool have lost their heritage status due to new buildings in the city and Everton's new stadium at Bramley Moore Dock. And there are few places where what I have put in bold has also been put in bold. So trying to heap the whole loss on EFC, ignoring the work already done.
Add to this today they are saying that building a cheap tunnel under Stonehenge to return it to something like the peacelike idyll of the days of Druids is ruining the heritage and their status could go. What, far better to have a road running past it with the noise of truck and the whiff of diesel fumes for the real heritage.
I hope it does lose its status as that will show up for sure the stupidity of UNESCO. Perhaps the best thing to do is dismantle GP, brick by brick, number them all and then put the whole thing back up again at BMD.
Rob Halligan
71
Posted 27/07/2021 at 18:20:11
Phil, don't forget to send John Skelly a brick though!!
Jim Wilson
72
Posted 27/07/2021 at 19:05:40
Apologies if I have missed where this question has been covered before but has the issue of climate change and the sea level rising been addressed by the club?
And could there be a possible crowd congestion issue as there seems to be only 2 possible routes from the ground?
Danny O'Neill
73
Posted 27/07/2021 at 19:14:37
Excuse the pun but that's deep Jim.
Fair one though. I would imagine in years to come, we will see some form of flood barrier on the Mersey estuary like we saw implemented on the Thames decades ago.
Crowd congestion? I wouldn't say getting out of and away from Goodison amongst those narrow terraced streets and the traffic on Queens Drive has ever been without congestion.
Events at Wembley have to have congestion control in place. It's inevitable when you have thousands of people attending an event in one location.
Bill Gall
74
Posted 27/07/2021 at 19:29:12
Yes the new stadium was mentioned in this decision from Unesco, and as mentioned Peel and the LCC, have to shoulder the blame, but if Peel hadn't have done it some other developer would have.
Who cares, we are getting something to be extremely proud to be able to attend, and something that not only looks magnificent in its location but will bring much needed employment both in construction and redevelopment of the area, for years.
I hear there is a number of detractors to this stadium but that is just the green eyed monster ( jealousy ) raising its ugly head and most of them I would not piss on them if they were on fire in the gutter.
Congratulations Everton F.C. you have put another trip back home on my bucket list. This time if I am still around when it is finished, it will be by sea so I see it before the 3 Graces that always tell you your home no matter were you live now.
Kim Vivian
75
Posted 27/07/2021 at 19:38:15
The Stonehenge comparison thing highlights the joke that Unesco are. A metaphor for that organisation.
A tunnel has been mooted for donkey's years. If you drive down there in the Summer to get to anywhere in the West Country (and you have to if you're travelling to/from anywhere vaguely East of Stonehenge), it's a nightmare. Allow up to an hour or two to do a few miles on a two lane road while people slow down to gawk at the stones 1/4 of a mile away across a field.
Keep the road and build a tunnel to alleviate traffic and pollution. It makes so much sense. And as Phil says relatively inexpensive compared say to HS2 which is trashing swathes of English countryside and heritage.
There may be a few buried arrowheads or pots and shit which might get disturbed but anything found would be preserved for posterity. If Unesco want to kick off then they should propose solutions to these things rather than just throwing their toys out of the pram over rotting Liverpool docks and the such like.
Duncan McDine
76
Posted 27/07/2021 at 19:46:45
I must be having an OCD moment… the sea's horizon on the BMD picture is ever so slightly on the piss. Either that, or it's global warming playing havoc with the tides. I reckon they should build the stadium on 10m stilts just to make sure.
Bobby Mallon
77
Posted 27/07/2021 at 21:38:57
They should just build a 30 meter fence along the stretch of the 303 to block out Stonehenge from the road. No need for a tunnel. Just need to stop people gawking and slowing down job done.
Mike Doyle
78
Posted 27/07/2021 at 21:45:30
Bobby #77 ] Legend has it that Ancient Druids built Stonehenge close to the A303 so that the tourists of the future could see it without needing to get out of their cars. They were true visionaries!
Bill Watson
79
Posted 27/07/2021 at 22:07:10
Jim #72
I asked Dan Meis that very question at a shareholders' meeting a couple of years ago. He said global warming and the possibility of rising sea levels have been factored into the design.
I don't see transport as being any more of an issue than it is at Goodison, probably less so. The emphasis will be on public transport shuttles to Sandhills station and the city centre. Travelling inio the game by car will be discouraged and is very yesterday, anyway.
Personally, I haven't been to Goodison in my own car for about 12 years. I use the train and the football bus. It's just as quick.
Derek Knox
80
Posted 27/07/2021 at 22:35:31
Bill, good points there mate regarding the Transport links, I'm sure it will all work out in the end, and the transprt infrastructure will alter accordingly, even if it's only on Matchdays. Personally, and I am not the only one, am dearly hoping for a Ferry Link even if it's Matchdays Only, or possibly Stadium Tours (? Lightbulb moment) approaching from the Birkenhead/Woodside straight to BMD.
Just imagine crossing the Mersey on a sunny day (you see I am an optimist) to go to the Match and see The new Stadium in all it's splendour. Magnifico! Oh, I know he's gone, but you know what I mean! Nothing much else would come close to Blue Heaven, especially a win against Liverpool too.
Allen Rodgers
81
Posted 27/07/2021 at 22:42:55
Bill @ 79, crowd dispersal at BMD will be somewhat different to Goodison where there are multiple exit routes. I'm sure I read that the on-site facilities, bars and food outlets will remain open after the game ends and that should take a few thousand out of the equation. Anyone going North by train will will walk to Sandhills where there will be a Wembley-type corral system. I guess many people will walk into town rather than wait for a train and no doubt there will be bars en-route. Going by car will be difficult, particularly getting off after the game, and this will discourage drivers as you say.
Tony Williams
82
Posted 27/07/2021 at 22:57:27
I only hope we can replicate the atmosphere of Goodison (especially when it is rocking) at Bramley Moor.
Neil Copeland
83
Posted 27/07/2021 at 23:06:46
Currently I still travel by car to the game, I live close to Nantwich and it is much quicker than using the train. However, when we move to BMD I may travel via car to the Wirral and by ferry or train across the river.
As Derek and others have noted, the ferry crossing alone will be worth it. And of the course the sun will be shining, how can it not be?
Bill Watson
84
Posted 27/07/2021 at 23:43:46
Derek; your posts have helped keep me going through a (personally) very difficult time. If the ferry happens I think I'd get the train to Hamilton Square and jump a boat. lol
Allen; I did a trial run, yesterday (yes I know!). From Sandhills to BMD is an easy 15 minute stroll. (it has to be at my age). BMD to James Street station was 32 mins. I know most games are in the winter and yesterday was a lovely summer's day but the transport plan includes shuttle buses.
Neil; I get the train doesn't work for everyone but I think many will do the same as you, especially if there's a Merseyrail station, with a free car park, en route.
Brian Wilkinson
85
Posted 28/07/2021 at 00:33:08
Neil@83, I suggested a while back, that to combat traffic, it would be good if they could do a park and ride across the Mersey, and build some kind of landing dock,closer to the new ground.
Can you imagine a ferry across the Mersey, full of Evertonians.
Micky Norman
86
Posted 28/07/2021 at 09:19:30
Just going back to Stonehenge it was obviously a football training ground for Druids FC. Just look at the arrangement of the stones!
Eric Myles
87
Posted 28/07/2021 at 09:22:33
Micky #86,well they coudn't do 'jumpers for goalposts' back then 'cos they hadn't invented jumpers.
Danny O'Neill
88
Posted 28/07/2021 at 09:42:35
I said earlier that you will never get away from congestion at major events and football matches. It's an inevitability. Even when older, I used to avoid driving to the match at all costs. For me, it was the train from Hunts Cross to Kirkdale or the 81d to Queen's Drive on the junction with Walton Hall Avenue.
But the new location does lend itself for different options. And, whilst many have travelled across from the Wirral to Goodison over the years, it does now present a viable parking alternative for those travelling by car from the south.
I still like the idea of a monorail as an extension of the Merseyrail network. Run it from Brunswick to Sandhills, with stops at the Albert Dock, Pier Head and Bramley Moore Dock / Everton Stadium in between.
It would provide alternatives for people who get the train and allow those who want to socialise in town to "hop on / hop off" en-route. Selfishly, I can take a stroll from Lime Street and take in a refreshments to rehydrate before jumping on at the Pier Head!!
And if we're talking heritage; a modern tribute to the Docker's Umbrella.
I said years ago they should have stuck something similar in between the new Liverpool South Parkway Station and Liverpool Airport rather than have everyone get on buses. It would make Liverpool Airport better connected and look more the part.
Bill Watson
89
Posted 28/07/2021 at 09:59:37
Danny #88
Merseyrail have a long term plan for a station just north of the Titanic Hotel which would be virtually opposite BMD. A mono rail or tramway system would be great but the capital cost would be prohibitive for something which would only be used, at most, around 25 times a year.
Brian Harrison
90
Posted 28/07/2021 at 10:11:10
I do think that given the proximity of BMD it will take a lot of planning to come up with ideas to get 52,000 in and out of the area. The car parking around BMD is nil so that means the only way to get to the game will be by public transport or taxi. I did suggest when we got permission to go ahead with the stadium that we use the ferries not only to bring fans from the Wirral but also have a shuttle of ferries from the pier head. There is plenty of parking in and around the pier head and would make getting in and out of the ground a lot easier by ferry. How unique to pull up outside BMD in a ferry and a few thousand Blues on board.
Tony Abrahams
91
Posted 28/07/2021 at 10:17:12
Steve@52. It looks like the common denominator is that it's all about being successful on the pitch mate, but I'm not even sure if this is the case for Moshiri and Usmanov, especially if they've engineered a bigger part of the regeneration scheme with Peel Holdings, which is going to be absolutely massive, over time.
I hope the plan is for Everton FC, and the whole of the northern docks to grow together, because I don't think it can be underestimated how big this regeneration scheme is going to become?
Tony Shelby
92
Posted 28/07/2021 at 10:17:13
Google maps says it's a 30 minute walk from the site of the new stadium to James Street station.
If that's the worst scenario then it's fine by me.
If they can build a few nice pubs (and maybe a lap dancing bar) between the two then even better!
Danny O'Neill
93
Posted 28/07/2021 at 10:32:20
I was thinking selfishly from an Everton & BMD perspective Bill, but it would serve more than that.
With the appropriate stops, it would allow visitors to hop along the attractions on the waterfront (Echo Arena, Albert Dock, Pier Head). And if we consider long-term that Everton's stadium is hopefully going to create much more regeneration, whatever ends up being beyond that.
I doubt it will be considered, let alone happen, but it's just a thought. The prospect of passing along with full visibility of Liverpool's famous waterfront en-route to our stadium at night would be some sight. Much more appealing than on the Merseyrail underground section!!
On a larger scale (inevitably), London installed the Docklands Light Railway (DLR) when they renovated Canary Wharf and the docks out to London City Airport and the ExCel exhibition centre. It is now an integral part of the Transport for London network.
Brian Harrison
94
Posted 28/07/2021 at 10:40:00
I have said for a long time that Usmanov/Moshiri are here to make money and if Everton are successful then that will be even more money in their coffers. Billionaires don't get to be billionaires by throwing money away, and although they have invested some £450 million and will invest even more when the new stadium is built, thats when they have a very saleable assest.
Usmanov has been quite open that he is an Arsenal supporter and owning Everton wont change that, and I doubt that Moshiri is anymore a fan than his boss. But they identified Everton as being a club to invest in to get a maximum return on their investment.
They are also well aware that falling out of the top division is the only thing that might slightly derail their plans, hence the appointment of our new manager, who they obviously consider a safe pair of hands to keep Everton in the top flight. Lets hope their judgement is right on this. I also think they knew the new manager would accept any terms to get back into management in the Premier League, so money will be tight till the stadium is up and running.
Tony Abrahams
95
Posted 28/07/2021 at 10:57:16
Makes a lot of sense Danny, because another hugely popular place now in Liverpool, is around the Baltic triangle, which is just a short little walk up from the dock rd, on the south side of the city.
The ferry makes loads of sense really, so I'm sure someone somewhere is already looking to implement this in the future, as things begin to take shape.
Jim Lloyd
96
Posted 28/07/2021 at 11:01:42
I agree with Tony Abrahams. Our owner owns the Liver buildings,. Mr Moshiri and Mr Usmanov, I think will become/or probably already are, major investors in the development of the North End.
It's reasonable to think that they will invest massive amounts into what is likely to be one of the biggest developments in the country; and that includes investing massive amounts on the football side as well.
The big thing right now on the football side, is to have patience. It seems that we are unable to spend big on players, until this bloody FFP is cleared.
If we can't spend much now, then it's going to be hard to break into the regular top six position. (don't we depend on our business side to allow us to increase our spending, as well?(Hopefully someone can explain how that works?)
It looks like we will have to build the squad up slowly, with better players coming in once the contracts of the big wage players have ended.
Tony Shelby, I think there'll be a good few pubs, restaurants opening up as the development gathers pace, businesses (specially boozers!) will want to get their places along the dock road. I don't believe it... we'll have to start getting season tickets for the Bramley Moore alehouse as well!
Allen Rodgers
97
Posted 28/07/2021 at 11:46:51
Apologies if mentioned already but Google Maps and the AA Traffic Map show BMD as New Goodison Park!
Bill, I think the planning application had a layout for the position of buses and taxi ranks. The Dock Road itself will mostly be closed to traffic on matchdays with exceptions for essential access and the disabled. Not sure how near the shuttle buses will be to the stadium.
Tony Abrahams
98
Posted 28/07/2021 at 11:48:13
There are a lot of corners, between Bramley-Moore and town Jim, and although I don't think it will become as famous as neighboring Scotland Rd, and Vauxhall Rd, once was, for having a pub on every street corner, there is still a lot of scope though, especially around the ten streets that Joe Anderson, seemed desperate to redevelop, and probably because they are smack bang in the middle between Tithbarne St, and our soon to be new home!
Next time you walk from Bramley-Moore to town Bill W, do you mind going to Moorefields station, first please mate, because I'm sure this will take at least 5 minutes off the walk, (I might be wrong) and you seem to be even more accurate than google maps!
John Wilson
99
Posted 28/07/2021 at 11:49:27
It's joint owners of land. So Moshiri is a joint owner of the Liver Buildings. I don't know if Moshiri is an equal owner in the joint tenancy agreement. Now joint ownership can be Beneficial joint tenancy or tenancy in common. If tenancy in common Moshiri, may have less of a share or the same as everybody else. If beneficial type tenancy, Moshiri will have an equal share in the Liver Buildings.
Danny O'Neill
100
Posted 28/07/2021 at 12:15:16
Allen Rodgers, I just typed that in and yes, New Goodison Park does indeed come up on Google Maps.
I think it brought a tear to the eye, but I'll claim hay-fever!!
Brian Murray
101
Posted 28/07/2021 at 12:19:14
Just been looking on YouTube and the Chicago river (and Hudson) is dyed green every St Paddy's day. Would be a nice touch if we done that on March days plus would rile them other no marks. Royal Blue of course.
Ray Roche
102
Posted 28/07/2021 at 12:35:39
John@99
I thought Moshiri and Corestate Capital bought the Liver Buildings for £40m in 2016, making them joint owners?
Jim Lloyd
103
Posted 28/07/2021 at 12:59:33
Yep, that's the way I read it in the Echo. Joint owners, as you've explained, John, is way beyond me. I think, though that Mr Moshiri (and Mr Usmanov) will be active investors in the whole development of the North end.
Well, Scottie, as you point out Tony, is a mere skeleton to what it used to be and many a challenge has gone out over the years to see if a pub crawl could be done without getting totally pissed, before getting anywhere near half-way. I'm sure that if there's any land available along Scottie and Stanley, maybe even Vauxhall Road, a few more hostelries will open up.
Brian, that's a good idea, but let's have it on each anniversary of the first game at our new home... non-toxic dye, of course.
I think it was Colin Glassar who posted about how massive this development could turn out to be. Not only those streets that our former Mayor mentioned. New housing is already here and, for our end of the City, very expensive. It will grow and so will more businesses.
Our football stadium will also host events, so that in itself will boost the area and the City. It is pathetic that Unesco have acted like spoilt children and the articles in The Guardian are shameful. Stuff them, it will work to the Club's and City's advantage.
Allen Rodgers
104
Posted 28/07/2021 at 13:33:42
Ray @ 102,
I agree Corestate and Moshiri jointly bought the Liver Building although the reported price was £48M. I think there are now tours available which I would like to do one day; I've only ever walked through the ground floor and was asked to leave!
As others have suggested, Moshiri and and Usmanov may well invest in other projects on the North Docks apart from Bramley-Moore Dock. It was always my opinion they would buy the Bramley-Moore Dock site even if the stadium plans were refused. Just a hunch.
Michael Barrett
105
Posted 28/07/2021 at 13:39:55
Alright, Tony,
Can you imagine being the owners of the Bramley-Moore pub? It must be like winning the lottery, only truckers and a few locals ever go in there… but now Bingo! Our ship's come in.
Barry Metcalfe
106
Posted 28/07/2021 at 13:58:44
Something I have probably missed regarding our new ground. Can it be extended if the demand is there. I have always felt that the capacity is on the low side considering the new grounds of the larger clubs are in the 60,000 region.
Tony Abrahams
107
Posted 28/07/2021 at 14:07:04
Bar Coast was up for sale not so long ago for the same reason I think Michael, (not enough customers) just after their crop got busted! But it's already had a complete renovation, looking like it's going to have either flats, or will may be turned into an upstairs guest house, and things are finally looking up!
Brian Murray
108
Posted 28/07/2021 at 14:24:29
J post 103. Apparently it's a harmless dye. Anything to rub their noses in it and what a beautiful sight to behold it would be. Still say our liver building should be permanently lit up blue and white. If boot on other foot they wouldn't think twice.
Philip Bunting
109
Posted 28/07/2021 at 14:59:30
Barry, yes, the capacity has been designed to be increased upto 60k from what I read and heard through safe standing rail seats I think it was but 60k was confirmed as doable.
Ray Roche
110
Posted 28/07/2021 at 15:06:40
Allen@104
My mate, a red, went on the Liver tour last week when he went to Liverpool for a couple of days, he was quite impressed, less so when I pointed out that it was 'ours'! Typical Red, didn't even know!
Steve Ferns
111
Posted 28/07/2021 at 15:11:33
Ray, did you also explain to him the reason Liverpool wear red?
My mate tried to give me some shit for our new away kit. I told him I had fantasised about having an updated Black Watch since I first read the history of Everton as a nipper, and so understanding the history he said fair enough. He did not believe me when I told him the colour of Everton's kit in 1891 when we won the league for the first time at Anfield.
Allen Rodgers
112
Posted 28/07/2021 at 15:14:26
Ray, I guess the tour didn't include the 7th floor !
https://www.prolificnorth.co.uk/features/2019/04/where-we-work-everton-fc-liverpool
John McFarlane Snr
113
Posted 28/07/2021 at 16:07:23
Hi Steve [111] Rays mate might have had smug smile, because Everton won the League in 1890/91 and if that chart is correct the kit would have been Salmon Pink.
Eric Myles
114
Posted 28/07/2021 at 16:35:17
Mike #46, I've worked on $billion projects that have been completed in less time. Depends on the current Covid restrictions for supply of materials etc. though. For example I can no longer get a pint of Abbot Ale in my local here in Thailand because the Greene King brewery has been closed!
Brian # 34, I'm thinking that the dock infill area is going to be the pitch area, so no need for spades in there.
But the stadium part will be the existing ground around the dock basin itself, so will definitely need a few spades.
Ray Roche
115
Posted 28/07/2021 at 16:51:56
Steve, Allen,John,
I was to busy mopping up the smug that oozed out of every orifice to lay it on any thicker.
Anyway, you don't use more ammo than necessary.
😁
Ian Pilkington
116
Posted 28/07/2021 at 18:26:41
After all the negative media comments about the new stadium being partly responsible for UNESCO stripping the city of its World Heritage status, it was refreshing to read an excellent article by Simon Heffer in today's Telegraph:
"The architects' plans for the new stadium show a handsome, modern but aesthetically satisfactory building. It is also one that is going to regenerate a still run-down area of the city and Everton FC have promised to give £55 million for the preservation and conservation of historic buildings near the new stadium."
"… most tourists who go to the city do so because of the Beatles or one of the great football teams there, not because a group of people from far away countries, who for the most part have not been to the city, had specially designated it."
Bill Watson
117
Posted 28/07/2021 at 20:21:20
Tony #98
I was in two minds about Moorfields or James Street but Moorfields is further uphill and involves a long walk once inside!
On a dock road closed to other traffic a shuttlebus would take well less than 10 mins to reach either of them and then links to Lime Street, The Wirral, south Liverpool and Widnes, Kirkby, Ormskirk and Southport and all stations in between. The same for Sandhills.
I really do think the public transport links will be excellent and far better than what we have at Goodison. Going directly to the match, by car, will become a thing of the past.
Bill Watson
118
Posted 28/07/2021 at 20:42:56
In the late 19th Century, the salmon pink kit was very macho as, in those days, it was pink for boys and blue for girls.
Danny O'Neill
119
Posted 29/07/2021 at 07:20:11
You invoked a random memory there, Bill. I once sprained my ankle being a dick with my mates at Moorfields. We thought it clever to slide down the black band of the escalator and I went flying at the end. That is a London Underground style long way down. I picked up a lot of speed!!
Was the 19th Century snippet from personal experience??!!!
Jim Lloyd
120
Posted 29/07/2021 at 09:24:42
Brian (108),
It's a good idea and you're right, the rs wouldn't miss a trick. I also think your idea of lighting up the Liver Building is a good one, or maybe just the birds.
I think our new ground could be lit up at night, as well.
Bill Watson
121
Posted 29/07/2021 at 10:59:55
Danny #119
Personal experiences? No, but sometimes this club does put years on you!
It seems the present pink for girls and and blue for boys originated in the US, as late as the 1940s.
'In 1918 the trade publication Earnshaw's Infants' Department claimed the "generally accepted rule is pink for the boys, and blue for the girls. The reason is that pink, being a more decided and stronger color, is more suitable for the boy, while blue, which is more delicate and dainty, is prettier for the girl." Additionally, a 1927 issue of Time noted that large-scale department stores in Boston, Chicago, and New York suggested pink for boys'.
Danny O'Neill
122
Posted 29/07/2021 at 11:19:40
Every day is a school day as they say Bill!
Of the strips Hummel and the club have come up with, it's the Black Watch one that has grown on me the most.
Gerry Killen
123
Posted 30/07/2021 at 04:26:31
Regarding our proposed new Stadium, I don't want to be some kind of a JONAH, but we must not forget that the site, and indeed the whole area around the River Mersey, suffered some of the worst bombing during World War Two, consequently, and before we start digging I think we should be in touch with ARMY BOMB DISPOSAL UNITS at every step of the way so the whole process is completed in a safe manner. Many thousands of German bombs were dropped on the Docks and not all detonated, so I would urge extreme care during the whole excavation process, I hope the Board of EFC will be aware of this. Having got that off my chest, here.s wishing all Blues all the best, cheers, Gerry Killen
Ray Roche
124
Posted 30/07/2021 at 17:43:53
Gerry, I think that that was mentioned by the club as part of the work required before the main construction could begin. You're right though, there might be any number of unexploded bombs, incendiaries etc down there!
Bill Watson
125
Posted 30/07/2021 at 19:58:31
Gerry: my thoughts exactly but the club said the initial preparatory work included sweeping the dock and buildings for unexploded bombs etc.
Michael Barrett
126
Posted 31/07/2021 at 17:36:44
Half the squad need a fucking bomb under their arses.
Alan J Thompson
127
Posted 01/08/2021 at 07:40:08
Gerry (#123); I hope there aren't any UXBs there, or next door, as the shit will certainly hit the fan.
Ron Sear
128
Posted 01/08/2021 at 12:50:16
Oddly enough if you look at the bomb map of Liverpool the Luftwaffe didn't seem to have much success on hitting the actual docks other than one or two occasions. However the area around them got really plastered. A bit like the story my mum told me, she worked in the Hawker Aircraft factory, it never got touched even though it was producing huge numbers of fighters, again the houses around got a real hammering. Bomb map -
Link
Alan J Thompson
129
Posted 01/08/2021 at 15:15:16
Ron (#128);
My mother always said that Wavertree took a lot, mostly aimed at the rail sidings at the bottom of the street.
Peter Mills
130
Posted 02/08/2021 at 18:59:35
Ron, my Dad, who was a navigator in Bombers for the RAF in WW2 as well as being a great Evertonian, told me that being surrounded by explosions all around the aircraft, with bullets ripping through the fuselage, was not conducive to great accuracy in the delivery of their cargo.
"Let's drop our shit and get out of here" was the motto. I'm sure there is a German translation for it.
Danny O'Neill
131
Posted 02/08/2021 at 19:24:23
Peter, my German isn't what it was, but I'll have a go. "Lassen uns unserer Scheiße absetzen und lass uns weiter gehen"
Excuse the grammar and out of practice Deutsch, but I think I'm there or there abouts
Ron Sear
132
Posted 02/08/2021 at 20:00:30
Peter (130) your father must have been one pretty brave feller, I was lucky enough to have had a maths teacher at school who was a Lancaster navigator. The idea of modern educationalists that to miss getting the right answer is OK as long as you made some kind of stab at it would have made him as mad as hell.( For him and he made damn sure for us with a blackboard rubber) the result of a calculation was actually the literal difference between life and death.
Peter Mills
133
Posted 02/08/2021 at 20:29:24
I'll take your word for it Danny!
Ron, he definitely was. He refused his medals, he never spoke about what he had done and seen. Until we were in a pub on the way home from Villa Park in 1989, after the FA Cup semi-final. We had been listening to the news from Hillsborough, a few Liverpool supporters wandered in. It must have been a trigger for him. His story was riveting and horrifying in equal measure.
Rob Halligan
134
Posted 02/08/2021 at 20:51:07
Gerry # 123. I read recently that all the searches for any UXB's showed that none were found.
Tom Hughes
135
Posted 04/08/2021 at 10:29:39
I'm quite sure the docks were peppered with far more bombs than depicted in that map too. Many not accounted for as landing in the water of large dock basins. Incendiaries of course were less effective unless they landed on a munitions ship (as they famously did, leaving fragments of the ship deposited over a mile away).
Dave Abrahams
136
Posted 04/08/2021 at 13:20:03
Peter (133), Peter your about your dad's war experience reminds me of a gentleman I knew when I was working in town a few years ago on a fruit barrow, I got to know him quite well and one day I casually asked him would he be watching the TV celebrating 50 years since the end of the war, he said " No I try to forget all about the war and my involvement in it" I asked him what part he played in the war, he said " I was a bomber pilot and I will not be watching any of the TV pictures and stories of the war, I was just glad when the war ended and I able to get on with my life" I think he echoed your dad and many others who stopped their normal life for six whole years and were glad to come home safely, join their families again and try to forget the horrors of the war.
Danny O'Neill
138
Posted 04/08/2021 at 13:59:28
Very true Dave. There is no glory.
I took pride in watching young people step up to the challenge of combating bad people. And there are bad people out there that need sorting out. Pride in doing what you need to do to sort that out, but also pride in doing what needs to be done to look after each other.
Teamwork. Companionship. Comrade of the highest order.
I take pride in what I did but I also try to forget it. Like the person you worked with, I'll never glorify it. It was a job.
I've lost close friends and don't like to talk about it. Worse than that for me (and I was at a remembrance for a dear friend 2 weeks ago) was having to face a young lad who I deployed who lost his legs. Looking his mother in the eyes is the hardest thing I've ever done.
Sorry to go sombre, but you're right, we just want to get on with life. And watching football and Everton helps us do that. Perspective.
Sorry all. I get emotional about this stuff.
And more so about my Everton!!
---
Add Your Comments
In order to post a comment, you need to be logged in as a registered user of the site.
Or Sign up as a ToffeeWeb Member — it's free, takes just a few minutes and will allow you to post your comments on articles and Talking Points submissions across the site.