Richarlison brace seals it for Brazil to advance
Wednesday, 28 July, 2021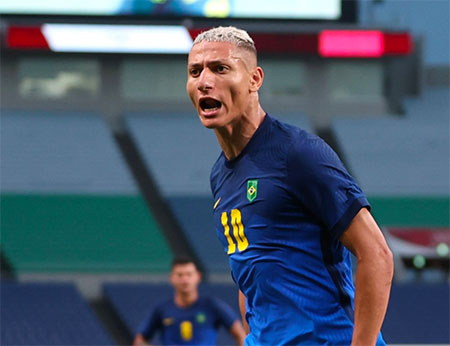 Brazil are into the quarter-finals of the men's football at the Tokyo Olympics thanks to a brace of goals from Richarlison.
The Everton forward fired in two late goals to secure the 3-1 victory over Saudi Arabia 3-1 which meant the South Americans finished top of Group D.
Brazil had been pegged back to 1-1 when Abdulelah Al-Amri cancelled out Matheus Cunha's opener at the Saitama Stadium and were in danger of being held to a draw.
Richarlison, however, added to the hat-trick he scored in his country's opening game when he scored with 14 minutes to go before adding an insurance goal in injury time.
Elsewhere, some notable names in world football fell by the wayside as Germany, France and Argentina were all eliminated.
Brazil will face Egypt next in the last eight on Saturday.
---
Reader Comments (24)
Note: the following content is not moderated or vetted by the site owners at the time of submission. Comments are the responsibility of the poster. Disclaimer
Jay Wood
[BRZ]
1
Posted 28/07/2021 at 11:09:51
Olympic football update.
Brazil has just beaten Saudi Arabia 3-1 with Richarlison bagging a late pair. Good header and a simple tap in at the far post.
Between his two goals he got another fine finish but it was rightly ruled out for the crosser of the ball being offside.
In the same group Ivory Coast drew with Germany which eliminated the latter from the quarter finals, qualifying the Africans.
Brazil's quarter final opponents will be decided later today in a very tight group. Depending how results go, it will be the second place team between Spain, Argentina or Australia.
Dennis Stevens
2
Posted 28/07/2021 at 11:31:48
Do they have a golden boot for top scorer in the Olympics &, if so, would Richarlison be in contention?
Jay Wood
[BRZ]
3
Posted 28/07/2021 at 12:17:09
Don't think they do Dennis, but Richarlison must be in contention with 5 goals to his name.
Before the Olympics he said:
* He wanted the iconical #10 Brazilian shirt. He got it.
* He wanted to play as the central forward. He is (NOT always the case when playing for the Brazil national team).
* He wanted to be the Games top goalscorer. He's going the right way about achieving that. Hat-trick in the first 30 minutes of the opening game v Germany no less – a brace today.
I'm only following Brazil's games and glancing at the other results, so I don't know if there is anybody else banging them in and challenging him for the top scorer title.
Tony Everan
4
Posted 28/07/2021 at 12:45:05
Yes, no golden boot in the Olympics, but it would be a fine accolade being top scorer especially aligned to an Olympic gold medal. Richie is doing his country proud, and us.
Ian Burns
5
Posted 28/07/2021 at 13:05:57
Although there isn't any golden boot award at the Olympics, I think I am correct in saying the last Everton player to win such an award as top scorer at a major tournament was Gary Lineker in 1986 - and he didn't play for us again, having left for a top Spanish club!
Andrew Ellams
6
Posted 28/07/2021 at 13:19:21
Jay,
A Korean guy scored a hat-trick today but not sure how he's done previously and I think Gignac from France might be on 4.
Dennis Stevens
7
Posted 28/07/2021 at 13:19:50
D'you think it's an omen, Ian?
Jay Wood
[BRZ]
8
Posted 28/07/2021 at 13:42:14
Potentially bit of a shock on the cards as to who qualifies to play Brazil with 10 mins of the games to go.
Spain the group leaders are beating Argentina 1-0. Australia who were in 2nd are losing by the same score to Egypt which has catapulted Egypt into the qualifying 2nd place.
Australia had beaten Argentina 2-0 previously and lost to Spain. Egypt only had one point before today with a draw v Spain.
Jay Wood
[BRZ]
9
Posted 28/07/2021 at 13:59:23
Yep! Disappointment for Aussie Blues. Egypt beat them 2-0 which, together with the 1-1 draw between Spain v Argentina, means 1st Spain, 2nd Egypt who will be Brazil and Richarlison's opponents in Saturday's quarter-final match.
David Cooper
10
Posted 28/07/2021 at 14:14:37
With Richarlison proving himself as the focus of the the attack and scoring 5 goals, is this going to provide Rafa with his first big problem? How to play Richarlison and Calvert-Lewin together?
Didn't really work last season. Does this mean he will let one of them go for a huge price?
Danny O'Neill
11
Posted 28/07/2021 at 14:15:10
Not seeing any of this on UK channels. Just gymnastics. Any tips on where to watch the football?
Jay Wood
[BRZ]
12
Posted 28/07/2021 at 14:27:00
Danny, this is my 'go to' site for footy in particular, but all major sports and their events are covered.
Lots of the usual crap on such sites, having to click loads of times and close multiple windows, but once that's done with for the most part streams are stable, uninterrupted and HD quality.
Love the Olympics, me. Watching and getting well involved with sports I'd normally have no interest in and hearing amazing stories of the sacrifices and hardships athletes pass through to realise their dreams.
David Cooper
13
Posted 28/07/2021 at 14:34:35
Watched the game on Canadian TV. Both Richarlison's goals were frrom inside the 6-yard box, one a header and one a tap-in. Looked a very happy player in what was a competitive game. Basically played the same role as DCalvert-Lewin. Over to you, Rafa!
Jay Wood
[BRZ]
14
Posted 28/07/2021 at 14:41:32
Nice finish off a good move for the offside disallowed goal he scored between his two legit goals too, wasn't it David?
Danny O'Neill
15
Posted 28/07/2021 at 14:45:07
Thanks Jay, I'll have a look at that.
I don't mind some of it, but not the Horse Dancing.
Mike Gaynes
16
Posted 28/07/2021 at 15:02:05
I sure as hell wasn't in favor of him going to Japan, but it seems to be working out. Looks like we'll be getting back a happier and more valuable player.
Now please, dude, stay healthy.
Steve Ferns
17
Posted 28/07/2021 at 15:06:38
Any suggestions of discontent from Richarlison in the Brazilian press? I hope the suggestions that he needs to "repay" us for letting him go to the Olympics are true.
Also some rumours that Everton are in for Gabriel "Gabigol" Barbosa of Flamengo, but not from the most reputable of websites. Probably the agent placing a story and trying to stir up interest to make himself a few quid.
David Cooper
18
Posted 28/07/2021 at 16:27:56
Why Steve would you be looking for rumours of Richi's discontent? Let him enjoy playing for Brazil and hope that he comes back to us!
Robert Tressell
19
Posted 28/07/2021 at 16:34:35
We've been linked to Gabriel Jesus most summers for the past few years - ever since he was in Inter's reserves.
Didn't really do himself justice in Italy or Portugal but probably moved to Europe too soon. Been on fire in Brazil since then. Presume Flamengo would want top dollar unless they're desperate for money. Jay Wood will have the lowdown - he's been hoping we'd sign the guy for ages now.
Michael Barrett
20
Posted 28/07/2021 at 18:28:16
Mike gaynes he defo will be happier but knackered though...when will he have a few weeks off dya think?
Steve Ferns
21
Posted 28/07/2021 at 22:57:50
David I want him to come back to us. I don't want him to be unhappy. I just worry that Ancelotti will be trying to unsettle him and drive down the price. I'll be much happier when the window shuts and he's still here. I fear an expensive new signing like Bailey will be funded by the sale of Richarlison. Just call me a pessimist if you want.
Bob Parrington
22
Posted 28/07/2021 at 23:36:02
Watching Australia vs Egypt it was frustrating to see Egypt run the game completely in the first half with high energy play, if not highly technical. The Aussies had not answer to the Egyptians' tempo of play.
Somewhat better in the second half, particularly after Daniel Arzani was introduced - tricky little skilful player maybe Everton should take a look at him.
Unfortunately, I have to say that Egypt well-deserved the win!
John Boon
23
Posted 29/07/2021 at 04:12:32
David (18) Nice to see you giving your point of view. I wish I had known the game was on CBC. I should have checked. I am only interested in Brazil.
Mathematically if Richy can score 5 goals in two games for Brazil, and he can keep that up for Everton for 38 games, he would end up with 95 goals. WOW !!! That should really help our goal average and keep the fans happy.Well some of them.
Jay Wood
[BRZ]
24
Posted 31/07/2021 at 12:01:38
Half time in the Olympics quarter final game between Brazil v Egypt and Richarlison nicely set up Cunha on 38 minutes to give Brazil the lead.
Richy is playing very well. Good movement, positioning and close control playing the central forward which for Brazil means being very fluid rather than cemented in one spot.
Earlier, Ivory Coast missed a glorious opportunity to beat Spain, taking the lead 2-1 in injury time of normal time with just 3 minutes on the clock left.
The Spanish equaliser with a minute to go was a shocker by the IC defence. An object lesson in why you should never let the ball bounce as a defender, least of all centrally on the edge of your own 6 yard box.
Spain romped home 5-2 in extra time.
---
Add Your Comments
In order to post a comment, you need to be logged in as a registered user of the site.
Or Sign up as a ToffeeWeb Member — it's free, takes just a few minutes and will allow you to post your comments on articles and Talking Points submissions across the site.