Richarlison puts himself in contention for season-opener
Tuesday, 10 August, 2021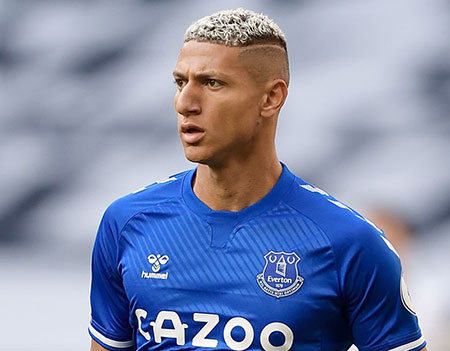 Richarlison is reportedly returning to Finch Farm tomorrow and could play against Southampton on Saturday despite having played all summer without a break.
The Brazilian is flying back from international duty at the Tokyo Olympics with Brazil where he won a gold medal and is foregoing a holiday so that he can line up for Everton in their season opener at Goodison Park.
Richarlison's presence will be a significant boost to Rafael Benitez who was sweating on the fitness of Dominic Calvert-Lewin. The striker missed the friendly against Manchester United on Saturday with a toe problem but he is expected to be fit to play as well.
Richarlison went straight to South America at the end of last season to prepare of the Copa America where Brazil went all the way to the final before being beaten by Argentina.
He then travelled to the Far East and was involved to the end there as his country prevailed in the Olympic final over Spain.
---
Reader Comments (36)
Note: the following content is not moderated or vetted by the site owners at the time of submission. Comments are the responsibility of the poster. Disclaimer
Kevin Prytherch
1
Posted 10/08/2021 at 20:01:02
Isn't this what he did at Watford, didn't have a break, got off to a flyer but then nosedived in the second half of the season?
We need to plan a break for him. I propose he has a break in the schedule for the League Cup 3rd Round and the weekends scheduled for the FA Cup 4th and 5th Rounds!!!!
Pat Kelly
2
Posted 10/08/2021 at 20:02:57
He knows we're likely to sign Harry Kane.
Mike Hayes
3
Posted 10/08/2021 at 20:04:54
Good news we need our strongest side for the season opener and, after Saturday, Benitez needs to get the fans on his side. But this is largely down to the players turning up and putting in a shift.
Last season was bad enough at home without fans, the place needs to be rocking until the roof comes off and every last man needs to get behind the manager and players from the off.
Brent Stephens
4
Posted 10/08/2021 at 20:05:15
Pat, if only! Just another £100m to scrabble together!
Dennis Stevens
5
Posted 10/08/2021 at 20:06:23
Good news, he probably feels fantastic at the moment, but he needs to be used wisely.
Simon Dalzell
6
Posted 10/08/2021 at 20:08:04
Fantastic news. What a boost that would be if Richarlison lined up for the opener. Praying this happens. Start him, not 10 minutes at the end, he's buzzing, on form and we have very little quality without him. Let's get off to a flyer.
Phil Smith
7
Posted 10/08/2021 at 20:12:38
Bless this kid. He just wants to play the beautiful game all year round. Great news for us. Hope we drop him like a lead balloon for a couple of weeks when his form inevitably drops though and give him a little break.
Ian Burns
8
Posted 10/08/2021 at 20:13:36
I completely understand the enthusiasm for this news – and indeed the necessity – but so much non-stop football and literally travelling from one side of the world to the other is asking for trouble.
I can see a long injury lay-off coming and in truth my own preference is for him to take a holiday.
Justin Doone
9
Posted 10/08/2021 at 20:14:25
Good attitude, he doesn't want to miss any games.
But he needs managing. You could look at it as if he's had a really tough, competitive preseason. He comes in, meets the manager, does some stretching, light ball work, shooting, works on tactics, positioning etc - that's it.
He seems naturally fit, probably in peak condition but that's when injuries can easily be picked up.
Put him on the bench, 10 minutes at the end, maybe.
Liam Mogan
10
Posted 10/08/2021 at 20:18:35
Has anyone received their digital season ticket yet? Still had nothing.
Adrian Evans
11
Posted 10/08/2021 at 20:23:35
Problem with playing as much as Richarlison, you don't train properly. You simply recover.
But if you watch him in a game, he always puts in his sprints.
Rafa is a professional, Degree in Sports Physiology, he was ahead of his time. An academic in work Physiology.
He and his team will assess Richie,
I think he might start on the bench, depends how he is, jet-lag etc.
One of the fittest forwards in the world.
Let's hope he lights up the Old Lady and we take 3 points.
Thanks Richie
Mal van Schaick
12
Posted 10/08/2021 at 20:24:24
Play him and then give him the week off. He's match fit and ready to go.
Allen Rodgers
13
Posted 10/08/2021 at 20:32:55
Bring him on at the hour mark to bang in the winner at the Street End

Dave Abrahams
14
Posted 10/08/2021 at 20:34:41
Didn't Richarlison play for Brazil last summer then come back and fade after a few games? Or was it the season before?
I don't think he has had much of a break in the last 2 years and it certainly showed last season. No player, no matter how good they are, can play continually without a proper break and a good rest; it will tell on them.
Mike Gaynes
15
Posted 10/08/2021 at 20:58:55
Way to go, young man!
Certainly proper rest will be crucial, but a standing ovation please for his motivation and commitment to the club (which were criticized here, I believe)!
The ideal outcome would be for Kean to similarly commit and develop into a strong third striker to allow for the appropriate rotation up front... providing rest for both Rich and Dom.
Lev Vellene
16
Posted 10/08/2021 at 21:18:34
What you believe you can do when you're young, and what life hits you in the face with, is often very different... ;P
Well, fingers crossed if this is true. I still expect he'll either need a long rest now, or he'll falter enough towards the half-way point to need a rest later!
If we can keep him on his current morale, I'll be ecstatic!
Pekka Harvilahti
17
Posted 10/08/2021 at 21:42:25
The guy just love's to play, there's no stopping him. He's a vital part of Brazil football team, he must be on many team's shopping list. There's still about three weeks left in the window so Carlo could make a move yet, but if he does we should set the price high up, more than 80 m £.
We still have to get rid of Delph, Siggy, Gomes, Iwobi, Tosun, James and maybe Kean.
Delph might want to go to Leeds but Bielsa don't want him so he stays for the year.
Siggy, will surely have played his last game for us.
Gomes should get some interest as he's still relatively young. Painfully slow, he is.
Same goes for Iwobi even if I really question everybody who think he is of any value to any football team at any level. When I heard we were interested in him I just hoped (let this be one of those rumors) but no he truly arrived with a ridiculous money when Arsenal should have paid us for having him. He does all the bad things his uncle (Jay-Jay Ococha) used to do while not doing the great stuff.
Tosun is a good finisher, but not fast enough for a PL striker and injury-prone also. I hope Besiktas will take him inthe winter window but I suspect they will wait until the summer to get him for free.
The legacy of Big Sam: Walcott and Tosun.
James is excellent on his day, but too a luxury player for us at this time so he must go.
Kean could be good but it looks like he does not want to play for Everton. Then there is not much you can do but sell the guy.
It hurts me to say it but Tom Davies is not good enough. He's too slow and loses the ball way too often. So many backward passes and no vision.
Gbamin might never be fit again, so we desperately need one or two in midfield.
Gana back from PSG would be fine if possible.
I watched the Community shield match the other day and Leicester were good, they were everything we are not at this time: Mobile at the center of the field. City, with their flair players, could not break them down. Of course, there were absentees at both sides but
Leicester have done in ten years what we should have done and although they are a much smaller team they seem much bigger right now.
To be honest, the 10th is probably best we can hope for and it could get a lot worse, even14-16.
But it all depends on how the season starts, can we offload those we don't need and get some new faces in.
There is a good core in the team but they need the confidence now. If the first game goes awry the crowd will go against the manager first and then against the team.
Phil (Kelsall) Roberts
18
Posted 10/08/2021 at 21:57:28
Brasil is on the Red List.
Japan is on the Amber List.
Unless he is coming back directly from Japan and not going back to Brasil, he will have to do 10 days in a hotel.
Not sure he is going to be playing unless these rules only apply to people earning below £70000 per week.
Rob Halligan
19
Posted 10/08/2021 at 22:14:12
Phil, I think he's already back in this country, seeing as he's due back at finch farm tomorrow, so I would guess that he came straight back here from Japan. He would probably have left Japan Sunday afternoon, so I doubt he would have flown straight to Brazil, as that would been one heck of a long flight, then flown here. Also, assuming he's been double jabbed, then there will be no need for any quarantine.
Bill Gienapp
20
Posted 10/08/2021 at 22:20:43
It's odd that so many people seem to question his attitude. Whatever his shortcomings, he clearly wants to play every minute of every match.
Gary Smith
21
Posted 10/08/2021 at 22:29:17
Will be a huge boost, especially if Dom is out! Hopefully Kean at least wants to earn a new suitor, so a front 3 of him and Richie with Gray or James just behind sounds good to me. If Kean cba then give his space to a young lad and throw him in the u23 for a bit.
Pickford
Coleman Mina Godfrey Digne
Doucoure James Allan
Gray Kean Richie
Plenty of runners for James to aim for.
Danny Broderick
22
Posted 10/08/2021 at 23:09:03
Good team that Gary (21).
James Flynn
23
Posted 10/08/2021 at 00:10:07
I appreciate it's Silly Season, when player movement rumors die on the vine, while "Football Managers" blossom. So, a couple things.
I'd be surprised if Tosun plays for ANY club this season. He's on a "maybe by X-mas" in his recovery. No club will come in for him, especially with a half-season left in the last year of a 50K per week contract. We just have the ride that one out.
As to Kean. He stays. There's no big money offers out there and he is a talent. He wants to leave, which no one in here knows, OK fair enough. It happens. Let him bust his ass this season for us, which will make other clubs take a real interest in signing him next Summer.
Gaute Lie
24
Posted 11/08/2021 at 02:35:02
Bravo!!
Bob Parrington
25
Posted 11/08/2021 at 03:00:45
Once more commenting that Richie is a really good young man! Agree with others that he will need a rest or two as the season progresses. Great attitude shown by him!
Gary @ #21. Generally a good look to your suggested starting line-up. Just wondering, though, about the speed and strength in MF. Maybe a time to go 3-4-3 perhaps???
Brian Murray
26
Posted 11/08/2021 at 03:01:17
Doncoure and Allen can't pass to save their lives but until onyango is fit and Dobbin is let loose on the prem it is what it is. Sounds desperate!
Danny Baily
27
Posted 11/08/2021 at 08:23:55
This from the guy who looks knackered after 10 mins when he's fully rested. It would be a polite no from me if I were in rafas shoes.
Sam Hoare
28
Posted 11/08/2021 at 14:18:26
I think the club have played this quite well by letting him go to the Olympics and win a gold medal. He'll be chuffed. And grateful.
Just make sure he gets a good rest over the next international break.
Barry Hesketh
29
Posted 11/08/2021 at 15:35:47
One miserable grouch that Richarlison, isn't he, he never ever smiles! I think not.
Shane Corcoran
30
Posted 11/08/2021 at 15:47:09
Saw that, Barry. Good to see but he's still a miserable-looking sod the majority of the time.
I'm guessing a mid-season rest is likely, possibly over an international break.
Brent Stephens
31
Posted 11/08/2021 at 16:46:05
Great welcome for Richarlison from the Everton lads. Must be popular!
"Brands said a few words to acknowledge Richarlison's achievement before the Brazilian ace gave a short speech in English!"
"Ta la"?
Rob Halligan
32
Posted 11/08/2021 at 16:52:39
Brent, seeing as you're on, apparently ticket details for the Leeds away game will be published on the official site later today. I've been looking most days, and today the Leeds fixture does not even show up on the "Buy Tickets" page, but I've been reliably informed that there will be ticket info later on today. Assuming you're going that is!
Brent Stephens
33
Posted 11/08/2021 at 17:06:27
Thanks, Rob. Yes I'm going. Like you I've been checking the website and noticed earlier today the fixture disappeared from the list! I thought maybe they don't want us to go or even know the game is on!
Justin Doone
34
Posted 11/08/2021 at 17:21:44
Getting Kean to 'run his ass off' is always the aim but he's lazy and that's not his game. It's part of what makes talented players frustrating.
I've seen Neymar sprint with the ball 50 yards, get tackled, roll around, get up and sprint back 30 yards to try and win the ball back.
In that same game, Kean watched on, jogged back 15 yards and stood still. 20 seconds later the ball came near him and he just waited.. waited.. and nothing.
He's got potential, but does he have the desire to use it and do the hard work?
I'm still of the opinion we sell and buy a hungrier, attacking team player. What would Brooks cost at Bournemouth, £20M?
Jeff Armstrong
35
Posted 11/08/2021 at 21:33:46
If he's fit, able and willing, let him play, we need him. He's done well recently so let's reap the rewards of his current form.
I'm sure injuries or fatigue will come soon enough, he can have his rest then.
Jim Harrison
36
Posted 12/08/2021 at 11:45:41
Kevin 1
If he gets off to a flyer at least he will have been better than last season.. . .
---
Add Your Comments
In order to post a comment, you need to be logged in as a registered user of the site.
Or Sign up as a ToffeeWeb Member — it's free, takes just a few minutes and will allow you to post your comments on articles and Talking Points submissions across the site.